Are you ready to up your style game? Well, get ready to be blown away by the incredible world of Asian men's hairstyles! Nowadays, K-Pop music is ruling the world, and so are Asian men's hairstyles. What makes Asian men hairstyles so exciting is the versatility they offer. Whether you have straight, curly, or wavy hair, there is a hairstyle that will suit your face shape and personality perfectly.
Asian men generally have thick and straight hair. To choose the best hairstyle, you should try to understand the texture of your hair. Then consult your hairstylist and ask him which hairstyle will look good with the shape of your face. This article will discuss the top 60 trendy Asian Men Hairstyles.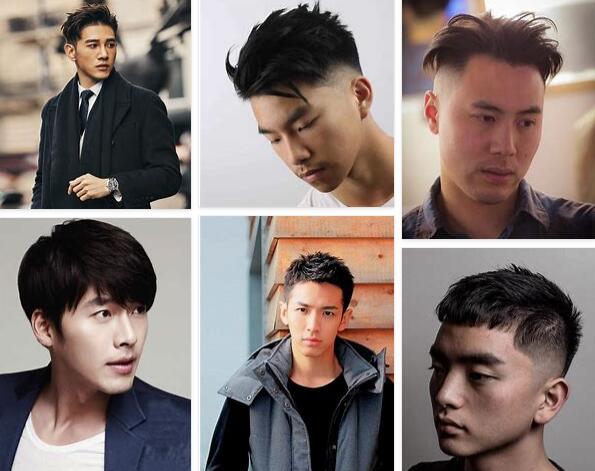 Top 60 Asian Men Hairstyles You Will Love
Do you want to try out Asian men's hairstyles that will make others go Wow? Take a look at these 50 and choose your option.

1. The Asian Undercut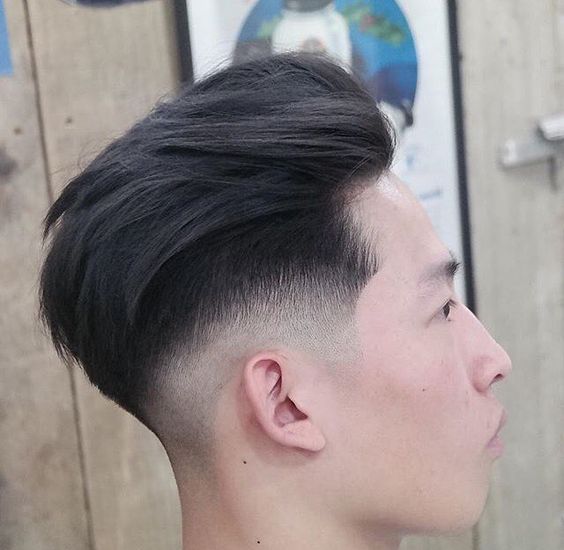 This haircut has been on the top of hairstyle trends for men in the Asian community. There is a relatively shorter haircut on the side of the hair. The Asian Undercut will reduce the thickness and length of the hair, highlighting the decent amount of hair on the top.
2. Asian Fade Haircut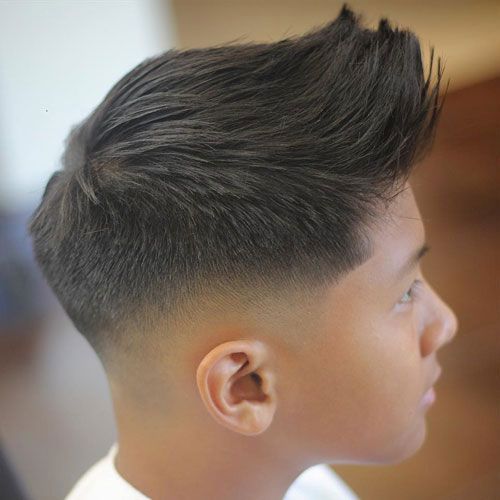 This haircut is quite stylish and goes with almost all styles. There are various versions of the Asian fade haircut, so try to choose which one you like. Generally, these haircuts include the mid, skin, high, and lower fade cuts.
3.
Short Hairstyles For Asian Men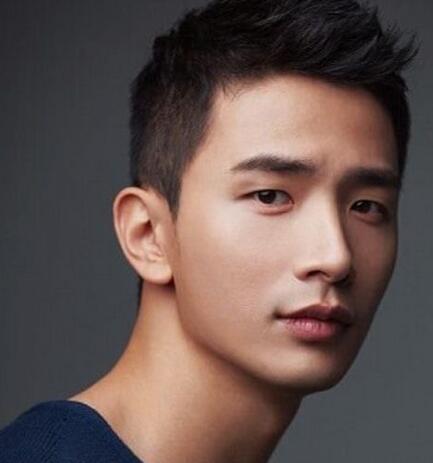 These generally comprise classic haircuts to modern haircuts. Asian men with shorter hair typically have various cuts, including the crew cut, buzz cut, French crop, and many more.
4. Long Asian Hairstyles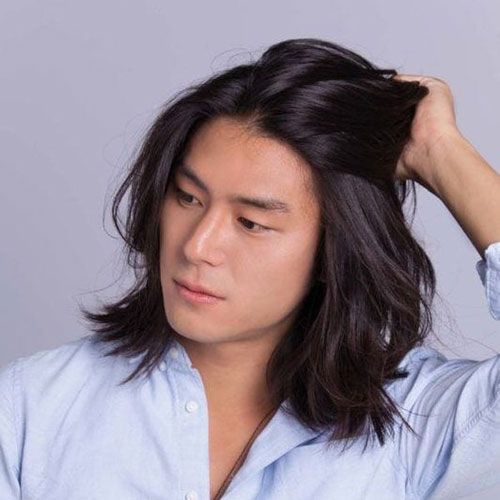 Most Asian men have long, shiny, and thick hair. Generally, long hairstyles even extend past the shoulders. There are various haircuts for that, including a messy bun, loose man ponytail, or even an undercut.
5. Comb Over Haircut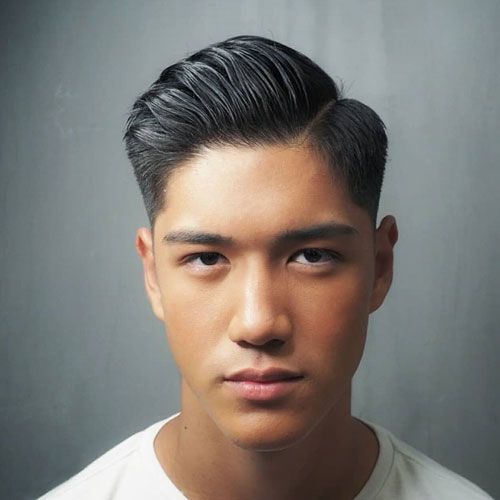 Comb Over Haircut essentially carries one of the coolest ' drips' and is trendy. Moreover, we see the comb-over fade and the undercut comb as one the trending haircuts in salon shops for years. For the medium fade comb, the weight of your hair is reduced, and you get a tapered look.
6. The Spiky Hair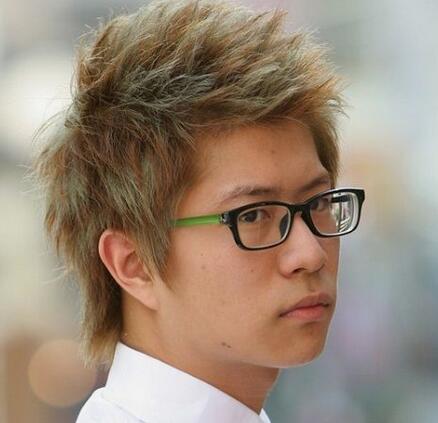 This is a cool hairstyle for those who have a thick hair structure. You can try different hairstyles with spiky hair like thick spiky strands, faux hawk in medium length, higher fade haircuts, and textured spikes.
7. Spiky Asian Men Quiff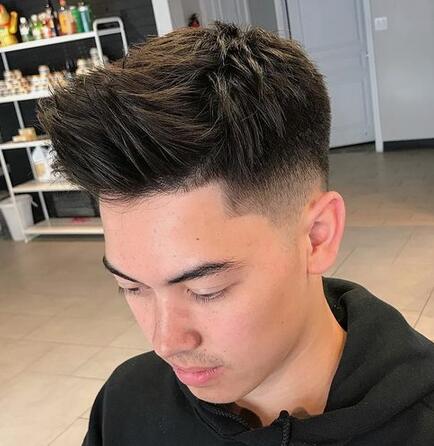 This is a combination of spiky hair along with an adequately raised quiff.
8. The Slick Back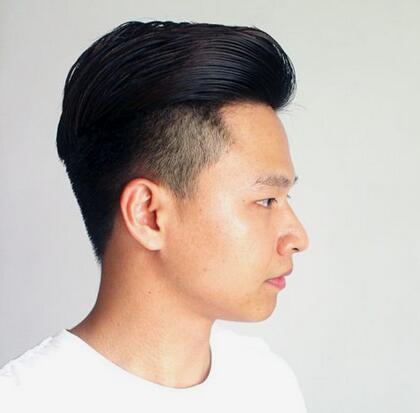 Over the years, the slick back haircut has changed itself. Asian men are now trying different hairstyles with the classic slick back. If you want this hairstyle, consult your hairstyle, and he would probably cut a slicked-back undercut. Make sure that the sides are cut short so that you can try and switch between different styles.
9. Quiff Asian Haircut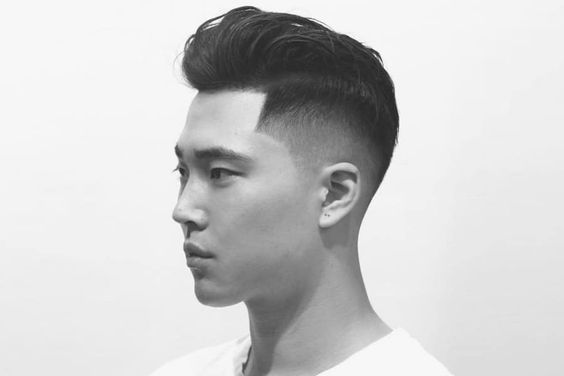 This is another trendy hairstyle and goes well with people with Asian hair. Since most hair types of Asian men are generally thick, the quiff can be styled appropriately with a decent or short amount of hair on top and tapered sides. Try to get a line around your temple for an uber-cool finish.
10. The Side Part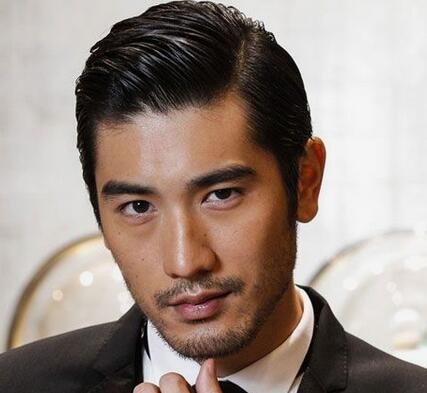 This is a classic hairstyle for Asian men. If you want a haircut for a professional look, this is the best haircut. Since the hair is quite thick for Asian men, the short layers used in style are the best for them. Also, along with this, you can get a modern fade with a hard part. You can also style it by creating a neat finish or leaving it messy.
11. Faux Hawk Asian Hairstyle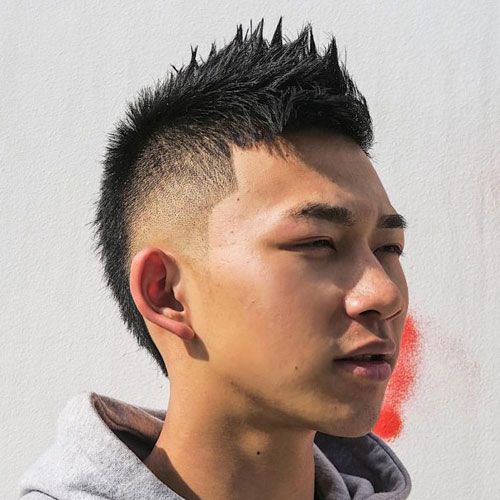 This looks super cool in Asian men as they have a thick hair texture, which helps hold the Asian faux hawk. Try to get a high taper fade or a bald fade on the sides.
12. Crew Cut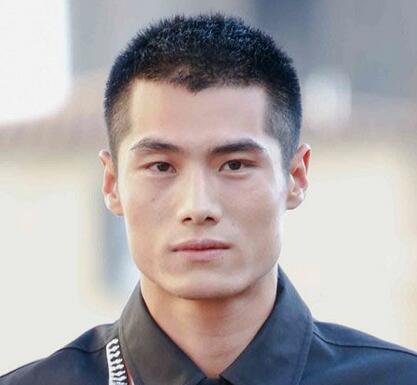 This is an easy and low-maintenance hairstyle for Asian men. This essentially does not involve any styling from your end. You can use a high fade style on the sides and shorter hair on top. This type of haircut generally enhances the natural texture for a cleaner look. If you want some flexibility for styling, you can also allow an extra bit of hair on top.
13. Asian Men Buzz Cut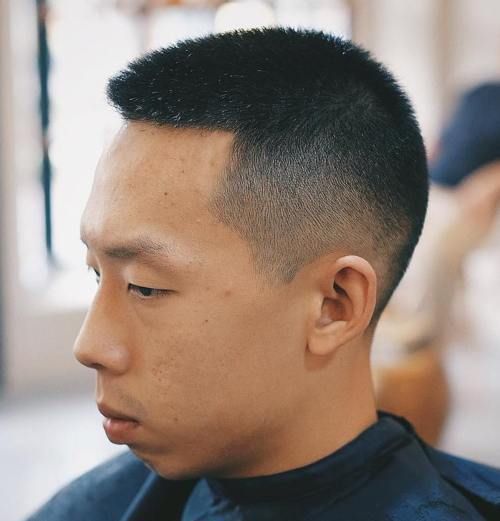 Today most men of Asian origin prefer this haircut as it is classic, chic, and convenient. This is essentially a shorter hairstyle. If you are too busy and don't have time to style your hair, then the Asian buzz cut is perfect for you.
14. Asian Men Fringe Haircut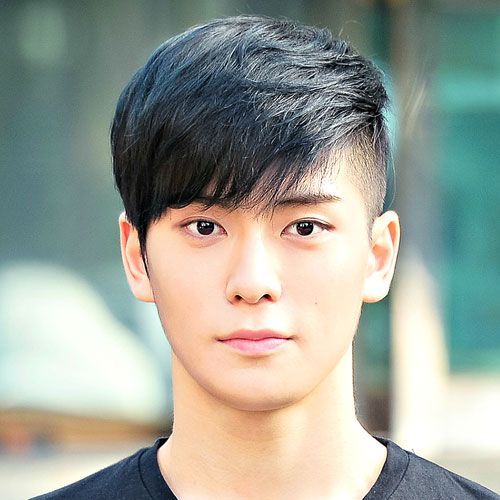 A famous saying is that the fringe cut originated in Japanese anime. We won't disagree as this is one of the top haircuts preferred by Asian men. You can choose a long or a shorter fringe but go for this style if you want something extraordinary.
15. Messy Asian Hairstyle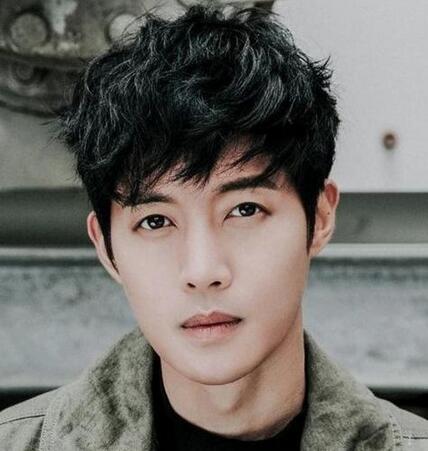 You might have seen most K-pop band boys sporting this haircut. If you have medium or long hair, you can sport this haircut. The sides are a bit tapered to look shorter than the top hair in such a hairstyle. You can choose a decent amount of hair based on your style and preference.
16. Samurai Bun Hairstyle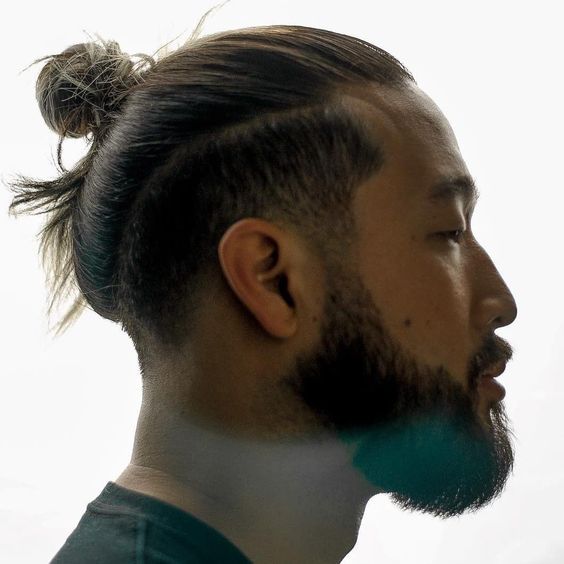 This hairstyle takes its legacy from the samurai, the warrior of Japan. If you have long hair, then you can sport this hairstyle. Consult with your hairstylist on what essential elements you must do to sport this look.
17. The Asian Men Undercut Fade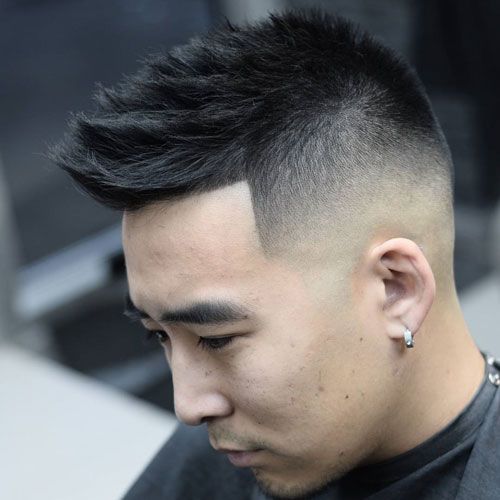 This unique haircut can be combined with a spiky quiff and many hairstyles. Generally, in this haircut, the hair at the top is decent, with the sides cut relatively short.
18. Top Block Haircut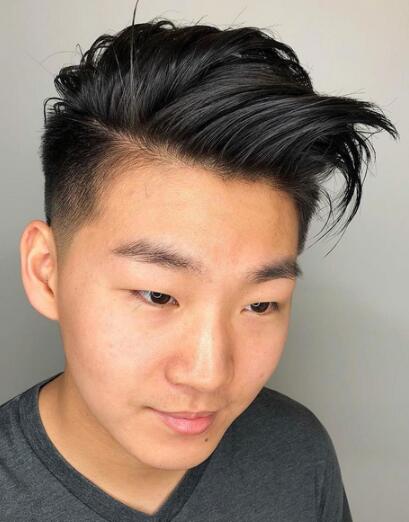 This is an iconic haircut style with the top left on the longer side, keeping it natural. The head's sides and back are generally cropped like a hair clipper in this hairstyle.
19. The Asian Men Fade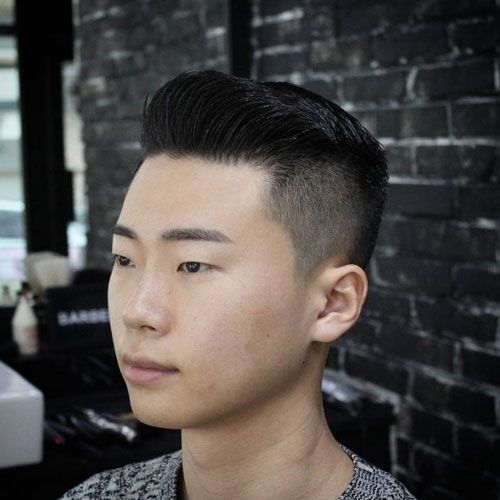 This is a trendy haircut in Asia as well as over the world. For this haircut, consult with your hairstylist whether you want a lower fade, higher fade, mid fade, or a relative taper fade. Your hairstylist will finish this haircut with decent hair at the top.
20. Textured French Crop with Taper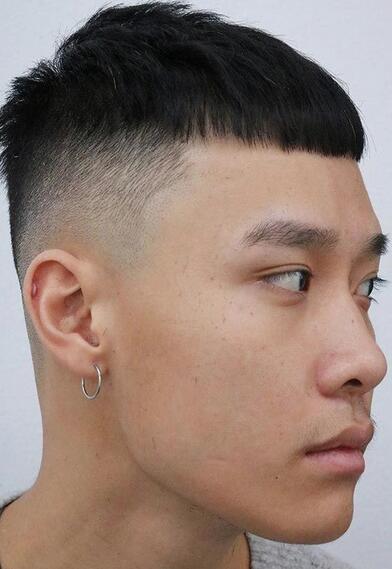 You can get this haircut by creating a French crop paired with a razor fade. This is a perfect hairstyle for Asian men.
21. Side Part Asian Haircut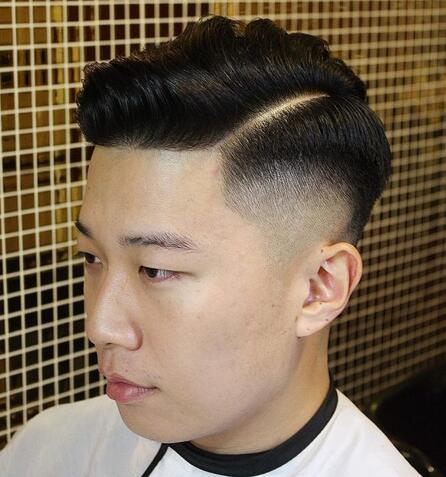 Asian men with relatively shorter hair can sport this hairstyle. You can easily create this hairstyle by separating your hair and using some professional hair products to fix this.
22. Messy Style and a Disconnect Undercut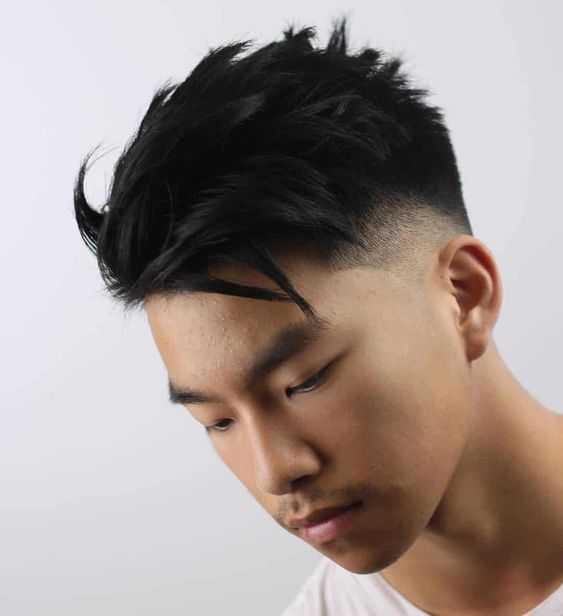 This haircut creates a wild and cool hairstyle with long locks. It is done by trimming the hair on the sides and creating a look to match various face shapes.
23. The Parted Bowl Cut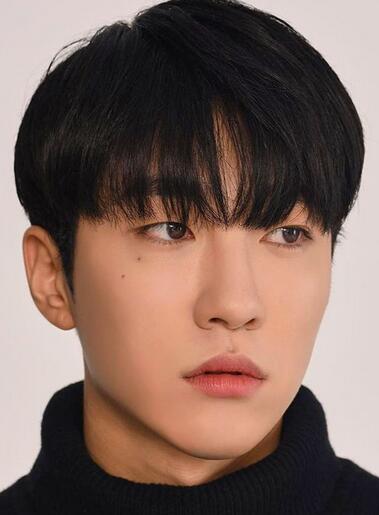 This type of hairstyle looks fantastic for any face shape. They are simple, unique, and really easy to maintain.
24. Clean Taper Fade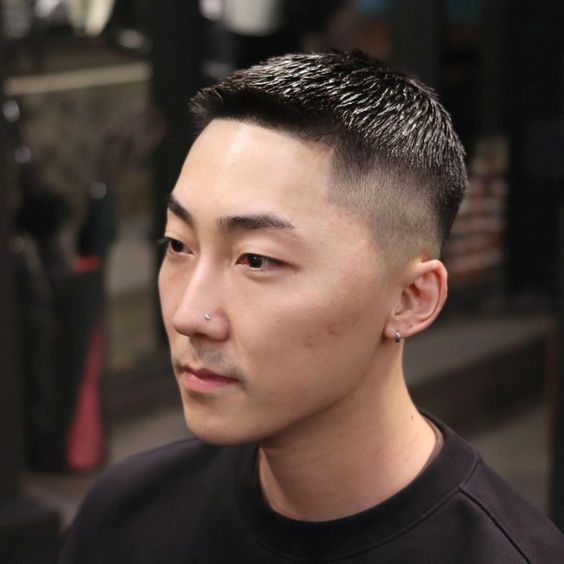 Brown hair is quite popular with Asian men. This haircut essentially involves a cleaner and tapered fade which can be sported with some fabulous earrings.
25. Fringes with Textured Top
This is the best hairstyle if you want to overhaul your spiky hair. You can consult your hairstylist to understand when to start thinning your hair if you wish to use this hairstyle. This is a very simple yet unique hairstyle you can try out.
26. The Side Band Layered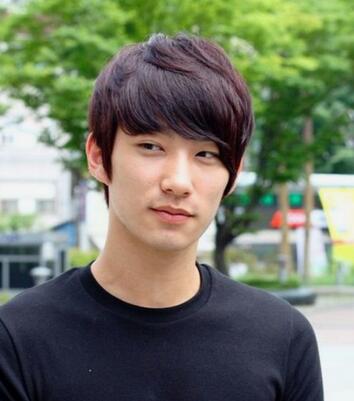 If you are looking for bangs, this is your ideal haircut. This haircut adds an angle to your face making you look stylish.
27. The Pompadour Asian Haircut
This haircut essentially focuses on a decent amount of hair on top. Here the sides are trimmed, which creates an edgy look.
28. Layered Haircut with Side Bang
This haircut is popular with Asian guys as it mixes a layered fringe with side bangs, making your hair look voluminous and adding a lot of lift.
29. French Crop with Straight Bang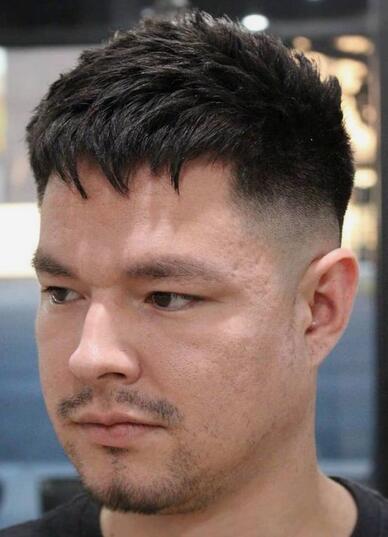 This essentially involves faded sides, which go well with the spiky hair with the top. You can try out light stubble to match your beard with this hairstyle.
30. The Slicked Back Asian Men Fade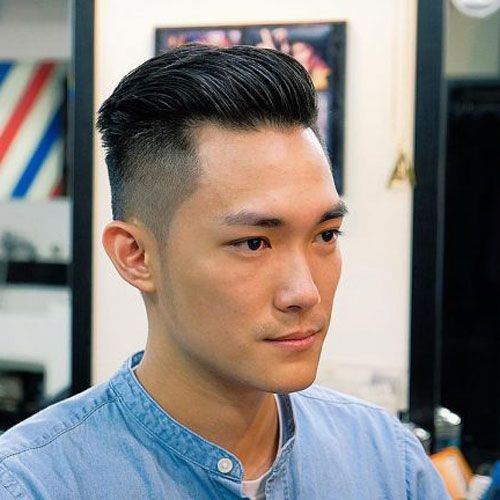 If you have an upcoming event, you can try this haircut, also known as the modified version of the formal Chinese hairstyle.
31. Bright Messy Hairstyle
If you want to experiment with messy hair, you can try out this look by adding excellent hair color, thereby looking iconic.
32. Braided Top Asian Hairstyle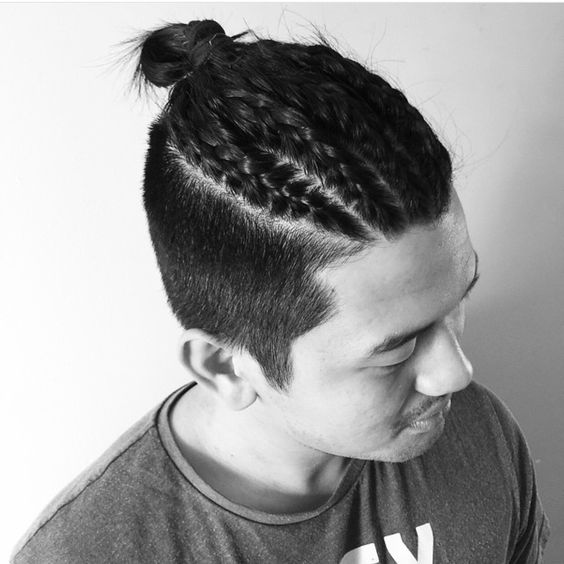 This hairstyle has been in trend recently, which comes with an edgy but braided top, essentially looking uber cool.
33. Skin Fade with Short Spikes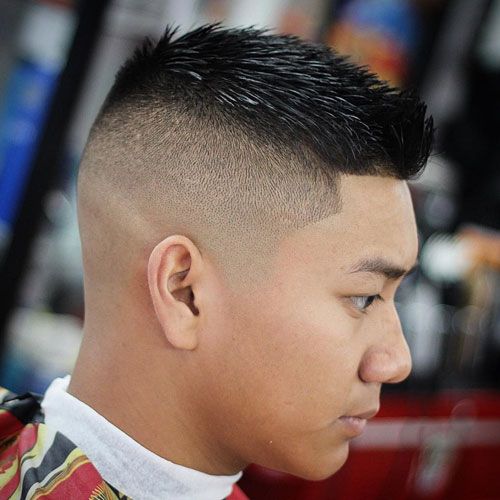 This hairstyle essentially involves cutting your hair at a shorter length at the sides and leaving some decent amount of hair at the top, giving a sharp look.
34. The High and Tight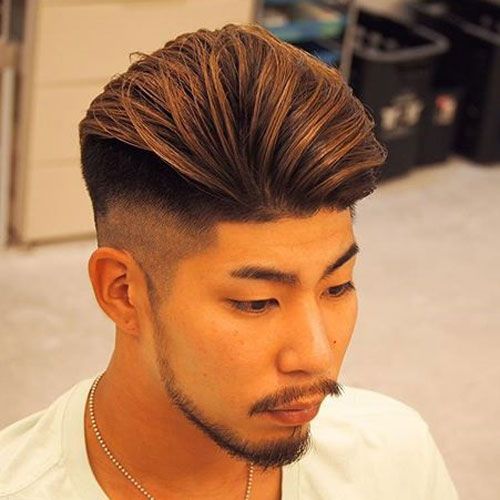 This essentially means cutting the sides and creating a lift on the top like a silhouette, creating a wild look.
35. Heavy Fringe Asian Haircut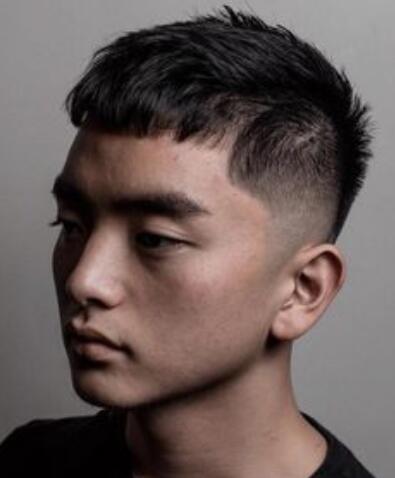 This haircut is ideal for those who are living in humid areas. A heavy Fringe haircut looks like a strip of hair running on the forehead, turning into an edgy fringe.
36. The Short Pompadour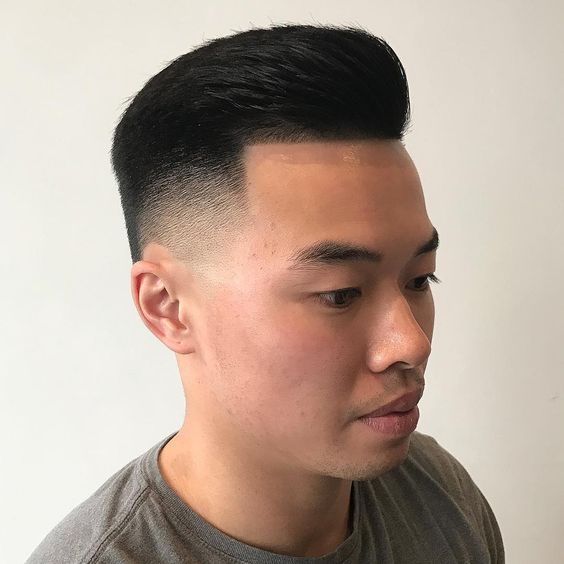 If you want to create a classy yet modern pompadour, you can ask your hairstylist to make tight sides at the side with a blend at the top and shorter hair at the back.
37. Side Swept and Disconnected Undercut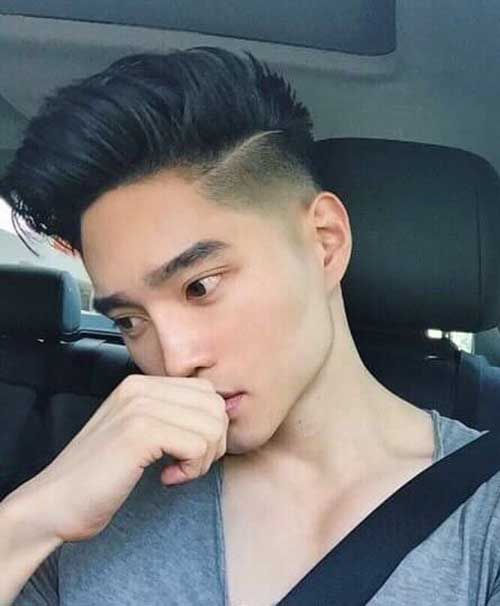 In this type of haircut, the top side is parted, and since it can be uncomfortable to manage sometimes, it is matched with an undercut that is disconnected, keeping it balanced.
38. Medium Length Curls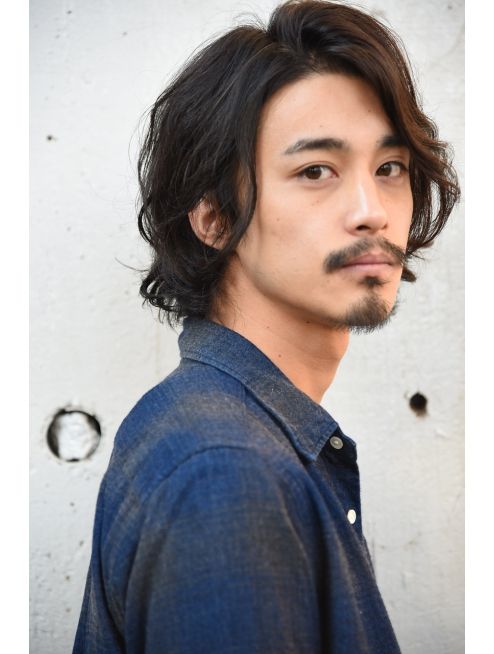 No one can go wrong with curly hair, but you should know how to style it. You can color it and get a style statement for yourself.
39. Undercut and a Low Pony
This hairstyle is a modified version of the undercut pony. If matched with stubble, it will look unique and stylish.
40. The Faded Shaggy Style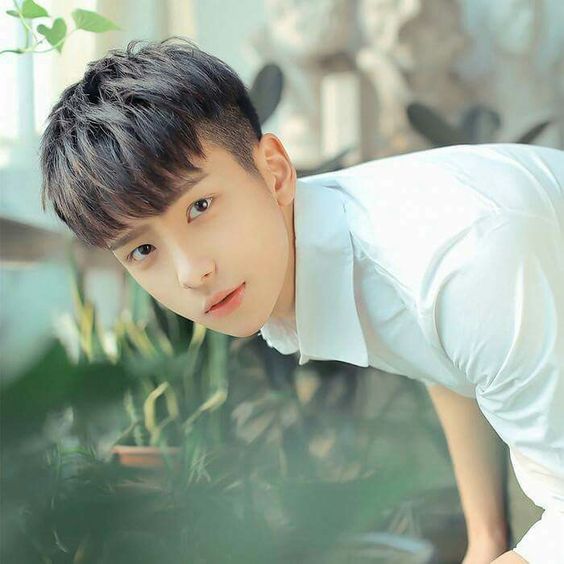 This hairstyle is created by cutting thick locks into a proper shape and tapered sides to make a flawless transition.
41. The Top Knot
This hairstyle is perfect as it allows you to keep your hair at any level you like. If you want to get rid of the extra weight of your hair, then this is an excellent option as you can sport it with tapered sides.
42. Hard Part Asian Haircut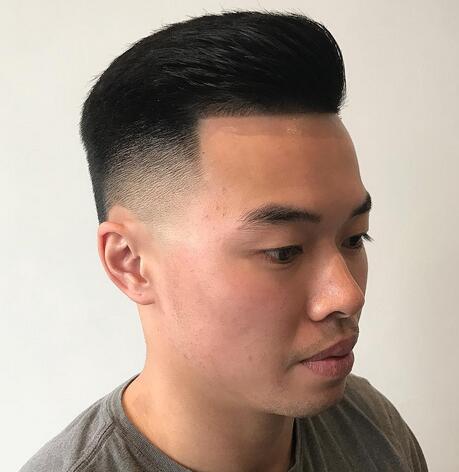 Unlike a side part that generally gets messy, this hairstyle is done by clippers. This will create a steady part that gives you a clean hairstyle. The hard part is that the haircut is also quite simple to style with some hair gel, so definitely go forward with this look.
43. Swept Back Long Top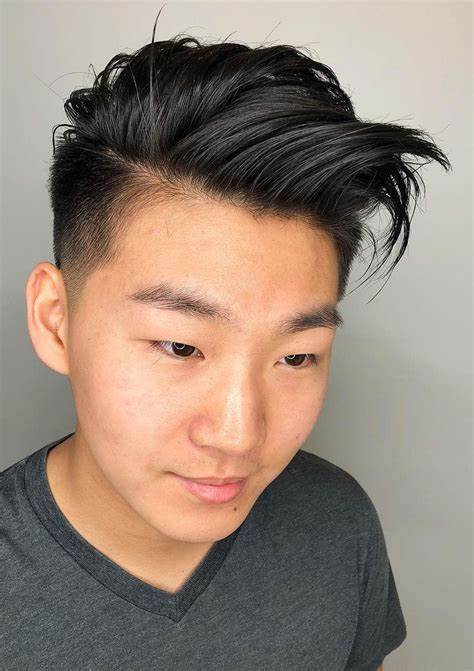 This is quite a slick hairstyle, but you must pick up the right hair products. You can use a bit of wax and brush your hair to the back, creating a super cool look.
44. The Styled-Up Textured Top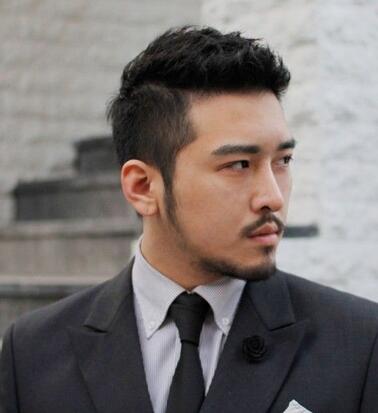 To create this, ask your hairstylist to tap your hair on the sides and leave a decent amount of hair on the top. To add a texture, you can add a texturizer at the top.
45. The Jagged Fringe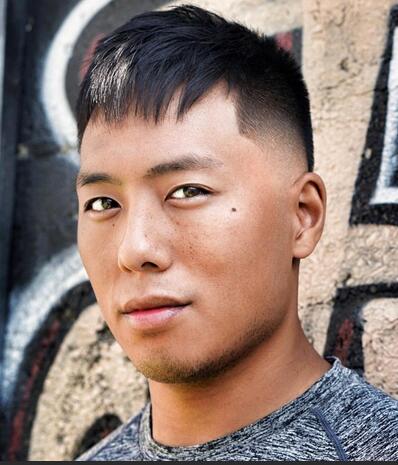 You can create this look by pairing it with blunt bangs and creating edgy spikes on top.
46. Comb Over Fade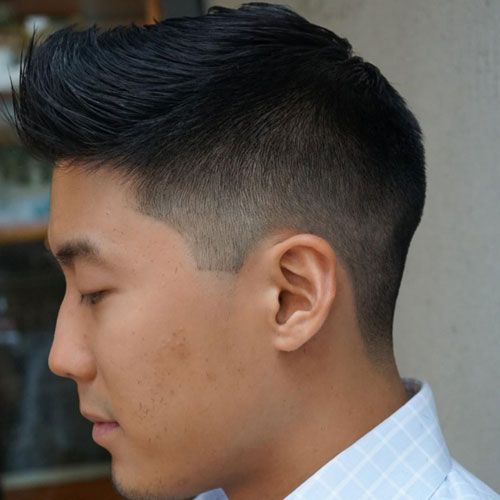 This is a popular haircut as the sides are tapered with a decent amount of hair on top, which you can comb over to create this look.
47. Blunt Bangs
If you have a crop fade haircut, then you can sport this with fringes that are long as well as blunt. You can add a jagged texture to lighten this.
48. Tousled Caesar Cut
Caesar Cut is a versatile haircut with a mid-fade look and shaved cuts, making you look edgy.
49. Asian Boy Hairstyle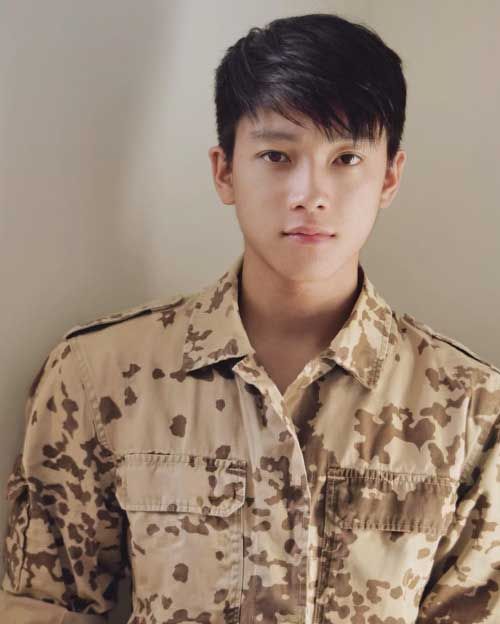 If you have short hair, you can try this look, creating a subtle college boy look.
50. Thick Brush Up
This is another variation of the quiff, but it essentially involves brushing your hair upward and creating an edgy look.
51. Korean Pop Asian Hairstyle
K-Pop is one of the most popular music genres in Asia today. The hairstyles of many K-pop singers are also trendy all over the world. If you also like K-Pop hairstyles, then you can try this hairstyle. It looks elegant and easy to maintain.
52. Classic Asian Men's Hairstyle
Classic Asian men's hairstyles have a severe and stylish look. There is not much difference in hair length between the top and sides of this hairstyle. They are easy to maintain and suitable for business life.
53. Ivy League Asian Men Haircut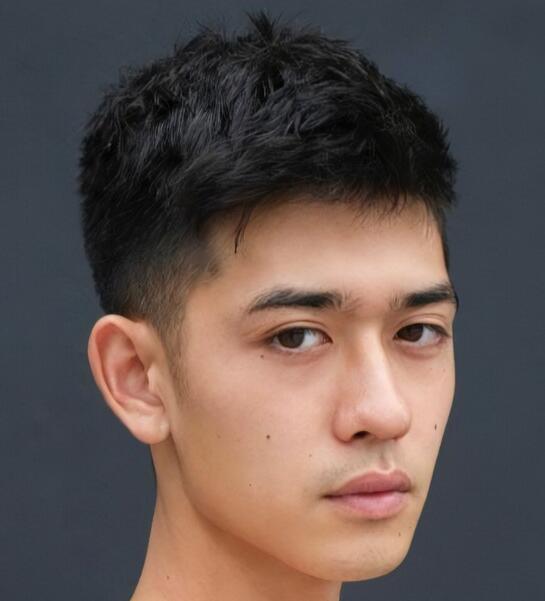 54. Short and Spiky Asian Men Haircut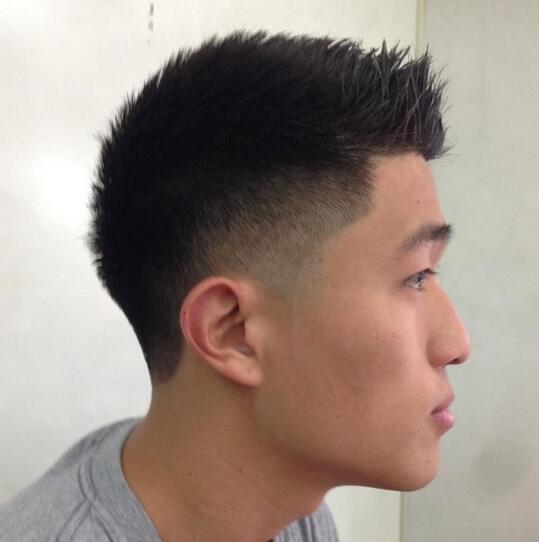 55. High Fade Asian Men Haircut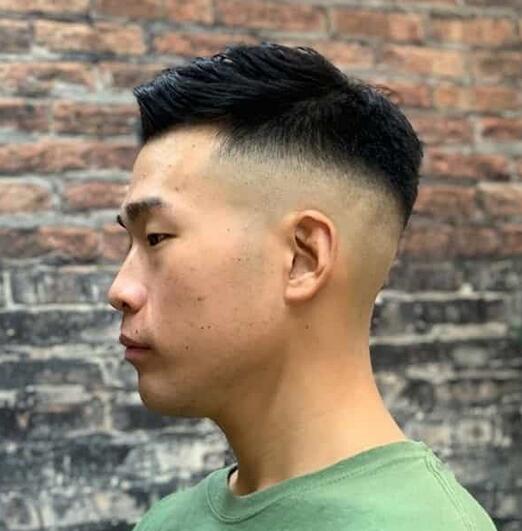 56. Mid-Fade Asian Men Haircut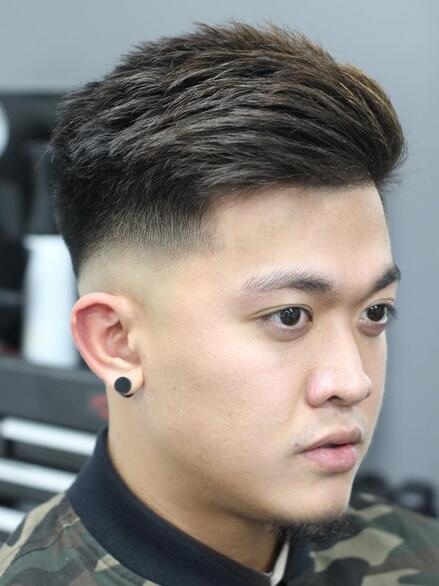 57. Textured Low-Fade Asian Men Haircut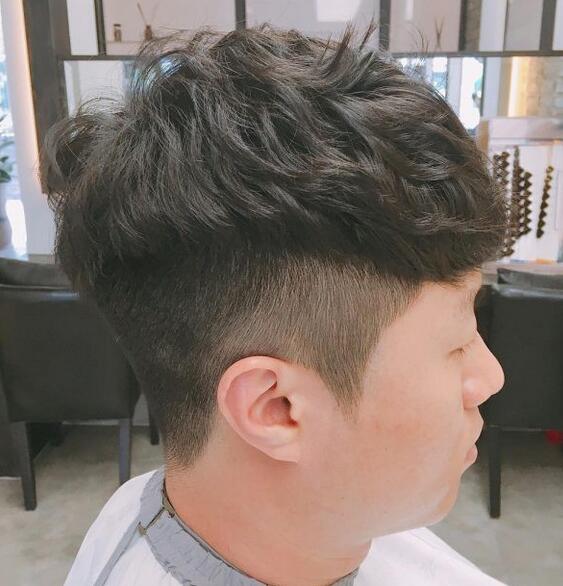 58. Swept Back Asian Men Haircut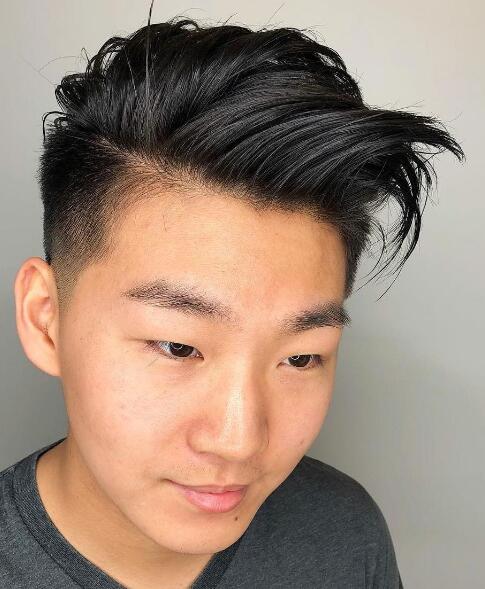 59. Long Dyed Shag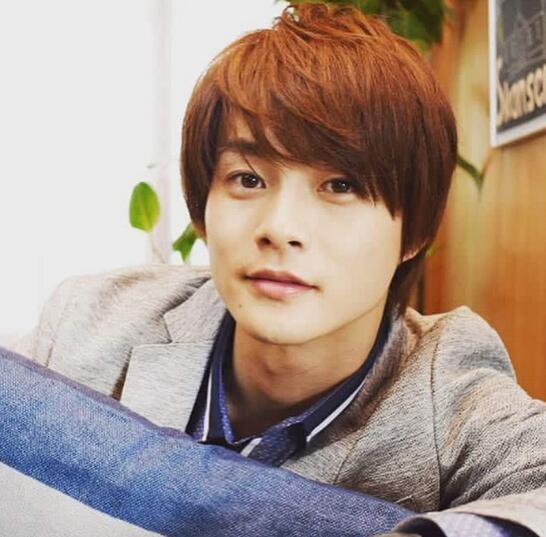 60. K-Pop Men Style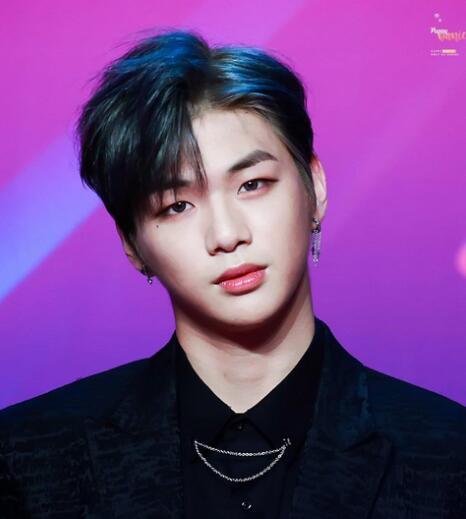 FAQs
1. Can Asian men sport long hairstyles?
Absolutely! Asian men can rock long hairstyles. Styles like the man bun, ponytail, or long layered cuts are popular for those who prefer longer hair. It's important to consider factors such as hair texture and face shape when choosing a long hairstyle that suits you.
2. Are there specific hair products recommended for Asian men's hair?
The choice of hair products depends on individual preferences and hair type. However, Asian men with straight or fine hair often benefit from lightweight products like texturizing sprays, pomades, or styling creams to add volume and texture. Those with thicker or wavy hair may opt for stronger hold products like waxes or gels.
3. What hairstyles work well for Asian men with thick hair?
Asian men with thick hair have plenty of options. Layered cuts, textured crops, or medium-length styles can help manage the volume while adding movement and style. Adding texture through techniques like point cutting or razor cutting can also help reduce bulk and create a more manageable hairstyle.
4. Are there hairstyles that suit Asian men with thinning hair?
Asian men with thinning hair can consider styles that create the illusion of thickness and volume. Shorter hairstyles with textured or layered cuts can help add dimension and make the hair appear fuller. Additionally, styling products like volumizing powders or sprays can provide extra lift and density.
5. How can Asian men style their hair for a casual, relaxed look?
For a casual and relaxed look, Asian men can try hairstyles with a more tousled and textured appearance. Styles like the messy top, tousled quiff, or a casual side-swept fringe can create a laid-back vibe. Using a matte or texturizing product can enhance the texture and create a natural, effortless look.