Blowout haircuts were trendy during the 1990s and came back in the 2000s, thanks to Paul D from Shore Fame. Many sports personalities and celebrities have been wearing blowout haircuts recently, making it one of today's latest trends. This article will discuss the 38 best blowout haircuts for men.
What Is a Blowout Haircut?
A blowout haircut is a style characterized by short around the temples, tight sides, and a long, loose top. The name of the haircut comes from the fact that it is often styled with a blow dryer. Also known as temple fade, this hairstyle is usually shaved short around the temples and stops behind the ear.
A blowout haircut can give the hair many volumes and make it look sleek and stylish. Celebrities and models often see this haircut, and it can be very easy to achieve at home with the right tools and products.
How to style a blowout haircut?
Blowout haircuts can be styled in several different ways, but they are most commonly worn with the hair parted to the side and styled with a product to give it a shiny, sleek look.
To make a blowout haircut, you will need the following:
Professional clippers
Trimmer with T-blade
Shears
Combs and Hair Dryer
Good hair gel and hair spray
Start with clippers to create fades on the first two inches of hairline length on the sides and at the nape. Keep your hair on top about 6 inches long. You will get a two-inch band of faded short hair across the sides and back.
Once you're done, wash your hair and use a towel to dry it. Comb your hair up, pulling it up and backward. Hold this position and use your hairdryer. Apply some gel while lifting your hair and style it upward and back.
As you style with a blow dryer, correct any wandering hair. Before starting the process, you can also use a flat iron if you have naturally curly hair. If you need inspiration, check out these popular blowout haircuts in this post.
38 Amazing Blowout Haircut Ideas For Men
1. Messy Blowout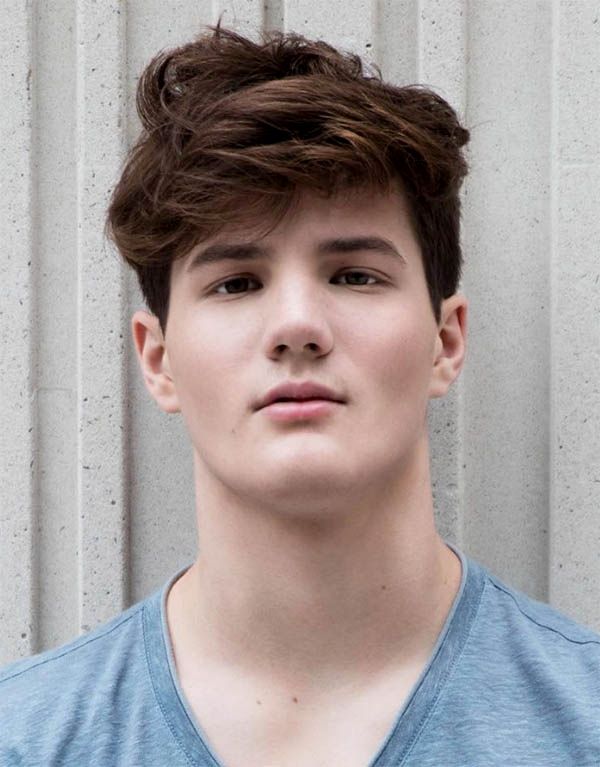 Nowadays, messy and shaggy are becoming a trend, and they can be styled in many ways, just like this one.
In this hairstyle, creative trimming has resulted in long messy crowns. Both sides and the back are short for a cool and neat look. A small amount of pomade or gel has been applied to keep the style in place.
2. Textured Rollover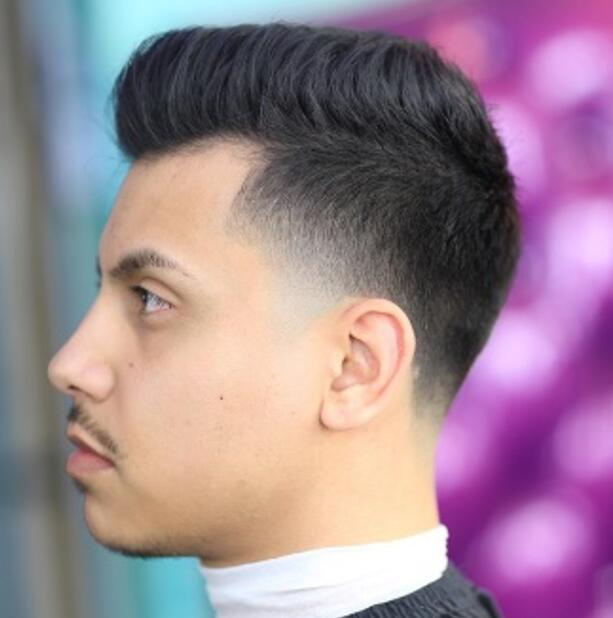 This excellent blowout haircut for men has additional height and pleasant texture, which is achieved by trimming the top section using scissors. The top has been blow-dried and rolled over to one side to create an excellent movement.
The style is then completed with a smooth taper on both sides and the back. You can also grow stubble to complement the hairstyle.
3. Classy Wave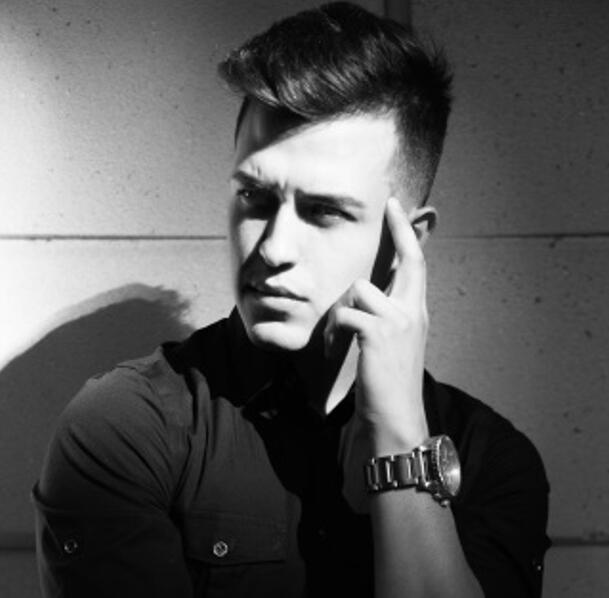 Today, hairstyles are about perfecting the top hair while the sides are completed with a taper fade.
In this hairstyle, the hair on the crown is wavy and swept to one side while both sides and the back are given a high fade. This hairdo is a great choice to wear for any occasion.
4. Spikes Blowout Haircut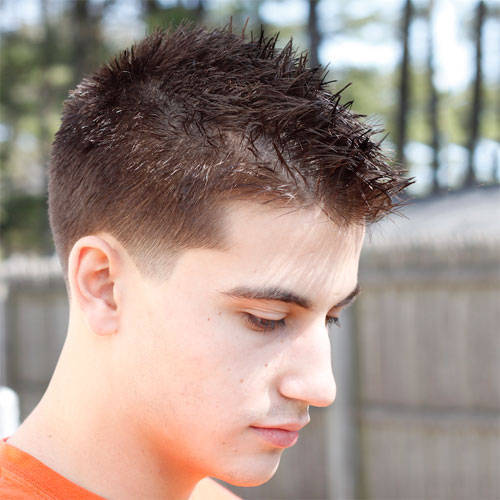 This haircut is perfect for men with naturally curly hair. You can embrace your curls as they make a great hairstyle that not everyone can try.
You need to apply some hair wax to the middle and create spikes using your fingers. There is no need to apply hair spray. Your curls are beautiful enough to draw attention.
5. Afro Blowout
African American men are lucky for hairstyles as they do not need to apply any hair product to get a perfect look.
It only requires proper trimming and right shaving of the lower hairline for a blowout appearance, and you're ready to rock the stage.
6. Hard Part Line
One of the best ways to enhance men's hairstyles is by creating lines. The hard part line in this hairstyle just upgraded the style to the next level.
The style rolled toper top hair and the medium fade on all sides create a modern look for which many ladies would fall. Some facial hairs are also added to complete the manly appearance.
7. Lazy Blowout
You can achieve this hairstyle without shaving too much. All you have to do is to apply hair gel and create small spikes for a cool look.
There is no need to shave. Push your hair upwards for a blowout effect. You can also grow a short beard for a striking facial frame.
8. Short Blowout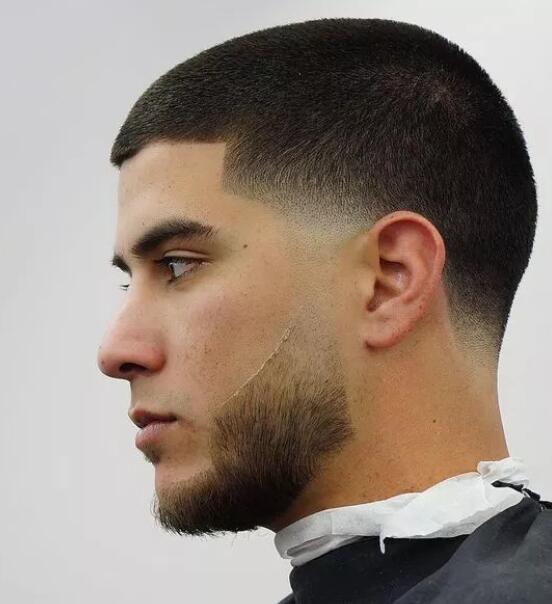 This short hairstyle looks more like an undercut, but it still shows a blowout style as the hair is creatively shaved to look like a classical blowout hairstyle.
Another great thing about this haircut is that it ultimately needs no maintenance. After a shower, you're ready to go. You do not have to apply any hair product. This haircut is best for men with fine hair.
9. Slick Back Blowout
If you are looking for a blowout haircut that looks elegant for formal events and special occasions, you can try the Slick Back hairstyle.
This haircut has an incredible undercut design that can surely turn heads. The slick back style on top can be achieved by combing backward with the help of pomade or wax.
10. Straight Blowout
This hairstyle is one of the best blowout haircuts for men that you can try for your next party, event, or everyday wear.
This hairstyle is ideal for men who do not enjoy applying many hair products. However, you will need use some hair spray to keep your hair on top in place.
11. Pushback Waves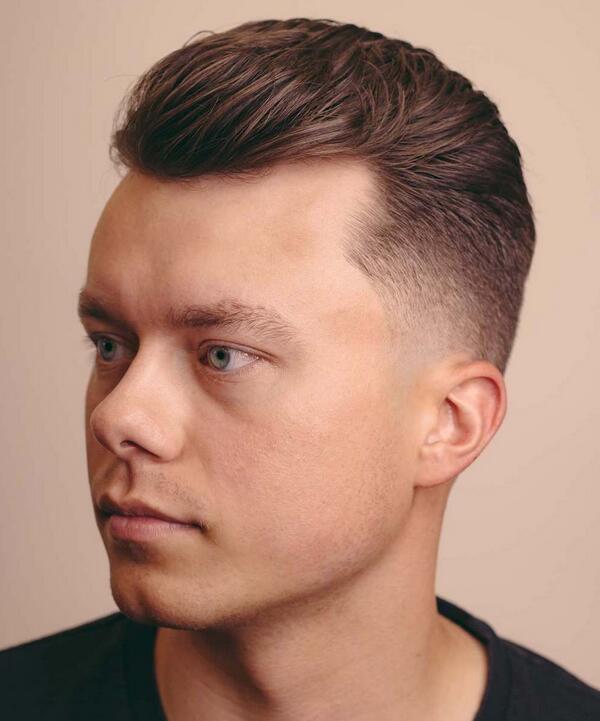 Another great blowout haircut for men with naturally wavy hair is the Pushback Waves. It will be easier to copy this style, but men with straight hair can also wear it.
To get this style, keep about three inches of hair on top and apply some gel while combing back. Both sides and the back are bald and faded.
12. Classical African American Blowout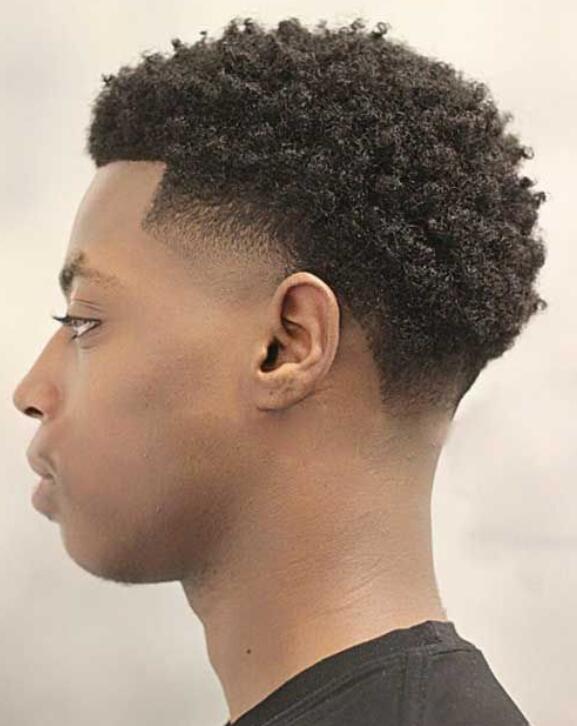 Here is the classical African American Blowout haircut you can try if you have naturally curly hair.
There is no need to apply pomade or any other hair product to pull this off. In this style, the hair is shaved to form a neat circle around the head, accentuating the top part. Keep the hair on top about five to six inches long.
13. Long Buzz Cut
Buzz cuts are primarily military haircuts because they are short and suitable for the army. Nowadays, buzz cuts come in different forms, lengths, and shapes.
In this long buzz cut blowout haircut, the buzz at the top is longer than usual, while both sides and the back have a zero fade. This hairstyle also looks great, with a thick mustache and beard.
14. Artistic Blowout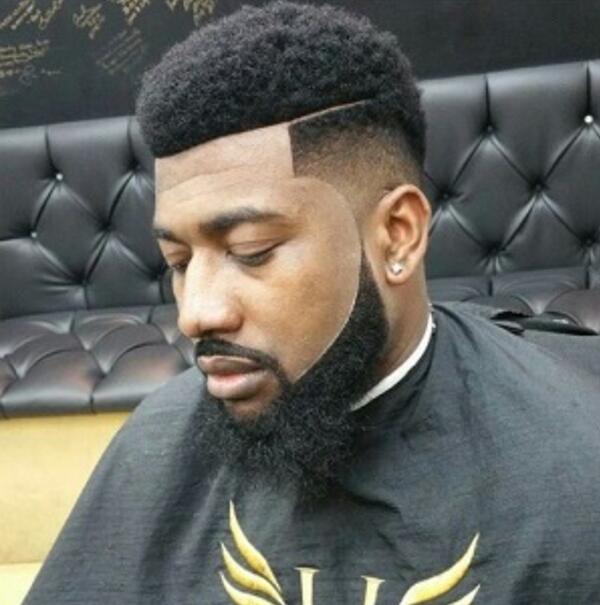 When it comes to hairstyles and shaving, there is always enough room for art. It can be in the form of simple straight or curved lines.
This hairstyle has visible lines, and the sides are creatively shaved to connect to facial hair. You can also go for geometrical shapes to make your blowout hairstyle stunning.
15. Half Disconnect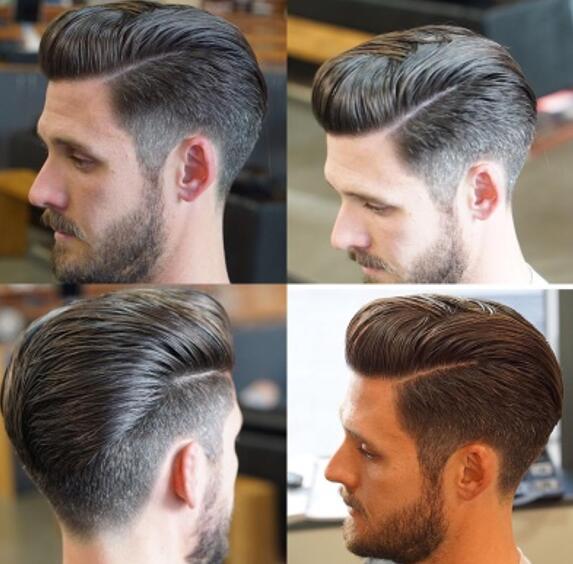 If you have enough patience and the services of a professional stylist, you can always have an incredible hairstyle.
The blowout haircut combines a low undercut, pompadour, and a side part to achieve a charming look in this photo. It is also coupled with a soft beard that connects to both sides of the hair.
16. Cowlick Blowout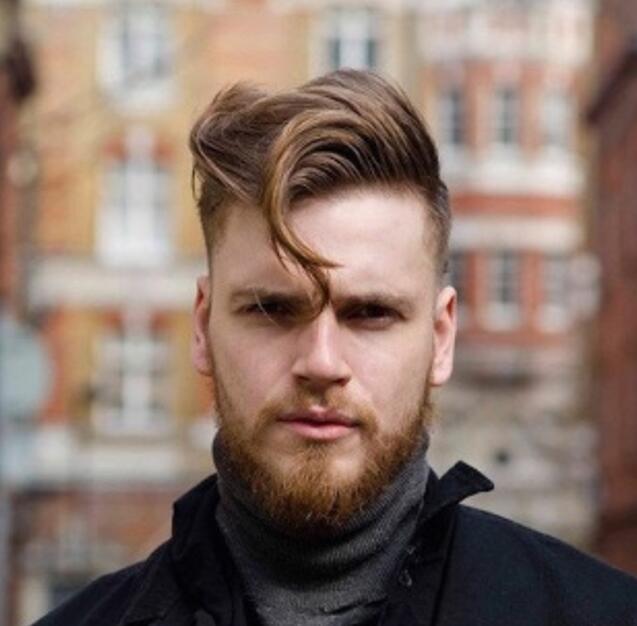 You can always show your creativity when it comes to styling your hair. This hairstyle has long hair on top that can be combed towards the front, allowing the bangs to form a cowlick appearance.
Apply a good quality gel or wax to keep the style in place. You can also try this blowout if you have long bangs.
17. Wild Style
This wild style is one of the best blowout haircuts for men. You can achieve this style if your hair is long enough.
The sides have visible lines and shapes, and the styling part becomes more interesting with the top section. You can make a textured pompadour or a wild mess and apply some gel to keep it perfect throughout the day.
18. Rolled-Up Faux Blowout
If you are looking for a cool hairstyle that can catch the attention of everyone, you might want to try this rolled-up faux blowout.
The texture and volume of the hair will surely get a lot of eyes. Another great thing about this is that the bangs are maintained in the center and rolled up. Both sides have a classic mid fade to accentuate the middle hair.
19. Curly blowout with part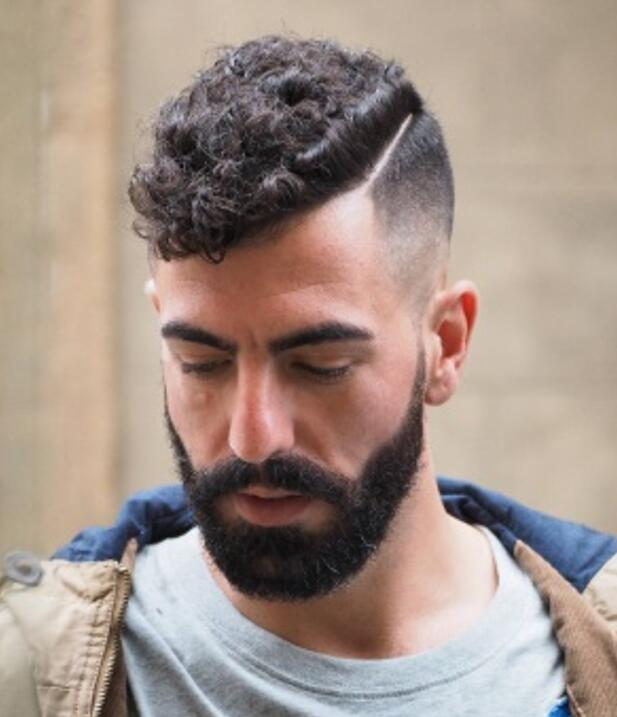 Men with naturally curly hair are considered lucky as there is no need to style their hair. Their natural waves or curls are usually enough to rock the stage.
You can enhance it by making a deep side part between the temple's faded sides and the crown. This hairstyle also looks great with a medium-length beard.
20. Comb Over
If you want a blowout haircut but your hair is not thick enough, you can always go for a comb-over.
With this style, you can create additional volume for a blowout appearance. You can copy this hairstyle by shortening or shaving the lower part of your hair. Grow some facial hair to complete the style.
21. Messy Spikes
If you do not want to shave both sides clean like the classics, you can still get a blowout look with the Messy Spikes hairstyle.
Keep the top hair four to five inches long. After a shower, dry your hair with a towel and apply some gel while blow-drying your hair. Comb upwards and make it a little messy for additional texture.
22. High Blowout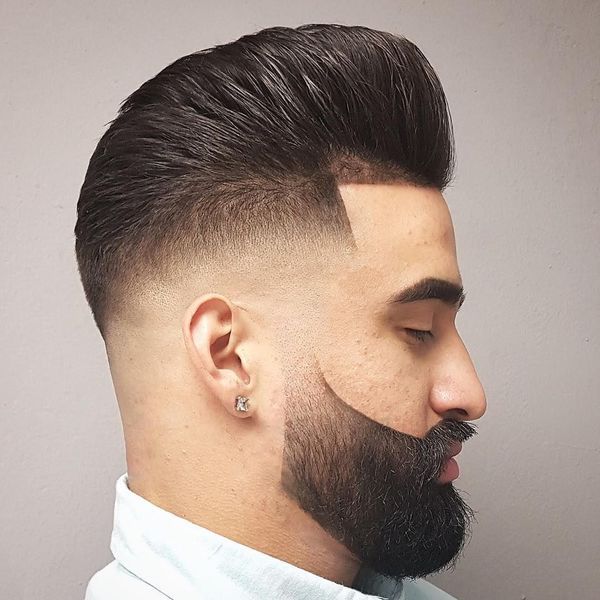 Another excellent blowout haircut for men that might inspire you to add spice is the High Blowout.
Both sides and the back are trimmed short in this hairstyle, while the hair on top has been brushed upwards. You can also add some highlights to your hair to accentuate this cool style.
23. Long Bangs
This is one of the most fashionable hairstyles for men who want to keep their hair long. In this style, long bangs are created with shears.
The strands are also pushed back and tapered for great attraction. Both sides and back are trimmed short of completing the look.
24. Disconnected Blowout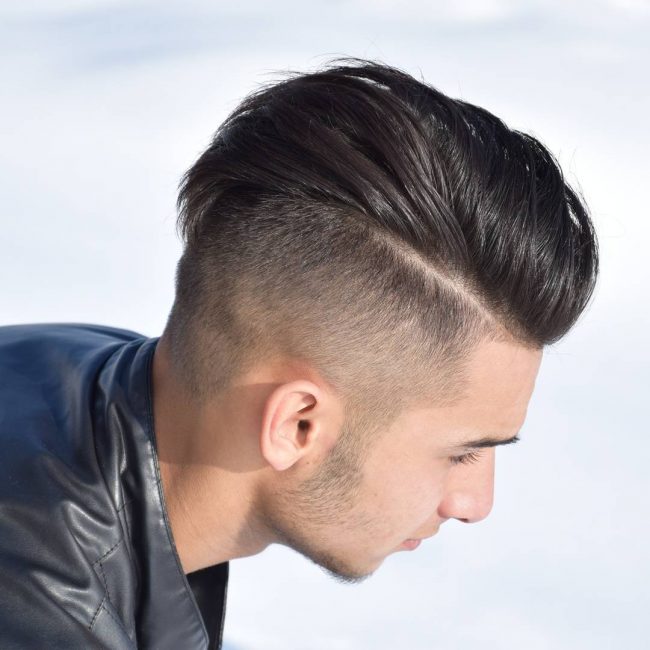 One of the popular haircuts today is the disconnected style. You can achieve this stylish look by shaving both sides of your head as you would for a blowout haircut. Style your hair on top by combing it to one side to accentuate the disconnection.
25. Forward Spike Blowout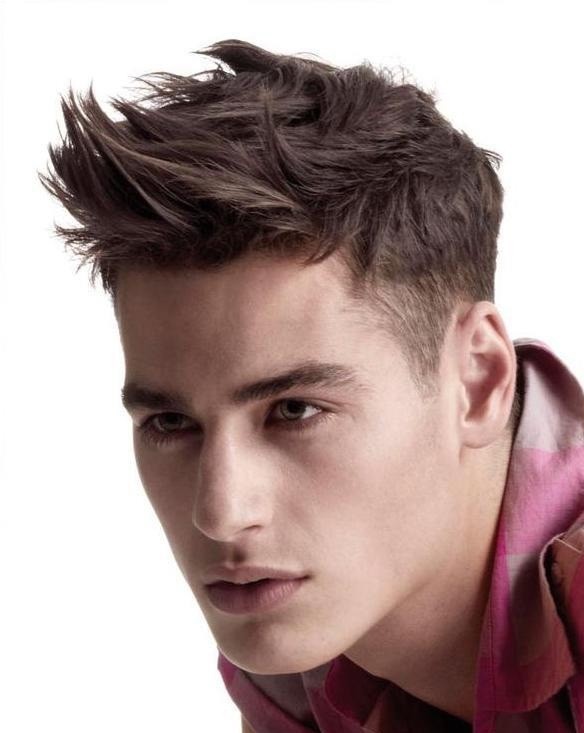 The forward spike blowout haircut is excellent for men with naturally thick and straight hair.
In this style, both sides and the back have faded effects, and the top hair is styled with some pomade or gel. Create forward spikes to make your style stand out among the crowd.
26. Disconnected Pompadour Blowout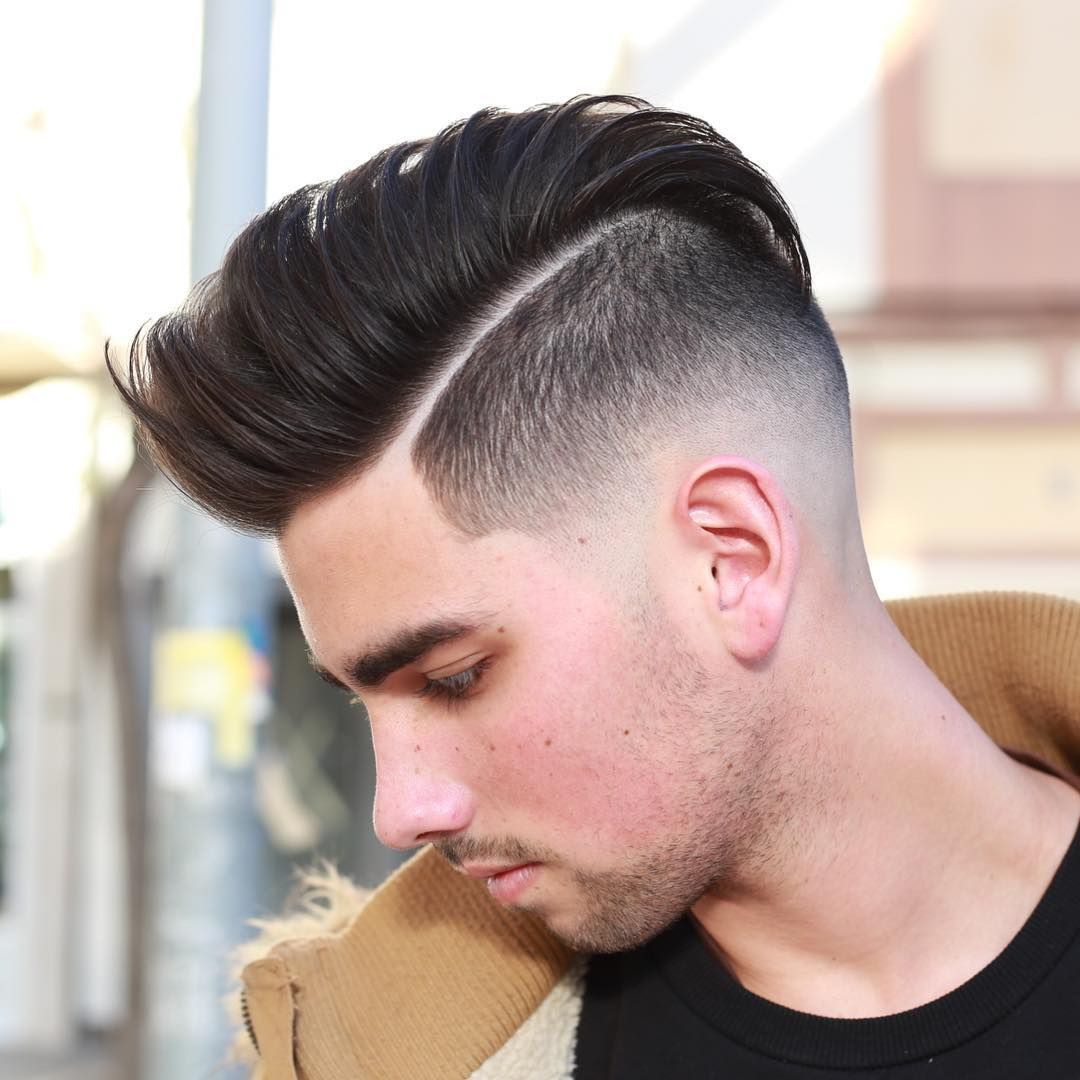 This is a stylish haircut with short, buzzed sides and a longer, voluminous top. The hair on top is blow-dried to create a pompadour effect with disconnected layers for added texture and movement.
This haircut can be versatile and styled in various ways, making it a popular choice for many men.
27. Front Curls with Fade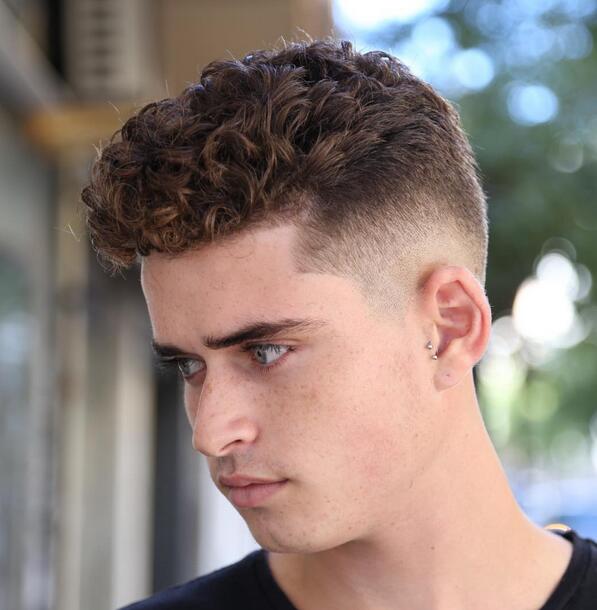 This is also one of the best blowout haircuts for men with naturally curly hair. What's great about this hairstyle is that there is no need to apply any hair product to the hair on top.
Have all sides razor faded for a fresh look, and leave enough length on top. Allow your natural curls to create a style for you. You can also couple this hairstyle with some hair color to complete your look.
28. Rolling Locks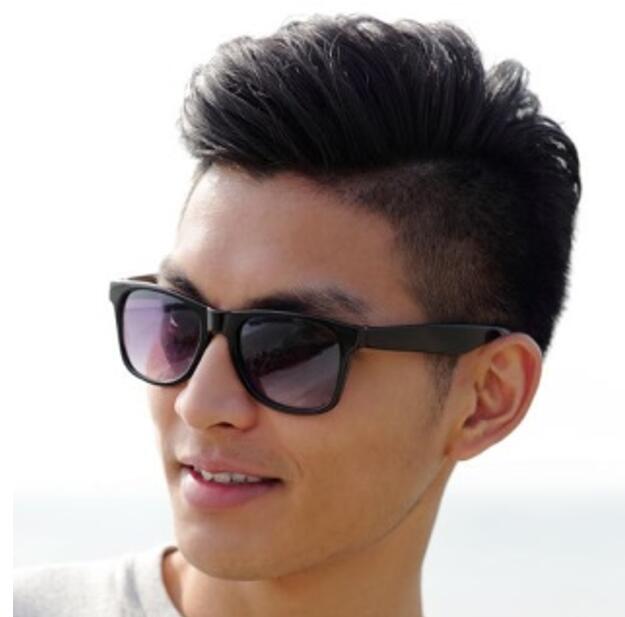 Another stylish way to give your hair additional volume is by rolling your locks over. It is super easy to pull off this style.
You can achieve this look by using a barrel brush and creating big rolls to one side. Keep your style in place with your favorite styling gel, and you're ready to go! This is the best haircut for men with natural hair.
29. Extended Fringe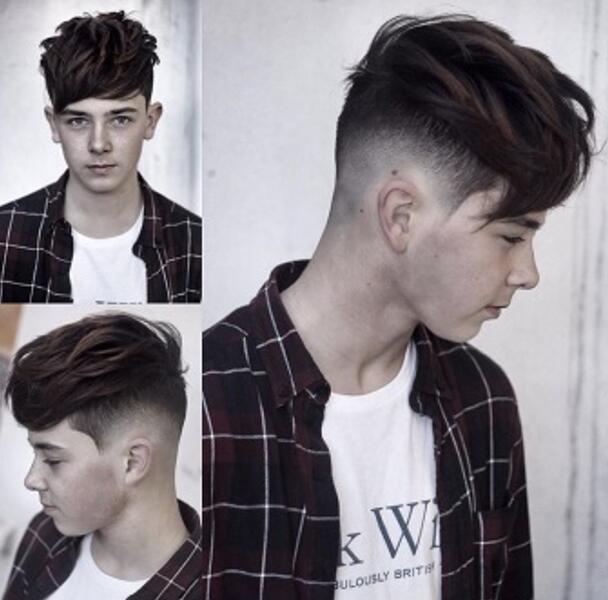 The extended fringe makes an incredible haircut. It can also be considered a blowout according to how it is styled. Both sides and the back should be tapered or shaved short.
The hair on top is moderately trimmed for additional texture. It is also extended to cover one or two inches of the forehead.
30. Spikes with Tramlines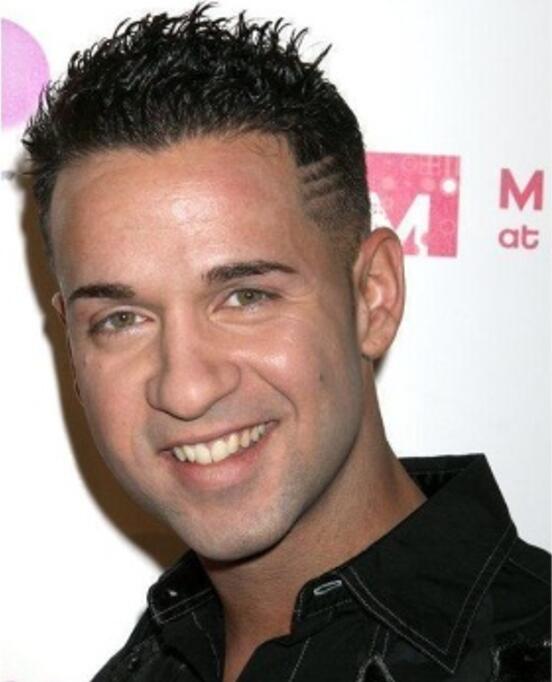 Another great blowout haircut for men you might want to try if you prefer short length is the Spikes with Tramlines. You can copy this hairstyle by keeping the sides relatively short without shaving off clean.
Use a razor to create three small lines on both sides of your hair. Use a gel to make small spikes on top.
31. 90s blowout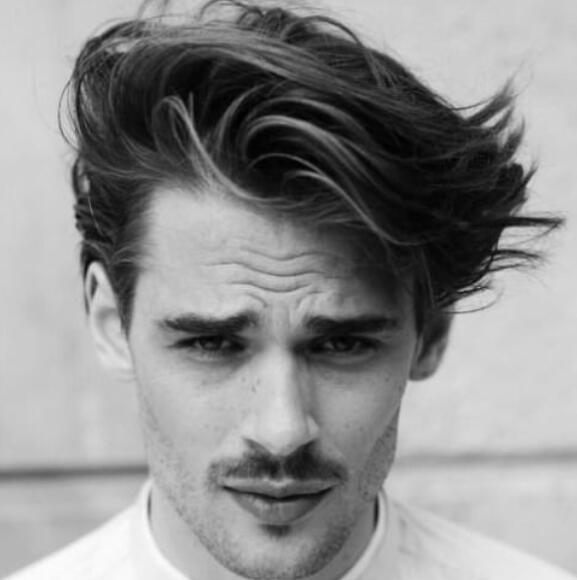 The most typical look of the 90s blowout is a very tall, voluminous crop, almost like a pompadour. It's very dramatic, with a high forehead and side-swept bangs.
The back of the head is cut very short, almost close to the neck. The front of the hair is extremely long and voluminous. This look is dramatic and striking, but it requires a lot of styling products to create.
32. Medium hairstyle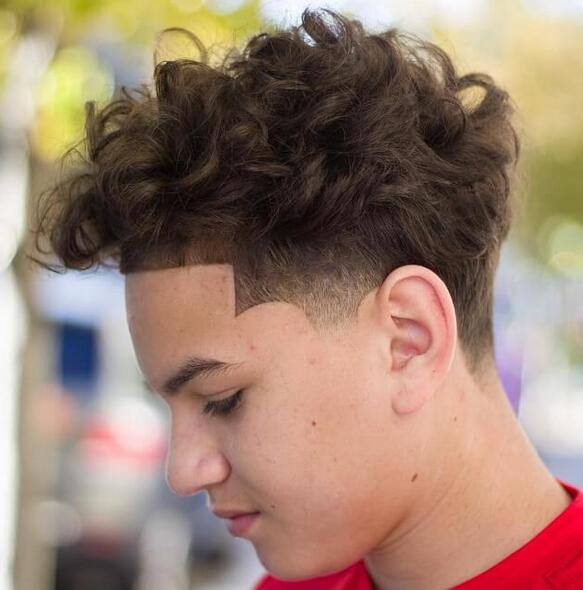 A medium-length haircut is anything from chin length to just above the shoulders. It is a bit longer than a short haircut, but not as long as a long haircut. This length of hair works on most hair types.
33. Modern blowout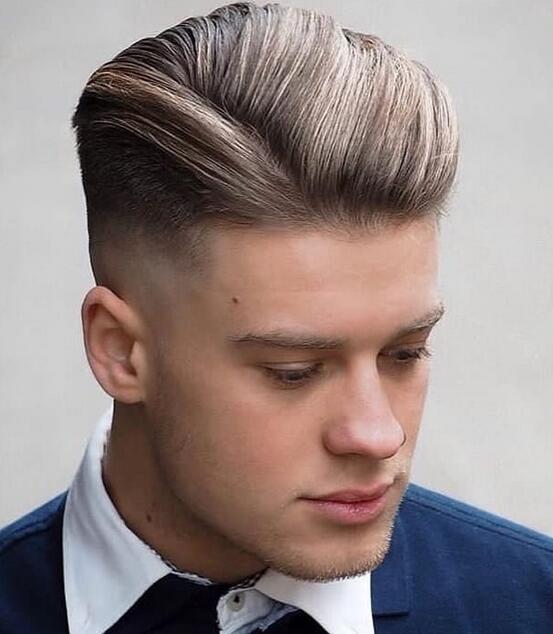 Modern blowouts are often worn with a looser curl pattern and are usually much longer. One of the most common ways to style a stylish blowout is to curl the hair using a clipless curling iron. The longer length of modern blowouts makes them the perfect option for any length of hair.
34. Round brush
Round brush blowouts are easy to create and look great on almost every hair type. Creating volume at the top of your head with smooth, shiny, and straight locks at the bottom is great. You can wear it straight or curl it.
First, prepare your hair by applying a heat protectant. Next, part your hair in multiple sections and use a round brush to blow dry your hair. If you have curly hair, don't worry.
You can use a heat protectant, a curling iron, or a curling wand to make beautiful curls. Let your hair dry. When dry, use a mousse or volumizing spray to style your hair.
35. Blowout fade haircut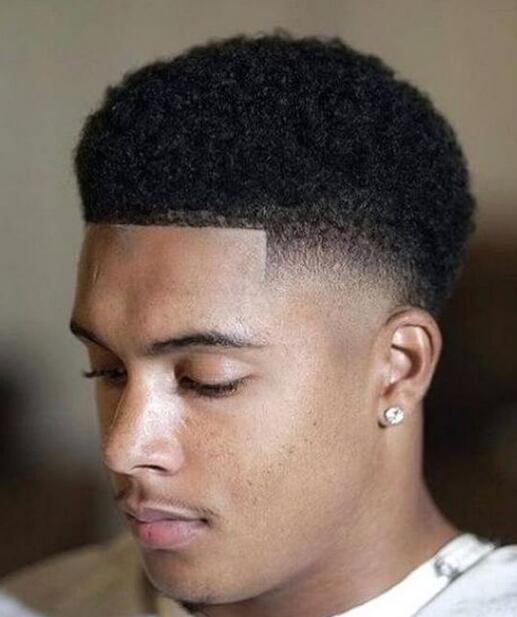 Blowout fades haircut provides a sharp, clean edge with a high fade on the sides and back. The top is cut with a blow dryer for volume and texture.
A blowout fade haircut is perfect for guys with thick hair thanks to its texture-enhancing properties. It's also suited for a smooth, curved face shape. You can get this haircut if you want to look polished and professional.
36. Skin fade blowout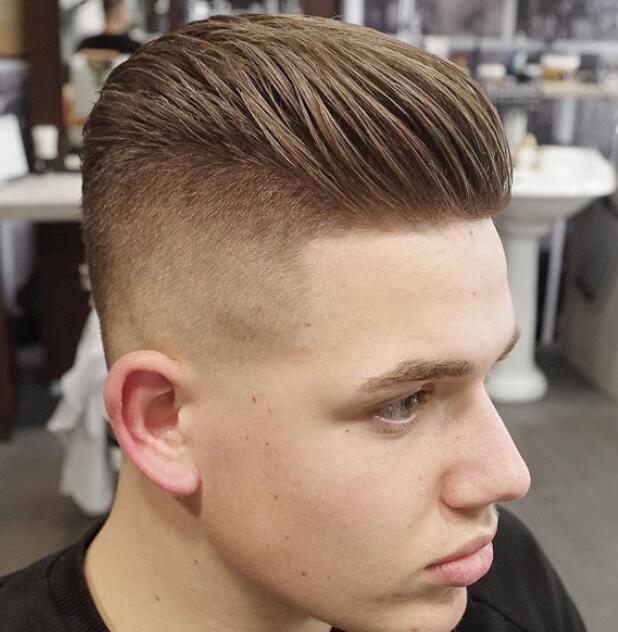 Skin fade blowouts are a variation of the classic fade haircut with a high skin fade. This haircut style works best on men with curly to wavy hair.
This haircut style often has a longer length on top and is styled with a comb to achieve volume. Most men can wear skin fade blowouts because this haircut style matches most face shapes.
37. Low fade blowout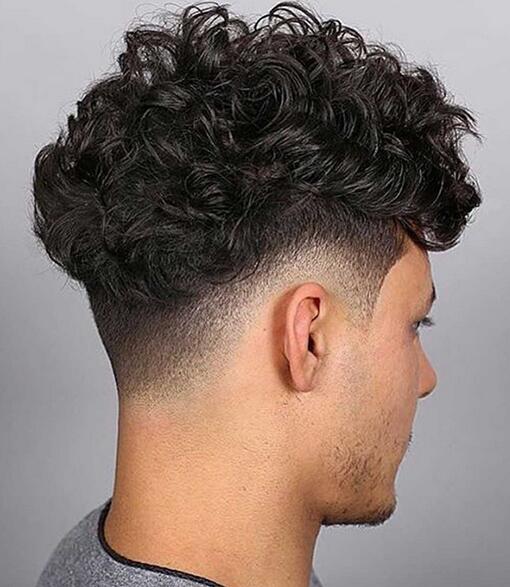 This is a trendy men's haircut that combines a low fade on the sides with a blowout on top. The hair is tapered shorter towards the bottom and gradually fades into longer hair at the top, then styled with a blow dryer to create volume and texture.
This haircut can be customized to suit individual preferences, with the length of the fade and the height and shape of the blowout varying depending on the desired look.
38. Blowout for longer hair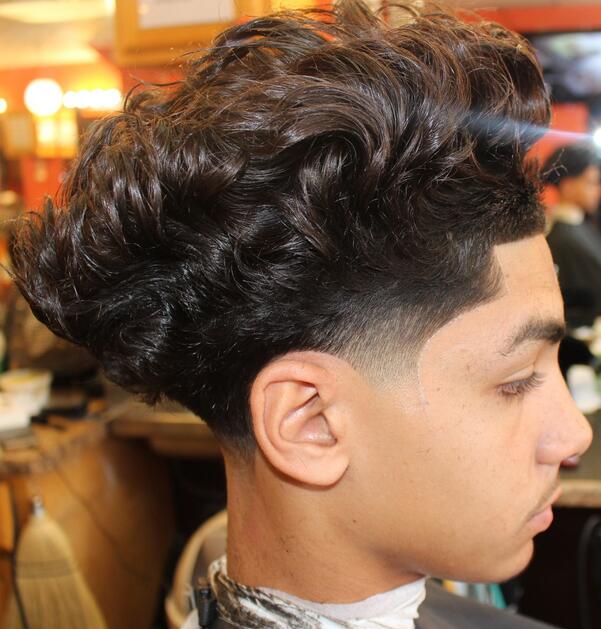 A blowout for longer hair is a styling technique that uses a hair dryer and round brush to create a smooth, voluminous look.
This technique creates volume and movement in the hair, making it appear fuller and bouncier. This is a great way to add glamour and sophistication to any look.
FAQs
1. How long does a blowout last?
A blowout can last anywhere from a few hours to a few days, depending on factors such as hair type, humidity, and styling products.
2. Can a blowout be done on any hair type?
Yes, a blowout can be done on any hair type, although it may take longer or require different techniques for certain hair textures.
3. Is a blowout damaging to the hair?
A blowout can damage hair if done frequently or with high heat, but taking proper precautions, such as using heat-protectant products and limiting heat styling tools, can minimize damage.
4. How much does a blowout haircut cost?
The cost of a blowout haircut can vary depending on the location, salon, and stylist, but it typically ranges from $30 to $75.
5. How do I maintain my blowout?
To maintain a blowout, avoid touching or brushing the hair too much, use a silk or satin pillowcase to prevent frizz, and use dry shampoo or other styling products to extend the blowout's life.
6. Are a Taper and Blowout the Same?
The quick answer is "No." A tapered haircut is a style that gradually gets shorter towards the back of your head, usually around the nape or neckline. IIt'soften combined with a side part, and the length at the top can range from short to long.
A blowout style is long at the top (usually about shoulder length or longer) and short at the bottom (usually above the nape). You can achieve this look with a straight or curling iron.