Whether you have an artistically creative personality or are just bored with your basic old hair, blue ombre hair is definitely the best choice for you!
The color blue has the power of both peace and courage; it gives you a sense of confidence and a heavenly vibe. You can go for a cherubic light baby blue, a striking dark blue color, or a really classy steel blue; options are abundant when it comes to blue hair! Without having to worry about the length, texture, or type of your hair, you can always make an impulsive move while being on the safe side. The results, although, will always be breathtakingly alluring.
50 Best Blue Ombre Hair Ideas for Women
However, as the variety of options available can be amazingly feasible, it is all the more perplexing to choose from such an abundance, admit it. To save you from this struggle, we are here to help you out with 50 specially selected and finest variants of a simple blue ombre hair color for your magnificent locks. Enjoy it as you look at all these aesthetically pleasing images that make you want to dye your hair blue as you get done with the list. Thank you!
Dark Ombre Blue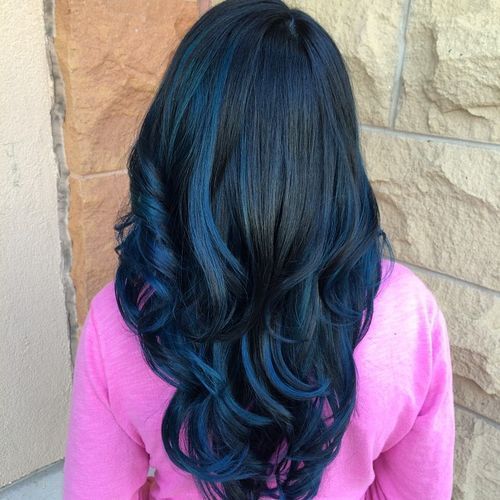 Keeping black as the base color and using a nice dark blue color as an ombre, you can create this chic look if you have long hair. It is both effortless and economical. 
Angelic Blue Hair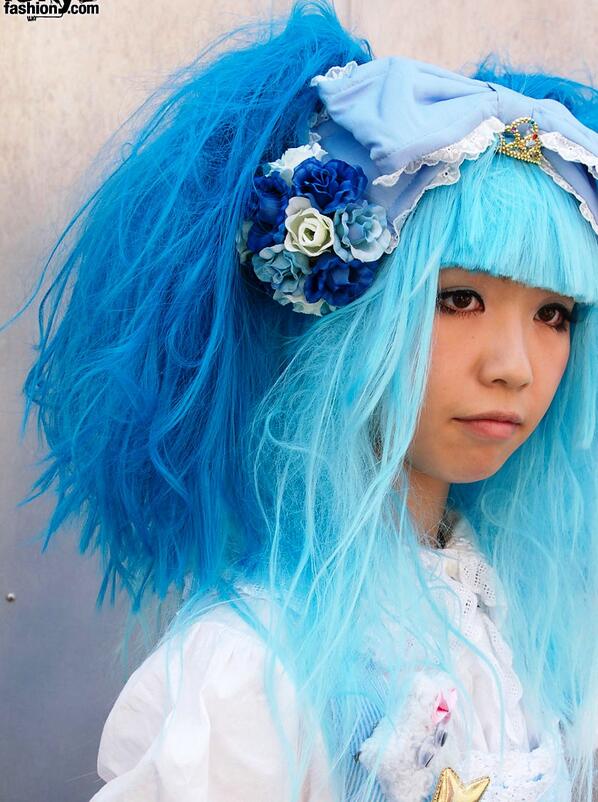 Remember that one time Halsey pulled it off with an absolutely angelic blue mane? Well, so can you, go for it! 
Blue Bob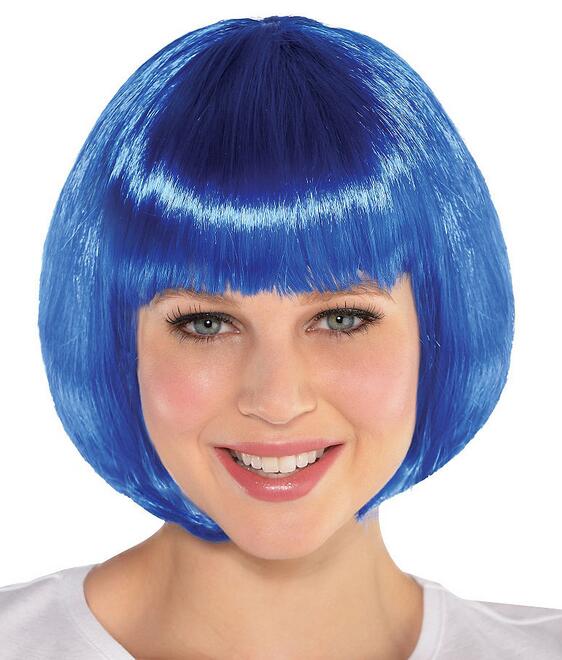 A full blue bob is one of the boldest moves, even if you're someone who loves to break norms and go against the mass. 
Mermaid Blue Hair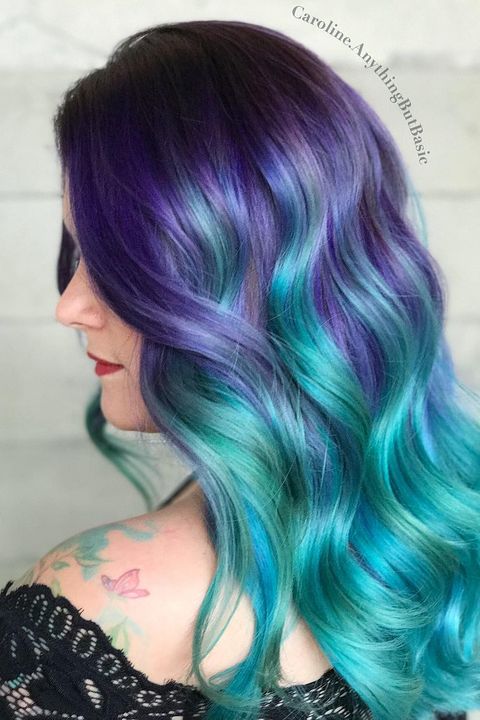 You're the artist, and your hair is the canvas. You have the right to go crazy with it and do whatever you wish to. What an absolutely exquisite way to express yourself with this mermaid-like hair. 
Steel Blue Ombre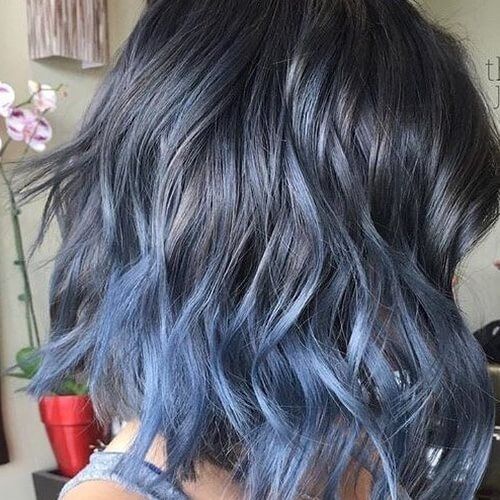 A steel blue ombre is a very sophisticated option for you if you're someone who doesn't like doing too much. Nonetheless, it still gives you a chic and elegant look. 
Blue-Colored Braids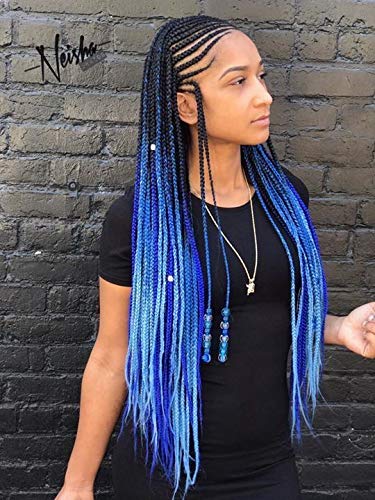 Make the most out of your gorgeous long locks by braiding your blue hair into various types of braids, whichever you know how to do. Let everyone get drunk on envy as they see you rocking this mane! 
Subtle Blue Lob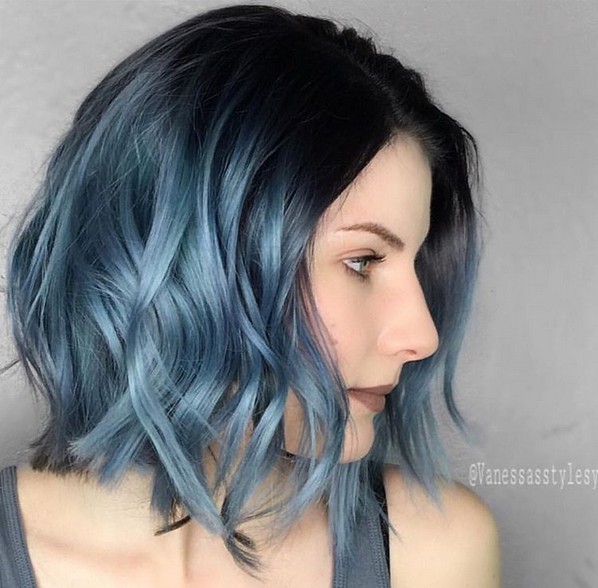 If you're someone who likes to keep it uncomplicated yet chic, this is just the look for you! Get some slight ombre highlights done, a fine lob, and you're good to go! 
Different Shades of Blue Hairstyle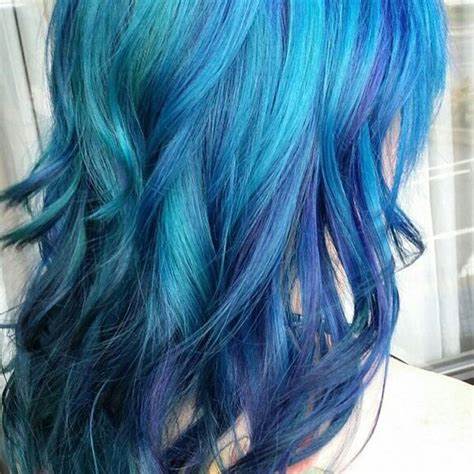 Take the vibrancy of your mane off-limits with this wonderful multi-shaded blue ombre style. Any length or texture can work this as long as the hair is healthy and the vivids are well-entrenched. 
Bold, Blonde, and Blue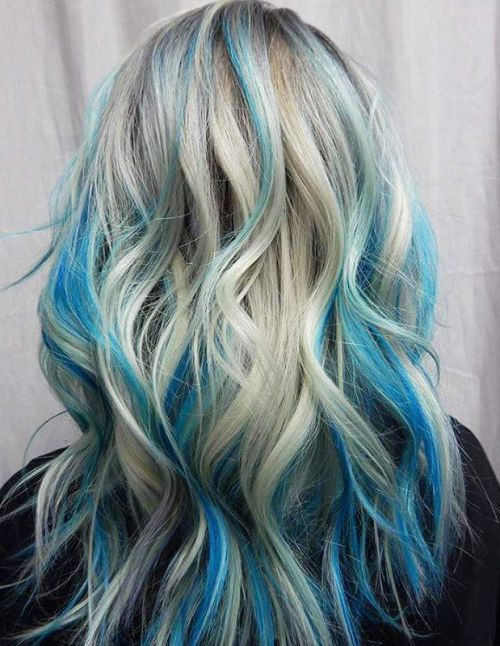 Just how poppy this combination is, right? If blending correctly, both colors can give your hair an unreal look that people can only dream of. 
Bangs and Blue Hair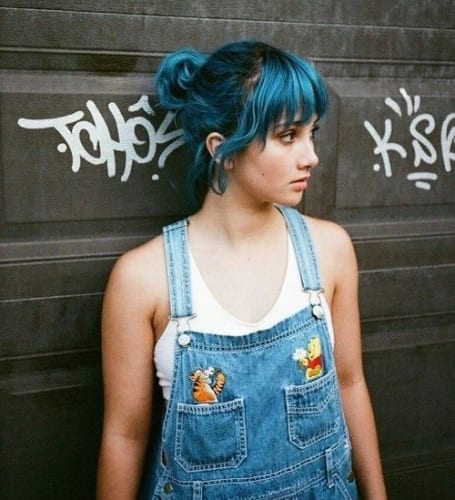 As uncommon as they sound, yes, blue bangs are a thing, and it's banging! Get yours done ASAP for a snatching and inventive look. 
Magical Combinations Blue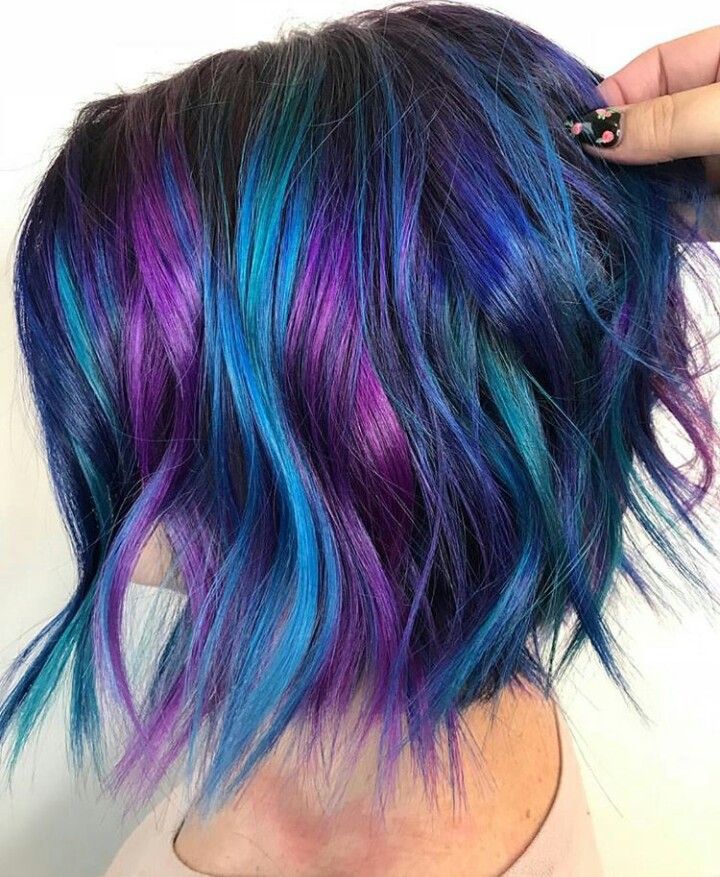 Another variant of the mermaid-like galaxy look would be this lob with a diversity of different shades of blue and purple altogether. 
Blue Ombre for Pixie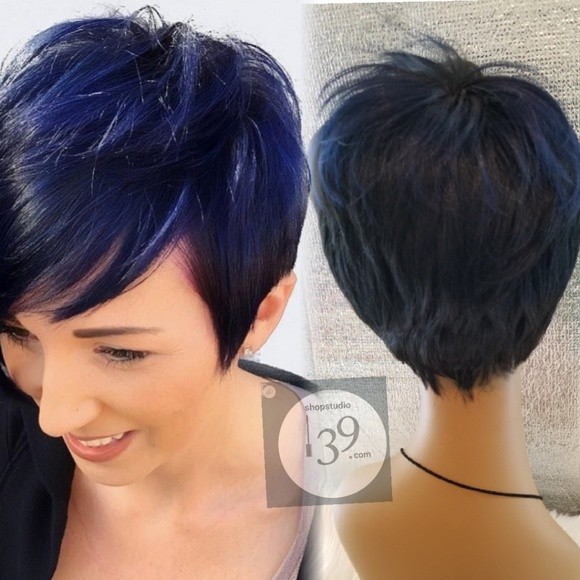 Pixies and vivid ombre go hand-in-hand in the bold and baddie association, innit? Be daring enough to get a nice pixie done with some blue hair and work the magic! 
Platinum Blue Ombre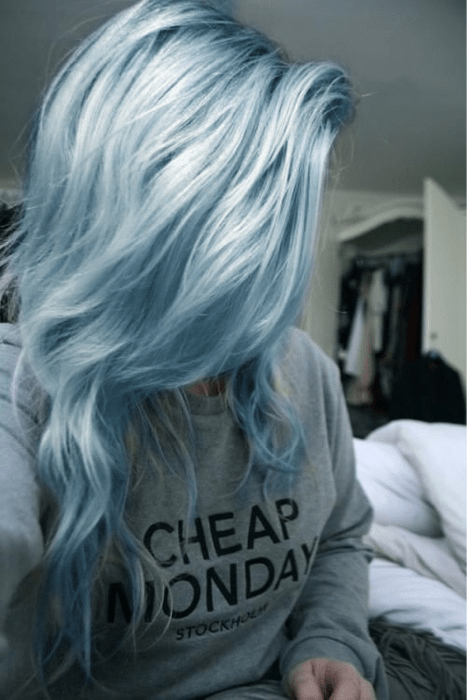 Another variant of our magical light blue ombre range. You'd be surprised at the results; you have to go for it! 
Galaxy Blue Hair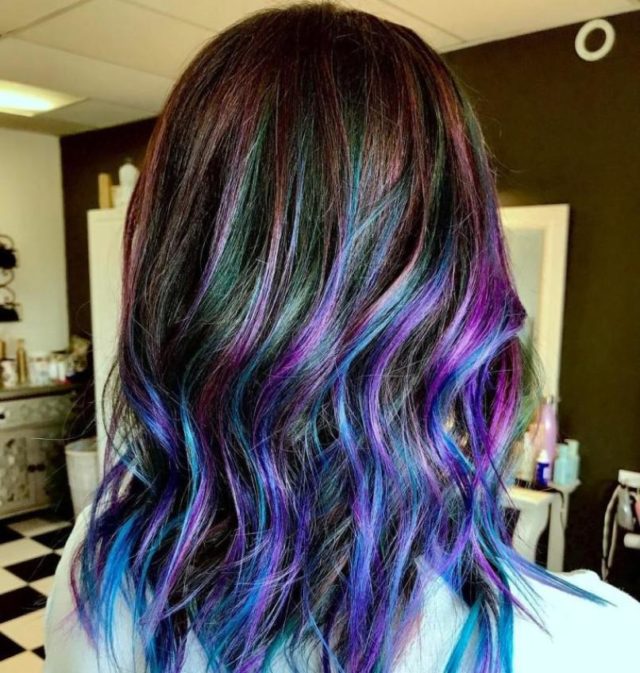 Would you look at that? Doesn't it look absolutely dreamlike? Would you not want to have hair like that? Well, get it, is you can pull off anything and everything that you believe you can. Make your hair look like galaxy skies and sparkling waters. 
Pastel Blue Ombre Hair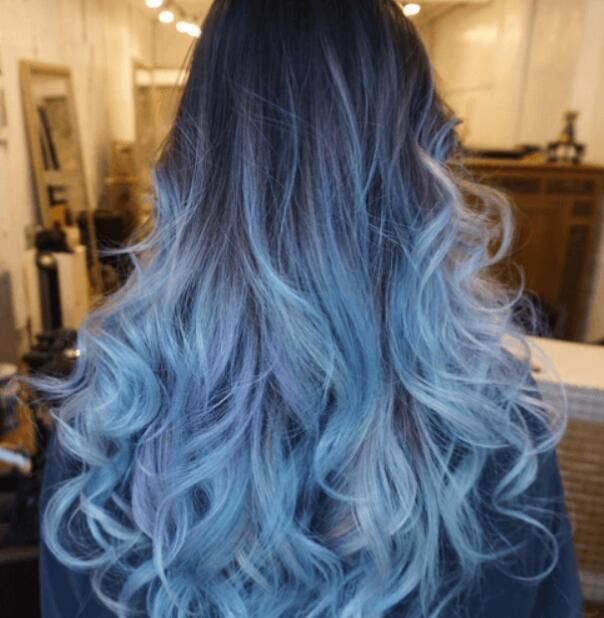 For someone who has icy blonde or platinum blonde hair, this is a must-try. Color all of your head into a nice pastel blue, no matter how unconventional it seems, girl.
Teal Blue Ombre Hair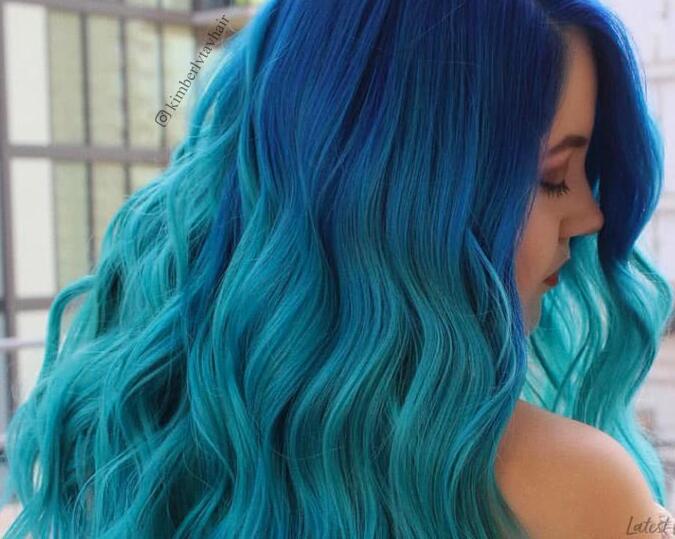 Experience the spiffing vibe of our good ol' teal ombre, especially during winters. It's a really versatile and chic look to carry and will give you those mermaid-like vibes throughout.
Blue Undertones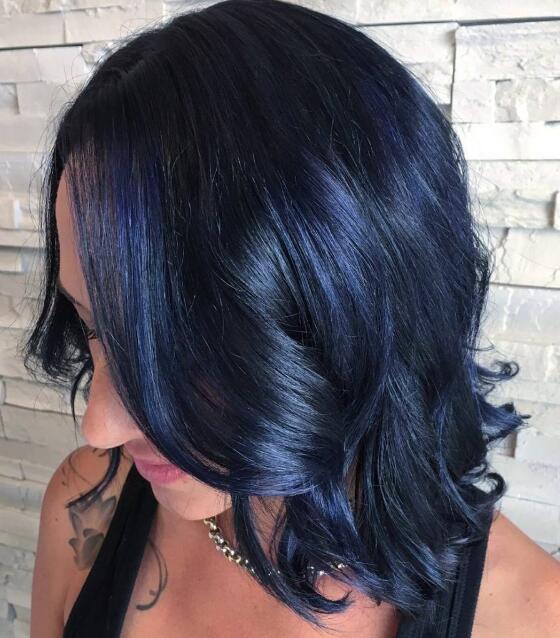 To customize the look in your own unique way, create your own version with some undertones. You can do it whichever way you wish to, tips, full-undertones, or anything you wish to. Just play with it, girl! 
Boldly Dauntless Blue Ombre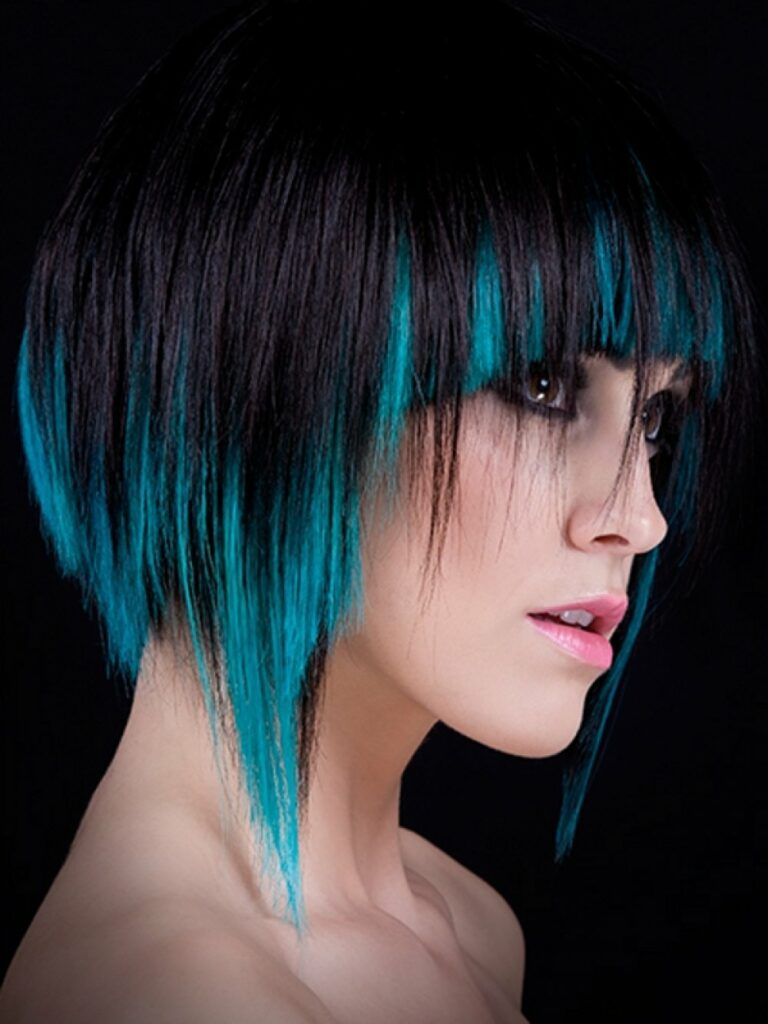 If you have a fearless and bold personality, you must preferably go for this look. It will not only complement your personality but will also make you look 10x hotter. 
19. Black Roots to Blue Tips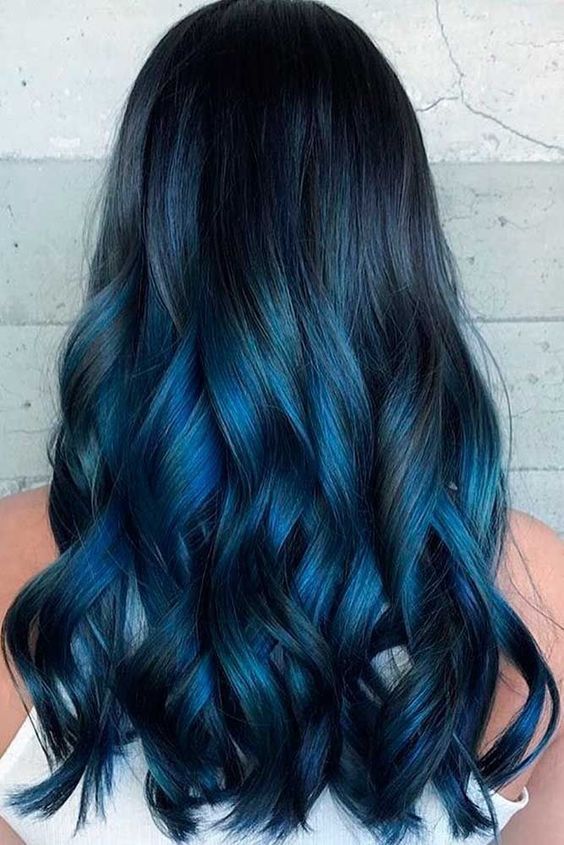 Coming back to the basics, this is a very subtle yet classy look for your hair. If you don't want to go overboard with the whole coloring-your-hair-blue thing, you can get an ombre done at the tips of your hair. 
Cute Blue to Maroon Ombre Bob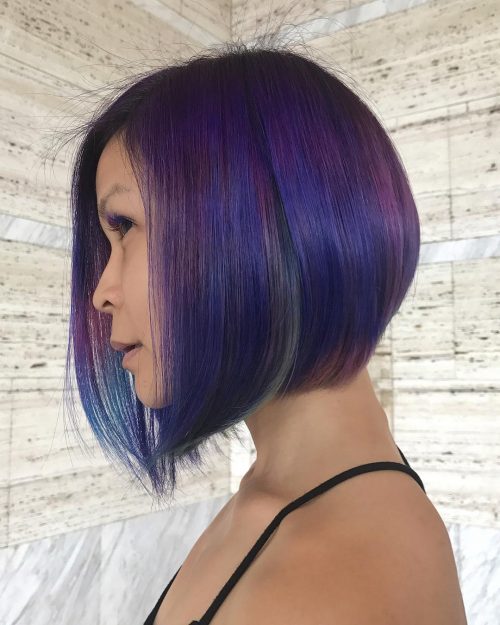 This look is adorable to maintain a clean and smooth bob while playing with colors and vivids. You can always try it with hair of any length, but would you look at that endearing bob? Imagine the enchantment a bow or a cute little clip would perform. 
Red to Blue Ombre Hair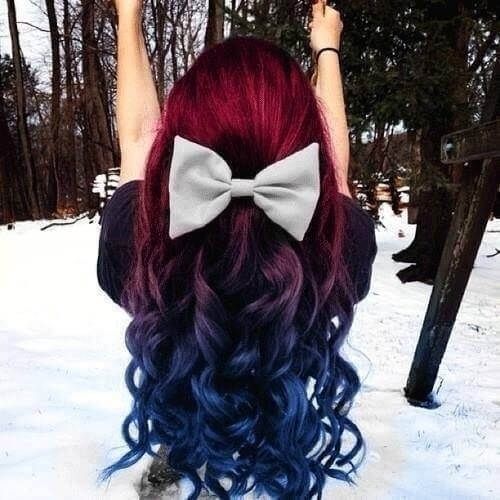 Another variant for you is if you love trying out different combinations of colors as you play with your hair. This one, though, is especially really appealing and pretty as you wear it. 
Ombre Blue for Short Hair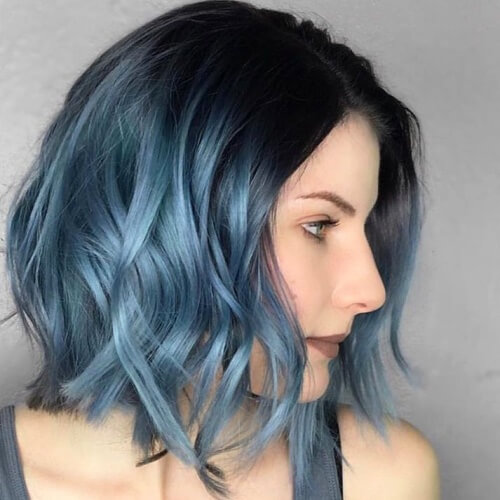 The best part about having short hair is that the messy bob look goes the best on them. However, when you pair it with a nice ombre blue, the results are astonishingly charming. 
Baby Blue Hair
This look is a lovely combination of a pleasant baby blue ombre on an icy blonde base. It brings out the angel in you and is a beautiful way to play with your vivids.
Palette Blend Blue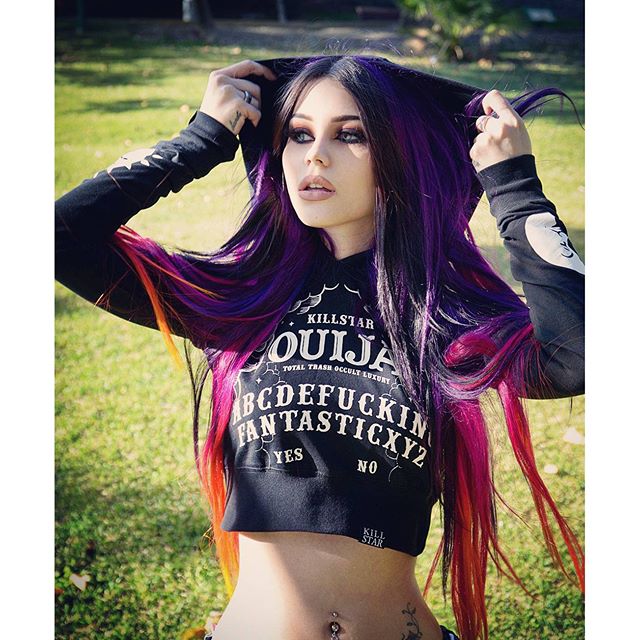 A palette blend will be the best option for you if you want to get as distinctive as you can with your hair. Go wild with the most poppy colors of your choice while keeping blue ombre as your base because of YOLO! 
Brown to Blue Ombre Hair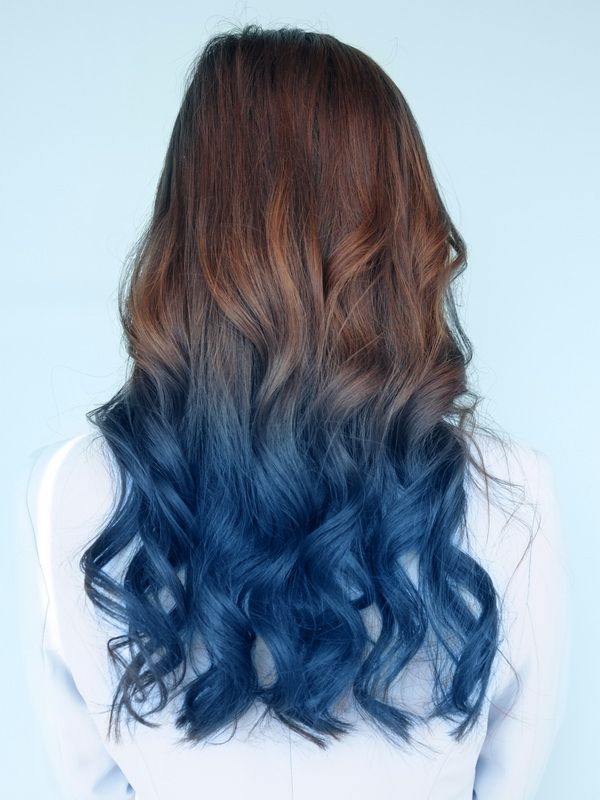 What a sophisticated way to have vibrant colors in your hair with less upkeep and zero effort! You don't have to go overboard and will still get the hair you fantasize about. 
Colorful Blue Pastel Hair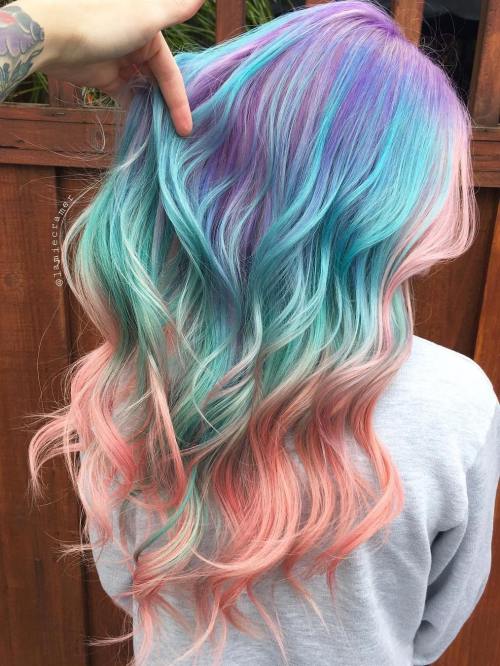 Pastel colors are a blessing to humanity. Love unicorns and the world of fantasy? Go for a nice pastel blue base with various other combinations as per your wish and wait for the miraculous results; you won't be disappointed. 
27. Blue Braids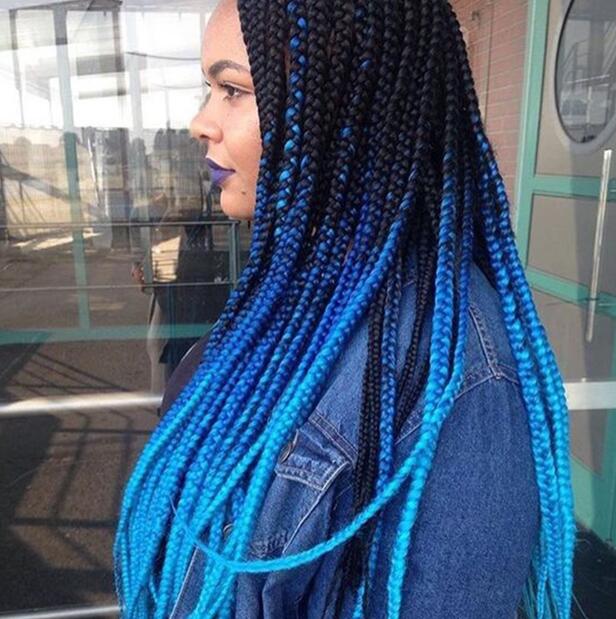 Long hair doesn't ask for much but some care and protection, right? Give it the love and care it deserves with some protective braids while keeping it neat with slight blue shades. 
Rainbow Blue Ombre Pixie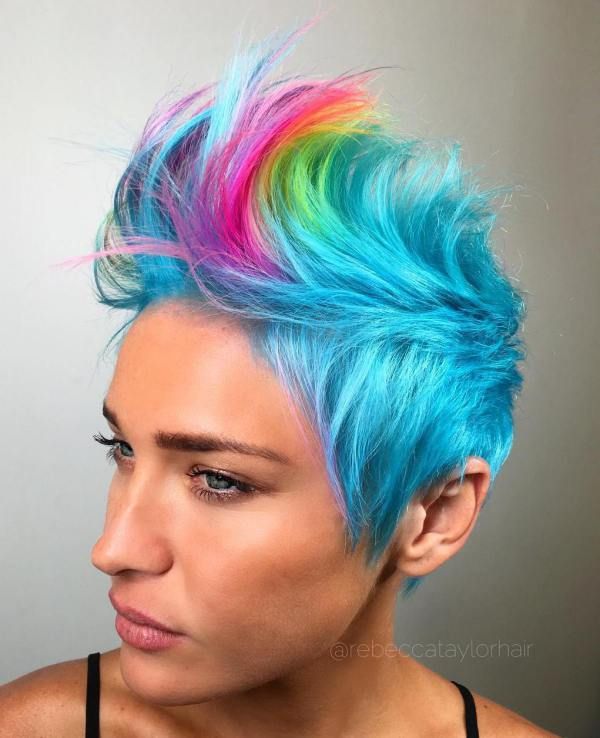 Give your creativity the feathers it deserves, and go for this queen of bold looks! Although it is a little hard to maintain, no wonder it'll turn you into an ethereal being. 
Curly Blue Hair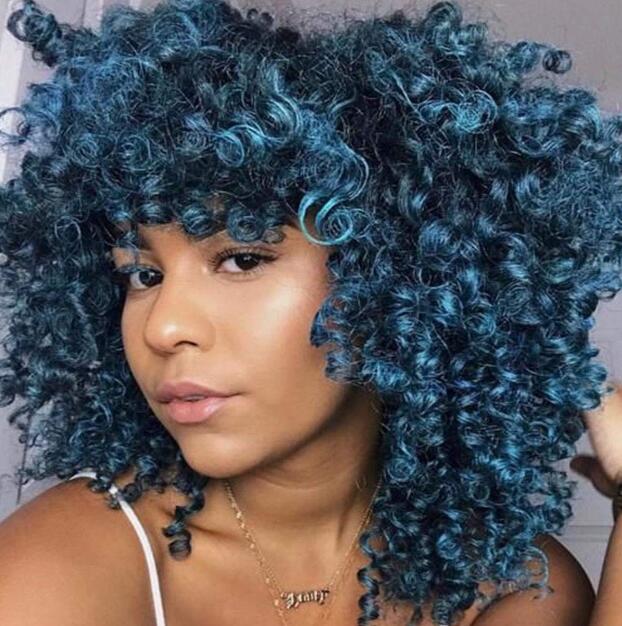 Curly hair is indubitably drop-dead gorgeous; some might overlook the blessing that it is, but make sure you're not that person. With these curly blue locks, you will make it hard for everybody to cross by without noticing. 
Metallic Blue Ombre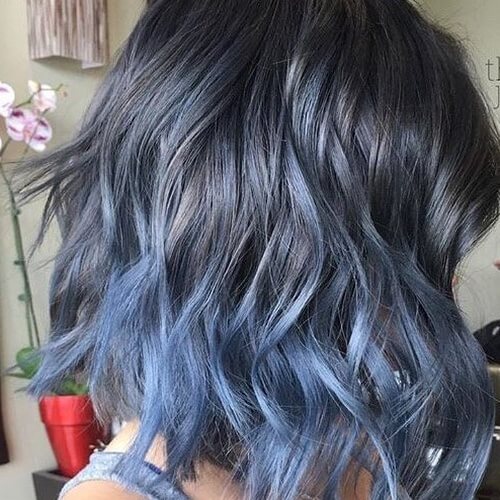 This divine look is something one must try in one youth. It looks empyrean on both super short to long locks, giving you the ice queen title as you wear it. 
Baby Blue with Rose Pink Ombre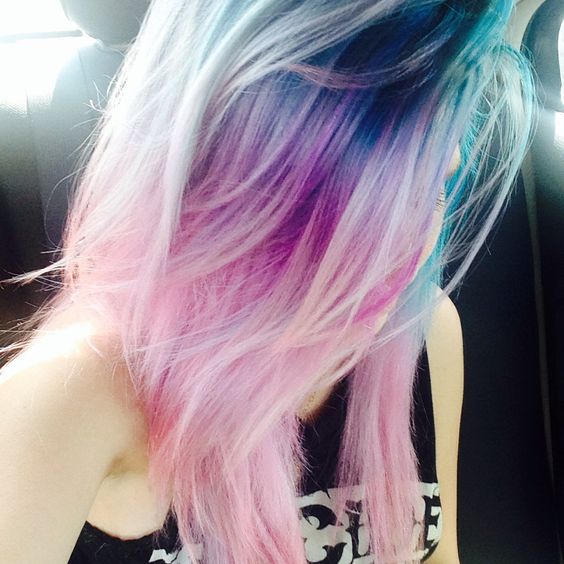 In the mood for some soft beatific vibes? Go for this look. It's the best one for summers especially, gives you a delicate and sweet look all over. 
Baby Blue Cornrows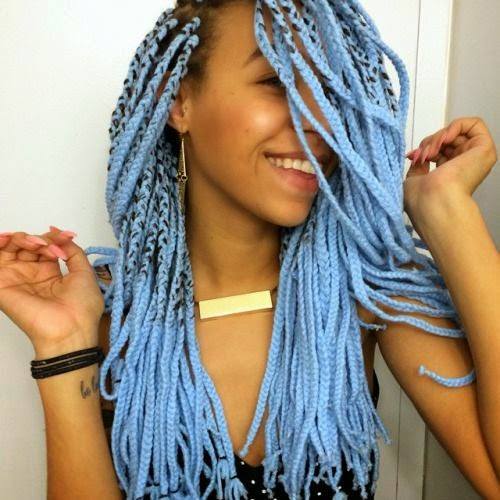 Cornrows have their own ways of making you feel like a queen. However, as you get them dyed with a heavenly baby blue ombre color, the magic is frankly hard to define. To protect your hair in style and with some chic! 
Raven Blue Hair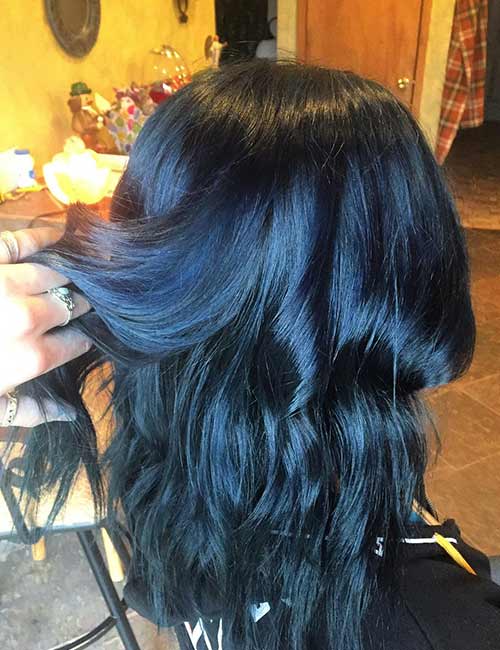 Raven's blue hair is one of the classiest and most subtle looks of all. They don't seem like they make much of a difference, but the glow-up and shine are pretty evident. 
Simple Blue Highlights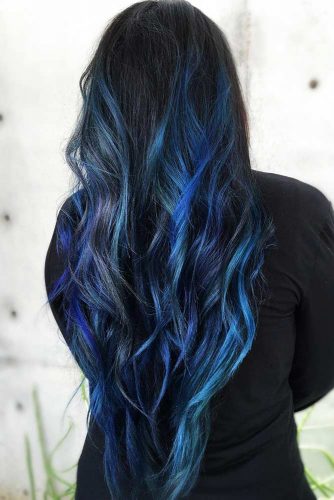 If you don't feel like going overboard, you can go for some simple blue highlights. You can choose any shade of the color blue and get those locks covered with it. 
Two Colored Ombre Bob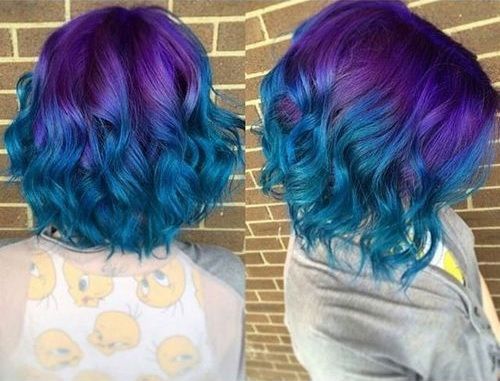 You are a unique person, and everyone needs to know that. Take your personality and style to another by trying out different combinations of ombre hair colors and make the most out of it while you can. 
Blue and Green Combination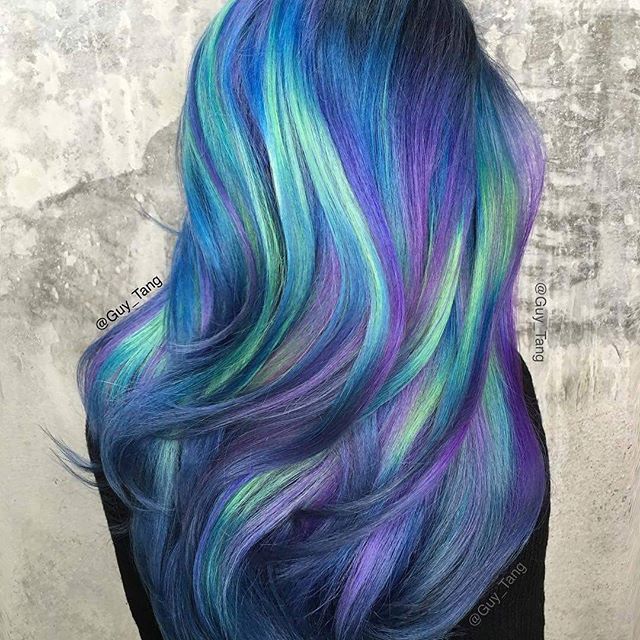 One can always experiment with different hues of colors. This look not only being utterly exceptional is also super drool-worthy! 
Royal Blue Ombre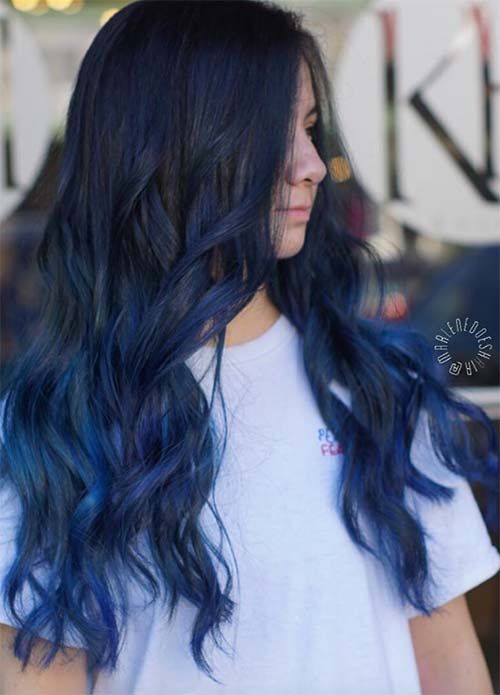 Royal blue is the color for goddesses, sheer facts. This look really makes you feel like the epitome of beauty and your confidence? Let's not talk about it reaching its pinnacle. 
Teal Blue Ombre for Blondes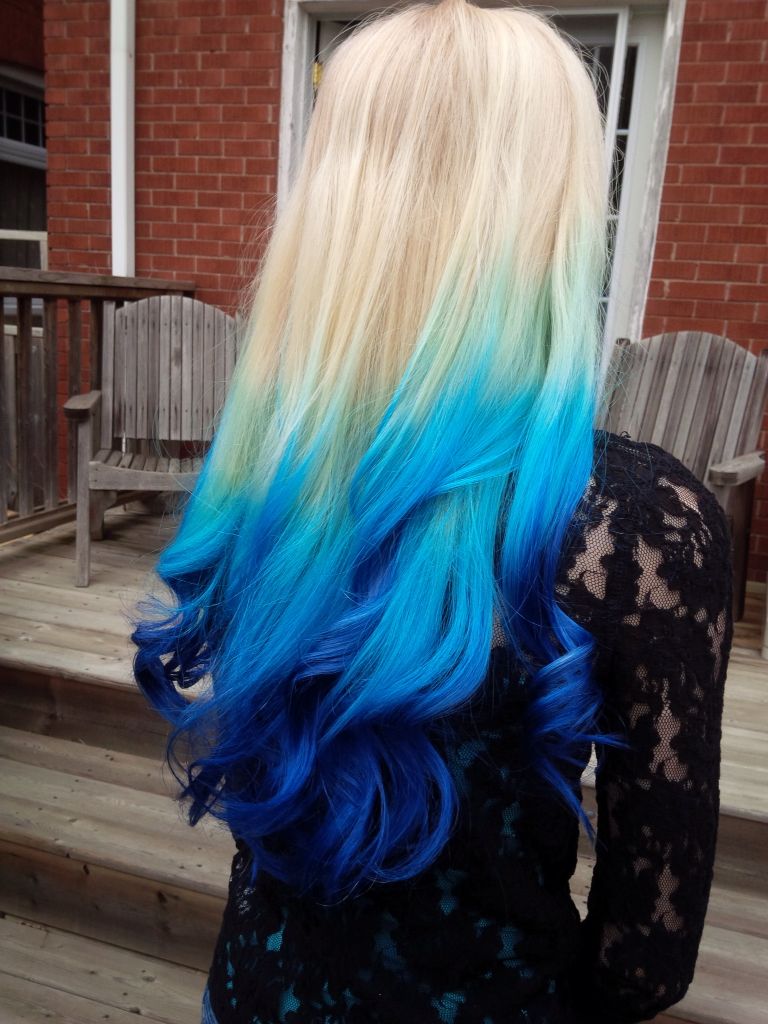 The color especially pops on blonde hair and is so much better when it doesn't have any harsh lines of division. Just two colors beautifully blending into each other. 
Peek-a-boo Blue Style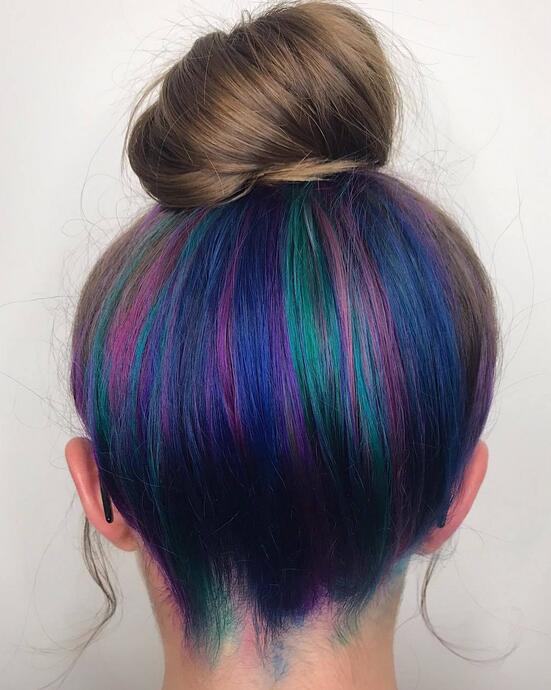 The peek-a-boo modification is for those girls who either attend school/work where dyed hair isn't allowed or are in a community where it isn't acceptable. You can always leave it open to hide it and put it up in a bun when you like it. Sorted! 
Turquoise Blue Hair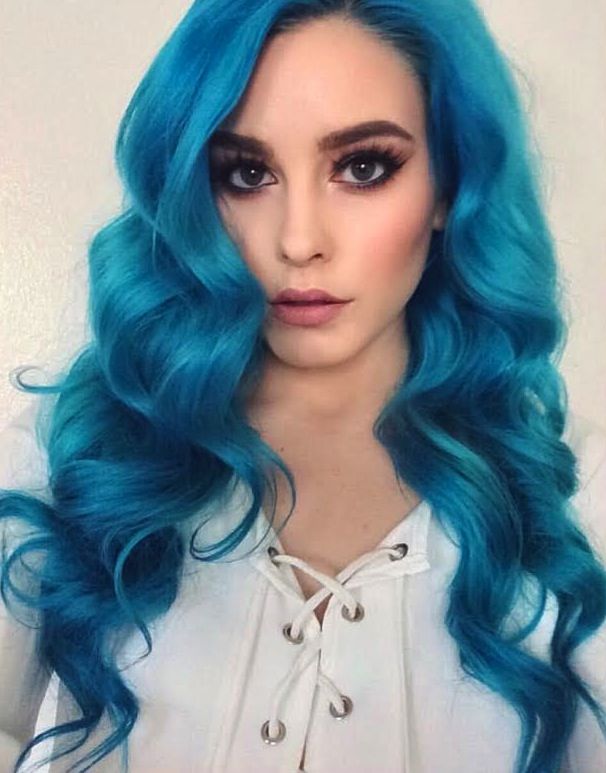 The eye-catching turquoise blue hair is for our lovely ladies out there who love to shine in the horde. Long hair or short, this one goes for and with everything! 
41. Baby Blue with Black Roots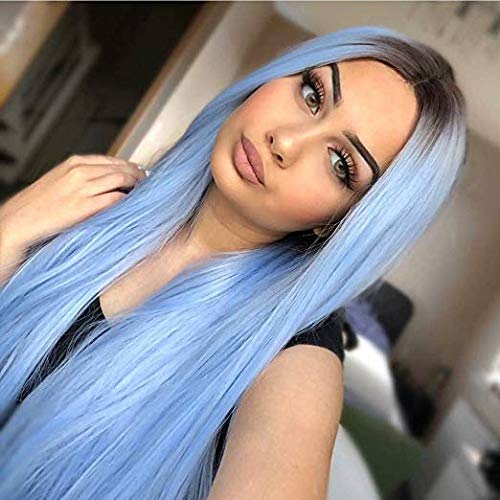 Who doesn't love a smooth fade from one color to another, right? Get all of your length colored in a calming baby blue but leave the roots and let the look do its magic. 
Natural Blue Ombre Hair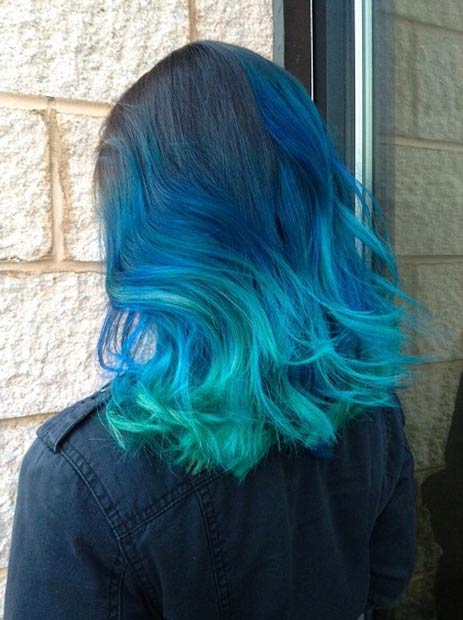 Ah, what a beauty! Natural hair, when dyed, does demand a lot of care and effort, but anything is worth this look. Truly alluring. 
Soft Blue Short-shaved Bob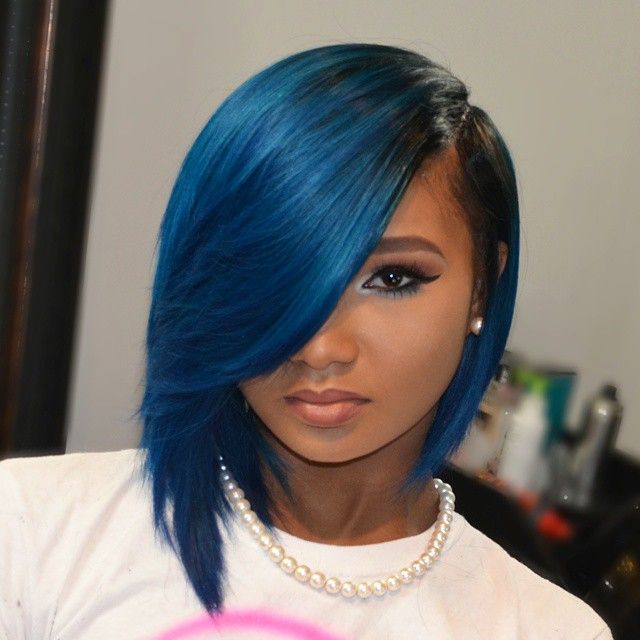 Honestly, a nice blue short-shaved bob is really a sight; it makes you want to touch and feel the person's hair. The shades of blue bring out such magnificence; it's inexpressible. 
Ombre Blue Undercut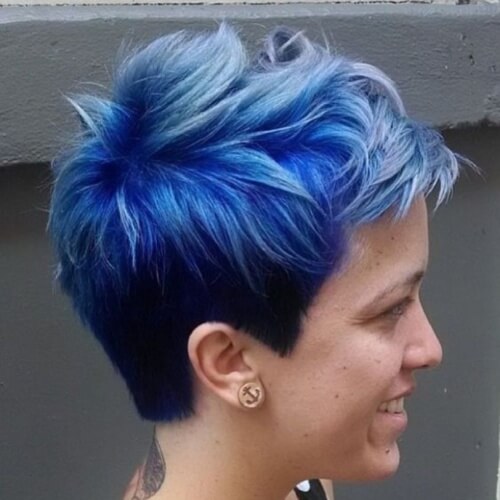 Undercuts are known to scream confidence and boldness; the blue color would be a cherry on top for your savage attitude and personality. 
Powder Blue Ombre Highlights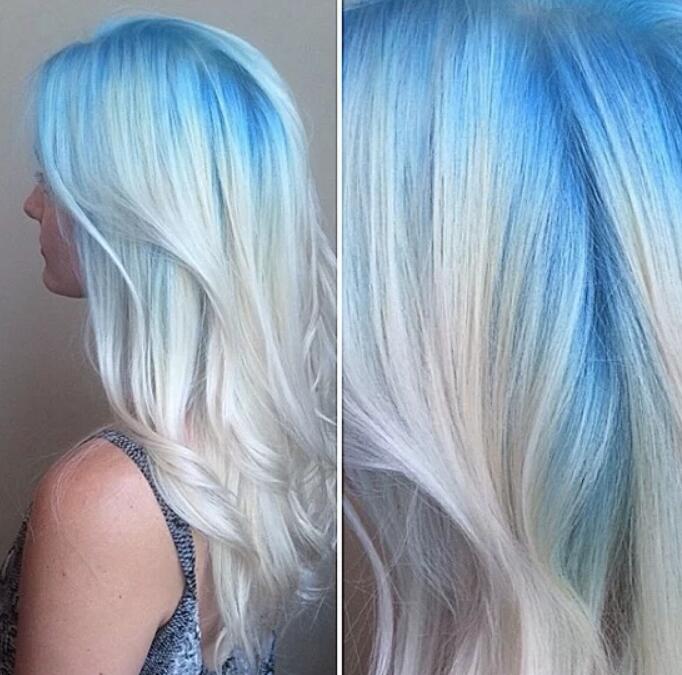 Truly angelic and such a subtle look, it doesn't even ask for that much of an effort. All you have to do is get down-to-up powder blue ombre highlights, and you're good to go! 
Blue Afro Magic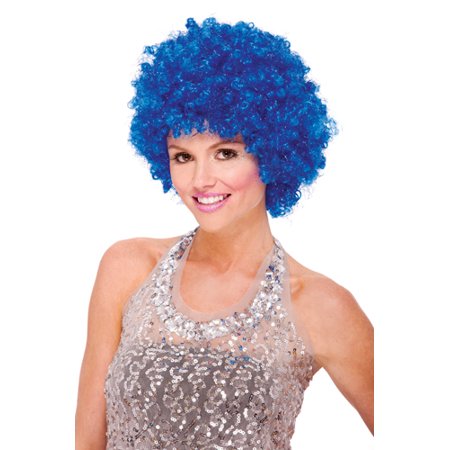 We can't stress enough how beautiful a fine blue afro is! We're all well aware of the magic of an afro and the effects it has on people, but this? The baddie is the term to describe it. 
Blue Balayage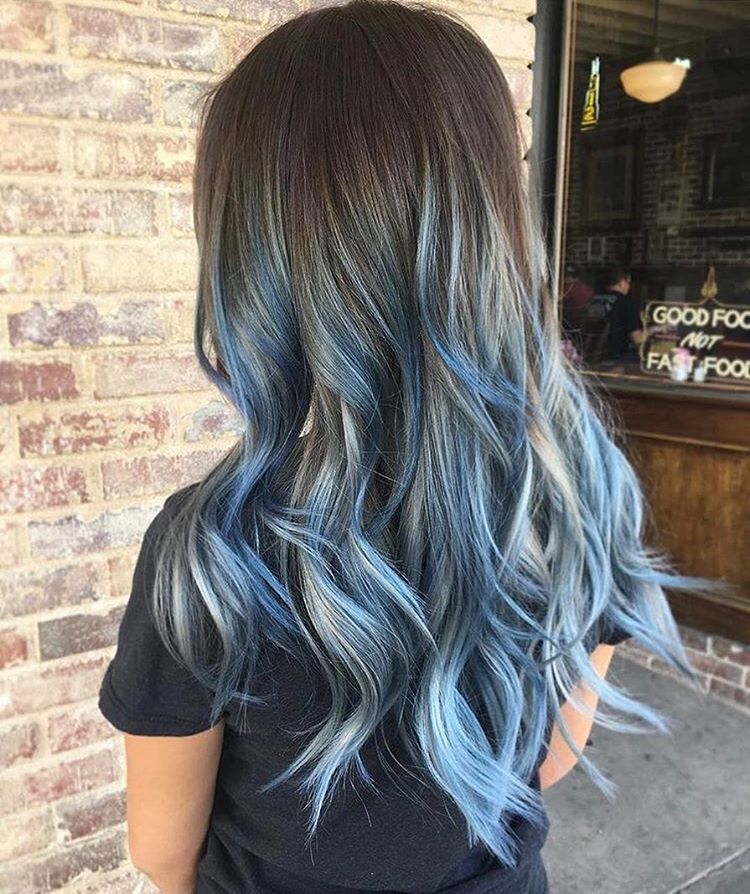 It is a really effortless, simple yet elegant look for someone who wants to change their look and get blue hair. If you're experimenting, a balayage would be the right place to start. You can always experiment with different shades of blue with different color combinations. 
Periwinkle Hair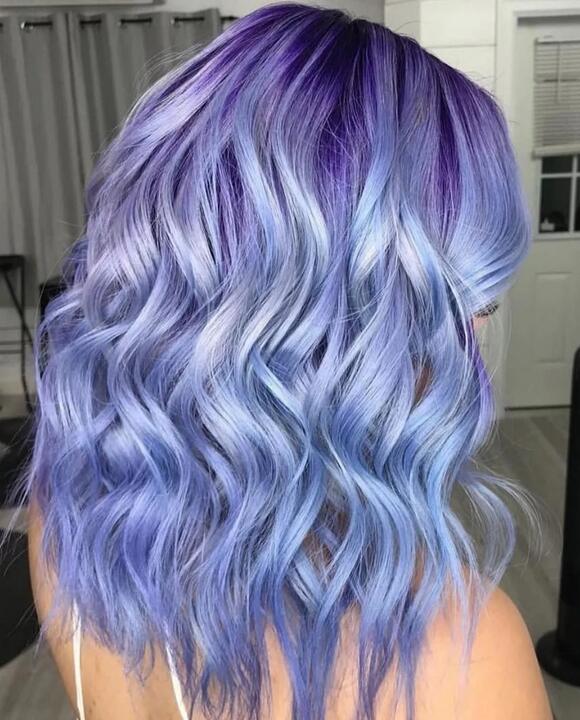 Ever seen the flower periwinkle and its pretty blue color? Now imagine its magic on your hair and turn your fantasies into reality.
Sparks Electric Blue Hair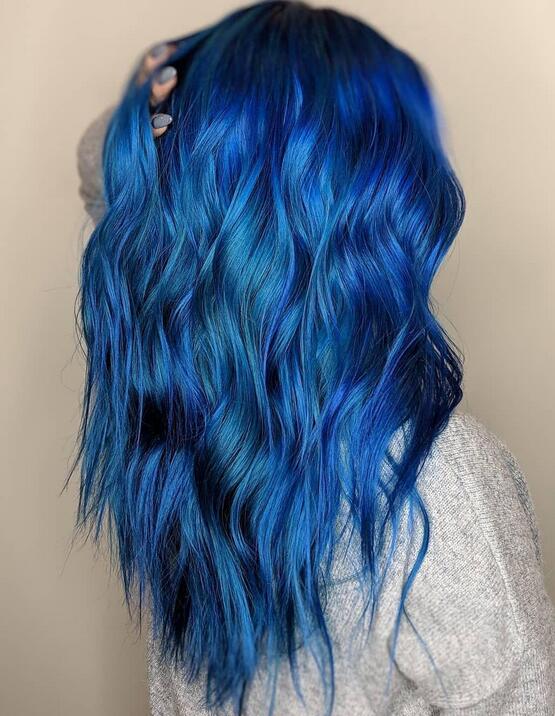 Love a nice vivid blue color? Go for an electric one! This will make you fall in love with yourself every time you pass by the mirror.
Icy Blue Highlights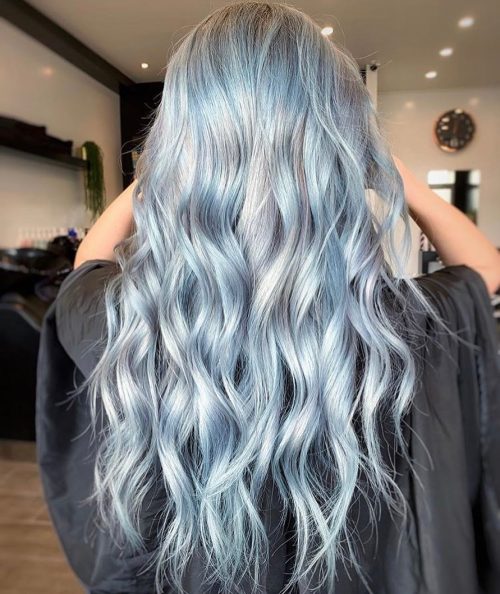 Be right back. Currently drooling over this utterly endearing variant of our light blue ombre color range. This is one of the best things you can try out for a change.
Which of these hair ideas do you like the most and why? Which one are you going to sport the next time? Let us know below.