Are you looking for some beautiful and easy braids hairstyle for your daughter, niece, or sister? Braid hairstyles not only make kids cute, but they are also practical. This haircut can help protect their hair against pollution. You can also add some patterns, such as a ponytail or bun, to make your kids have their own style.
In addition, there are many cute and easy kid braid hairstyles that can be tried on any hair length, ranging from shoulder, mid, or long hair! To make things easier for you, we are here with 50 of the most adorable braid hairstyles that go on almost every hair type, length, and texture. These haircuts include box braids, lemonade braids, knotless braids etc.
60 Adorable Braid Hairstyles For Your Kids
French Braid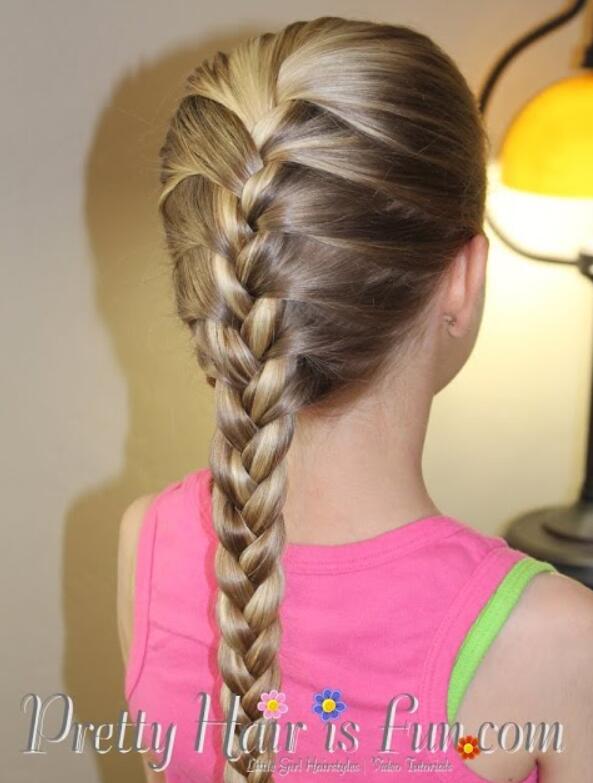 The French Braid is a classic haircut for kids. It works for any length and texture. All you will need is a hair tie and a comb. You can always adorn and accessorize the braid with bows, beads, and pins.
To get this cute haircut, you should brush your hair to eliminate any knots and divide the hair on the top into three sections first. Then, gradually start adding hair to each section, one section at a time. Repeat the same process for as long as you wish, and then secure it all with a hair tie.
Fishtail Braid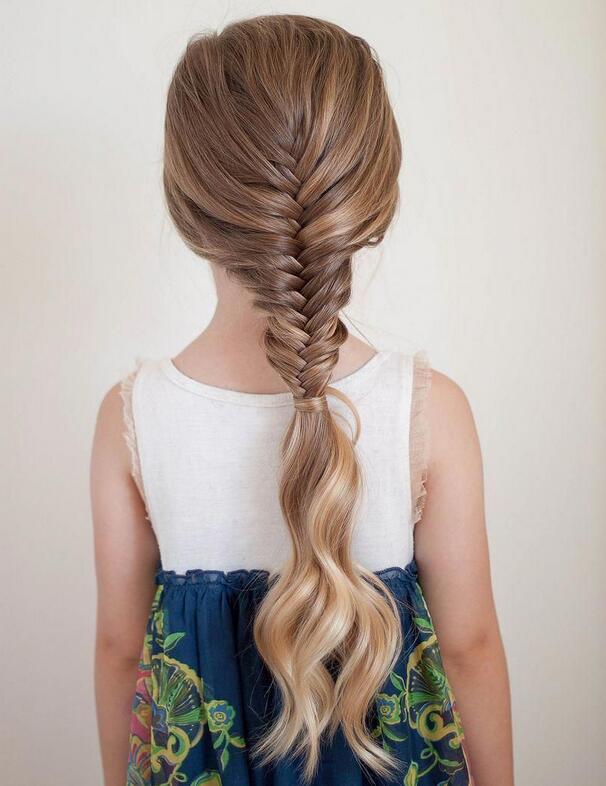 A fishtail braid is an effortless and pretty haircut for kids. You can embellish it with ribbons and flowers.
It's an effortless braid; all you have to do is divide the hair into two sections. Then take a thin strand of hair from each section and tuck it into the other. Keep repeating this process and tightening the braid as you proceed.
Braid Crown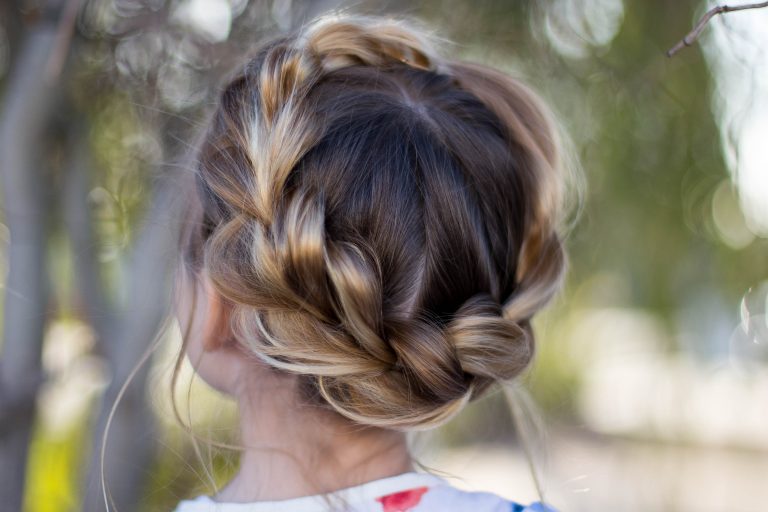 We all have to admit it; braid crowns are the cutest and prettiest braid hairstyles. Kids look adorable in these. They are not even exaggerating!
Knotted Braids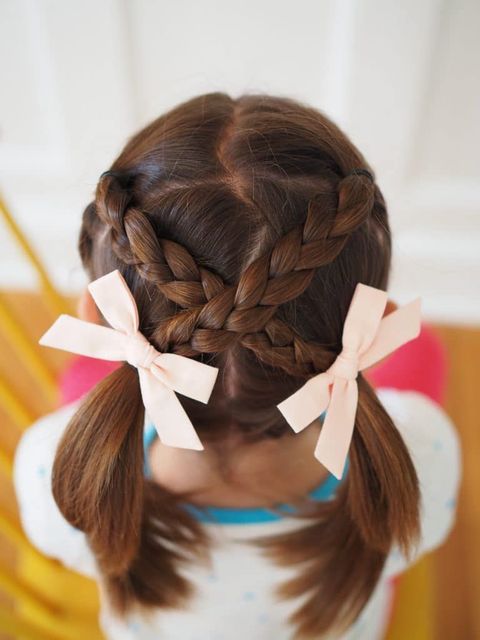 A knotted braid acts as a protective hairstyle and a whole damn look. There can be a zillion variations to this hairstyle with buns, doubles, ribbons, beads, scrunchies, etc. When accessorized right, these braids work their magic differently!
Braid Buns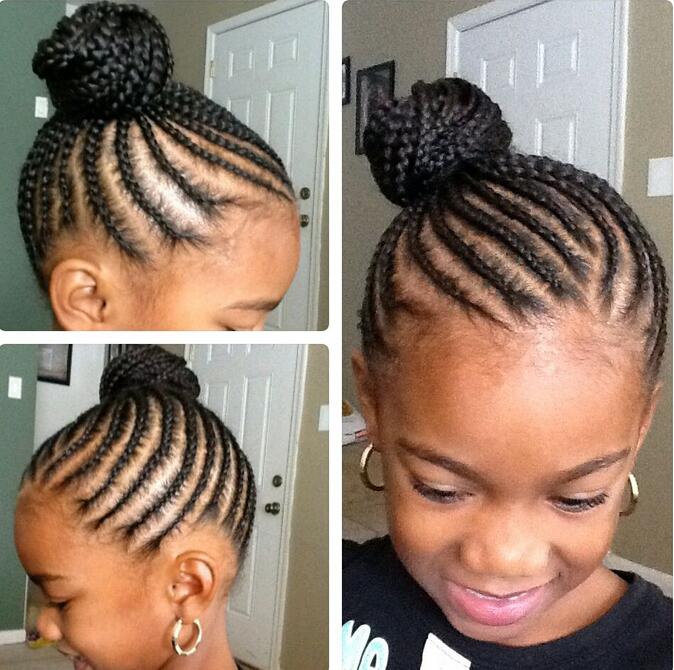 Braid buns are made at the end of literally any braid. You need to braid the hair in the way you want and secure it with bobby pins and hair ties at the end, creating a bun. This look can get as straightforward or as complex as you wish it to be.
Pull-through braid
A pull-through braid is an excellent way to spice up a regular ponytail. It's such a glamorous way to keep all that hair off your little one's face. You might need many thin elastic bands, a rat tail comb, and some bobby pins.
Upside Braided Bows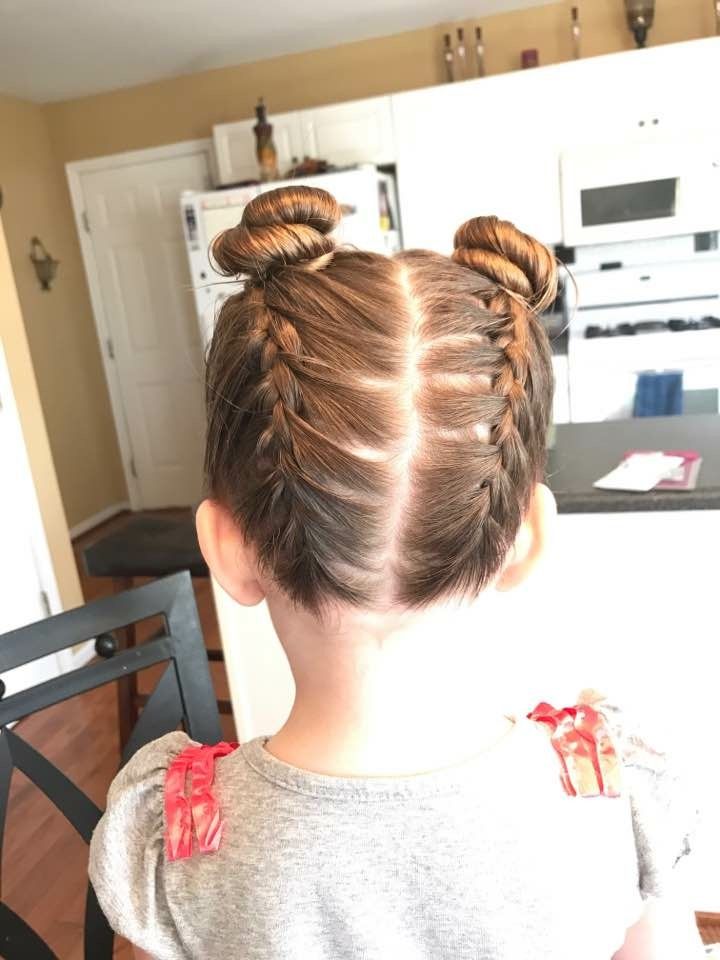 Words can't define how cute this hairstyle is! Effortless, pretty, and adorable. You need to decide the hair into two sections, do a braid starting from the nape on one side, from down to up, secure it with a hair tie, and make a simple bow out of the rest of the hair. Repeat on the other side.
Rope Braid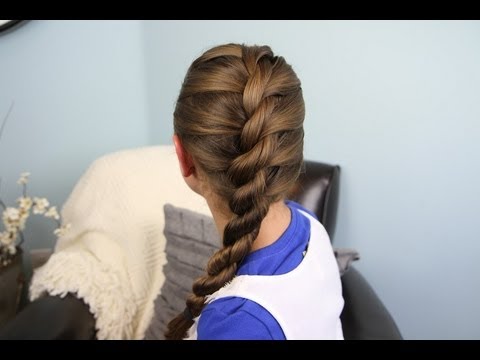 The rope braid is one of the easiest, quickest, yet gorgeous of all the braids. It doesn't demand much time and effort. To get the look, you'll have to start by taking two sections of your hair from your nape, twisting the two, and adding more hair to the front section as you work the braid down. At last, secure it with a hair tie.
Slide-up Braids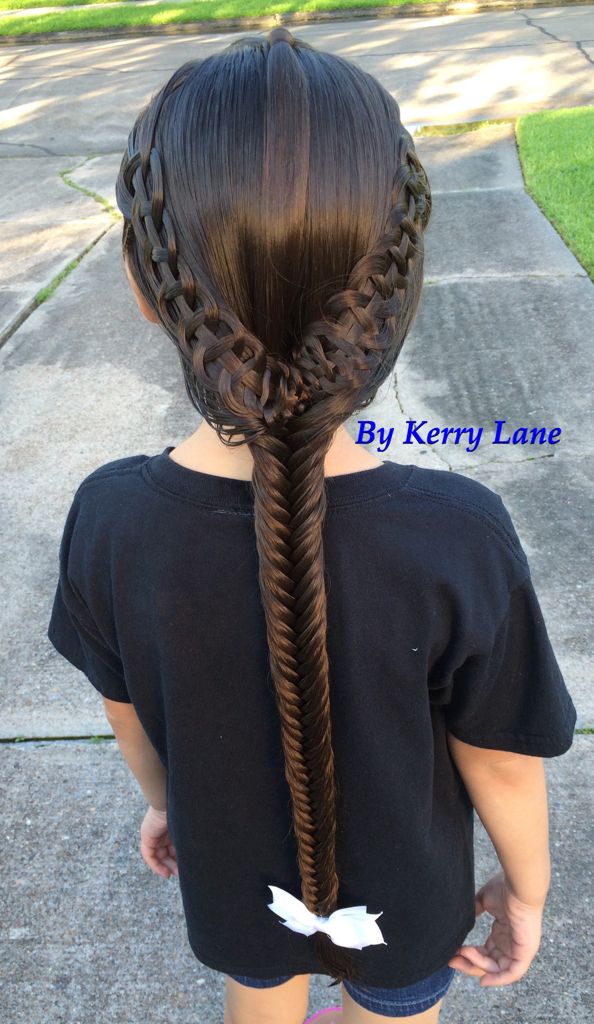 This look is so much easier than it appears to be. For this look, you have to do a middle parting, divide it into four equal, work from right to left, and leave to right with all the respective four strands.
Remember that rhythm is the key to getting this hairstyle straight! Eventually, pinch and push the hair upward (to get the S shape). Secure it all with a band.
Waterfall French Braid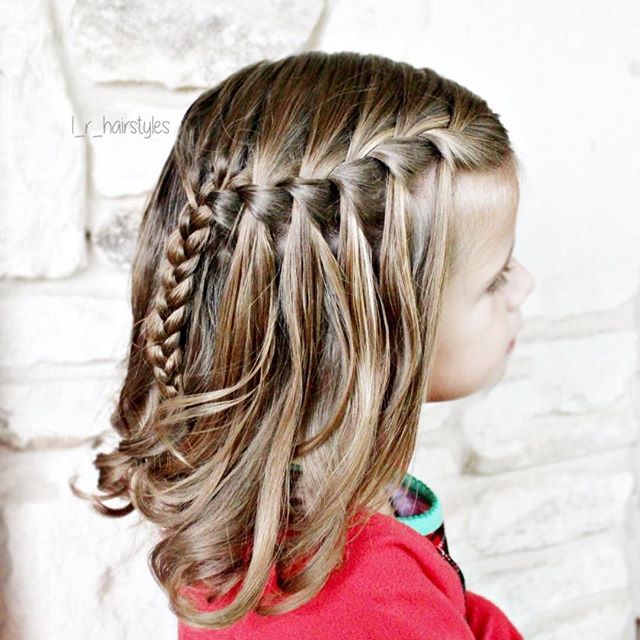 Another creative yet straightforward hairstyle is another modified version of the French braid. This works on hair of any length or texture. All hail the cascading effect; this braid is an eye-catcher.
Dutch Braid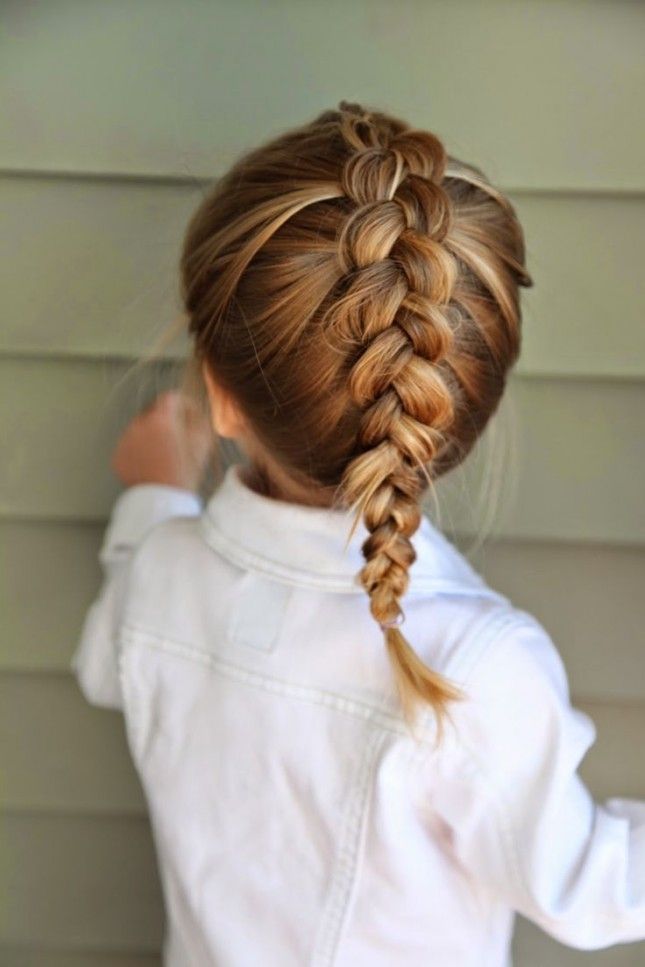 The Dutch Braid gives your kids an effortless look. All you need to do is French braid your little princess's hair, but outwards.
Twist Braid Ponytail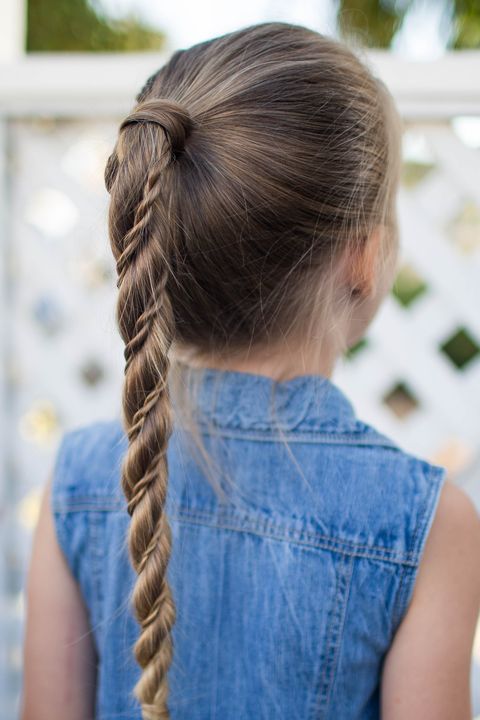 This hairstyle is the same as twisting a rope. You have to put her hair up in a ponytail, take a small strand, and make a rope braid. Then you make another rope braid taking the braided strand and the bigger section of the ponytail. As complicated as it might look, it's easy if you get the twisting right.
Lace Braided Bun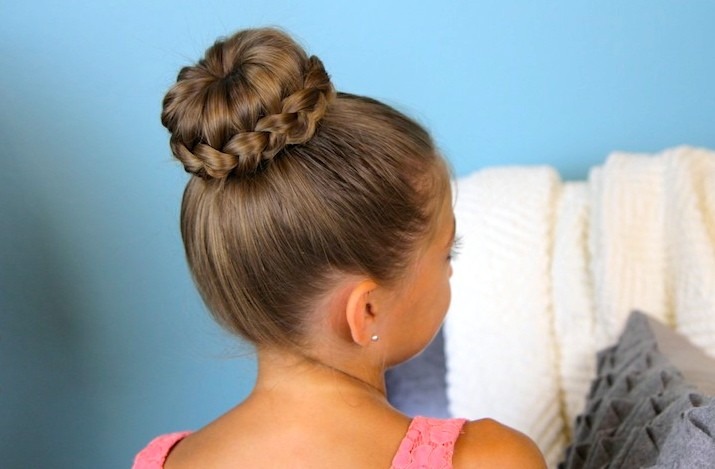 A bun is one of the cutest hairstyles for kids. You have to make a bun on the top of her head for this variation and wrap a lace-like braid around it.
Infinity Braid
An infinity braid, aka the figure-8 braid, might be tricky, but it's all precision practice. It's manageable, doesn't require a lot of time once your hands are set.
Front Pull-through Braid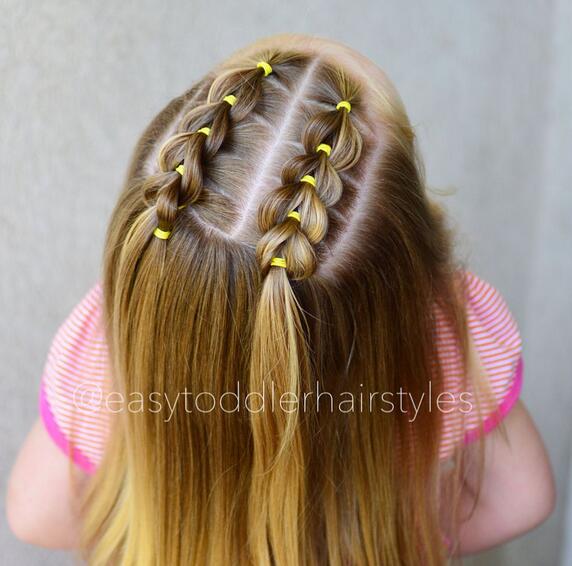 To attain this look, you have to follow the same steps as for a regular pull-through braid, but do it with the hair on the crown. This hairstyle is an excellent modification for shorter-light kids, yet it looks great on long locks.
Half-up Braid Crown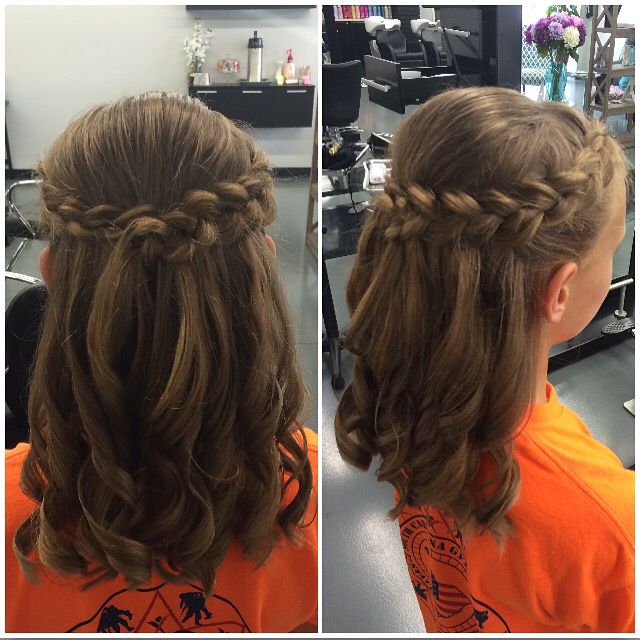 For this look, you have to follow the same procedure as you do for a whole braid crown, but just for the upper half of the head. You can beautify it with beads or flowers of your choice.
Mermaid Braid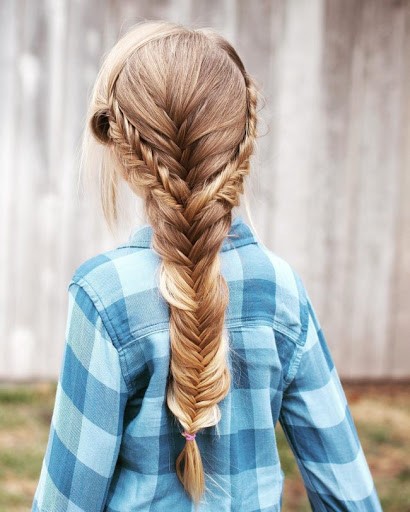 The mermaid braid, also popularly known as the Jasmine braid, is a perfect hairstyle for special occasions. If your little girl has long hair, go for it! It will take up some time, but the results will be enticing.
Front Twist with Bow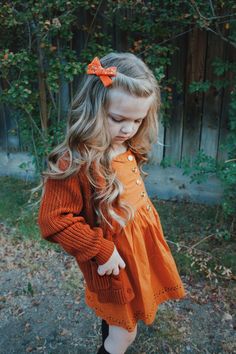 This is the simplest hairstyle on this list yet one of the most adorable ones! You won't even need a comb for this, just a bow and a cute baby with her beautiful locks.
Milkmaid Braids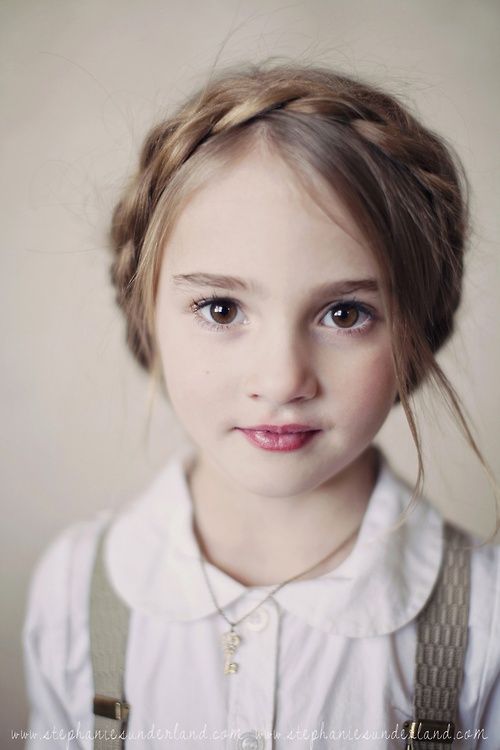 Milkmaid braids are known for the mild and alluring vibe they come with. Another hairstyle to add to the back-to-school collection for your baby girl.
Braid with Ponytail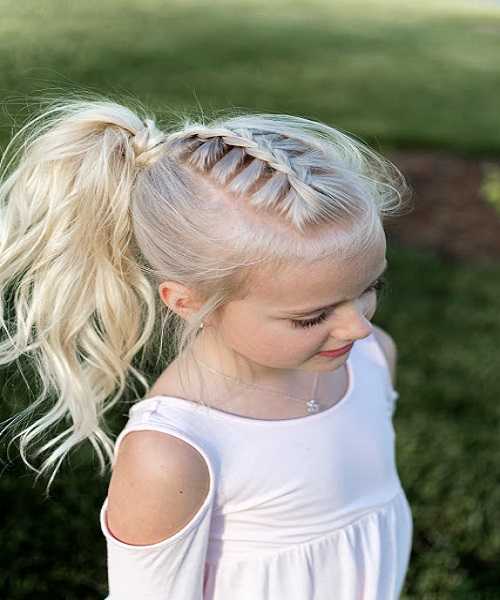 A top-braid is a go-to hairstyle for any occasion and day. All you got to do is take a section of hair from the crown, braid it back and not downwards and secure it with a ponytail, be it high or low.
Dutch Lace Braids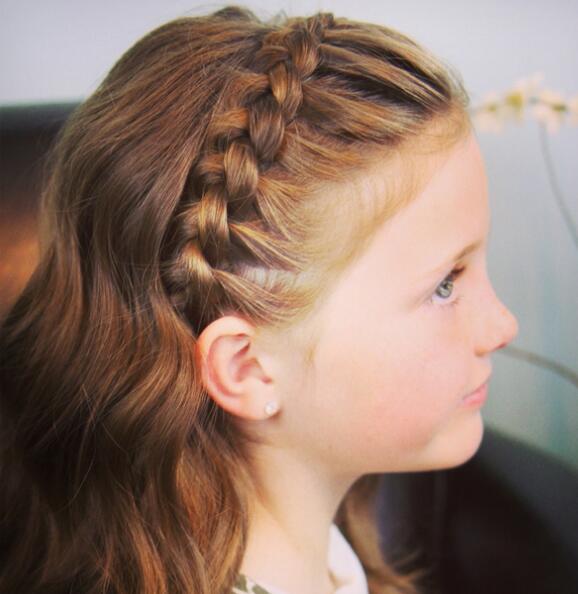 Another variation of our gold Dutch Braid, but in the front as you leave the rest of the hair open. By now, you must be well aware of the power of possessing this skill called knowing-how-to-do-a-French-braid.
Double French Braids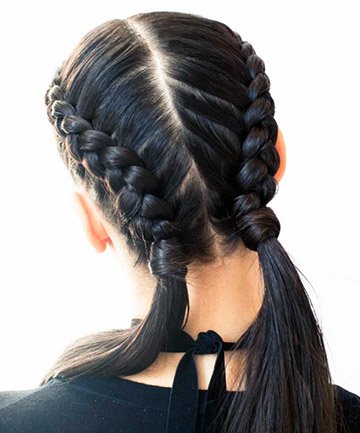 On the days when a little extra protection is needed, from the pollution and dust while playing. Doll her up with these cute braids.
Two Fishtail Plaits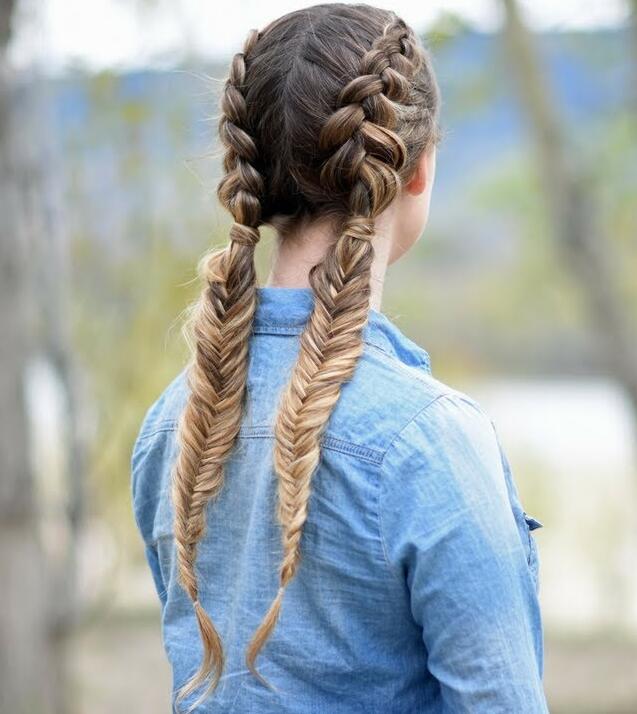 For this look, you'll have to divide the hair into two sections and do the fishtail on each side, starting from the front to back. It's super simple and graceful.
Zipper Braid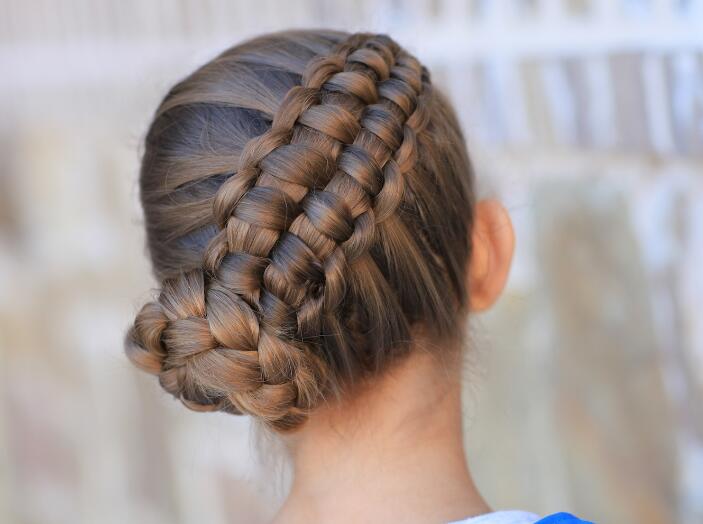 Oof! This one's on the intricate side of the spectrum. On days when you're bored stiff and sitting with your little cutie, you can Google it out and try this to kill time.
Braided Heart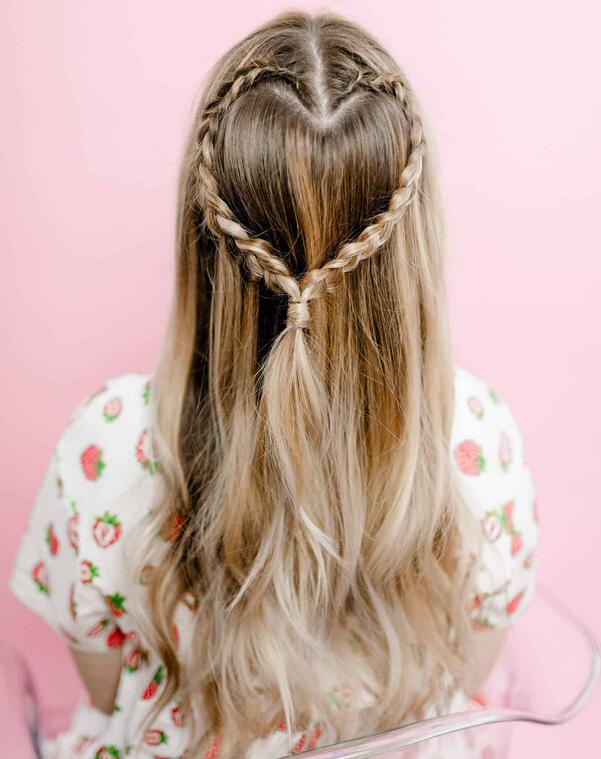 A heart is a seemingly hard hairstyle; it demands time, hard work, and expertise. Although once the job is done, it is the most charming hairstyle ever!
Dorothy Braids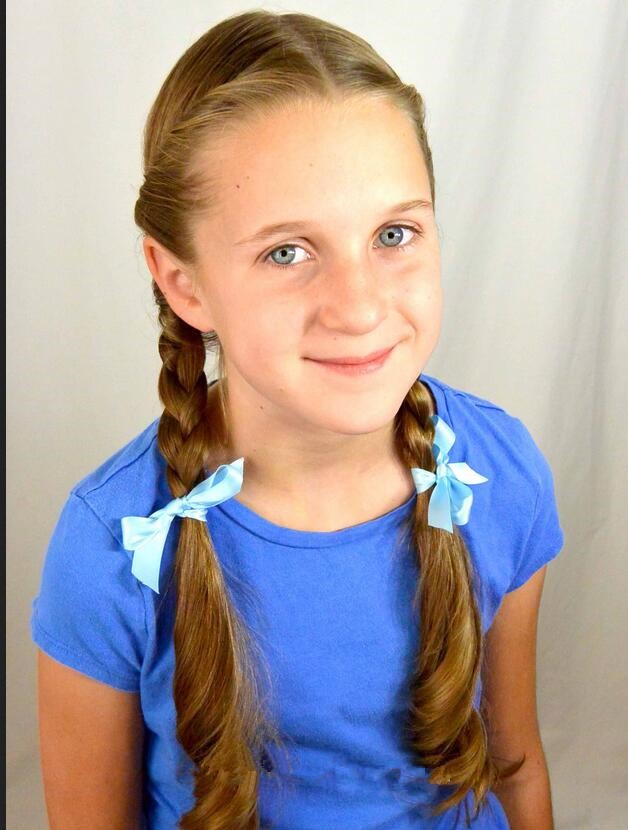 Remember Dorothy Gale from The Wizard of Oz? You can dress your cutie up like Dorothy for Halloween this year, and honestly, it'll be an easy job for you.
Braid Rose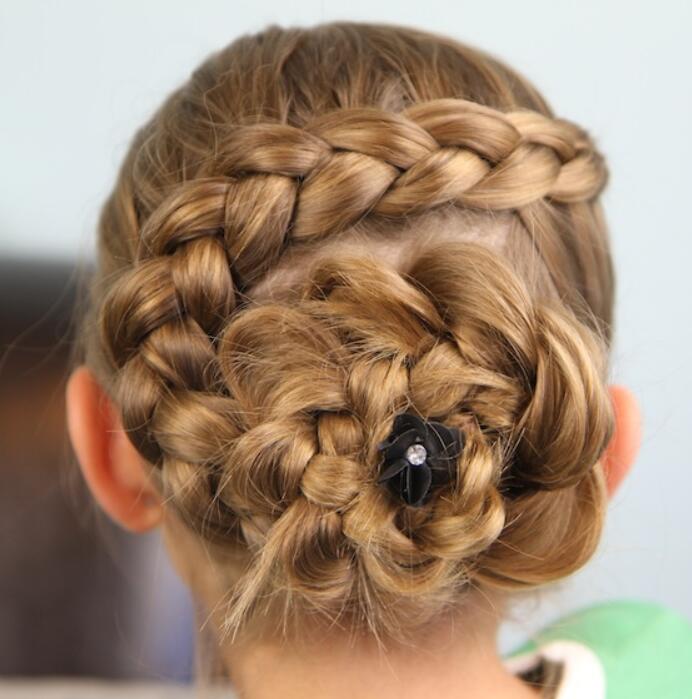 This one has to be one of our favorites! It's a bit complex and does take a lot of time and brainpower, but worth it! Your little princess would rock this hairstyle paired with a lovely summer dress.
Half-French Braid
The half-French braid is just an easier alternative to the original French braid. If your baby has short hair, needn't worry! All you need for this is to know the technique, a comb, and some hair ties.
Bubble Braids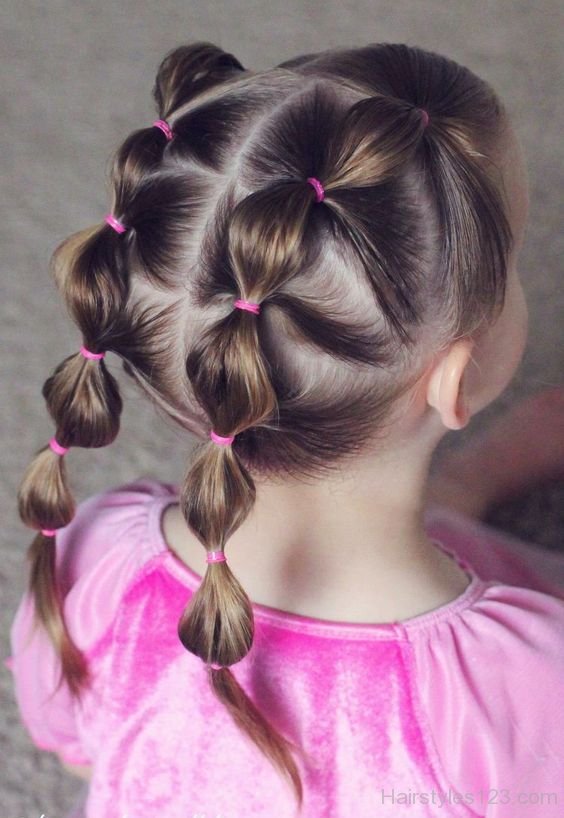 No, it's not the same as the pull-through braids as it may appear to be. Bubble braids are super bubbly and adorable for your little bundle of joy!
Double Rope Braids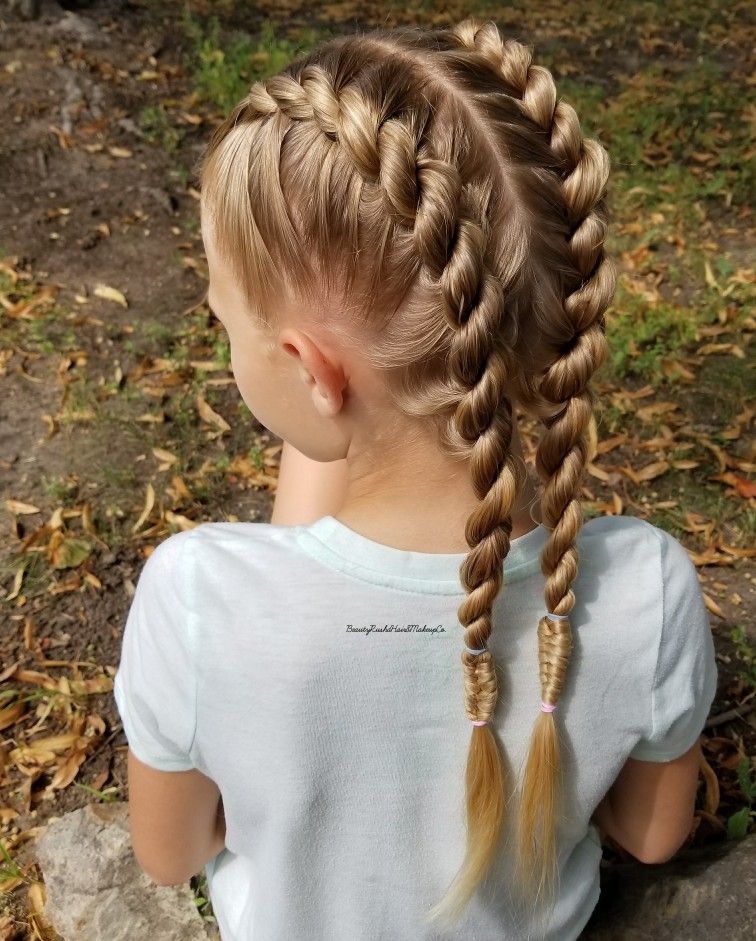 For this look, you have to go for the standard rope braids after dividing the hair into two sections, going from the crown back to the nape. You can use some ribbons and embellishments to doll it up.
Fishtail Bun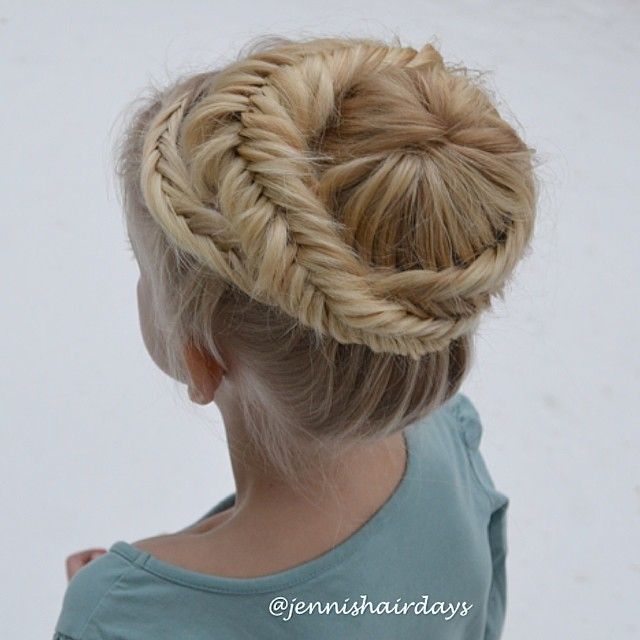 A fishtail bun is effortless, yet it is a little time-consuming. As simple as just making a long fishtail and wrapping it all around the head for a bun.
Spiral Braid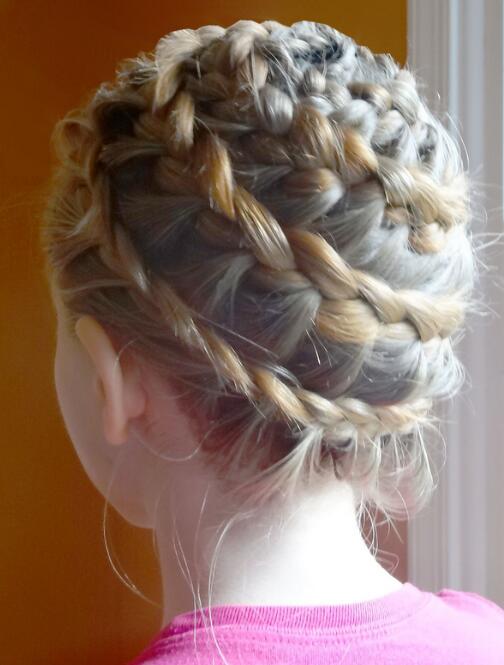 Another hairstyle on the complex side, but would you look at that? Worth the pain and time, one must say.
Reverse French Braids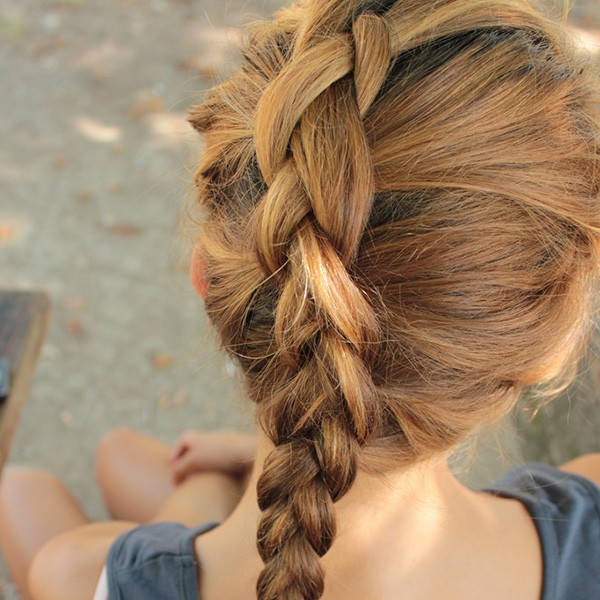 You start to make an inside-out French braid from the top to the tips for this look.
Cornrows Braids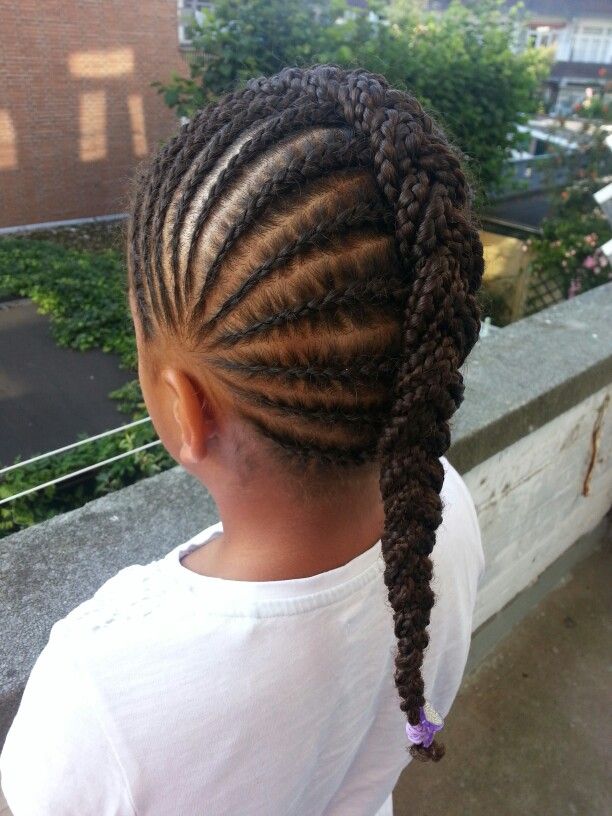 If you want to go for a protective hairstyle that is cute yet still guards your little one's roots against all that pollution and dirt, go for cornrows, mommy!
Braided Floral Crown
If you don't want to use flowers, you can braid them out. You get to have all of it in one; the crown, the braids, and the flowers. A win-win!
Ladder Braids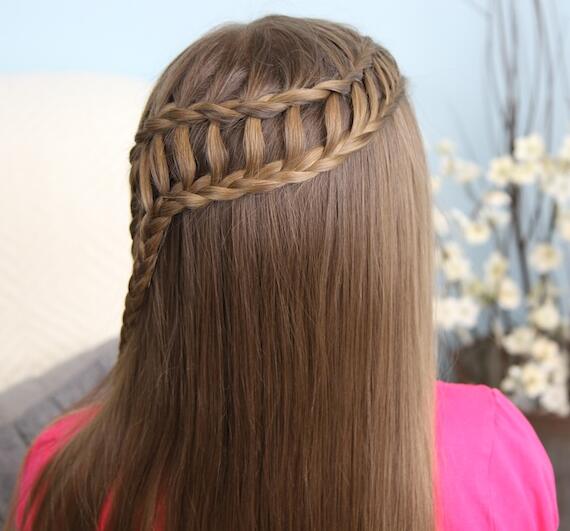 A ladder braid is a fantastic option to leave for special occasions; after all, the hairstyle gives off a classy and enticing vibe.
Heidi Braids
A Heidi braid is another alternative to a crown; all you have to do is get some of her bangs out and go for a more messy look.
Pigtail Braids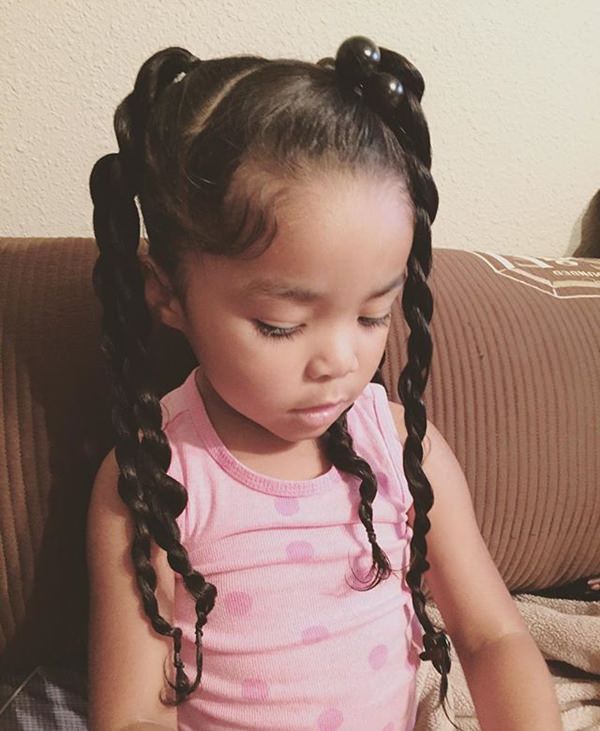 Honestly, pigtails are like a synonym for the word cute. Just kidding, we all know how lovely these look when paired with bows or even by themselves. Ah!
Triple Braids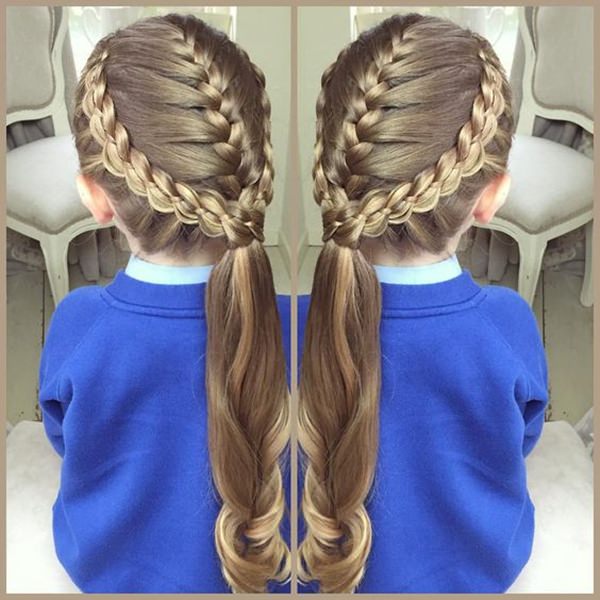 There is no single, explicit style of a triple braid 'do. It's a little confusing, but it gets better with a lot of hair ties and time!
Box Braids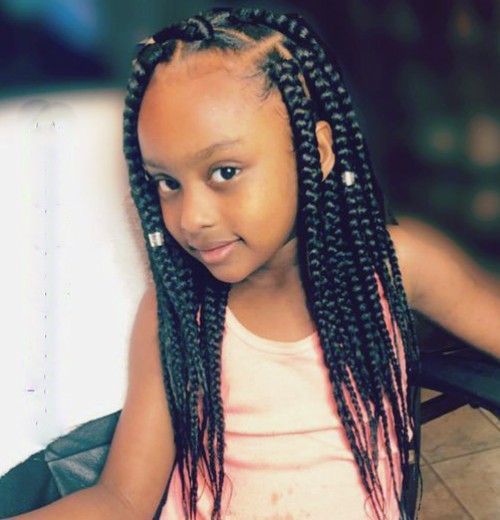 If you want your daughter to grow into a baddie like you, these bring out that attitude and vibe is!
Upside-down Braid Bun
For this look, you'll have to start by braiding the hair from the nape but upward when you reach the top of the secure braid with a bun. Embellish it with a cute scrunchie or a bow.
Braid Headband
A braided headband is a very creative alternative to a regular headband. All you have to do is French braid the hair, but add the hair from one side of the parting to get this look.
Braid into Buns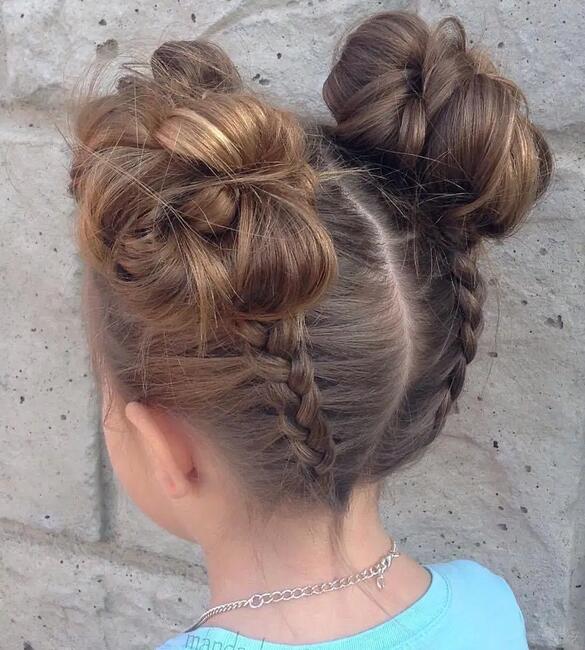 It might be apparent by now that buns are the most precious hairstyle for kids; they're meant for them!
Side Braid and Ponytail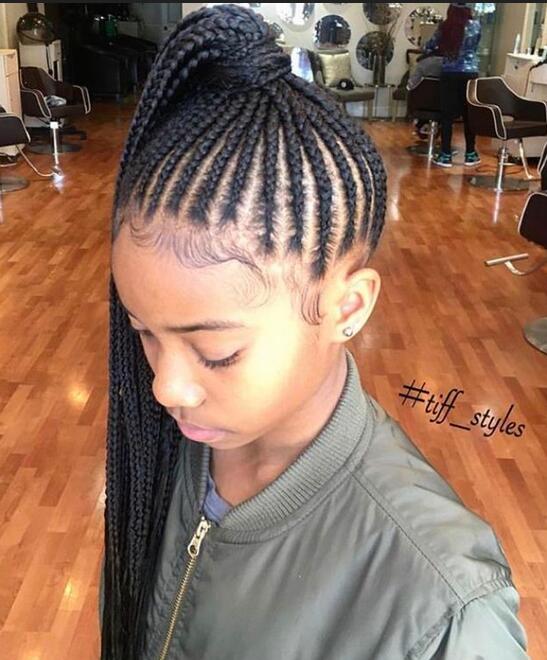 A very effortless and on-the-go hairstyle for your little one, whether for school or her daily classes, is a quick and feasible hairdo.
Half-Up Twists Embellished with Flowers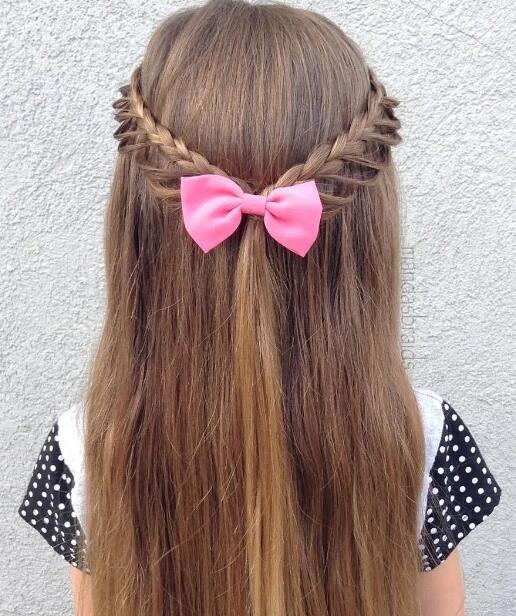 This hairdo has a very magnificent vibe to it. So angelic and alluring, to leave one astonished!
Side Braids secured with a Bow
Super easy side braids with a bow, best for an outing, and pretty!
Butterfly Braid
This hairdo is as complex as it seems, but we can do it all for our little butterflies to have butterflies in their hair, right?
Half-up Braids and Space buns
To save you some struggle, a super easy and lovely look, make a bun instead of going down with the braids.
Criss Cross Braid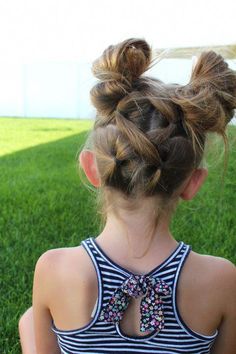 A little intricate, on the face of it. But relatively simple if you look at it that way. Practice leads to precision; we must never forget that one!
Side Braids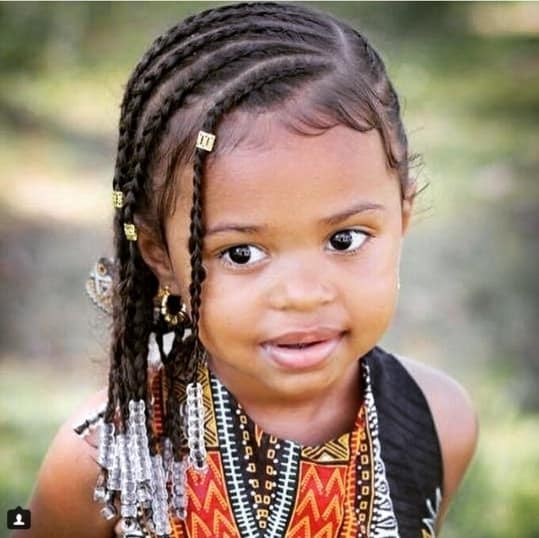 Look at that! How stylish is that for your little, adorable baddie in the making? This heart can take it.
51. Lemonade Braids
52. Side Parting Box braids
53. Jumbo Braids With Hearts
54. Tribal Braids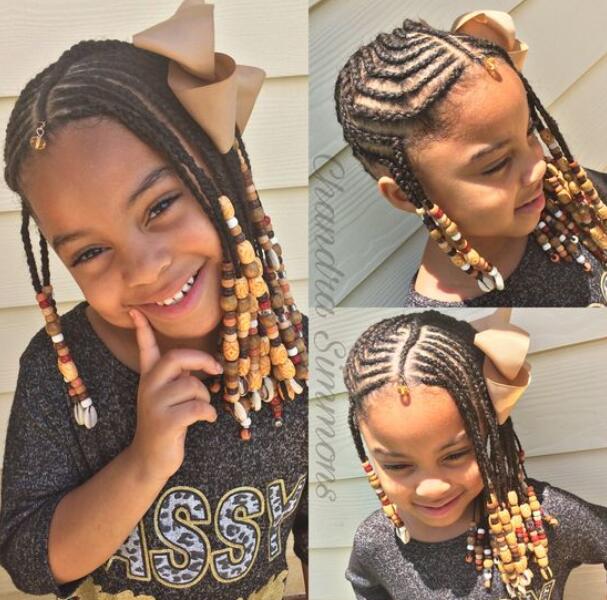 55. Bantu Knots Braids For Kids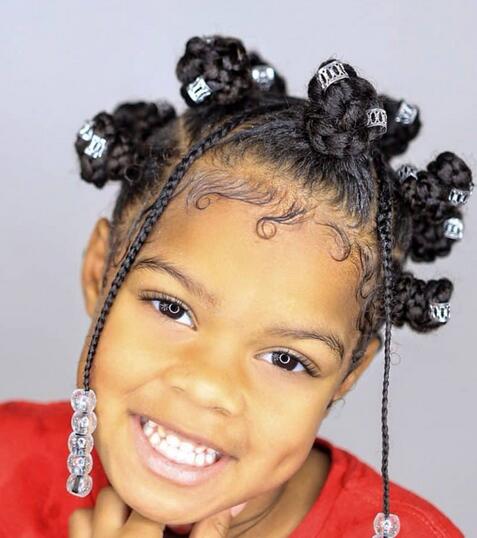 56. Half Up Half Down Braids
57. Buns Up With Box Braids
58. Statement Braids
59. Braided Hairstyles For Little Kids
60. Gorgeous Braids For Kids