Some people may think it is boring because brown hair seems so safe whenever brown hair is mentioned. Brown is different from all the other available hair colors. To dress up with brown hair, the best thing to do is get red highlights. This will surely help make the hair even better than before.
These shades of red will look perfect with shades of brown. If you have brown hair and need a change, consider having red highlights and making a massive difference with your hair. This article shows you 60 brilliant brown hair with red highlights.
60 Brilliant Brown Hair with Red Highlights
Copper and Brown
If you have brown-colored hair and you would like to make a change, you can add a few bits of copper to your hair, and you can expect that your hair will manage to look like the sun. The fiery shades of red may not be too evident, but they can create a huge difference in your brown hair. This is one great hairstyle that will look perfect no matter what time of the day it is.
Chocolate Locks with Reddish Caramel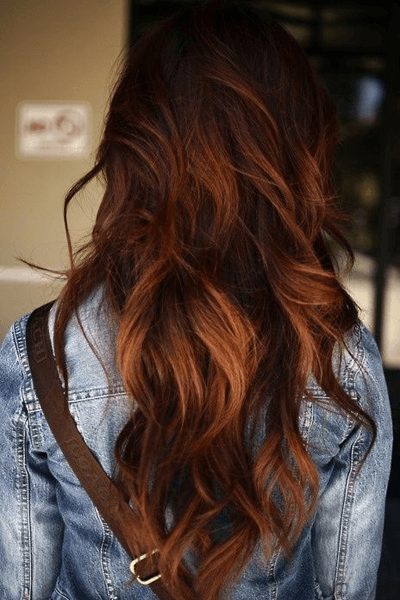 When you have chocolate brown hair, you can already expect that your hair can be considered boring unless you do something to it to be changed. Making sure you add some reddish caramel highlights on some portions of your hair can change the whole look entirely because every time the sun properly hits the hair, some parts will seem to shine.
Mahogany Red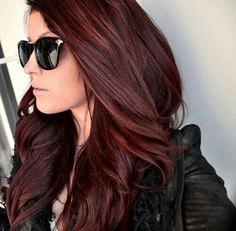 No matter what shade of brown your natural hair color is, you know that it will not be boring anymore when you place some mahogany red streaks on certain portions of your hair. Just imagine how fresh and fun your hair would look this way. This can be perfect if your hair is slightly curly, although this can also work for women with straight hair. This hair color can be perfect for women with light to medium skin tones.
Strawberry Ombre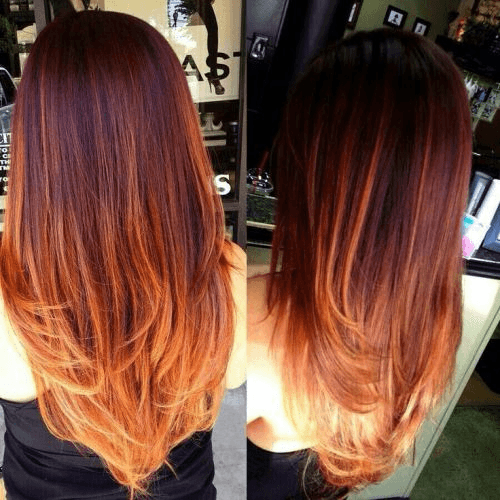 You may think that the ombre trend is not that popular anymore, but why should you care if you do not follow trends anyway? If you are not drastically changing your hair color to look different, you will have a grand time checking out this strawberry ombre style. Your brown hair will look like it has been dipped in strawberries. This can be contrary to the usual strawberries dipped in chocolates, but it will look amazing.
Cherry Top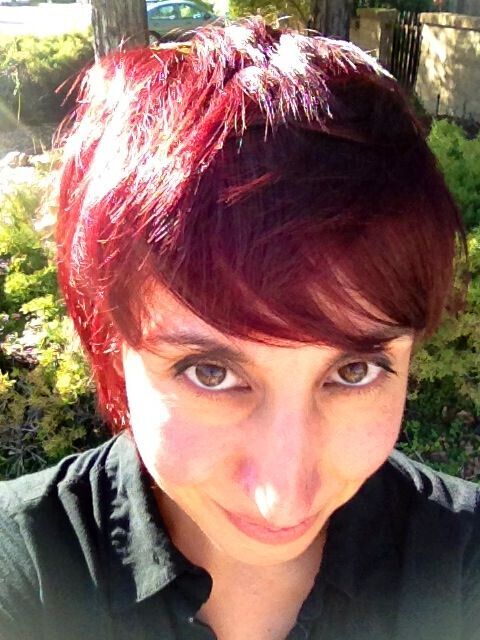 Sometimes you have been too bored with your hair for a long time that you already feel the need to do something drastic. If you are having trouble deciding on an extreme hairstyle, you may choose a cherry top hairstyle that will look amazing on your brown hair. Based on the name itself, you can already guess that the red portions of your hair will concentrate more on the top than the bottom part of your hair.
Crimson Brown Hair with Red Highlights
If you want to make it seem like you have drastically changed your hair color but have only added red highlights, you may choose crimson out of all the available hair colors. This is because crimson is such a strong color, and it will make it seem like your hair is all red, but upon a closer look, people will realize that your hair base is still brown and that your crimson streaks are just making your hair look more special than usual.
Reddish Pink Fringes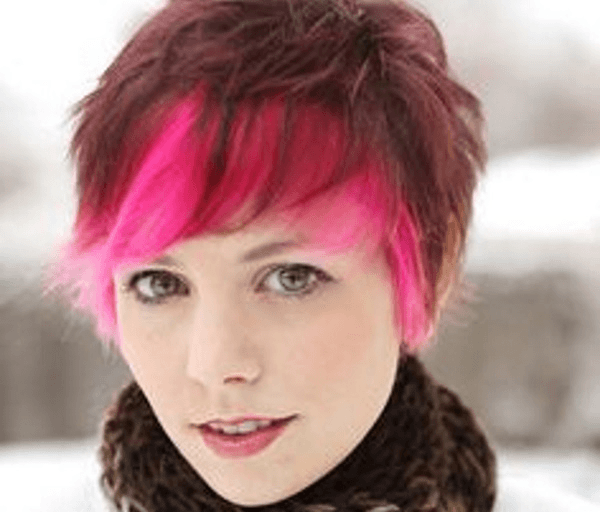 This can be perfect for you if you have fringes on your current hairstyle. You may want to keep your brown hair, but you want to make your frills stand out. No need to worry anymore, as you can choose a reddish-pink color that best fits women with cool undertones. The almost pink fringe never fails to stand out. Remember that thin hair will look best with this style if you have fringes.
Ruby Red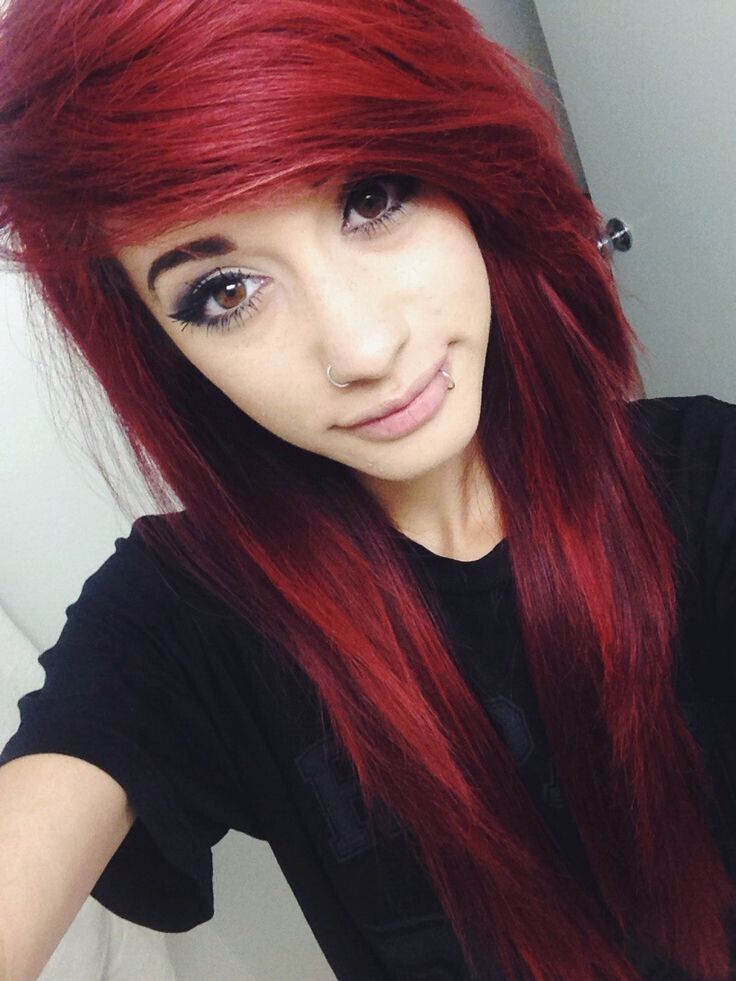 There will be times when you want to have something that will look classy on your hair. There is no need to look for other red shades as you can choose a ruby red hair color near the bottom of your hair. Although this may seem similar to the ombre, remember that the ends colored with ruby are slightly lower than those that an ombre hairstyle can color.
Caramel and Red
If you usually have a caramel hair color, you have a sort of shiny blonde hairstyle; you can ensure that you will have the perfect red highlights that will complement that. Having hair way past your shoulders can make the effect more obvious.
Subtle Red Highlights
Do you have deep auburn locks? If you do, you would like to make sure that you will push your hairstyle a bit by adding some red highlights, but what type of red highlights will look perfect for your hair?
Make sure to choose red highlights that may be the closest to auburn. Instead of being systematic with highlights all over your hair, start from the middle part of the hair going to the ends for that subtle effect. While this may be something you feel you can do on your own, hiring a professional to do this for you may be helpful.
Red Grazed Brown Hair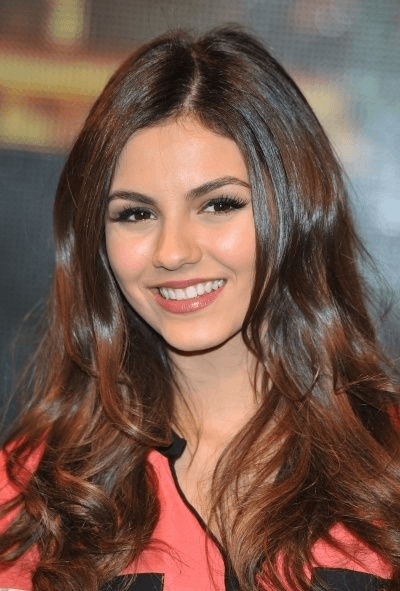 If you have naturally curly hair, you need to add red to it to make it look even more enjoyable. There is no need to worry about going overboard or choosing a type of red that might make you look like a punk. You can select reddish-brown highlights placed on the strands that best frame your face for that perfect overall look.
Hidden Highlights in Red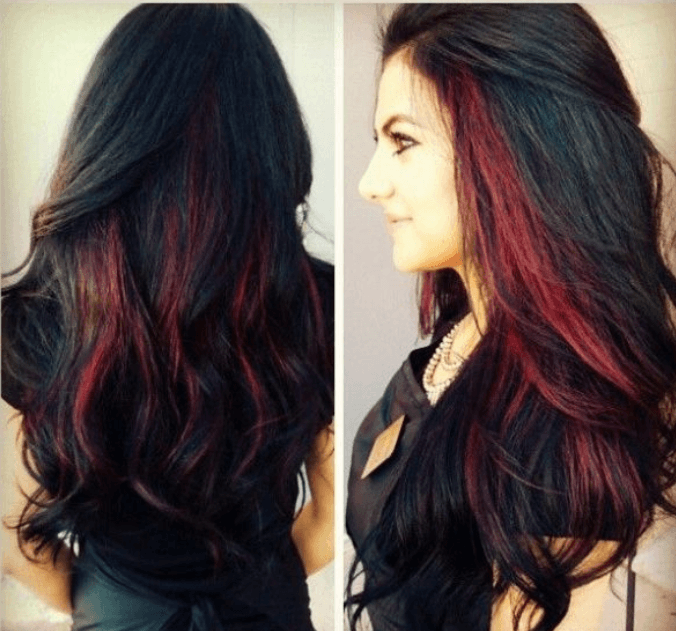 If you want a hairstyle that is not too drastic but will still be obvious, you can opt for these hidden red highlights that you can place on your hair. Ensure that you have a warm brown color as a base before placing the hidden red highlights all over your hair. You may not even realize how much of a difference the simple change can make to your hair.
Warm Copper and Red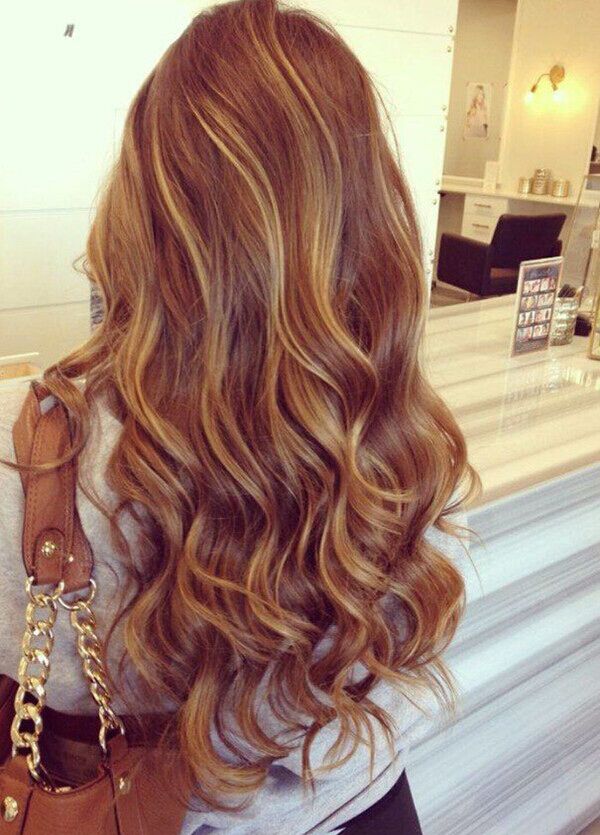 If you want to have more than one hair color on your hair, you will never go wrong with having a brown base mixed in with a bit of copper and red. You can be sure that the added colors will add an overall dimension to your hair. If you curled it, it would look almost unreal. Of course, the highlights would need to be placed by a professional so that the proper hair strands will be colored and highlighted easily.
Face Framing Red Highlights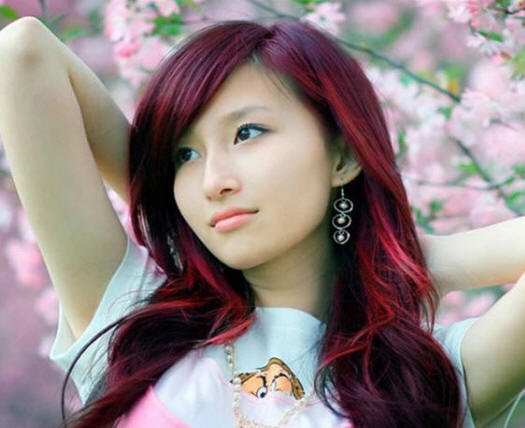 You may want to do some tweaking regarding your current hairstyle but undergoing a drastic change is not something you are looking forward to.
These face-framing highlights will look perfect for women with medium to long hairstyles, and if the hair is side-parted, some of the brighter highlights may be strategically placed on specific areas of the hair. Since this can frame the face well, you may realize a lesser need to apply makeup because your hair can make you look blooming.
Two-Toned Red Hairstyle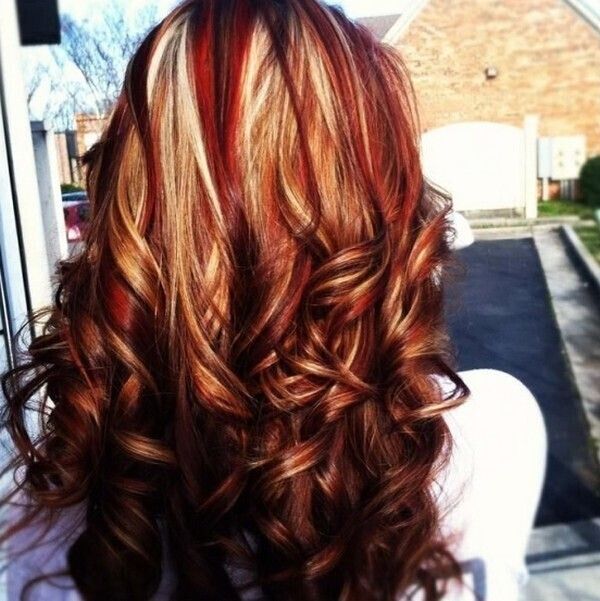 Are you tired of your old and dull hair? You may genuinely want to have a change, or you want to surprise the people around you. You can be sure that having this hairstyle will never be boring, mainly because it can make the hair look dramatic and different. Ensure that the highlights will be placed near the top of the head and that the highlights will be in two different red colors. Do remember that not everyone can pull off this look.
Sparkling Red Brown Highlights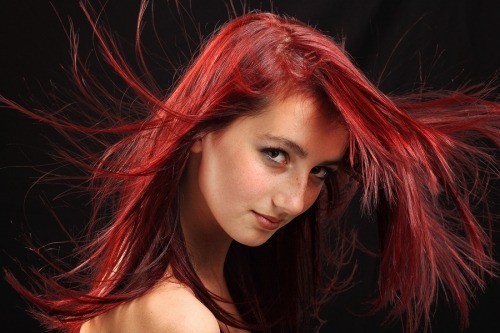 You may want to give your hair an easy update that does not require much effort and will not be too much of a significant change. You can choose a reddish brown change that resembles your dark brown hair. It is best if the highlights you are going to place are set near the crown of your head. The highlights will then descend to the bottom of your hair to make it look natural.
Brown Hair with Red Sun Kissed Highlights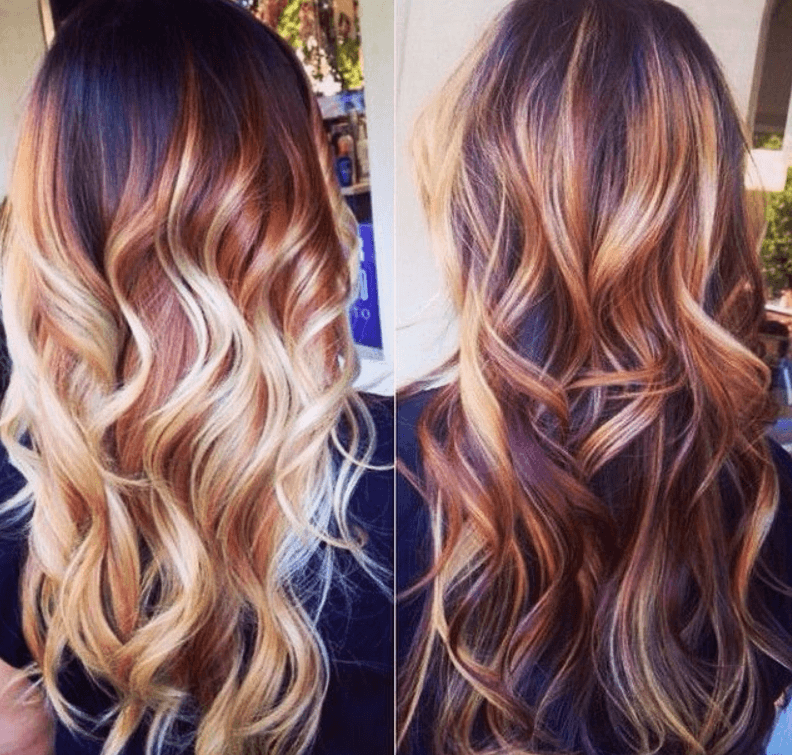 The color of the sun may appear yellow in drawings, but further research about the sun will let you know that it has a red hot center. This will be your inspiration for the type of highlights that you will place on your hair. This combination will make your hair natural. Your skin tone will also become apparent with this choice of highlights on your hair. This is also the perfect hair for you if you do not want to fuss too much over your hair.
Barely There Red Highlights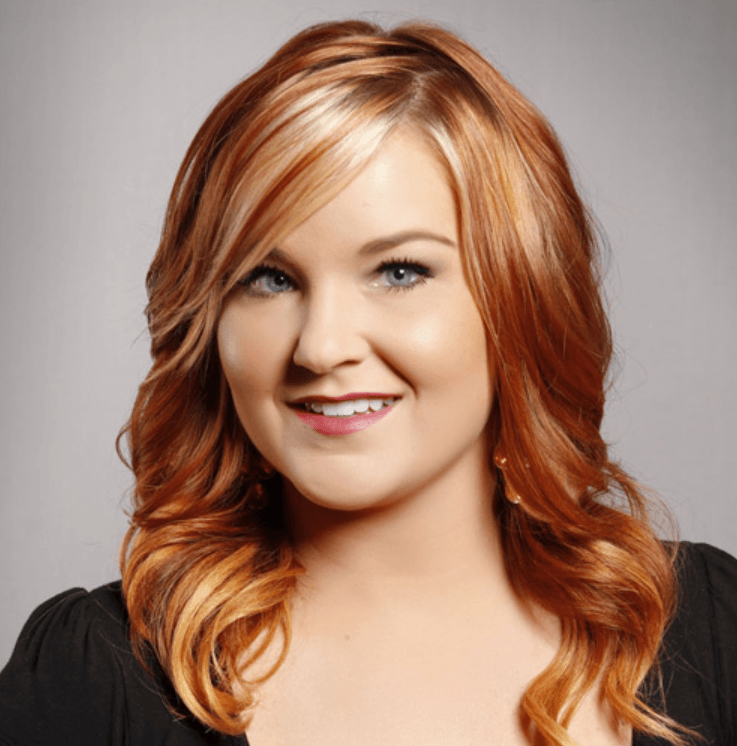 This is the perfect red highlight for your brown hair if you want something so subtle that most people will not notice that they are there until they start looking closely. If you have some highlights, this is the perfect solution, but you are afraid it will look over the top. The great thing about this is that it looks effortless and can make anything you wear immediately look better.
Gray with Red Highlights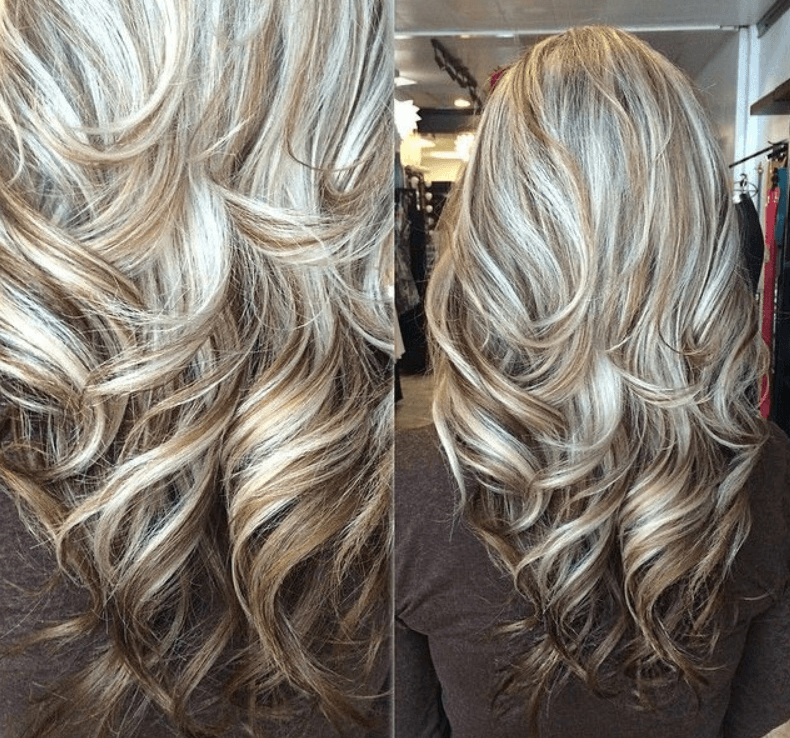 You do not need to have white hair to have a bit of cool-looking gray on your hair. You can add them to your brown hair in highlight form. Mix in a bit of red to make your hair have three colors. It will be enough to make you look cool because you must admit that not everyone would be brave enough to have this hair color combination.
Striped Red Highlights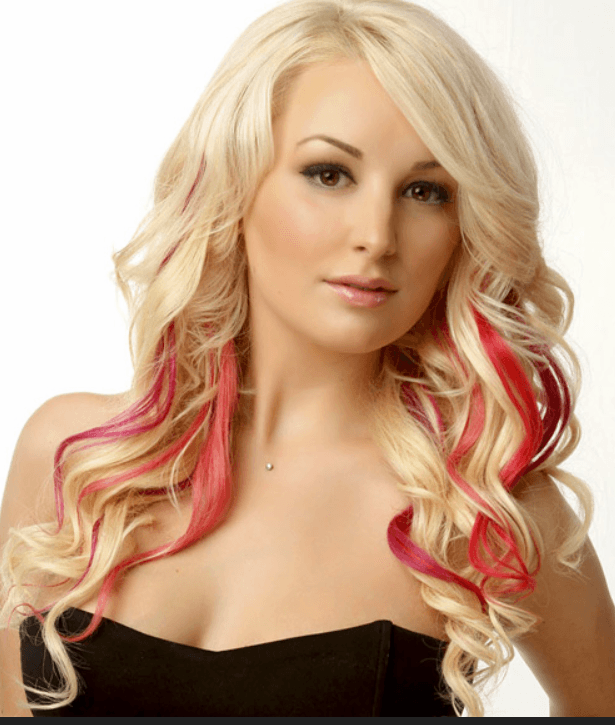 If you want your hair to appear striped vertically, then this is the best choice for you to have. The portions of your hair that are still brown will complement well with the areas of your hair highlighted in red. This will work best if you have chocolate brown hair and the red highlights you choose already bordering on strawberry blonde.
Dark Brown Hair with Bright Red Highlights
When placing highlights on your hair, the main tip to remember is to ensure that you put the highlights away from your roots. If you have long, dark brown hair, you can use some bright red highlights to make your hair appear fuller than it is. Your dark hair and bright red hue will make a huge difference. For sure, people will immediately notice your hair.
Brown Hair with Copper Toned Waves
This will work best for you if you have naturally wavy hair. You will appear like you are about to go to the beach each time because of your soft waves highlighted by the coppery red. Of course, this hair is still nice enough to prepare you for a formal night event. It can change your overall appearance subtly, but it will make a massive difference in how you see yourself.
Purple Red on Dark Hair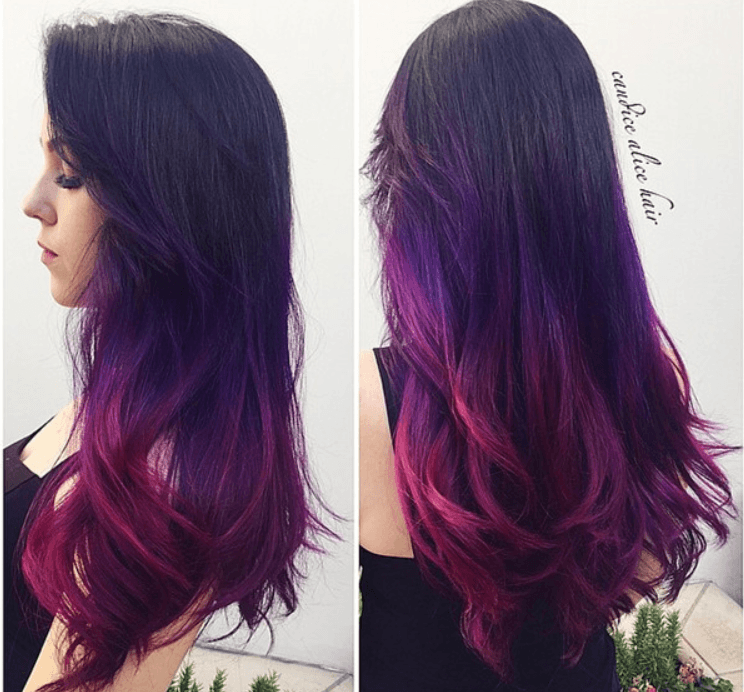 Your dark brown hair may need some color to make it look cool instead of dull. If you are not too fond of bright red, you may choose something still within the same spectrum with a bit of a twist. Why not add a bit of purple to your hair? The purple-red combination on your dark brown hair will look almost natural. Just ensure that it will be done correctly so that the color fade will not be a big issue.
Ravishing Blonde Red Highlights on Curly Hair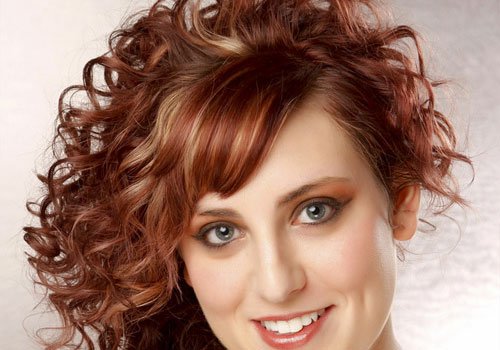 You do not need naturally curly hair to have these great highlights. This can work great if you have straight hair and curl your hair with a large curling barrel. You know this can work out great, as the red highlights accentuate each time the sun's rays hit it. If you have frayed hair edges, do not worry, this can improve the appearance of the hair even more.
Caramel Chocolate Hair with Red Highlights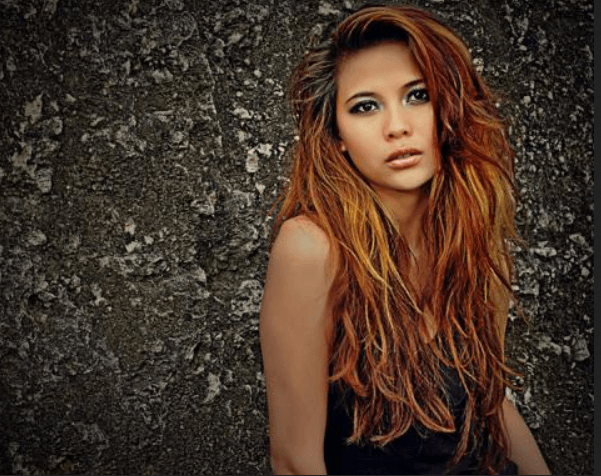 Can you envision those chocolate bars that contain some red filling for a unique taste? This is how your hair would appear to look. Your two-toned hair, both with caramel and chocolate hues, will look more promising and exciting with the addition of bright red highlights. This can be the best option for you if you want your sweet personality to be showcased.
Windswept Red Highlights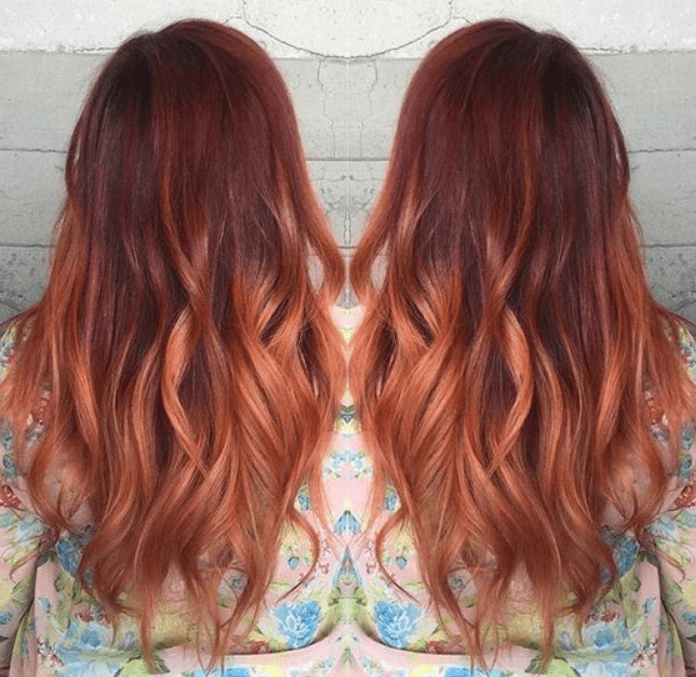 Having windswept hair is already enough to make you look very approachable. It may even make you look like a damsel who needs to be saved. It can also make you look nonchalant about everything happening around you. Your windswept hair can tell a lot of stories. It will be up to you to improve it and make it better by making sure that you have red highlights to make you look more fashion-forward.
Medium Brown with Red Highlights All Over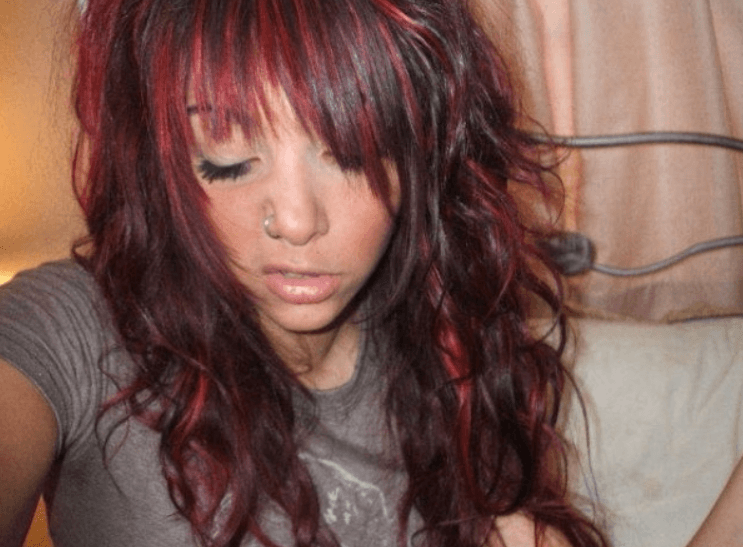 You may want to change your hair color but keep a few strands intact by placing many red highlights all over your hair. The bright, eye-catching red shade will make your change radical enough that people will immediately know that you have changed your hair color. Remember that to his loothisropriately; it is best to keep your hair shiny and healthy. It will make your hair stand out, even at night.
Multicolored Highlights on Brown Hair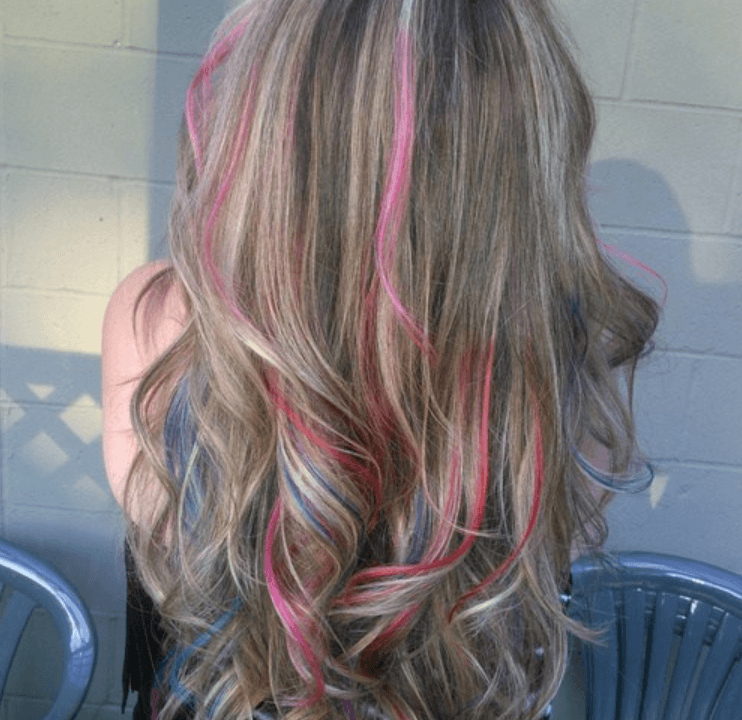 Why stick only with red when you can have more than one color on your hair anyway? It does not matter whether your hair is long or short; you need many colors to improve your hair's natural dull and mousy appearance. With the bright highlights, you can expect all eyes to be on you whenever you walk into a room.
Front Red Highlights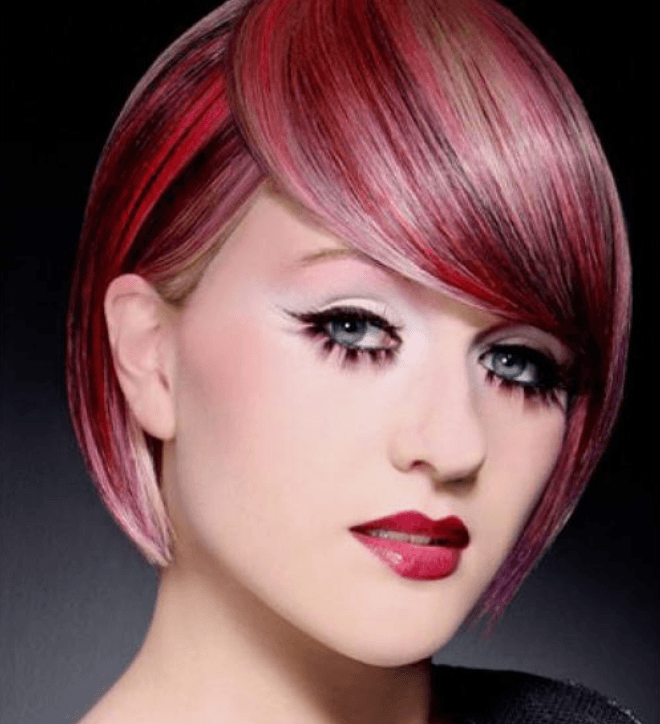 If you only want highlights that can frame your appearance but do not want them to appear all over your head, you can opt for front red highlights. You can choose burgundy or a mahogany shade, depending on your skin tone. Just make sure that it is lighter in front than at the back. This can make your eyes appear bigger and brighter, and it will not be too weird to have them highlighted in the front and not in the back portion of your hair.
Understated Auburn Highlights
Do you want to look put together, but you do not want to make it seem like you have tried hard to achieve the hair color you want? This may be the best hairstyle for you to have. Since these highlights are not too evident, you can have them even if you work in a strict, professional business office. You can take this style from day tonight.
End Copper Highlights
Suppose you have long, brown hair. You do not want to do anything to cut it. You want to make it look different. Who does not want to make some hair changes from time to time, right? The end copper highlights will never fail to look amazing. Remember that it may take a lot more maintenance than usual, but it will be up to you to decide when it is worth it.
Subtle Dark Red Highlights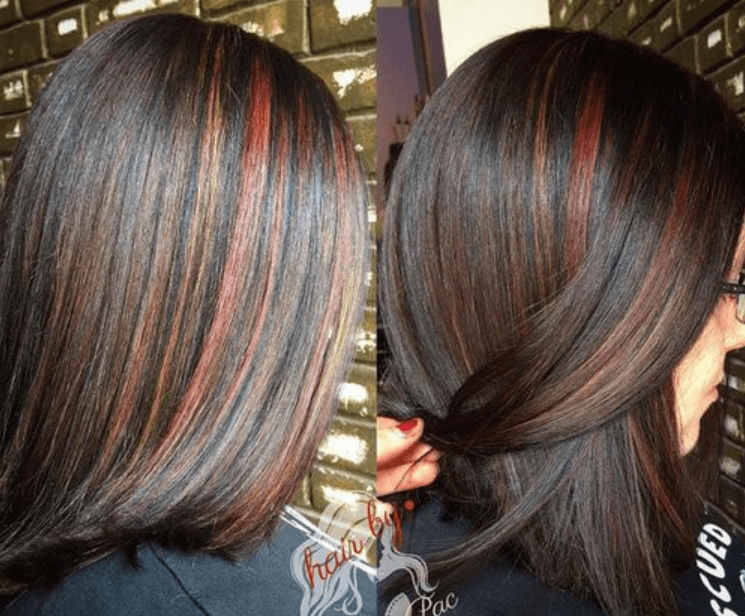 You may always assume that highlights always have to be bright and evident from the name itself, but this is not always the case. You can make the highlights of your hair look subdued, but it will still be obvious enough to change your current hair. Just pick a red shade slightly similar to your natural brown hair color.
Stacked, Red Highlighted Bob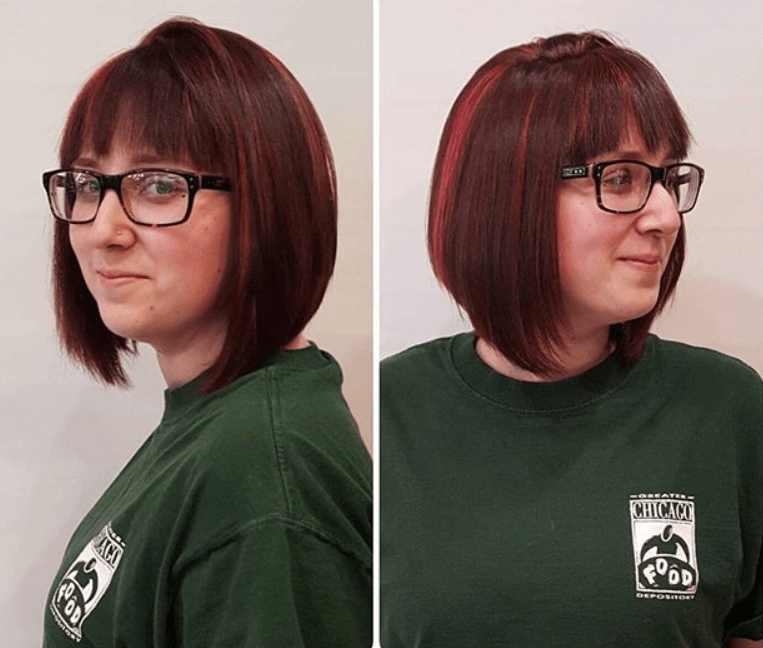 You may want a stacked bob hairstyle, but you do not want it to appear matronly. You can do this effectively by choosing the right hair color. If you keep your natural brown hair, make it look more incredible by adding red highlights. It may be a bit unconventional, but you will be happy with how it looks.
Pink and Brown
Admittedly, not many brunettes pick pink as one of the colors they can use to accentuate their brown hair, and you may be a bit confused as to why this is on the list. This is because you need to choose a pink shade that is deep enough that it looks almost red. Choose deep rose-colored highlights that will not overpower your natural brown shade. This may work best if your natural brown hair is lighter.
Chunky Red Hair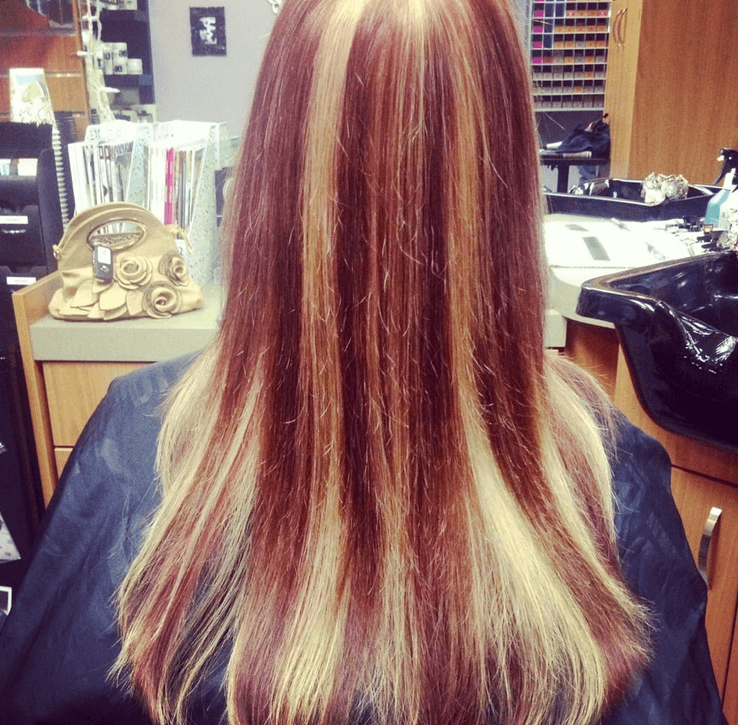 Changing your hair from brown to red may be something you consider huge, especially if you have never done it before. If you have worn your dark brown hair all your life, you know you need a change. You can make this change by having chunky red hair, which will be your first step in any transition.
Long Dark Brown Bob with Red Ends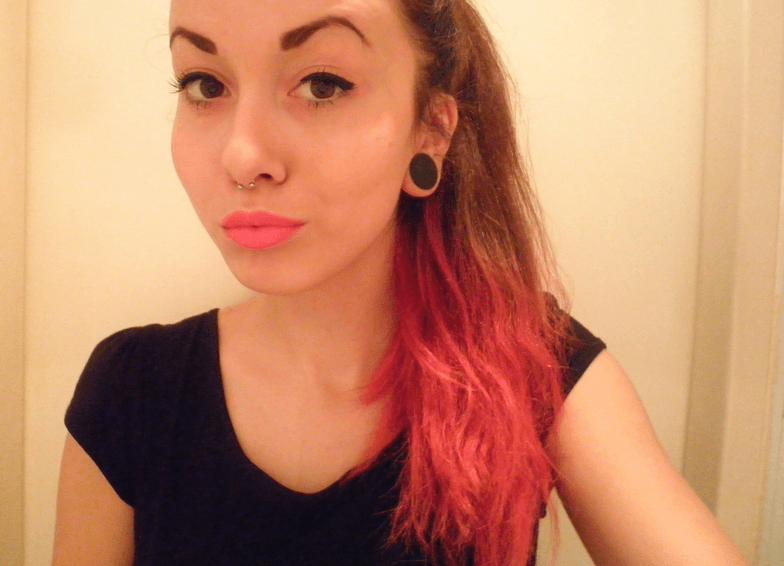 This will be your choice if you are not a fan of having highlights all over. What you can have instead is a long bob with some red ends. It is already normal for some colors like blonde and offbeat colors like blue or pink to be placed on the bottom portion of your hair like ombre, but what if you can make it subtle and choose a similar color to your natural brown coloring? Choosing red is not something you will regret.
Highlights the Color of the Sunset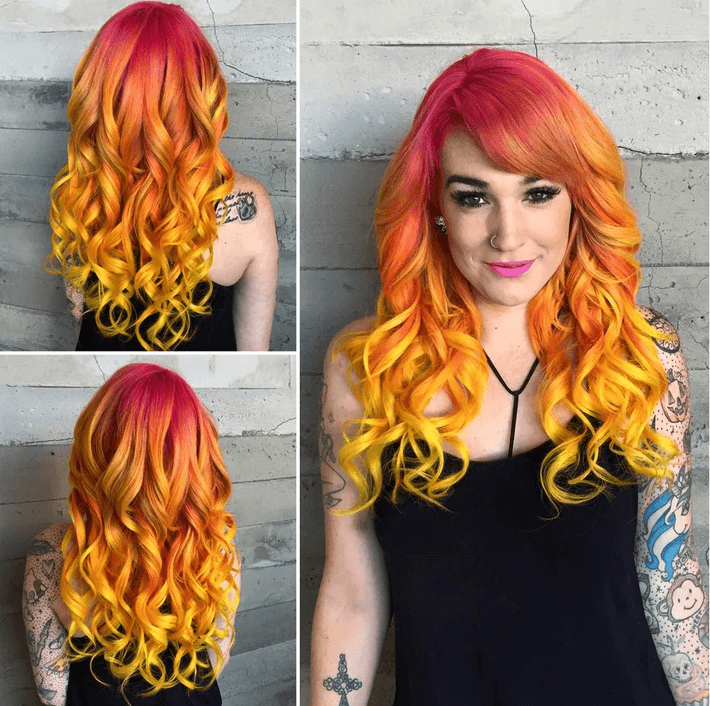 The sunset is always beautiful, and some people argue whether sunset or sunrise is better. Whether sunset has a deep meaning for you or not, you may be interested in making your hair appear like the sunset colors. The evening may have some dark portions, which will translate to your dark brown hair, and add some different colored red highlights to achieve the type of look that you have always wanted.
Medium Layered Cut with Red Highlights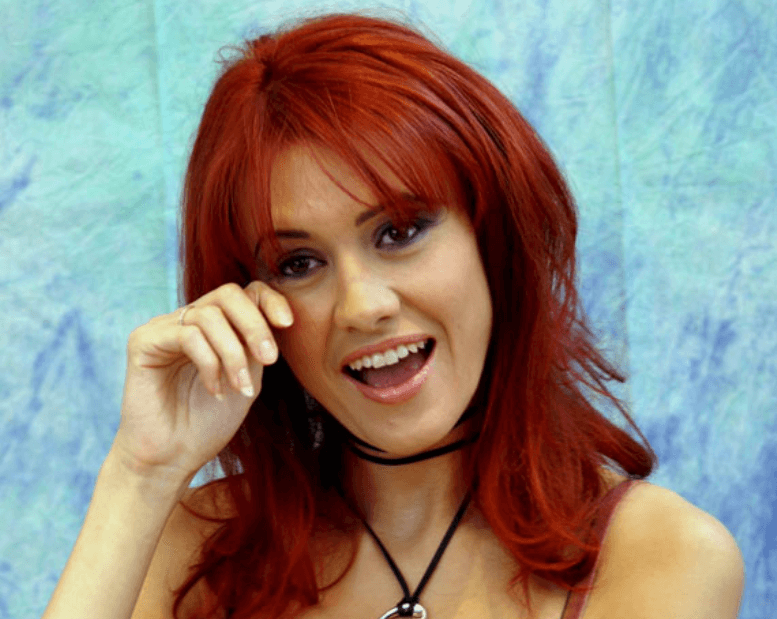 Your hair may be your crowning glory, but you do not want to make some changes that are too drastic that you will not recognize yourself whenever you look in the mirror. The key to choosing the right red shade for your hair is to choose colors that will make your hair strands appear deeply saturated. You can wear this low-key hairdo to your different events with no issues.
Loose Curls with Red Highlighted Bangs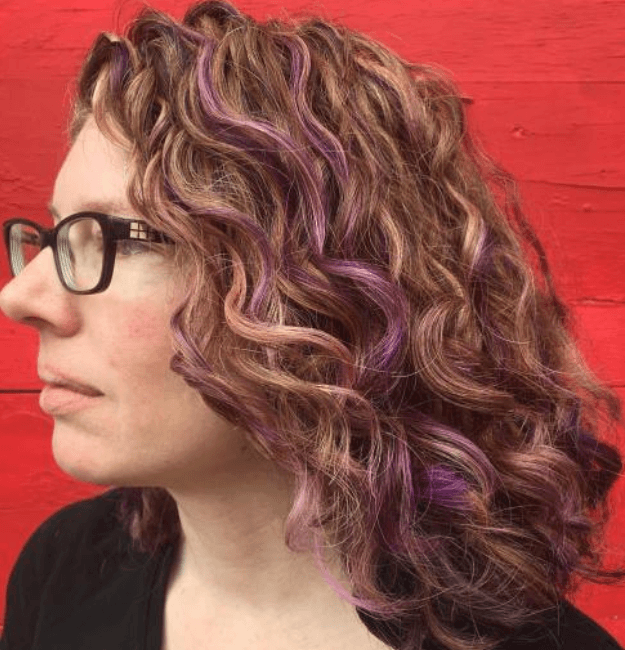 You have to be warned, though, that having highlighted bangs can be a bit tricky. If you have full bangs, do not think about it, but if you have long bangs moving towards the side of your hair, this will not be a big problem. Remember that your bangs should appear one with the rest of your hair so they can blend easily.
Red and Golden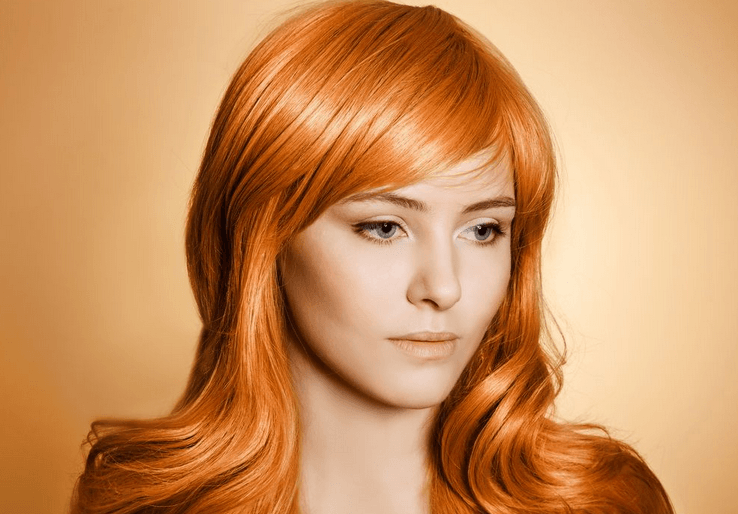 You need to choose red and golden-colored highlights if you have blunt cuts. This means that your hair will not have much movement, which can increase the appeal of red on your naturally dark brown hair. If you are a bit confused about your choice, choosing a hair color two shades lighter than your natural hair is best.
41. Dark Brown Hair with Caramel Highlights and Red Lowlights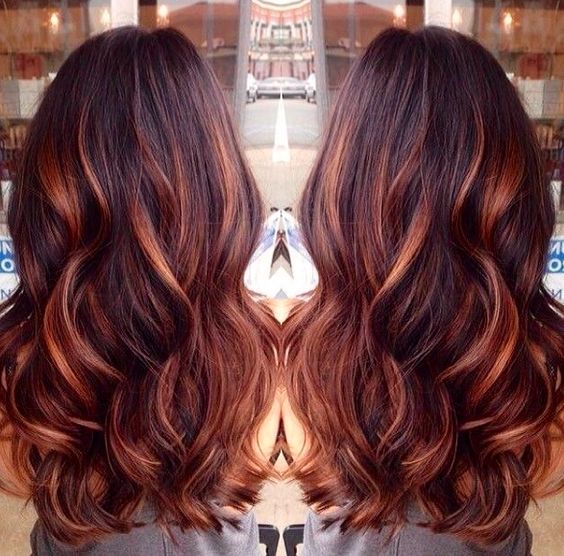 42.

Dark Brown hair with cherry red highlights
43. Brunette with Red Highlights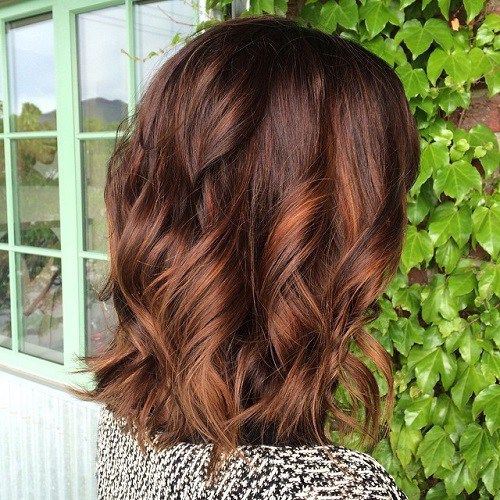 44. Russet Brown Base/Red & Tangerine Tones
45. Chocolate Brown Hair With Caramel and Red Highlights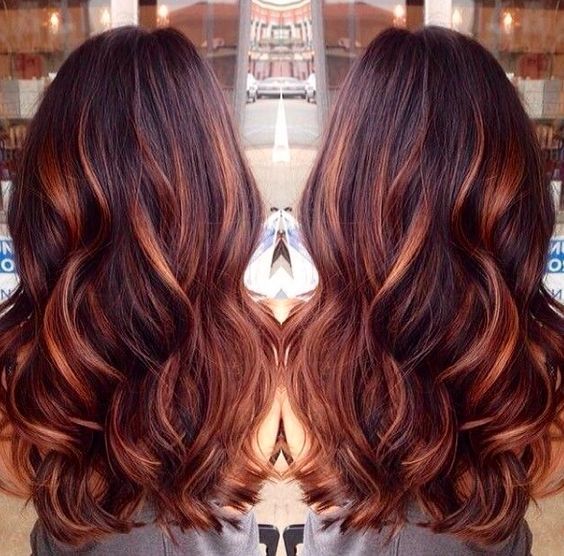 46. Cute Dark Brown Hair with Red Highlights
47. Red lowlights with brown between the foils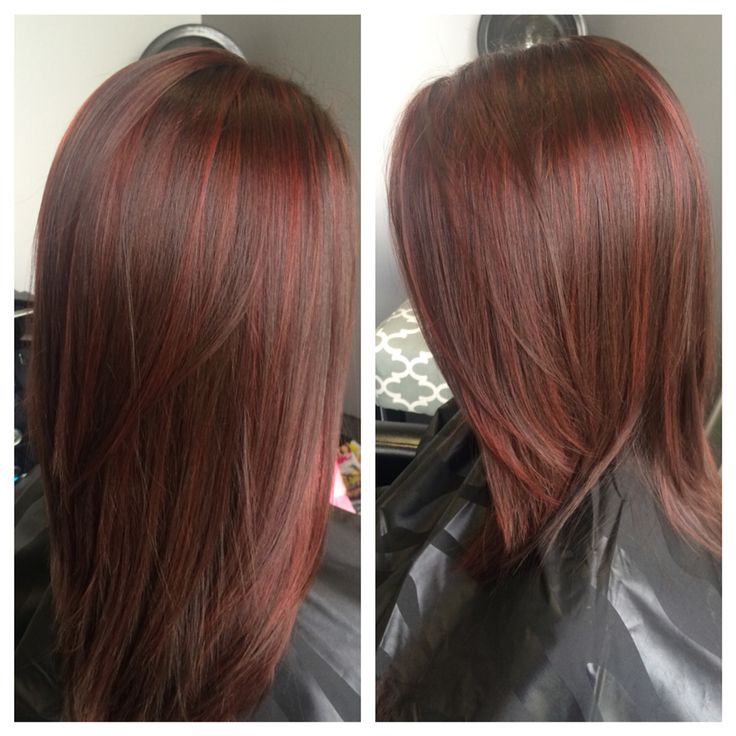 48. Brown Red Hair with Blonde Highlights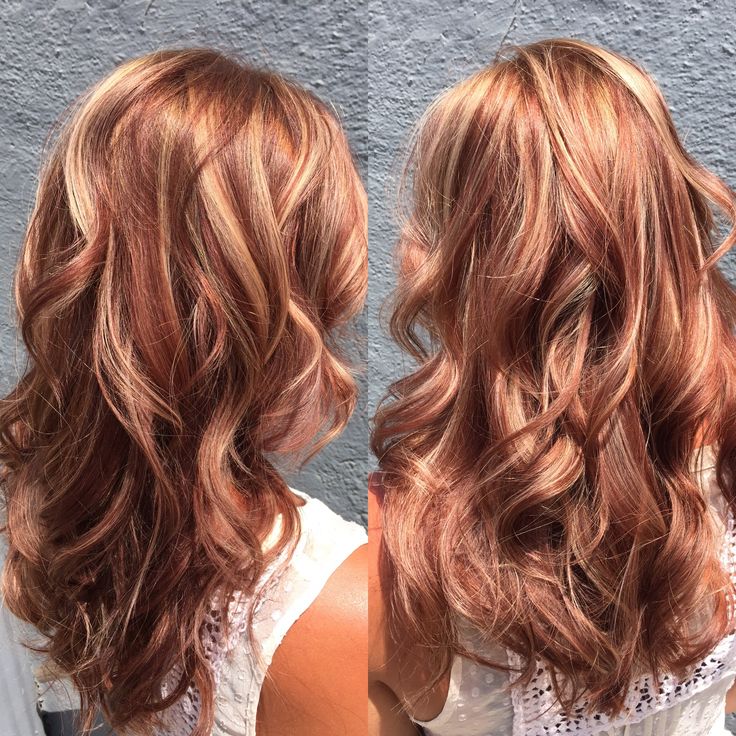 49. Subtle brown and red ombre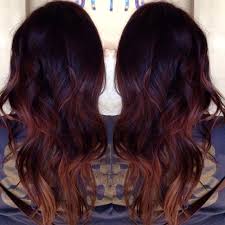 50. Brown Hair with Blonde and Red Highlights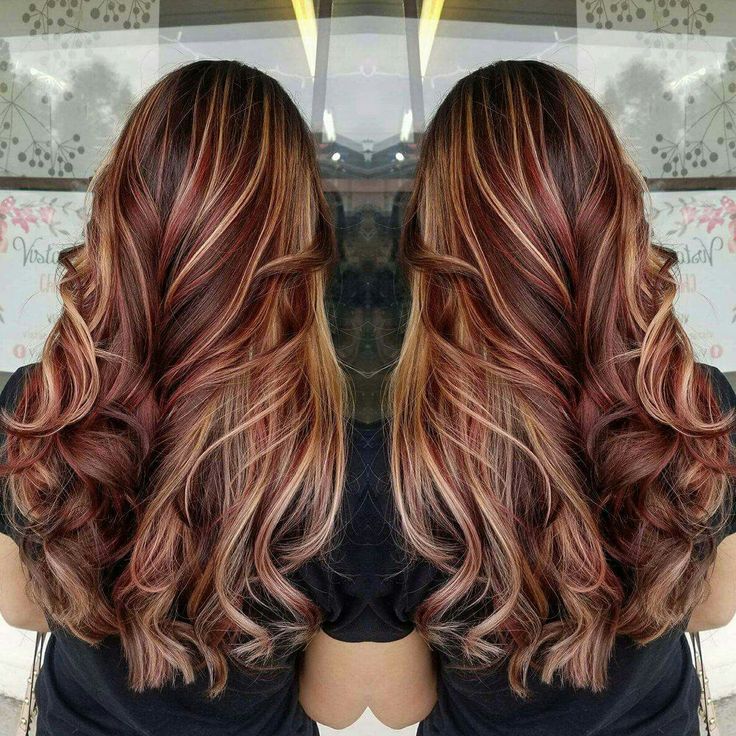 51. Auburn Color with Blonde Highlights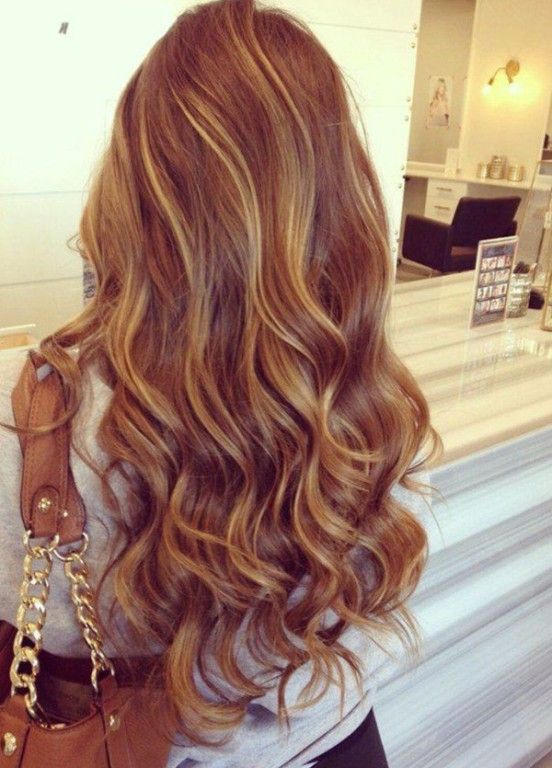 52. Brunette with Red Highlights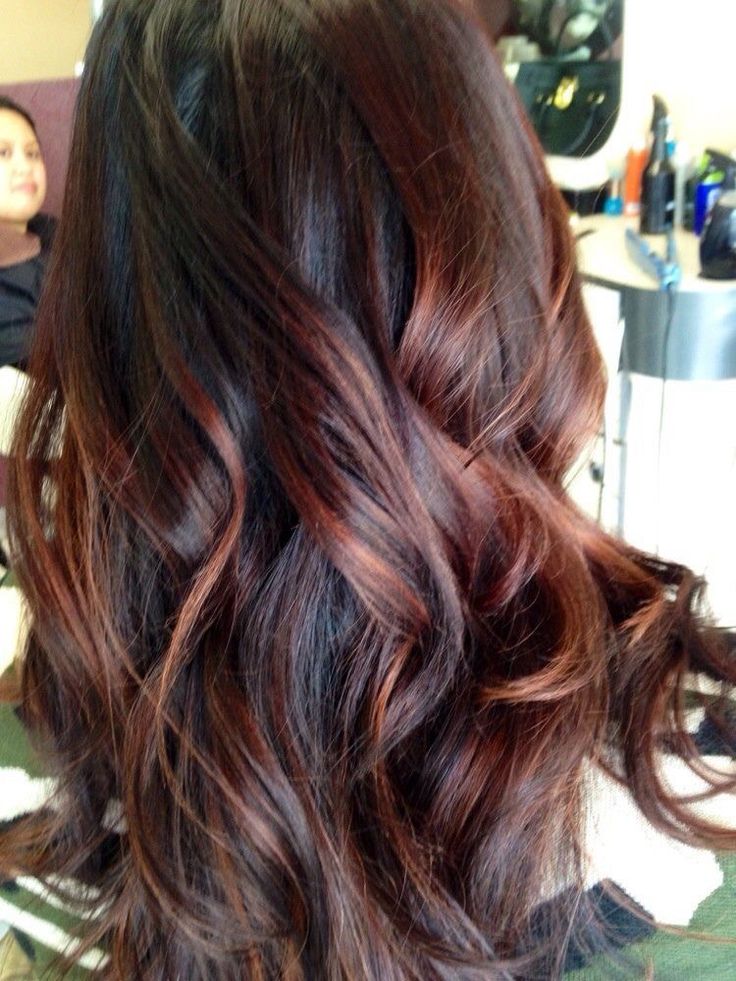 53. Dark Burgundy, Maroon, and Burgundy with Red, Purple, and Brown Highlights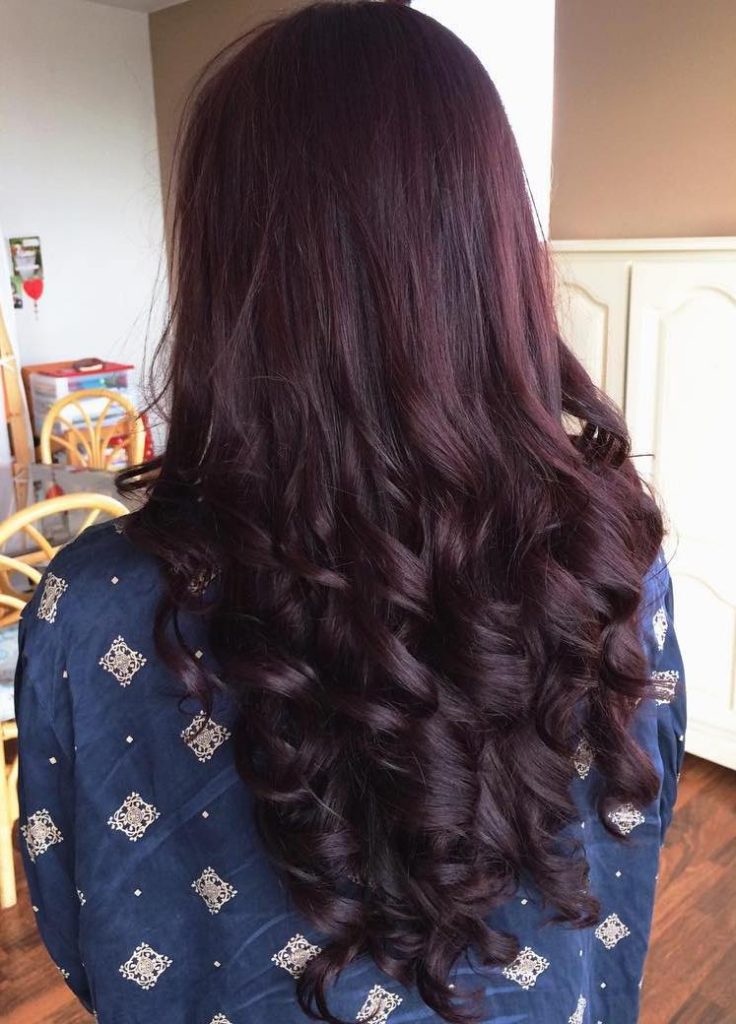 54. Long Brown Hair With Caramel Highlights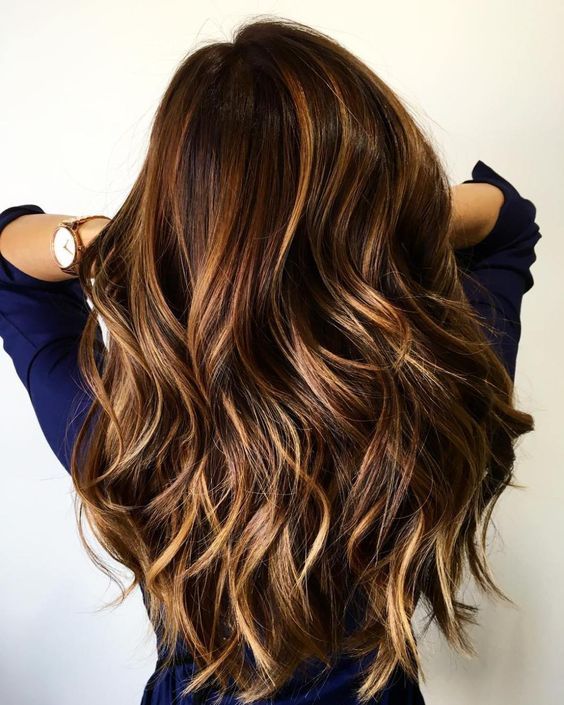 55. Low Maintenance Brunette Hair with Red Balayage'd Highlights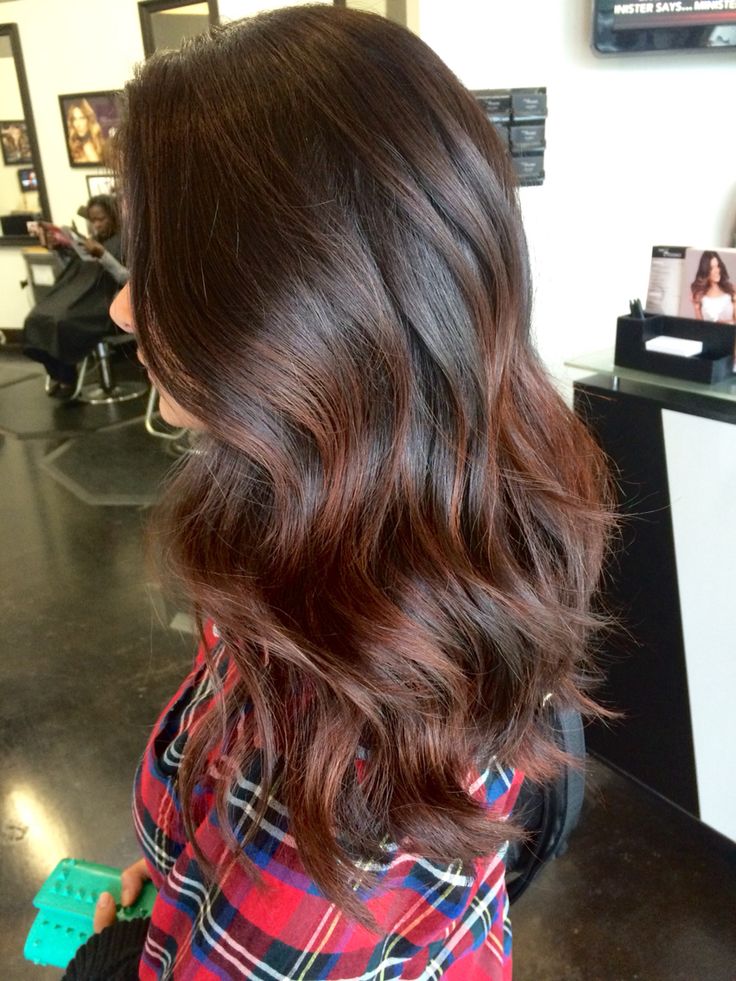 56. Curly Brown Hair with Red Highlights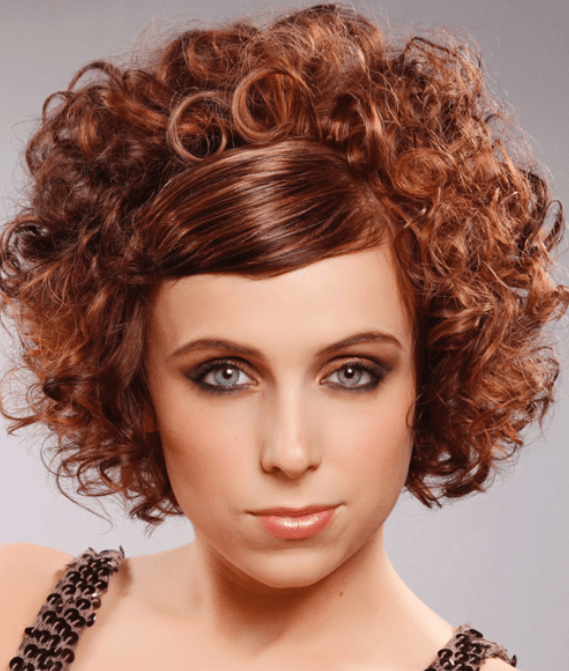 56. Dark Brown Hair With Subtle Red Highlights
57. Medium Dark Brown Hair With Red Caramel Balayage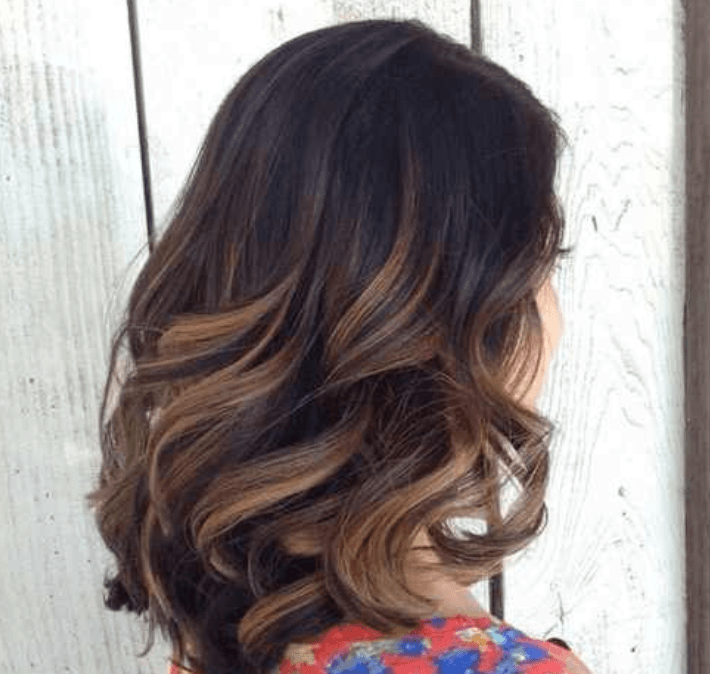 58. Dark Brown Hair With Chunky Red And Blonde Highlights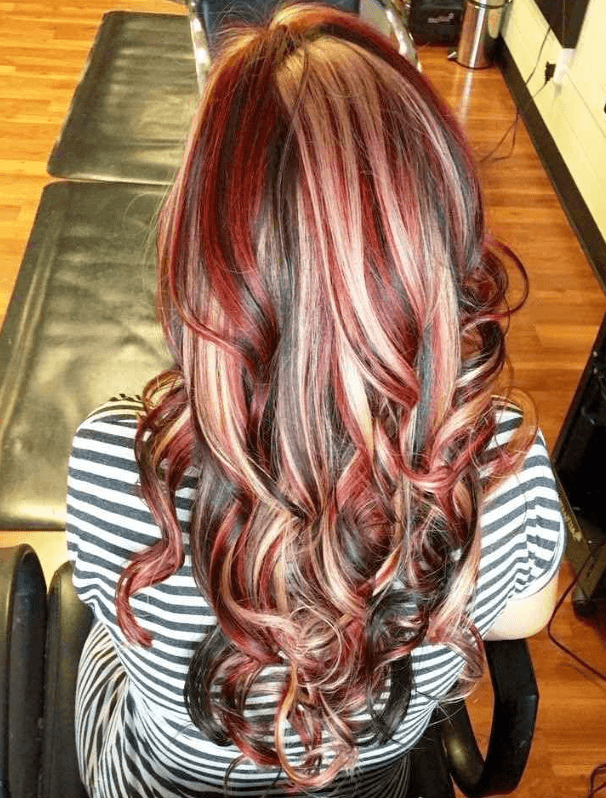 59. Balayage Hair Color with Red and Caramel Highlights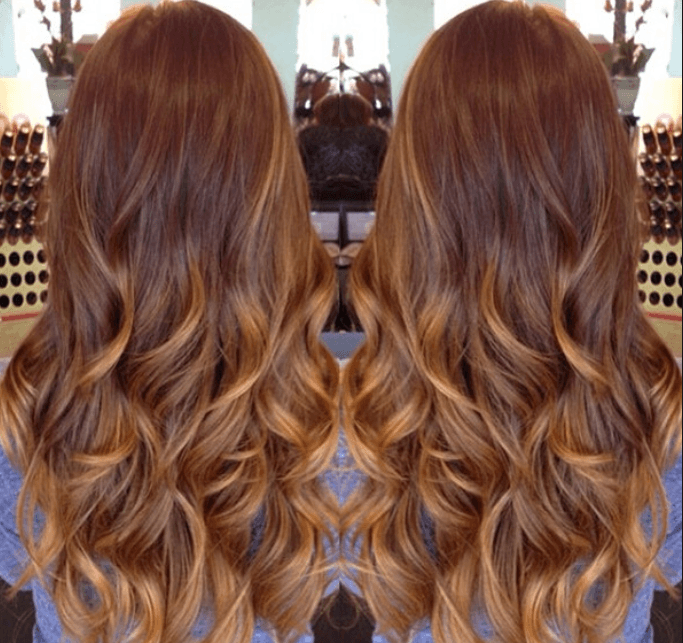 60. Spicy Auburn Color with Dimension and Shine
Who would have thought so many options were available when choosing red and brown? You can pick the one that best fits you, your style, and your personality.
Based on the various brown hair with red highlights styles that you can do, which one do you think is your favorite? There may be some that you want to do to your hair, but you are not quite sure how it will look.
Remember that red may fit warm-toned and cool-toned people, but it would depend on the type of red placed. Usually, brighter red tones are perfect for light to medium skin tones, while deeper reds are perfect for those with yellow to dark skin tones. Add flair to your hair with the ideal red highlights.