Are you looking to add some fun and flair to your hairstyle? Look no further than the bubble ponytail! This trendy and playful hairstyle has taken the beauty world by storm, offering a unique twist to the classic ponytail. In this article, we will explore the 22 best bubble ponytail hairstyles.
What is a Bubble Ponytail?
A bubble ponytail is a hairstyle where the hair is divided into sections and secured with elastic bands or ties. This creates a series of "bubbles" along the ponytail's length. Each bubble is created by gently pulling the hair between the elastic bands, giving it a puffed and voluminous appearance. The result is a playful and eye-catching hairstyle that can be tailored to suit any hair length and texture.
How to Create a Bubble Ponytail?
1. Preparing the Hair
Preparing your hair correctly is essential before you start creating your bubble ponytail. Begin by washing and conditioning your hair to ensure it is clean and free from any product build-up. Once your hair is dry, brush it thoroughly to remove any knots or tangles. If desired, you can apply a small amount of styling product or hairspray to add texture and hold to your hair.
2. Creating the First Bubble
To create the first bubble, gather all your hair at the desired height for your ponytail and secure it with a hair tie. Make sure the ponytail is smooth and free from any bumps or unevenness.
Take another hair tie and position it a few inches down from the base of the ponytail. Gently pull the hair between the two hair ties to create the first bubble. You can adjust the bubble's size by pulling the hair more or less, depending on your preference.
3. Adding More Bubbles
After creating the first bubble, continue the process by placing another hair tie a few inches below the first bubble. Again, gently pull the hair between the two hair ties to create the second bubble. Repeat this step until you reach the end of your hair, making as many bubbles as desired. Ensure each bubble is evenly spaced and secured tightly with the hair ties.
40 Best Bubble Ponytail Hairstyles 2023
1. Bubble Ponytail for Long Hair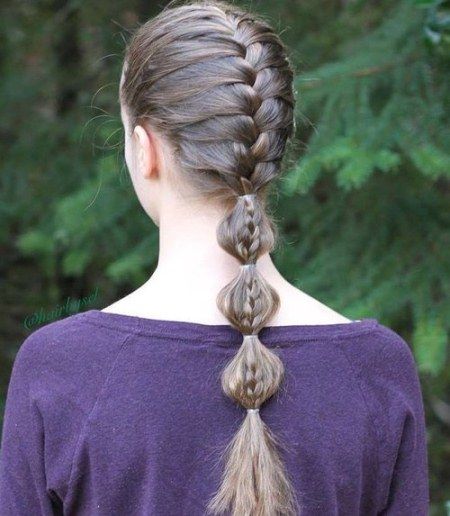 Women with long hair have the luxury of styling their locks in many ways. A bubble ponytail is an effortless and modern hairstyle. To create the look, begin by making a high ponytail. Section the hair into two equal parts and secure each section with an elastic.
Then twist each ponytail to create two loops of hair. Secure each loop to the hair tie with additional elastics. Finally, tuck the loose ends up towards the base of the ponytail. This chic look is perfect for a day out or a night on the town.
2. Sleek Bubble Ponytail
A Sleek Bubble Ponytail is a modern, feminine hairstyle that women of all ages can rock. It features a sleek, even texture for a voluminous, dramatic look.
Using a curling iron and bobby pins, the unique bubble technique gives an exaggerated effect that will turn heads and up the style ante! Easy to recreate, the result is a modern, three-dimensional look ideal for any occasion.
3. Mermaid Inspired Bubble Ponytail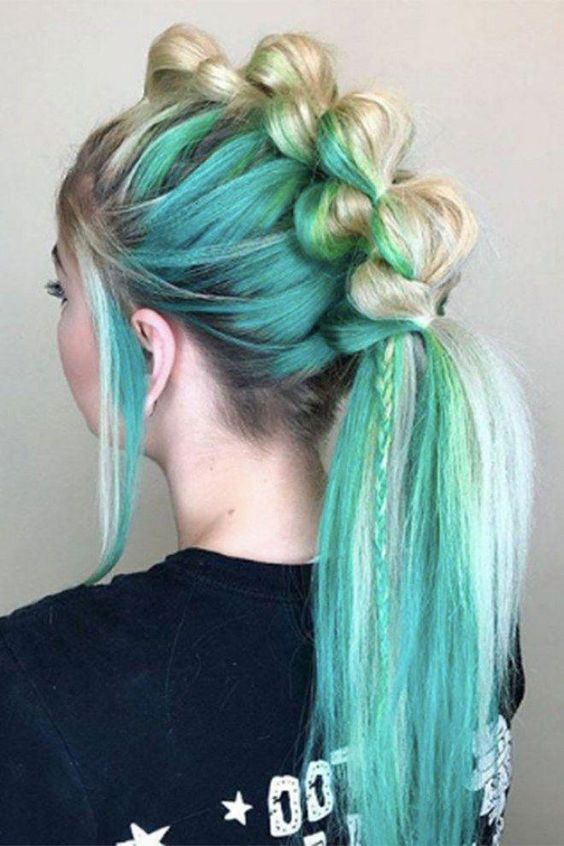 This modern ponytail is perfect for adding a touch of fantasy to any look. The mythical mermaid inspires it and will turn heads with its mesmerizing bubble effect.
The deep side part ensures polished perfection, while loose interconnected curls cascading down add a playful twist. Softly pulled back into a voluminous ponytail, this hairstyle will make a statement.
4. Pom Ponytail for Afro-American Women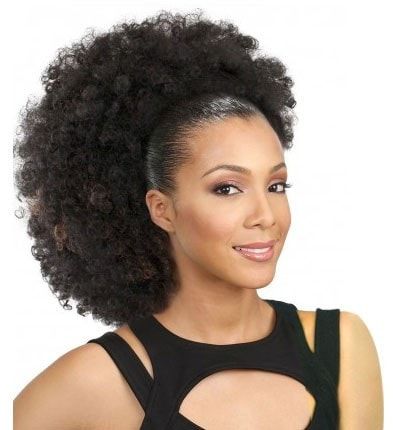 Pom Ponytail for Afro-American Women is a great way to flaunt your look modern and stylishly. Its fluffy pom details add an edgy touch to your classic ponytail.
Featuring a secure and comfortable elastic band, it easily ties your hair back with an effortless style. Its heat-resistant fibers are perfect for creating an ideal shape and keeping your look flawless, whatever the occasion.
5. Half Bubble Ponytail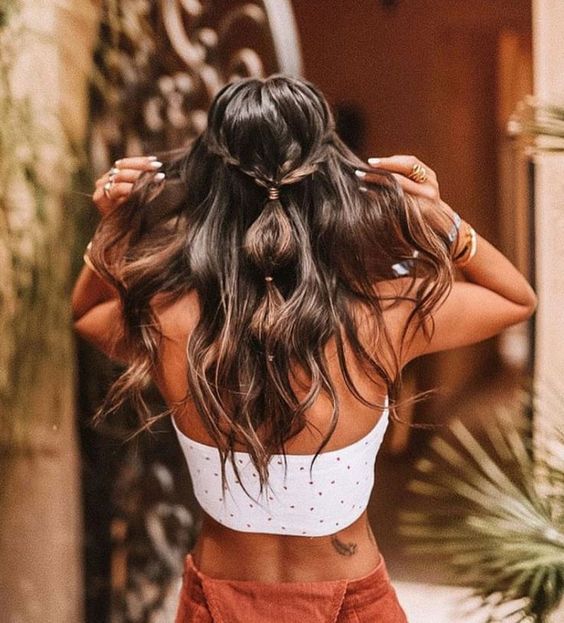 Women everywhere are loving the Half Bubble Ponytail! It's an iconic and unique look spotted at festivals, fashion shows, and on the red carpet.
This modern hairstyle involves gathering and tying your hair into one or two poofy, curly, bubble-like pieces, then securing the look with bobby pins or clips. It creates an effortless and playful style that's comfortable, glamorous, and hassle-free.
6. Bubble Ponytail For Natural Hair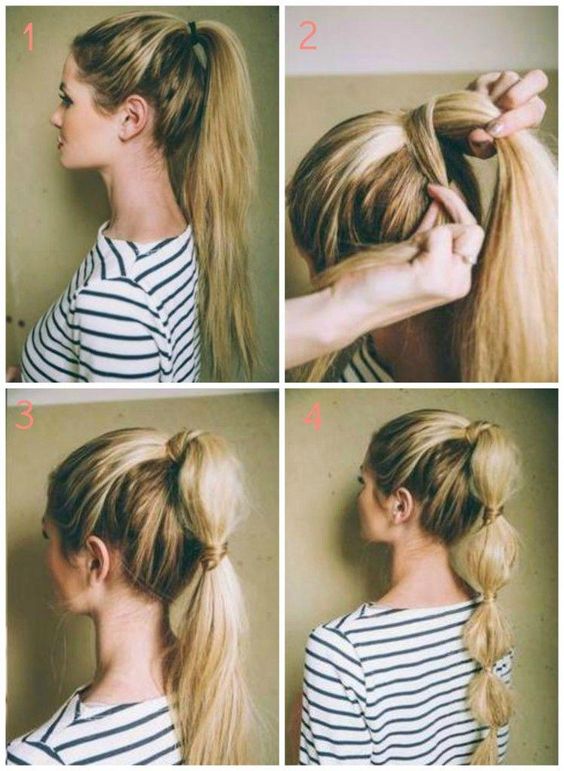 Half Bubble Ponytails provide a trendy, stylish look for natural hair. Perfect for women of all ages, they are easy and versatile. The ponytail is secured with an elastic band and then divided into two sections from the middle of the head.
The lower section is pulled up and secured with a second elastic band to create the half-bubble shape. The top section is looped in and secured with the first elastic band, sealing the bubble. Women can create any natural look with this simple yet beautiful style.
7. Bubble Ponytail For Short Hair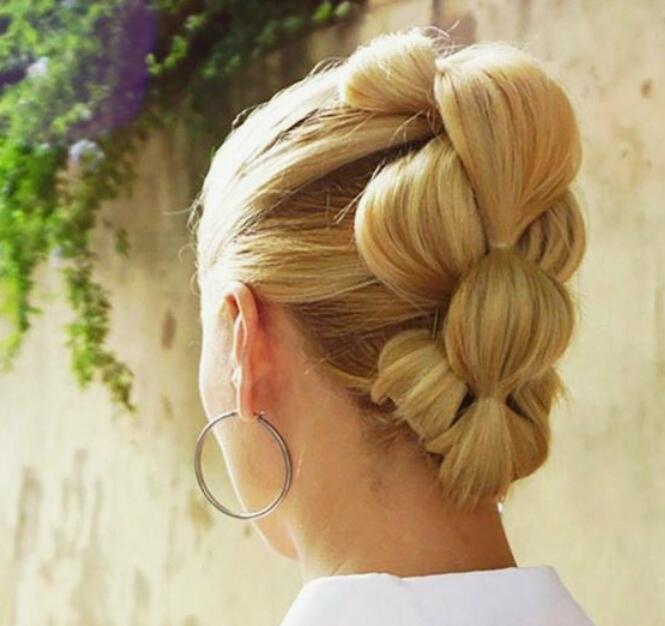 Women with short hair can now experience the perfect ponytail with a bubble ponytail. This style gives a voluminous, eye-catching look with a twisted effect.
Creating this style entails using elastics at the base of the ponytail and then gently twisting sections of the ponytail and securing it with another elastic. This look is easy to do and keeps your short hair stylish all day.
8. Bubble Ponytail Hairstyle For Kids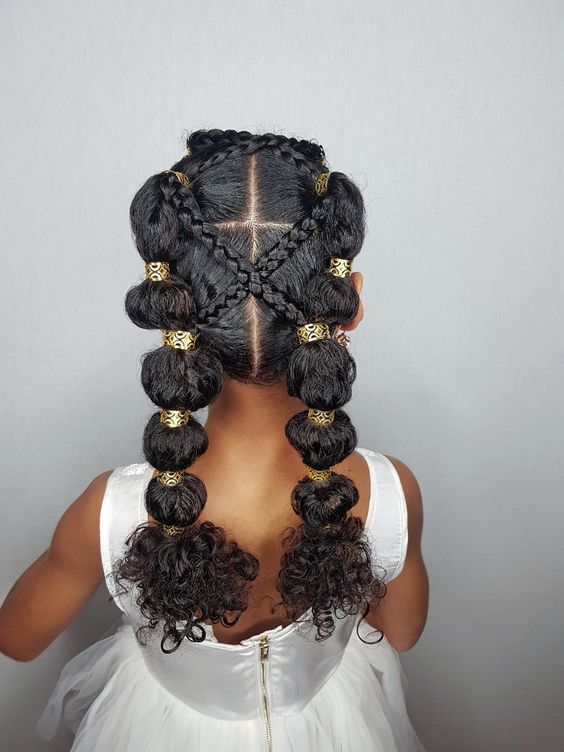 The bubble Ponytail Hairstyle for Kids is the perfect choice for a playful look. It's easy to create yet looks classy and stylish. Kids will love the colorful bubble effect created by strategically tying multiple elastics along the ponytail.
This look is great for special occasions or everyday wear. The finishing touch of hairspray keeps your kids' style in place all day. With this sophisticated and fun style, kids will surely stand out in the crowd.
9. Bubble Ponytail with Braiding Hair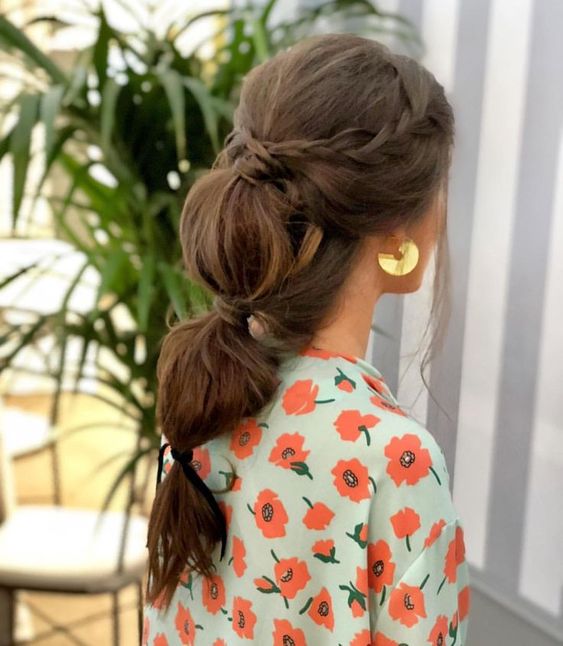 Women with long hair can create a stylish, voluminous look with a bubble ponytail with braiding hair. This playful, elegant do consists of two French braids that are gently pulled back and pinned in a half-up, half-down hairstyle.
Two ponytails are delicately wrapped around the roots of the hair band to create a unique bubble effect. The best part? It looks complex, but it's easy to do!
10. Bubble Ponytail Hairstyles With Weave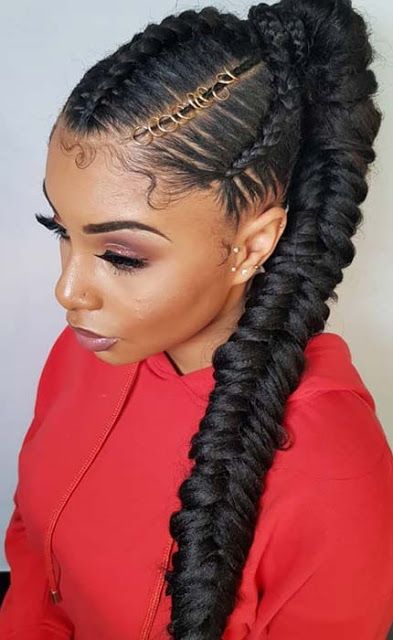 Bubble ponytails with weaves are a fun and stylish look for women. Tight curls are woven in with a clever looping technique for maximum volume and bounce. The finished effect is a high crest of fullness with soft, deep waves cascading down.
Perfect for a glamorous night out or a dressed-up casual look for the day, this haircut provides a unique way to showcase your style.
11. Bubble Braid French Ponytail Hairstyle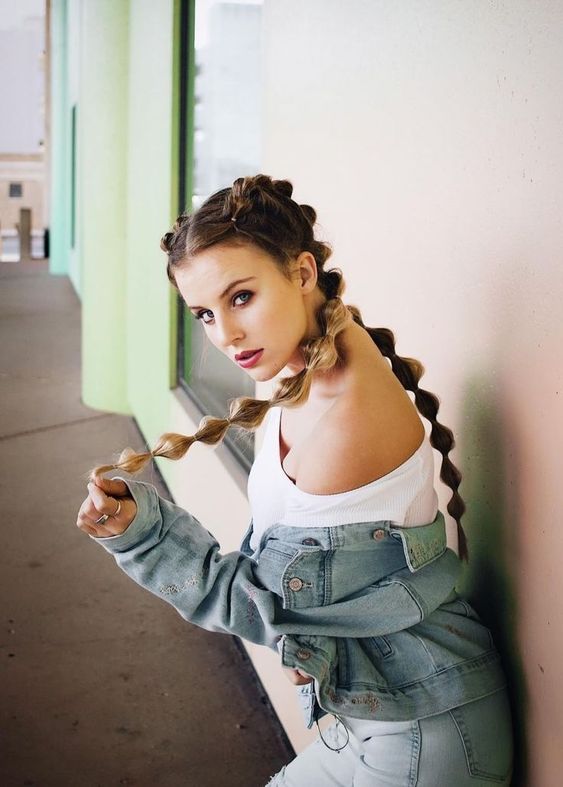 Women love the Bubble Braid French Ponytail Hairstyle! With this style, two neat braided plaits are knotted with sections of hair in between the sections to create a unique bubble effect.
Finish off the look with a glossy baguette ponytail for a chic, professional style. The Bubble Braid French Ponytail is perfect for an eye-catching, statement hairstyle. It's quick and easy to create, looks great all day, and is suitable for various occasions.
12.
Sky-high Weave

Bubble Ponytail Hairstyles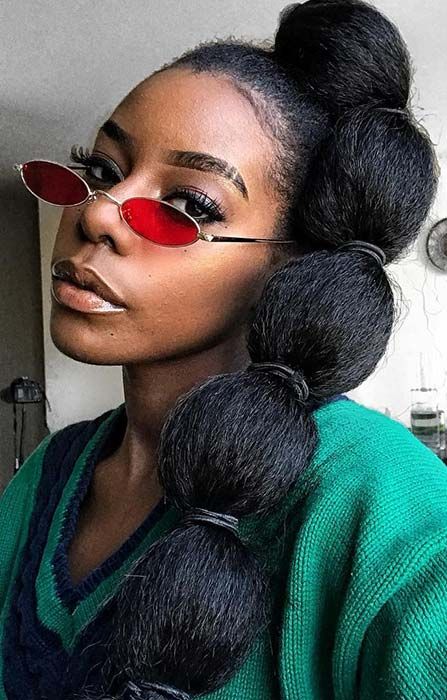 Women can look stylish with sky-high weave bubble ponytail hairstyles. They're the perfect blend of sass and class. This high-fashion look can be created by tightly weaving the hair into a spiral pattern to form a bubble.
The result is a classic, voluminous ponytail that will turn heads wherever you go. Whether you go for a natural look or dress it up with highlights and lowlights, this is a great way to add drama to your style.
13. Cute Bubble Ponytail Hairstyle with Braid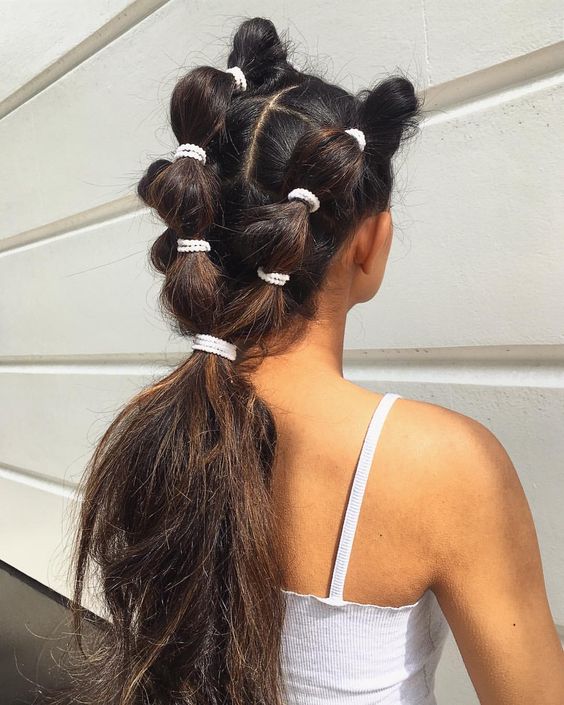 A cute Bubble Ponytail Hairstyle with Braid for Women is perfect for showing off your unique style. This hairstyle is easy to create; start with a simple braid down the back of your head. Pull the hair up into a ponytail and divide it into two sections.
Twist each section and secure it with an elastic band. Pull the bottom section of the ponytail up to create a bubble effect. For a more dramatic look, add a braided accessory to the sides. Finish off with a soft hairspray for hold. This stylish look will surely turn heads and be the talk of the town.
14.

Sporty

Bubble Ponytail Hairstyle
for Workout

s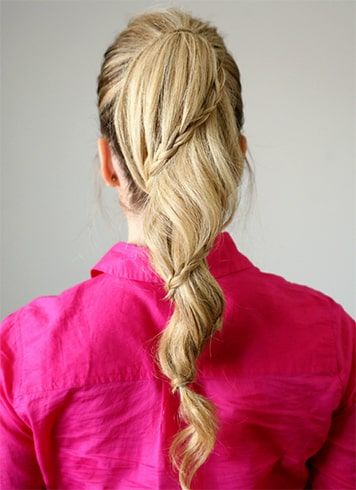 This modern and sporty bubble ponytail is perfect for active women on the go. It's easy to create and will stay in place, even during the toughest workouts.
Sweep the hair back in a mid-height ponytail, separate it into two sections, and twist it up from the bottom. Finally, secure each twisted section with an elastic and pull the hair away from the elastic to create a bubble effect. Quick and easy, this hairstyle looks great and is perfect for an active woman.
15. Modern

Bubble Ponytail Hairstyle Softball
Modern Bubble Ponytail Hairstyle is ideal for active women who love to work out. It provides a sporty and fresh look while keeping all of the hair out of your face. The hairstyle starts with a high ponytail secured with an elastic band.
Small sections of hair are then pulled through the elastic to create individual bubble shapes. The result is an eye-catching, comfortable style that stays out of the way during any workout.
16. Natural Bubble Ponytail Updo with Prom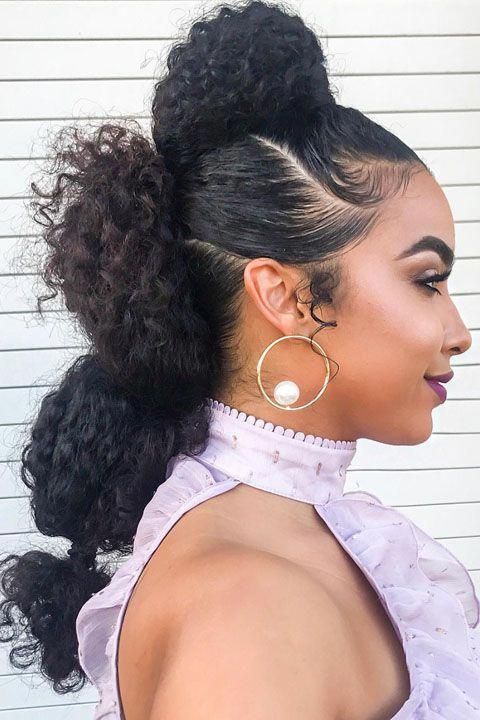 This natural bubble ponytail updo with prom delivers a chic, glamorous look for any woman. It features a volumized ponytail which is elegantly arranged in an upwards-styled wrap.
Perfect for any occasion, this hairstyle is easy to maintain and style. To get the best results, prep the hair with a heat protection spray and use a curling wand to add extra body and volume. Finish with a light-hold hairspray and let your natural beauty shine.
17. Textured Afro Puff Bubble Ponytails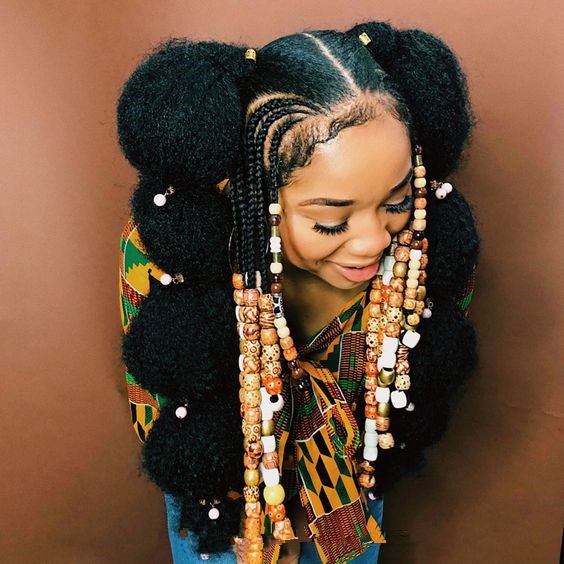 Afro Puff Bubble Ponytails make an incredible statement. They give your look texture, volume, and style. Make a style statement with these fashionable and fun ponytails.
The unique texture of these ponytails adds bounce and flair to your look. Ideal for those who want a statement hairstyle and to keep their look fresh all day. These ponytails are made from high-quality synthetic fibers and are incredibly soft to the touch.
18. Bubble Ponytail Haircut For Young Black Women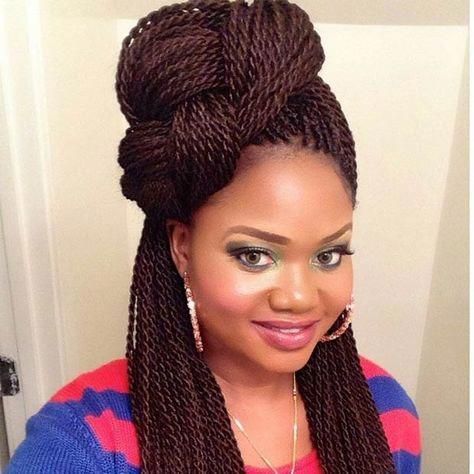 Young black women can flaunt their stylish flair with a bubble ponytail hairstyle. It's a fun and chic look that won't go unnoticed. To achieve it, create two or three ponytails wrapped with a small elastic band.
The ends should be tucked in at the scalp and covered with a rubber band. The bands should be tight, but not so tight that it's uncomfortable. For that sprightly look, create two or three distinct 'bubbles' by wrapping additional rubber bands between each ponytail. For an even more vibrant look, accessorize with bobby pins, cute bows, or colored elastics.
19. Cool Bubble Ponytail Haircut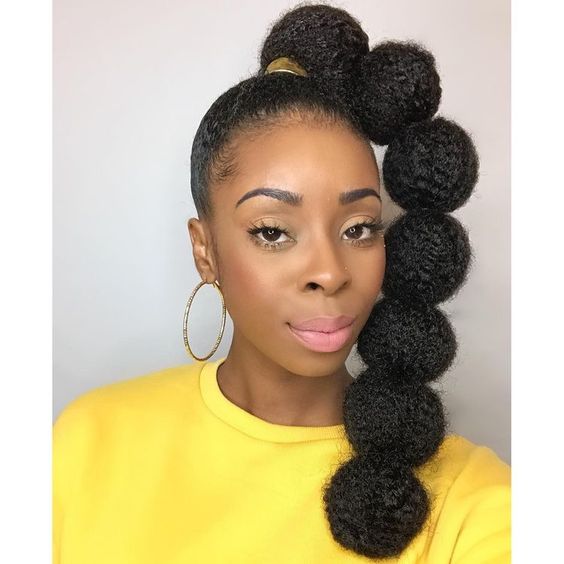 Women love the excellent bubble ponytail haircut. It's an edgy, modern style that provides plenty of texture. It starts with a high ponytail secured with an elastic band and then sectioned off into multiple areas.
From there, smaller elastic bands are used to tie a bubble-like pattern. The look can be spiced with highlights, barrettes, and other accessories. The cool bubble ponytail provides an unexpected twist to a timeless style. Enjoy rocking this look, and make sure to get plenty of compliments!
20. Bubble Ponytail Toddler
The bubble Ponytail is the perfect hairstyle for your toddler. It's cute, modern, and easy to style. With this look, two pigtails are secured with elastic bands, which are placed a bit lower than the crown of the head, creating bubble-like loops.
Adding a few clips or barrettes can finish off the look. This style is excellent for any occasion, from daycare to special events. It will keep your little one looking stylish and feeling confident.
21. Messy Bubble Ponytail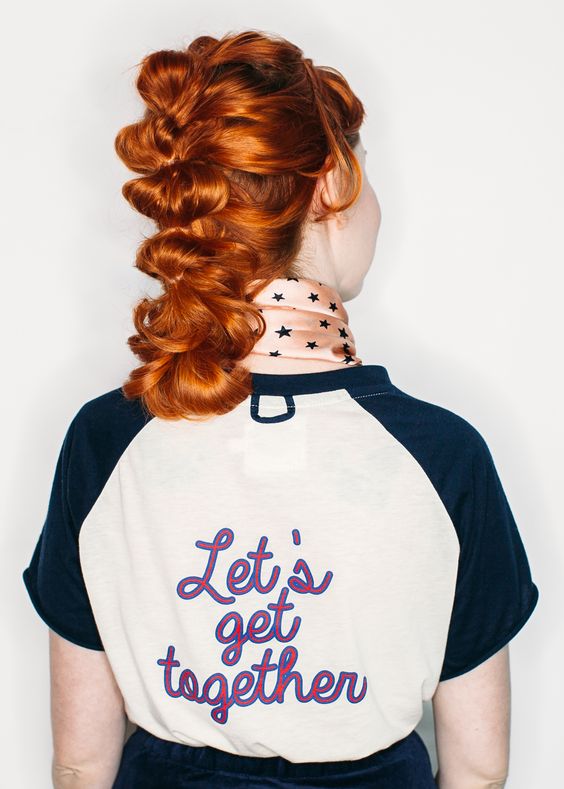 Women looking for a modern, chic, and edgy look will love the Messy Bubble Ponytail Haircut. It's a look that's easy to achieve and maintain while giving off an effortless vibe. Begin by blow drying your hair, then create a deep side part.
Gather your hair in three sections, and fasten each with an elastic. Finally, add texture and volume with a texturizing spray, and tousle the ends for a messy and stylish finish. The look is versatile enough to wear to the gym, the office, and even a night out on the town!
22. Bubble Braid Ponytail for
Friyay

Hair
A bubble braid ponytail is the perfect hairstyle for women looking to make a statement on their Friday night out. This stylish look combines a classic French braid with two bubble braids, giving your hair an elevation of glam.
The cute bobbles add an eye-catching, modern touch to your look. The easy-to-follow steps can be completed in no time, allowing you to focus on getting ready for the night ahead. With this quick hairstyle, you'll be prepared to rock the night and look fabulous.
FAQs
1. Can bubble ponytail hairstyles work for short hair?
Bubble ponytails can be adapted for shorter hair by positioning the ponytail lower on the head and creating smaller bubbles. You can also use hair extensions or accessories to add length and volume to your ponytail.
2. Are bubble ponytails suitable for all hair types?
Yes, bubble ponytails can be created on all hair types, including straight, wavy, and curly hair. Adjust the bubbles' tightness and the ponytail's positioning to suit your hair's texture and thickness.
3. How long does it take to create a bubble ponytail?
The time required to create a bubble ponytail depends on the complexity of the style and your familiarity with the technique. On average, creating a bubble ponytail can take 10-20 minutes.
4. Can I add color to my bubble ponytail?
Absolutely! You can incorporate colorful hair extensions or experiment with temporary hair color sprays to add a vibrant and eye-catching element to your bubble ponytail.
4. Can bubble ponytails be worn by adults and children?
Bubble ponytails are suitable for both adults and children. They offer a playful and fun hairstyle option for kids, while adults can rock bubble ponytails with sophistication and style.