Are you looking for the best burst fade haircuts for you? These fade haircuts have developed over the years and become one of the most trendy male fade haircuts. For decades, the fade was regarded as a haircut for black males. But this has not been the case for a very long time. And in these images I have collected, you will realize that white guys also look great with this haircut.
The burst fade can be paired with a Mohawk hairstyle. You can also mix the taper across the ears and down the neck. Whatever you decide to sport, you can rest assured you will look amazing.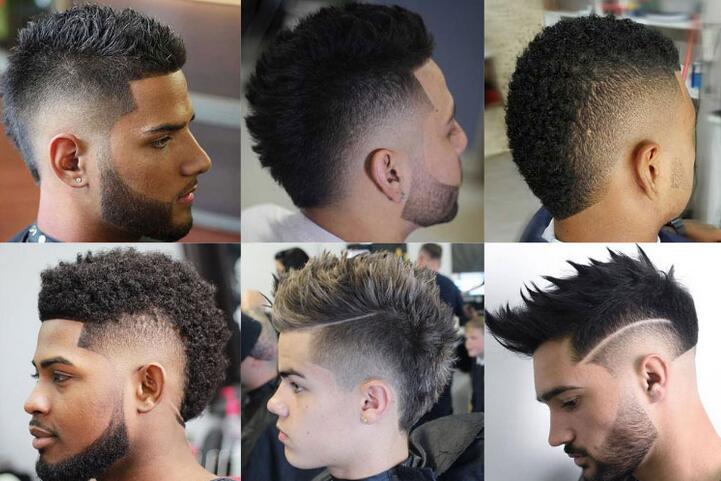 What is a Burst Fade Haircut?
You may have realized that the bust fade haircut looks similar to the drop fade. But they are different. Unlike the drop fade, the burst fade boasts a set of theatrical features that will instantly mark it as a unique hairstyle.
You may note that this fade usually has the hairline above and behind the ears tapered. In addition, the hair that is close to the nape also needs to be a bit longer compared to the rest on your head so that you can create the illusion that we call the "burst" effect. This haircut will make your new hairline mimic how your ears curve naturally. Then it will burst once it reaches the back of your head.
50 Cool Burst Fade Haircuts For Men in 2022
Low Burst Fade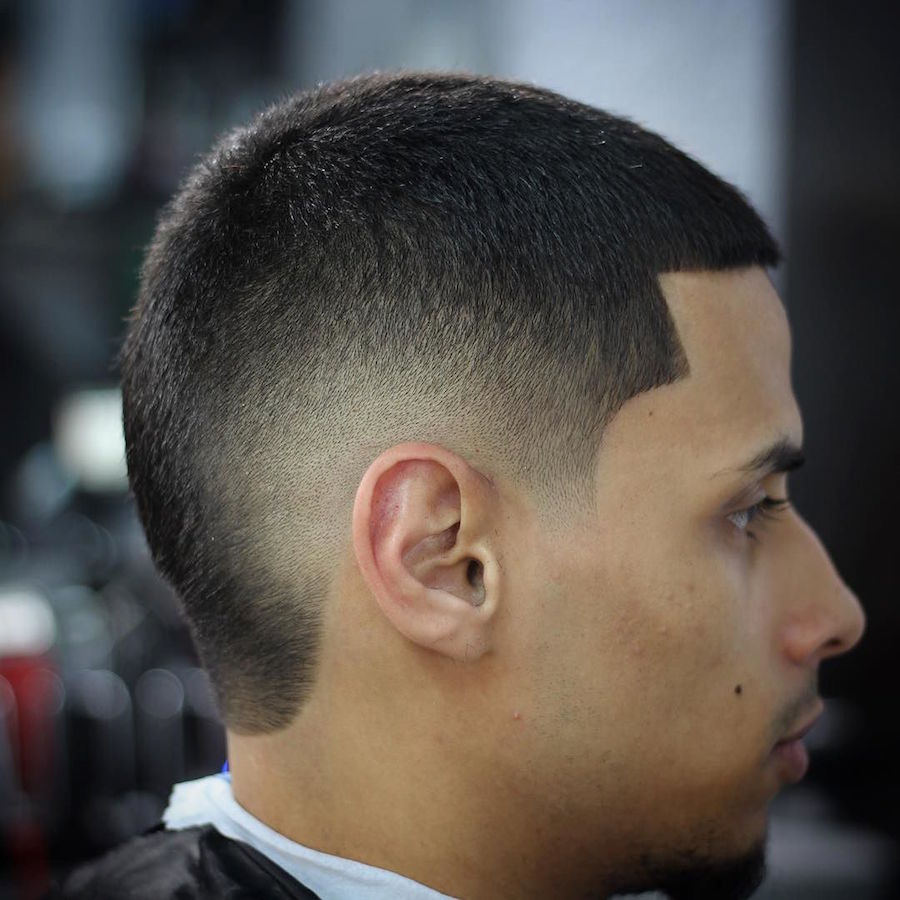 For guys who would like to have an unmatched coiffure while at the same time retaining an edgy haircut, this is the perfect burst fade haircut for you.
With a contemporary taper on the perimeters and a pure textured fashion on the borders, you will look fantastic. You can sport this look regardless of your hair size or the shape of your head. If you wish, you can style it yourself back at home as well.
Burst Fade With a Pattern
Whatever pattern you have always wanted to try out, you can attain it with this haircut. The only downside to this haircut is that it will be quite hard to do yourself at home. Even if you visit a barber, you ought to ensure that the barber is skilled enough to best design the pattern you have in mind.
The thick and lengthy mohawk you can see on the picture beautified with nappy curls and highlights will further give you an edgy and superior look.
Feel free to ask your barber for a customized lineup alongside your hairline for an additional better look.
Slicked-back Hair and a Beard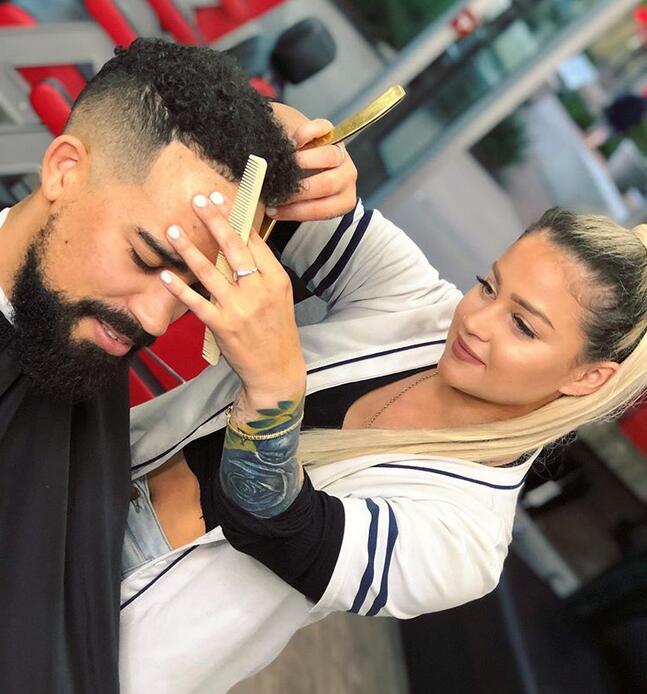 This is the perfect  haircut for those who have beards. The length of the hair on top will complement your shaggier facial hair, all this without creating a grizzly effect on you. The key to this cut is to ensure you stay on top of it by making regular barber appointments, so it does not get out of control.
Taper Burst Fade with a Side Cut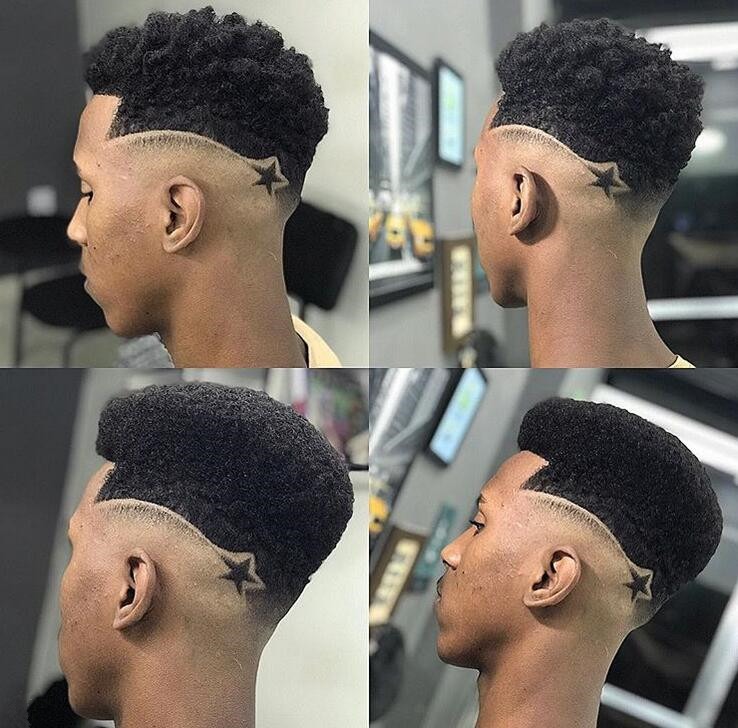 This is the cut for those who want to get creative with their haircut. Just like the burst fade with a pattern we discussed earlier, you can also add your favorite design with this cut and look even better. But ensure your barber can perfectly execute the sidecut.
Simple Burst Fade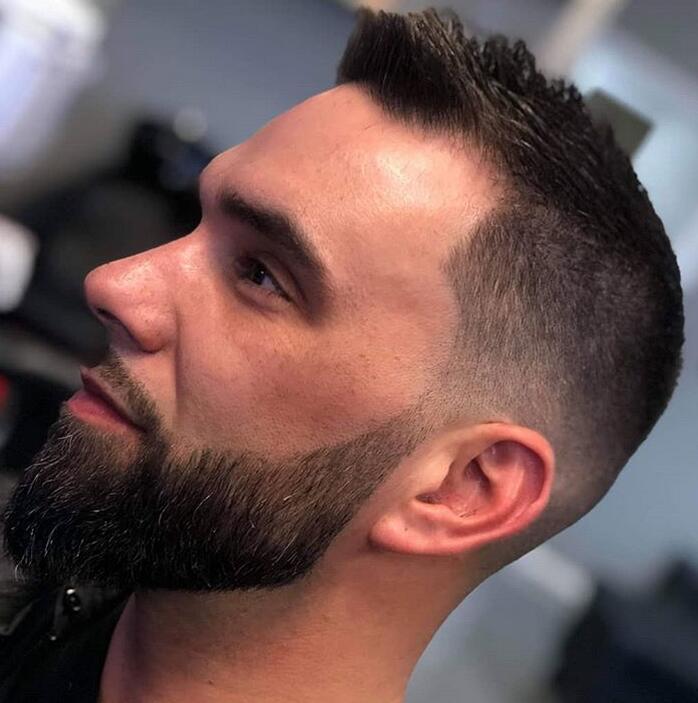 Just like the name sounds, this haircut doesn't require you to add all the bells and whistles. It usually only focuses on the ear to create a Mohawk look.
Low Taper Fade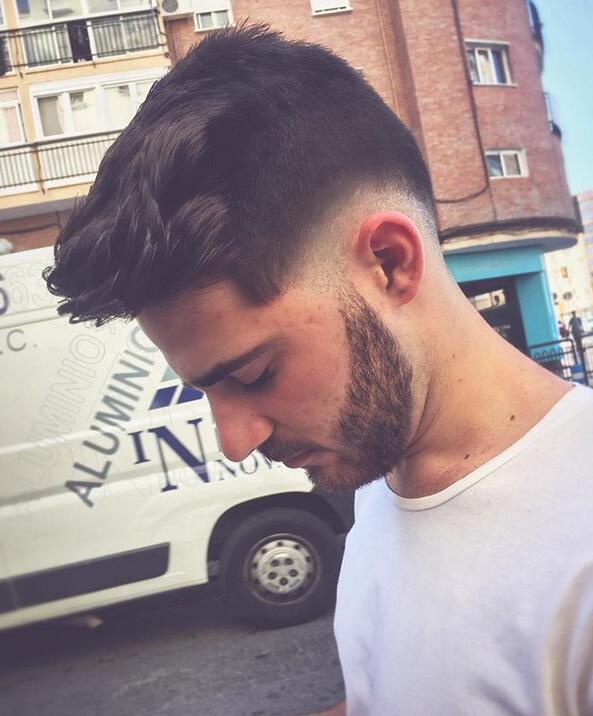 This haircut is classy and professional while at the same time sacrificing the fun you need to have. Feel free to add curly hair on top to make it look even greater.
High Burst Fade Plus Long Texture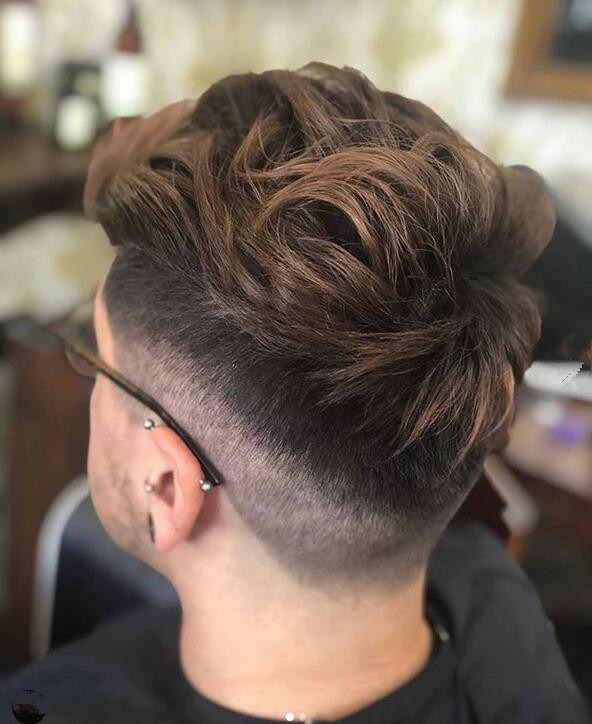 You will need to combine an even longer textured hair to create the Mohawk-esque design you can see on the image for this hairstyle.
Razor Fade Pompadour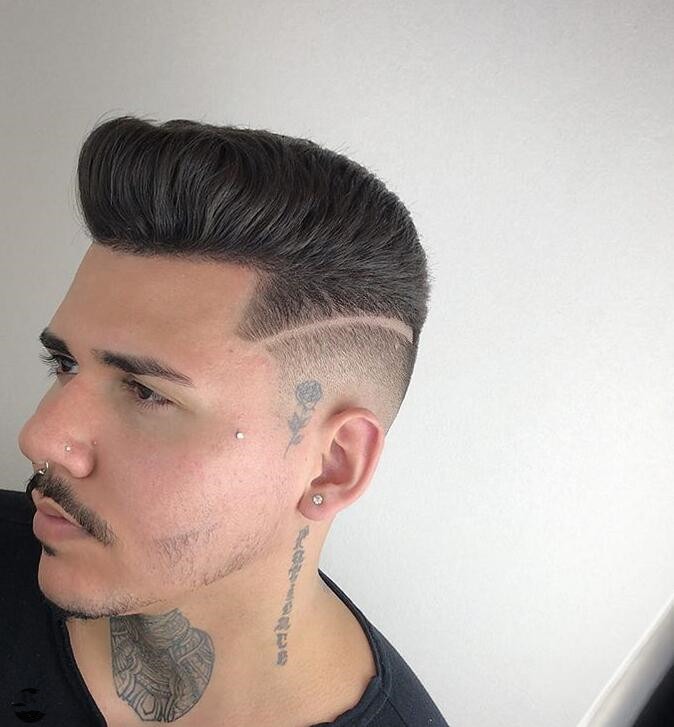 This is an amazingly low and mid amazinglyaded pompadour that will look astoundingly sleek on any head and any hair size. It is similar to the regular  pompadour haircut that we will look at next.
Unlike the high fade pompadour, this cut ads in the sharp razor line to separate the fade. The only downside is that many styling skills will be needed to execute this haircut as required.
A High Burst Fade Pompadour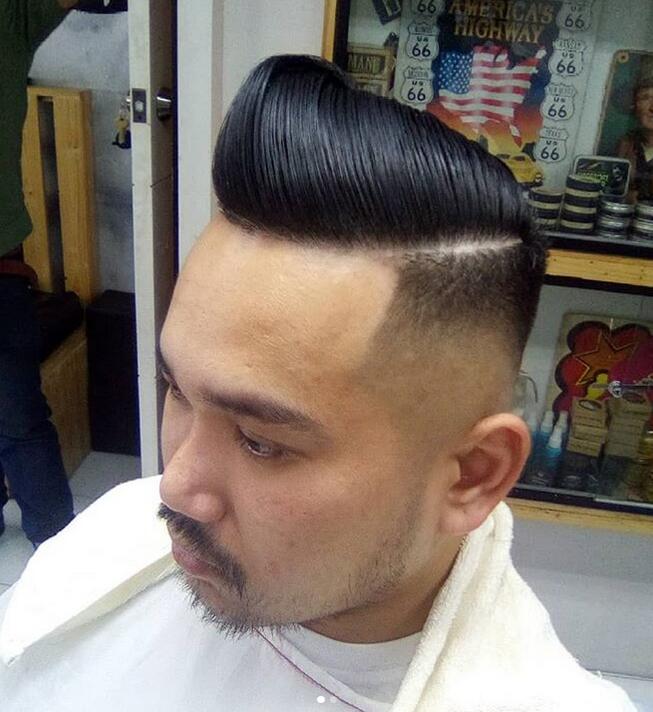 Like its namesake, we just looked at on the last number, this version haircut partners up with a pompadour to create a more stylized version of the look.
Between the two, pick the one you think will look better on you, depending on your hair size and the shape of your head.
Curly Hair Plus Skin Fade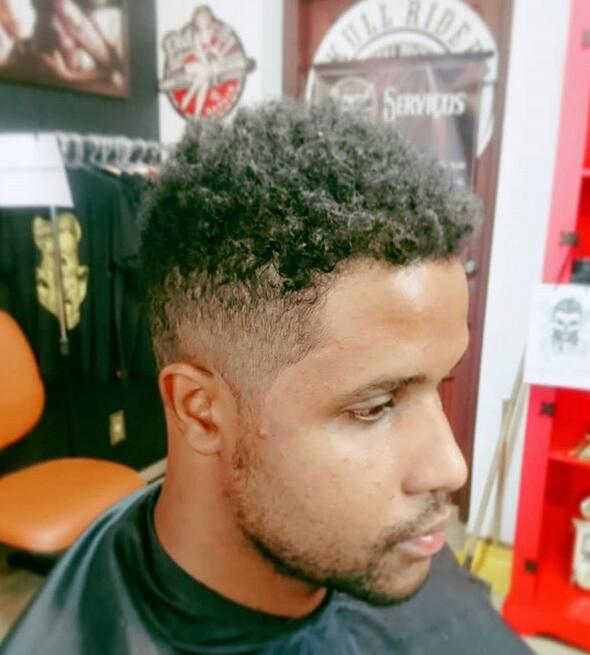 This is quite simple: ensure curly hair is cut short on top of your head and seamlessly blends it into a skin fade.
A Disconnected Burst Fade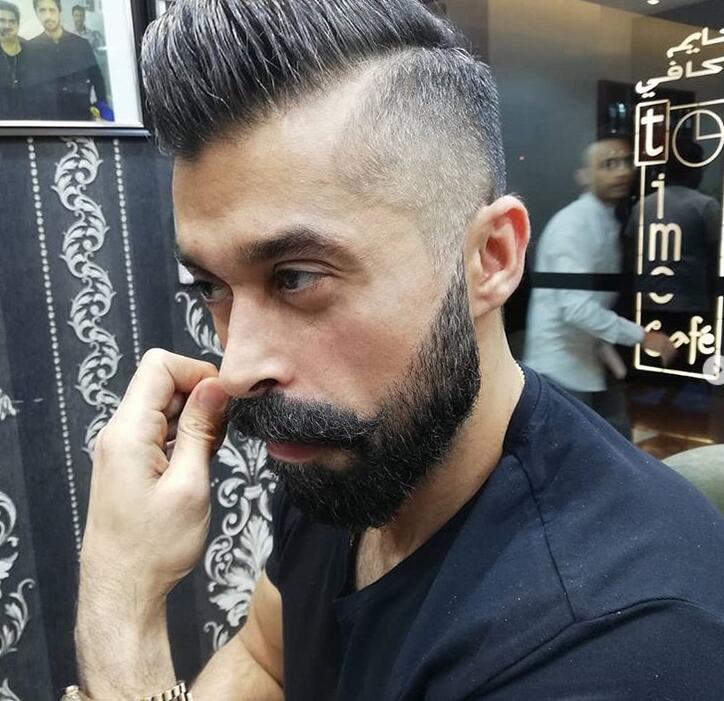 This haircut is specifically in this enumeration for the guys who intend to make a bold statement in their neighborhood. The high contrast you can see between the ultra-texturized hair and the fade emanates a bold and stylized look that most people can easily pull off.
Suppose you want to make even a bolder statement, couple this hairstyle with a full beard. But if you do not have a beard, worry not because the clean-cut works just as well.
Ultrashort Burst Fade with a Surgical Part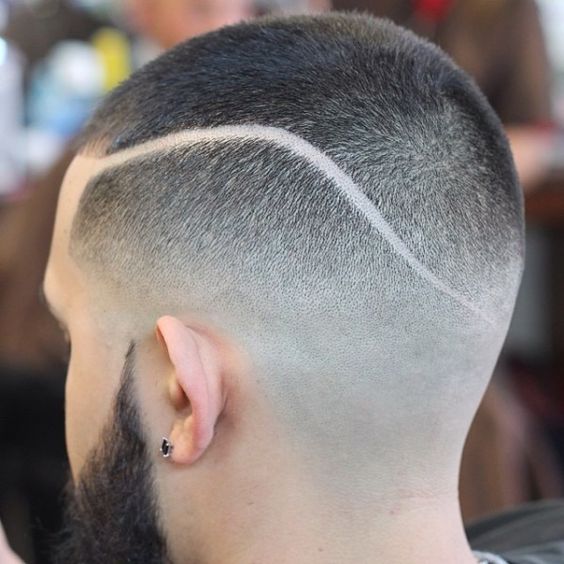 This is relatively straightforward. The simple way to describe it is, imagine taking a buzz cut and transforming it into a more modernized look with a hard part.
A comb-over Fade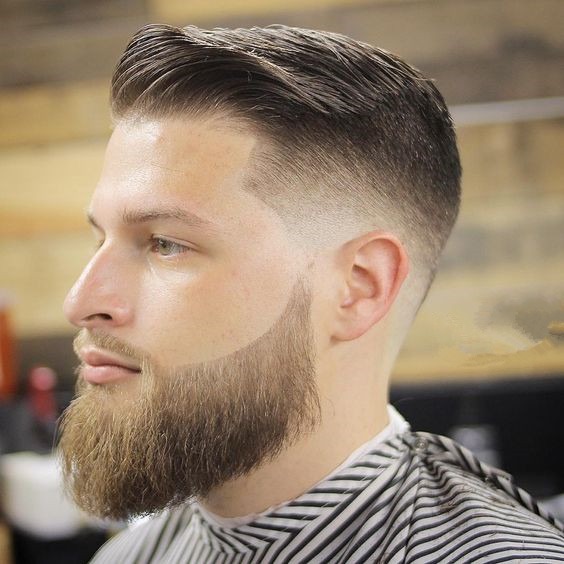 This exclusive comb-over haircut comprises a bit longer hair on the top of your head that you can then easily comb-over into a slicked back or side part hairdo. The one you choose of the two is dependent upon your preference.
Furthermore, ensure you keep the hair on the sides and the back short using a gradual fade transition.
Long Fringe Burst Fade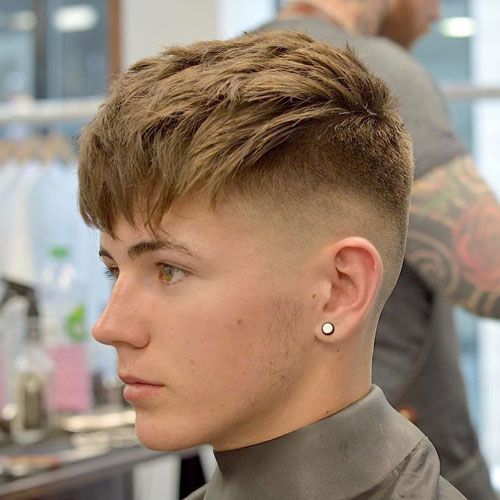 This Long Fringe haircut coupled with long hair on top creates a super classic undercut hairstyle that can look great on anyone.
Spiky Faux Burst Hawk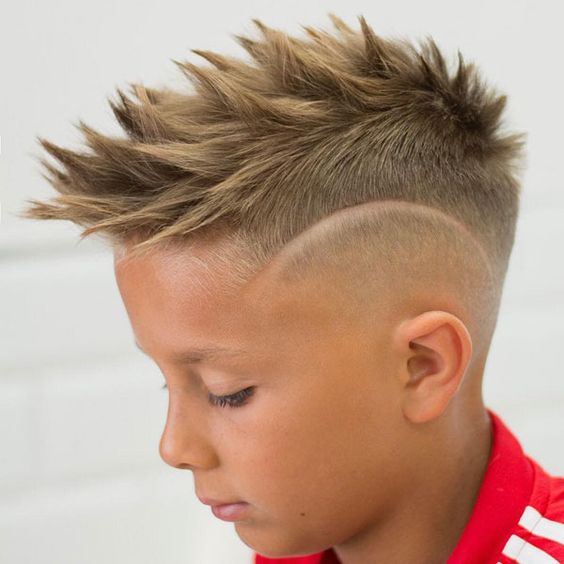 You can quickly distinguish the Faux Burst Hawk hairstyle with signature converge and pointy properties. Better yet, adding a slight Mohawk to it awards you the Faux Mohawk hair, and there is no better combination.
If done right, this hairstyle can look good and make you stick with it for the rest of your life.
Thin Braids with Low Bald Fade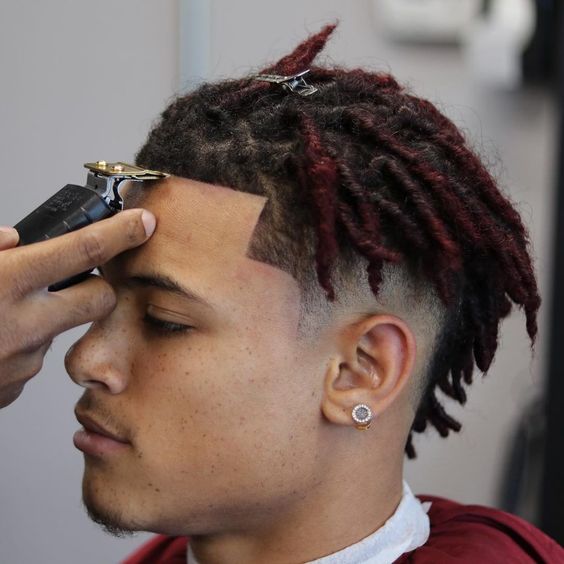 This thin braid haircut is a circular hair cut in which you can easily style your hair with fixed strands. It is a slightly more technical haircut to create, but it will be easy to take care of and manage once you get it right. Let us not forget how great it will make you look.
Burst Fade Plus Long Messy Hair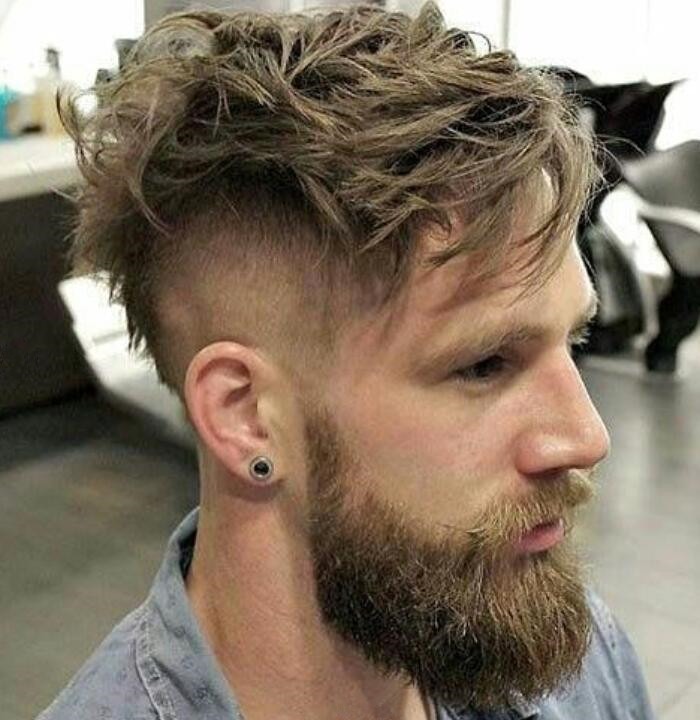 If you desire to grow longer hair and give it a modernized look, this haircut is a perfect choice. You can keep the look a bit cleaner with a low fade.
Burst Fade For Straight Hair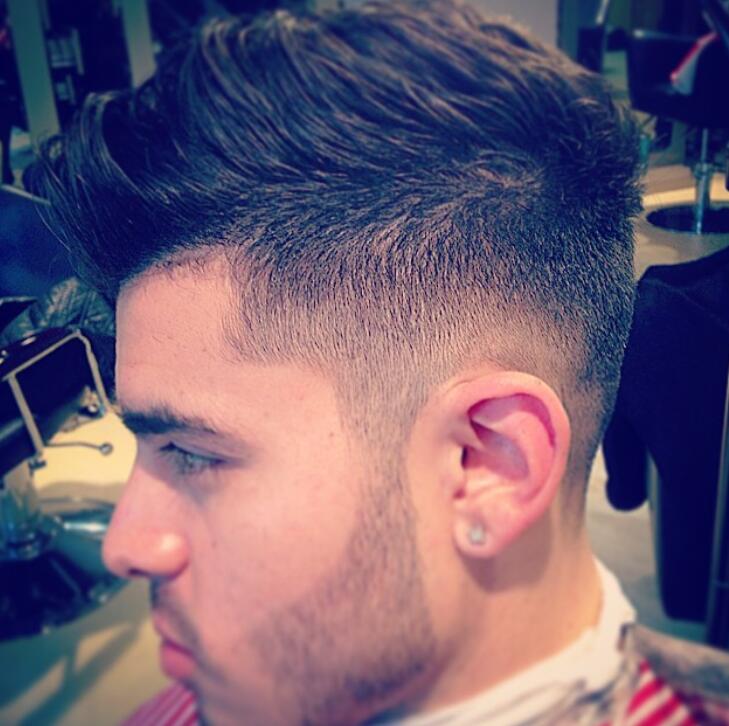 Of course, curly hair will look great with any fade. But this does not mean that you cannot sport a burst fade with straight hair as well. There are tons of different fade haircuts with straight hair that you can try out.
The one featured above is one of them.
Spiky Hair with Burst Fade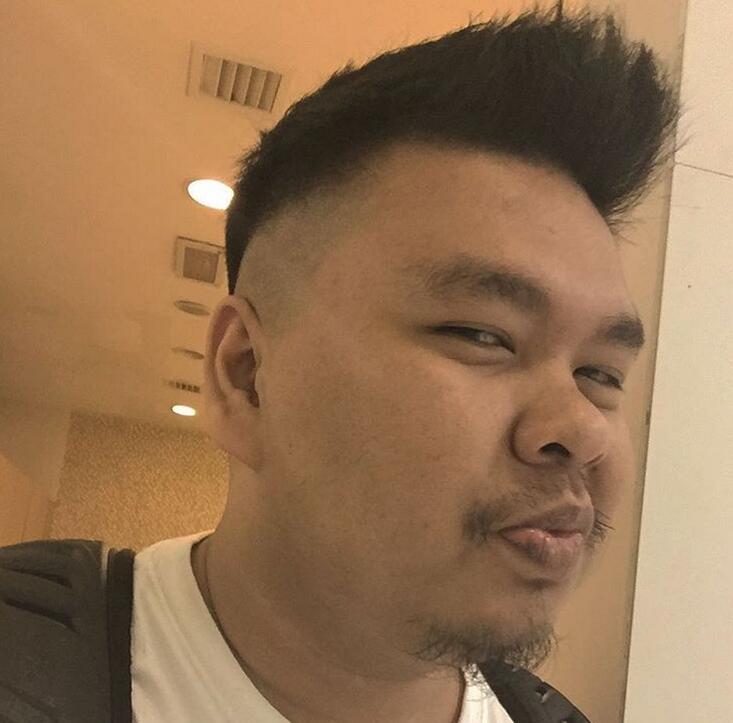 Styling a burst fade with spiky hair is a fantastic way to take yourself back to the 90s. It is also an attractive short hairstyle for men of all complexions.
A Burst Fade haircut with a neck tattoo
An anesthetic neck tattoo is directly associated with the person's haircut. And if you match the right tattoo with a burst fade haircut, you can rest assured you'll sport one of the best looks. But note that ensures that the hair color matches the properties of the tattoo.
Burst Fade with a Quiff Haircut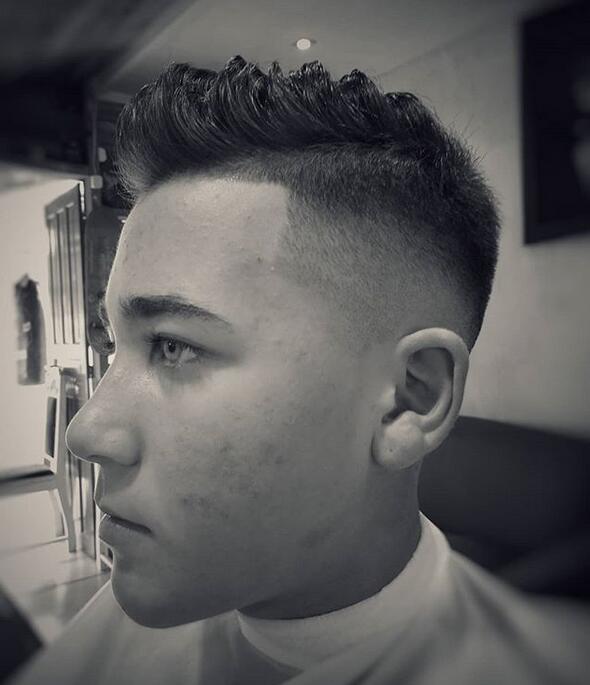 After decades since its introduction, the Quiff continues to be one of the best haircuts for short to medium guys. And when it is coupled with an excellent  fade, it awards you a hard-to-beat look.
Burst Fade with a Classic Taper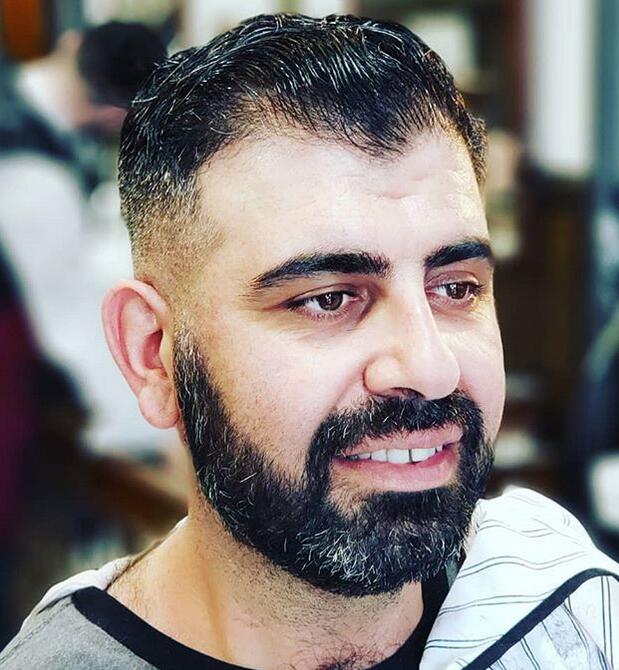 This is for those who do not want to do a lot with their hair. But don't let that fool you into thinking it is not a great cut. The Burst Fade coupled with classic taper awards you a trendy and versatile look: just like the cut above.
Usher's Burst Hawk
Usher Raymond is a renowned American songwriter, dancer, and singer. If you remember, he was also recently a judge at the famous singing program "The Voice." That is the first time he was seen sporting this Burst Hawk.
Try it out next time you visit the barbershop, and you may love it.
Short Burst Fade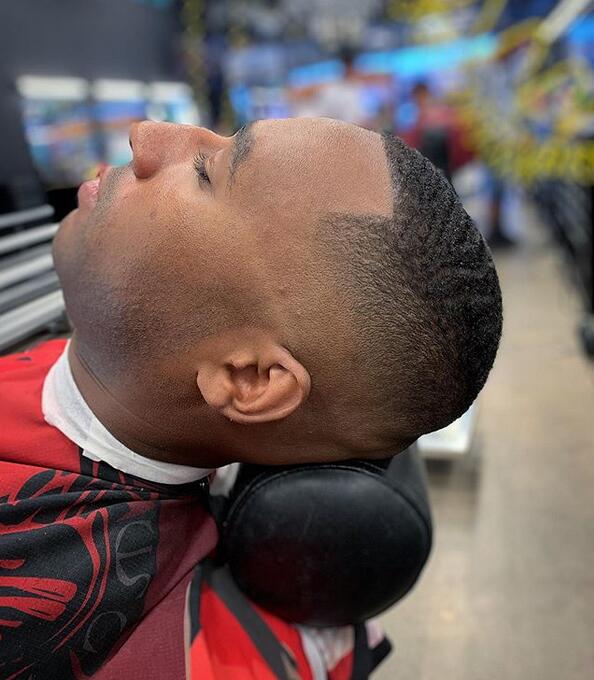 As the name suggests, this is the best haircut for those who have short hair. With this hairstyle, you also ensure that you keep your beard short of attaining a cleaner look.
Burst Fade for White Guy
I began by telling you that people of all complexions can now sport the different varieties of the fade haircut and look great. The one pictured above will look amazing with a white face complexion.
All my white friends have told me the look above won't fail to impress at all.
Flat Top Fade with Colors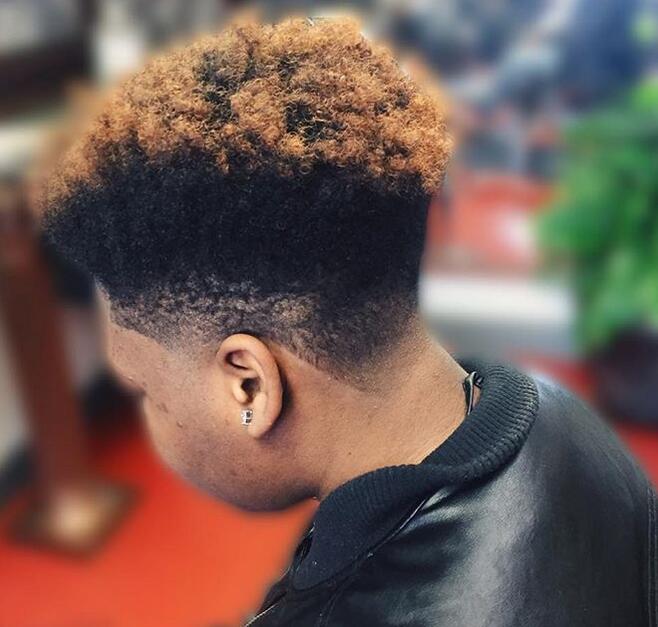 Not only is a flat top easy to manage, but it is also admired by all who come across it. The technique behind this haircut is quite simple. All you ought to do is keep the high length flat and uniform as possible. Then, also add a color of your choice to complement the look.
Textured Quiff plus a Surgical Part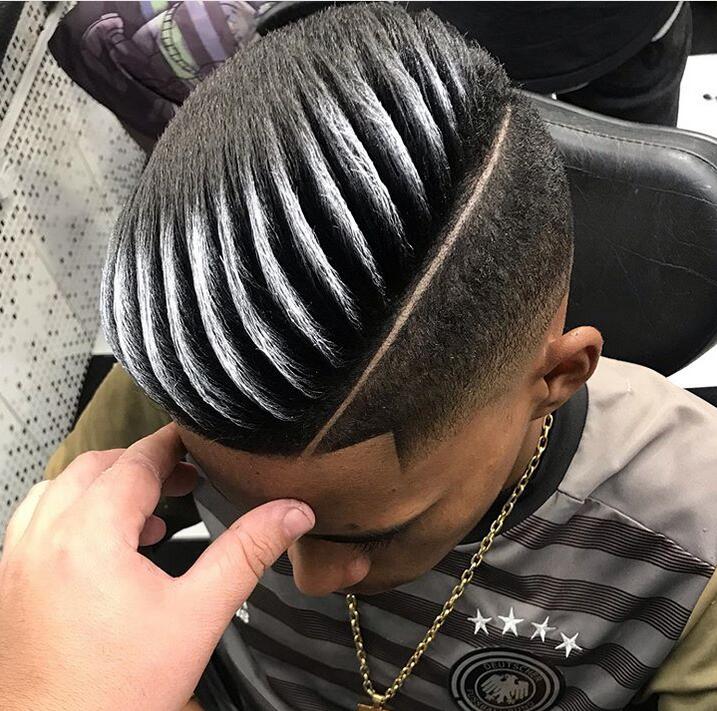 A couple of years ago, this was the men's burst fade haircut of the year: and for a good reason. What do you think about this quiff haircut with a side surgical part accent?
Wavy hair with Burst Fade
Men with wavy hair need to sport the burst fade to manage and control their unruly locks. The good thing is, this one is relatively easy to sport.
Ivy League with Burst Fade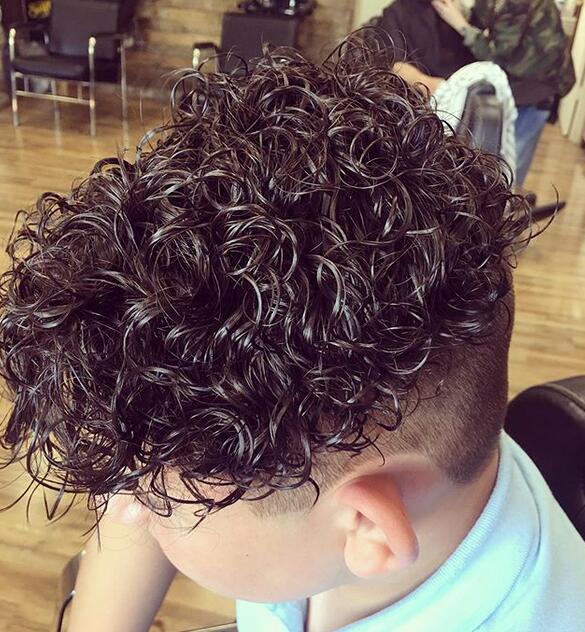 Traditional and vintage, the Ivy League coupled is another go-to haircut that any person with any hair type can easily pull off without complications.
A Burst Fade with a Curly High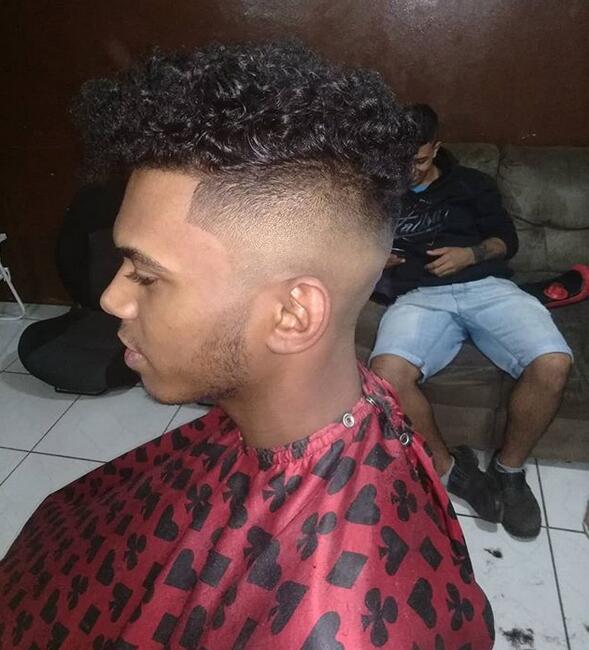 This is one of the most prevalent haircuts you will come across black men sporting: and for a good reason. Having a burst fade with quick curly hair on top is very stylish and complements black skin.
The Mohawk-like look with pores and curls you can see on the picture is also relatively easy to get, and you can do it by yourself at home. For added beauty, feel free to develop an extended full beard. This will also give you an extremely masculine look.
Fake Hawk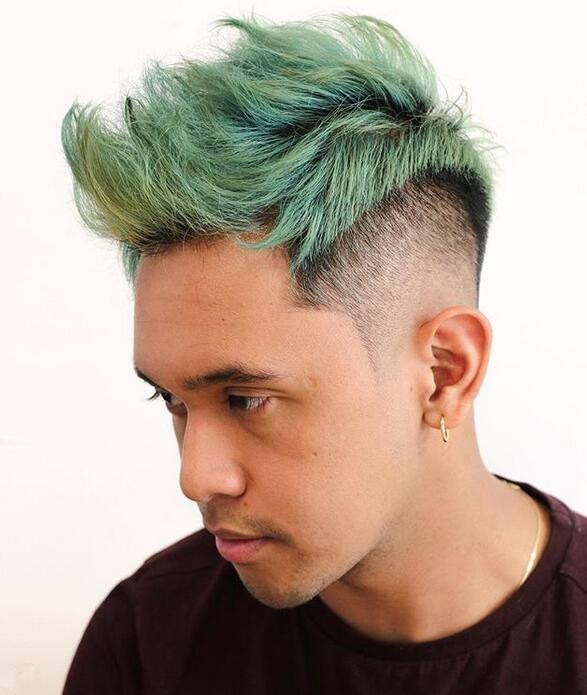 What do you think about this  haircut with a fake hawk that boasts textured ends and a slightly shaved beard? The fake hawk (also usually known as the fauxhawk) will undoubtedly give you a more masculine look if it's added to the fade on the perimeters.
The surgical line you can see on the sides offers you a candy hair design. But it is not a must. You can disregard the surgical line. Furthermore, to ensure you maintain your fauxhawk fade hairstyle and ensure you look great all day, I urge you to use a low shine wax every day.
32. Flat Top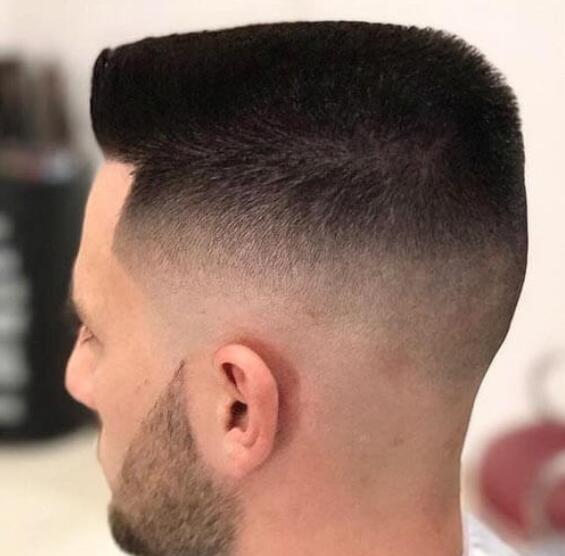 This haircut comes with a high-top fade at the back. The fade can include a range of shapes and sizes.
33. Burst Taper Fade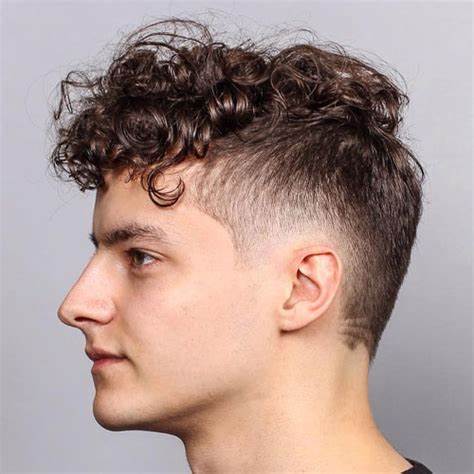 A burst taper fade is a short haircut that can make you look classy and handsome as a gentleman. It can be edgy, professional, or even formal when combined with another style.
34. Comb Over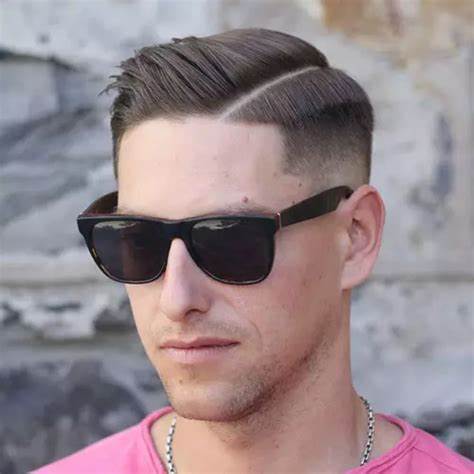 Comb Over haircut offers a classic look compared to other fade hairstyle. You can combine the comb-over with short or long hair that can be trimmed low, mid, or high taper.
35. Burst Fade with Curly Top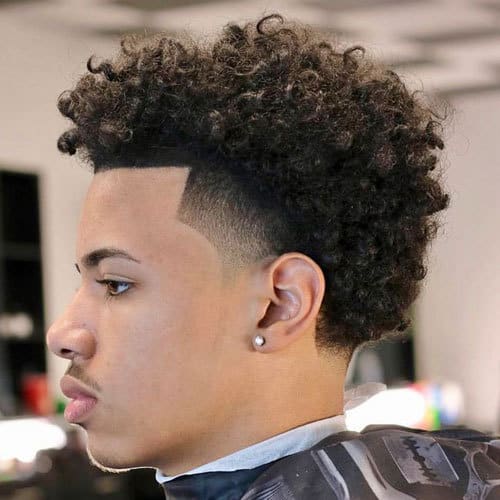 This haircut may be one of the best cool hairstyles for men. You can get messy short to medium-length curls on top with burst fade or taper fade on the sides.
36.
Burst Fade with Faux Hawk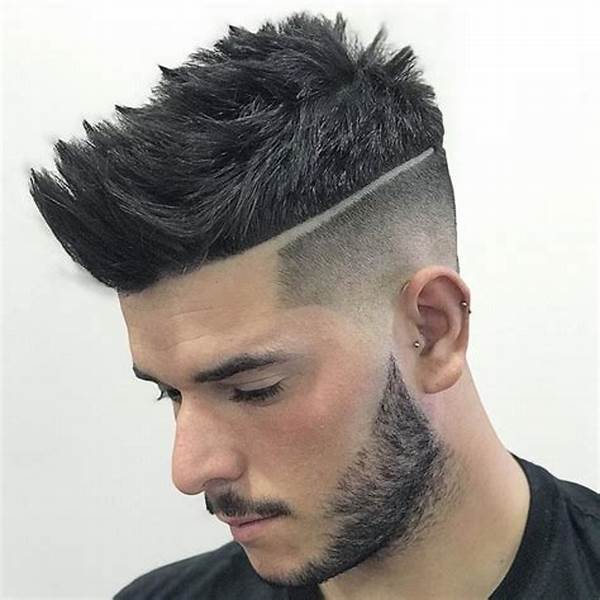 This haircut works well for all hair types, including comb-over, a quiff, pomp, slick back, spiky, textured crop, white and black hair. This is an ideal choice for people who love mohawk.
37.
Burst Fade for White Guy
This  haircut is short to a medium-length hairstyle that works well for black men and white guys. This haircut comes with a low bald fade and thick, natural hair on top that can offer volume, movement, and flow to you.
38. Burst Fade with Design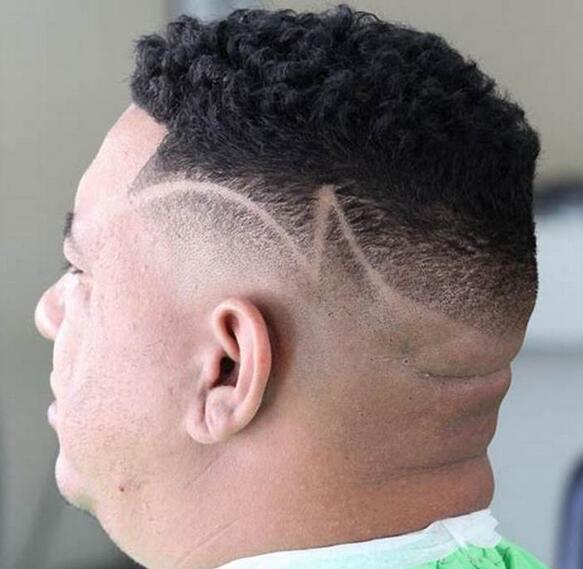 To get a more fashionable style, you can ask your barber to shave an excellent design into your fade. You can also try a new lineup along the hairline. This will give you an extra clean and edgy finish.
39. Burst Fade with Dreads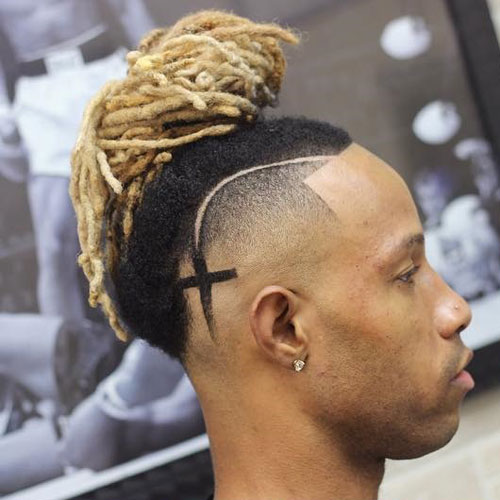 Short dreads can be a great companion of burst fade on the hairstyle. This is a popular hairstyle among young guys. You can ask your barber to make spiky, colored, or backcombed dreads. This haircut can also be mixed with a faux hawk or mohawk.
40. Afro Curls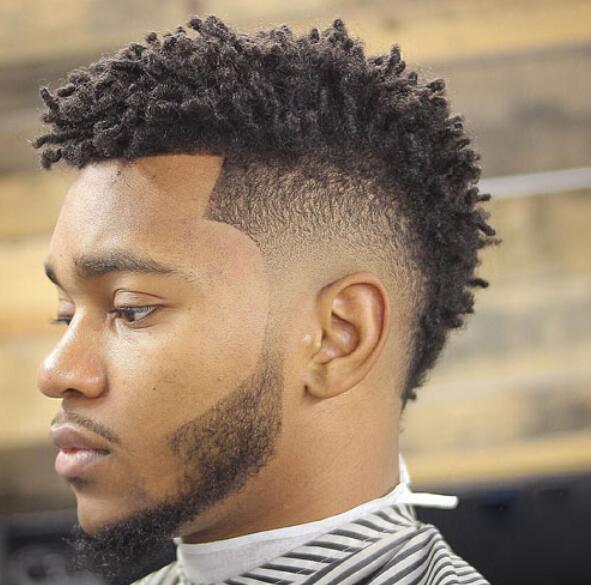 The afro curls haircut is an excellent style for men with thick curly hair. It is good to look for black men who want to maintain a clean-cut look easily.
41. Burst Fade with Pomp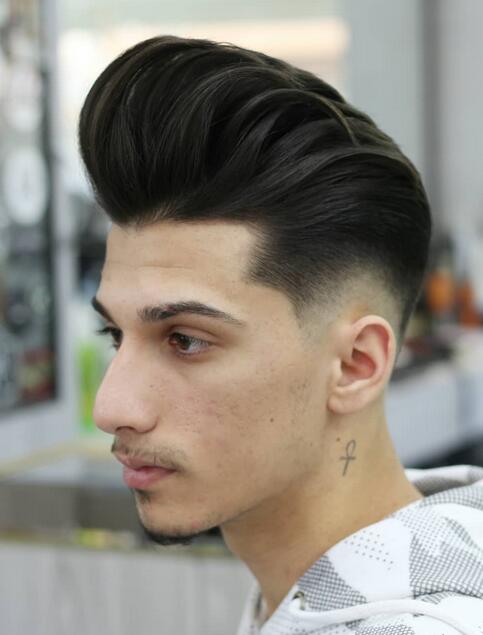 42. Burst Fade with Mohawk
43.
Flat Top with Mohawk
44.
Mid Skin Burst Fade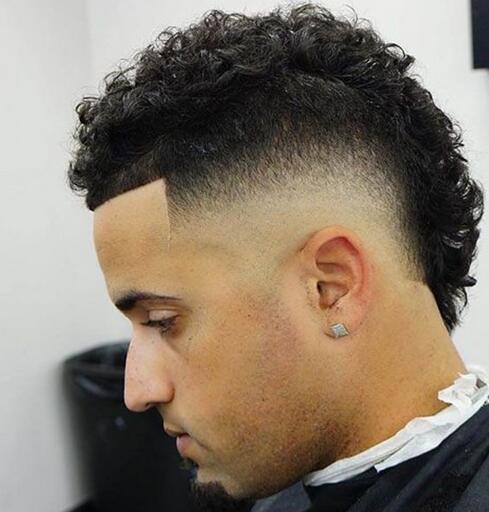 45.
Burst Fade with Line Up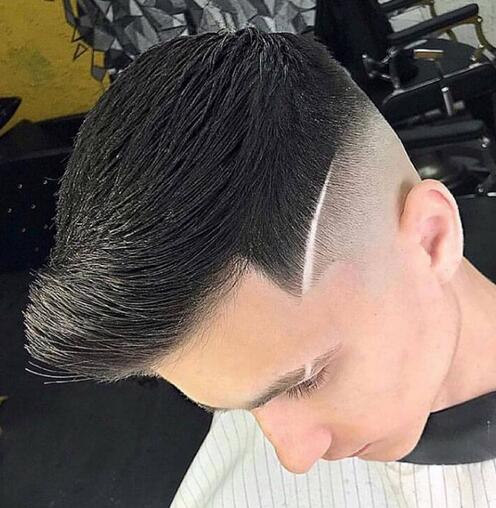 46. Burst fade with braids
47. Burst fade with mullet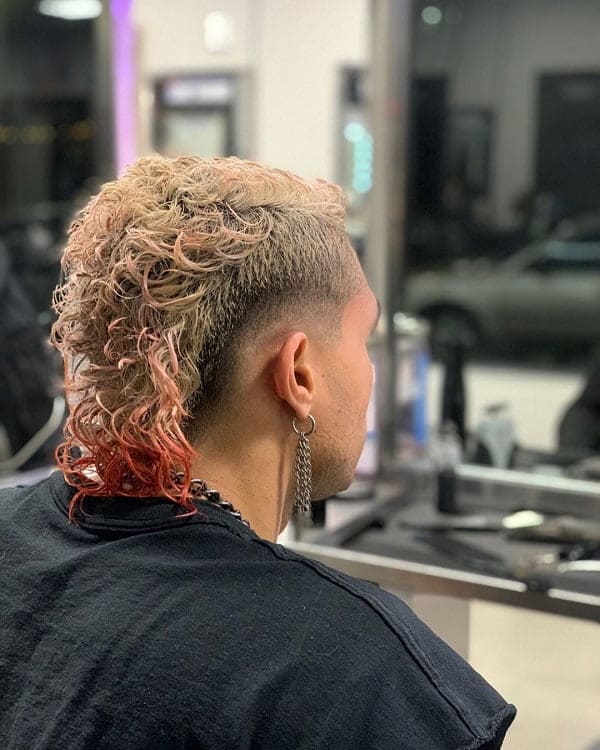 48. Burst fade for black men with beard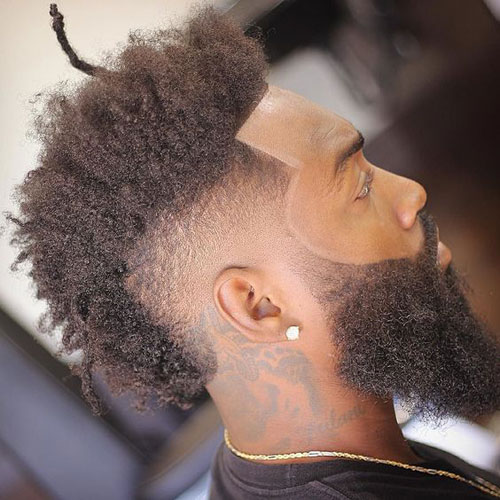 49. High top
50. Bald Fade Haircut