Traditionally, buzz cut was a military look because of its short length and easy maintenance. This haircut has been re-invented into burr cut, crew cut, and even butch cut. This style is usually achieved with clippers and can be styled in a number of different ways. In this article, we have combined the 50 best haircuts to give you the makeover you've been looking for!
What is a Buzz Cut Fade?
A buzz cut fade is a hairstyle that is very short on the sides, neck, and back, with the hair getting longer as it goes up the head gradually. The most common way to style a buzz cut fade is to have it tapered on the sides, with the hair being longest at the top of the head. The side will have a uniform length, and the length from top to bottom will become shorter.
The buzz cut fade will give you a clean look. It can enhance the sharpness and adds diversity to the otherwise plain cut. It will also suit all hair types- straight, wavy, curly, and all hair lengths. This cut benefits those men with balding, hair thinning, and hair receding.
50 Cool Buzz Cut Fade Haircuts For Men
1. Buzz Cut with Tapered Fade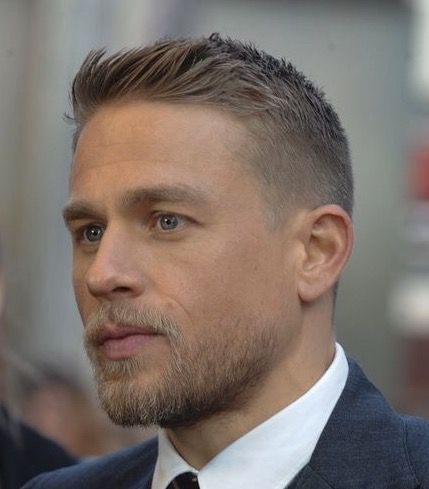 In this hairstyle, the buzz can be longer. Just be careful that the fade needs to taper from long to short. Setting the clipper at #2 is a good idea. Go for a low fade that tapers as you go down.
This will look great on older adult men and add a youthful charm to their look. This cut is for those who want a neat look but do not want to lose too much hair. It is also helpful for those with bumps or scars, as it can help hide them.
2. Short Buzz with Tapered Sides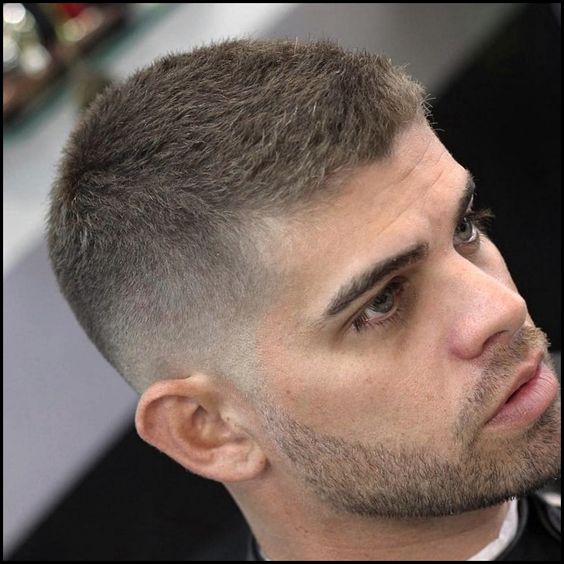 This cut is for those who want to take the bold step of chopping off most of their hair. Use a clipper to cut a short buzz. The fade can be high or mid, depending on your desired sharpness. The buzz cut fade will make your head look fuller and more defined.
3. High Buzz Cut Fade with Line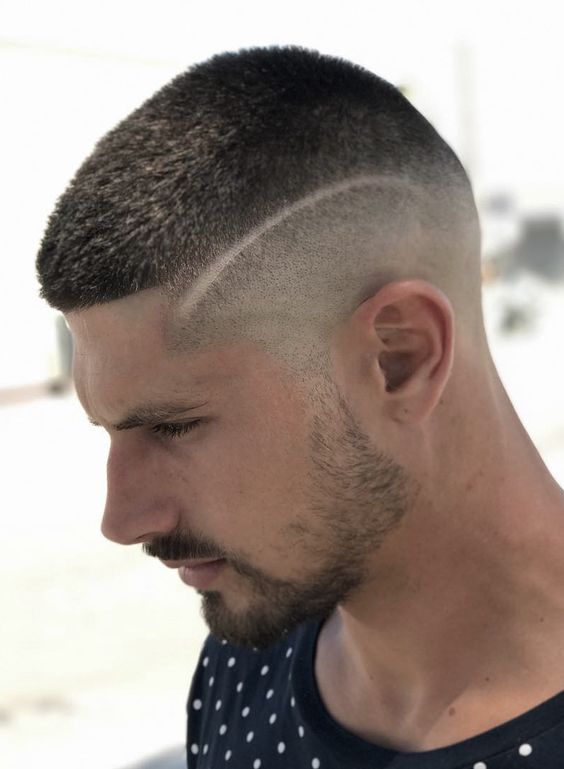 This haircut adds a bit of edge to the traditional buzz cut. Get yourself the sharpest look with a shaved line. Use a clipper to cut the buzz in a short length. The high fade start shaves a neat from the temple to the back of the head to add an edge to the cut. Try this at home only if you are experienced using a clipper; otherwise, head to a trusted barber.
4. Buzz Cut Fade with Design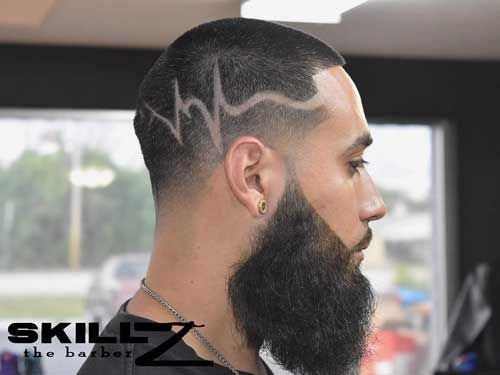 Think one shaved line is not gangster enough for you? Turn it up a notch by experimenting with various designs on the side. Keep the buzz short so that the hair doesn't cover the design. Although the buzz cut requires very little maintenance, this one might need a regular visit to the barber to maintain the design. The designs will look great with piercings, and with a leather jacket, you'll be ready to rock those ghetto vibes.
5. Buzz Cut with Skin Fade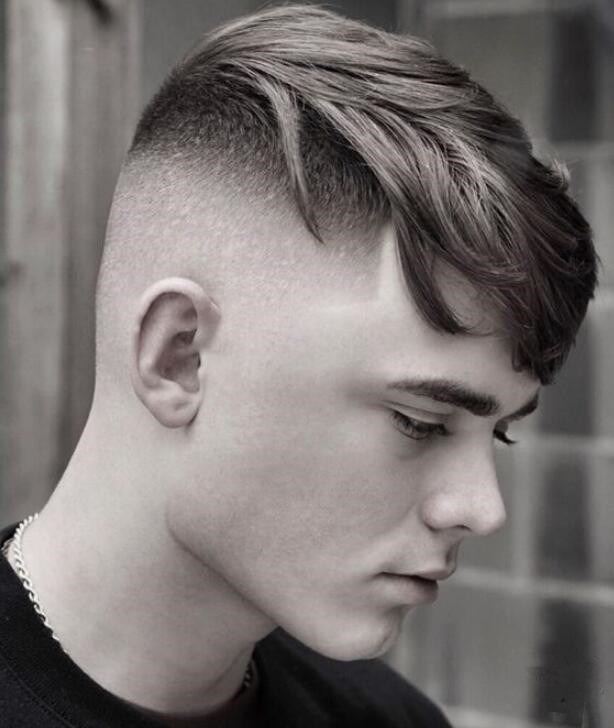 Try this minimal buzz cut with a skin fade if you want a cool look for the summer but do not want to go bold. Cut the top in buzz. As you taper the fade, shave off the hair on the sides to give a skin fade. This will provide a balding look that is comfortable yet trendy. This cut is a hit amongst youngsters who want to keep cool during the hot months and stay in style.
6. Mid Skin Fade Buzz Cut with Thick Beard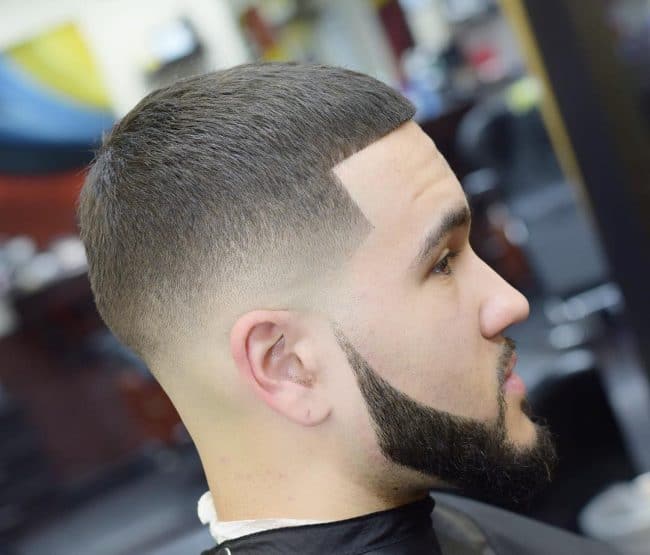 If you think a high-skin fade will take away too much hair, go for a mid-skin fade. This won't be as drastic as high skin fade and will be apt for parties and gatherings. Compensate all the lost hair on top with a thick beard. This will add all the manly charm and give you a rugged look. Keep the beard hair short so it doesn't look too contrasting with the buzz cut.
7. Shape Up Skin Fade Buzz Cut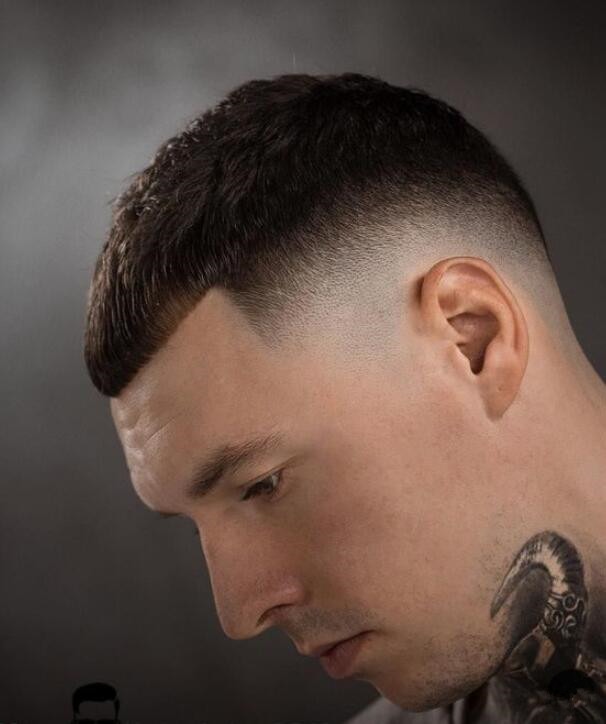 Give a stylish edge to your skin fade by shaping it up! This means that while you shave the hair at the sides, instead of shaving in a straight line, give it a curve as per the shape of your head. This will make your head look rounder. It will add an extra yet careful touch to your low-maintenance buzz cut.
8. Bald Fade Buzz Cut with Long Beard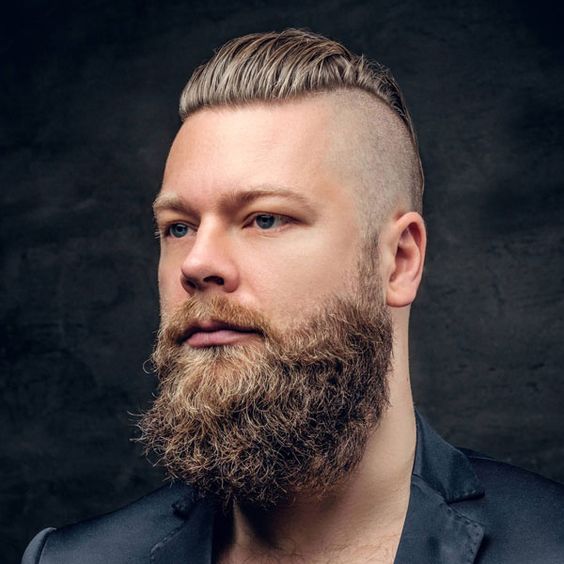 Try an extremely thug haircut by giving yourself a high and bold fade. For this, you need to shave off your sides completely. Keep a mid-length buzz at the top and give it a messy look. Team it up with a long luscious beard and show off your facial hair. You might want to visit the barber as the buzz cut and the beard ratio should be proper. Be sure to turn a few heads at this nasty yet elegant look!
9. Low Fade Buzz Cut with Clean Hairline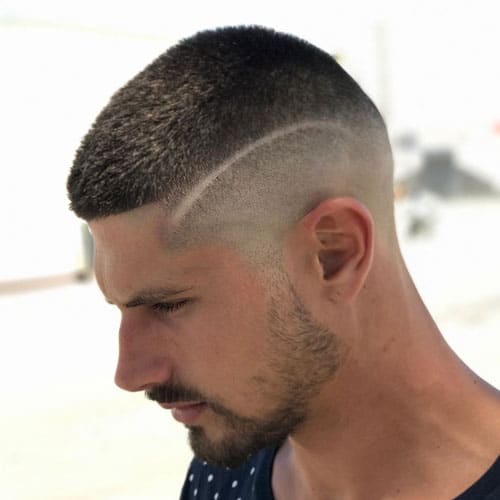 This look is perfect for teens and young adults. Do not give a well-defined fade, and keep the fade low. Cut the hair on your temple evenly to make a straight hairline. This buzz cut is youthful and fun. It is an excellent look for beaches. This does not require much maintenance except for occasional trimming from the front.
10. Skin Fade with Long Buzz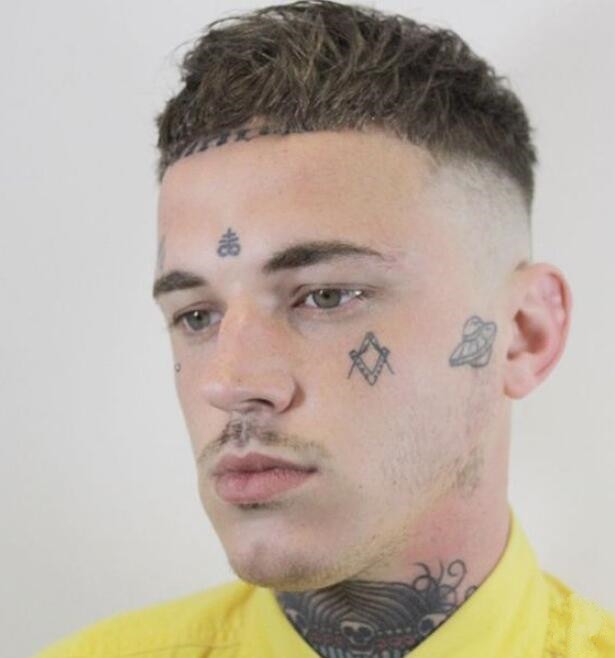 If you think you can carry off a mildly balding look, try out this mature haircut that will expose your head and make it look defined. Go for a long buzz and leave the hair on the top slightly upwardly. Go for a clean shave on the sides, or set your clipper at #0 guard.
11. Flat Top Buzz Cut with Skin Fade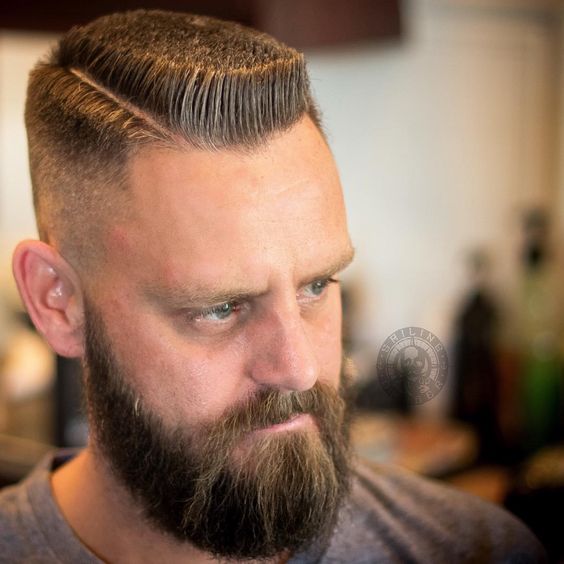 This buzz cut is for those who want a sharper look. Shave the sides completely. Keep the buzz cut long. Spike up the hair at the top to complete the look. You may need to use a gel to keep the hair in that shape. This is an excellent cut for older men who want to look stylish and bold.
12. Mohawk Buzz Cut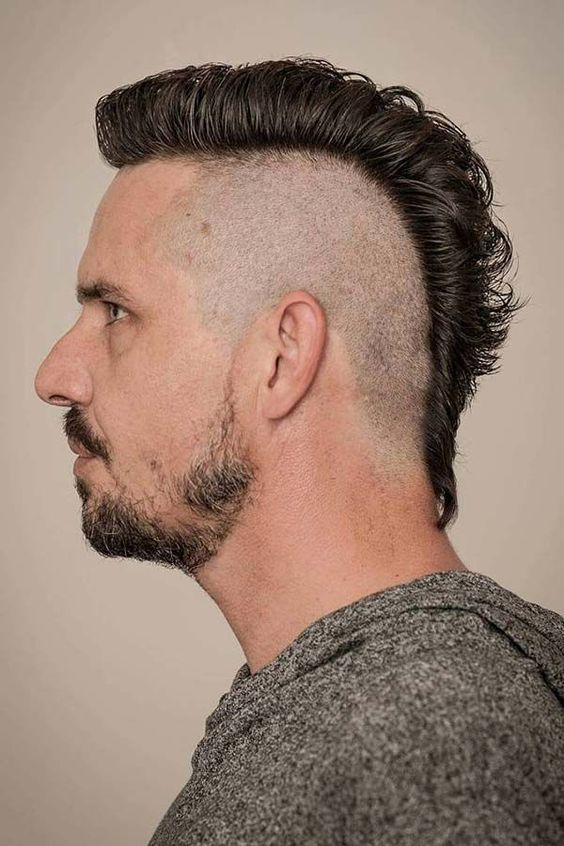 Like the flat top, in the mohawk buzz cut, the surface area of the hair on top is small, and the rest of the head is shaved off. The mohawk can range from short to mid-length. Use a gel to make the hair stand up. Since this cut combines two styles, it's sure to be an eye-catcher!
13. Caesar Buzz Cut with Taper Fade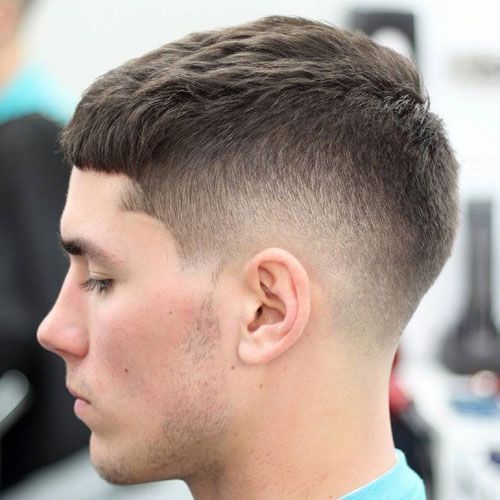 This haircut requires precision and styling. The hair at the top is tapering at the temple, making a V with the point in the middle of the head. The hairline recedes from the center on either side until it merges with the fade on the sides. Keep a longish buzz so the hair can be styled to the front. A low tapering fade will give the right shape on the sides.
14. Hard Parted Buzz Cut with Taper Fade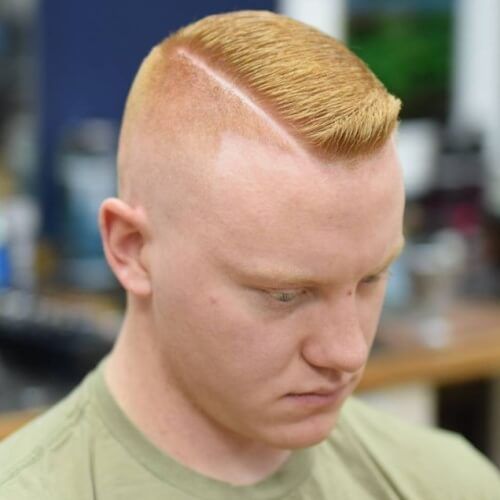 Give yourself a military look by shaving a hard line on either side of the buzz. Keep this line straight instead of a curve. Keep the buzz long to short and give a tapering fade or a skin fade on the sides. The hard-line will create a separation between the longer buzz and the faded side.
15. Crew Cut Buzz with Skin Fade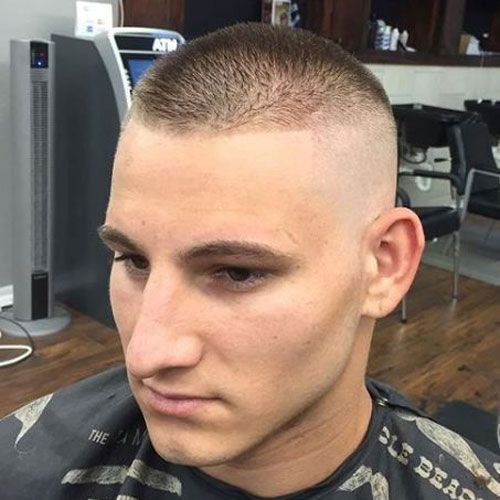 The Crew cut is the nearest you can come to getting entirely bold. Get a crew cut with shaved sides if you want to be just a step away from getting bold. This look is for all age groups but can be a good choice, especially for men with thinning hair.
16. V-Cut Neckline with a Skin fade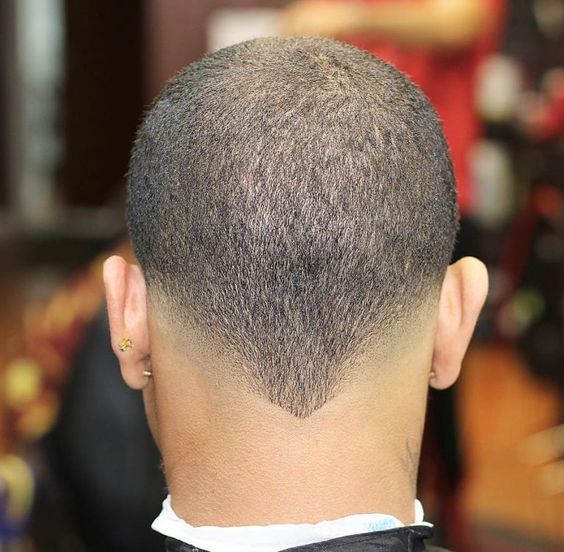 Try the more unconventional buzz cuts if you want something that will stand out. Trim the buzz in a V at the back. Keep the buzz short and fade the rest of the hair in either skin fade or at a shallow clipper setting like #0.
17. Short Cut with Low Fade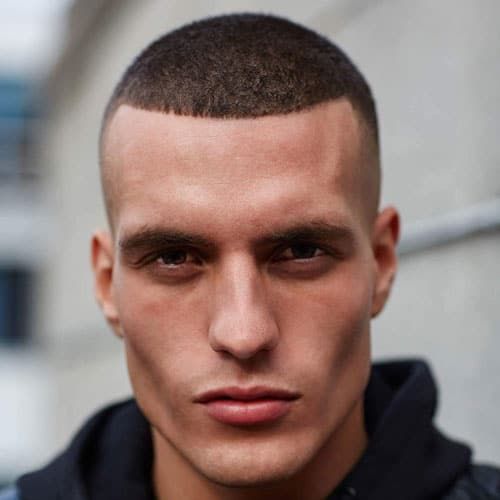 This is for those who want to maintain a formal yet sleek look. Get a short buzz with the clipper set at #1. To add a hint of style, give a low fade with the clipper set at #0. This haircut will look apt for working professionals.
18. Short Crop with Skin Fade for Long Hair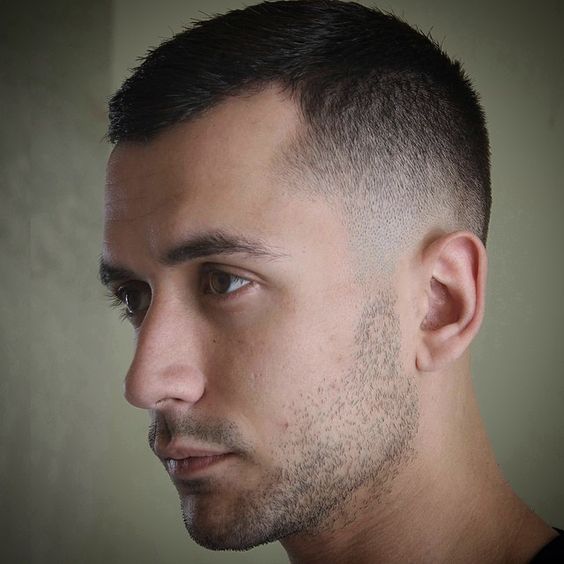 This haircut combines the style of a crop cut with the traditional military cut. It works for people with long hair with a sharp crop cut and a skin fade at the sides and back. This style is the trendsetter for 2019, as various celebrities are spotted sporting this haircut.
19. Short Buzz with Skin Faded Backside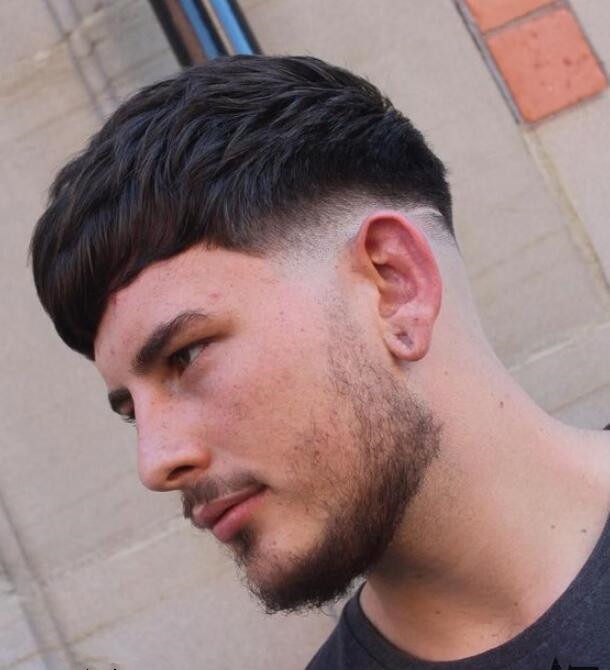 If you want something closer to the traditional military look, go for this minimal haircut. Cut a short buzz in the classic style. Give a skin fade to the sides and backside for a more refined look. Again, this is bold but will look classy on youngsters and older men.
20. Waves with Low Fade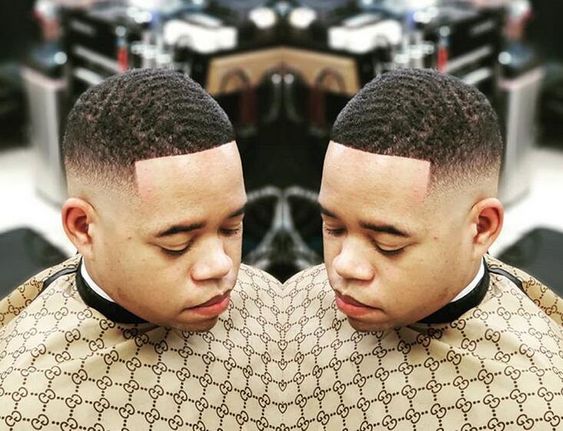 Give your buzz a sassy touch by creating circular waves at the top of your head. Use your barber's assistance to get those perfect waves, and apply hairspray to keep them intact. Cut a low fade if you don't want a balding look. Go ahead by lining up the temple hair and giving your hair a spicy twist!
21. Short Curls with High Fade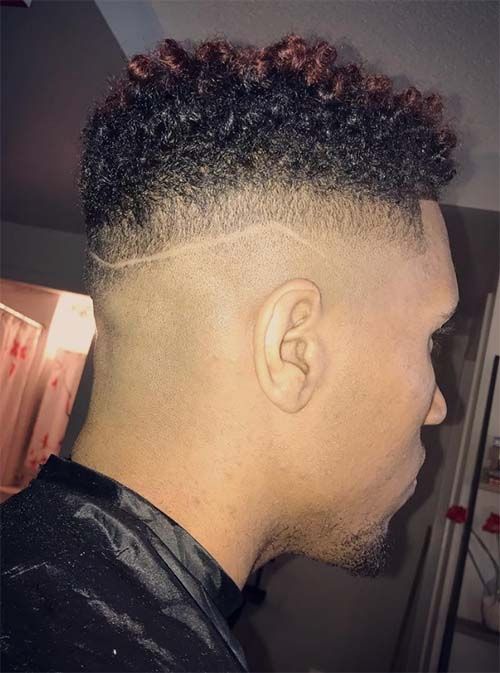 If you are a fan of curls and want a buzz cut, this is the haircut for you. Cut a long buzz and style your hair into curls. You do not need to do the styling if you have naturally curly hair.
However, you can use hair products to make the curls look even. Balance the heaviness of the curls with a high fade. Depending on your desired sharpness, the fade can be tapering or a skin fade. This style is a summer re-invention of the traditional straight hair buzz cut.
22. Long Buzz with Drop Fade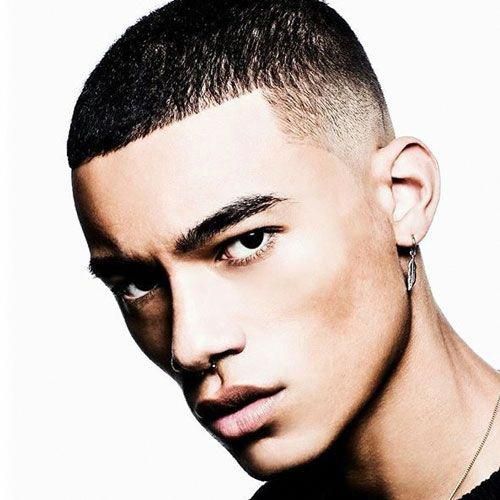 This soft look is for those who want their hair to look long and retain volume. Go for a long buzz or the desired length. Then go a drop fade. In a drop fade, the fade cuts short behind the ear near the nape of the neck. This gives a fade to the ear area while maintaining the length of the hair. Older adults can go for this look as this haircut adds youthfulness to the face.
23. Short Combover with a Line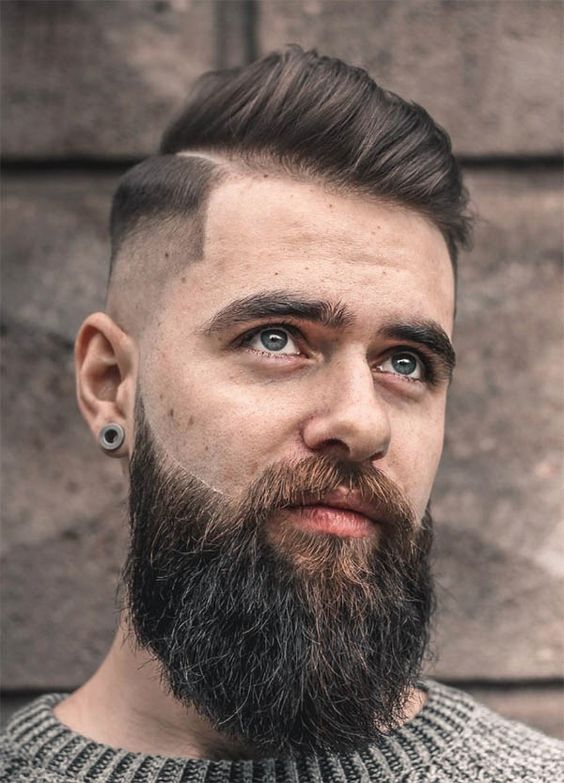 This unique combination of combover and a razor line is where old-school and modern styles come together. Go for a slightly long buzz and comb it over to one side. On the other side, shave a line from the temple to the back of the head. Give a tapering fade to the remaining hair. This notorious look is a go-to if you want a sophisticated, classy look.
24. Textured Fringe with Mid-Skin Fade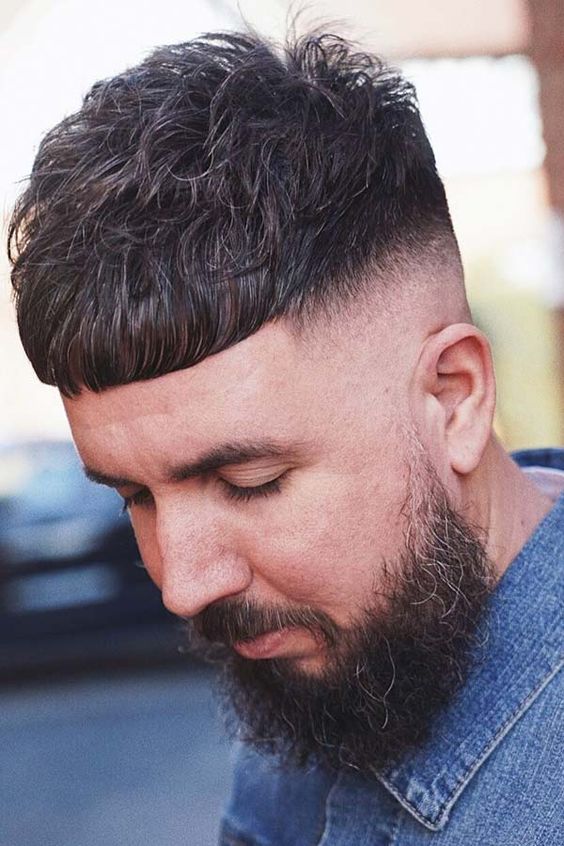 This is a variation of the caesar haircut. Add a wavy texture to the long buzz, and put your hair in the direction of the temple. Go for a mid or low fade, depending on how much hair you want to keep on your head. This hairstyle is simple yet attractive. The slight edginess of this style makes it a favorite among students and youngsters.
25. Textured Spikes with Low Skin Fade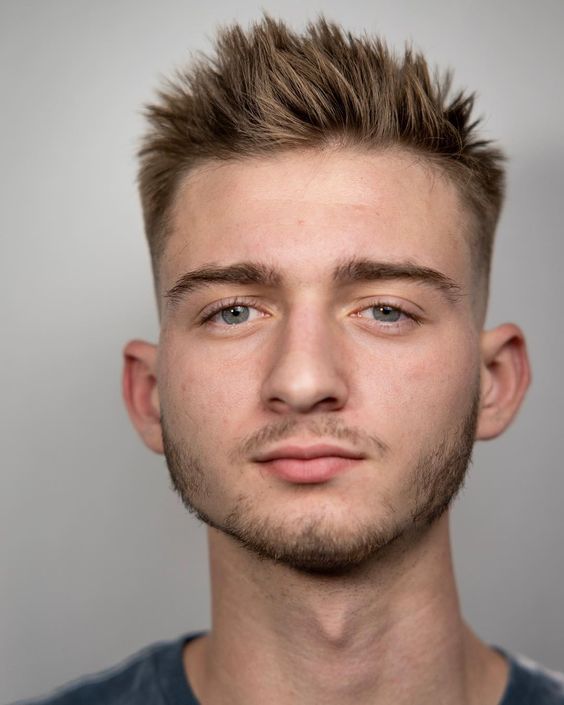 Another way to go for the textured look is to spike up the hair. Go for an extended buzz cut. Use gel and other hair products to get the desired textured spikes. Get a low skin fade on both sides to have a rock style. This look can look a bit unruly, so it is best for casual occasions. The excellent point about this haircut is that it suits all hair types.
26. Buzz Cut with Drop Fade and Short Beard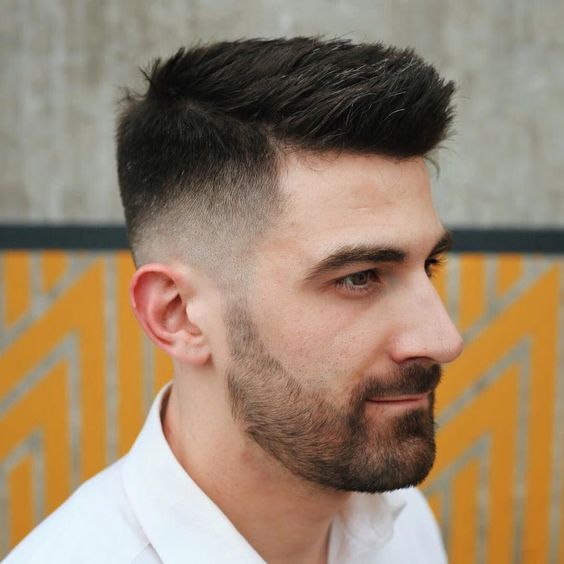 Combine the three to get the complete gentlemanly look. This haircut looks the best on a formal bus and can go with practically anything. Get a short buzz with a drop fade. The fade can be a tad bit low. Team this up with a short even beard, and you've got yourself a sleek and sophisticated look.
27. Buzz Cut with Temple Fade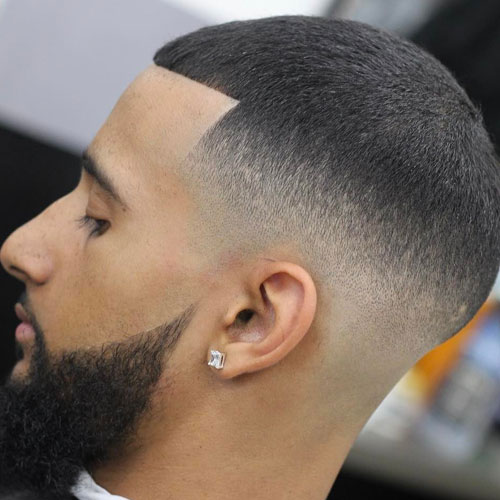 This is one of the trendiest buzz cuts of 2019. Do a temple fade with a short buzz, and you've given yourself the perfect re-invented military look. Do a lineup at your temple and start the fade from there. Go for an even fade. However, if you do not want the shape of your forehead to become prominent, do not go for this style. Fewer maintenance will be required, but no hair products will be required.
28. Buzz Fade with Cut-Outs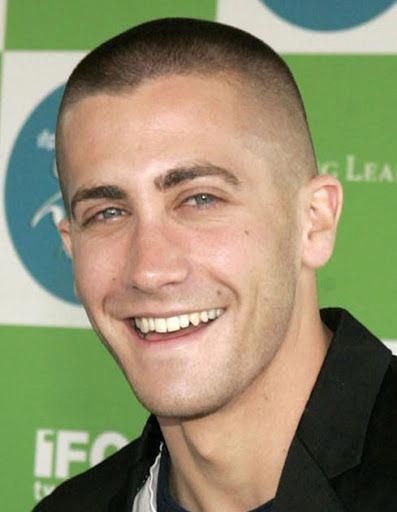 Experiment your heart out by choosing from various cut-outs with your buzz. Go for a long buzz and a low fade. With many hairs on your head, you can try any cut-out you like. It can be a V at the front or a zig-zag pattern on the forehead. Make your barber understand the design you want, and you are good to go!
29. Ivy League Buzz cut with Low Fade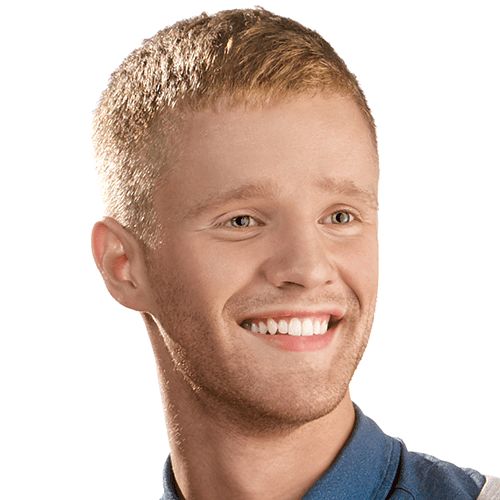 This is an extremely popular buzzcut. The hair on top is slightly longer than the crew cut. This hair can be spiked, or it can also be left in a messy state. Opt for a low fade to give a softer look instead of the boldness of a high fade. This look is very charming and is for youngsters and working professionals.
30. Buzz Cut with Brushed-up Front and High Fade
This effortless style will add the subtle spice required in a trendy haircut! Brush up the front part of the buzz in a slight curl backward to add a little fluff to the hair. Go for a high skin fade. This will give your face a sharp military look but with a modern and stylish variation.
31.
Short Buzz Cut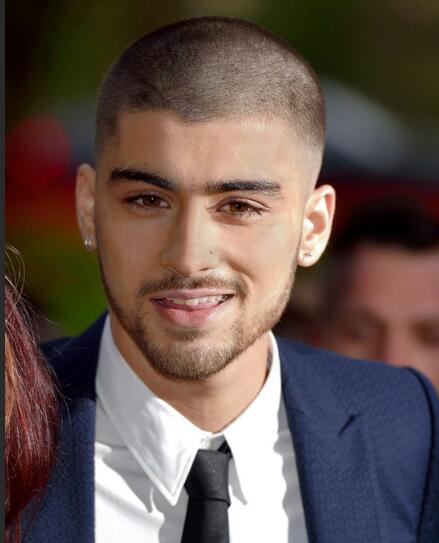 32. Medium Buzz Cut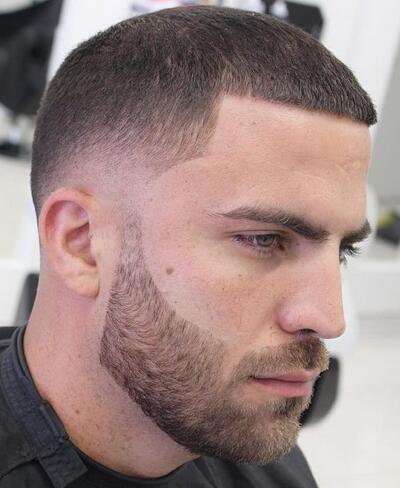 33. Long Buzz Cut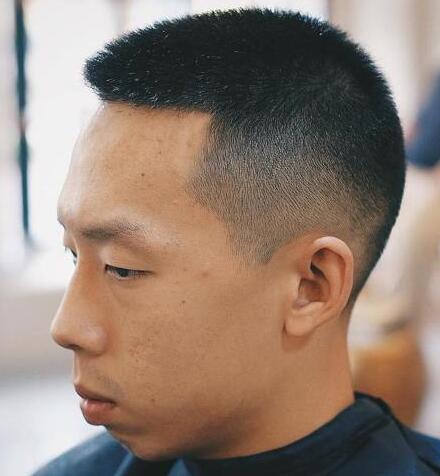 34.
Undercut Buzz Cut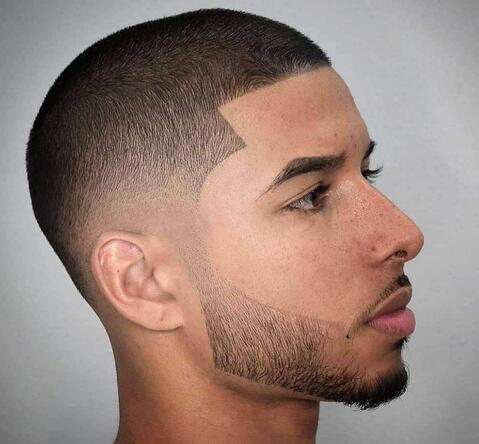 35.
Buzz Cut with Bangs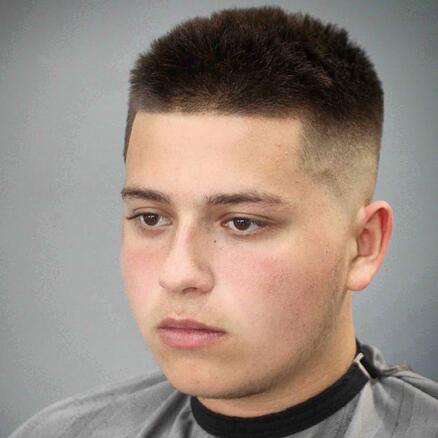 36.
Burr Cut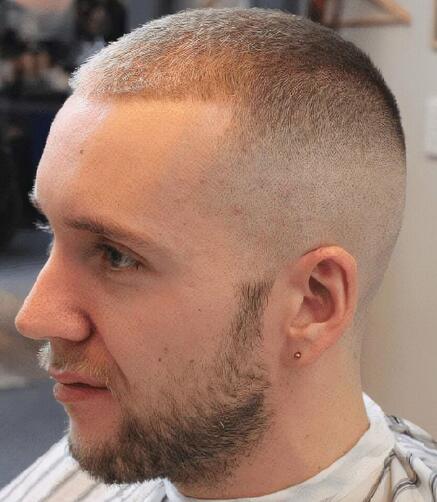 37.
Butch Cut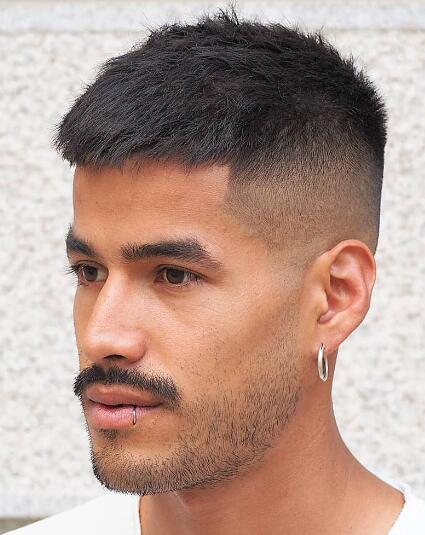 38. Black Men
Buzz Cut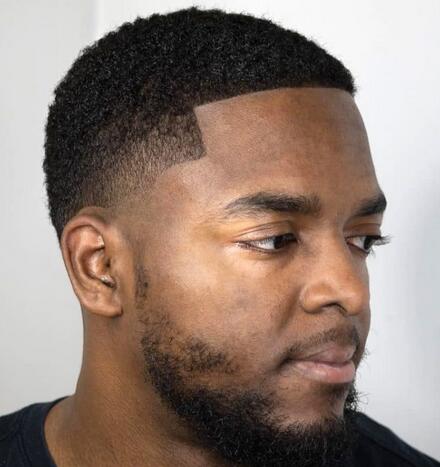 39. Asian Men Buzz Cut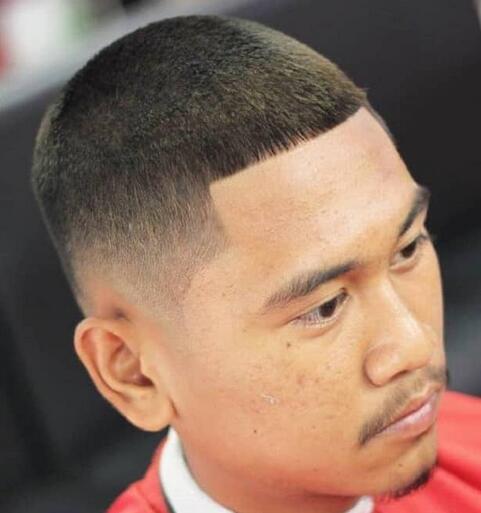 40. White Men Buzz Cut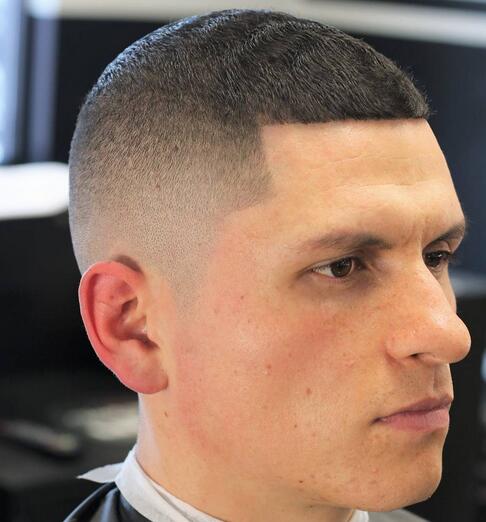 41. Buzz Cut For Boys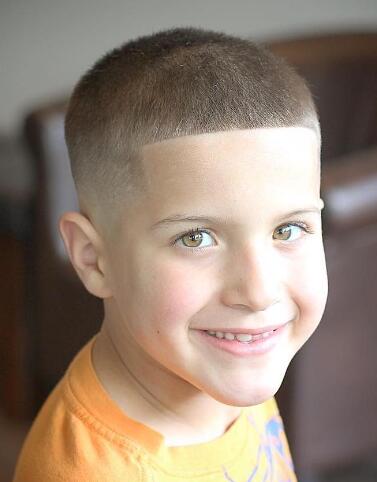 42. Brush Cut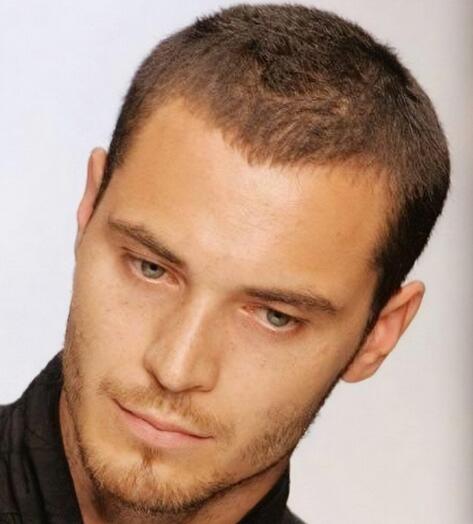 43. Caesar Cut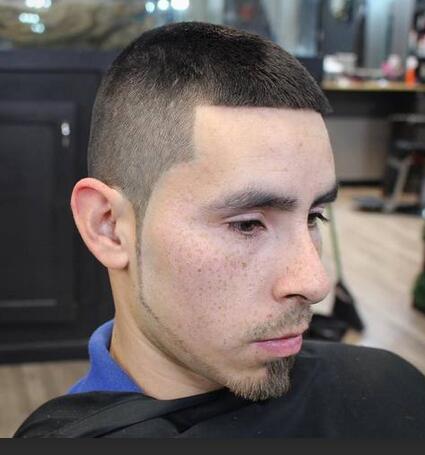 44. High and Tight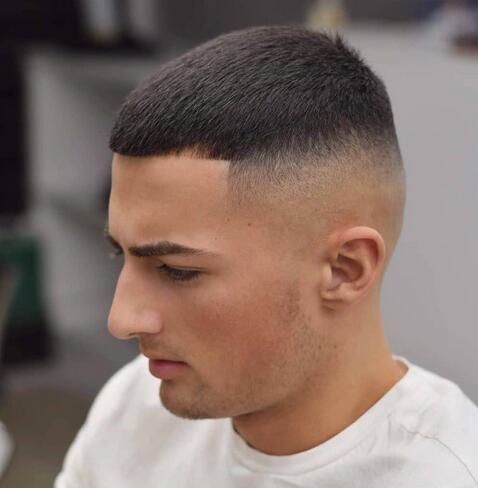 45. Tapered Buzz Cut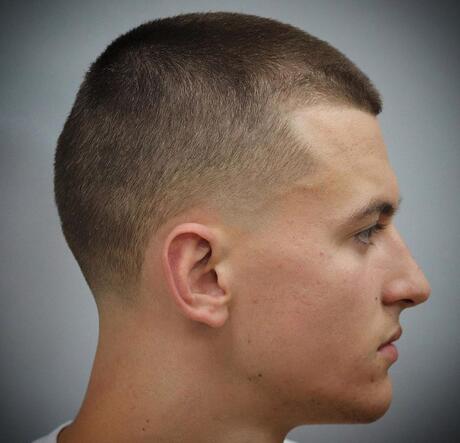 46. Mid Fade buzz cut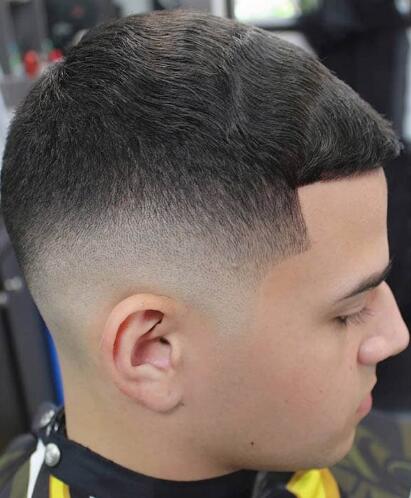 47. Low Skin Fade Buzz cut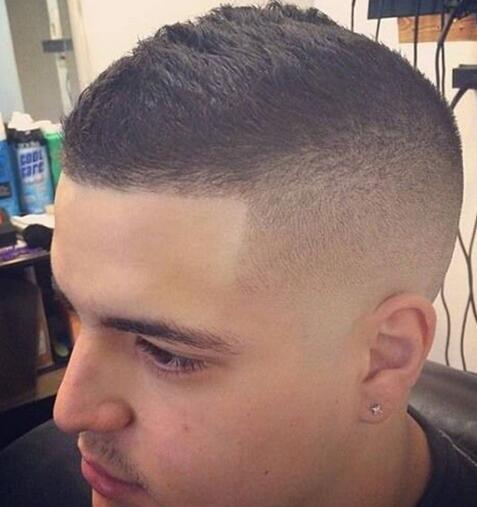 48. Disconnected Buzz Cut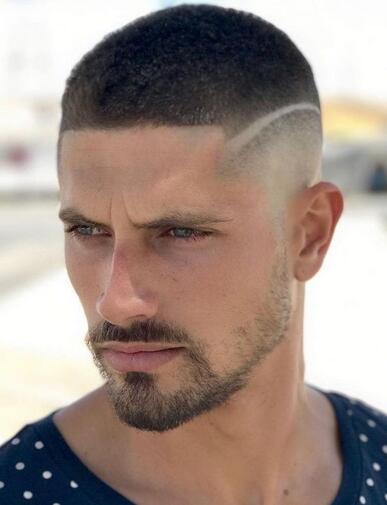 49. Classic Crew Cut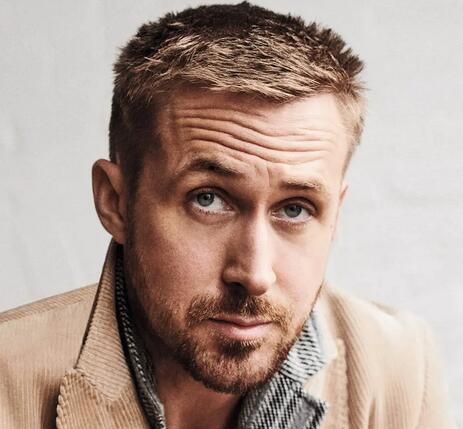 50. Textured Crop Buzz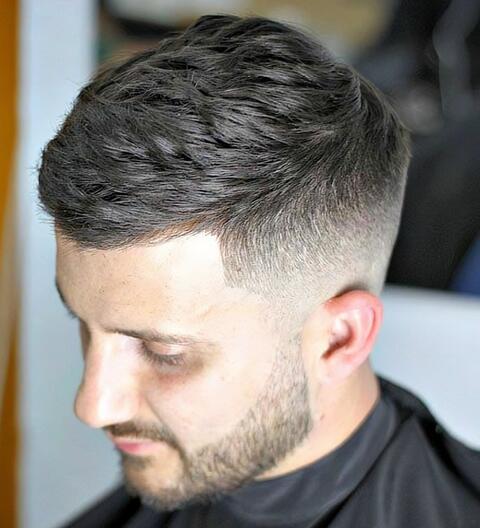 FAQs
How To Style Buzz Cuts Hair?
There are a few different ways that you can style a buzz cut, depending on the length of your hair and the look that you are going for. For a shorter buzz cut, you can use a pomade or wax to style your hair into a quiff or side part.
If you have a bit more length, you can use a product with a bit more hold to create a spiked look. And for a longer buzz cut, you can use a product with a stronghold to create a slicked-back look.
What Do I Need For The Buzz Cut?
In order to achieve the buzz-cut look, you will need a few key items. First, you will need a good-quality hair clipper. There are a variety of different types and brands of hair clippers on the market, so you may want to do some research to find the best one for your needs.
Second, you will need a pair of sharp scissors. Third, you will need a comb. Fourth, you will need a mirror. Finally, you will need patience!
How to get a Buzz Cut Fade Haircut?
There are a few different ways that you can get a buzz-cut fade haircut. The most popular way is to go to a barber or hairstylist and have them do it for you. This is the easiest way to get a haircut, but it can be expensive. Another option is to do it yourself at home. This is a great option if you are on a budget or if you want to experiment with different styles.
The first step is to decide how short you want your buzz cut to be. Once you have decided on the length, you will need to use the comb to section off the top part of your hair. Next, you will use the scissors to trim the hair on the top of your head to the desired length. Be sure to take your time and be careful not to cut too much off!
Once the top part of your hair is trimmed, it's time to start buzzing the sides and back. Begin by combing your hair down so that it is lying flat against your head. Then, start at the base of your neck and work your way up, using the clippers to buzz the hair as close to the scalp as possible. Continue until you have buzzed all of the hair on the sides and back of your head.
Finally, it's time to buzz the top of your head. Start in the center and work your way out towards the sides. Be sure to go slowly and be careful not to cut too much hair off! Once you're finished, take a step back and admire your handiwork!
Benefits of a Buzz Cut Fade Haircut
Here are some of the highlights that every man loves:
It takes less time and money to style.
Hair will no longer block your line of sight.
A buzzcut fade haircut will have you feeling more refreshed on hot days.
You can easily maintain this hairstyle by yourself.
A buzzcut fade hairstyle helps alleviate hair problems such as balding, receding hairline, and thinning.