Caesar haircut is a classic cut that will still be popular in the decades to come. The name of this haircut supposedly came from Julius Caesar, who styled his hair with the hair going forward. This is said to hide his hairline that was already receding at that time.
Whether the story about the Caesar cut is true or not, it is a fact that this is the main choice of men who would like to hide their baldness. This can also be the hairstyle of men who would like to have short yet fashionable hair.
There are a lot of men who love this style for the following reasons:
It does not require the use of a lot of products to style.
This does not require a lot of maintenance.
A lot of the styles are wash and wear.
Who May Benefit from Having the Caesar Haircut
Any man can choose to have this type of haircut if he wants it. This can work for men with straight, wavy, and curly hair. Many boys have this haircut if they are very active in sports and other physical activities. Their hair cannot get in the way of the sport that they play.
The traditional Caesar haircut usually has all sides of the head in equal amounts of hair. This means that everything is uniform, neat, and tidy.
This type of haircut may differ from the modern haircuts that are gaining popularity nowadays, wherein hair in various parts of the head is usually in varying lengths.
This is a haircut that used to be very popular in the 90s before the floppy haircut became popular, but if you are searching for a cut that will not require much maintenance, this is the best choice available.
Getting the Caesar Haircut from a Good Barber
It is always essential that you choose the right barber when it comes to having your hair cut. You do not want to end up having a botched hairstyle. Some men choose to cut their hair because it is easy but allow your hair to be cut by professionals unless you know how it should be done.
The following features can distinguish the Classic Caesar haircut:
The hair on top of the head may be from 0.3 to 0.5 inches.
Based on the length of the hair on top of the head, the hair on the sides should follow the same length.
You may choose the sides of your hair to be trimmed with either scissors or clippers. It would depend on the Caesar cut you would choose to have.
How to Style Your Caesar Haircut
It was mentioned earlier that this is the style you want when you do not want to use many styling products to make this work. It would help if you had a styling cream or wax, then follow this process:
Use the product on your damp hair. You can use your fingers since this will work better than a comb.
Style your hair forward with a brush.
Once you have the fringe that you want, style it again with the use of your fingers.
Apply the product on the sides and back of your hair if you want your hair to stay put.
It is easy. Now that you know how to style it, you have to become familiar with the different Caesar haircut styles to pick the best one for you and your lifestyle.
18 Best Caesar Hairstyles You Should Have a Try
Accurate Caesar Cut
This type of haircut does not go far from the traditional Caesar cut. The main difference will be how perfect angles will be set up on the front portion of the hair. This will require a bit of maintenance as you need to go to the barber for a trim every 2 weeks or so to maintain the perfect lines, but you will have awesome-looking, Caesar-style hair in between the maintenance haircuts.
Faded Temples Caesar Cut
Many men believe that the classic Caesar cut right now is not popular anymore. To still make this cool, this type of Caesar cut may be a great option. While your basis is still the traditional Caesar cut, you can further change the hair by adding temple fades. It will change your overall appearance significantly.
Straight + Faded Caesar Cut
Who says that your typical Caesar cut cannot have faded sides? This is one way that you can spice up this traditional hairstyle. Remember that the hair on the front portion should be very straight that it will appear almost sculpted to appear in great contrast to the faded side portions of your head.
Super Short Caesar Cut
Can you imagine the Caesar cut being any shorter? Yes, you can! If you have always hated long hair or you think that you look better in short hair, this may be the best cut for you to have.
This may be popular in the past, but many men stay away from this hairstyle now because they feel a bit dated. If you usually have facial hair, then your problem is solved. This super short Caesar cut will look good with thick facial hair.
High Fade Caesar
You want a hairstyle that will compliment your thick hair, so this is the style you would choose to have. The top portion of your hair will be thick, and there is no doubt about that. The sides are going to have a high fade.
Extremely Short Caesar Cut
The super-short Caesar cut was mentioned earlier, but actually, you can go even shorter with this concise Caesar cut. This will work best for men with fine hair.
Your scalp will almost be seen, but if done correctly, every strand of your hair will be evident. This will also work better for men with dark hair.
Razor Cut Caesar Cut
Do you want to have a Caesar that looks so perfect, especially when viewed from the sides? If you answer yes, then you do not need to look any further. Having this type of haircut means that clippers will not be used on your hair. Razors will be used instead to achieve this desired cut. If it is executed very well by the barber, it will look unreal for a certain period. Of course, you need to have it trimmed to maintain its appearance.
Temples and Nape Line Blurred Caesar Cut
Instead of having a faded haircut, you will have only the area of the temples and the nape line blurred. The effect may be a bit disconcerting from people looking at you from the sides and the back because your hair will appear not to have been cut straight. If you do not like the traditional Caesar cut, this is a nice haircut you may want to have.
Faux Mohawk Caesar
Faux Mohawk Caesar is one modern Caesar cut style that you can try if you want your hairstyle to look more stylish. You must choose the right barber to cut your hair because different cutting techniques will achieve this look.
The fringe on the front portion of the head will be cut bluntly while it would look like the hair on the sides and the back of the head are slowly fading. This is a type of cut that you would like to show off to people.
Wavy Caesar Cut
Who says that men can only wear the Caesar cut with fine hair? You can have this cut even if your hair is wavy or curly. You can show off your short waves that will be combed forward to follow the traditional Caesar cut hairstyle. The sides are going to be faded. For sure, this can make you look cool.
Messy Caesar Cut
One of the adjectives normally used to describe the Caesar cut is neat. What if you are going to stay away from this adjective and make your hair deliberately messy? This is possible.
The texture of your hair will be light which means that you cannot use hair products to make it appear hard. This will make you look funky, yet the short hair strands will still make this hairstyle passable for different settings.
Long Top Caesar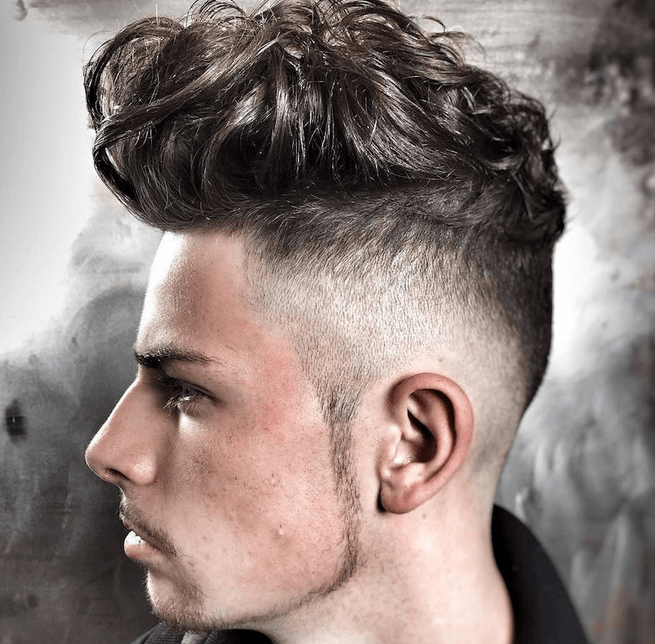 This is actually a Caesar cut that almost looks like a Mohawk style because of the thick middle portion of the hair. The high fade will make the illusion of a Mohawk even stronger, but this is just your take on the traditional cut.
Medium Length Bangs Caesar Cut
If you would like to have a little more hair than usual, allow the hair to grow up to medium length so that you can have the bangs cut bluntly. The sides will then be faded, but the hair on the crown of the head will extend up to a certain portion of the back with ends that will be cut bluntly.
Simple and Slick Caesar Cut
This is the typical Caesar cut that you can change up a bit by adding some facial hair. Having a semi-thick beard will be awesome and will go with your short hair. Just make sure that you will add the right hair products to make your hair appear slicker. One tip to remember is to make your hair as thick as your facial hair.
Curly Caesar Cut
If you want your curly hair to become more manageable, you do not have to look for any other haircut. Having Caesar cut on your curly hair, you can expect that your hair will be easier to manage and style. If your curls usually cooperate when short, you do not need to use hair products to manage them anymore.
Scissor Caesar Cut
Instead of allowing your hair to be buzzed all over, you can ask your barber to use the scissors instead. This will allow you to have a more textured cut that can emphasize your face shape. The barber should be skilled enough to ensure that the longer hair strands are trimmed while your bangs are styled forward.
Colored Caesar Cut
If you think that having a Caesar cut requires that your hair is in only one color, you are mistaken. This colored Caesar cut will allow you to have fun with your hair color. You are recommended to have some highlights and perhaps even low lights that can work with your hair's natural color.
Perfected Caesar Cut
A Caesar cut involves many edges, but what if the end portions will be curved or rounded instead? It can look perfect, especially if you would maintain it often. Remember that not all barbers will give you this type of hairstyle, frankly, because you need to have perfect hair volume, perfect hair length, and perfect texture before getting this hair cut. If this won't work for you, do not worry because other Caesar haircut styles are available.
Based on the list, which Caesar haircut are you willing to try the most?