Comb over fade is a fade haircut with hair on the sides and longer hair on top. This haircut is called a comb-over because the hair will be left on top when you have the comb-over. You can comb over the hair as a slick back, a side part, a hard part, or a textured style.
Comb over fade can make you look more intelligent and polished than usual. This haircut is best for people who want clean and neat-looking hair. This is an appropriate hairstyle for business meetings. It can also be appropriate when people have to attend weddings and other formal events. This can also be worn every day with street-style clothes, and it will manage to look fabulous all the time.
How to Get a Comb Over Fade Haircut?
This hairstyle does not require a lot of hair, to begin with, but you need to have hair on the top of your head that is long enough to be combed. As long as you are already happy with the length of your hair, you can go to the barbershop. Allow the barber to work his magic on you. A carefully made comb-over hairstyle will manage to turn a few heads and get a few stares.
How to Style Comb Over Fade Hairstyle?
You have finally achieved this hairstyle that you have always wanted. What are you going to do next? You must make sure that it looks great all the time, especially when there are some events you must attend.
Wash your hair.
You can dry it out a bit with a blow dryer. Avoid putting heat on as you just need to dry your hair.
Once it is semi-dry, use hair products that allow you to slick your hair to one side.
Use a comb to set the hair in place.
Allow the hair to dry thoroughly.
60 Best Comb Over Haircuts You Should Try
Now that you know the basics about the comb-over haircut, you can take a look at the various styles available such as the following:
Comb Over with High Fade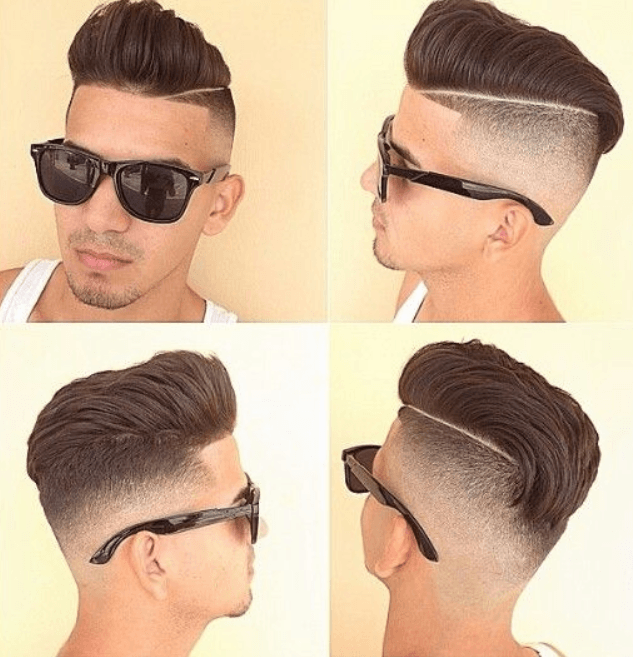 If you would like the length shift of your hair to be obvious, this may be the right style for you to pick. This is an attention-grabbing hairstyle as the top portion of the hair is longer than the sides.
This good hairstyle will show everyone that you do not mind being different. You have taken the risk of having a hairstyle that may not look good on you, but if it works, you have nothing to worry about.
Short Comb Over Fade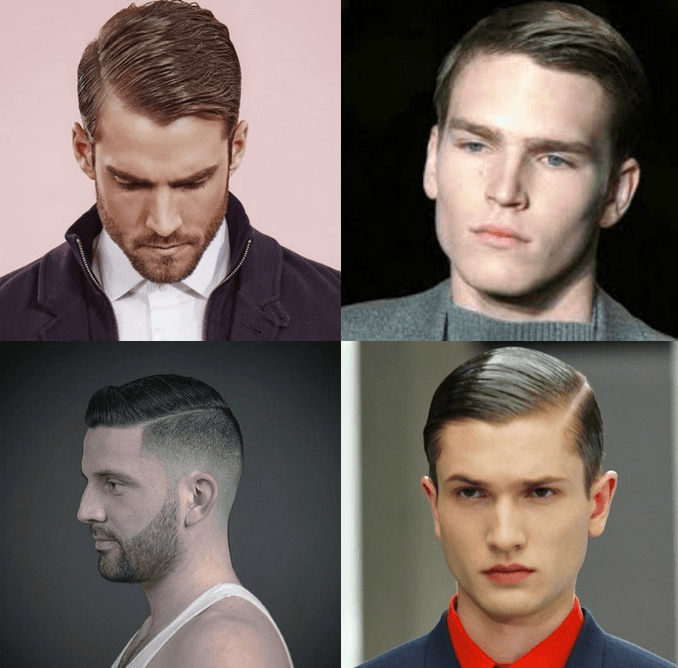 If you are a man who works in a corporate setting, this may be one of the best hairstyles for you to try. This is especially helpful for people who find it hard to manage their hair and even those who want to look polished at all times.
While you can rock this with some facial hair for a day's look, you need to wear this hair without facial hair during formal gatherings and ceremonies.
Comb Over with Skin Fade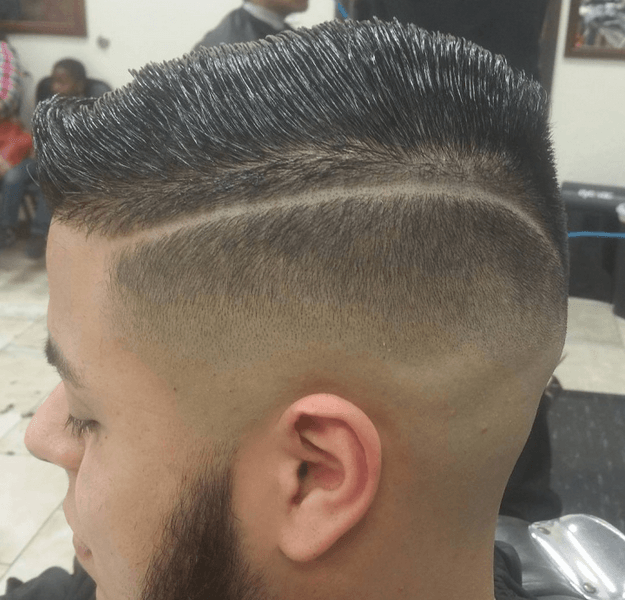 This is a type of comb-over hairstyle that not all barbers will be able to do. You must find a skilled barber first before attempting to have this style made on your hair.
The hair tapers downwards from the thick portion of the hair until the skin is bare. This is a neat style, but it may require maintenance as you must have it trimmed frequently if you want to maintain your look.
Pompadour
The pompadour is one of those hairstyles that started for women but shifted to men. The pompadour is now highly popular among men, especially those who want to keep a lot of hair on their heads without looking untidy.
You need thick hair to pull off this hairstyle, as the pompadour works best on men with thick hair. Whether you have straight, curly, or wavy hair will not matter as long as your hair is thick. Having the right hair products will make a lot of difference too.
Slick Back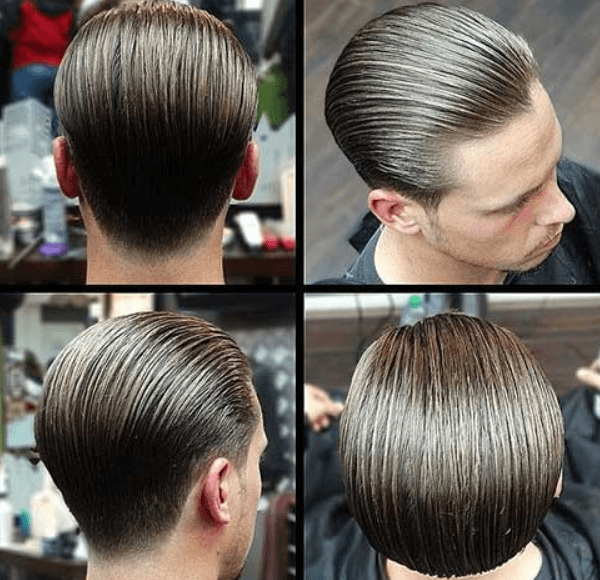 Who says a comb-over should only be placed on one side of the head? You can look completely different if you would have a slick back comb-over. The hair on top of the head should be long enough to be slicked back, while the graduated sides will contrast with the long top portion of the hair.
This can work for preppy men as long as they do not have facial hair, and if you are more of a "cool" guy, you can match this with a beard and maybe some tattoos, but this is optional, of course.
Comb Over with Low Fade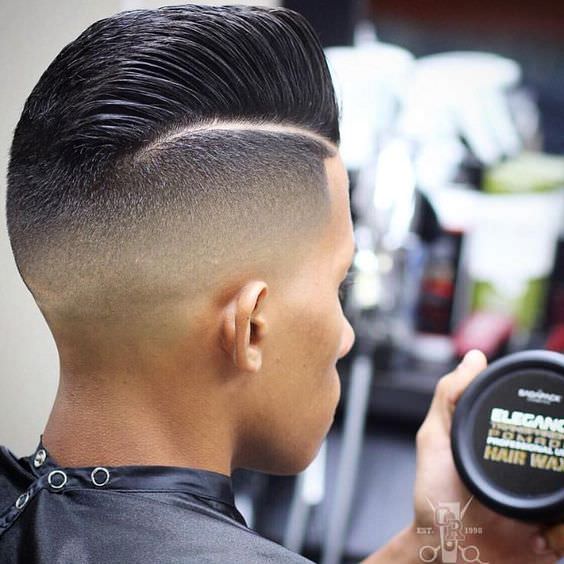 Have you always wanted a fade, but you do not want it to be too obvious? This may be the type of fade that you want to try. The low fade can make the classic comb-over look more modern but not too trendy, and you will shock people when they see you. This is considered a more traditional option that you can quickly wear anywhere.
Comb Over with Medium Fade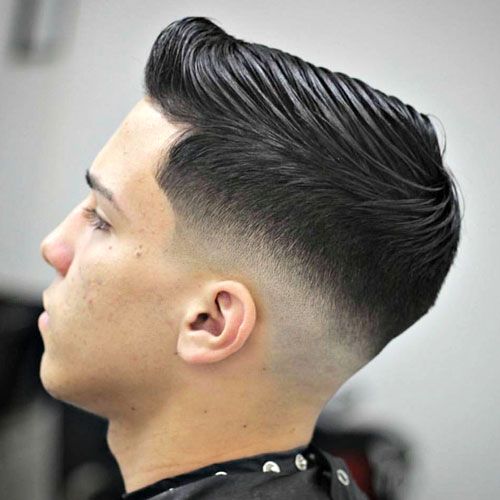 Let us say that you feel a little more adventurous and want a hairstyle that will be noticed more. What will you choose?
The medium fade will start the fade a bit higher than the typical low fade. However, it is still not striking enough that some people will give you a second look whenever they see you running some errands—this type of hairstyle you can choose if you want to look modern without going overboard.
Long Comb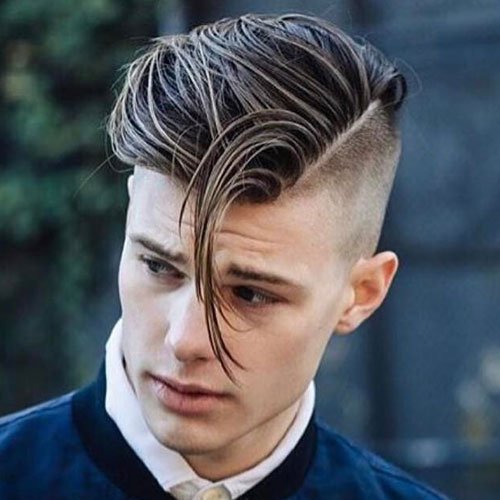 If you want to keep your hair long all over but not long enough that you would resemble the hair of people during the 70s era, the long comb-over is your best bet. In this style, you will not be buzzing the sides of your head.
The barber may cut it with scissors just to trim it; the hair on top of your head will be longer. The key here is to make sure that the hair on top will have the volume to emphasize the overall style of the hair.
Contemporary Comb Over Fade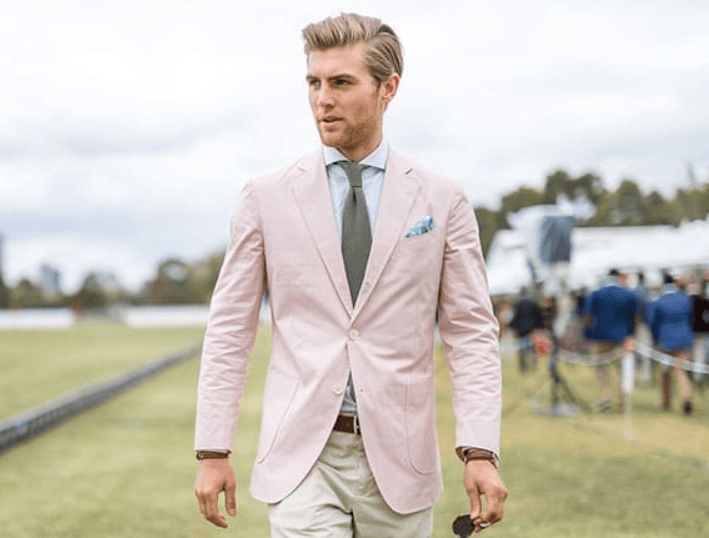 You are all about the classic and traditional comb-over, but you may realize that you have always wanted to have this style when you see the modern take on this hairstyle.
You can choose where the barber will place the hard part to emphasize that your hair is parted on the side. The sides will then be buzzed to be shorter than the hair on the crown of the head.
Curly Hair with Comb Over Fade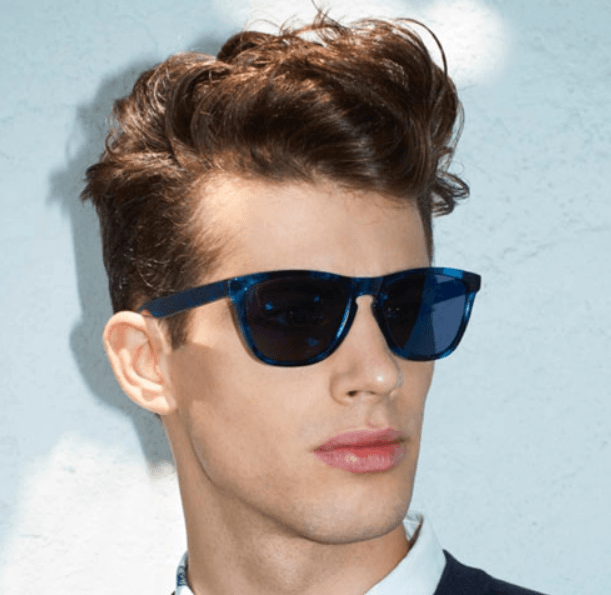 It does not mean you can no longer enjoy the comb-over hairstyle because you have curly hair. This haircut works for men with curly hair too.
This style allows you to keep your natural curls as long as sweeping curls are combed over to one side of your head. They are not long enough that they will start falling on your forehead. They are just long enough to emphasize your curls. The sides of your hair may be buzzed or not, depending on your preference.
Comb Over for Long Hair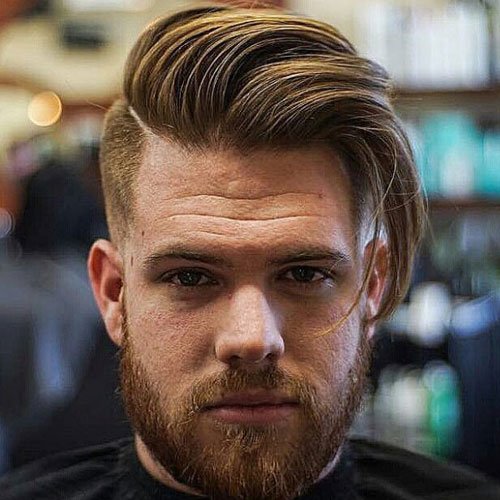 If you truly want to have long hair on the top portion of your head, this may be the best style for you to have. Long means that you will have hair that will fall over your face even if you comb it. This can be cool, but this usually depends on your profession. If you know that you can have this hairstyle at work, then, by all means, try this out.
Side Part with Beard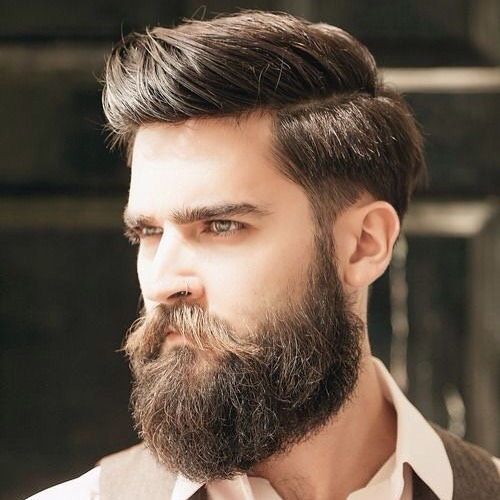 It is already normal for many men who have the comb-over hairstyle to have a beard, but the beard they usually have is the usual one that will need to be clipped ever so often. What if you would like to have an actual beard with this hairstyle? You can expect people to think you are a lumberjack even if you work in a completely different industry.
Polished and Wavy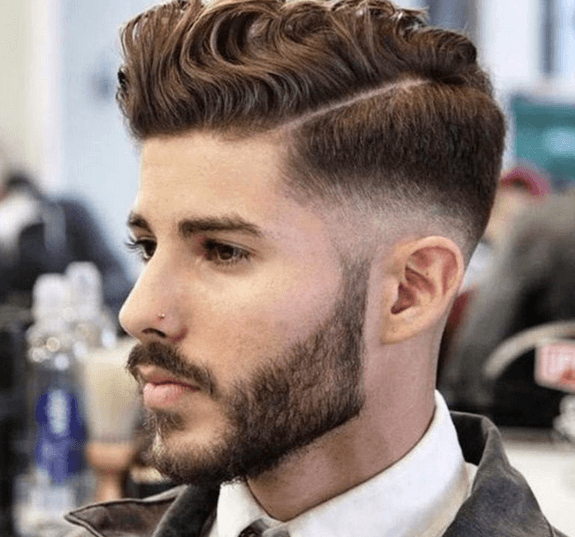 You do not have to hate your wavy hair just yet because it might give you the necessary effect to make your comb-over hairstyle look cool. This is a good hairstyle for a man like you who likes socializing. This will make you look presentable wherever you go.
Tapered Comb Over with Layers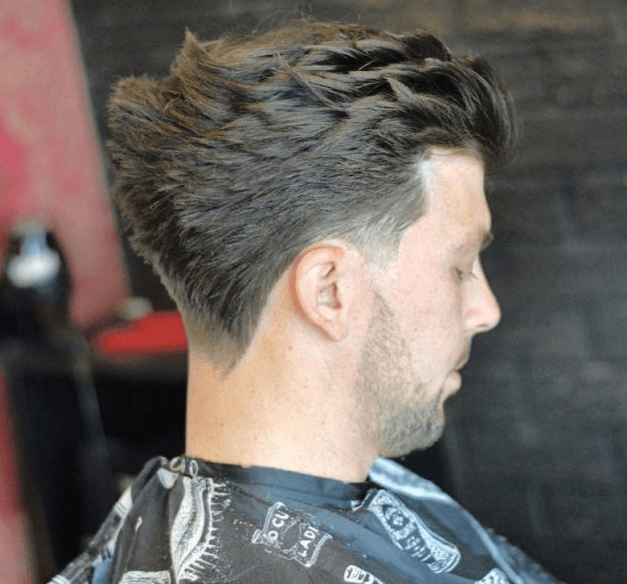 If you would like to have a comb-over that has to be made meticulously, then this may be the best option for you to have. The tapered sides will make this hairstyle easier to maintain, and the long locks on the crown portion of your head will be layered to be more accessible to style. With the right hair products, this highly trendy style can be the perfect choice for you.
Soft Looking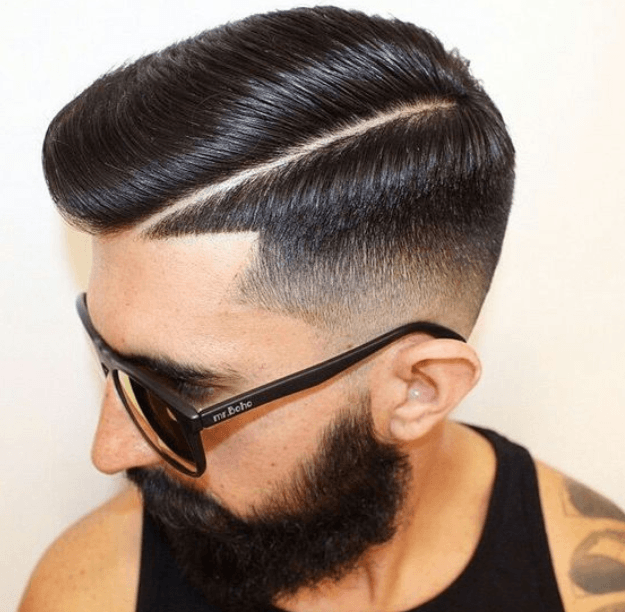 Many of the comb-over hairstyles you will see at present may be tough looking for you. The hair may not look soft to the touch. If the hair does not look oily, the hair will not move at all.
You can consistently achieve a softer-looking comb-over by having naturally thick hair. Of course, minimal hair products should be used, too, so that your hair will stay soft. The sides should also be kept short to make this hairstyle more manageable.
Tight Crop Comb Over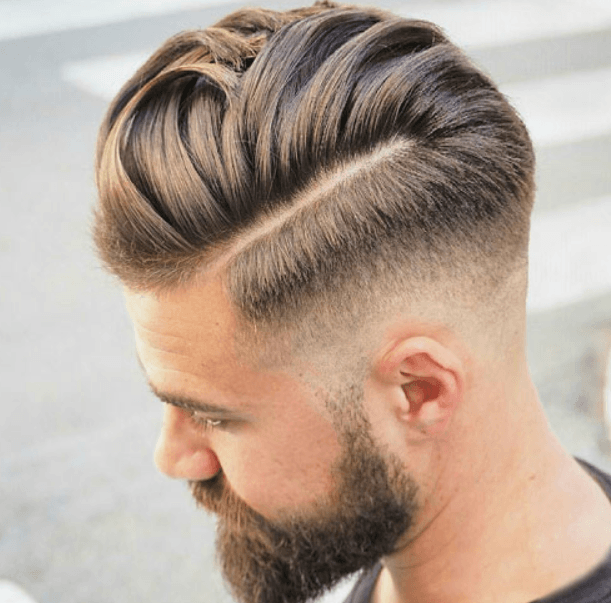 It was mentioned earlier that a soft-looking comb-over might be the best choice for men who would like women to run their fingers through their hair, but if you are not THAT type, you may choose this hairstyle instead.
Expect that the combed-over portion will look so tough that a hammer may be needed to break it. Of course, it would only look that way, but a simple rinse will remove your used products. Partner this with a hard part on one portion of your head to emphasize the combed-over portion.
Heightened Comb Over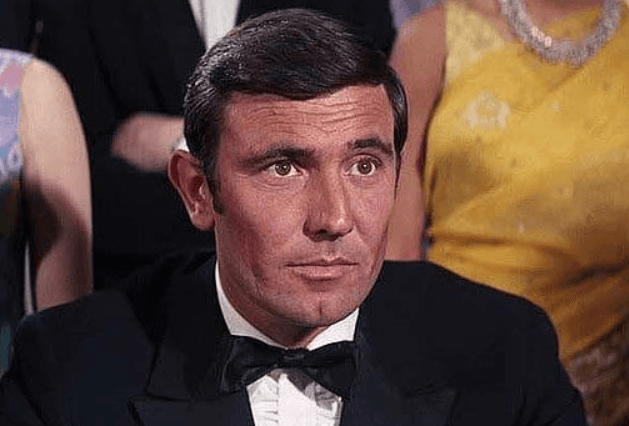 If you do a comb-over, you can always emphasize it to make it bigger. This has been shown in many men's magazines, and if models have demonstrated that they can rock it, there is no reason you cannot rock it too.
You need to achieve some hair products to achieve this look, but fixing your hair will be easier when you find these hair products.
Deep Side Part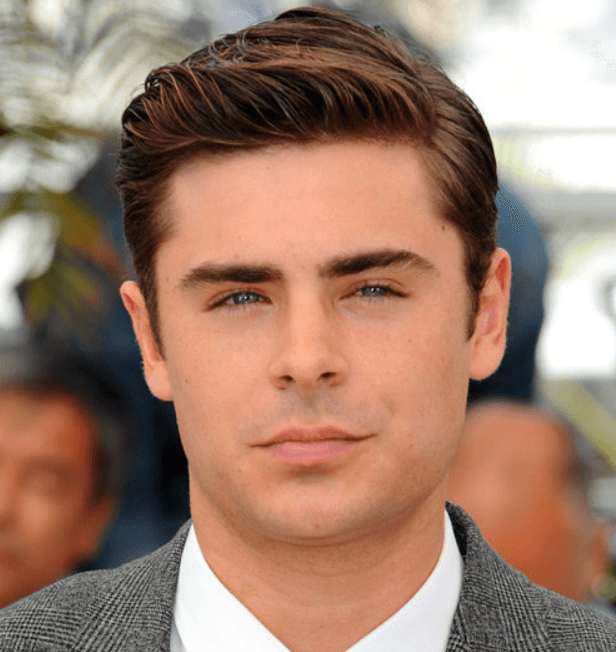 The side part is very common; just choose one side of your head and let the barber do his magic, but if you want to twist this hairstyle, you can choose to have a deep part instead. You can make this hairstyle even more modern by adding some highlights to some parts of your hair. Your hair is guaranteed to stand out from the crowd.
Short Comb Over with Buzz Fade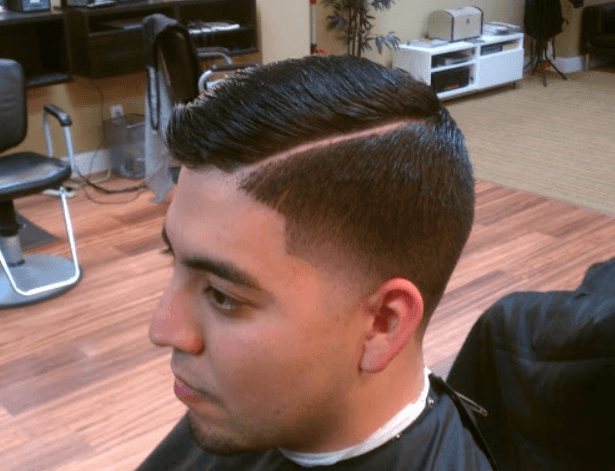 If you have always detested long layers, then this is the best hairstyle for you to have. You can still part your hair on the sides, but you will not look like a hipster with the hairstyle you pick out. Ensure that the sides of your hair are shorter than the hair on the top of your head.
Sweeping Comb Over Fade
If you are the type of man who wants to have a head full of hair, this is a good option for you to have. You need to blow dry your hair so that it will stay away from your face. Instead, they will fan out on the sides of your head to make you appear more youthful. Expect that this hair can look even more impressive if you have highlights or if you already have salt and pepper hair.
High Fade with Long Beard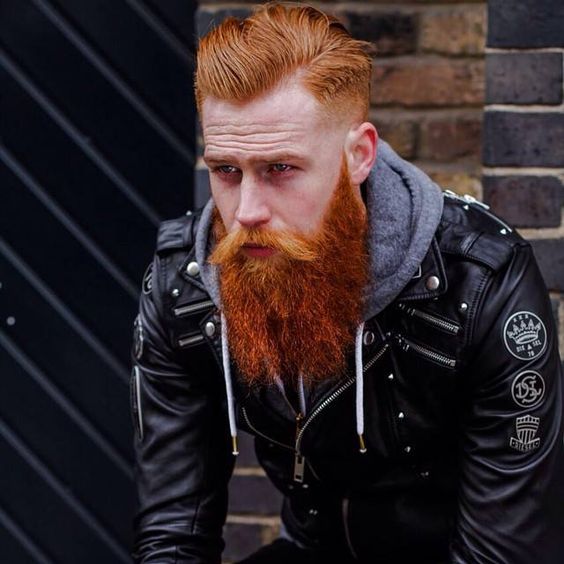 If you are a redhead who treasures style, this should be your go-to hairstyle. If you want to top it off, feel free to couple it with a full beard, just like the gentleman above. In addition, I found that a hoodie coupled with a leather jacket allows you to attain an even better look. Do not forget to have the right attitude.
The tousled comb-over with a side-part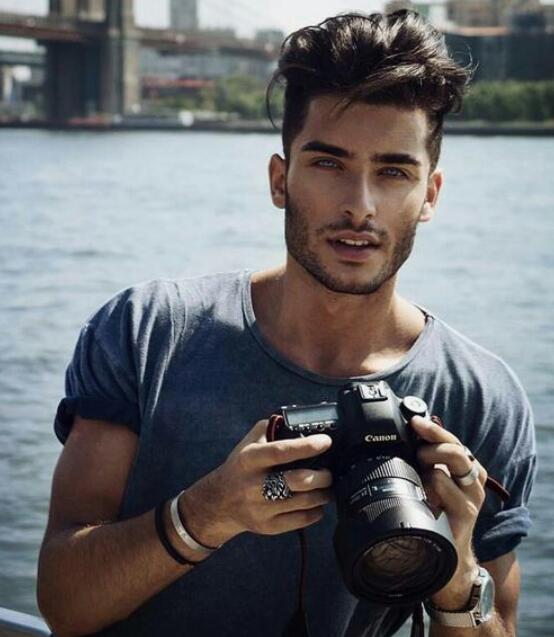 This tousled comb with a side part is messy and classy, which is the perfect blend of a balanced personality. You can also supplement it with a leather jacket or a t-shirt, just like the haircut we just looked at.
Simple comb-over haircut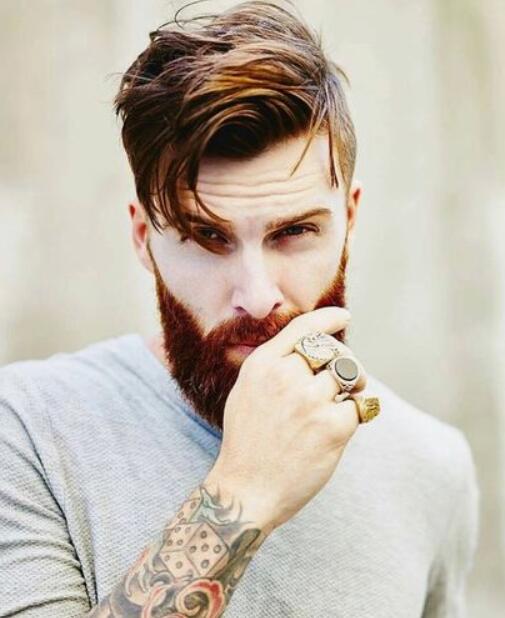 Besides the striking appearance, this hairstyle is guaranteed to bring out a strong personality in you, provided you do the hairstyle the right way. Those who have tried the haircut have also described it as an ego booster and attention magnet.
Bald fade undercut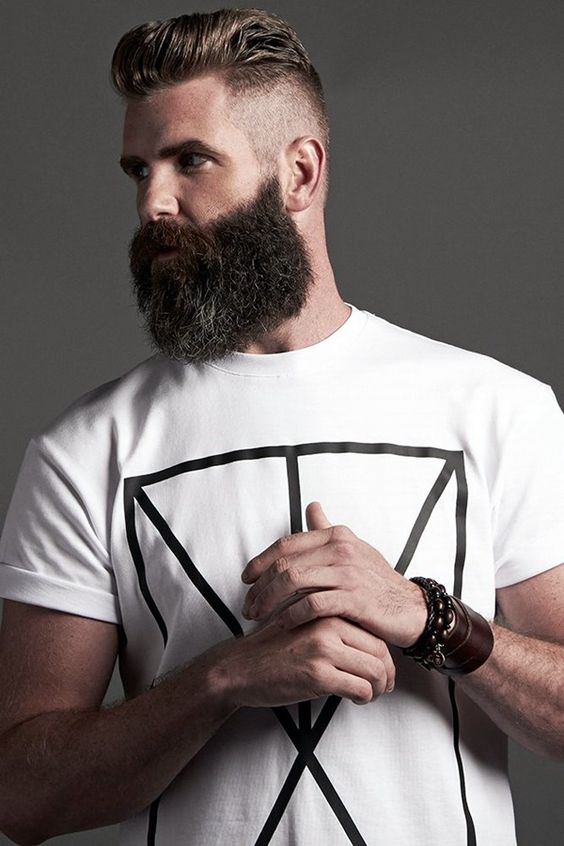 This comb-over with a bald fade will match better with the square features of any face. As you can see in the image, the sides have been cleaned to the top to award the hairstyle more fluidity.
The side slick back hairstyle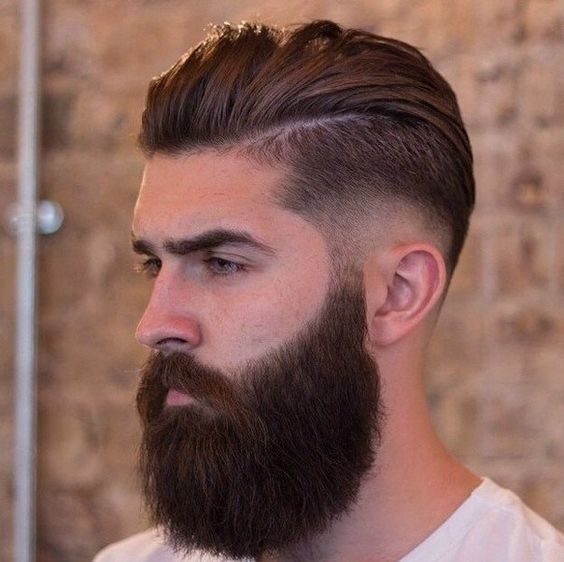 This haircut permits you to simply arrange the top of your head, thanks to the shaved sides that will come in handy if you want to keep your hair balanced. Also, feel free to give the hair texture and direction using the best hair wax.
Straight to the point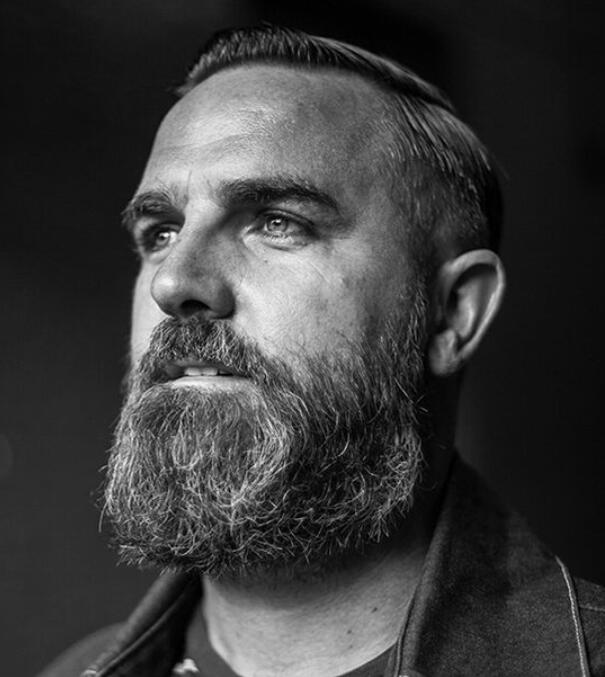 To create this straight-to-the-point comb over fade, you will need to avail the clipper over comb technique while at the same time using the topside hair length to give your overall hairstyle texture and volume. The beard and the disconnected sides are in place to bring out the hairstyle above even more.
A high fade with a shape up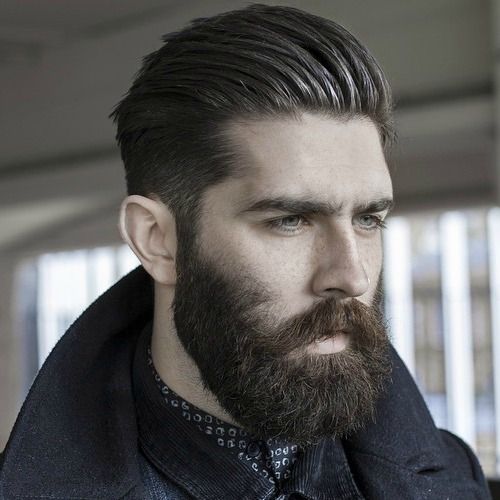 A high fade comb and a shape-up are guaranteed to turn heads wherever you go. In addition, if you want the icing on the cake regarding your apparel and styling, this is still the hairstyle to go with.
A line-up with sideburns haircut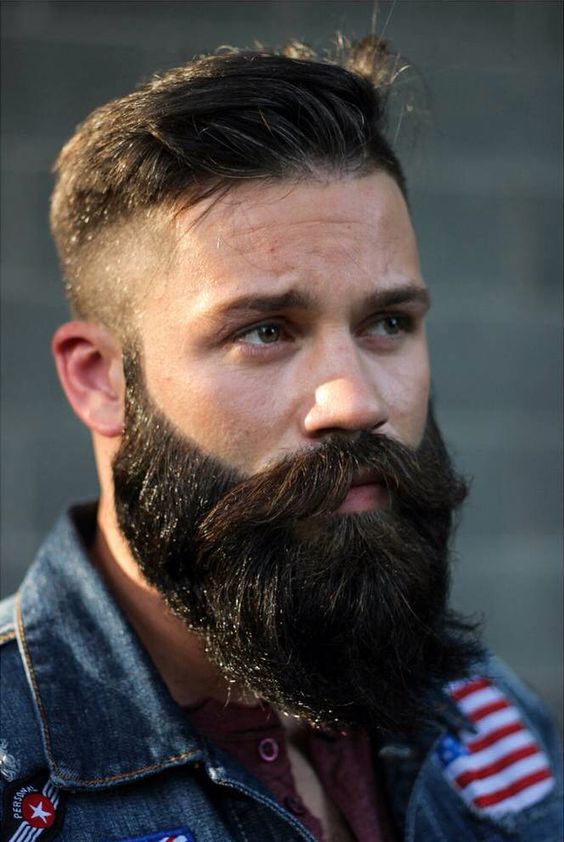 The line-up with the sideburns haircut is super elegant and classy. Using your best hair gel, you can rest assured that your final haircut will have the defined wet look everyone desires.
The long, messy comb-over hairstyle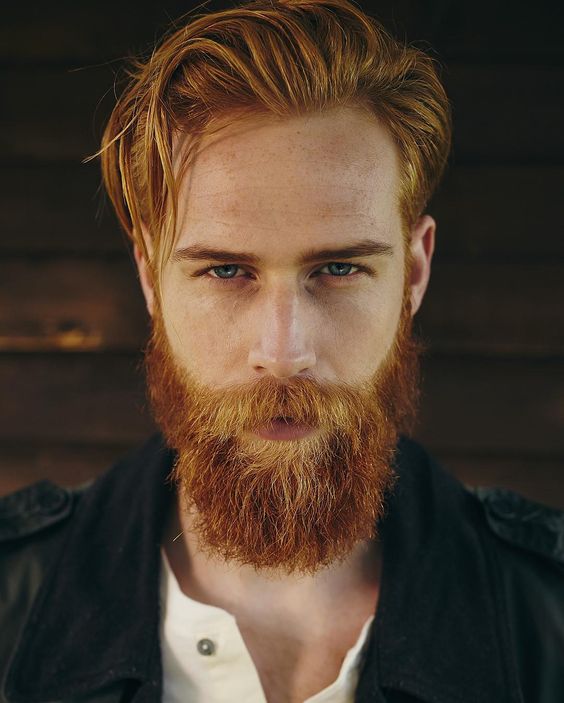 This long, messy comb-over hairstyle has been the trend for a couple of years now, especially for those with a nice beard like the one in the image. I included many men still attracted to the hairstyle thanks to the simple fact that it awards a wild and natural look.
Long wavy comb-over hairstyle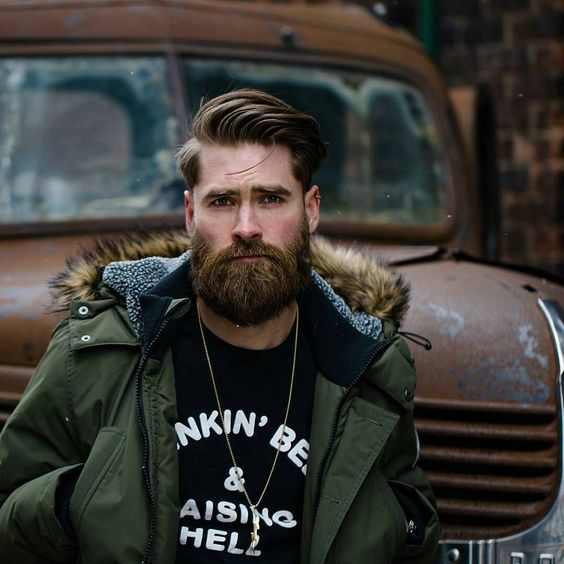 Usually associated with a full beard, this long comb-over hairstyle awards the gentleman wearing a warrior look. It will also look better when combined with a leather or suit.
Medium-length comb haircut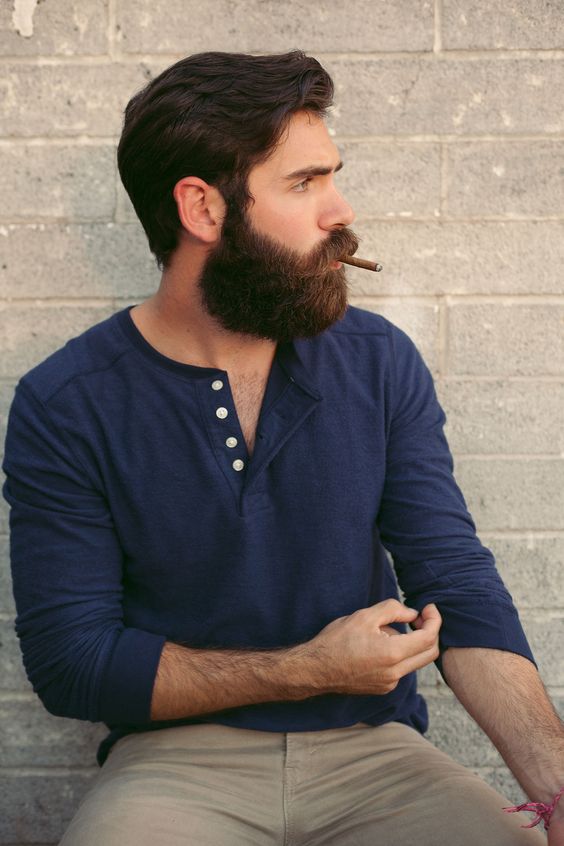 This medium-length comb-over haircut is sufficient for gentlemen looking for an elegant hairstyle that is easy to maintain. All you should do with this haircut is make simple adjustments once every 3 and 4 months.
High fade with a shaved line haircut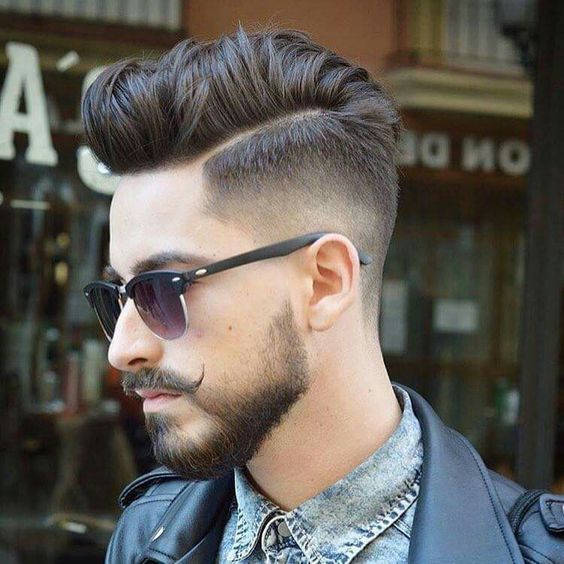 A high fade comb-over with a shaved line haircut is the perfect summer-season haircut. Note, though, that you can also feel free to style the haircut all year round and still look fresh and elegant.
Dark black with a high fade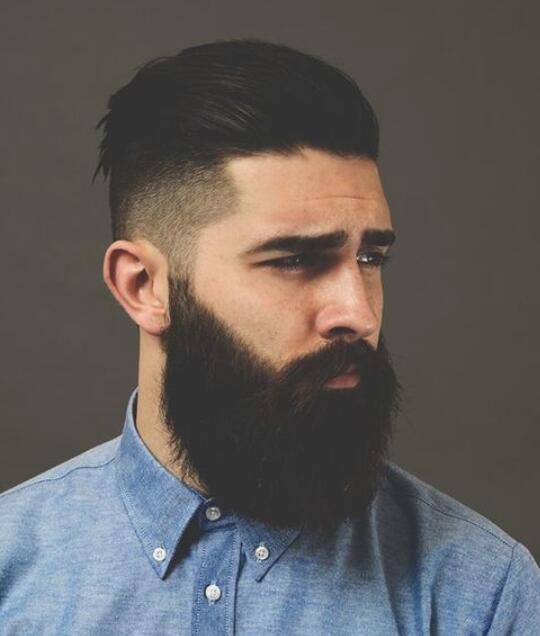 This shaved comb-over is unique thanks to the super black and carefully styled high fade that exposes the top side nicely. The gentleman above has added texture and volume to the hair to attain a dramatic effect.
High fade slick back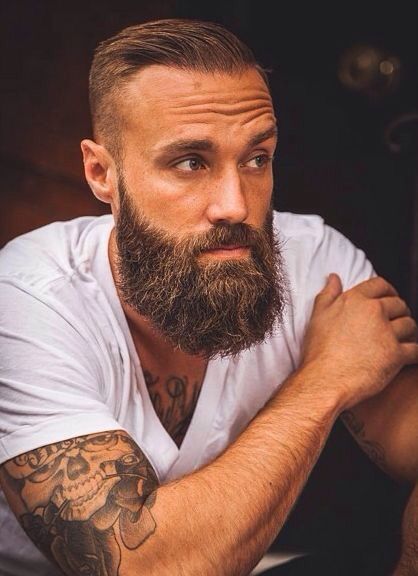 This high fade slick back haircut can be easily created using a razor and the scissors comb technique. You can also easily maintain the haircut by amalgamating it with your favorite hair gel to hold it in place for the whole day.
The side part hairstyle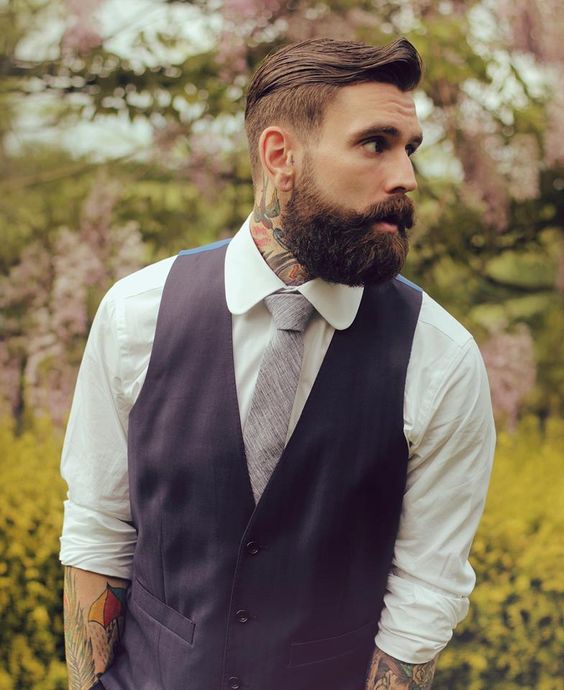 If you are looking for the best haircut you can have while attending an important event in your life or a loved one';, yo;c couldn't scroll any further because this is the perfect haircut for you. It has further been accessorized with a modern elegant outfit and beard to complete the look.
Messy spikes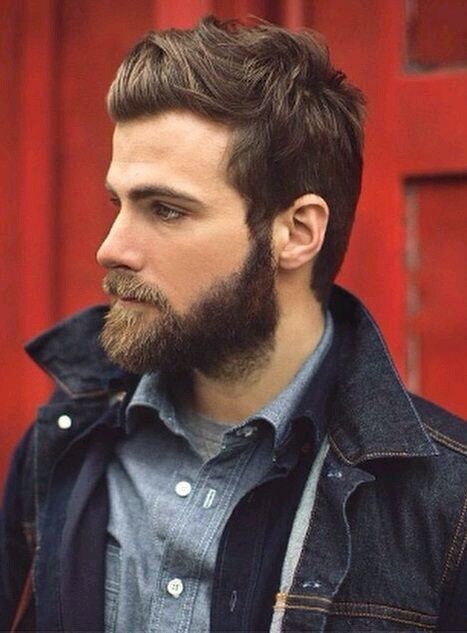 This massy spikes comb over a haircut suits those with complex hair strands. It is classic and elegant while at the same time having a touch of both retro and modern style.
The loose comb over a fade hairstyle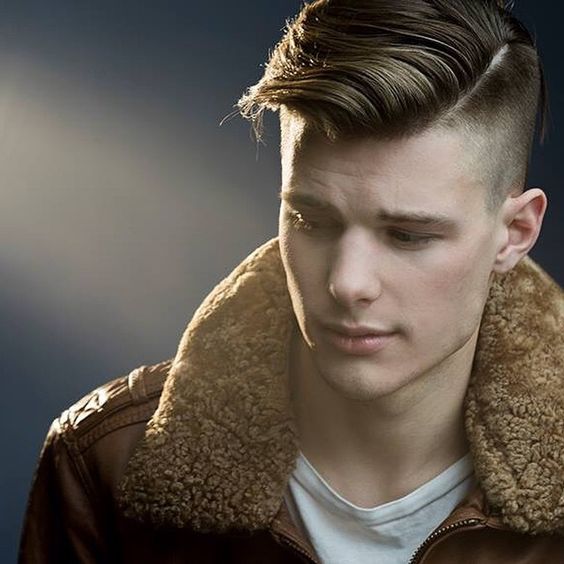 This loose comb-over hairstyle is perfect for bringing out your wild side. Thanks to the slightly buzzed sides that go all way to the top side, arranging this hairstyle will be effortless. All you ought to do is cross your hand in it.
The whole comb-over hairstyle for older men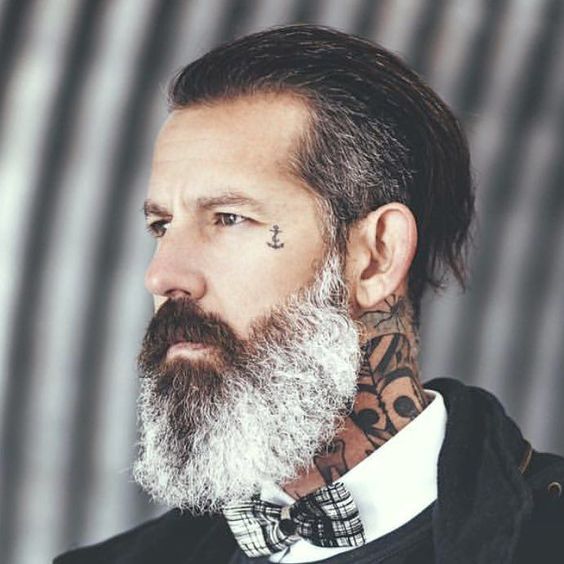 Thanks to the full comb-over haircut, you can see the gentleman's classy in the image above. Coupling this haircut with a nicely styled beard adds an outstanding attitude.
Comb over hairstyle with buzzed sides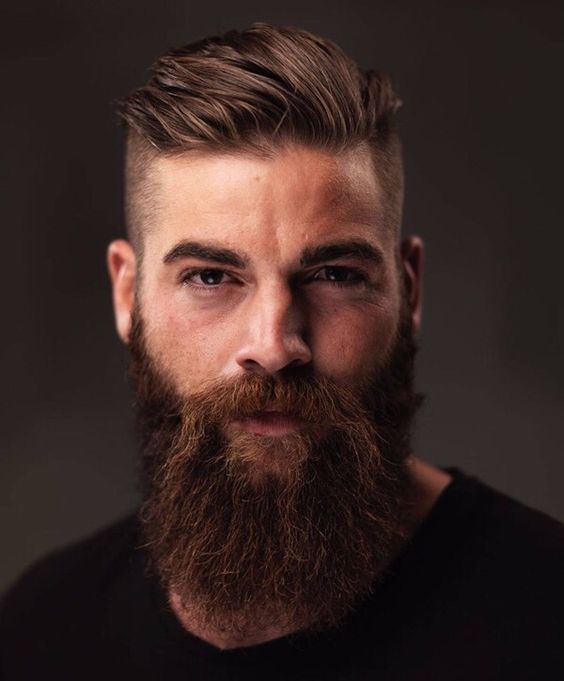 The buzzed sides in this haircut will quickly bring out the bottom and top sides of anyone's face to create the perfect balance. If you take good care of the haircut, then you can rest assured that it will keep looking sharp while at the same time turning heads wherever you go.
The comb over fade with a cowlick hairstyle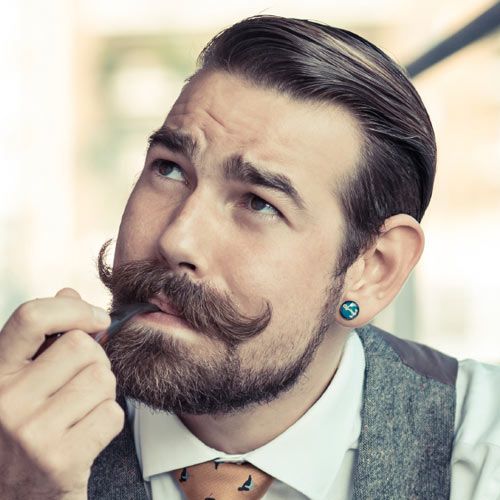 This fantastic haircut was the favorite hairstyle among cinema celebrities back in the day and hasn't died to this day. Nowadays, anyone can try out the hairstyle, regardless of their star status.
The classic side part haircut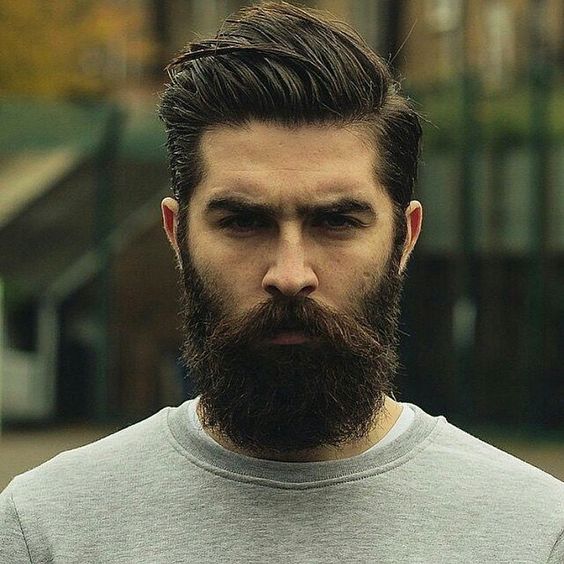 This classic side-part comb-over fade is the best option for you if you are looking for a professionally arranged look that is natural at the same time. Anyone worldwide can adopt this haircut to their needs because it is extremely easy to style in business meetings.
The high pomp with a burst fade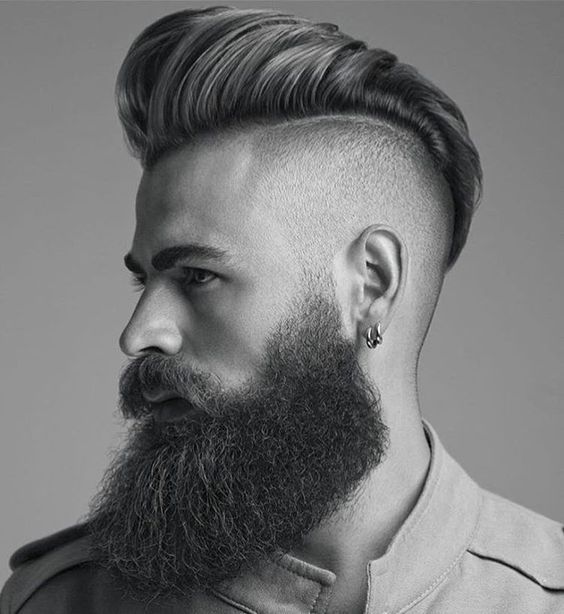 Comb-over haircuts for gentlemen always suggest an amalgamation of a pompadour and a burst fade. The faded sides in the image above blend perfectly with the gentleman's beard, awarding him the balance and touch of style.
Comb over low fade with a dark beard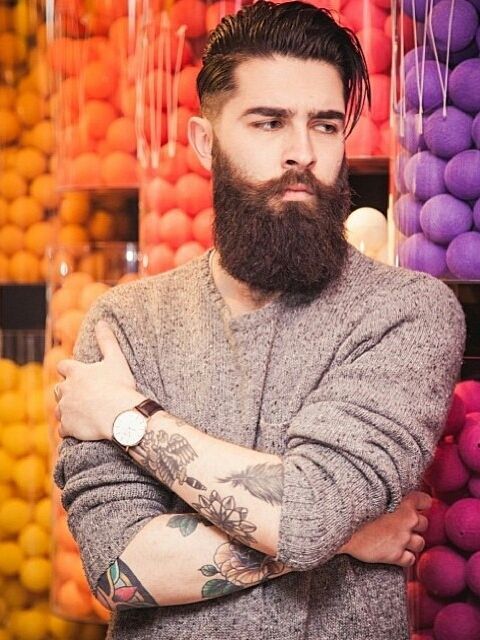 This particular haircut denotes a modern attitude and elegance. It also follows the shape of the wearer's head, resulting in a very nicely defined hair flow.
Long length comb over fade for redheads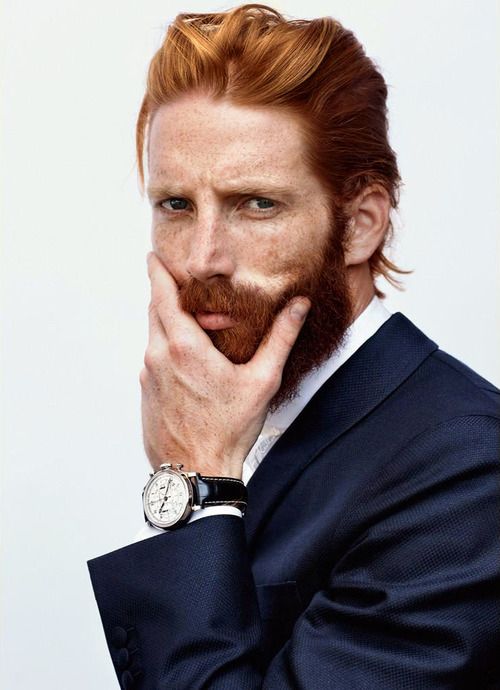 This is the best hairstyle for redheads who attend many business meetings. The long-length comb-over with a fade will supplement the look while at the same time amplifying your elegance.
Comb over for gingers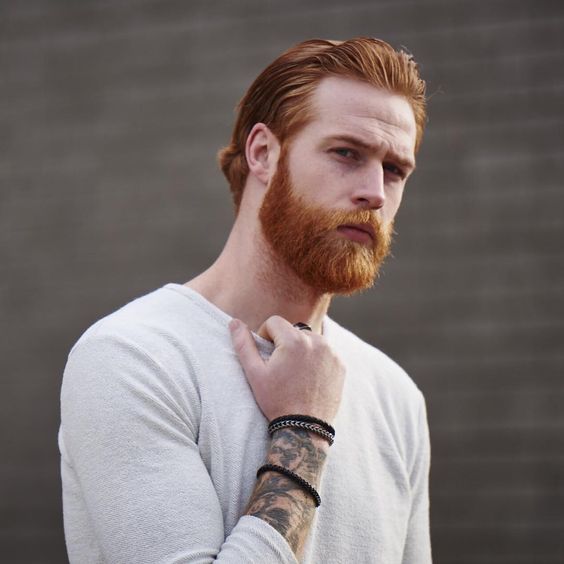 This medium comb-over fade has been combed toward the head's beck to award the gentleman the elegant and clean look. You can quickly wear the hairstyle with a beard to best balance the features seen on the face.
Wet fade haircut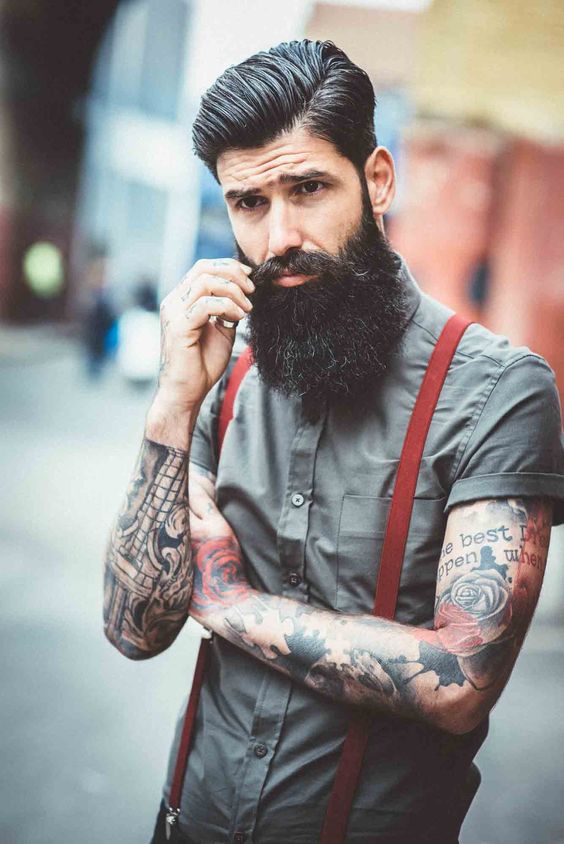 The wheel of time seems to keep reviving and turning in old styles over the last couple of years. As the best illustration of the entire picture, look at the look of the gentleman above.
Classic ivy league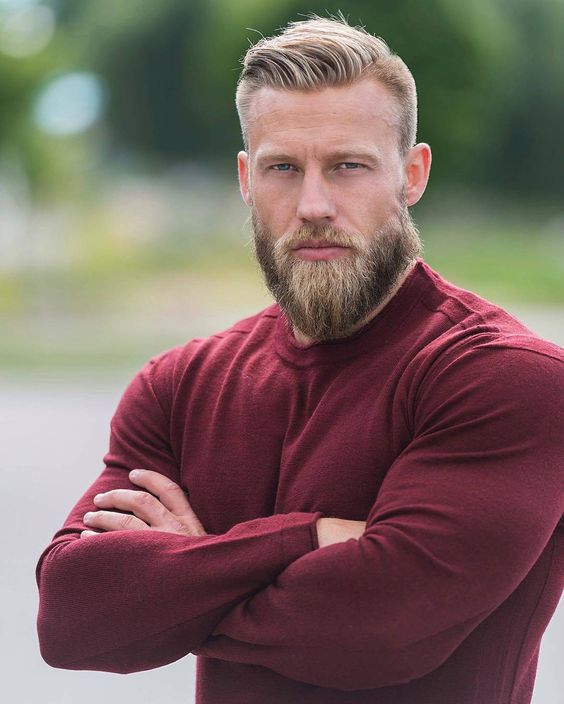 This classic ivy league comb over fade haircut is a favorite among men who love sports. It is a natural and clean hairstyle that will not be problematic when it comes to maintenance.
Comb over fade with a full beard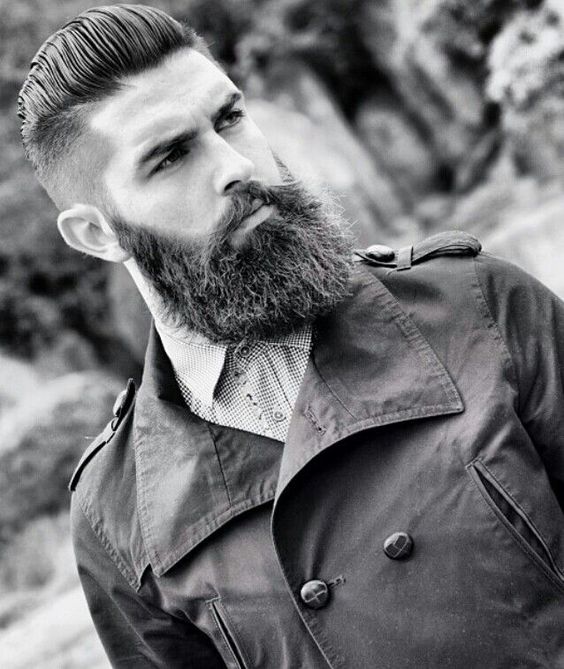 Regardless of the fact this haircut is renowned and easy to find in the streets of your city, the comb-over fade coupled with the full beard is assured to draw attention to you. To complete the look, ensure you put on a sharp outfit.
Messy comb-over fade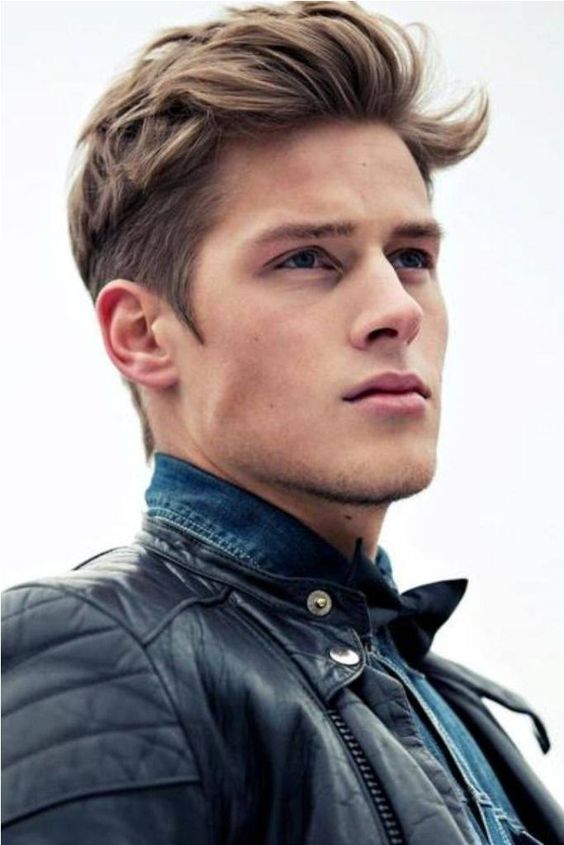 If all your day job is to fix race cars and motorcycle bikes, you need a messy comb-over fade like the above-styled gentleman. If that doesn't make you the ultimate mechanic, I do not know what will.
Medium fade with a beard for gingers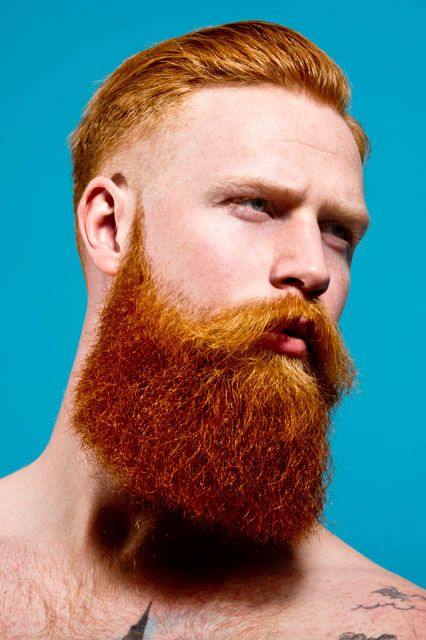 Generally speaking, ginger gentlemen already have an advantage that makes them the center of attention wherever they go. Coupled with this comb-over medium fade, they will be unstoppable.
Classic wavy comb-over fade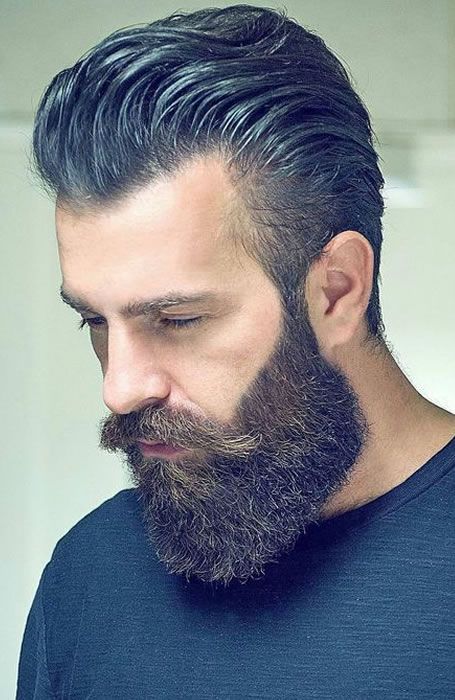 This classy wavy comb-over fade is one of the holiest looks I have ever seen. It will illuminate your face while at the same time drawing attention to your eyes, which are the gates to your soul.
Messy side part haircut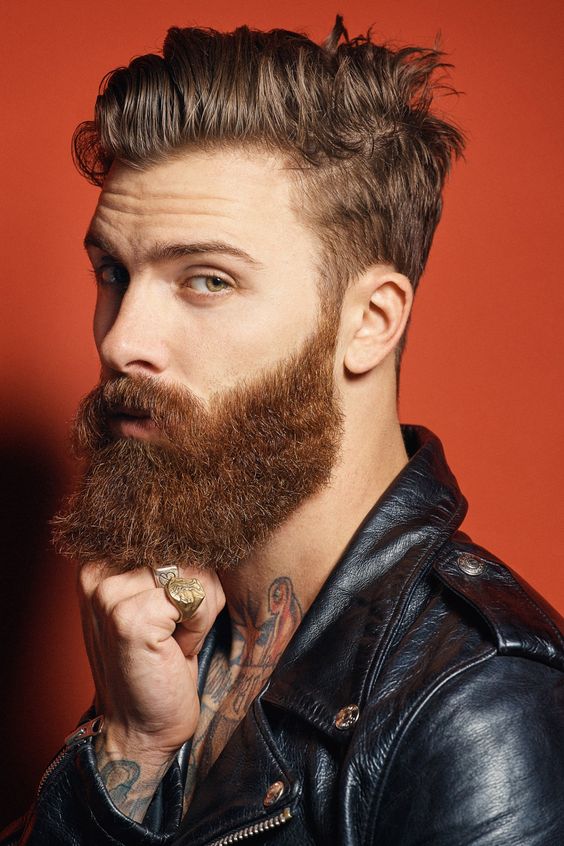 If like me, you're a lazy individual looking for a hairstyle that allows you not to border with perfection or order, then this messy side part comb-over fade is your haircut. Every time you wake up in the morning, you'll find that the haircut has fixed itself.
Comb over fade undercut with a pompadour haircut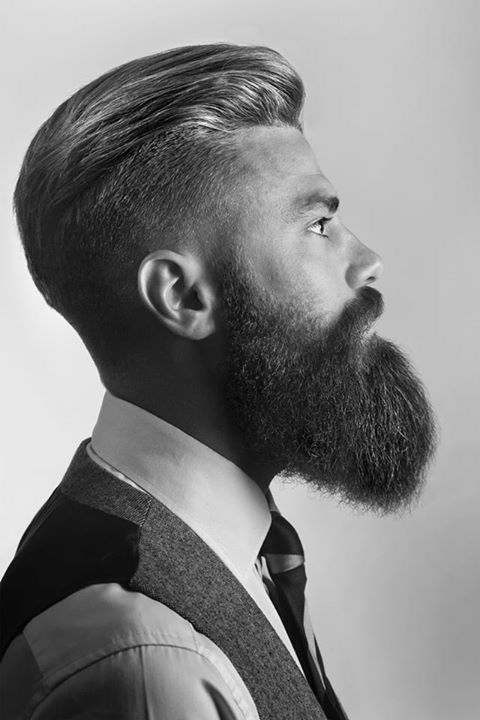 Would you like a balanced haircut that retains its extra volume on the top side? Then this is the haircut for you, especially if you want to appear in a fashion magazine.
Comb over with a textured top and an undercut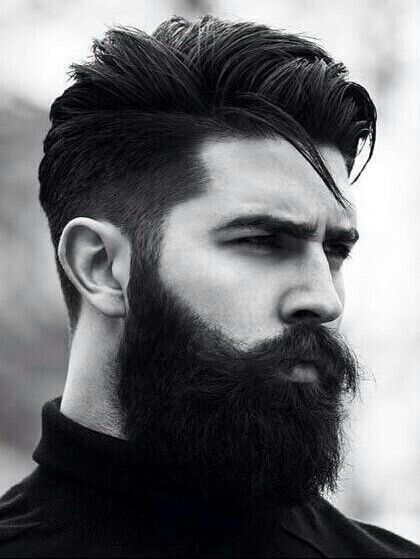 This comb over-fade with a textured top and an undercut is a fluid haircut for men with solid personalities. Given that it is out of the box, this hairstyle is accessible and easy to maintain.
Scruffy and slick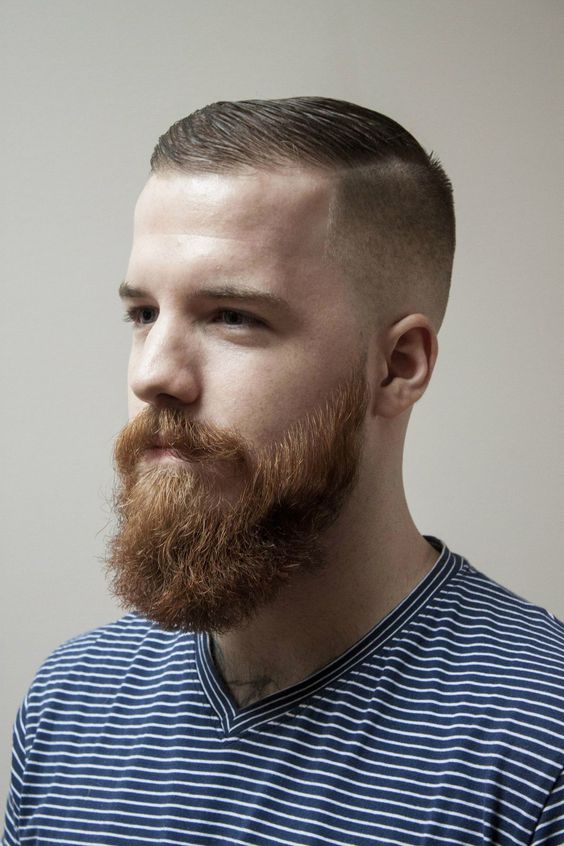 This worn and slick comb-over fade is trendy among the best tattoo artist and even individuals who are tattoo fanatics. Ensuring that your head remains breezy and classy simultaneously, the worn and slick look is in place to make you sassy in every sense of the word.
The classical shape up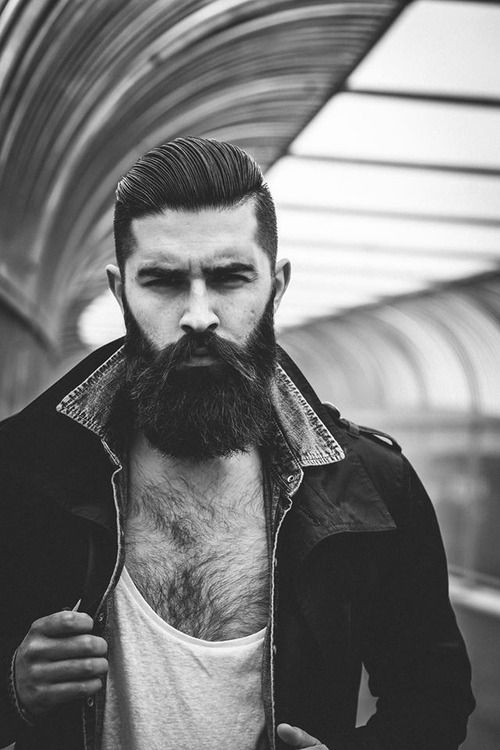 This classical shape-up comb-over fade is in place to transport you back in time to when genuine gentlemen understood how they were to wear their hair. Easily match the haircut with a tie and suit.
Disconnected undercut
This particular comb-over fade with a disconnected undercut is exactly what you need if your goal is to turn heads wherever you go.
Comb over fade with a hard part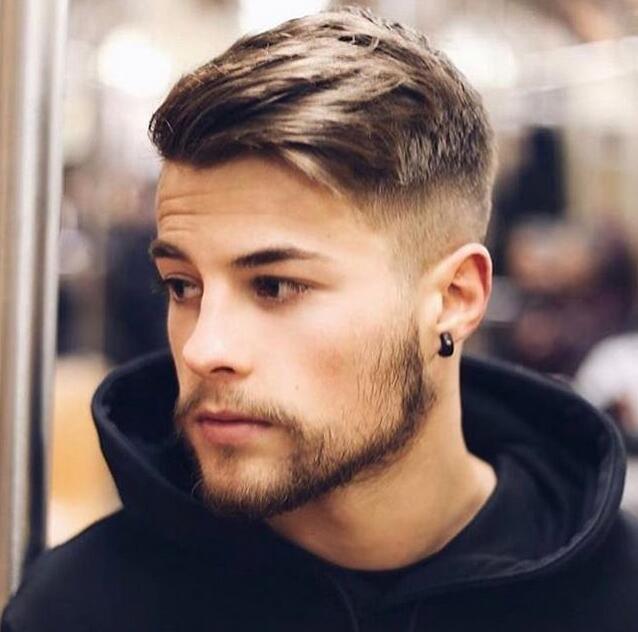 This comb-over fade with a hard part is the favorite among men of all races and personal preferences. If you think it will look great on you, do not hesitate to give it a try.
Modern pompadour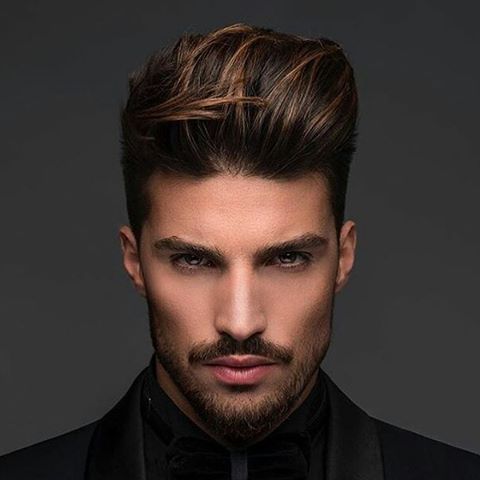 Resembling a hawk, this comb-over fade with a modern pompadour creates height at the top of the head. The buzzed sides also deliver continuity thanks to the cheek line of the gentleman.
A slick back pompadour haircut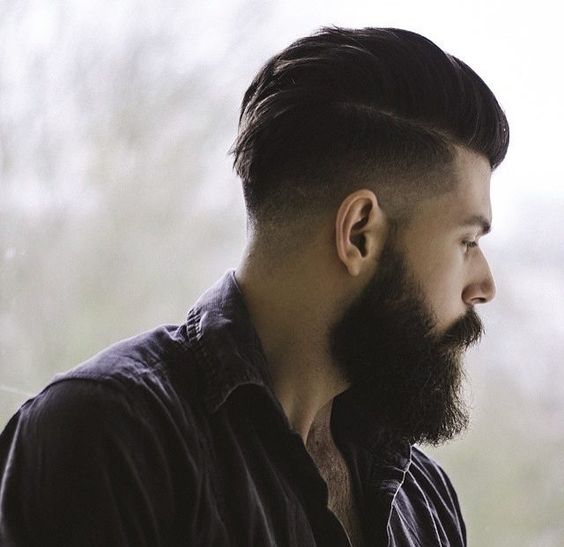 This comb-over fades with a slick back pompadour haircut and will make you the center of attention wherever you go, especially if you combine it with a full beard like the guy in the image. This will accentuate your features and award you the most appealing look.
Based on the above comb-over styles, it is evident that different ones are suited for various people depending on their personality, lifestyle, and even hair type.
If you want a classic comb-over, just tell the barber to give you the classic comb-over style but if you want to go contemporary, just choose from any of the modern combs over styles mentioned above. Do not forget to pick the right hair products as they can make a lot of difference.