With the red carpet in full swing, feed in braids is becoming one of the hottest beauty trends. The technique is ideal for those who don't have much time to spend on their beauty routine, as it involves minimal maintenance and is foolproof even for novices. What's more? Feed-in braids are a protective style. This haircut does not use knots; they're gentler on the scalp. Their seamless blend is also created to ensure the hairstyle will reduce the scalp's tension.
Feed-in braids are also perfect for all seasons and occasions – from a party to a wedding or even your everyday look. Besides, you can experiment with feed-in braids in many ways. You can have them short or long, thin or thick, and they'll also look great with various accessories, like cuffs, beads, and other jewelry. If you love rocking a feed in a braid but aren't sure where to begin or what style will suit you best, we've got everything you need to know right here.
What Are Feed-In Braids?
Feed-in braids are braided extensions added to natural hair to help create a seamless and natural appearance. Unlike most other braided hairstyles that use knots during their installation processes, a significant appeal of feed-in braids is that they're knotless, making them easier and quicker to install.
Their seamless blend also creates a less bulky and more natural look than other braided styles. Regarding length, they can be made both thin or thick, short or long.
8 Classy Ways to Wear Feed-In Braids
1. Middle Part Braids
This is one of the most classic and easy ways to wear feed-in braids. To get the look, part your hair in the middle and tie your hair back into two ponytails. Next, feed your hair into the two braids, and you're good to go. This look is super low-maintenance and an excellent choice for all occasions. If you're looking for a way to spice up this classic style, try a bold, eye-catching color like red or blue, or add a pop of texture with a volumizing product like a root spray.
2. Round and Round
Try round and round braids if you're looking for a creative way to wear feed-in braids. First, create a regular three-strand braid to get the look, with each strand being about the same width. Tie off the ends with an elastic and leave about an inch at the end of each strand so you have room to work with.
Now, wrap the braid around your head and secure it to your scalp with bobby pins. Once you've reached the back of your head, tie off the end of the braid with elastic. You might need to use more than one elastic to secure the end of the braid. Finally, hide the elastics with a hair clip.
3. Lemonade Braids
If you're craving a refreshing look, try lemonade braids! Start creating a side ponytail at your hairline to get the look. Next, feed your hair into two braids, but instead of wrapping them around your head, tie them at the top of your ponytail.
You can finish the look with a pretty hair clip or a ribbon to tie the braids together. This look is perfect for warm weather or even a tropical getaway. If you're aiming for a more subtle look, you can try feeding your hair into one braid.
This will allow you to conceal the braids with your ponytail. Alternatively, you can try feeding your hair into two small braids and securing them at the top of your ponytail. This will look a bit more volume.
4. Feed in Braided with Ponytail
If you want a more sophisticated version of the lemonade braids, you can try feeding your hair into a single braid and braiding it with your ponytail. This will create a unique, elegant look that will take your feed in braids to the next level.
This look works best with long hair, so if you have shorter locks, you can add extensions to make the braids longer. For the best results, ensure that the bottom of your single braid is as close to the end of your ponytail as possible. This will make the braids appear even more seamless. You can also try switching up the hair color to add an edgy touch to this sophisticated style.
5. Stitch Braids
Stitch braids are a super creative way to wear feed-in braids. To get the look, first, you'll want to part your hair in an uneven line, with the hair on one side significantly longer than the other.
Now, tie your hair back into two ponytails and feed them into two tight, low French braids. Complete the look with a pretty hair clip or decorative bow. This style is perfect for special occasions and will undoubtedly turn heads.
If you want to try a more wearable variation of this look, you can tie your hair back into two ponytails. Then, feed your hair into two French braids, careful not to make them too tight so that you can still fit them underneath your ponytails.
6. Two Big Braids
If you want to show off your feed in braids, try two big braids! First, tie your hair back into two ponytails to get the look. Feed your hair into two French braids extending down to your ends.
Finally, tie your braids together at the ends to create one super-long braid. You can finish off the look with a hair clip or decorative bow. This style is ideal for special occasions and will make your feed in braids stand out among other types.
For a more wearable variation of this look, you can tie your hair back into two ponytails, feed it into two French braids and tie them together with an elastic at the ends to create one long braid. This is excellent if you want to wear your feed in braids daily.
7. Chic Triangle Braids
If you want to try a more creative way to wear feed-in braids, try chic triangle braids. This look is great for all hair types and can be worn in various ways. Start by tying your hair back into two ponytails.
Then, feed your hair into two French braids, but instead of tying them together at the ends, tie them at the top of your ponytails. The next step is to take the lots of the two braids, wrap them around the back of your head, and tie them together. Finally, tuck the ends of the braids back inside your ponytails and secure them with bobby pins.
8. Fulani Braids Patterns
Fulani braids are a classic way to wear feed-in braids and are perfect for those who are looking for something a bit more on the subtle side. To get the look, tie your hair back into two ponytails and feed your hair into two French braids.
You can finish the look with a decorative hair clip or tie. This style is excellent for all hair types and will make your feed-in braids look neat and professional. For a more wearable variation of this look, you can tie your hair back into two ponytails and feed your hair into two tight French braids. This is a great way to make your feed-in braids look more subtle and is ideal for everyday wear.
38 Trendy Feed-in Braids For Women to Try
If you're ready to push your (or your stylist's) creativity to its limits, here are 35 unique feed-in hairstyles you can pick from.
1.     Minimal Cornrows
Look no further than these minimal cornrows if you're scouring the internet for the simplest feed-in braids to let your natural hair shine. Add three small feed-in cornrows in the middle to create interest and leave the rest of your hair free to recreate the look.
2.     Rapunzel-Length Goddess Braids
Are you ready to stir-up drama using your feed-in braids? These chunky, knee-length goddess braids could be what you're looking for. The hair-do is also giving off severe Rapunzel vibes.
3.     Albaso Braids
Indigenous to Eritrean and Ethiopian tribal groups of East Africa, Albaso braids are yet another fantastic way to sport half-up, half-down braid styles. A mix of large braids and thin ones characterizes this hairstyle.
4.     Diagonal Cornrows
This feed-in inspiration gives the classic double cornrows a modern twist by angling the thick braids such that they're diagonal. Add a 3rd mini braid to highlight the larger angled braids for an extra touch. That'll draw attention to the unique partying style.
5.     Dutch Braids
Yet another example proves that feed-in braids can look youthful and fun in myriad ways. To switch up the look, consider twisting the pigtails to create two buns on either side of your head.
6.     Stitch Braids With Undercut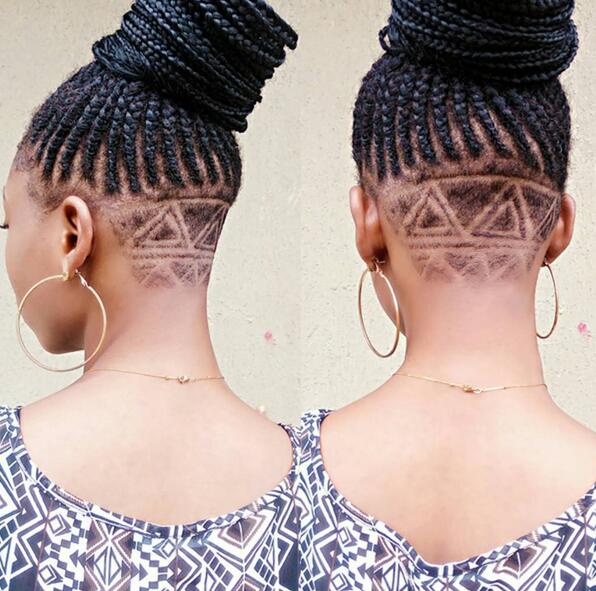 This stitch undercut braid combo is nothing short of geometric eye candy. To make the undercut pop more on this feed-in hairstyle, I recommend adding vibrant colors or trying a spray-on, wash-out hair color.
7.     Long and Side-Swept
This feed-in hairstyle variation is a reminder that it doesn't always need to be boring. To switch things up, take your long, side-swept braids and wove them into a traditional three-plait, then incorporate some fun accessories.
8.     Yellow and White Topknot
If this bright yellow and white feed-in hairstyle doesn't qualify as the ultimate eye-catcher, I don't know what does. If you love standing out wherever you go, you'll also love the contrast of your alternating thin and thick cornrows.
9.     Accessorized Waist-Length Feed-in Braids
Consider these accessorized waist-length feed-in braids if you'd like to honor traditional African hairstyles but still add a modern twist. I suggest adding more color to the braids using colored beads and ribbons.
10. Red Bob
This asymmetrical bob is fire, and the golden charms added to the blunt, burned ends only set it off more. The look is fun and vibrant, but if you'd like even more pizzazz, consider adding more accessories.
11. Jumbo Braided Ponytail
Cut your styling time in half by opting for jumbo braids. Consider completing the look with hair cuffs for a bedazzling finish.
12. Braided High Bun
There is so much you can take from this Braided High Bun. From the warm hues to the super cute design and the beautiful top, the whole style is nothing short of a legit work of art.
13. Curving Cornrows
With this curving cornrows feed-in iteration, it's all in the design. Have fun with your braids by going for curvy and swirled patterns.
14. Sculptural Look
To recreate this masterpiece spotted by activist Yara Shahidi, you'll need equally magician hands as the stylists.
15. Decorated High Ponytail
These feed-in braids are beautiful, but they've been perfectly paired with gold hair embellishments and accessories to take the whole look over the top.
16. Stich Braid Style
If you have curly hair that you don't want to give up, this stitch braid style shows you how to incorporate both into a half-braided, half-curly look.
17. Embellished Feed-In Plaits
These gorgeously decorated feed-in braids come complete with a low, curly ponytail. Feel free to add in the hoops and cuffs of your choice.
18.  Classic Cornrows
Going for feed-in braids doesn't get more classic than nice, neat, straight-back cornrows.
19. Beaded High Ponytail
A fierce high ponytail look never gets old. Coupling it with beaded feed-in braids can play up the look even more.
20. Braided and Twisted Ponytail
Two-strand twists have completed these mesmerizing feed-in braids to create a braided and twisted ponytail.
21. Golden Blonde Goddess Braids
So much beauty to digest here. Thanks to every detail, I guarantee you'll be utterly obsessed with the look, from the gorgeous blonde hue to the gorgeously placed curls throughout the lengthy braided style.
22. Diamond Encrusted Masterpiece
This feed-in braided hairstyle accessorized with diamonds is absolute perfection.
23. Braided Faux Hawk
From the perfectly aligned space buns to the star-shaped accent braid, it is all in the details with this gorgeously braided faux hawk.
24. Fishtail Ponytail
Take this mesmerizing ponytail, and switch it up with a traditional three-strand braid to create the fishtail style braid.
25. Cowrie Shell Ponytail
Take a feed-in style cue from this attractive high ponytail braided style. Accessorize the look by stringing in cowrie shells along the front of your hairstyle.
26. Two-Layered, Straight-Back Style
Here, Ciara stuns in two straight-back layers of feed-in braids completed with swirls of perfectly laid baby hairs.
27. Chunky Red Stitch
Subtly weave red extensions into your feed-in braids to create a jaw-dropping ombre effect.
28. Bubble Braid
I love the creativity in this look. To put your flare on it, consider removing the braids and keeping the hair on the scalp sleek.
29. Center-Parted Cornrows
If you already have shoulder-length hair, take inspiration from this feed-in hairstyle and only add extensions for fullness and longevity.
30. Side-Swept Lob
A braided lob is an excellent middle ground for those who'd like some length to their hairstyle but without the commitment of cascading extensions. In addition to being low maintenance, this hairstyle is adaptable and can be fully adorned by all the hair jewelry you have in mind.
31. Pink Bob
During peak summer months, most of the feed-in braids we've looked at may be too warm for you. This pink bob, however, will award you an excellent, protective style option you can bounce back to. I recommend decorating the partings of the hairstyle with stick-on crystals.
32. Red, Fulani-Style Updo
Here, the traditional Fulani feed-in hairstyle gets a twist with an intricately knotted-up do and a gorgeous red color. I love that the braids look just as good in their updo as they would with the lengths hanging down.
33. Cornrow Bun
Regular cornrows don't feature a whole load of extensions, but this look shows you how thinking outside the box can help you combine the two. To change the overall hairstyle, I suggest releasing the cornrows from the bun and wearing them in a ponytail instead.
34. Long Feed in Braids
Here is your chance to be fashionably creative by adding accessories to those stunning long-feed-in braids you created. You can never have options to style and beautify these stylish pieces.
35. Feed-in Braids For Naturally Curly Hair
Do you want to update your hair without losing your gorgeous, natural style? Then consider mixing a combination of thick and thin braids fed in like cornrows, then top them off with a unique personal touch.
36.  Four Feed-In Braids
This feed-in hairstyle delivers a hard-to-beat festival vibe. It's also fun, unique, super functional, and will stay put in most, if not all, weather conditions. It can even survive restless nights in bed and intense gym workouts.
37. Feed-In Fulani Braids
Here is yet another tribal-inspired feed-in hair-do you're guaranteed to love. Fulani is a tribe found in the Sahil Area in West Africa. Fula tribal women usually plait these braids on themselves and incorporate them with jewels and beads.
38. Half-Up Fulani Braids
Why not let your natural curls shine with a half-up, feed-in braids combo like Issa Rae is sporting here? In the front, she has opted for micro-sized, Fulani braids along with the classic face-framing strand by the temple.
For the back, the natural hair creates volume, which gives an entire look of dynamic complexity.
How to Make Feed in Braids?
Any good stylist will help you achieve the feed-in braids look of your dreams. Instead of trying it yourself (which isn't recommended if you've never done it before), use the step-by-step guide I've shared below. A load of YouTube videos is also available to teach you how to blend hair extensions with natural hair for great results seamlessly.
Step 1: Preparing Your Hair
Before beginning the self-braiding session or heading to your appointment, you'll need to ensure that your natural hair is properly primed and prepared. We suggest moisturizing, washing, and detangling your hair just before the appointment.
Some hair stylists will even require you to blow dry your hair straight and use a water bottle with oils to spray and detangle the hair before going in for the appointment. If you aren't styling yourself, ask your stylist how you can prep according to your hair texture.
Step 2: Part your Hair
Using a rattail comb, make a straight partition in the middle. Use the end of the comb and not the brush part, lest you get your hair tangled up.
Next, take one-half of the partition and start creating even rows. Most people will usually divide these halves into three sections, but feel free to do as many as you like. To keep these divided sections separate, use clips to clasp them firmly.
Repeat the same partition and clip steps with the other half.
Step 3: Braiding the Hair
Take a section of the partitions closest to your forehead and divide it into three parts. Next, start braiding the hair and add a small selection from every side into the braid. To ensure the cornrows are prominent and remain closer to your scalp, keep adding coat from the new parts every time you cross a section.
Every time the plait is established, you can start incorporating little pieces of hair extensions into the do. Keep weaving bigger pieces of the extensions as you move further down the braids.
Difference Between Feed-in Braids and Cornrows
Feed-in braids and regular cornrow braids are essentially the same things—the difference between them lies in how they are braided. With regular cornrows, the hair extensions are only added once at the beginning and seamlessly braided to the end.
With feed-in braids, however, little hair extensions are added several times and at different times on the same braid, which gives them a more natural look.
Another reason that feed-in braids are quite popular is the opportunity they present to create fun hairstyles. Since you get to add more extensions to your hair, you can also award your do as much a vibrant and colorful look as you wish. We'll look at several such examples in the "list" section.
How Long Do Feed-In Braids Last?
Unfortunately, feed-in braids aren't as long-lasting as most other braiding techniques. The hairstyle will generally last between two and four weeks, depending on how you take care of the hair-do. Additionally, depending on the feed-in style you picked and how much access it gives you to your scalp, you likely won't be inclined to let the hairstyle sit that long.
Here are general rules you ought to observe to care for and maintain your feed braids.
Remember to wrap your hair in a silk scarf or satin at night before bed.
Keep your scalp and hair moisturized while it's in the protective style. I suggest using moisturizing sprays and light oils regularly for the best results.
To maintain proper hygiene, wash your feed-in braids in their protective style, ideally every week. It's essential to ensure your scalp always remains clean to prevent any scalp disorders.
If washing every week isn't possible, once every three weeks is also an acceptable range. The period you stick to will depend on your scalp conditions and activity level.
Remember to dry your hair. This step is just as essential as washing it. If your hair stays damp, you could create a breeding ground for bacteria to grow. If you have to, do not hesitate to book an appointment with a state-board-licensed cosmetologist to maintain your feed-in braids properly.