Choosing the perfect hair color can be a daunting task, especially if you have tan skin. With so many options available, it can be overwhelming to decide which color will complement your skin tone the best. But fear not because, with a few tips and tricks, you can find the hair color that will make you look and feel your best.
In this article, we will explore the various factors to consider when choosing a hair color for tan skin, such as undertones, contrast, and personal style. Whether you're looking for a subtle change or a bold transformation, we've got you covered. So, let's dive in and discover how to choose the perfect hair color for your tan skin!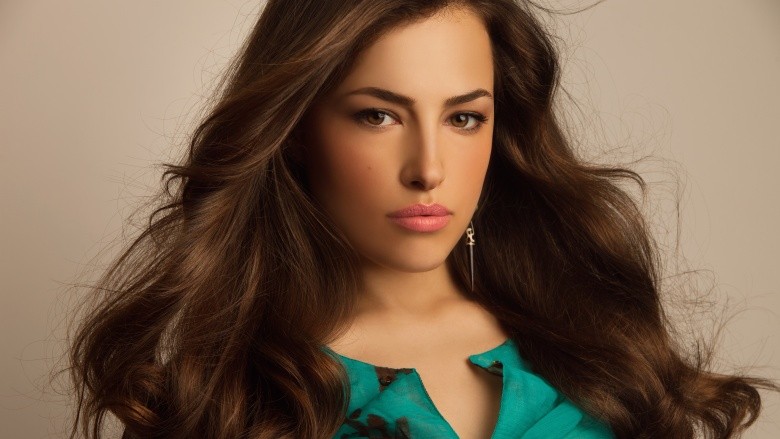 Why the right hair color is important for those with tan skin?
Choosing the right hair color is important for those with tan skin because it can complement and enhance their natural features, while the wrong hair color can clash and detract from their overall appearance.
Tan skin tones typically have warm undertones, which means that hair colors with warm tones, such as golden blondes, caramel browns, and rich reds, tend to look the best. These colors bring out the warmth in the skin, creating a natural-looking glow.
On the other hand, hair colors with cool tones, such as platinum blondes and ash browns, can make tan skin appear washed out and dull. This can create an unflattering contrast between the hair and the skin, making the individual look less vibrant.
In addition to complementing the skin tone, the right hair color can also bring out the individual's eye color and facial features, creating a cohesive and flattering overall look. So, it is important to choose a hair color that not only works well with the skin tone but also highlights the individual's unique features.
Factors to Consider when Choose a Hair Color For Tan Skin
When choosing a hair color for tan skin, there are several factors to consider to ensure that the hair color complements the skin tone and enhances the overall appearance. Here are some of the factors to keep in mind:
Skin tone: Consider the undertones of the tan skin. If the skin has warm undertones, hair colors with warm tones, such as golden blondes, caramel browns, and rich reds, tend to look best. If the skin has cool undertones, hair colors with cool tones, such as ash browns and platinum blondes, can be a good match.
Eye color: The hair color should also complement the eye color. For example, warm hair colors such as golden blondes and caramel browns can enhance brown or hazel eyes, while cool hair colors such as platinum blondes and ash browns can bring out blue or green eyes.
Natural hair color: Natural hair color can also play a role in choosing a new hair color. Going too far from the natural hair color can look unnatural, so it's best to choose a hair color that is not too far off from the natural shade.
Maintenance: Some hair colors require more maintenance than others. Consider the amount of time and money you are willing to invest in maintaining the hair color.
Personality: Hair color can also be a reflection of personality. Bold and bright hair colors such as pink, purple, and blue can be a fun way to express individuality, while more natural hair colors can convey a more classic and sophisticated look.
Colors that go well with tanned skin tones
Above all that, your hair color should go well with your skin tone. And if you have tanned skin, here is a list of hair colors that will suit you well and blend beautifully with it.
This list is based on the most opted hair colors by people with tanned skin, and experts mostly recommend it.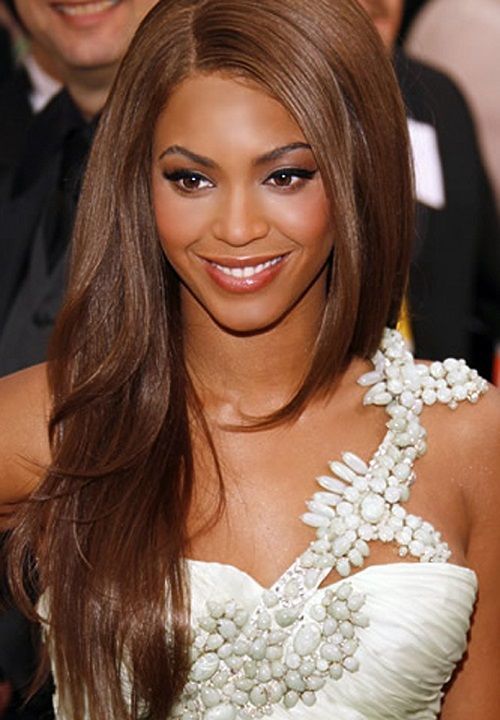 No other color, like golden brown, can give you a feeling of royalty. You can go for golden brown highlights if you have naturally dark-colored hair. This will give your hair a textured look. And when matched with your sun-kissed skin, it will give off an exotic radiance.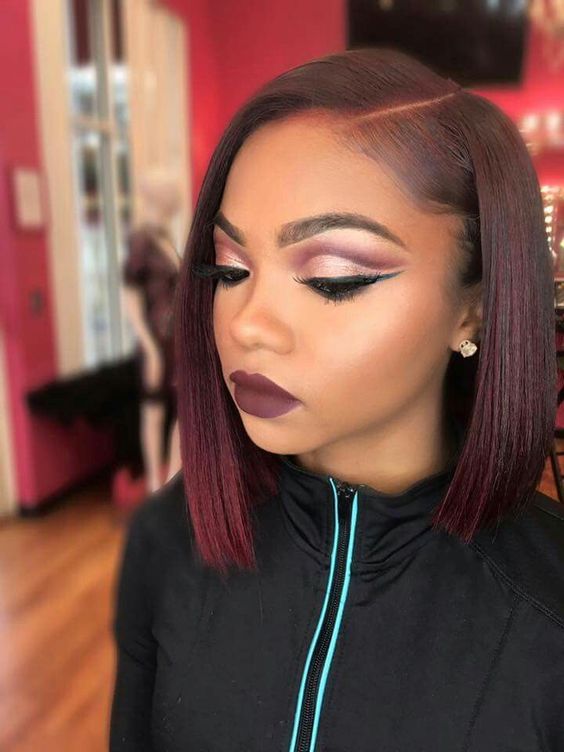 Burgundy is not very common, but it will go well with tanned and darker skin tones. It will contrast your skin color and help bring your face into the limelight. It will give you a unique look and set apart your beautiful skin from others. You can go for an even-toned coloring or highlights or even for some ombre coloring – especially if you are unsure about experimenting with new colors.
Coloring one's hair deep red might sound like a cuckoo job, but it is not. The deep red color helps enhance your skin tone's brilliance and makes it look flashier than ever. When paired with curls or waves, the red will make your hair look healthier and voluminous. The deeper the red is, the better the look.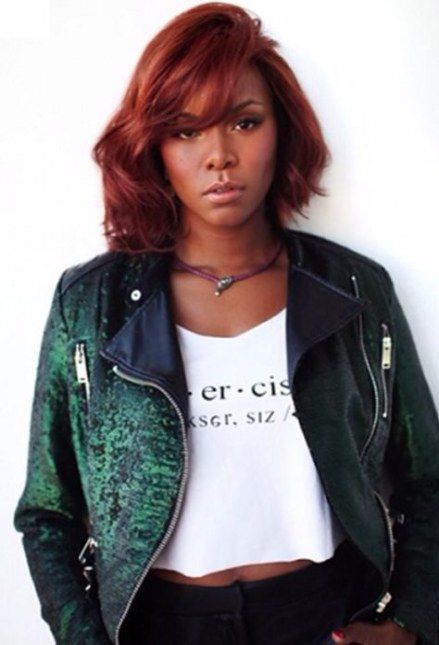 If you are unsure about going all red, you can go to Auburn instead. This hair color sticks to its roots in natural brown hair color while giving your hair a unique highlight-like shade of red. When you are out in the streets on a sunny day, your auburn hair will shine like velvet. You can smoothen your hair and straighten it up before applying the hair color to make it look sleeker.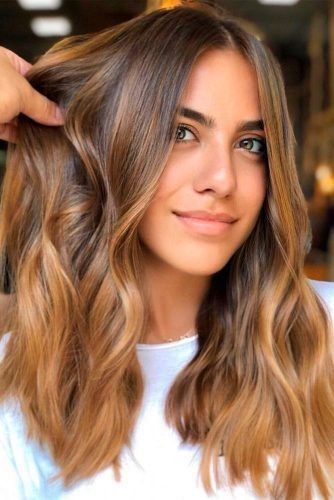 The brown hair color reigns supreme when it comes to tanned skin tones. The dimensional brown will give a natural look while supporting your facial frame and contouring your cheekbones and jawline when let loose. When different shades of brown are incorporated together, it gives your hair an uneven uniformity and gives dominance to your skin tone. It can be used on wavy and straight hair.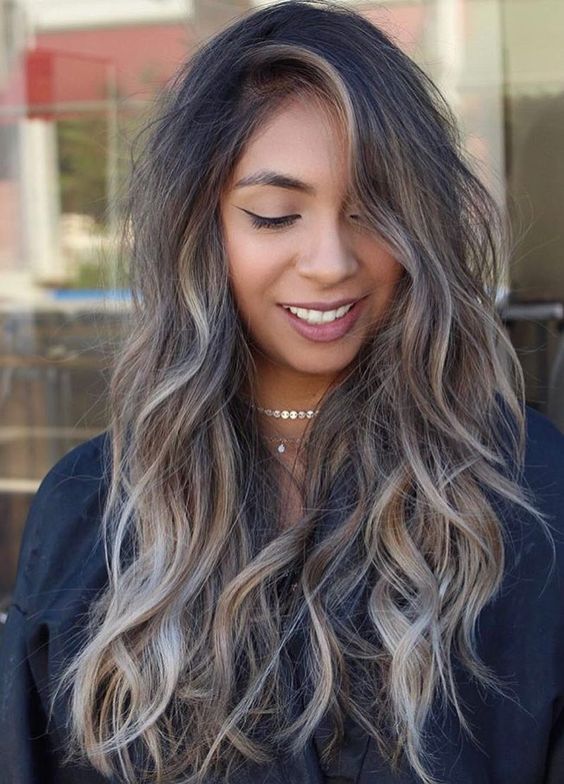 The gray color is great for bringing attention to your face. It will contrast nicely with your skin tone. And when it is colored using the balayage technique, it will look superb, especially if you have naturally darker hair color. Some might say that gray hair color adds age to a user's looks, but it isn't necessarily true. A gray balayage will give you a mature look. It will look prettier when tied half up and half down if you have long hair.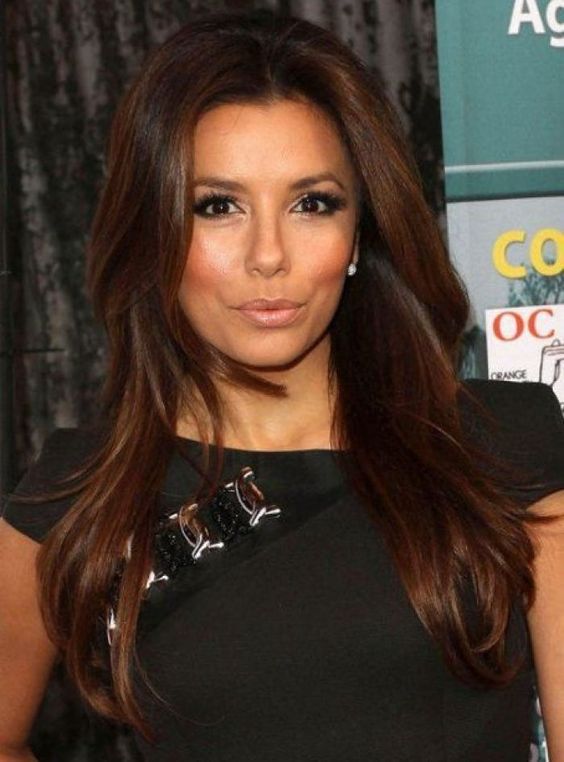 This is another color for the ladies who prefer to play safe. The rich brown coloring will suit almost every skin tone. When matched with dark and tanned skin tones, it makes your skin look glowing. It might be a bit hard to maintain, and if the color starts to fade out, you can add golden highlights to match the remaining coloring.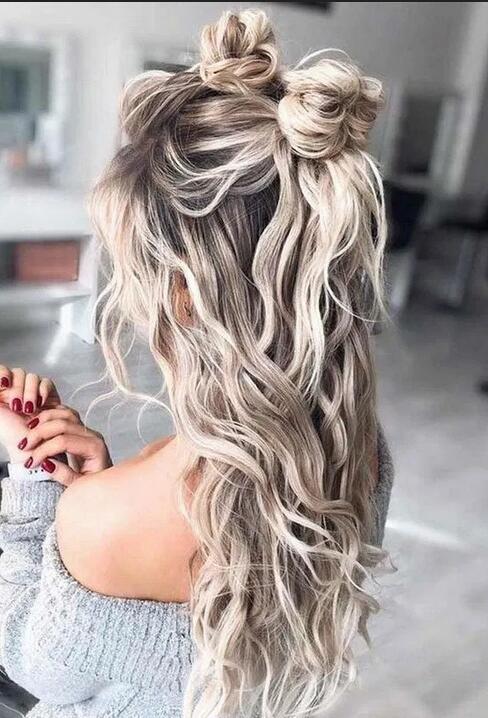 The two-bun hairstyle has everything going on for it. It may take a while to get ready when you are sporting this one, but you are sure to make heads turn. This will look good with a golden highlight to your hair, so you may want to take some time out on an excellent highlight too.
Maintenance and Care
Colored hair requires proper maintenance and care to keep it looking vibrant and healthy. Here are some tips for caring for colored hair:
Use sulfate-free shampoos: Sulfates can strip color from hair, so it's best to use sulfate-free shampoos that are gentle on color-treated hair.
Use color-protecting products: Look for hair care products specifically designed for color-treated hair, such as color-protecting shampoos, conditioners, and hair masks. These products contain ingredients that help preserve the color and keep hair looking healthy.
Avoid hot water: Hot water can fade hair color, so it's best to wash colored hair with lukewarm water. Rinse with cool water to help seal the hair cuticles and lock in the color.
Limit heat styling: Heat styling tools such as blow dryers, flat irons, and curling irons can damage colored hair and cause the color to fade. Limit heat styling and use a heat protectant spray when using hot tools.
Protect hair from the sun: UV rays can also cause hair color to fade, so it's important to protect colored hair from the sun. Wear a hat or use a UV-protective hair product.
Deep condition regularly: Colored hair can be more prone to dryness and damage, so it's important to deep condition regularly to keep hair healthy and hydrated.