Nowadays, there are many cute and awesome haircuts for boys that you can choose from. Cool hairstyles can boost their confidence whether playing with family or their friends. Cool haircuts can also lift their self-esteem when going to school as most boys do not want to be outdated when it comes to hairstyle.
It is true that not only girls are concern about their hair. Even boys need to make sure that they wear cool hairstyles whether going to mall with family or school. Haircuts for boys have become important. To help all parents and their boys, we have gathered 30 awesome haircuts for boys that you can choose from.
30 Awesome Haircuts for Little Boys
Choosing haircut for your little boy can be challenging so you may want to try different styles to achieve the most suitable hairstyle for your son. Check out the cute and awesome haircuts for boys.
#1 Long Layered Hairstyle
For a cool look, you can try this long layered hairstyle for your adorable boy. It has few layers that add volume to the hair which is a great hairstyle if your boy has thin hair. The hair also covers the upper parts of the ears but it gives a free-spirited vibe. It also has bangs that can be styled easily.
#2 Side-Swept
For toddlers, the side-swept hairstyle keeps the hair short. It is also easier for parents to style at home as the only thing needed is a brush or comb and brush it to one side following the natural hair line. This style is perfect for any shape of face and it also looks really adorable! You can also apply hair product for additional volume.
#3 Johnny Bravo Style
If you or your adorable boy is a fan of Johnny Bravo, you might like this hairstyle. It is also one of the cutest awesome haircuts for boy and it is great for any kind of face shape. It also works better with medium and thick hair. The bangs are styled upwards to create a wave. You can apply hair product to keep the wave arranged.
#4 Faux Hawk Haircut
Faux hawk haircuts are not only great for men but also look awesome for little boys. Both sides of the head are cut short to create a clean appearance. The hair on top remains long and styled with gel or wax to make spiky effect. It also makes sure that no strands are resting on the face. This hairstyle is one of the best haircuts for going to school.
#5 Classic Curls
For boys with natural curls, this hairstyle can be achieved easily. The hair in the crown area is cut few inches from the roots so curls can appear naturally. The sides are cut short for small curls. Boys with thick hair can easily show off this hairstyle without exerting too much effort. Natural curls are already beautiful!
#6 Mohawk
Mohawk hairstyle has never disappeared and many hairstylists for toddlers also apply this hairstyle to their young customers. Both sides are shaved while keeping the middle part long. The middle is brushed outwards to make it look even longer. Mohawk styles look great not only for adults but also for little boys. You can also give the rest of the hair some shapes such as spikes.
#7 Long with Sided Bangs
One of the cutest and most adorable haircuts for boys is the long haircut with sided bangs. When the hair is already long and covers the tips of the ears, it can be brushed backwards to create a soft wave. The hair division is at the side and the bangs are swept to the opposite direction. This hairstyle can make little boys look cool just like adults.
#8 Pompadour
Pompadour or the Elvis Presley's hairstyle can be achieved by brushing the hair backwards. This creates additional depth and width on the crown area and it looks just like the style of Elvis. Little boys as well as toddlers are also welcome to wear this style. Hair product is also needed while brushing the hair backwards to maintain the wave.
#9 Long Bangs
For kids with long hair, this hairstyle can be one of the best choices. The hair is swept to one side which covers almost half of the face. Highlights can also make it look more eye-catching.
#10 Beachy Long Hairstyle
Even though most parents want to keep their boy's hair short so that it is easy to manage, long hairstyles are becoming popular among the kids. Many parents also think that their children look adorable with long tresses. This haircut has long bangs that have the same length as the rest of the hair. Natural curls also appear which accentuates the style.
#11 Hipster Style
One of the latest and awesome haircuts for boys is the hipster style. Just like faux hawk haircut, both sides of the head are shaved while the middle area contains significant amount of hair. This haircut work great on any type of face shape. Simply brush the hair to the side and apply wax or gel while styling.
#12 Punk Rock Haircut
1
If your adorable toddler is already rebelling or he thinks that's what he does, this punk rock haircut can be the right one for your boy. It creates a rebel look that you and he would like. It is like a Mohawk haircut with a visible line that separates the shaved sides from the long hair in the middle. There are also many shapes that can be done in the middle part such as waves, curls or spikes.
#13 Long and Messy
Not only men can look great with long and messy hairstyles. Even little boys look adorable too! They look so cute with this haircut. The long hair is simply brushed to different sides or simply run your fingers through his hair. Bangs can also rest on the forehead for more messy effect. This is great for little boys with silky hair.
#14 Curly Mohawk
For little boys with natural curly hair, this hairstyle would definitely look great! Both sides are shaved completely. The middle part is cut near the roots and allows the small curls to appear. This haircut works great with medium and thick hair and also suitable for any shape of face.
#15 Skater Boy Style
Another awesome haircut for boys is the skater boy style. Both sides are brushed downwards while the hair in the crown area is pointed and brushed upwards for additional layers. Wax or hairspray can be applied to keep the style in place. It also gives highlights to the facial features of your little boy. It is very easy to do this style so it is perfect even if you are busy.
#16 Business Haircut
If you want your little boy to look like a small business man, you can try this hairstyle out. It is suitable for any shape of face and also makes your toddler look well-groomed. Both sides of the hair have fading effect while the top area is brushed to the side. It also has a square shape in the forehead so it looks very neat and formal. This is perfect not only for going to school but also for attending special events.
#17 Textured Hairstyle
This hairstyle creates additional texture on the hair by adding few layers. The cut is also uneven so the style looks a bit messy but awesome. Some parts of the hair are also highlighted which emphasizes the hairstyle.
#18 Medium Waves
We love seeing kids with this kind of hairstyle as it looks super adorable. This hairstyle can be done with medium length hair. Both sides are cut short while the middle part has medium hair. Simply brush your boy's hair upwards to make medium sized waves. You can also apply hair product like gel or wax for styling.
#19 Slicked Haircut
Another awesome haircut for boys is the slicked haircut. It is very short and can be worn not only for outdoors but also in school. It gives your little boy a clean appearance as both ears are completely visible. It also has fading effect on both sides while the top is brushed to the opposite side of the hairline.
#20 Shaggy Hairstyle
Not only adults can wear shaggy hairstyles but also little boys and toddlers! If the hair of your boy is already long, you might want to try this one out. Simply leave the long locks and cut the bangs for additional texture but make sure that the bangs are above the eyes. This hairstyle is perfect for kids with thin hair and round faces.
#21 Rock Star
You can transform your kid into a rock star by giving him a haircut that is edgy with both sides shaved completely. The rest of the hair is kept in medium length and you can try to make it spiky or simply brush it to the side to make it flat and neat. You can explore many other styles for this kind of haircut.
#22 Sweeping Hair
This hairstyle can make your adorable boy look magnificent with this hairstyle. It has smooth waves on top with fading effect on both sides of the head as well as in the back area. Ears are also completely visible. All you need to do is to sweep the top hair forward backwards and use wax or gel for more texture.
#23 Spider Haircut
If your little boy is a fan of Spiderman, he would definitely love to have this hairstyle! Most boys want to become a superhero and changing their hairstyle to something that they are into, it would definitely boost their confidence. Lines are created to highlight the spider web which is located at the back side. You can also ask the barber to create the web on different part.
#24 Smooth Hipster
For kids with medium hair type, this hairstyle will look great. Both sides are either shaved or faded while leaving the hair on the top and at the back. Simply brush the hair to the sides and you can also apply hair product such as wax or gel to keep the shape in place.
#25 Faux Hawk with Bolt
This hairstyle is very cute! A faux hawk haircut is made first so both sides of the head are faded. The crown area has significant amount of hair for spiky effect or waves. Then a zigzag line is shaved at the side of the hair which looks like a lightning. This is very cute and can make your little boy stand out among the crown.
#26 Thick and Spiky
For boys with thick hair, this hairstyle is one of the most awesome styles that they can wear. The hair is simply blended from the top to the sides. Spiky effect is also created on the crown. A thickening wax should also be used on the hair and a comb or brush to create the spikes.
#27 Long Afro
For kids with natural curls, it will be easy to do this hairstyle. Afro hairstyle looks great in different types of hair and any face shape. To make it appear cleaner, you can ask the stylist to twist the hair into more locks.
#28 High Wave Cut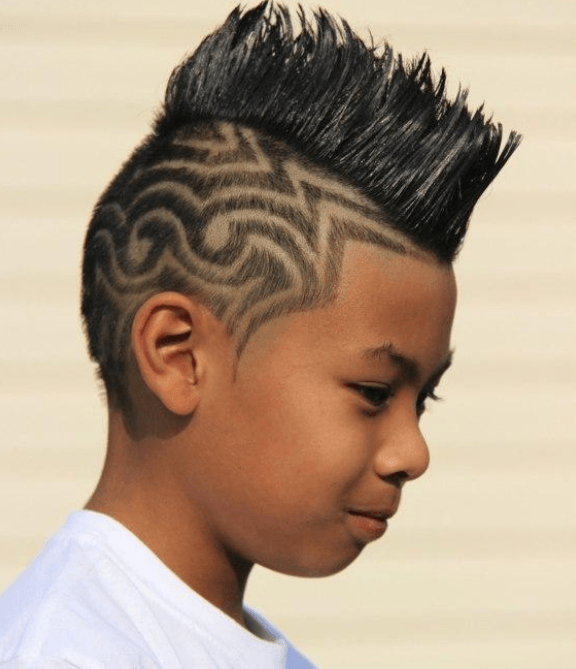 This hairstyle is for kids who want to keep their hair on top in medium length. The sides are cut close to the scalp so it looks very neat while the bangs are formed into a high wave. Two lines are also created on both sides for more stylish effect.
#29 Burr or Butch Haircut
This hairstyle is a short buzz cut and also similar to a military haircut. The hair is cut very short and there is no need to arrange it anymore. It can also keep your boy cool and sweat free. There is also a visible line at the side for style.
#30 Haircut Designs
If you want a touch of creativity in your boy's head, this can be an incredible style that you can try out on him. The hair is shaved and under-shaved to create the patterns. You can also ask the stylist for other patterns that you wish to try on your little boy.