If you have a small face, choosing the right hairstyle can make all the difference. The right cut and style can help balance your features, enhance your natural beauty, and give you the confidence to take on the world. But with so many options out there, it can be overwhelming to know where to start. That's why we've compiled a list of the best hairstyles for a small face, from short and sassy to long and flowing. Whether you're looking to add volume or length or simply update your look, we've got you covered.
Understanding Small Faces
A small face is generally considered proportionally smaller than the average face size. The size of a person's face can be measured by the distance between certain facial landmarks, such as the distance between the pupils, the distance between the corners of the mouth, and the length of the nose.
Common characteristics of a small face include:
Shorter length: A small face is typically shorter from the forehead to the chin than the average face.
Narrower width: The width of a small face is generally narrower than the average face.
Delicate features: Small faces often have delicate, refined features such as small eyes, noses, and lips.
High cheekbones: Small faces may have higher cheekbones that create a more angular appearance.
When it comes to hairstyles for small faces, it's important to consider the individual's unique facial features. Here are some tips based on common facial characteristics:
Round face: If you have a small face with a round shape, avoid adding volume on the sides of your head, as this can make your face look even rounder. Instead, opt for a sleek, straight hairstyle below the chin.
Heart-shaped face: Those with a small face and a heart-shaped face should consider hairstyles that add volume to the top of the head while keeping the sides sleek and close to the face. This can help balance out the narrow chin.
Square face: If you have a small face with a square jawline, try a layered haircut with the volume on top to soften your features. Avoid hairstyles that are too short, as they can make your face appear even smaller.
Oval face: Those with an oval face shape can try a variety of hairstyles, but it's important to avoid styles that are too long, as they can overwhelm a small face. Opt for a medium-length cut with layers to add volume and texture.
Ultimately, the best hairstyle for a small face depends on the individual's unique features and personal style preferences. It's always a good idea to consult with a hairstylist to find the perfect look for you.
The Top Hairstyles You Can Choose if You Have a Small Face
There are a lot of hairstyles to choose from when you have a tiny face. This is the list of the most liked styles out of them all from the past year.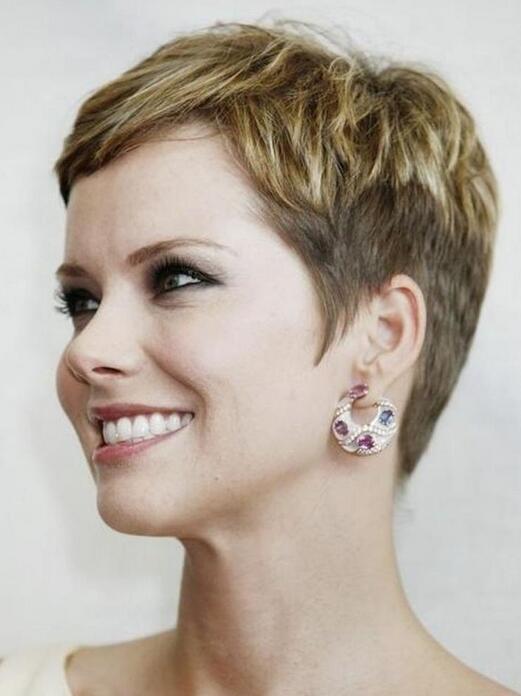 Who doesn't want a pixie cut? It's one hairstyle many women fall for when looking for something simple but stylish. The pixie haircut is a favorite among women with small faces. It suits wavy and straight hair and brings the focus to your facial features more. This, in turn, makes your face look brighter and more noticeable. It is apt for any season and will match all ages.
If you are ready to take the risk of cutting your hair very short and showcasing your facial features upfront, this is the ideal haircut for you. To increase its effect, you can dye your hair in a lighter shade. To add a twisty touch, you can get bangs with it. By partially covering your forehead, it will frame your eyes more.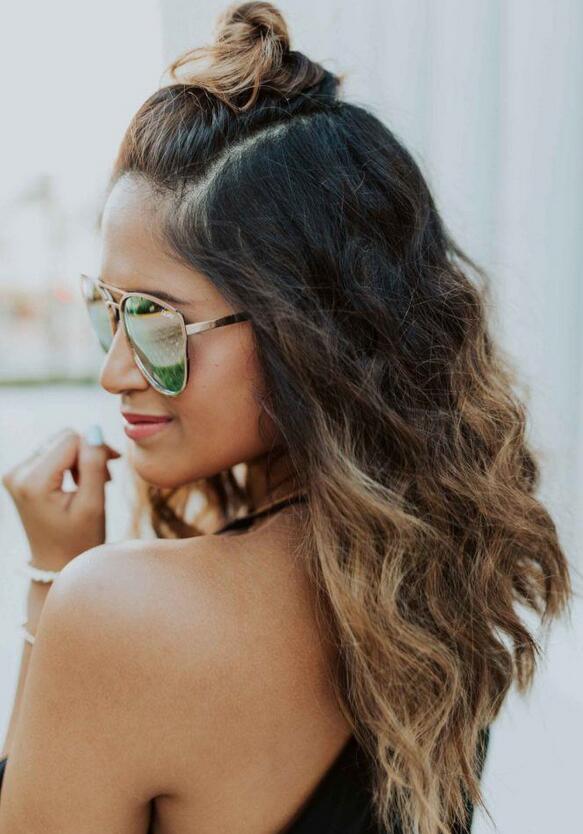 The half-up, half-down hairstyle is just perfect for women with long hair. If you value its length and do not want to cut it, this hairstyle is the best choice. Easy to follow up, this style is most suited for celebratory occasions. It will suit women with this hair, too, as it will give your hair a voluminous look.
Extra points if you choose to get soft curls or waves along with it. It will bring out your facial frame by giving it a sharper edge. The curls will balance it out with a soft look. In conclusion, this is the ideal look for a party.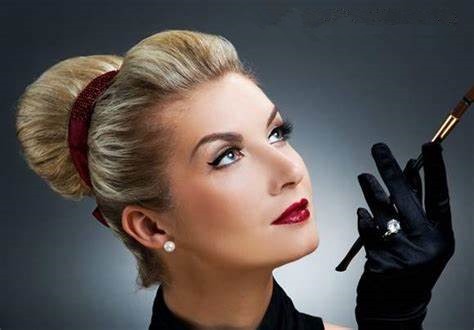 This style is intricate, but it will catch everyone's attention. The vintage bun is fit for official functions and ceremonies. You don't have to cut your hair at all for this style. Putting your hair up will give you the benefit of better facial framing. It will display your neck, jawline, and cheekbones in full focus.
When complemented with big earrings or a flower-patterned bow, your strategically curled locks will make you feel like an actress from the '80s. You may get your hair or fringes colored accordingly to give it a bit of extra texture.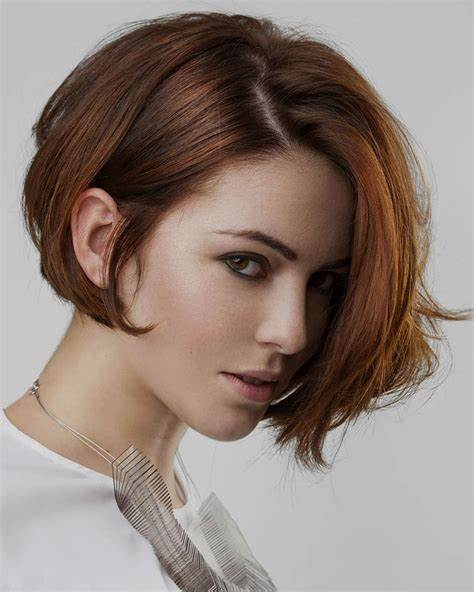 This is another one for the ladies who prefer shorter hairstyles. A bob can range in length, from jawline length to brushing your collarbones. A short bob is better suited for women with small faces as it provides better contour to your face. It makes it appear a bit bigger in size and gives it an alluring presence. You can match soft bangs with this haircut to give a fragmented visual.
Along with the bob, you can opt for dimensional coloring, preferably with brown shades – this will give a unique texture to your look and make your profile look amazingly groomed. Additional points if you opt for an asymmetrical bob.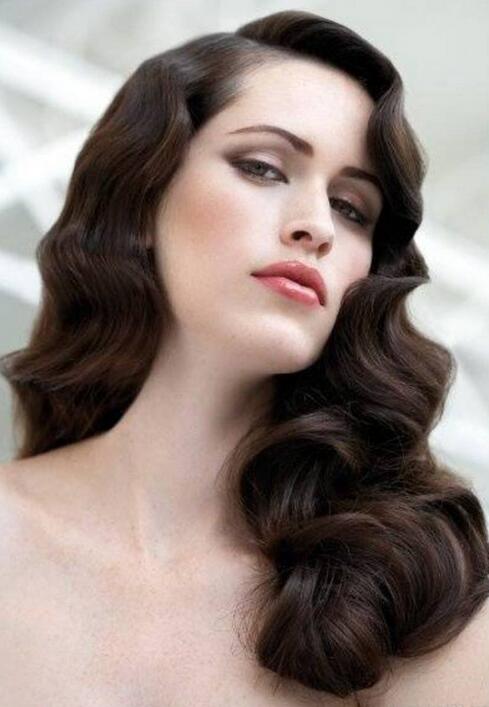 This style will match well with cute dresses. Style your long hair with waves that gradually get curlier and more compact. You can put your hair to one side, and this way, the dense curls, in the end, will contrast with your face and give it room for attention. Along with this, it will create an illusion and make your neck look slimmer.
The fluffiness of your hair will give it a voluminous look. It doesn't need much maintenance either, so it is perfect for plans made on a whim.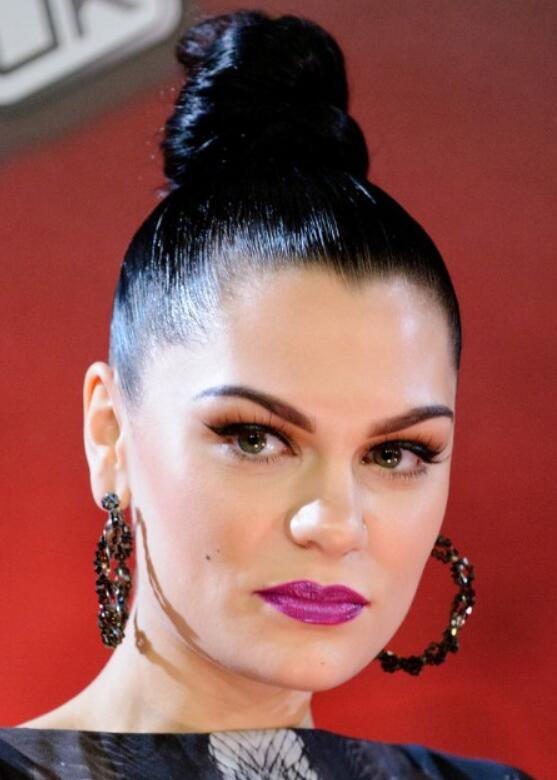 The tight top knot is different from the messy type as it requires winding your hair up tightly. This hairstyle is for ladies confident about their forehead on full display. It makes your face look longer and slimmer, thus making it perfect for tiny round faces. You can wear small earrings with this hairstyle.
To add more focus, you can wear sharp eye makeup to accentuate your facial features. It suits any hair, whether wavy, straight, or curly. The tightly tied bun will act as a beacon of attraction and make your face look less tiny.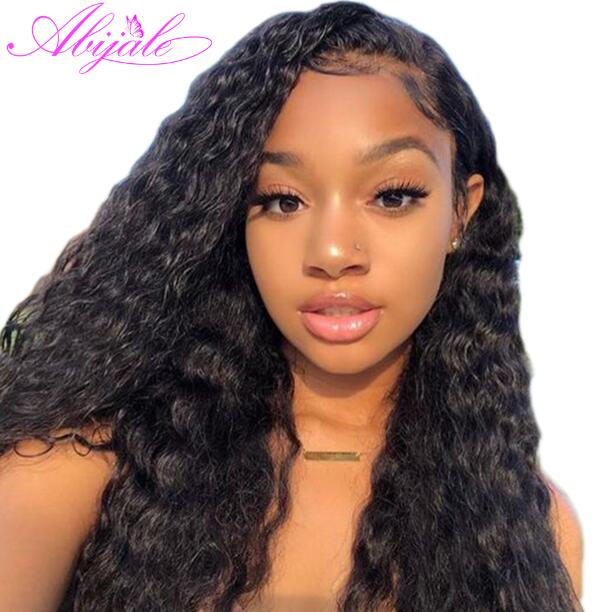 Want to look great for that party? If you have long, silky hair, try this one out. It's simple and doesn't take a lot of time to make. All you need to do is curl your hair in front of your face from both ends to cover the sides. If you wear a gown or a dress, sporting this hairstyle could look even more beautiful.
Styling Tips for Small Faces
Here are some styling tips for small faces:
Embrace shorter hairstyles: Shorter hairstyles can work wonders for small faces, creating the illusion of a larger, more proportionate face. Consider a bob, pixie cut, or a lob (long bob) that falls just below the chin.
Opt for layers: Layers can add volume and dimension to your hair, making your face appear fuller. Consider a layered haircut or adding layers to your existing hairstyle.
Avoid heavy bangs: Heavy bangs can overwhelm small faces, making them appear even smaller. Instead, try side-swept or wispy bangs that blend seamlessly with the rest of your hair.
Experiment with updos: Updos can be a great way to create the illusion of a larger face. Try a top knot, a messy bun, or a braided updo to add volume to the top of your head.
Consider highlights or ombre: Highlights or ombre can add depth and dimension to your hair, creating the illusion of a larger face. Try lighter highlights around your face to draw attention to your features.
Don't forget about accessories: Hair accessories such as headbands, clips, and barrettes can add volume and texture to your hair, making your face appear fuller. Consider adding a statement hair accessory to your hairstyle.
FAQs
Can I still have long hair with a small face?
Yes, you can still have long hair with a small face, but it's important to keep your hair healthy and well-maintained. Long hair can sometimes overwhelm a small face, so consider adding layers or volume to your hair to create balance and proportion.
Are there any hairstyles that I should avoid with a small face?
Hairstyles that add volume on the sides of your head, such as wide or heavy bangs, can make a small face appear even smaller. It's best to avoid hairstyles that overwhelm your features and opt for styles that create balance and proportion.
Should I avoid bangs if I have a small face?
Not necessarily. Bangs can work well for small faces, but it's important to choose the right type of bangs. Wispy or side-swept bangs that blend seamlessly with the rest of your hair can create a flattering look for small faces.
How often should I wash my hair?
The frequency of washing your hair depends on your hair type and lifestyle. If you have oily hair, you may need to wash your hair more frequently than someone with dry hair. Generally, it's recommended to wash your hair every 2-3 days to keep it clean and healthy.
Can hair extensions work for small faces?
Yes, hair extensions can work for small faces, but it's important to choose the right type of extensions. Clip-in extensions or tape-in extensions can be a good option as they can be placed strategically to create volume and length without overwhelming your features. It's best to consult with a hairstylist to find the right type of extensions for your hair and face shape.