Are you bored with regular ponytails and buns? Work a half-up, half-down, girl! Today we will talk about one of the most versatile hairstyles of all time- the magical half-up half-down! Whether heading to the office, on a night out with friends, or on a special occasion, a half-up half-down braid is the perfect way to add flair to your look.
Not only is it easy to create, but it's also flattering on all face shapes and hair types. From fishtail braids to Dutch braids, there are endless variations. Here we list 50 cute half-up half-down braid hairstyles to help you keep experimenting and slaying!
What are Half-up, Half-down Braid Hairstyles?
Half-up half-down braid hairstyles are a unique fusion of braids and flowing hair. They offer a versatile and stylish option for women who want to add a touch of sophistication to their everyday look or enhance their appearance for special events. With various braiding techniques and customization options, these hairstyles can be tailored to suit different hair types and personal preferences.
Benefits of Half-up Half-down Braid Hairstyles
Half-up half-down braid hairstyles come with various benefits that make them a popular choice among women. Firstly, they provide a polished and put-together look while maintaining a sense of effortlessness. Additionally, these hairstyles allow you to keep your hair away from your face without sacrificing style. They work well for different hair lengths, textures, and occasions, making them a versatile option for any woman.
Step-by-Step Guide to Creating Half-up Half-down Braid Hairstyles
Creating half-up half-down braid hairstyles may seem intimidating, but with a step-by-step guide, you can master the technique quickly. Here's a breakdown of the process:
Sectioning the Hair
First, part your hair horizontally, creating a division between the top and bottom sections. Secure the bottom section with a hair tie or clip, leaving it loose.
Braiding Techniques
Choose a braiding technique that suits your preferences and skill level. You can opt for classic three-strand braids, intricate fishtail braids, elegant Dutch braids, or timeless French braids. Each technique offers a unique look and adds character to your hairstyle.
Securing the Braids
After completing the braids, gently loosen them to add volume and dimension. Secure the braids at the back of your head using bobby pins or hair ties. Make sure the pins are concealed for a seamless finish.
50 Best Cute Half-up Half-down Braid Hairstyles
Simple Half-up half-down Bun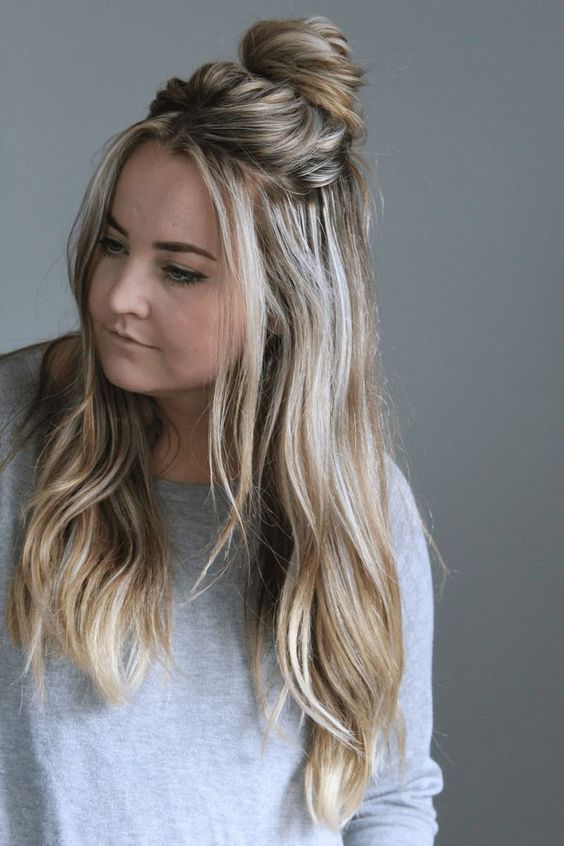 This versatile style provides an easy way to dress up any look. Start by creating a high ponytail and leaving out the hair's top half. Divide the hair in the ponytail into two sections and twist each piece, then wrap them around each other and secure them with bobby pins. The result is a refined and relaxed look, the perfect way to create an effortless yet put-together look. This versatile style can be worn to the office, the beach, or out on the town.
Easy Half-up, half-down Ponytail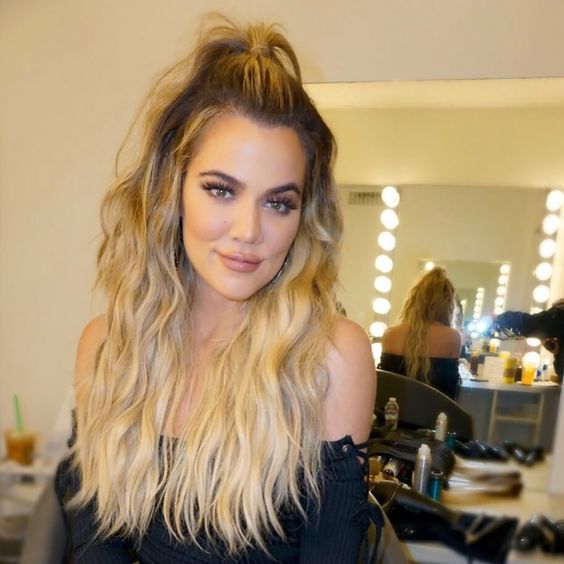 The half-up, half-down ponytail is a women's hairstyle that provides a terrific balance between sweet and sassy. It is both easily achievable and highly stylish. Long hair is first divided into two sections, with one section pulled up into a ponytail at the crown and the remaining hair left loose.
This look keeps the face open and frames it beautifully while the ponytail secures the length and volume. It adds an interesting detail with the combination of the pouffy tail and side-swept, soft waves.
Fishtail Hairstyle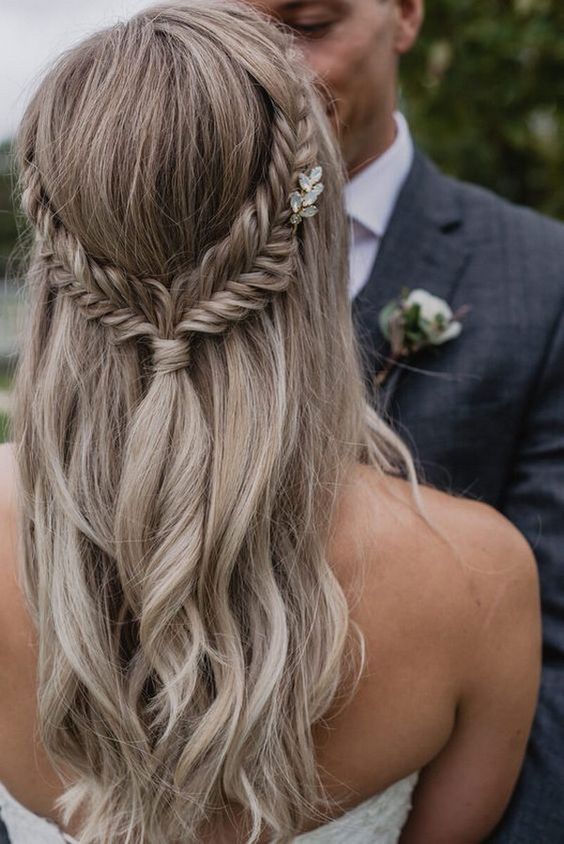 Fishtail hairstyles are the perfect feminine look for women. This style features two intertwined braids, one slightly larger than the other. To achieve this look, combine the hair in the middle and create two braiding blocks. Gather two sections of the hair, one from each side of the head, and cross them over.
Then, take a section of hair from the right side, and alternate it with a section from the left side, creating the two small braids. Finish with a ribbon or clip for extra charm. The Fishtail is simple and easy to construct. It is the perfect style for any occasion, from a quick errand run to a night out.
Short Hair with a Scrunchie look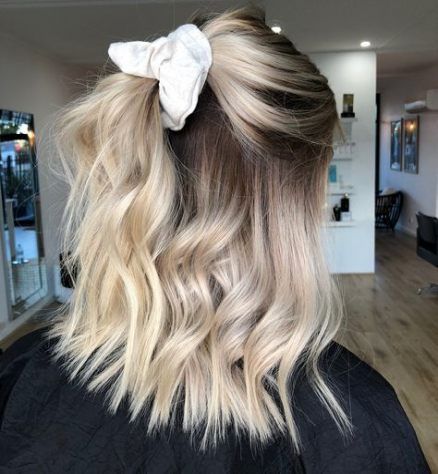 Short hair with a scrunchie is a modern and stylish look for women. It gives an edgy, funky vibe to any outfit. This look works for both formal and casual occasions. It's perfect for busy days when you don't have time for complicated hairstyles. The look is versatile and timeless. The distinctive scrunchie adds a unique touch to the hairstyle, making it eye-catching and memorable. Women of all ages can pull off this look with confidence. Try it today for a fun and flirty look.
Top Knot Hairstyle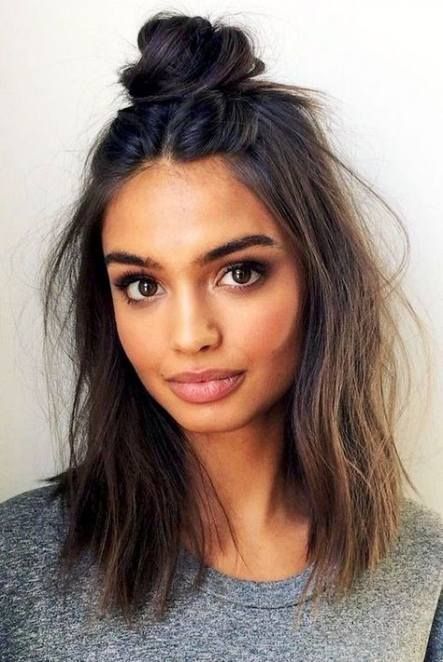 The Topknot hairstyle is a popular, modern look for women. It is a chic, versatile updo that can easily transition day to night. The hairstyle can be achieved with long or medium-length hair. Begin by brushing your hair to ensure it is sleek and tangle-free.
Gather a high ponytail at the top of your head. Smooth out any bumps, then twist the ponytail into a tight bun. Secure the bun with hairpins. To add texture, gently pull out small pieces around the face. Finish with extra hold hairspray for an all-day look.
Rope braid half up, half down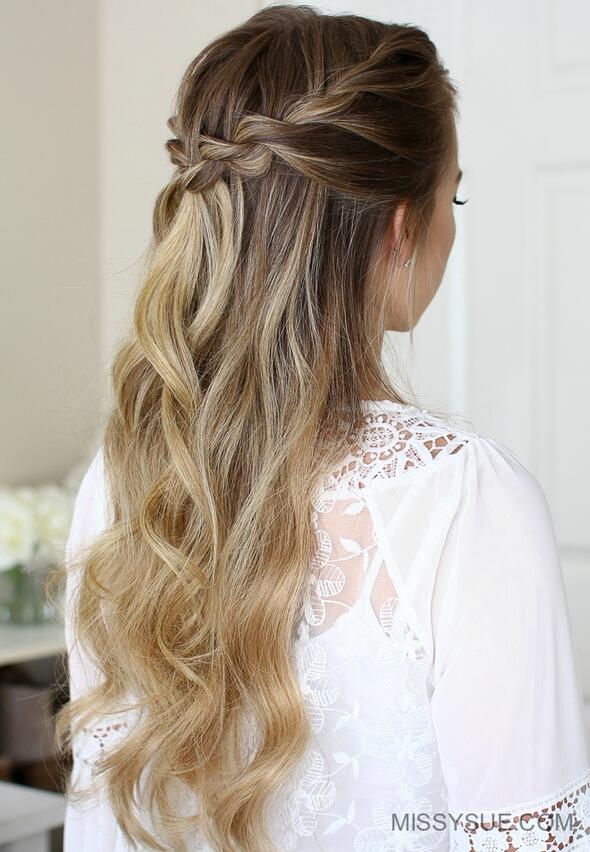 The rope braid half up, half down hairstyle is perfect for women who want an easy yet stylish look. This hairstyle is quick and easy to create by simply tying two sections of the hair into double rope braids and tying the ends with an elastic or a hair clip. The remaining hair is untied and can be styled in curls, waves, or braids.
The rope braid half up, half down hairstyle leaves the hair looking chic and is ideal for any special occasion. It is easy to create and maintain, providing the perfect hairstyle for any busy woman.
Triple Braid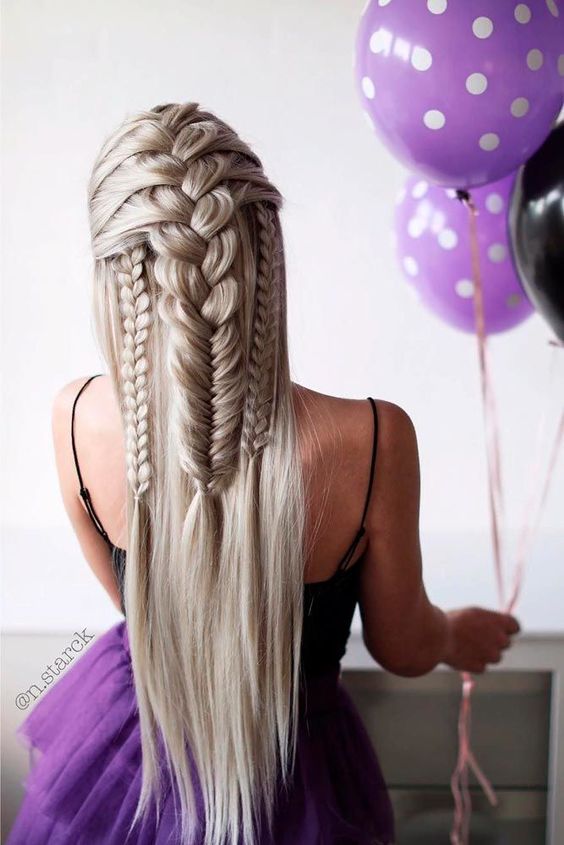 The triple braid hairstyle gives women a sophisticated, feminine look. It's a versatile choice for any occasion. This three-strand braid style offers an elegant and fun way to add texture and interest to your hair. It's easy to create with a few simple steps.
Start with three ponytails on the top of your head, then separate them into three sections and braid each one. When you have finished, wrap the braids around the base of your head and secure them with pins. With the right accessories, the Triple Braid Hairstyle can be a stunning and stylish look for women of all ages.
Top Half-up Braid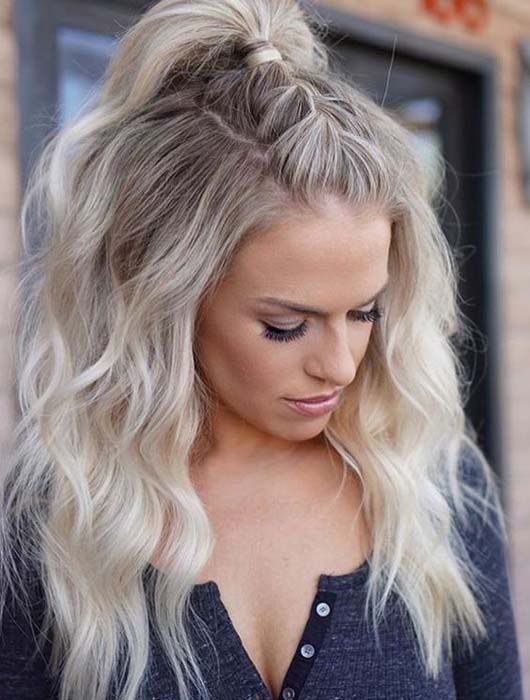 This gorgeous half-up braid is perfect for special occasions and everyday wear. It's easy to create and ideal for all hair lengths and textures. The hairstyle follows a classic braiding pattern to create a textured style with a lot of movement.
Start by separating your hair into two sections, then gather the top section and make a three-strand braid. Once finished, secure the half-up braid with a few bobby pins at the back of your head. This beautiful and trendy style offers an effortless look that will turn heads.
French Braid Half-up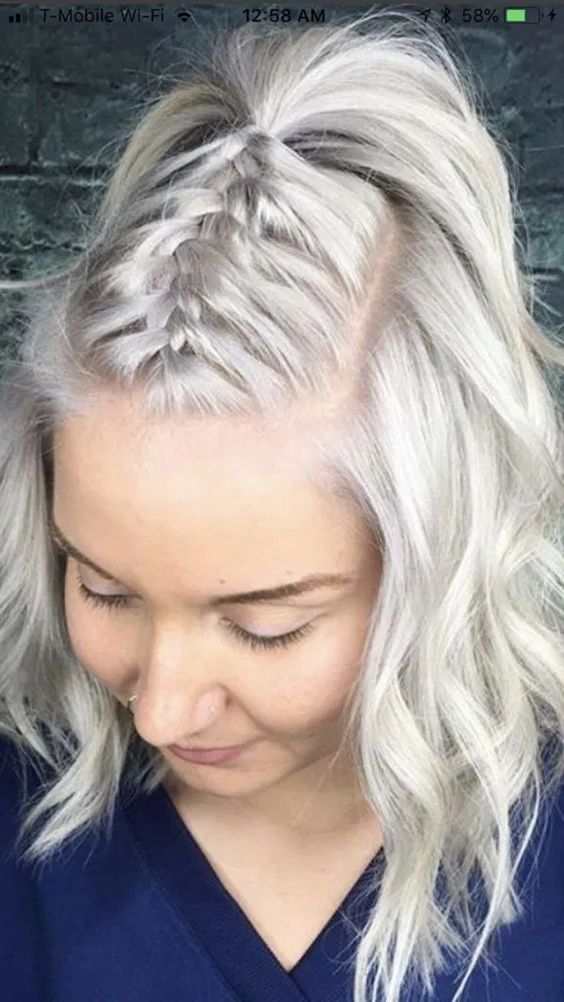 French Braid Half-up is a stylish hairdo for women. It is a look that combines an elegant French braid with a romantic half-up style. To achieve this look, a French braid starts at the crown and continues to the nape of the neck. Then, pieces of the braid are incorporated into a sophisticated half-up style. This hairdo creates a chic, effortlessly romantic style that flatters all face shapes. It is perfect for special occasions or everyday wear.
Half-up Galaxy Buns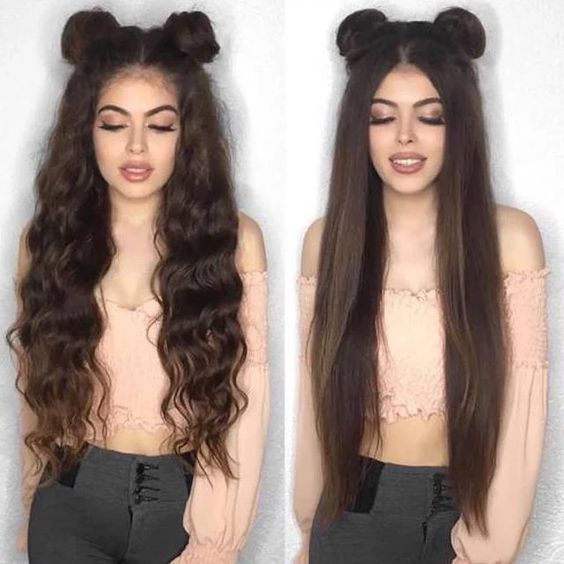 Half-up Galaxy Buns is a trendsetting way for women to style their hair. The look effortlessly combines a high-impact style with an easy-to-achieve finish. Perfect for the modern woman, these buns feature a sleek, half-up style with a mix of galaxy-inspired colors that will stand out in any crowd.
The unique styling options allow women to customize their looks, giving them the perfect statement style for any occasion. From a night out on the town to a casual weekend lunch, these buns will make a bold statement.
Easy Half-up Twists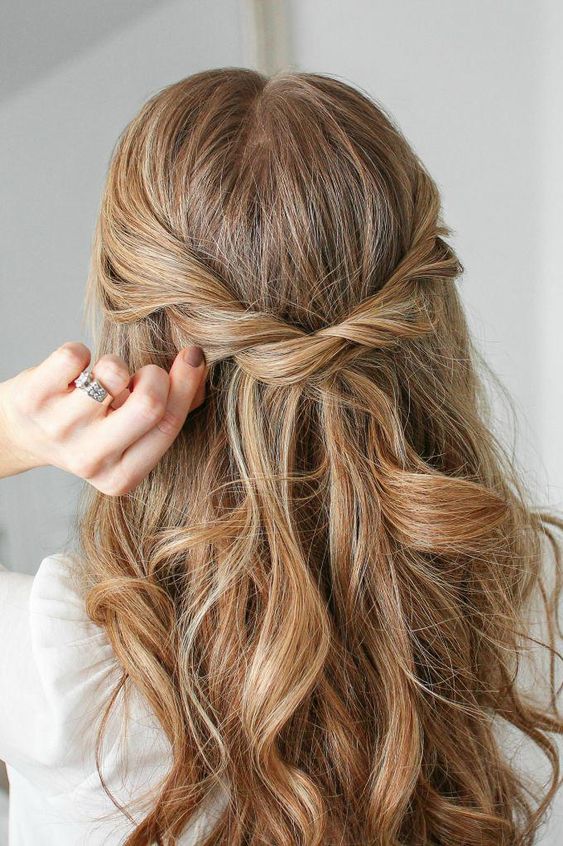 Easy Half-up Twists is the perfect hairstyle for modern women. Hairstylists love this look for its sophistication and on-trend style. It starts at the crown of the head and requires just a few minutes of preparation. The look is achieved by gathering a section of the hair into two pigtails and then twisting each independently.
Secure the twists with a small, subtle hair tie and bobby pins to complete the look. The style is versatile; try it with straight, wavy, or curled hair. Show your style with Easy Half-up Twists!
Short Hun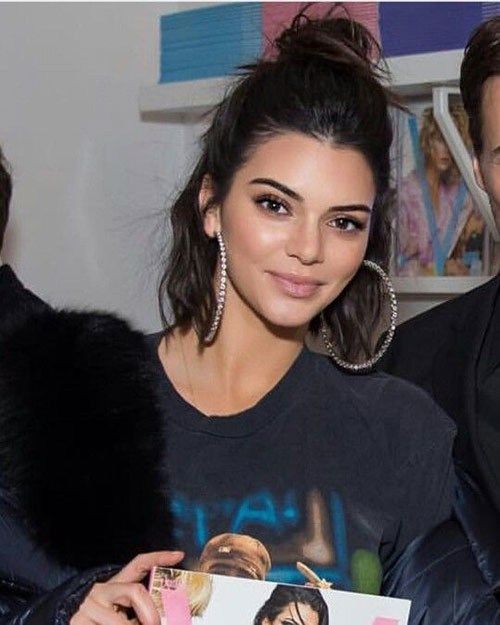 Short Hun is an up-and-coming women's fashion line. It builds on classic silhouettes but strives to add modern, unique touches. Its goal is to give wearers the perfect balance of fashion and function. The line features a range of items, including dresses, blouses, and even jumpsuits.
Every piece is crafted to be comfortable yet stylish, allowing an easy transition from day to night. Short Hun strives to empower women by creating pieces that flatter all body types and sizes. With its stylish yet timeless designs, Short Hun is the way for modern women to express their selves.
Half-up Cornrows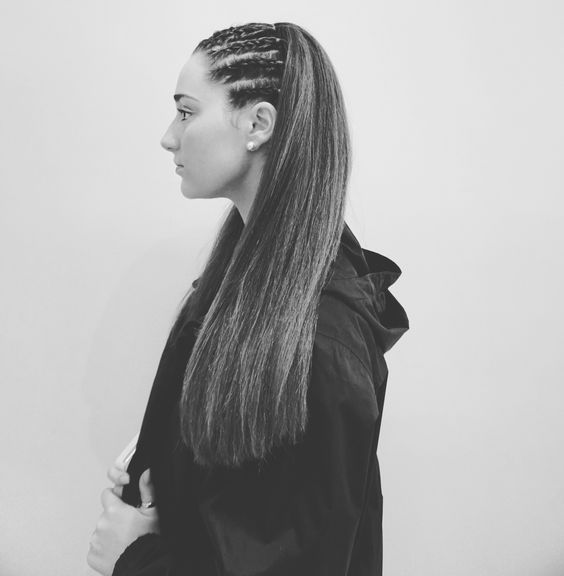 Half-up cornrow hairstyles are the latest trend among stylish and adventurous women. These braids offer a unique, boho look that will turn heads and add an eye-catching touch to any outfit. Cornrows are an easy way to protect and style your natural hair.
Hair is sectioned and braided close to the scalp to achieve this style. The upper portion of the hair is then tied with an elastic band for a trendy yet practical finish. Half-up cornrows are low maintenance and give a modern, sophisticated look for any occasion.
Teased Updo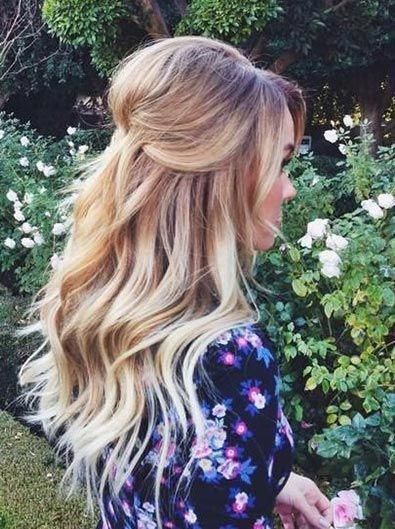 A Teased Updo is the perfect way to make a statement. It's achieved using a teasing comb to give your hair a built-in body and body. Add a touch of hairspray for all-day hold, and secure the look with bobby pins.
Tease a section of hair on the top of your head to add extra fullness and to keep hair off the face. Then, secure the remaining hair to the crown with pins. Finish with a few gentle tendrils to complete the look.
Pearly Look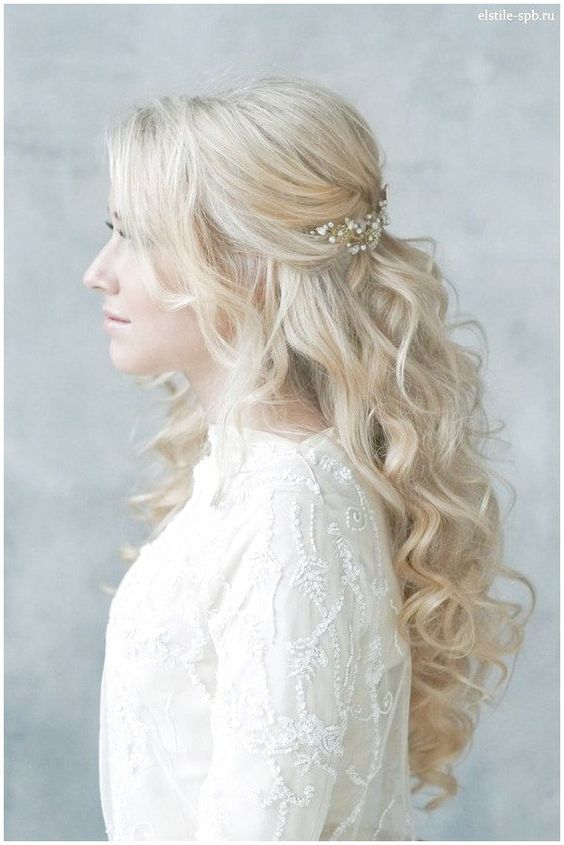 Pearly Look is the perfect hairstyle for women. Its soft and airy feel brings out your natural beauty. Its shoulder-length layers create a delicate body and bring out the natural body of wavy and straight hair.
This style is ideal for those who love soft curls but don't want to be overly voluminous. The subtle highlights at the ends add an extra touch of shine. This easy-to-style hairdo is great for everyday wear or an evening out. Pearly Look is low-maintenance and an excellent choice for any occasion.
Half-up Half-down Pigtails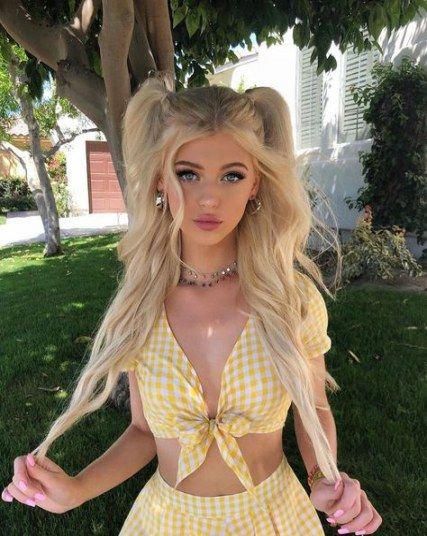 Half-up half-down pigtails are an excellent style for women who want to show personality and style. They are easy to put in, requiring only the ability to part the hair in two sections and secure each section with an elastic band or tie.
These pigtails can be left long or braided if desired. The look adds youthfulness to any outfit, perfect for those who want to express their style. The half-up style is also great for adding volume to the root area while allowing the hair to look as natural as possible. For those who like to switch up their look, the pigtails can be taken out, and the sides can be brushed back for a different style.
Half-up Flower Bun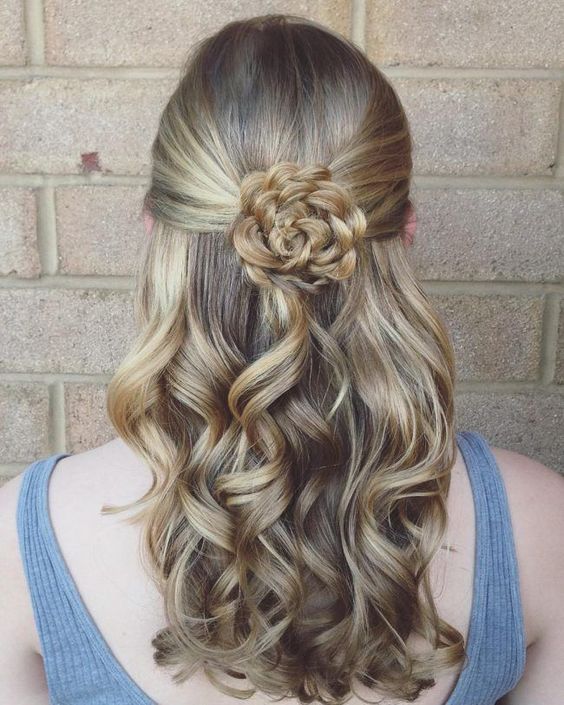 This one might be as complex as it looks, and perhaps you might want to save it for some special occasion where you will have ample time to get ready and rock this wonderful and artistic hairdo.
Pigtail Braids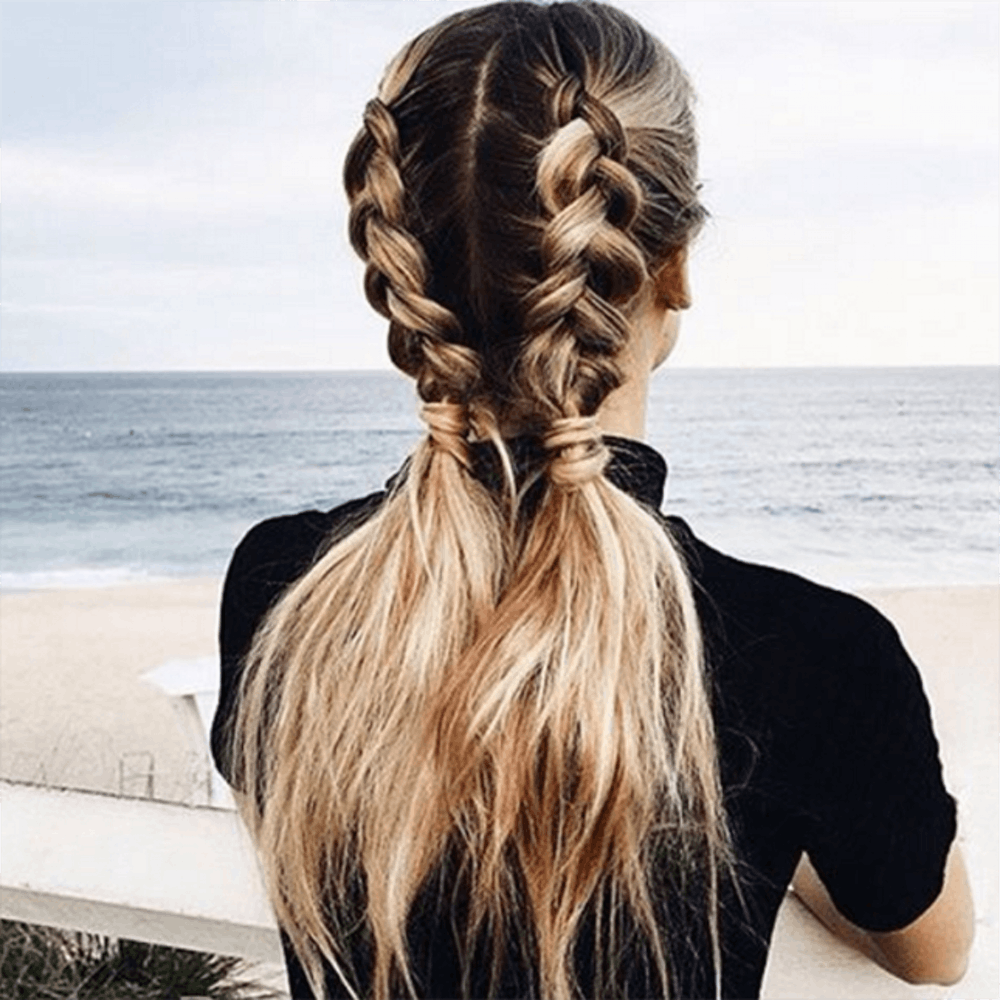 We have yet another alternative to our half-up half-down pigtails, and this is just an extension. You can braid both sections of your hair and secure them with hair ties. This is the hairstyle that is hard not to try.
Pull Through Braids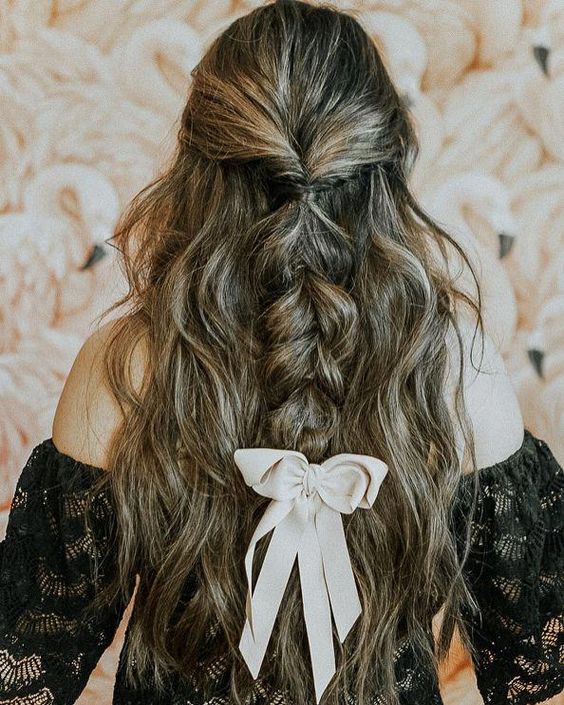 Pull-through braids on long hair are just simply mesmerizing. Although the style is a little hard to master, a little run-through each time goes a long way.
Wide Plait Half-up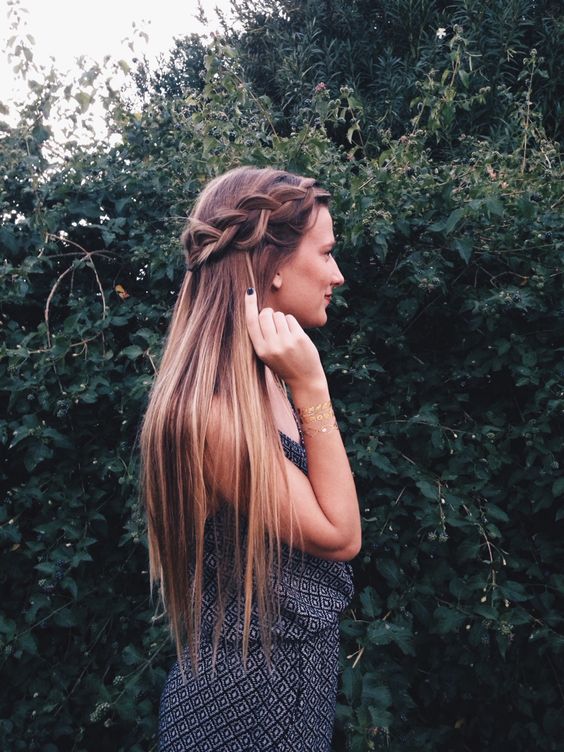 For this hairstyle, you have to do the old-school plaits starting from the front to the side and then using your fingers to widen them.
Hun with Bangs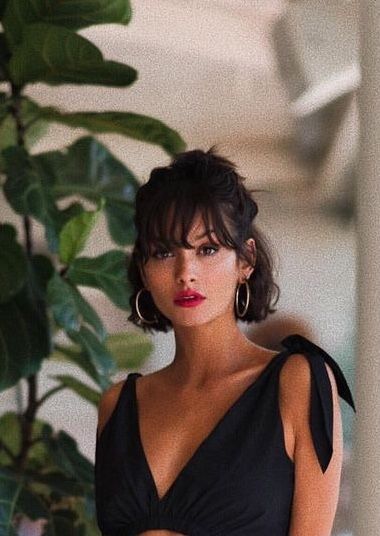 If you're bored with your regular hair, try getting some bangs and spice things up more; make a half-bun out of your hair to give you that modish and gallant look.
Super Simple Half-Braid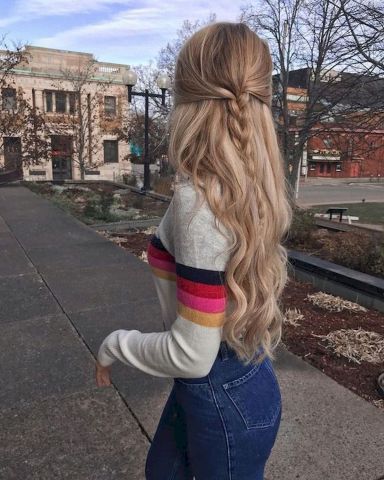 This hairstyle is perfect when you're too lazy to try out innovative things yet still want to look cute and well-dressed. It takes minutes to do.
Pigtails for Short Hair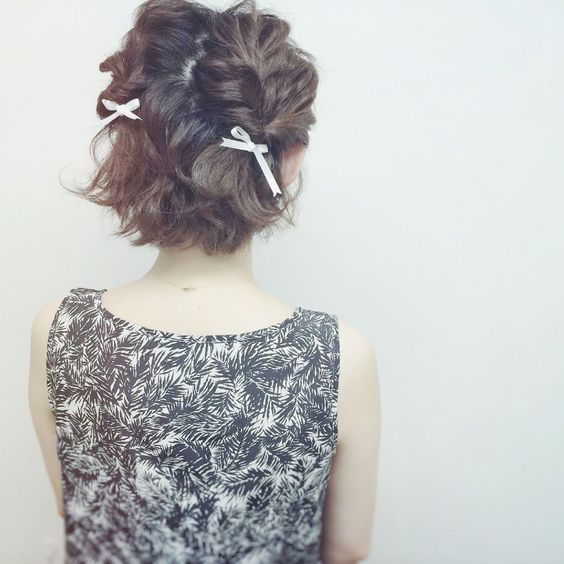 Pigtails with short hair? What an adorable combo! This is a charming alternative for a half-up hairdo if you have super short hair.
Half-up Waterfall Braid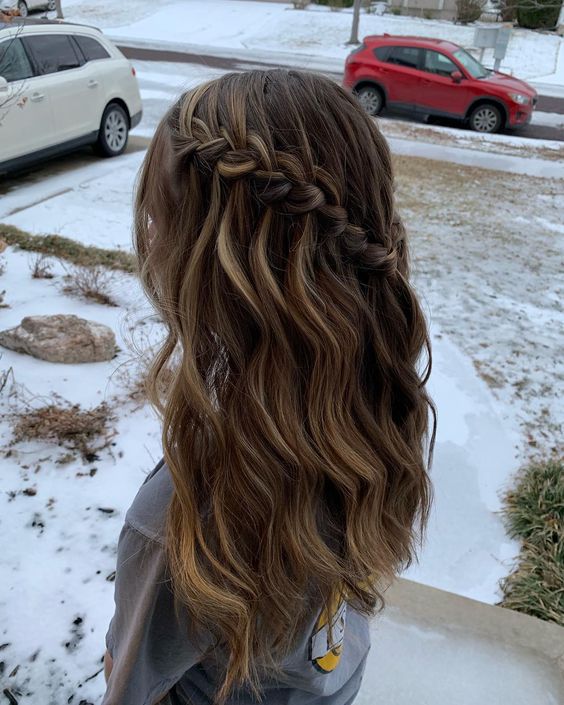 Let's admit it. Waterfall braid has a different enchanting vibe to them. While they are an easy form of hairdo, they may become a mess if not braided well.
Curly hair with Braids and Hun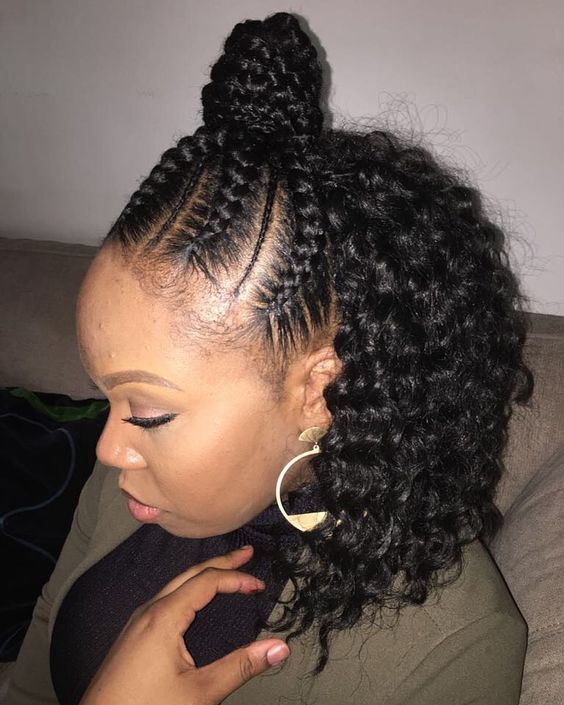 Having natural or curly hair comes with all the struggles of maintaining a style and protecting your hair against external torment. Huns and braids serve as protective hairstyles and provide you with a kicking look.
Headband for Short Hair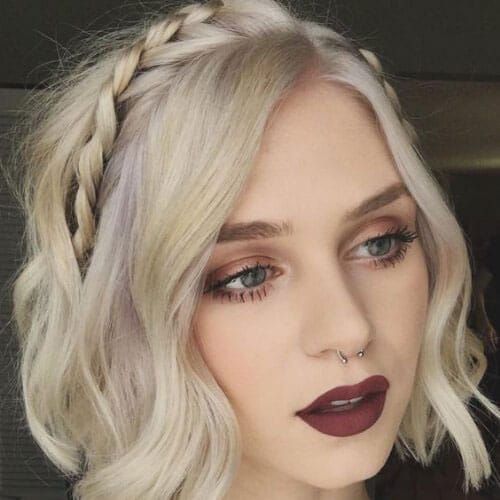 Ever since the beginning, headbands were meant for short hair, no lie. Just how adorable these make you look, and they come in handy every time you run out of style to do to your hair.
Bouffant Half-up Hairstyle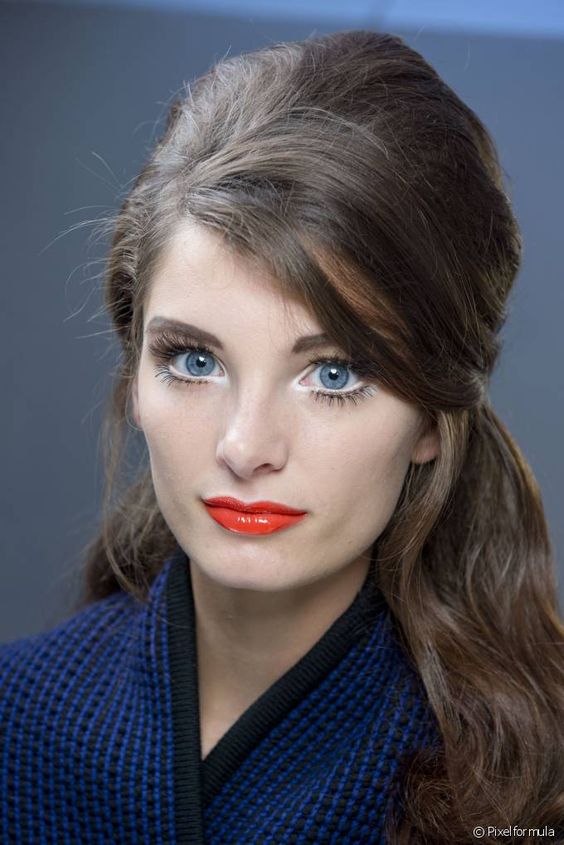 For this look, you'll need a handful of tools like a rattail comb, a boar bristle brush, bobby pins, and many hairsprays. You may not need an artificial bouffant if you have thick hair, but a fake puff may be recommended for super-thin hair.
Space Buns for Short Hair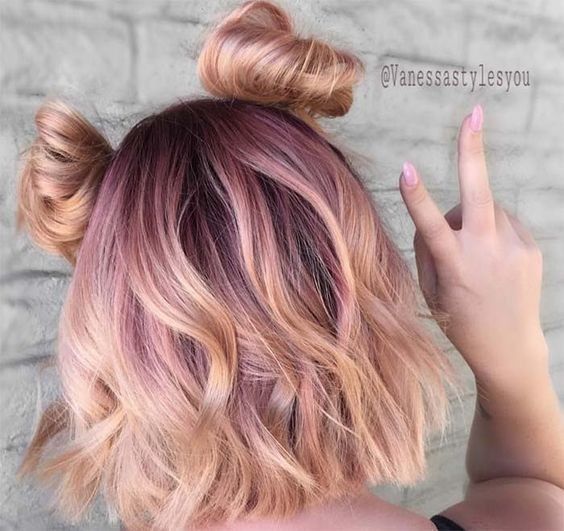 Space buns are the prettiest go-to hairstyle for someone with short hair. All you have to do is divide the upper section of your hair into two parts and make a bun out of each part. It's that simple. Brownie points if you have bangs or baby-pink highlights!
Voluminous Half-up Curls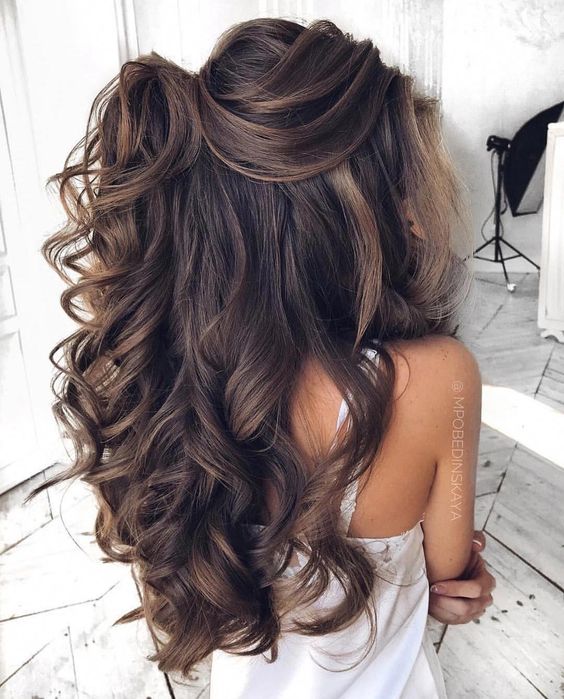 Thick and curly hair is indubitably a blessing. Nothing can defy the beauty of long, lavish curls and the grace they come with. You can make a half-up half-down ponytail or bun to amplify the beauty. The look will be ethereal.
Donut Bun Half-up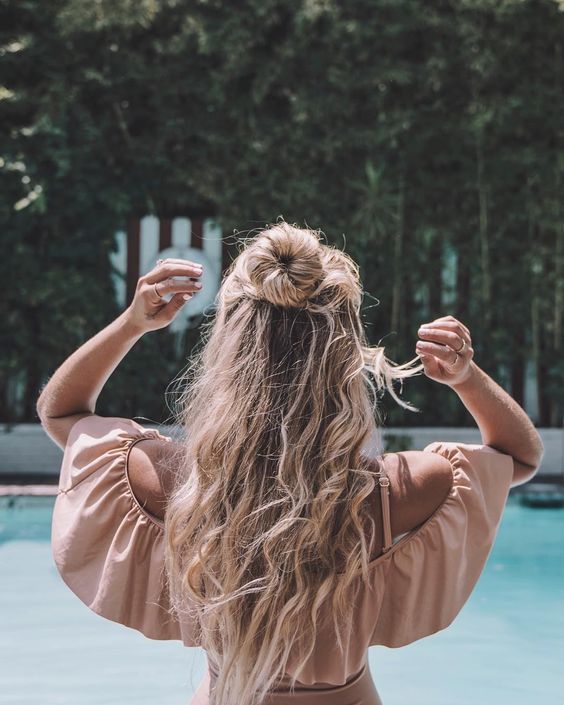 A donut bun is different from a normal bun, well, quite evidently. You can use a tube sock to attain this look and top it off with headbands.
Boxer Braid Half-up Bun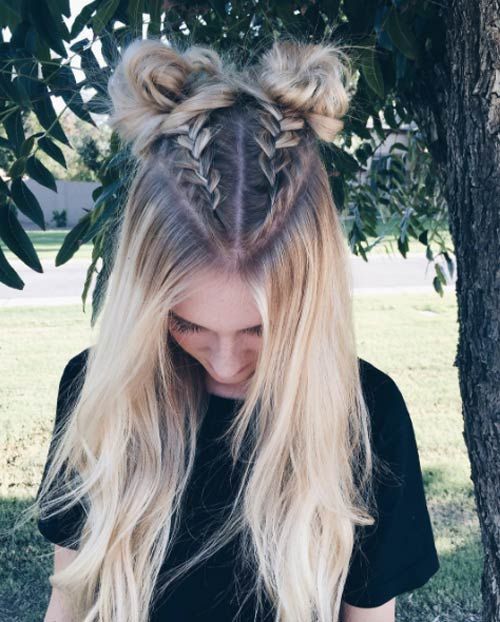 You don't have to put extra effort into aiming for boxer braids and stop braiding right where you want the buns to be to attain this look. The thickness of both the braid and the buns may vary on your own accord.
Half-up Double Braids with Scrunchie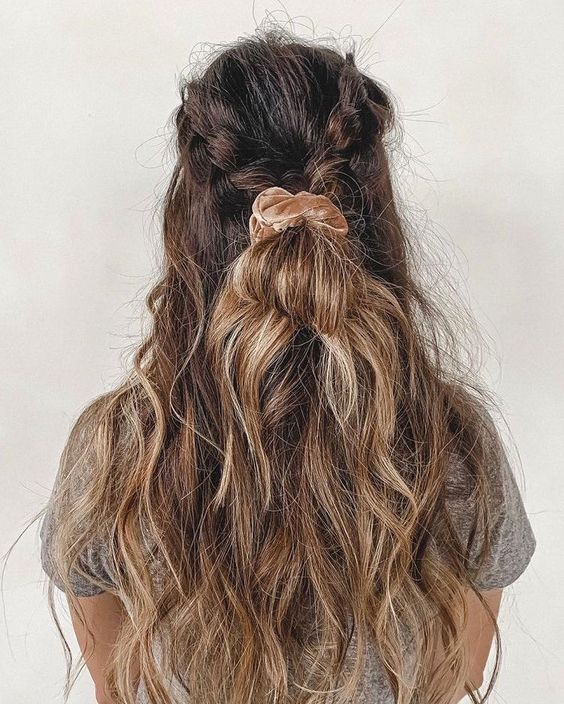 It's a universal fact that if you want to spice a hairdo up, you take the help of the scrunchie magic! This hairstyle is a minimalistic yet fashionable variation of the half-up 'do. All you need to do is divide your top hair into two sections, braid them out, and secure them together using a cute scrunchie.
Infinity Braid Half-up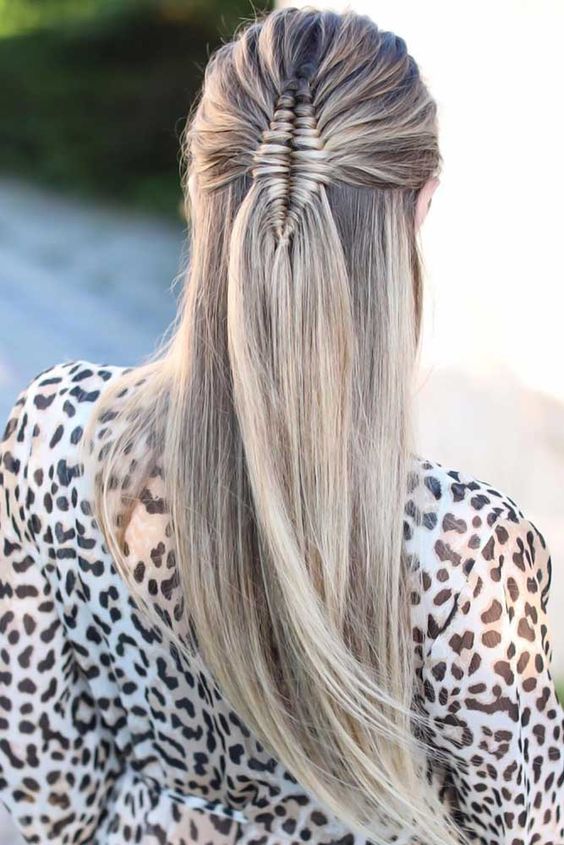 Infinity braid, also known as the figure-8 braid, is a sister to our good old fishtail braid. It gives you a beautiful intricacy, leaving people wondering.
Hun for Short and Curly Hair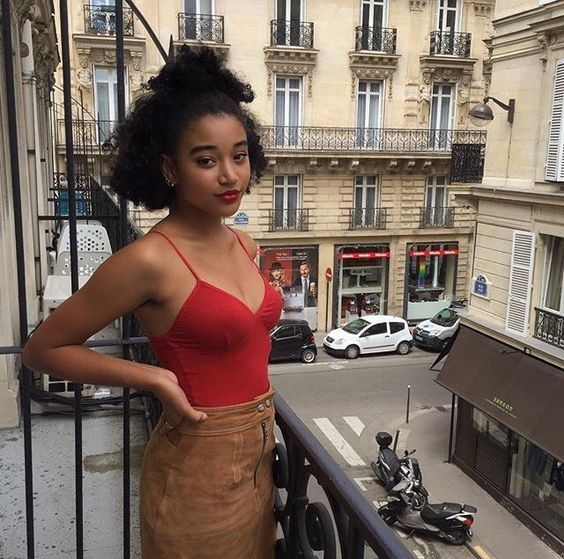 Natural hair is beautiful, just how it is, but if you don't want it on your face, try putting it into a bun instead of a regular bun.
Half-up Dutch Braids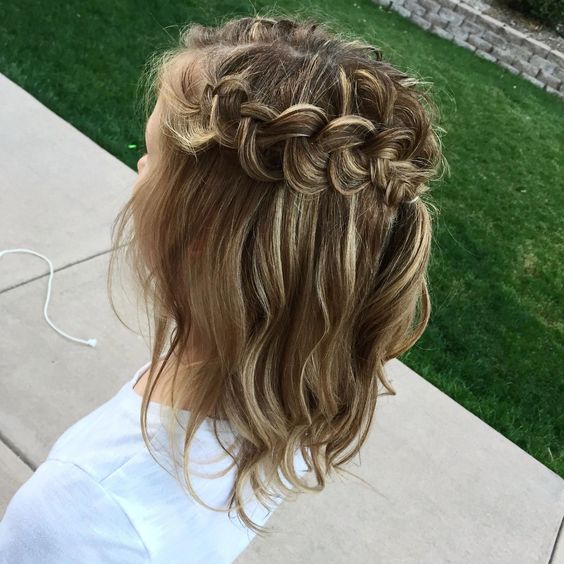 Dutch braids, or reverse-French braids, are a straightforward look to attain. You have to French braid but outwards.
Good Ol' Headband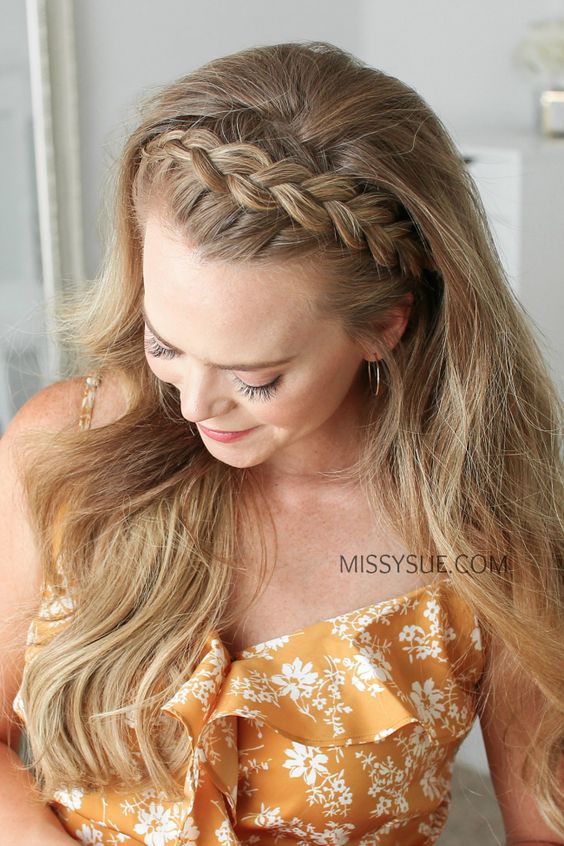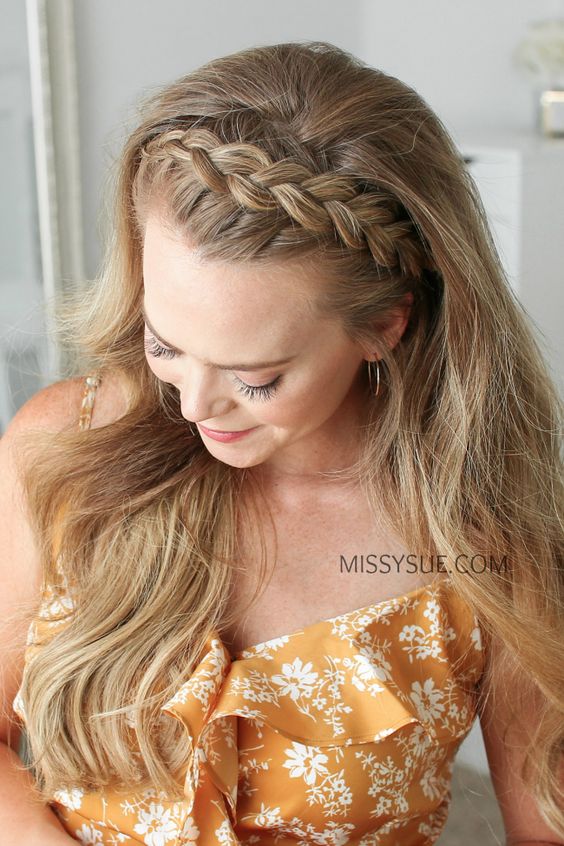 A headband gives you a very youthful and elegant vibe. While it may look like a hard job, it is simple and doesn't take up much time. You can also embellish it with beads, pearls, a scarf, or other accessories.
Dutch Braid Buns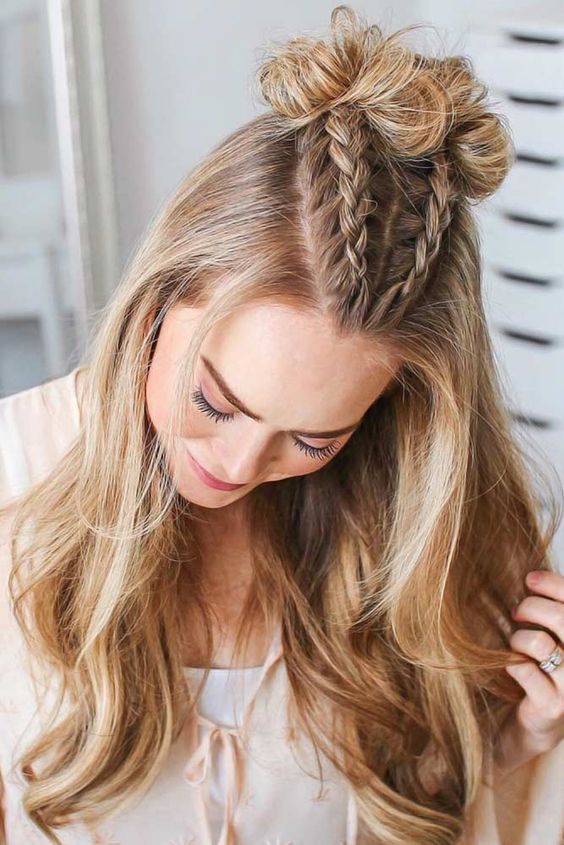 You have to divide your hair into two sections to get the Dutch braid buns. Dutch braid each part, and instead of going all the way down, you must stop and turn it into a bun.
Mermaid Braid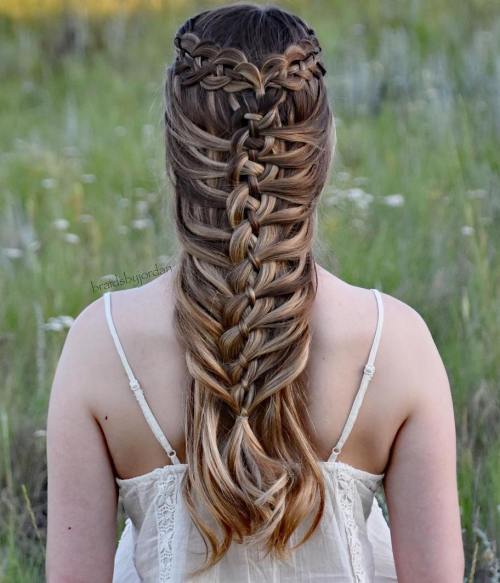 The magic of mermaid braids is palpable—a truly majestic hairdo, best suitable for important occasions or your days at the beach.
Top Braided Bun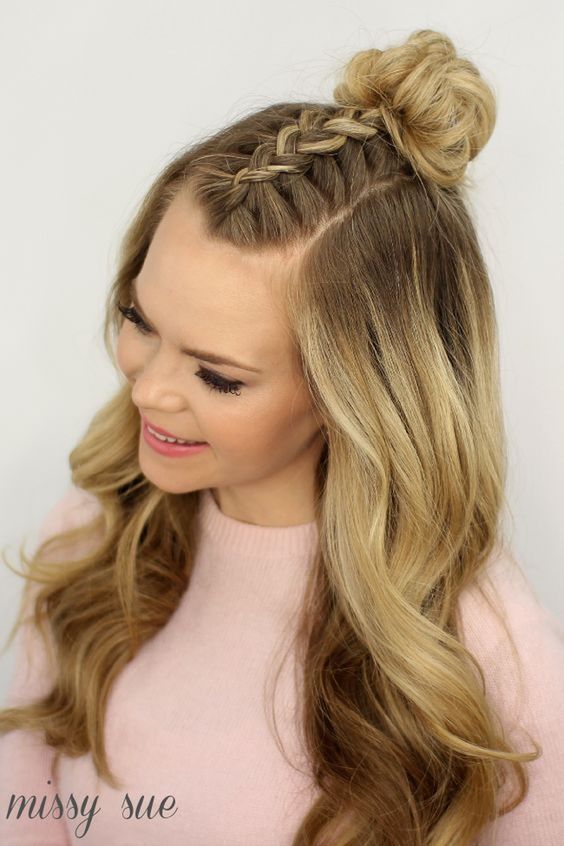 This is one of the most famous hairstyles of the season. You must have seen ample models in this hairdo. A braided bun may look complex, but it is an easy-breezy hairdo.
Double Dutch Braids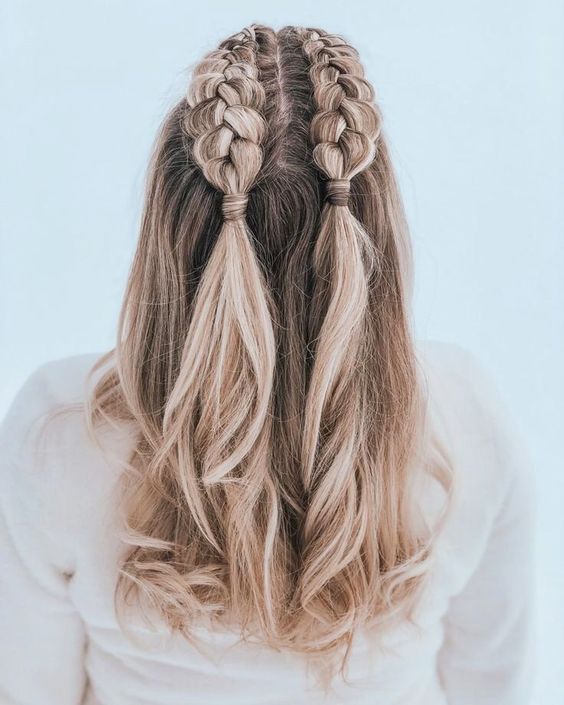 By now, you must be a fan of the Dutch braids. So why not try another variation of the technique? Divide the upper part of your hair into two sections and Dutch braid both of them; secure the ends with a hair tie or a scrunchie if you feel like going a little fancy.
Boxer Braids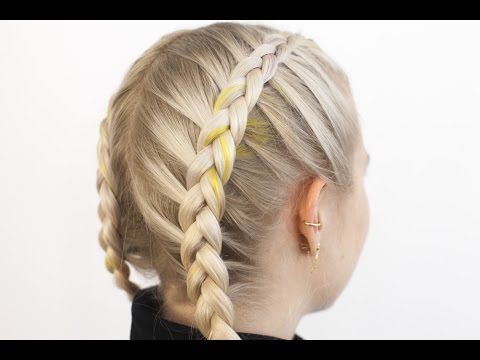 Boxer braids are one of this series's boldest and most effortless hairstyles. All you have to do is braid the two divided sections from the upper part of your hair to the tips and secure them with hair ties.
Bandana Style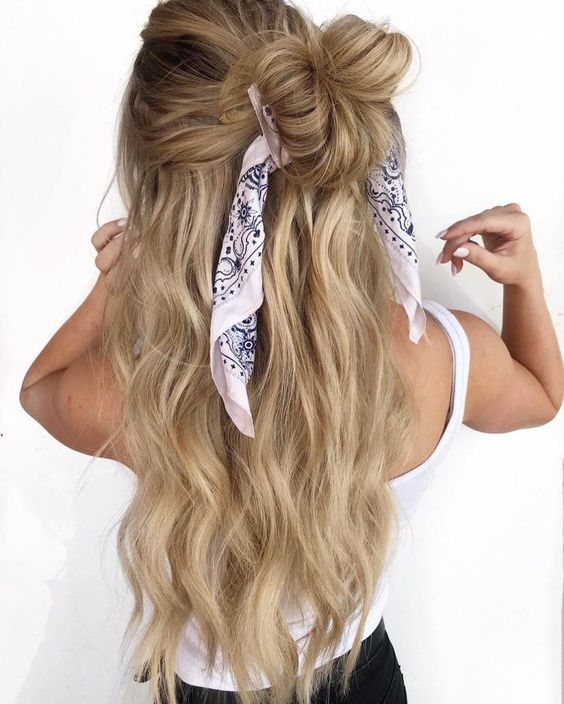 We all are aware of the transformation that comes with a simple bandana. Spice up your looks with a bandana of whichever pattern, print your wish, and experiment with various styles.
Bow-shaped Half-up Hairstyle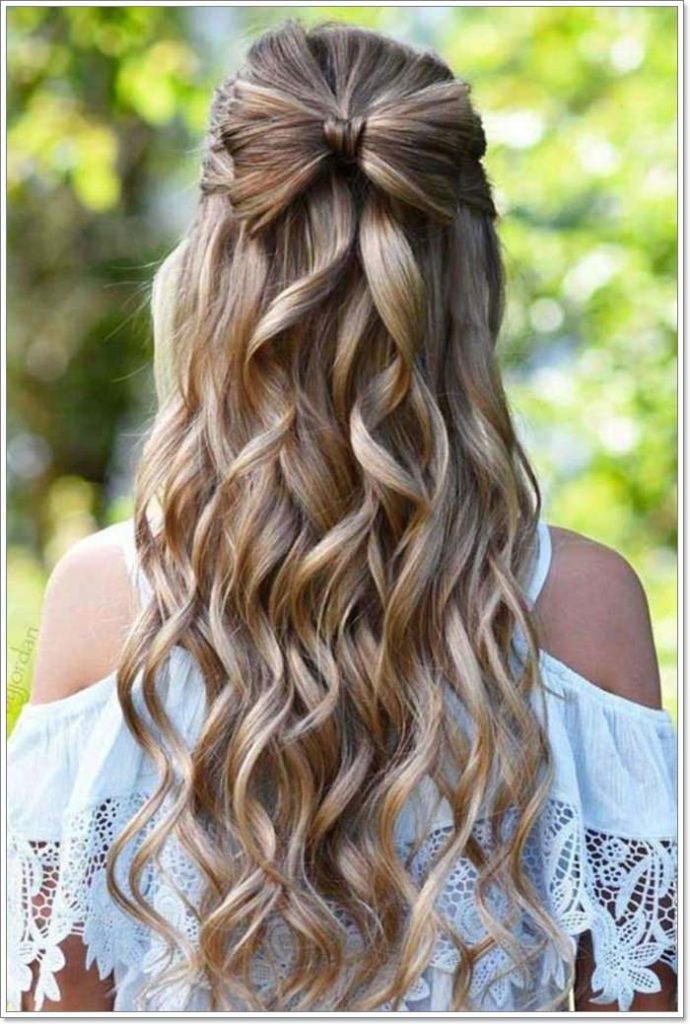 As complex as it looks, this hairstyle isn't everyone's cup of tea. It takes a lot of practice to achieve precision, yet it is such an intricate but beautiful hairdo of all time.
Flip Over Half-up Hairdo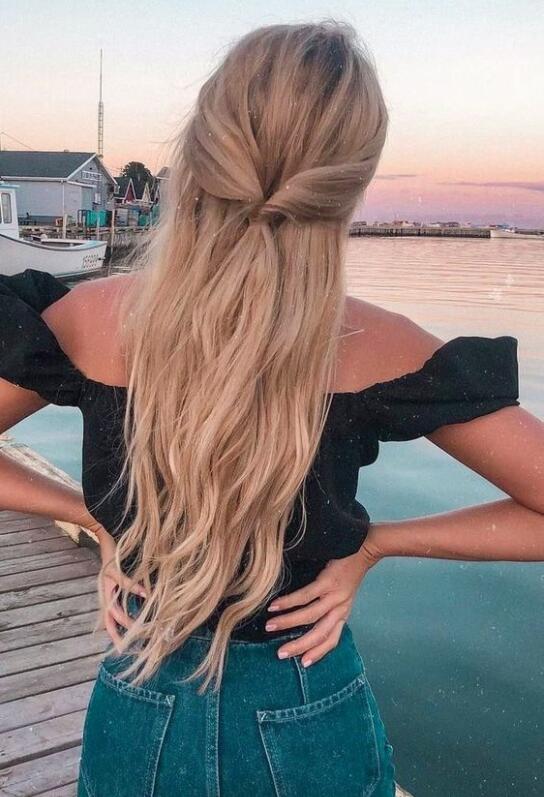 For this look, you must take two parts of your hair from the front, tie them with an elastic band, and flip the knot to the other side.
Top Knot with Tiny Braids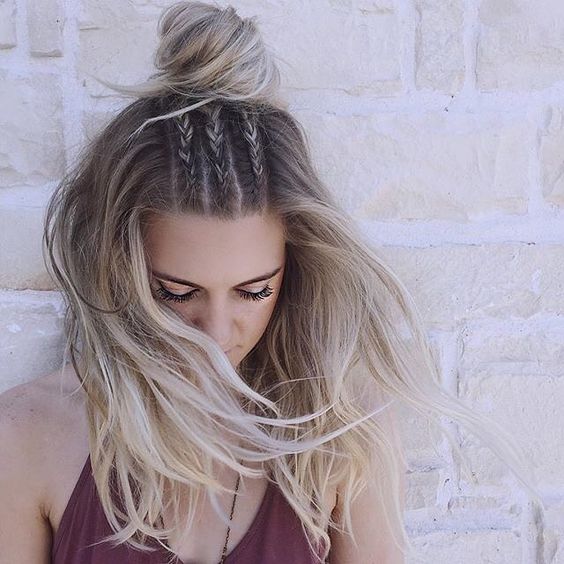 This is a very creative hairstyle; all you have to do is make three to four skinny braids and merge all of them in a knot right over your head.
Multi-Braid Hairstyle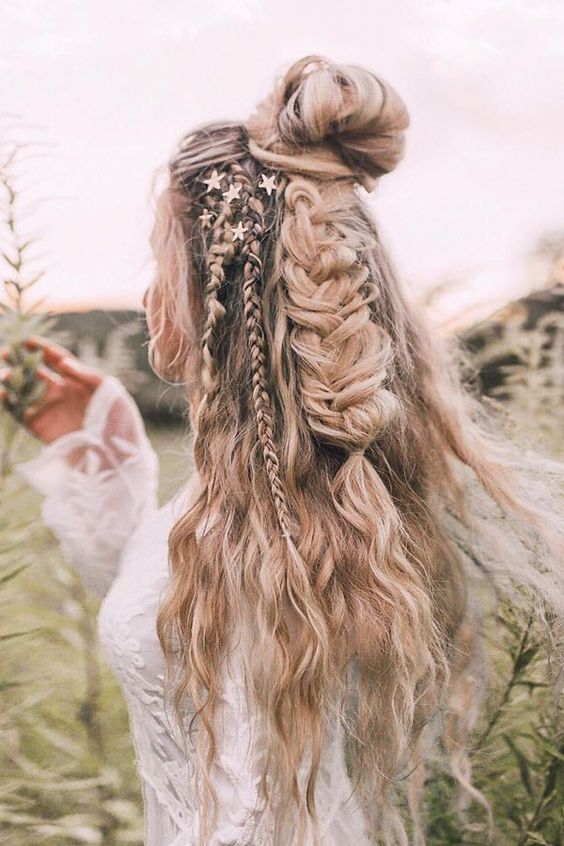 Oof! This one is the hardest one on the list, without a doubt. If you have mastered the art of various braids, you can bring them together simultaneously to create a new look. One should never stop experimenting.
Jewelry Magic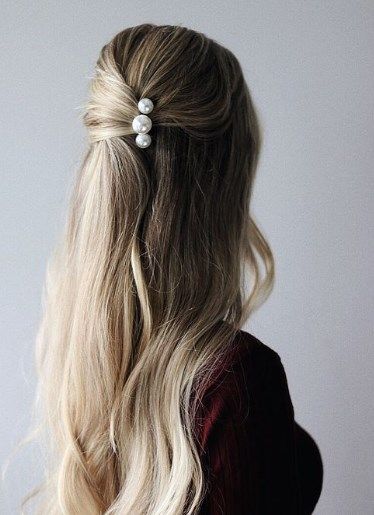 At times, when you're aiming for a half-up half-down look, you don't even have to go crazy all over the place. Just a simple piece of jewelry is enough for the magic.
Short Layers Hairdo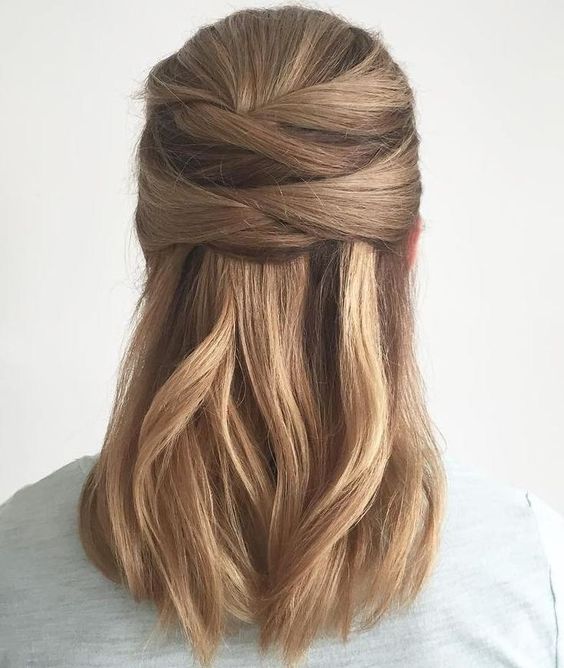 Don't worry; this hairdo isn't as complex as it appears. All you have to do is work the arcane with some bobby pins, leaving everyone bewildered.
Braids and Accessories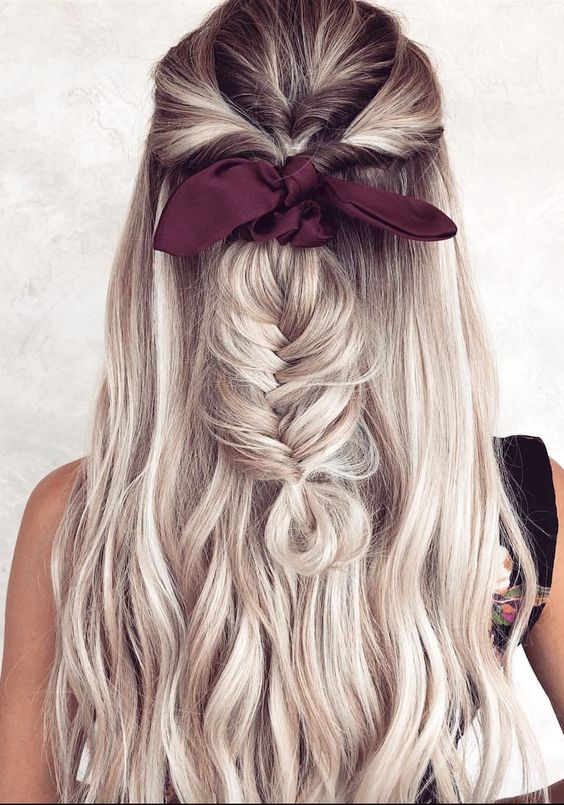 If you want something simple yet chic, you can always braid your hair and add a little poppy piece of accessories to the look.
Cross Braid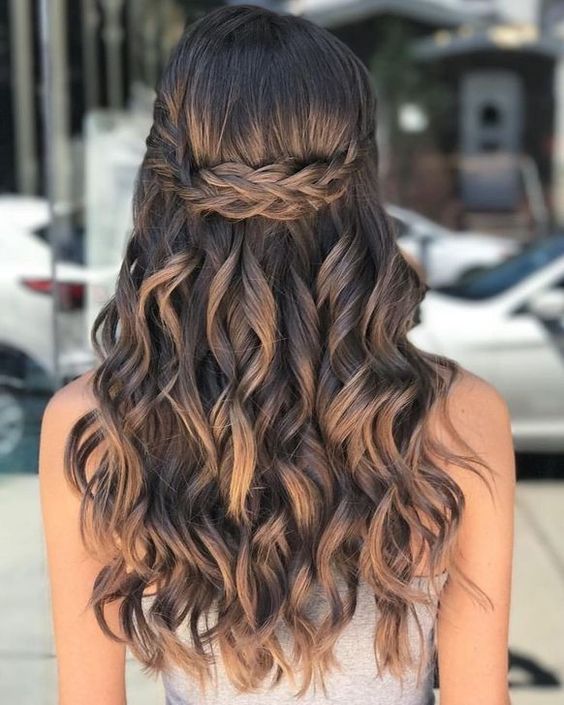 For this look, you need two bobby pins and a rat-tailed comb. This look will have you feeling like a majestic princess with the perfect hair.
Common Questions:
1. Can I create half-up half-down braid hairstyles on short hair?
Yes, you can create half-up half-down braid hairstyles on short hair. While the length of your hair may limit the size and length of the braids, you can still achieve a stylish and unique look by incorporating smaller braids or twists. Consult with a hairstylist or experiment with different techniques to find the best options for your short hair.
2. How long does it take to create half-up half-down braid hairstyles?
The time required to create half-up half-down braid hairstyles depends on various factors, such as the complexity of the braiding technique, your hair length, and your skill level. Generally, it can take 10 to 45 minutes to complete the hairstyle. With practice and experience, you'll become faster and more efficient in creating these braided looks.
3. Can I wear half-up half-down braids for formal events?
Absolutely! Half-up half-down braid hairstyles can be dressed up for formal events. Consider incorporating more intricate braiding techniques, adding embellishments or accessories, or even combining the braids with updo elements to achieve an elegant and sophisticated look. Customize the style to suit the formality of the occasion while still maintaining the charm of the half-up half-down braids.
4. How do I prevent my braids from unraveling?
To prevent your braids from unraveling, there are a few tips you can follow:
Start with clean and dry hair, which provides a better grip for the braids.
Use a texturizing spray or dry shampoo to add grip and hold to your hair before braiding.
Secure the braids tightly at the base with bobby pins, hair ties, or discreet elastics.
For added security, you can also use a lightweight hairspray to set the braids in place.
5. Are half-up half-down braid hairstyles suitable for all face shapes?
Yes, half-up half-down braid hairstyles are versatile and can be adapted to suit various face shapes. The key is to customize the hairstyle to enhance your facial features. For example, if you have a round face, adding height at the crown and incorporating face-framing braids can create the illusion of length. Consult a hairstylist to determine the best braiding techniques and placement for your specific face shape.