If you are looking for a stylish, cool, and low-maintenance haircut for men, the high and tight haircuts may be your best choice. This haircut is also known as a military haircut because it has been widely seen for men in the military. Now more civilians have begun to try this hairstyle.
What Is The High and Tight Haircut?
The high and tight haircut is quite similar to the crew cut and buzz cut. However, this is not a flat-out buzz cut as it has more structure. You will have a concise cut on the sides with a long patch of hair left on the top of the head. And the back has shorter hair than on the top level. The high and tight haircut offers many different variations compared to the "short-sleeved, long-tops" hairstyle.
The high and tight haircut works best for men who have a nicely shaped head and thinning hair as it reduces the impact of thinner hair. Moreover, this haircut is also suitable for curly or wavy hair as it keeps texture on top.
This article list 65 trendy high and tight haircut for men in 2022. You will find the best hairstyles suitable for almost all hair types, including straight, curly, or wavy hair.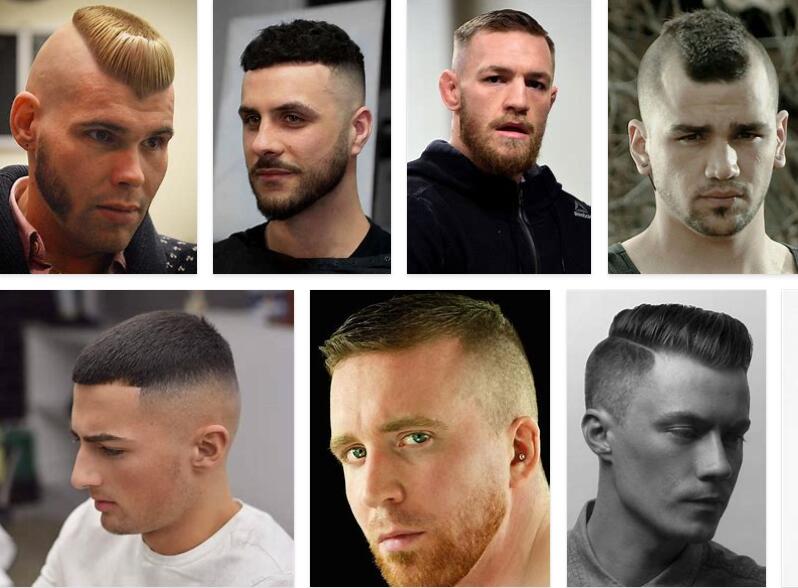 65 Awesome High and Tight Haircuts For Men
We have gathered 65 awesome high and tight haircuts that might inspire you.
1. Spikes High and Tight Haircuts
This haircut is shaved on both sides, while the top level has a significant amount of hair. By simply brushing the hair upwards, you can make spikes by applying hair wax, gel, or spray. The spikes are also formed flat and look neat. This military haircut makes you look clean and fresh all the time, and it can also make you feel more confident.
2. Triangle High and Tight
This hair and tight haircut have distinct lines that divide the completely shaved sides from the hair in the middle or top. The back is shaved completely, leaving an inverted triangle style in the middle.
The top hair is then combed together to one side, making it look semi-formal and stylish. This hairstyle is also easy to maintain as it is already styled, and you only need to comb it to the side from time to time.
3. Classic Sleek Style
This classic sleek, high, and tight haircut highlights your natural appearance. Many guys would do anything to get this style. Both sides are faded, keeping the ears completely free. The top level has medium-length hair that is combed backward.
Some hair strands are also raised slightly, making you look cool and fresh. This style is excellent for almost all places and events.
4. Asymmetrical Crop
You might think that having concise hair has no hopes for styling. However, there are many ways to style your short hair, just like the asymmetrical crop, high and tight. It has a military look as both sides are faded.
There is less hair on top that is combed to one side. This hairstyle is one of the most fresh-looking styles there is. It does not just look neat, but it is trendy.
5. Cliff High and Tight Haircut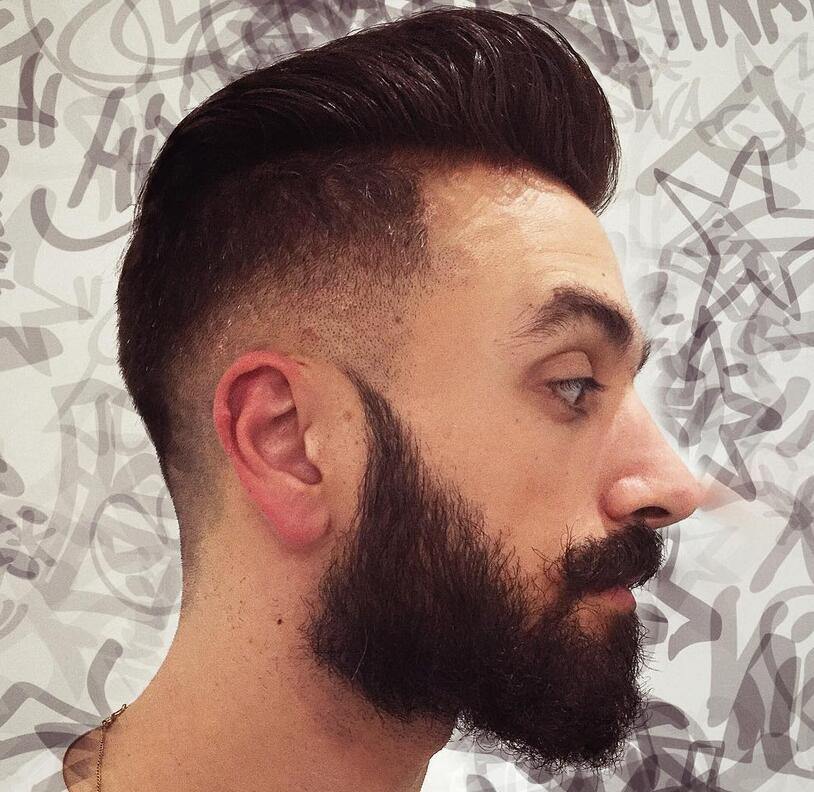 The cliff hairstyle gives you three excellent layers to add more depth to your hair. Most guys also love this hairstyle because of the cliff style on top. Both sides are faded, and the nape area can see two layers on those sides.
6. Receding Hairline
This high and tight style might give you some inspiration for men with a receding hairline. Short haircuts are always better for men with receding hairline or thinning hair. Both sides are shaved from the hairline points to not visible. Only the middle part remains and is cut shorter. It is also easy to manage, and there is no need to comb or fix the hair.
7. High and Tight with Mohawk
There are many Mohawk styles, and its high and tight combination is excellent. Both sides are shaved completely, with fading effect going to the top. The top-level is combed flat with a slight wave that makes spikes. It looks like Mohawk from the front, but the top is not high.
8. Short High and Tight Haircut
This haircut is very manageable for short, high, and tight, and you can wear it almost anywhere, for formal events, parties with friends, and special occasions. It is also great for an office setting. The sides and the back are entirely shaved while making faded effects toward the top. It also has a square shape on the forehead area. This style makes you feel fresh all the time.
9. Wave on Top
This is another excellent high and tight haircut for men with a receding hairline. The hairline can be blurred with this hairstyle with a faded effect on both sides of the head. The top-level has given a trim so you can style your bangs higher going to the back. This style looks fantastic and grand. It can catch the attention of the ladies.
10. Spiky Top High and Tight Haircut
The spiky effect gives more edge to any hairstyle, whether the cut is long or short. This spiky top high and cut might also interest you. Both sides and the back are shaved completely to achieve a fresh and clean feeling. The top has a small amount of hair and is styled into spikes. If you want to keep your hair short and like more edge, you can try this one out!
11. High and Tight with Curls
This hairstyle has both sides shaved entirely and the back area. The top has a significant amount of hair and is curled. Men with natural curls can quickly achieve this style by skipping the curling step. The curls look so stylish and form smooth waves.
This style is also perfect for attending formal events and special occasions. Wearing this style can make you the apple of the eye.
12. Shaved High and Tight
This high and tight haircut has no fade effects, and it also looks attractive. Only the crown area has short hair, while the rest are completely shaved for a clean and fresh feeling. It still has the military touch because of the hair on top, combed upwards, and brought together to make a point.
13. Bleached High Bun
This hairstyle is one of the cool, high, and tight haircuts that you can try. It also has three layers the bottom part of both sides, the back is shaved, and the middle has a bit longer hair. The difference between the layers is visible.
The top level has the longest hair and can be tied into a bun. It can also look better if bleach or other hair color is applied.
14. Well Blended High and Tight
Most high and tight haircuts are kept short. This hairstyle also has a concise length with only minimum hair on the crown. Both sides have a faded effect, and the bottom part is completely shaved.
The blending is very appealing to the eyes. The top-level has short hair, which does not require too much effort to keep. With this hairstyle, it is impossible to have a bad hair day.
15. High and Tight with Long Spikes
This is one of the most excellent high and tight haircuts that you can try. It has a visible line that separates the hair on top from both sides of the hair. Both sides are trimmed very short, which creates faded effects. It also looks neat, even if the top has a significant amount of hair. The hair on top is styled to create spikes.
16. Green Breeze High and Tight
This hairstyle looks like a breeze, so if you want to attend a party looking like a punk star, this might be what you are looking for. You can always choose your preferred color. Both sides are shaved with a faded effect going upwards. A line is also visible to separate the long hair from the sides. The hair on top is then combed towards the front to create a breeze effect.
17. High and Tight with Side Swept
This style is one of the men's favorite high and tight haircuts. Both sides are trimmed short and a little faded on the bottom part. The hair on top is swept to one side, which creates a visible line on the other side. The styling on top looks like a big soft wave and can be quickly done with a comb or fingers.
18. Huge Spikes
If you want to add a lot of edge to your hairstyle, you will style your hair with spikes. This high and tight haircut has huge spikes on the crown, achieved with hair wax, gel, or spray. The sides and the back are shaved completely, and only the top has hair. This hairstyle is perfect for attending parties and outdoor activities.
19. High and Tight Flat Top
This military haircut can also transform you into looking like a badass. The top hair is trimmed short and flat, so there is no need to use any hair product to style your hair. The rest of the parts are entirely shaved so that you can feel cool and fresh.
21. Thick Top High and Tight
This hairstyle has both sides cleaned completely, while the top area has a significant amount of hair. The bangs are also combed backward, which appears to be thicker and richer. The hair is like huge waves going backward and flat towards the back. This hairstyle is excellent for any hair color, so you can always choose your preferred hair dye.
22. Short with Square Line
This hairstyle keeps the military look. The hair is trimmed short while both sides are shaved with a faded effect. The top is combed to one side, and the straight line is visible on the forehead. It also looks neat and fresh and makes you look innocent yet brave.
23. Shortest High and Tight
This high and tight haircut probably breaks the rules as almost all sides, including the top, are shaved to the scalp. Although the crown area has concise hair, it is still too short for military style. If you do not want to manage your hair and be ready all the time, this hairstyle might also interest you.
24. Modern High and Tight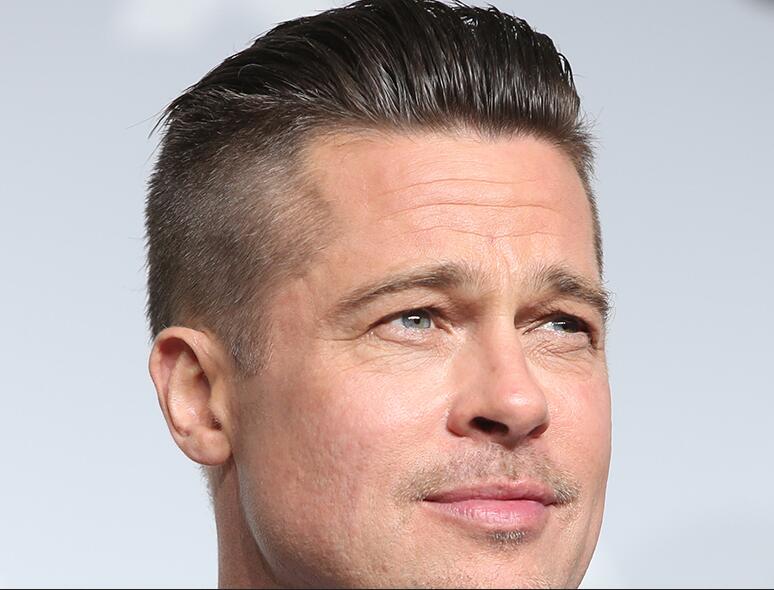 Everyone would like to look cool, and this hairstyle can do a lot of help. This hairstyle can show off not only your facial features but also your long top hair. The hair on top is combed backward and creates a super cool appearance.
25. Soft Mohawk
If you also like Mohawk style, this might interest you. It has a soft Mohawk as both sides are cleared completely, and only the crown area has hair. There is no need to add spikes as it looks great enough to be excellent.
26. Gym Style High and Tight
This hairstyle is perfect for going to gyms. With shaved sides and short top hair, you can focus mainly on your training. There is also a need to manage your hair which saves you a lot of time.
27. Crown High and Tight
If you want to have a royalty feeling, this hairstyle can give you a small crown that you can show off anywhere you go. The hair on top is brought together to make a point while the sides and the back are completely shaved. You can also manage it easily with your fingers.
28. Skin Cut High and tight
You would usually only find military men styling this traditional haircut. As shown in the hairstyle's image above, the cut goes short to the skin, making it an extremely comfy hairstyle for all seasons.
Even more impressive about this cut is that it needs little to no maintenance. That explains why it also easily qualifies as one of my favorite haircuts for toddlers.
29. Undercut Fade with Comb Over
This comb-over hairstyle does a fantastic job disguising the gentleman's thinning hair and instead makes it look super thick. Couple it with mustaches and beards to top off the haircut, as these will award you an even manlier look.
30. High Fade on Pompadour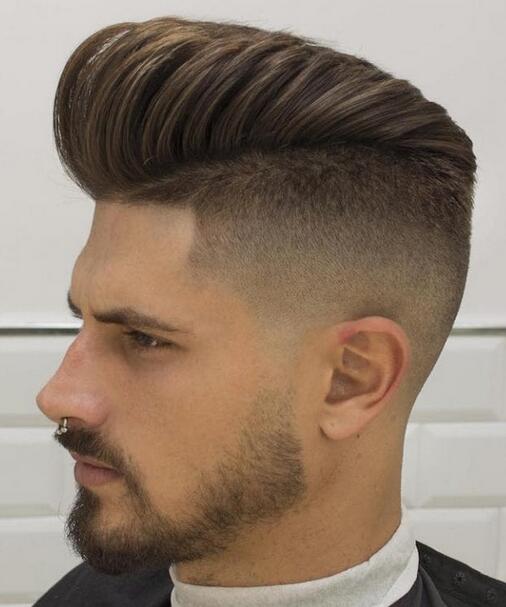 Another quite impressive way to wear the distinctive pompadour is to leave the top of your head slightly spiky. The hairstyle is perfect for many occasions but might not make one of the best hairstyles for everyday wear.
Another thing worth noting is that this hairstyle will need lots of regular maintenance and hair gel, so be prepared. If done right, you can rest assured the hairstyle will help you stand out even in a vast crowd.
31. High and Tight with Fringe
Do you have a receding hairline that you'd like to conceal? If your answer to that was a big, bold Yes, then the high and tight fringe could be the haircut you're looking for. The haircut will not only cover up any bald spots you might have, but it will also make you look a lot younger than you are.
Simply brush your well-trimmed hair towards the front to maintain the cut, and you're ready to go.
32. High and Tight with Quiff
Are you interested in a high and tight haircut but do not know what you'll do with the top side of your hair? Then allow me to introduce to you the subtle quiff. This haircut will make a statement as it looks pretty like an undercut.
Note that while you will look unique, you'll also need to spend a considerable amount of time keeping the hair looking dapper. Maintenance is vital if your want this hairstyle to do wonders for you.
33. Taper Fade with Quiff
Would you like to diversify your high and tight haircut? Add a short taper fade as well as a quiff. The haircut is extremely easy to style and should only take a few minutes.
To maintain the cut, brush your hair to the front from the crown, then comb the front hair upward into a short quiff. To conclude the styling step, spray some styling products to keep the cut stiff and in place.
34. High and Tight Haircut with Spikes
Most high and tight haircuts will leave you with an Ivy League look. If that's what you're after, but you also don't want to deal with many maintenance hassles, then feel free to try this short high and tight fade.
To top off the look, leave your hair extremely short on the back and sides, then make a neat spike on the top side. From experience, I can ascertain that this is a fantastic hairstyle for all ages and will be super easy to maintain. Just air dry before brushing, add some hair product to damp the hair, and VOILA!!
35. High And Tight Cut with Razor Fade
Do you have a kinky afro hairstyle but are tired of managing it and are looking for a way out? If that sounds like your predicament, a straightforward high and tight cut is a perfect choice for your hair type. Simply leave a little hair on top to make the hairstyle look unique and fade the back and sides to the skin.
To maintain this hairstyle and keep it looking clean, all you'll need is a hairbrush.
36. Textured High and Tight Buzz Cut
If a texturizer had not been included, this hairstyle could qualify as a classic high and tight cut. The haircut's image above shows that the all-around crew cut and high fade have unique front hair textures.
Styling the hairstyle should take you no more than 5 minutes, and maintenance sessions won't be a hassle either. Every maintenance should last at least a week.
37. Wavy High and Tight Cut
This hairstyle is perfect for gentlemen with no desire for a military look but with medium-length hair. You can easily create the haircut with the help of some natural waves and hair pomade. Styling the cut involves cutting the sides down to a low fade but the top hair to an average length of approximately 2 inches.
38. High and Tight Buzz Cut
This is essentially the classic military buzz cut, but with a twist. While the conventional buzz cut has a way of making men appear severe, this look has been softened with the high and tight fade. This look also qualifies as one of the easiest to manage hairstyles I've ever come across because there is unquestionably no maintenance needed.
39. High and Tight with Mini Quiff
The neat, slightly retro high and tight, coupled with a mini quiff, is still an extremely modern cut and always a fantastic choice. Regarding people this haircut is most suited for, I'd say those with heart-shaped and round faces.
To style the cut, use hair gel to make the hair on top neat and create the brushed-up effect of a mini quiff.
40. High and Tight with a Bald Fade
This short, high and tight haircut for men combines amazingly with a nicely trimmed beard. The haircut will work best for those with oval-shaped and round faces. If you have straight hair, add a small amount of hair gel and increase the spiky texture to style the cut.
41. Colorful High and Tight
If you want to add a hint of glam and make this conservative haircut more vivid, simply have the crown dyed in a wide array of shades. Have the back and sides faded, then choose any crown texture of your liking.
Also, you may feel free to go for a volumetric pompadour and texture or dye it in lavender and turquoise shades. This is the perfect cut for those who always love to be in the spotlight.
42. High and Tight Cut with Curls
This high and tight hairstyle variation provides low faded or high faded back and sides coupled with a kinky texture. The cut is ideal for dense and curly hair as it will mostly emphasize natural locks.
If you have a long and flat top, you might need to use a curling iron to create the necessary texture.
43. High and Tight Cut with Mohawk
Are you looking for a haircut that will highlight your cheekbones, fit your outfits, and look well-groomed regardless of the day or season? If yes, this high and tight cut coupled with a Mohawk is the perfect option for you.
If you'd like to attain an even more savage look, simply combine the haircut with a full or short beard.
44. High and Tight Slicked Back Hair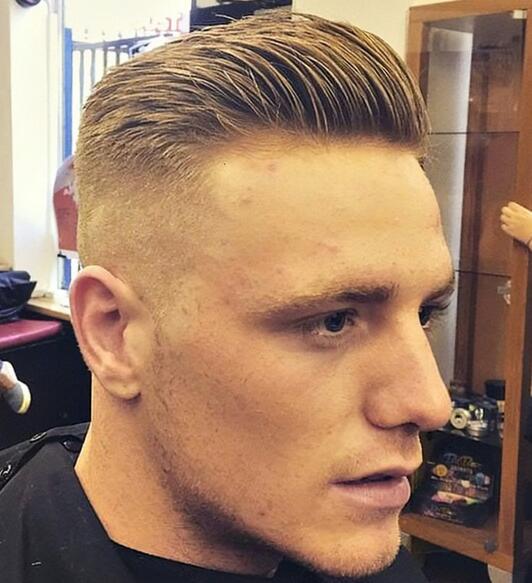 Have you been striving to award yourself a polished look? A neat look like the one above is the way to go. This look has always been associated with shiny and sleek hair. If you leave the crown slightly long and pick faded sides, then simply put an accent on the topside.
You will need to comb the strands backward and add some styling products to make the whole look glossy.
45. High and Tight Cut with A Side Part
This variation of military hairstyles is best known for its sleek finish and sharp lines. It's one of the few minimalistic and neat hairstyles that will always be fashionable. In addition to that, this cut makes it look more severe and masculine.
To attain the cut, you ought to have the crown trimmed short, a clear side part, and the sides shaved. The side part will be there to separate the two textures.
46. Crew Cut
The crew cut is an extremely simple yet appealing hairstyle. A combination of the crew cut and high and tight cut (as shown in the image above) is usually worn by soldiers, football layers, and any man who prefers simple elegance.
If you pick this cut, note that it requires tapering on the back down the hairline and the sides and a longer top and trimmed crown. All of these can be styled in a wide array of ways. Another point worth noting is that the cut is perfect for adventurous men, as the haircut will emphasize their rebellious spirit.
47. High and Tight Recon
This is one of the most extreme versions of a high and tight haircut you'll find on this list. It features a narrow strip of hair at the top and shaved sides. You might've also noticed that it's not only the flagship hairstyle of the marine, but it also closely resembles a short Mohawk.
In regards to styling, this haircut doesn't require much. You might add some wax or give the stripe the texture you desire at the top.
48. The Classic Soldier
A top perk like the one above is one of the easiest ways to award your short hair a fine finish that dudes with long hair always boast about. You can top off the top perk with cleared sides and award yourself the impression of an individual keeping abreast with the fast pace of fashion.
49. High and Tight Mini Crown
Without a doubt, it's time to bring back this "cheeky" bid crown.
The sides and parts of the back to half the top are given a clear cut, and the only long hair has been left toward the front to provide the look with a rising impression. A variation worth noting is that the hairstyle isn't made sharp but has been bundled together for a finer finish.
50. Rock Star Top Fry
As you may know, if you're a fan of my hairstyle guides, I always ensure that all my posts have a hairstyle for everyone. In this guide, I've also ensured that rock fans haven't been left orphaned. This rock star top fry is a fantastic choice that'll seamlessly blend in with your scalp and face tattoos.
51. Super Short High and Tight
Of all the high and tight haircut variations we've shared in this guide, this is the simplest. The topside is reduced to an inch, whereas the sides have been shaved clean.
52. High and Tight Blunt Mohawk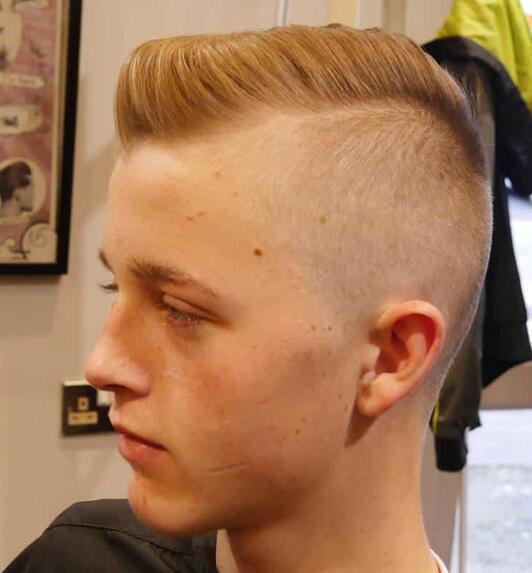 If you're always used to a spiked Mohawk, I have a variation that I know you never thought could match your head. I recommend you try out this Blunt Mohawk, which has borrowed from the traditional Mohawk. That said, remember to tame the top to a flat plate.
53. Tight and Swept
As the image above proves, a side sweep doesn't always need to start by the sides. You could also style it from one corner of the forehead to the other.
54. High and Tight Fine Tooth Comb
Guys who love having their hair short have thousands, if not tens of thousands, of choices to pick from, and this high and tight coupled with a fine-tooth comb is just one of them.
55. High and Tight Rift High Top
The topside is thick, and you can tell from the image that it's deep to the skin. To top off the look, make a rift a few inches from the front and conclude with a rise that's higher than the first one.
56. Black Bloom
Who wouldn't desire such a cool look? If you pick this haircut, feel free to customize it. You must give the sides a fine touch to medium size, then comb them to a flawless finish.
57. High and Tight With French Crop
This haircut is modern, impressive, stylish high, and tight for young men. You should leave the hair long on the top with short, shaved sides.
58. High and Tight Haircut with Quiff
This is an excellent haircut for men. However, you may need some hair styling products and a blow dryer to maintain this haircut.
59. Messy High and Tight Haircut
This is an excellent and stylish haircut for men, especially with a long face. The messy hair is left long at the top and has a short or smooth side in this hairstyle.
60. High and Tight Haircut With Faux Hawk
61. High and Tight Haircut With Caesar Cut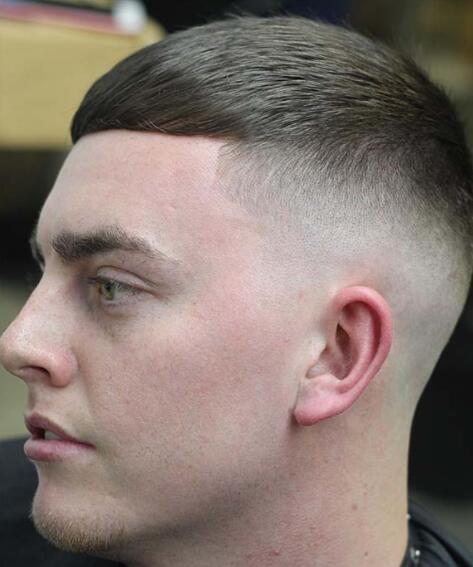 62. Skin Fade With Beard
63. High and Tight Haircut With Hairline
64. Medium High And Tight Haircut
65. Blunt High and Tight Haircut