Korean hairstyles have become very popular among young people thanks to K-pop. This hairstyle looks cool, fashionable, and easy to maintain. It is an excellent option for young people just starting with their hairstyling.
Korean men's hairstyles usually feature long, shaggy layers combined with a fade cut or patterned with a clipper or scissor design. With its unkempt and tousled aesthetic, the style is far from the more formal and groomed look of other Asian men's hairstyles.
Korean hairstyles also offer a wide range of styles that can suit just about any guy. From short sides to high tops, there are a lot of unique looks to try out, from fauxhawks to faux mohawks. Whether you like a polished or unkempt look, you can find a style that works for you.
If you're considering pulling off one of these Korean hairstyles for yourself, this guide is for you. This article lists 78 trendy Korean hairstyles for men.
78 Most Popular Korean Haircuts for Men
1. Korean Men Fade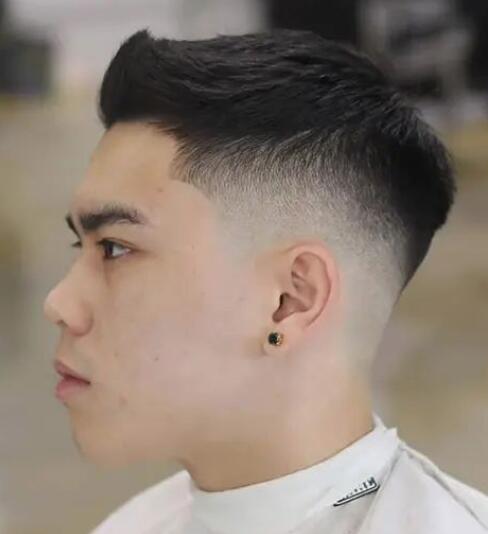 What better way to start a guide on hairstyles for Korean guys than the Korean men fade? Contrary to popular belief, the fade is quite popular in Asia, just as it is worldwide.
2. Side Part Korean Hairstyle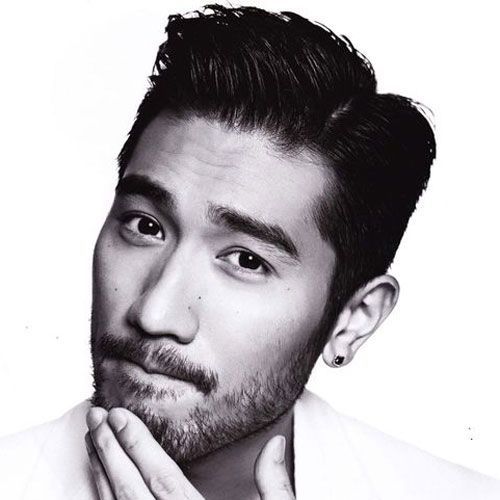 The side part may be one of the most striking haircuts when styled on a Korean man. Thanks to the haircut's authoritative appearance, he is the first Korean man with leadership characteristics.
3.

Korean Haircut with

Buzz Cut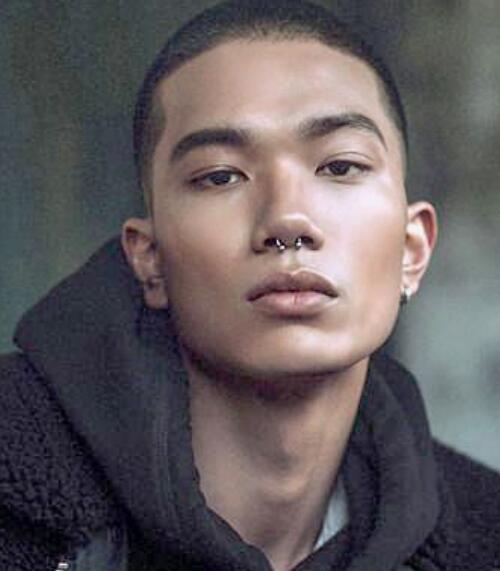 If you want a neat and clean Korean men's hairstyle, then the buzz cut could be what you are looking for. It is also low maintenance. In this short Korean men's haircut, your entire head will be shaved with a hair clipper.
4. Two-Block Korean Hairstyle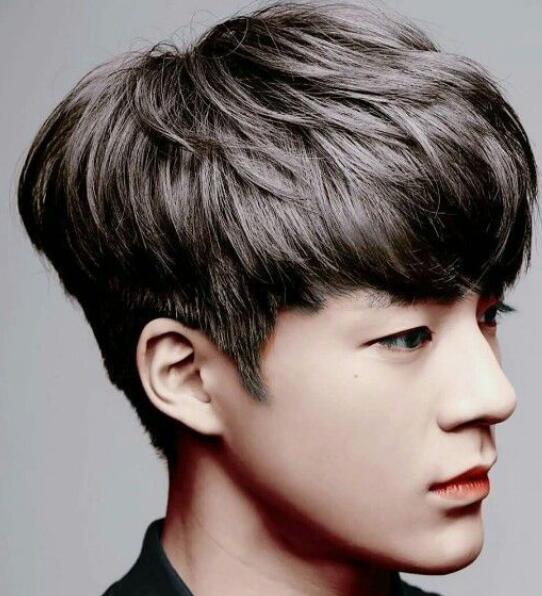 This iconic hairstyle perfectly identifies with all Asian men. Also, while styling this haircut, ensure that the top side is left natural and long.
5. Asian Men Undercut Fade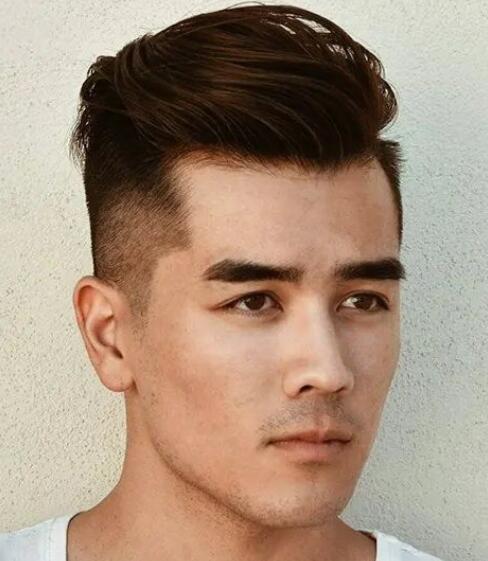 The Asian men's undercut is quite versatile. Why? It can be combined with various contemporary haircuts, such as spiky, slicked back, and quiff. This hairstyle is a member of the short sides and long top haircuts family.
6. Korean Men Fringe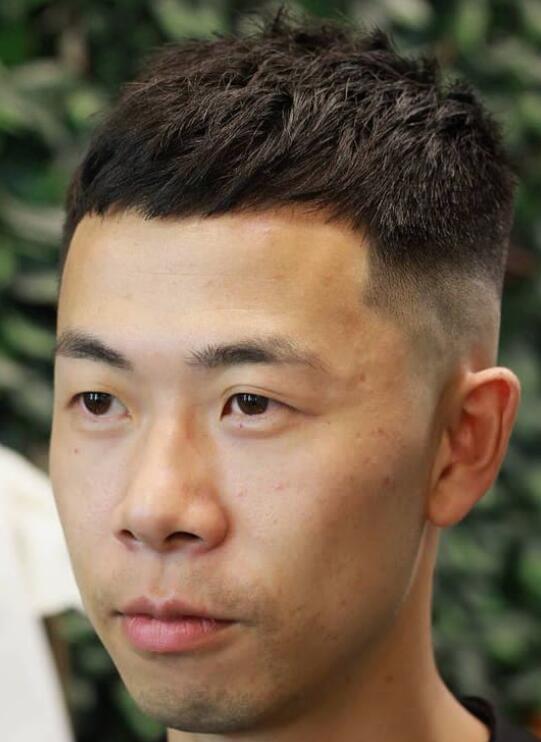 The Fringe is undoubtedly one of the trendiest Korean men's hairstyles you will find today. If you prefer this hairstyle, then rest assured that you have many styling options, including angular Fringe, asymmetrical Fringe, and textured Fringe.
7. Korean Men Quiff

Haircut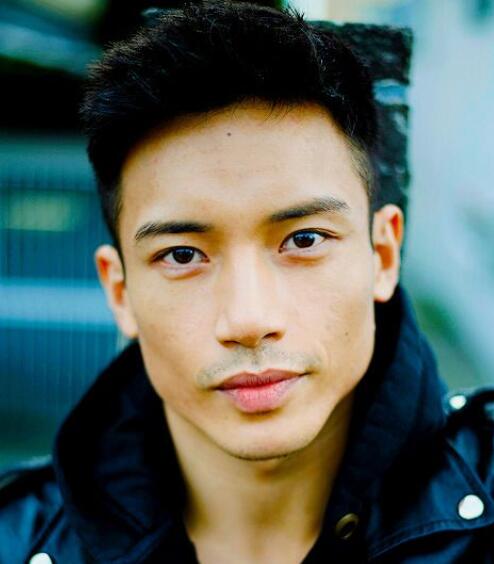 When I visited South Korea a few years ago, I quickly noticed that the quiff is one of the favorite hairstyles among Korean men. The image above shows that the haircut looks slicked with cropped back and sides.
8. Messy Korean Hairstyle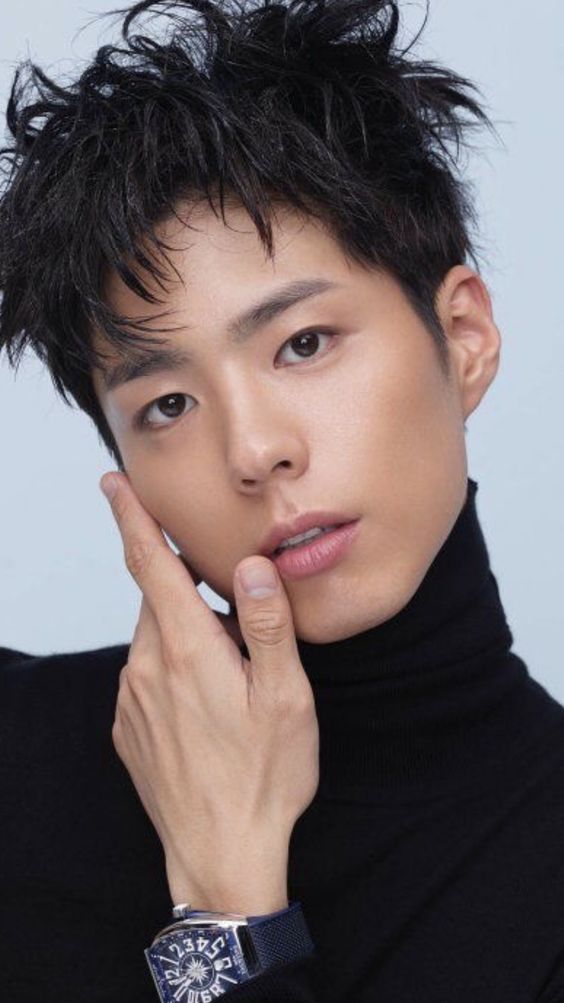 The Messy Korean hairstyle is perfect for all those men who want to reflect a free spirit using their haircut. The messy and voluminous hair looks pretty eye-catching and cool. Just note that his hairstyle requires more styling effort compared to the others in today's guide.
9. Samurai Bun Korean Men Hairstyle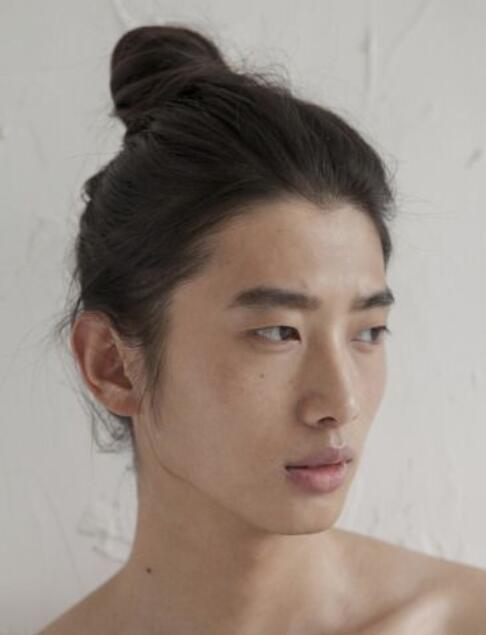 The Samurai bun is an authentic and traditional Asian men's hairstyle. If you thought this haircut was only popular in Japan, you couldn't be further from the truth. The hairstyle is trendy among Korean men and will look great on them.
10. Classic Korean Men's Hairstyle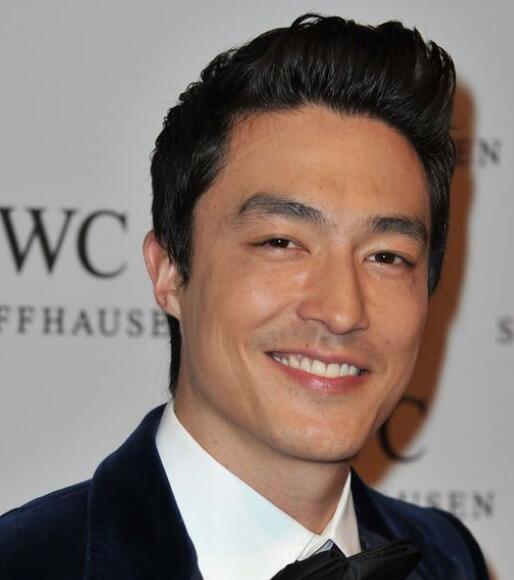 The classic Korean men's hairstyle is suitable for those who spend most of their time in business. This haircut boasts a professional vibe thanks to its stylish and severe look. You'll also notice that there isn't a massive difference between the hair on the sides and on top.
11. The Korean Pop (K-Pop) Haircut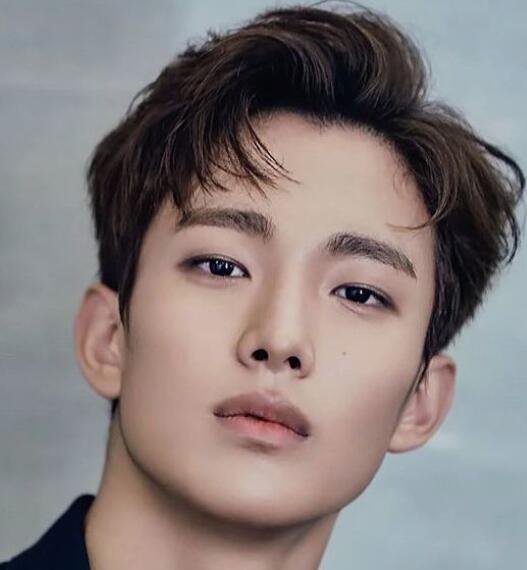 K-Pop, one of the most trending music genres originally from South Korea, can give rise to a vast portion of the more popular haircuts for men. This haircut is one of the hairstyles, and you should see it on most Korean Pop artists.
12. Thin and Blonde Korean Cyberlocks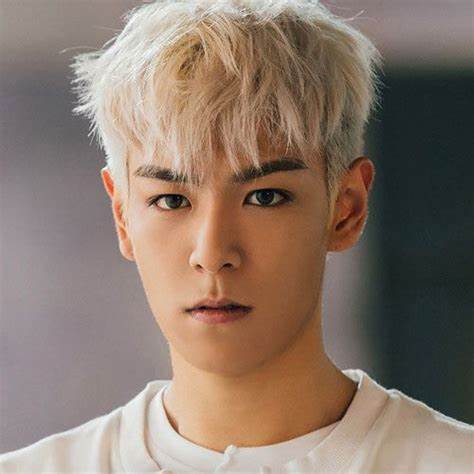 If you would like a slightly more modern look, I advise you to pick a haircut with a full head of dreadlocks and transform the shade of your hair to the color you prefer. If you are not a fan of dazzling colors like bright pink or purple, I suggest you go for a basic honey blonde.
13. Dreadlocks Tail with High Fade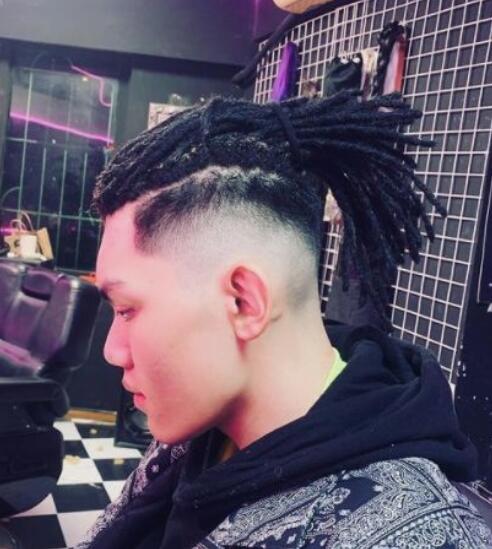 After your hairstylist makes a bald fade on your hair, you can feel free to wear the top in an irresistible bun or ponytail. This hairstyle is also great for those who would like to have short and long hair at the same time.
14. Bald Fade with Full Head Dread Falls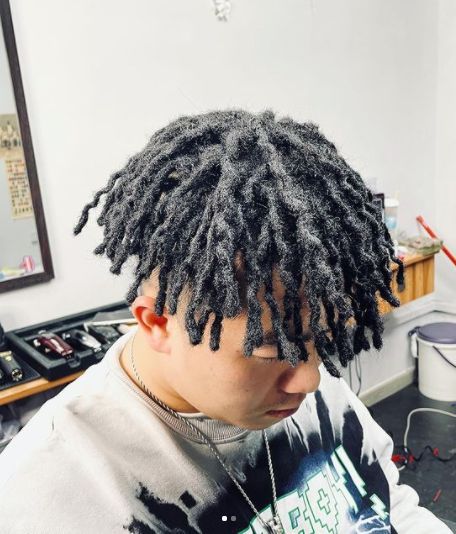 To get this look styled on you, you will need approximately 40 dreads and lots of patience. If you'd like an even more fabulous hairstyle that shortens the entire process, feel free to ask your barber for a bald fed and only have the dreads on the top of your head.
15. Short Shape up with Middle Part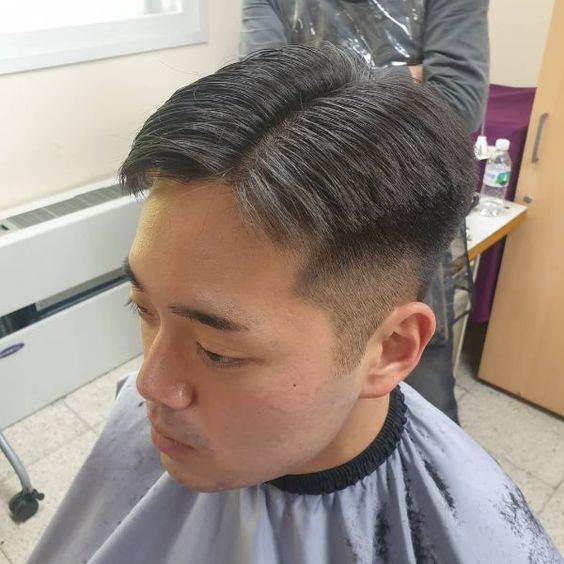 The line of this haircut's fade should surpass the level of the temples and reach close to the crown area. That should, in turn, result in a shape-up contour. Another detail worth noting is that the crown is kept 1 inch long and has to be neatly combed with a middle part.
16. Bowl Cut with Parted Bangs and Skin Fade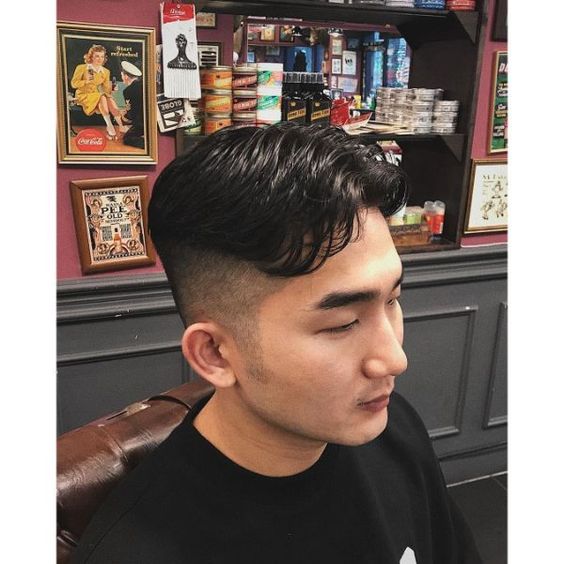 An extremely tall bowl cut is perfect if you want to add height and volume to your locks. The high fade you can see in the image above is done using the number 0 clipper and completed with a 2 inches long top side parted.
17. Juice Cut with Faded Sides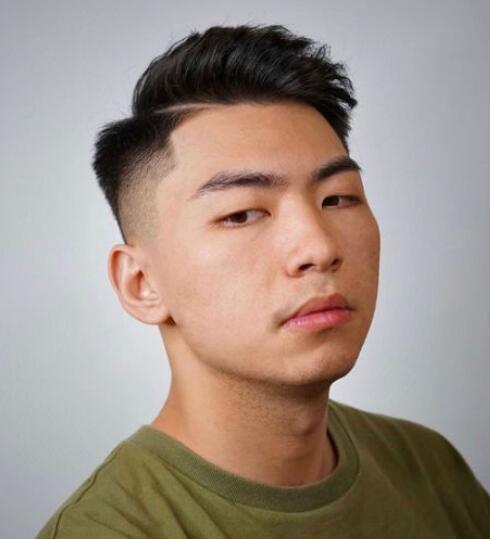 This classic juice cut with the distinctive sideline and high shape fade that separates the shorter part from the high part is perfect for those who want to try out Tupac's iconic look. You can ask your barber for The Juice haircut.
18. Messy Blonde Top with Low Fade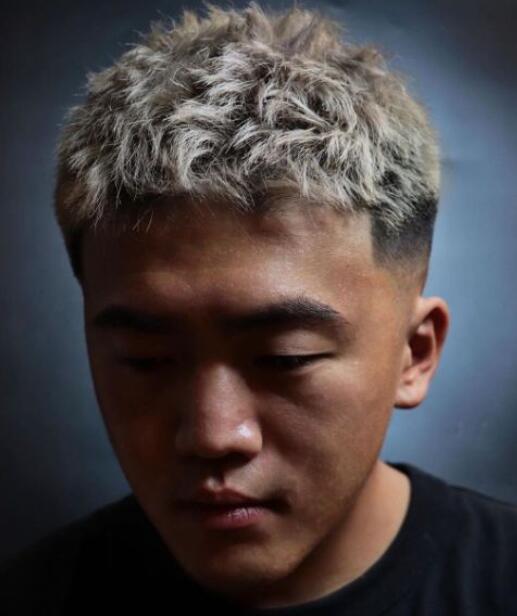 A high fade, messy top, and sharp, shaved arch line are needed to get the heavily layered look in the image above. As you can see, the ends have also been dyed to give a contrasting look. Pick the shade of your liking for that part.
19. Middle Part with Curtain Bangs and Bowl Cut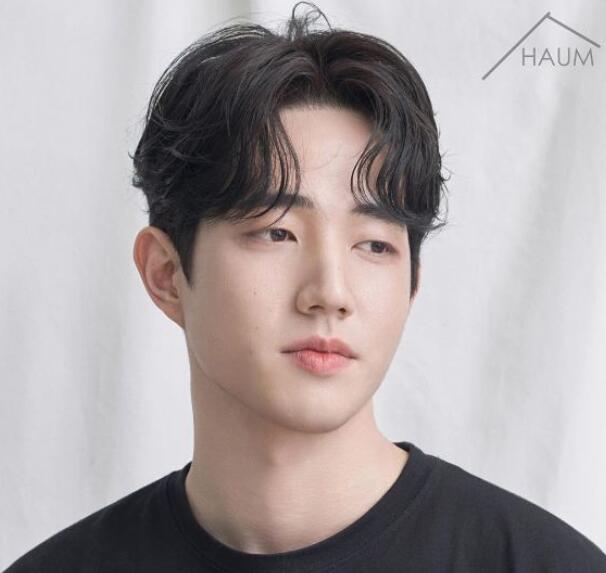 Ask your barber for a taper haircut with long curtain bangs and some nicely shaped sideburns to get this haircut. The curtain bangs need to go just above the eyebrows level. You can wear this hairstyle covering your forehead.
20. Side Swept Top with Fade Cut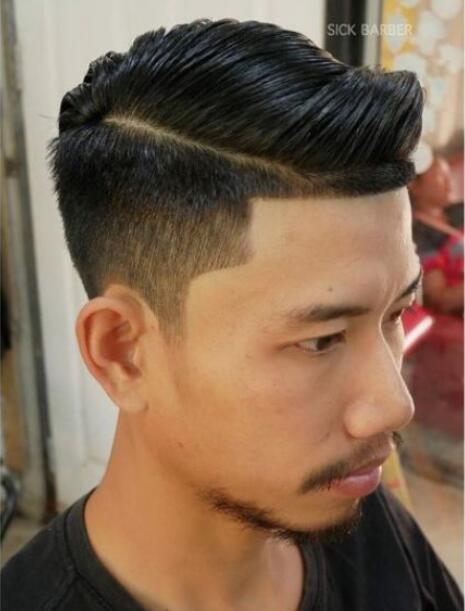 This clean haircut is perfect for attending casual and elegant occasions. The haircut should also be relatively easy to achieve by any barber. The only thing you need to remind your barber to pay the most attention to is the contouring done by the razor.
21. Juice Cut Hairstyle with an Artistic Design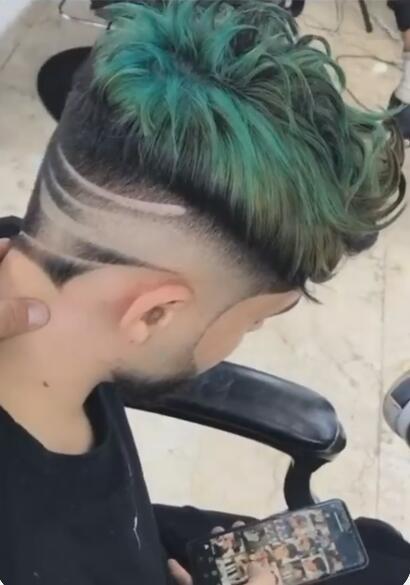 To get this hairstyle at a barbershop, ask for a high-faced cut with a top of approximately two inches long trimmed hair. In addition, I request that the hair be combed to stay swept on the back and top the whole look with a side part.
22. Spiky Wet Looking Top With a Cool High Fade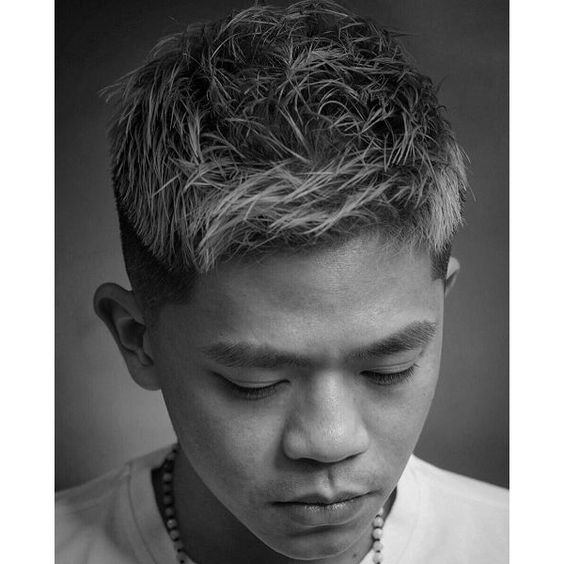 After styling the short, clean, shaved sides and leaving the topside hair approximately 1 inch long, you will apply hair gel to get the final, spiky look. You can add a natural color or some highlights to the hair on top.
23. Middle Part with Blonde Bowl Shaped Haircut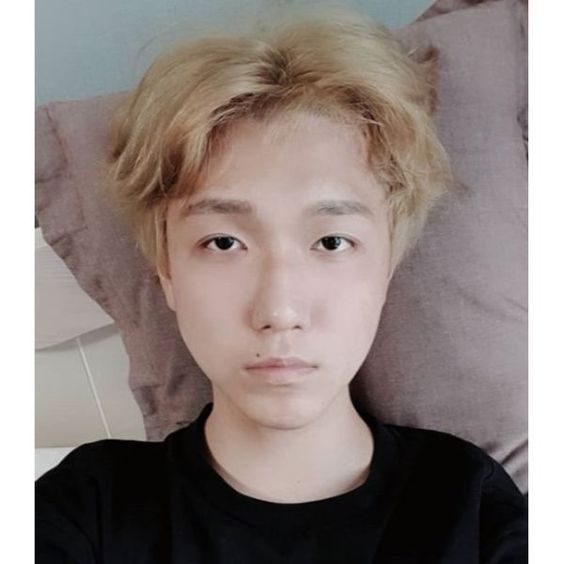 To get this light shade of blonde, you'll need to start by bleaching your hair and dyeing it shortly afterward. Ask for the bowl cut with messy bangs and chunky layers.
24. Straight Bangs with Layered Bowl Cut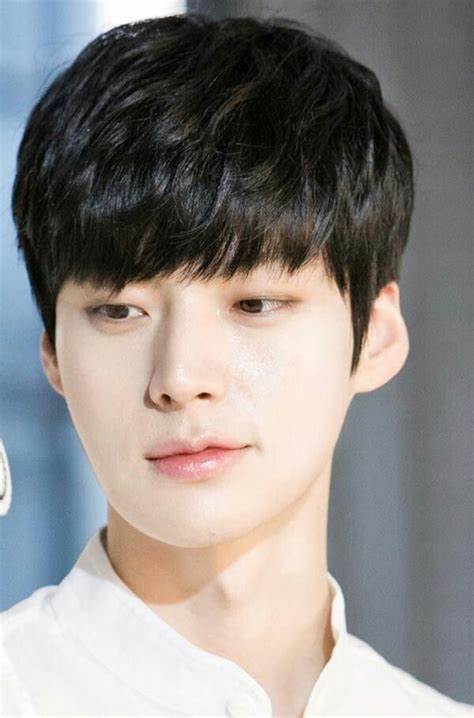 Thanks to its carefully trimmed-down bowl cut, this hairstyle is the minimalist version of bowl cuts with many diagonal layers that'll give a slim aesthetic shape to your hair.
25. Taper Hairstyle with Piecey Long Highlighted Top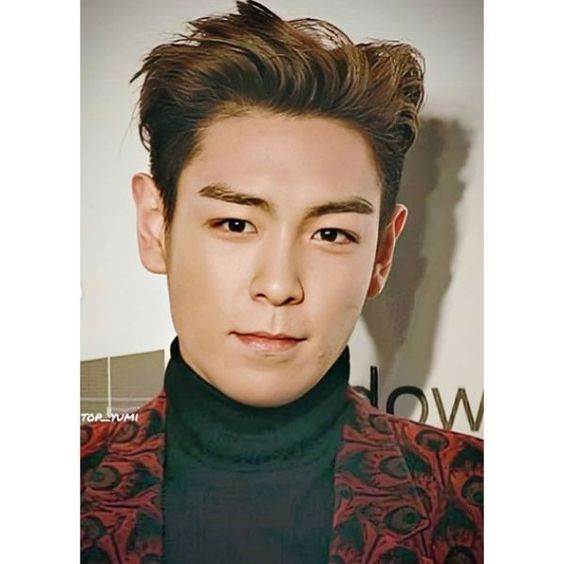 This voluminous straight-top hairstyle will add extra inches to your head and award you a gentlemanly-like appearance. Ensure that the hairstyle is styled as showcased in the image above.
26. Highlighted Wispy End Haircut with a Shape Up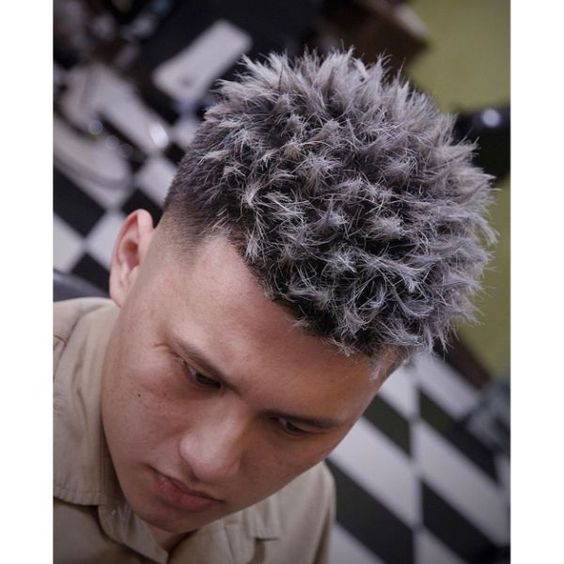 One of the most fantastic-looking haircuts for Korean men, this shape-up boasts a twist that will make it look even more fantastic. It boasts short shaved sides with a high fade and wispy strands on top that have been highlighted with an icy blonde dye.
27. Blonde Hair with Side Swept Bangs and Layered Taper Hairstyle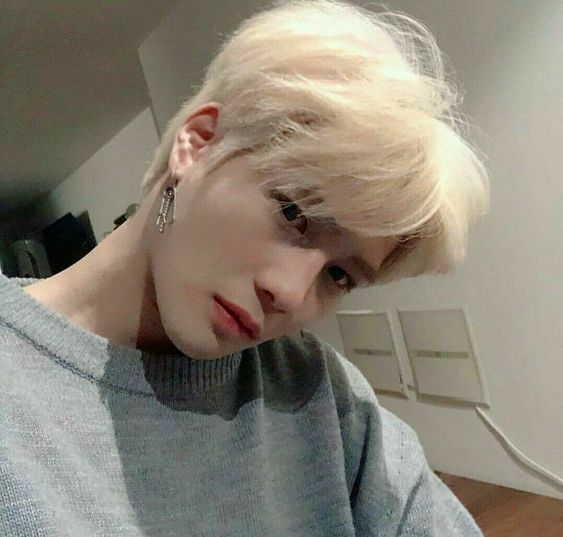 A short horizontal layered hairstyle is all you need to get this pyramidal and extensive height look. The blonde hair color adds luminosity and volume to the entire hairstyle.
28. Sleek Swept Back Bowl Cut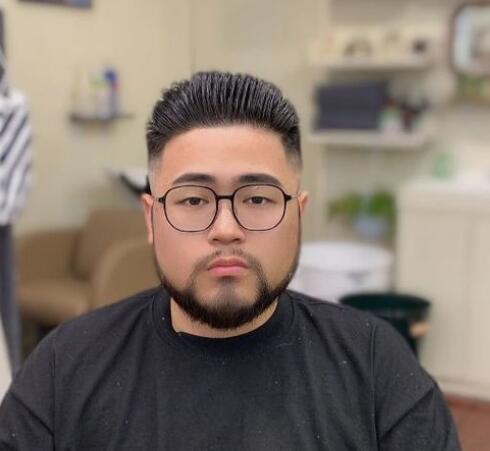 If you would like a flat, uneven look, then I suggest that you choose to style your typical bowl cut sing a clean side fade and a bowl cut that will award your head the slightly slim shape as that showcased in the image above.
29. Long Wavy Layered Hairstyle with a Side Part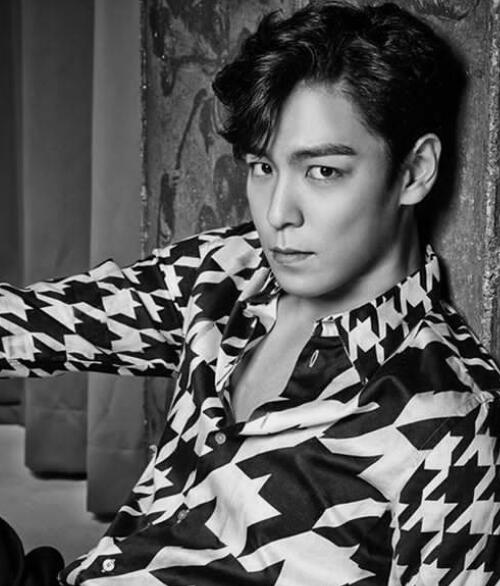 Also known as the typical Don Juan haircut, this long wavy layered hairstyle for Korean men is an extraordinary way to flaunt your shiny hair. Just keep the sideburns curved and extended to ensure that you retain the retro vibe.
30. Shaved Sides and a Messy Layered Top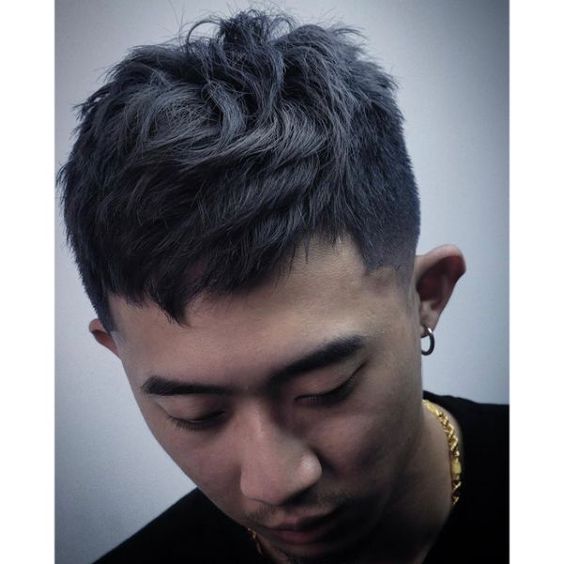 Acting as a fantastic variation of the asymmetric hairstyle, this heavily layered trim combined with the shaved sides is one of the most excellent ways to scream "Killer Look!!"
31. Short Trimmed Taper Hairstyle
This hairstyle is a good choice for men with round faces. A perfectly scissors-trimmed hairstyle with an overall length of approximately 2 inches and some soft angles is needed to make for a classic short haircut that you can sport any time. That implies that the look is perfect for both business and casual occasions.
32. Free Falling Bangs with Layered Haircut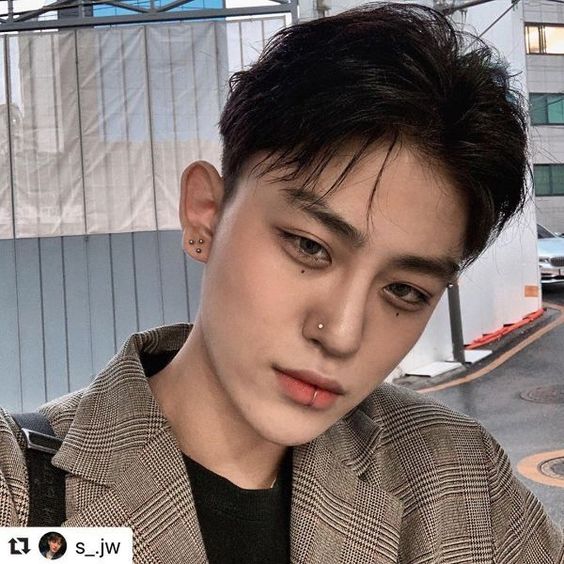 This look reminds us of the 90s era graced by the Backstreet Boys fashion in its full bloom. The fringey hair strands hanging freely around the Korean gentleman's forehead are what you need to create a cool, relaxed look.
33. Swept Back Layered Hairstyle for Korean Men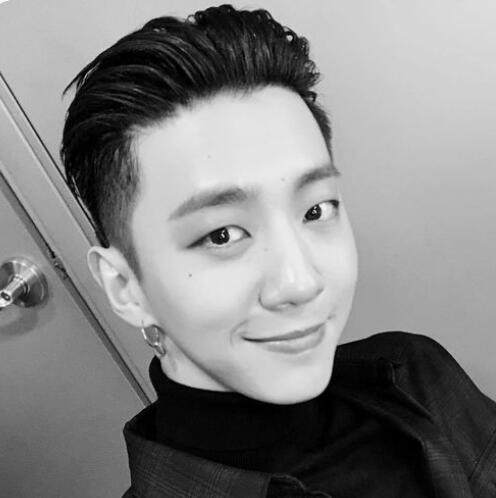 If you are tired of your long bangs, feel free to wear them swept back. The only thing you need is hair gel that you can use to fixate the strands on the hair on the top side of your hair. Ensure you keep the sides shaved and short.
34. V-shaped Fringe with Modern Bowl Cut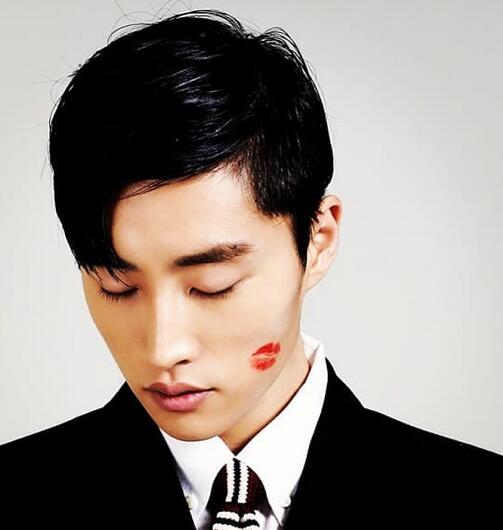 This V-shaped hairstyle with uneven bangs that extend beyond the eye level and reach your nose's tip is the super cool version of the classic bowl cut. If done correctly, this haircut will award you one of the best youthful appearances.
35. Front Piece with Taper Layered Hairstyle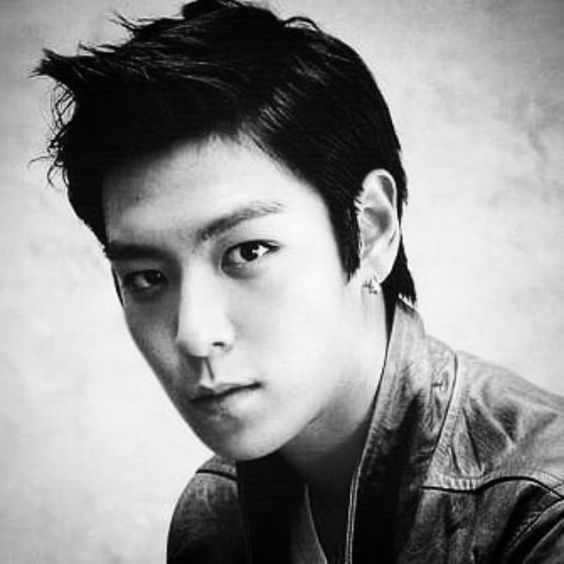 If you'd like this style on you, ask for an aesthetic trim for your head's sides and a tapered hairstyle with longer front pieces to get styled accordingly. They should be styled to the point of sticking straight and pointing upwards.
36. Side Razor Line with Layered Top and High Fade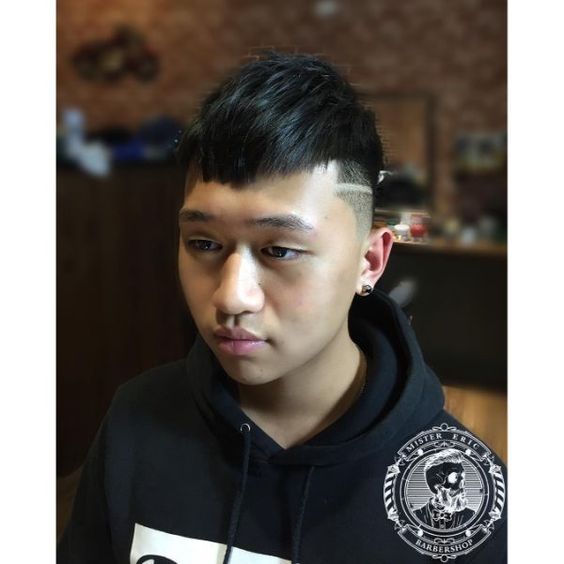 Probably a V-shaped layered hairstyle, this cool, edgy hairstyle boasts a sloppy top that will add lots of volume at the center and conceal the transition between the layered part and the fade. The side razor pattern has been added to make it look more dynamic.
37. High Fade Haircut with a Layered and Highlighted Top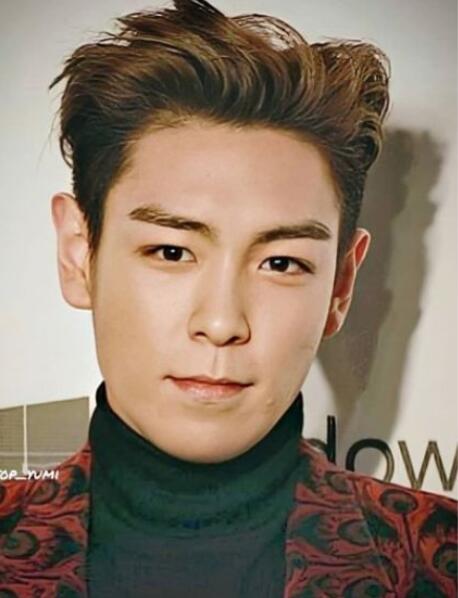 If you feel sufficiently brave to sport a hair color that pushes you out of your comfort zone, I'd advise you to go for this high fade hairstyle with highlights and a layered top. The contrasting color on top will add even more volume to your crown area.
38. Side Part with Long Bowl Cut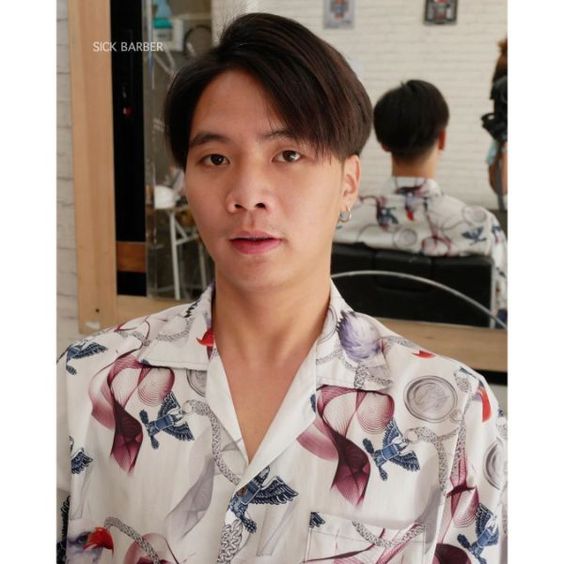 You need an overall 4-inch long hair on the top with subtle layering to get this cut. Wear the hairstyle with a middle or side part and enjoy the simplicity of the haircut.
39. Subtle Layered Bowl Cut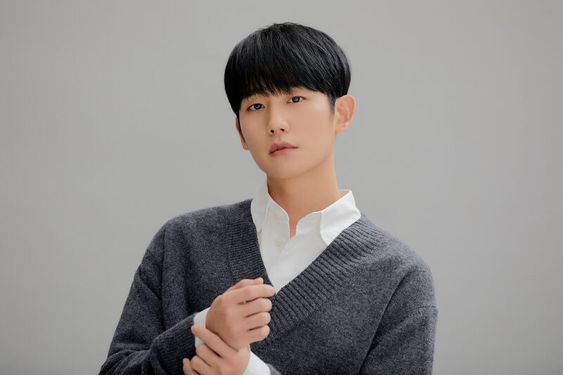 You should consider styling this haircut yourself if you have fine hair that you think will be ideal for a bowl haircut. That means the layering will be easily highlighted, and the final result will be impressive.
40. Korean Bangs with Long Taper Hairstyle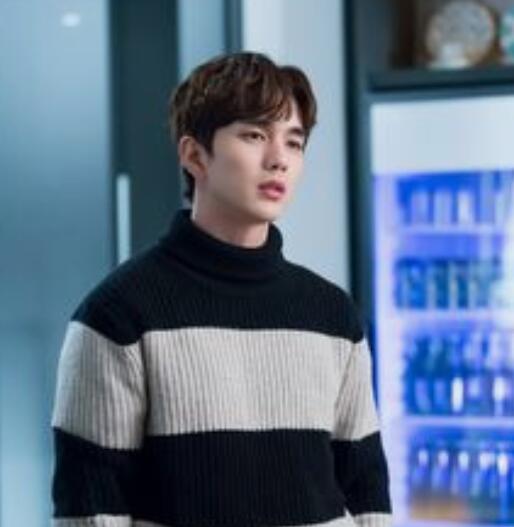 A classic medium-long hairstyle for those who want to keep their hair's length, this taper hairstyle with falling bangs qualifies as one of the best voluminous and full looks that will easily frame anyone's face.
41. Extra Long Feathered Top with Taper Cut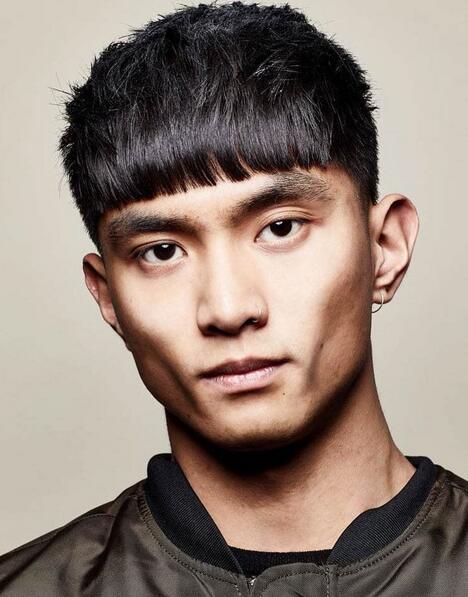 This classic taper-trimmed hairstyle, coupled with feathery layers and some soft-looking edges, is one of the best old-school Korean hairstyles.

42. Sideburns with Taper Haircut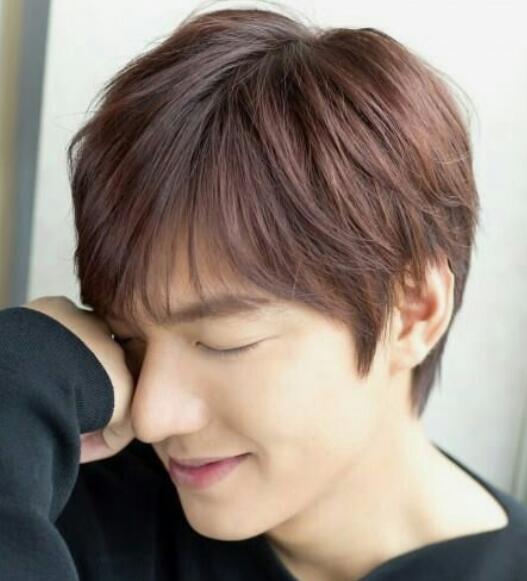 If you would like a lovely "Kawaii" look, then some soft feathery layers and some gentlemen's shades of red could be what you need.
43. Layered Top with High Fade Cut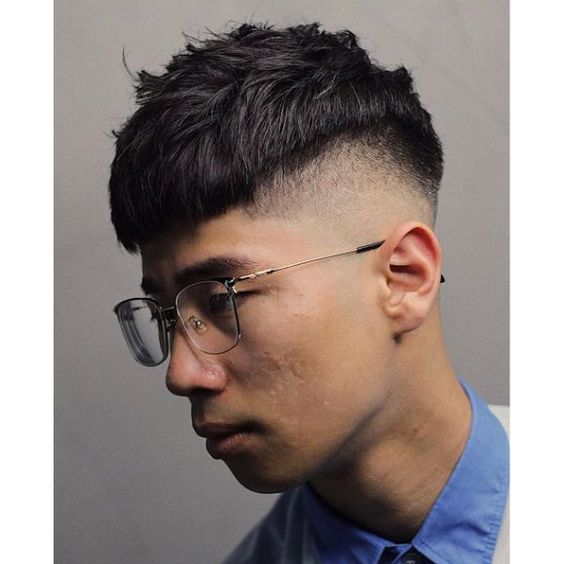 A hairstyle without a transition between the taper one and the faded part, this high fade cut is one of the best, easy, and most practical haircuts you can get at any local barbershop.
44. Asymmetric Bang with a Layered Top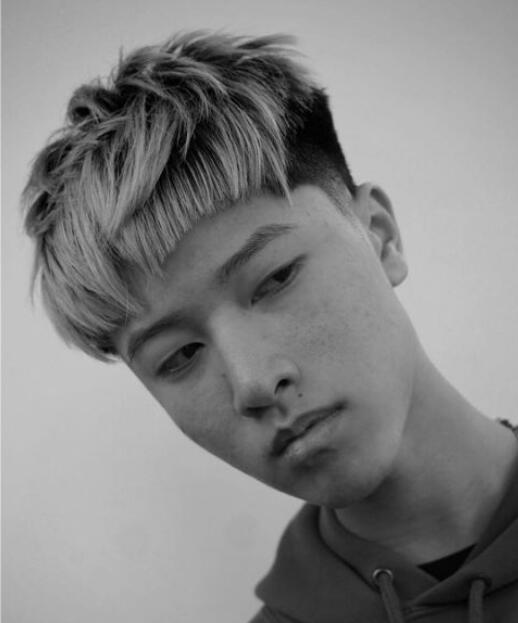 For this haircut, ask for asymmetric layers with blonde highlights for the hair on top of your head but an excellent fade cut on the sides.
45. Taper Sides with Swept-Back Layered Top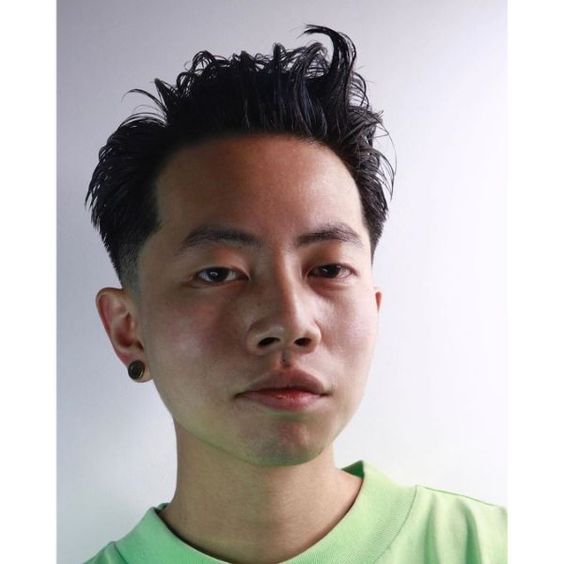 As you can see from the haircut's image above, the transition between the levels of this taper hairstyle is extraordinarily gradual and smooth.
46. Messy Layered Top with High Fade Hairstyle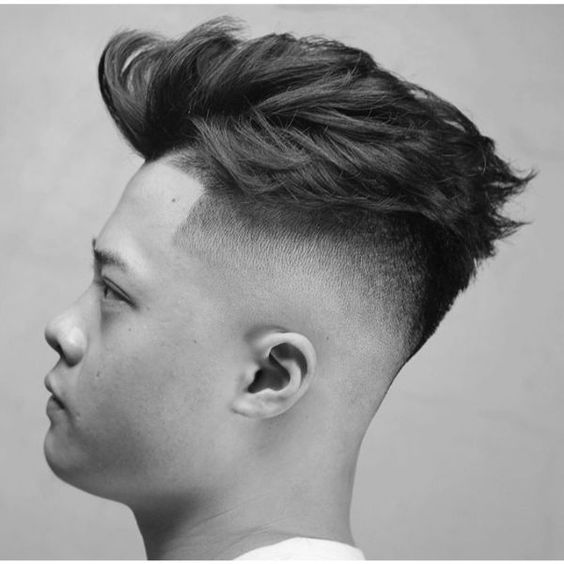 This unique haircut is a unique combination of a high fade and a shape-up.
47. Messy Layered Fade for Korean Men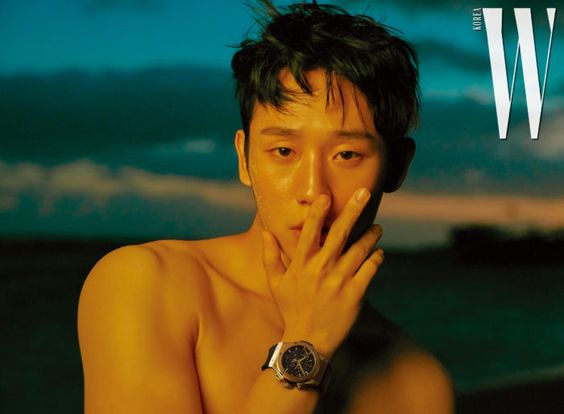 As evident from the haircut's image above, a squarely shaped hairstyle with pieces and long strands of hair that have been arranged in some messy display makes for an excellent haircut.
48. Layered Chunky Top Haircut with Temple Fade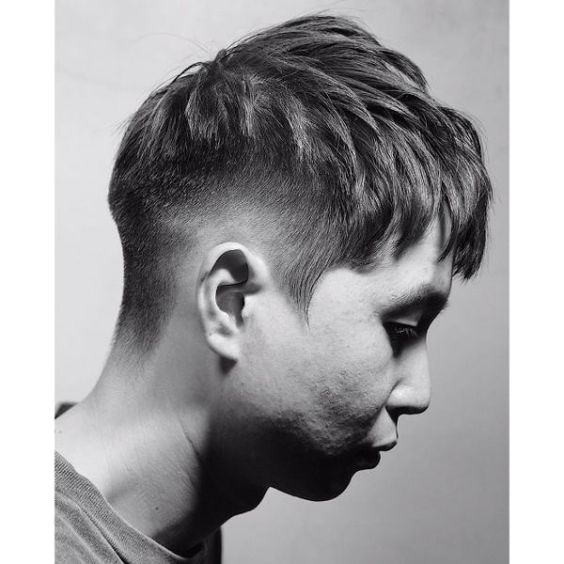 This is another excellent example of a fade haircut with V-shaped layers. The arches and back of the head have been clean shaved, but the topside remains longer and trimmed for the aesthetic texture.
49. Long Sideburns and Thick Blunt Bangs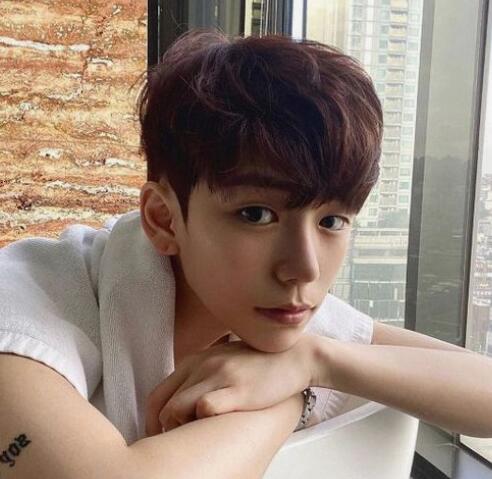 This is an ideal hairstyle for men with thick hair. For this haircut, the volume of your hair ought to be concentrated in the front part, where all the layers are directed for the entire look. Note that the sideburns need to be carefully trimmed to have a pointy shape.
50. Medium Fade and Modern Quiff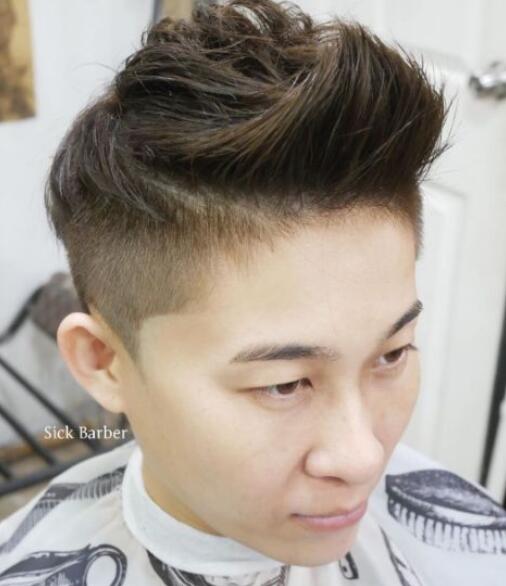 For this haircut, ask for V-shaped layers with a medium fade. From that alone, your hairstylist or barber should know what to do.
51. Spiky Top with Chunky Strands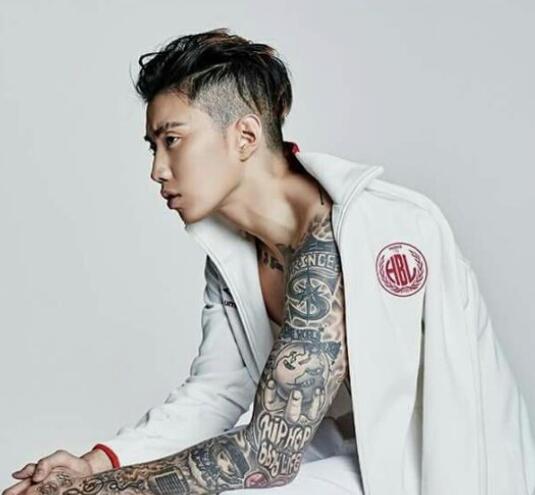 This hairstyle is super easy to get and is also highly versatile. It should award you lots of attitudes as well.
52. Fauxhawk with Undercut
Fauxhawks made their way back into popular culture in the early 2000s. Some might feel the authentic version of the mohawk is too edgy and instead choose to use gel or pomade to make the hair on top of their head into a fauxhawk shape. This usually results in less spike height of the fauxhawk, but still with an edge to the look.
With the undercut shaved or shorn close to the skull, the sides of the head are primarily bare, closer to the classic mohawk. Not everyone can rock the punk of a full mohawk, and this is a reasonable compromise.
53. Fauxhawk without Undercut
Some men might feel uncomfortable shaving the sides of their heads for a traditional mohawk or a fauxhawk with an undercut. Therefore, they choose to leave a little length on the sides of their hair and spike the hair down the middle of the top of their heads, creating a fauxhawk without the undercut.
54. Short Haircuts with Low Fade
The low fade is the go-to style for many men. It starts with the hair shorn extremely low at the nape of the neck. The hair on top of the head is usually left longer than the sides and back for texture and styling options.
55. Short Haircuts with Quiff

The quiff haircut is a cross between the pompadour of the 1950s, a mohawk, and a flat top. Hair products, such as pomade or gel, create a poof of hair on top of the head. It's considered something of a hipster hairstyle. It is usually combined with a fade for an attractive length contrast.
56. Taper Fade
Another version of the fade hairstyle, the taper fade, is cleaner and more versatile than the low fade. Starting from the nape of the neck, the hair gradually gets longer and dark as it reaches the top of the head. It has less scalp exposure than the other fades. The longer heap of hair at the top can be closely cropped or left longer for more dramatic styles.
57. Comb-Over Haircut
Combing over the top of your hair leaves a side part and an asymmetrical, messy look that is both aloof and polished.
58. High Fade
There are a lot of different types of fades! The high fade is cut much shorter than the others already mentioned. The high fade is sometimes referred to as high and tight because the hair on the sides and back is clipped down to the skin, creating a new baseline at the lower crown of the head.
59. Military Haircut
The military haircut! Buzzcuts make a face look more defined and severe. Buzzcuts are helpful in the summer months and are usually achieved using an electric razor. You can downgrade the severity of the look by pairing it with a motorcycle jacket.
60. Short Haircuts with Skin Fade
This hairstyle is similar to the taper fade and the buzzcut. The hair around the ears is shaved entirely. From that point up to the top, the hair is shorn close to the skill in gradual lengths. This popular hairstyle leaves a significant amount of hair on top of the head, and many choose to pair this look with a comb-over or quiff.
61. Blue Haircut
If you're looking to change your hair color, consider going to light or dark blue hair. It will make you stand out in a crowd. You can keep the bottom layer of hair the regular color and go for a two-tone look. Or, if you've gone with a fauxhawk, color the tips of your hair blue or purple for a real punk look.
62. Top Bun with

Beard
Who says you can't do man buns with short hair? You can – with the top bun. Instead of pulling the hair together in the back of the head, pull the hair on the sides and top together for a top bun. Sexy AND on-trend.
63. Slicked-Back
If you've always dreamed of being a 'greaser,' give this look a try. You will need at least a little hair length on the top for this look to be successful. It doesn't pair well with buzzcuts or super short styles.
64. Messy Spikes Korean Haircut
Messy spikes are a less committed version of the fauxhawk. All you need to do is rub some product in your hair (pomade, wax, gel) and use your fingers to pull a piece of the hair up into spikes. You get the same edge as fauxhawks and mohawks with less time commitment. This is an ideal hairstyle for men with straight hair.
65. Crewcut Korean Haircut
The crew cut is less severe in another version of the buzzcut and leaves more on top of the head. The sides and back of the head are shorn close. The front hair of the crewcut is usually styled with gel or pomade to stand up in mini spikes at the widow's peak.
66. Korean Short Haircuts with Long Bangs
Bangs aren't just for the ladies! Men can rock hits just as well as women. Long bangs can work well left loose or used to create fauxhawks and the top buns. They can also be brushed to one side or left loose.
67. Korean Flat Top
Flat tops are another spin on the buzzcut. The hair is shaved high on both sides, leaving a "flat top" of hair on the top of the head. The length at the top can be of varying lengths for different styles. One option is to leave the hair higher, giving it an afro effect.
68. Shaggy Bangs Korean Haircut
Similar to long bangs, shaggy bangs also give the carefree impression of just rolling out of bed. The bangs fall across the forehead disheveledly, giving you a carefree, shaggy look.
69. Korean Close Crop
The close crop hairstyle shaves the sides while leaving the top trimmed short instead of shaved. Also known as the French Crop, the longer hair on top is usually pushed back or to the side.
70. Short Bowl Cut
Bowl cuts look like your grandma put a bowl on your head and cut around it. It is not a look for everyone, but some men can pull it off. If you're looking for a quirky, unique haircut, the bowl cut is it. The traditional bowl cut is much higher on the forehead than the medium. Strong facial features allow some men to carry off the bowl-cut look. Are you one of them?
71. Medium Bowl Cut
The medium bowl cut is similar to an average amount, except the hair isn't trimmedrelativelye as short. This hairstyle looks more natural than the traditional bowl cut. The medium bowl cut creates an even fringe across the forehead, similar to the curtain look, except it continues around the skull.
The medium bowl cut can be styled more trendy with a side part of the side-swept fringe look.
72. Korean Brush Cut
The Brush cut hairstyle is done with electric razors. The hair on the top of the head is cut evenly across the top, giving your hair the look of being newly brushed.
This look is very similar to the length of the buzzcut, but the texture on the top is different and creates the look of fresh brush marks.
73. Korean Side Part
We are usually born with a pre-determined part in our hair, but your hair can be 'trained' into another part. The side part is more noticeable with longer hair instead of super short haircuts like buzzcuts. Side parts can also be used to create comb-overs and other styles.
Some of the fades look best with a created or natural side part. The shorter haircuts can make your side part more visible and prominent.
74. Korean Side-Swept Fringe
Think Justin Bieber's haircut of the late 2000s. Shaggy hair all around the head, brushed to one side to let you peek out from under the Fringe. Don't use a lot of hair products on the side-swept Fringe. It should look natural, loose, and messy.
75. Korean Blond Hair
Speaking of colored hair, maybe blonds do have more fun. If you usually have darker hair, the contrast between your natural eyebrows can pair well with your blond locks.
If you're not brave (or crazy) enough to dye your entire head blond, try some of the non-permanent hair dye that washes out in a few days. Then, if you like the look, you can go full blond.
76. Wavy Fringe Korean Haircut
You can try a new look by leaving your hair product-free if you have naturally curly hair. The slight curl of your bangs or Fringe will make all the straight-haired ladies jealous. Work texturizing mousse into your hair to create a wavy fringe after blow-drying. This technique will create volume and bounce into your Fringe.
77. Short Haircuts with Curtain Bangs
Similar to the Justin Bieber style, curtain bangs cover your eyes. The difference is the charges are evenly distributed across your forehead instead of swept to one side.
This hair trend from the 90s predates Bieber. The curtain bangs aren't uniform across all hair textures. They can be tailored to your preference – short or long, high volume or flat forehead, and round or sharpened shape.
78. Korean Block Color
Like block clothing, block hair color has one color on top and one in the undercut. This is a very trendy Asian hairstyle. Adding eye-catching color to your hair can update your look and transform your style.
FAQs
Why do Korean guys have bangs?
There are a few reasons why Korean guys might have bangs. One reason could be that they think it looks cool or stylish. Another reason could be that they want to cover up a forehead that they think is too big or unattractive. Some guys might also believe that bangs help them look more masculine. Whatever the reason, it's clear that many Korean guys think that bangs are a good idea!
How to style a Korean haircut?
There are many ways to style a Korean haircut, but one of the most popular methods is called hanbang. This involves using a straight razor to gently scrape the hair away from the scalp in thin, even strokes. This creates a very clean and polished look that is perfect for both men and women.
Another popular way to style a Korean haircut is called yonggung. This involves using scissors to create layers that frame the face. This is a great option for those who want a softer, more natural look.
Finally, there is the option of simply letting your hair air dry. This is a great option for those with naturally straight or wavy hair. Simply comb your hair back and allow it to dry naturally for a sleek and stylish look.
How to choose the best Korean haircut for you?
This depends on the specific cut you have. For example, if you have a Bob cut, you can style it by adding some soft waves or curls.
If you have a Pixie cut, you can style it by adding some texture with a pomade or wax. And if you have a longer style, you can add some gentle layers or even create a side-swept look. The best way to choose your Korean haircut is to experiment and find what works best for you.