Korean haircuts have become quite popular far beyond the boundary of their nation. As you will notice today, they not only follow all the latest men grooming trends, but most of them even set them all together.
With that in mind, if you're considering pulling off one of these Korean haircuts for yourself, then this guide will, without a doubt, come in handy for you. Let's take a look at some of the most flattering hairstyles for Korean men without further ado.
51 Greatest Haircuts for Korean Men in 2021
1.Korean Men Fade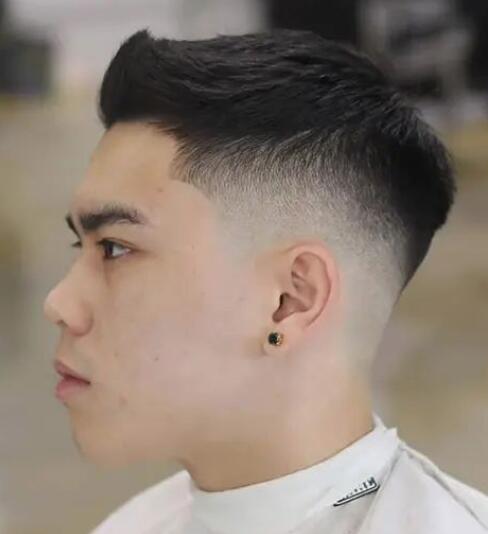 What is a better way to start a guide on hairstyles for Korean men than the Korean men fade? Contrary to popular belief, the fade is quite popular in Asia, just as it is around the world.
2.Side Part Korean Haircut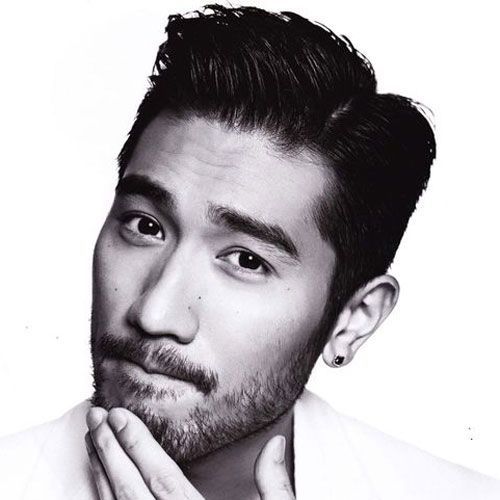 The side part maybe one of the most striking haircuts when styled on a Korean man. Thanks to the haircut's authoritative appearance, it is the first choice for Korean men with leadership characteristics.
3.Korean men with Buzz Cut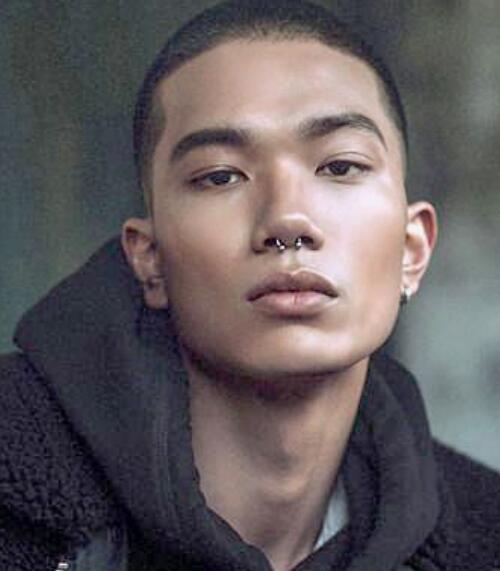 If you want a neat and clean Korean men's hairstyle, then the buzz cut could be what you are looking for. It is also low maintenance. In this short Korean men's haircut, your entire head will be shaved with a hair clipper.
4.Two-Block Korean Haircut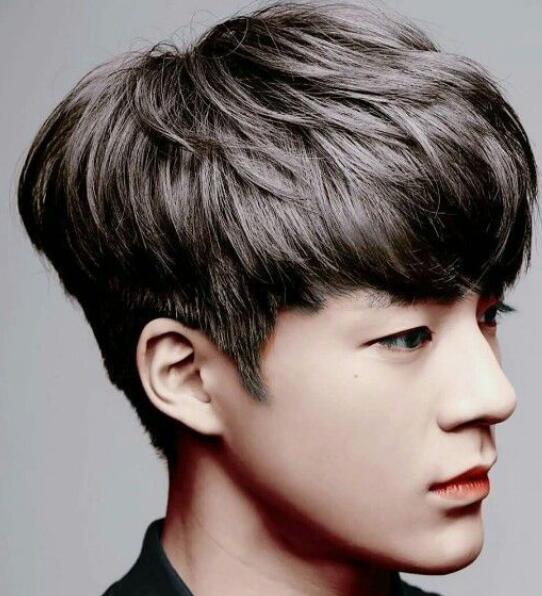 I do not think I would be wrong if I said that two-block hairstyles are some of the most popular hairstyles in Korea right now. I guess that's because this iconic hairstyle perfectly identifies with all Asian men. Also, while styling this haircut, ensure that the top side is left natural and long.
5.Asian Men Undercut Fade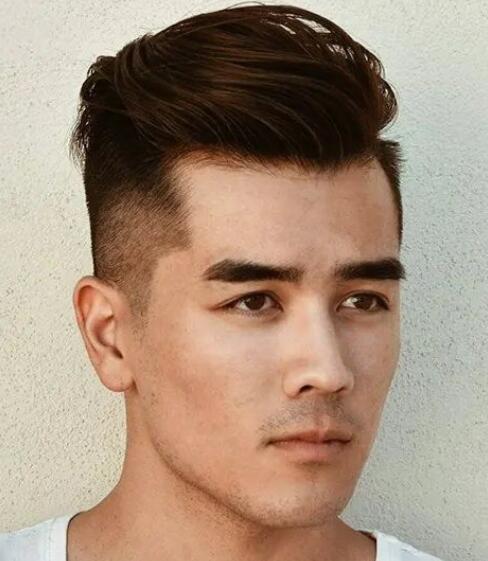 The Asian men's undercut is quite versatile. Why? Well, that is because it can be combined with a wide array of contemporary haircuts, such as spiky, slicked back, and the quiff. This hairstyle is a member of the short sides and long top haircuts family.
6.Korean Men Fringe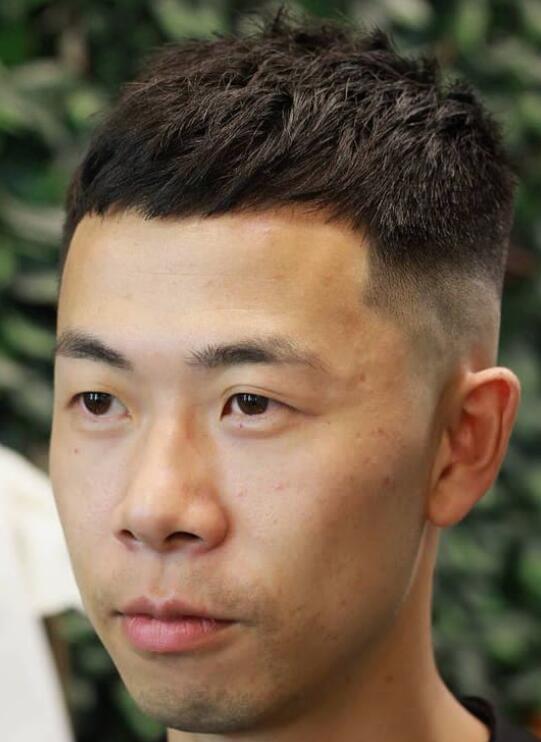 The Fringe is undoubtedly one of the trendiest Korean men's hairstyles you will find today. With that in mind, if you prefer this hairstyle, then rest assured that you have lots of styling options, including angular Fringe, asymmetrical Fringe, and textured Fringe.
7.Korean Men Quiff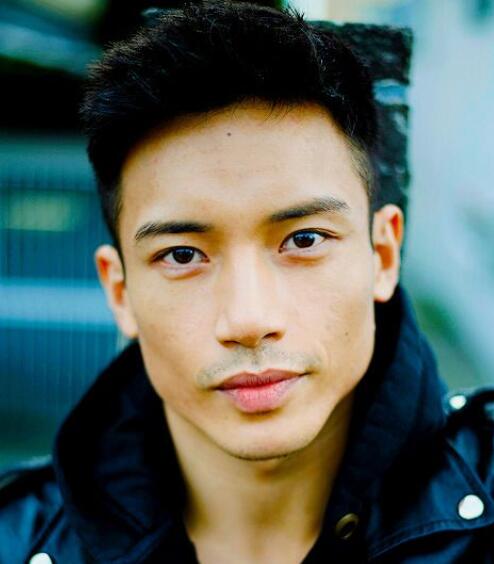 When I visited South Korea a few years ago, I quickly noticed that the quiff is one of the most favorite hairstyles among Korean men. As evident from the image above, the haircut looks extremely slicked with its cropped back and sides.
8.Messy Korean Haircut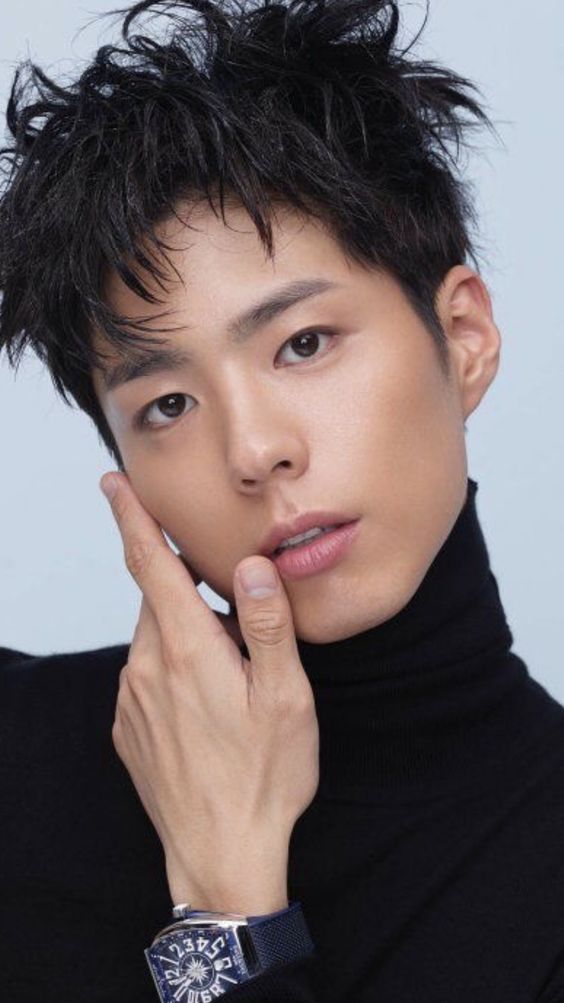 The Messy Korean haircut is perfect for all those men who would like to reflect a free spirit using their haircut. We can safely say that the messy and voluminous hair looks pretty eye-catching and cool. Just note that his hairstyle requires a little bit more styling effort compared to the others in today's guide.
9.Samurai Bun Korean Men Hairstyle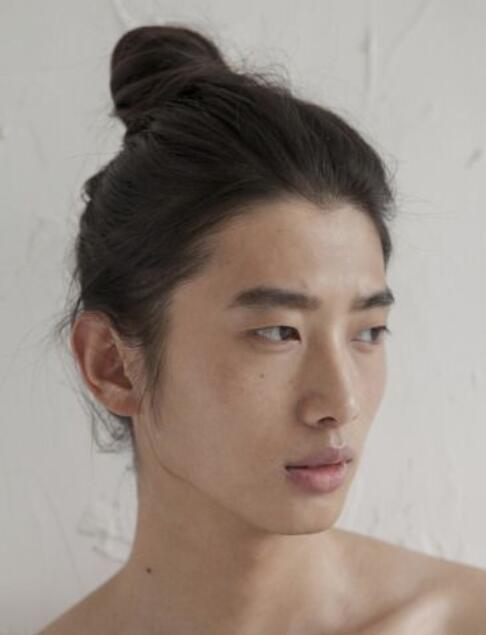 The Samurai bun is an authentic and traditional Asian men's hairstyle. That said, if you thought that this haircut is only popular in Japan, you couldn't be further from the truth. The hairstyle is trendy among Korean men as well and will look great on them.
10.Classic Korean Men Hairstyle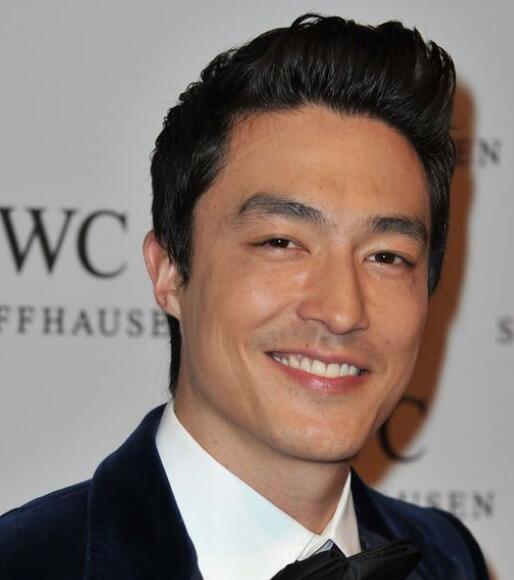 The classic Korean men's hairstyle is suitable for those who spent most of their time in the business scene. This haircut boasts a professional vibe, thanks to its stylish and severe look. You'll also notice that there isn't a massive difference between the hair on the sides and on top.
11.The Korean Pop (K-Pop) Haircut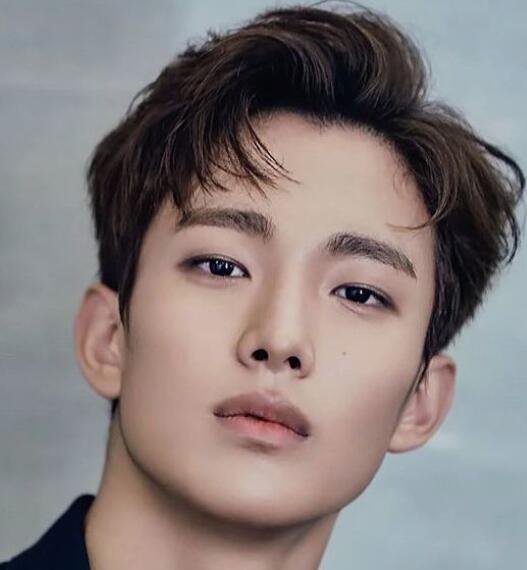 K-Pop, one of the most trending music genres originally from South Korea, can give rise to a vast portion of the more popular haircuts for men. This haircut is one of the hairstyles, and you should see it on most Korean Pop artists.
12.Thin and Blonde Korean Cyberlocks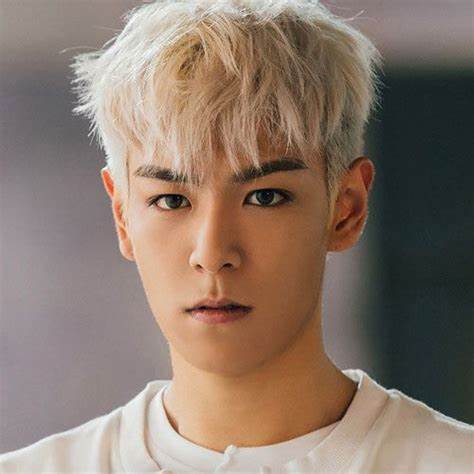 If you would like a slightly more modern look, I advise you to pick a haircut where you will have a full head of dreadlocks and transform the shade of your hair to the color you prefer. If you are not a fan of dazzling colors like bright pink or purple, I suggest you go for a basic honey blonde.
13.Dreadlocks Tail with High Fade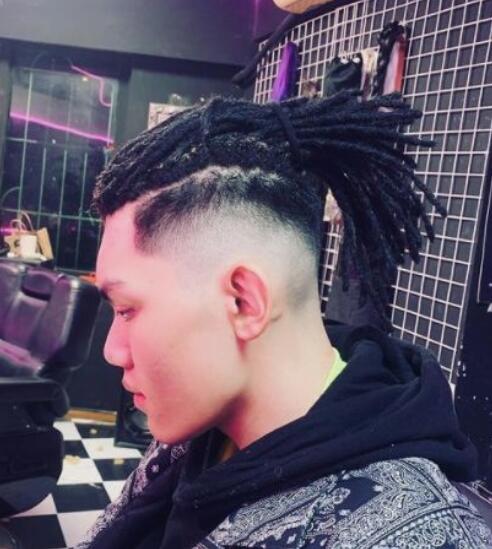 After your hairstylist makes a bald fade on your hair, you can feel free to wear the top in an irresistible bun or ponytail. This hairstyle is also a great hairstyle for those who would like to have short and long hair at the same time.
14.Bald Fade with Full Head Dread Falls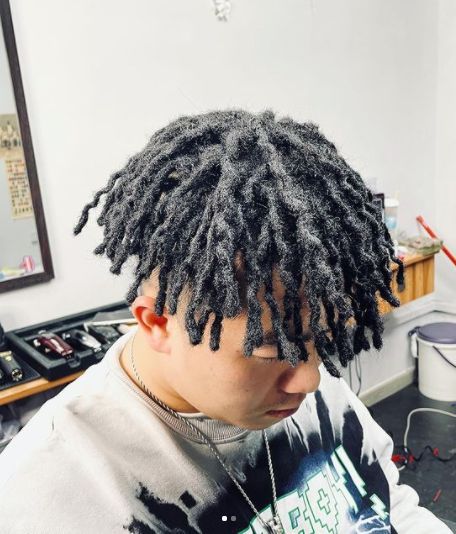 To get this look styled on you, you will need approximately 40 dreads and lots of patience. If you'd like an even cooler hairstyle that also shortens the entire process, feel free to ask your barber for a bald fed and only have the dreads on the top of your head.
15.Short Shape up with Middle Part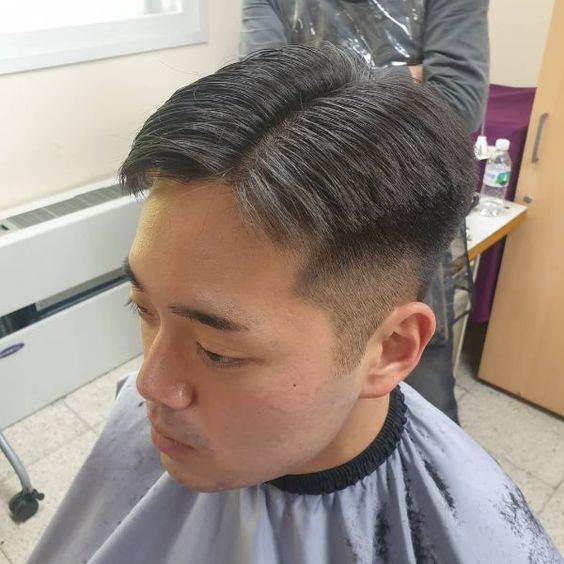 The line of this haircut's fade should surpass the level of the temples and reach close to the crown area. That should, in turn, result in a shape-up contour. Another detail worth noting is that the crown is kept at 1 inch long and has to be neatly combed with a middle part.
16.Bowl Cut with Parted Bangs and Skin Fade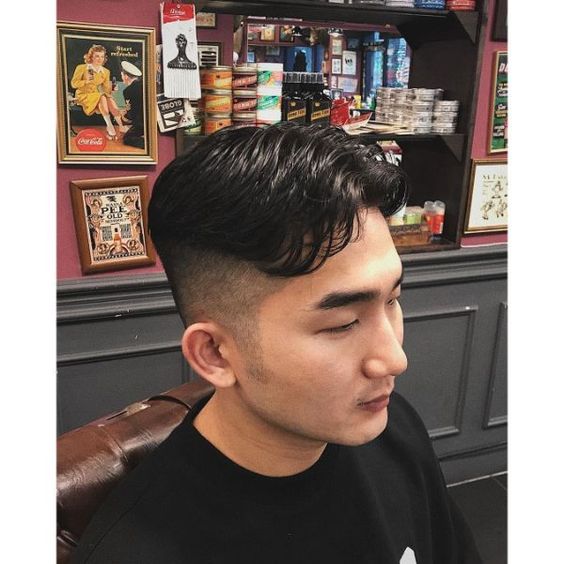 An extremely tall bowl cut is perfect if you want to add height and volume to your locks. The high fade you can see in the image above is done using the number 0 clipper and completed with a 2 inches long top side parted.
17.Juice Cut with Faded Sides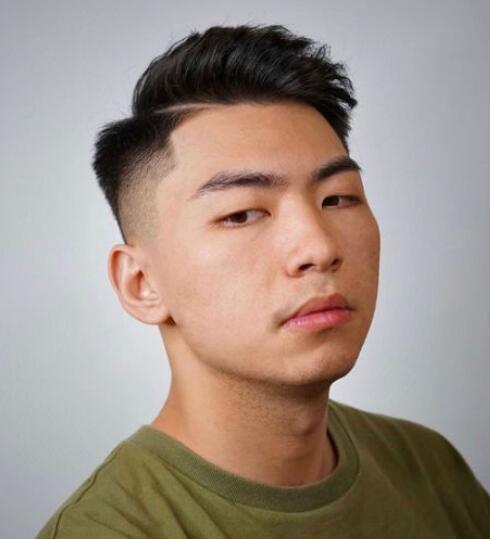 This classic juice cut with the distinctive sideline and high shape fade that separates the shorter part from the high part is perfect for those who would like to try out Tupac's iconic look. You can ask your barber for The Juice haircut.
18.Messy Blonde Top with Low Fade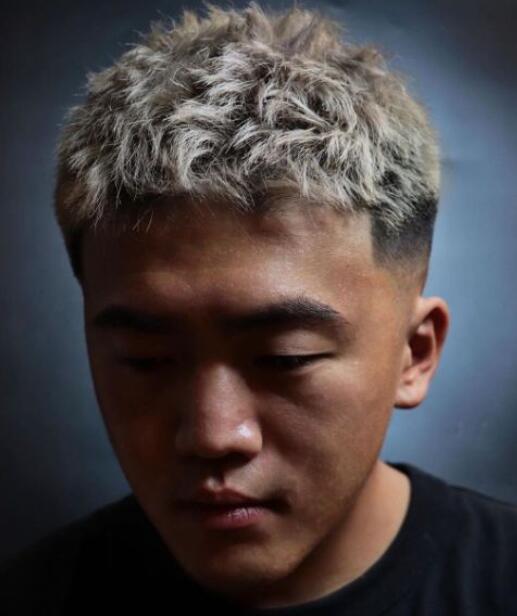 A high fade coupled with a messy top and a sharp shaved arch line is what is needed to get the heavily layered look in the image above. As you can see, the ends have also been dyed to give a contrasting look. Pick the shade of your liking for that part.
19.Middle Part with Curtain Bangs and Bowl Cut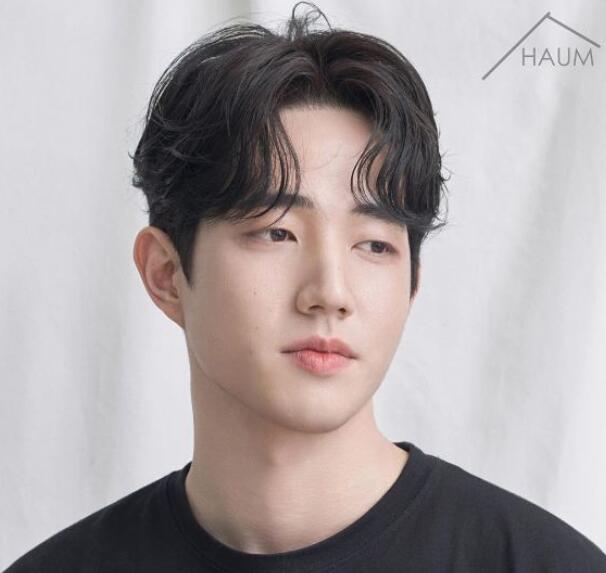 To get this haircut, ask your barber for a taper haircut with long curtain bangs and some nicely shaped sideburns. The curtain bangs need to go just above the eyebrows level. You can wear this hairstyle covering your forehead.
20.Side Swept Top with Fade Cut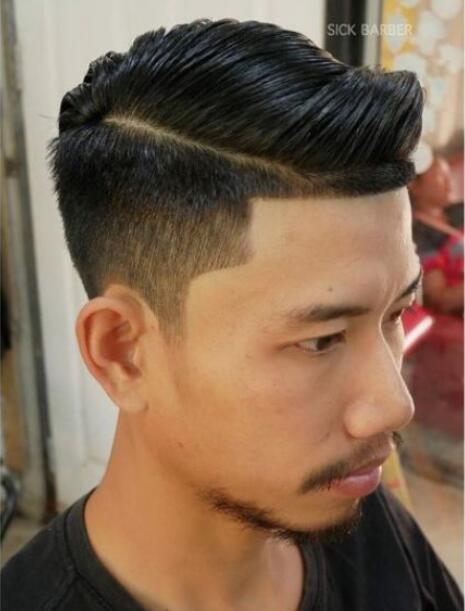 This clean haircut is perfect for attending casual and elegant occasions. The haircut should also be relatively easy to achieve by any barber. The only thing you need to remind your barber to pay the most attention to is the contouring done by the razor.
21.Juice Cut Hairstyle with an Artistic Design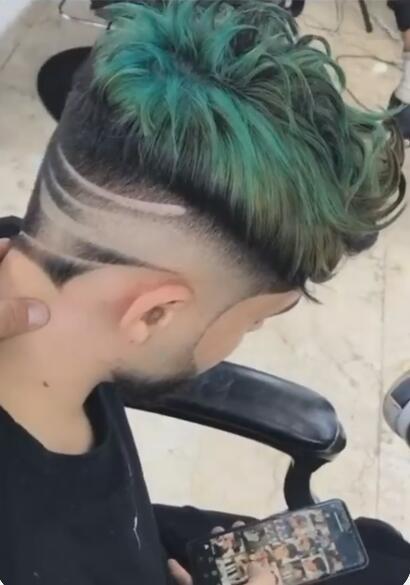 To get this hairstyle at a barbershop, ask for a high-faced cut with a top of approximately two inches long trimmed hair. In addition, request that the hair be combed to stay swept on the back and top the whole look with a side part.
22.Spiky Wet Looking Top With a Cool High Fade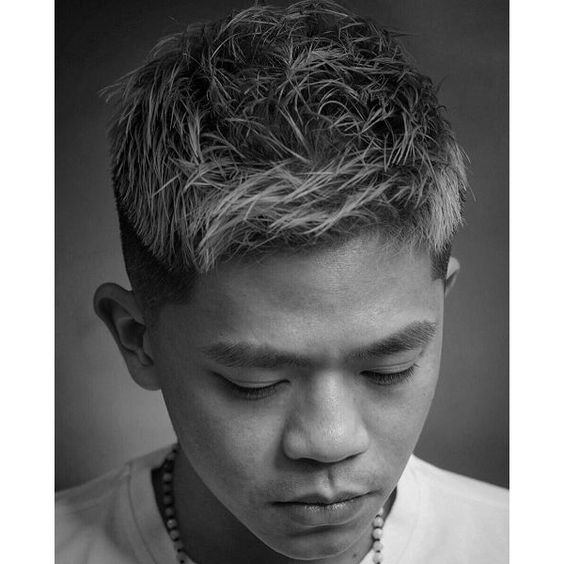 After styling the short, clean, shaved sides and leaving the topside hair approximately 1 inch long, you will apply hair gel to get the final, spiky look. You can also either add a natural color or add some highlights to the hair on top.
23.Middle Part with Blonde Bowl Shaped Haircut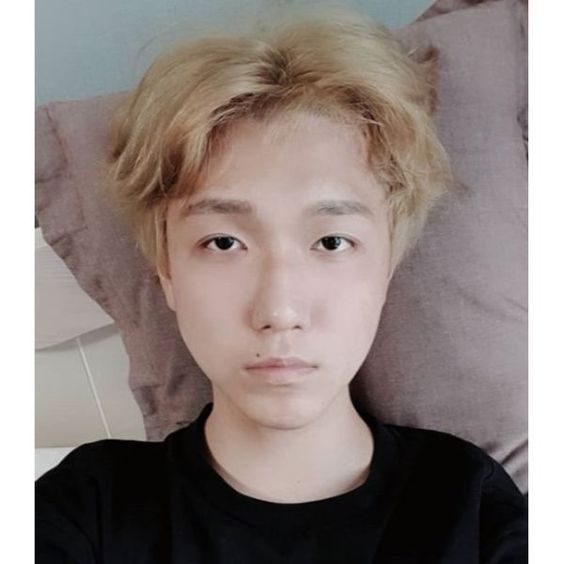 To get this light shade of blonde, you'll need to start by bleaching your hair and dyeing it shortly afterward. Ask for the bowl cut with messy bangs and chunky layers.
24.Straight Bangs with Layered Bowl Cut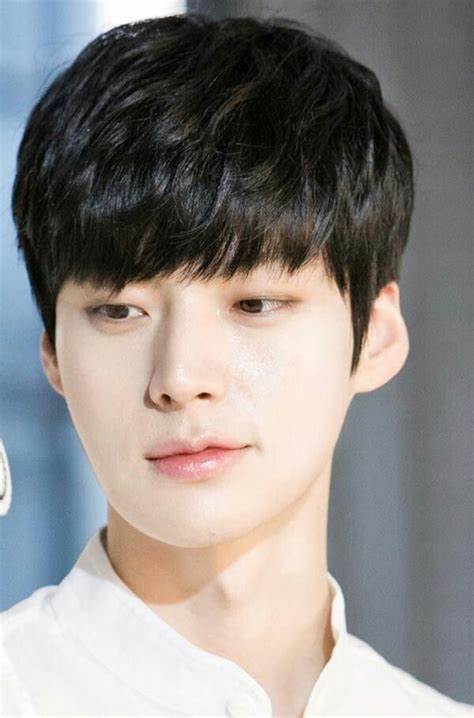 Thanks to its carefully trimmed down bowl cut, this hairstyle is the minimalist version of bowl cuts with many diagonal layers that'll give a slim aesthetic shape to your hair.
25.Taper Hairstyle with Piecey Long Highlighted Top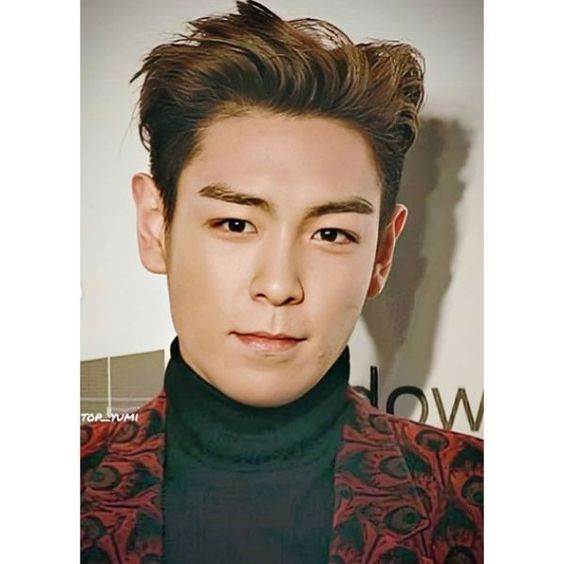 This voluminous straight top hairstyle will add extra inches to your head and award you a gentlemanly-like appearance. Just ensure that the hairstyle is styled in the old-fashioned manner showcased in the image above.
26.Highlighted Wispy End Haircut with a Shape Up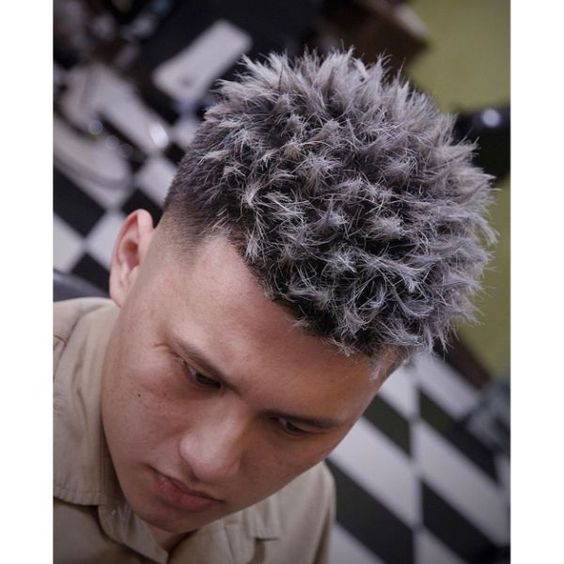 One of the most fantastic-looking haircuts out there for Korean men, this shape-up boasts a twist that will make it look even cooler. It boasts short shaved sides with a high fade and wispy strands on top that have been highlighted with an icy blonde dye.
27.Blonde Hair with Side Swept Bangs and Layered Taper Hairstyle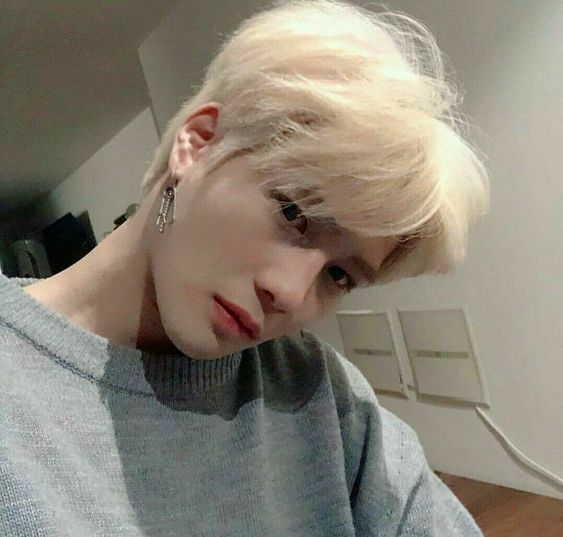 A short horizontal layered hairstyle is all you need to get this pyramidal and extensive height look. The blonde hair color is there to add luminosity and volume to the entire hairstyle.
28.Sleek Swept Back Bowl Cut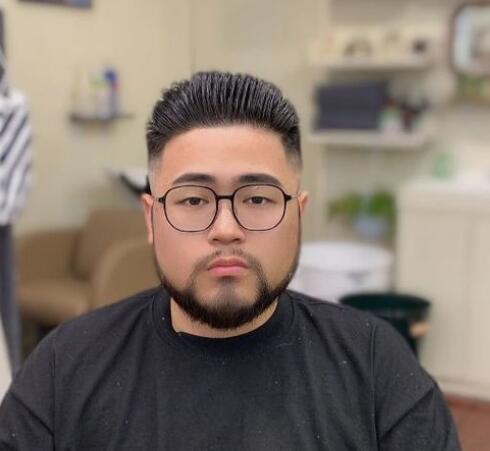 If you would like a flat, uneven look, then I suggest that you choose to style your typical bowl cut sing a clean side fade and a bowl cut that will award your head the slightly slim shape as that showcased in the image above.
29.Long Wavy Layered Hairstyle with a Side Part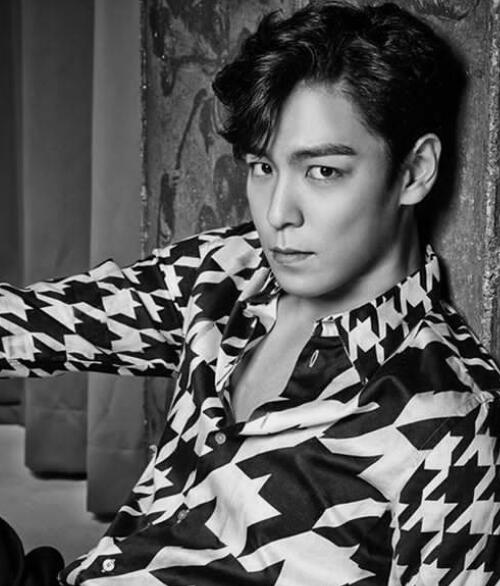 Also known as the typical Don Juan haircut, this long wavy layered hairstyle for Korean men is a extraordinary way to flaunt your shiny hair. Just keep the sideburns curved and extended to ensure that you retain the retro vibe.
30.Shaved Sides and a Messy Layered Top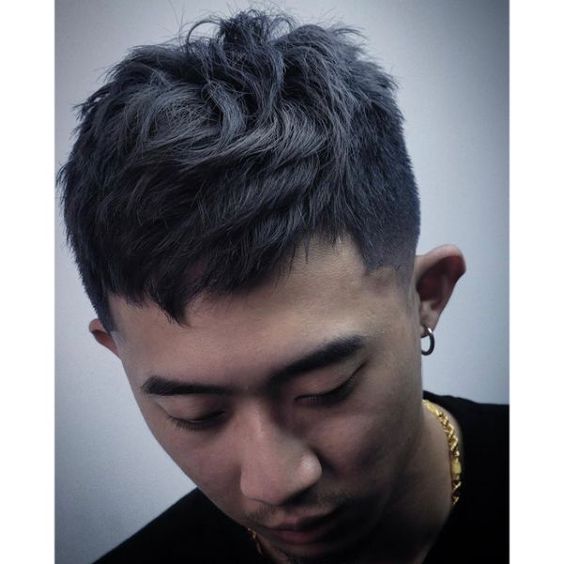 Acting as a fantastic variation of the asymmetric hairstyle, this heavily layered trim combined with the shaved sides is one of the coolest ways to scream "Killer Look!!"
31.Short Trimmed Taper Hairstyle
A perfectly scissors-trimmed hairstyle with an overall length of approximately 2 inches and some soft angles is what is needed to make for a classic short haircut that you can sport any day, any time. That implies that the look is perfect for both business and casual occasions.
32.Free Falling Bangs with Layered Haircut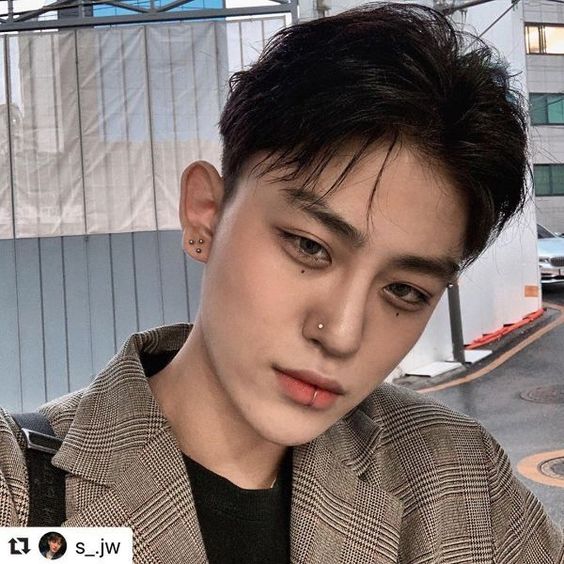 This look reminds us of the 90s era graced by the Backstreet Boys fashion in its full bloom. The fringey hair strands hanging freely around the Korean gentleman's forehead are what you need to create a cool, relaxed look.
33.Swept Back Layered Hairstyle for Korean Men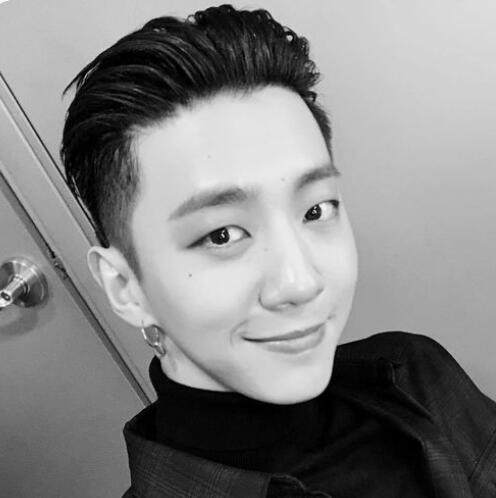 If you are tired of your long bangs, then feel free to wear them swept back. The only thing you need is hair gel that you can use to fixate the strands on the hair on the top side of your hair. Ensure you keep the sides shaved and short.
34.V-shaped Fringe with Modern Bowl Cut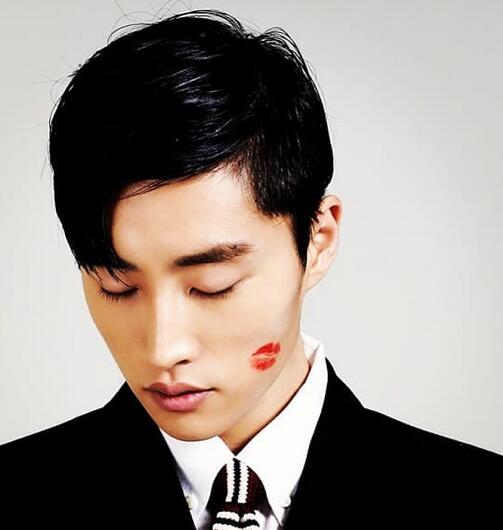 This V-shaped hairstyle with uneven bangs that extend beyond the eye level and reaching your nose's tip is the super cool version of the classic bowl cut. If done the right way, this haircut will award you one of the best youthful appearances.
35.Front Piece with Taper Layered Hairstyle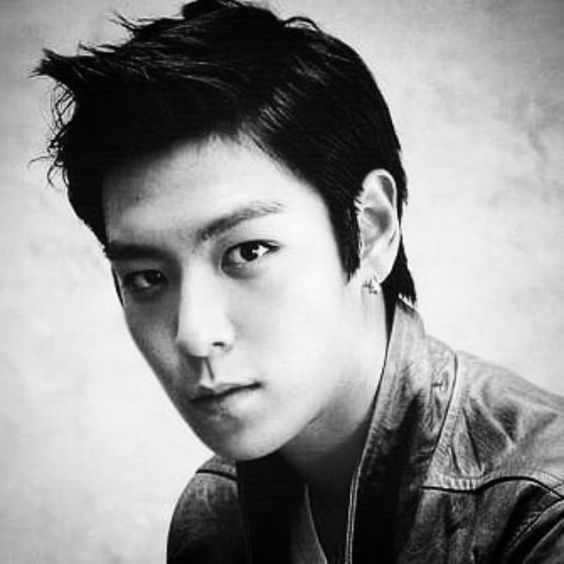 If you'd like this style on you, ask for an aesthetic trim for your head's sides and a tapered hairstyle with longer front pieces to get styled accordingly. They should be styled to the point that they are sticking straight and pointing upwards.
36.Side Razor Line with Layered Top and High Fade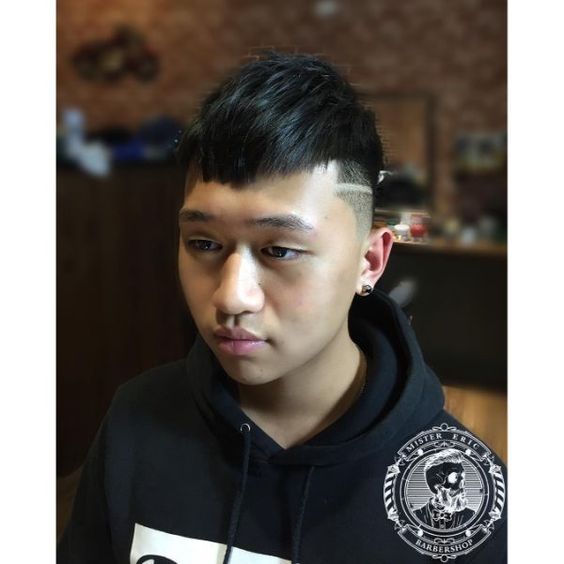 Probably a V-shaped layered hairstyle, this cool, edgy hairstyle boasts a sloppy top that will add lots of volume at the center and conceal the transition between the layered part and the fade. The side razor pattern has been added to make it look even more dynamic.
37.High Fade Haircut with a Layered and Highlighted Top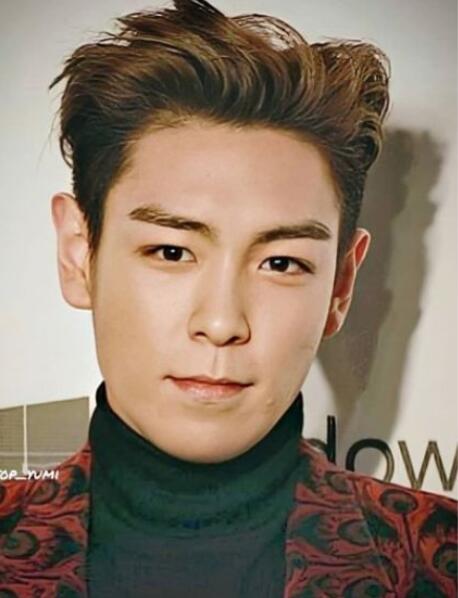 If you feel sufficiently brave to sport a hair color that pushes you out of your comfort zone, then I'd advise you to go for this high fade hairstyle with highlights and a layered top. The contrasting color on top will add even more volume to your crown area.
38.Side Part with Long Bowl Cut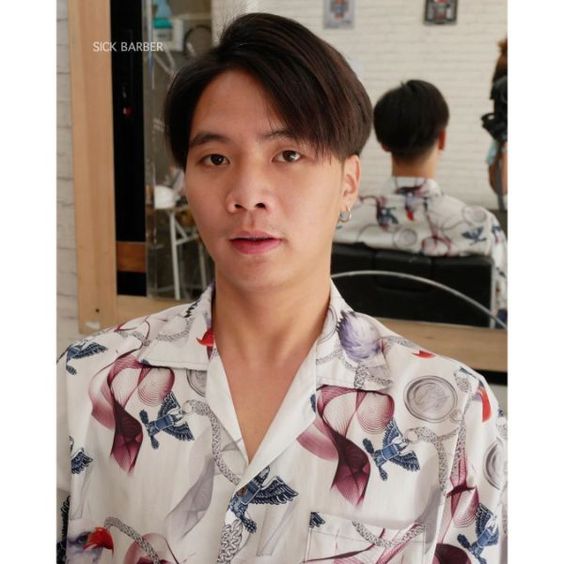 To get this cut, you need an overall 4-inch long hair on the top side with some subtle layering. Wear the hairstyle with a middle part or side part and enjoy the haircut's simplicity.
39.Subtle Layered Bowl Cut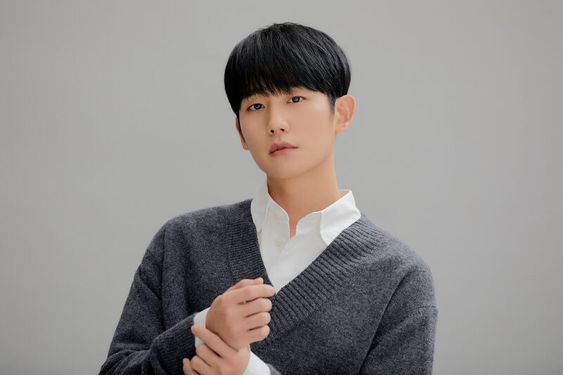 You should consider styling this haircut yourself if you have fine hair that you think will be ideal for a bowl haircut. That's because that means the layering will be easily highlighted, and the final result will be nothing short of impressive.
40.Falling Bangs with Long Taper Hairstyle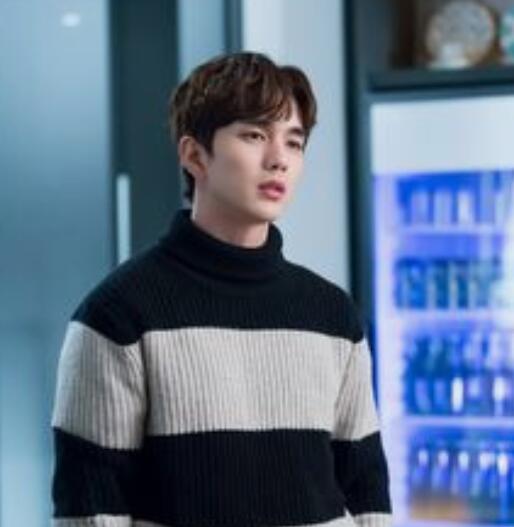 A classic medium-long hairstyle for those who would like to keep their hair's length, this taper hairstyle with falling bangs qualifies as one of the best voluminous and full looks that will easily frame anyone's face.
41.Extra Long Feathered Top with Taper Cut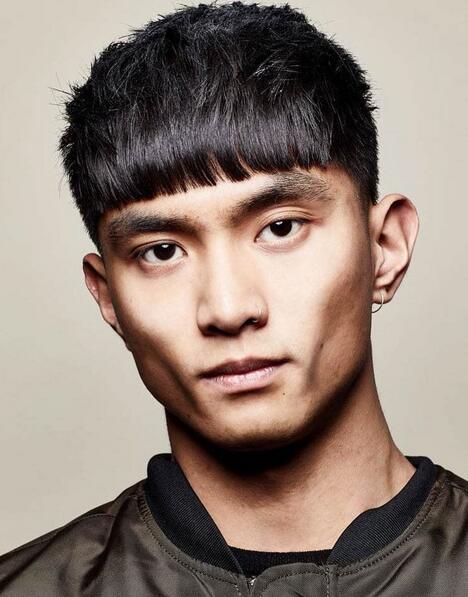 This classic taper-trimmed hairstyle coupled with feathery layers and some soft-looking edges is one of the best old-school Korean haircuts.
42. Sideburns with Taper Haircut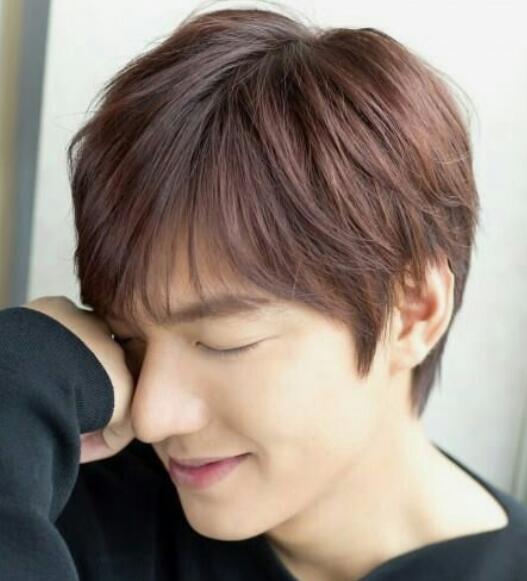 If you would like a lovely "Kawaii" look, then some soft feathery layers coupled with some gentlemen shades of red could be what you need.
43.Layered Top with High Fade Cut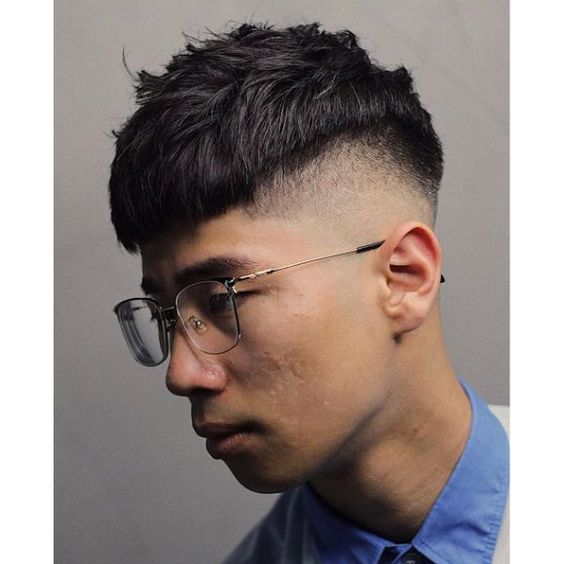 A hairstyle without a transition between the taper one and the faded part, this high fade cut is one of the best, easy, and practical haircuts you can get at any local barbershop.
44.Asymmetric Bang with High Fade and a Layered Top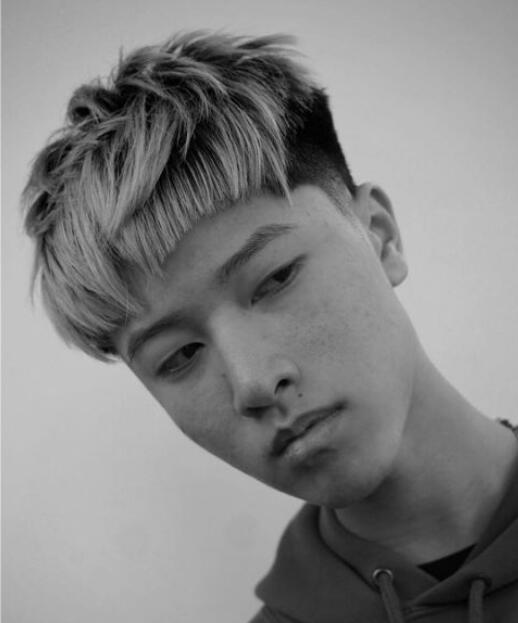 To get this haircut, ask for asymmetric layers with blonde highlights for the hair ton top of your head, but a cool fade cut on the sides.
45.Taper Sides with Swept-Back Layered Top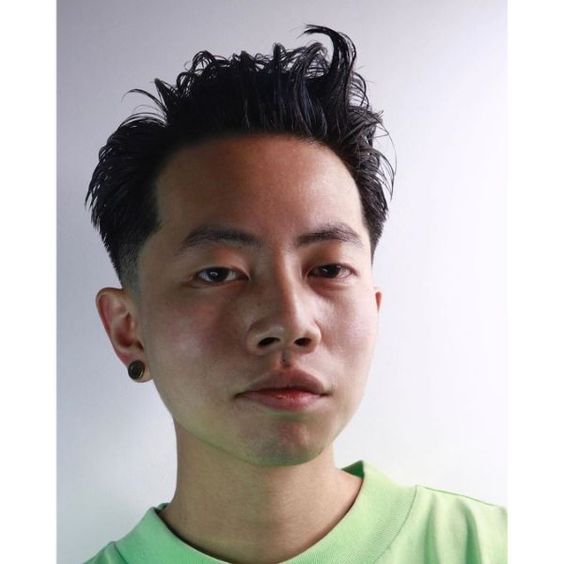 As you can see from the haircut's image above, the transition between the levels of this taper hairstyle is extremely gradual and smooth.
46.Messy Layered Top with High Fade Hairstyle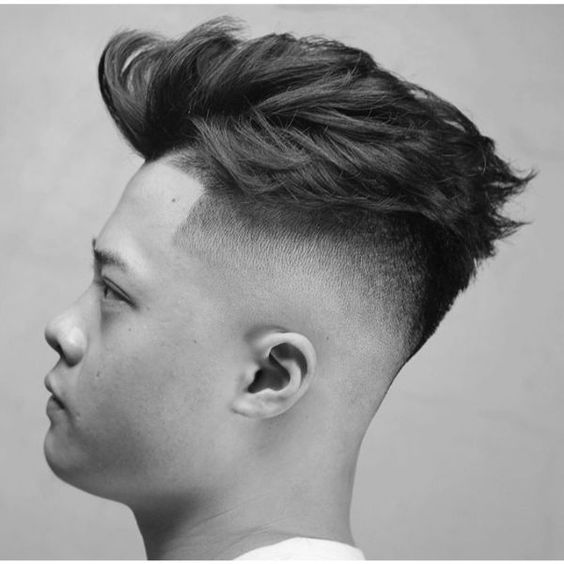 This unique haircut is a unique combination of a high fade and a shape-up.
47.Messy Layered Fade for Korean Men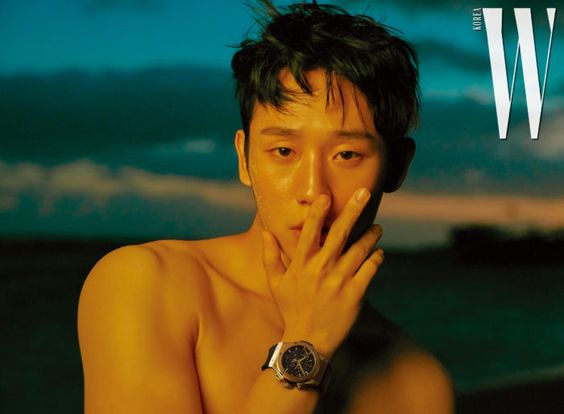 As evident from the haircut's image above, a squarely shaped hairstyle with pieces and long strands of hair that have been arranged in some messy display makes for a cool haircut.
48.Layered Chunky Top Haircut with Temple Fade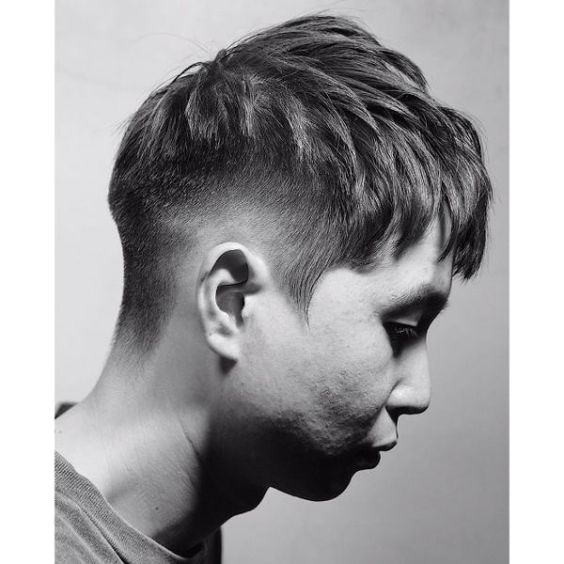 This is another excellent example of a fade haircut with V-shaped layers. The arches and back of the head have been clean shaved, but the topside remains longer and trimmed for the aesthetic texture.
49.Long Sideburns and Thick Bangs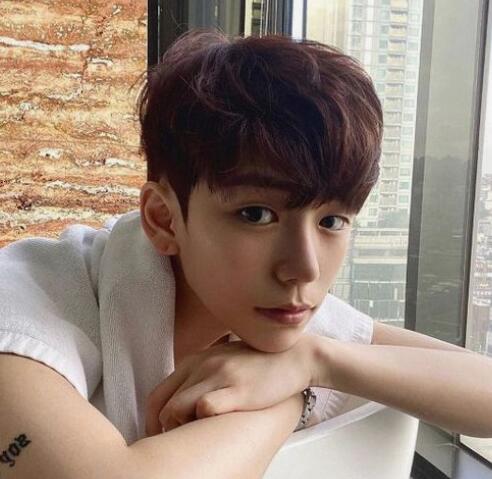 For this haircut, the volume of your hair ought to be concentrated to the front part, where all the layers are directed for the full look. Note that the sideburns need to get carefully trimmed such that they have a pointy shape.
50.Medium Fade and Modern Quiff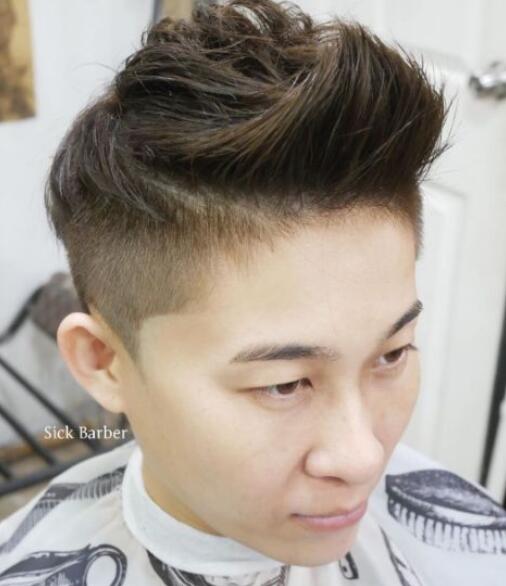 For this haircut, ask for V-shaped layers with a medium fade. From that alone, your hairstylist or barber should know what to do.
51.Spiky Top with Chunky Strands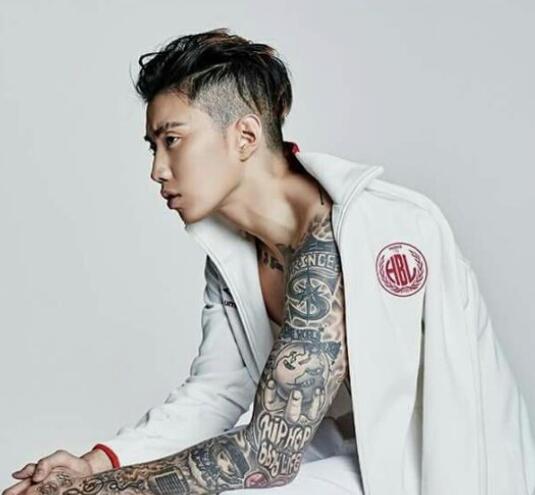 This hairstyle is super easy to get and is also highly versatile. It should award you lots of attitudes as well.