Have you felt blah, bored, stuck in a routine, and wanted to do something with your long hair to spice your life up? Well, you're not alone. Fashion diva Coco Chanel once said, "A woman who cuts her hair is about to change her life." But how do you change your life by changing your hair without going too far? A medium-length layered hair can be the answer.
Medium-length haircuts are the most versatile choice any woman can ever make. They're trendy among women of every age, hair texture, and hair type. Medium-layered hair is neither too short for your chance to look abrupt nor too long for it to be high-maintenance. It's both feasible yet chic and easy to style and carry. Shoulder-length cuts can suit any woman, considering the diversity of textures, hair types, and different ages in women.
A cherry on top is the layers will spice up your hairstyle and give it a more edgy look with some much-needed volume. Not just that, it will also channel your inner Femina as it's both easy to carry and has a gorgeous look. This look will not only keep you well-groomed but will also have you looking feasibly feminine.
Here, we list 50 of the most stunning mid-length layered haircuts exclusively handpicked to suit your face shape, texture, hair type, et cetera. Never stop experimenting!
50 Astonishing Layered Haircuts for Medium Hair
1. A Textured Bob Layered Haircuts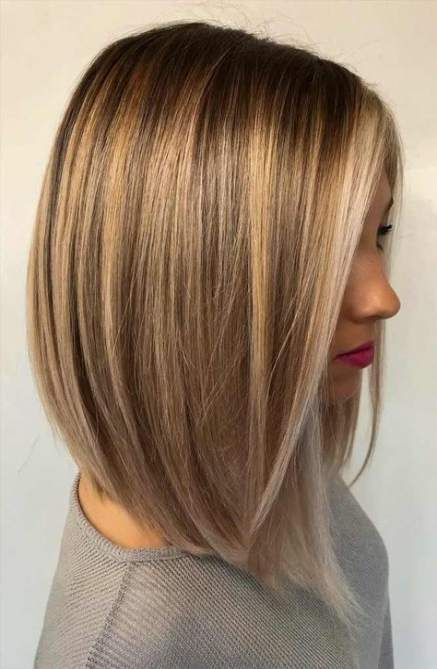 The bob hairstyles are indubitably versatile, that's for sure. And when it comes to layered haircuts, regardless of being straight or wavy-haired – you can always rock them!
2. Feathered Lob Layered Haircuts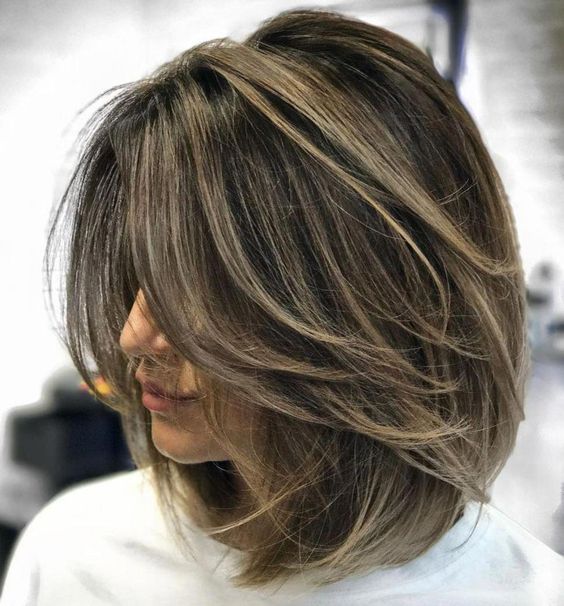 The beauty of a feathered haircut is that it allows you to flaunt those layers while giving you a wonderfully voluminous mane. You can go for a feathered lob cut if you don't want your locks too long.
3. Simple Layered Lob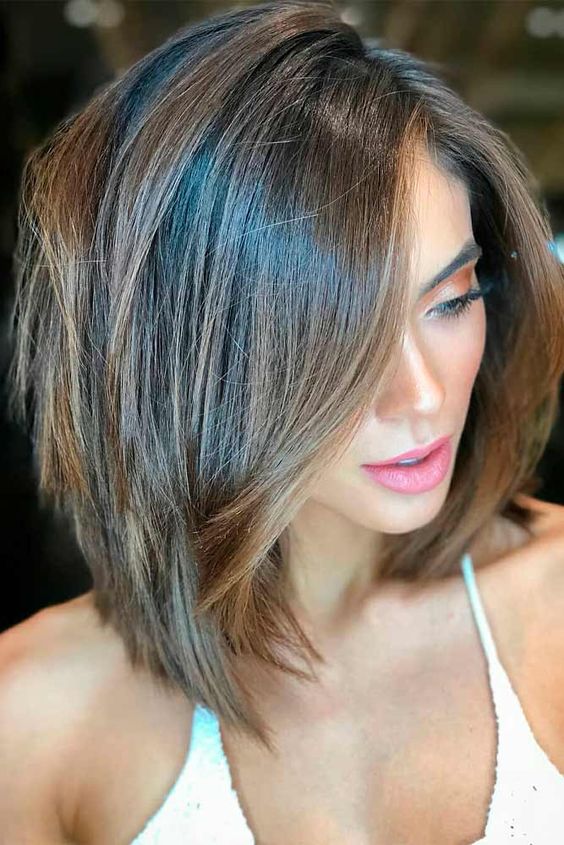 Layered lobs are one of the most alluringly chic choices to make. They're so simple yet so elegant. You can go for a blunt bob and ask the hairdresser to give some layers to it.
4. Wavy Layered Haircut for Medium Hair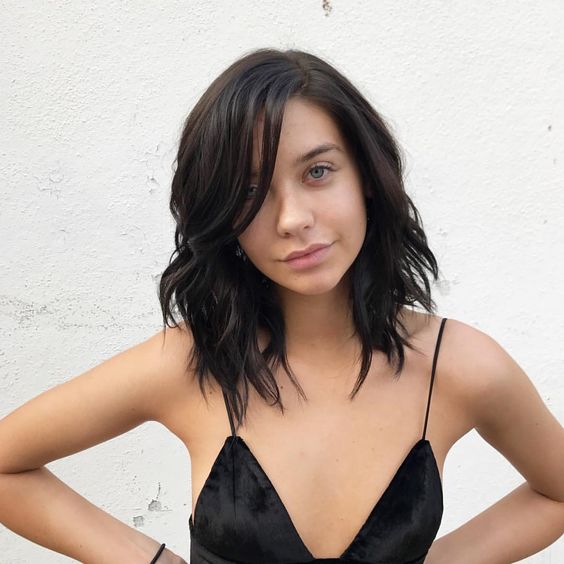 Our simple layered look for wavy hair complements the beachy waves you possess and gives your hair a cheery and carefree vibe. Suitable for any face shape, a wavy layered look is timeless.
5. Layers for Straight Hair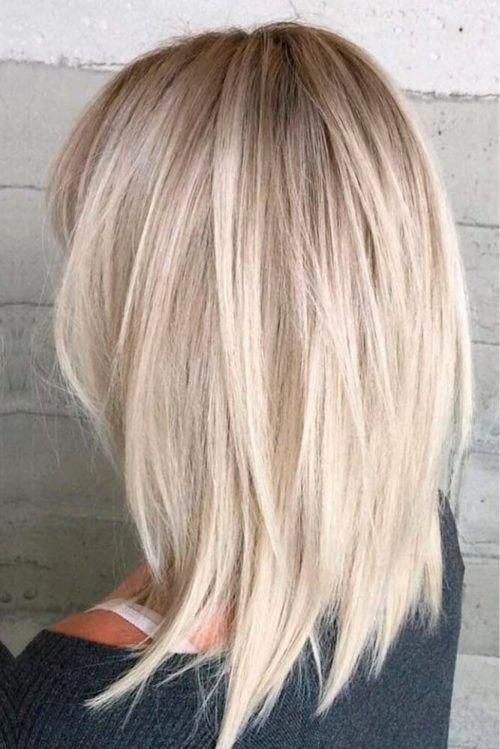 A layered hairstyle will be one of the most effortlessly easy-to-carry looks if you have straight hair. Without much care and styling needed, you'll always be glamorous and ready.
6. Shoulder-length Choppy Layered Haircuts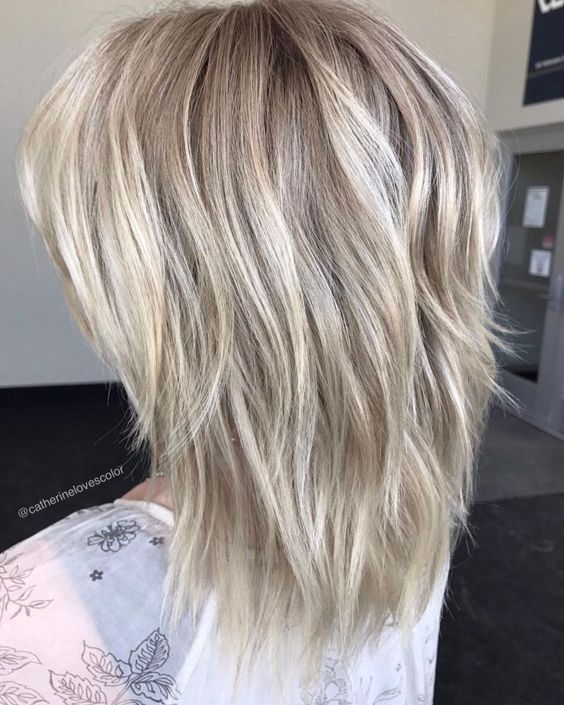 A choppy haircut helps you attain a beautiful volume on the one hand and a gracefully layered look. It makes every strand of your hair look fuller and thicker while not requiring much effort.
7. Messy Wavy Bob Layered Haircuts for Medium Hair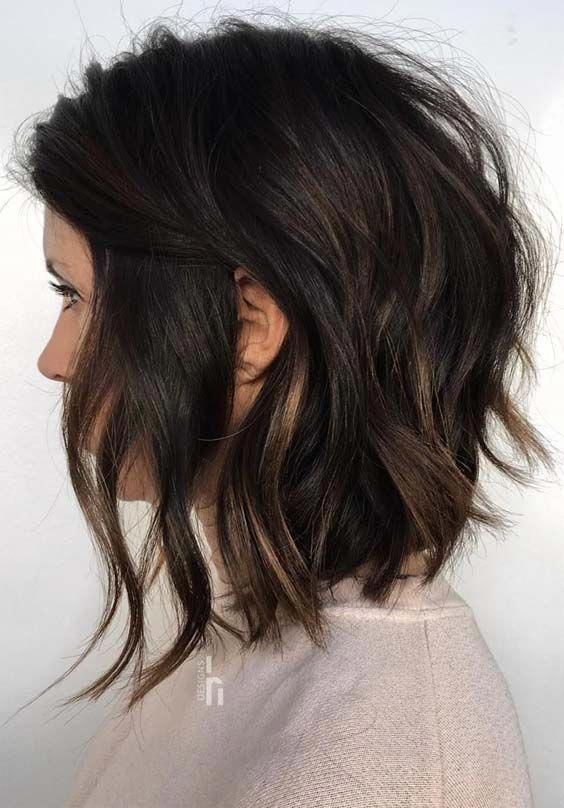 The textured look has to be a must-try for women of any age. It provides an excellent volume and texture, but it is another way of styling the hair. Absolutely vogue!
8. Shoulder Length Bob Layered Haircuts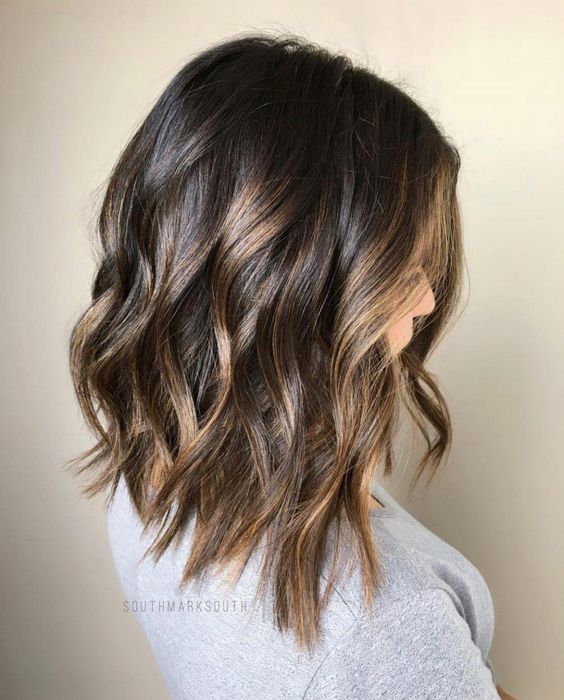 A shoulder-length bob is the most versatile option to go for. This hairstyle gives your hair a perfect texture while maintaining some length. To modify the look, you can experiment with some ombre, balayage, or other coloristic options.
9. Inverted Shoulder Length Bob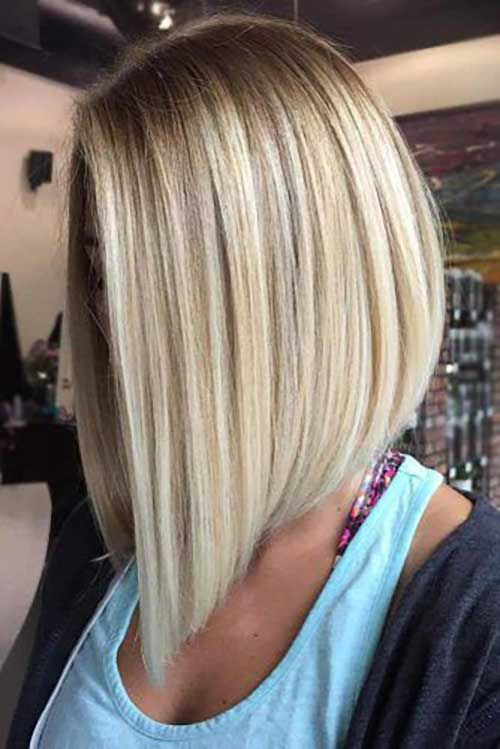 An inverted bob look is another excellent variant of the basic bob look. It is amazingly trendy because of the pleasing shape that it gives the hair and just how eye-catching it is. You should go for this one, especially when you have straight or slightly wavy hair.
10. Shoulder Length Layers with Flipped Ends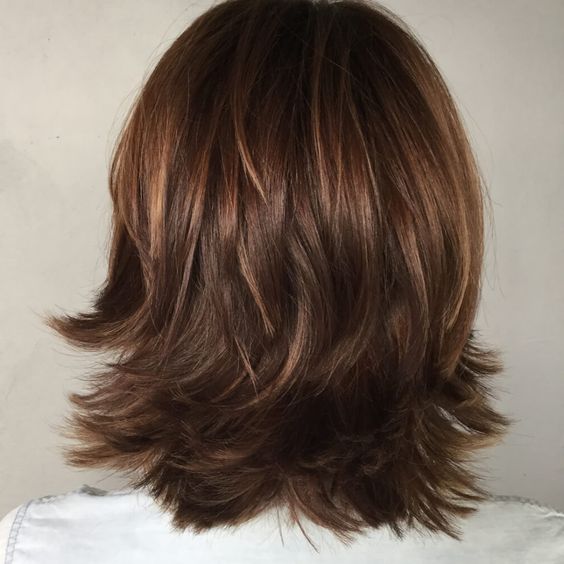 Flipped ends give you a lively vibe and, when paired with some mid-length layers, just as youthful as it gets. If you have an energetic and cheery personality, this is just your style!
11. Mid-length Layered Bottoms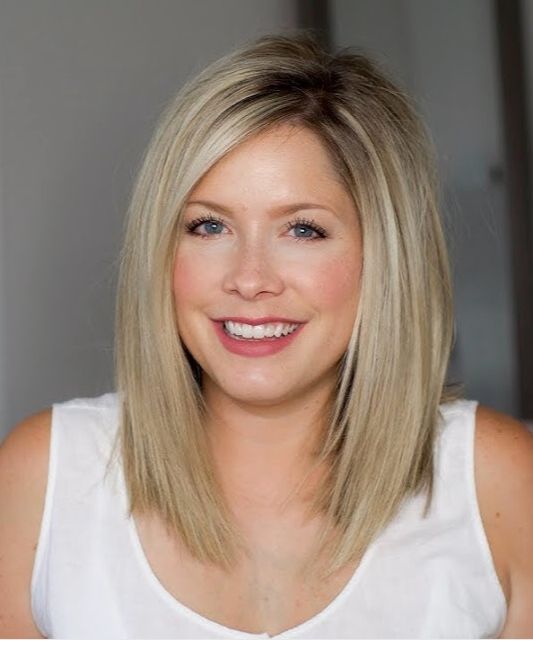 If you're not one to go exceptionally overboard regarding your hairstyle, you must consider getting some chic yet straightforward layered bottoms. They aren't as immense a change but will still take you somewhere while helping you eliminate all those annoying split ends.
12. Medium Length V-cut Style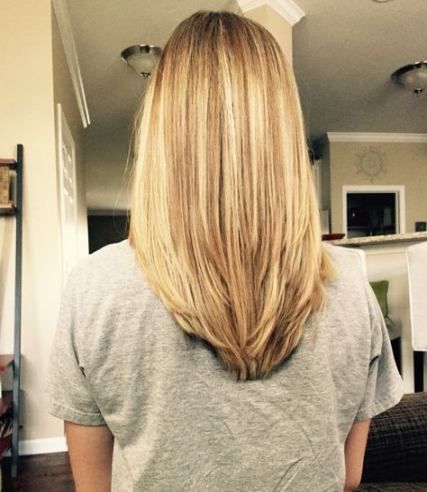 This one's more on the basic side of the spectrum. Although it will give your mane a shape all over, the V-cut will give it a shape as you carry on with your usual length. It will keep your hair healthy and look good from the back. The v-cut style is preferable for straight hair, while any texture can undoubtedly rock it.
13. Lob with Bangs Layered Haircuts for Medium Hair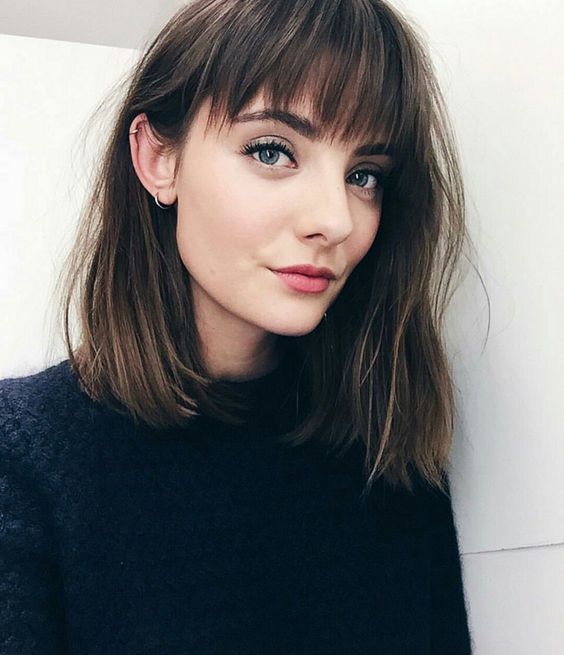 Bangs can add a little spice to any hairstyle; that's a fact. If you are looking for a change in your appearance, bangs are another excellent way. Depending on the shape of your face, you can spice your lob up with cute bangs.
14. Piece-y Layers with Balayage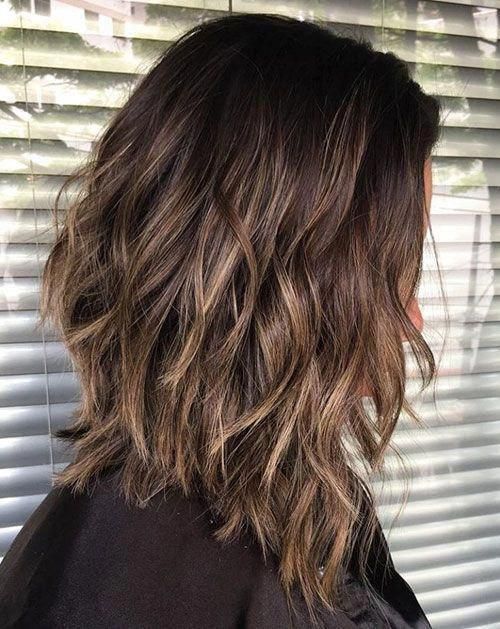 This piece-y look is another variant for the shaggy or choppy look. The apparent hairpieces give your layered look a bouncy look as you style it with subtle curls and waves.
15. Curly Layered Haircut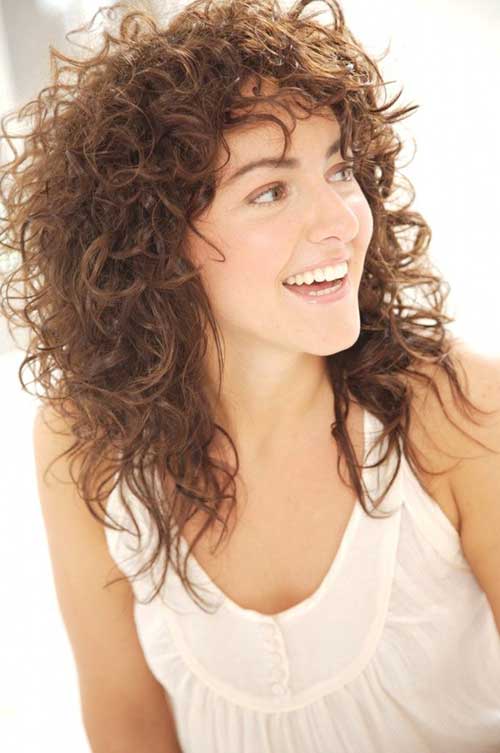 If you have the blessing of curly hair bestowed upon you, don't let it go to waste without trying at least several styles. You can go for a chic layered look for a change, it may be as apparent, or even if it is, you can always play with hairstyles when you have curly hair.
16. Feathered Layered Haircuts with Bangs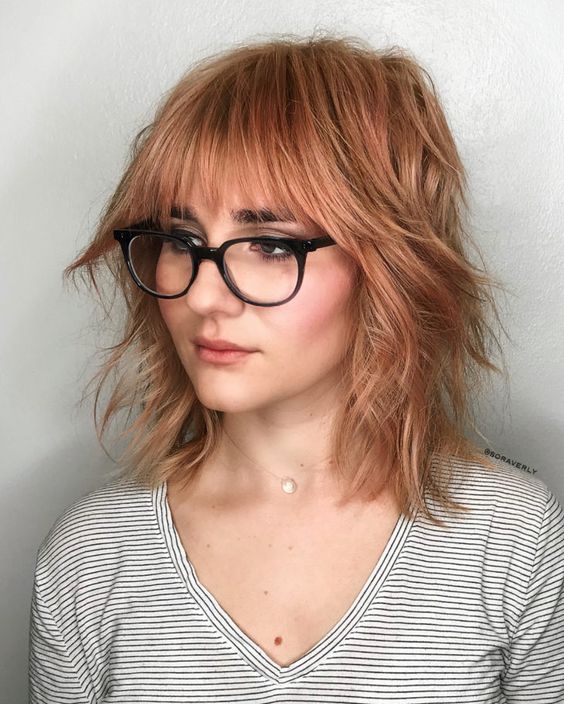 A feathered haircut is the best for someone who has thick hair. Although it's suitable for any given hair type, it's best preferred for those with thick hair to show their edges a lighter and softer look.
17. Shoulder Length Layers with Spiky Ends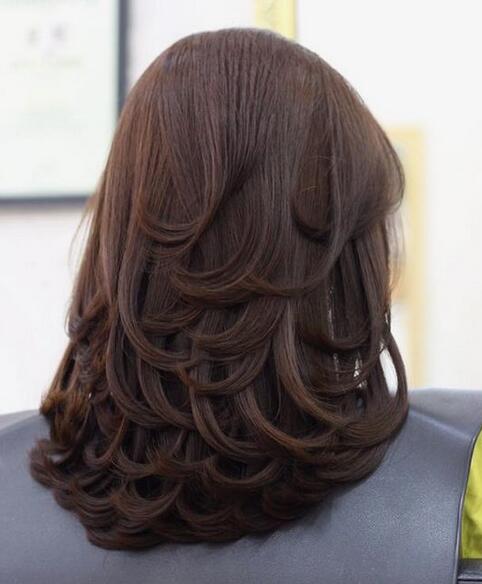 This one's a creative variant of the hairstyle, proving that there is so much that women can do with their hair. They are doing it in all these artistic ways, beautifying it. Although the spiky ends are something that demands daily styling, the look is worth it all.
18. Two-Layer Haircut for Medium Hair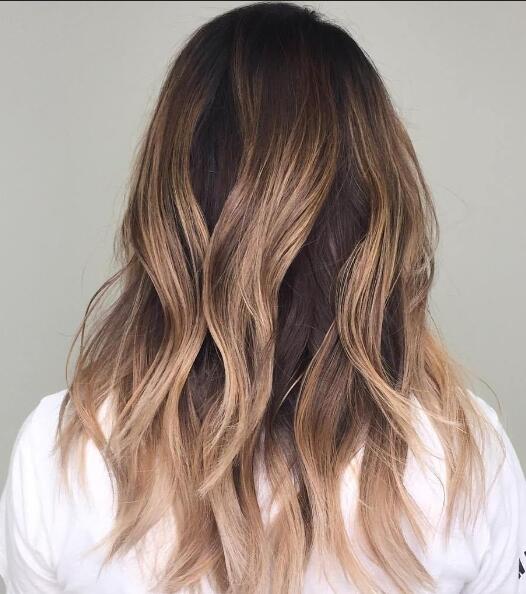 The two-layer haircut is a very simple look that consists of just two divisions of your hair. It's a hairstyle that varies in length and whose effect depends on the hair type of the person carrying it.
19. Swoopy Layered Haircuts for Medium Hair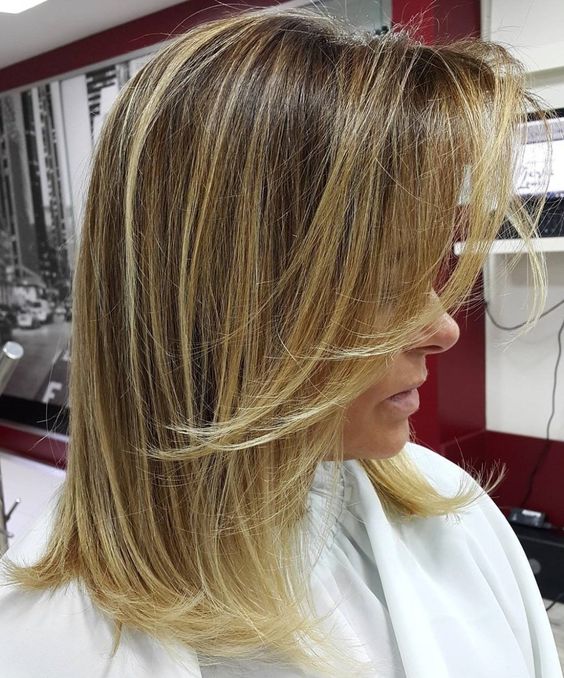 These swoopy layers are perfect if you have a perky and jolly personality and thin hair.
20. Subtle Layers for Light Hair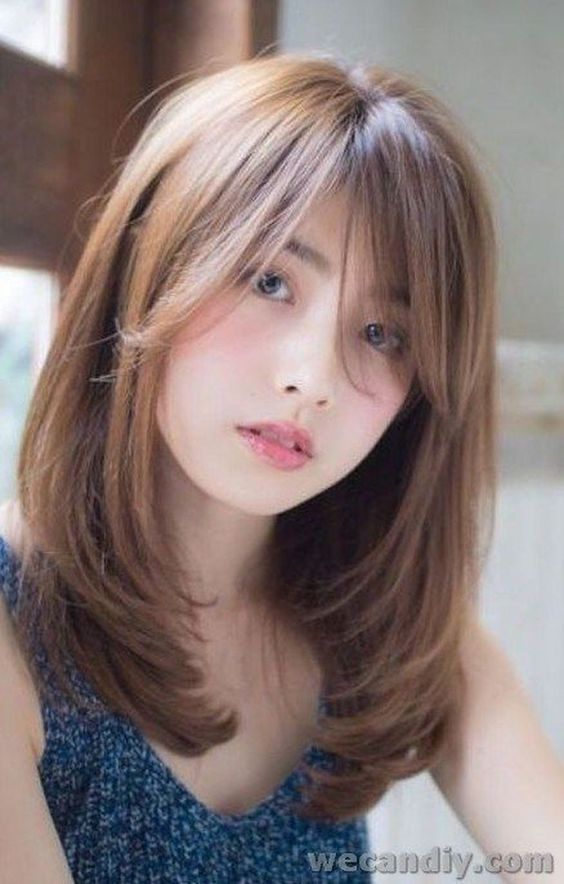 Another hairstyle to the rescue for our ladies with thin hair is this light-layered look that gives your hair a soft and angelic vibe.
21. Sliced Uneven Layered Haircuts for Medium Hair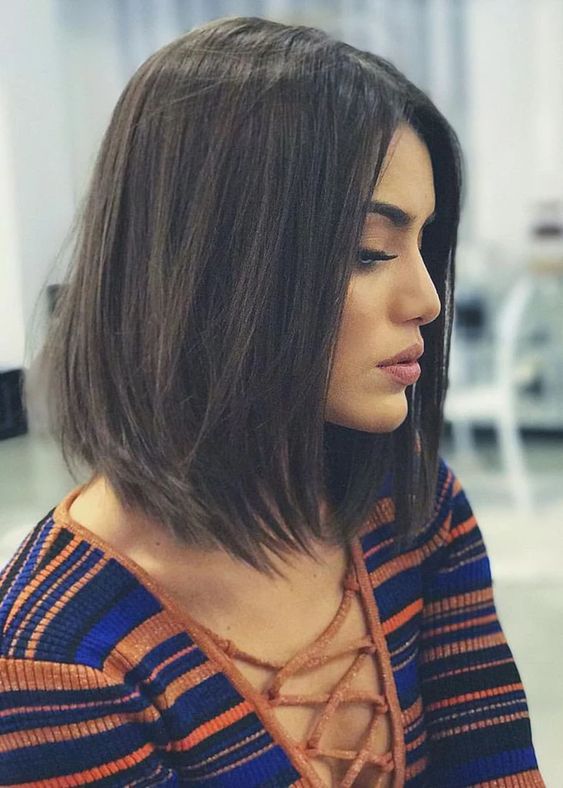 Layers don't always have to be super evident. You can go for a simple sliced, layered hairstyle as you get rid of those split ends and keep it simply classy.
22. Textured Shoulder Length Bob
Layered Haircuts for Medium Hair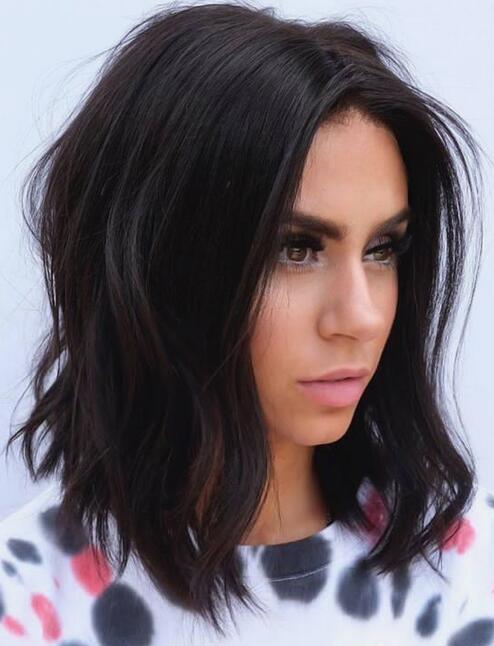 Bobs are like the go-to of shoulder-length styles. We'll never get tired of talking about them, just how they will never go out of style.
23. Choppy-Chop Layered Haircut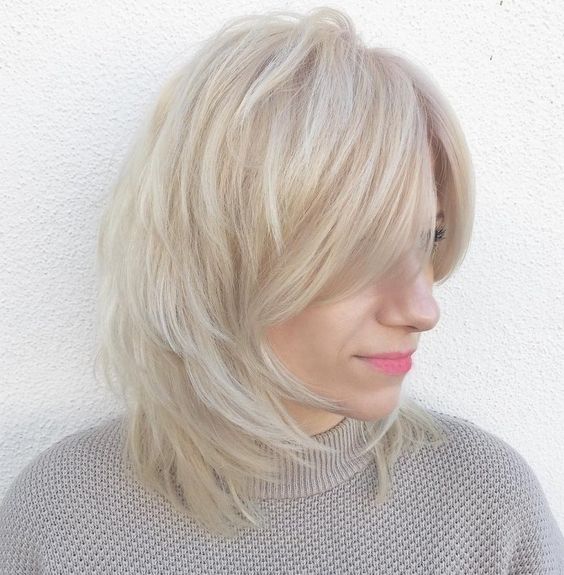 This look is one of the comfiest ever. You won't have to worry about styling it. Plus, it's so much better if you have thin hair. What a blessing!
24. Elongated Layers for Mid-length Hair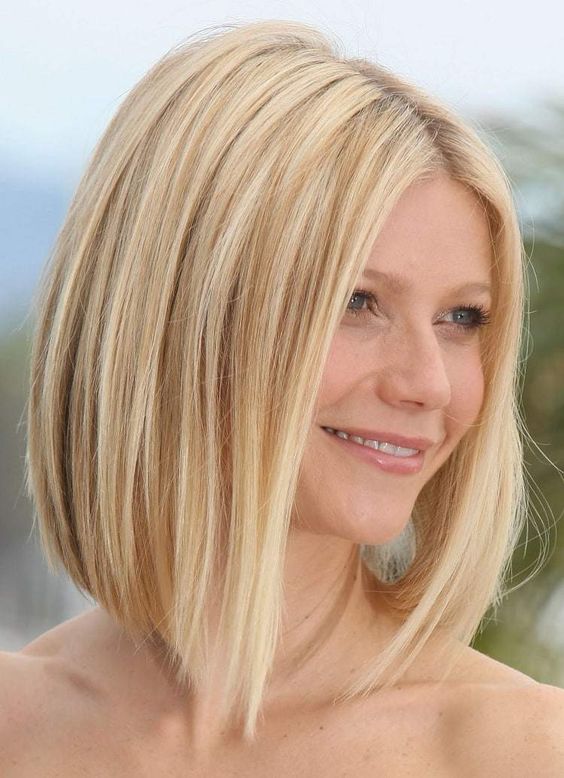 The elongated layers explain most of the bottom of the hair. In this hairstyle, the focus is more on layering the ends of the hair, leaving the length.
25. Messy Layered Fall Haircuts for Medium Hair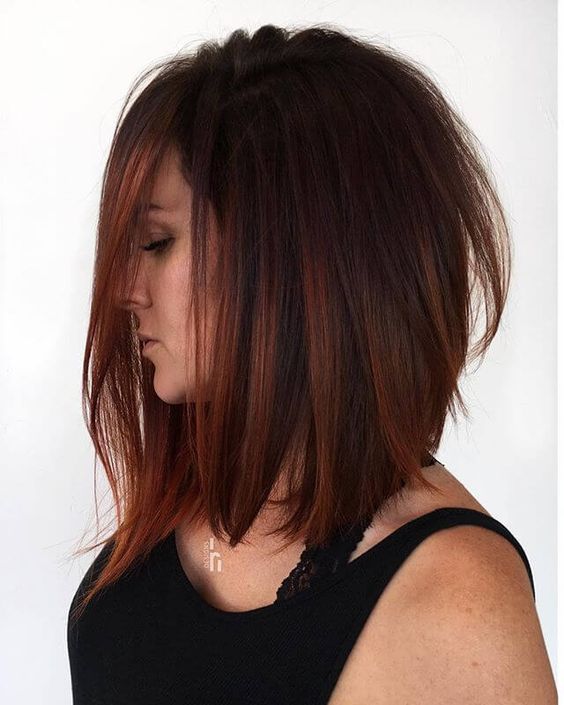 This hairstyle is named that way, obviously because of how it looks. The blend of color tints and the way the layers fall on the person's face who wears them contribute to the magic of this hairstyle. A perfect look for fall.
26. Graduated Medium Length Hair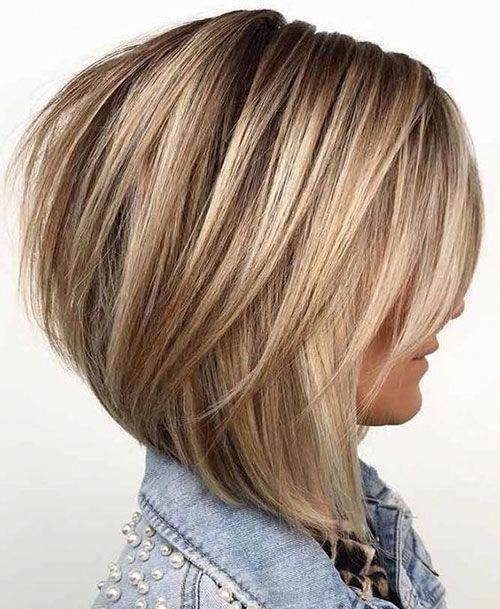 What makes a simple bob haircut a graduated bob? Because it has more length in the front than the back and more volume at the back than the front. It gives you a gradual increase in the volume of your hair as you go from back to front.
27. Messy Layers with Fringes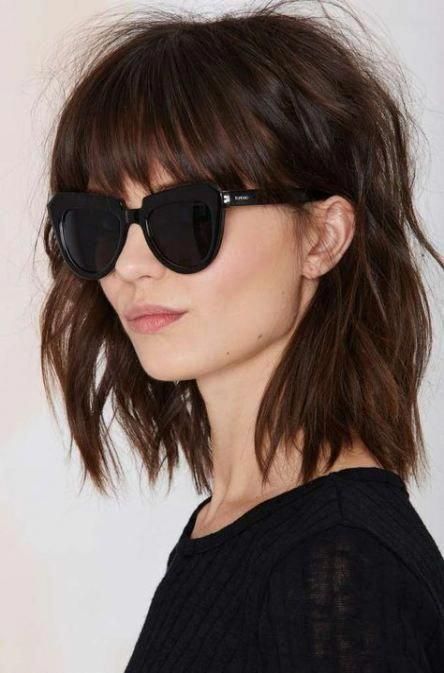 The messy style will neither ever go out of fashion nor comfort. Just how chic and classy these sliced messy layers are, a must-try for someone who doesn't like doing much to their hair.
28. Purple Layered Tinted Brunette Lob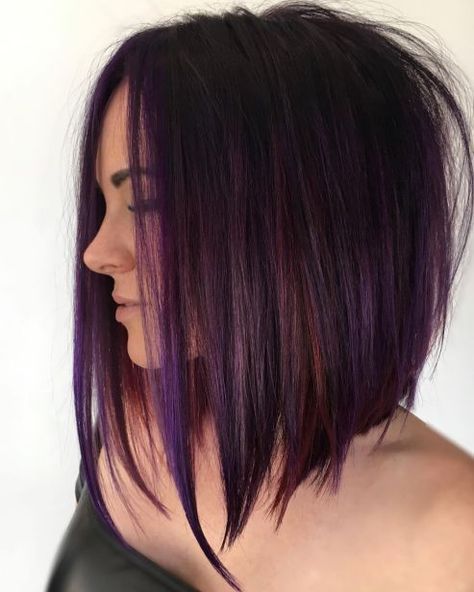 As said earlier, there are plenty of fantastic color options for you to choose from. However, this purple-tinted bob is a particularly bold color to try out at least once in life.
29. Curly Layered Lob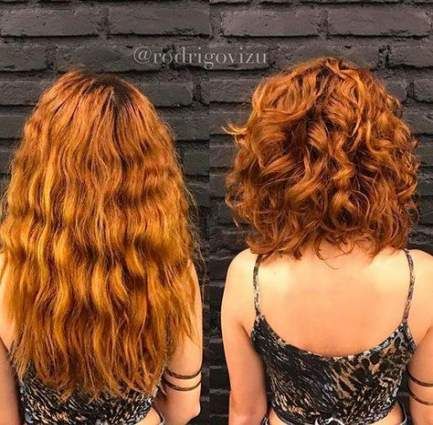 If you have the blessing of curly hair bestowed upon you, don't let it go to waste without trying at least several various styles. You can go for a chic layered look for a change, it may be as apparent, or even if it is, you can always play with hairstyles when you have curly hair.
30. Feathered Layered Haircut for Blonde Hair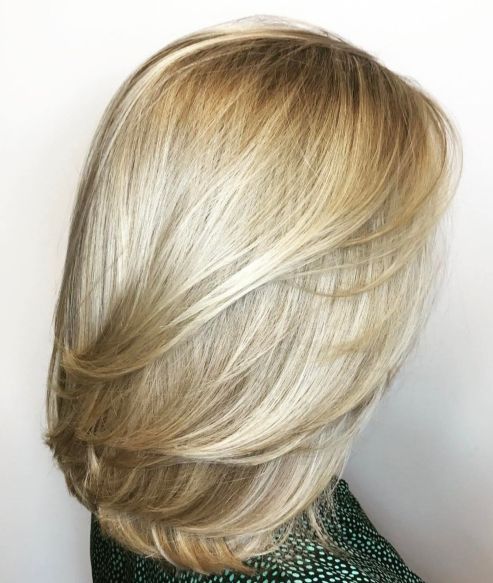 The feathered style looks especially heavenly on women with blonde hair. We all have seen them on television and in movies, so why not try them yourself?
31. Angled Lob Layered Haircuts for Medium Hair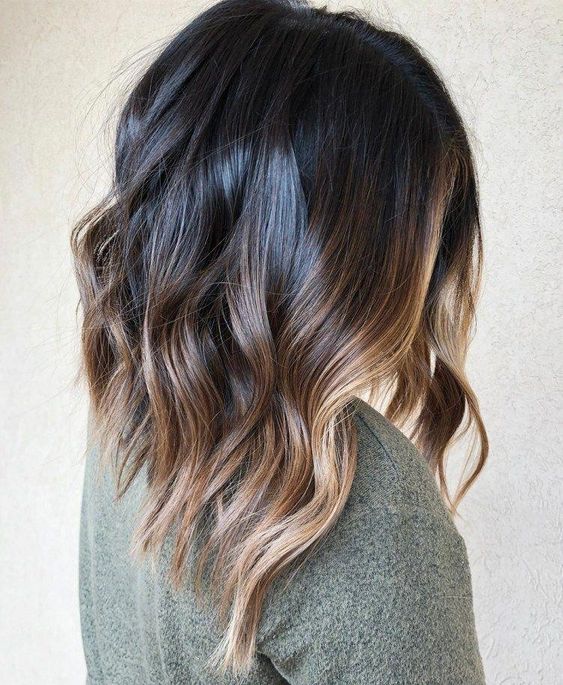 An angled lob is an excellent alternative for someone who wants to maintain the style and length while keeping it fashionable. Remember that you can always choose different coloristic options if you get bored.
32. Simple U-cut Layered Haircut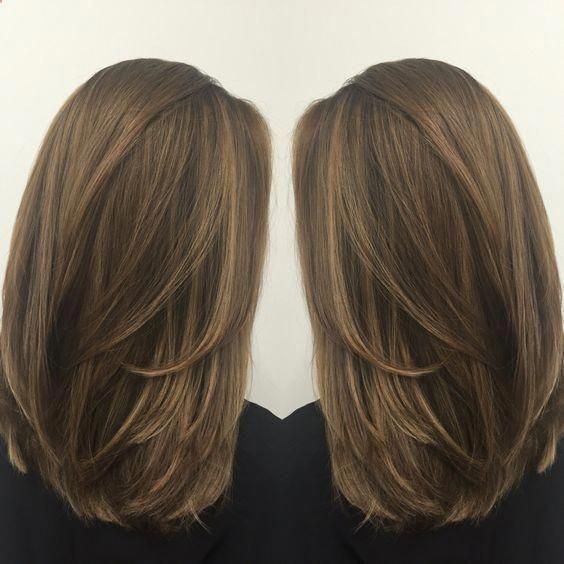 This is an excellent way to keep your hair healthy, as you regularly trim your u-shaped layers. This haircut is preferably for the ones which thick hair.
33. Lob Layered Haircuts with Razored Ends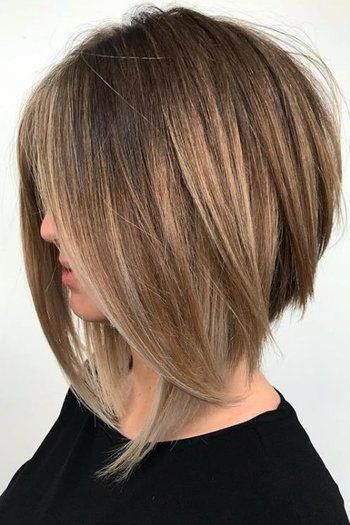 Razored ends make your head look smaller, and your hair looks lighter. They provide your hair with the shape and fluffiness required, as you keep it classy.
34. Feathery Bob Layered Haircuts for Medium Hair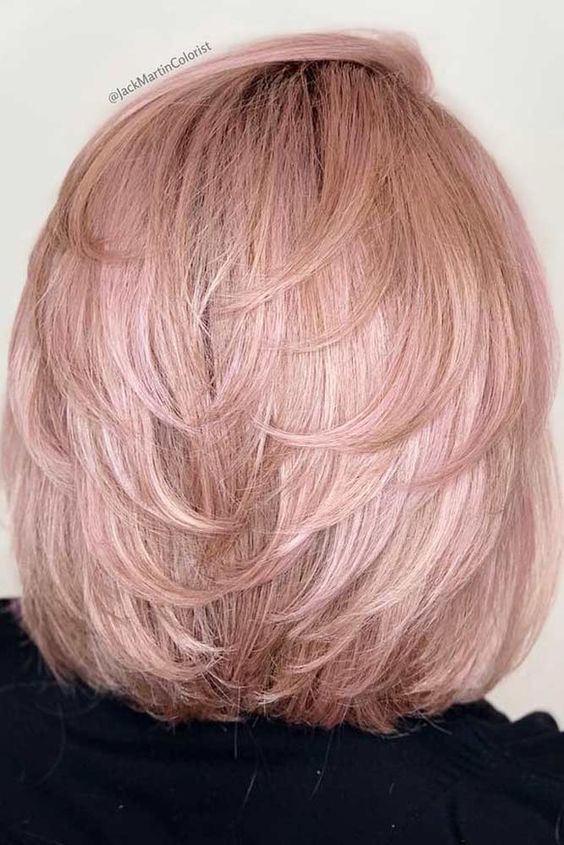 The feathery layers are super lovable and creative. When paired with a bob, you can create an exceptionally magnificent look of your own.
35. Wavy Inverted Bob Haircuts for Medium Hair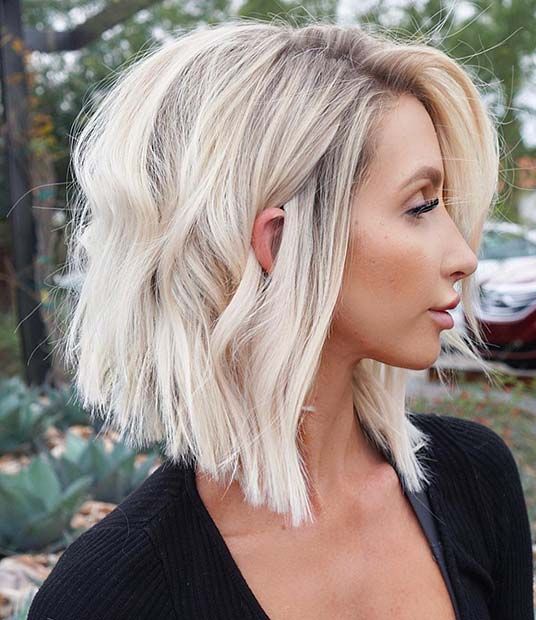 An inverted bob is a great way to attain the volume you wish for. It makes your hair fluffy and helps it look fuller, whether your hair is pin-straight, wavy, or even curly.
36. Layered Hairstyle with Side-Swept Bangs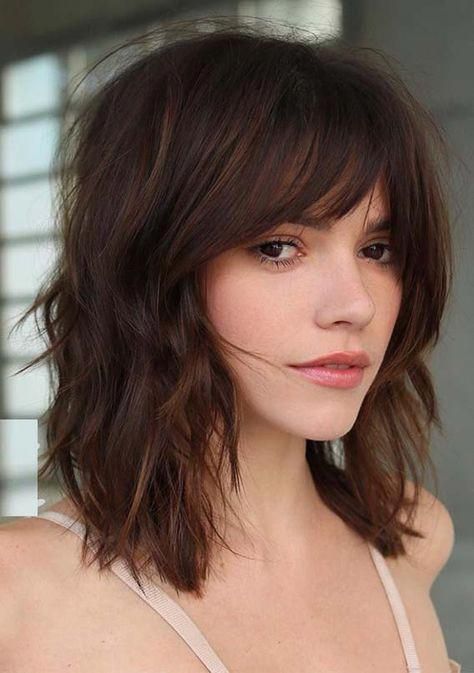 A messy layered look with some adorable side-swept bangs is what you need this summer. There isn't a better combination than this one that hides that forehead and keeps the hair out of your face while maintaining that length.
37. Blunt Lob Layered Haircuts for Medium Hair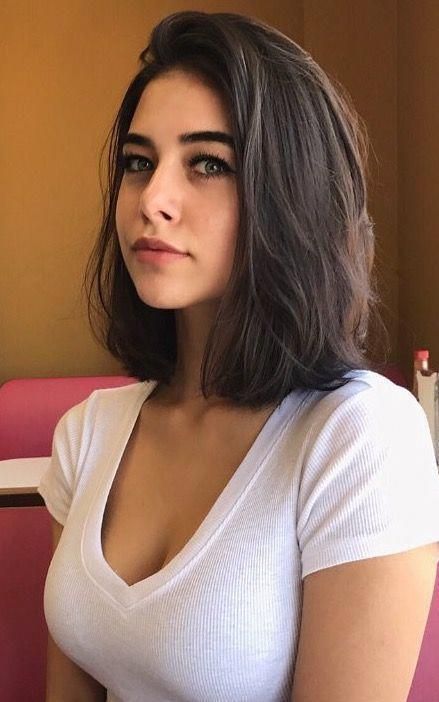 A blunt lob is just what it sounds like, a long blunt bob. Although you can modify it in any way you wish, you can ask for slight and subtle layers here and there. It's a super classy and chic look for someone who doesn't want many lengths and keeps the hair shoulder length.
38. Layers with Subtle Highlights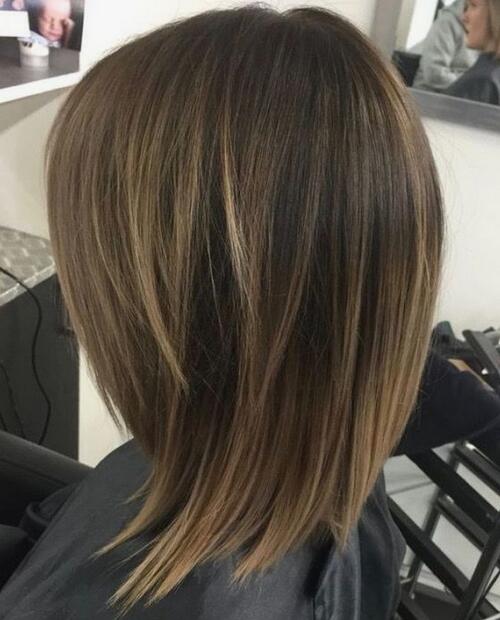 Another one on the list of slight changes in the hairstyle that count. You can go for some light, point-cut layers with highlights that complement your hair and skin color.
39. Two-tier Middle Length Haircut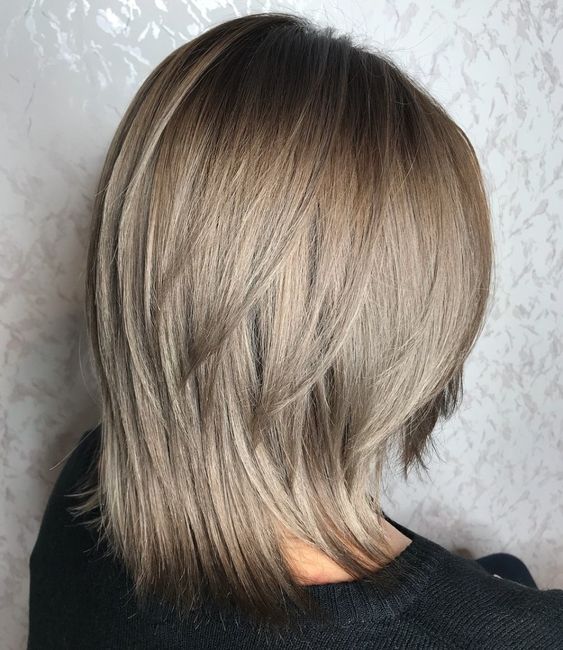 The two-tier mid-length hairstyle is the sister of the double layers look, except it has a more subtle look where both the layers seem to intermingle each other. If you wish to go bolder, you can try experimenting with ombre and balayage.
40. Long Bob Shag with Bangs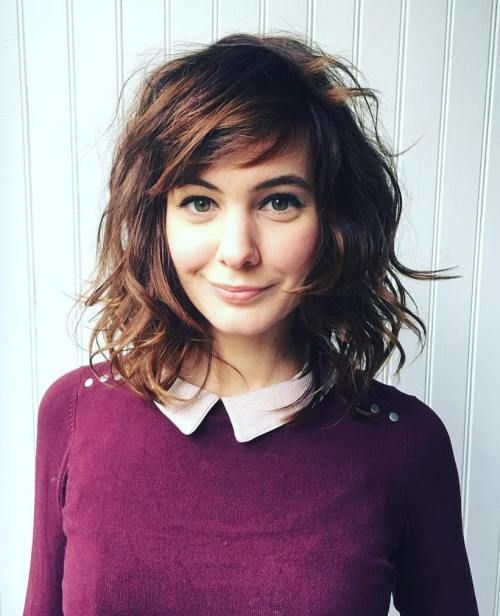 A long bob shag is a style so comfortable that it will never go out of fashion, as it doesn't ask for much maintenance and effort yet still slays. It is both adolescently cute and classy.
41. Messy Blunt Lob with Bangs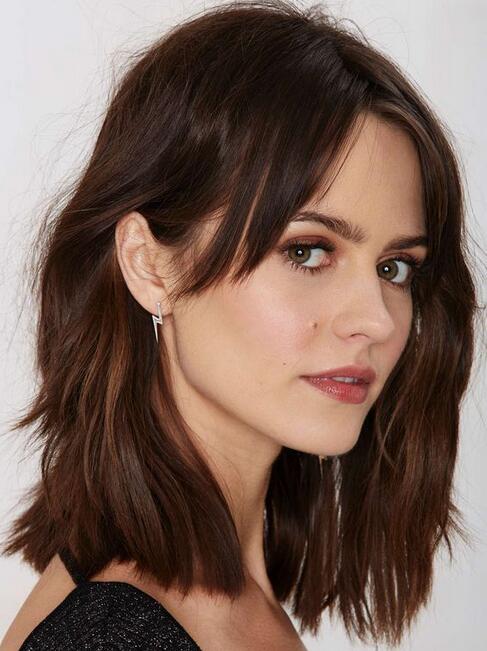 The list of variants doesn't end soon when it comes to layers, which is the best part. You can go with a blunt lob with some bangs as you let some choppy pieces out, giving it more of a personalized look.
42. Bedhead Layered Haircuts for Medium Hair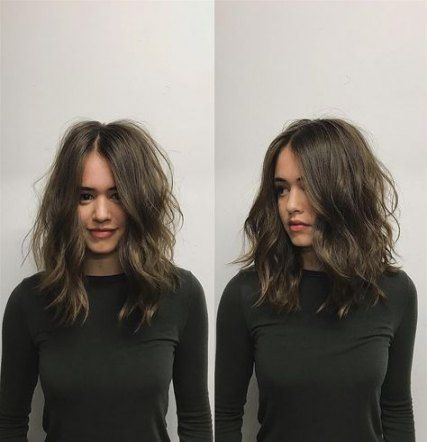 The bedhead look is another trendy look nowadays. Creating a mess with your locks will give you a voluminous and wavy look, also sustained by the layered haircut. You can carry and part it in whatever way you wish, looking fabulous.
43. Point-cut Bob with Bangs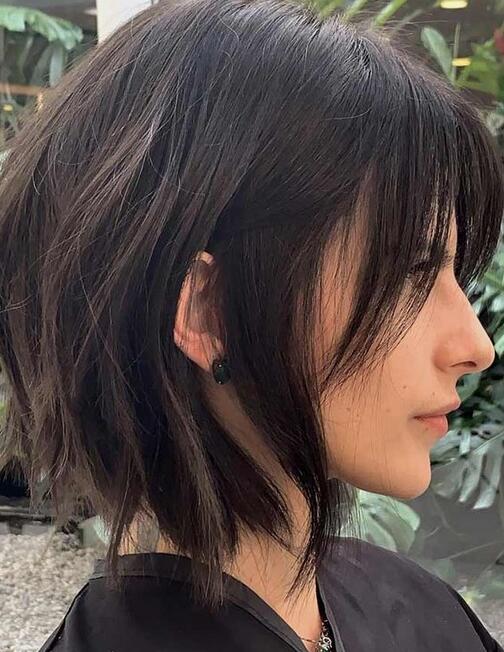 A point-cut bob has a lot of movement and texture, as it has seamless layers. It's a cut meant to make the ends look lighter and more flipped over, soften ends, and create a more textured haircut. The bangs work the same way. You can go for this haircut if you have thick hair.
44. Curly Brunette Layered Haircuts for Medium Hair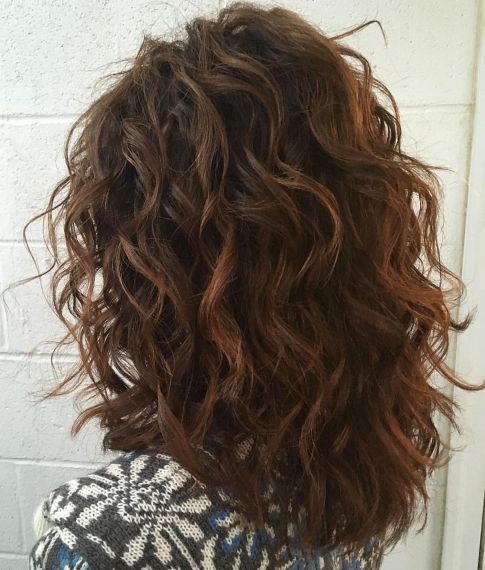 Curls with layers are such an elegant way to carry one's hair. They can be natural or styled; it's the look that matters. You can go for coloring or leave it natural. Whatever way you choose to carry your hair in, it will always look stunning.
45. Wavy Bob with Blue Undertones and Bangs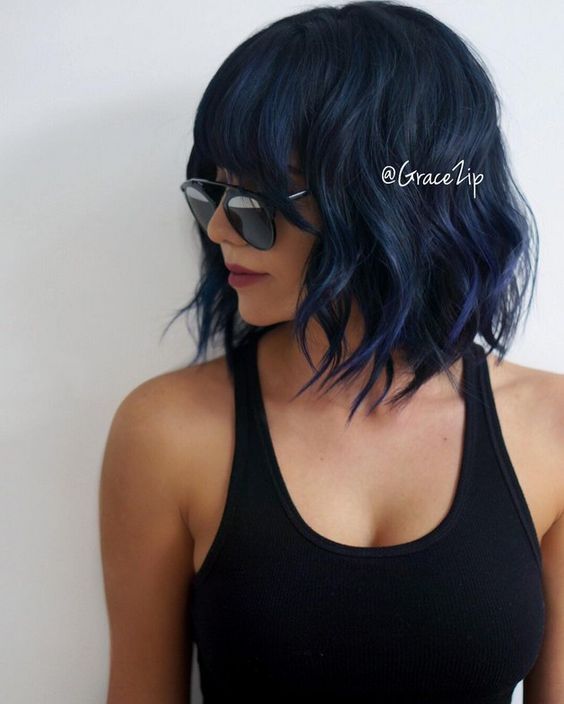 There's an abundance of coloristic options to choose from. To be your unique self and not a part of the crowd, try out this bold look with bangs, a bob, and those blue undertones. It's unquestionably one to make those heads turn.
46. Layers on Raven Hair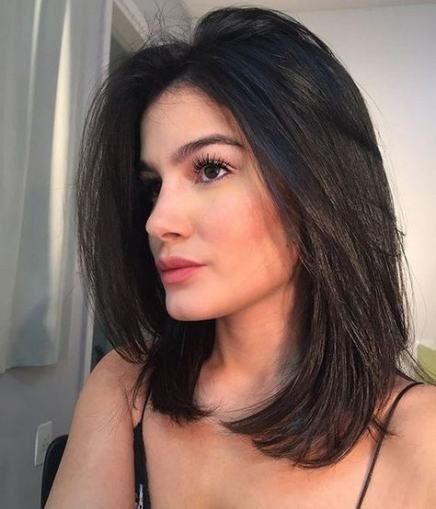 Natural raven hair is inexpressibly beautiful, don't let anyone tell you otherwise. Flaunt your naturally gorgeous hair with some delicate layers and work the magic.
47. Rose Gold Layered Haircuts for Medium Hair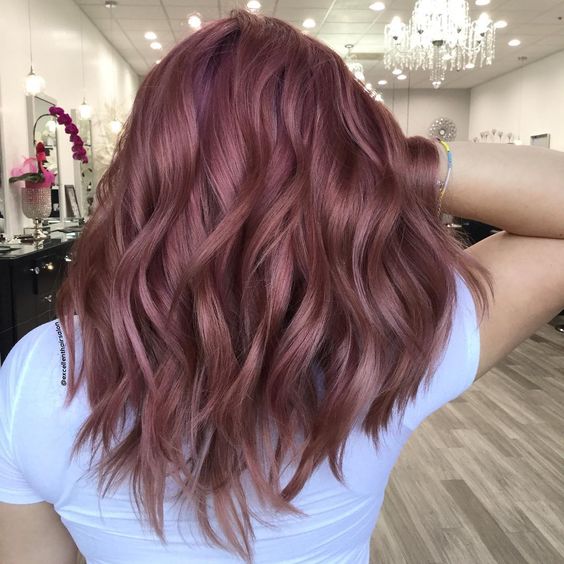 Just how breathtaking this look is! It's almost unreal. Layers are undoubtedly beautiful, but when paired with this rose gold color, it's almost magical.
48. Simple Layers with Curtain Bangs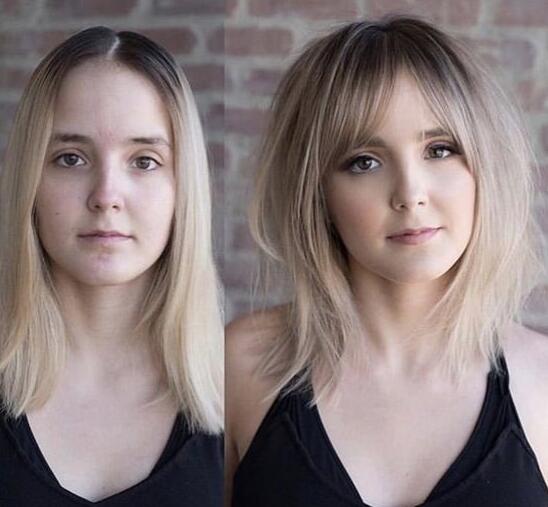 Curtain bangs are one of the most youthful hairstyles and are so subtle a change that you won't even feel many alterations yet still carry a new look. You can go for some shaggy layers if you want a lighter look.
49. Choppy Redhead Layered Haircuts for Medium Hair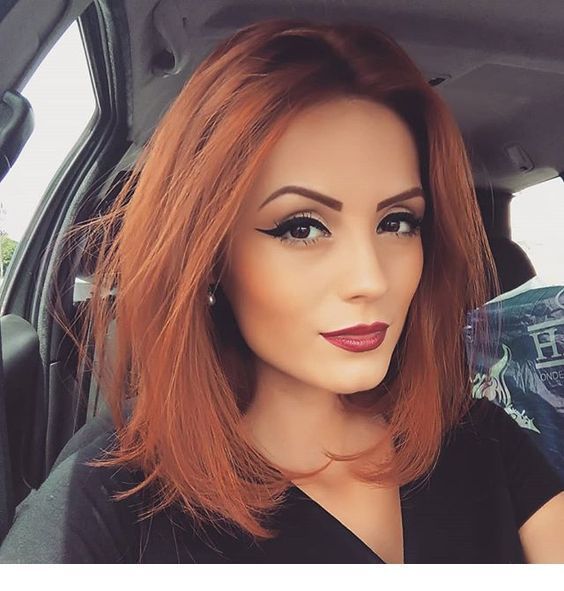 God blessed the natural redheads! If you are one, you must try a nice little bob look with some layers as you flaunt your natural hair color and volume.
50. Angled Bob Layered Haircuts with Curtain Bangs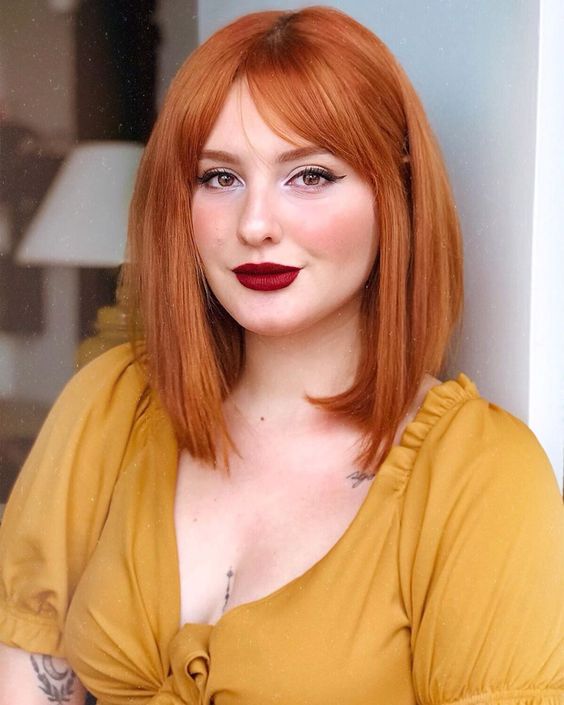 We all are well aware of the magic that comes with curtain bangs. They change your look into a young, pretty little thing even though they aren't as massive of a change. If you're looking for something subtle, you must go for an angled bob with some cute tiny curtain bangs.
Which of these layered haircuts do you like? Which one do you think suits your shoulder-length hair the best? Let us know below.
Common Questions about Layered Haircuts for Medium Hair
Here are five things you need to know about medium-layered hair:
1. Are layers good for medium hair?
Yes! They are perfect for medium hair because they add volume, texture, depth, and variety to your look without too much-sacrificing length. The classic V-shaped layer cut is especially recommended for medium-length and long-length hair. It looks exactly like its name implies: it forms a V shape from the back when you look at it. It volumizes your hair and adds texture yet is femininely soft in its wispiness.
2. What face shape looks good with layers?
The ideal face shape for long layers is the oval-shaped face, where your face is longer than its broad. The only thing to avoid with an oval-shaped face is making your face look longer with short layers at the top. However, any face shape can look good with layers if you know what to do, depending on your hair type.
Diamond-shaped faces, wide in the middle and narrow in the forehead and chin, should focus on wispy layers against the cheeks to minimize the width, with side-swept bangs to volumize the hair and make the forehead look wider. Curling the edges with chin-length to shoulder-length hair can make the chin look wider.
Heart-shaped faces have very wide foreheads and pointy chins. To balance out the face, Layered cuts should minimize the forehead with subtle and smooth side-swept bangs and lower hair that "fly away" from the chin area to give an illusion of width.
Pear-shaped faces have narrow foreheads and broad jaws. Layered blunt cuts can give volume and width to the top part of the hair, while the rest is kept straight and narrow and closer to the face.
Rectangular faces are similar to ovals except that the jaws and foreheads are squarer. To create more balance, avoid straight, narrow haircuts and combine short and long layers to create more volume, especially around the top of the head.
Round faces would do well to have layered cuts that create height at the top of the head to take a look longer and avoid curls or blunt layers along the cheeks.
Square-shaped faces combine elements of round and rectangular faces, so the goal is to fill in the missing elements and make a look appear longer and rounder. Wispy layers that frame the sharp edges of the face are recommended.
3. Do layers make your face look thinner?
Yes, you depend on the cut and whether your hair is fine, medium, thick, straight, wavy, or curly. Fine hair can only support a few layers or light layering, and a one-length bob cut is recommended. Wavy or curly hair would do best with long layers, which have the hair cut longer in front than at the back.
But then again, the ultimate goal is not necessarily to make your face look thinner (what if it's already thin?) but to create balance, no matter your face shape.
4. How do you do a medium-layered haircut?
For an essential medium-layered haircut, these are the steps:
Begin with a central parting of the hair.
Start at the back and work on both sides to create your length. Hold each section of hair with a comb and cut the hair away from the comb in a straight line.
Create the length in the front of where you want your layers and angling to start. You have now created your basic outline.
Comb everything forward and cut to blend in with the basic outline you've just created.
You can chip into the cut hair with tiny horizontal cuts to soften the lines.
To check balance, grab two hair points from each side and bring them together to see if they're the same length. Or, comb everything in one section to the front to see where you're at in terms of balance, and adjust the cuts.
To start layering, take a section of hair from the top, at the back of the head; wherever you cut, the first section is how it will fall and will be your basis for the next layering and shaping.
Take a section of hair around an inch lower from your previous layer with the following sections and cut.
Do this until you reach the bottom section, where you shouldn't have too much hair to cut off anymore.
After you've finished with the back, start again at the top, taking the front sections of hair towards you, and with your elbows out, even cut the section of hair along the straight line of a comb or your two fingers together.
After you've finished with the top, do the same with the sides, taking each section of hair a bit towards you, and cut the same way– elbows out and even, cutting along the straight line of a comb or your two fingers together.
Finally, run your fingers through the hair and check for balance and even lengths. You will feel which parts need more fine-cutting, so cut accordingly.
Here's a video tutorial from The Salon Guy to illustrate the steps and guide you.
5. Styling tips for a medium-layered haircut?
The best layers should be soft, work well with your face shape and natural hair texture, are low-maintenance, and make you look good in three months as you did when your hair was cut. With this in mind, here are essential styling tips to consider:
If you want more body, use a large, round brush, and comb the hair thoroughly in sections, ensuring no tangles in the hair. A volumizing spray can help to add more body, too.
If you're blowdrying your hair yourself, blowdry everything forward, starting at the roots of each section of hair and blowdrying outwards through the hair held by the styling brush.
If you want more texture for your hair, use a pomade or moisturizer. Mix it in your hands first, then comb your hands through the hair, focusing on the ends.
Generally, once you've decided you're going for a hair change with medium-layered hair, if you want a smooth, polished, layered haircut that you look good in, invest in a hair expert's professional services.