Long layered hair is a hairstyle that is longer in the front and gradually gets shorter towards the back of the head. It's an excellent style for women who want to add volume and texture to their hair. A long layered haircut can be great for any face shape, but especially for those with round or heart-shaped faces, as it will help to elongate your face and give you more dimension.
Long-layered haircuts can be styled in many different ways. The most common way is to leave the hair slightly longer in the front and gradually get shorter towards the back of the head. However, you can style your long layered hair in any way you like. Long-layered haircuts are versatile and suitable for all hair types and textures. This article will discuss the 50 best-layered hairstyles for long hair.
Top 50 Best Layered Hairstyles You Can Sport for Your Long Hair
Here's a list of 50 best-layered hairstyles for girls with long hair; choose one that suits you best, and keep experimenting!
1. Classic Long Layers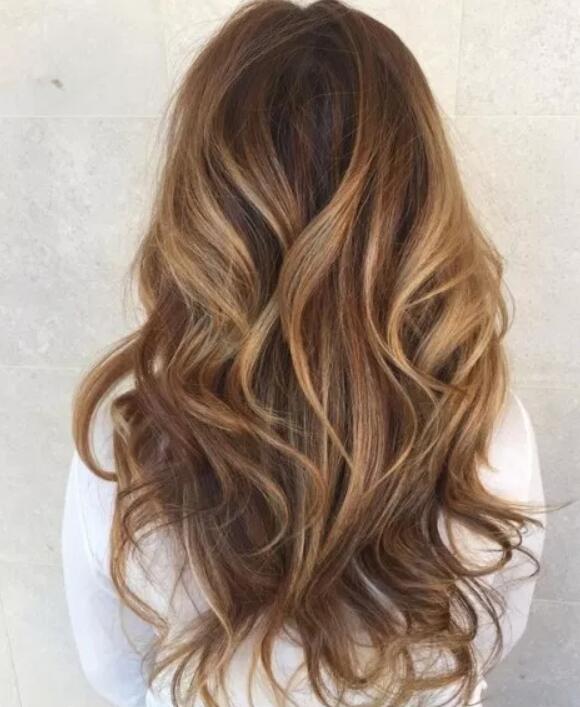 Foremost, we have the classic layered look for long hair. Although there might be variations, this hairstyle's basic form is almost universal. This goes for every hair type, length, and texture. With this one, you can transform your simple long hair into a classy layered look.
2. Long Wavy Layers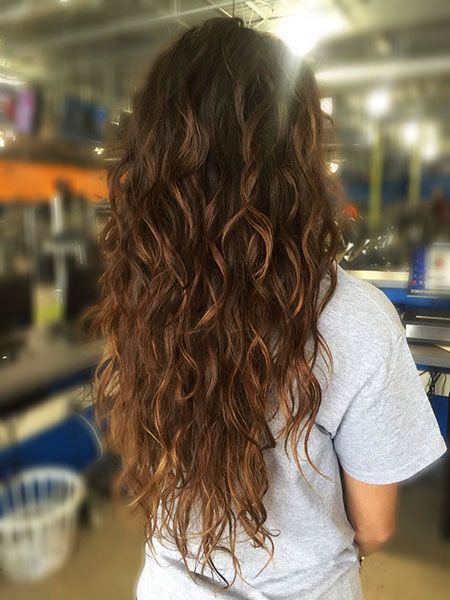 Suppose you have naturally wavy hair; first of all, thank you for the blessing. Second, it's best for a lovely, textured layer hairstyle. You can have an excellent layered look and an effortless wavy hair look. What a blessing!
3. Voluminous Layers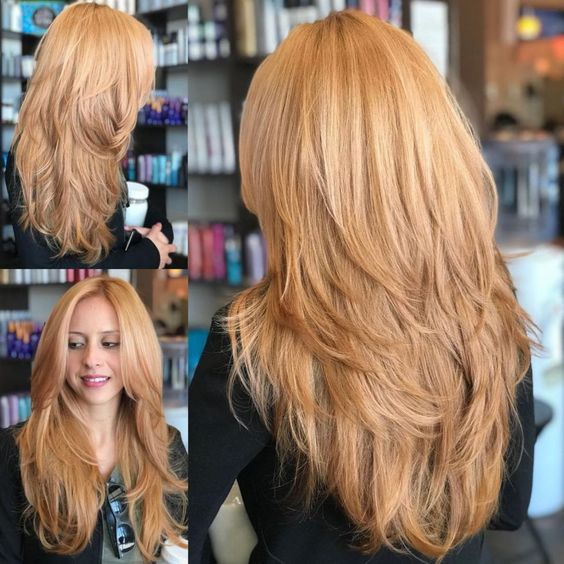 Oh, this one's the prettiest of all! For someone with an amazingly voluminous mane, this is the perfect haircut. Regardless of your hair color or texture, this hairstyle will give you the fantastic bounce your voluminous hair deserves.
4. Flipped Layers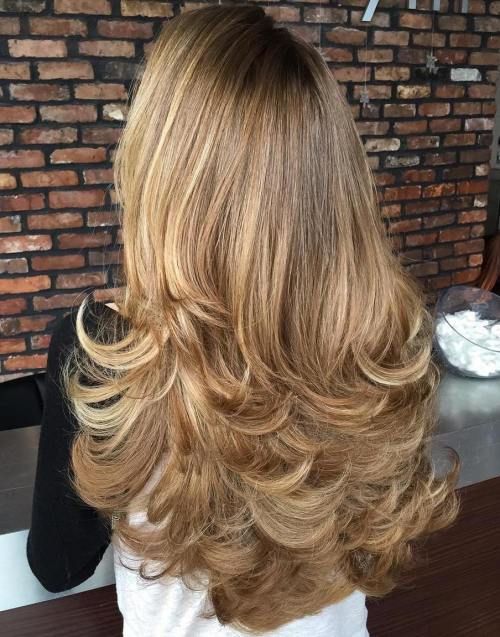 The flipped layers look back at the hair trend from old times. At the same time, it also makes the different layers of your hair pretty evident, and that's beautiful. It's unique and super pretty for someone with long locks.
5. Tequila Long Curls
The tequila orange hair tint is something to die for. So if you have it naturally, show it off by getting beautifully elegant layers for your hair. It's a cherry on top; flaunt it if you have naturally curly hair!
6. Choppy, Long Layers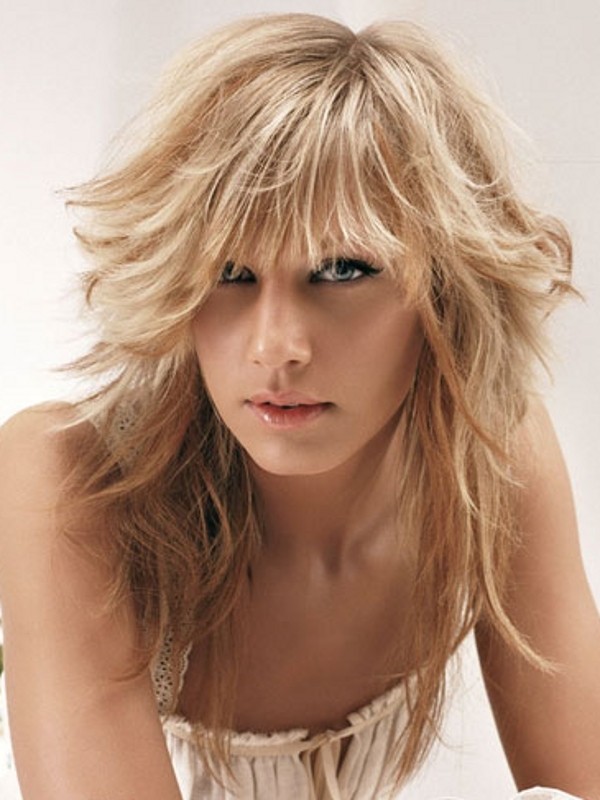 The chop-chop look is another creative variant of a basic layered hair look. It gives your hair a riveting tousled look.
7. Curly Layers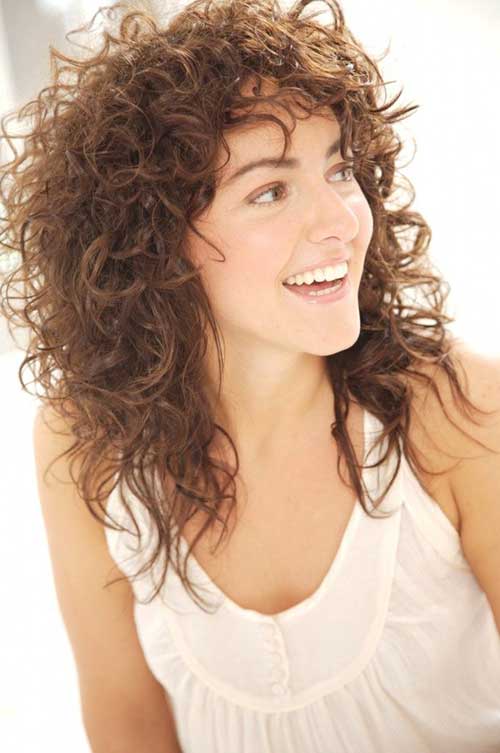 Curly is another hair type that's ideal for a layered hairstyle. It only gets better at one point; you have magnificent curls in a layered style, luscious long hair, and flawless, as some would say.
8. Simple Layers for Thick Hair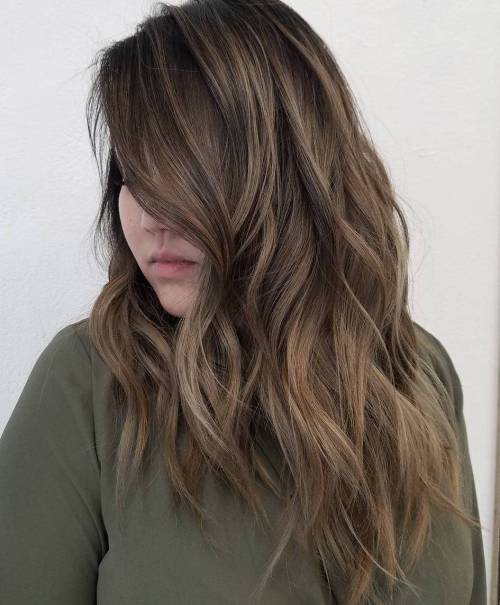 Thick hair helps showcase your layers and gives you that root-spritzing bounce with incredible volume. The volume becomes evident when you have long hair, making your mane even more beautiful.
9. Metallic Lavender Layers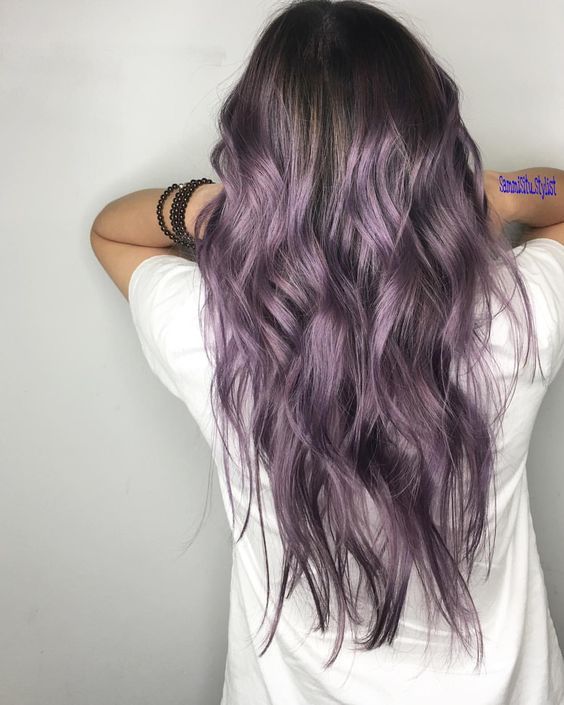 With long and luscious layers comes abundant room for experimentation. Now that you have hair as perfect as possible, you must also try a glorious metallic lavender color as we discuss experimenting with the hair. There's a lot of it, anyway!
10. Slight Ombre Layers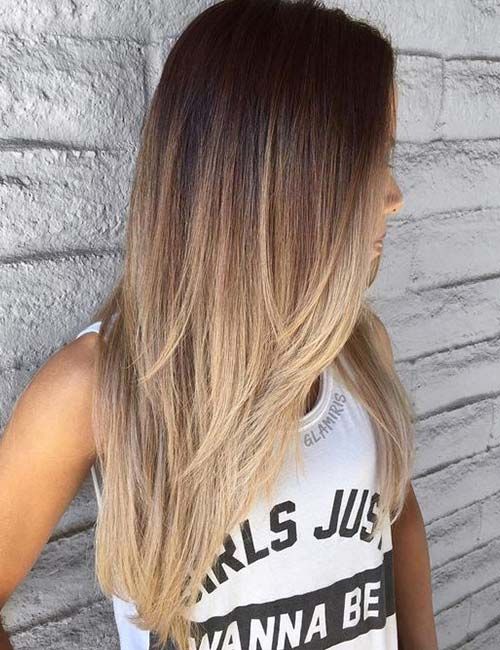 If you aren't looking for a massive change, try a subtle ombre look for your hair. It isn't too loud, yet it still helps you change your hair's appearance slightly.
11. Platinum Blonde Layers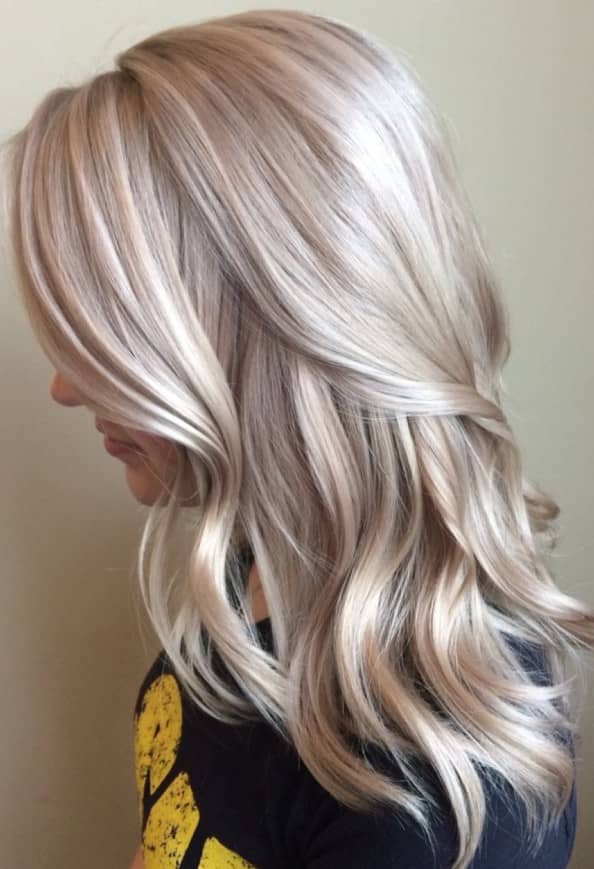 Let's admit it. Platinum blonde is the color of goddesses. After all, aren't the results almost ethereal? Like, is this even real? All that gorgeous long length with a subtle wavy look WITH that unreal color. Oh god!
12. Cinnamon Brown Wavy Layers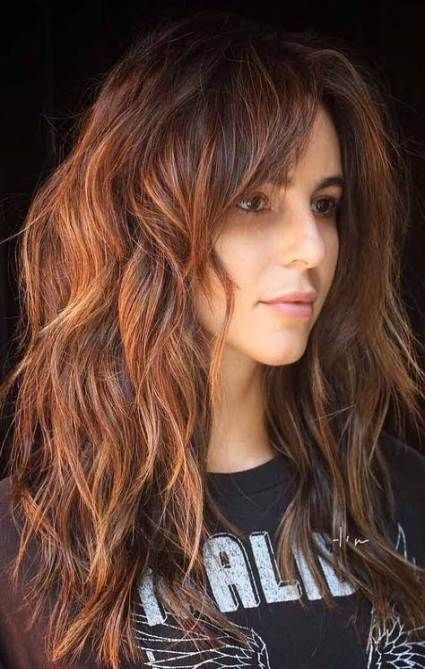 The cinnamon brown shade is inexpressibly natural yet gorgeous; there's no competition. If you have this hair color, you must go for a layered look for your hair.
13. Subtle Effortless Layers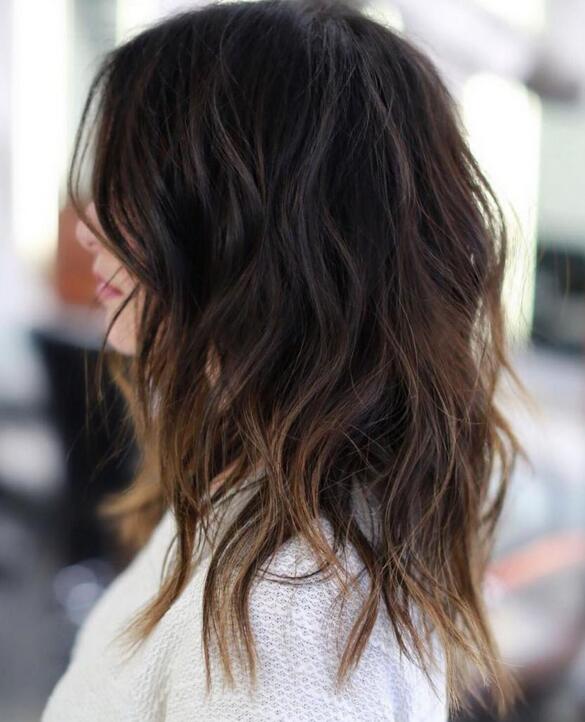 This is a simple yet neat look when planning to get layered hair. It doesn't require much effort and still gives you a little change. You can also try getting a subtle balayage with this look.
14. Dark Brown Long Layers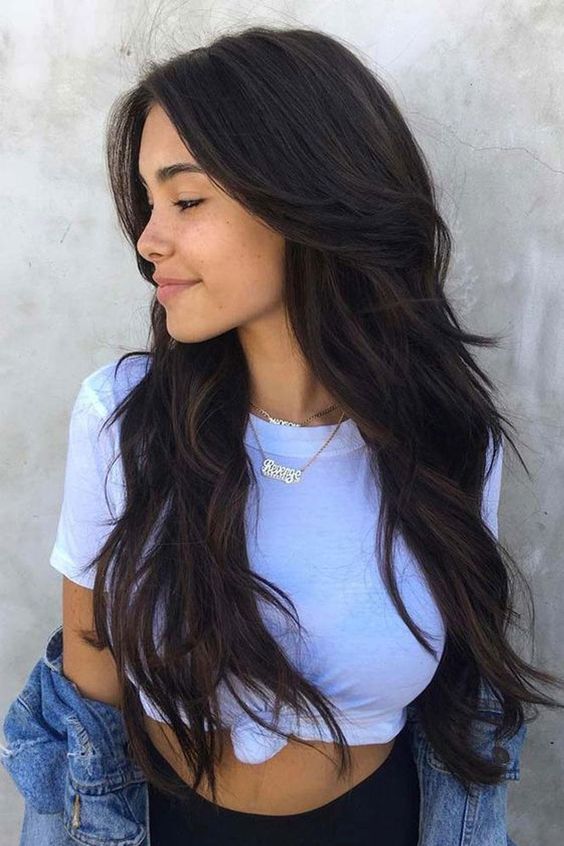 This is a must-try for girls with gorgeous long locks and dark brown hair. You must flaunt your healthy brown hair with this layered look, giving it more of an edgy style.
15. Inverted Feathered Layers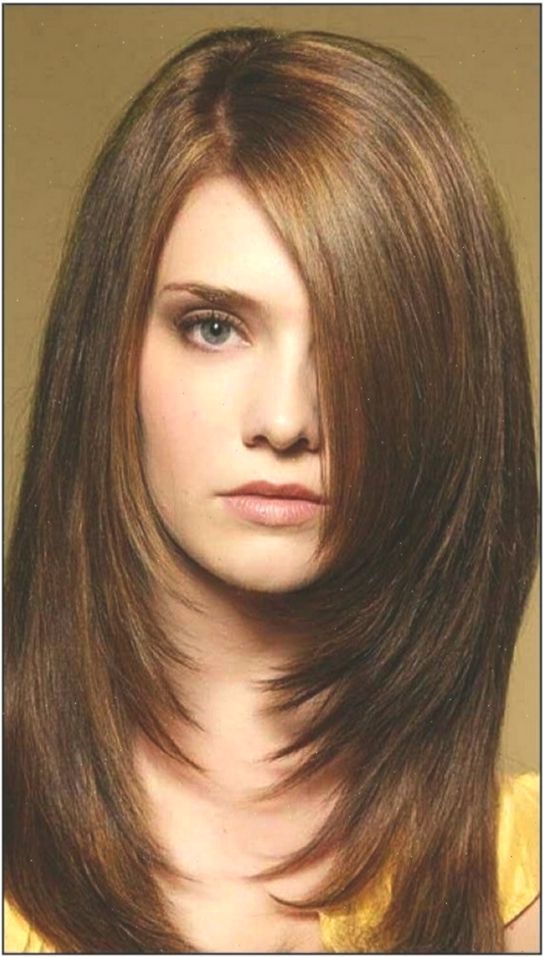 The inverted, feathered layers look like another alternative for a layered look. Although old-school, it is still just as elegant as any other hairstyle.
16. Raven Black Layers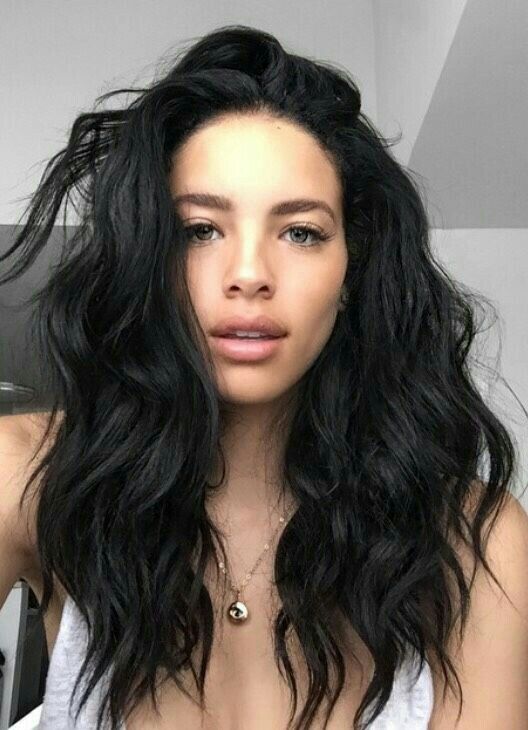 Oh, natural black hair is such a heart-stealer. You must try out some subtle layers if you have long black hair. It is so uncommon and lovely.
17. V-line Layers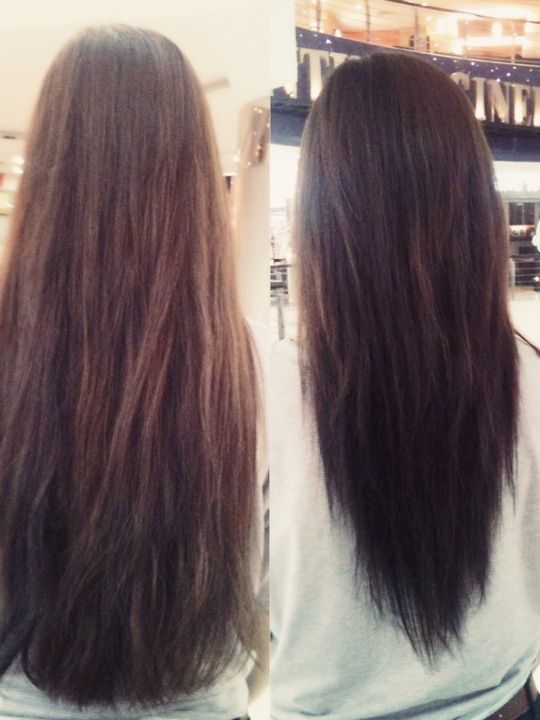 The v-shaped layers are timeless. They cannot be excellent with all the sharpness and edge they provide to your hair. You can even go for a shaggy look if you are all about the tousle.
18. Balayage Layers with Bangs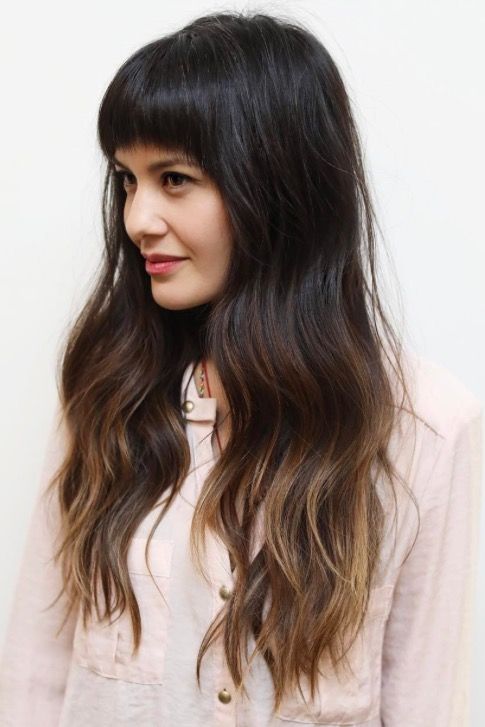 This is such a soft and pretty look. Bangs make everything so much younger and sweet, don't they? Get this look and add on a balayage if you want to go too much into the youthful look if you wish to.
19. Long Layers with Light Ends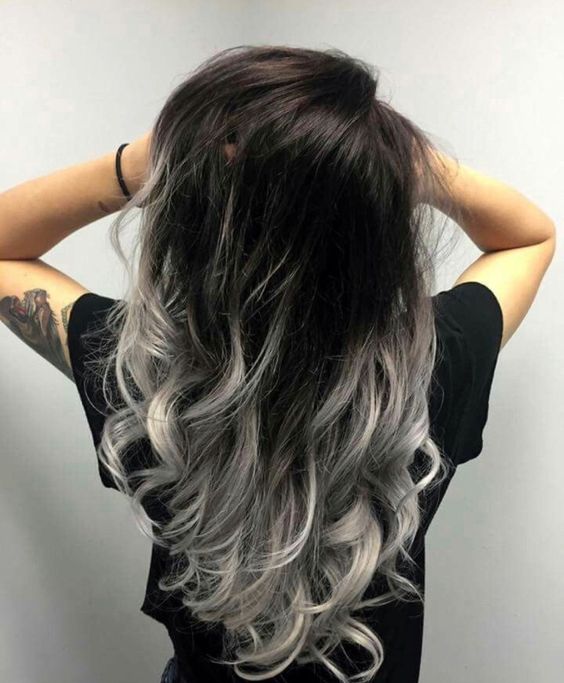 If you don't like to be a part of the crown and love to outshine everyone, this is the look for you. It gives you a chic color with voluminously long layers—worth the risk.
20. Wavy Choppy Layers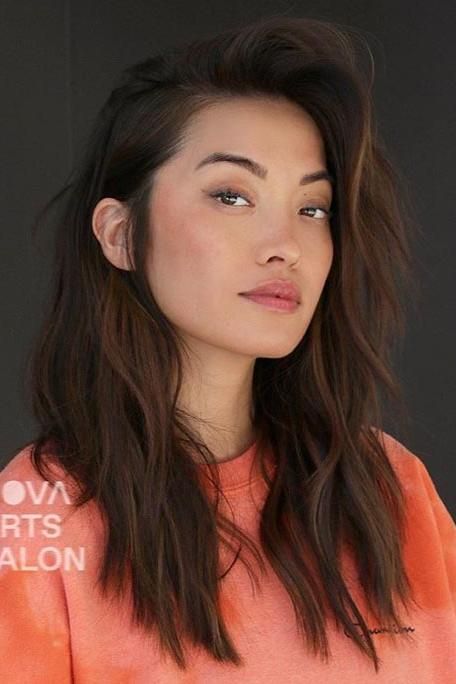 Another variant for the girls who are all about that messy tousled look is this variant of the layered hairstyle. It is for those with thin hair to give them an edgy and fuller look.
21. Subtle Lilac Layers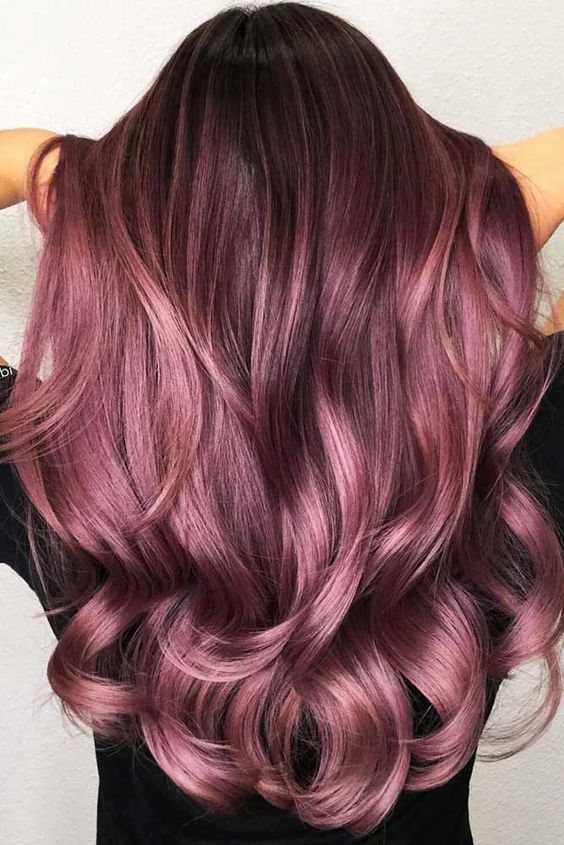 The lilac color makes anything and everything dreamy and magical. Be it the skies or the hair. This hairstyle with a lilac ombre and layers will bring out the mermaid in you.
22. Beige-Blonde Layers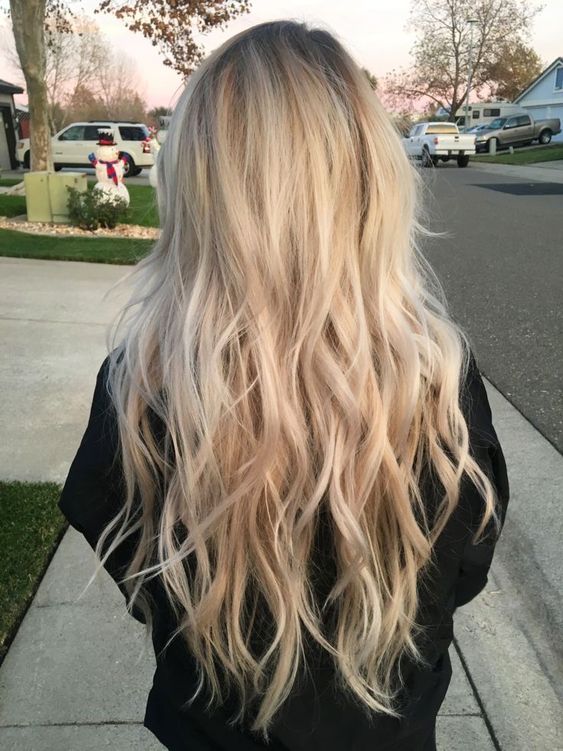 Beige blonde is another color option when there are subtle changes in your appearance. Plus, it's a cherry on top if you have it naturally. You can get some effortless layers and rock the look!
23. V-shaped Straight Layered Cut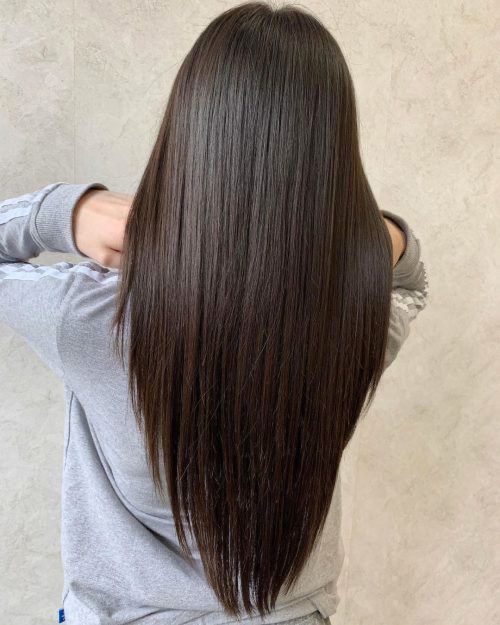 To give your straight hair a new look yet still not overboard, you can go for a simple v-shaped straight layered haircut. It's not too much, not too little.
24. Curly Layers with Bangs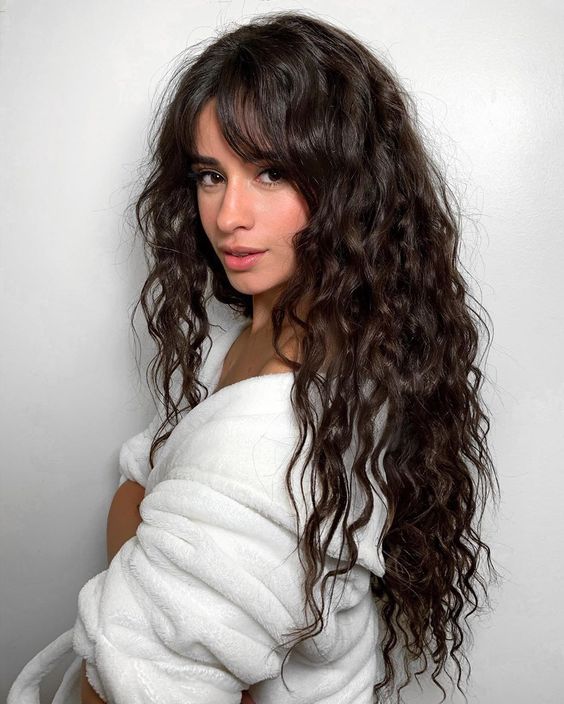 Isn't Camila Cabello a cutie with that haircut? Who doesn't love a nice wavy/curly layered look with tamed bangs? Get yours ASAP and flaunt the length bestowed upon you!
25. Light Brown Long Hair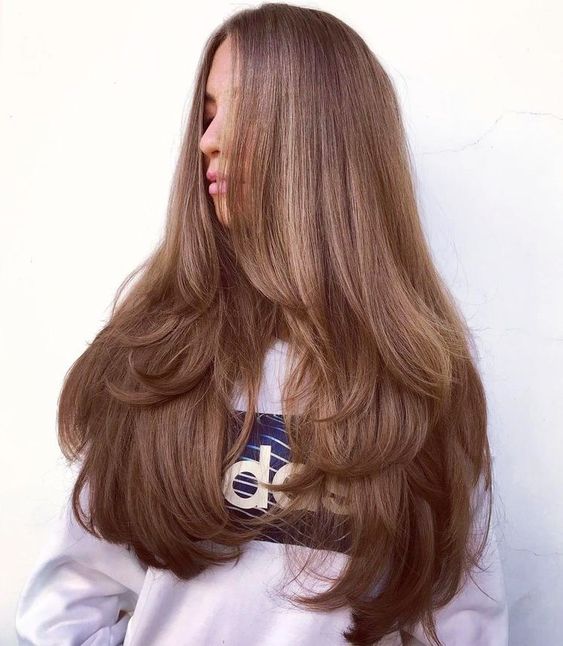 Go for this fresh and easy layered cut if you are looking for something that doesn't need a lot of styling or setting. A lovely natural brown shade will make it just that much more enriched.
26. Towny Brown Hints with Long Layers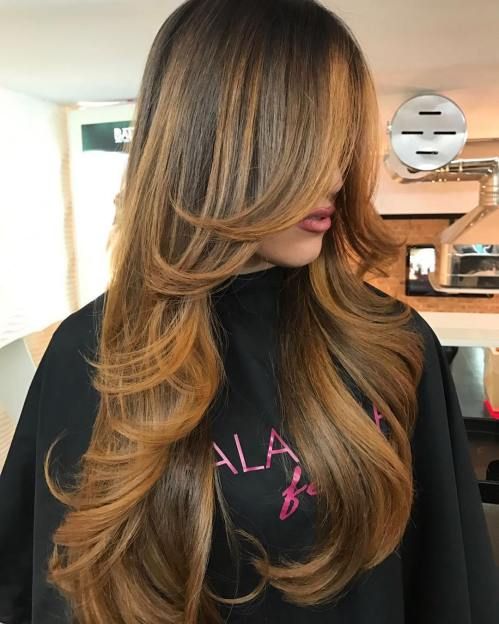 How baddie and bold this look is, wow! If you have thick and long locks, you must try this look. The towny shade brings out the diva in you, no lie.
27. Layers with Blue Highlights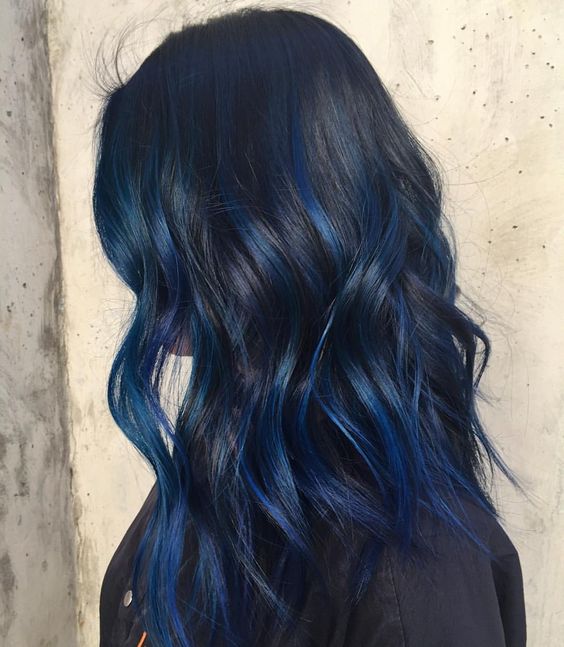 Another bold look would be these blue highlights with subtle curls on a layered haircut. It helps you stand out uniquely as you express yourself fully!
28. Ice Blonde Layers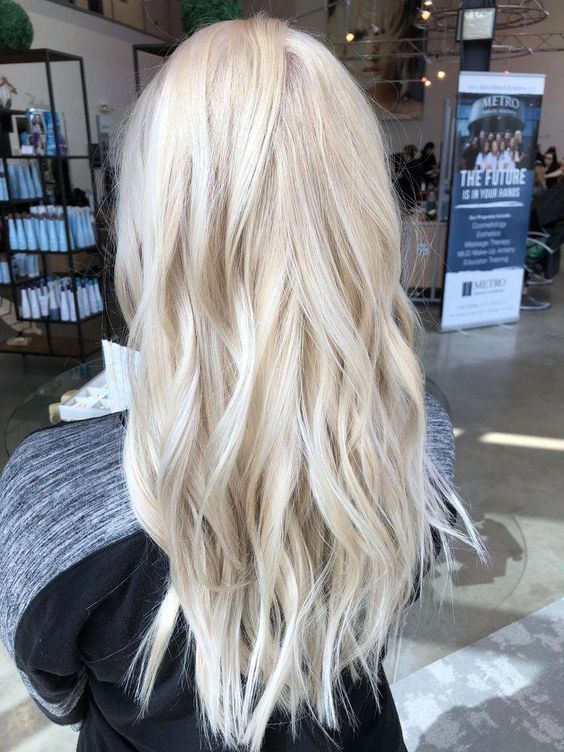 Layers of icy blonde hair look magically gorgeous! You won't have to give much time or effort into styling or maintaining the hair. It is a very natural look to go for.
29. Redhead V-shaped Layers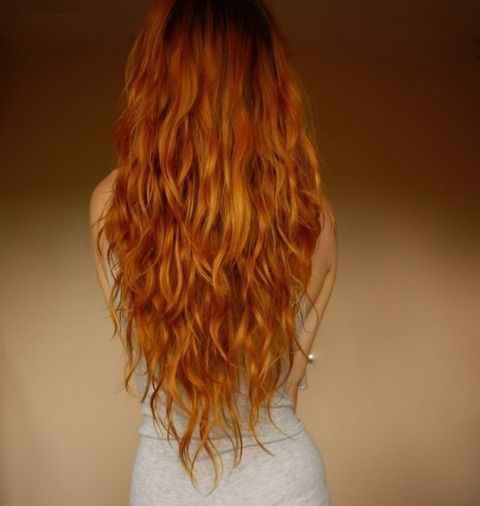 This is probably the hottest combo ever. Red locks with v-shaped layers, oh, the boldness is indescribable.
30. Blonde Layers with Side-swept Bangs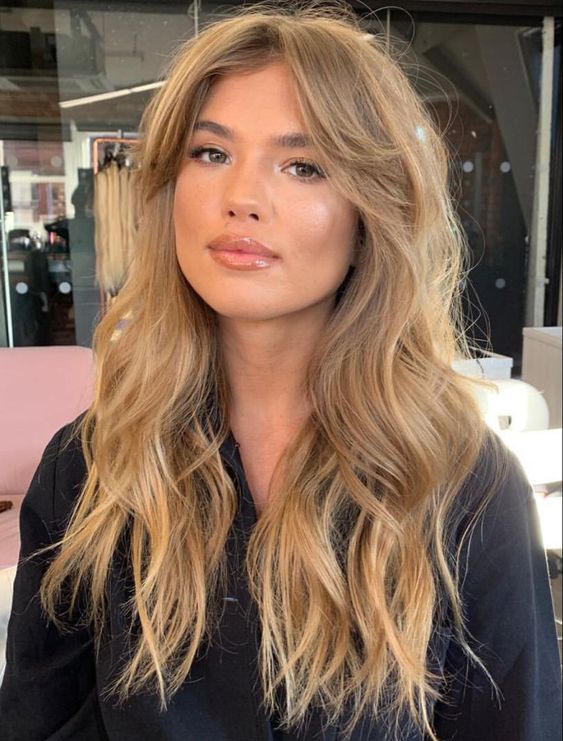 Side-swept bangs are the best trick to hide your forehead and keep the hair out of your eyes if you don't like that. It gives you a smooth, chic look. So fresh.
31. Feathered U-cut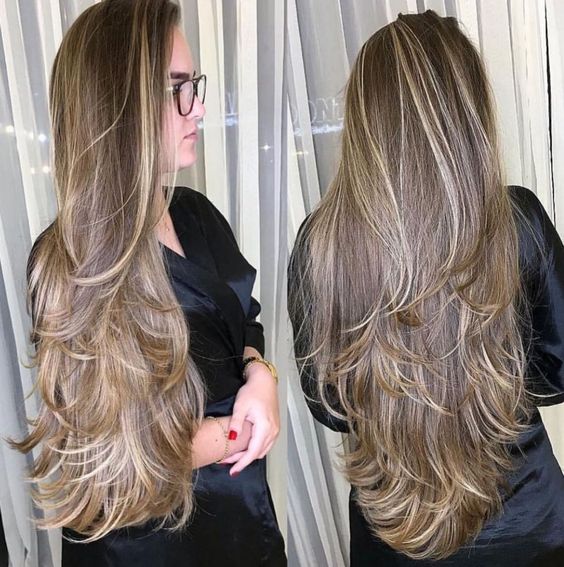 A feathered U-cut focuses mainly on the ends of your long hair, so it won't really make much of a difference to your current length yet still give you a beautifully feathered look on the tips.
32. Strawberry Blonde Layers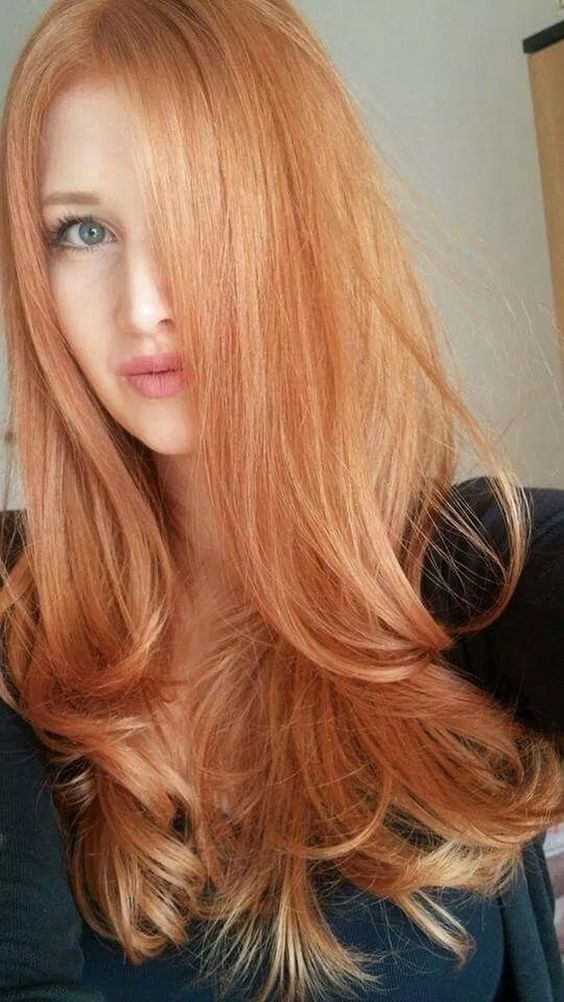 The strawberry blonde shade is one of the prettiest yet most underrated hair colors. It is almost angelic yet so fierce at the same time. A must-try if you have blonde hair.
33. Choppy Layers with Blunt Ends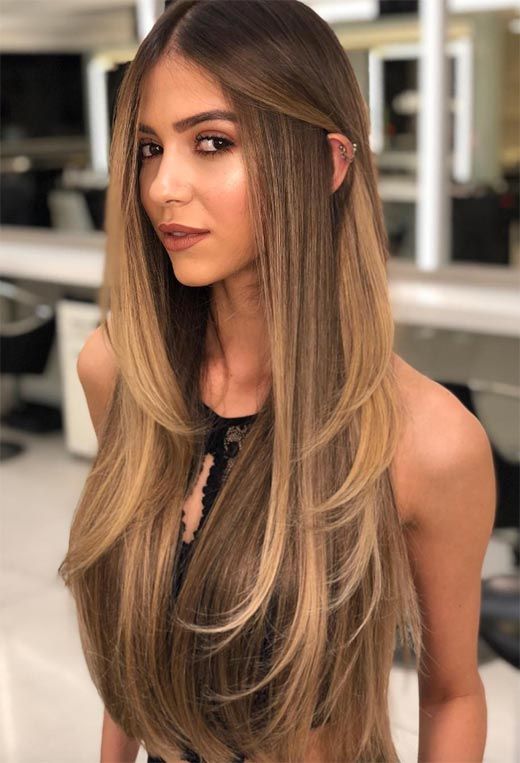 A blunt end is suitable and feasible if you have a long length. And to spice up the look, you can get some pieces in layered texture, giving your hair a cool and creative look.
34. Blowout Feather Haircut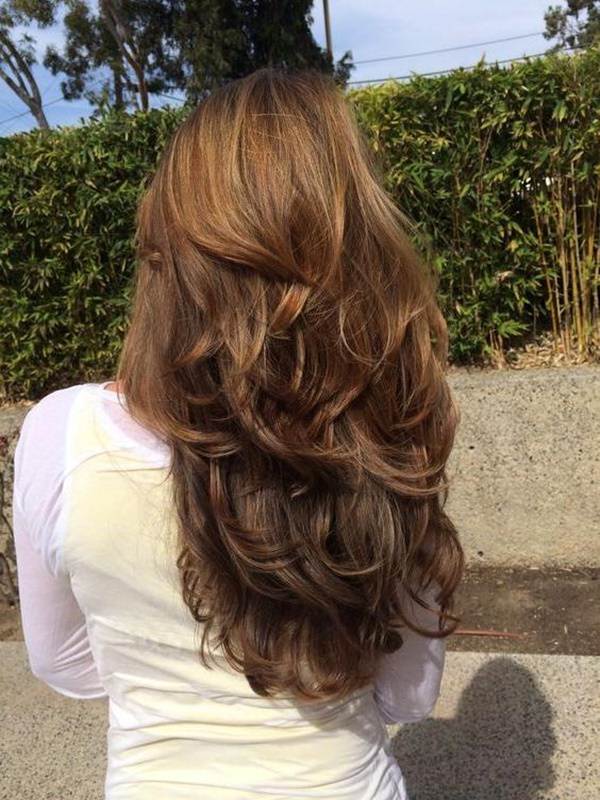 This is such a fun haircut to carry around. You can maintain length and play with the tips whichever way you want.
35. Tousled Long Wavy Layers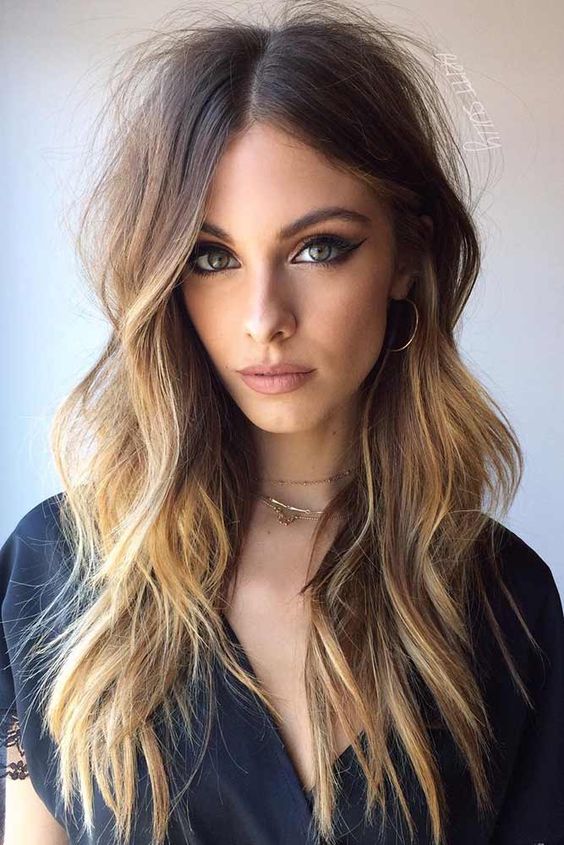 What a pleasing to-the-eye way to style one's hair! This look works best on medium-long, thin hair. You have to get some layers, a hairspray, and tousle it out, girl!
36. Sleek Straight Layers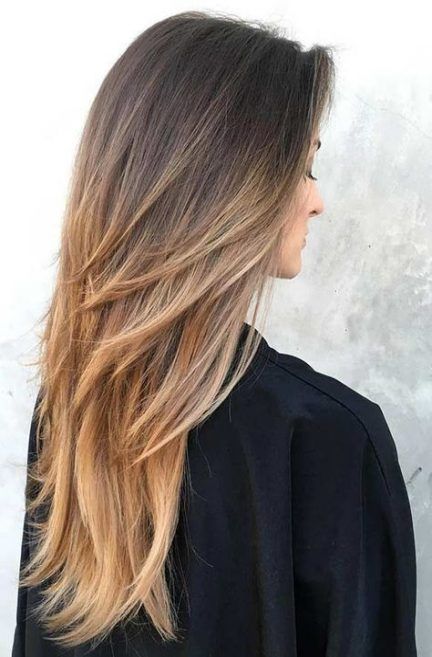 Simple yet elegant. This layered look is an effortlessly chic look for someone with straight hair. After all, it doesn't take much effort or work.
37. Metallic Silver Layers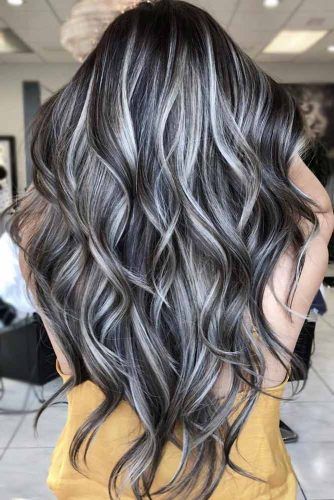 If you wish to go a little bolder and classier, wear metallic silver for your hair. It is exquisite and helps you reveal your personality how you want.
38. Messy Brown Layers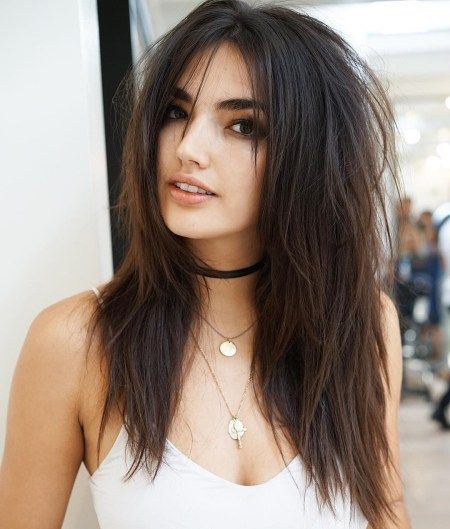 This look is a go-to for someone with a bubbly and carefree personality. You get to carry your messy locks around while looking absolutely, effortlessly gorgeous at all times!
39. Choppy Tortilla Brown Layers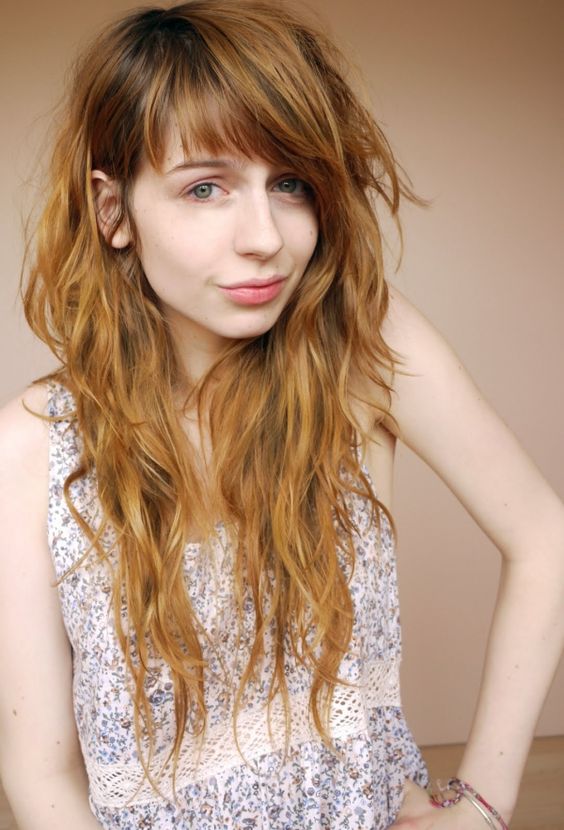 The tortilla brown hair color comes naturally to some, but you can also get it dyed. It will complement your skin and unique color paired with some layered pieces.
40. Messy Long Fringe Look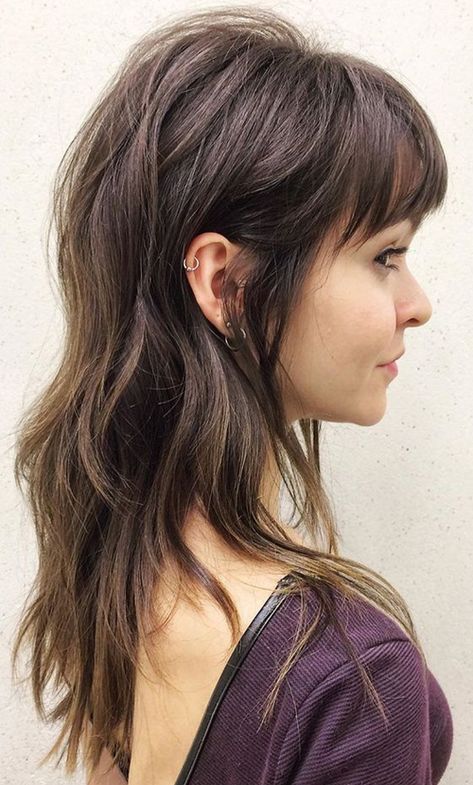 Who doesn't love a tousled, layered look with cute fringey pieces, right? Especially when it goes together with your gallant personality and carefree outlook.
41. Layered Beachy Waves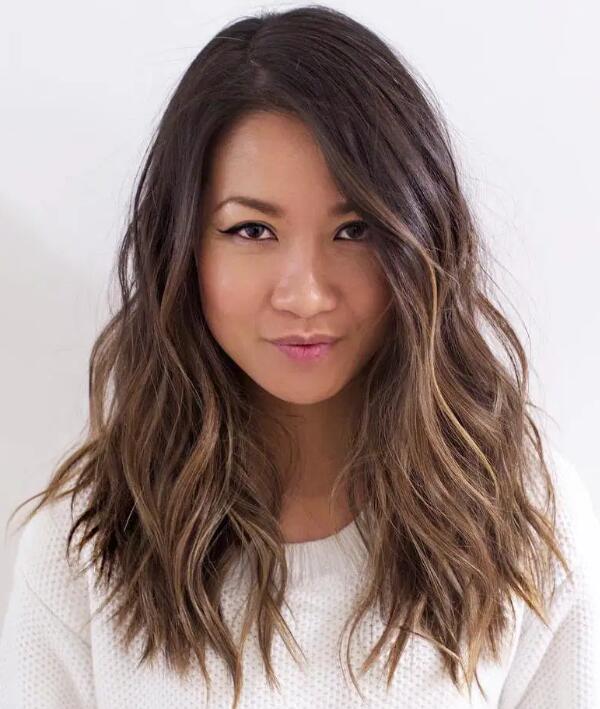 Beachy waves are the vogue that people pray to attain. You must be lucky if you have them naturally; if not, you can always use the braid technique, right? Flaunt those alluring, beachy waves with some chic layers.
42. Natural Curls Layered Hair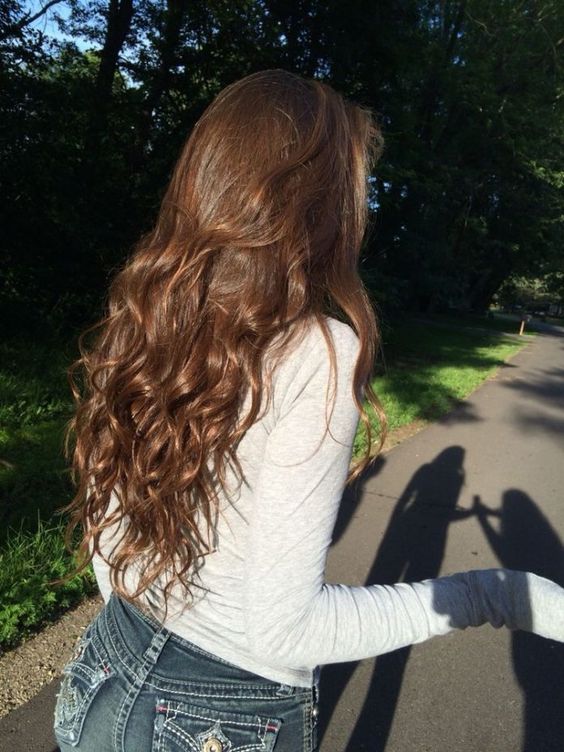 This look is as utterly natural as it seems to be. You just got to have healthy long hair and some subtle layers toward the tip of your hair, and you're good to go!
43. Straight Black Long Locks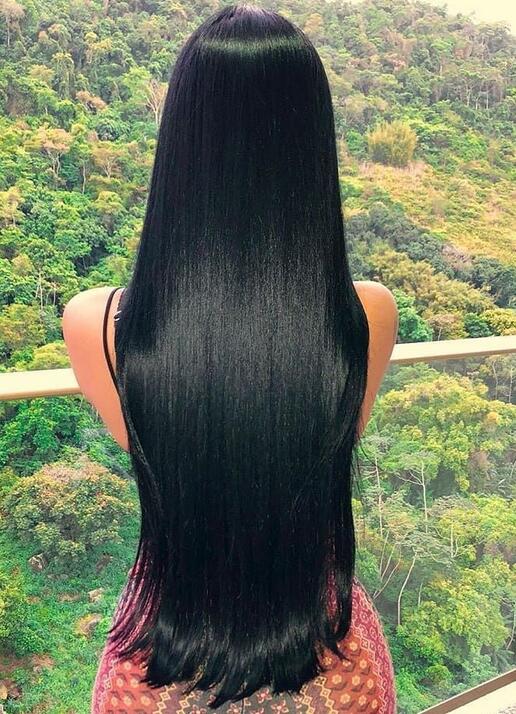 Another version of the natural locks is when you have straight black hair. You can go for a more choppy look if you feel like it. This is a great way to retain your hair's health while maintaining its length.
44. Metallic Blue Layers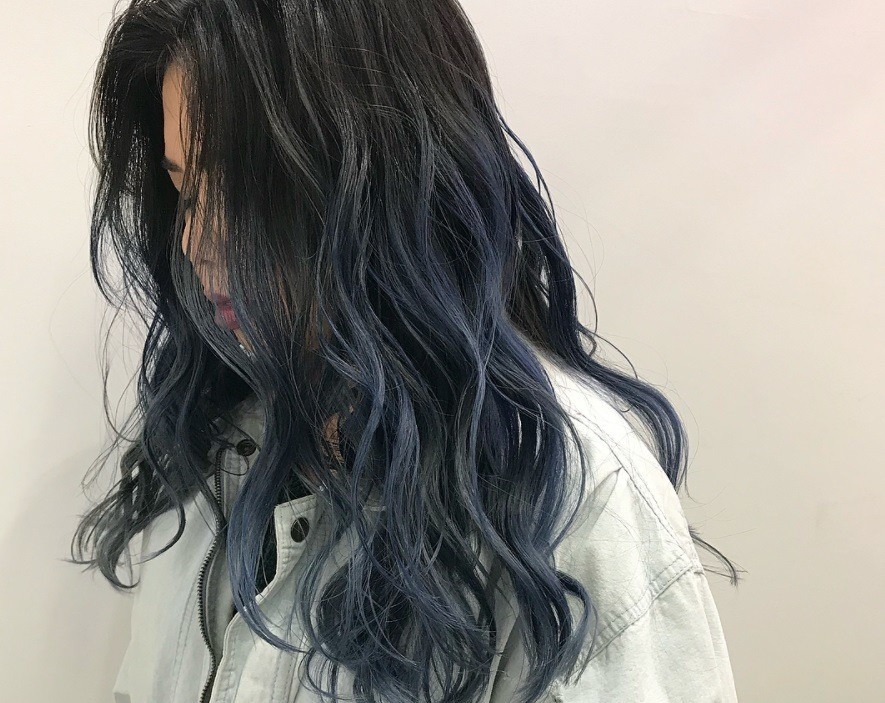 It only improves when you are blessed with beautiful, long, healthy locks. This feathered metallic blue hair look is a must-try once in a lifetime. Channel your inner mermaid with these astonishing heavenly blue layers.
45. Teal Blue Choppy Layers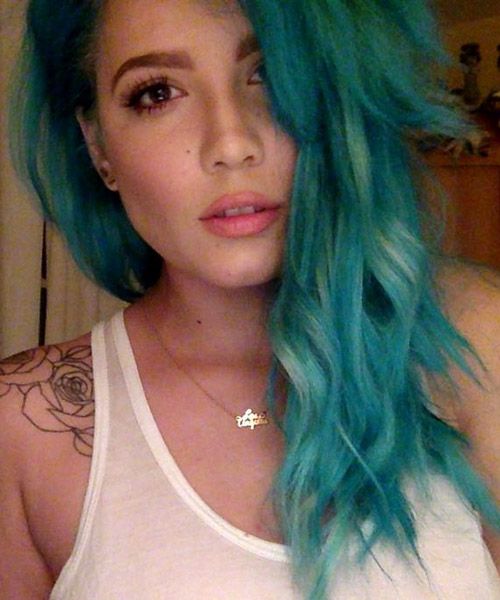 This look is more subtle for someone who loves to play with colors in their hair. You can get a nice and fancy teal blue ombre with choppy-chop layers, and the extremities depend on you!
46. Ruby Pink Ombre Layers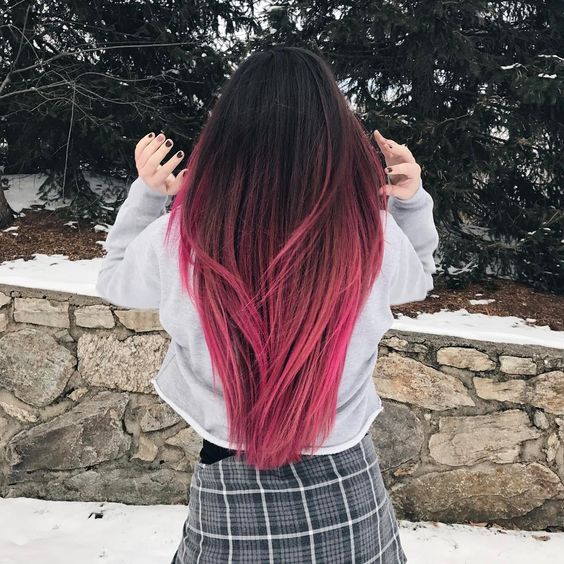 This is such a sexy and eye-catching look. If you want those heads turning, go for a rubbed ruby-pink bra for your gorgeous long locks!
47. Copper Layers with Bangs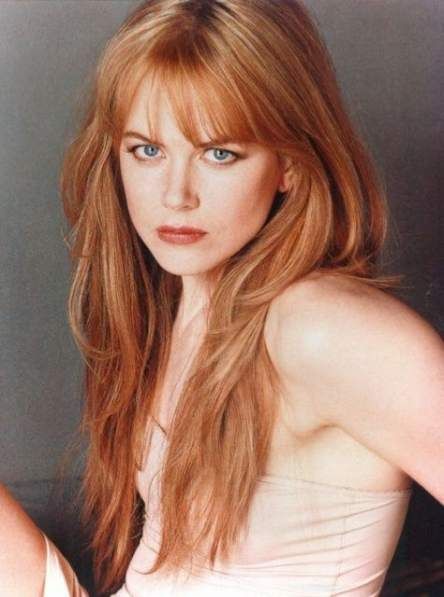 Copper blonde color is such a breathtakingly alluring possession. Go for some bangs while you get a layered haircut for a more youthful look; it'll complement your hair color.
48. Colour melt Midnight Blue Layers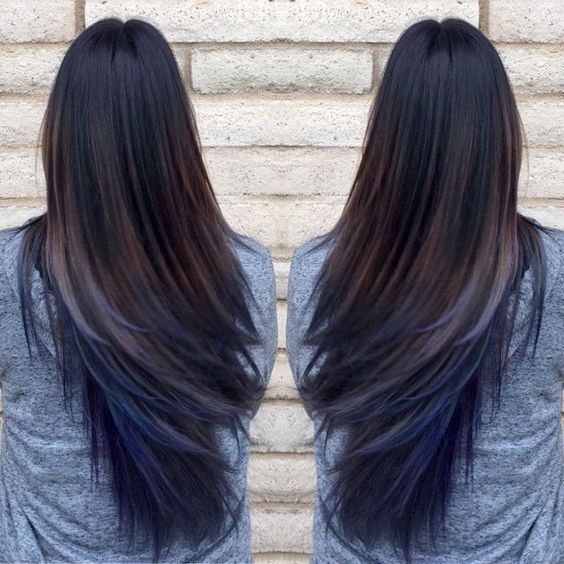 Don't like to go extreme on your hair but still want a creative change? Go for some midnight blue highlights. If you use the color melt technique, the change won't be as loud and visible yet still pretty.
49. Layers with Red Balayage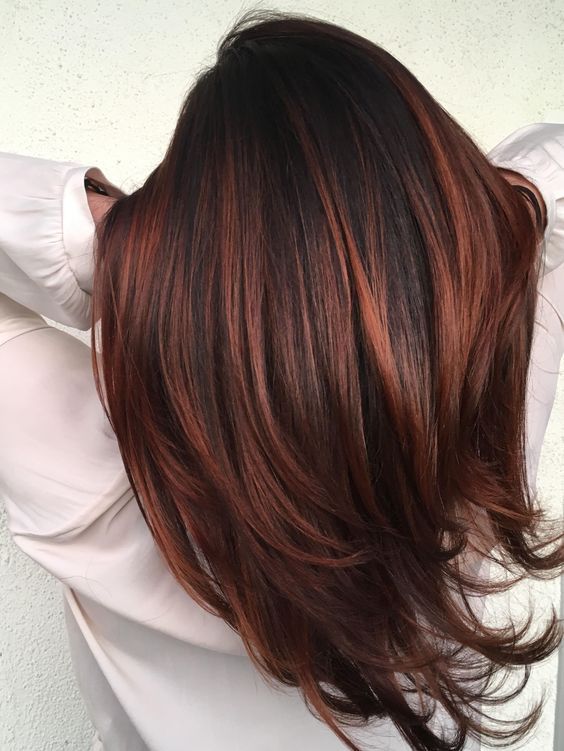 A hot red balayage is best with thick, brown, and long hair layers. You must go for this one if you have long brown locks.
50. Layers with Swoop Bangs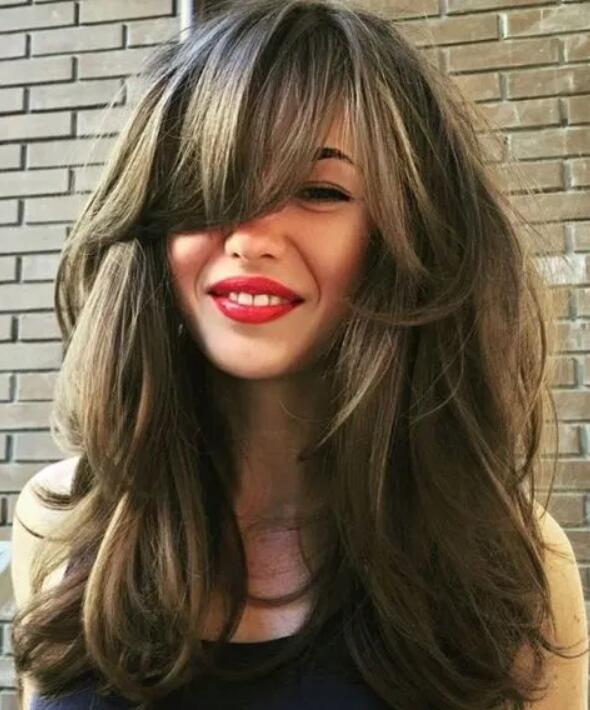 Do you have a big forehead situation? You got some swoopy bangs to your rescue. All while you have those voluminous layers with you.
Questions and Answers for Long-Layered Hair
1. Are layered hairstyles suitable for all types of long hair?
A: Layered hairstyles can work for various types of long hair, including straight, wavy, and curly. However, the specific layering technique and length of the layers may vary depending on the hair texture and desired outcome. It's best to consult a professional hairstylist who can tailor the layering technique to your hair type.
2. What face shapes are suitable for layered hairstyles for long hair?
Layered hairstyles for long hair can be adapted to suit a range of face shapes. For example, face-framing layers can soften angular features, while longer layers can add balance to rounder face shapes. A skilled stylist can customize the layering technique to enhance your unique facial features and create a flattering look.
3. Can layered hairstyles make long hair look thinner or thicker?
Depending on how cut and styled, layered hairstyles can create the illusion of thicker or thinner hair. Strategically placed layers can add volume to thin hair, making it appear fuller. On the other hand, layering can also remove bulk from thick hair, making it look more lightweight and manageable.
4. How often should I trim my long layered hair?
Trimming your long layered hair regularly is essential for maintaining its shape and preventing split ends. It's recommended to schedule a trim every 8 to 12 weeks, depending on your hair's condition and growth rate. Regular trims help keep the layers looking fresh and maintain the overall health of your hair.
5. Can I achieve layered hairstyles for long hair without cutting my length?
Yes, it is possible to achieve the illusion of layered hairstyles for long hair without sacrificing too much length. A skilled stylist can use various cutting techniques, such as point cutting or slide cutting, to create subtle layers that add movement and dimension without significantly reducing the overall length of your hair. This way, you can enjoy the benefits of layered styling while retaining most of your length.
6. Will layered hairstyles for long hair work if I have thin or fine hair?
Layered hairstyles can work well for thin or fine hair. By adding layers, you can create the illusion of thickness and volume. The layers help to remove weight from the hair, making it look more voluminous and adding texture.
However, it's essential to consult with a hairstylist who can tailor the layering technique to your specific hair type and provide recommendations based on your hair's needs.
7. Can I achieve layered hairstyles for long hair with naturally curly hair?
Absolutely! Layered hairstyles can beautifully complement natural curls and enhance their shape and bounce. Layers can help to distribute the weight of the curls more evenly, preventing them from becoming weighed down. It's essential to work with a stylist who is experienced in cutting curly hair to ensure that the layers are placed in a way that enhances your natural curl pattern.
8. How do I choose the right layering technique for my long hair?
The choice of layering technique for long hair depends on various factors, including your hair's texture, thickness, and desired outcome. A skilled hairstylist will assess your hair and consider your preferences to determine the most suitable layering technique. They may recommend long, face-framing, or shorter layers depending on the effect you want to achieve and what flatters your features the most.