Lemonade braids are a type of braids used to style the hair of black women. If you are looking for a trendy new style for your hair this season, look no further. Lemonade braids are just what you need.  The name came from the hairstyle worn by Beyonce in her Lemonade visual album back in 2016.
Both Beyonce and her sister Solange have worn this style regularly. Lemonade braids are also called cornrow braids. They have long been around before Beyonce, and her crew made it famous.
Because of her, many people have seen the style in her world tours and music videos. It can't get better popularity than it has gotten through Beyonce.
Its popularity has to do with the fact that it is low- maintenance, and it is almost impossible for it to go out of style. Although before her lemonade album, the style didn't enjoy the kind of attention ever since its release. This is not surprising since Beyonce is one of the most prominent female stars around.
Formerly, lemonade braids were called side braids, and the style has been around in different cultures. In this article, we have taken a look at the most prominent lemonade style you may want to try, as other celebrities have done since Queen B herself brought back the style. I am talking of celebrities like Nicky Minaj, Cardi B, and the rest.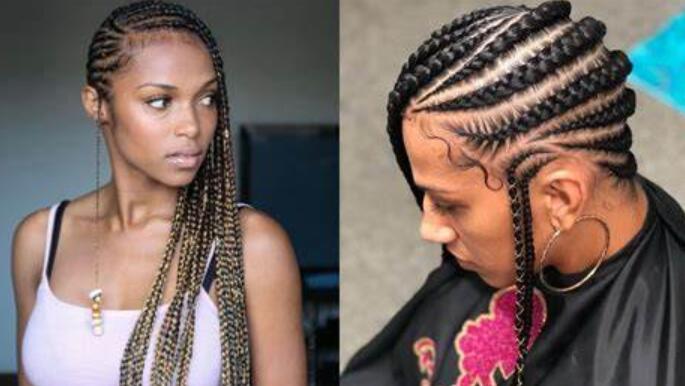 36 breathtaking lemonade braids for classy women
Beyonce lemonade braids
It is only right that we start from the most iconic braids of all time. The Queen B super long mini lemonade braid. This style comes with a touch of gold throughout her locks. The superstar wore this hairstyle in 2016, a lemonade album.
Pulled-Back lemonade braids

This is one of the sexiest ways to rock the lemonade hairstyle. It is also a great way to get people to notice your features. Rather than have your braids moved to one side, pull them backward. Allow the locks to fall naturally to the back of your head. This hairstyle is perfect for ladies with triangular-shaped faces and round faces too.
Jumbo lemonade braids
The jumbo lemonade braids are the right hairstyle to shield and tame your thick mane. This hairstyle makes a statement of fashion and class for those who rock them. It is a dream come through for ladies with curly, thick hair. It keeps the locks in check, and at the same time, looks great on the ladies.
Center part lemonade braids
Although traditional lemonade braids are packed to one side, nothing is stopping you from being innovative. You can wear yours by parting in the center. This style is great for ladies with round face shapes. It will work to elongate the features and create symmetry.
Topknot lemonade braids
A topknot is a fast way to get your hair out of your face, especially on those hot days. Leave a strand out, and allow it to fall at the front of the face. Also, allow a few at the back. Then twist the rest of your braids into a bun on top of your head. Secure any loose strands with a Bobby pin.
A curving Lemonade braids style
The beautiful thing about cornrows is that you can experiment with so many styles. We adore how the braids are curved so that they can push all the hair to one side of the face.
Lemonade braids with beads
For those who desire some boho vibes, adding a few beads to the end of your braids is the way to go. From girly to punk, bohemian or simple style, several beads are available to suit whatever style you desire. No matter the style you opt for, make sure you pick a bead that will glide effortlessly over your locks.
Large lemonade braids
Consider these large lemonade braids with very long locks. Apply a styling product on the hair around the face and style the curls to soften the look.
Long lemonade braids
One thing that is common to lemonade braids is their length. They are usually long. However, if you don't have long locks, you don't need to worry. You can always use hair extensions. They are easy to find and incorporate into your lemonade braids. They will still give you that stunning look we all admire lemonade style for.
Lemonade braids with color
When you can't decide on the color to use for your lemonade hairstyle, you can try the unicorn-inspired look. These rainbow braids constitute what the summer hair dream is meant to be.
Zig Zag lemonade braids
You can decide to go for the standard cornrow style or choose to have a little fun with hair parting. If you are adventurous at heart, opt for this amazing zig-zag part. You will stand out wherever you find yourself with this style.
Swirl lemonade braids
Switch up your part with this mesmerizing swirl pattern. Here is a great alternative to conventional cornrows. It is perfect for both kids and adults. Wear this swirly style for the festive seasons, and you will have the attention of everyone.
Nicky Minaj lemonade braids
Alongside Beyonce, Nicky Minaj is another artist credited with reviving the lemonade braids. The African American rapper rocked these floor-length locks back in 2018 for a motorsport clip. However, to pull off this style, you may need to add a few hair extensions.
Ombre lemonade braids
The spring season is the best time to lighten up the hair. That is why you should add some fun colors to your lemonade braids. You can try fresh pinks, striking silvers, and summery blondes. However, the key is to choose the color that will be perfect for your complexion.
Two-Tone lemonade braids
Give yourself a fresh look with this hairstyle. All you need to do is to add a few highlights. A few blonde strands will create a gorgeous contrast all through your lemonade braids.
Lemonade braids with wraps
You can decide to get creative with your lemonade hairstyle by adding few wraps to it. You can experiment as well with several patterns and thicknesses. This style is great for the holiday season.
Updo lemonade braids
Rocking braids doesn't stop you from switching things up with a sleek updo. Pull all of your hair up into a tight ballerina bun style, complement your look with statement earrings. Anyone can pull off this hairstyle.
Pink lemonade braid
This amazing hairstyle is more stunning than a glass of pink lemonade on a summer day. Brighten your look with this cool shade. It is perfect for the summer.
Lemonade braids to the side
Lemonade braids are often styled to one side of the face. However, how much they are allowed to go to the side is entirely up to you. Sometimes, the hair can be styled to the opposite side of the head completely with a stunning geometric patterned part.
Medium lemonade braids
This style is perfect for ladies with thin hair and who desire to make it look thicker. You can add hair extensions to make the hair a bit fuller and more luscious-looking locks. It also looks amazing on ladies with round face shapes.
Classic lemonade braids
It is okay to have fun with your lemonade hairstyle. However, you can't beat the classic look. These tiny braids feature a conventional cornrow with long locks moved to the side. This style is ageless and will be good for you for all seasons.
Slick lemonade braids styles
This stunning style is going to be a hit at any event. You can wear it for your next prom.
The partial updo lemonade braids

This is an original style. Very elegant and looks great on anyone. We appreciate the bun on top as well as the braids around the ears. This style is perfect for women with triangular-shaped faces.
Purple designs lemonade braids

There is no denying the color. Adding some color is always eye-catching. Among all colors, purple offers the best shade. It provides a stunning look, making you a true African goddess. It sure to get you noticed at any event.
Starry lemonade braids
This style appears like there are stars on the scalp. They are stunning and truly original. You have compliments all day long with this stunning style. It is a very inventive style. One you will love to rock all the time.
Simple lemonade braids styles
Cornrows don't have to be complicated or fancy, and they can be made in a simple style. A look at the picture below will show a simple style from several angles. It is still very sexy, and it has lots of sophistication to it.
Tiny lemonade braids
The thing about lemonade braids is that it comes in several shapes and sizes. Here we see one of the smaller ones. These styles are quite tiny and tight to the head. You have to choose the kind of style that you need. Whether your braids are small or large, they will alter the way the style looks on you.
Flowing design lemonade braids
You will love the perfect symmetry of these hairstyle displays. Everything is aligned to give you a perfect look. The braids flow together like a flowing river. It gives you an elegant and beautiful style. This hairstyle is sure to get you noticed anywhere you are.
Back design lemonade braids
Recently, we have seen different stunning designs on the back of the scalp. A look at the picture below shows the stylist lifting the braids to display her stunning style.
The middle lemonade braid
In this amazing style, the braid is seen going down the middle of the head. It is a deviation from the convectional lemonade braid. However, it still has the same amazing look.
Beehive style lemonade braid
For lovers of the beehive style, you will love the one below. This hairstyle includes the cornrows into the scalp. You should try it out the next time you want to rock a new hairstyle.
Partial lemonade braid
This is another stunning style. It is very different from the rest because here, the braids aren't completely formed. You have the braids ending halfway down the hair. Then they are left loose. It is an amazing style and sure to make you stand out in a crowd.
Afro lemonade braid
Here is another hairstyle that has been around for a long time. The afro is a well-known style, and it will be around for many more years. You can update this style by adding some cornrows in the front. This style is truly inspiring.
Bold new lemonade braid styles
We are so pleased with the beauty of this style. You won't find too many styles as good as this one. The amazing thing about this style is that you can rock it anywhere that you want to go.
Casual lemonade braid style
This is a great style that can create alongside cornrows braids. It is a totally casual style. However, it is still classy, and you can wear this style without thinking of maintenance all day long.
Beautiful curls lemonade braid
We adore the small curls that sit in the front of this style. There is so much authenticity in this style that you are sure to get the attention and steal the show wherever you are.
Conclusion
When it comes to wearing braids, they can be worn to any occasion, even casual ones. You won't regret your choice if you rock this style, especially if you like a low-maintenance look.
These styles can last you for months, especially if you adhere to the aftercare instructions. These are amazingly convenient styles. We hope you enjoy every style we have listed here.