One of the easiest ways anyone can inject personality into their look (regardless of the hairstyle) is to add several layers. And lucky for you, there are virtually hundreds of ways to add them and lots of types you can pick from.
If you have medium-length hair, you could easily add tousled layers or face-framing layers, as you will see in the hairstyles I have listed below. There are also wispy layers, soft layers, blunt layers, shaggy layers, razored layers, and much more.
With that in mind, if your goal is to find a look that is flattering while at the same time maintaining its ease to wear, then you should check out this list of medium-layered hairstyles for women. Without wasting any more of your time, let us skip to the main section of the post.
50 Best Medium-Layered Hair Ideas For Women
Straight medium-length hair with short layers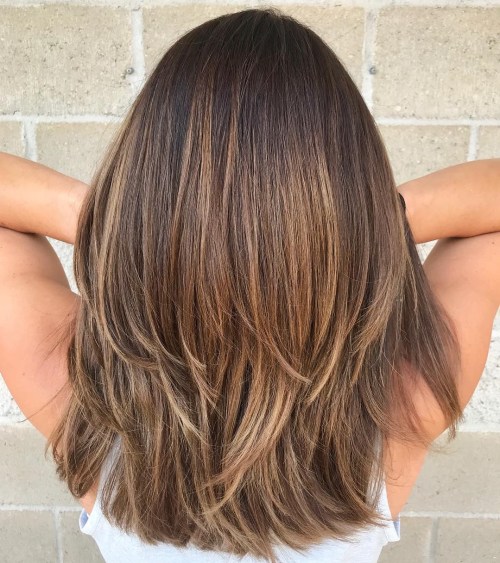 Immediately I set my eyes on the lady's look above. I fell head over heels in love with the artsy and angular cut coupled with feathering and layering around the face to result in a dramatic effect.
The lady's fine hair also looks super sweet with toffee blonde balayage applied.
Layered medium-length butter blonde on straight hair
Watch out, everyone! The layers styled on this lady's striking straight blonde hair are taking over. As you can see in the image above, they look juicy when swept back, and the entire hair length will add more volume below the already thick top layer.
Try it out; I am confident you will turn heads wherever you go.
Ash brown layered medium hair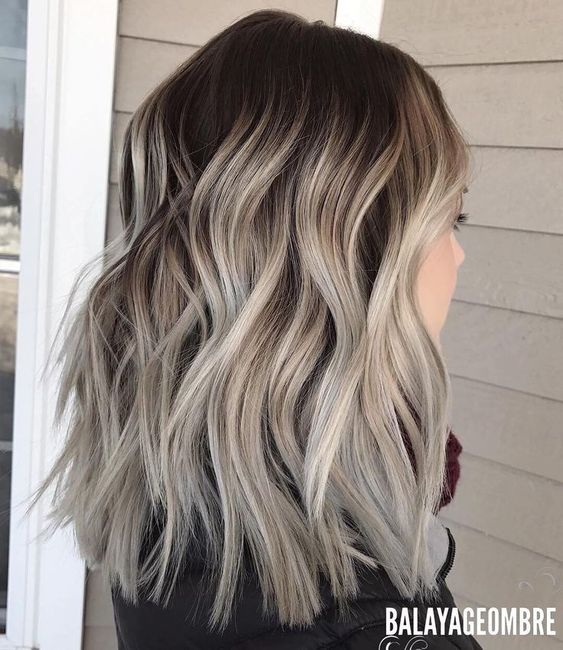 Falling just below the lady's shoulders, this easy-to-style hairstyle will take on a suave shape thanks to the introduction of layers. I am confident you are also melting over the lady's silky, straight, luscious brown hair, which I am confident will perhaps look great when coupled with any cut.
Thicker shoulder-length chocolate dark hair with medium layering
Here is another hairstyle that has been one of the most trending hairstyles over the last couple of years. It boasts a sideways V shop that has been complemented with many chunky, short layers at the bottom to result in different movements.
Dark mocha brown hair with short layers
I instantly fell in love with this lady's flirty and fun haircut. Like the one above, the layers are key if your goal is to deliver a fresh vibe. While creating the look, ensure that you make the slight sideways V-shape (the point of the V that you can see on the outside) because that will translate to you as life and movement.
Chunky layers on straight mid-length hair
Here is another do that was created for ladies with thick hair. As you can see in the image, the overall length of the hair is supposed to fall a bit past the lady's shoulders, but the layers should be plentiful and long. The shortest ones on your head should hit your chin, where you will bring them forward.
Daring and bold, I am confident you will love this look.
Pale blonde balayage on layered dark hair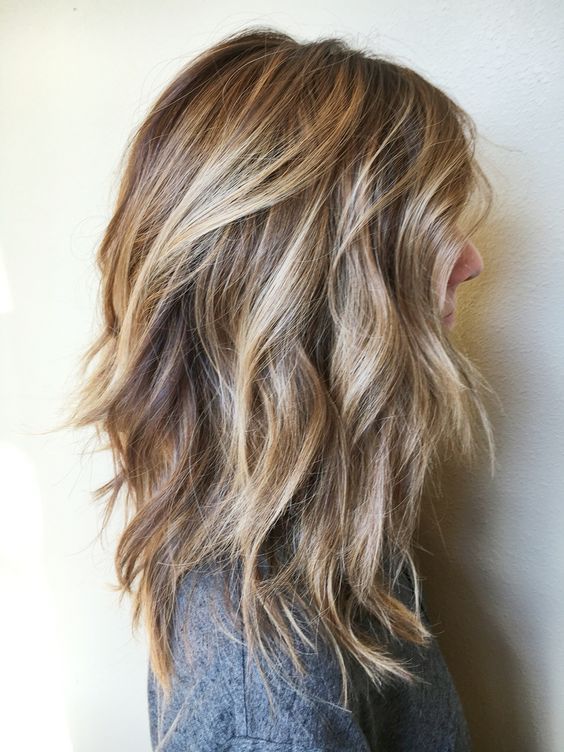 These wisps of hair strands have been made all the more gorgeous by the simple fact that they vary in length and have been perfectly layered. In addition, this trending medium-length haircut should start with face-framing hair strands that will hit slightly above the shoulders and ensure that they end with the longest pieces at your upper back.
Fire red hair with layers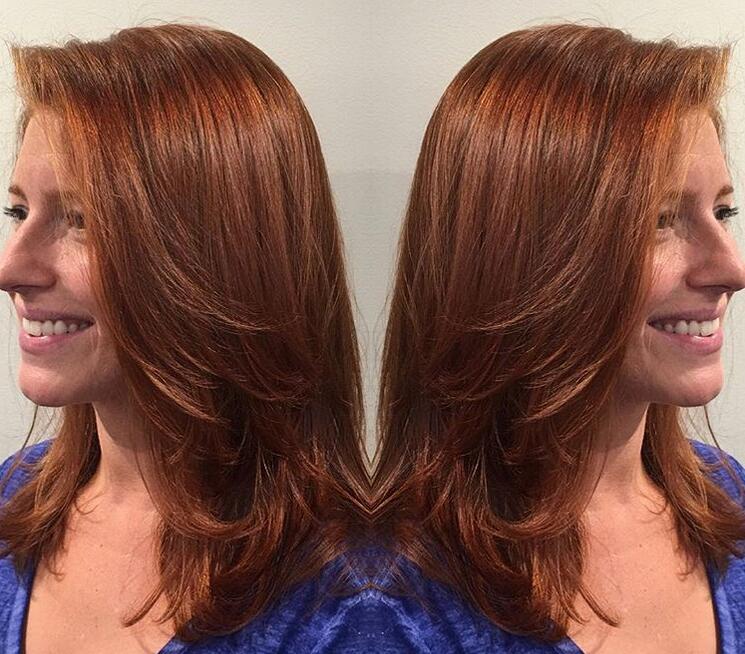 Let us start by setting aside that the lady in the image above boasts gorgeous and silky red hair and focuses on the mesmeric cut. Even though you can see that she has strategically placed the light layers toward the bottom part, her hair still looks like it boasts a ton of movement, and I think that is thanks to the layering and length.
The person who styled the hairstyle deserves a raise.
Beige Blonde layers on straight hair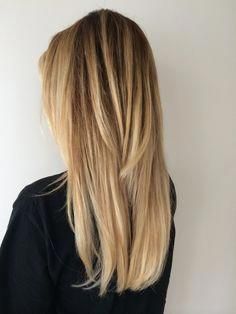 We have a head filled with thick and full hair on this number. So it makes sense why the lady's stylist decided to inject a ton of layering at the end of the hair strands. As you can see in the image, her hair also goes a little bit past her shoulders. When amalgamated with her perfectly executed layers makes the hair look actually longer than it really is.
A-line Bob layered on straight black hair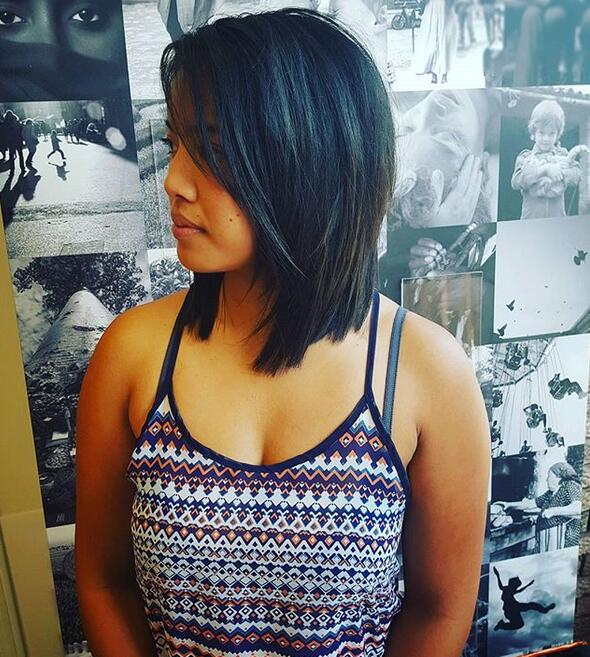 This hairstyle is one of the chicest I have ever come across. I believe that is due to the jagged and clean cuts that have been placed at the ends coupled with the soft layering around the lady's face. Better yet, I loved that this hairstyle is highly versatile and can be easily worn to formal and informal occasions as well.
If you decide to try out the hairstyle, also rest assured you can easily put it back in a half-up bun or a ponytail if you ever need to (and of course, it will still look fabulous.)
Layered pumpkin spice balayage on straight brown hair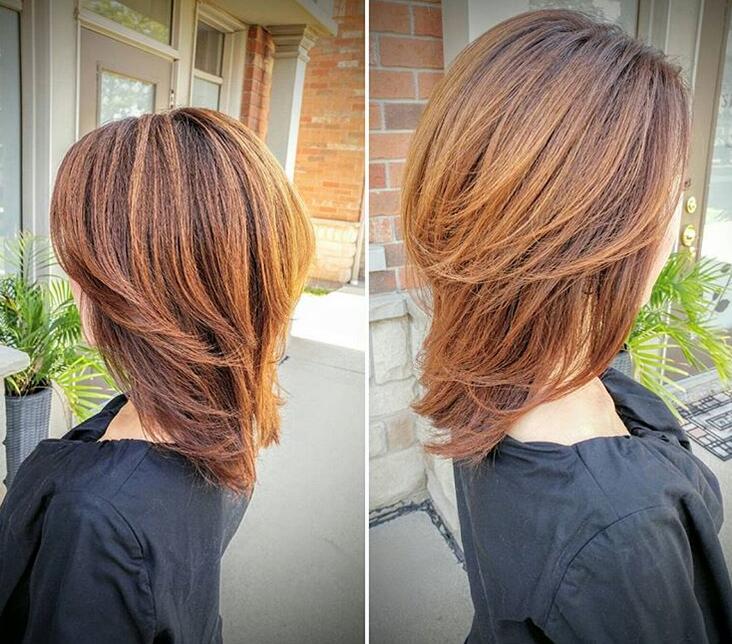 I love this fierce angular cut, which instantly feels down to earth and warm regardless of its many layers. The length of the shortest layers on the head is also relatively long, but the rest of the lady's hair drops off sharply after that.
Layered blonde hair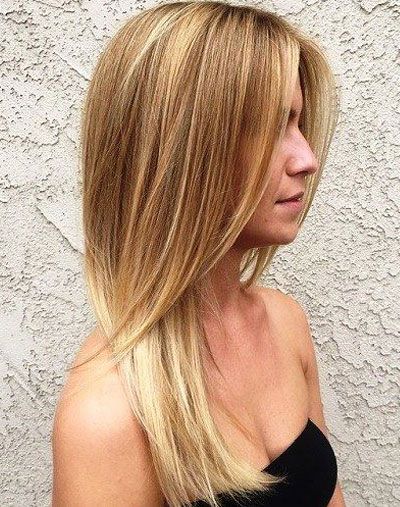 This hairstyle has one of those waterfall layering effects. All the many layers throughout the lady's straw blonde hair are making a bold statement.
Layered dark ash brown hairstyle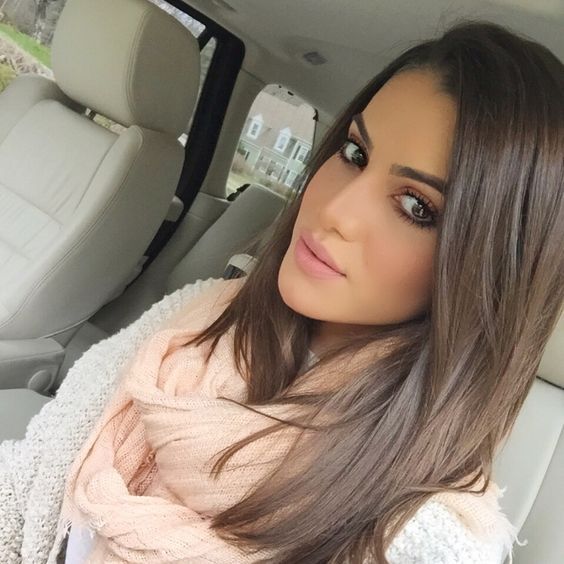 This mid-length layered hairstyle will look totally standard when you first set your eyes on it. But if you pay closer attention, you will notice that it has light layering throughout the strands, which adds interest and playfulness to the otherwise unassuming hairstyle.
I am also digging the rich ash brown shade of the lady's chocolate dark hair.
Heavily layered straight straw blonde hair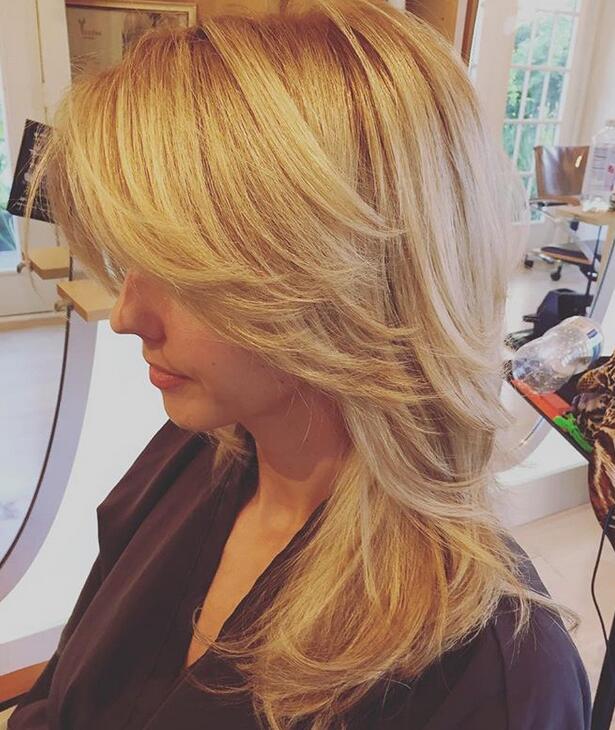 When I first saw the feathered shag hairstyle above, I instantly realized it is reminiscent of the 80s but will easily look hip in today's world. The different face-framing layers that have been created are what create attractive accents around the face.
Chunky layers on a dark brown A-line Bob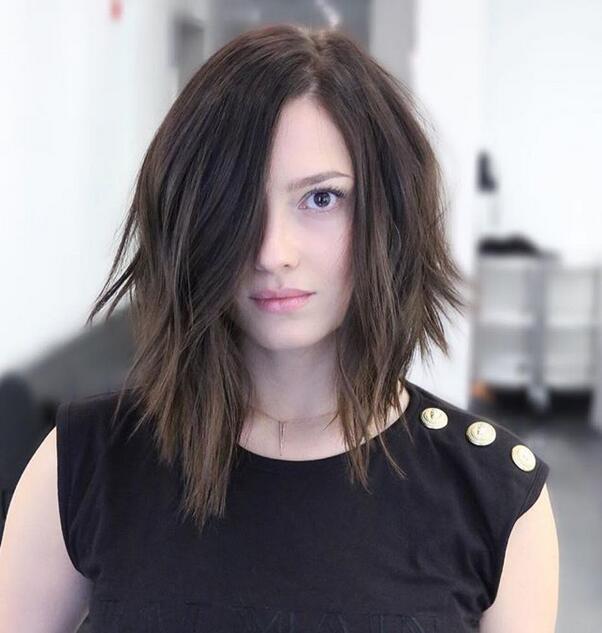 One lady's hairstyle is another person's work of art. This Angular gem is looking stunning with a wide array of inconsistent layers. I also love that the hair on the right side of her head is slightly longer than the hair on the other side.
The cut is also mid-length: not too long that it loses its style to other people, and it can also be easily put back into a ponytail for formal occasions.
Short layers on multitoned blonde hair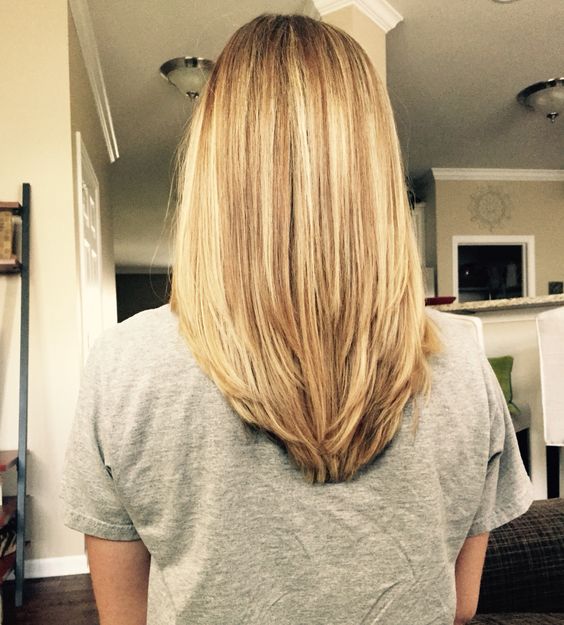 These short layers of multi-toned blonde hair are perfectly injecting movement into this lady's mid-length hairstyle. As you can see in the image above, the hair strands' length also varies slightly to create the lovely waterfall effect.
Tons of layering on straight, black hair
I love this lady's medium-length hair locks that also incorporate layers at the backside and front side simultaneously. The hairstyle would also look fantastic on ladies who boast curly, wavy, or straight hair.
Burgundy balayage hairstyle with layers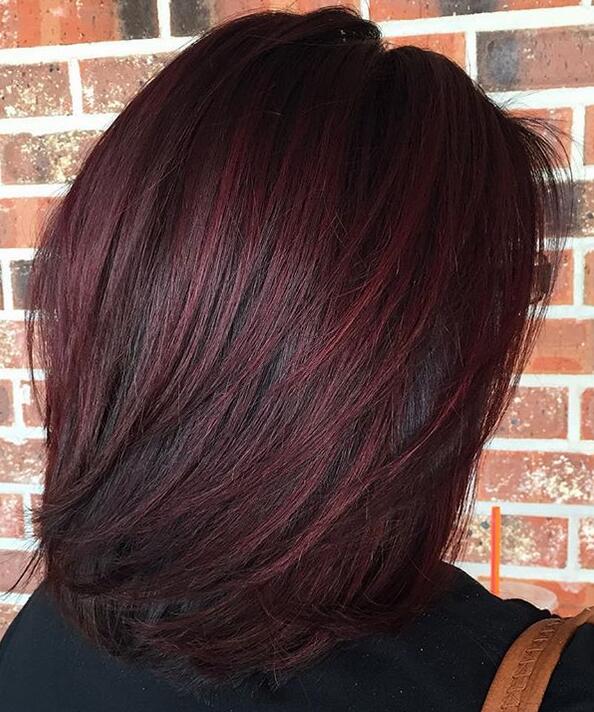 This lustrous little haircut ends perfectly part the shoulders and also incorporates wispy layers throughout the head. At this point, I confidently think that layering is a necessity for ladies who boast thick hair, and that is exactly what this lady has proved in the hairstyle above.
Layers on ash blonde hair
This shoulder length and spunky hairstyle have been coupled with a white-blond coloring and short layers to give off a striking look above. The dark blonde shading underneath is what sets off the top shade in spectacular fashion.
Black hairstyle with a lot of layers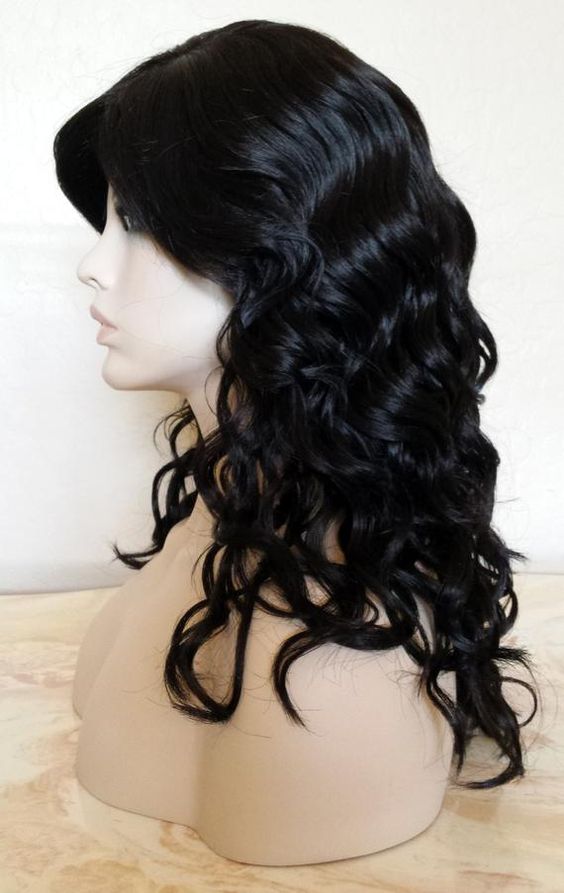 These chunky layers that have been introduced at the front side and throughout the haircut create a dynamic shape for this lady's dome. Her jet black hair is also looking stunning at medium length.
Platinum blonde hairstyle with layers
The layers in this lady's bright platinum blonde hair cross at the back of her head to create the short V shape. It is the perfect hairstyle you should pick if you want a beautiful look without layering on the front side.
Layered tawny blonde ombre hairstyle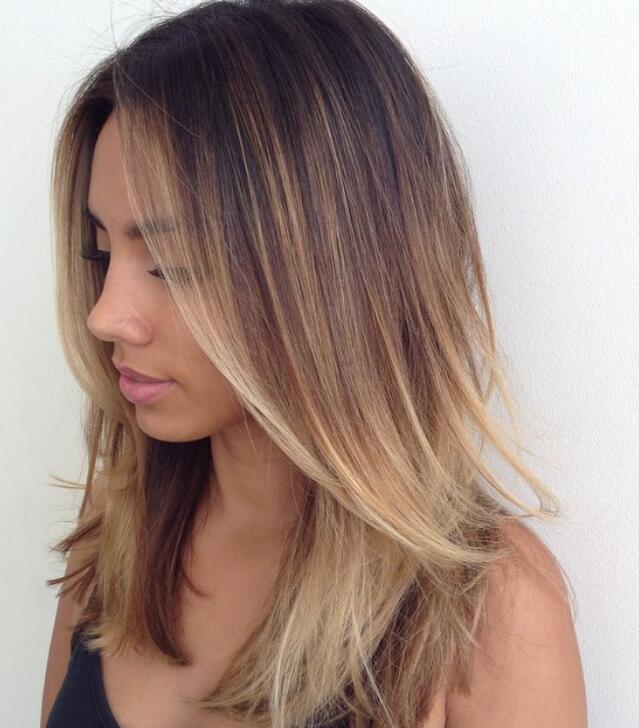 The attractive layers on this lady's hair highlight the lovely butterscotch blonde ombre coloring placed toward the end of the hair. This hairstyle would also look perfect on women who boast thin or thick hair.
Straight layered bob with bangs
This hairstyle is a layered, straight classic cut that I assure you will look trendy on you regardless of your age, head shape, and hair texture. It also works perfectly on all occasions, both formal and informal. Try it out, and I'm confident you will love its flirty movement and soft lines.
Classy textured bob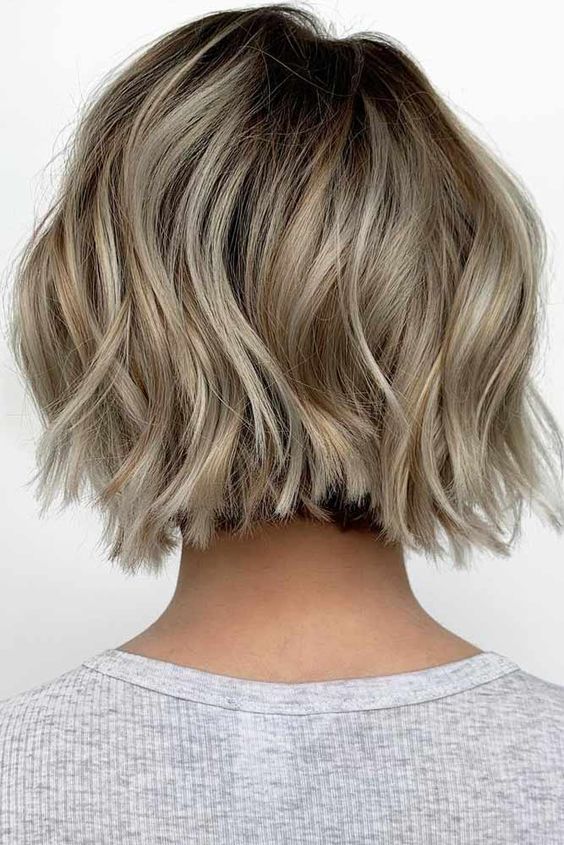 This textured hairstyle is both sassy and classic, which is not a combination you can attain easily in the realm of hairstyles. I also love the fact that it is easy to style as well as maintain. If you are looking for a layered hairstyle that can deliver a lot of movement, this classy textured bob has also got you covered.
Textured inverted bob with layers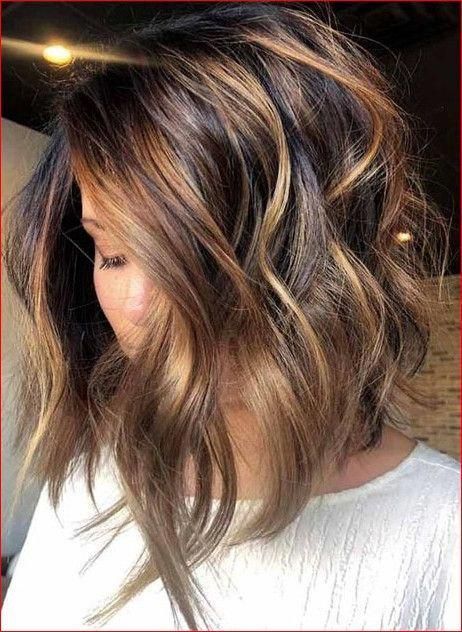 This is one of the most textured inverted bobs I have ever seen. And when it has been coupled with layers like the one in the image above, you can rest assured that you will turn heads wherever you go.
Traditional disconnected hairstyle with layers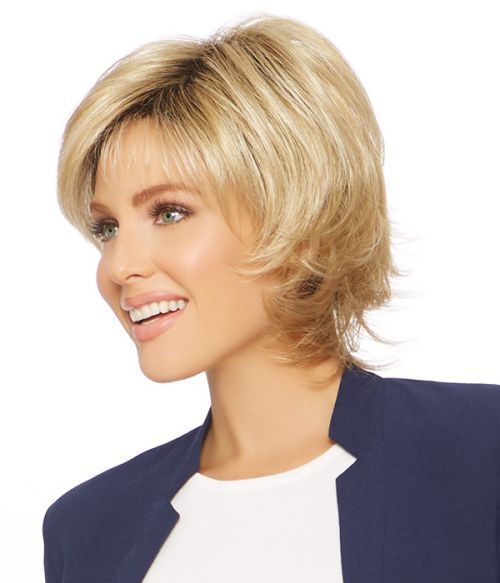 This traditional disconnected hairstyle with layers looks professional, polished, sleek, and even fun. So if you are looking for a fresh look you can style all year long, this one has got you covered.
Soft layered bob with layers
This soft-layered bob boasts everything would want in a bob without the harsh lines. You will also appreciate how versatile the haircut is. I realized it could easily be styled both wavy and flirty while at the same time looking smooth and sleek.
Slightly Angled Layered Hair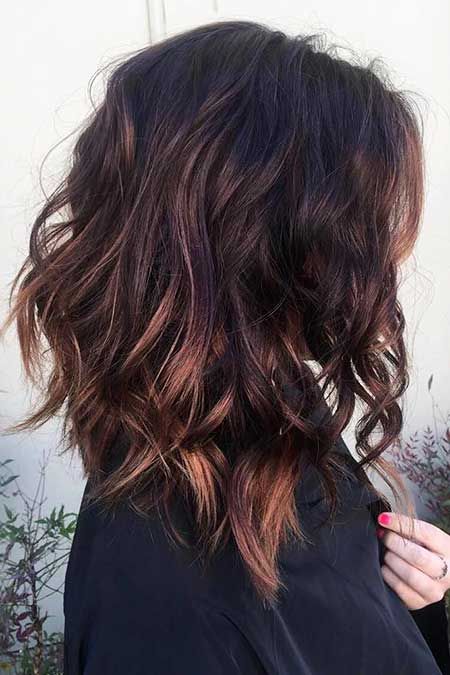 This look is a slightly angled bob that has been layered to give it the much-desired texture. The general color of the hair is an auburn balayage shade.
Straight hair with a layered angled bob
This is a layered bob that is angled and also slightly longer at the front side. I love that it is a modern take on the traditional layered bob hairstyle that trended a couple of decades ago.
Textured layered hair
I love the fact that layered medium-length haircuts such as the one in the image above can qualify to be both formal and casual. Depending on your needs and personal preferences, you can also choose to wear the hair shaggy and messy throughout the day, then quickly transform it to a casual look in the evening by curling the ends away for your face.
Layers on broken curls
My favorite thing about layers on broken curls is the bob. You can wear the look sleek and smooth.
A cute layered pixie with bangs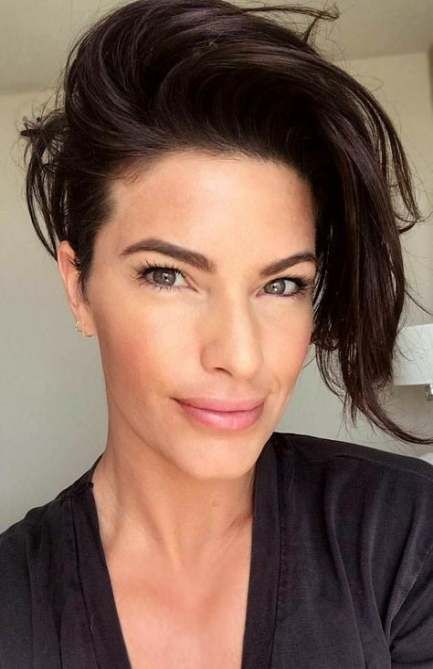 What you will love most about this cute little pixie with bangs is how easy it is to style it. It is nicely textured and also boasts a lot of movement. Styling won't take long either, and it is not a heavy look that may end up dragging down your face.
Layers on a textured wavy bob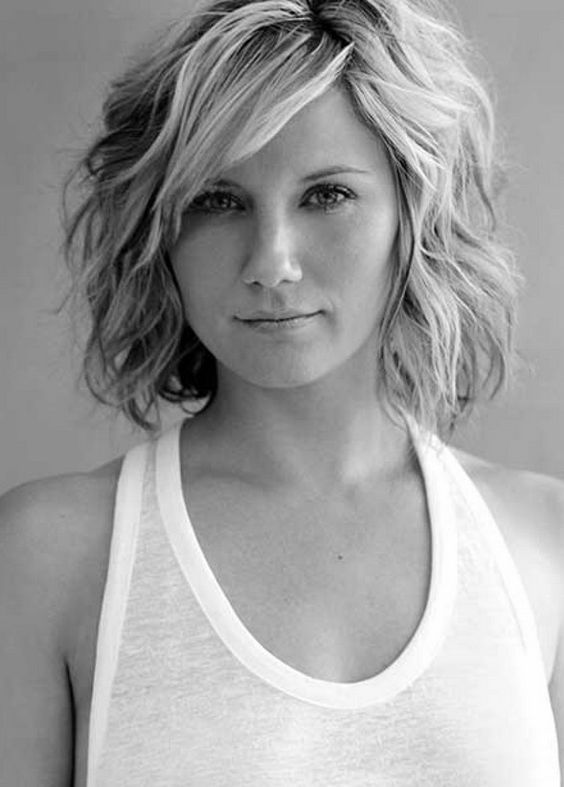 In simple terms, I would describe this hairstyle as a textured bob. And the best thing about such hairstyles is how versatile they can be.
short, daring, and romantic hairstyle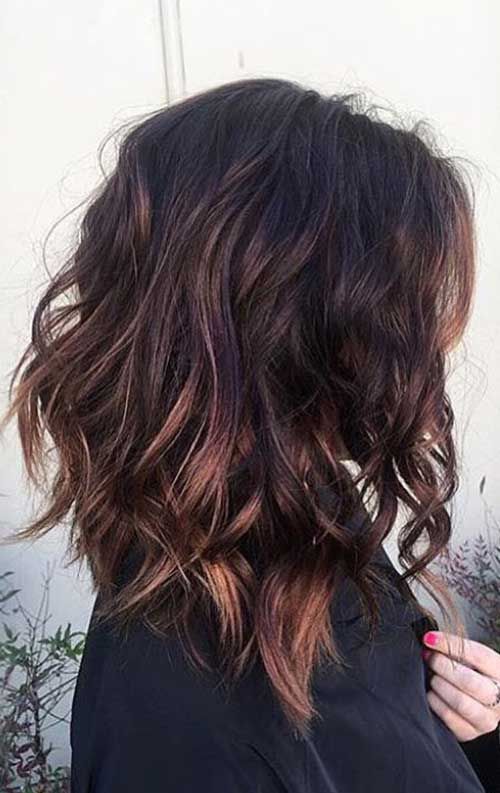 this is one of the most daring looks I have ever come across, thanks to the asymmetry. At the same time, it looks romantic due to the layered waves.
Graduated bob with blonde highlights
This graduated bob is a versatile hairstyle that will suit anyone with any style or age. Like the images, waves give the hairstyle a beachy, relaxed look that doesn't look overdone.
Layered feathered bob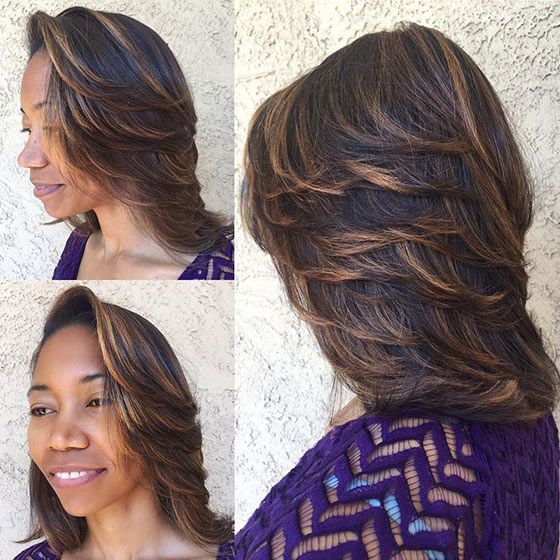 The best feature of this layered feathered bob is its symmetrical shape with feathered layering that allows you to shampoo it and ready to go.
Layered bob on black hair
This is a full feathered bob and is a great protective hairstyle for clients who boast long to medium-length hair.
Shaggy bob with layers
This shaggy bob with layers is a flirty and fun haircut that awards its wearer a ton of movement.
Modern stack cut with layers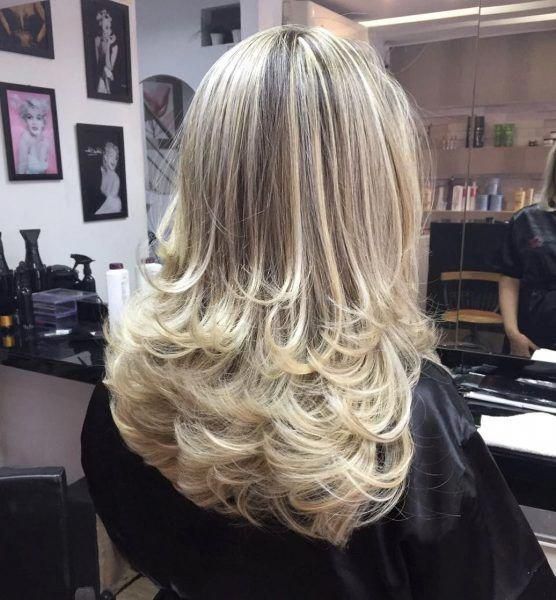 This hairstyle is a texturized bob and a modernized stacked, both coupled with layered hair. It also delivers a messy and unstructured texture.
Layers on multi-color hair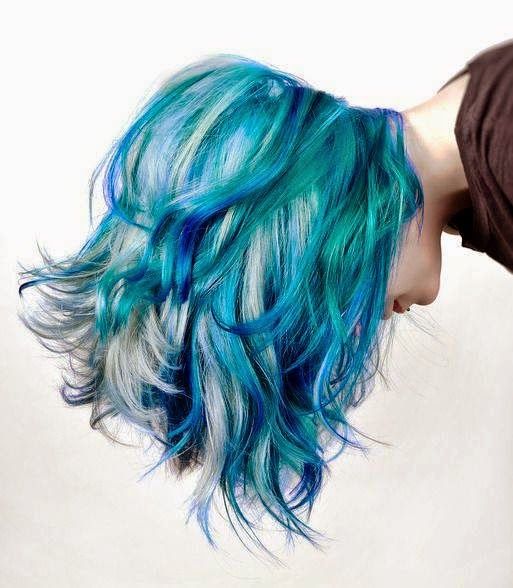 This is the exact hairstyle I always deliver whenever clients ask me to take their natural color and infuse it with other creative colors.
Get up and go pixie with layers
This layered get-up-and-go pixie cut is a free-flowing and easy kind of hairstyle. It will look better on you if you have naturally curly hair.
Layers on a flirty a line
I would describe this layered hairstyle as flirty and fun. The way the layered section has been highlighted also gives the entire hairstyle a very sunkissed look.
Trendy medium length layered hair
If you are looking for a trendy but sophisticated hairstyle, I believe this could be exactly what you want.
Layers on a stacked bob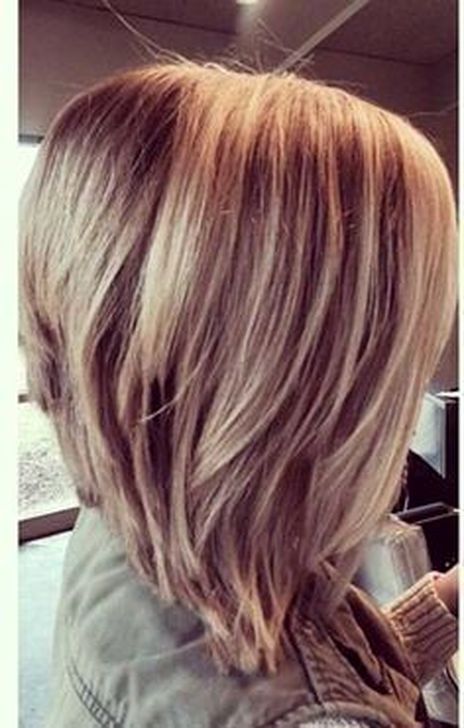 My favorite thing about this layered, medium-length, and textured bob is the fact that it delivers an extremely stylish look while at the same time giving off lots of versatility.
Flippy layers
The best feature of these flippy short layers is that they are low maintenance and easy to style in the first place.
Layers on an undercut long pixie
This is an undercut long pixie that has been layered. You will love how fun and edgy the texture created will sit above the obvious shaved area.
Layered pixie bob with side bangs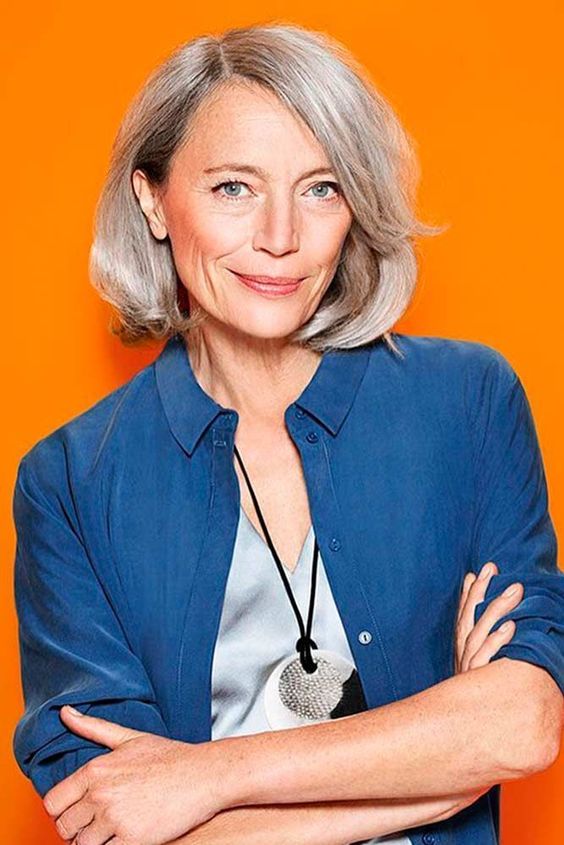 This is the most graduated, long-layered pixie bob I have ever seen. It shows that picking the best hairstyle for you is just as essential as choosing a unique dress for an event.
Layers on a fun and creative hairstyle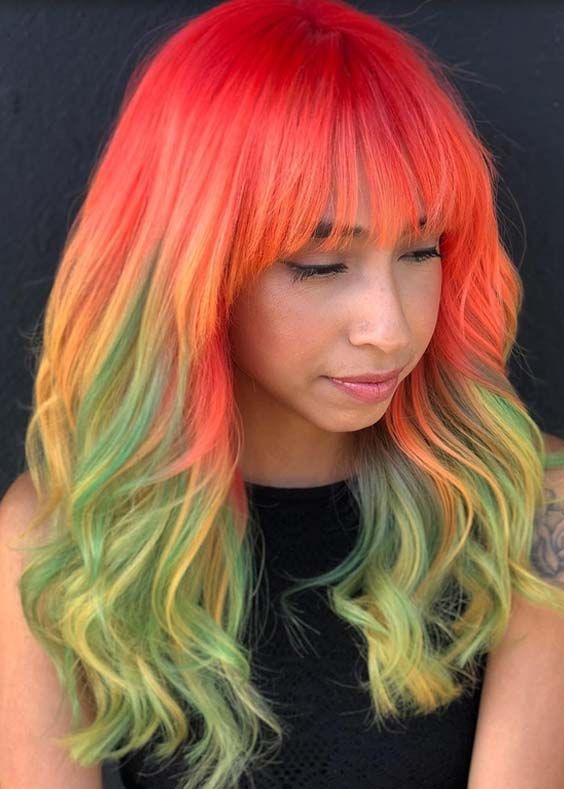 I believe my specialty is creating fun colors, and I firmly believe this is one of the most creative and fun I have tried out. I also particularly love the pink shading because it somehow reminds me of what the sunset looks like.
Shaggy layered bob
If you are searching this list for a shaggy bob with layers, I believe this is exactly what you are looking for. I like the hairstyle, particularly because the shape is beachy and effortless. This shaggy layered bob is also highly versatile as a medium-length hairstyle and allows you to easily wear it textured or smooth.
Layers on a modern pixie with a hidden undercut
This hairstyle is a modern pixie cut, and what I love most about it is that it boasts a hidden undercut. This means the hairstyle removes all the bulk from underneath, allowing your hair to hug your head shape and deliver a weightless feel.