Medium-length hairstyles have become increasingly popular in recent years. This versatile hair length perfectly balances the ease of shorter styles and the styling possibilities of longer hair. You can achieve a wide range of looks with medium-length hair, from sleek and sophisticated to tousled and casual.
The hair length is also ideal for experimenting with different textures, layers, and updos. Whether you opt for beachy waves, a chic bob, or a trendy shag haircut, medium length hairstyles provide endless opportunities to express your style. This article will list the 50 best popular medium hairstyles for women.
50 Amazing Medium-Length Hairstyles For Women
1. MID-LENGTH FEATHERED HAIRSTYLE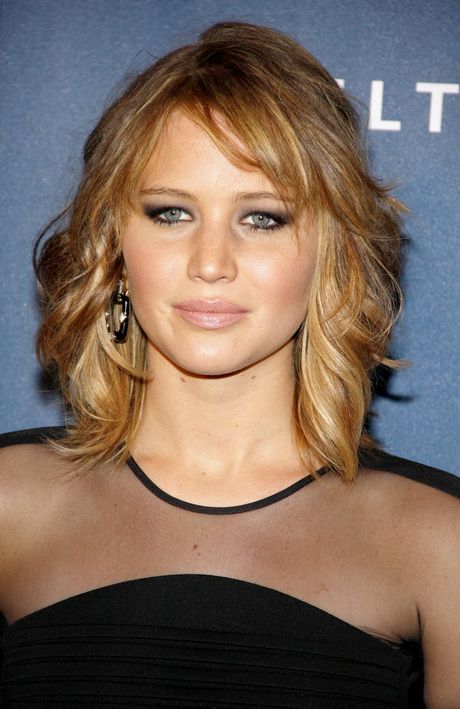 Most women wearing their hair down may look scary and weird simply because it tends to look dull on them. If, as a woman, you are in this category, a mid-length cut that is easy to style is the right choice for you. You can trim a feathered layer to give an extra feeling, keeping shorter ones along with the crown of the head.
2. TRADITIONAL BOBBED LAYER WITH HIGHLIGHTS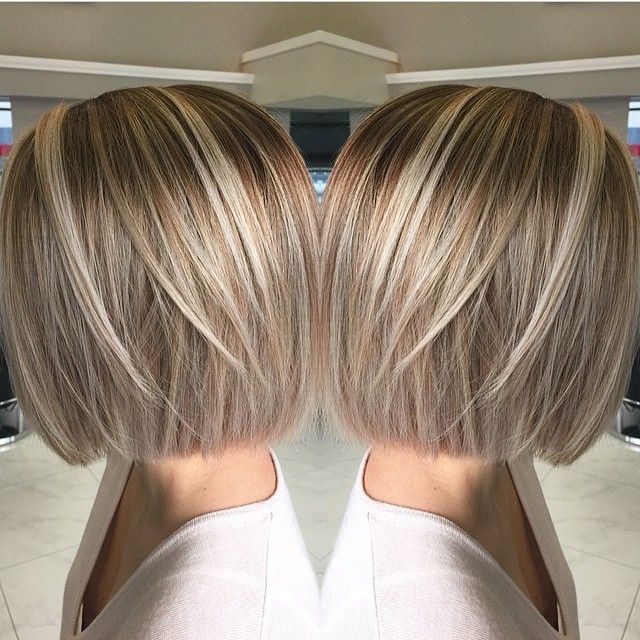 This looks more like the traditional bobs with some variation due to the layering. With a shag-like look, it is round, smooth, and not messy or tousled. Ideally, it involves a layer or layers that gently bobs over the bottom.
3. LONG-LAYERED BOB WITH FADED HIGHLIGHTS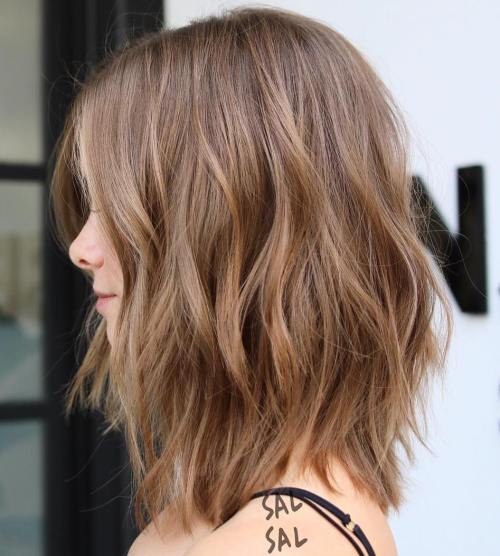 Back then, bobs used to be prim and proper, but bobs have more choppy layers and the latest dye look. The faded-out highlights are fun features of these hairstyles you can try out. Trim choppy layers to form a long bob.
4. MESSY BLONDE BOB WITH CENTER PARTING

One benefit of medium-length hair is that you can easily part in the middle of it without making it look dull and flat. To brighten your hair, you can top off the hairstyle with a cool and fresh color.
5. DISHEVELED WAVY LOB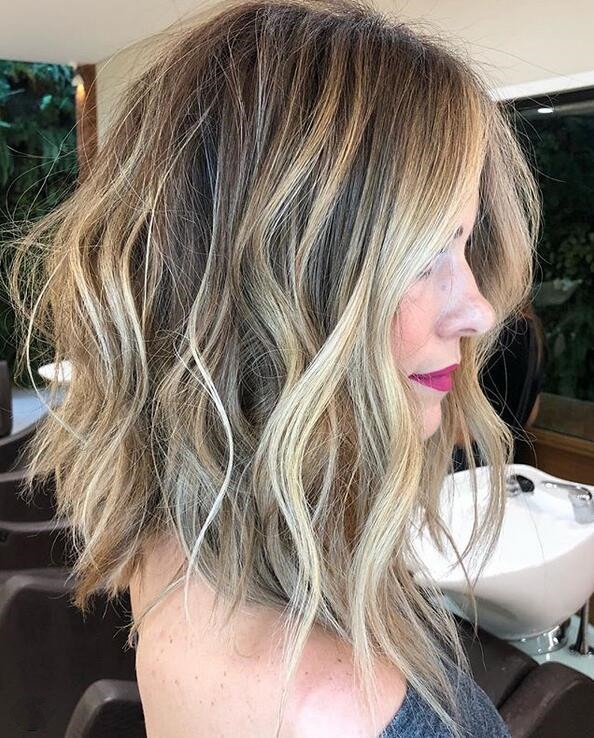 Source
If you are a newbie to the medium-length hair world, I suggest going for the wavy lob. You don't have to maintain your short hair with this particular hairstyle. You can amp up the volume and texture of your hair by opting for the disconnected end pattern.
6. FEATHERED LAYERS WITH MEDIUM TRIM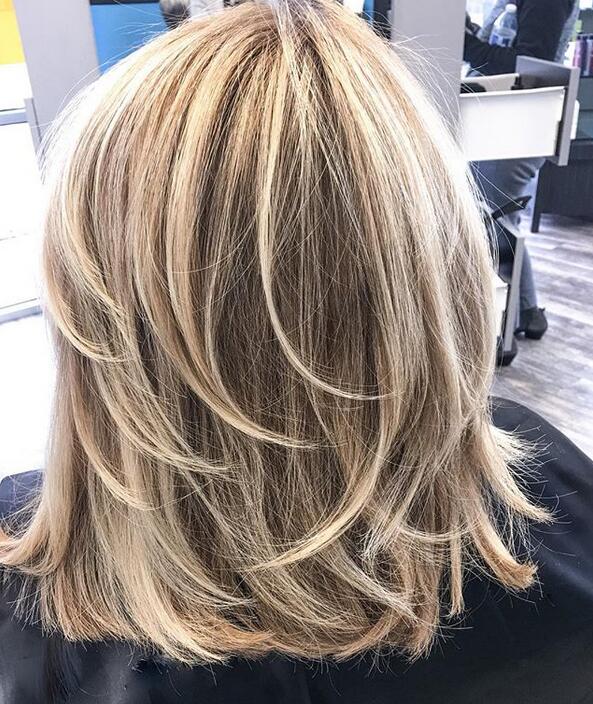 If you are looking for a sophisticated and carefree appearance, this particular hairstyle is what you should opt for, and it is ideal for medium hair length. Feathered layers twist around the head, giving a movement for stretched hair. Sitting slightly above the shoulder, the one-length lob can also be parted in the middle or side.
7. DISHEVELED LONG BOB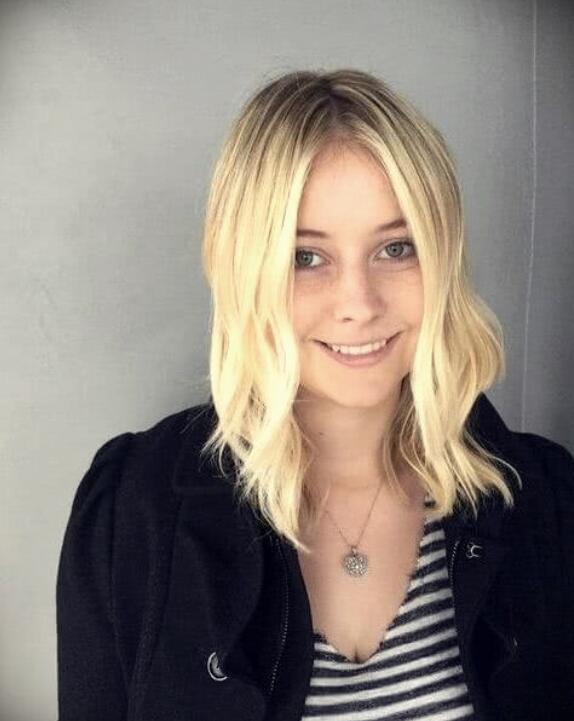 Medium-length haircuts in most women quickly amp up in volume and lift. But if you do not want to go for the traditional bob, you can try the lob, which helps you go shorter anytime you want to. You can create waves or swoops that can last for the day with a hot roller or curling iron.
8. V-CUT LAYERED PATTERN WITH BLONDE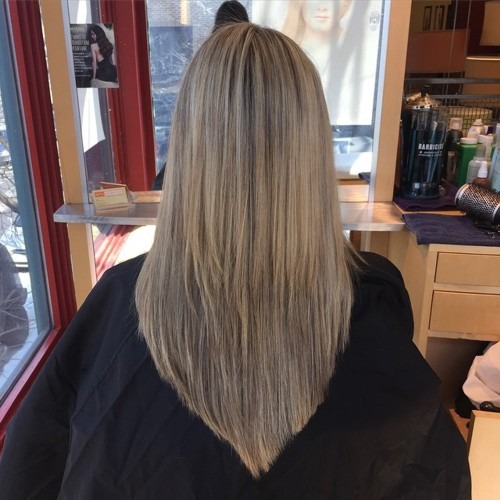 Do you fancy a hairstyle that is a little bit smooth? Then the v-cut layer should be your go-to style. The v-cut layer style looks good when arranged straight and makes you radiant. If you feel your color looks dull, you can brighten it up with your hairdo color by trying some blonde highlights combined with a lighter shade on the upper parts of your hair.
9. STRAIGHT, FLEXIBLE BROWN BOB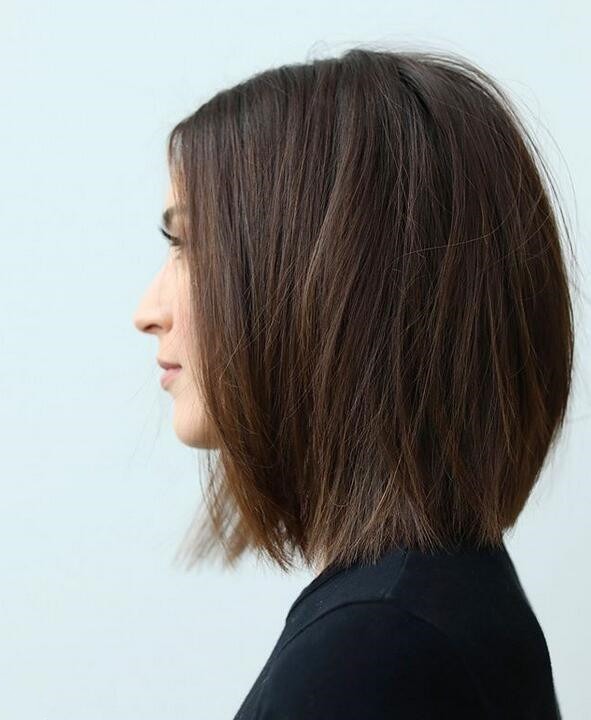 This hairstyle is excellent for those with fine, straight, and medium hair length, and the strands can be made more fascinating with a smooth bob that barely scratches the shoulders.
10. WAVY BLONDE LOB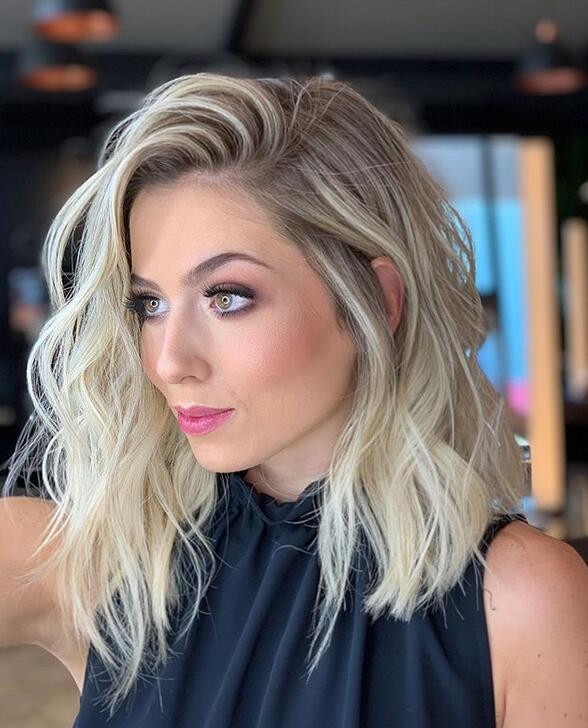 Bold and sexy, this shoulder-length combover lob is an excellent choice for choosing a hairstyle that can easily manage and flaunt the jawline's views. The wavy hairstyle can also be packed behind one ear.
11. WAVY-COLORED LOB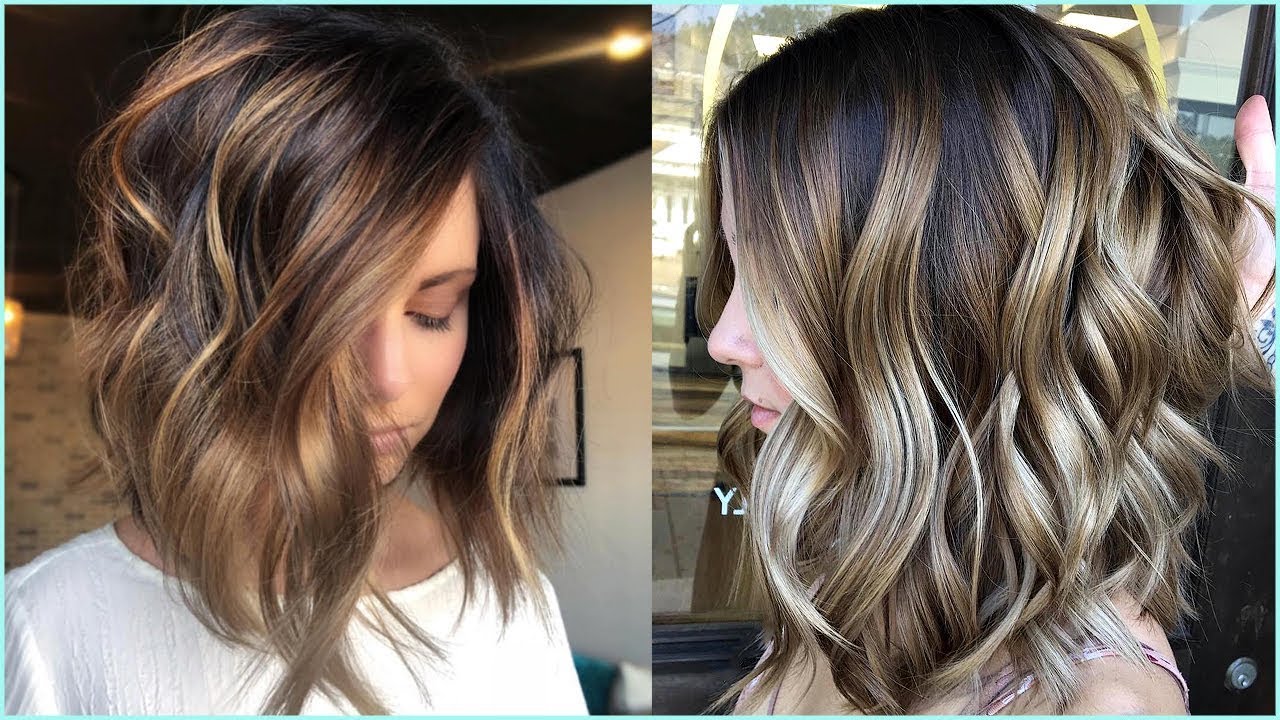 The lob remains the most stylish haircut for women who request mid-length hair very high in many salons. This particular hairstyle is donned with a balayage coloring, making it an epitome of an updated hairdo. This is especially perfect for brightening the face of any woman.
12. ROUNDED LINE BOB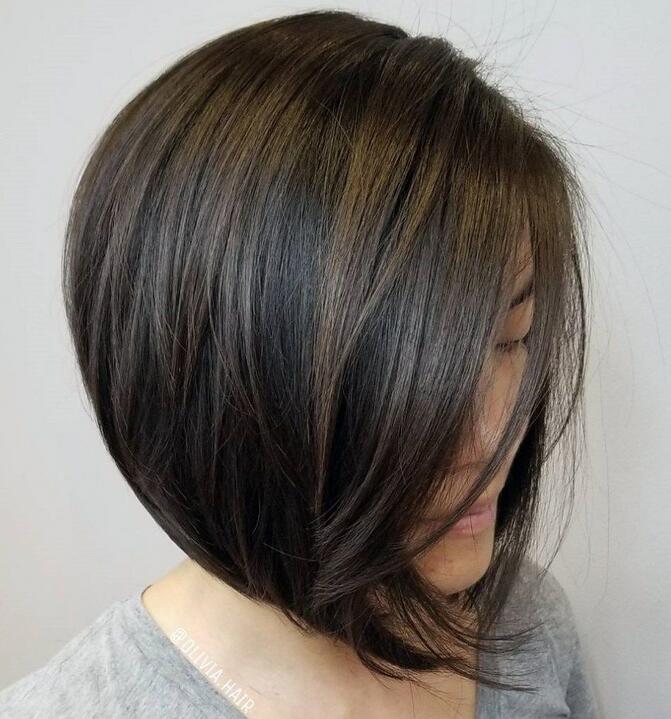 If you are a fancy polished hairstyle, you can rest assured of rocking the rounded line lob. All you need to do is keep the hair close to the section of your face longer than other parts for an excellent softened shape. This will allow you to trim long side hair fringe to your face's frame.
13. SIDE PARTING BROWN BOB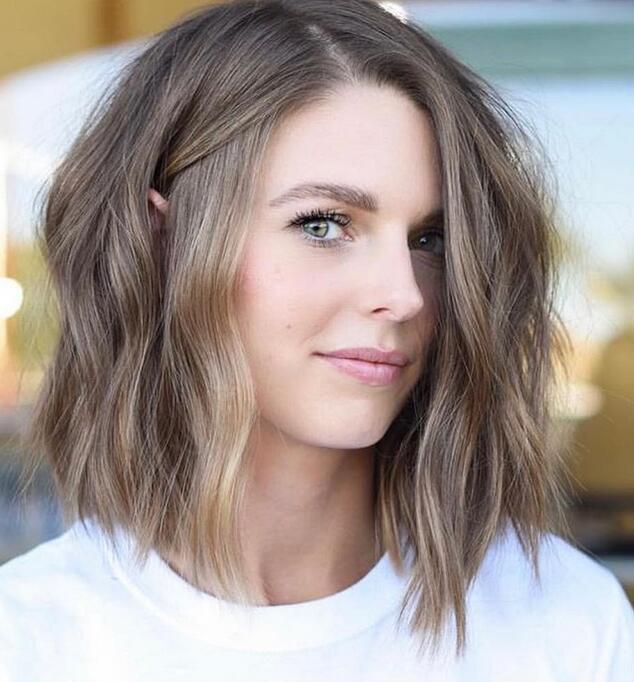 This particular hairstyle can make women with medium hair length look sporty and simple. It can also be side-parted with a brown ash bob. You can also touch and pack some tendrils behind one ear to balance the other side for special effects.
14. SWOOPY LAYERED HAIRSTYLE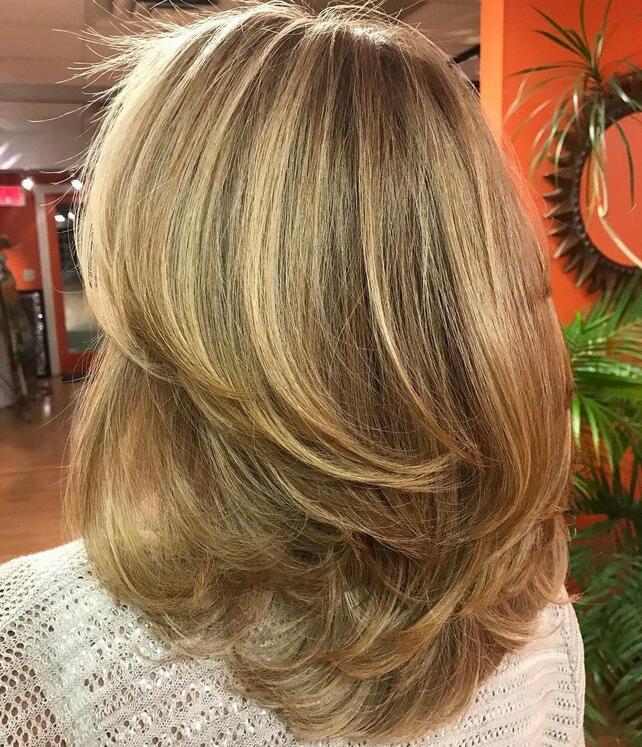 Medium-length hairstyles often need a nicely shaped layer to give easy hair flow. For a more rounded outlook, go for the ones with a swooping layer and a side bang that rests on your shoulders. You may also decide to add some highlights for extra enhancement of different layers.
15. SHOULDER-GLIDING CHOCOLATE-COLORED LOB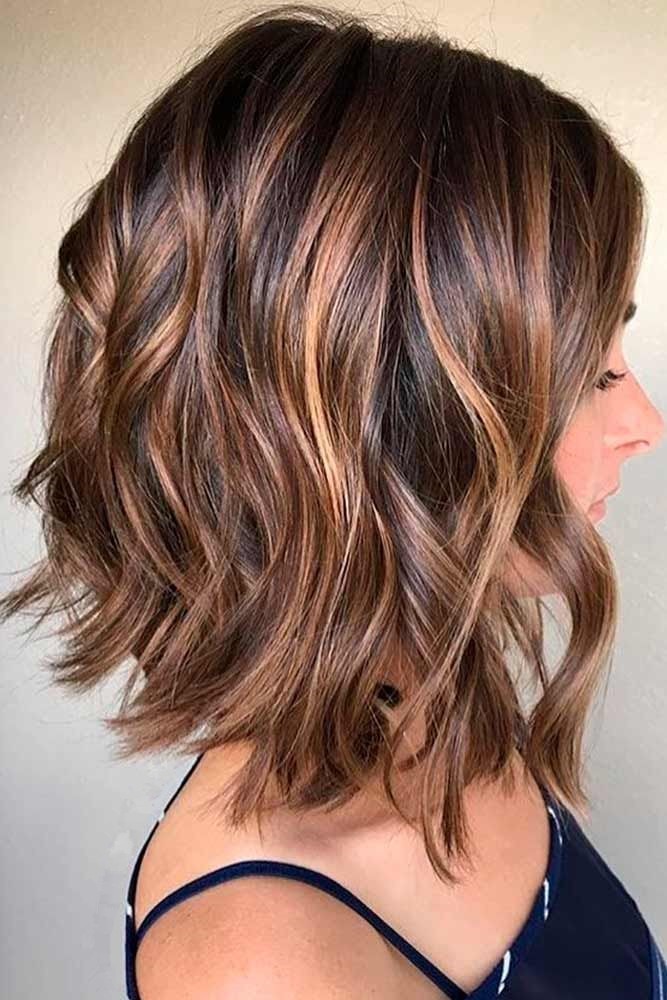 Caramel balayage and chocolate give additional elegance to this style. Positioned miscellaneously, the brighter streaks illuminate the mid-hair. Just brighten hair strands closer to the cheeks to provide a more glowing complexion.
16. LITE SHAGGY HAIRSTYLE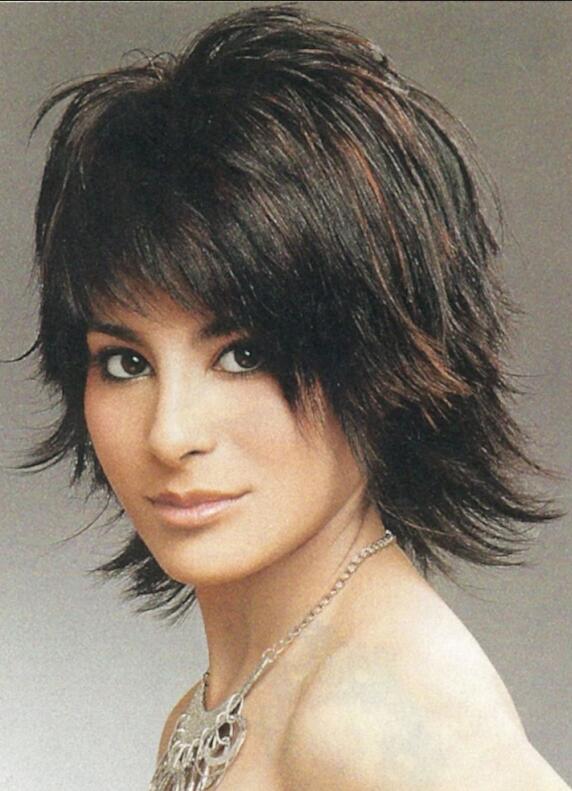 The shag-cut hairstyle works well for women with medium hair length and is suitable for professional women who do not like short haircuts.
17. ASH-BLONDE AND BLACK COLORED BOB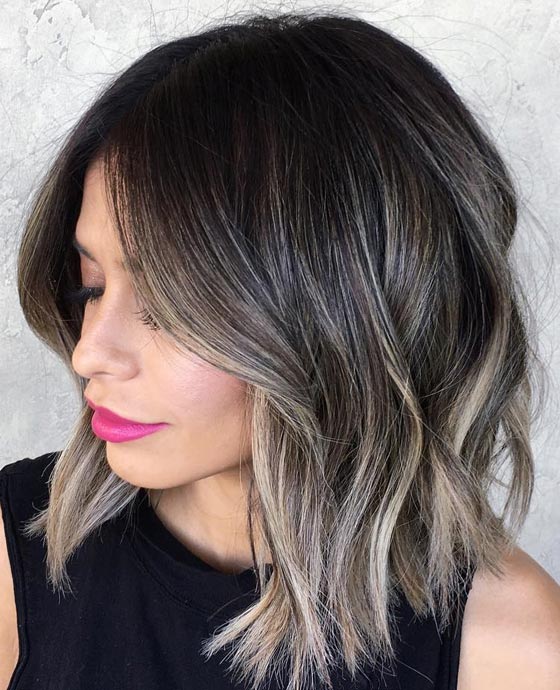 This hairstyle is for the bold and sexy who like experimenting with things and gaining attention. You can show dark hair roots by contrasting the upper parts with ash blonde or platinum dyes. You can also pack some tendrils to the side of the ear for some balance.
18. STRAWBERRY AND CARAMEL COLORED BALAYAGE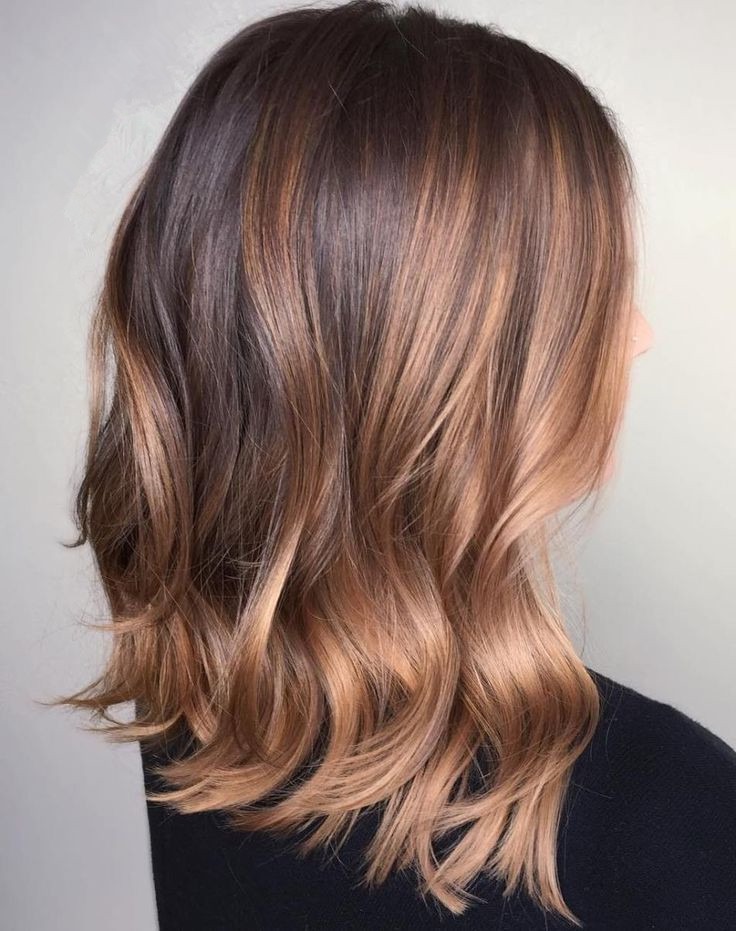 This hairstyle shows how gorgeous balayage can look on a medium hair length. Strawberry and balayage blend to give a beautiful medley ideal for those who appreciate unmatched combos.
19. DISHEVELED LAYERED BLONDE COLORED LOB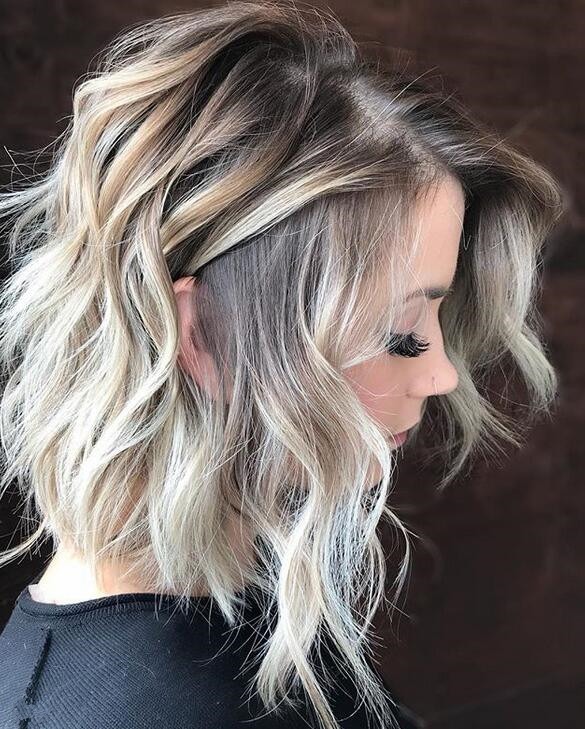 With this hairstyle, the main objective is to mess with the hair. You need to create a lobby of layered trim, disheveled styles, and bleached hair; with this trio, you can minimize your morning routine.
20. PLATINUM OR GOLDEN COLORED LOB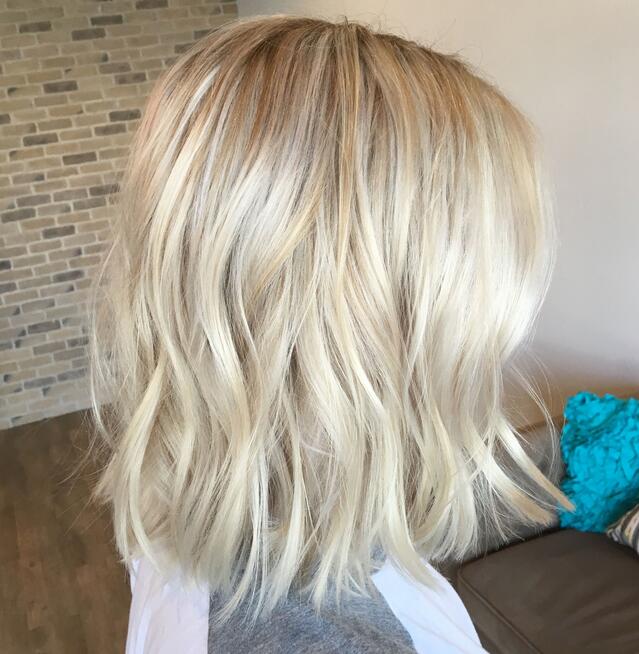 This is a very bold and sexy hairstyle to try out. Platinum and gold are a stylish and fresh duo, so it is safe for any woman who wants to experience life as a blonde. The only question is deciding what color fusion is good for you, but any color you choose will give you a radiant look.
21. BLONDE WITH RADIANT HIGHLIGHTS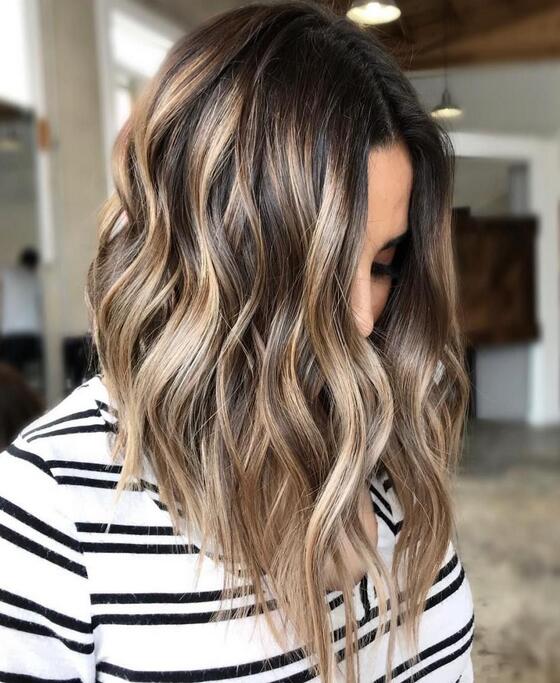 You need to try the lob with random surfaces if you are a woman with curly or wavy hair. The ash base color with a bright highlight gives femininity and portrays it as a sporty or playful hairstyle.
22. BROWN HAIRSTYLE WITH CARAMEL-COLORED HIGHLIGHTS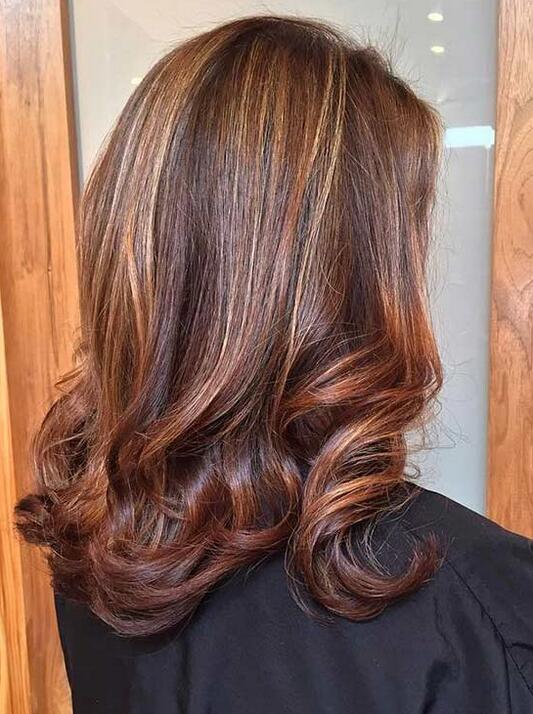 This is for all the brunette ladies. Give some aspect to your brown hair by skillfully highlighting the base of your hair (using the same color category). The new style can be topped off with bangs, an excellent addition to any medium haircut.
23. BLONDE WITH SHATTERED SHAGS AND FLYAWAYS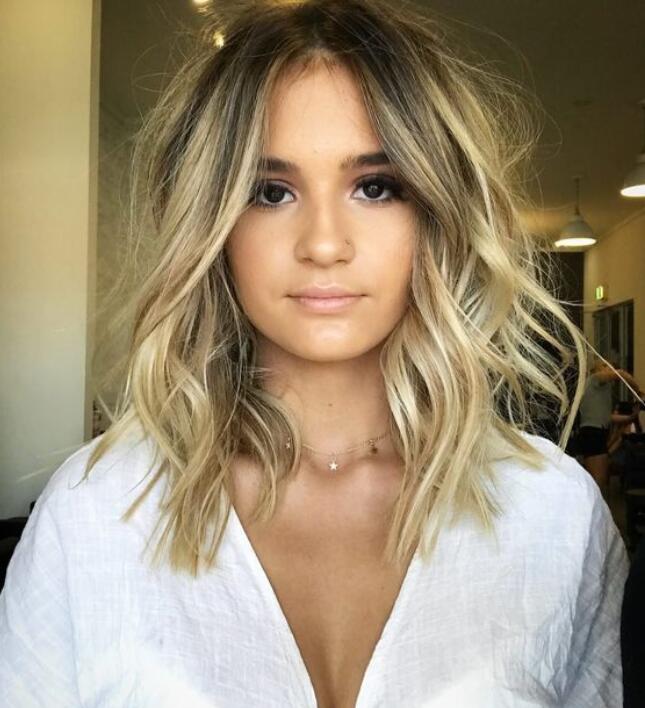 This particular hairstyle can hold a gentle wave and is trendy and easy to handle. This hairstyle has a center parting and a shag, making it an excellent choice for any straight and medium hair length.
24. BLONDE LOB WITH FACE-FRAMING LAYERS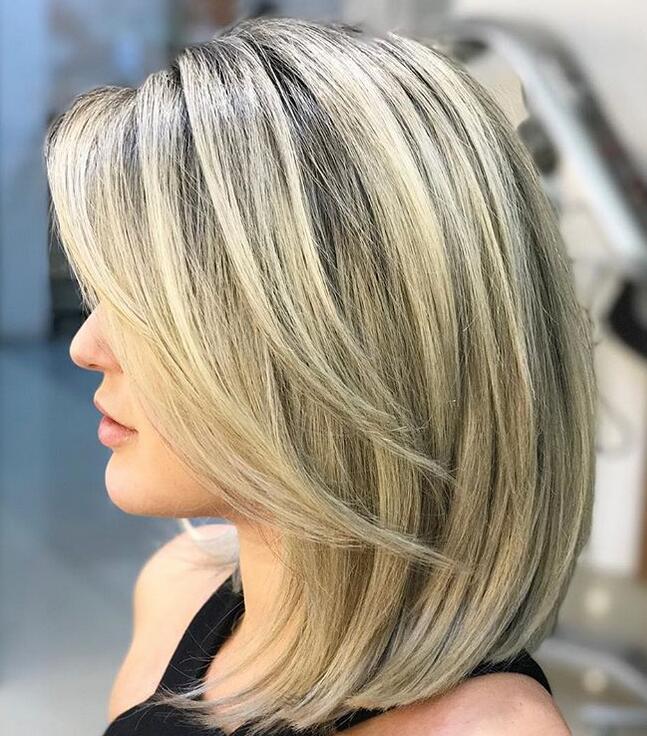 This hairstyle is for those who want their hair to rest gently on their shoulders and are best with bangs. This hairstyle gives a cute mark and side bangs that flow easily across the stream of the locks. You can add blonde highlights to give it a vibrant look and be straightened with a curling iron.
25. ATTRACTIVE MEDIUM-LENGTH HAIRSTYLE WITH CURLED ENDS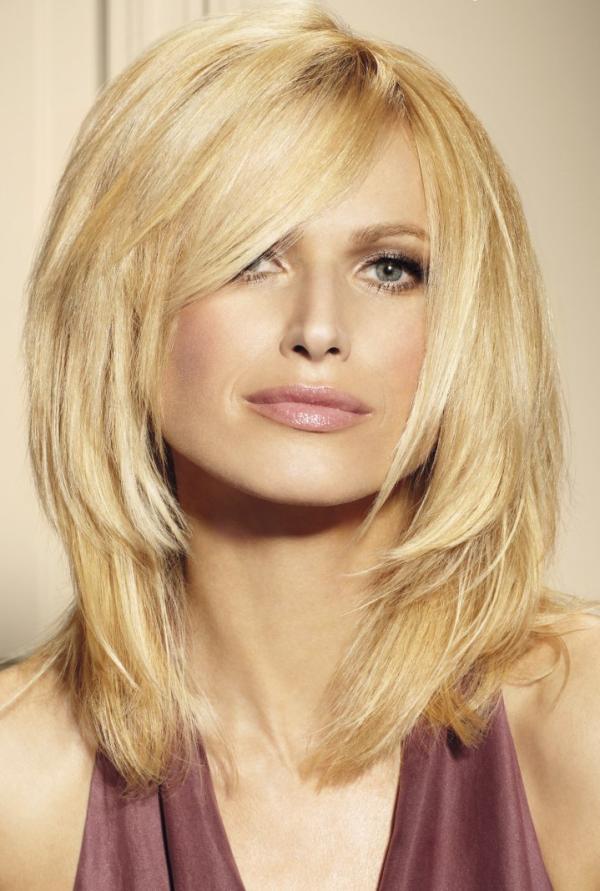 This particular hairstyle is a little bit longer than most hairstyles highlighted above. Let your hair go past your shoulders and trim the long bangs. You may decide to curl or flip the ends to give a great style full of energy and depth.
26. BLONDE-COLORED WAVY ROUGH LOB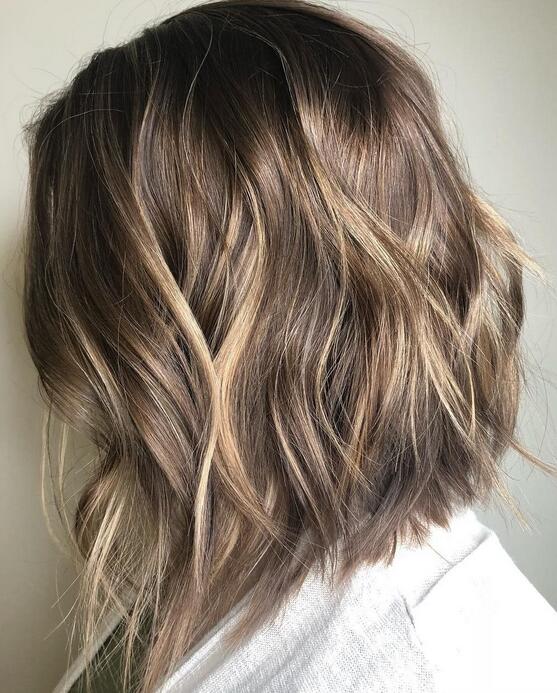 This hairstyle is sometimes mistaken for a lob or a shag, but both. It remains one of my favorite medium-length hairstyles. Parted in the center with a tousled finish, this blonde hairstyle rests gently on the shoulders, giving the cheekbones and chin a sharp projection.
27. DIMENSIONAL BLONDE COLORED BOB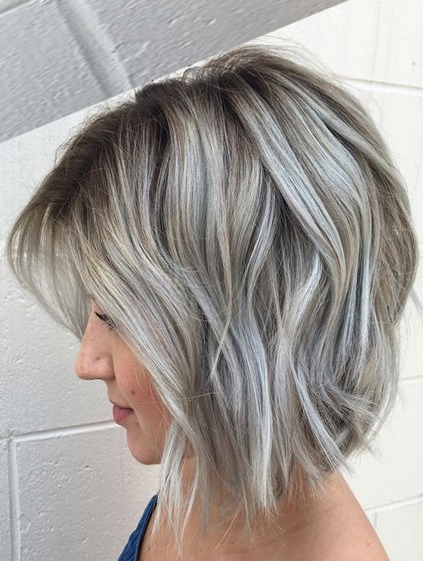 This particular hairstyle is for women with greying hair color and medium length. It can be transitioned with an ash-blonde highlight. Position the blonde shade with the layers to give a two-toned look.
28. FEATHERED LAYERS HAIRSTYLE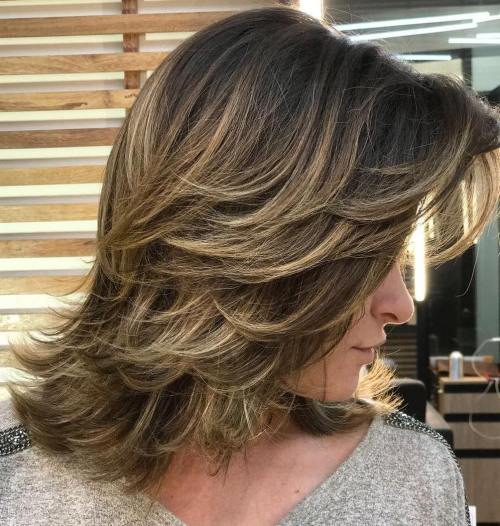 Generally, hairstyles with a long layer and bang are great for anyone searching for a hairstyle with little maintenance. You may opt for no layers, but try long, feathered layers to gain hair texture and movement. It will give you a great look and lasts longer.
29. CARAMEL LAYERED BOB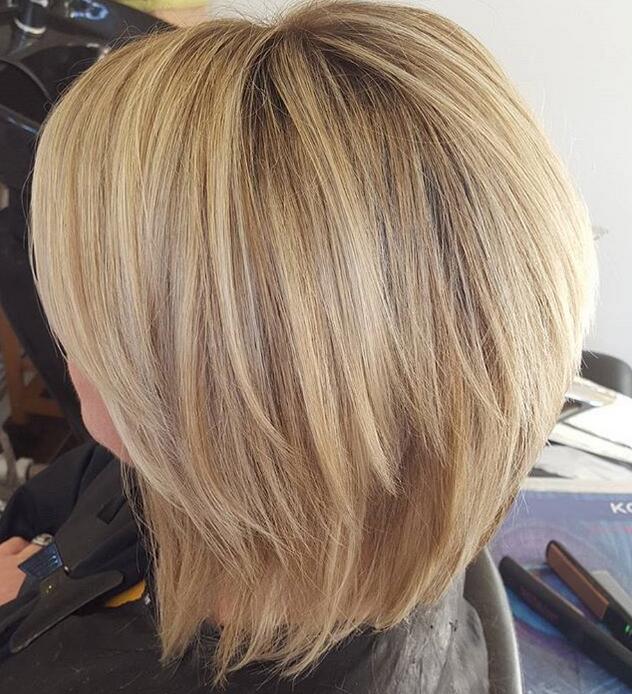 For women with medium hair length also need layers to accelerate visual attention. So if you fancy this look, the good news is that it can be completed on any hairstyle, but it best suits straightened natural hair.
30. BACKSWEPT LAYERED HAIRSTYLE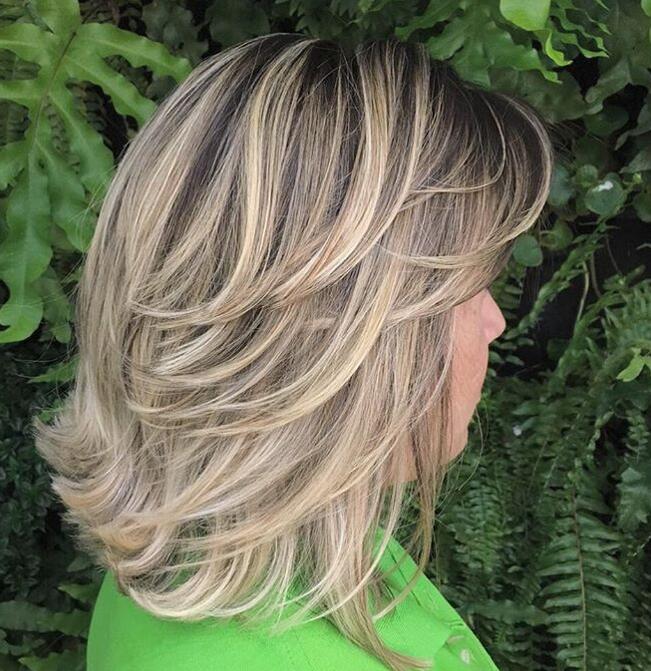 This is a style for a professional woman. Cut the hair into three layers to actualize a voluminous and texturized style. Then proceed to get the hair into a perfect wind-swept pattern with a curling iron. Color the different layers of your hair root for depth.
31. DISHEVELED CARAMEL LOB WITH CHOCOLATE HIGHLIGHTS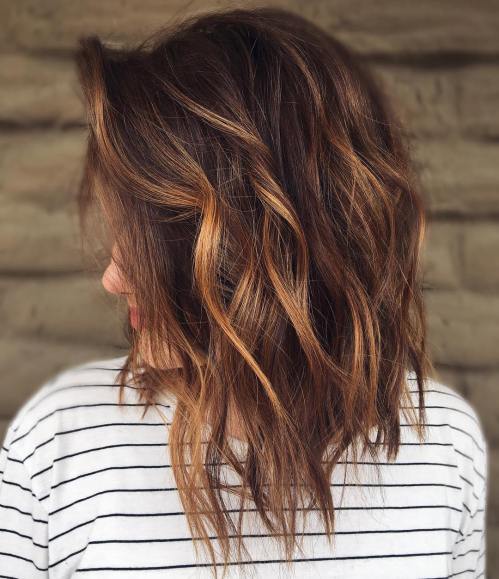 Upgrading their medium-length hair with curls is very busy for most women, but his particular style will save you time and effort. Place highlights of caramel sparsely in your hair to give you vibrant color and look.
32. LONG DISHEVELED LOB WITH FADED ROOT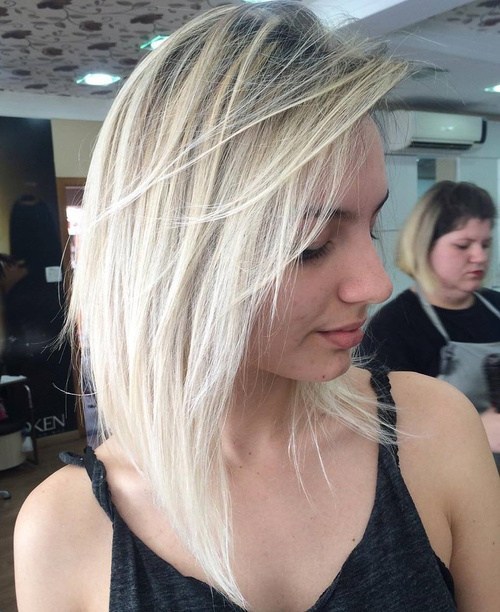 This particular hairstyle meshes without interruption with the root fades. This hairstyle is modern, fashionable, short or long and great for a casual look.
33. ASH SHAGS WITH BANGS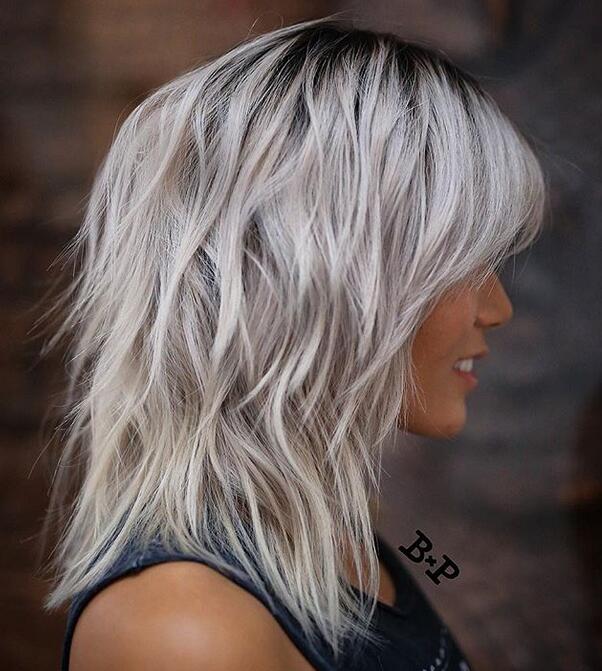 This hairstyle involves a lot of layers with ends and bangs. The shags are often an alternative, but they can be paired with an ashy shade to transform the hairstyle into the next phase.
34. GOLD LAYERED BLONDE HAIRSTYLE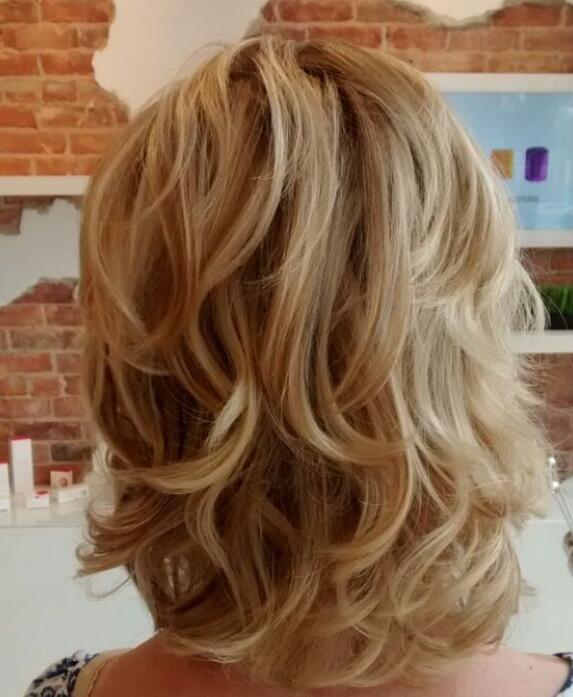 This particular hairstyle involves layers to give a diversified look which may change depending on how you style the layers. Use an iron to curl the ends to provide a bouncing feeling.
35. BALAYAGE LAYERED STYLE WITH WAVY LOB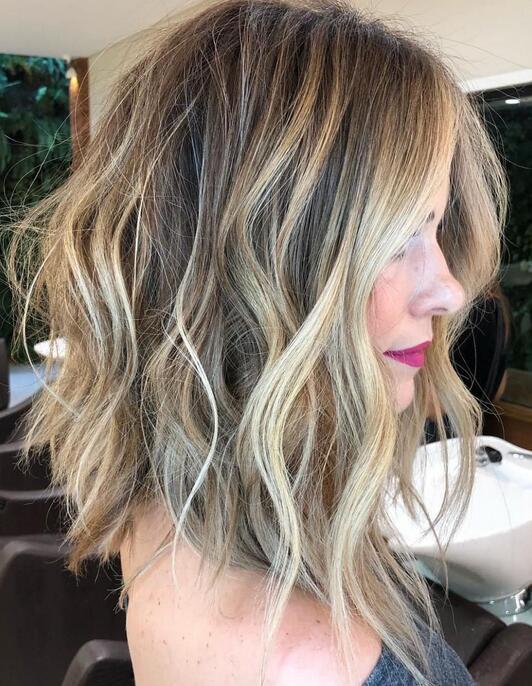 In this particular hairstyle, the dimensions in style are taken to the next level. This style includes irregular waves, brightening the color and giving a more in-depth highlight to the hair.
36. JAGGED CHOPPY BOB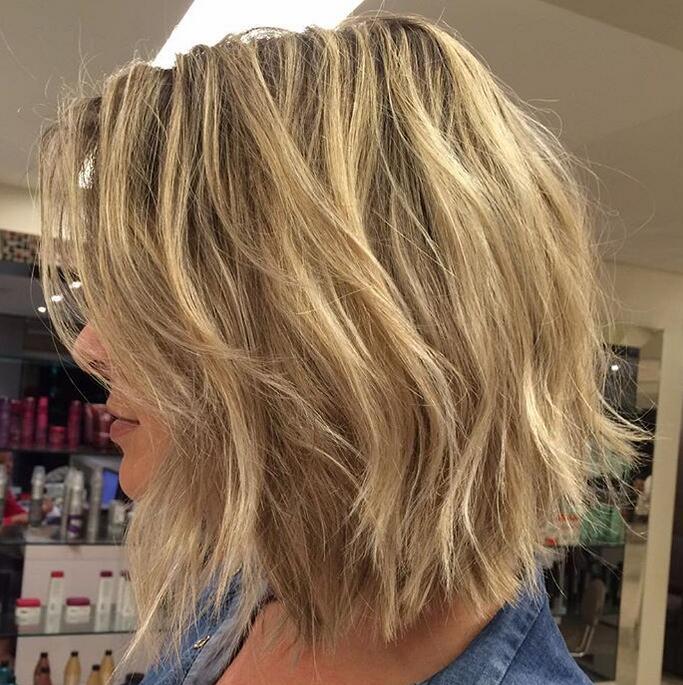 This particular hairstyle is suitable for women with a shorter type of medium. The uneven rough layers make this style attractive. It is ideal for women seeking youthful looks and fun.
37. STRAIGHT DARK BLONDE BLOWOUT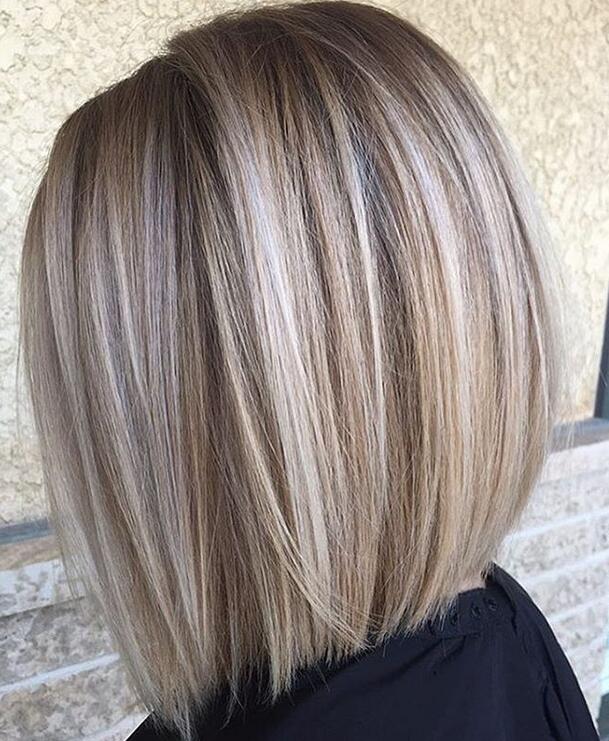 This particular hairstyle is sharper in women with medium hair than in long hair. You may use your favorite bob with fresh colors like silver or blonde hair to give it a perfect look.
38. Medium Cut for Round Faces

39. Shag with a Middle Part

40. Hairstyle with Curtain Bangs

41. Shoulder-Length Hair

42. Long Wavy Bob with Bangs

43. Choppy Layers and Curtain Bangs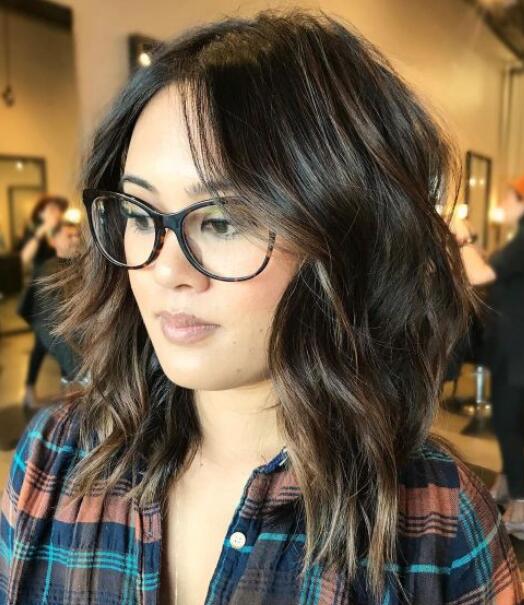 44. Ash Blonde Wavy Hairstyle for Medium Hair

45. Medium Length Haircut for Women Fine Hair

46. Medium Beachy Waves

47. Medium Thin Hair

48. Straight Shoulder-Length Hair

49. Messy Mid-Length Haircut

50. Medium Haircut for Thick Hair

FAQs
1. What is considered medium-length hair for women?
Medium-length hair typically falls between the shoulders and the collarbone. It is a versatile hair length that provides ample styling options without requiring the maintenance of long hair.
2. Which face shapes suit medium length hairstyles?
Medium-length hairstyles are versatile and can complement various face shapes. They work well for oval, round, square, and heart-shaped faces. However, it's always recommended to consult a hairstylist to determine the best cut and style for your specific face shape.
3. Can medium length hair be styled for formal events?
Absolutely! For formal events, medium-length hair can be styled in various updos, half-up hairstyles, and elegant ponytails. With the right accessories and techniques, you can achieve a sophisticated and glamorous look.
4. Is medium length hair easy to maintain?
Compared to longer hairstyles, medium length hair is generally considered easier to maintain. Styling requires less time and effort, and regular trims help keep the ends healthy and prevent split ends. However, individual hair types and styling preferences can influence the maintenance required.
5. Can I still curl or straighten my medium length hair?
Yes, you can curl or straighten your medium length hair. It is versatile enough to be styled in different ways using heat styling tools. Just remember to use heat-protectant products and adjust the heat setting according to your hair's needs to prevent damage.
6. How can I add volume to my medium length hair?
You can use volumizing hair products such as mousse or dry shampoo to add volume to medium-length hair. Additionally, using a round brush while blow-drying can create lift and volume at the roots. Teasing the hair at the crown area and adding texturizing sprays can also help achieve a fuller look.
7. Are any specific haircuts recommended for thin or thick medium length hair?
For thin hair, layered cuts can add volume and texture. A blunt bob can also create the illusion of thickness. Long layers or a textured shag can help reduce bulk and provide movement for thick hair. Consulting with a hairstylist can help determine the best cut for your hair type.