A military haircut is a series of hairstyles commonly worn by men in the U.S. armed forces. These haircut styles are usually described to be very short, and they can highlight your facial features. In addition, this haircut is classic and clean that can keep you feeling fresh all the time. Some well-known military haircuts include high and tight, buzz cut, military fade, regulation cut, and crew cut.
Military haircuts have many benefits, especially for men who do not want to manage their hair all the time. Military haircuts are great not only for men but also for boys. This article has collected 70 best military haircuts for men no matter their occupations.
58 Amazing Military Haircut Styles For Men
Here are the 70 best military haircut styles that you can choose from.
1. Spiky Cut
One of the most famous military haircut styles is the spiky cut. This haircut maintains the medium length on the crown area while both sides of the head have a faded effect. The top part is only trimmed, so you can style it with spikes using hair wax or spray.
2. Accurate and Faded Military Haircut
This haircut has precise lines on the forehead area and looks very neat. The lines are visible across the sides of the face so that you can see the design at a glance. The sides are also shaved and produce faded effects. The bottom part is shaved completely, while the top level is kept short. This hairstyle gives you a smooth feeling and appearance.
3. High Wall
This hairstyle might interest you for men who wish to achieve a military hairstyle but do not want to cut their hair too short. The top-level still has medium-length hair, so you can create a high wall that adds depth to your hair. This can be done with a fine comb and hair product. Both sides are shaved neatly for a fresh and military look.
4. Butch Military Haircut
This is one of the common military haircut styles as it has short lengths at the side and top. The top is a bit longer than both sides but short enough to skip combing or styling, so you are always ready on the go. This hairstyle is perfect for men who are always busy and do not have time to manage their hair.
5. Crew Style
The crew hairstyle has medium-length hair on the crown area, so you can comb it upwards or to the side. Both sides are completely shaved, so the ears are free, and you can feel fresh all the time. It also has a faded effect on the top. This style works well on men with oval and round face shapes.
6. Flat Top
This military haircut style is somewhat related to the military haircut in the 80s. It has short-length hair on top and is trimmed flat. Both sides of the head are shaved completely and the back. It has a faded effect on the top. This hairstyle is perfect for soldiers, and if you want to look like one, you might want to try this one out.
7. Regulation Military Haircut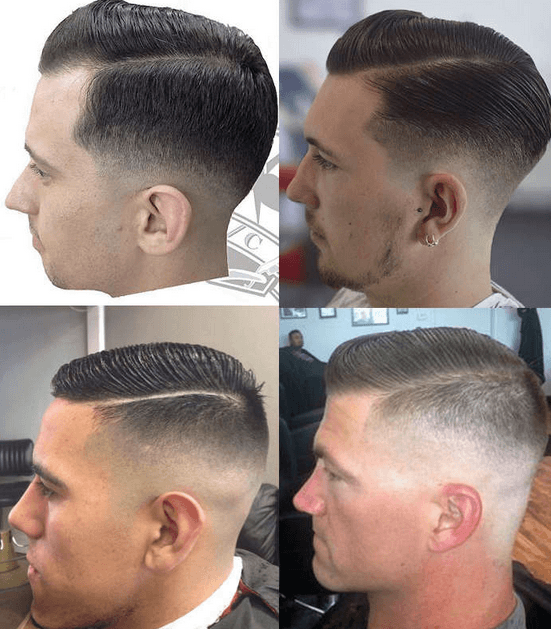 The regulation cut is the haircut of the higher-ranking officials, but not all wear the regulation cut. This style has two inches of hair on the crown area and is combed neatly to the side. The sides of the hair are cut short with clippers to make a faded effect, so there are no hairs around the ears. You will love this haircut if you want to have a high-ranked official feeling.
8. Classic Military Haircut
This is one of the classic military haircut styles that can give you the leadership aura. You can simply keep the top-level long so you can comb it to the side while both sides and the back are trimmed short. The bangs are also combed to the side but with a soft wave for more texture. This style is also perfect in any kind of setting.
9. Side Parted Military Haircut
This hairstyle looks like the regulation cut because of the visible hair partition. But this haircut is just trimmed and not cut very short, so you can still keep your long hair while also having a military haircut style. The hair partition is also at the same side, and the hair on the upper part is swept neatly to the side.
10. Short with Square Style
If you want to cut your hair short, you do not need to comb or manage your hair anymore; this hairstyle might also interest you. It has a faded effect on both sides, and the bottom part is cleared.
The upper level has very short hair, and the forehead area has a visible square shape. It looks clean and effortless, so you can enjoy doing your daily tasks without having to pause to check on your hair.
11. High and Tight
This high and tight military haircut has longer hair on top while all sides and the back are completely shaved. The hair on top is simply combed towards the front. This style gives you a completely new look, so if you are ready to take the next hairstyle level, this high and tight style would be great to feel brand new!
12. Faded Military Style
This style is cut very short and looks bald from the back, but there is still short hair. It is one of the famous military haircut styles among soldiers and athletes.
The forehead area has visible lines that form a square shape. There is no need to manage your hair with this hairstyle to be ready all the time.
13. Vintage Military Haircut
For men who want vintage haircuts, this hairstyle might also inspire you. It is very stylish and eye-catching. Both sides and the back are shaved neatly with faded effects while maintaining long hair on the top area. The hair is brushed upwards to make a huge attractive wave. You can also make spikes if that is what you prefer.
14. Cool Military Cut
This is one of the most fantastic military haircut styles, as the top hair is eye-catching. Both sides are also shaved to keep the appearance clean, while a significant amount of hair is on the crown area.
To achieve this style, you will need to use hair products to add volume to your hair. You can ask your stylist for the right product suitable for the type of hair that you have.
15. Wave Military Haircut
This hairstyle has a medium hair length on the top level. It is also trimmed with a few layers to add more texture. Both sides have a faded effect, so it looks clean and fresh. The hair on top is brushed backward. And layers are visible, which makes the hair appear thicker.
16. Half Bald Military Haircut
This military haircut style completely shaved both sides and the back, so half of the head is bald while the upper part has short hair. The hair on top is trimmed and combed towards the face with hair wax or gel. This hairstyle is not only neat but also stylish.
17. Retro Style
Retro style can be easily achieved by lifting the hair above the forehead and flipping it back to make a wave. The hair partition is also at the side, so it looks the same as the regulation cut except for the upper part with a unique design. Both sides also have a faded effect while the bottom part is completely cleared.
18. Tight Comb Over
This style makes you look very serious, especially if you wear a uniform. It gives you more authority and appears very professional. The top is simply cut short with scissors and combed towards the front. The bangs are combed backward. Both sides are shaved entirely with a faded effect towards the crown.
19. Long High and Tight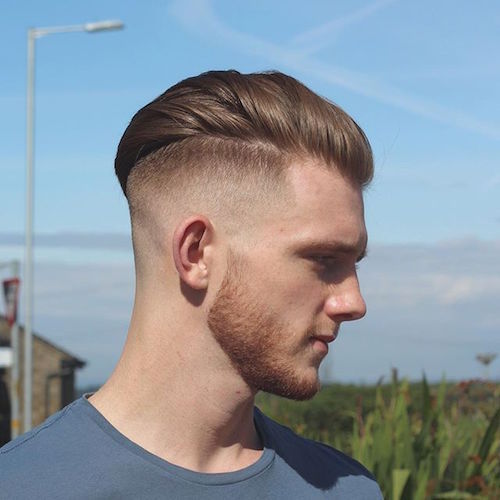 This hairstyle has long hair on top, so you may need to take a picture with you when you go to your barber to show the length of hair you want to achieve. It is a high and tight cut; both sides are faded, and the hair on the nape area. The top hair is trimmed, and you can comb the top neatly towards the back.
20. Military Cut with Bangs
Military haircut styles do not have to be short and simple. Many new styles are created, and this is one of the perfect hairstyles with military touch. This hairstyle also has a faded effect on the lower part, while the upper part has a significant amount of hair. Bangs are also cut straight and resting on the forehead.
21. Chiseled Style
This style looks like it from the mid-20th century, and no matter when or how you look at it, this style brings out masculinity. The hair on top has a medium length with a chiseled style. Both sides are shaved, and the top of the ears are cleared. This style is not only clean but also charming.
22. Crown Cut
This style keeps the military touch but with more appeal and style. It is unique as it looks like a cap or crown is sitting on the head. The bottom part is cut short to the scalp, while the upper part maintains a similar short hair length. This haircut is fantastic and exclusive. There is also no need to fix your hair every time.
23. Arch Style
This military haircut style has visible arches on both sides, from the top of the ears down to the nape area. This makes the ear area clean and fresh. The rest of the hair is cut short enough to skip combing or any hair product. The back also has a faded effect for a smoother look. It also includes a jaw stripe with 90 degrees angle to highlight the face shape.
24. Messy Top

One of the long military haircut styles is the messy top. The upper level has long hair that can be styled creatively. You can apply wax or gel to make spikes or simply run your fingers to create a messy look. The messy style also gives a rebel look but striking and intelligent, so soldiers occasionally like to wear this hairstyle.
25. Combed Crew Cut
This crew cut style has medium-length hair on top combed neatly backward. This style is perfect for men who do not want to cut their hair very short. Combing the hair backward with gel can keep the hair away from the face so you can focus on your tasks. It is also trendy as it gives you a fresh and nice-guy look.
26. Pomp Military Haircut
This Pomp hairstyle keeps the hair on top long enough to make pomp. This can be achieved using hair products that make the hair smooth and keep it in shape. The sides are also trimmed to the scalp for a cooler effect. This hairstyle is eye-catching so that you can stand out even among the crown.
27. Crew Cut with Curls
Men with natural curls can quickly achieve this hairstyle. Both sides and the back are entirely shaved while leaving an oval shape at the top of the head. Cutting the hair shorter can make the curls appear smoother.
28. Military Smooth Slick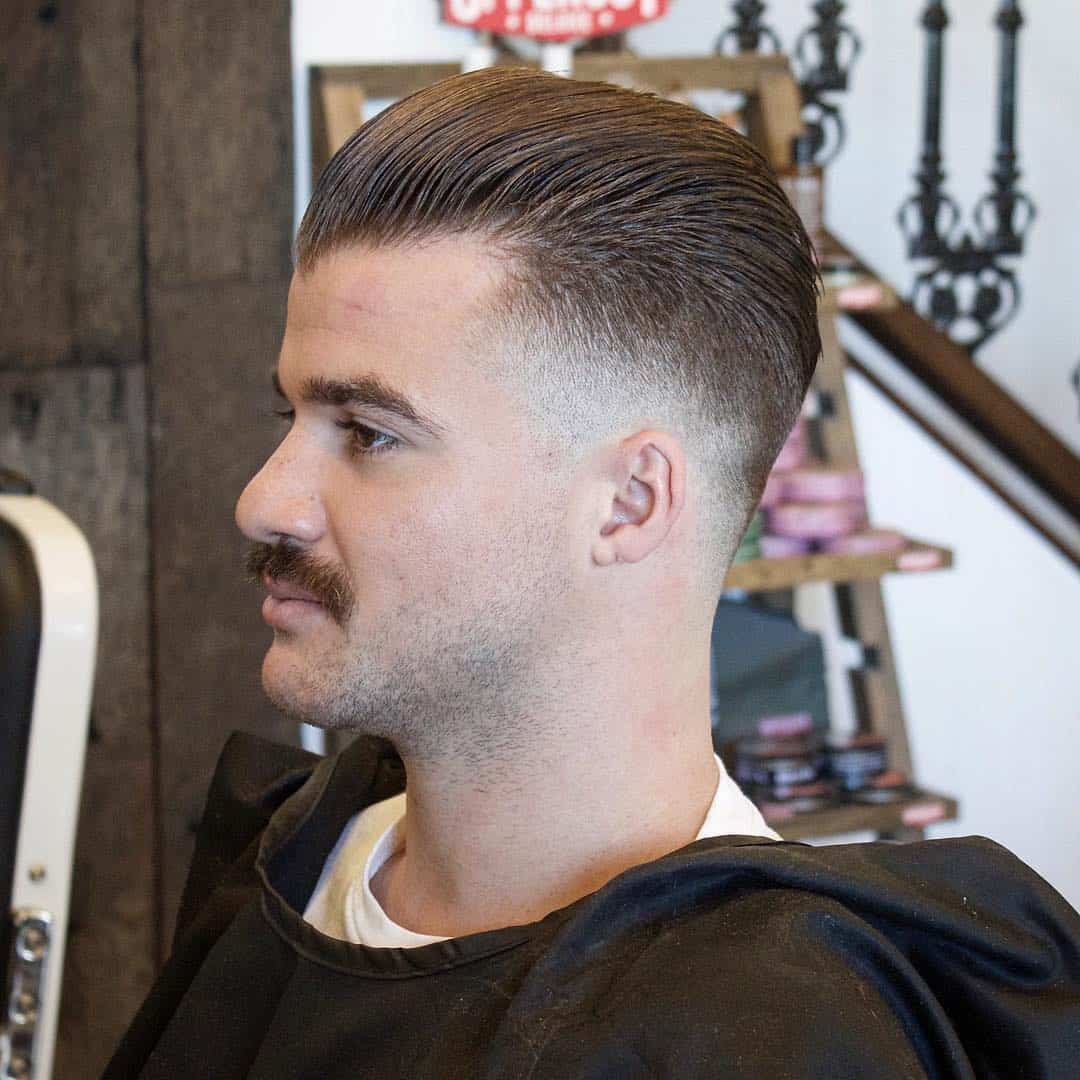 This hairstyle has long hair on top while both sides are shaved and trimmed. The top is combed backward with gel or wax to keep the hair away from the face. This style also gives you a fantastic feeling and can boost confidence.
29. Crew Cut with Wave
This hairstyle is one of the most fantastic military haircut styles. All sides except the top are trimmed short, while the crown area has medium-length hair. The hair on top is combed to one side. The gel is also applied to keep the top hair high and form like a wave.
30. Forward Military Haircut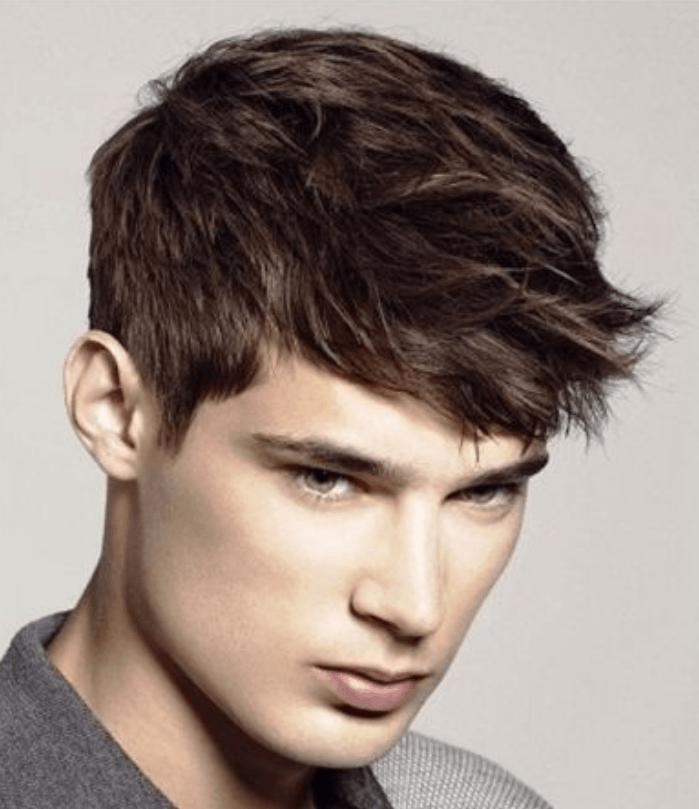 Most of the hairstyles are combed or styled with hair backward. This military-style combs the hair forwards, so the bangs cover the upper part of the forehead. There should be medium-length hair on top to get this style, while both sides are trimmed very short. You can also dye the hair on top with your preferred color to highlight the style.
31. High top and a mustache
I sincerely apologize for the low-quality image, but I included this haircut. Mustaches are surprisingly allowed in the army these days. And coupling a nicely trimmed mustache with the high-top cut will result in one of the most classic military haircuts you have ever come across.
32. Sweet buzz military cut with a beard
The buzz-cut haircut is one of those hairstyles that will need no maintenance at all. Better yet, when coupled with a beard, it will make a man look impeccable regardless of beard length. If you award it a line-up and clean skin fade like the one in the image above, you can rest assured you'll turn heads wherever you go.
33. Chic butch cut
A butch military cut is a neat style ideal for gentlemen who prefer to maintain a uniform length throughout their heads. It is also an all-around clipper cut that will, without a doubt, leave any military man looking classy. And if you award it a lineup, you'll have an elegant design that requires little to no maintenance.
34. Adorable side slick with a full beard

This design may not look anything like the conventional military haircuts we are used to, but it will still create an attractive style. To replicate it, you should chop the sides to a uniform and short length, then leave some smooth and soft strands at the top sides that you can design with a side slick.
35. High and brushed back
This hairstyle will only work for gentlemen who boast a thick mane because it is impossible to achieve the style at the side if you have a thin mane. The design entails lifting the strands of your locks at the top and then brushing back the rest of the hair to create a large pomp-like design. You also ought to award the haircut the smooth side buzz to improve your headdress.
36. A retro front sweep military cut
This 80s and 90s haircut will leave you looking adorable regardless of your hair color or length. It will also not be a complicated design to style and maintain. You should start by keeping some wavy and textured locks at the topside to wear this military cut, but skin taper the sides.
37. Classic ginger head
You will most likely not see any military man with artificial color on their hair, but this should not stop you from adding a beautiful shade like ginger to your hairstyle. After attaining the ginger color, ensure your strands have a gorgeous comb overcut at the top side to line up with a taper fade.
38. A sharp and clean faded military cut
A military hairstyle should always be neat and straightforward, just like the one above. The style will maintain less than half an inch of hair length on the crown, whereas the sharp fade on the sides and the lineup at the front side will make it a top-notch design.
39. Fringe and short sides
This may look a bit out there, but trust me, there is absolutely nothing wrong with it from an army regulations standpoint. And it will also look incredibly cool on you regardless of your head shape.
40. A slick top, asymmetrical part, and tapered sides
From my military friends' experience, this might not settle well with some army officers, but it technically does not do anything wrong since it, without a doubt, goes by the book. As a general rule, remember that as long as you keep the gel to a minimum, you should be fine.
41. A slicked short top
As long as you ensure the top side of your hair is not too long or too slick, this haircut makes a perfect induction cut for military gentlemen.
42. A classic longer top military haircut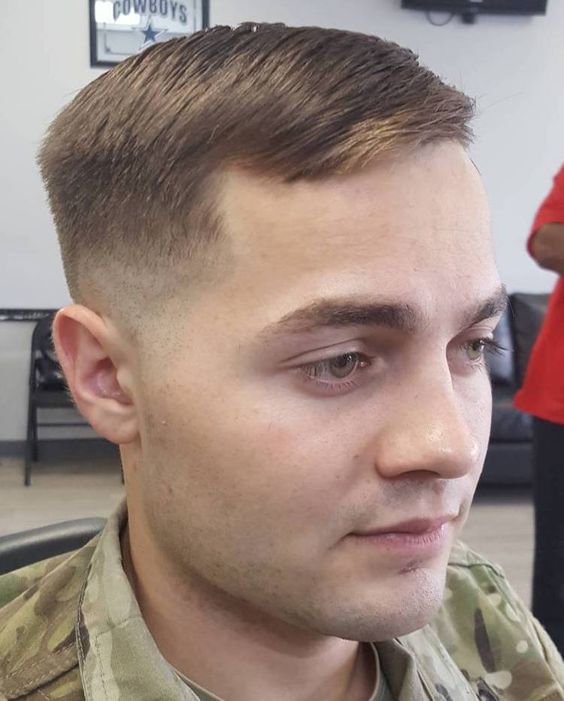 This is perhaps one of the most foolproof induction hairstyles that boast a little bit of style. In addition to that, it is also effortless to maintain regardless of where you'll be stationed.
43. The modern mop-top hairstyle
The modern mop-top haircut, also regarded as the mop, is a medium to long length hairstyle which will look great if you decide to comb it over in its most natural way. You will need to ensure the sides of your hair always remain short so that they can blend perfectly with the top side hair.
44. The regulation hairstyle
This military hairstyle involves trimming the top side of your head down to a number two or three and then clipping the sides and back of your head shorter. This cut will work wonders for anyone who has hard-to-arrange hair. What's more? The resulting shape will give you a tough, macho look that will turn heads wherever you go.
45. The dyed shape up haircut
Why not spice up your haircut by adding these messy waves to the top side of your hair and then create a faded tight on the sides. To complete the look like the gentleman above, trim your sideburns so that they can match the haircut and blend with the beard as well.
46. The psychobilly wedge hairstyle
This haircut boasts an accurate and clean hairstyle. You can prevent the hair from becoming stiff when styling it using minimal gel.
47. The updo military haircut with a blue shade
This edgy haircut boasts a short drop fade and a heavy textured top side so that you can award yourself that great look. If you boast medium-sized hair, this is the perfect haircut for you.
48. Military haircut with Razor
This is a highly cool hairstyle for individuals with medium-length hair. The hairstyle is also awarded texture by using a clean razor at the temple to give it a more balanced look like in the above image.
49. The undercut with white bangs
This undercut is a bowl haircut, which implies that the sides and backside of your head will need to be cut short, whereas the crown remains a little bit longer. Regarding military haircuts for men, this haircut should only have the hair on the top side of the head at a maximum length of two inches.
50. The regular fade hairstyle for black men
This haircut boasts a gradual reduction of your hair length until the hair on the backside and the sides of your head end up at the natural hairline.
51. The medium wavy top haircut
This medium-length wavy haircut may be old school to some, but it is still one of today's most trending haircuts. You may even have seen it around your city a lot lately. I realized that most individuals preferred it due to its simplicity in styling and maintaining it.
52. The induction military cut for black men
The induction military cut for black men is effortless because it has a nearly bald haircut. It is not a very attractive haircut, but it is downright effective and efficient for needing to be deployed to a remote area.
53. The side part with a layered top
This haircut will be a perfect shape hairstyle you should go with for a man who loves placing on trendy outfits while in the army. It is also ideal for individuals with large volumes of hair on the top side of their heads.
If you decide to make it induction proof, simply complete it slightly shorter at the top and then precisely and horizontally cut the sideburns.
54. Burr Military Haircut
55. Brush Cut with Fade
56. Induction Cut
57. Ivy League Haircut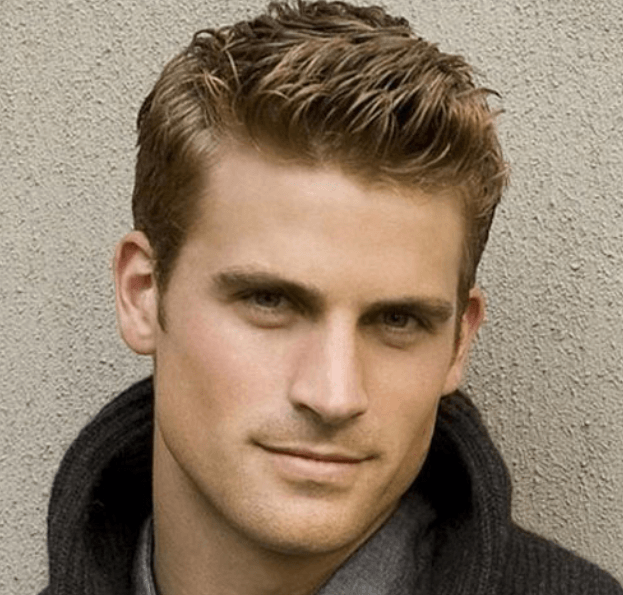 58. Butch Cut
Conclusion
The above is my list of the most famous military haircut styles for men in 2022. If you think which hairstyle is excellent, you can share it with your friends.