How much do you know about pompadour? You may only be familiar with it because you know someone who loves sporting this type of style. Many men think they cannot sport this hairstyle because of their hair's texture or hair type.
If you think this way too, remember that the pompadour has changed so much over the past decades. What used to be a style that only some men can wear has become highly versatile. It can be the hairstyle of choice for men who want to look cool without trying too hard. Without further ado, get to know more about the pompadour.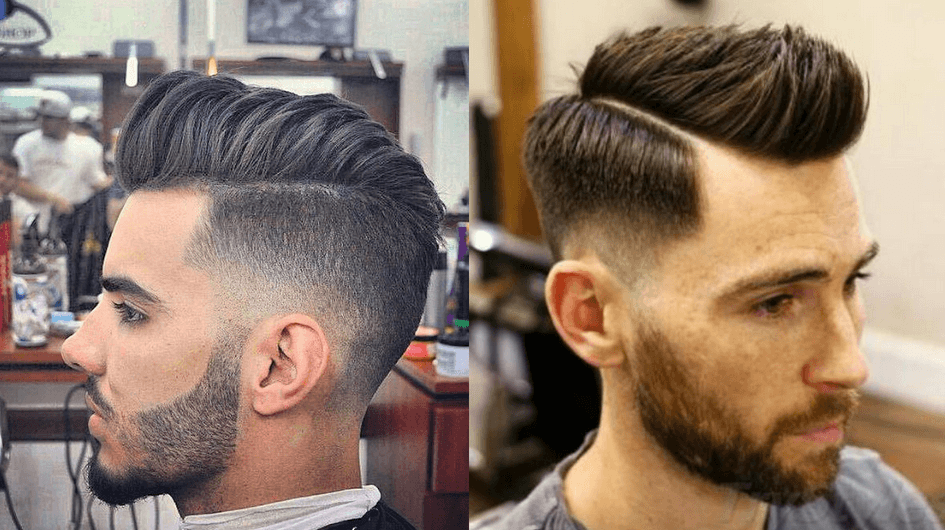 What is the Pompadour?
You may think that this style is contemporary, but its origins started in France during the 18th century. The name has come from Madame de Pompadour, who is the main mistress Louis XV. Even though haircut has started as a hairstyle for women, it officially became a man's hairstyle when Elvis, The King, made this hairstyle famous. The moment that he wore it, other people started to wear it too.
The old pompadour typically has long hair on the top of the head, while the sides have short sides. Over the past years, more and more variations have accommodated different aspects of you, like your face shape, other features, and even your hair's texture.
Besides those basic things, you also have to consider how this hairstyle can be ideal when working in the corporate field. 
Two Types of Pompadour
Classic – This style is meant to be worn by men who look neat and refined. The hair on the side of the face may be a bit longer than usual, but this is to match well with the effect of the hairstyle. The crown of the head is usually filled with hair, while the sides are shorter. This is best for men with long face shapes, although men with any face shape will look good with this type of pompadour.
Modern – This is the type of pompadour style that is meant for those who are more experimental. This type of pompadour will be extreme, with the sides of the hair made to be very short. This type of pompadour may somewhat look similar to the undercut, which is why it is edgy. Men with different face shapes may be worn, but this will best fit those with round faces.
The main reason why a lot of men like the pompadour is because it is a timeless cut. A lot of men can look good in it provided that they choose the right style for them. If you have not tried this cut yet, it is time to look at the different styles available so you can go to your stylist immediately.
How to Get the Best Pompadour Hairstyles
How can you choose the one that best fits you? Here are some tips:
Research the different styles available to choose a style based on how it looks and how good it will look on your hair. Some pompadour styles will work better on men with wavy hair or with curly hair. Consider these things before deciding on one particular style.

Research about the different stylists within your area. It will be easy to choose a random stylist that will cut your hair, but what if the stylist cannot cut your hair the way you want it to be cut? It can be a big waste of your time and money.
The stylist's skill will determine whether your cat is going to make you look good or not.
One style does not fit all. It does not mean that just because you have seen the same pompadour hairstyle on someone else already means that it will look good on you. Avoid basing the hairstyle that you want on celebrities, especially if they have different face shapes and hair textures.
54 Inspirational Pompadour Haircuts with Images
Now that you know some tips on making the pompadour hairstyle work for you, it is time that you get to know the various styles to pick the one that will work best for your needs.
Textured Top Pompadour
This may be slightly different from the normal pompadour that comes with medium-length hair strands. The hair strands here are a bit longer and are normally slicked back. This can work for different hair textures, so you can wear this style with ease even if you have straight, wavy, or curly hair.
Mohawk Pompadour
Who says that the pompadour hairstyle should look clean and neat all the time? Modern pompadour is rarely this way, and this mohawk pompadour may excite you a lot, especially if you know that it will fit you well.
There is a need for the top portion of the hair to be textured and styled effectively. You may need to use hair products to improve your hair's appearance. The sides of the hair will be in a fade style. A hard part may be placed on one or both sides near the crown portion of the head.
Parted Pompadour
If you would like to keep your parted hair, then you can achieve that with this hairstyle. This may be the perfect hairstyle for the man who considers himself hip but does not want a hairstyle that will stand out too much, especially in the corporate setting. This may be different from the normal pompadour, but this can still make you look neat.
Comb Over Pompadour
This is similar to the classic pompadour style, but the hair is a bit longer, and the hair will be swept towards the side area instead of just combing until it reaches the back portion of the hair. The sides are a bit longer but are buzzed to keep the clean look of the hairstyle.
Disconnected Pompadour
This pompadour type will have a dramatic part placed on one side of the head to emphasize the side. Many people confuse this with the disconnected undercut, but the main difference that you will see is how the pompadour is parted and combed over, going to the sides instead of going to the back.
Double Parted Pompadour
Do you think that one hard part is not enough to order to emphasize your hairstyle? You do not have to worry if you feel this way because you can choose the double parted pompadour. One hard part will be placed on the usual area then the next part will be situated about half an inch below the first part. This can definitely make you look cool.
Safe Pompadour
This type of pompadour is also known as the modern style pompadour. Instead of the sides being buzzed or bald, the hair on the sides will just be cut with scissors. They will still be shorter than the hair on the crown of the head, but they will not be as short as the usual pompadour.
Pompadour High Skin Fade
If you want shorter sides but not to the point that your hair will look disconnected from your beard, you can choose this pompadour type. Your hair will be thicker on the top portion of your head, and it will fade downwards gradually.
Pompadour Taper Fade
The main difference between this type of fade with the high skin fade is that the fade will be tapered on the sides. Expect that the areas near your ears will have less hair than the portion of your head slowly going towards the back. It will make a lot of difference.
Wide Pompadour
There is nothing wrong with having a more angular pompadour, especially if you believe that this will fit you more because of your face shape and hair's overall texture. Make sure to get a highly skilled barber so that the style will be achieved well.
Pompadour with a Mustache
You may think that all types of pompadour will look good with a mustache, but this is not true at all. Some styles will look better with a mustache on. Others will look better with a beard, so make sure that you make the right decision.
Classic Pompadour with Slight Fade
You want to have the classic pompadour, but you would like the fade not to be so extreme this time. Do not forget to add some volume to your hair to look amazing with the faded sides.
13. Cool Pompadour with Mid Fade
This hairstyle looks fresh and clean, explaining why it's finding great popularity as arguably one of the best modern pompadour haircuts out there today. As shown in the image above, the top boasts voluminous pomp, whereas the midsections of the sides are faded.
The cut is intended to deliver a clean appearance.
14. Pompadour with Long Hair
If you have long hair and would like to style a pompadour hairstyle without getting rid of your length, then here is the cut for you. In this hairstyle, the long strands of your hair roll down toward the back while the sides get clipped to deliver a fauxhawk effect.
You can also call this casual-looking long pompadour haircut the high pompadour.
15. Taper Pompadour and Undercut
The taper pompadour and undercut is undeniably one of the most inspiring men's haircuts. The hairstyle is a modern spin on the conventional pompadour, where the taper and undercut come together to create the unique pompadour cut.
16.Sweet and Short Pompadour
If this guide teaches us anything, you can have lots of variations in pompadour hairstyles, and one of them is the sweet and short pompadour. This hairstyle is for short hair (with great volume at the front and the top) that gradually fades back.
17. Point Fade Pompadour
I love how this point pompadour fade haircut perfectly exhibits the barber's skills. The gentleman's long hair at the topside has been neatly brushed toward the back, and the faded sides are made more visible by the clear line.
Needless to say, this hairstyle also qualifies as one of the best creative men's pompadour haircuts.
18. Curled Pompadour
This hairstyle delivers a fabulous look when coupled with the top-styled long & curly hair, the buzzed sides, and the matching beard. The best thing about the hairstyle is the different textured elements that have been incorporated into the haircut.
19. Hard Part on a Very Short Pompadour
If you're scouring the internet trying to find a short pompadour haircut for men that only needs minimum effort to style, then this could be what you're looking for. All one needs to style this haircut is to cut short the hair at the top, keep the sides clean, and use a razor to deliver the fade cut.
Combing the hair won't be a hassle either, and you can either slick the hair on the topside to the back or side (whichever style best suits your facial appearance.)
20. Hard Part on a Short Slicked Pompadour
This hairstyle will need precision to ensure that the hair is cut to a blurry fade with cool pomp and tight corners. Styling the hard part on the topside, which has been slicked to the back and sides, shouldn't be a hassle.
21. Roll Back Pompadour
This roll-back pompadour is basically a variation of the lady pompadour hairstyle, where the hair on the top is kept long, pushed forward slightly, and then rolled back. If you have thick hair, then you can flaunt this haircut with the hair at the topside looking like waves.
22. The Modern Quiff Pompadour
This modern quiff pompadour hairstyle is undeniably one of the most stylish pompadour men's hairstyles. It became quite popular in 2020, and styling it simply requires you to cut the sides short (compared to the longer hair on top.)
The ratio of the two cuts will entirely depend on how you prefer it. Are you conservative or radical?
23. Faded Pompadour
The hair grades from long to short with this faded pompadour and the tidal wave pattern is defined on the topside. The only downside with this fade haircut is that it will need the hands of an expert to style.
24. Medium Length Faded Pompadour
With this hairstyle, the hair on the top has been cut to medium length, whereas the sides have been gradually faded until they mix with the skin color. The hair on top has also been brushed backward, with the height reaching just slightly above the crown.
25. The Classic Pompadour
If your goal is to look more like a gentleman than a rock star, then this men's pompadour was designed with your needs in mind. The hair on the head's sides hasn't been cut too short. The slightly longer hair on the sides should seamlessly add to the entire style if coupled with a well-kept beard.
26.Short Pomp and Razor Shaved Sides
Are you looking for a cool and fresh haircut to replace your present one? If yes, then you must go with this short pompadour for clean aesthetics. To accomplish the look, gradually taper the top and achieve the subtle structure, then razor shave both sides to add edginess to the already voluminous top.
27. Real Retro Look
https://id.pinterest.com/pin/633740978884961989/
This specific side part pompadour boasts long hair but has a less voluminous texture. The goal is to award you a gentleman-like look in the end. In addition to that, note that the retro pompadour is perfect for those who would like an understated appearance with a trendy hairstyle.
28. Dapper and Short Pompadour
One can achieve this look by combining the quiff with pompadour (but with a professional touch.) When the two already trendy haircuts come together, rest assured they'll create this dapper aesthetic, which will look uber-sophisticated on any young guy.
29. Blonde Disconnected Pompadour
All dudes will love this combination. The hairstyle allows you to rock the pompadour in a way that aligns with the size and texture of your hair and in a manner that considers your hair color.
30. A Short Pomp for Summer Seasons
Why not rock your summer with some fun pomp? To do this, keep the hair around the temple and ear trimmed but leave the hair at the top slightly longer than that on the sides.
31.Push Back Pompadour
Are you already bored of your regular comb over your haircut? If yes, feel free to try pushing back all the hair on top and take a break from side partitions. And kindly do not confuse this hairstyle with the role back pompadour hairstyle we looked at earlier.
32.Short and Flat Pompadour
Who doesn't love standing out in the crowd? I know I do. If that sounds like you as well, then rest assured that this alluring combo of a short with flat pomp and a band-hold beard will award you an impressive look that everyone will notice.
33. Short Wavy Pompadour
Trying to find an ideal haircut that can be worn to a job interview as much as it can be to a club? If yes, then opt for this short and wavy pomp that'll award you an astounding level of confidence by awarding you a hunk look.
34. Classic Short Pompadour
Why not nail a classic but short pompadour by pairing it up with a medium-cut, just like the gentleman in the image above. Feel free to keep the hair on top a little bit voluminous on the front and fade the sides of the head and temple to attain even sharper features.
35.Sleek to Death Pompadour
Look at what happens when you pair a short, simple pompadour with a pair of glasses. Even if you opt to skip the glasses, you can rest assured that the haircut is still a winner.
36. Slicked Back Short Pompadour
This is a perfect example of an undercut pompadour. It is chic and slick. Better yet, it's sophisticated yet not uptight, and the full beard will do wonders for the whole package. Stop shaving your beard.
37.Pompadour with Curls
I know, the hairstyle is tousled and messy, sure, but you can also tell that it's deliberate. There is also no denying that it is a hot complement to the beard and the faded buzz action. I recommend trying out a cut like this if you're trying to ease into the whole pompadour fade.
38.Short Curls and a Pompadour
This is basically a slight variation of the Pompadour with Curls for Days hairstyle we just looked at. Just like with the first one, all it takes to style this haircut is a little bit of gel or some old-fashioned pomade, and you can perfectly sculpt the curls into the pompadour that is reminiscent of '50s crooners.
39. The Bedhead Pompadour
Not every pompadour needs to be polished or slick. Remember, a bedhead is sexy as well, so there is no reason you cannot simply comb your fingers through the hair and call it a day.
40. Short but Thick Pompadour
You can still attain a short pompadour without having to sacrifice the thickness of your hair. This hairstyle is also quite versatile because you can also easily slick it back, spike it, or leave it rumpled in addition to styling the pompadour.
41. Short, Messy Pompadour
This hairstyle is so easy to maintain and style – and to top that off, we all know how irresistible it is. The messiness is the height of the geek chic aesthetic.
42.The Sharp Pompadour
This smoothly faded and sharply defined undercut pompadour is versatile and extremely easy to personalize. You can style the hairstyle with any shape or design you like, and the upkeep will be effortless as well.
43.Side Parted and Short Spiked Pompadour
Any time you ever feel like trying out a more modern take on short pompadours, here is the cut you should go for. This style boasts the slightest spike, parted at the faintest angle.
44. Pompadour as the Major Chop
It can be quite difficult to stand out with a generic male haircut – but rest assured, you will not fall into the generic category with this pompadour haircut. As shown in the image above, the hair goes from long to short very fast, creating a circular chopped edge all around the head.
45.Bald Fade Pompadour
Transform yourself into a pompadour master with this astounding version of the pompadour. This hairstyle boasts sharp sideburns, a skin fade to boot, and a pointed beard. You can see how the entire package adds up to the awesome look.
46. Layered Pompadour Hairstyle
The parted pomp gives this entire look one of the most interesting asymmetrical twists I've ever seen. Also, check how the hair has been tapered to be short and short as it goes to the back. This has rendered the cool feathered effect to the style.
47.Mop on Top Pompadour
If you have thin hair, I'm sorry, this mop on top Pompadour is not for you. Thick hair locks are needed to create the volume-enhanced 'do.' A blend of pompadour and a Mohawk looks like a great idea now.
48.Full Impact Pompadour Haircut
Who doesn't love to compare 'after' and 'before' pictures? The after images above do sure look impressive. You can also tell how the full impact haircut has made a huge difference to the gentleman's whole look.
49. Commendably outlined pompadour
The sharp section above looks like it's been carved into the hair to outline the top Mohawk sector. The creative detail has also really taken a look to a whole new level.
50. Swoop Pompadour
The comb-over effect above is different and daring. The sides of the head have also been buzzed up higher than you will usually find in the typical pompadour style.
51.Faded Pomp for Natural Hair
Even though black men usually prefer shorter hairstyles, a modern pompadour like the one above is also a magnificent way to look handsome and stylish. Ask your barber for a longer top and faded sides (or show them the image), and they'll know what to do.
52.High Top Pompadour
Need to look taller and add a few inches to your height? If yes, then this could be the hairstyle you're looking for. This one is enormous, and it totally raises the roof.
53.Pomp Hairstyle with a Crazy Contrast
Of all pomp haircuts I've ever come across, this one is undeniably one of the most different and unique. The fade has been done immaculately, and the sideburns have been groomed nicely as they transition into the beard area.
54. Pointing forward, Pompadour
Regardless of having been shaped to point the front, this haircut somehow remains wearable and charming. The only downside is that you will need some product to hold the hair in place. Also, the thicker your hair, the easier the hairstyle will be to style.
Managing Your Pompadour
Here are some of the things that you can do to make your pompadour more manageable:
Have a comb handy. You need to comb your hair whenever a strand gets out of place.
Find a wax that suits your hair type. No matter how expensive your wax is, it will not work the way you want it to if it does not suit your hair.
Do not go overboard with the products.
The comb that you are going to choose will depend on your hair's texture. The coarser your hair is, the wider the comb's teeth that you are going to use. If you have fine hair, you can use a fine-toothed comb.
Do not worry because some pompadour hairstyles will not require your hair to be thick and full of volume if you already have thinning hair. Inform your stylist or the barber about it so that the proper style can be chosen for your hair.
Get the Pompadour Hairstyle that Works for You
Gone are when the pompadour was referred to as the hair that people have used long ago. This is one hairstyle that was able to surpass all the other fashion trends and has evolved to fit the different textures and needs of the modern man.
It does not matter whether your hair is currently curly, straight, or wavy. It will also not matter that much if your hair is thick or thin. There is bound to be a pompadour style that will work best for you. This is one classic hairstyle with a modern twist that a lot of men would enjoy sporting.