Are you looking for some trending short curly hairstyles for women? Whether you have a fun party approaching or are just bored with your day-to-day haircut, there are lots of short curly hairstyles you could try.
Today's guide will look at the 42 best short curly hairstyles for different styles and textures. All you need to do now is pick a style you like and take it to your hairstylist for styling. 
How to Style Short Curly Hairstyles
Contrary to popular belief, styling short hair isn't limited in any sense of the word because most of the same hairstyles for long hair can also be easily done on short curly hair.
So, as you wait for your hair to grow and reach your desired length, I suggest that you take the opportunity and try out different variations of haircuts you love on both long and short hair. 
You can also always count on accessories such as hair wrap, headbands, and hair clips to help you through any awkward grow-out processes when you're in doubt.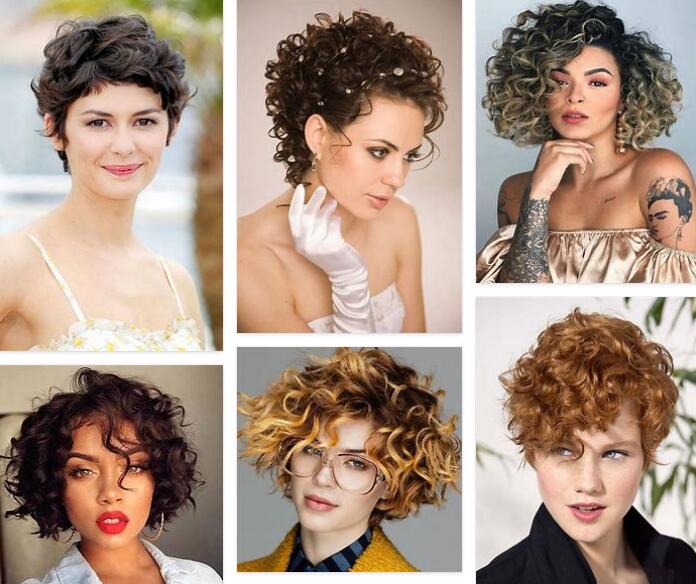 42 Trending Short Curly Hairstyles For Women
A Simple Up-do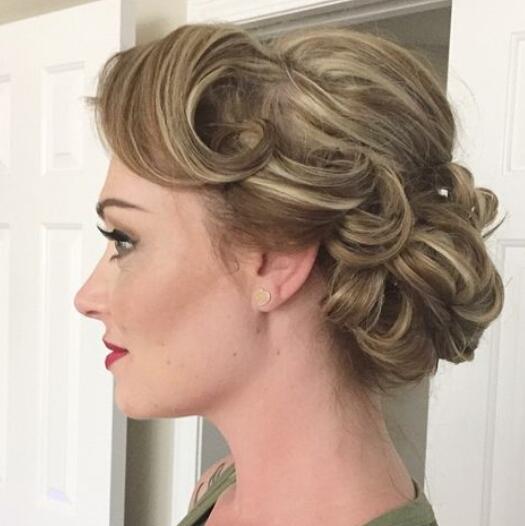 Short curly hair is just as capable of getting pinned into a cute updo as long hair is. To achieve the look in the image above, gather and tie all your hair strands in the back, but leave some wavy front layers falling in the front.
A Sharp Side Part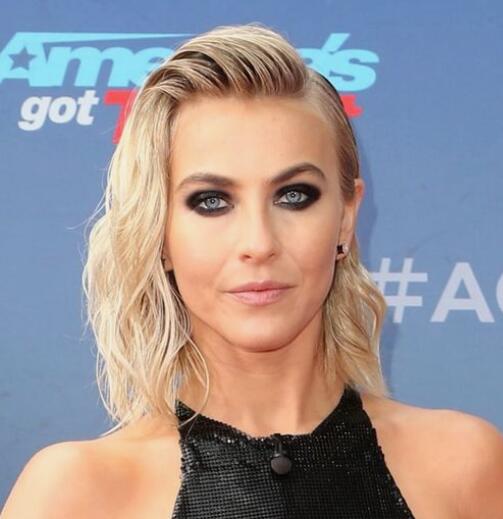 A sharp side part like the one above will easily elevate a wet look from just showered to red carpet ready. If you opt for this short curly hairstyle, the trick here is to apply just the right amount of hair oil to your dry hair, and you'll attain the look.
Bedhead Hairstyle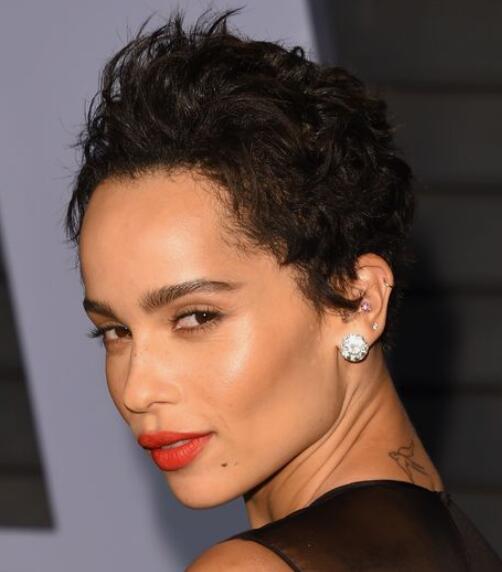 Did you think that bedhead hairstyles only apply to long hair locks? We'll think again because the image above proves that nothing could be further from the truth. To get a bedhead hairstyle on your short curly hair, add some pomade or wax to give your curls some texture.
The resulting look should be that "I woke up like this" look.
Short Curly Hair Pulled Back
Only a few things can be prettier than short curly hair that has been romantically pulled back and secured with a sparkly rhinestone clip. Feel free to add some highlights to the end of your hair's strands if you'd like to turn some heads around wherever you go.
Light Layering Techniques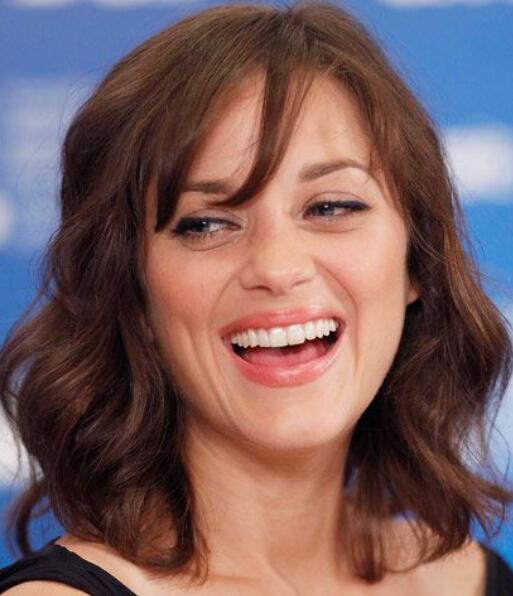 To attain this soft wavy look, ask your barber or hairstylist for some light layering at the bottom section of your hairline. This hairstyle is suitable for all face shapes because it's almost medium-length rather than extremely short.
Golden Glow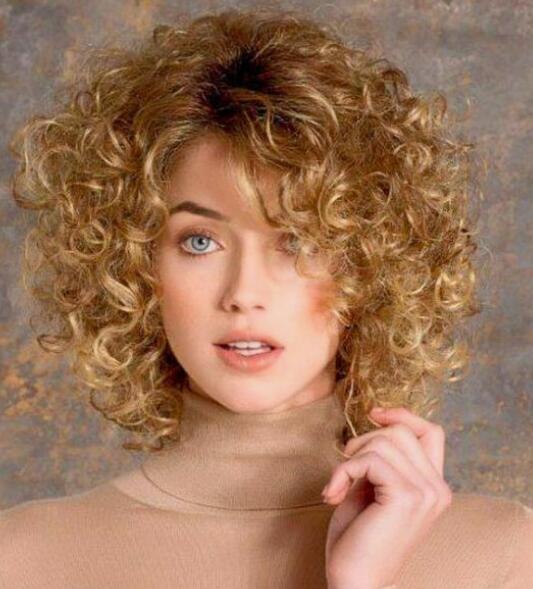 Whoever lied that hair color does not matter has never seen the po0wer of the golden color. This is particularly true when the shade is aired with brighter skin complexions or nude makeup choices. So, try out this short haircut for your curly hair with an entirely new color palette, and you'll see how successfully it turns out.
Loose Curls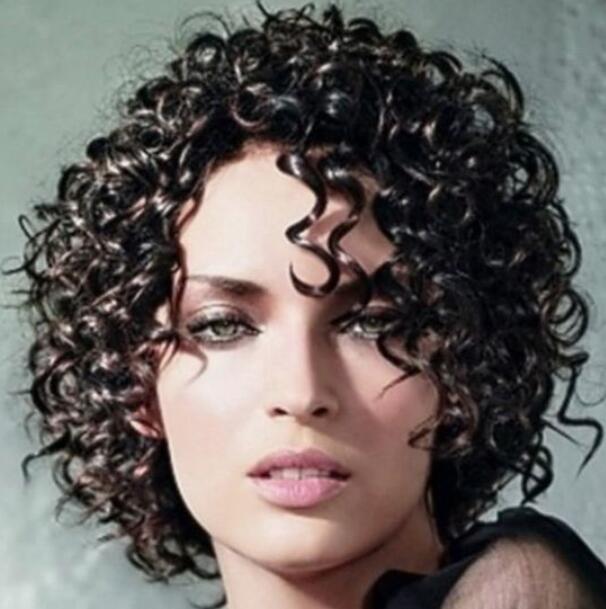 Asking for layered and loose curls for your short hair is less than a step away from reaching stardom in the world of fashion designs – particularly when you have loose curls that fit just perfectly in any short curly cut.
Afro
An afro like the one above is a refreshing silhouette that not most women are willing to try. Most people know that the tighter the hair texture, the better the afro is likely to turn out.
Why? Well, because one needs extra volume to get the full-on bobby effect. Another thing worth noting is that this haircut best goes with oval or round face shapes.
Angled Cut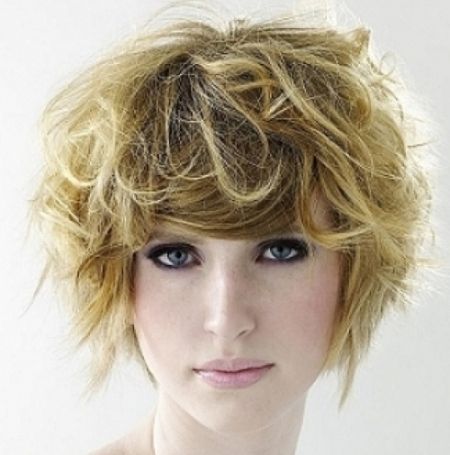 The key to this hairstyle is the angle that enables the lady's hair locks to look elongated forward while still keeping the face centralized. To top it off, you won't have to fear messy hair. Nowadays, having messy hair is an 'in' and no longer a flaw.
Au Naturel
Sometimes, going out with your short natural curls is all you ought to do. Note, though, that this option works best for everyday strolls and casual occasions. This means that you may need to pick something different if you're trying to find a women's short curly hairstyle for formal events.
It's All About The Frizz
Some people think that frizzy curls are the only variation that can scream young and beyond attractive. The truth is that more and more curls can even lead to better results. Take the hint and run with it.
Hair Products are Always an Option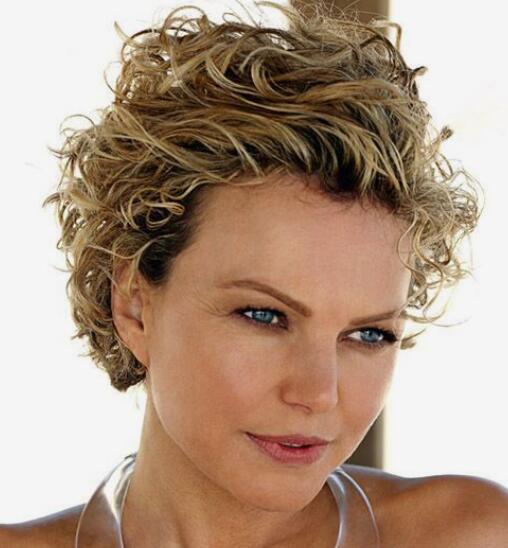 The best curly pixies do not come out as perfect and flawless as easy as one may think. Sometimes you will need to meddle and give your hair a slight boost with some hair products. This is no different than taking an energy drink on sleepless nights.
Messy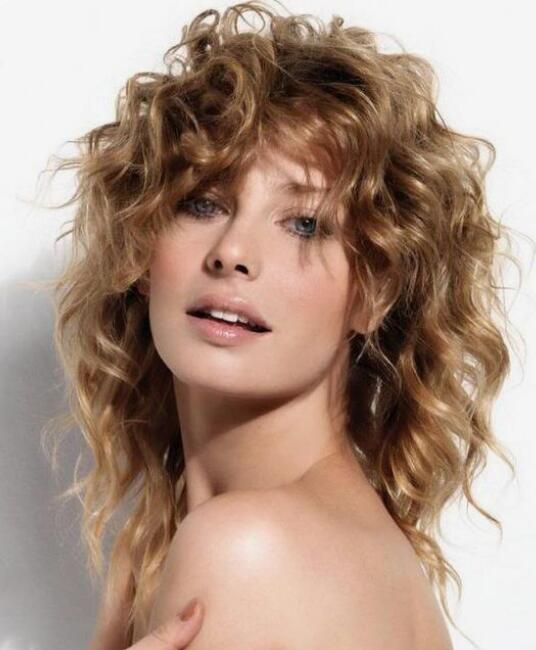 As noted earlier, messy hairstyles are not in style and trendy. That's because individuals worldwide are growing to be lazier, making this effortless hairstyle for short and curly hair a viral option.
Cute Chopped Bob
Choosing to chop off your curls randomly will, without a doubt, create an eye-grabbing appeal and unique texture. That's because when it's random, it becomes different and exciting, and unlike what everybody else is doing. That's what you should be opting for with this variation of short curly hairstyles.
Short Curly Hair with Highlights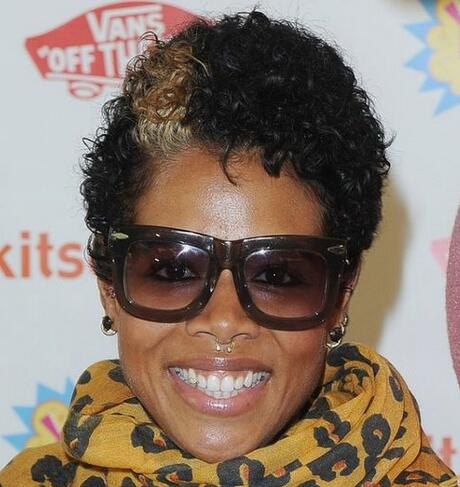 Adding a little bit of flare is all you need to make your short curly hair catchy and exceptional. To do this, you could try highlighting a small section of your hair and enjoy your limited time in the spotlight.
Up in a Bun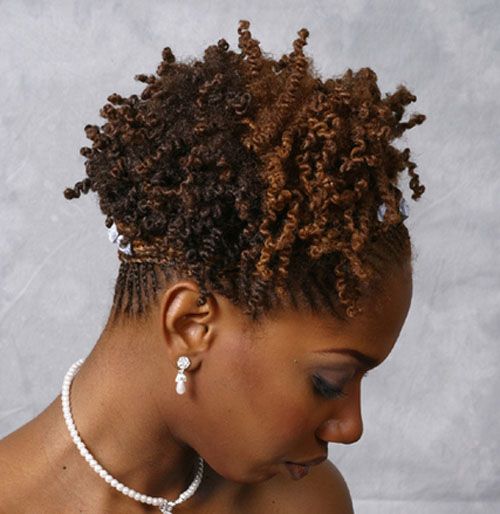 "Almost medium" length hair can also be holstered up into a fan for when the weather in your area is hotter than usual. By doing this, your curls will still retain their frizz while at the same time allowing your neck to be airy and hair-free.
Shiny and silky waves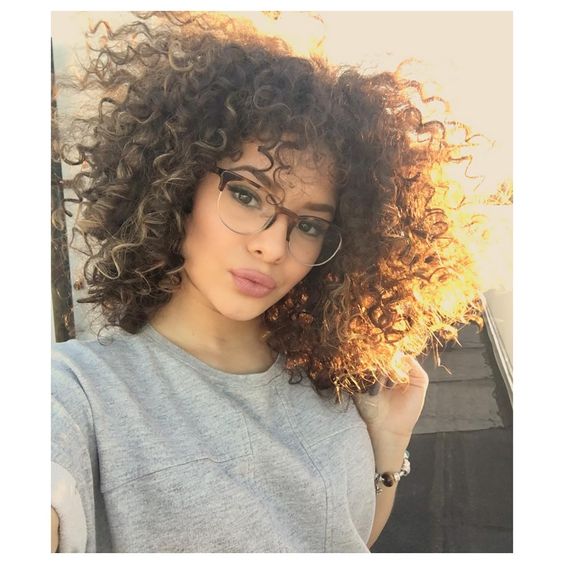 Does preparing for work 1st thing every morning usually end up with your running out of your home with everything out of proportion? This hairstyle should make things easy for you. Since short and curly hair has a seductive texture, you can opt for this "I just rolled out of bed" look and still look amazing.
Neck Length Bob
Short curly hairstyles don't necessarily mean pixies or ear-length cuts. So, if you do not have the heart to let go of your long hair but would still like to style a short hairstyle, you could always pick a mediocre cut and save time on styling or maintenance.
Freestyling Hairstyle
When you aren't sure of the intensity of curls you desire or the hair length you'd like to have eventually, then you could freestyle your way and see how everything turns out. You could end up making your look come to life (just like the lady in the image above.)
Curly Pixie Cuts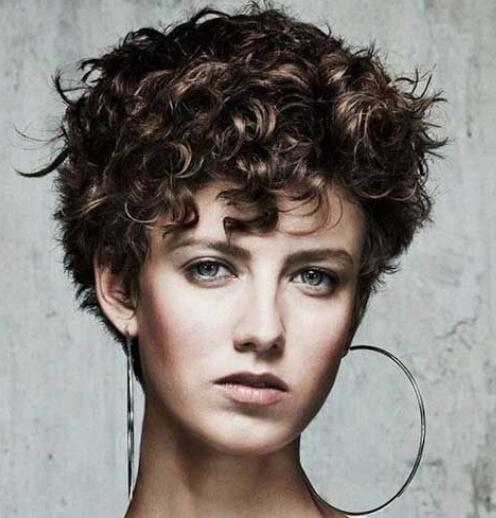 This variation of short curly hairstyles for women is not for the weak-hearted. That's because it's a daring move to execute this drastic change while not sure of how the final look might turn out.
Side Bangs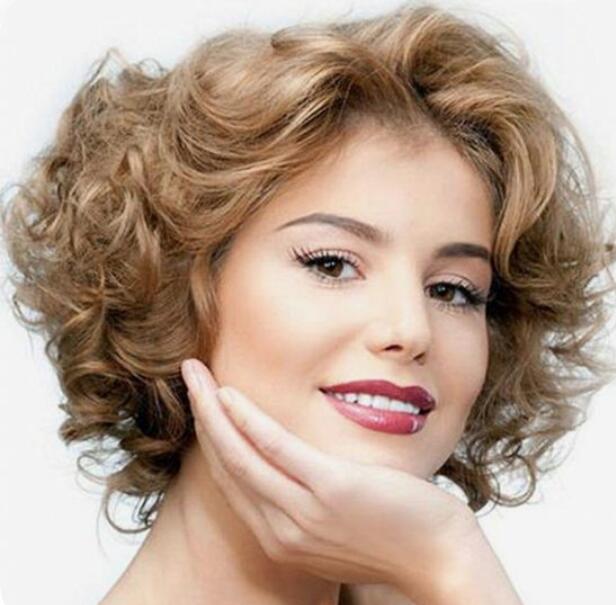 If you are not a fan of Mohawks or side-swept undercuts, side bangs may be the right choice for your needs. Even though these were a great hit back in the day, that does not necessarily mean that they cannot be as stylish in the present.
Slightly Wet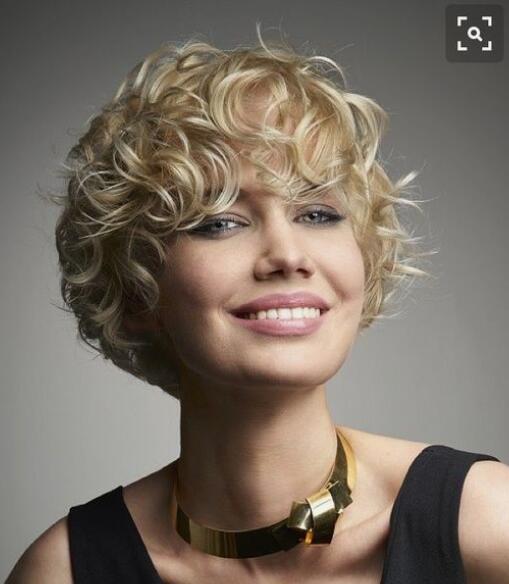 This hairstyle works best for ladies who hate it when their hair strands get dry and start floating all over the place. Give it a try and apply some hair mousse to your hair after washing to keep the wet appeal.
Adorned Curls
Were you scouring the internet looking for the best short curly hairstyle that also doubles up as the best haircut to sport while getting married? If you did, then these adorned curls could be precisely what you are looking for.
Slightly Asymmetrical
You could think a little bit out of the box when everyone else is going for short curly bobs. If you're a newbie and are still afraid of making any drastic changes to your current style, you could always try this asymmetrical bob out.
Faux Curls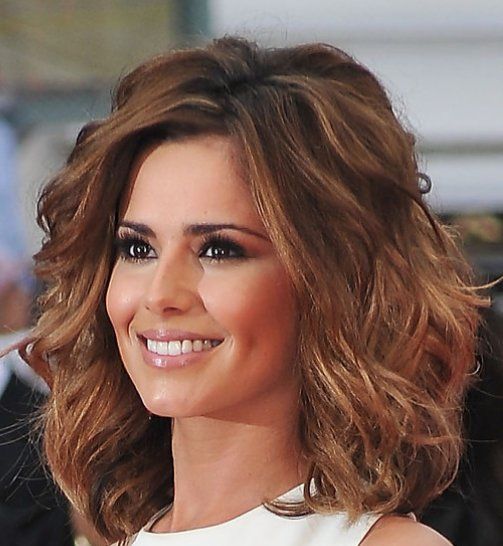 Are you a lady with super straight hair but are craving swirls and curls for your next hairstyle? Then you're in luck. All you'll need to do is head out and ask your hairstylist to award you some hair extensions or faux curls that you can set aside and groom beforehand.
Ideal Curls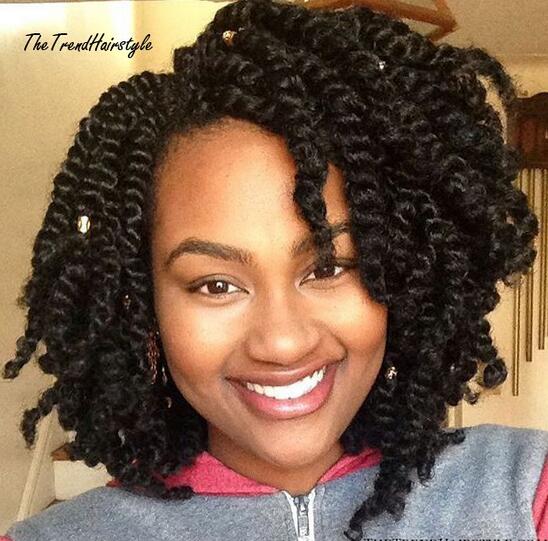 Adding idealistic twists to your already curly hair is one of the best decisions you could make today. Doesn't the lady in the image above look super stunning?
Red Ringlet Curls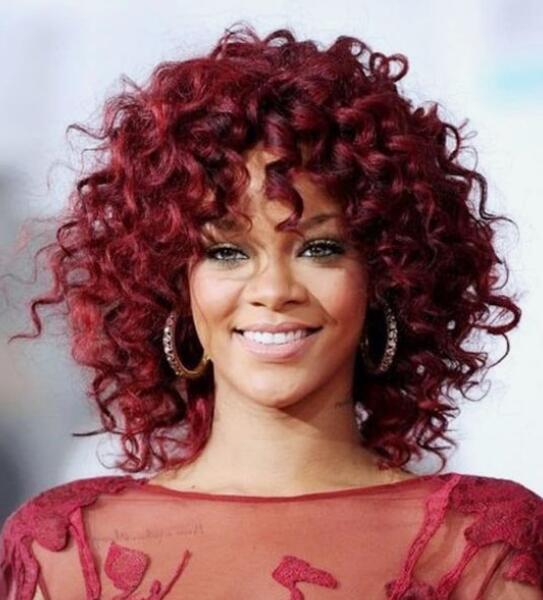 Why stick to your natural hair color when you can easily experiment with something attention-grabbing or bold instead (like these red ringlet curls)?
Cute Curly Pixie Crop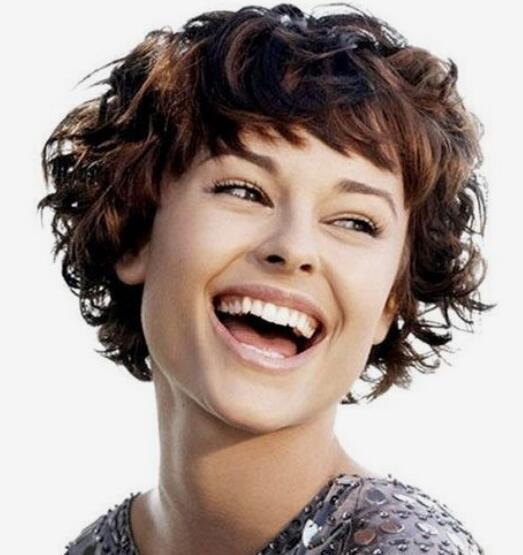 If you are looking for a girly and cute way to manage curly hair, why not consider awarding yourself a pixie crop like the one in the above image?
Short Curly Hair with Blonde Highlights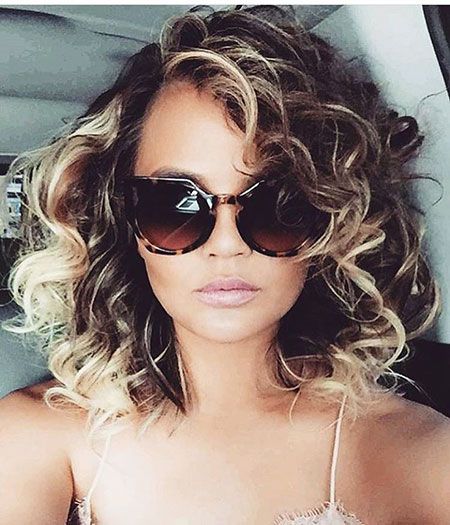 Let your short curly hair stand out for all the right reasons and make a statement by adding some blonde highlights to it.
Tapered and Short Curls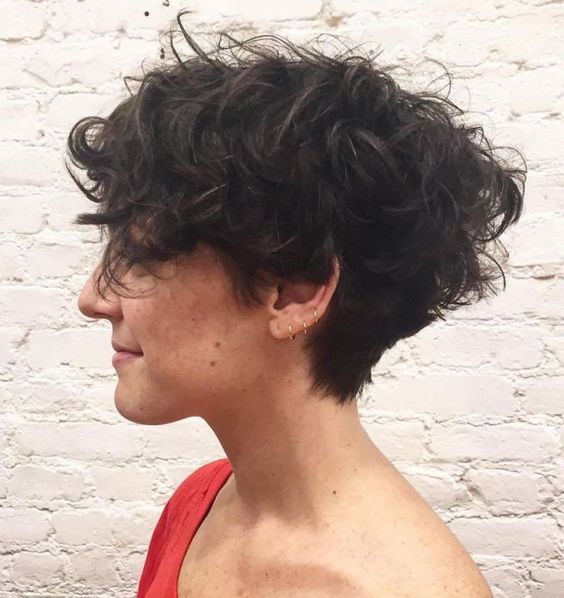 For a no-nonsense and fashion-forward take on short curly hairstyles, wear your curls long on the top side and then have them tapered and cut short into your neck.
Short Curly Bob with Side Swept Fringe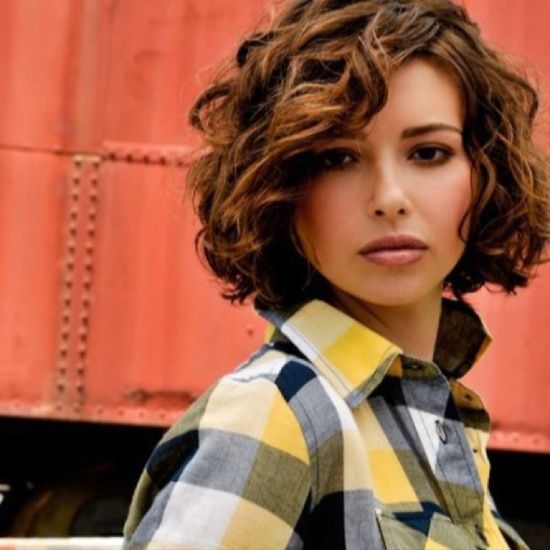 This curly bob coupled with a side-swept fringe is the perfect hairstyle to help you make the most of your curly hair without having to spend lots of hours styling or maintaining it.
Half Shaved Hairdo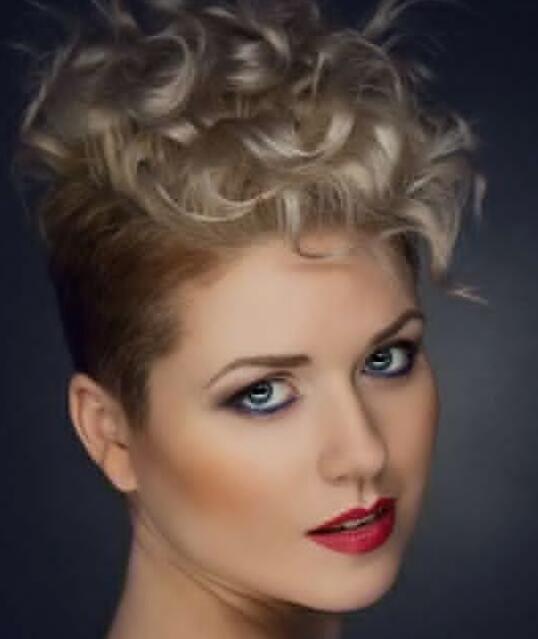 Nothing can complete a short curly pixie haircut like shaving one side of your head. It will undoubtedly add a distinct dimension to your face (not to mention the edgy detail.)
Ponytail with Red Highlights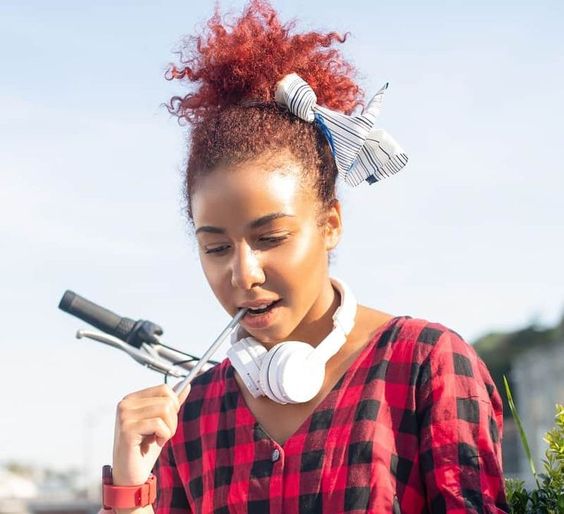 When all you need is your short curly hair out of the way, you can always gather it in a cute ponytail and secure it using a bandana or contrasting ribbon. Topping off the hairstyle with some red highlights wouldn't be bad either.
Thick Short Natural Curls
This short haircut for ladies with thick natural curls is shaped in a closely resembles the Mohawk. It's wider and chicer.
Grey Short Curly Hair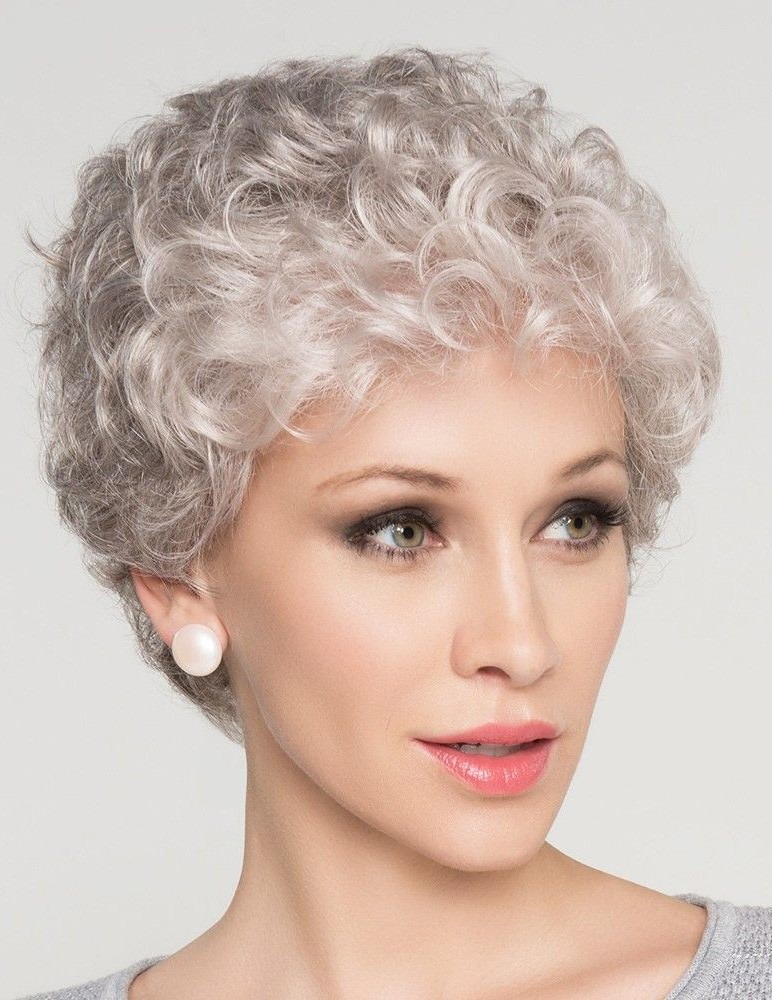 You will find that you do not mind your grey hair that much when you realize how great the color will look on thin or thick curly hair.
Short Curly Blonde Hair
Even someone super stylish as Marilyn Monroe would approve of how this hairstyle makes the blonde curls look extra bouncy. While they are not platinum blonde, these golden curls are just as stunning.
Short Curly Brown Hair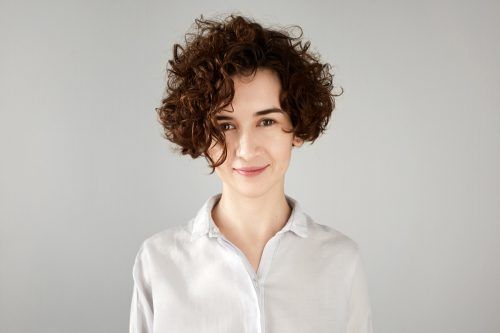 Particularly good on oval faces, this bob should stop at the jawline and can also be filled with curls that make the chestnut brown hair enviable. To cut down bulky hair, add layers.
Short Thin Curly Hair
Help your thin curls appear more shapely and lush b using your favorite hair product to plump them up. Topping it off with a side part should switch up the shape of your face while at the same time styling the overall look.
Short Curly Hairstyle for Ladies Over 50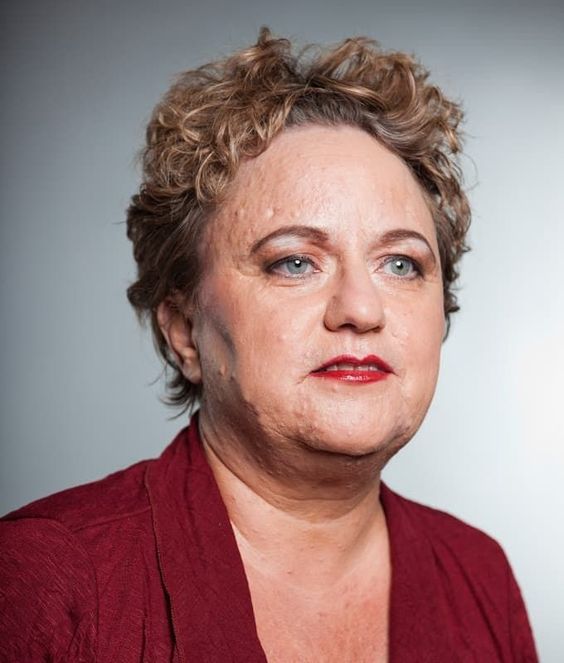 Are you over 50 years of age and are looking for a low-maintenance haircut? Why not go super short, as in the pixie length, and then use some mouse to shape the curls. A side part like the one above should be able to help switch up your face's dimensions.
Short Layered Curly Hairstyle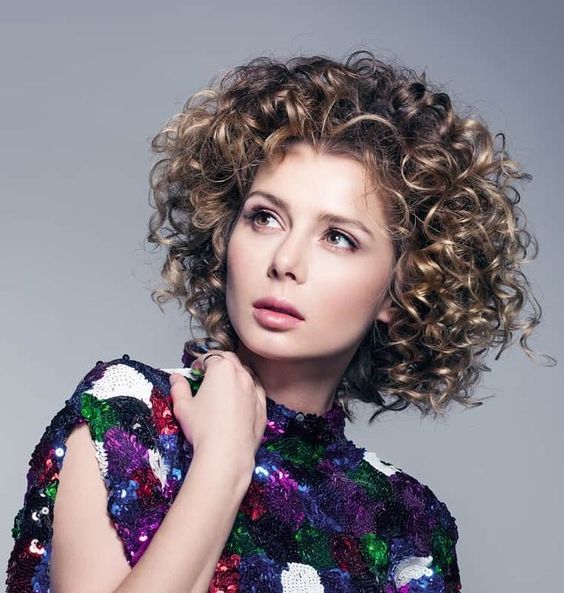 Layering your hair is one of the quickest ways to tame your short curly hair. Rather than maintaining a frizzy shapeless blob, your hair will look and have a healthy shape.
Short Curly Hairstyle for Round Faces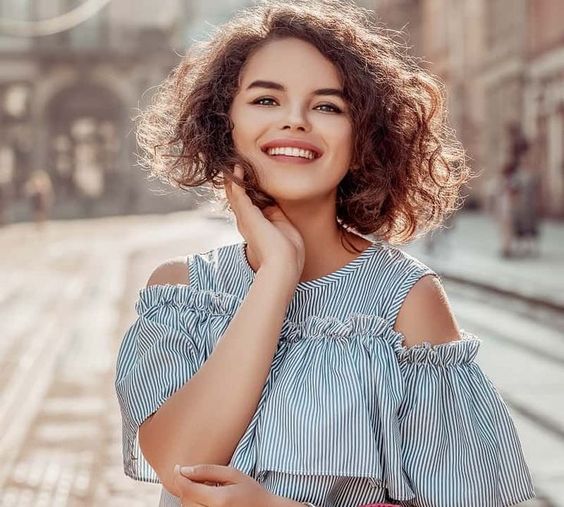 Ladies with round faces will appreciate the way short curly bobs frame their faces.
Short Curly Hairstyle for Black Ladies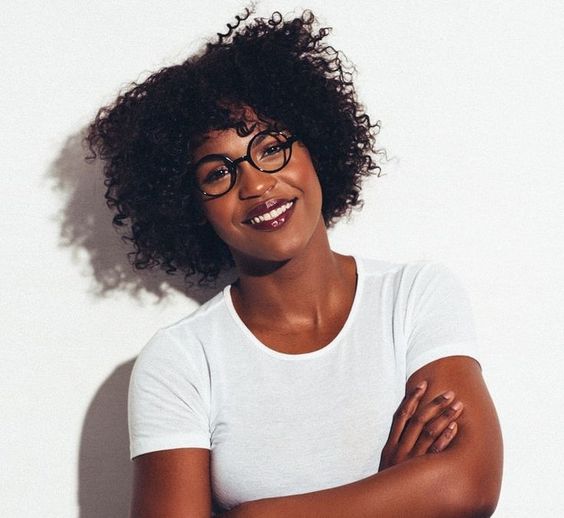 One fantastic way to make your short curly hair more manageable is to keep it short and chin length. This proper level will not only result in healthy curls but is also guaranteed to frame your face even more beautiful. Looks exceptionally cute on black ladies.
Tips for Maintaining Short Curly Hair
Maintaining any short, cute, and curly hairstyle is a lot easier than you may think. All you ought to do is condition your hair from time to time and add shine serum to it every day. The latter ensures that your hairstyle keeps looking as healthy and glossy as possible.
If you'd like to be even more adventurous, feel free to visit your colorist for regular color top-ups. I suggest that you go for these every six to eight weeks.
If your goal is to grow out your hair and make it long eventually, you can get regular trims as these will help keep the normal hair while at the same time minimizing the risk of ending up with split ends.
What about hair products? When picking a hair product for your short curly hairstyle, start with the wash day essentials. A great sulfate-free shampoo should be able to keep your curls from drying out or getting stripped of their natural oils when you wash. Also, consider using your favorite ultra-nourishing hair mask as a pre-shampoo treatment if you are experiencing drier than regular curls.