Taper fades are among the most popular side-and-back haircuts for guys who want to look sharp. The taper fade is a combination of two different haircut styles, the taper, and the fade. Short hair on the sides and back looks great with the taper fade no matter what type of hair you have: straight, thick, thin, curly, or wavy. Taper fade hairstyles can be worn with various lengths of hair on top, such as short, medium, or long hair, depending on the level of taper on the sides.
To create a fashionable haircut for men, the taper fade blends shorter hair on the sides and back of the head gradually into the style. If you want to take your hairstyle to the next level, this haircut is a great option.Whether you want to wear a formal or casual look, we have gathered the top 48 taper fade haircut styles for men that might encourage you to take your haircut to the next level.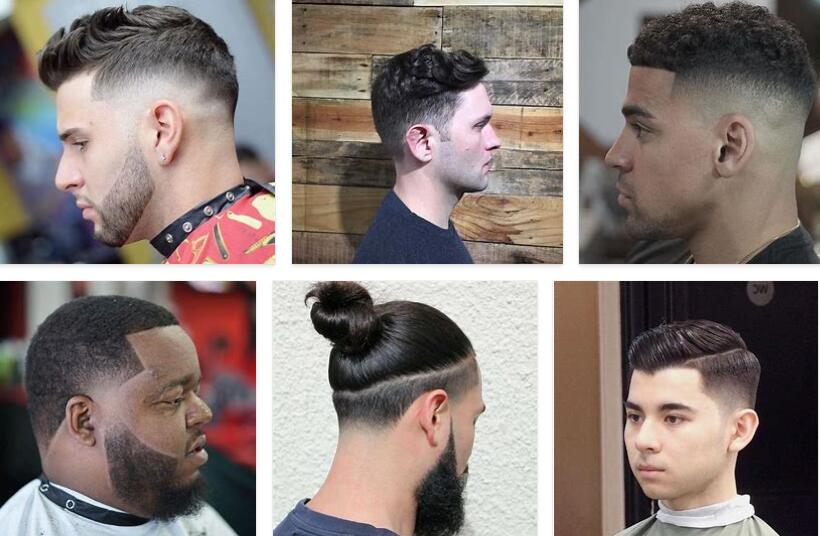 What Is Taper Fade Haircut?
In a taper fade haircut, the hair on the top is kept long while the sides and back are gradually faded in length. The hair gradually gets shorter as it descends on the head until it reaches the skin's surface and disappears completely. There are no sloppy edges or rough spots in this smooth transition.
Clippers and scissors are commonly used in the tapering process. The taper fade is an excellent low-maintenance haircut that does not require much styling or upkeep. This is a beautiful idea for experimenting and customizing it to your tastes.
48 Best Taper Fade Haircut Styles for Men
1. Skin Fade Taper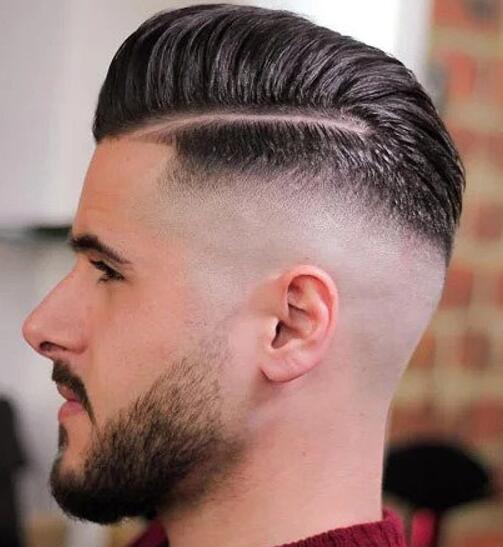 When the hair on the sides and back of the head is shaved into the scalp, the skin taper fade creates a sharp look that will never go out of style. Men's skin fades taper haircuts can start low, mid, or high, providing them more freedom in deciding how much contrast they want in their hair.
When it comes to a work-appropriate soft cut, the low skin fade is a great option, while the mid-and high-taper cuts offer a more youthful and modern look that's still trendy. The skin taper lends a fashionable touch to any haircut, whether short, medium, or long hair.
2. Classic Taper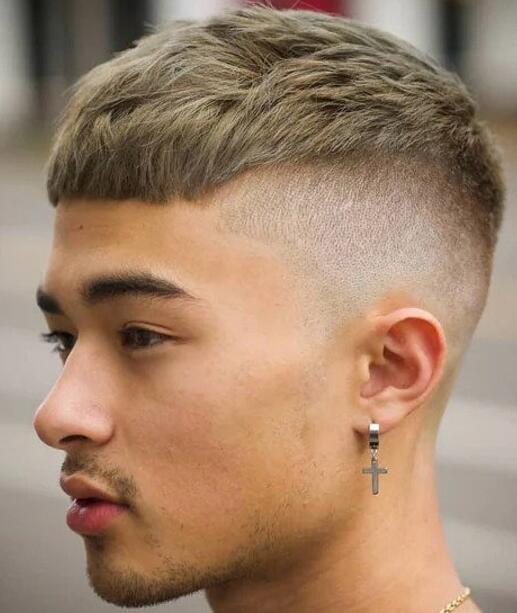 The taper is a classic haircut for a more formal look that cuts the hair short on the sides and back without revealing the scalp. The classic taper is characterized by a faded hairstyle with longer hair on top and shorter hair at the hairline.
Unlike a fade, a taper leaves hair close to the hairline, whereas a fade fades into the skin. This taper haircut is a version of the classic fade that has grown popular with guys who prefer a clean-cut style. It's easy to maintain and looks great.
For a more refined appearance, modern guys will pair the taper with a side part, comb over, smooth back, a pompadour, or crew cut. When speaking with your barber, this taper is typically connected with a number 2, 3, or 4 clipper guard.
3. Low Taper Fade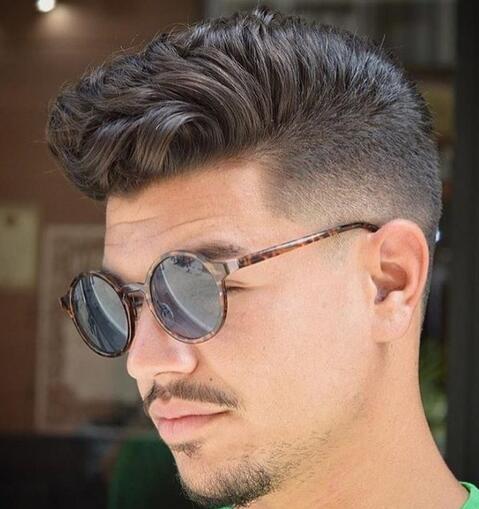 The low taper fade is a sophisticated men's haircut that begins just above the ears and follows the hairline down to the neck. It is a modern and subtle style for men who want a stylish look.
Low skin, drop, or burst taper options are available from your barber to create a fascinating new look for your hairstyle. A crop top, comb over, side part, slick back, and fringed hairstyles can all be worn with this light cut, whether short, medium, or long.
Make sure your beard is well-groomed and well-trimmed for a more masculine look. A low fade, one of the most popular hairstyles for men, is an all-around winner.
4. Mid Taper Fade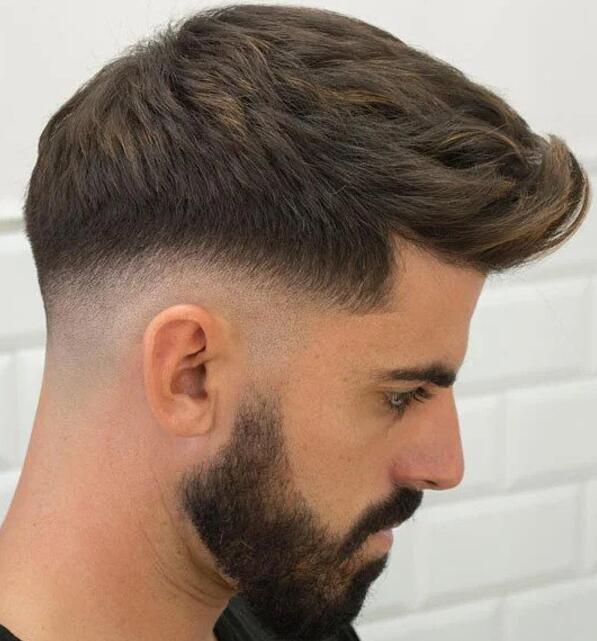 If you're looking for the best of both worlds, this haircut is a great option. There is a happy medium between too short and too conservative when it comes to the length of your hair with the mid-fade haircut.
The mid fade is a popular choice for men's hairstyles because it goes well with many of them. Hairstyles with a skin fade or bald fade go well with business casual and business professional attire.
Ask your barber for a mid- or low-rise variation to make the cut your own. It's easy to achieve a low-maintenance look that's still stylish with thick, curly, or waved hair by going with this medium fade haircut.
5. High Taper Fade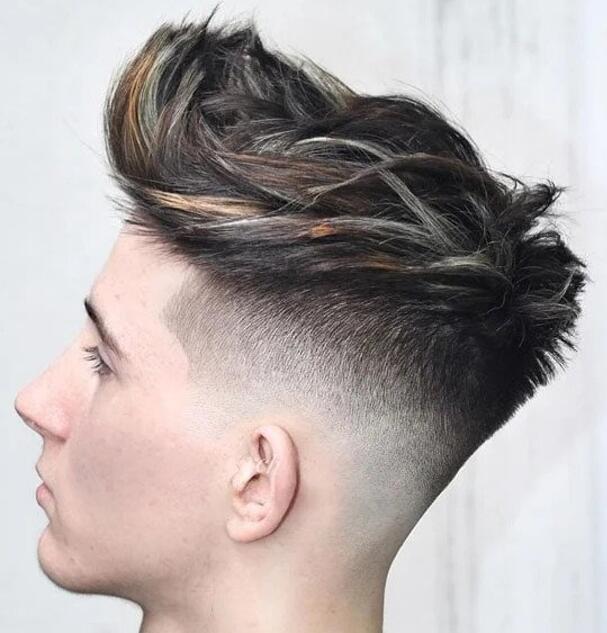 The high taper fade is a buzz-cut haircut for men who want to make a fashion statement with a bold look. There are many different ways to achieve an edgy high-fade look, but a high fade is one of the most popular and effective.
Short to medium-length hairstyles look great with the high taper cut's sleek, edgy look! A high skin or burst fade can be requested from your barber to achieve a unique appearance.
Opt for a high bald fade cut that fades into the skin at an upward angle for a clean, modern look. A number 0, 1, or 2 clipper guard size is generally required for this very short high-fade haircut, which blends faster. As a result, this tapered style can work with a buzz cut, a side-swept crew cut, a scruffy crop or quiff, and the faux-hawk.
6. Undercut Taper Fade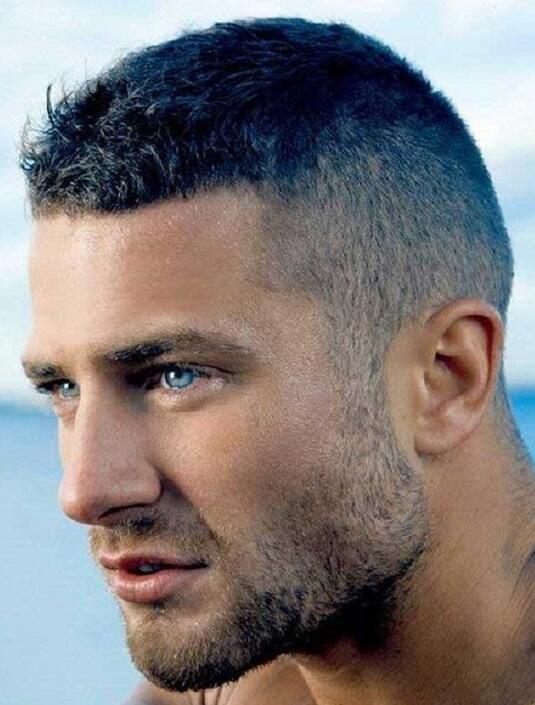 It's been fashionable in recent years to sport an undercut fade as a new modern hairstyle. With the undercut taper, long hair on top is combined with short hair on top, sides, and back to create a confused look.
The best hairstyles for men, such as the slick back, faux hawk, and comb-over, look great with this combination of an undercut and taper fade. When styling, you'll want to use a matte pomade with a light to medium hold for a textured and loose finish.
7. Bald Taper Fade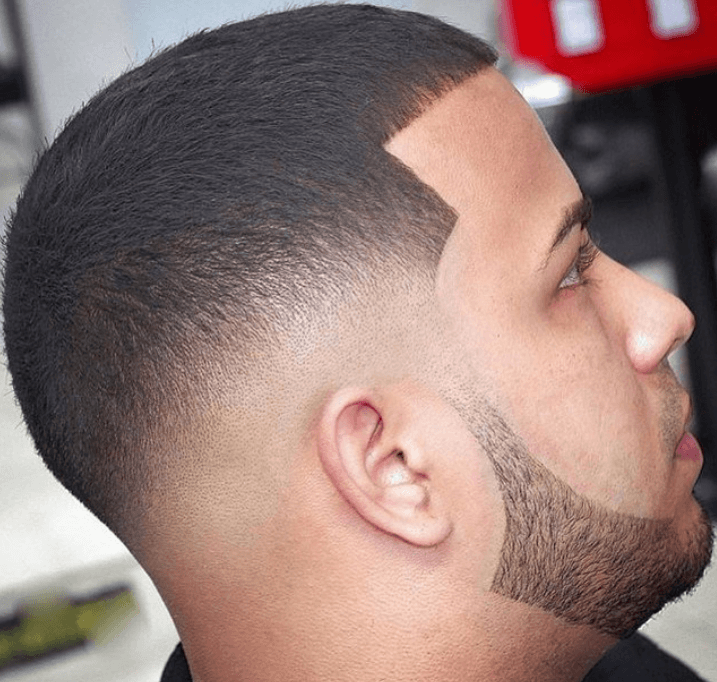 Adding a bald taper fade to your hairstyle can give it an edgy and modern appearance. The bald fade haircut creates a striking and high-contrast look by tapering your hair into your skin. Your barber will use clippers to blend the sides and back.
You can go with a low, mid, or high bald fade to achieve your desired look. You'll want to keep your hair on top longer and textured to match this edgy short style.
8. Long Hair with Taper Fade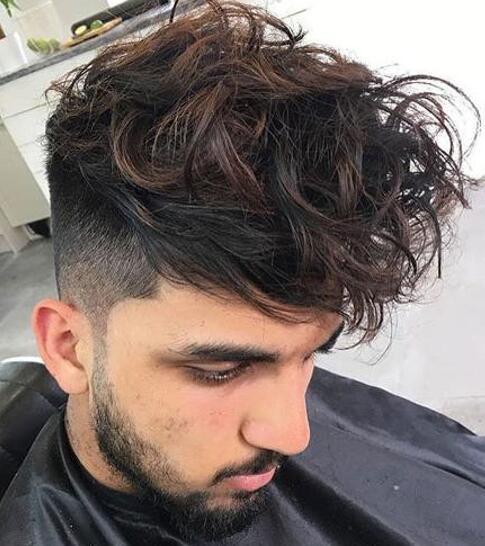 By keeping the sides and back of your hair short, the taper fade will draw attention to your style. To achieve the most current men's hairstyle trends, this haircut with long hair on top is ideal.
Some men prefer a low fade with a comb-over for an office-appropriate look, while others prefer a mid-to-high fade with a quiff, blowout, or spiky hairstyle. Both options are acceptable. With so many different fades to choose from, men can find the perfect match for their longer style.
9. Short Hair Taper Fade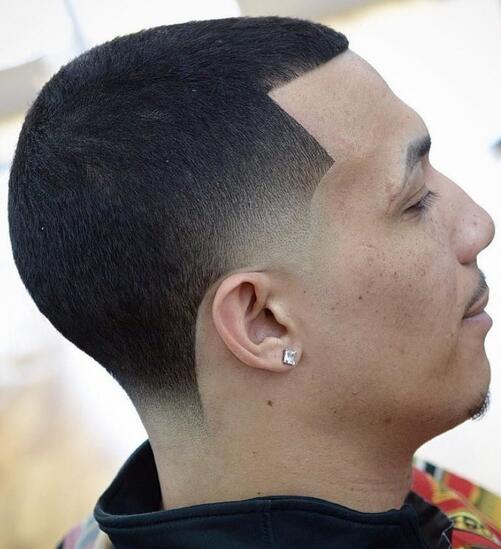 If you want a low-maintenance hairstyle, this haircut is the best option. A mid- or high-skin fade cut with short hair on top is commonly described as having a short fade on the sides and back.
To make styling and grooming easier for those with thick, wavy, or curly hair, we recommend this hairdo. There are many different short men's hairstyles to choose from, such as the comb-over and hard side part and the longer crew cut and shag.
10. Curly Hair Taper Fade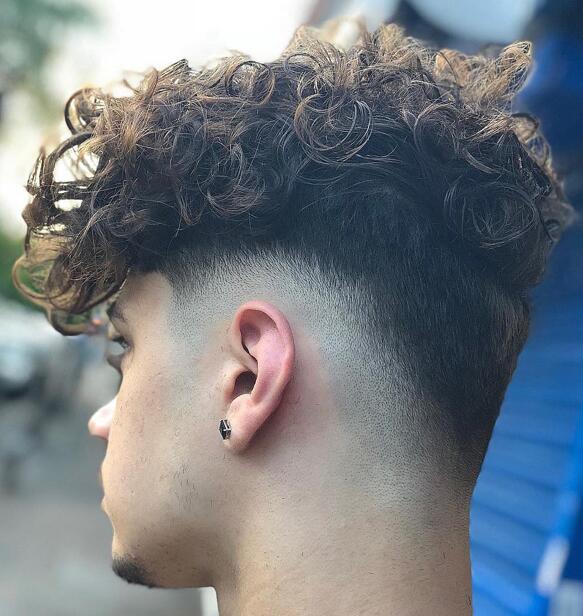 Men can use the curly hair taper to achieve an effortlessly cool look with their unruly curls. With the curly fade, styling your curls is a breeze thanks to the hair's short sides, back, and top.
Sea salt spray can define your curls regardless of choosing a low, mid, or high fade.
11. Straight Hair Taper Fade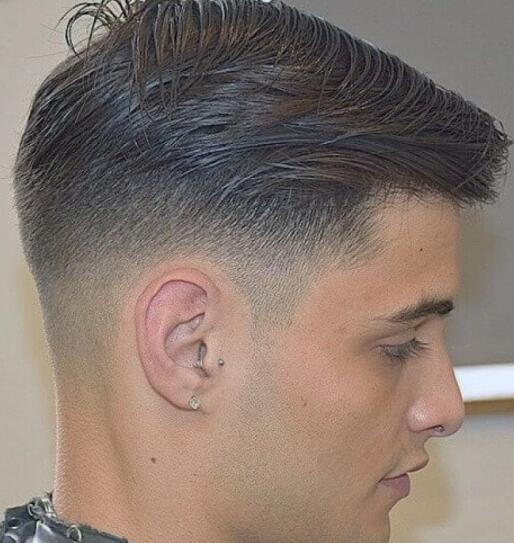 Those looking for a low-maintenance and handsome haircut should consider the straight hair fade. With a taper haircut, your styling will take center stage, making your straight hair look better.
You can request a low, mid, or high tapered cut from your barber, and have the trim tailored with a temp, skin, drop or burst fade or as desired. It's possible to create a textured quiff, modern pompadour, or faux hawk with an all-around taper on straight hair. You can achieve some cool looks with fine or thinning hair, even if your hair is straight and thick.
12. Taper Fade with Part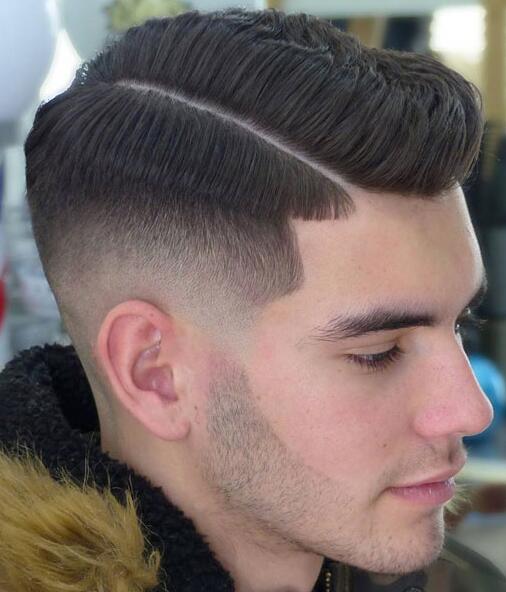 It's possible to transform your hairstyle with a part. As a result, you'll have a noticeable divide in your hair after having your hair shaved. A parted hairstyle paired with a short fade on the sides and back looks effortlessly cool and sexy.
13. Wavy Hair Taper Fade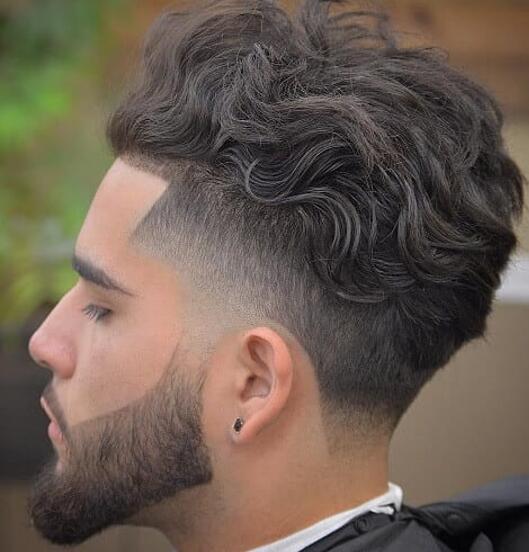 With its refreshing and charming texture, the wavy hair fade is a must for men. These haircuts allow you to play with the natural waves in your hair.
14. Crop Top Taper Fade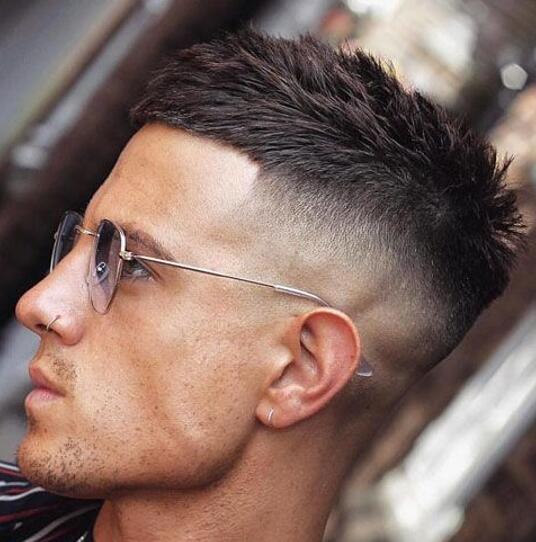 The crop top fade has become a popular haircut style in recent years. An undercut or fade on the sides and back of this short hairstyle for men, also known as a French crop, creates a dramatic effect.
15. Taper Fade Slick Back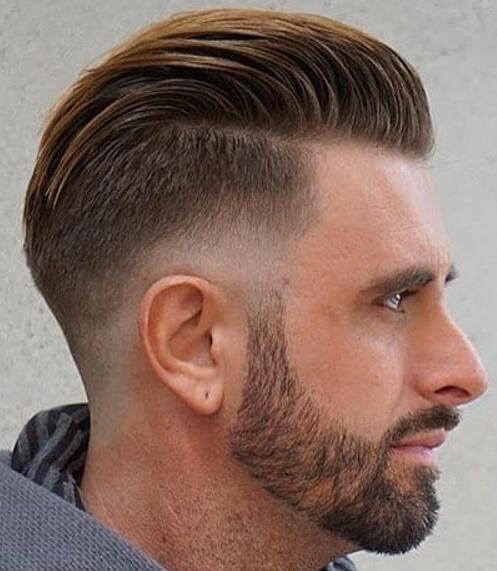 The modern take on a classic hairstyle, the slick back features short sides and long hair on top that is brushed straight back in the back. Whether it's a low, mid, or high fade, the latest slicked back hairstyle is an excellent option for men who want to keep their hair short to medium length.
16. High Top Taper Fade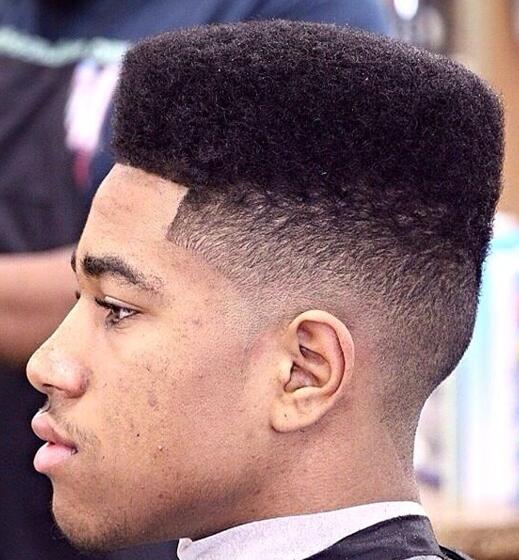 As a retro hairstyle for black men who want to stand out, the high-top fade is ideal. The sides and back of a high-top haircut can begin with a low, mid, or high fade, with longer hair on top.
17. Messy Hair Taper Fade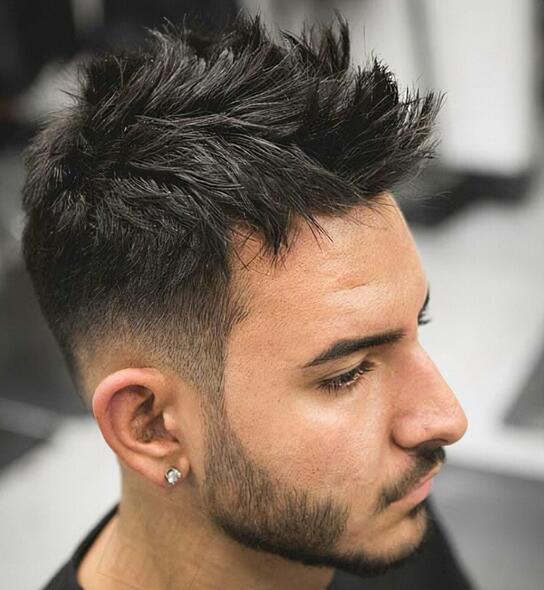 Thanks to its perfect and casual vibe, you can wear the messy taper fade for any occasion. Using a light styling product, a messy tapered haircut can be achieved with short to medium-length hair.
18. Afro Taper Fade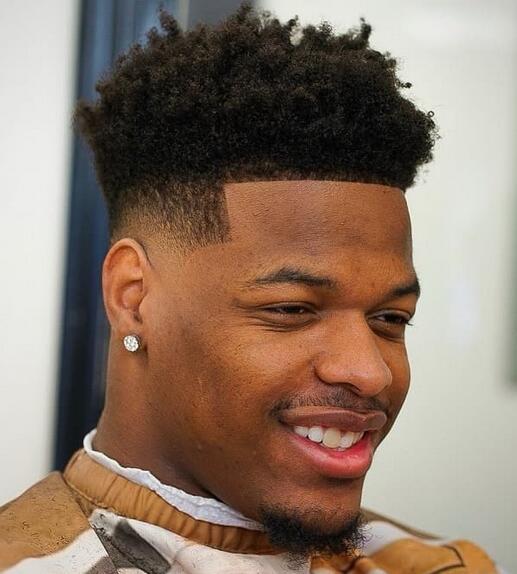 This haircut is trendy in black barbershops all over the world. Guys who are willing to grow out their hair are still fans of the afro taper.
19. Blowout Taper Fade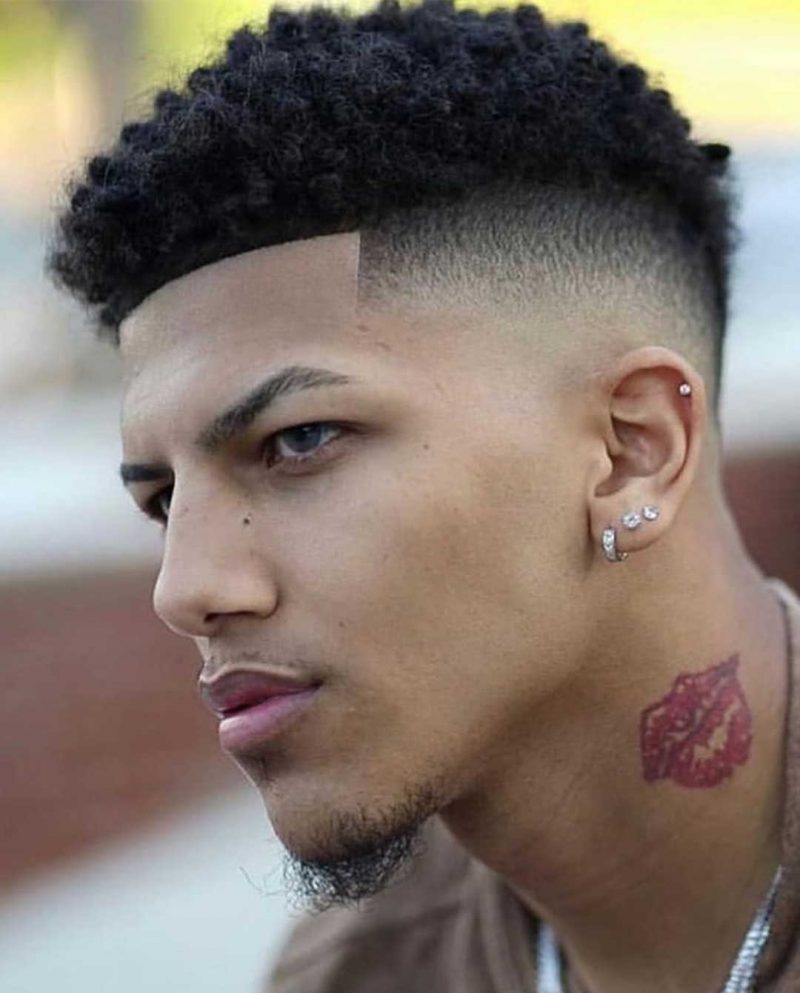 Short sides and longer hair on top create an avant-garde look with the blowout fade. With the blowout hairstyle trending, men can choose to style their hair with a low, mid, or high fade.
20. Taper Fade Line Up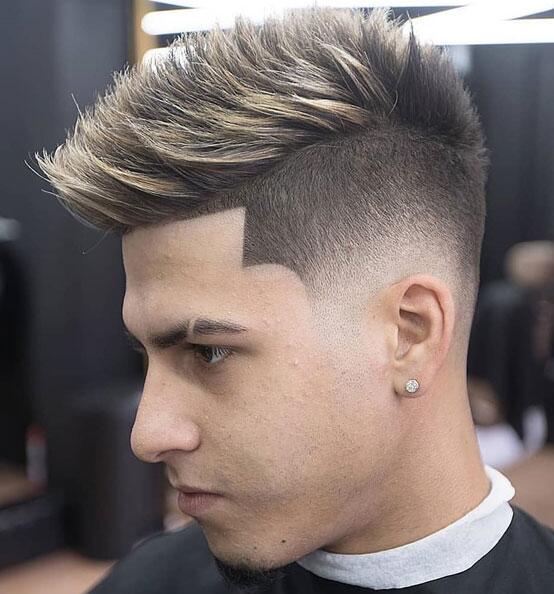 A unique haircut, the taper fade with a lineup neatens your hairline for a sleek appearance. A line-up, also known as a shape or edge up, has clean lines along your hairline and crisp edges around your temples.
21. Taper Fade with a Line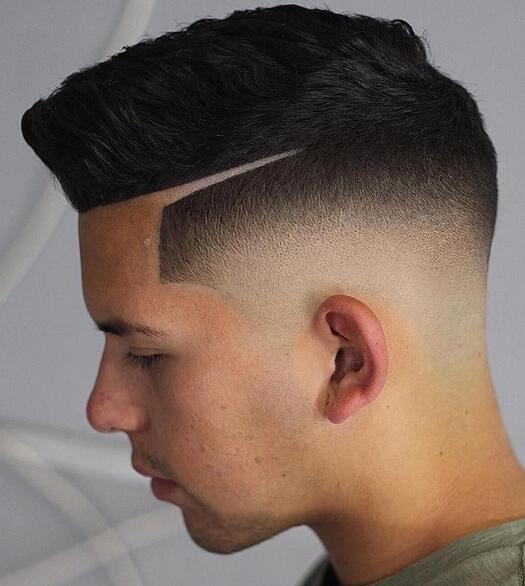 Adding a line to this fade haircut can give a cool style a little extra oomph. Once your hair is cut, your barber will begin shaping it into the desired shape by shaving an even line across the back and sides with an electric razor. Bad-boy style can be an attention-getter with a rugged, seductive vibe.
22. Taper Fade with Design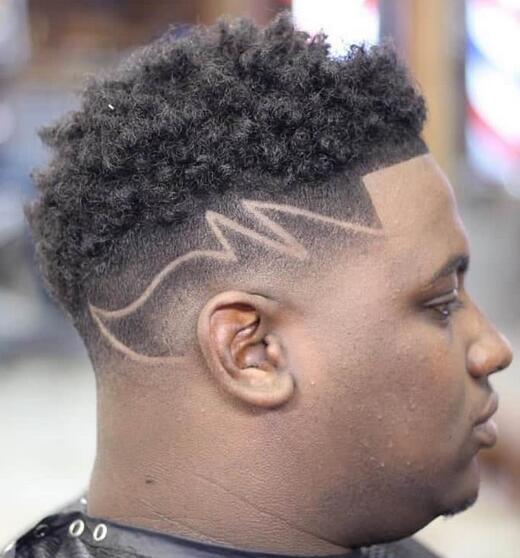 This fade haircut with a design lets men show off their individuality. Your barber can add an eye-catching and one-of-a-kind style to your fade haircut by shaving in various hair designs.
23. Drop Taper Fade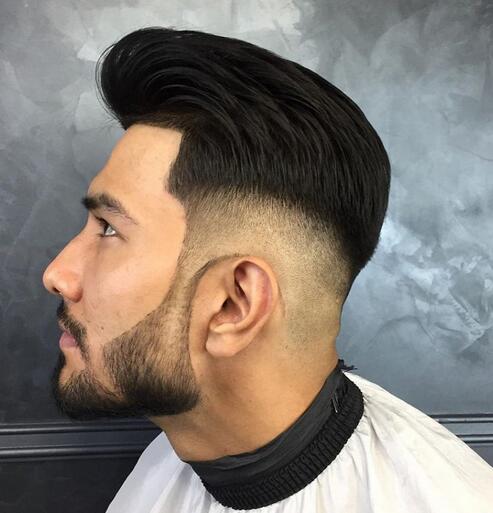 The drop fade taper is a new haircut with a unique tapered style that curves around the head and down the back. Haircuts like the drop taper can help you achieve a trendy appearance while giving your hair an endearing dimension.
24. Temple Taper Fade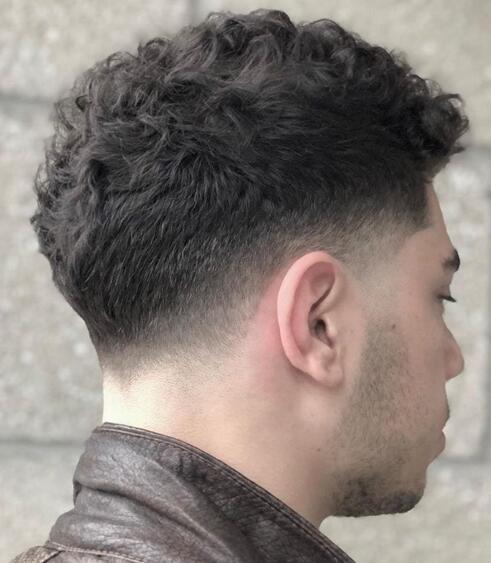 The temple fade, also known as a temp fade, is a sophisticated haircut that begins at the temples and quickly fades down the sides. An edge-up and temp taper are commonly used to achieve a clean, fresh faded look.
25. Braided Taper
It's always a good idea to taper the sides of a man's braid. No matter how short or long your cornrows are, a clean fade will make them stand out from the rest of your hair. Try a taper with your braided hairstyle, whether box braids or dreads.
26. French Crop Top Fade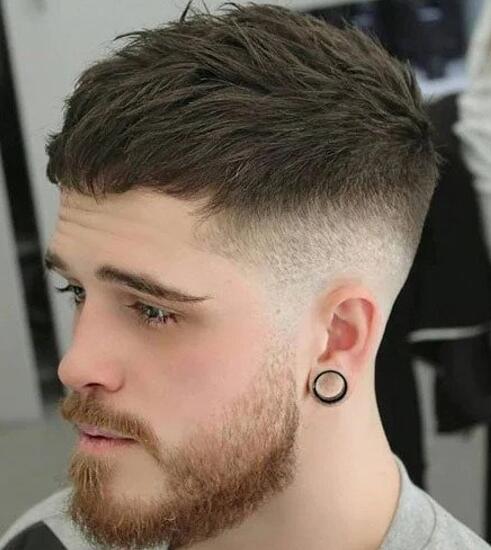 In Europe, the French crop has become a sensation. It's a crew cut with hair brushed forward and a short fringe in the front, but the short haircut is simple yet hot with this textured crop top.
27. Pompadour Taper Fade
There are numerous variations on the pompadour fade, but they all call for large pomp in the front and progressively shorter hair at the back. To emphasize the unique design, the sides are cut short and tapered.
It doesn't matter if your hair is short or long; a pompadour fade is an excellent option because it allows you to change your look easily.
28. Gentleman Fade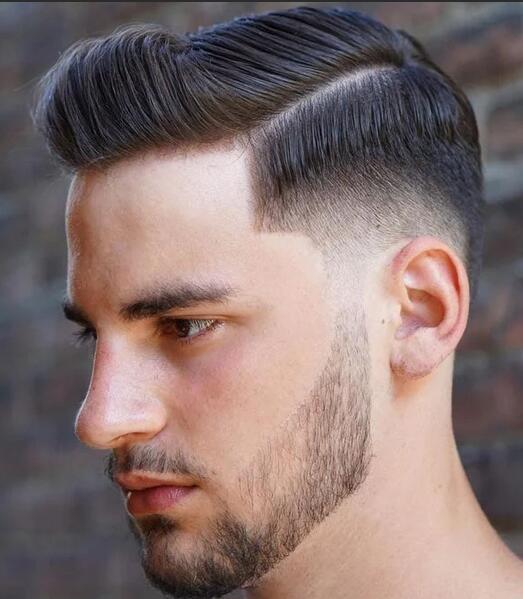 A gentleman's haircut with a taper fade on the sides can update a classic style. As a result, a taper or fade is featured in most current hairstyles.
29. Neck Taper Fade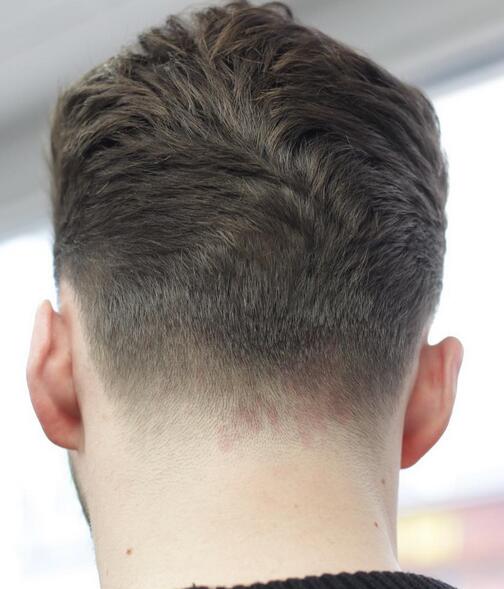 A bold neckline hair design can be the perfect look, while for others, a traditional neck taper is the best option. This haircut is a great way to give any haircut a fresh new look from the back.
30. Brushed Up Taper Fade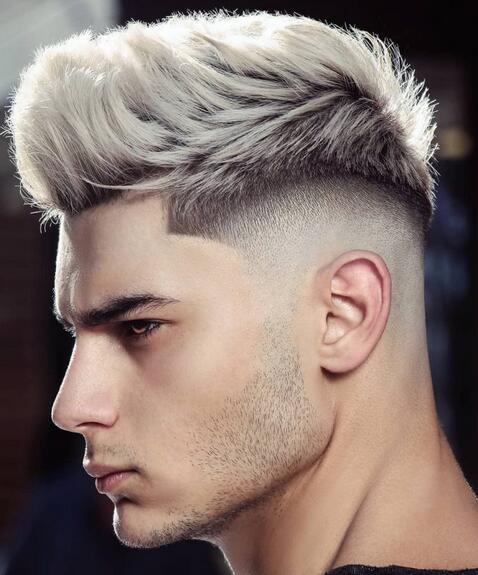 Blonde hair with spiky ends meets brushed-up taper fade perfection. A brush-up fade is an excellent option for thick hair and is easy to style. Use a light cream or mousse for best texture, volume, and flow results.
31. Taper Fade Mohawk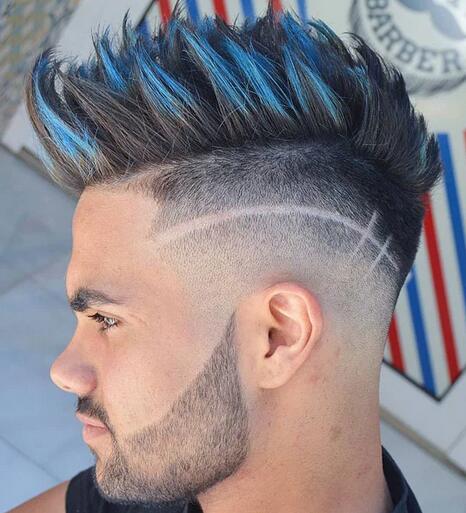 The mohawk stands out above the rest in terms of rebelliousness and punk rock spirit. The mohawk is a distinctive haircut that stands out in any crowd. However, if you don't like the idea of shaved sides, you can go with a high, medium, low, or temp fade mohawk.
32. Side Swept Taper Fade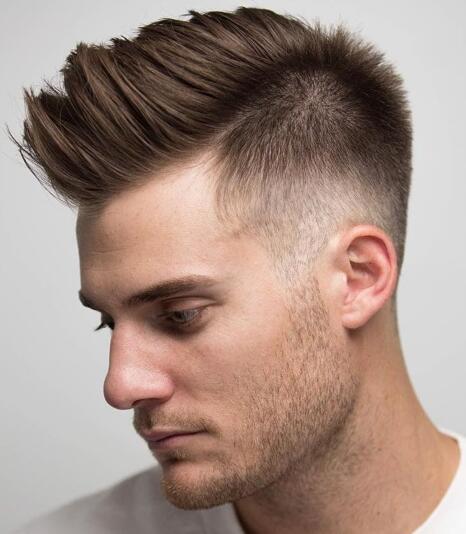 This year, men have been sporting the side-swept hairstyle. A side-swept hairstyle and a taper fade make for an easy look to achieve and maintain.
33. Taper Fade Layered Style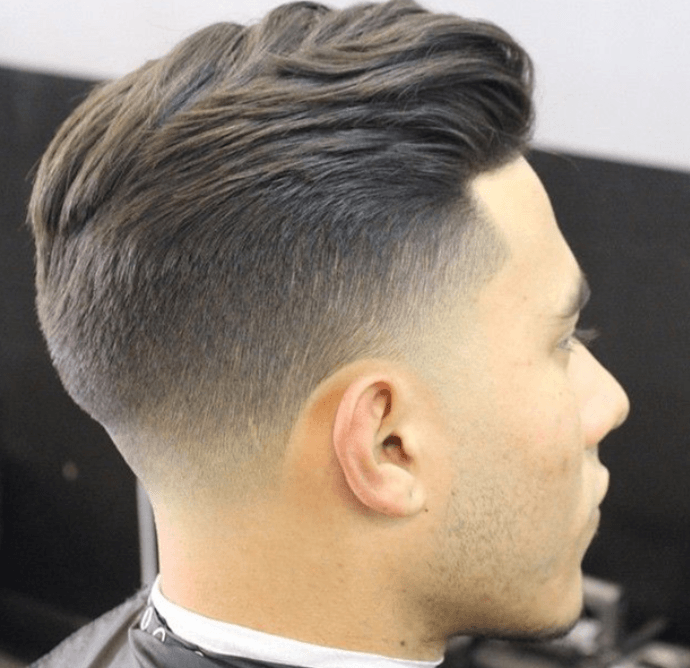 The best way to add dimension and depth to your hair is by giving them lovely layers that blend well. This layered haircut makes the hair on top look thicker and allows the natural waves to show off.
Both sides and the back have faded effects, and the bottom part is completely cleared. The best thing about this hairstyle is displaying your hair's natural waves, so you do not have to add shapes anymore.
34. Comb Over Fade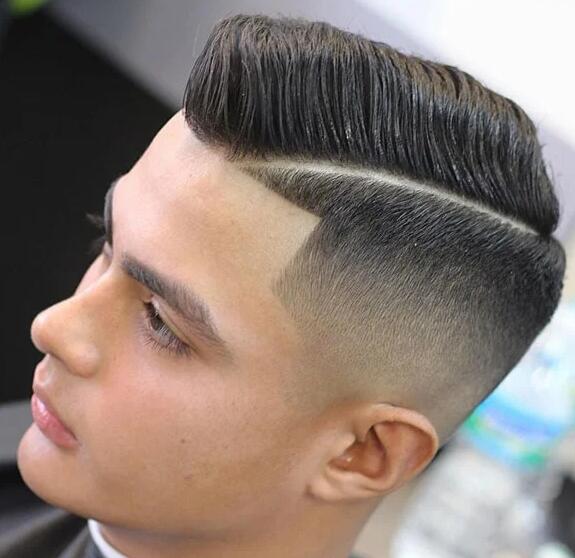 Comb over is one of the most excellent fade haircut styles for men. Wearing this hairstyle can give you an amazing and fresh feeling. The hair on top is maintained long, and you can comb it backward with a messy style.
You can also cover your hairline by running your fingers sideways. The sides are trimmed to stay shorter than the top.
35. High and Tight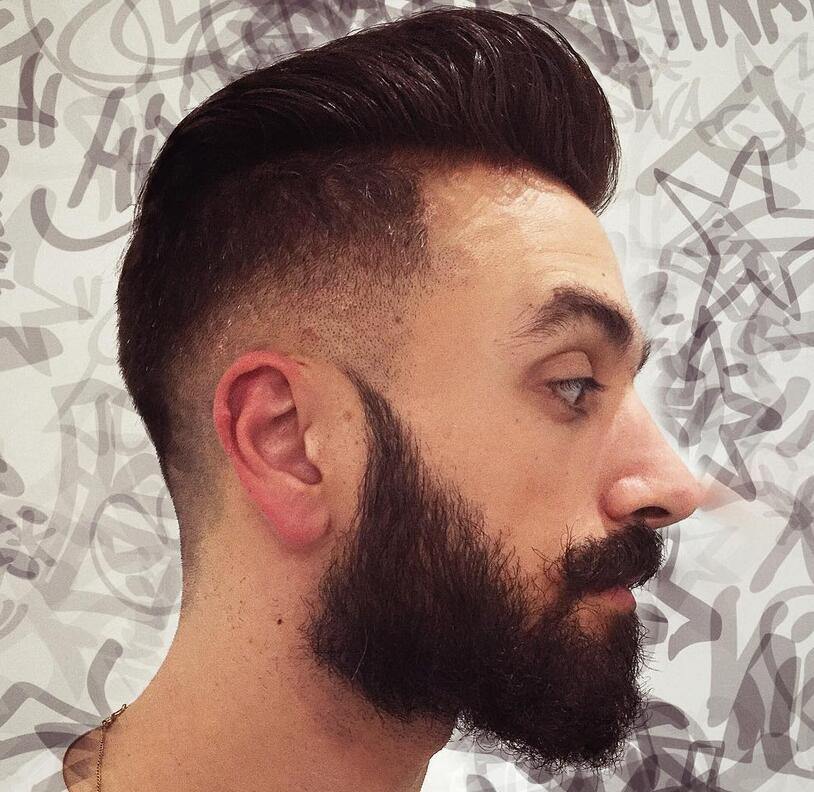 This style looks like a military haircut, so wearing this hairstyle gives you an authority feeling. Both sides are shaved neatly with a faded effect starting an inch from the hairline.
The top-level remains long so that you can comb it backward with gel. The top front is also brought together to appear thicker and bigger.
36. Spiky Taper Fade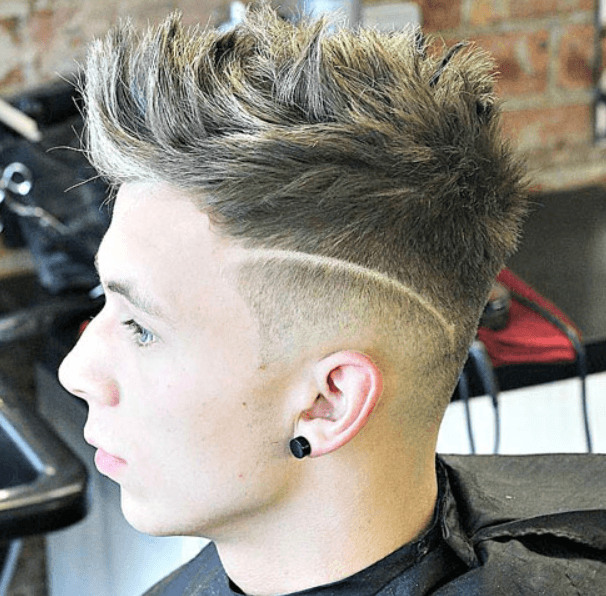 Spiky hairstyles are also popular before. Both sides are shaved with a light effect while the hair on top remains medium length.
The length of the hair decreases from the top towards the back. Use hair gel to form spikes on top to achieve the funky or modern style.
37. Curled Caesar Taper Fade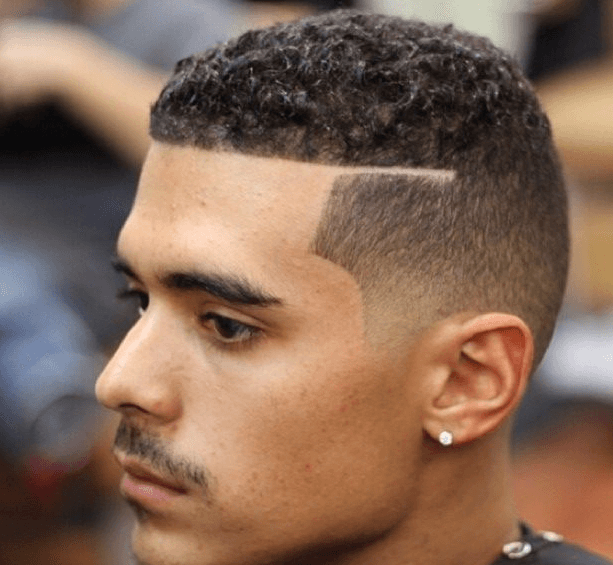 This hairstyle allows you to flaunt your natural waves or curls. The sides are just trimmed, and the top has a longer length.
The hair on top is swept to the side, keeping them in front. Men with natural curls can rock with this hairstyle. You can also ask your stylist to curl your top hair to achieve this angelic look.
38. V Shape Taper Fade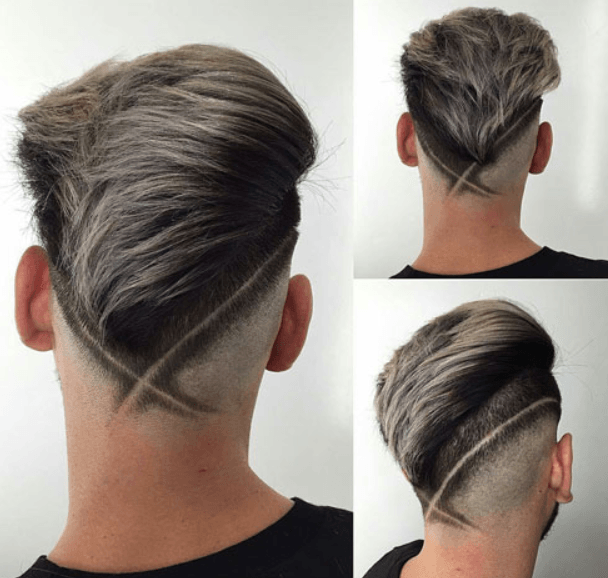 It is always better to be confident in your natural hair, and all you have to do is add a bit of spice. Your natural kinky hair is an asset that you can show off anywhere.
This fade version includes a V haircut design at the nape, taking the haircut style to the next level.
39. Retro Taper Fade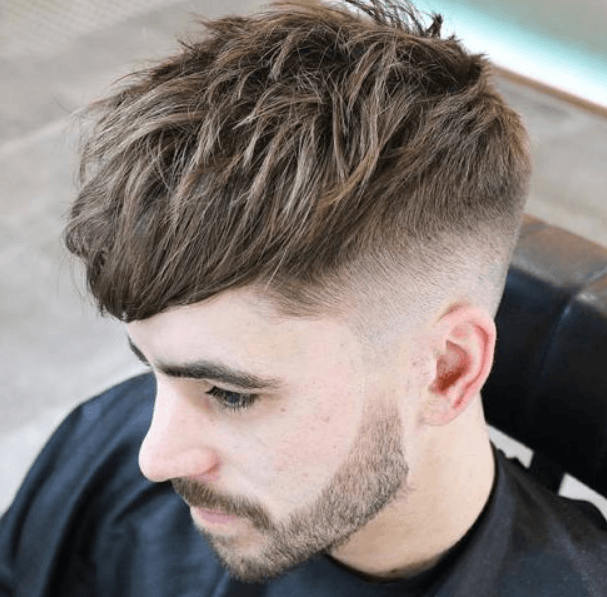 This version has been one of the most popular fade haircut styles since the 1980s and has been gaining popularity again in recent years.
This hairstyle works better for men with thick and dark hair. It is also attractive and highlights the facial feature. Regular maintenance is also essential to keep the style.
40. Long Top with Taper Fade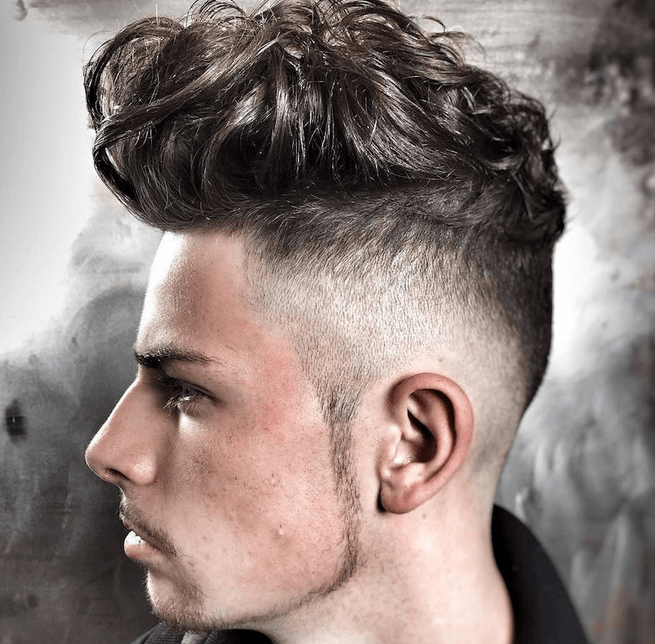 You can rock with your fade haircut style by keeping the top hair long and combing it neatly to the side. Comb the front hair backward to make it look like a wave. You can also keep your facial hair linked to the sides of your hair to achieve a square shape face.
41. Classic Taper Fade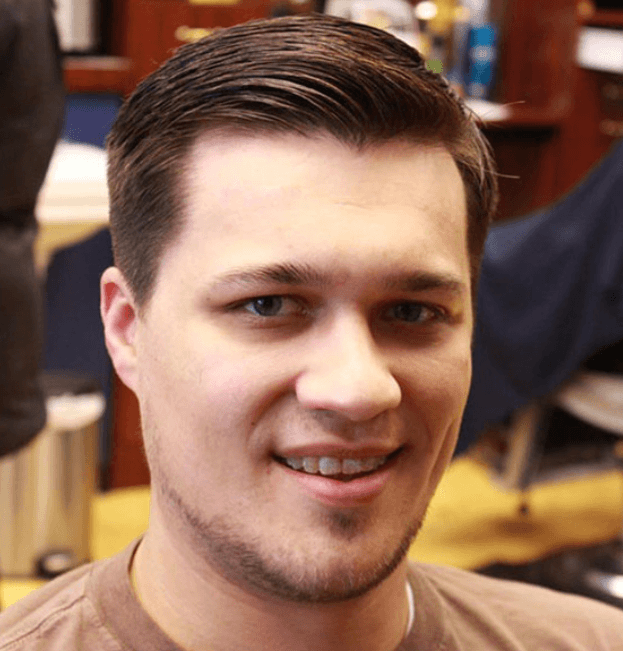 This version is a classic fade with neat and straightforward styling. It looks like both old school and new school at the same time.
Another great thing about it is it makes you look professional, so you can also wear this hairstyle in an office setting or on special occasions.
42. Creative Taper Fade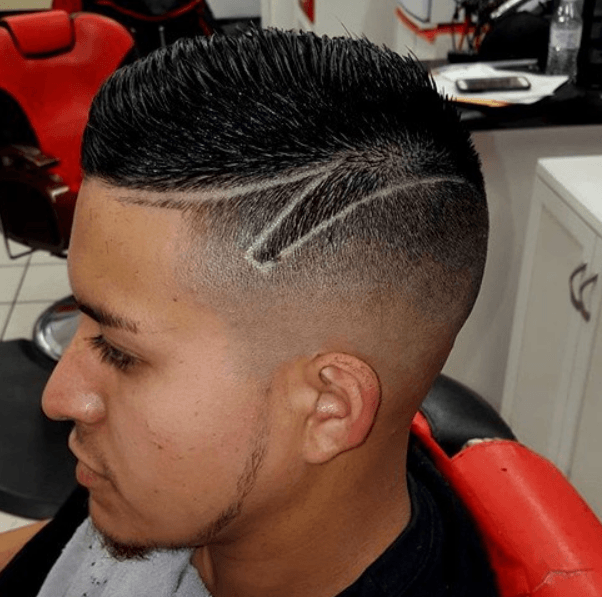 You can always make your hairstyle as stylish as you can. As long as your barber or hairstylist can do your preferred style or design, you can achieve your desired style.
This haircut has long hair on top that forms the hairstyle of Johnny Bravo. The back has a V line, and the bottom has slanted lines that create more texture to the hair.
43. Flat Top with
Taper Fade
The flat-top look is so great with a taper fade. This masculine and athletic haircut make your face look angular.
44. Quiff with
Taper Fade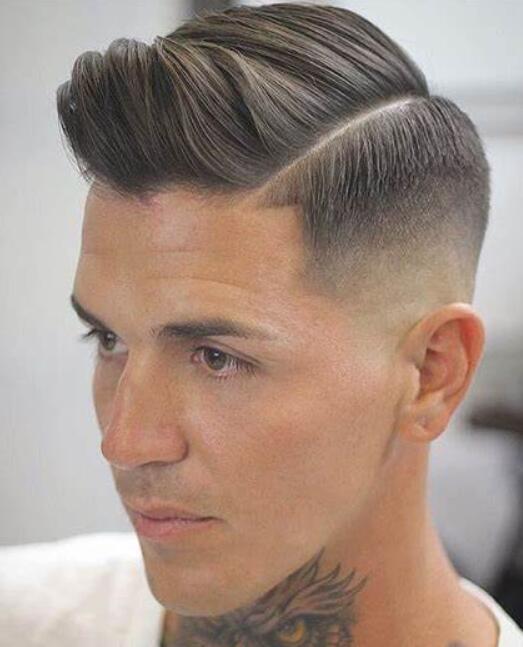 The quiff haircut is classic and never goes out of style. Adding some more volume on top will stand out on your face. This haircut will give you a clean and stylish look.
45.
Skin Taper Fade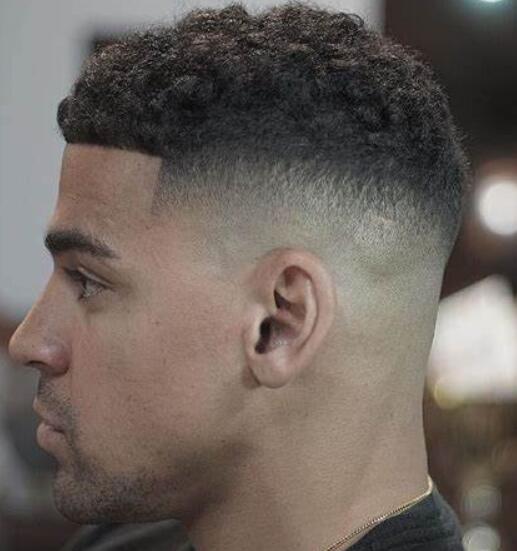 This haircut keeps the hair long on top while the side hair gets progressively shorter until it blends in with the skin. These are trendy styles for men. It will make you look neat and clean, which works well for casual or professional situations.
46.
Taper Fade with Dreads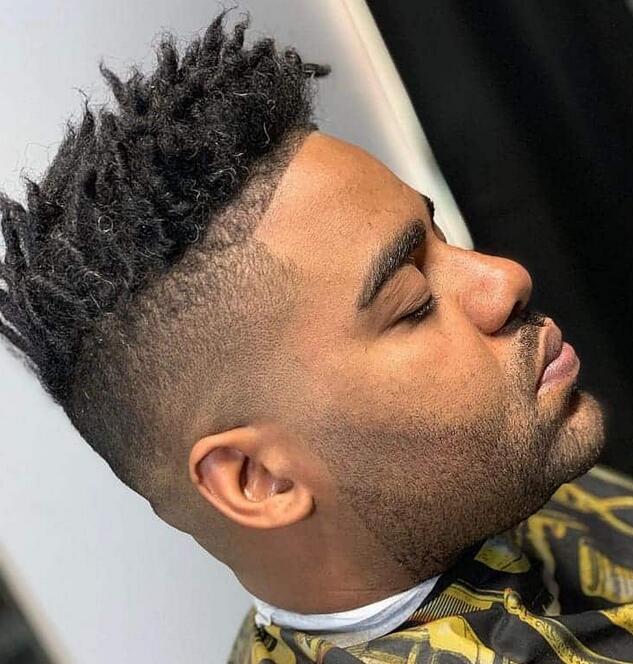 This is an entangled locks hairstyle through various means of rolling hair. Dreadlocks with a taper fade suit well for Afro-textured hair.
47.
Taper Fade with Dreads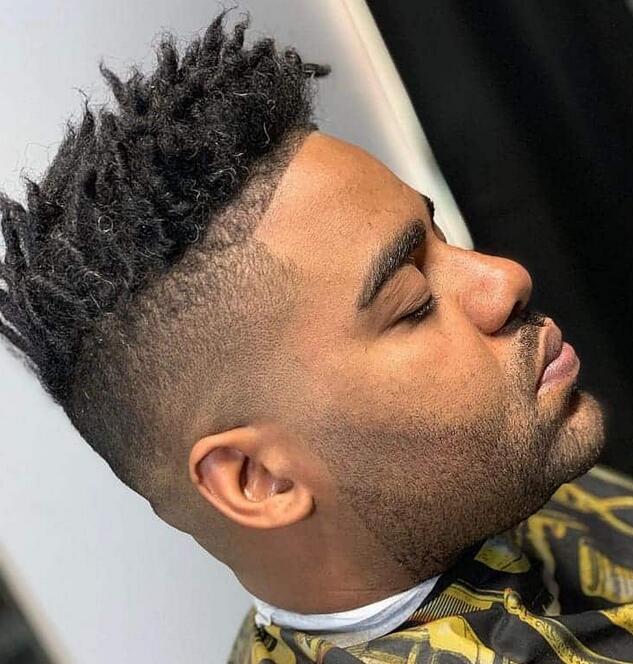 This is an entangled locks hairstyle through various means of rolling hair. Dreadlocks with a taper fade suit well for Afro-textured hair.
48. Suave Taper Fade
This suave taper fade might be what you are looking for with more classy and professional hairstyles. It can also show off your natural waves even without wax or gel. Whether you want to wear the style at a party or interview, this suave taper is perfect for almost all settings.
What Is The Proper Way To Trim A Taper Fade?
If you want to cut a taper fade, you'll need a nice pair of hair clippers with various guard sizes to help you blend the hair. Barbershops are the best place to get a razor-sharp fade. Hair on top of the head must be the longest to fade. Creating a taper fade at home requires buzzing your hair continuously to make a gradual transition from one length to the next.
What's The Difference Between A Taper And A Fade?
In the taper vs. fade debate, which is the winner? There is a major distinction between a fade haircut and a taper fade haircut: whereas a fade involves cutting all of the hair around the head at the same length, a taper fade typically only affects the hair on either side your ears. So that it doesn't look entirely out of proportion, this will also extend to the neckline.
It's also a very flexible haircut, allowing you to pick whether or not your hair will be shaved to the skin's level (as is more usual with standard fade haircuts) and how long the hair on top will be left.
The hair is usually kept at a constant length around the sides with the classic taper but gets somewhat shorter as it approaches the ears. There is a progressive change in tone as you get closer to the ears and neckline with a taper fade.
What Are The Requirements For The Taper Fade Haircut?
The length of the taper fade haircut isn't excessive. Hair lengths ranging from two to four and a half inches are suitable. It's best to keep your hair between 2 and 4 inches long because it will appear more unkempt the longer it is.
You'll have to determine if the taper fade is good for you because it's a shorter style that gradually gets shorter. Taper fade hairstyles, for example, may disclose scars on the head that you don't want to show. Observe the cut's appearance, and then decide if it's right for you.
What Is The Duration Of A Taper Fade?
There are some different styles of taper fades, but low haircuts are the most common. From the temples to the back of your head, a low taper fade begins and ends at the earlobes.
If you opt for a bald taper, you can expect it to last for about two weeks, while a standard taper fade can endure for about four weeks.
How To Explain A Taper Fade To The Barber?
Your barber will need to know how high or low you want the fade to begin and how short you want the cut to be before they can start cutting your hair. Knowing how to communicate with your barber to obtain the tapered haircut you want is essential since there are so many variations in the style.
It is possible to request a high, medium, or low fade; for example, Just over the ear, a low fade begins, wraps around, and back. The high fade starts at the top of the sides and quickly fades the hair to a more manageable length.
The length of the faded sides and back should also be considered. This is where the size of the clipper guard matters. Your hair is trimmed to the point where it blends in with your skin in the process of a bald fade or a number 0. Hair is buzzed short, but a conservative trim is left with a regular fade, commonly used interchangeably with a classic taper or a number 2 or 3.
The temp, burst, razor, and drop are some of the other fades. Your barber will shave the sides of your hair to create a razor fade. It begins at the temples and ends at the hairline, removing stray hairs. The burst fade creates an eye-catching effect by curving over the ears and down the neck. Drop fades can begin high or low and bend around the neck, so each is unique.
Conclusion: Final Thoughts!
Even if you've decided to get a taper fade haircut, it's essential to know exactly what style of hairstyle you want before going to the barber. Before you go to the barber, do some research on hairstyles online and print out a picture of the one you like so your barber knows exactly what you want in terms of both the cut and the fade.