You have probably heard of the many types of fade haircut styles. One of them is the taper fade haircut which is becoming the first option of all stylish men. Taper fade haircut styles have been worn for decades and now, these styles have increased in popularity.
What is a Taper Fade Haircut?
A lot of men would like to know more about this type of hairstyle so that they can decide if this is something that is worth checking out or not. This is a modern haircut that is known to be a mixture between classic and modern. This is sharp enough that it can be used when you work in the office. It is still cool enough that it will look great when you want to have a profile pic.
How This Hairstyle Became Popular
This is one hairstyle that has become popular over the past years. The main reason for this is because you would like to have a different aura whenever you want to show yourself to the public. There are a lot of men who would like to groom the same way that the people from the 20's have groomed themselves.
Taper fade haircut styles look like the classic taper cut which existed before the popularity of fades began. So it's like wearing old and new style at the same time and that's because our hair is just that awesome. The taper fade keeps the hair longer on the crown area while slowly fading towards the bottom and sides. These styles look clean and fresh, plus they are very easy to manage.
Best for People
This is known to be a very versatile cut that can fit a lot of men well. This looks somewhat similar to the short sides and back haircut but this one just looks better because it looks more groomed. It is best that you choose a style that will fit your head well. If it is too long, it may not work that well on you. The length that will be left behind on the top portion of your head might lengthen your overall appearance.
This is one hairstyle that can be appreciated by all gents who would like to look polished. This is truly for the style-conscious person.
How to Get the Taper Fade Haircut
Now that you have decided that this is a hairstyle that looks great, this may be something that will look amazing on you. You can take a picture that you think will show the type of fader haircut that you want for yourself. Allow the barber that you choose to work his magic. You can check out the reviews of the barber that you want to pick. Once you have made the right choice, then you can have an amazing hairstyle that you can fix every time.
How to Style Your Hair
It does not mean that just because you have already gotten the hairstyle that you want, it will look amazing all the time. You need to style it properly by doing the following:
Choose a clay or paste that you can use to tousle the top portion of your hair.
Make sure that you will arrange your hair in such a way that you like.
Allow your hair to dry properly.
As the taper fade haircut styles becomes popular, more and more styles are created.  Both short and long hair can experience the advantages of taper fade. Whether you want to wear formal or casual look, we have gathered the top 30 taper fade haircut styles for men that might give you encouragement to take your haircut to the next level.
30 Best Taper Fade Haircut Styles for Men
#1 Taper Fade Layered Style for men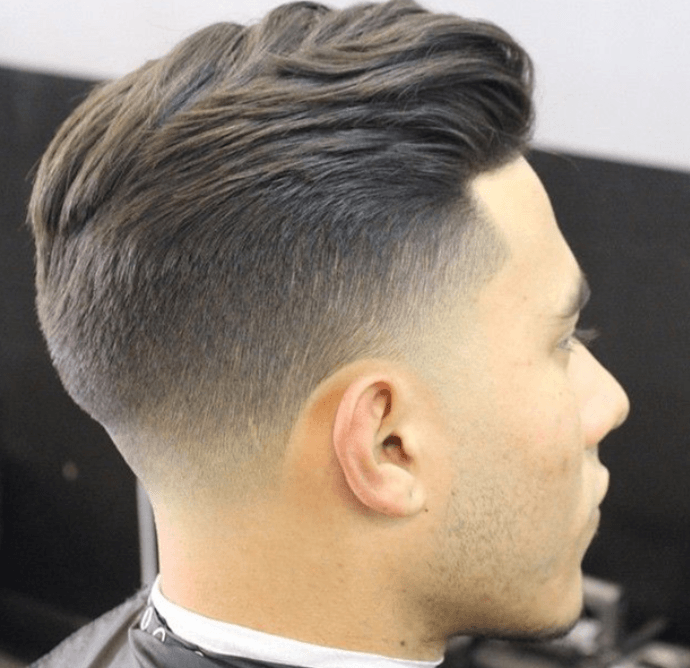 The best way to add dimension and depth to your hair is by giving them nice layers that blend well. This layered taper face makes the hair on top look thicker and allows the natural waves to show off. Both sides and the back have faded effects and the bottom part is completely cleared. The best thing about this hairstyle is the display of the natural waves of your hair so you do not have to add shapes anymore.
#2 Mohawk Taper Fade
This taper fade style is inspired by Mohawk styles. The top middle is kept long while the rest of the parts are trimmed short. The bottom parts are not completely shaved but look very neat. The top part also shows the natural waves of the hair. If you have straight hair, you can always apply hair wax or gel to make your own waves or simply keep it straight.
#3 Curly Taper Fade
Men with natural curls can enjoy this taper fade style. The crown area is kept in medium length that shows off the natural small curls while both sides and the back have faded effect. The bottom part is completely shaved. It also has strong lines that create square shape on the forehead area.
#4 High Taper Fade
This taper fade style keeps the hair on top long enough to keep it standing like a huge wave. This style can be achieved with hair product that can maintain the tightness of your hair like pomade. The hair partition is also visible which starts the faded effect from the line to the bottom part. Both sides are trimmed short for neat and professional look.
#5 Slicked Back Style
This taper fade style keeps the length of hair on top in medium size. You may also keep it longer if you wish to but just enough to make waves going backwards. The middle part is trimmed short while the bottom part is cleared to make faded effect that looks clean and fresh.
#6 Low Taper Fade
If the hair on the crown is more than two inches, this type of fade is called low taper fade. This hairstyle is great for men with dark hair and can also work with slightly wavy locks. In low taper fade, the hair fades an inch or more above the natural hairline. You can also apply hair wax or gel to maintain the style of the top hair.
#7 High Top
This fade taper fade haircut keeps the crown area long and thick. Men with thick and voluminous hair can easily wear this hairstyle. There is also a clear line that extends the hairline into creative strokes. The fade effect starts from those lines towards the bottom. You can also suggest to your barber to extend the lines or keep them short. The possibilities are endless.
#8 Afro Style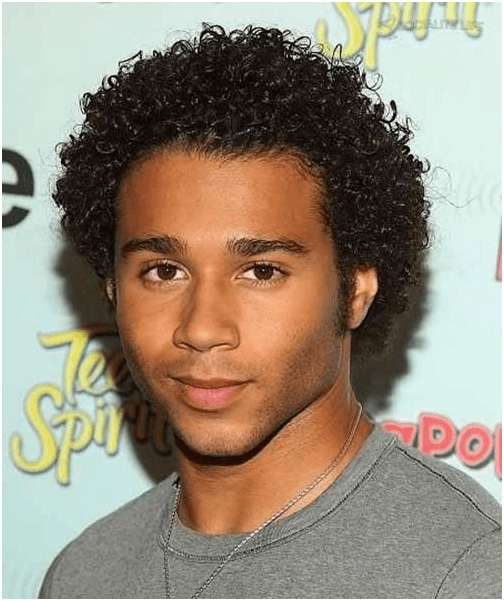 This style is designed for men with natural curly or kinky hair. The hair is trimmed and styled from the crown. The length of the hair is lessened from the upper part to bottom until it becomes cleared. This afro taper fade looks trendy and super cool. You can also ask your barber to add a visible slanting line from the forehead for added design.
#9 Golden Curls
For men with natural curly hair, you can make it your asset with this style of taper fade. Both sides and the back part are shaved neatly while the hair is getting longer towards the top level. The top has the longest hair and shows off the natural waves. It is also easy to manage this hairstyle as all you need to do is to run your fingers in different directions.
#10 Comb Over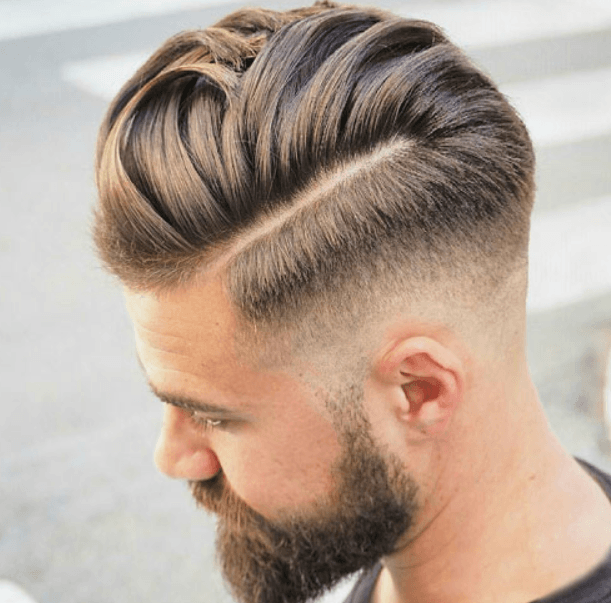 Comb over is one of the coolest taper fade haircut styles for men. Wearing this hairstyle can give you an awesome and fresh feeling. The hair on top is maintained long and you can comb it backwards with messy style. You can also cover your hairline by running your fingers sideways. The sides are trimmed to stay shorter than the top.
#11 Wall Taper Fade
This version looks like a Mohawk but with faded effect on both sides. The faded effect starts an inch or so from the hair partition. The top middle hair is longer especially the bangs and the length decreases towards the back. The hair is combed upwards with gel to maintain its shape.
#12 Bald Taper Fade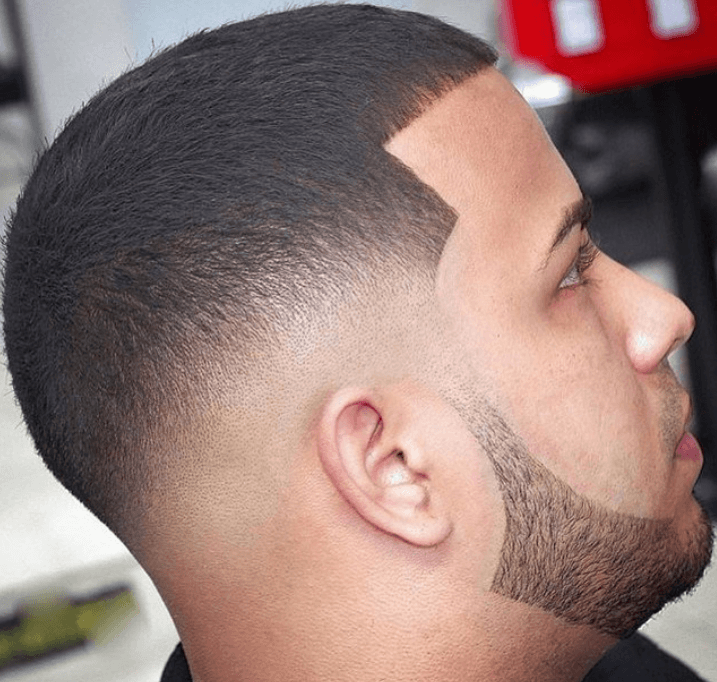 This version of taper fade is cut very short and the bottom part is completely shaved. The middle section has faded effect starting from the tip of the line that forms a square shape. This style is somewhat similar to buzz cut but different style of fading. This haircut style is perfect for men who are bald or almost bald so they can regain their confidence.
#13 Kinky Style Fade
Men with natural kinds can take their taper fade haircut to the next level. This version keeps the top hair in the front area very long to achieve kinky bangs. The middle top is has medium length and shows the natural kinds. Both sides are cut short with faded effects. There is a visible line around the head where the faded effect starts.
#14 High and Tight Taper Fade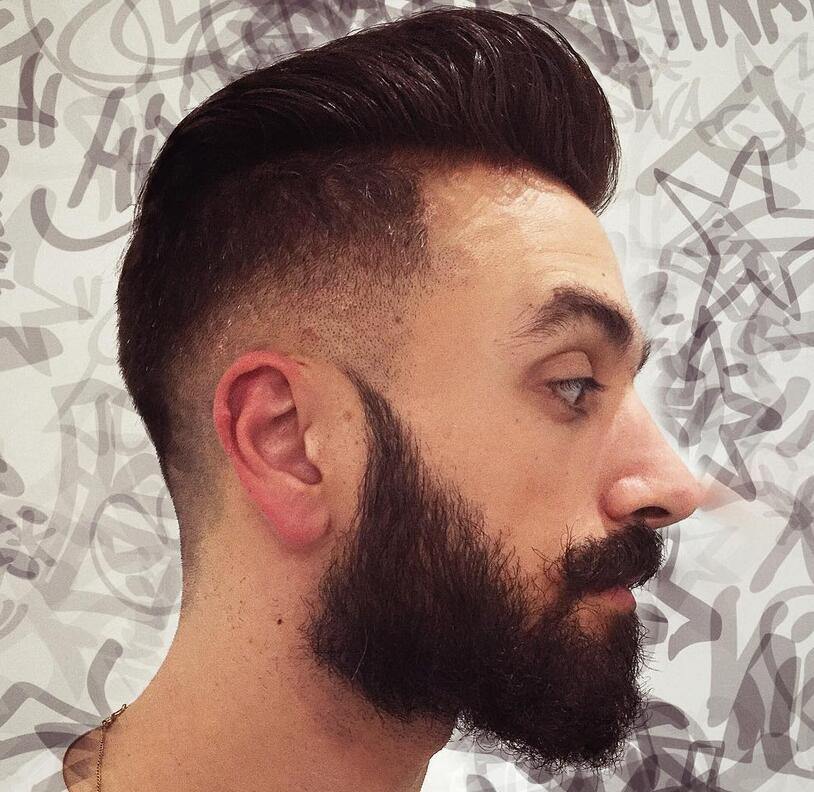 This style looks like a military haircut so wearing this hairstyle gives you an authority feeling. Both sides are shaved neatly with faded effect starting an inch from the hairline. The top level remains long so you can comb it backwards with gel. The top front is also brought together to make it appear thicker and bigger.
#15 Bleached Spikes Fade
Bleach or blonde highlights can add more spice to your hairstyle. This version of taper fade also has extended line from the hairline for additional design. Both sides are shaved with faded effect while the long hair on top hair is brushed upwards to make spikes. The tips of the spikes are highlighted that makes the hairstyle very clear and handsome.
#16 Curled Caesar Taper Fade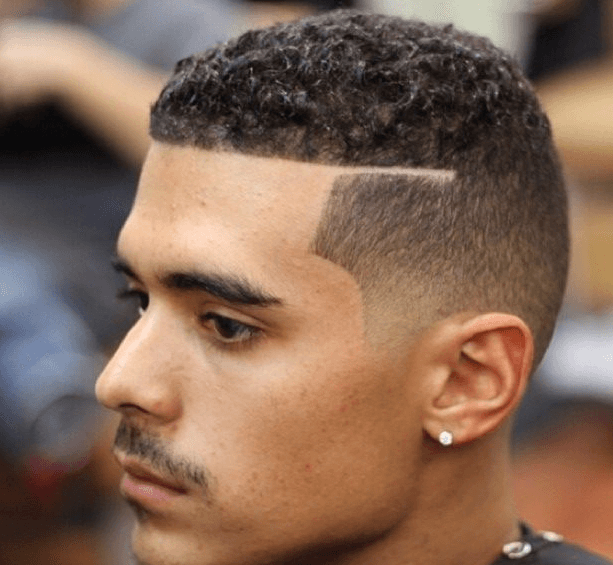 Another hairstyle that allows you to flaunt your natural waves or curls is the Caesar taper fade. The sides are just trimmed and the top has longer length. The hair on top is swept to the side but keeping them in front. Men with natural curls can rock with this hairstyle. You can also ask your stylist to curl your top hair to achieve this angelic look.
#17 Mohawk Style with Designs
This version of taper faded keeps the hair on top and at the back long which gives you a Mohawk touch. You can take your Mohawk taper fade haircut to the next level by adding haircut designs. You can also ask your barber for your preferred design as long as your barber is skilled enough to do it.
#18 Messy Curls Fade
This hairstyle is more apt for men with natural curly hair. It is not only fashionable but also look professional and modern. The length of hair from the back and at the sides is the same while the hair on top is longer. The natural curls give highlights to the faded hairstyle which catches the attention of the people around you.
#19 V Shape Fade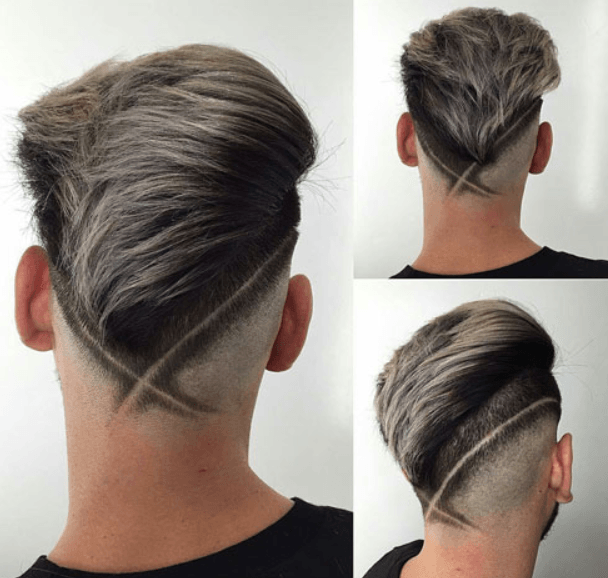 It is always better to be confident of your natural hair and all you have to do is to add a bit of spice. Your natural kinky hair is actually an asset that you can show off anywhere you go. This version of taper fade includes a V haircut design at the nape which took the haircut style to the next level.
#20 Retro Taper Fade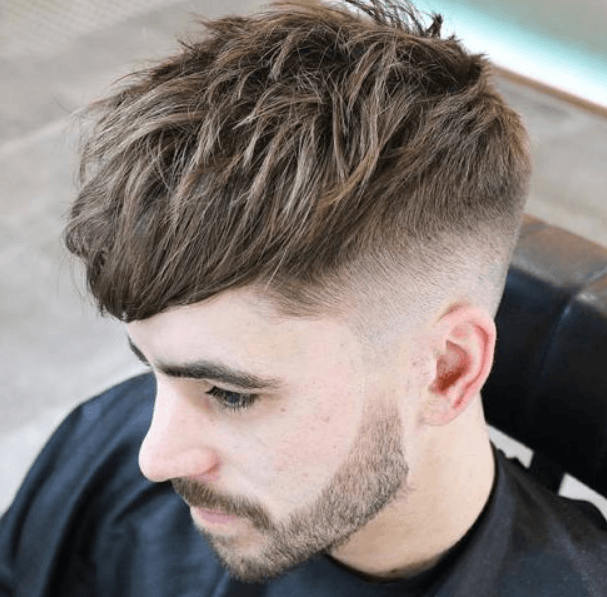 This version is one of the most popular taper fade haircut styles since the 1980s and is gaining popularity again in the recent years. This hairstyle work better for men with thick and dark hair. It is also attractive and highlights the facial feature. Regular maintenance is also important to keep the style.
#21 Long Top Fade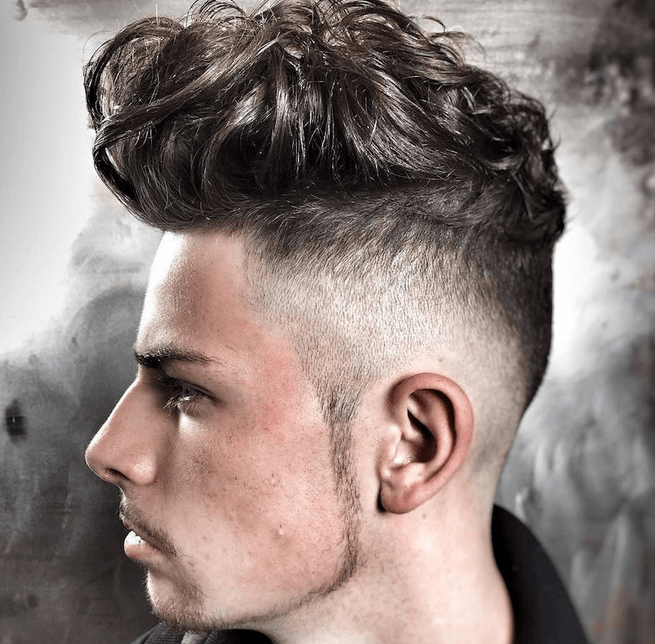 You can rock with your taper fade haircut style by keeping the top hair long and comb it neatly to the side. Comb the front hair backwards to make it look like a wave. You can also keep your facial hair linked to the sides of your hair to achieve a square shape face.
#22 Lumberjack Taper Fade
Lumberjack version is also one of the best taper fade haircut styles that men often choose. Those who do not want to cut their hair very short and still want to have faded style can try the lumberjack cut. It is not just trendy but also goes well with different types of hair. It is also best to have thick beard with jaw stripes to blend the hairstyle.
#23 Spiky Taper Fade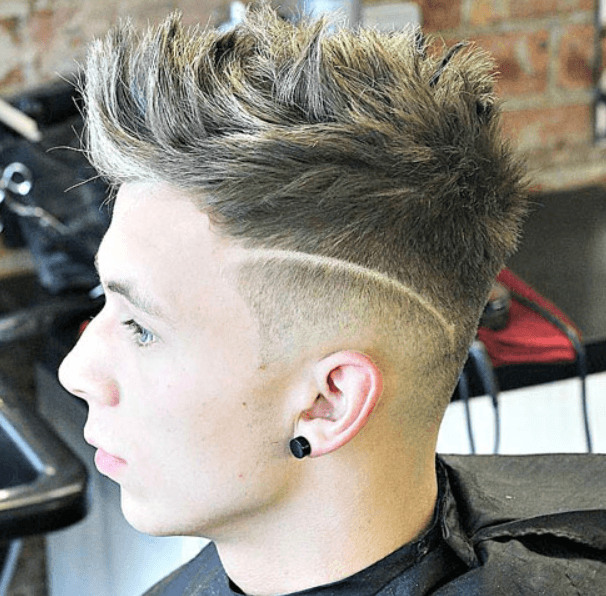 Spiky hairstyles are also popular since before and combining it with taper fade gives you a great hairstyle. Both sides are shaved with faded effect while the hair on top remains medium length. The length of the hair decreases from top towards the back. Simply use hair gel to form spikes on top to achieve funky or modern style.
#24 Handsome Taper Fade
This version of taper fade is one of the most popular in different countries as it works great with different hair types and colors. All sides and the back are shaved while the top has significant amount of hair. It is also important that the hair on top is long enough to achieve this style.
#25 Faded with Wavy Line
Here is another great haircut design that you can combine with your taper fade. After trimming the sides of the hair shorter than the top level, visible wavy lines are created which emphasizes the upper part of the hair. The hair on top can be combed upwards or styled with spikes.
#26 Classic Taper Fade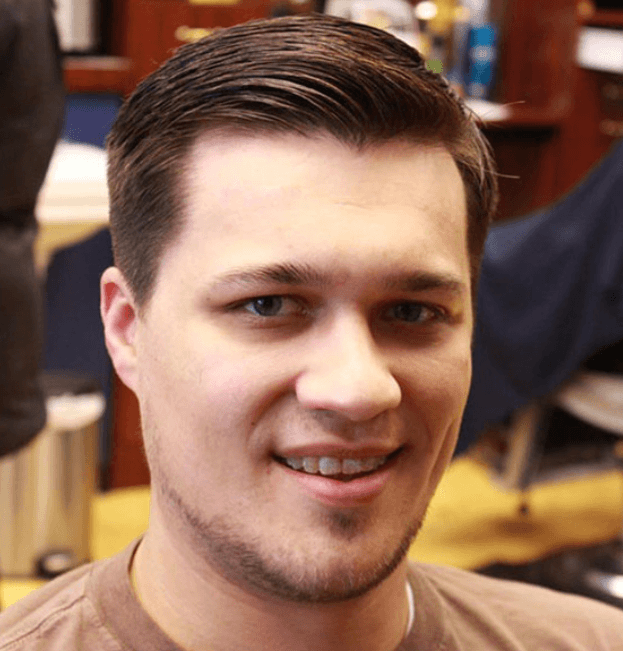 This version is a classic taper fade with simple and neat styling. It looks both old school and new school at the same time. Another great thing about it is it makes you look professional so you can also wear this hairstyle in office setting or when going to special occasions.
#27 Retro Style Fade
This hairstyle is popular since the 1980s and is still gaining popularity among our generation. This style works best on African-American hair because of natural thickness and curls. It also looks great with faded jaw stripes.
#28 Creative Taper Fade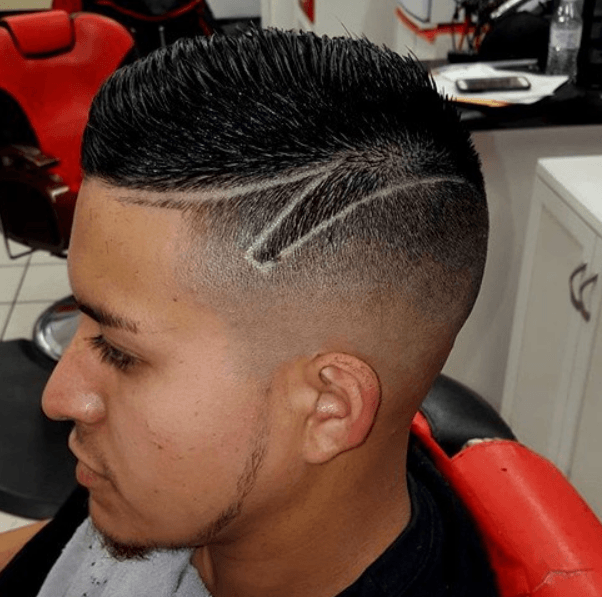 You can always make your hairstyle as stylish as you can. As long as your barber or hairstylist can do your preferred style or design, you can achieve the style that you want. This taper fade version has long hair on top that forms the hairstyle of Johnny Bravo. The back has V line and the bottom has slanted lines that create more texture to the hair.
#29 Autumn Fade Hairstyle
This version is another creative style with a leaf at the side. Both sides have short hair while the hair on the crown is long and forms soft waves. Lines are then shaved to form the image of a leaf.
#30 Suave Taper Fade
For more classy and professional hairstyle, this suave taper fade might be the one that you are looking for. It can also show off your natural waves even without wax or gel. Whether you want to wear the style in a party or interview, this suave taper is perfect for almost all settings.