A temp fade haircut is one of the most famous men's haircuts around the world today. This haircut is also regarded as Brooklyn fade, Low Fade, or Blow Out. The hair is tapered from the scalp to the hairline, with the rest hair left at the same length.
A temp fade haircut is perfect for anyone who wants to incorporate a fade into their appearance without dramatically thinning their hair. It will boast an excellent taper fade around your temples, creating a stylish and unique look. This article will list 65 popular temp fade hairstyles for men.
How to style a Temp Fade?
If you want to style a Temp Fade, ensure you have the right products to work with. You can't style a Temp Fade with cream or wax. You need to use a product that will clump up on your hair if you use the right one. We recommend that you use a pomade.
Make sure that you have the proper cut as well. You can style a Temp Fade easily if you have long hair. If you have shorter hair, you might need to get creative and use a little product to style a Temp Fade.
Let us move on to how to achieve a temp fade haircut.
Make sure the hair is damp to ensure proper division of parts. It will also be easier to mold and cut if it is wet.
Choose the right shaver guide size. Remember that you will be shaving the sides, so you have to be extra careful not to take off more hair than intended.
Decide where the fade line will be. Doing so would enable you to determine where the hair would start transitioning.
Separate a section of hair on the top that would be longer.
Start shaving the sides in small portions and sideways.
Clean up the fade line by using the clippers-over-comb method.
Trim the sectioned-off-top hair from earlier.
This step is optional, but you may clean off the look by shaving the base of the neck.
65 Popular Temp Fade Hairstyle For Men
Temple Fade with Hard Part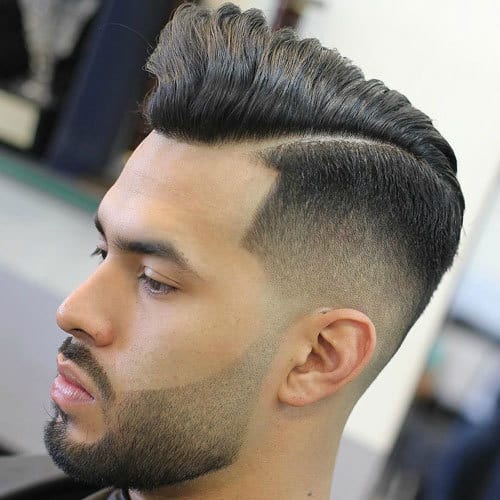 What are your thoughts on this haircut? First, this haircut boasts a super clean hard part. Second, the clean hard part attractively transitions from a skin fade to the beard. To complete the look, you need long hair.
Burst Fade Haircut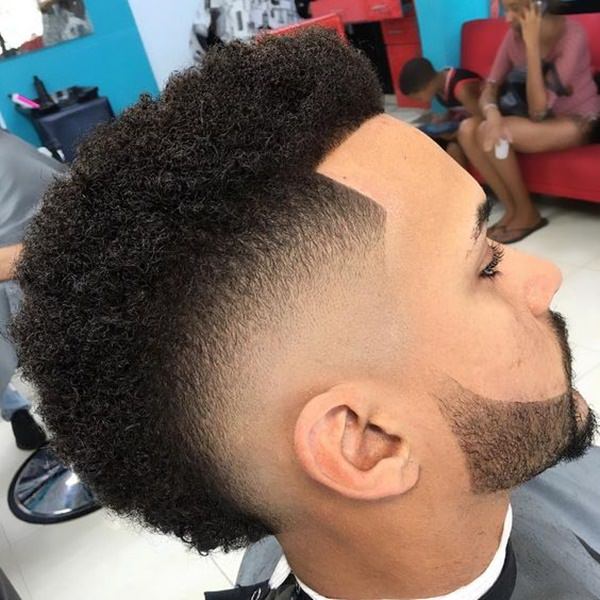 Also regarded as the South of France, this haircut boasts a wide curly Mohawk alongside a semicircle fade on both sides of the head. The shape is also essential, hence the name of the hairstyle.
High Contrast
I was blown away by how clean this hairstyle is. Even though the gentleman's hair's thickness played a part in the mind-blowing result, my hats go off to the seasoned barber who styled the cut.
If you also have thick hair like the dude above, consider bringing this photo to your barber for reference.
Ivy League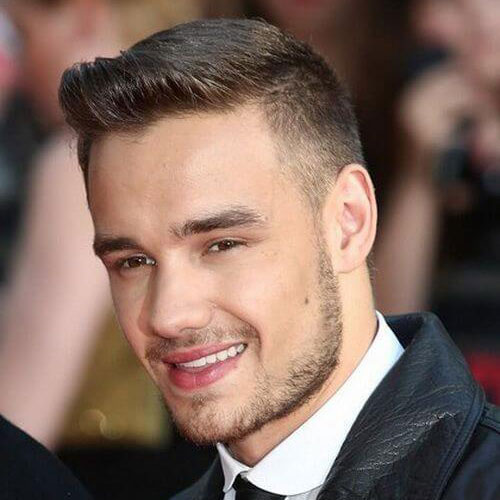 A temp fade style is not always synonymous with edginess. It can also be the cherry on top of a dapper haircut in some instances. The fade is the detail that contributed significantly to the polished outcome.
Two Sections Line Up
Surgical lines are a sight, even for sore eyes. This shaved line cut is also associated with a clean and arched line that starts higher in the front and lowers in the back. If dynamism is your thing, then the two sections of surgical line hairstyle are for you.
Twisted Hair with Temp Fade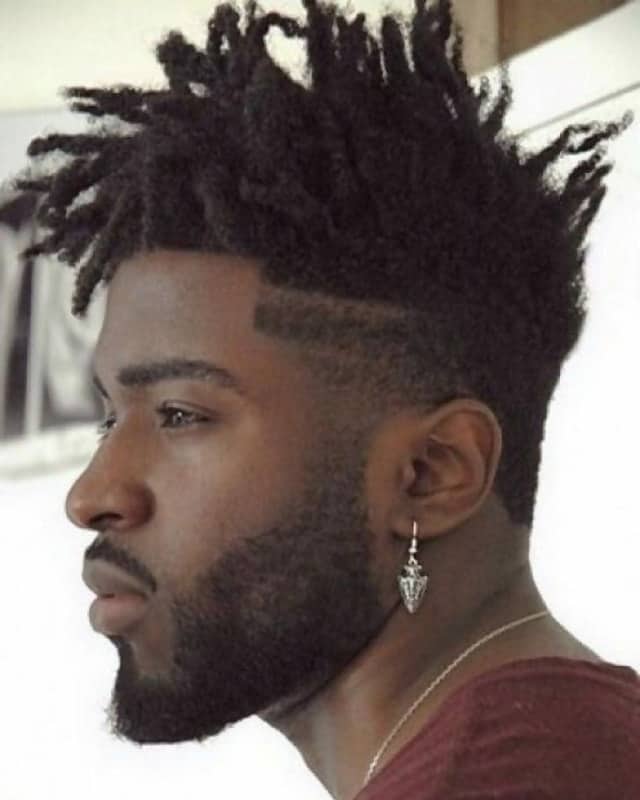 Would you like to award your long hair an afro makeover? Then start twisting the locks like the gentleman above. Twisted braids will protect the natural locks while at the same time revamping your style. With that in mind, I recommend getting the style done by a professional so the results can be up to par.
Colored Tips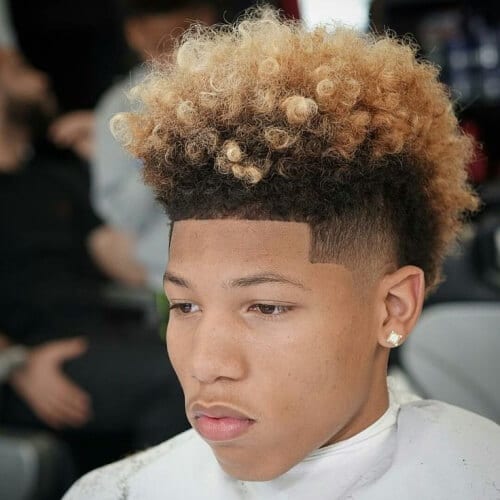 Colored tips will have the power to draw just the right amount of attention to your curly hair. You do not always need to add color to a large portion of your hair when dyeing it. Other times, just staining specific sections of your hair on the top will also bring the haircut to life.
Angular Fringe with Temple Fade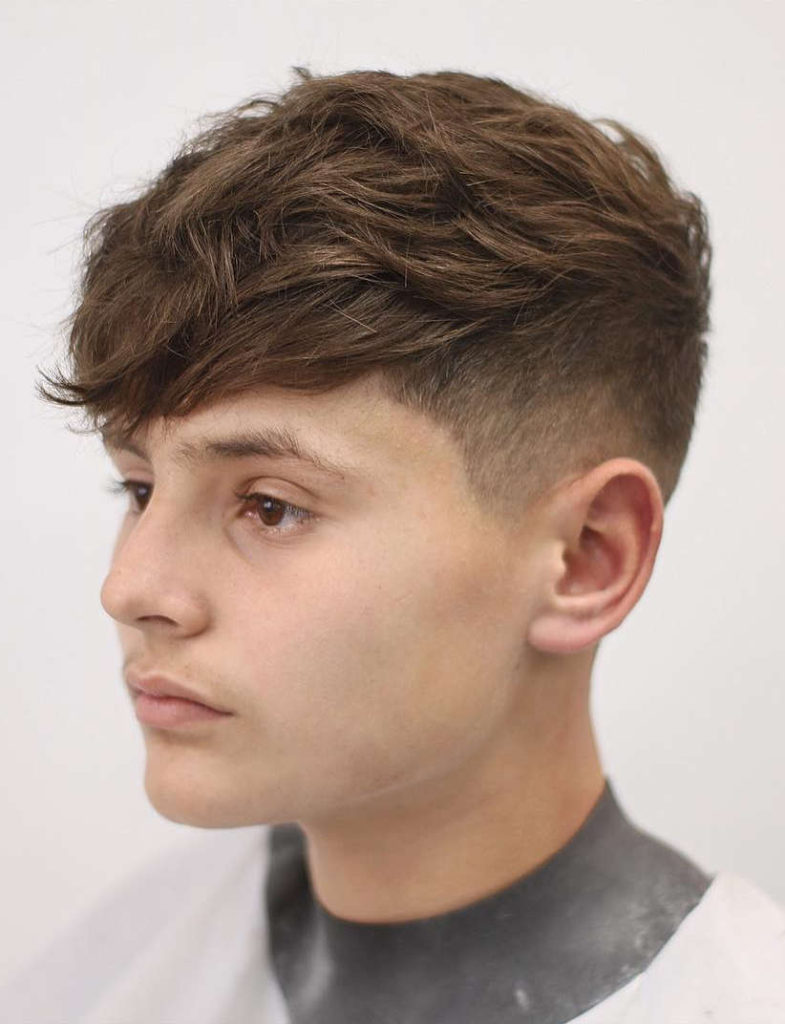 This haircut is all the range for most young guys, particularly teenagers. In case you want to keep up with the latest trend while at the same time defining your hairline, then get this style with an angular fringe haircut.
The V-shaped Haircut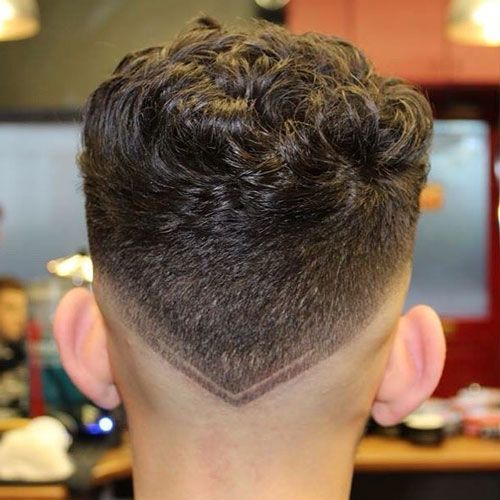 If you are getting a Mohawk style, I would like to introduce this haircut. The V-shaped nape has been trading for as long as I can remember. This haircut was coupled with hairstyles a while back to look amazing.
Temple Fade with Creative Shaved Design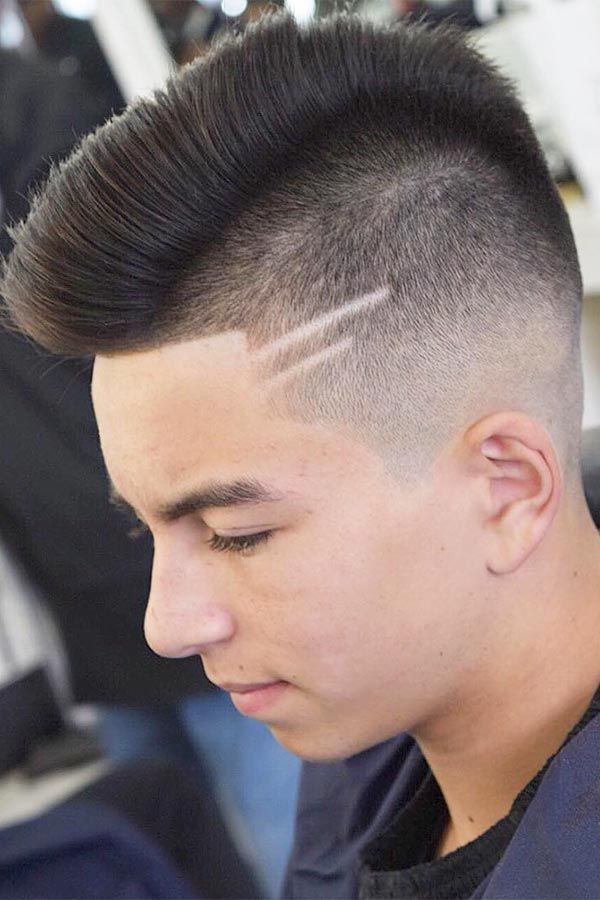 Think of your hair locks as the canvas and your barber as the artist. What sort of design would you like him to create? This is one of the few hairstyles that allow you to unleash your creativity as much as you can.
A French Crop with a Neck Tattoo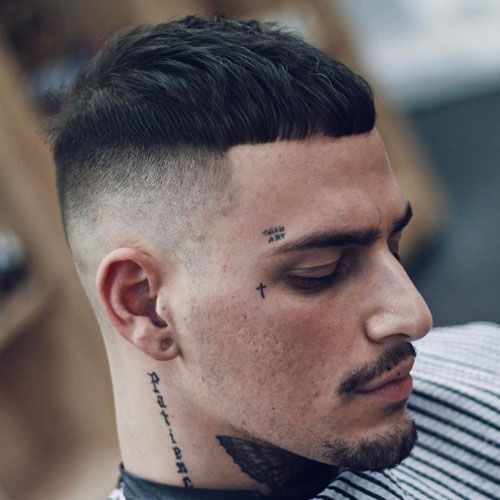 The French crop is among men's top trending haircuts of the 21st century. I have previously covered this haircut extensively and mentioned it. As you can see, it resembles Caesar's haircut but with longer bangs. Now, I bet you can also see how it would perfectly fit with a temp fade haircut, especially if you have an attractive neck tattoo.
Temple Fade with Long Quiff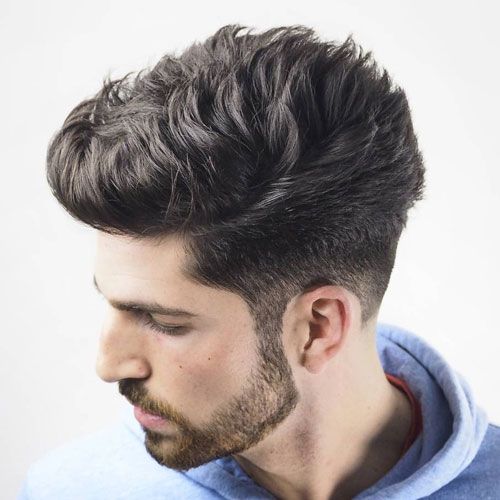 If you have decided to get the quiff haircut, here is another example of how you can get it. You can see how the quiff temple fade looks on the gentleman with long hair in the image above.
And if you decide to style this cut, ensure you keep it neatly swept to the side.
High and Tight Temple Fade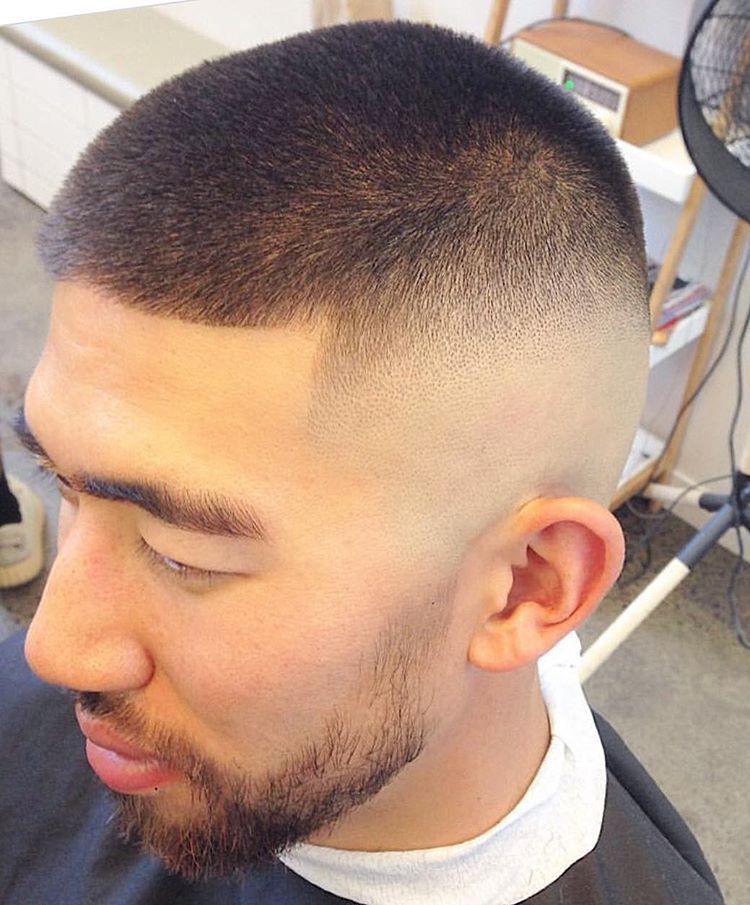 By now, you can tell that military hairstyles have been serving as continuous inspirations for modern haircuts. For example, the high and tight hairstyle is the temp fade's great friend. And the two cutting cuts complement each other just perfectly.
Temp Fade with a Faux Hawk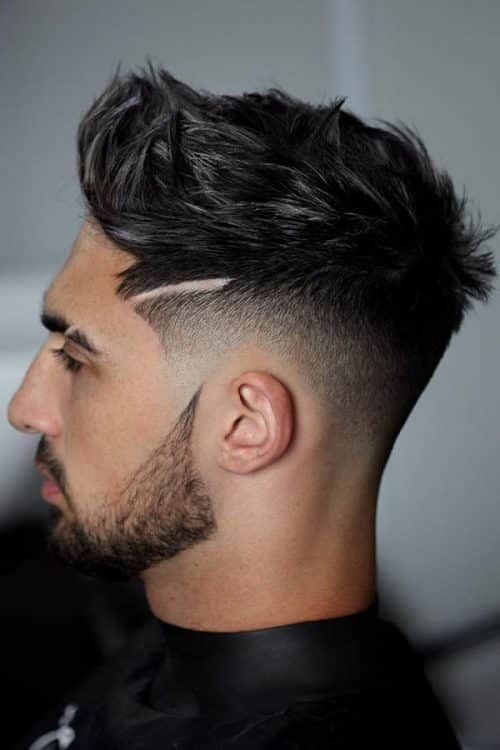 Regardless of whether you attain the temp fade, you ought to know about the famous faux hawk. It is the more accessible version of a Mohawk, implying that it is easier to wear in all social environments.
Fringe Up Box
If you feel nostalgic for the spiked bangs trend, you will be happy to know that this fringe is now in style; it is pretty much like the early haircut, just that it uses a softer approach when it comes to styling it. This haircut will allow you to trace it beautifully.
Temp Fade with Messy Curls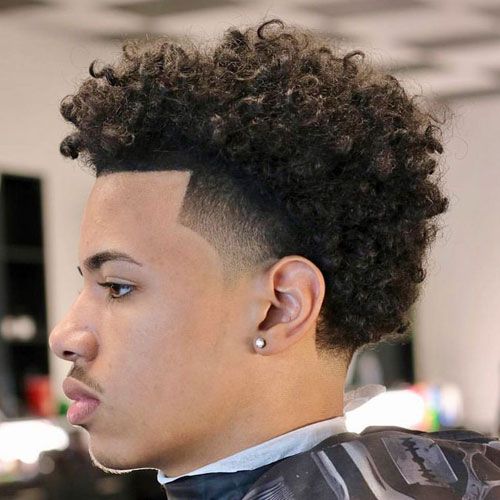 Attaining a clean lineup does not necessarily involve cleanly cutting the rest of your hair locks. If you are an afro fan, I encourage you to consider leaving your hair all-natural. In addition, I particularly recommend this idea for gentlemen who boast bigger and thicker curls in their afros.
Temp Fade with Flat Top Hairstyle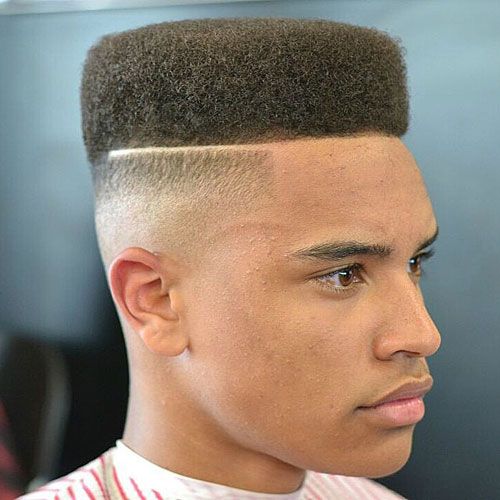 The super fresh haircut would be the understatement of the year when describing this haircut, especially if it has been done correctly, like in the image above. As you can see on the little guy, a flat top haircut and a temp fade hairstyle will look fly. I also love how the shaved line completed the haircut.
The Caesar Cut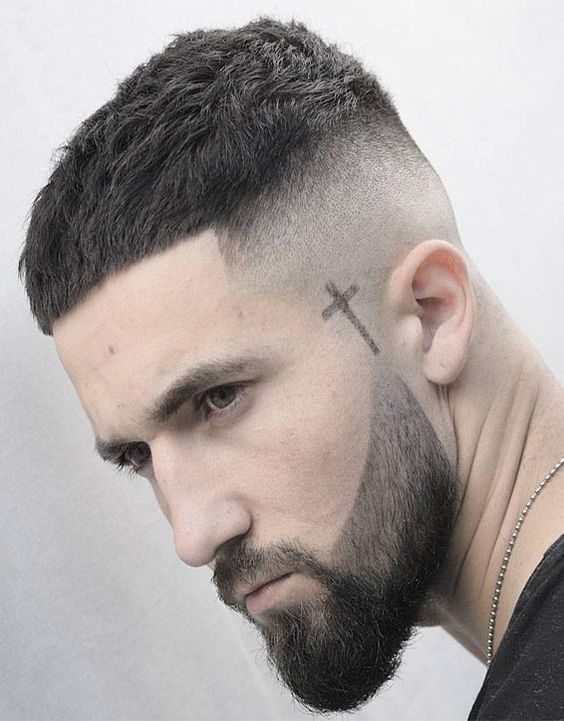 It is almost impossible to attain a Caesar cut without having the temp fade; that is, if you want it to be good-looking enough to turn heads wherever you go. Subsequently, you should always speak to your barber about cleaning up your hairline.
Double shaved line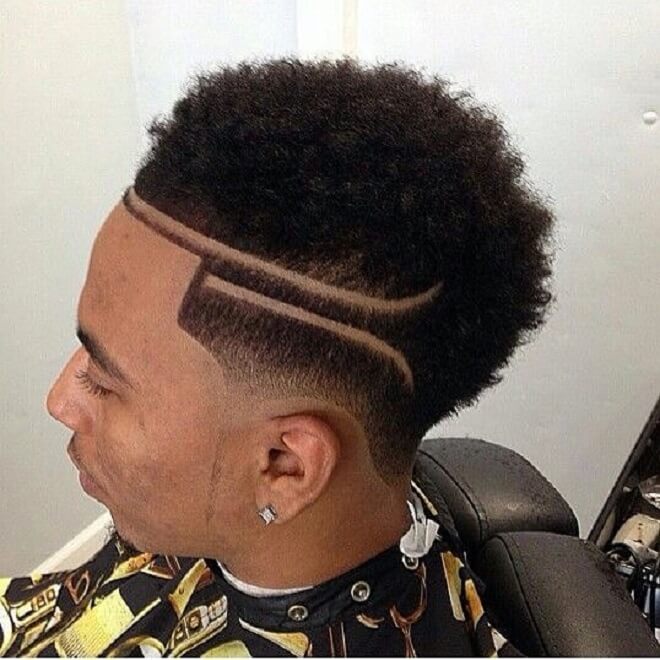 This style doubles the coolness of your haircut by using two different shaved lines instead of one like we're used to. In addition to that, the lines are shaved diagonally to create a striking visual effect.
Thick Hair with Temple Fade
What if you are a Caucasian gentleman who struggles with thick hair? Instead of chopping it all off, you could also try out this lovely and practical hairstyle. Thanks to its length, the style will not restrict your styling options.
At the same time, it will not have your hair sticking out in all the wrong directions either.
The Curly Mohawk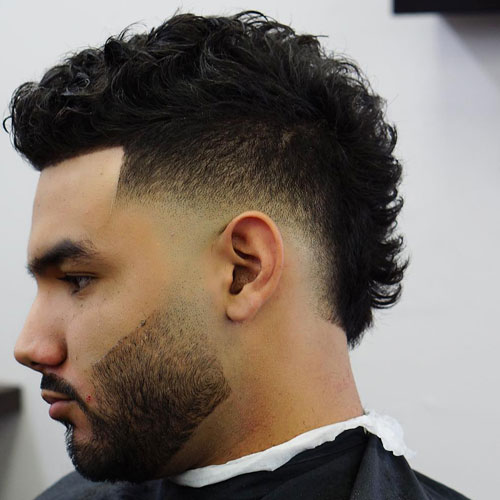 The Mohawk temp fades are fantastic to show that you are a rebellious individual with a taste for unconventional haircuts. The Mohawk style will be even more original if your hair is afro-textured.
I highly recommend keeping the Mohawk section of the haircut wider to attain a better visual impact.
Temple Fade with Way Line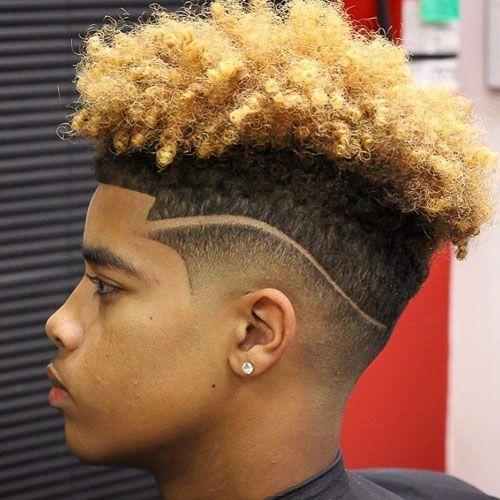 A wavy-shaved line is a funky alternative to another straight recommendation I will look at later. It is the perfect detail for an individual who boasts a bright personality and wants to convey it through their haircuts. You can also shave a wavy line on both sides of your head, or you could opt for one on the right or the left.
Temple Fade with Bun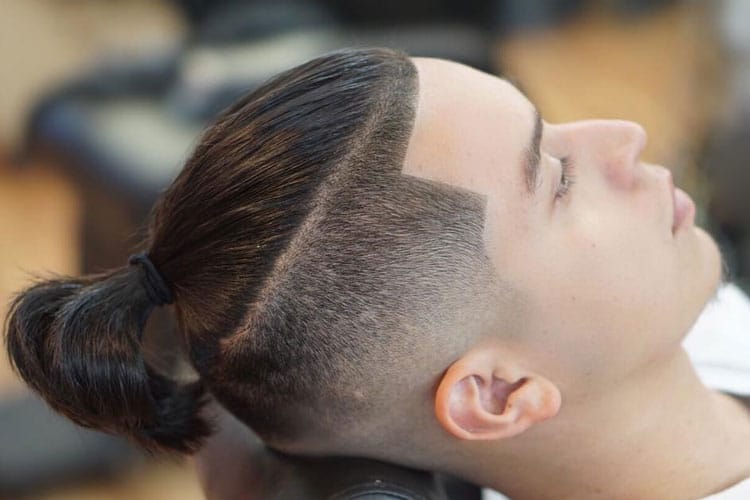 Not only will a guy with long hair and a temple fade look appealing with their hair down, but they will also do when they wear a man bun like the guy above.
Receding Hairline Haircut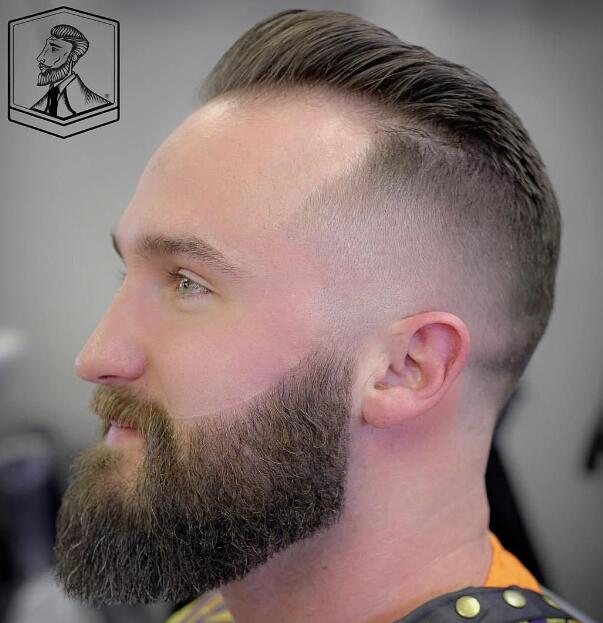 Receding hairline is not fun for anyone to deal with. Nonetheless, there are many intelligent haircuts for gentlemen with receding haircuts that you can easily experiment with. In this case, the temp faded is ideal for covering up any flaws.
Subtle Temp Fade Haircut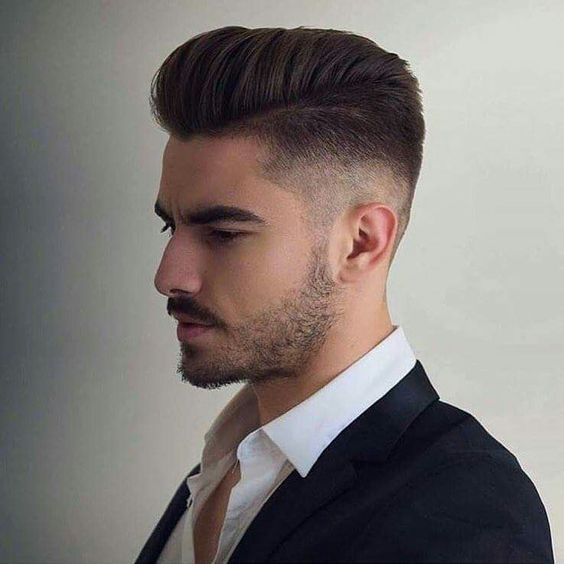 This is the perfect approach if you would like the steep angle associated with a temp fade without the heavy side shaving. For this, focus on the box shape and shave down the inner part of your sides only slightly.
The Pompadour Temple Fade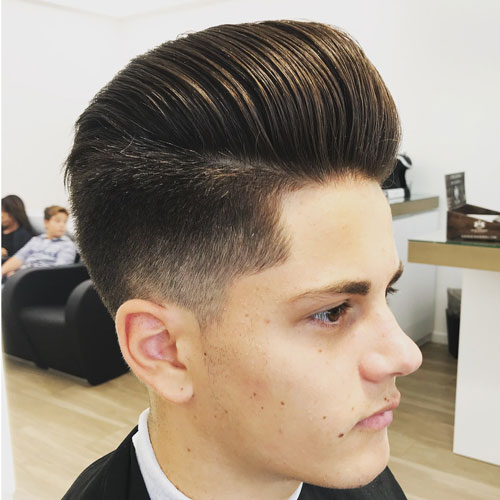 For over 50 years, pompadours have been described as one of the most attractive haircuts for men with refined taste. And for a good reason. Even though this is a classic haircut, it will look brilliant in all modern adaptations.
Cornrows with a Temp Fade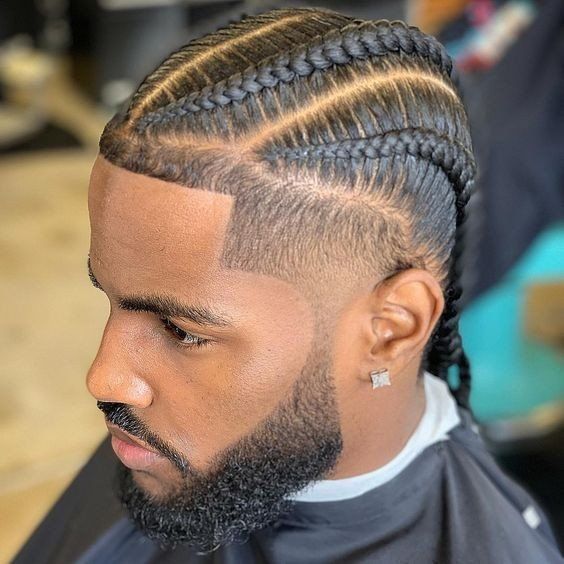 I bet you already know that braids will look amazing with temp fades. But what if you are unsure which braids you would like to go for? You should know that you can never go wrong with the cornrows above if you are out of ideas.
Pick your favorite design, then go on and rock it.
A Quiff Temp Fade Hairstyle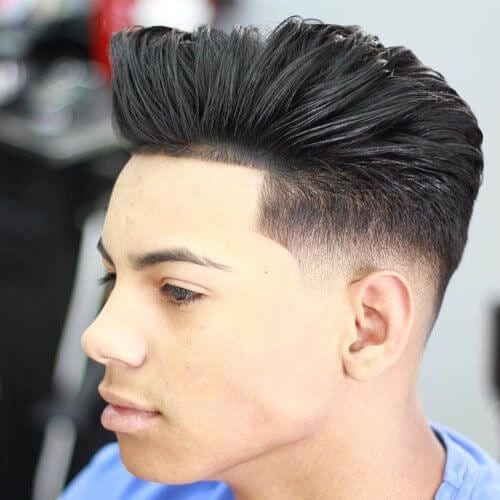 The quiff is well known for being one of the most classy haircuts for gentlemen of all ages. But what about if you want yours to bring out the pretty boy effect? Simple! The time fade is exactly what you need. This will also make it edgier.
You do not even need to get a visible undercut fade. The lineup will be, without a doubt, more than enough.
The Shaved Line Temp Fade
Do you think a hard part will not boost your appearance the way you want? Then there is always the shaved line option waiting to be explored. You can either make yours long or short, dependent upon your preferences.
Pick the side you want to get on, then make it stand out.
Box Temple Fade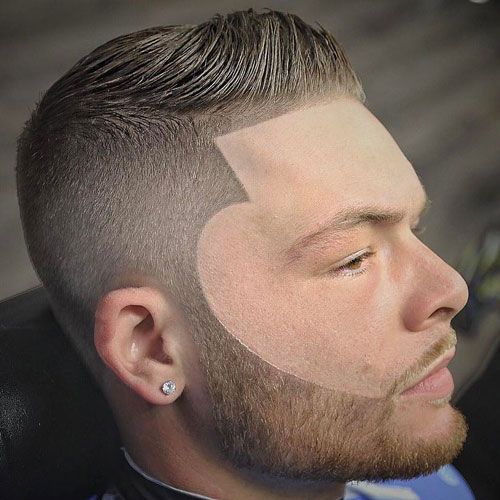 It was explicitly concocted to bring out the best in any person's features, from jawlines to beards. What's more? Just take a look at how cleanly shaved the lines have remained. I say kudos to the skilled barber.
Crew Cut Line Up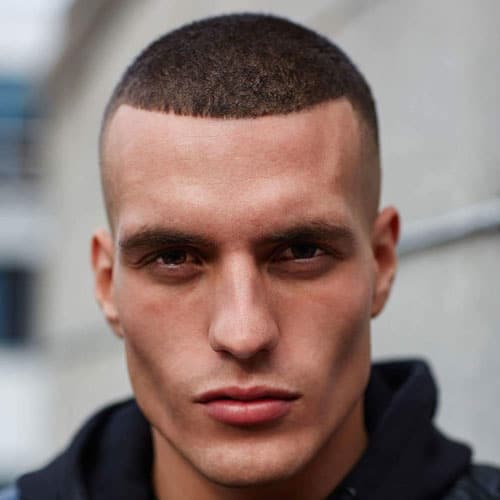 The crew cut above is another army favorite that goes perfectly well with the temp fade, like a match made in heaven. You should make the most of an easy-going haircut without running out of styling ideas.
Start by choosing the position of your fade (low fade, mid fade, or high fade) and go for it.
Spiky Temp Fade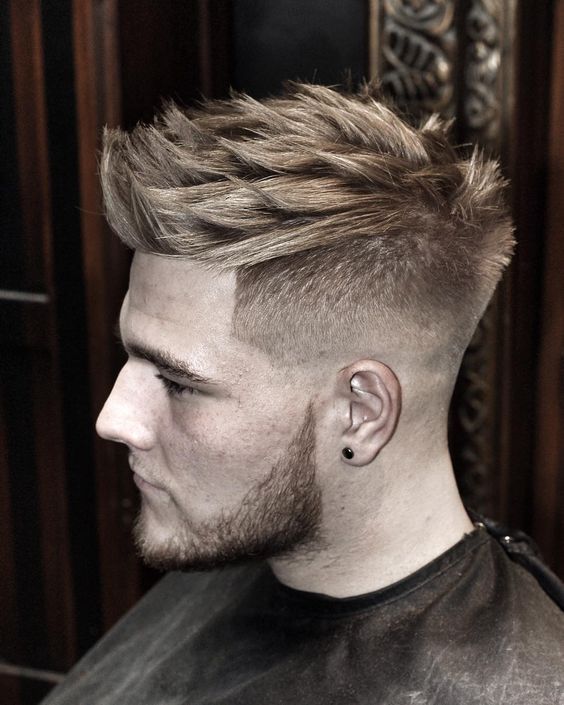 This temp fade will allow you to accentuate the spiky top of your haircut. Ensure that you visit your barber regularly and ask him to shave you cleanly around the hairline.
A Buzz Cut with Temple Fade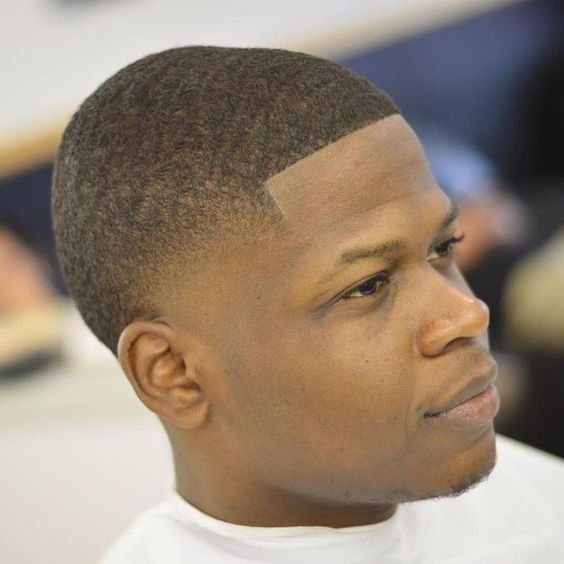 You will probably have an easier time maintaining your hairstyle if combined with a buzz cut or a short haircut. The shortcut is also among the most famous military-inspired hairstyles for gentlemen who are not into heavy styling, not to mention that the style looks splendid with a lineup.
Medium Hair with Mid Temp Fade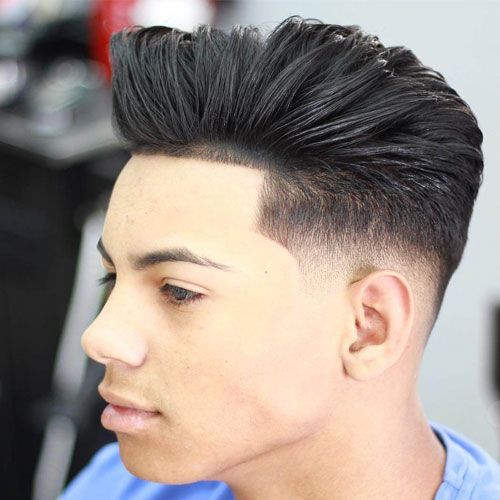 You could also look astounding with a temple fade if you boast straight and medium-length hair. As long as you ensure that the top has been well-styled, you will enjoy all the benefits that a box fade offers. Also, ensure that you touch up the haircut often to remain fresh.
The Sponge Twist Temp Fade Haircut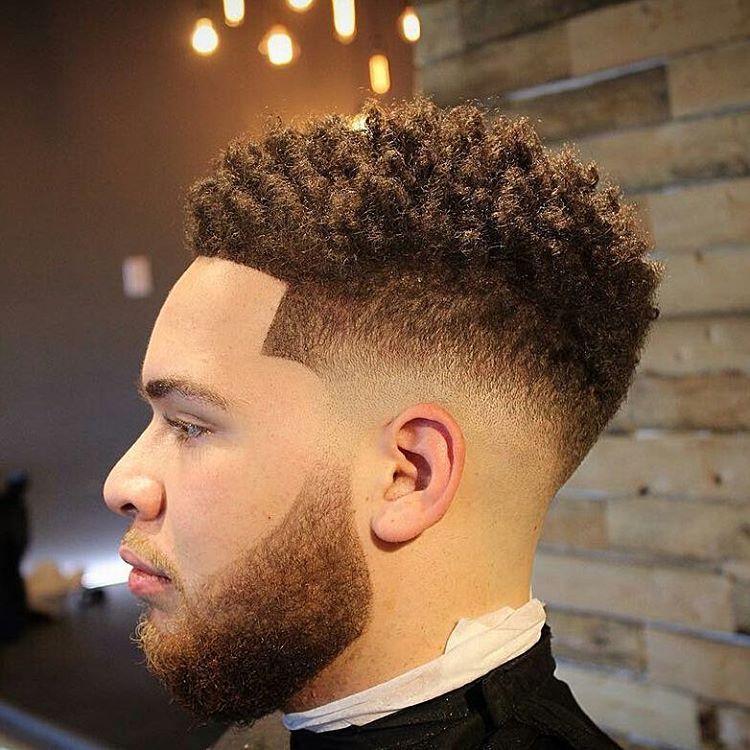 Would you like to attain the perfect curls that would go well with your short afro? Then the sponge twists are an irreplaceable tool in African American hairstyles. If you take the image above to your barber, they will know how to style it best according to your hair type and head shape.
A Temp Fade with a Hard Part
Are you afraid to acquire an edgy hairstyle? If not, then the hard part is a must-have for you. Regardless of how you decide to style out yours, the hard part is guaranteed to spice up any regular haircut. This situation outlines the top part of the temp fade hairstyle that looks like a Mohawk.
Combover Temp Fade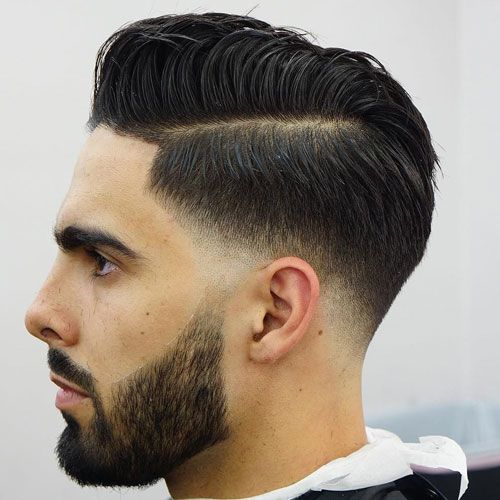 One of the few barbershop haircuts truly defines versatility since they allow one to combine many other haircuts. Take the comb-over cut in the image above, for instance. The box looks like it's just what it needed.
The Box Temp Fade with Braids
For hundreds of years, braids have always been an aesthetic part of the African culture for women and men. The good news is that this haircut will look perfect with a temp fade, mainly if your braids have been braided toward the back of your head. The thick beard is also a nice finishing touch to the image.
The Wavy Temple Fade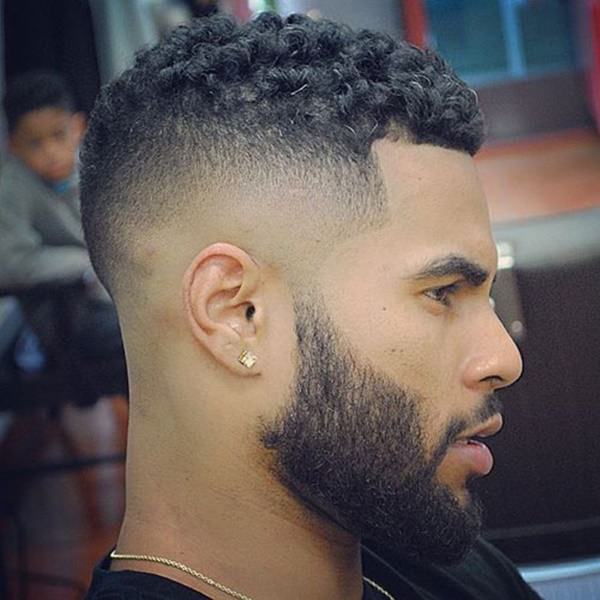 If you love the idea of boasting waves in your hair but would not like full definition, you can quickly tone down your deep waves to the wavy haircut above. And as you can see in the image, the grooves are also noticeable, but not too much.
Afro Temple Fade

with Curls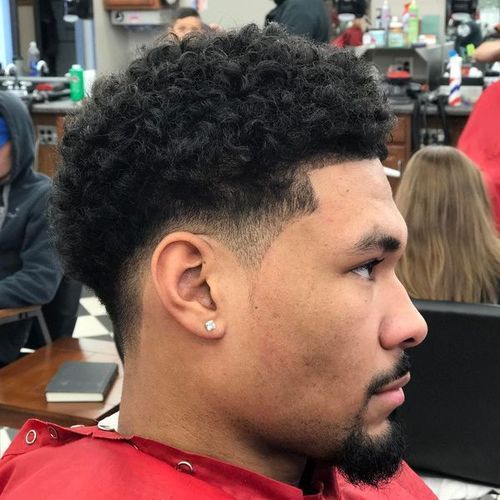 You can also rock an Afro temple fade hairstyle impeccably, even if you do not have a full afro. Some gentlemen look even more appealing with well-trimmed and smaller afros, so ensure you pick and make the choice that will best flatter your facial features.
Temp Fade with Deep Waves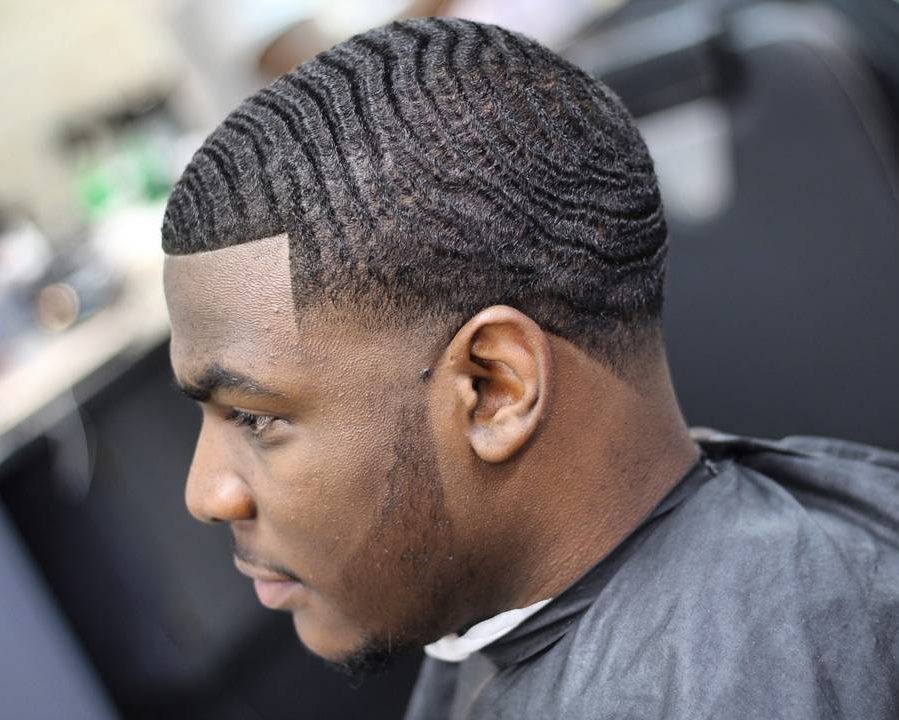 Three hundred sixty waves are the perfect way to obtain a dynamic haircut. As they are usually called, the deep waves add grooves to your haircut to make it more textured. Pair them up with a line, and you will have a super fresh hairstyle that is guaranteed to turn heads wherever you go.
The Two-color Temp Fade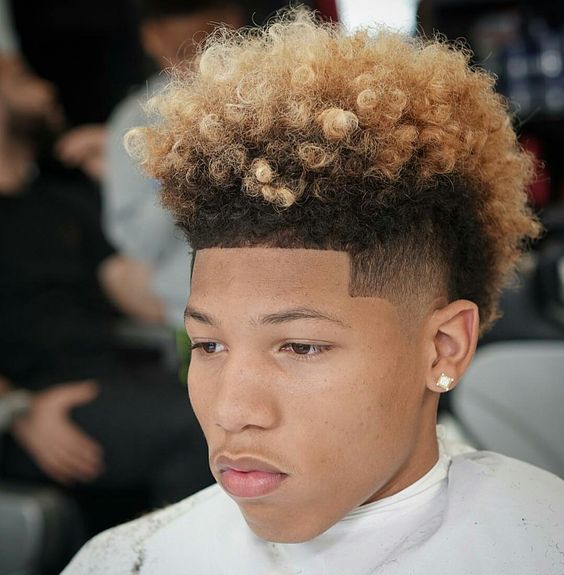 One of the hottest hairstyle trends is experimenting with colors as much as you love. To state it, you can add your favorite hair color to go with your natural one and look better than ever. Most color individuals add blonde but do not let that stop you from experimenting with other colors you may have in mind.
Slicked Back Box Temp Fade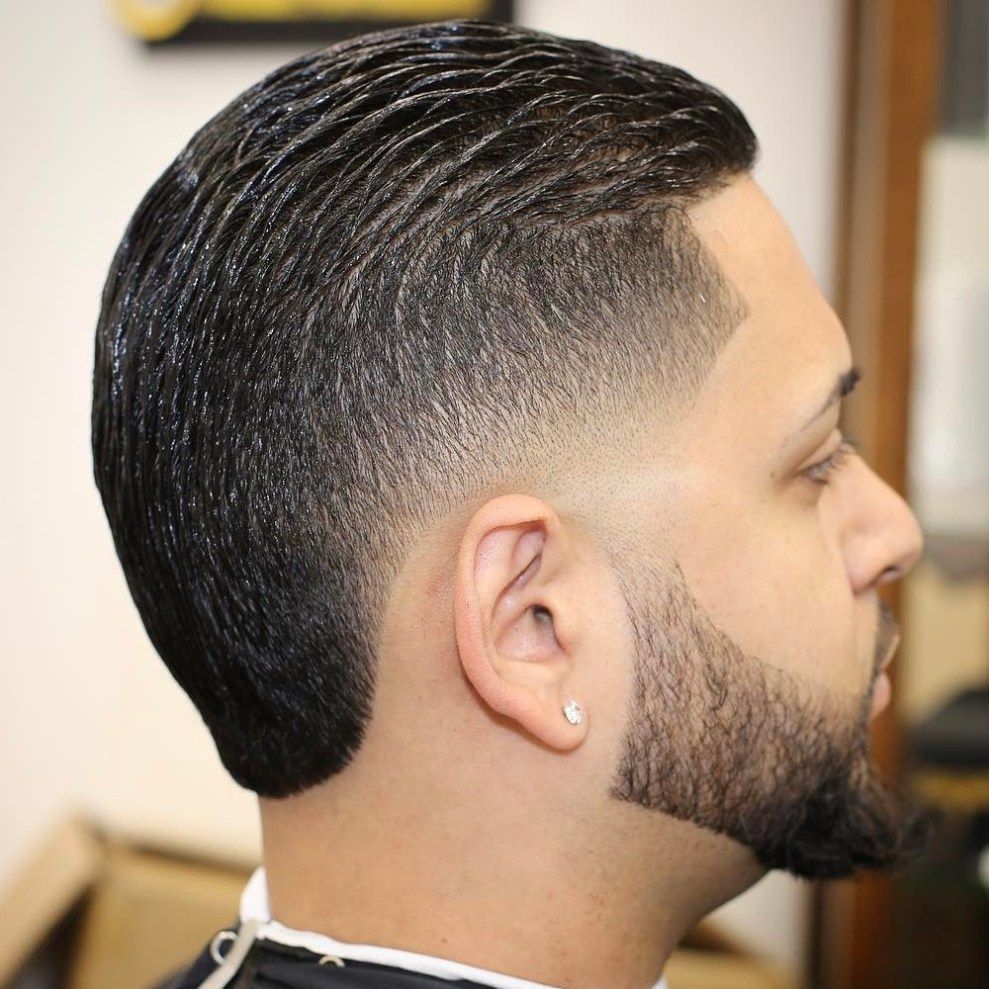 Here is an awesome hairstyle on a gentleman with slicked back and straight hair to close this enumeration on a high note. Even though the gentleman's hair is short here, you can also pull long hair locks.
44. Low Temp Fade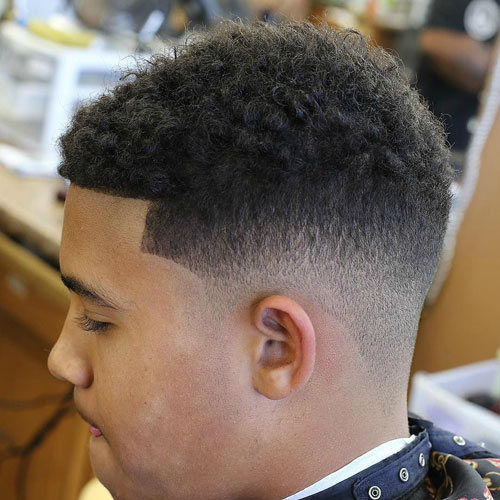 This haircut adds a smooth shave to your temples and keeps your curls looking stylish. This hairstyle is suitable for natural, wild, thick, curly hair.
45.
Temp Fade with Dreadlocks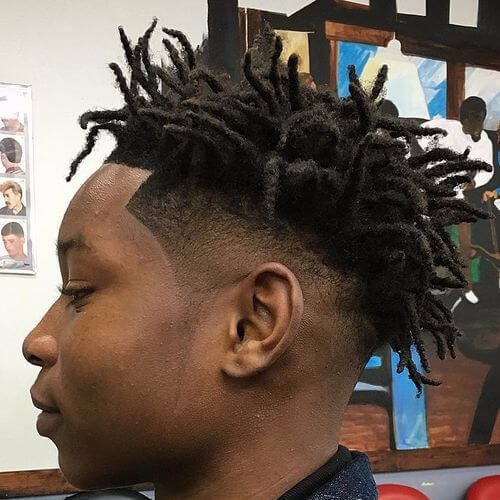 This is a hairstyle that is very suitable for black men. You can ask your hairdresser to shave your sides and back. Or you can add some hair design to the space around your temples.
46.
Bald Temp Fade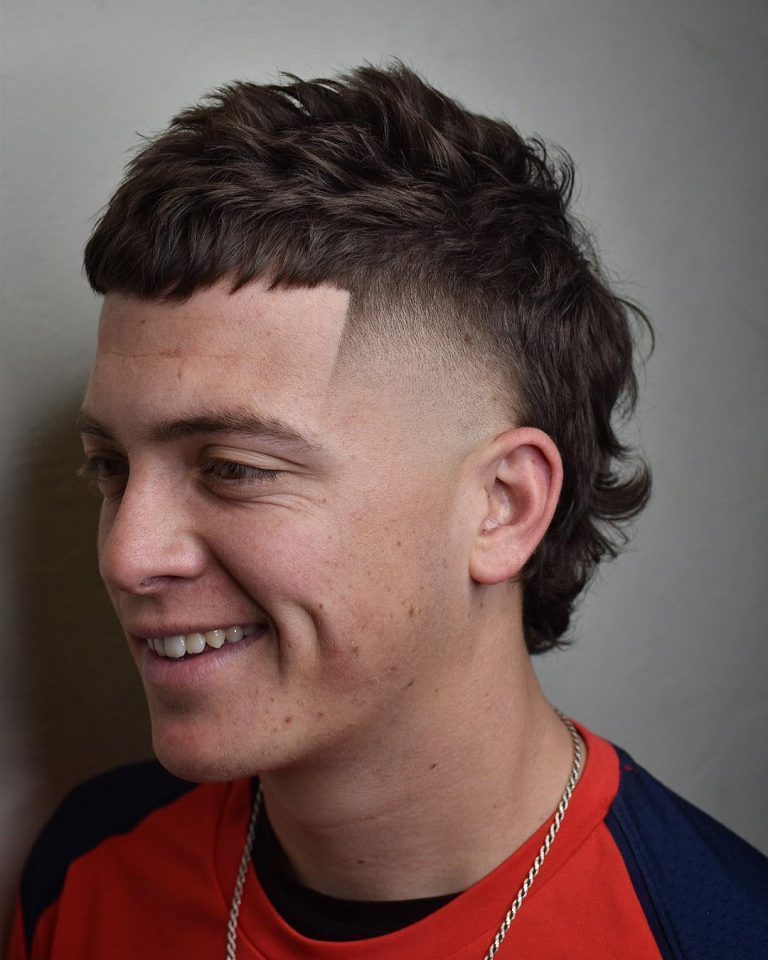 This haircut keeps the rest of the hair short and the top front long. A bald temp fade will create an impressive appearance and clean-cut look.
47.
Temp Fade with Blowout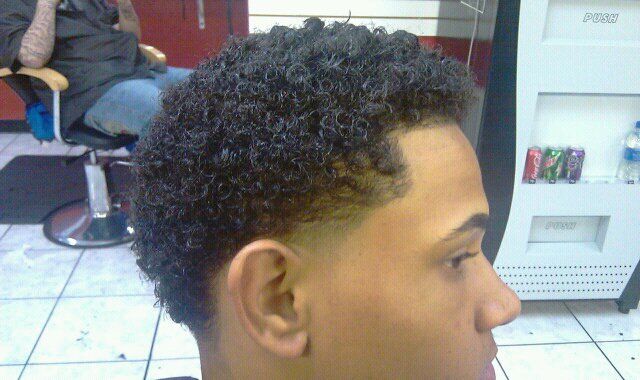 A temple fade is ideal for men with naturally voluminous hair. This haircut will fade the sides along your hairline to enhance a blowout hairstyle.
48. Temp Fade with Spikes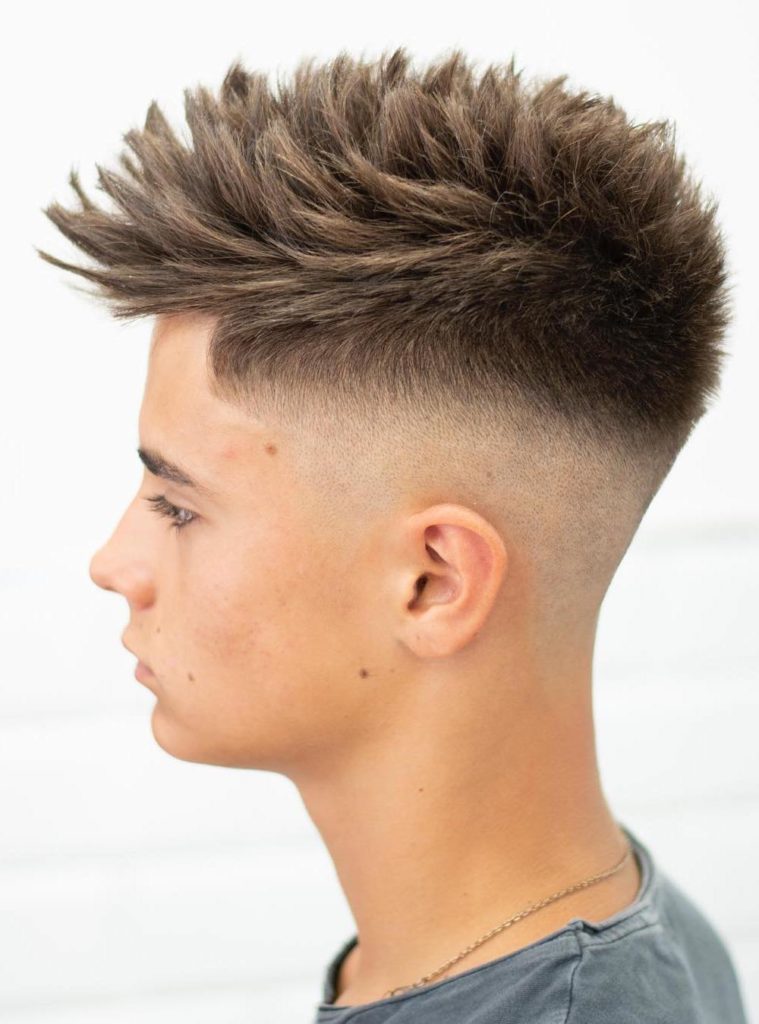 This is a simple and cool hairstyle for modern men. You can do this hairstyle by yourself at home. First, apply a small amount of wax, gel, or pomade to the hair, then pull the hair strands upwards and gently separate the parts with your fingers.
49.
Temp Fade with Side Part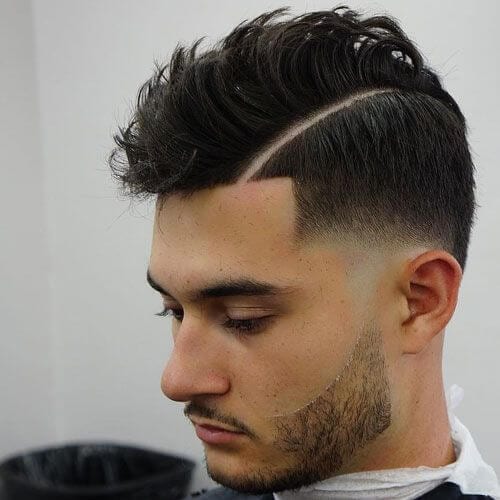 This hairstyle will make you look sleek. A clean side part will add polish to your excellent appearance.
50. Neat And Modern Temp Fade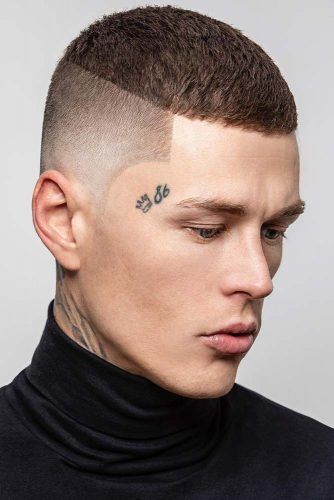 51.
High Temp Fade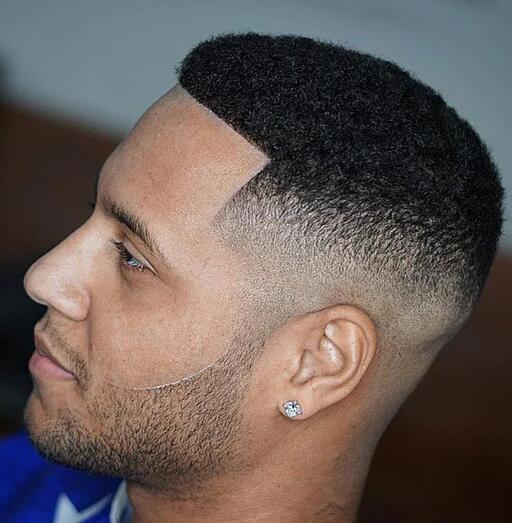 52.
Skin Temp Fade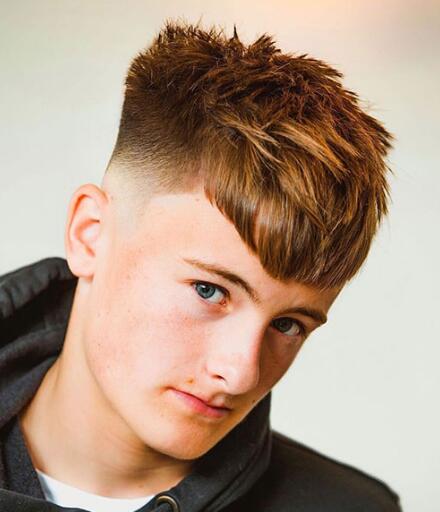 53.
Temp Fade with Spiky Hair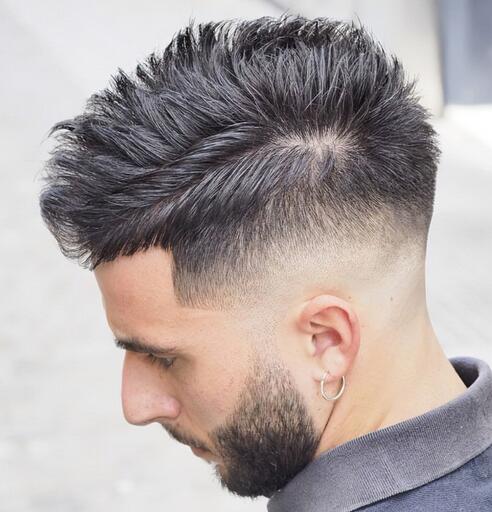 54.
Temp Fade with Hard Part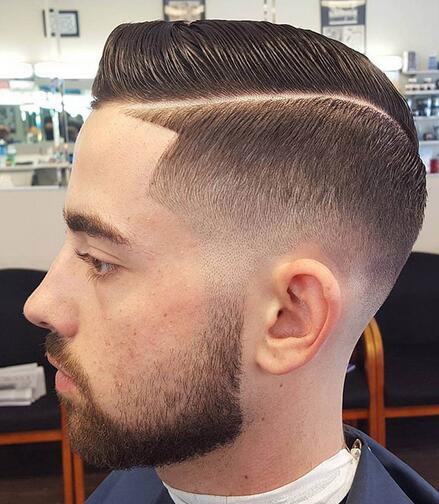 55. Comb Over-Temp
Fade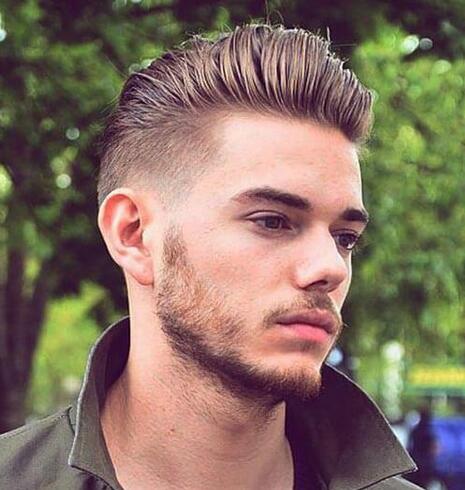 56. Taper Fade Comb Over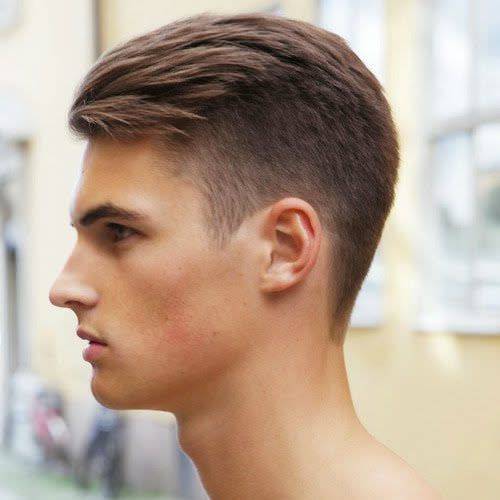 57.
High Top Temp Fade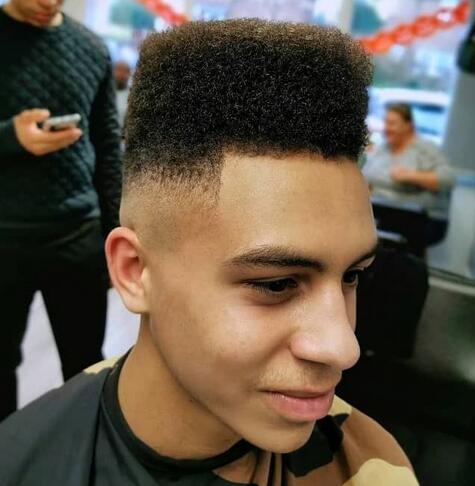 58.
Curly Temp Fade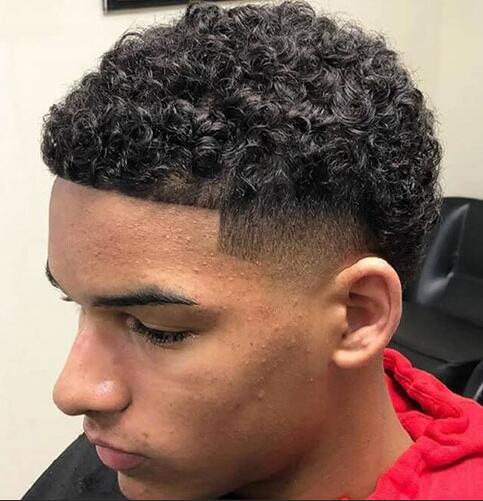 59. Temp Fade with Dreads

60.
Temp Fade with Beard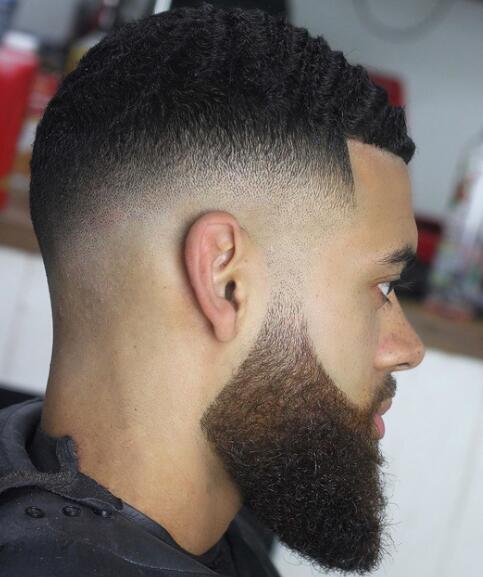 61. Nappy Temp Fade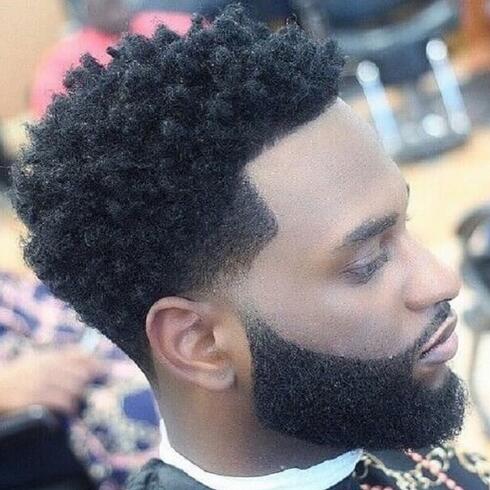 62.
Temp Drop Fade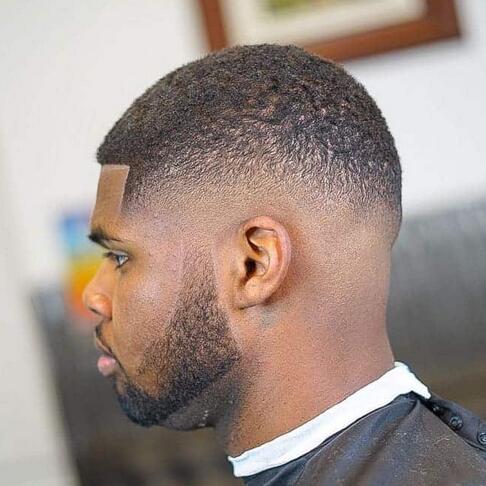 63.
Textured Quiff with Temple Fade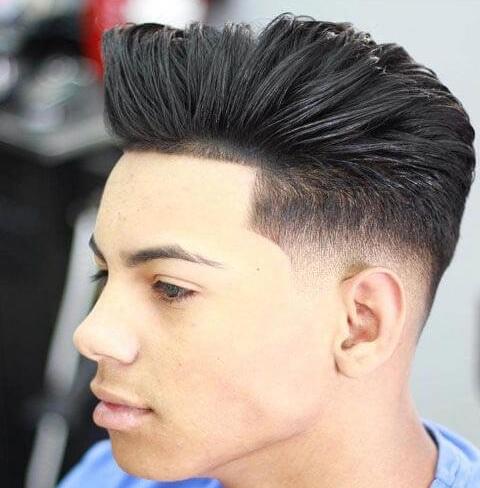 64.
Side Swept Temp Fade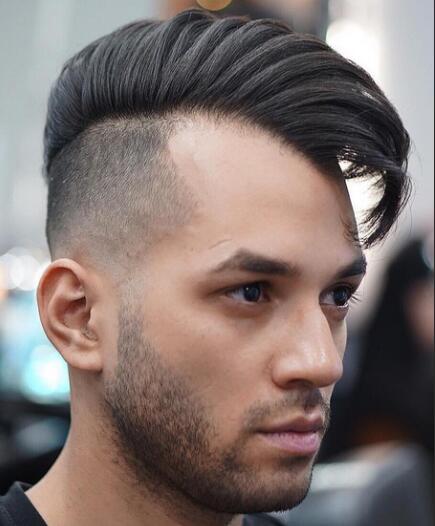 65.
Temple Fade with Top Knot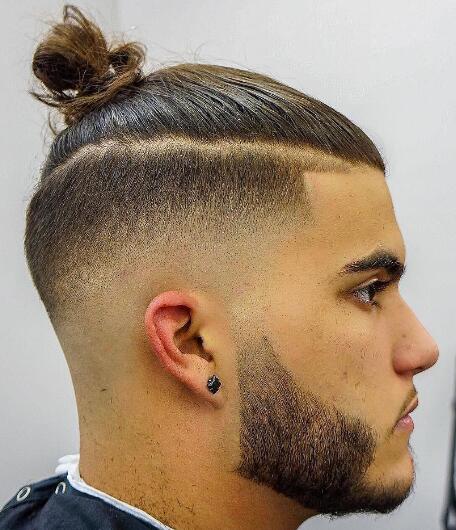 A Temp Fade
VS

A Taper Fade

A temple fade is usually similar to a taper fade. But they are two types of haircuts. The main difference is the area on the head. The taper fade can be performed anywhere on the head, but a temple fade is performed at the temple.

You can now avail of many other variations, making it easier to find the best temp fade haircut that works best on you. Now that you know what a temp fade hairstyle is, below is a comprehensive enumeration of the best temp fade haircuts you could try out today.
Low Temp Fade VS High Temp Fade
We know you are also confused with the low temp fade cut and the high temp fade one, so here is a breakdown of their similarities and differences:
A low temp fade and high temp fade haircut are similar because both fades drop behind the ear and follow the arc of the hairline and neck. Both haircuts trim the hairs on the side.
A low temp fade haircut trims the hair down the shortest until the hairline, whereas a high temp fade haircut stops a few inches higher. A high temp fade haircut may follow the line that goes straight back from the corner of the forehead.
Temp Fade VS Drop Fade VS Blowout
The temp fade, drop fade, and blowout hairstyles are another confusing group in the many variations of a buzz-cut fade hairstyle. However, the only difference between a drop fade is that it slowly lowers around the front hairline and the back of the head. This cut gives more depth around the crown and a sharp outline to the face.
On the other hand, a blowout hairstyle is a temp fade cut with a bigger sectioned-off hair. The sides are trimmed and faded down; however, the top remains significantly longer and carefree hence the name "blowout."