As little boys grow up into young men, it's time to start training your toddler gentleman to keep his hairstyles clean and neat. A great haircut will let your little man's personality shine. However, there are plenty of cool toddler hairstyles out there. Finding a cute and cool hairstyle can be difficult.
Fortunately, we have collected the 50 best toddler boy haircuts from slick back, mohawk, spiky to the comb over fade. No matter your boy's hair length, style, or type, there is a stylish hairstyle for him. These cuts are on-trend and super easy to maintain, which is paramount when it comes to toddler boy hairstyles.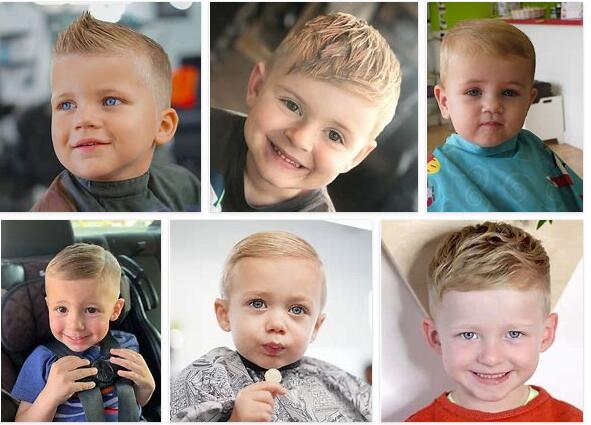 50 Trendy Toddler Boy Haircuts Your Kids Will Love
Let's skip to the main section of the guide and start looking at the 50 best toddler boy haircuts.
1. Haircut for Fine Hair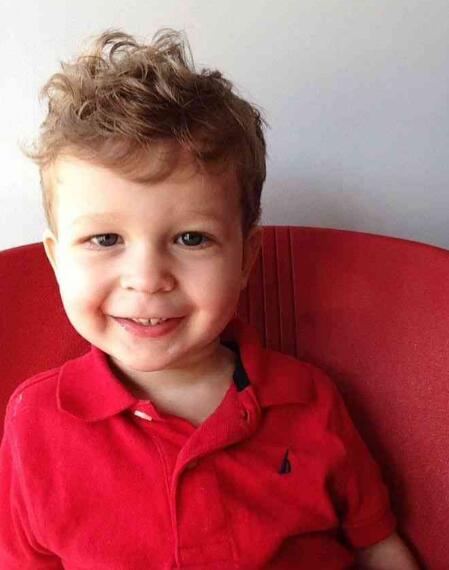 This hairstyle does not look as its name implies. As shown in the image above, it's characterized by a messy look, particularly at the middle part of the head.
For your toddler boy to be eligible for this stunning hairstyle, he needs to have significantly lengthy fringe hair.
2. Curly Hairstyle for Toddler Boys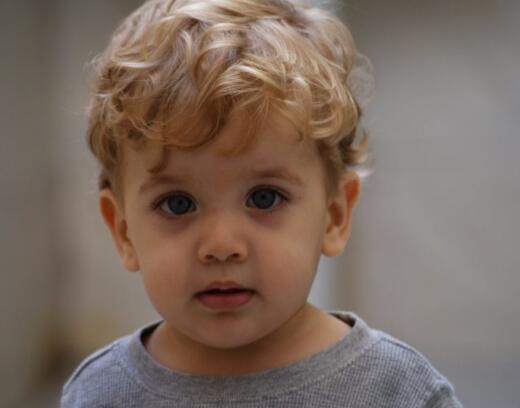 As this haircut's name suggests, the style entails incorporating curls on your toddler boy's hair. Start by working on the fringe hair to achieve the curly look, after which you will stretch the fringe hair towards your kid's forehead.
This hairstyle needs minimal trimming, and no cut has been incorporated in any part of the toddler boy's head.
3. Medium Hairstyle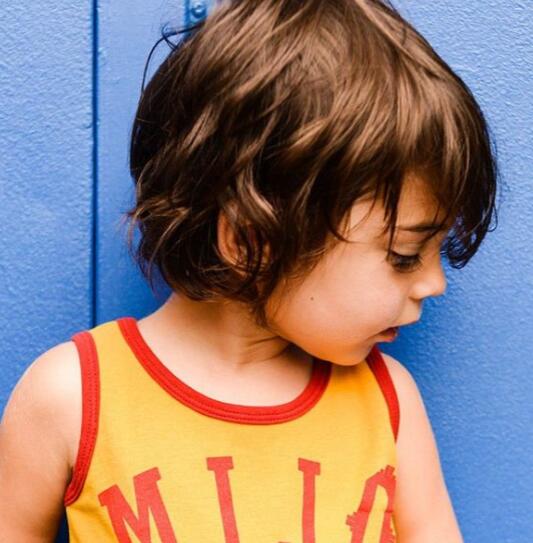 Does your young man have medium-sized blonde hair? If your answer to that was a big, bold yes, then this is the hairstyle you should try them on.
This haircut has been specifically designed for parents who desire to award their kids a unique cut that allows them to best showcase their fringe hair.
4. Short Boy Haircut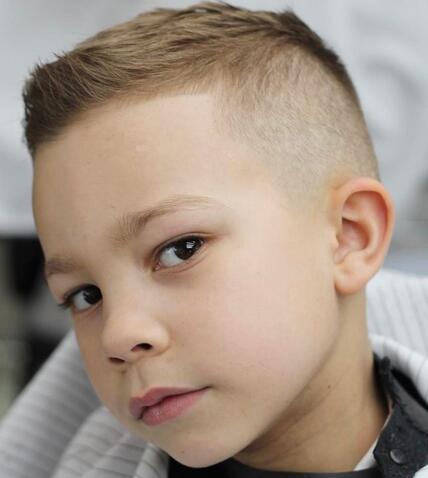 As this haircut's name suggests, this is a short hairstyle that'll award your toddler an official look that is hard to beat.
Achieving the hairstyle won't be a hassle either since you only need to blow out your boy's hair to make it easy to comb in different styles.
5. Long on Top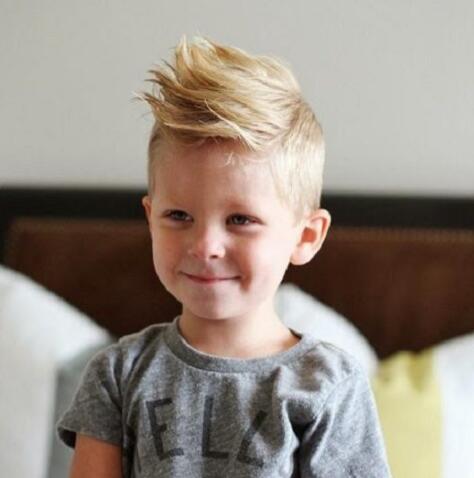 Every parent should try out this modern hairstyle suitable for toddlers with blonde hair.
Apply blowout to make your kid's hair look even softer to top off the look. However, as the name suggests, remember to leave the hair on top significantly longer.
6. Hipster Hairstyle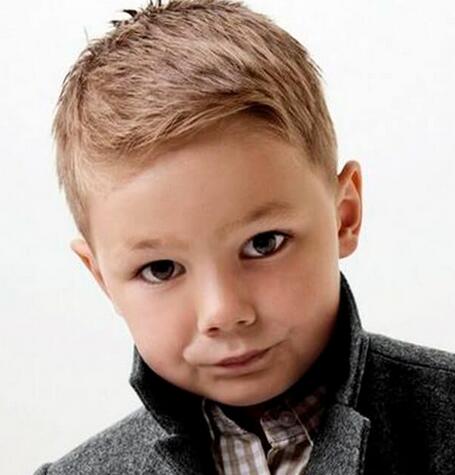 This hipster cut is a unique hairstyle. However, the only downside is that for one to achieve this look, they'll need highly soft hair.
The haircut is also characterized by medium hair that has been combed upwards. After executing the cut, the barber will need to trim the hair on the midsection of the head.
7. Fade Haircut for Toddlers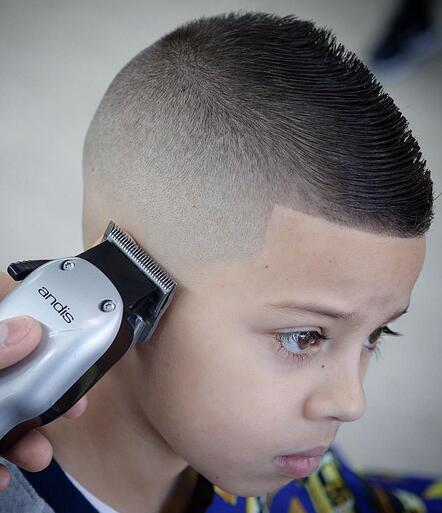 All fade hairstyles share one characteristic, and that's the fading of hair as it moves sideways. This hairstyle is not an exception.
Note that most of the middle head hair should be combed towards the left, and fading should commence immediately after the middle head hair.
8. Side Part Haircut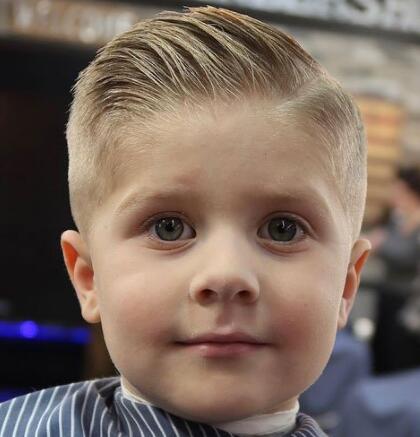 A classic hairstyle for boys and men alike, the side part is a no-fuss cut that needs minimal styling and maintenance to pull off.
Speaking from experience, this haircut works wonders for toddlers with fine hair and will suit any face shape, awarding your little boy the relaxed look all parents crave.
9. Disconnected Cut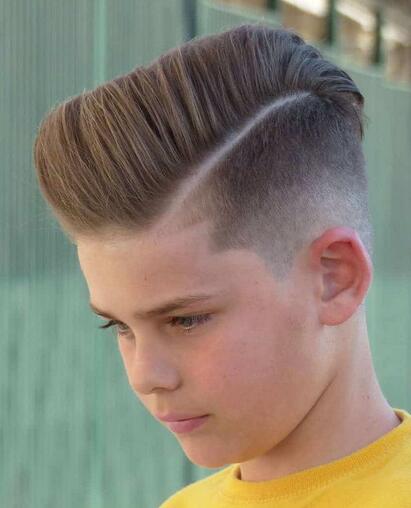 A disconnected cut incorporates longer hair on top, usually paired with a messy fringe.
The sides are kept slightly shorter, so a noticeable length contrast awards the whole look an edge. If your little man's hair is curly, the results should be even more impressive.
10. Pompadour Haircut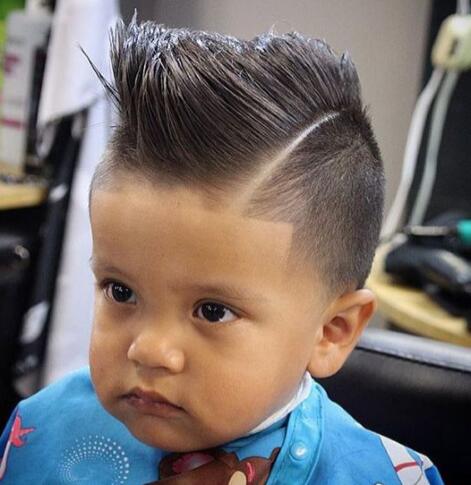 If you've tried a pompadour as an adult before, you know that this is one of the most complex haircuts to style and maintain.
The main reason I recommend this hairstyle for toddlers is that it's also perfect for all hair textures, and there are limitless products on the market to help your kid look flawless at all times.
11. Quiff Cut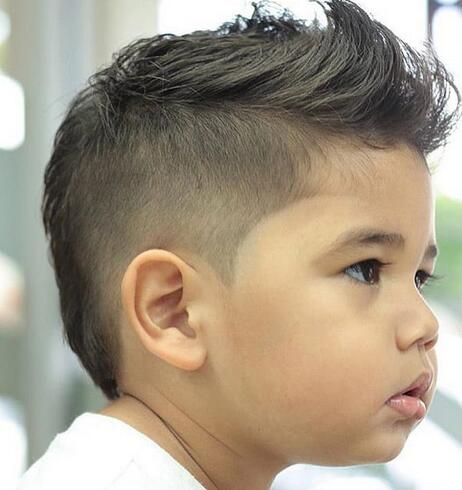 Was the pompadour a little too difficult to style or maintain for your little guy? In that case, the quiff is a worthy alternative.
This option still awards your kid the rebellious look, but you won't have to use as many products. The haircut needs fewer products implies that there is little chance that your young man will mess it up as he goes about his day.
12. Baby Bun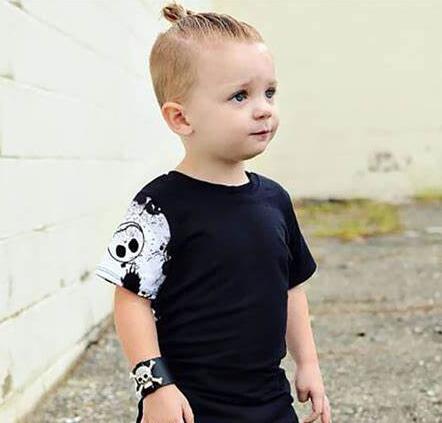 Man buns might have gone out of style (thanks to a poll by Fitness and Muscle), but the truth remains that baby buns will never stop looking super adorable.
If your little gentleman enjoys wearing his hairstyles longer, styling it into a messy low bun or top knot is a fantastic way to keep his hair out of his face.
13. Afro Boy Haircut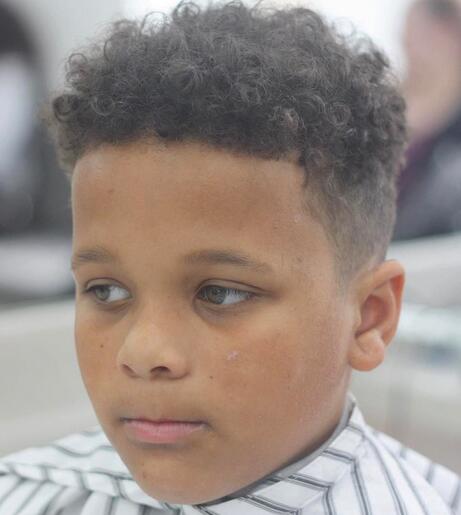 A natural and charming look for young men, the afro awards you and your kid a wide array of styling choices.
You can opt for a taper fade on the side to highlight the top of the head or just let his hair grow wild. Whichever option you go for, ensure you regularly moisturize the hair.
14. Fringe Haircut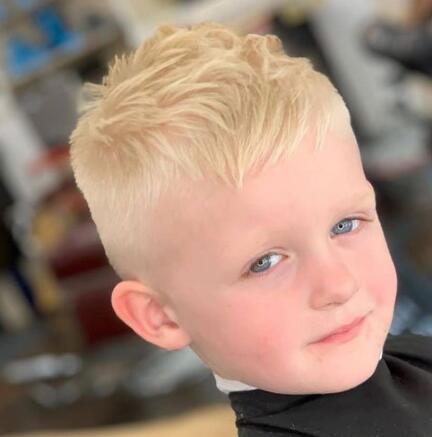 At this point, it's evident that any hair will look amazing with a fringe. With that in mind, why not go purely for the fringe alone and see how it works out for your young man?
15. Faux Hawk Boy Haircut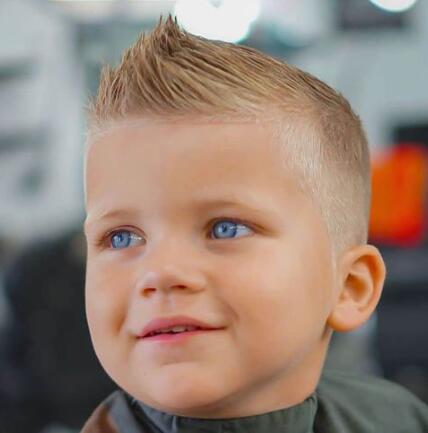 If the little man is already showcasing signs of becoming a trendsetter, you might want to pick a hairstyle that helps him stand out from the crowd, and no choice is more brilliant than the fohawk or faux hawk.
16. Crew Cut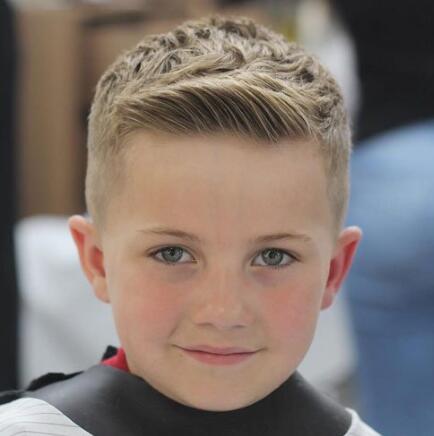 A timeless hairstyle for young men, the crew cut will look amazing on any little gentleman, especially if the boy in question has thick hair.
To achieve the look, leave longer hair on top and short hair on the sides.
17. Straight hairstyle for Toddler Boys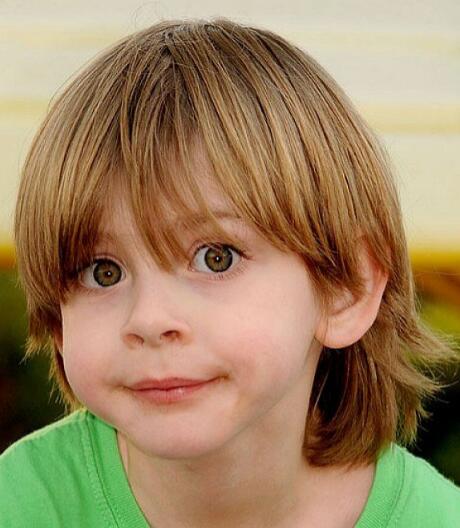 Are you still having a hard time finding the holy grail of hairstyles that'll be perfect for your blonde child? If your toddler boy has mid-length hair, then this haircut should be the one you go for.
18. Wavy Hairstyles for Toddler Boys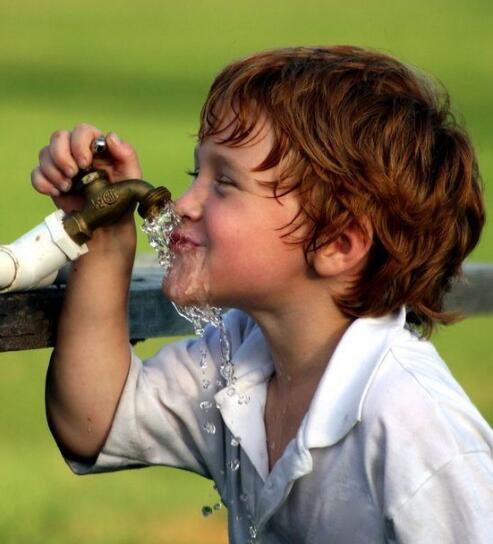 Wavy haircuts aren't new to children with blonde hair. That said, for a wavy hairstyle to look even more impressive on your toddler, he should at least have medium-length hair.
19. Hairstyles for African American Boys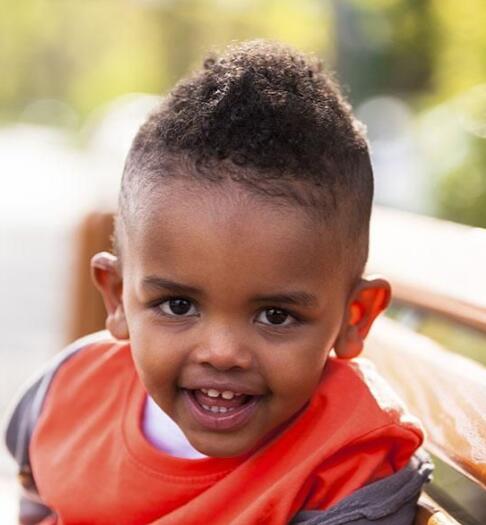 This hairstyle has been specifically designed for African American toddler boys because they have almost hard hair.
As shown in the image above, the haircut can be characterized by the significant amount of hair on the middle part of the head.
20. Wavy Blonde Boy Haircut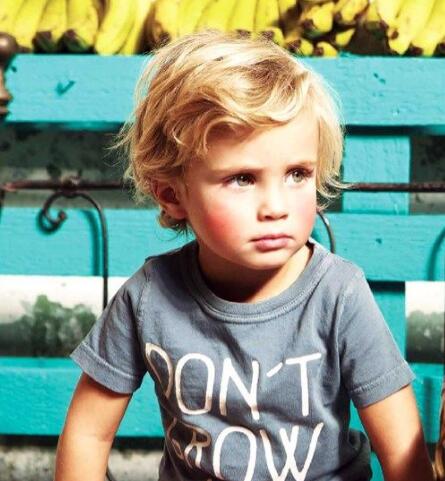 As the name suggests, this haircut is most suitable for toddler boys with blonde and wavy hair. With this haircut, most hair stretches from the mid head towards the right side of the toddler's head.
21. Undercut Boy Haircut
This top-notch hairstyle is only suitable for toddler boys with soft hair. The style also contains two different levels of fading layers, the first being the middle head hair
22. The Little Man Hairstyle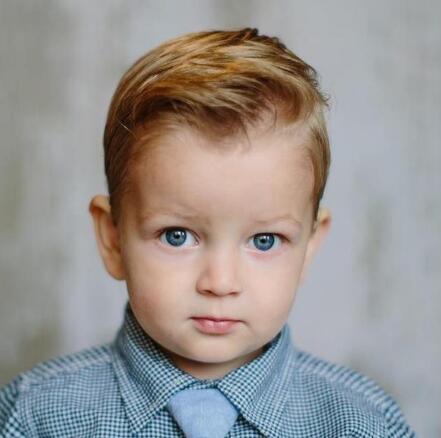 This is an extremely complicated hairstyle for toddlers and should only be executed by the most experienced barber you know. Just show the image above to the barber, and they will know exactly what to do.
23. Shaggy Boy Cut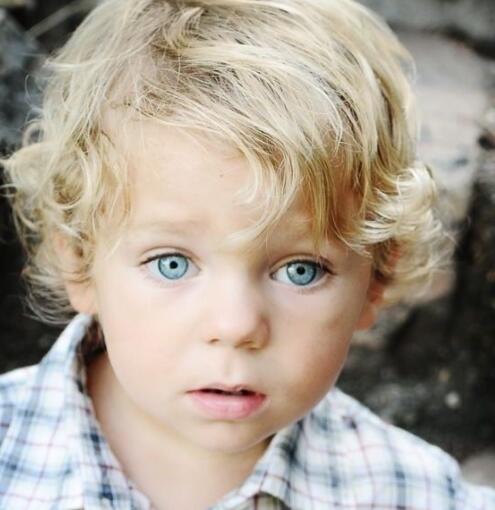 As this hairstyle's name suggests, the haircut focuses on awarding your kid a shaggy look. Toddler boys with long or medium-length hair are the most eligible candidates for this haircut.
24. Mohawk Boy Haircut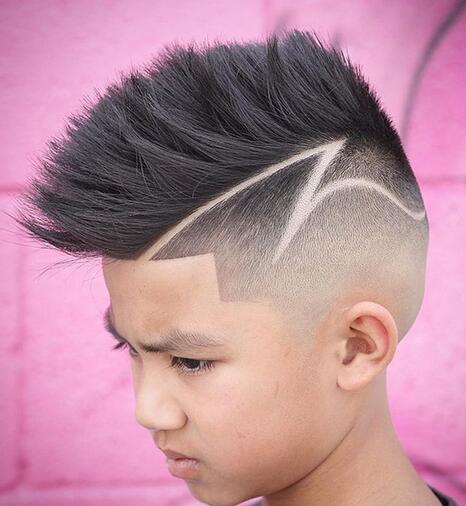 Mohawk is arguably one of the most well-known hairstyles in the world. The image above shows that it's characterized by hair in the middle part of the head that has been conjoined together through shaving and combing.
25. Comb Over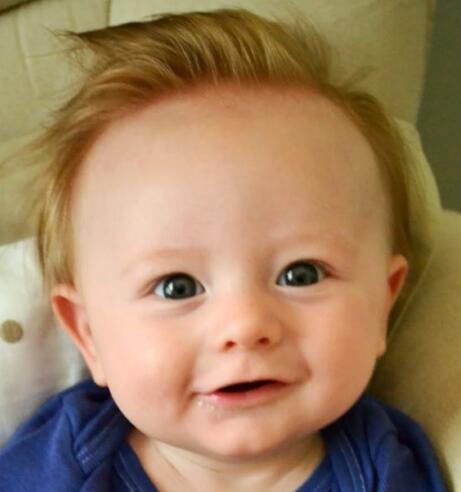 Just like the name suggests, this toddler boy's haircut focuses more on combing the hair and less on trimming. To be eligible for the cut, your kid will need to have mid-length hair throughout his head.
26. Hispanic Haircut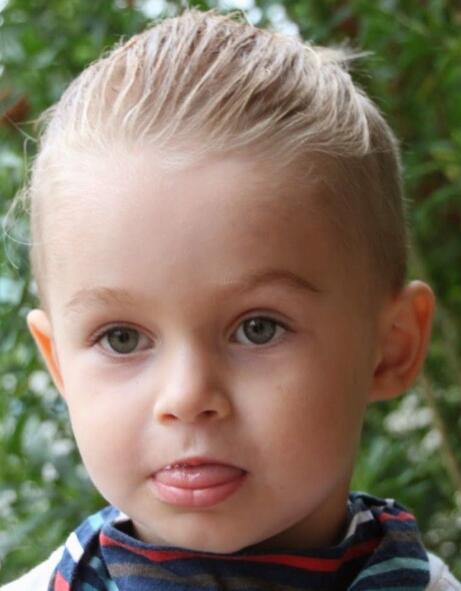 This cut is solely designed for toddlers with blonde hair since they tend to have the softest hair. The hairstyle also encourages the growth of lengthy middle hair.
27. Edgy Boy Haircut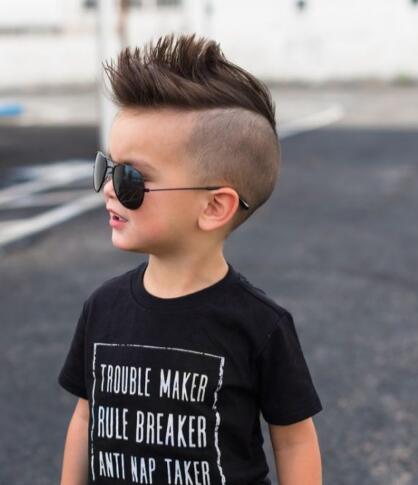 Would you love to extend your look to your toddler boy? If yes, considering this edgy haircut will be in your best interest.
28. Hairstyle for Asian Toddler Boys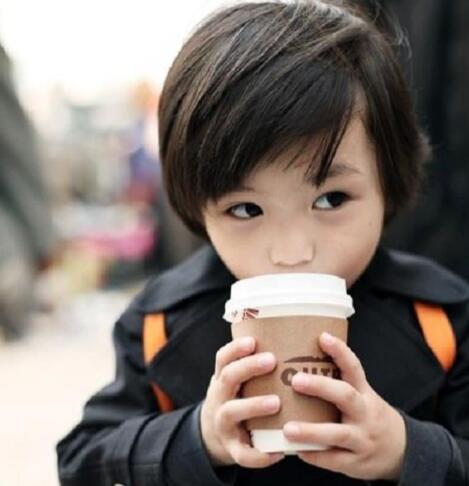 As this hairstyle variation's name suggests, the cut originated from Asia. To be eligible for the hairstyle, your kid must have middle-sized hair throughout his head.
29. Buzz Cut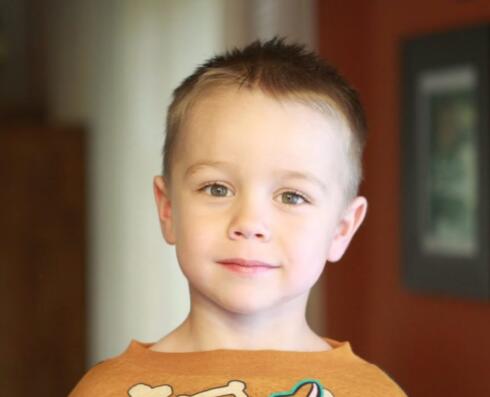 The buzz cut isn't new to any of us. It's one of the most common hairstyles among toddlers whose parents want the easiest haircut to style and maintain.
30. Retro Hairstyle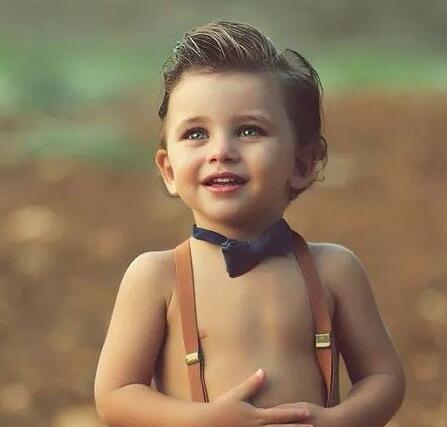 Retro hairstyles aren't new among toddlers. It's a mid-length hairstyle that entails a little bit of trimming and blowouts.
31. Rocking and Racing Hairstyle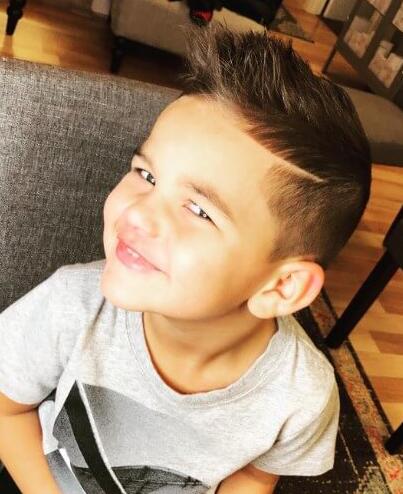 Also flaunted by grown men, this hairstyle will look amazing on toddlers if the barber can pull his skills together.
The short hair on the sides and the longer one on top are separated by a detail full of fun.
32. Short and Spiky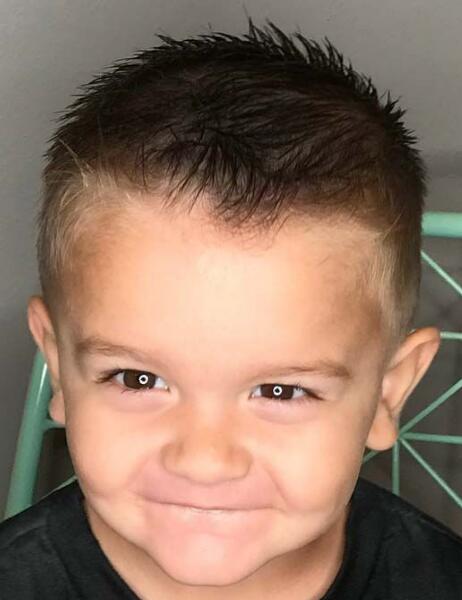 This is one of the most popular cool toddler boy hairstyles, where the toddler's hair on the top side is cut short then spiked using a gel.
The hairstyle is incredibly easy to maintain but will need quality blending to award the special look.
33. Round and Short Haircut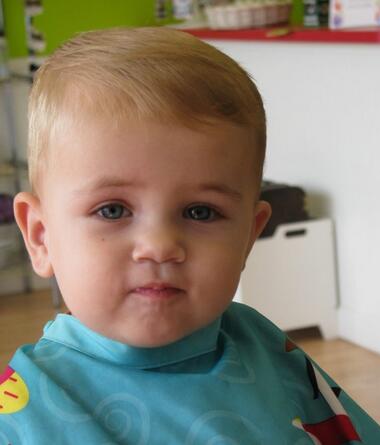 The round and short hairstyle for toddlers is one of the most traditional haircuts, but slightly different. As shown in the cut's image above, the cut around the neck is concise.
34. The Modern Mullet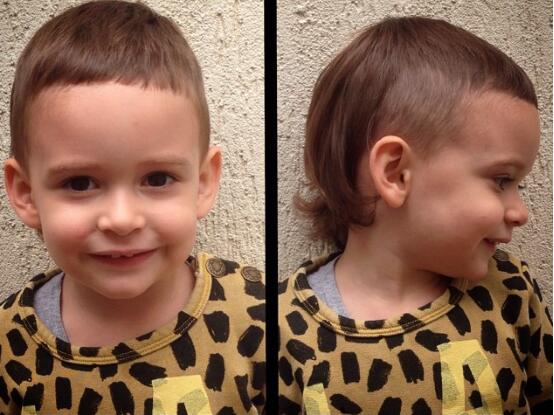 With the back styled into a party mode and a smart business cut incorporated at the front, this cut for toddler boys is one of the most versatile on this list.
35. Clean Boy Cut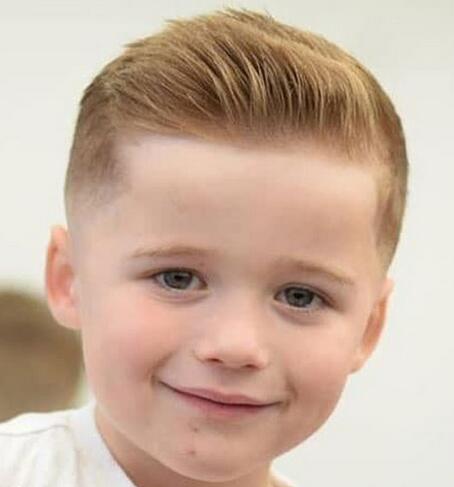 With the sides cut short around the ears and medium length on the top side, this toddler haircut can look cute and make your son look extremely handsome.
36. The Smart Side Fade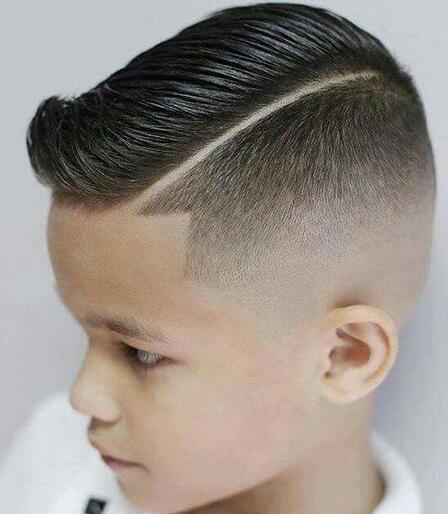 This is a hairstyle for toddlers and boys of all ages, including men. The longer hair on top has been brushed to the side, while the sides have been awarded a slight fade.
37. Parted and Precious for Toddler Boys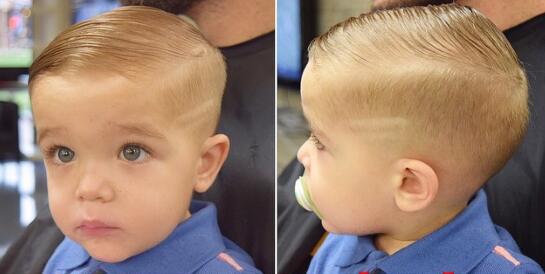 This hairstyle could easily be the smartest toddler hairstyle idea for toddler boys.
38. Surfer Haircut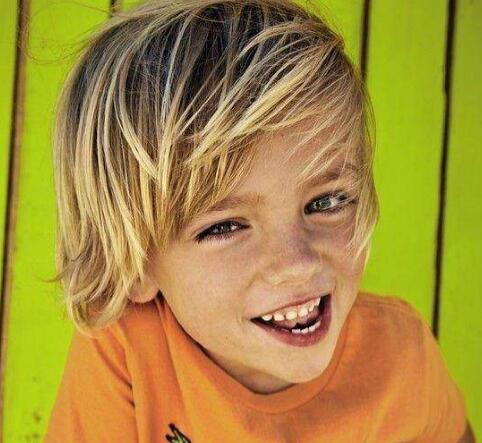 The surfer hairstyle for boys with long hair will look more attractive on boys with blonde hair (the image above is enough evidence.) The full hair on the sides and the long on top make everything come together ideally.
39. Kewpie Doll Flip Haircut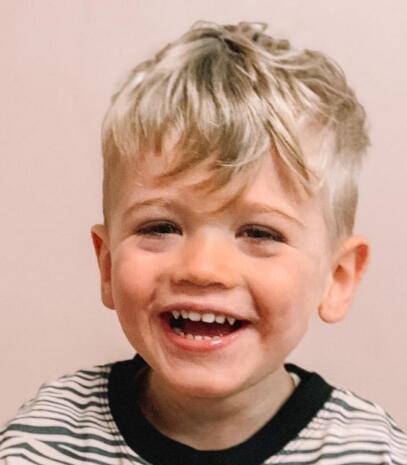 This is one of the latest toddler boy short hairstyles, where one uses a gel to flip the hair to the front. The hairstyle looks cool and classic.
40. Simple Long Hairstyle for Toddler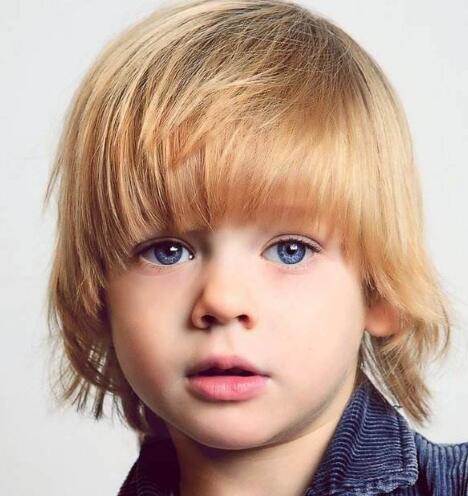 This hairstyle for toddler boys will look best on those who have medium-length hair that flows down over the ears and over the forehead to deliver a cute but simple appearance.
41. Cute and Confident Quiff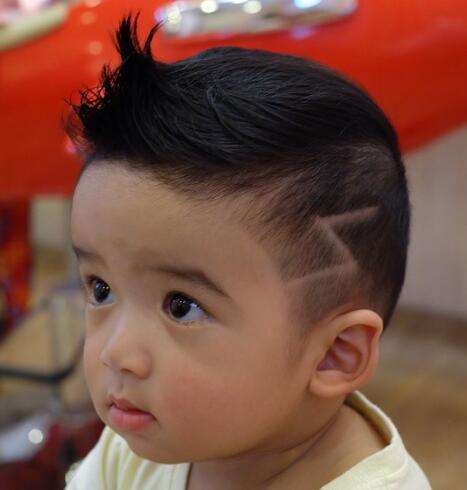 Flip bangs and an edgy design add a statement to this toddler boy's haircut. The quiff, which is particularly styled on baby boys, will make this young man stand out in the crowd wherever he goes.
42. The Mohawk for Blonde Hair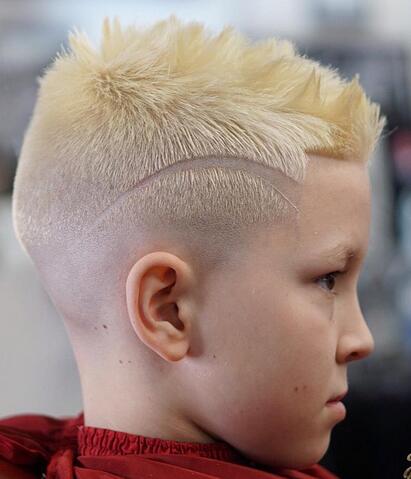 I know we touched on the basic Mohawk earlier, but who said that toddlers with blonde hair could not flaunt this hairstyle?
This hairstyle is not only the haircut for any toddler boy with blonde hair but also for men who would like to jump on the bandwagon and try out trendy hairstyles.
43. Long and Layered Hairstyle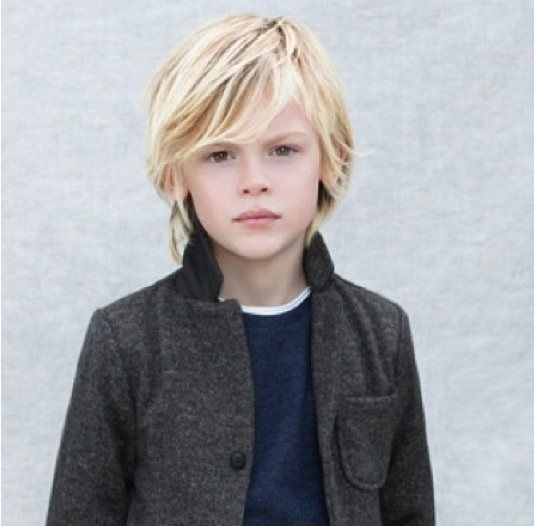 Toddler boys with straight and long hair can quickly achieve this hairstyle. The texture from the image above is added by cutting the hair's lengths using a razor blade.
44. Super Spidey Hairstyle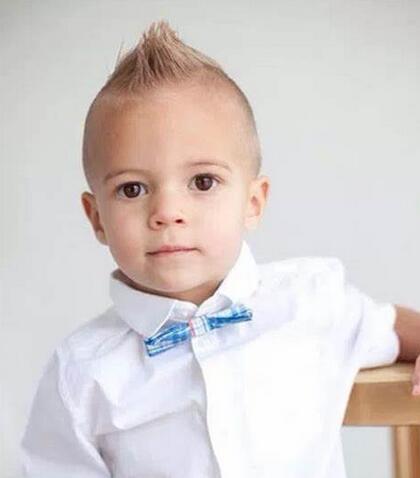 This is one of the most stylish hairstyle ideas for toddler boys. If your boy looks forward to becoming a superhero when he grows up or is a huge fan of spiderman, this is the cut you should go for.
Note that the barber you go to should be highly skilled and experienced to pull off the spider web design.
45. Mop Top Boy Haircut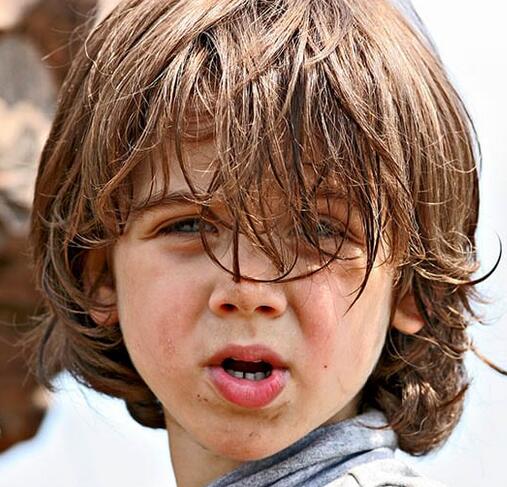 I mentioned at the beginning of the post that the mop-top is one of the most basic hairstyles for toddler boys that parents should avoid.
However, if done right, this hairstyle can easily outdo a whole lot of hairstyles I've mentioned in this guide. This hairstyle needs tapering around the neck and ears, with the hair getting longer at the topside.
46. The Punk Rock Tot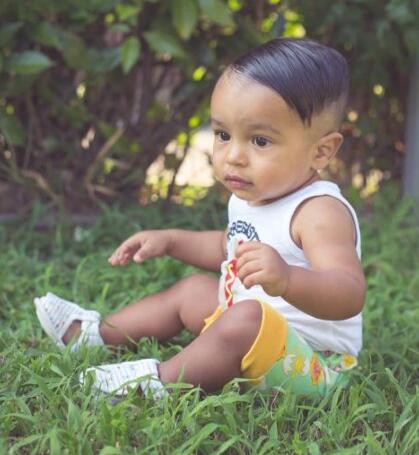 To award your toddler boy the rockstar look, try out this hairstyle on him. With the cleanly shaven and paired with a bang of medium-length hair, this is without a doubt one of the edgiest haircuts I've ever come across. Feel free to slick or spike it to explore the endless possibilities that the look awards your boy.
47. Short Blinders Cut for Boys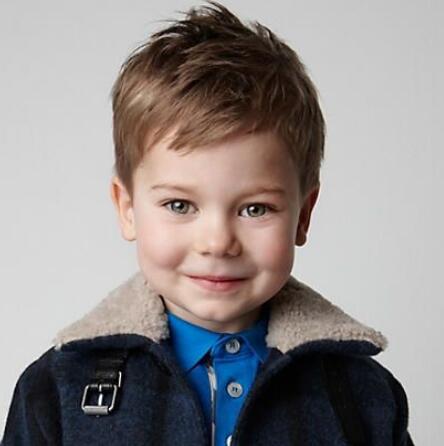 To execute this hairstyle, you'll need to visit the most skilled and experienced barber you know. The most complex part of styling this cut is brushing the hair upwards and creating the bangs after using a hair gel or crème.
48. The Slicked Hairstyle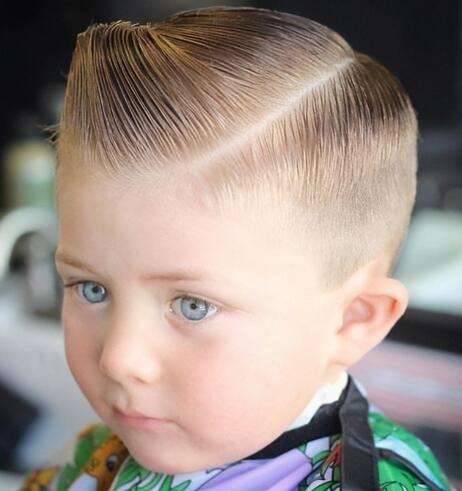 Here is a cute toddler boy's hairstyle where the hair is cut extremely short and slicked to one side. The sides have a slight fade as well.
49. The Little Angeles Cropped Hairstyle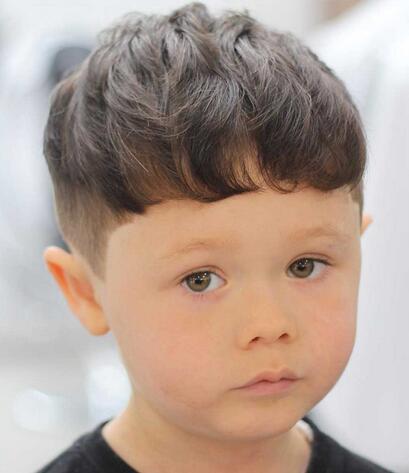 This hairstyle is one of the most popular cute toddler boy haircuts, where the style looks great for both medium and thick hair and oval and triangular-shaped faces. Feel free to brush the hair up and apply a gel to create division.
50. Skater High Cute Boy Hairstyle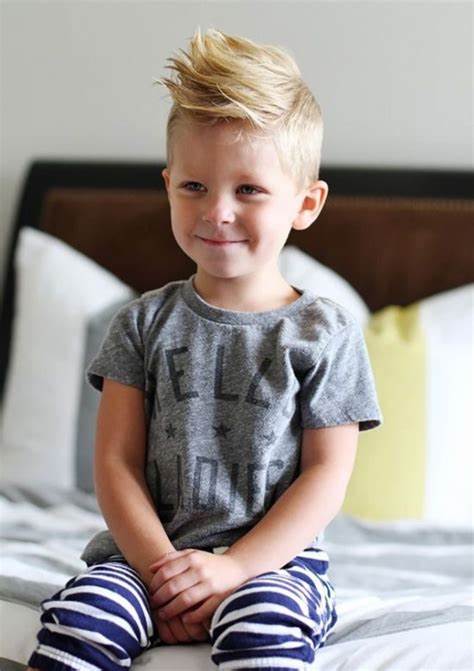 If you've been following my guides for a while, then you know I always include bonus hairstyles on all my posts.
Today's bonus hairstyle is the skater high cut, where the hair is tapered in the middle and brushed up using a vent brush to create the crown layers.