Cornrows are a great way to add sophistication and class to a man's look. Not only are they stylish, but they can also be used to express one's individual style. Whether you're looking for a basic look or something more intricate, cornrows will surely give you a perfect look. In addition, with so many options available, you're sure to find a cornrows style that works for you. This article has listed 50 trendy Cornrow braids for classy men.
What are Cornrows Haircuts?
Cornrows are a classic African-American hairstyle that dates back centuries. They are a traditional African hairstyle in which the hair is braided close to the scalp in a continuous, raised row. They can be formed in simple, straight lines, as well as more intricate designs and geometric shapes.
The name "cornrow" comes from the fact that the style resembles the rows of corn that are planted in the ground. Cornrows are a great way to keep long hair out of your face and off your neck. They are very versatile and can be adorned with beads and other accessories to create a truly unique look.
In addition, they are low-maintenance and require minimal styling. They can be worn by both men and women and are a great option for anyone looking for a unique, stylish hairstyle. Although it is a bit challenging when worn without fixing the basics. It is a low – maintenance type that anyone can handle.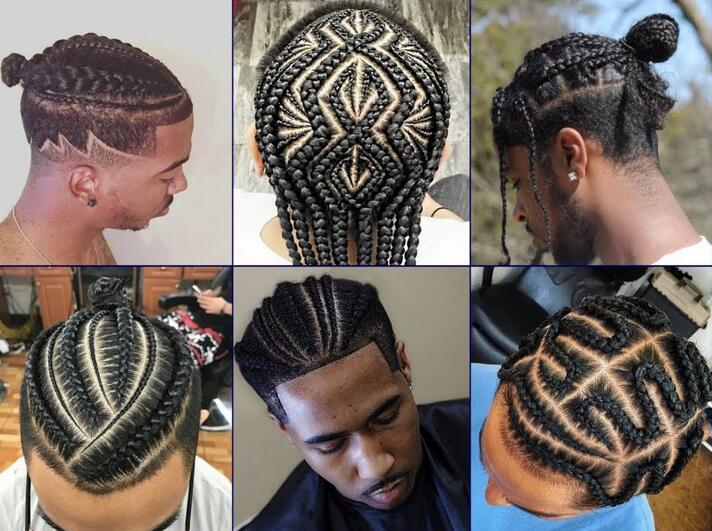 50 Trendy Cornrows Haircuts For Classy Men
We have compiled a list of 50 trendy Cornrow braids ideas for men that anyone can handle.
1. Feed-in Cornrows
Feed-in Cornrows for men are a stylish and sophisticated hairstyle. This look is achieved by adding synthetic hair extensions to the scalp in a cornrow pattern. The extensions are then woven into the natural hair, giving the wearer a fuller, more voluminous look.
The style can be customized with various colors and textures and can be worn in various ways, such as with a high-top fade, a side part, or a low bun. It's a great option for men who want to express their individual style while still maintaining a classic look.
Feed-in Cornrows are easy to maintain and require minimal grooming, making them a great choice for any man looking to switch up his style.
2. Zig-Zag patterning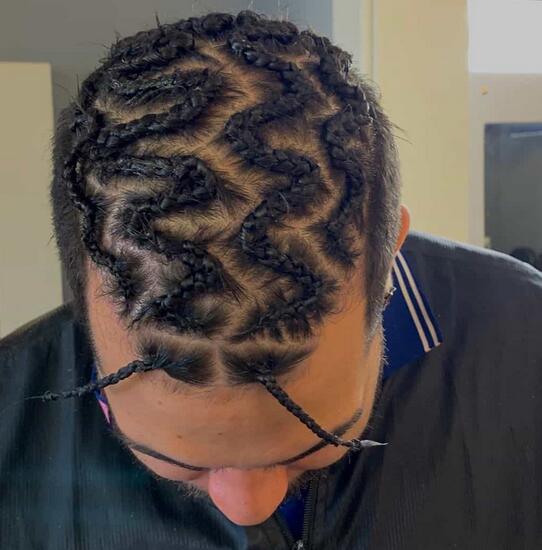 One of the beautiful things about cornrows is that they allow you to explore several options. This experiment offers various looks, especially for those with medium-length hair. The zig-zag style is an excellent example of how varied cornrows are.
The hairstyle is perfect for men with triangle-shaped faces. Hence, men with round or diamond face shapes must consider another style. This hairstyle exposes the sides and Temple of the head.
3. Blonde Cornrows For Men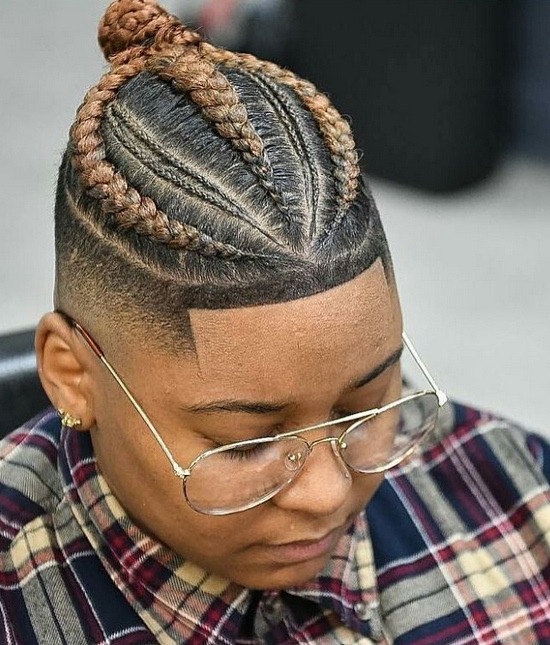 One of the best ways to give your hairstyle a fresh and exclusive look is to wear this blonde hairstyle. Therefore, after styling your cornrows, you can pick any color. Dye your hair to that color to make you feel special.
From experience, I know that blonde has always been the favorite choice for hair coloring, especially cornrows. You should consider this hairstyle for a unique appearance.
4. Big Cornrows hairstyle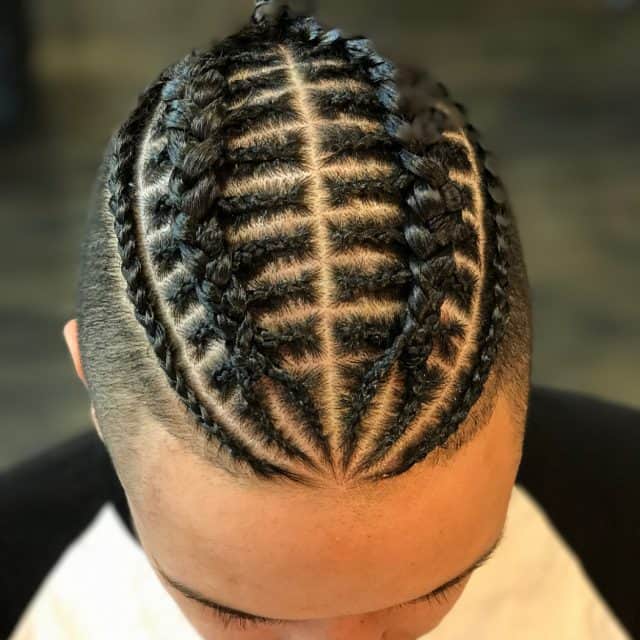 Those who have already worn small braids don't stop there as long as cornrows allow you to experiment with different sizes and shapes. In general, big cornrows are best suited for men with long and thick because of the length and size it offers.
You can choose whatever style you want because your options are unlimited. The most common method of styling big cornrows is to create cornrows that begin in the center of the head, flowing down to the nape of the neck.
The remaining part of the hair is then styled from the center downwards to the ear. In the end, the cornrows are divided into two parts. It is a fantastic hairstyle.
5. Long Locks Cornrows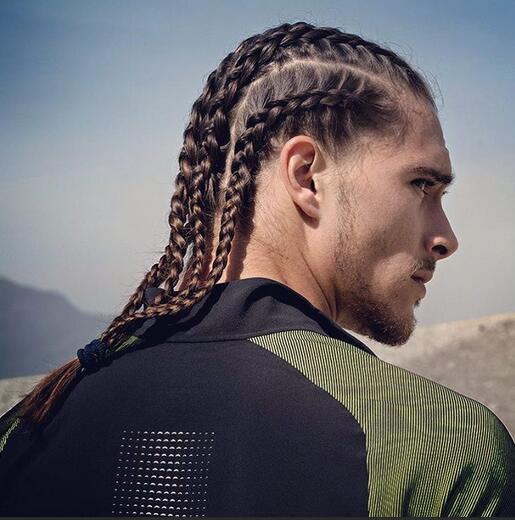 Whether you have naturally long hair or add hair extensions, very long hair gives you vast style options, especially for black guys—this hairstyle w most facial shapes. However, guys with long face shapes should grow a beard to complement their looks.
Therefore, you can archive this men's hairstyle by plaiting a beautiful, straight braid from the hairline to the back, including attractive waves.
6. Three Thick Braids Cornrows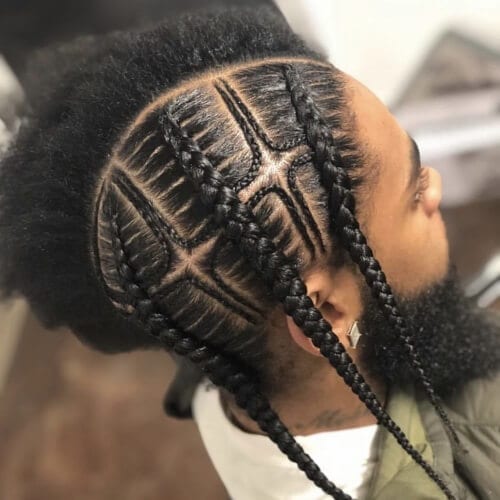 The main principle guiding this hairstyle is harmony. The crosses used to separate each braid are complicated but pleasurable to the eyes. At the same time, they look more attractive with three jumbo braids before and after each. It is perfect for triangular faces.
7. Angled cornrows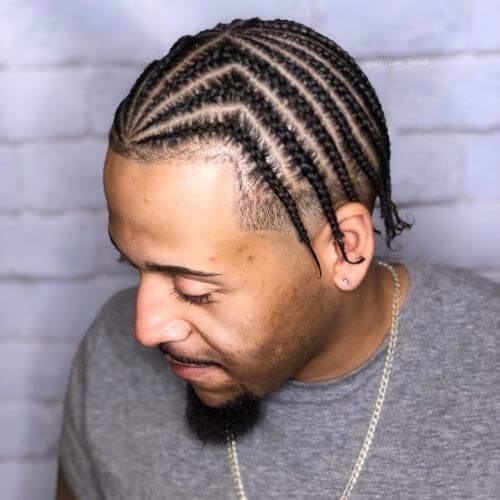 Most experts will recommend a variety of styles that often confuse you. However, it is not their fault because they consider several factors before deciding on a particular cornrow style.
For example, the angled cornrow style emphasizes your forehead, the shape of the head, face, and hairline. Therefore, this hairstyle should be worn by men with the above-highlighted features. This hairstyle is fantastic and will look excellent if you decide on it.
8. Jumbo cornrows for black men
Jumbo cornrows are a popular hairstyle for black men. The style involves braiding the hair into large, tight rows. The rows are often close together, with the braids left long.
Jumbo cornrows can be accessorized with beads, cowry shells, or other decorative accents. It is a great way to express your individual style and add texture and definition to your look.
9. Shaved Detailing Cornrows Haircut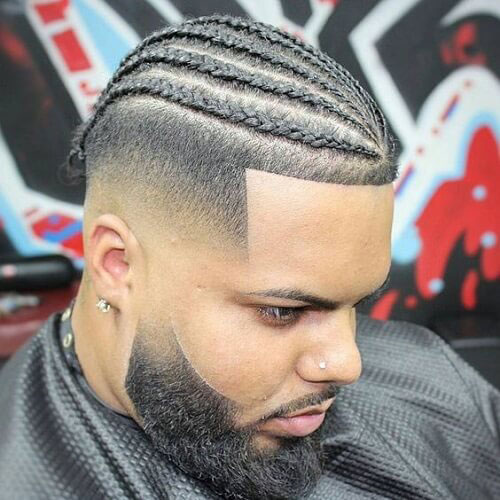 Many men think they need medium-length hair or a long one to pull the cornrows hairstyle. However, this is not the truth. Short hair can pull off the cornrows comfortably and look fantastic.
Therefore, if you don't want to have full cornrows on your head, you should pick a style like this. The hairstyle is easy to achieve. Begin by styling two plaits and the crown of the head, then create bold detailing around the Temple. Detailing brings a unique vibe to the hairstyle.
How your stylist positions the plaits can determine their suitability to several face shapes. For best results, men with triangular, square, and heart faces should add a side part instead of the bold detailing.
10. Crisscross cornrows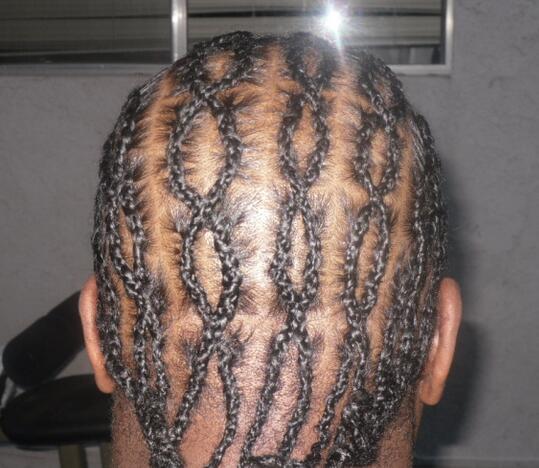 Crisscross cornrows for men are a stylish and versatile way to wear braids. They are created by weaving the hair in a crisscross pattern, which gives the style a unique and eye-catching look.
These cornrows can be left long or trimmed to a shorter length. The style can be worn independently or accessorized with beads or colorful adornments.
This style is perfect for the modern man who wants to make a statement with his hair. It's low maintenance and can last for weeks with proper care.
11. Simple Cornrow for men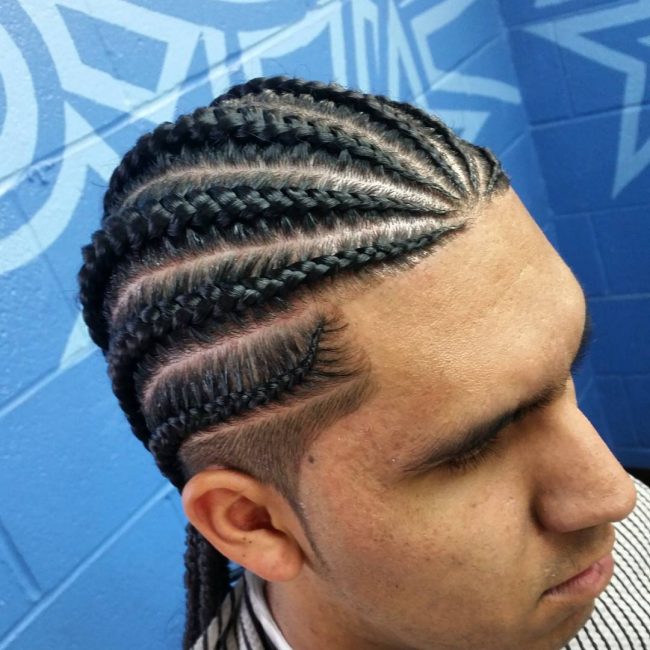 There are several styles to choose from when you want to wear a cornrow style as a guy. This hairstyle is the simplest of them all. It is unique, and it is made by changing the size of the plaits.
It is perfect for guys with round faces because the Temple and the sides carry the most volume. Guys with diamond or heart-shaped faces should not wear this style.
The styling process involves styling the hair in different hair lengths.
12. Small cornrow hairstyle for men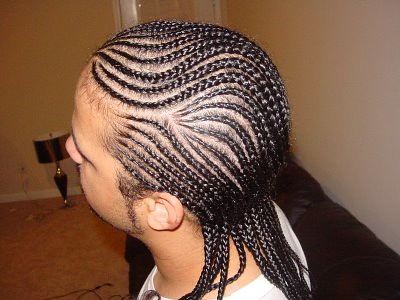 With different sizes of braids, you will find it difficult not to find the right fit. Often, guys go for smaller braids that are easy to manage and style. It is one of the oldest forms of the cornrow style.
We believe the hairstyle will be trending soon. Admittedly, it looks incredible whether you grow a beard or not.
13. Short Cornrow Braid

Short cornrow braids for men are a great way to express your style and create a unique look. This classic braid style is easy to maintain and can be worn with various looks.
Men's short cornrow braids are perfect for any occasion, whether you're headed to the club, the office, or the beach. They are also a great way to add texture and volume to the hair.
14. Buzz Cut and Cornrows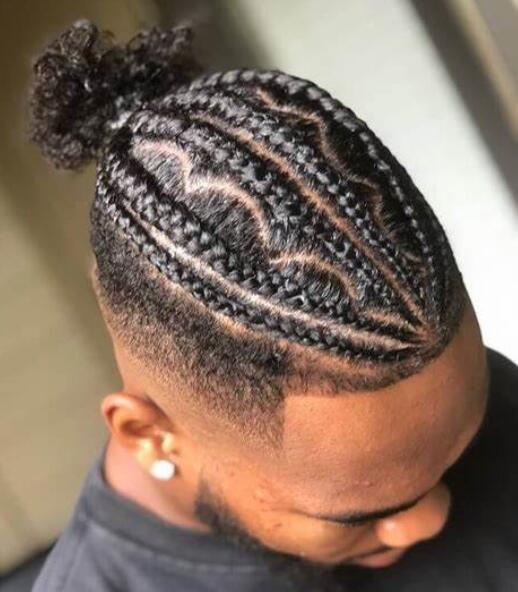 The Buzz Cut with Cornrows hairstyle for men is a popular choice due to its versatility. It is a unique style that combines a closely cropped buzz cut on the sides and back of the head with small, intricate cornrows running through the top. The cornrows add texture and interest to the look, making it an eye-catching style.
This style is perfect for men who want to make a statement with their hair and stand out from the crowd. It is also a great hairstyle for men who want to keep their hair neat and low-maintenance.
15. The wavy Cornrow for men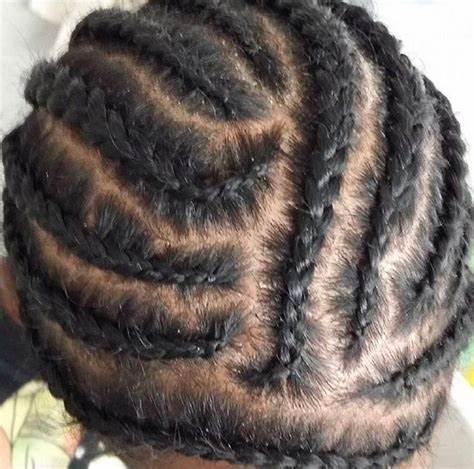 Wavy Cornrows for men are a great way to add style and personality to any look. The wavy pattern of each cornrow creates a unique, eye-catching design with a lot of movement and texture.
This hairstyle is incredibly versatile, with the ability to be worn in a variety of looks and styles. The wavy sections of the cornrows create a very natural look, while the neatness of the rows gives it a more polished, structured appearance.
16. Cornrow with lighting design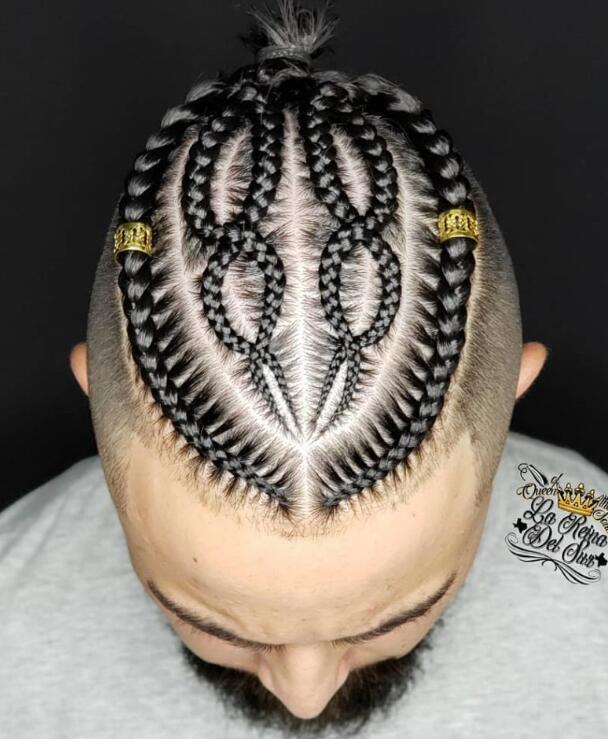 Here is one of the advanced designs. It is beautiful, symmetrical, and clean. Start by braiding four braids, and offset them with the central part. Then include some lightning patterns on the sides.
It will get your attention and appreciation anywhere you find yourself. It is a fantastic hairstyle.
17. Spaced out simple cornrow
This is another simple cornrows style available. Here the rows are spaced out. It is perfect for beginners. You can make the rows more attractive by including some highlights. You can spice things up with fashionable hair jewelry, but make sure they are not too flashy.
18. Cornrow with waves
This hairstyle combines different patterns with clean straight rows and astonishing wavy patterns that offset the straight rows to give you contrast.
The end product is fantastic, phenomenal, and symmetrical due to the whole middle part being boarded by two neat braids. It is one of the most advanced hairstyles out there.
19. Double helix cornrow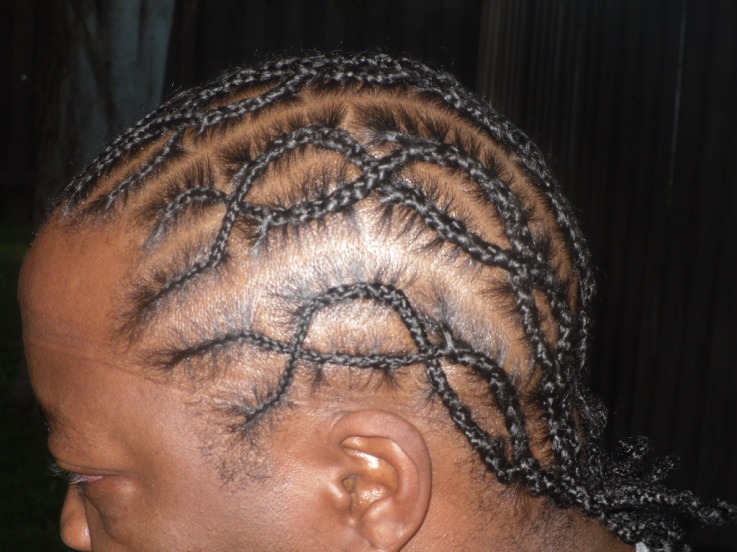 This is your hairstyle for men with long hair who desire something different from what is regular. The pattern features a double helix design, which looks like a DNA sample under a microscope. The pattern is stunning when you look at it.
20. Row-pro cornrow for Men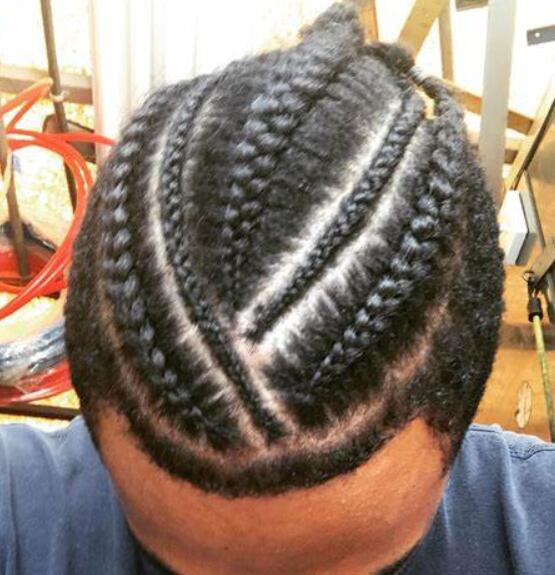 This is one of the advanced cornrow hairstyles for men. You need the help of a professional to pull off this hairstyle. One thing about this hairstyle is that it differs from one person to the other because of its different sizes and shapes.
Start with the shapes; rows are symmetrically arranged to look like a petal-like design. The rest of the hair is pulled up neatly in a man bun.
21. Cornrow with side-fade
This design looks fantastic and features two neat cornrows and a side–fade for beginners to a cornrow that doesn't want many braids, which can be painful for someone not used to the cornrow hairstyle. The style features a neat fade on the side with a braided man-bun.
22. Cornrow for kids
As a parent, you should know that the cornrow hairstyle for kids is excellent. Your boy will look amazing and feel like a king with his hairstyle.
Boys can have a variety of designs, from straight and sleek to intricate and elaborate. With cornrows, boys can show off their personality and unique style. To encourage them, allow them to pick the style they want.
23. Taper Cornrow fade braids
Taper Cornrow Fade Braids are a stylish and modern way to wear your hair. The style starts with the traditional cornrow braid, which is then tapered into a fade, creating a unique and eye-catching look.
Taper Cornrow Fade Braids are a timeless, eye-catching way to style your hair and will leave you feeling confident and stylish.
24. Crown cornrow braids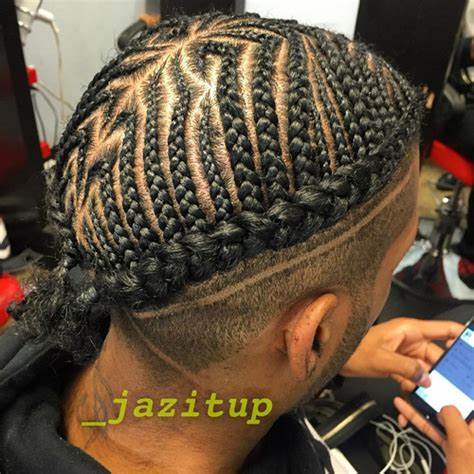 Crown cornrow braids for men are a stylish look that can easily be achieved. They are a great way to add a unique touch to any man's look. The braids are created by braiding the hair into a series of small, tight braids which are then secured into an intricate pattern.
This style can be created with a combination of textures and colors to give a unique and eye-catching look. Crown cornrow braids for men are a great way to add an edgy look that will stand out and draw attention.
25. Side Cornrow Hairstyle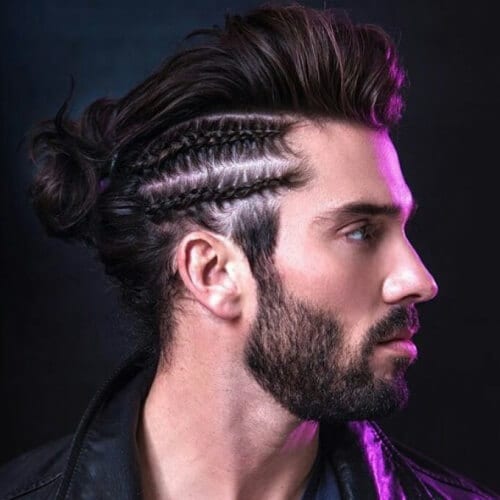 The side cornrow hairstyle for men is a great way to stay stylish and comfortable. This style is popular amongst men of all ages and works well with any face shape.
Cornrows are created by braiding the hair close to the scalp in a straight pattern. The sides of the head can be styled with cornrows that flow toward the back of the head or the front of the head.
This look is perfect for the summer months as it keeps the hair out of the face and away from the neck. The side cornrows can be accessorized with beads and other decorations to add more personality to the look.
26. Two cornrows hairstyle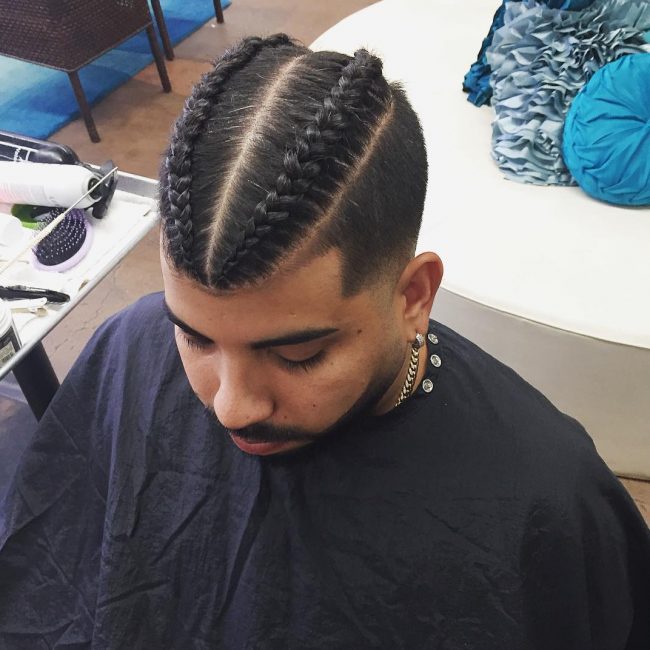 The two cornrows hairstyle for men is a classic look that has been around for centuries. It is a style that gives a clean and professional look that is suitable for any occasion.
The cornrows are two separate braids that are created by braiding the hair in an upward direction. It can be worn with various hairstyles, from afros to fades and more. It is the perfect choice for men who want a stylish and confident look.
27. Half cornrow hairstyle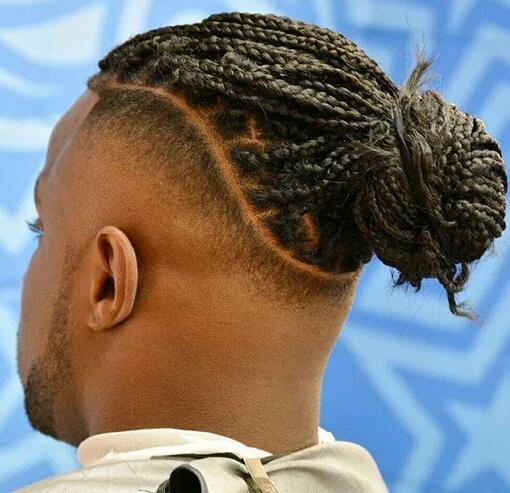 Half cornrow hairstyle for men is a versatile and modern look. It is achieved by braiding the hair in a symmetrical pattern from the front to the back of the head. The style is usually done in small to medium size braids and can be customized to suit each individual's preferences.
It is a great way to show off texture and shape and is perfect for various occasions. The half cornrow is also a low-maintenance style that can be worn for days or even weeks at a time with minimal upkeep and care.
28. Small and big cornrow hairstyle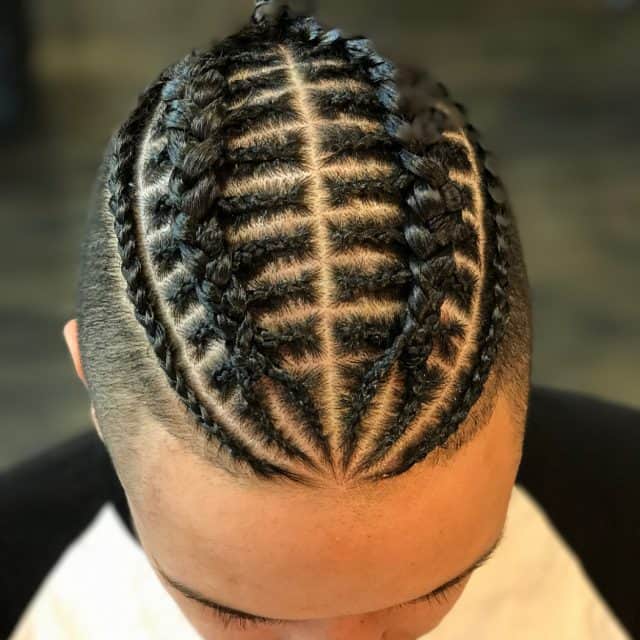 We already spoke about big and small cornrow styles. However, we want to present an idea to you. Have both of them in one hairstyle. Although, the choice of hairstyles is personal if you combine both into one hairstyle. We think the result will produce a fantastic result.
29. Star center cornrow braids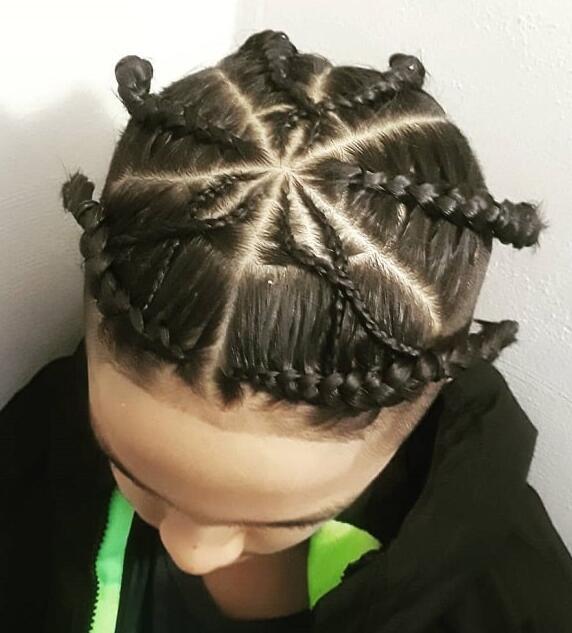 It is easy to understand why pattern and design are essential to choosing a braiding style. For example, you can start the braiding from the head's crown and allow it to spread out in a star-like fashion. This is one hairstyle that will get attention anywhere you are.
30. Cross cornrows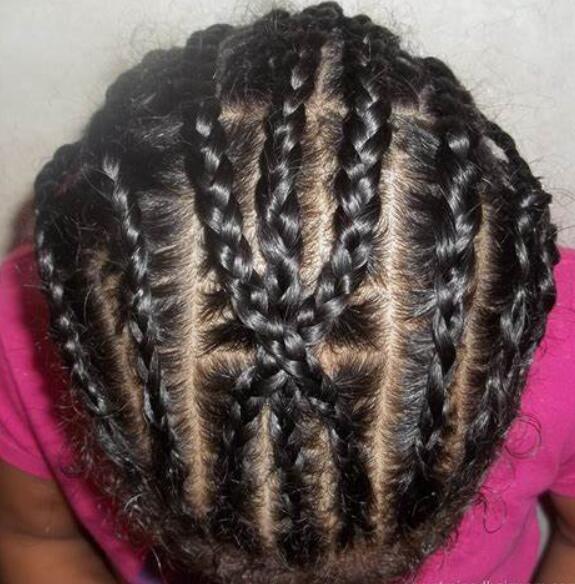 You can become more specific with your braiding design. If you are a man who values religion, you can add religious elements to your hairstyle. You can insert a cross between the braids. They have their charm.
31. Tied back jumbo braids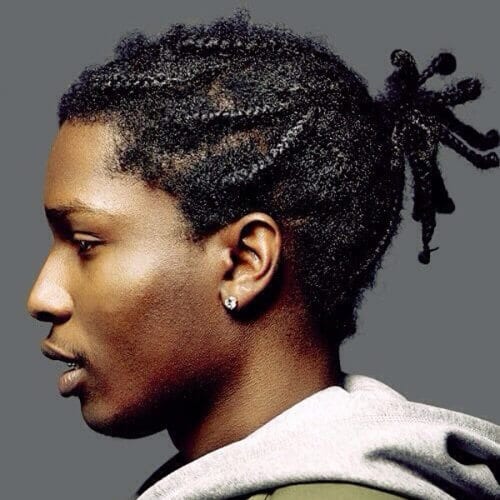 Men with long braids can want to tie them at the back often. All you need to do is combine the individual braids to create a single long braid that goes down to the back. Another option is to bring them to the center of your nape in a ponytail fashion.
32. Parallel cornrows braids
Two different braids often look even better when combined in one hairstyle. For example, overlapping braids that form an X on either side can connect with straight ones in the center. The result is a fantastic hairstyle that will get you the attention you deserve.
33. Diamond cornrows braids
This hairstyle will make you truly know that there is no limit to the types of cornrows men can choose. Diamond -shape braids are a great way to grab attention. The artistry displayed through the style is worthy of being mentioned.
34. Cornrows with two thick braids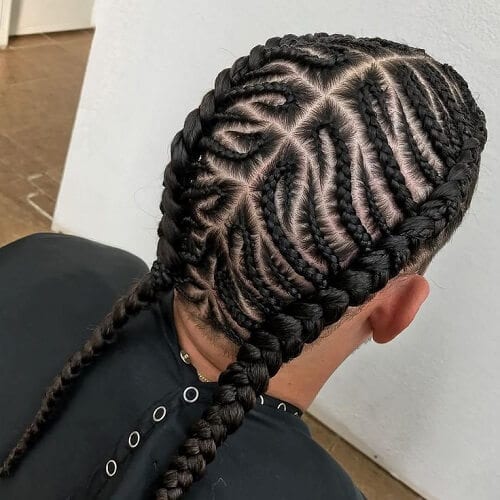 There is no need for a head tattoo when you can opt for this hairstyle. It will give you the same effect. Impressively decorated mini braids surround the two thick, long braids.
Furthermore, you can please spot the look from a million miles away. However, don't get the braids too tight so they won't affect your hair follicle.
35. Straight and dynamic cornrows
Balance is an essential ingredient for a successful hairstyle. For example, several out-of-the-box braid designs blend well with classic braids. By opting for a style like the one below, you will get people to notice the main elements that make the hairstyle appealing.
36. Dollar sign cornrow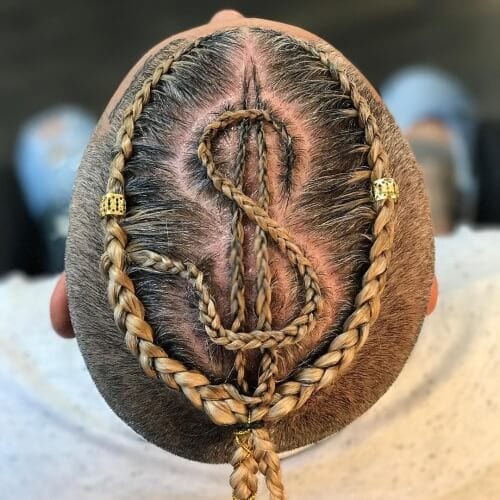 Are you passionate about money? Show it through your hairstyle as part of the advanced hairstyles you can get from the braids. The dollar design can be more beautiful with the gold braids on each side.
37. Horizon cornrow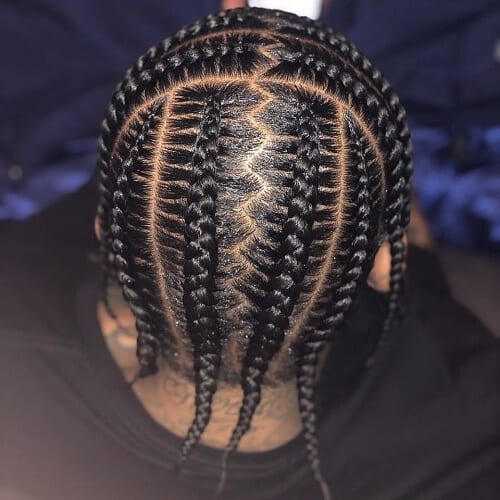 This is one of the most breathtaking braids available now. Horizon cornrow gives the illusion that you can create the entire landscape on your hair. From the front to the back, this hairstyle represents excellent artistry.
38. Numerous braids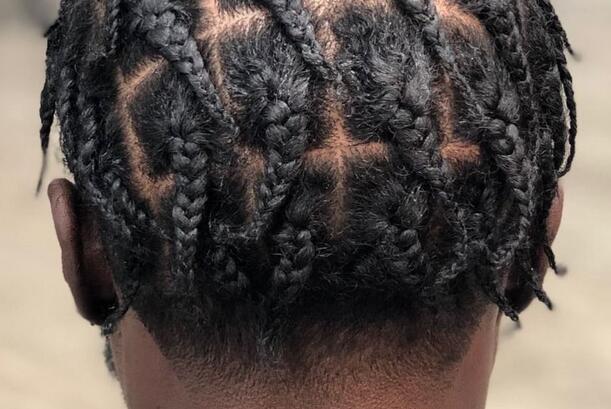 Although some men like to go the small way when it comes to braids, you can go for as many braids as you want with a combination of lengths, widths, and angles. However, remember that the more complex the hairstyle is, the more time it will take to complete.
39. Cornrows with braided bangs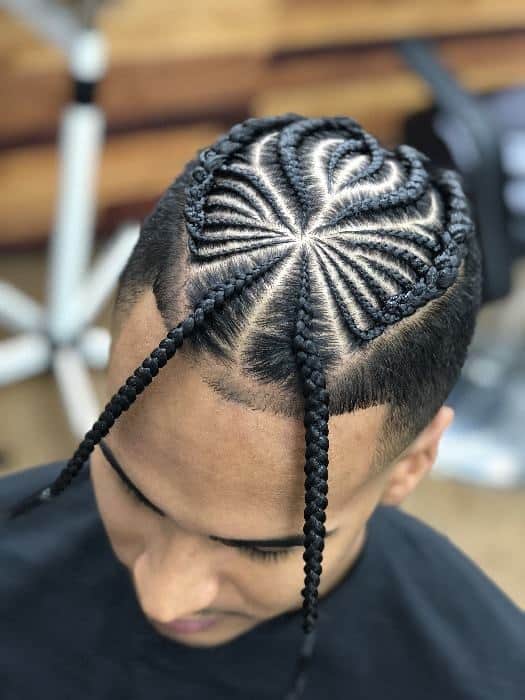 Cornrows with braided bangs for men are a stylish and versatile hairstyle. This hairstyle is perfect for men looking to stand out, as the intricate pattern of the cornrows paired with the unique braid of the bangs creates an eye-catching aesthetic.
It can also be customized to fit any style, from sleek and modern to creative and funky. This hairstyle requires some time and effort, but it's worth it for the unique look it provides.
40. Intricate cornrow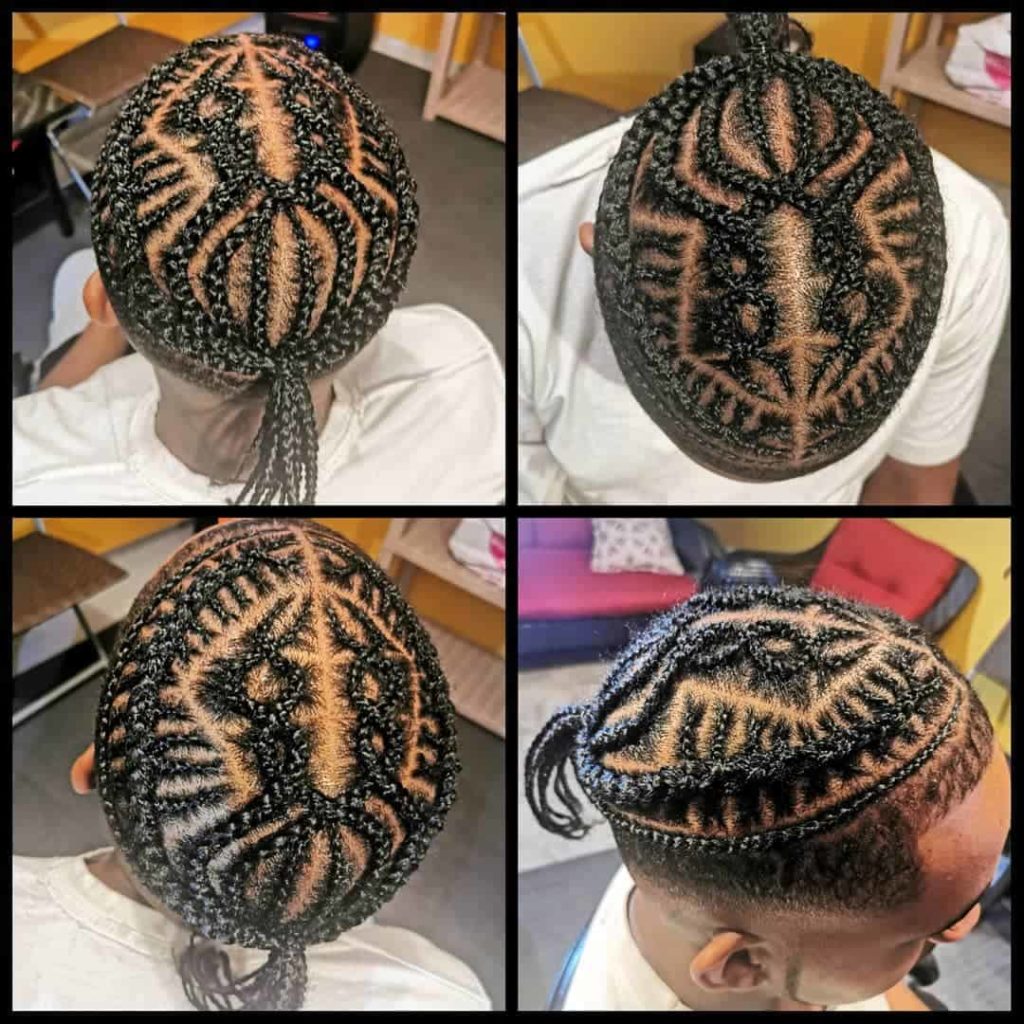 This hairstyle is ideal for all face shapes. All you need to do to rock this hairstyle is shave the sides and crop the top. This allows the focus to be on neat braids. Blending the shaved portion alongside the forehead is a standout move.
41. Part cornrow braided
You should braid an uncomfortable for those new to cornrow who are not comfortable going the whole nine yards. This style is excellent for those with triangle, oblong, oval, and square faces.
To wear this style, braid two thin plaits and the part undercut. Leave the rest loose and style it in any form of your choice.
42. Asian Cornrows
Asian Cornrows are a popular hairstyle that braids the hair in tight, neat cornrows. It is a flexible style that can be worn in various ways, allowing men to express their individual styles. Besides, the braids can be styled in different ways, such as in a Mohawk or a half-up half-down look.
The style is easy to maintain with regular brushing, oiling, and hair braiding. Asian Cornrows are a great way to show off a unique style and personality.
43. Four cornrows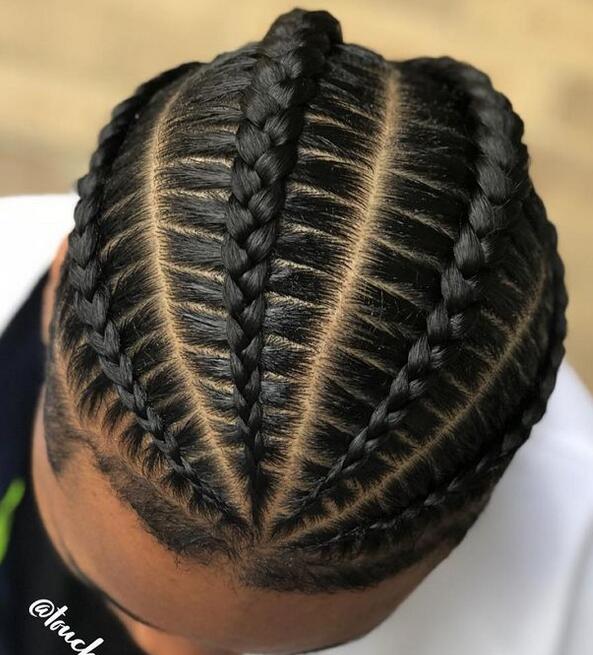 Four cornrows cover the hair more than the rest, which gives the hair an appealing look. The braids cover the hair because of their multiple braids. The style is appealing and simple to maintain.
44. Cornrows with Shaved Sides
Cornrows with shaved sides are a popular style for those looking for a more edgy look. The hairstyle is characterized by cornrows along the sides of the head with a shaved area between the two braids.
The shaved area can vary in size and shape but is usually an oval shape that is shaved right to the scalp. This style is great for men who want to express their sense of style and individuality.
It also looks great with various clothing styles and can be easily maintained with regular trims and conditioning.
45. Cornrows with Top Knot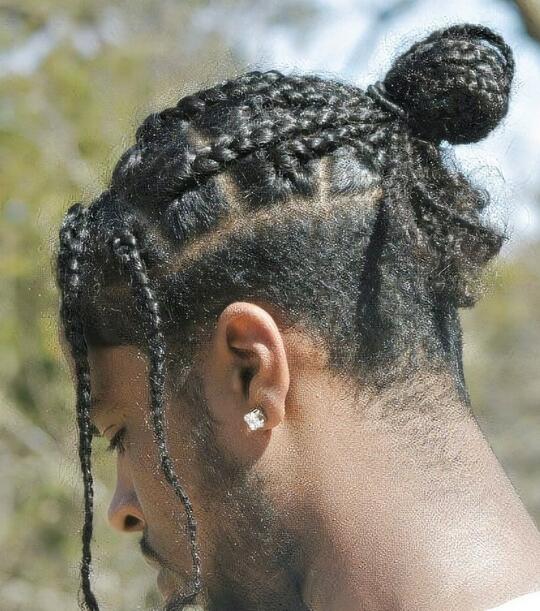 Cornrows with a top knot are a stylish and edgy look. The cornrows create a high-contrast pattern that stands out, and the top knot adds a modern touch.
The cornrows are usually braided from the crown of the head to the back and left as is or with a few strands of hair left loose to create a stylish look. The top knot is made by gathering all the hair into a bun or ponytail and secured with an elastic or clip.
This look is great for men who want to make a statement and stand out from the crowd.
46. Spider Cornrow Braids
Spider Cornrow Braids for men are a unique hairstyle that is gaining popularity amongst males. The design is created by weaving three or more cornrow braids together and then adding a pattern of crisscrossed strands.
The web-like pattern can be customized to fit the individual's preference and is often adorned with beads or other decorative items. This style is a great way for men to express their individuality and also look stylish.
47. Cornrow Box Braids
Cornrow box braids offer a unique twist on traditional cornrow braids, giving you a more creative and eye-catching look. The box braids are achieved by weaving the hair in a box pattern, resulting in a geometric look. The hair is then cornrowed and secured with beads, bands, or thread.
This style is perfect for men looking to add a bit of edge to their look. It's also a great way to add length and volume while still maintaining a low-maintenance look.
48. Cornrow Braids with Skin Fade


Cornrow Braids with Skin Fade are a popular hairstyle for men. The cornrows are usually braided tight, either in a straight line or in a pattern, and the skin fade is usually blended with a clipper.
This hairstyle is great for men who want a stylish and modern look. It is also low maintenance and easy to maintain.
49. Cornrows Braids with Drop Fade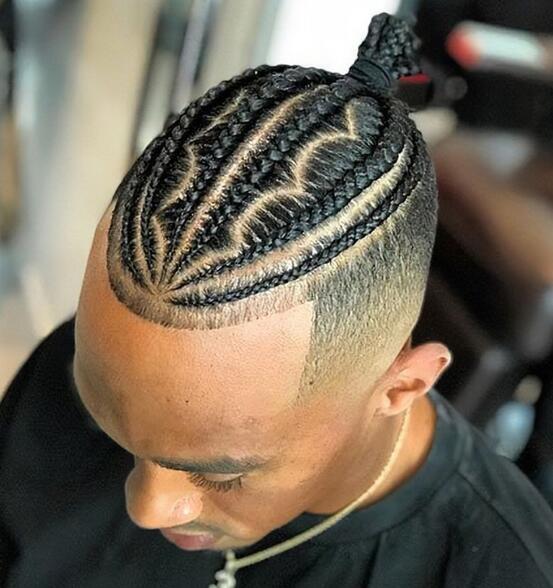 Cornrows Braids with Drop Fade is a stylish and trendy hairstyle for men. This style combines a cool and modern drop fade with classic cornrow braids to create a unique look.
The drop fade starts at the temples, gradually fading to a close shave at the nape of the neck. The cornrows are typically styled in neat and symmetrical rows, starting at the hairline and traveling to the nape of the neck.
This style is a great way to express yourself, as you can customize the design of the cornrows and the shape of the fade.
50. Cornrow Braid with Design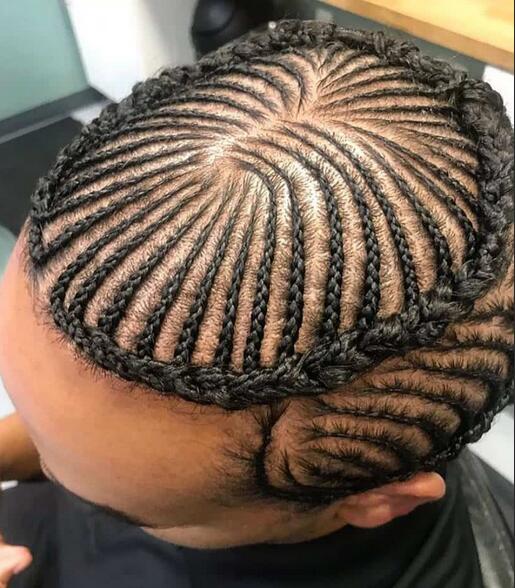 Cornrow braid with design is a popular hairstyle perfect for any occasion. It features cornrows braided tightly and close to the scalp with intricate designs. The cornrows can be styled in various ways, such as in a Mohawk or a bun.
The designs can be simple or complex as desired and can be added to the sides, back, or front of the head. This look is great for those looking to add a bit of flair to their style without a lot of effort. It is also a great choice for guys wanting to go for a clean and low-maintenance look.
FAQs
How long does your hair have to be for cornrows?
It depends on several factors, including the size of your cornrows, the thickness of your hair, and personal preference.
However, most people find that their hair needs to be at least 3-4 inches long for cornrows to be possible. If your hair is shorter than this, you may still be able to get cornrows, but they may not look as neat or be as comfortable as they would be with longer hair.
How much do cornrows cost?
The cost of cornrows can vary depending on several factors, such as the length of hair, the style's complexity, and the stylist's experience. However, as a general guide, cornrows typically cost between $30 and $150, with the average price being around $75.
Can you shower with cornrows?
Yes, you can shower with cornrows. Always take extra care when washing your hair to avoid tangles and matting.
Gently massage your scalp with a mild shampoo and conditioner, and use a wide-tooth comb or your fingers to work through any knots or tangles.
When you're done, rinse your hair thoroughly and apply a leave-in conditioner or oil to help keep your hair hydrated and healthy.
Are cornrows suitable for men?
It all depends on your hair type and goals, but here are a few things to consider:
Cornrows tend to pull the hair very tightly, which causes it to become weak, and breakage can occur. If you have fine hair, it will likely be damaged by this style. Additionally, cornrows may cause additional shedding or breakage of the hair that is left.
While cute and stylish, cornrows are also tricky to maintain. They require constant maintenance and can quickly get out of hand. If you are constantly twisting, tying up, and re-arranging yours are on the constant move between your head and, you might find that they don't suit you after all!
Because they are so tight, cornrows can cause hair loss if they're too aggressive on young boys' tender scalps. So unless you have thick (and probably dark-colored) hair, you'd better avoid these styles!
Cornrow braids styling tips you need to know
Cornrow braids on men are very easy to maintain. However, you need to prevent regular touching. Make use of gentle cleaning techniques.
First, you should get a professional to style your hair in this hairstyle. At least for the first few times. Then, moisturize the hair as often as possible.
Additionally, use spray Sheen for your hair. Make sure you avoid the use of oil-based moisturizers. All these rules can make the braids last longer. However, ensure that your braids are changed every six weeks. If you leave them longer, you may risk infection.