Box braids are a braided hairstyle that is very popular among black people. They are beautiful and easy to maintain. This type of hairstyle is usually divided by small squared-off parts or boxes. Many people, especially women, love to add synthetic or natural hair to the braid for thickness, fullness, and length.
The great thing about box braids is that they can be manipulated into different styles. In addition, once completed, they can last a long time (6–8 weeks) because they are not attached to the scalp like cornrows.
How to make box braids? You need to part the hair into individual boxes one at a time. Then spilled them into some even subsections and braided them down to the ends. Repeat this process until you braid the entire head into individual braids.
Today's article will highlight some of the fascinating box braids for men. Without wasting any more of your time, let's skip to the main section of the post and look at them.
40 Cool Box Braids For Men(2021 Trends)
1.Box Braids with Blond Dreadlocks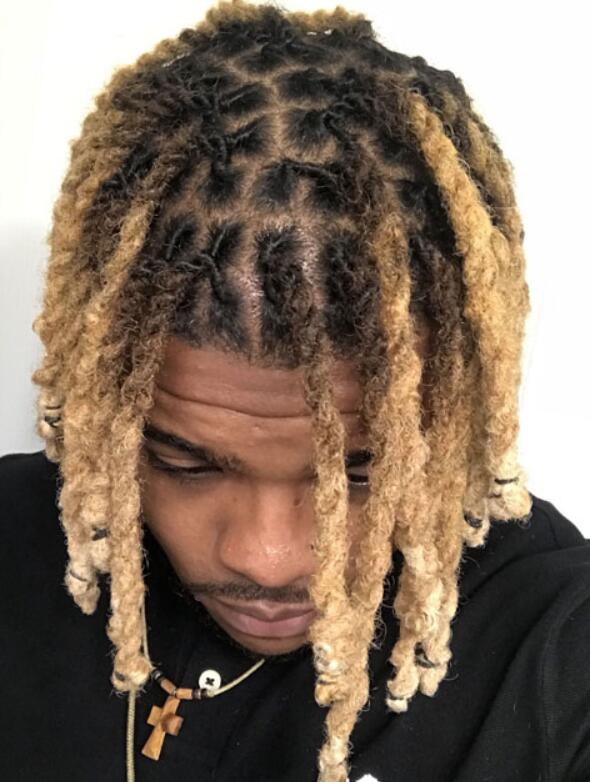 Why not make your short braids stand out from everyone else in the crowd with some cool blond dreadlocks. The hairstyle is also perfect if you'd like to add texture and variety to your cut.
2.Shaved sides with Short Braids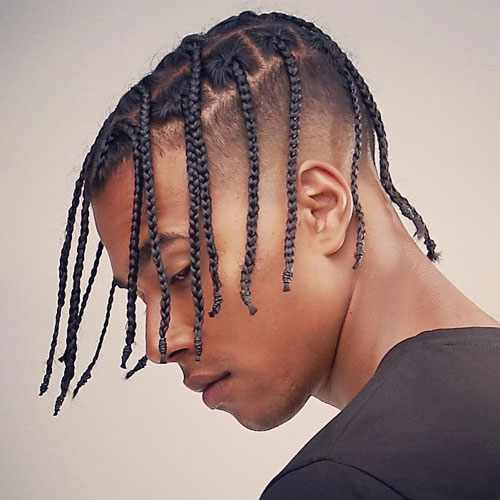 Needless to say, box braids automatically result in a triangle or square section on your head. So, instead of shaving your head, create a thin line around the box braids. This neat trick will allow you to look like you are exuding more braids than you actually are.
3. Waist Long Braids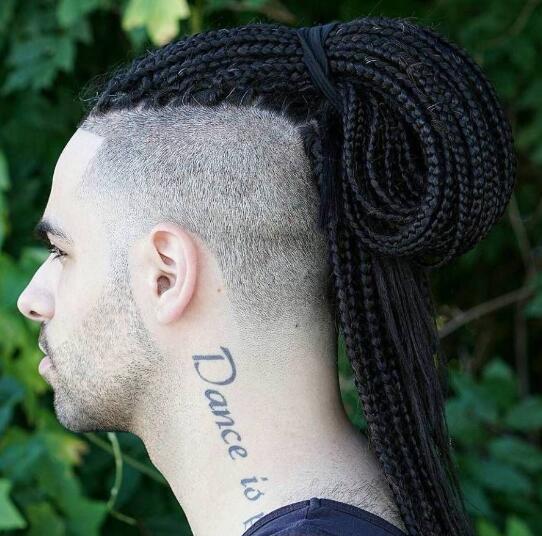 Styling box braids that go past your waist or even your shoulders can be quite a challenge initially as you try to get them under control. To get around this, you can keep half down and half up by wrapping them in a loose man bun around the back of your neck, as shown in the image above.
Highlighted Edges Braids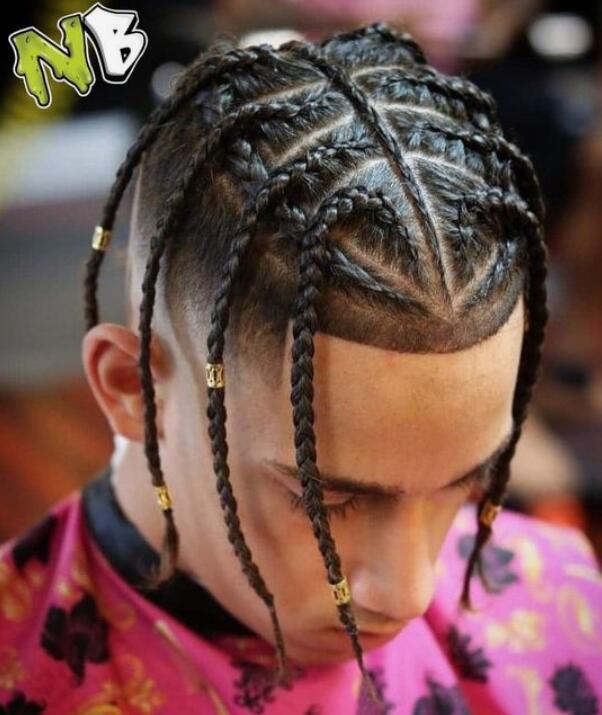 As you can see above, skinny braids allow you to create a refined look free to flow at your shoulders or be swept up into a ponytail. Feel free to cap off your braids' edges with a highlighted color such as copper or natural brown.
Skullet Braids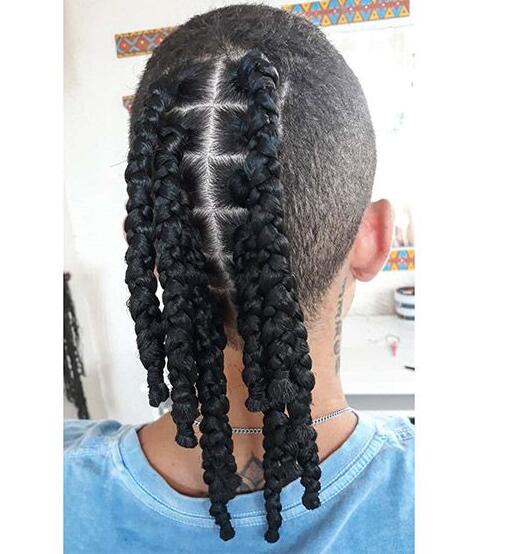 Box braids might have been inspired by the 70s, but this kind of skullet hairstyle is undeniably the newest trend, thanks to the way it's being worn. From the front, the haircut looks like the dude has a minimalist buzz cut. Not until you spot the back, you notice the glossy braids erupting in a half Mohawk.
Blond Highlight Braids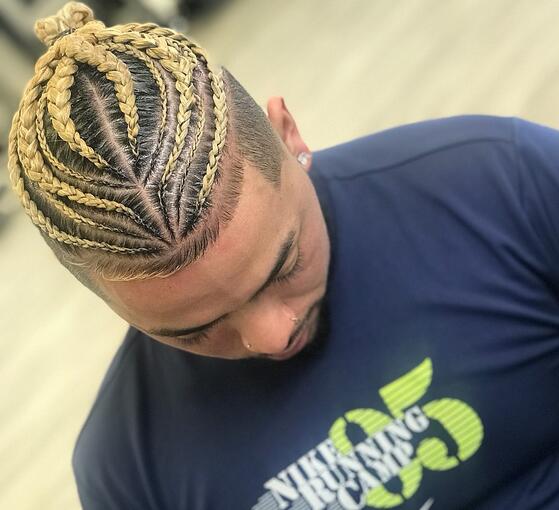 Arguably the main appeal for synthetic hair is the different bold colors you can pick. With this haircut, step out of your comfort zone with the platinum blond that allows you to create a dynamic contrast against your natural locks.
Braid as many plaits as you can to create more volume.
Thin and Thick Braids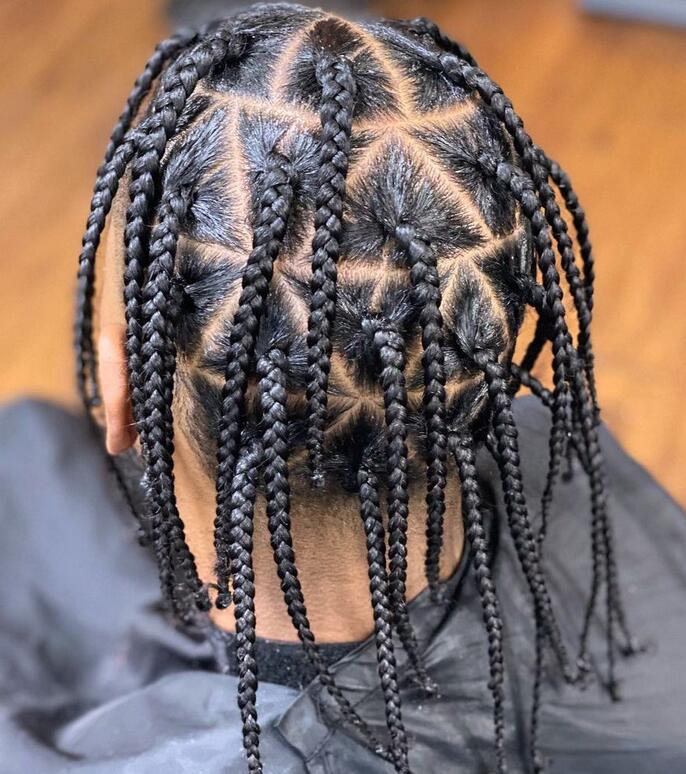 Work with that you have got, regardless of whether your hair is long enough with synthetic extensions or on its own. With this in mind, create as many braids as possible, regardless of what size they end up, and allow them to curl at the ends.
If you'd like to create an appealing middle part, then braid from the center outwards.
Thick Bun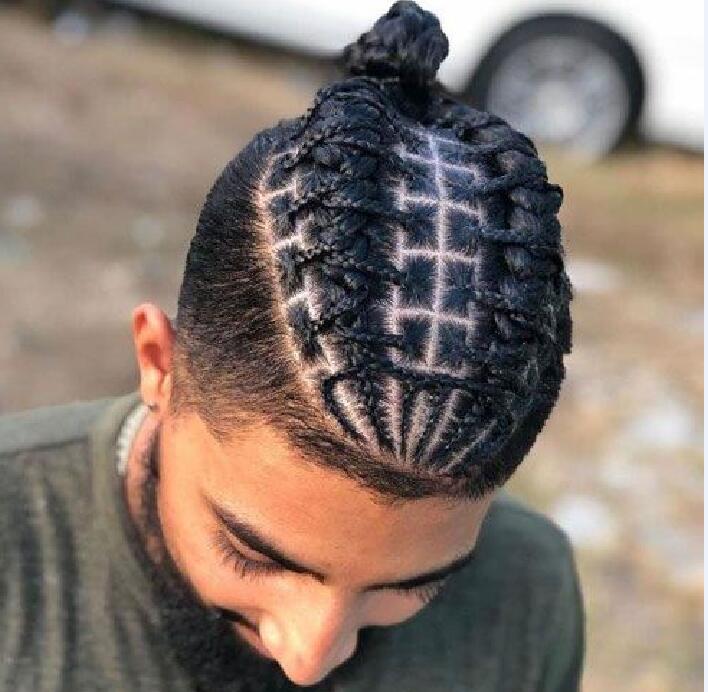 When your hair is an amalgamation of long and short synthetic braids, there is no limit to areas where you can elevate the hairstyle. For instance, you can take the individual smaller box braids and cluster them into jumbo chunks on your head.
Mini Twin Braids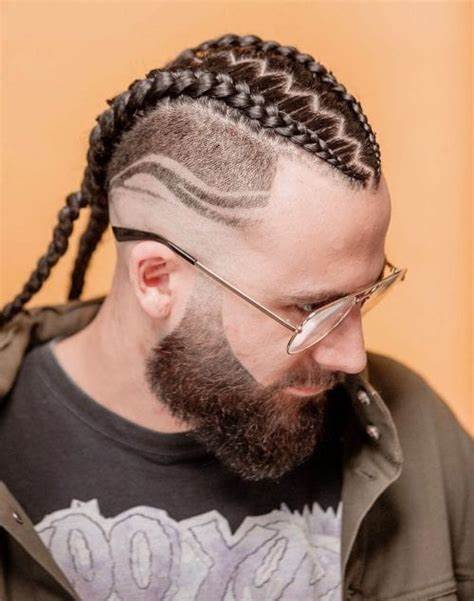 As shown in the image above, the staggered sections of boxed braids (as shown in the image above) award you the freedom to let them fall in a purposeful pattern or even naturally. The further apart you ask your hairstylist to braid your hair, the fewer braids you will need to style.
Shoulder Length Braids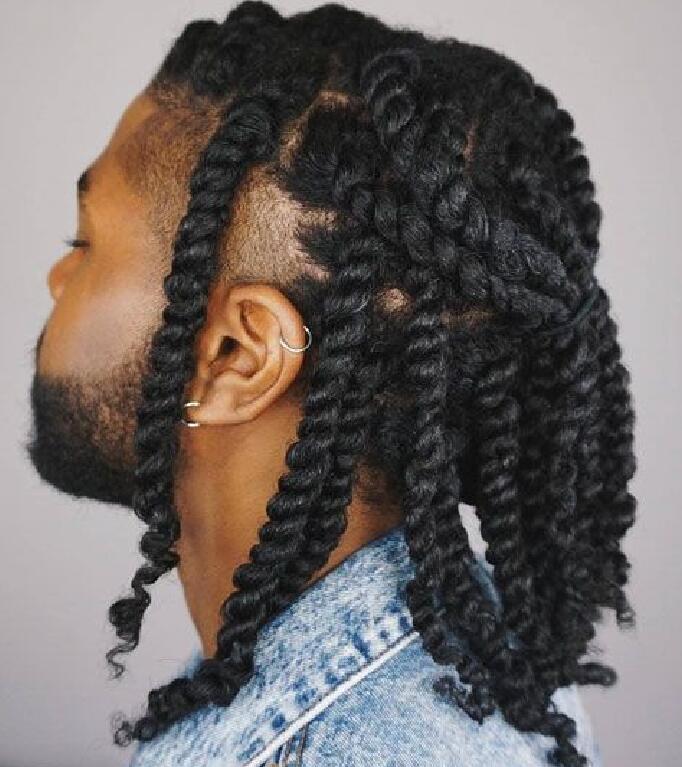 Why not match appealing braids with a sharp beard to create the alluring and dashing look above? You can also punctuate each braid by shaving a curve with your beard around the jawline.
Double Box Braid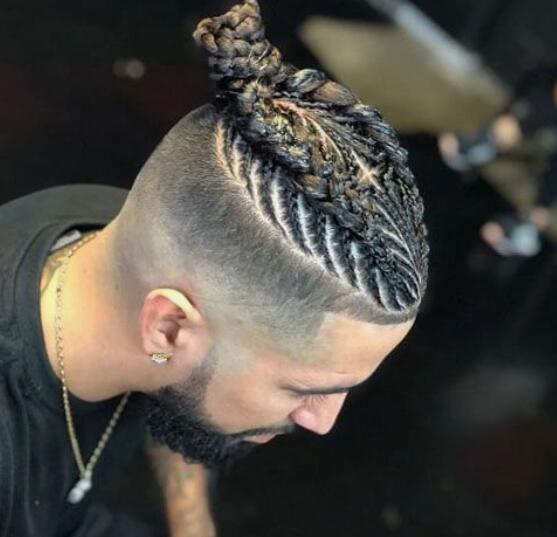 This hairstyle involves weaving two distinct rows of box braid into the jumbo braid with synthetic hair that's running from your forehead to the back of the head. You can also feel free to tie both jumbo braids together into the looped ponytail shown above.
Cornrow and Jump Rope Twist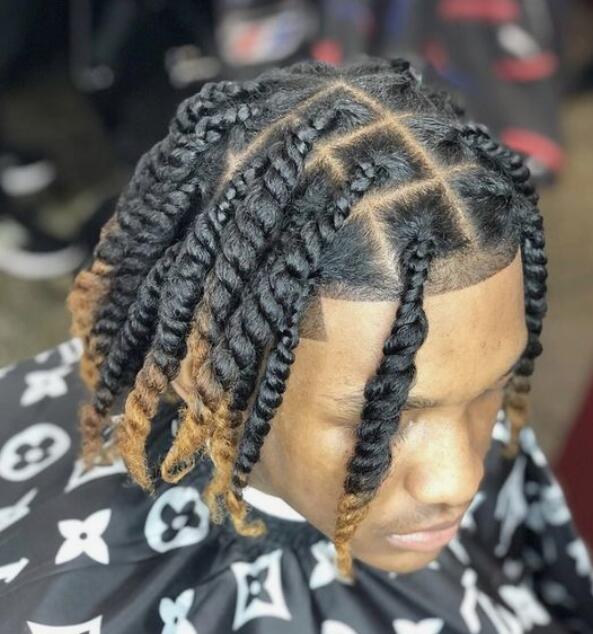 Also known as a Havana Twist, a jump rope twist fosters a polished and smooth braid. Start by twirling both strands of hair individuals then crisscross. To attain the smooth jump rope look, as shown above, it is essential to twirl the leg of each hair before crisscrossing.
Box Braids with Design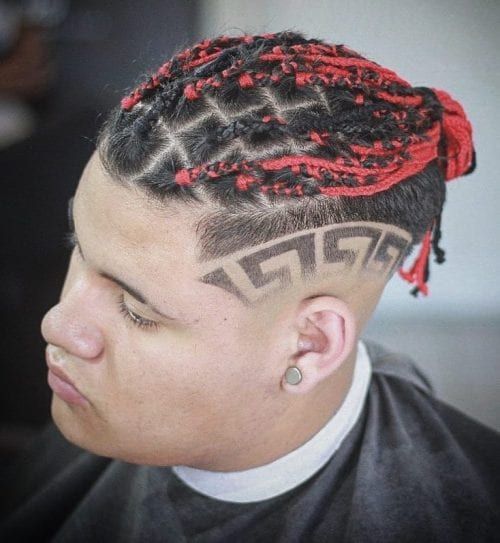 This hairstyle pairs two equally attention-grabbing concepts – the red synthetic extensions to elongate the brads and the Greek wave pattern etched to the dude's head's edges.
Loose Symmetric Twists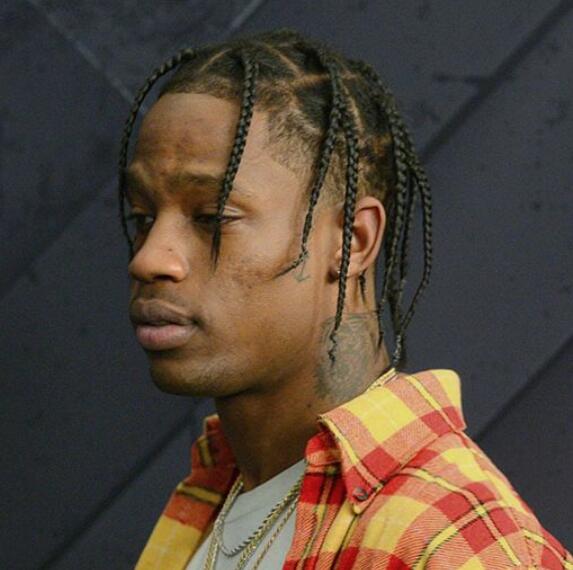 If your braids are tidy (effortlessly), then why not allow them to fall proudly? Weave every braid sufficiently tightly so it doesn't slag but at the same time remains relaxed and loose.
Interlaced Braids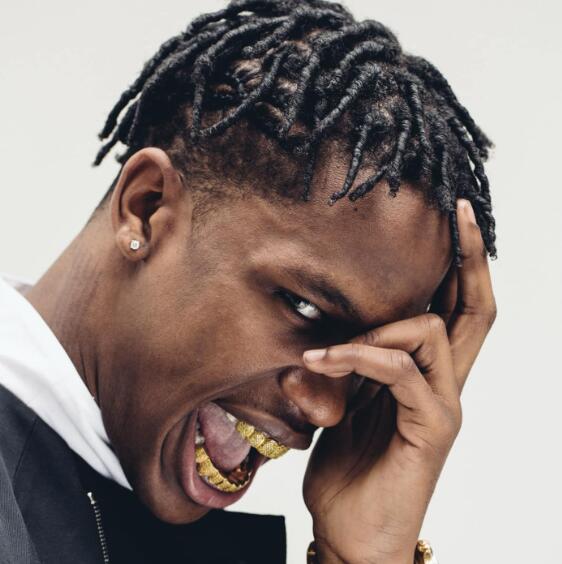 As shown in the image above, short braids are perfect if you'd like to alternate between different styling techniques and patterns. Use hair gel to matte them down and create a cool twist on your scalp. You can also take it a step further and interweave the longer braids higher on your scalp.
Low Braided Ponytail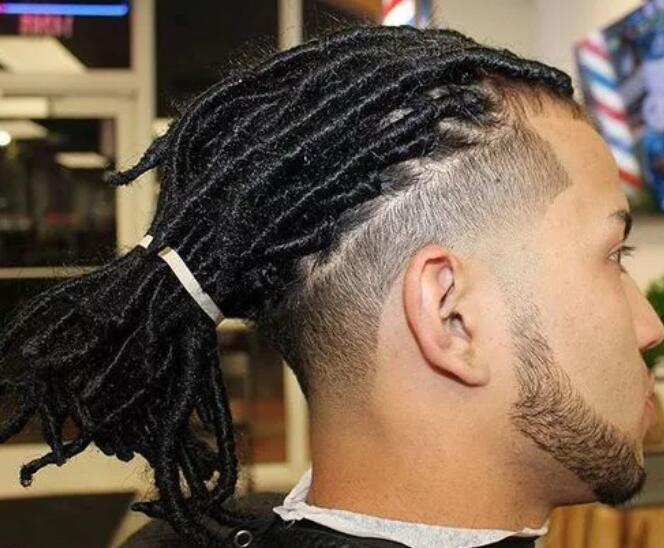 Why not award your natural locks a dash of color and variety with synthetic copper hair? And then, once they are set, you can use two-tone combinations to twist the braids into a low ponytail at the back of your head.
This should be sufficient to keep your locks out of your face while at the same time flushing the braids against your scalp.
High Top Box Braids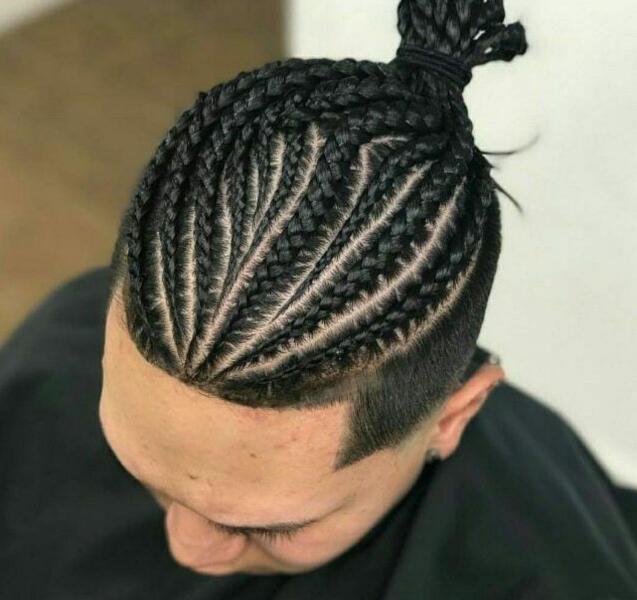 There are many ways to boost your attractive box braids, which is one of my favorites. The high-top man bun will keep the laidback for casual wear and polished for work. Also, feel free to couple the style with a clean geometric shave around the temples and on the board.
Super Short Braids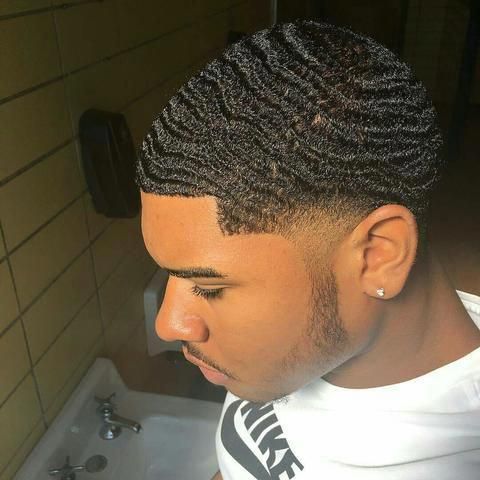 This is, frankly, one of the most creative ways to blend the crew cut's classic simplicity with braids' artistry. Who thought that the 90s staple of bleached blond braids could be effortlessly brought back with gravitas and class?
The hairstyle is perfect for all those who would like to express their personalities but in subtle manners.
Edge Updo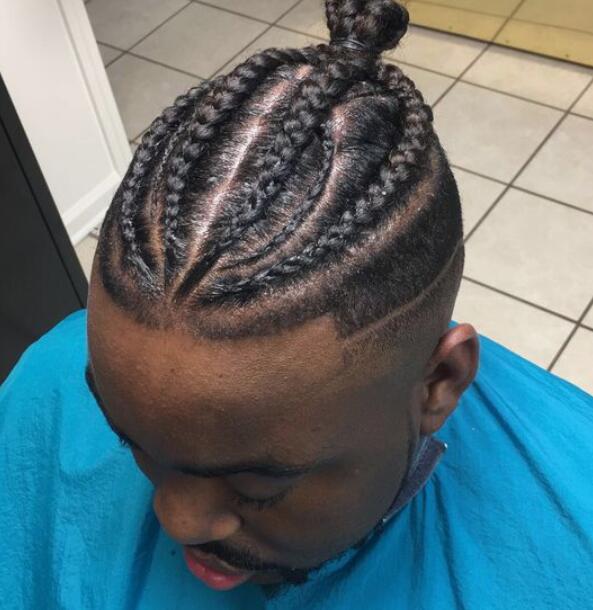 Have you heard how they say that opposites tend to attract? Well, it's true. This amalgamation of a manly, stern buzz cut with the romantic high bun will work precisely due to the contrast between the two elements.
Interactive Box Braids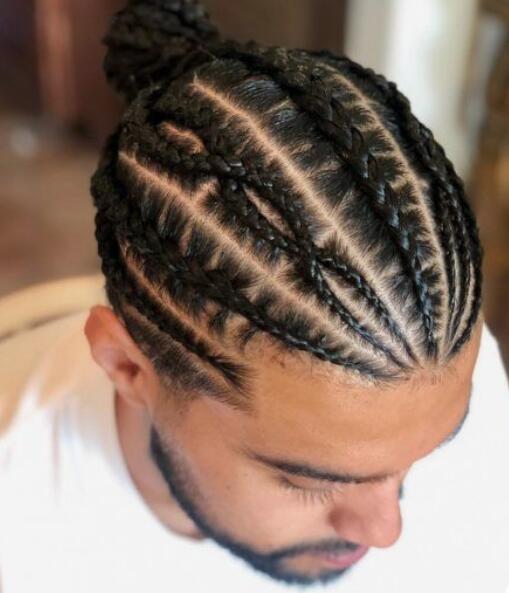 Box Braids, unlike loose hair, are essentially architectural. They allow you to pull off structures and even textures that you couldn't have otherwise—the box braids above a couple of unconventionally angled shapes with a basket-like texture.
High Ponytail Braids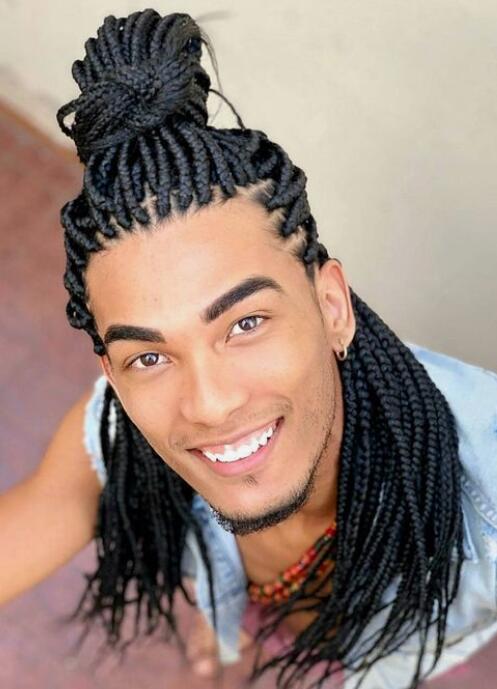 Thin braids boast sufficient body and strength to sculpt and retain the flowing grace of loose hair. Needless to say, this allows you to enjoy the best of both worlds. Better yet, these box raids will look just as good if worn down to frame one's face.
Bejeweled Braids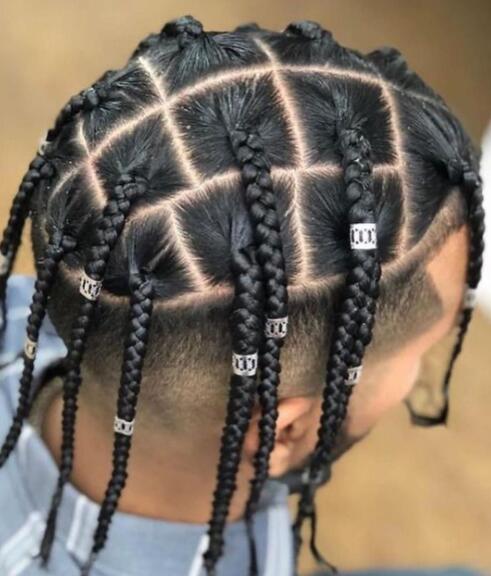 One would think that a head full of hair jewelry would turn out dramatic, but this hairstyle has managed to remain both easy-going and casual. As you can see from the image, the braids should be chin-length so they can fall around your face for a nonchalant, relaxed effect.
Single Box Braids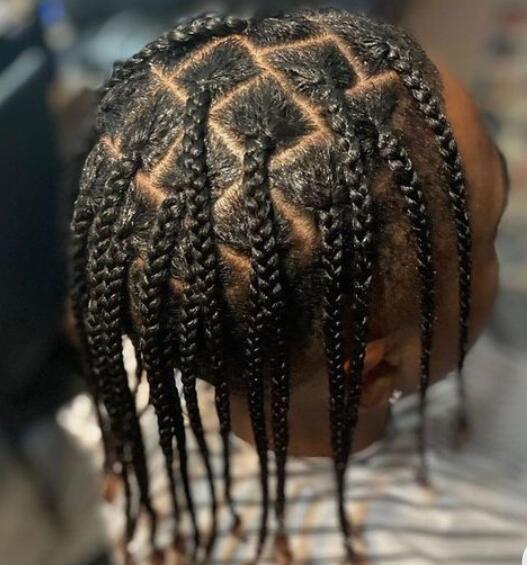 Braided haircuts were specifically invented to protect hair types that row in tight curl patterns – but as you may have learned earlier, braids also boast the ability to highlight the silky texture that straight hair types have.
This minimalist style is all about simplicity and shine.
90s Box Braids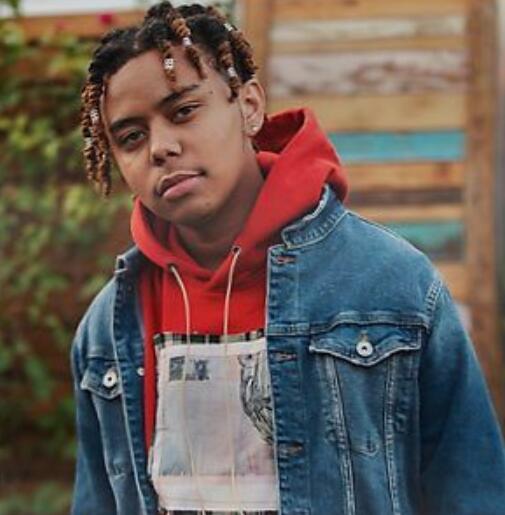 This amalgamation of bleached blond hair with decorative, colorful beads is an exceptional throwback to the 90s. Thanks to its expressive, fun, and casual nature, the hairstyle would look completely at home at any beach on the West Coast.
Clipped Braids with Accessories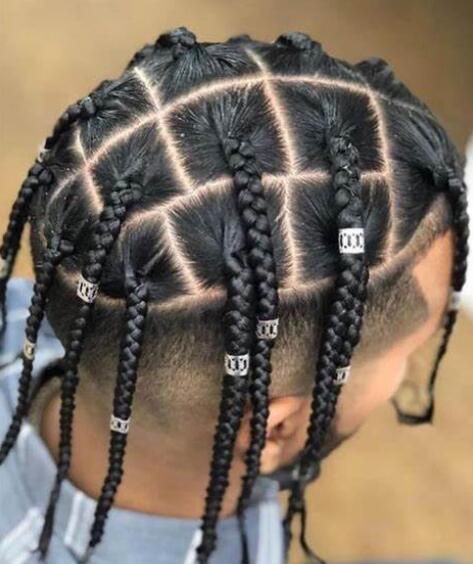 Braids naturally flowing is an opportunity for you to take them from basic to unique. In this hairstyle, you get to add clips to a few (or all) of them to act as a statement piece that perfectly compliments the entire style.
Box Braids with Fade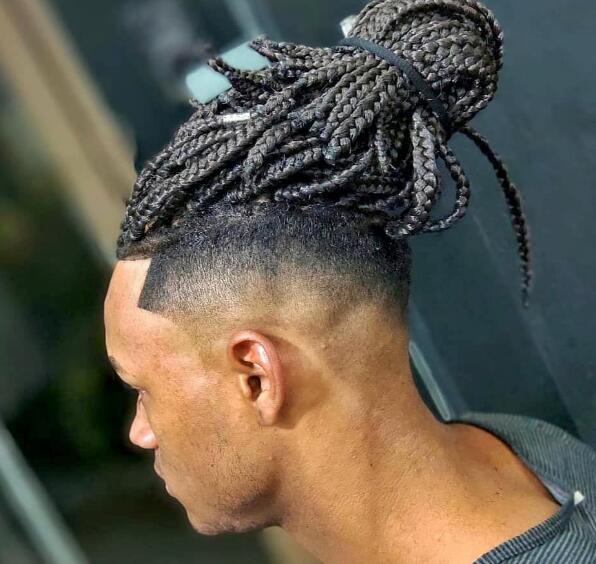 These box braids have been awarded a soulful, elegant update by getting pulled into the massive but gentle French braids and adorned with Silver hair cuffs around the dude's crown. It's undeniably a strikingly poetic look that can rule in any environment.
Half Down, Half Up Braids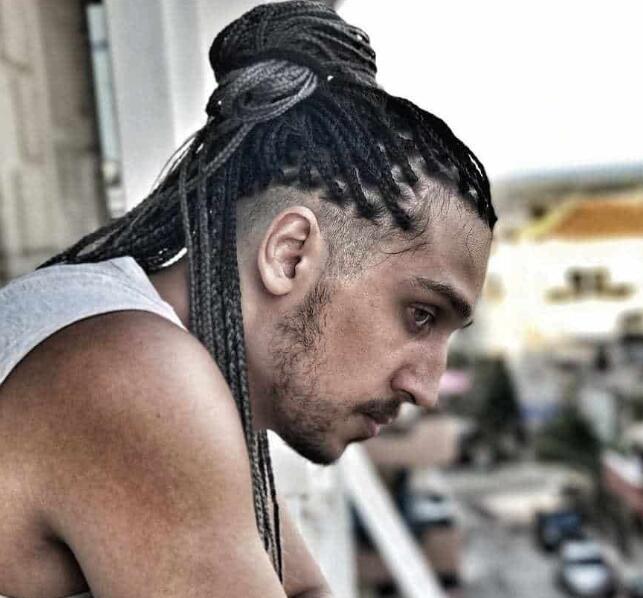 If you believe the notion that updos like these are only for girls, then I'm confident this gentleman has proved you wrong. Since his thick hair is quite too heavy to get contained in a ponytail, he has decided to wear the rear segment of his braids in a cascade over his shoulders.
As you can see, it is surprisingly regal.
Braids with a Thin Hairline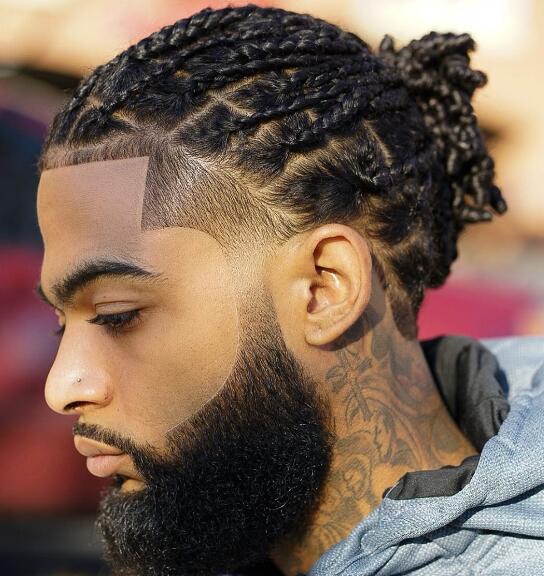 Instead of letting your tiny braids fall in front of your face, why not wrap them to the back instead? The thin hairline around your forehead will foster a smooth transition from where your hairline has started to where the brads start.
Reverse Dyed Ponytail Braids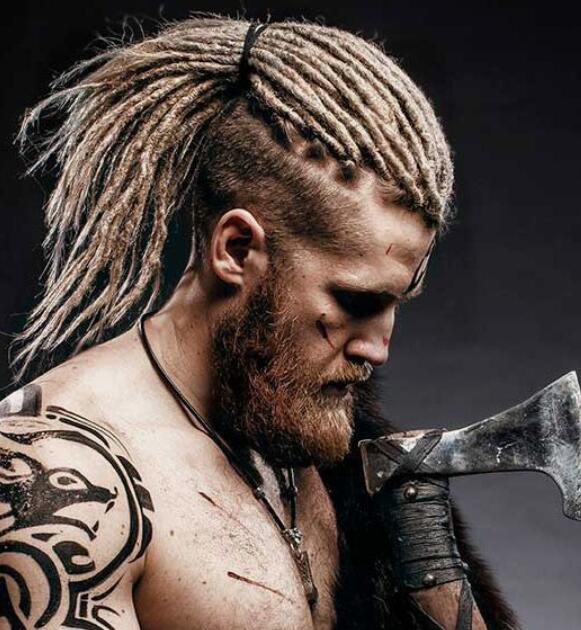 This hairstyle has been shaved close all around the gentleman's sides, which in turn seamlessly blends his hair with his beard. Just like he has, you can also pull back the shoulder-length braids into a loose ponytail at the back of your head. This should sufficiently keep them out of your face for the classic relaxed summer vibe.
Dyed Top Knot Braids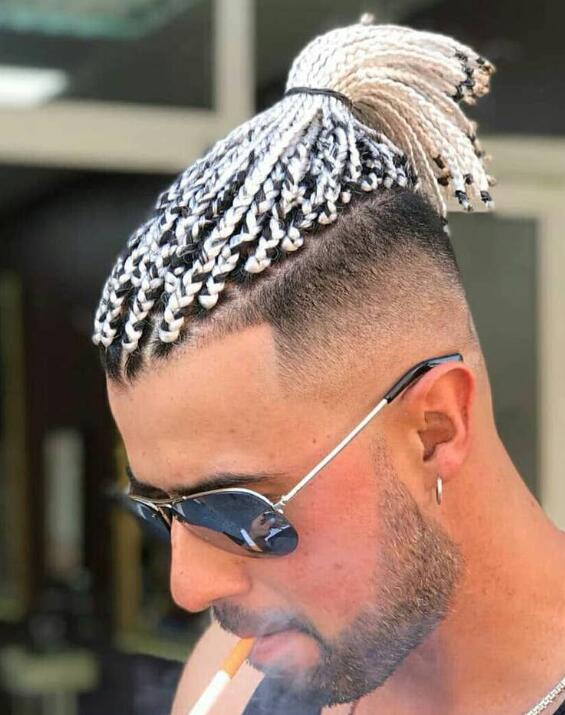 High ponytails are not just for cheerleaders. With that in mind, why shouldn't you get to have fun with your hair? This exceptionally balanced style has been coupled with delicate blonde braids and a sharp fade.
Two-Tone Box Braids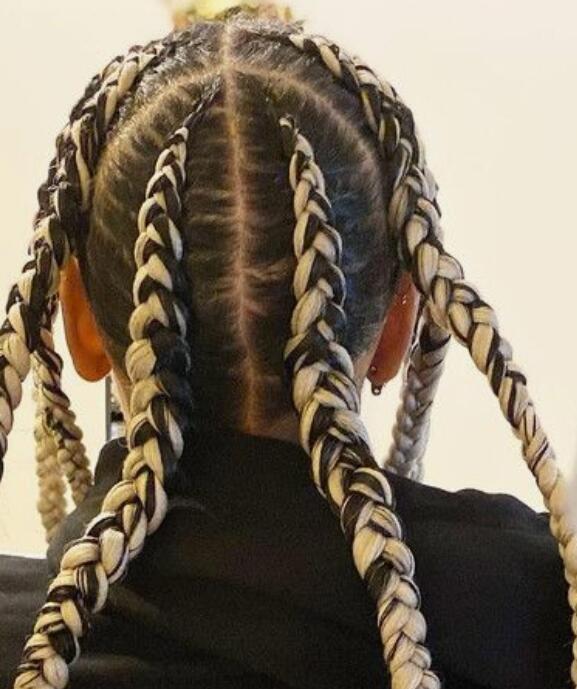 This hairstyle entirely depends on artificial hair extensions. You can also use extensions of two different colors to attain stunningly gorgeous colors, just like the gentleman above.
Ear Length Box Braids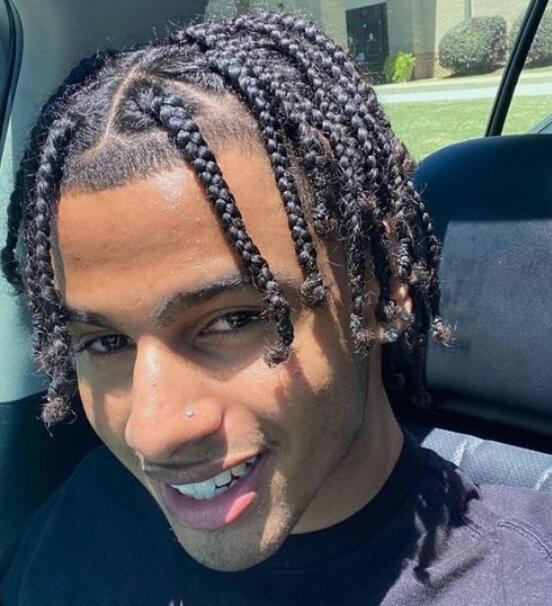 With this hairstyle, you get to keep the box braids to the length of your ears all around your head. Just like the dude above, you can rest assured you will look aesthetic and well-groomed with this hairstyle.
Longer stripes with a bun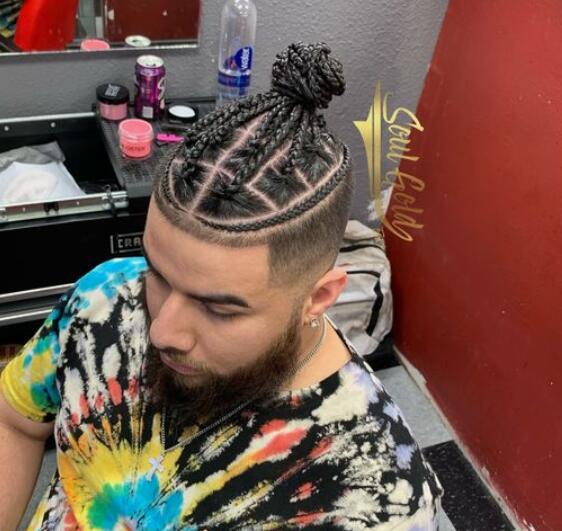 Stripes have the ability to change the entire outlook of one's hairstyle – and a hair bun has the ability to enhance beauty to an even greater extent.
Chevron Shapes Braids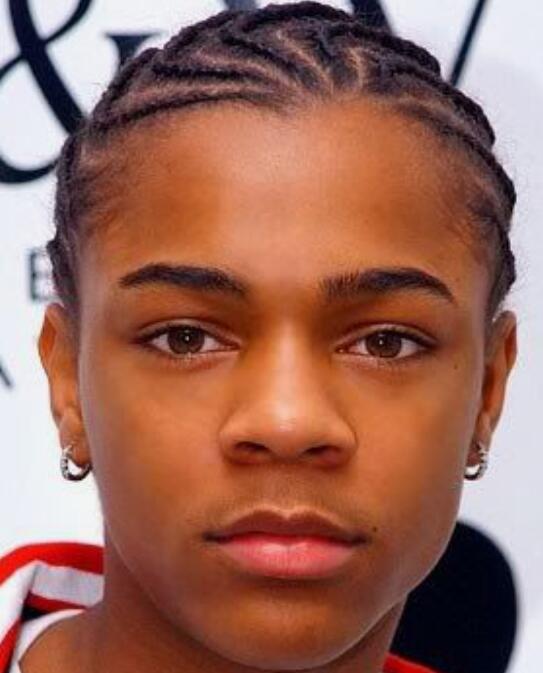 If you are a man who loves hair designs, then I have included this unique box braid idea with your personal preferences in mind. Historically, Chevron shapes have always been an element of style and fashion – and their styling in this hairstyle is not an exception.
Next time, try using the pattern while getting your box braids done.
Undefined Patterns Braids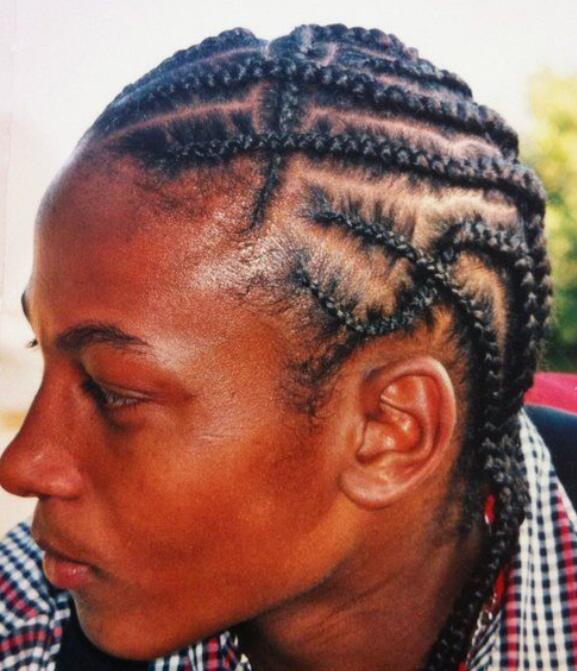 It is not written in any rulebook that the pattern of box braids needs to be defined (at least not in any rulebook I have come across.) with that in mind, why not adorn your hair with some undefined patterns of box braids just like the gentleman above?
Extra Long Box Braids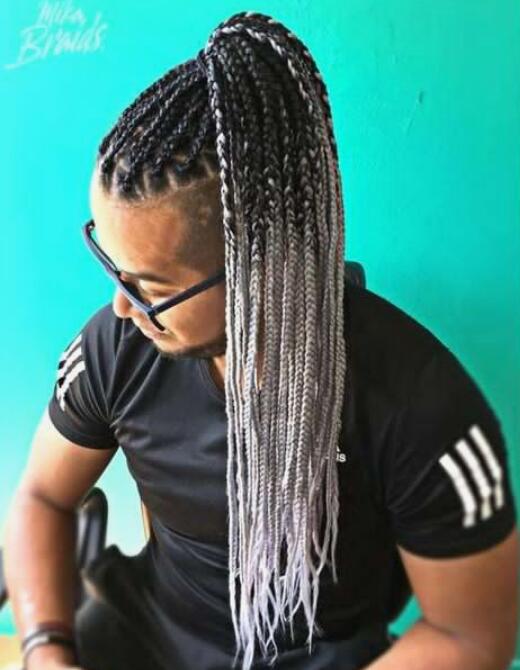 Some individuals love long hair regardless of the type of hairstyle they have intended to go with. So, it makes total sense to include at least one box braid hairstyle that perfectly demonstrates the longer styles.
Extreme Style Box Braids
As repeated noted in today's guide, hair extensions are a convenient element if you'd like to make your hairstyle look more impressive and attractive. Having said that, one needs to be extremely patient while getting this sort of extreme style to ensure you do not go too far.
38. Natural Long Braids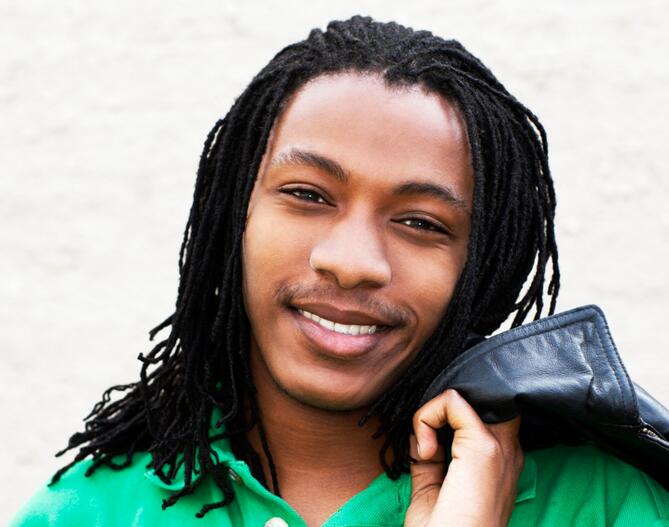 If you have long and natural hair, you can try these long box braids. This hairstyle is easy to maintain.
39. Straight Cornrows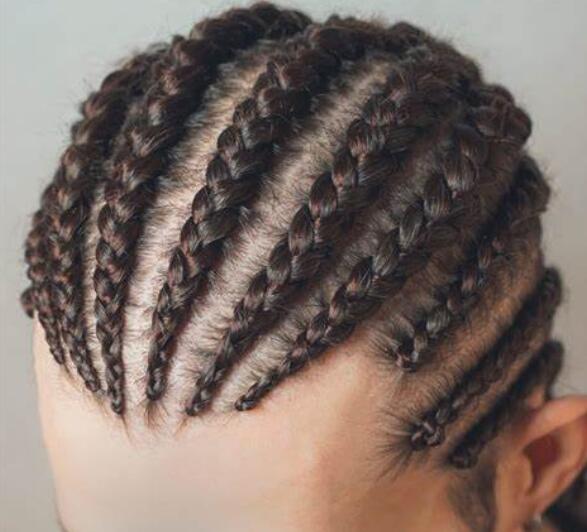 Straight cornrows are very common in black men. You can use box braids to make the rows.
40. Layered Box Braids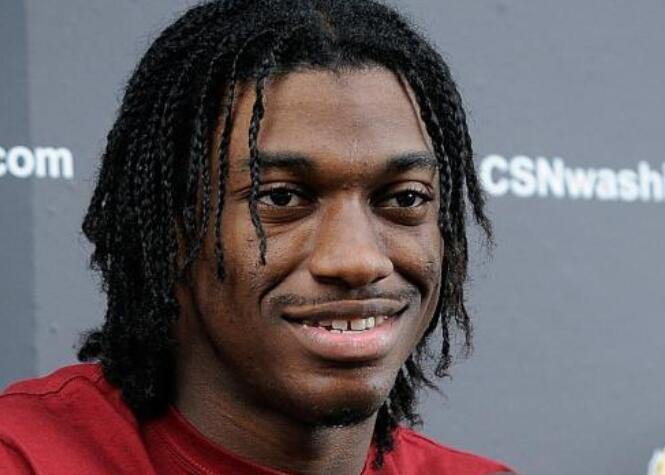 A layered box braid hairstyle is the most popular haircut for men—a layered hairstyle suit well with a box braid hairstyle.