Waves haircuts have become increasingly popular in recent years. These haircuts have kinky curls that define a spiral around the gentleman's head. The wave haircut, also regarded as the 360 waves, combines a bald fade on the sides with a textured top, resulting in a clean, stylish look.
Its versatility can be tailored to fit any face shape, making it an excellent option for any man looking to update his style. Whether you're a man in the corporate world or a trendsetter on the street, the wave haircut will give you the confidence to take your look to the next level.
In addition, the wave's haircuts also take quite a while to create and maintain. You can also combine it with a whole lot of other hairstyle variations. This article will list 40 excellent wave haircuts for men.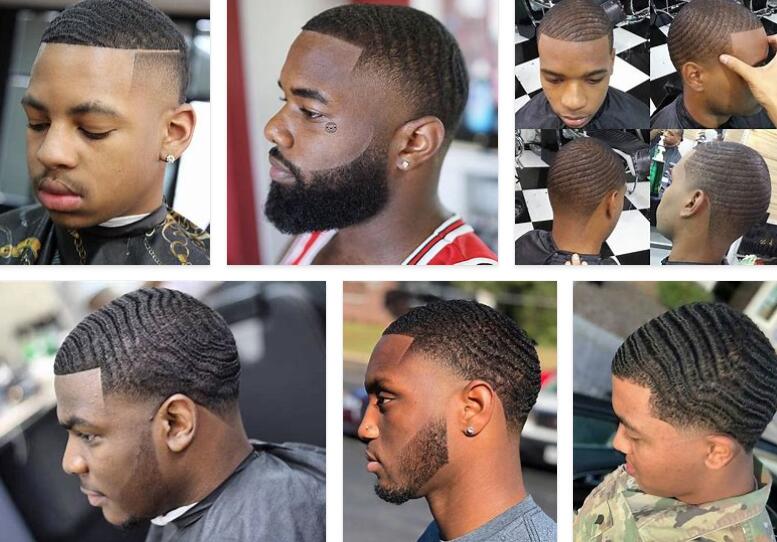 40 Amazing Cool Waves Haircut For Men(2023 Trends)
360 Waves Haircut plus a lineup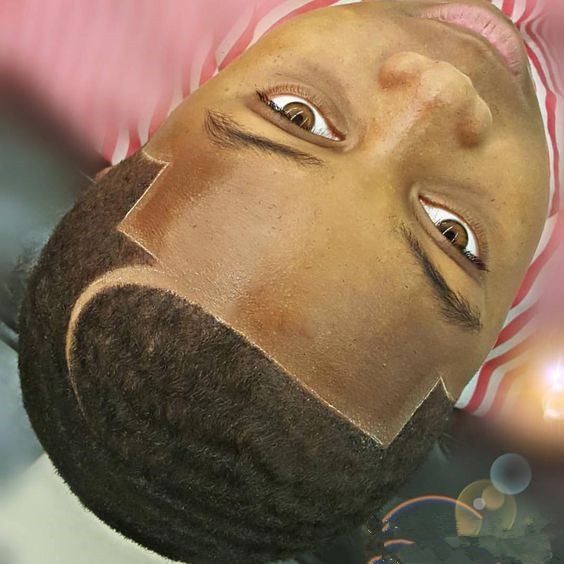 I will begin this enumeration on a high note with the 360 Waves Haircut that has been perfectly trimmed all over. This hairstyle is also the best example of a clean shape-up and cleaned hairline with a thick shave in the wave pattern.
180 Waves Haircut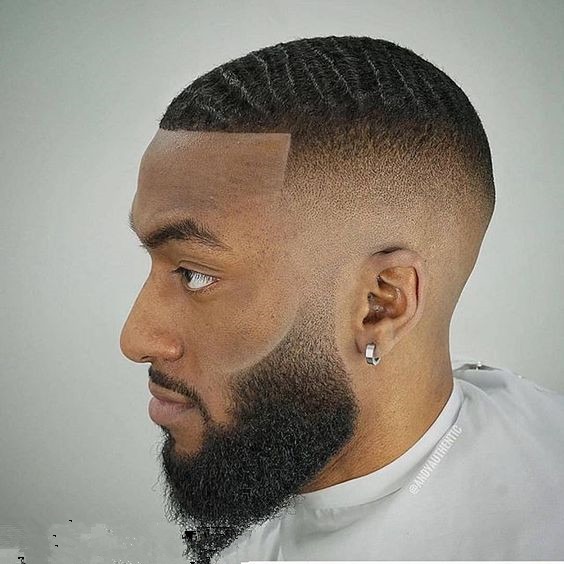 Not all black gentlemen want to style 360 waves like in the image above. If you would rather have very short hair on the back and sides, you will most likely want to ask your stylist or barber for a high bald fade haircut like in the image above.
But just like the 360 waves haircut, the 180 is also easy to style and maintain in the long run.
Young black boy with a waves hairstyle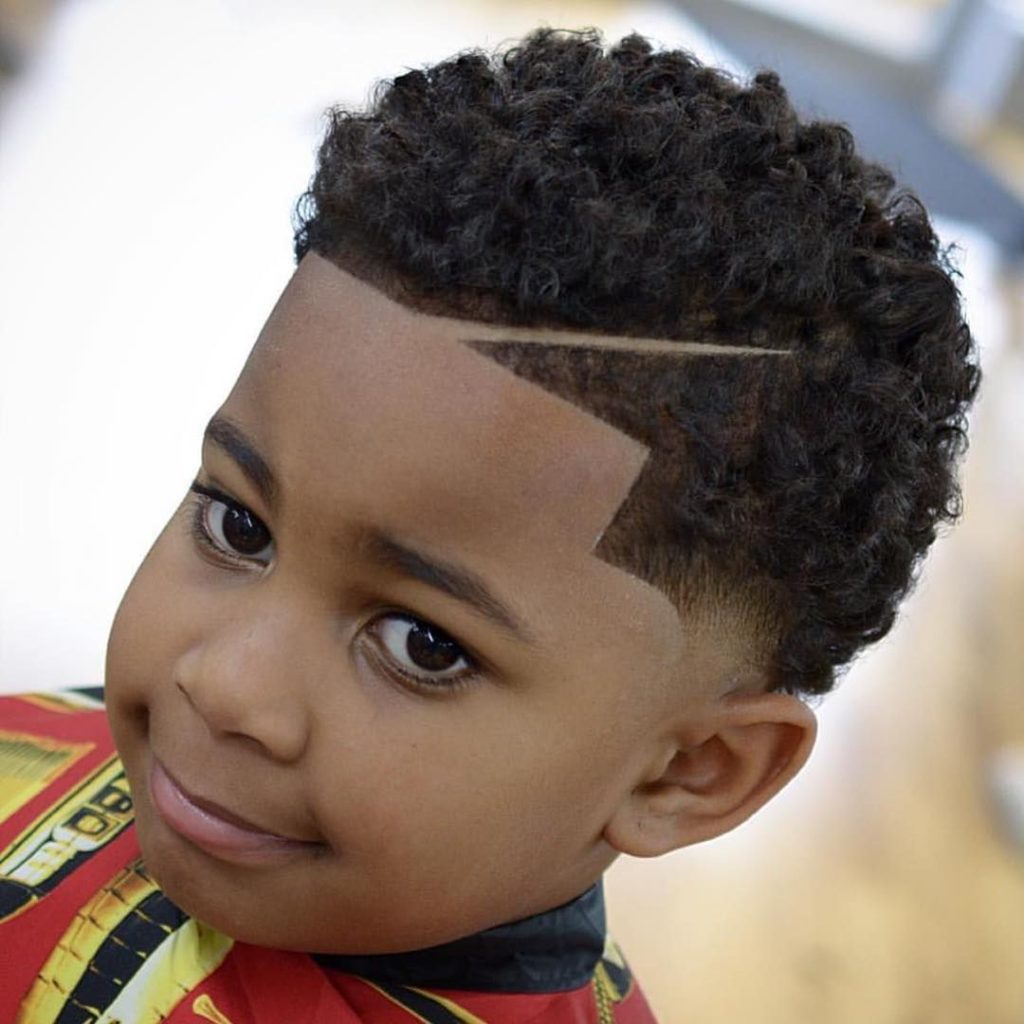 Waves work wonders for black men and boys of all ages as well. This kid's wave looks badass with a lineup, part, and a low taper fade.
Half-moon hairstyle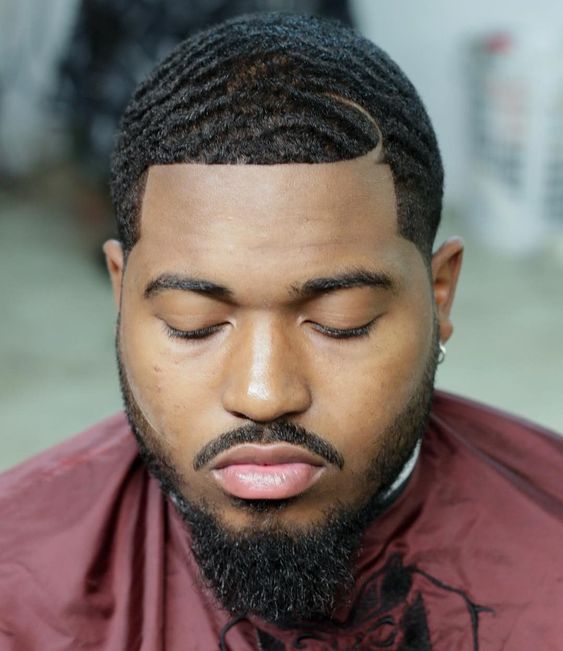 The half-moon hairstyle is a curved part that a barber shaves into the top part of your hair. Get the wave fade, create a wave pattern, then complete the look with the half-moon part.
Waves with a beard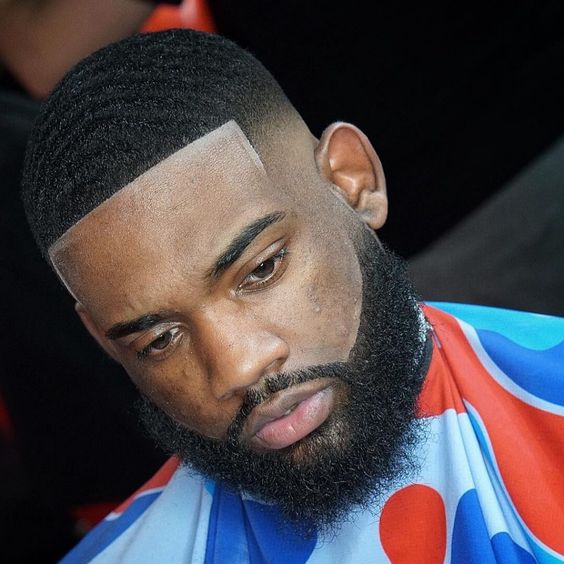 Doesn't a wave haircut couple with a nicely groomed beard look immaculate? In my opinion, it is one of the most badass haircuts you will ever come across.
360 waves haircut with a creative design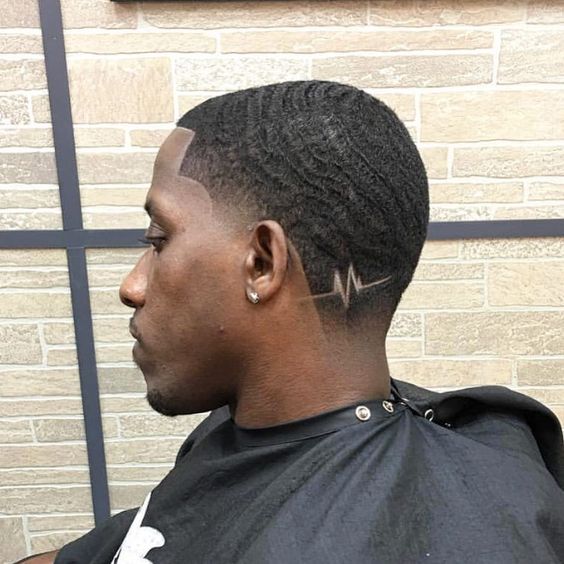 If you like getting creative, this is the haircut for you. Better yet, you could try hundreds, if not thousands, of designs.
360 waves with a part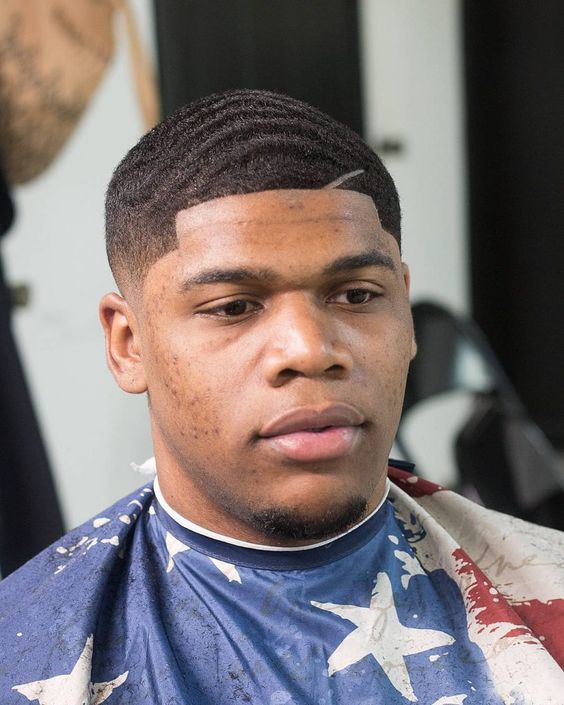 A faded hairstyle coupled with a 360 wave creates a very stylish look. Focus on the deep waves that offer texture on the topside.
Deep 360 waves
Deep 360 waves like the ones in the image above take dedication, regular brushing, and time. But you can rest assured the result will leave awe on your face.
Cool waves
The best waves should spiral around the gentleman's head with clean and deep ridges. But ensure you invest in the right hair products if you want to style this haircut.
Taper fade with waves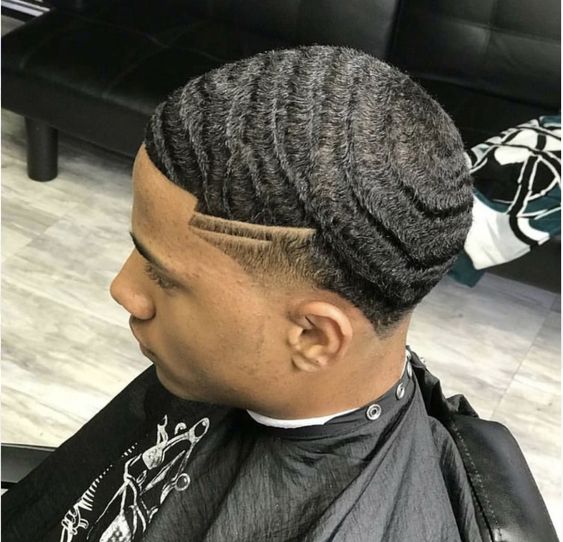 Don't you agree that a taper fade and waves create an extremely fashionable black man's haircut?
Blad fade plus waves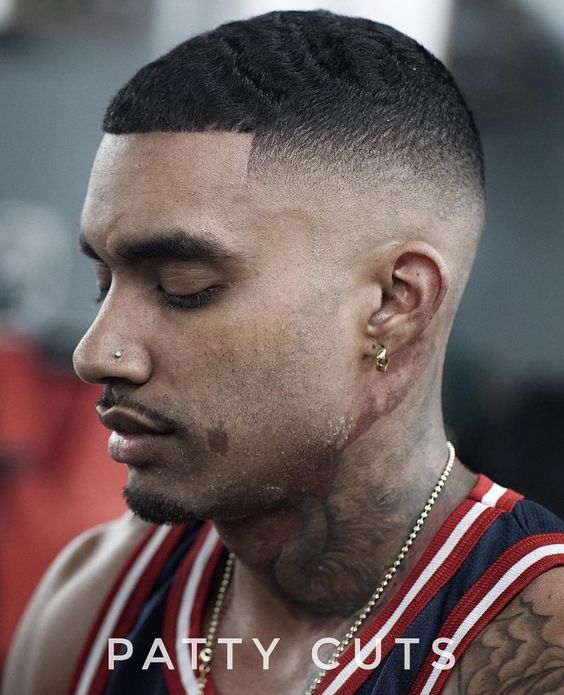 Bold and modern, a bald fade with waves is a fantastic cut to try if you want a short haircut but still turn heads wherever you go.
A high fade plus waves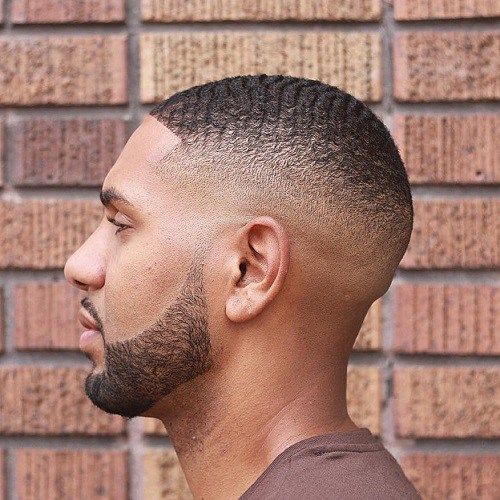 This wave alternative looks stylish and edgy. The fade begins near the top of the head and tapers down the skin to create an excellent cut.
Mid fade plus waves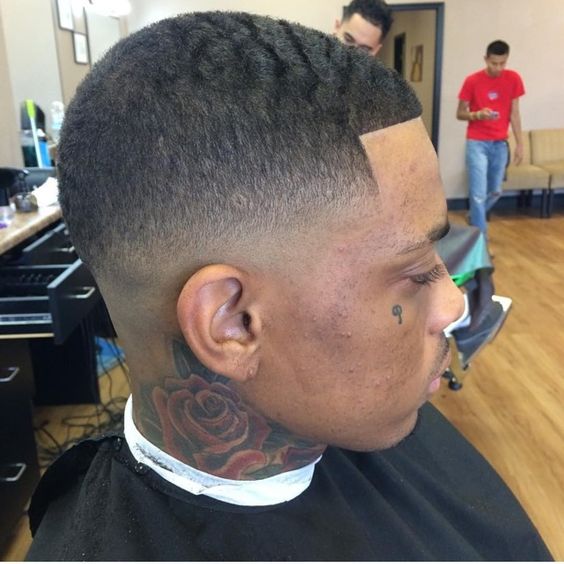 Attaining a mid-fade with waves is a perfect balance if you have an oval face like the dude above.
A low fade plus waves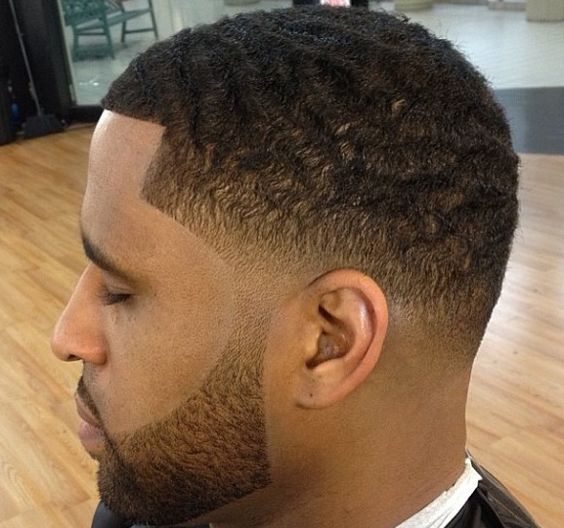 This is an excellent example of how a low fade hairstyle can accentuate the deep 360 waves pattern.
Drop fade with waves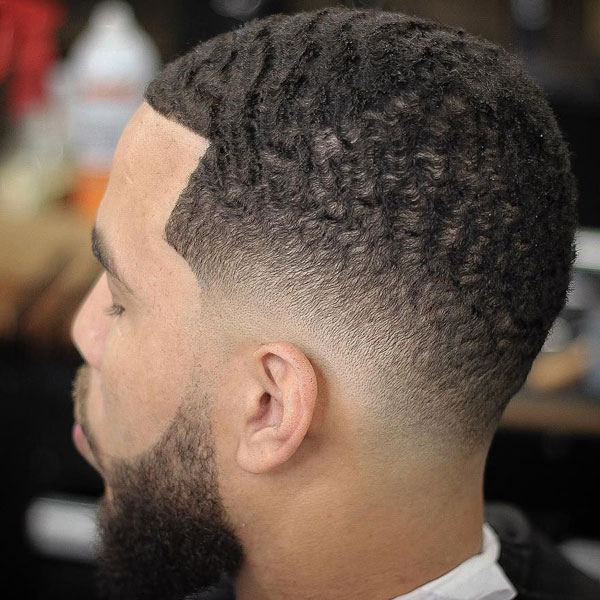 This drop fade with waves delivers a tight, excellent cut that is short on the sides.
A temp fade with waves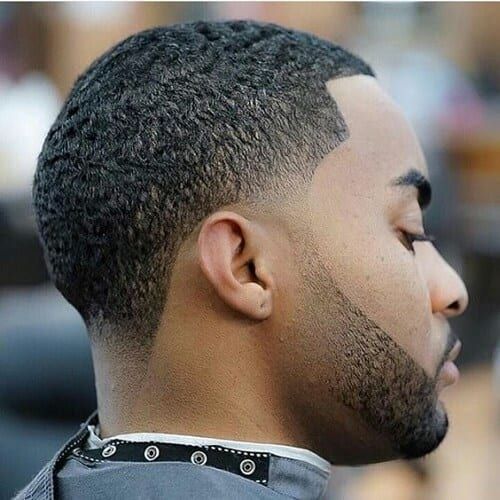 A temp fade with waves on a black man results in a fresh, clean look that is hard to beat. Highlight the temple fade with a lineup along the hairline.
deep waves with a short beard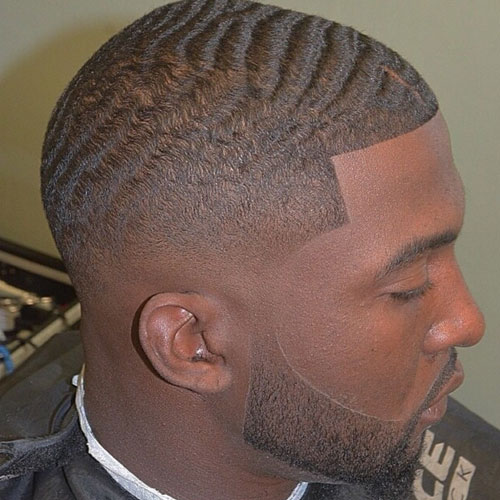 These 360 waves have spiraled all the way around with only a quick fade at the sideburns. Top it off with a short beard
long waves for curly hair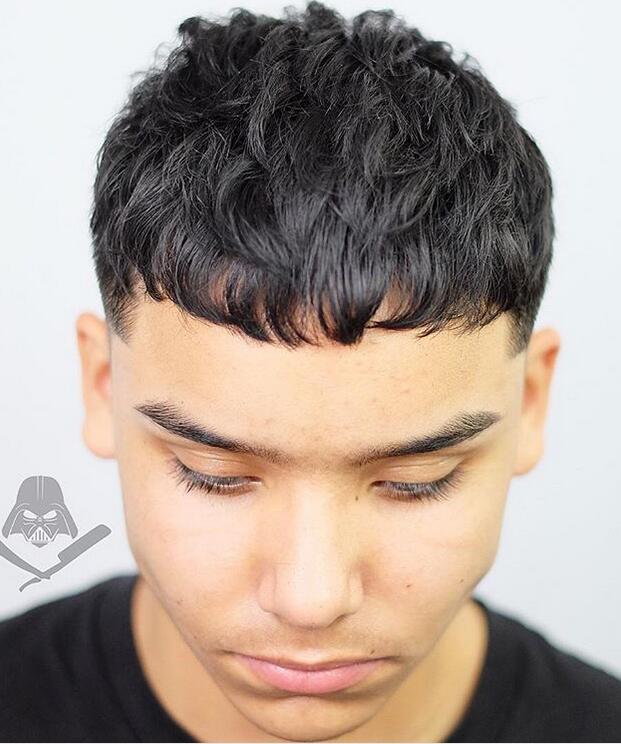 Even though tightly coiled kinky hair is easier to create in waves, the haircut can work wonders with curly hair, like the image above.
Wave plus two half-moon parts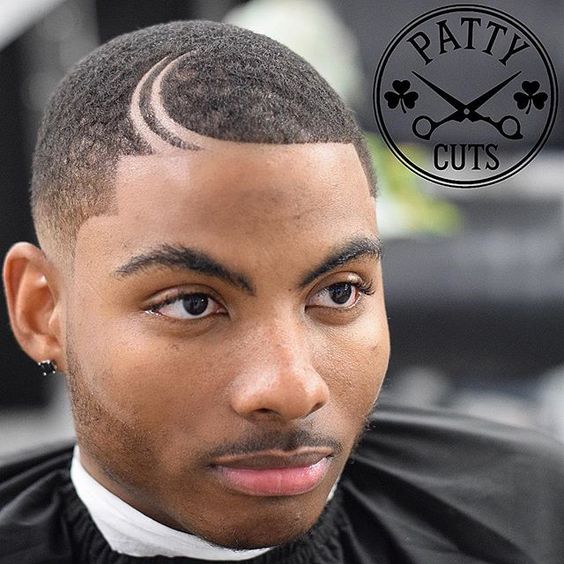 Once you have established our waves, add the shaved part and a fade.
Waves plus a full beard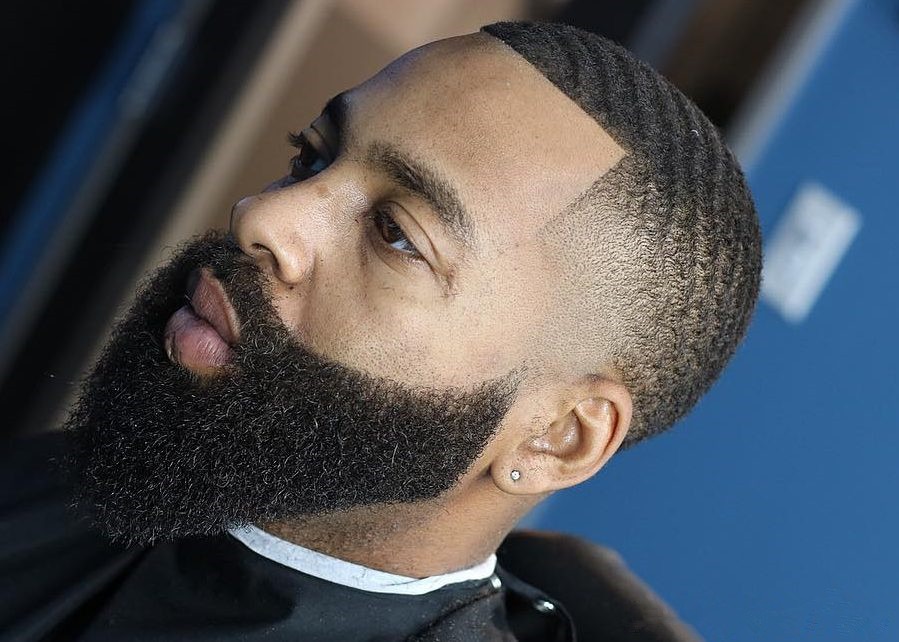 You can use a temple fade to divide the waves on top with the full beard you created.
Waves on top plus a short part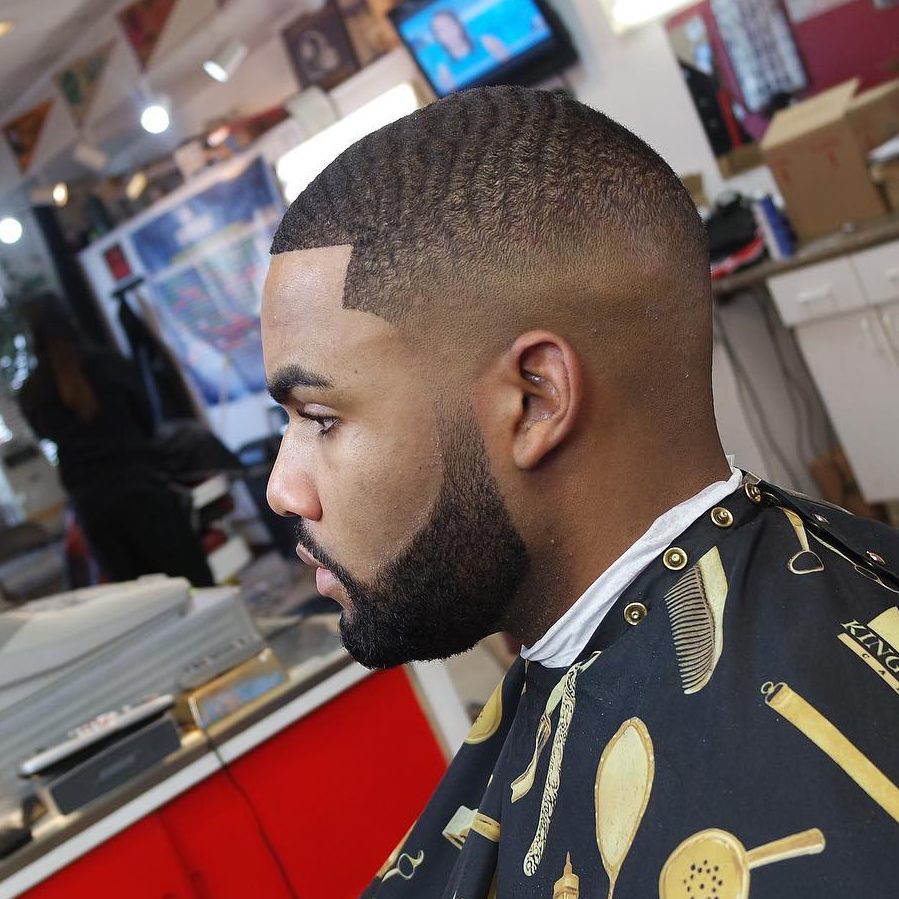 This fantastic cut will contrast the waves, creating a blurry fade and shaved part.
Super short waves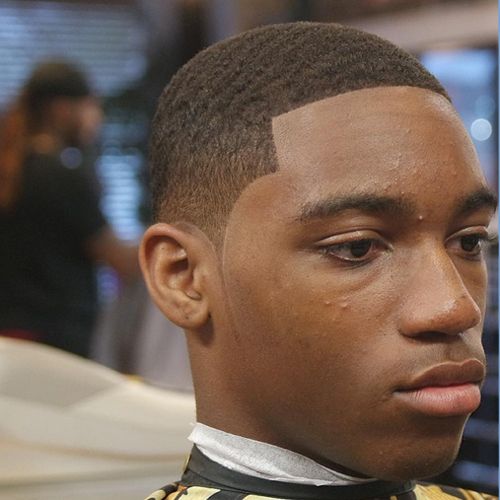 The gentleman above is just starting to define waves where his hair is long on the top side. More wolfing is required to create more visible waves.
High fade waves for light skins
Some light-skinned guys like to wear only waves on the top side. This implies less brushing and only needs one to brush in one direction.
Waves haircut plus neck taper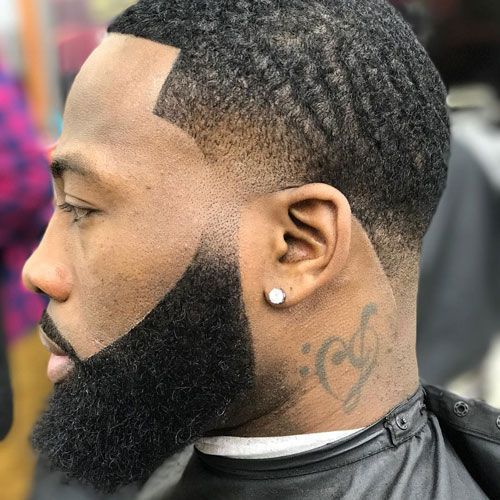 Clean up the edges of your waves with a fade at the neckline and the sideburns.
Low skin fade with waves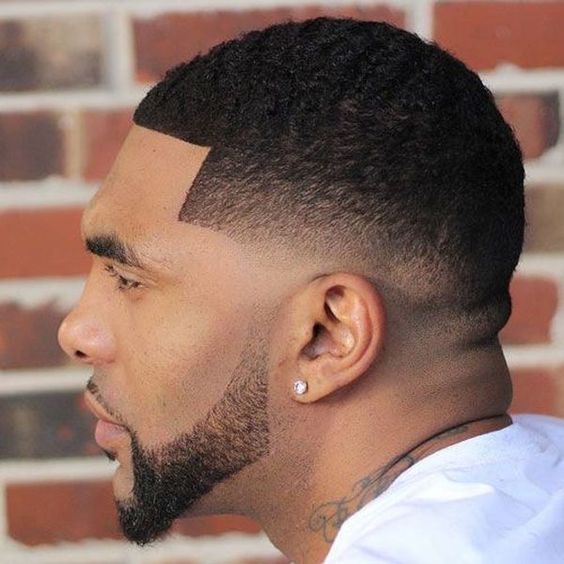 Waves have lots of impact up top when you couple them with this low-skin fade.
High skin fades with waves
In the image above, the waves taper off both sides of the gentleman's head to create a high skin fade.
Mid-skin fade for children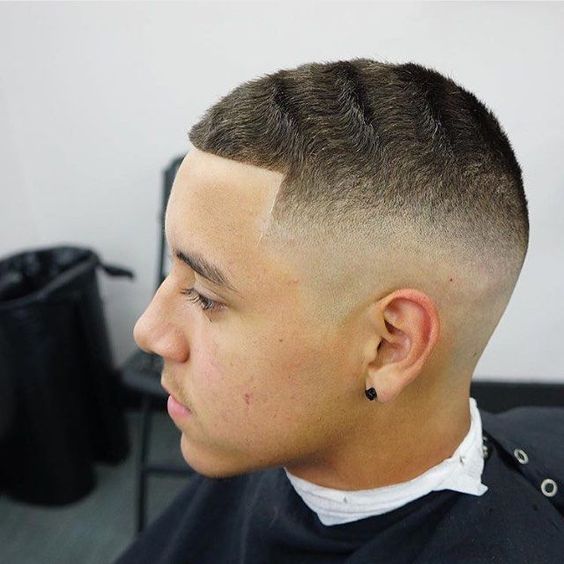 The waves continue down parts of the back and sides, ending in a mid-skin fade.
Great waves
Great-looking waves all over. What else is there to say?
Waves + sideburn + a beard + a creative cut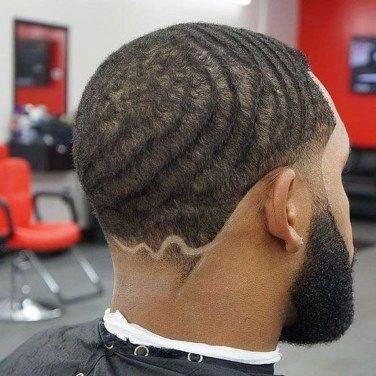 Nothing beats sound waves coupled with a nicely groomed beard, sideburns, and cuts at the back. What's more? The haircut will look great regardless of your head shape or hair type.
Short taper with a back fade
This haircut features a gradual decrease in hair length from the crown to the nape of the neck, with the back left longer. The back fade starts at the crown and continues to blend into the neckline. It creates a sleek, clean look with a hint of edge.
It's great for those who want a stylish, modern look that is low maintenance. The short taper with a back fade is a great way to enhance facial features without going too bold. This is a timeless look that is suitable for any occasion.
31. Short Waves + High Fade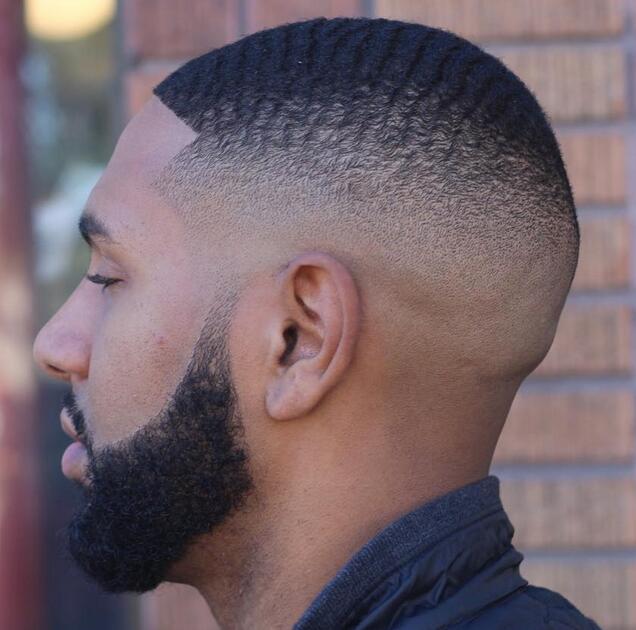 This hairstyle is perfect for those wanting to make a bold statement while keeping their look fresh and up-to-date. The short waves add texture, and the high fade adds a modern touch that can be dressed up or down.
It's a great look for any season and can be worn anywhere. This style is easy to manage, easy to style, and easy to rock.
32. Waves + Sideburn Fade
This trendy hairstyle is characterized by smooth, curved lines and clean-cut sideburns. The wave pattern is created by brushing the hair in a circular motion, while the sideburns are faded to create a sharp, modern look.
The result is a stylish look that's perfect for any formal occasion. The Waves + Sideburn Fade is easy to maintain and can be modified to fit any face shape. Whether you're looking to make a statement or keep it low-key, this hairstyle is sure to turn heads.
33. Short
Waves Haircut with Designs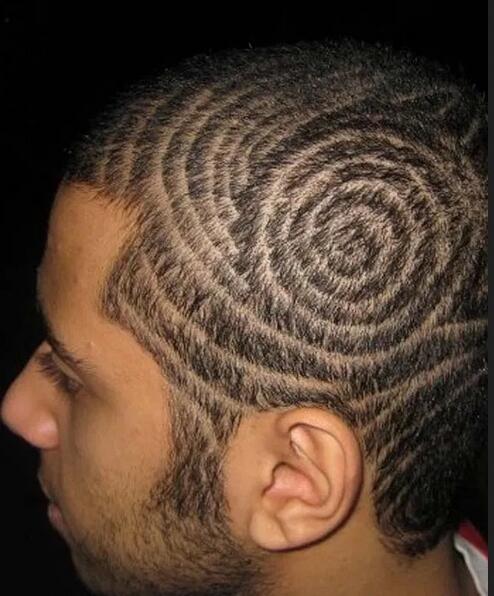 Short waves haircut with designs is a trendy and edgy hairstyle. It features short waves with various designs cut into the sides and back. The designs can be anything from intricate patterns to simple lines. The short waves and designs give a look a unique, modern feel.
The look is versatile and can be dressed up or down depending on the occasion. It can be tailored to fit any face shape and is suitable for both men and women.
34. Cool Waves Haircuts For Black Men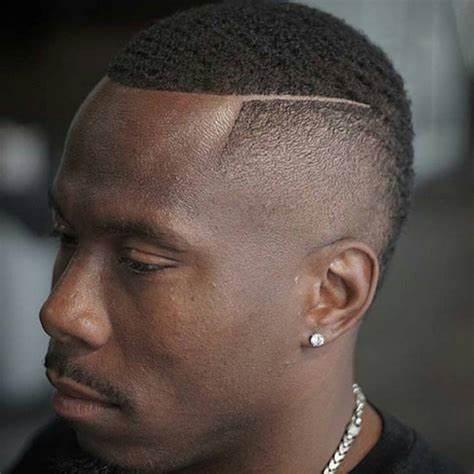 This stylish and modern look can be tailored to fit any face shape. The waves are created using clippers to cut the hair in a circular pattern. This haircut is great for those who want a clean and polished look that doesn't require too much maintenance.
The waves add texture and strength to the hair, making it look thicker and more voluminous. The haircut looks great in various styles and can be tailored to any desired length.
35.
Waves Haircuts with
Moon Style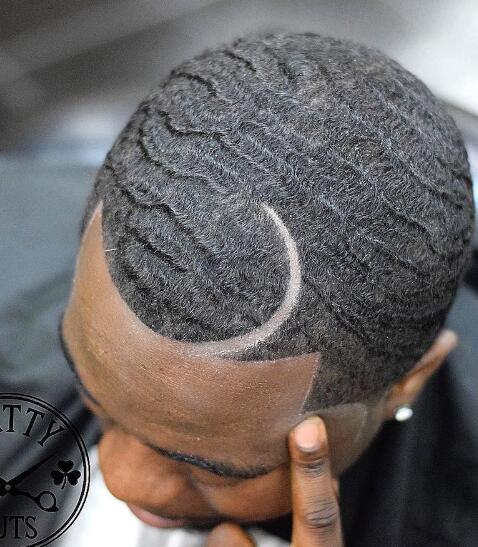 This is a stylish and modern hairstyle. It features a moon shape on the head. This unique style gives a lot of texture and fullness to the hair. The moon shape adds an edgy, modern look that can be adapted to various lengths and face shapes.
This style looks great on people with wavy or curly hair, as the waves provide extra body and bounce. It's a versatile look that can be styled in various ways for a more formal or casual look.
36.
Waves with Hard Part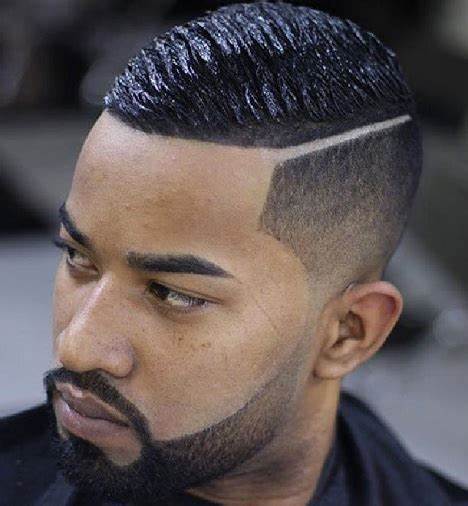 This is a great look for those with short to medium-length hair. The look is created using a razor to add texture and shape to the hair. The hard part is usually shaved into the hair on one side of the head, and the other side is left with the natural wave of the hair.
The hard part adds a bold and edgy look, while the waves give texture and body. This look is perfect for those looking to make a statement with their hairstyle.
37. Short
Waves with Line Up
Short Waves with Line Up haircuts are a great option for men who want to add a bit of edge to their look. This cut features waves that are cut close to the scalp, creating a subtle texture. The lineup adds a sharp and clean look to the haircut.
The waves add a bit of volume to the style and make it suitable for all hair types. This look can easily be dressed up or dressed down for any occasion.
38.
360 Waves Haircuts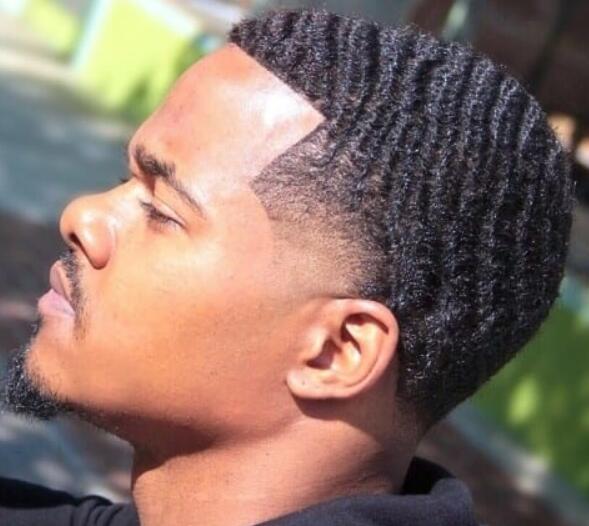 360 waves haircuts for men are a popular hairstyle. It features a medium-length, wavy cut with waves that wrap around the head. This look is achieved by brushing the hair in a circular motion and using a wave pomade or sheen to hold the waves in place.
The 360 waves look is modern and stylish and can be worn casually or formally. It is a great look that can be tailored to fit any face shape. Men who want a modern, stylish look should consider getting a 360 waves haircut.
39. Modern Waves Hairstyle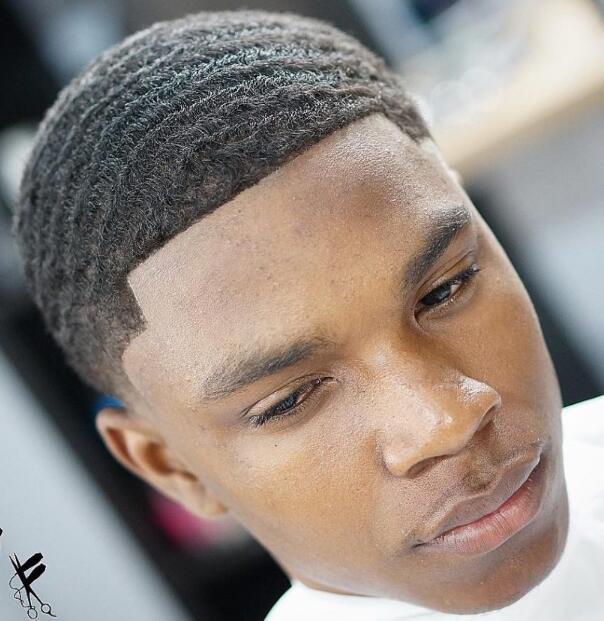 This is a classic and timeless style that can be worn with any outfit. This hairstyle features short sides and longer hair on top for a textured and wavy look. The waves are created by using a texturizing product and blow-drying the hair.
This look is perfect for men of all ages and can be tailored to suit any face shape. It is an easy style to maintain and can be styled to create a modern and stylish look.
40. Waves Haircut with Cool Design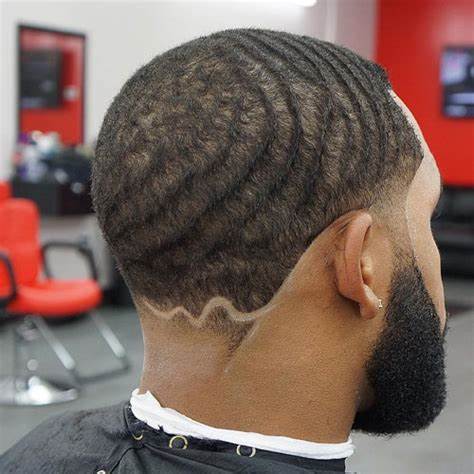 This is a trendy look for men. It features a short and layered cut styled with waves, giving it a distinct and fashionable look. The hair is cut to a medium length, and the waves are created with clippers and a razor.
The cut is finished with a cool design in the front, such as a buzz cut, disconnected sideburns, or artwork. This look can be styled with a product such as gel or wax to add texture and definition. The result is a stylish and modern look that is perfect for any occasion.
Common Questions:
1. What type of haircut looks best with Waves Haircut?
A Waves Haircut is best paired with a short, textured cut with some volume and movement. A short taper fade around the sides creates a sharp contrast that accentuates the waves and adds definition.
On top, a short, textured cut with layers creates a nice balance between the sides and the waves. The layers will add volume, movement, and texture to the style. Overall, a Waves Haircut is an easy, classic look that looks great on any face shape.
2. What is the difference between a Waves Haircut and a Fade Haircut?
A wave haircut is when the hair is cut in a wavy pattern, usually with clippers. The hair is usually cut shorter on the sides and longer on top. The wave pattern is usually created with a wave brush and clippers, which create a curved line with the hair.
A fade haircut is when the hair is cut very short on the sides and back of the head and gradually gets longer toward the top. This type of haircut is usually done with clippers, starting with a number one to a number 4 guard. The fade is usually blended from the sides and back to the top.
3. How do I maintain my Waves Haircut?
To maintain your waves haircut, start by brushing your hair in a circular motion with a wave brush. This will help keep your waves even and neat. You should also use a moisturizing shampoo and conditioner to keep your scalp and hair hydrated.
After washing, use a wave pomade or oil to help seal in the moisture and help keep your waves in place. If your scalp gets dry, massage some oil onto your scalp for relief. When you're done brushing, use a wave cap to keep your waves secure.
Finally, reapply your wave pomade or oil every few days to help keep your waves looking fresh.
4. How to Get Waves Haircut?
To get a waves haircut, get a low- to medium-length haircut. Then, use a brush and moisturizing cream to brush the hair in a circular pattern.
Once the hair is fully brushed, apply a wave grease or wax and use a durag or stocking cap to keep the waves in place. For best results, leave the durag on for at least four hours and brush the hair at least twice daily. With regular maintenance, your waves should last for several weeks.
5. What type of haircut looks best with Waves Haircut?
A Waves Haircut is a popular style for men with curly hair. It involves cutting the hair in a way that creates a wavy pattern throughout the head. The style can be combined with other haircuts, such as a fade or an undercut.
The best type of haircut to pair with waves is a low or mid-fade. This will give the waves a polished look while still maintaining the natural texture of the hair. Adding a part or a line-up can also enhance the appearance of the waves. A Waves Haircut can be tailored to fit any face shape, making it a versatile and stylish option.