Are you looking for the best dark brown hair with highlights ideas? Dark brown hairstyles have been an iconic trend that has been in existence since the 50s, and they are specifically known for their striking contrast that comes from blending a rich brunette base against lighter hues.
That said, what do you think will happen when you combine your dark brown hair with some highlights?
This mesmerizing combination is assured to turn heads wherever you go, I can tell you that much. In addition to that, the styles amalgamation will also bring out several hair features including, but not limited to even length, volume, and texture.
Whether the ultimate style gives off an even length effect will depend on where you decide to place the highlights; but note that ultimately regardless of where you place the highlights, your hair will boast gorgeous hair dimensions.
The Highlights will also award you that hard to beat sun kissed effect every girl desires and add warmth to your hair. And if your goal is to also find a fashionable way to easily contour your facial features through painting ribbons of light hues, then this combination has got you covered as well.
Without wasting any more of your time, let us skip to the main section of the post and look at the best dark brown hairstyles with highlights.
51 Amazing Dark Brown Hair With Highlights Ideas
Jennifer Lopez's Dark Brown Hair with Highlights
As always, I strive my posts on a high note by showing you some of the best celebrities around the world who also couldn't escape the charm of dark brown hair coupled with highlights. The first one in our enumeration is the beloved Jennifer Lopez.
And in this first style, we are busy taking notes on how Jennifer Lopez specifically lightens up her hair with the highlights all over. These would look splendid on anyone regardless of the hair length and texture.
Mila Kunis' Dark Brown Hair with Highlights
This has been the signature look of Mila Kunis for years now. She styles deep brunette, dark brown waves with lots of shine and then goes ahead to complete the look with the highlights. Doesn't she look splendid?
Beyonce's Dark Brown Hair with Highlights
I believe this enumeration would be incomplete without the queen herself. As you can see in the image above, Beyonce went for the unique reddish and dark brown color and then warmed it up with the warm blonde lowlights.
Amber Heard's Highlights
I will let you in on a secret, but you have to promise you won't share it with anyone. Amber Heard has been my celebrity crush for as long as I can remember. So it makes total sense that I would scour the internet and find one of her signature dark brown hairstyles with highlights.
She even styled this hairstyle when she was a cover girl and Marie Claire and we can both agree including the style was a good idea.
Victoria Beckham's Brown Hair with Highlights
This former Spice Girl's singer has always been blonde, but from time to time, she does come back to her natural, dark brown roots. And when she does that, she tops them off with some highlights.
Bella Hadid's Brown Hair with Highlights
This younger Hadid sister also qualifies as one of the most stylish celebrities out there today. When it comes to her dark brown hairstyle, she styles it with a sleek center part and then completes the look with some highlights
Lea Michele's Brown Hair with Highlights
Just like Lea Michele, feel free to keep your style interesting with these dark brown hair with highlights that have been started at the mid-lengths. The only downside with this hairstyle is that you need long hair just like Michele's
Katy Perry's Hairstyle with Highlights
Katy Perry has tried on a wide array of colors when it comes to her hairstyles (from Pink and Blue to Green and Silver) but she also looks astounding with her vampy Dark Brown hair with highlights.
Margot Robbie's Brown Hair with highlights
In the image above, Margot Robbie traded in the usually blonde shade we are used to seeing her in for the rich nearly black color with highlights.
Megan Fox's highlights
This Megan Fox's Dark Brown hairstyle with detailed highlights perfectly complemented her vixen vibes.
Zoe Saldana Brown Hair with Highlights
I have always been into Saldana's natural colored hairstyle, but when she topped it off with the highlights above, it brought out a side of her that I never knew existed.
Kate Middleton's Highlights
If this hairstyle from a real princess does not convince you to try out dark brown hairstyles with highlights, then I do not know what will. In the image above, the combination proved that slight highlights are very flattering and easy to style on darker hues.
Lucy Liu's Dark Brown Hair with highlights
This signature black tresses from Lucy Liu look shiny, soft, and exactly like everything we would desire if we had a rich, dark brown hair color.
Emily Ratajkowski's Hairstyle
Emily Ratajkowski is always proof that brunettes can be bombshells as well. This signature look, in particular, is a layered, lengthy curtain of deep espresso colored hairstyle.
Mary-Kate Olsen's brown hair and highlights
Straight and sleek is the way to go if you want to attain a dark brown hair with highlights just like Mary-Kate Olsen has in the image above.
Sofia Vergara's Highlights
Sofia Vergara is always at her best when it comes to style. In the image above, she styled her long dark hair with shiny golden highlights.
Kristen Stewart's Dark brown hairstyle
Only one equation comes to mind whenever I sport Kristen Stewart styling these highlights on her dark brown hair. Ribbon Curls + Auburn Hair = Red Carpet Gold. Don't you agree?
Emma Stone's Highlights
Emma Stone decided to trade off her signature reddish color that we are used to seeing her with for this red infused dark brown shade and some highlights.
Rachel McAdams' Hairstyle
If you boast lighter brown hair, why don't you try going slightly darker and trying out this chocolate hue that is at the halfway section between black and brown.
Lily Collins' Dark Brown Hair
An ombre effect is without a doubt one of the most beautiful ways to lighten up your hair if you boast dark chocolate hair shade like Lily Collins. Next time you visit your hairstylist, simply ask her/him to award you highlights that begin at the ears to deliver a subtle fade just like the one above.
Cameron Diaz's brown Hair with highlights
Let us throw it back to the days when this blonde star transformed her hair shade to this deep chocolate dark brown hair with highlights.
Scarlett Johansson Hair with Highlights
The reddish undertones styled on the russet dark brown hair. All I can say is sign me up so I can try out this hairstyle.
Emma Robert's Dark Brown Hair with Highlights
Emma Robert's dark brown color featured in the image above stems from the smooth blend of golden brown and espresso hues tones.
Rihanna's Hairstyle
After setting our eyes on the image above, you can tell that Rihanna's striking skin tone perfectly integrates with the reddish and warm highlights. The hairstyle also gave her long hair even more dimension.
Dark brown hair with shiny highlights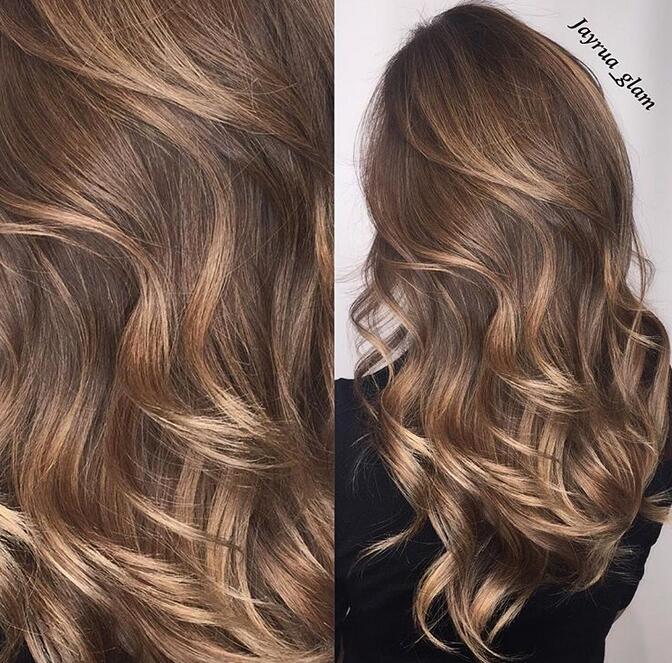 In the image above, the highlight accents improve the curls and create an illusion that the lady's hair is even shinier compared to how shiny it actually is.
Blonde highlights that have been scattered in varied intensity
This hairstyle is your opportunity to make your balayage exclusive by simply spreading out the highlights unevenly.
Dark brown hair coupled wit delicate light brown highlights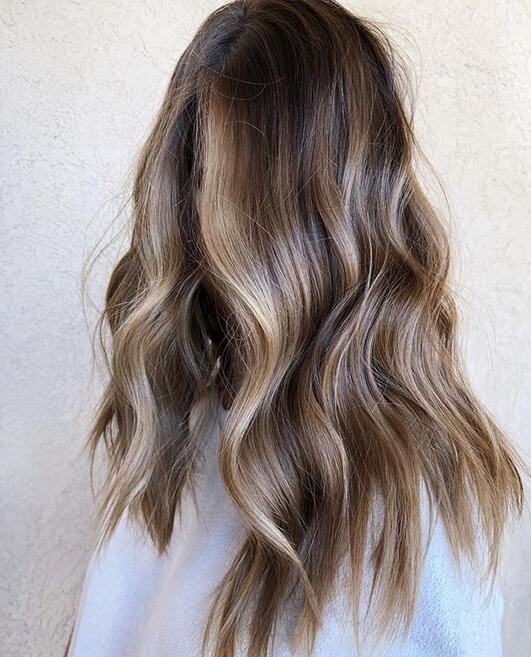 This dark brown hair coupled with blonde highlights is exactly what you will get if you decide to grow out your balayage lob.
Caramel Balayage Hairstyle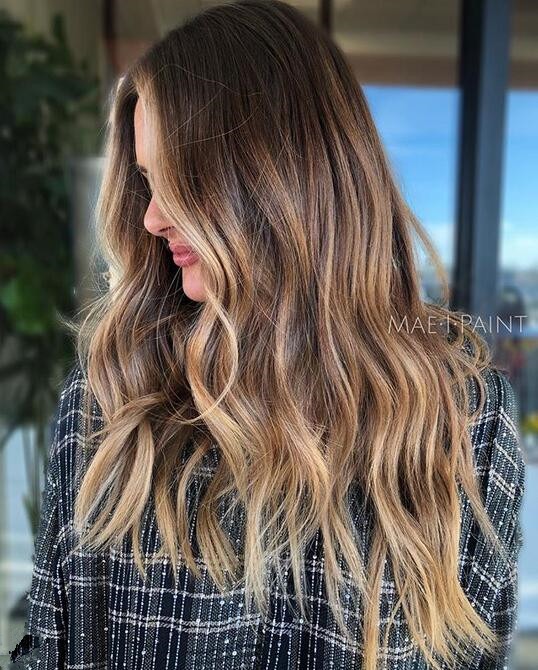 This hairstyle is what you need if you intend to emphasize the sleekness of your long manes with warm balayage. The highlights will also better elongate your tresses' look.
Neutral and cool balayage highlights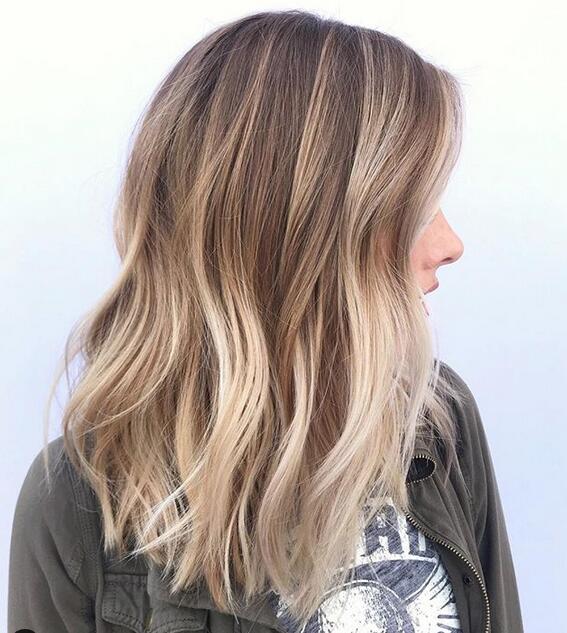 The balayage style is known for its ability to deliver the cool factor. That said, when you decide to style it on you, then you ought to experiment and play around with it in order to ensure that the end product is unique just to you.
Illuminating Lowlights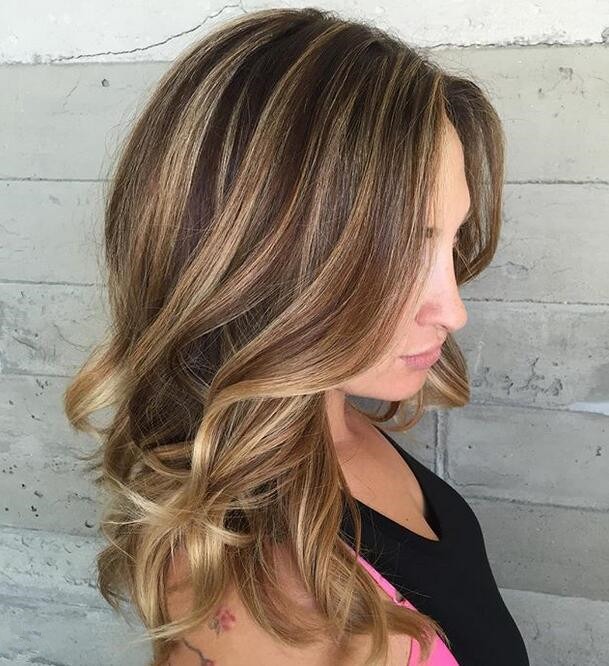 Are you a big fan of curling your hairlocks but are scouring the internet trying to find something a bit different? Then these highlights and lowlights could be exactly what you are looking for.
The Brown Ombre Hairstyle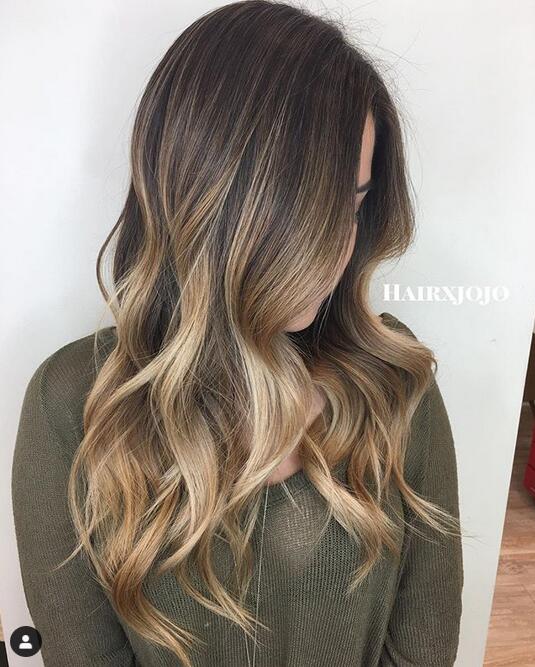 This dark brown hair coupled with the highlghts has been awarded a brand new life thanks to the addition of the ombre hair shade.
A choppy cut with caramel highlights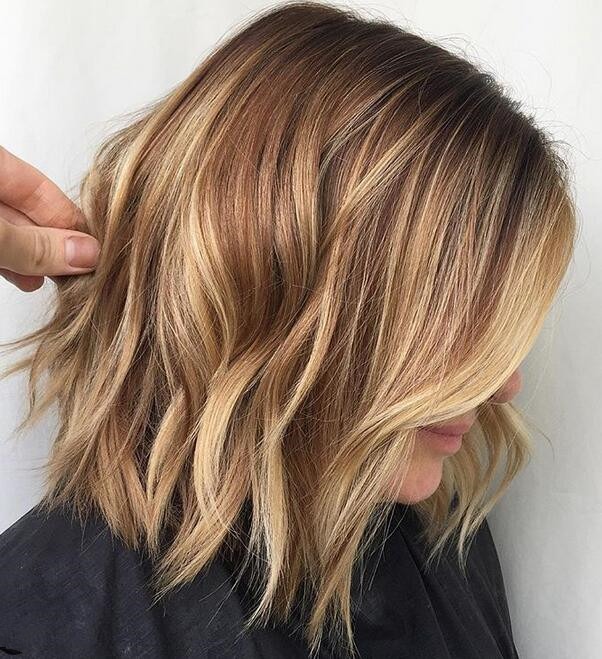 This coppy hairstyle is a great idea for those who boast fine hair but at the same time do not want to deal with a whole lot of maintenance efforts.
Dark Brown Hair with Bronze Highlights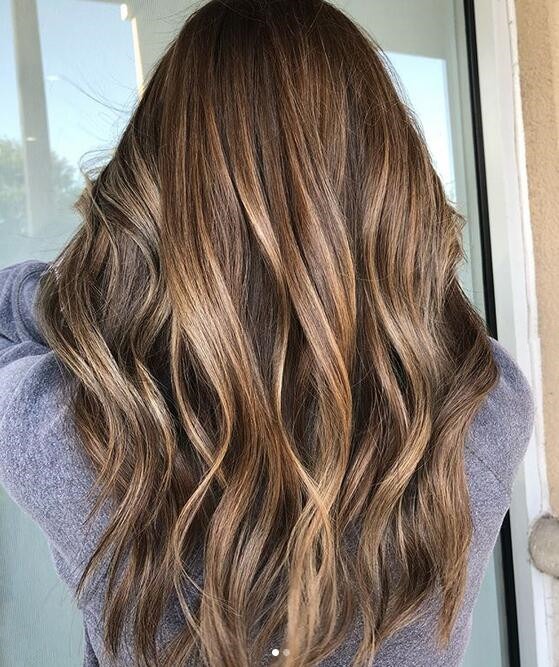 If you have decided that you are going to transform from blonde hair color to brunette hair color, then the balayage hairstyle above is one of the best ways to hold onto some of your lighter hues to create the highlights.
Short dark brown hair with blonde highlights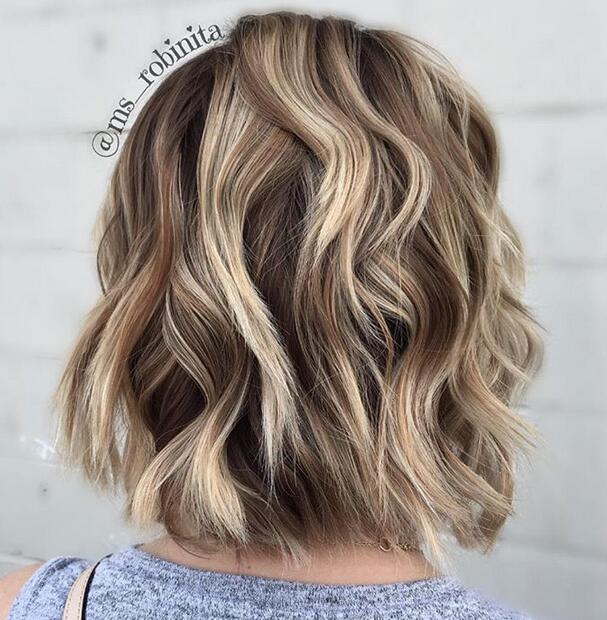 If you are scouring the internet trying to find something different to style on your short hair without spending a fortune, then I think you should really opt for lowlights or highlights like the ones above.
Dark Brown hair with ash blonde highlights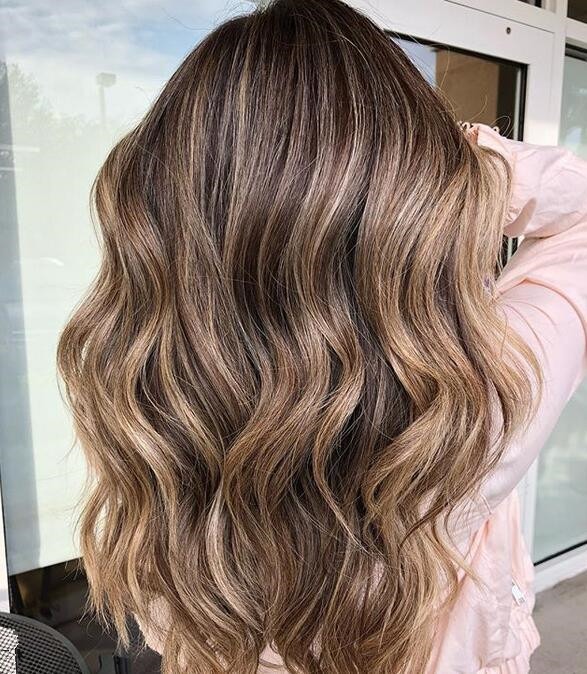 Do feel like you are in the mood of trying out a cooler tone? Then I firmly believe that these Ashy highlights are the way you ought to go. They will give your hair strands a softer color while at the same time not getting rid of their natural feel.
Cool-toned highlight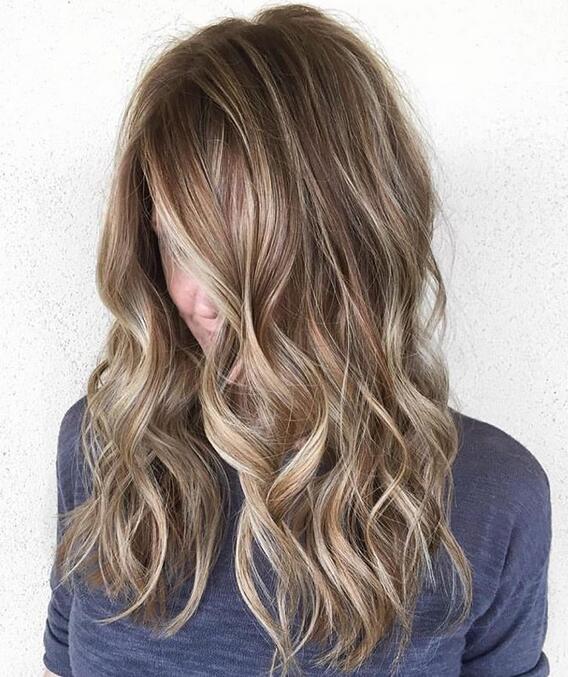 Lowlights and highlights twisting together in loose curls? Doesn't that sound like something you would absolutely like to try out? if you need to tell what the end product would look like, then take a look at the image above.
Dimensional Medium Waves with highlights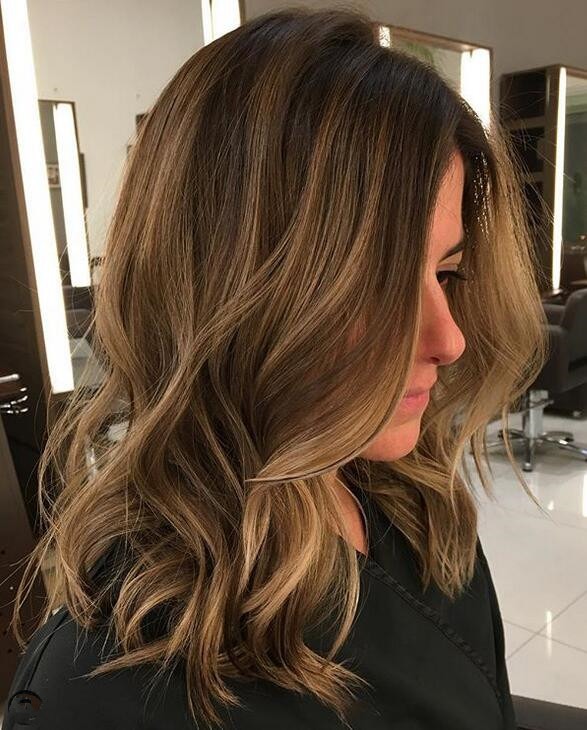 The only problem with these dimensional medium waves with highlights is the fact they are slightly harder to style but I promise you that the end result will be totally worth it.
Natural-looking lowlights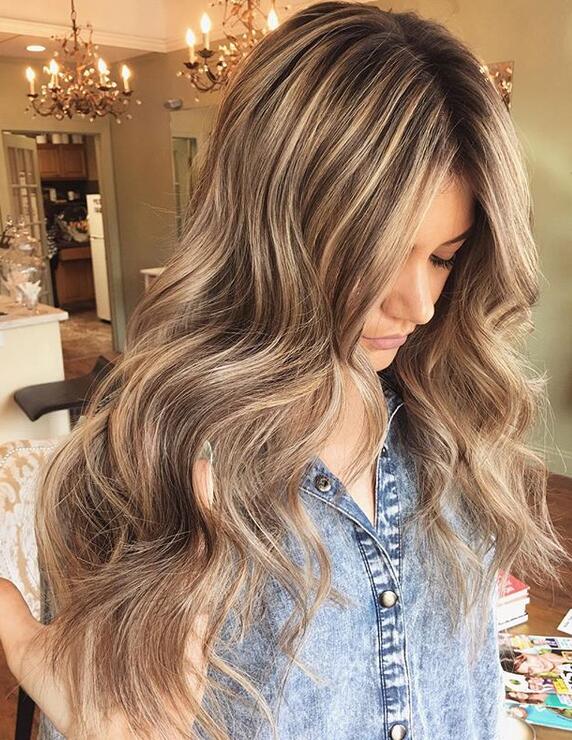 What I love most about this hairstyle is the fact there are lots of highlights and you won't even know where the highlights begin and where the base color ends. That makes the hairstyle even more natural.
Ashy Blonde Highlights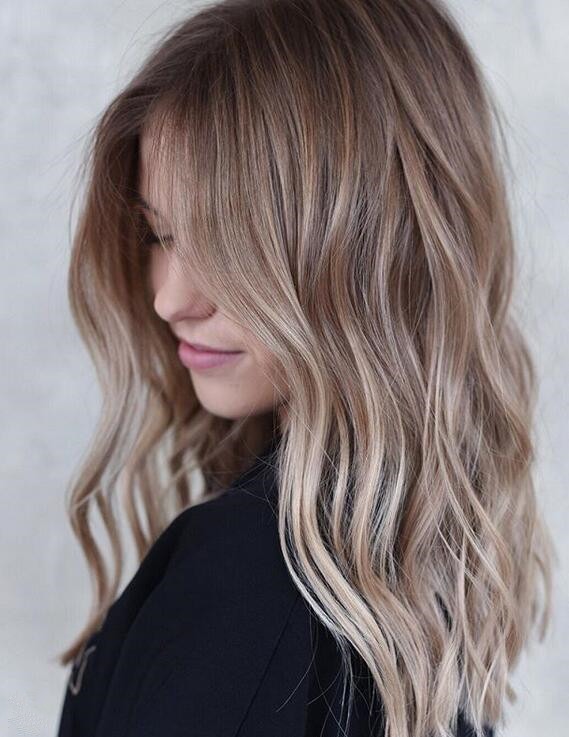 Highlights on this dark brown hair boast muted ones and they range between golden blondes and ashy browns.
Angled Highlights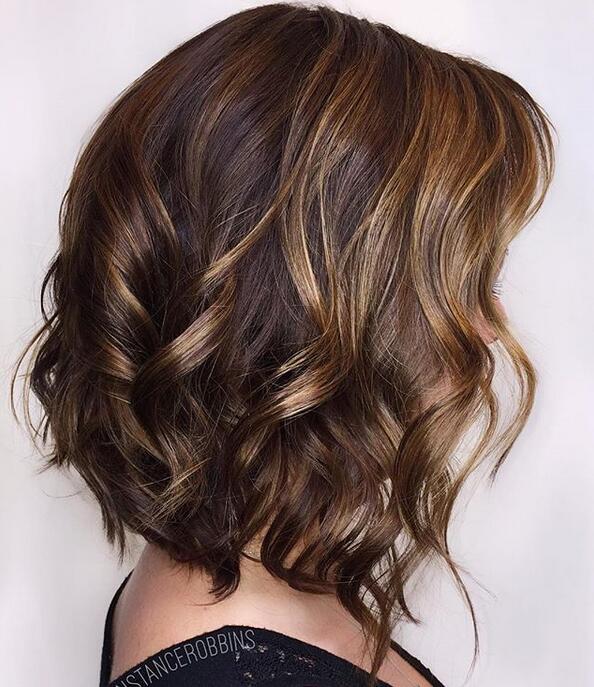 Here is your chance to liven up your dark brown hair using a pop of honey-like blonde highlights that have been strategically placed in different locations.
Beautiful caramel blonde waves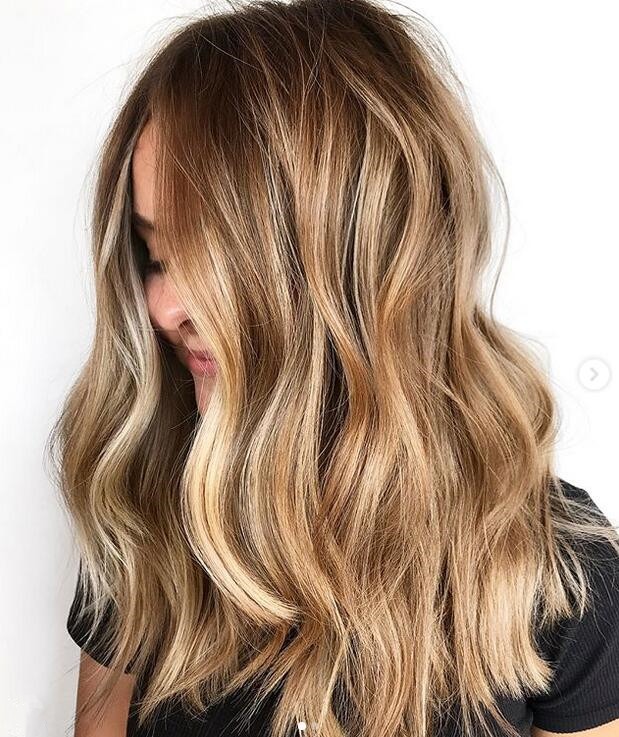 With this haircut, your long blonde wave will look juicier and richer with the deep caramel highlights.
The understated balayage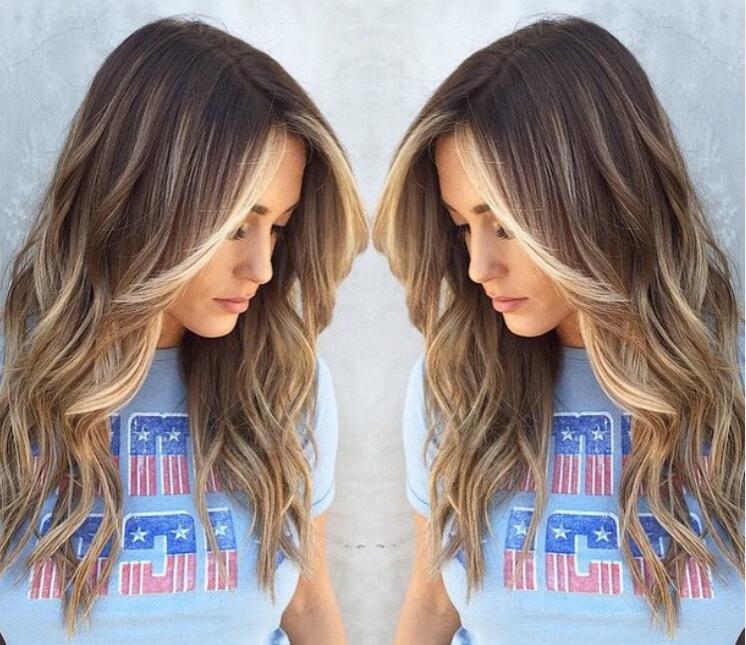 This hairstyle allows you to use your dark brown hair by adding some highlights in order to attain the cool retro vibe.
Feminine blonde balayage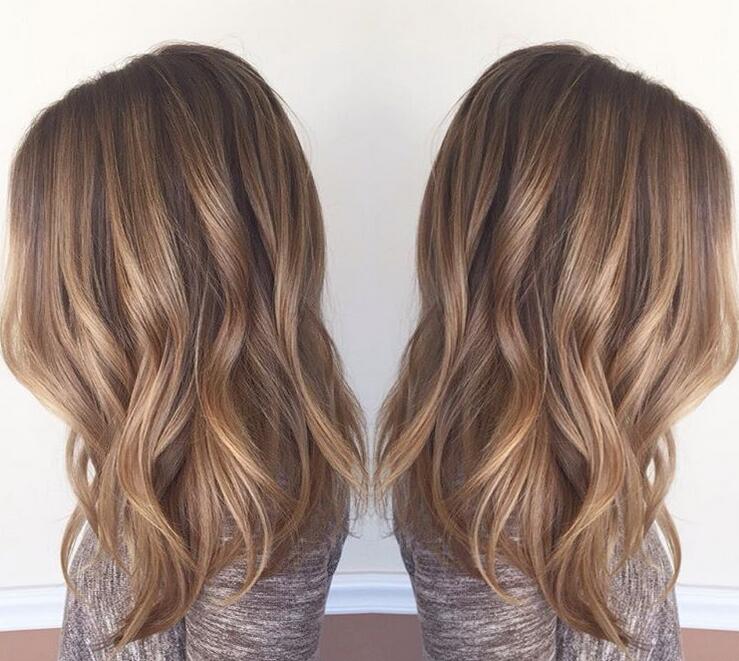 Lots of times when people think of balayage, the first thing that comes into their mind is something trendy. This golden haircut, however, ahs proved that subtlety and minimalist can be combined together to deliver the most striking hairstyle.
Caramel and chocolate blonde balayage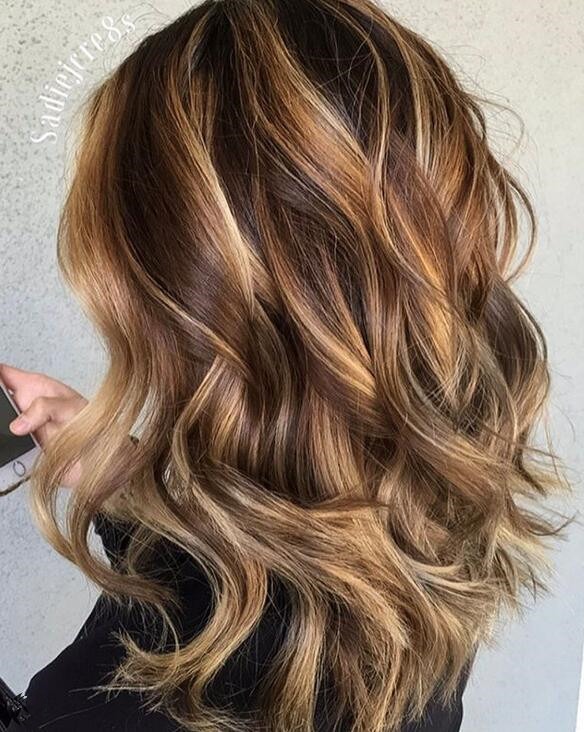 With this haircut, the lady's luscious waves of dark brown hair cascade toward the back and drop toward the shoulders.
Dramatic lowlights and highlights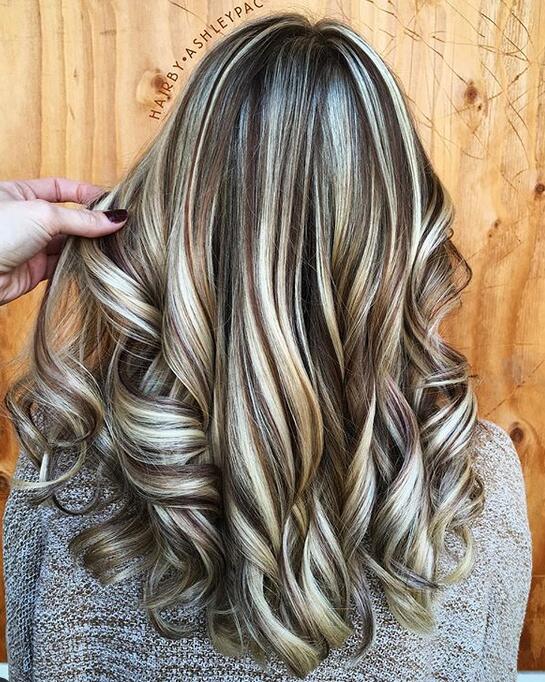 Feel free to ditch your homegrown dark brown hair shade in order to attain something even more dramatic by combining a deep dark brown shade and a very bright blonde color.
Hazel brown base on dark brown hair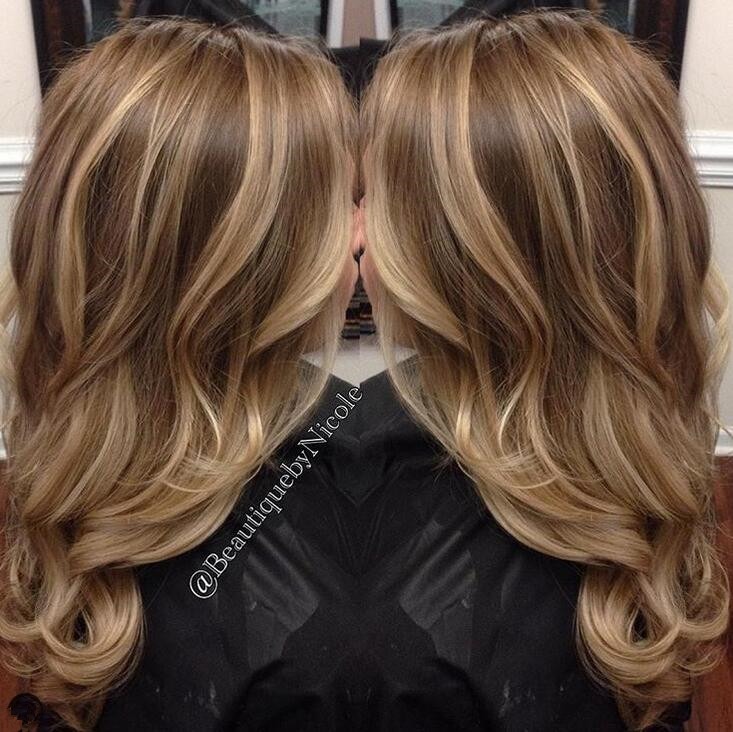 This dark brown hair with caramel highlights will leave you doing a double-take. That said, ensure that your hair is at least shoulder length before deciding to try out the hairstyle.
Blonde balayage and shiny bronze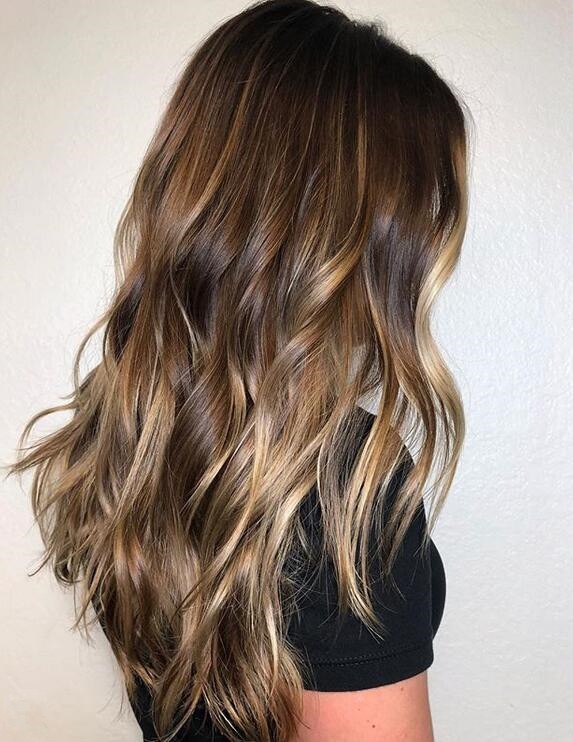 Regardless of whether you've made your dye job low contrast or not, dark brown hair with the lowlights above always brings out the highlights and delivers the required depth.
Honey Light Brown Locks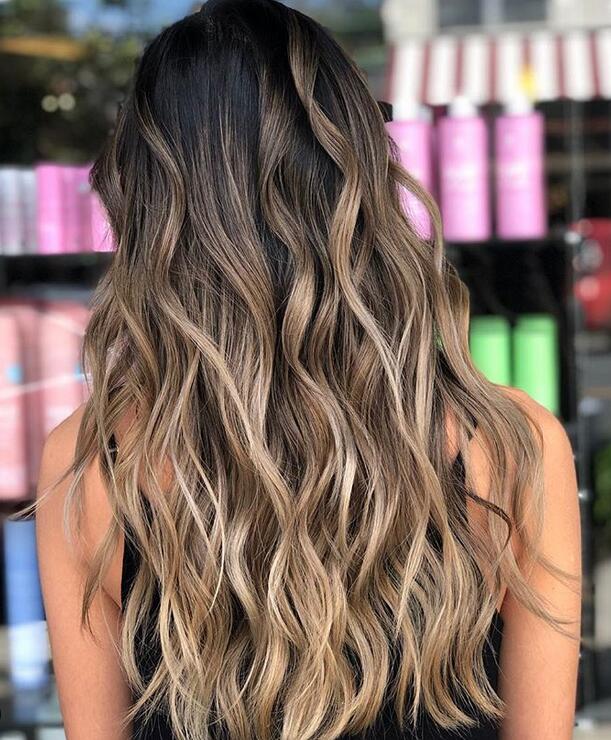 Natural and warm, this hairstyle is one of the most famous options when it comes to styling highlights on dark brown hair. While styling it, ensure that you begin with your base color and then go on to create a flattering, even splash of shade enhancements.
Dark brown bob coupled with a blonde balayage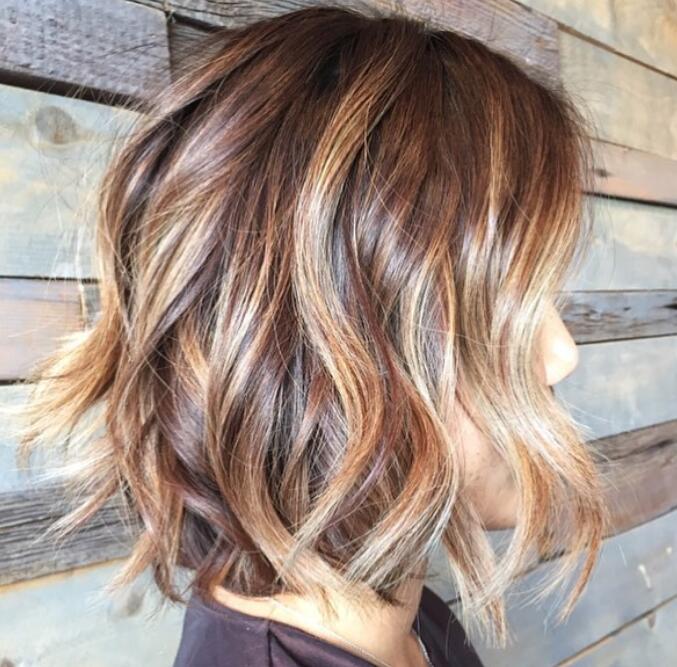 If you are a photoholic and want to look great on all your Instagram image, then this is a hairstyle that is guaranteed to look great in all your images. It is also the same reason the balayage bob is trending.
Caramel Blonde Blend with Ash Brown Highlights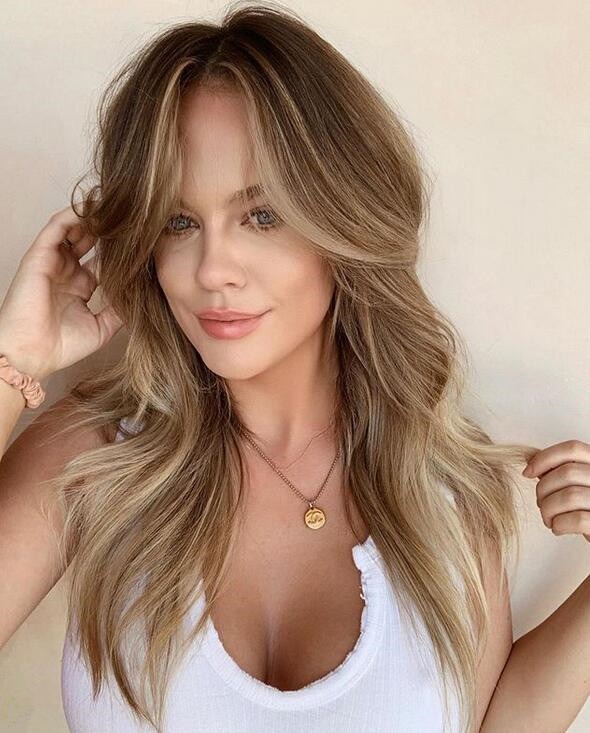 Toasty and nice, these honey-hued highlights are nicely warming up this medium bob. The random and distinct colors will make the texture really stand out.
Messy bob with highlights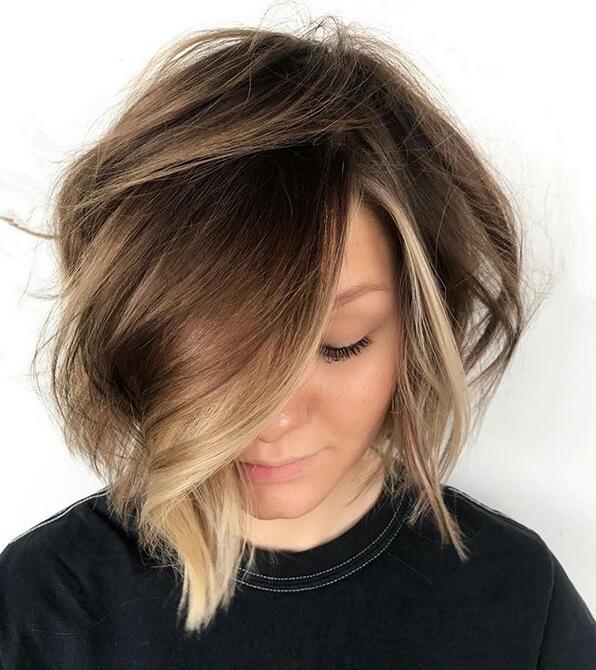 Even a short bob will look cute if you decide to style balayage on your dark brown hair.