Dark brown hairstyles have been an iconic trend since the 50s, and they are specifically known for their striking contrast that comes from blending a rich brunette base against lighter hues. That said, what do you think will happen when you combine your dark brown hair with some highlights? This mesmerizing combination is assured to turn heads wherever you go. In addition to that, the style's amalgamation will also bring out several hair features including, but not limited to even length, volume, and texture.
Whether the ultimate style gives off an even-length effect will depend on where you decide to place the highlights. But note that ultimately regardless of where you place the highlights, your hair will boast gorgeous hair dimensions.
The Highlights will also award you that hard-to-beat sun-kissed effect every girl desires and add warmth to your hair. And if your goal is also to find a fashionable way to easily contour your facial features through painting ribbons of light hues, then this combination has got you covered as well.
Without wasting any more of your time, let us skip to the main section of the post and look at the best dark brown hairstyles with highlights.
50 Dark Brown Hair With Highlights Ideas
 Curly locks with caramel highlights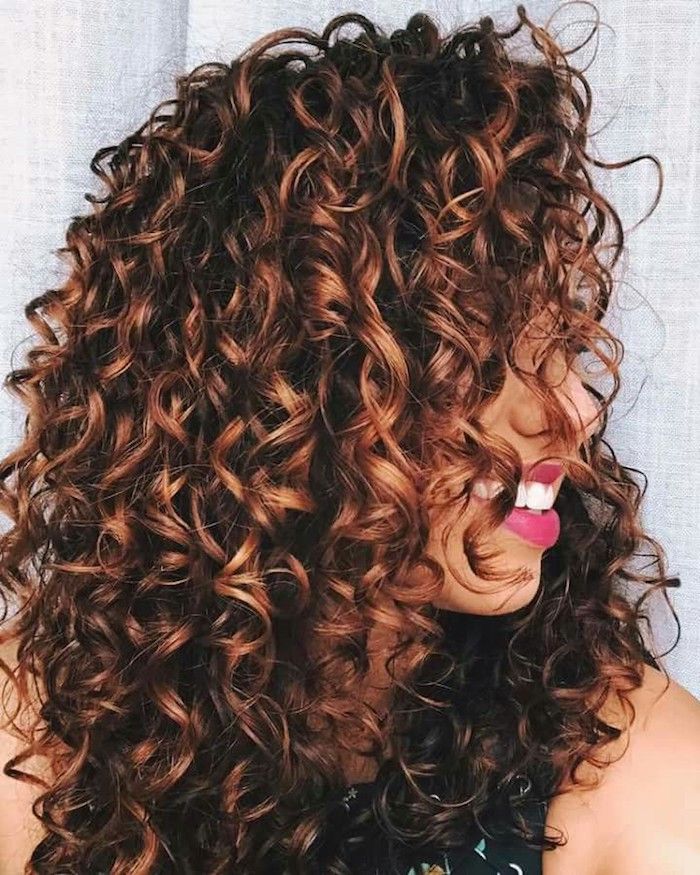 Curly hairstyles are sublime for showing off cute modern haircuts. Caramel highlights may also be one of the best haircuts to refresh your look or hair color. Caramel highlights are unique and as upscale as hair color can get. It can work with any other hair color and skin tone. These highlights will make your waves more prominent.
2. Dark brown highlighted layers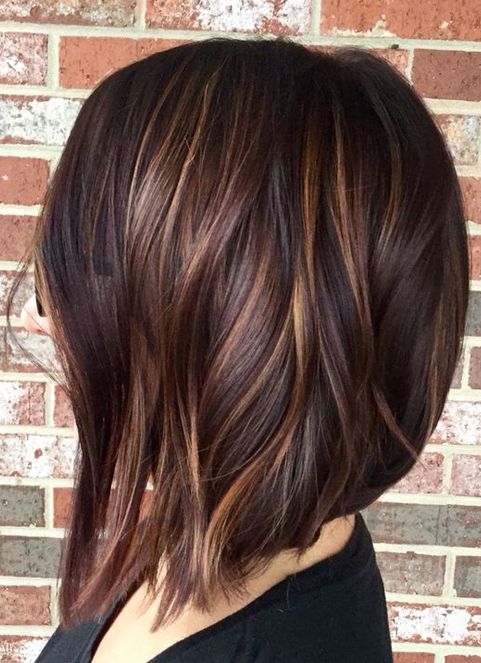 Highlighting the dark brown hair with a lighter brown hue may be one of the most classic ways to transform your hair. The dark brown base will make the blonde pop out. This will also create a "natural" illusion, which grows from your hair.
3. Subtle Blonde with Caramel Highlights

Subtle blonde with caramel highlights is a flattering look for just about everyone. If you have brown hair or even a blonde base, then caramel highlights will be the best choice for you.
At first glance, you may not even notice the very subtle hints of caramel-colored tones mixed in with the blonde highlights. But the small peak of this extra tone will offer a soft glow that is exclusive and sophisticated.
4. Warm light-blonde highlights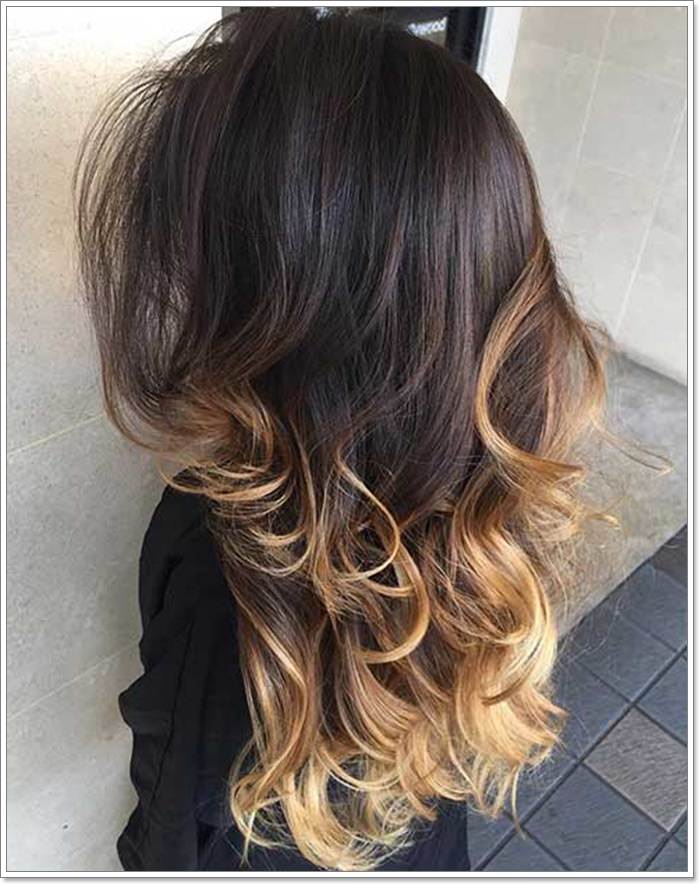 Warm light-blonde highlights will always be a classic when it comes to hair colors. Blonde highlights add streaks of blonde color to a darker base hair color. The Highlights will make the hair appear fuller; they are great for fine hair.
5. Black Hair Color With Red And Blonde Highlights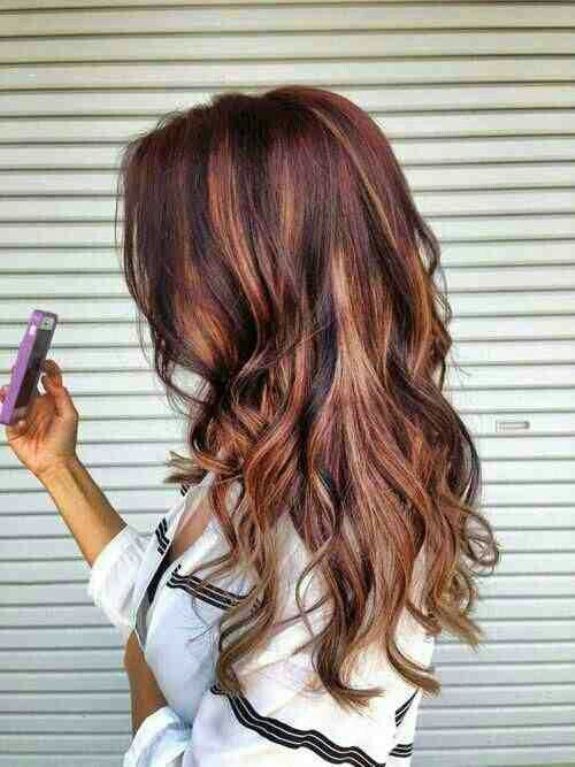 Black hair with red and blonde highlights is a newer and modern concept for women across the world. This haircut will give you a sharp look and a special effect. Red and blonde highlights have the power to instantly upgrade your mane, make you the blinking star at any party and occasion.
6. Light–brown highlights on medium hair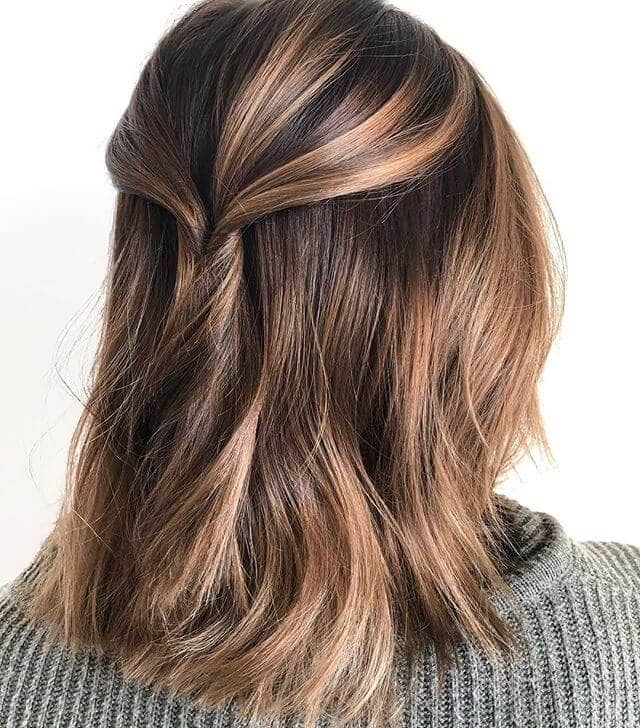 Medium-length hairstyles are perhaps the universal styles. They are not too long or too short; they flatter every woman regardless of age and hair type.
Light–brown highlights on medium hair will give soft transitions of several close shades. The organic brown base fades into a gorgeous light brown. This highlight looks fancier and stylish than plain brown hair, and the design also appears natural.
7. Ash blonde highlights on wavy hair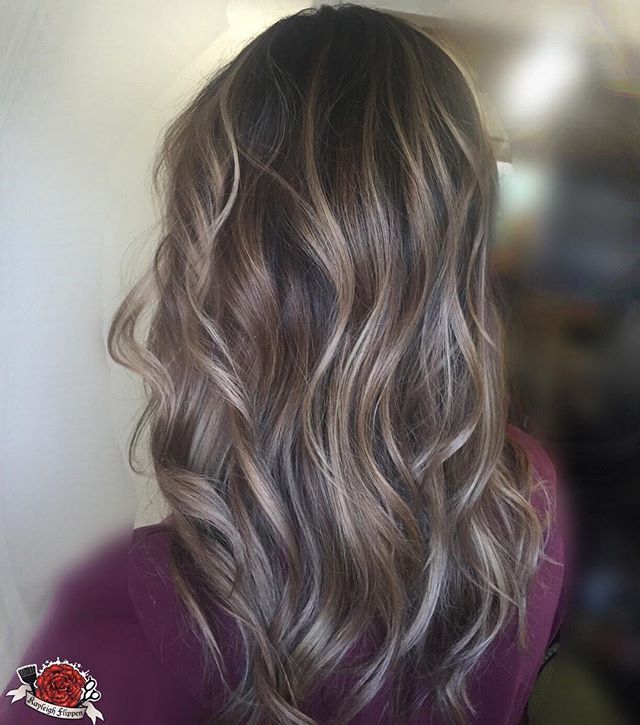 Ash-blonde highlights on wavy hair become a popular choice of hair color for their uniqueness. Ash-blonde highlights are a shade of blonde that's slightly gray-tinted with cool undertones. It looks slightly different from warm-toned blonde hair dye. Highlighting your light brown hair with some ash blonde on wavy hair can help create a classy and elegant hair look. This hairstyle is perfect for those who don't want to go fully blonde.
8.Dark brown hair with golden highlights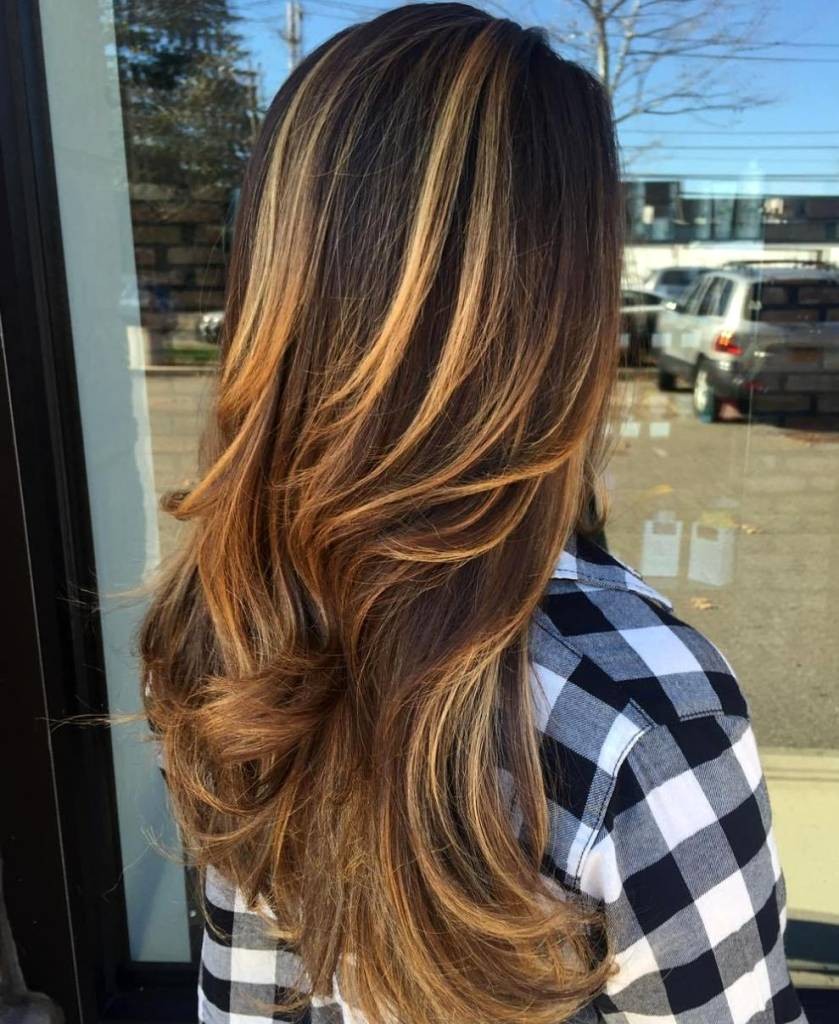 Due to the cool nature, dark brown is one of the hair colors most people appreciate. If you have a brown base, adding some golden balayage highlights will give you a unique look. The golden highlights will really lighten up your entire look.
9. Medium dark-blonde highlights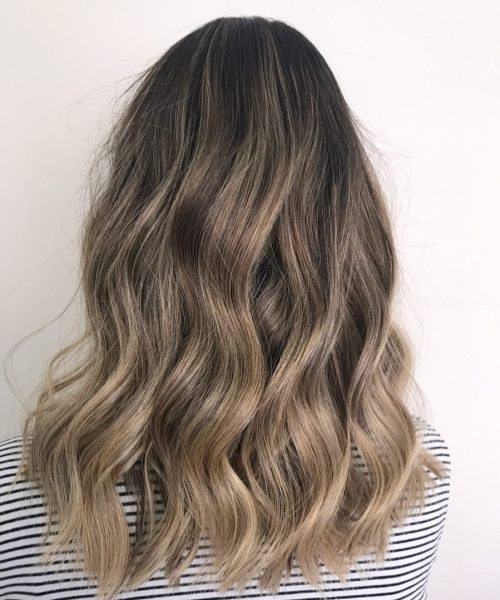 Dark hair with blonde highlights can be rocked by absolutely anyone looking for a change. These stunning highlights go extremely well with medium dark hair. They are not only dark but also bright. The dark-blonde highlights blend with chocolate brown locks beautifully and add texture to them, making your hair look voluminous and glossy.
10. Dark brunette and caramel balayage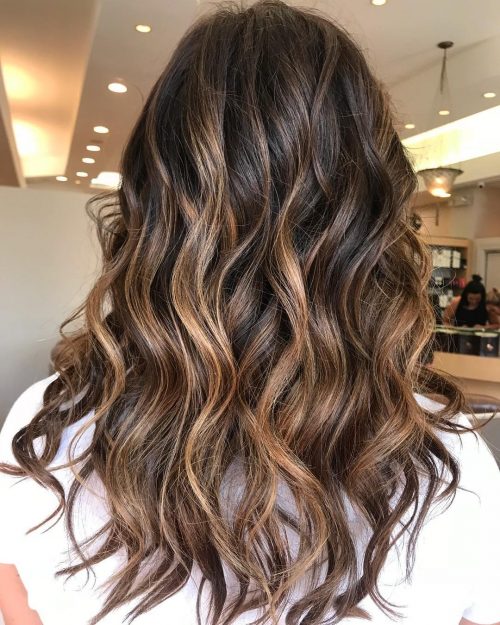 Caramel balayage is a beautiful technique that gives you beautiful under-tone hair color. It makes the light and natural brunette color the darker one. Balayage is popular not only because it provides a relaxed style but also because it is also easy to maintain. A glossy caramel balayage on dark hair can make sure you look cute and stylish every day.
11. Dark bob with brown highlights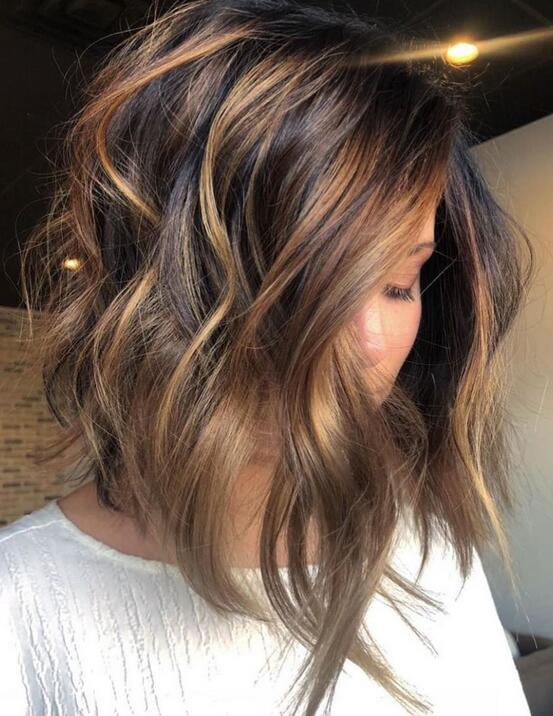 Bob's hairstyles have been on trend for a very long time. This is a classic hairstyle that will never go out of style. Dark bob is a clean hairstyle suitable for those traditional women who want simple maintenance.
Although Bob's haircut is chic and cute, you can also add a few light brown highlights to your dark brown bob to take it to another level. Brown highlights is a great way to express creativity, especially when it has very subtle metallic stripes. The brown highlights seem to catch the light and glow, making your hair appear fuller and lighter.
12.Dark hair with Gray highlights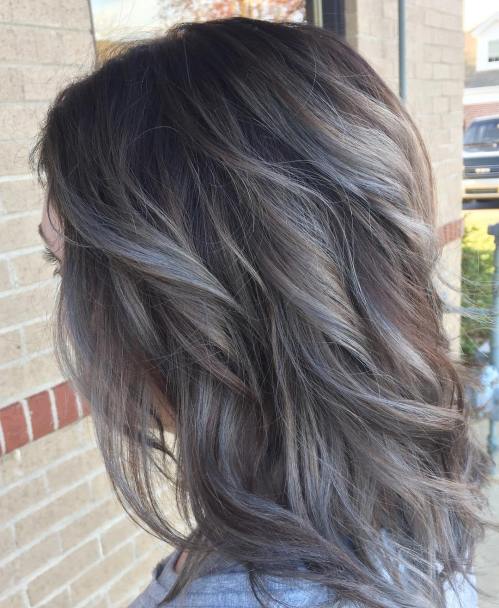 Dark hair with grey highlights is ideal for someone looking for a darker grey look. Against a bright natural black background, the gray highlights will look exceptional. This will work well with most skin tones. You can also choose some purple highlights to enhance the look, which is totally on-trend these days.
13. Sun-kissed dark brown hair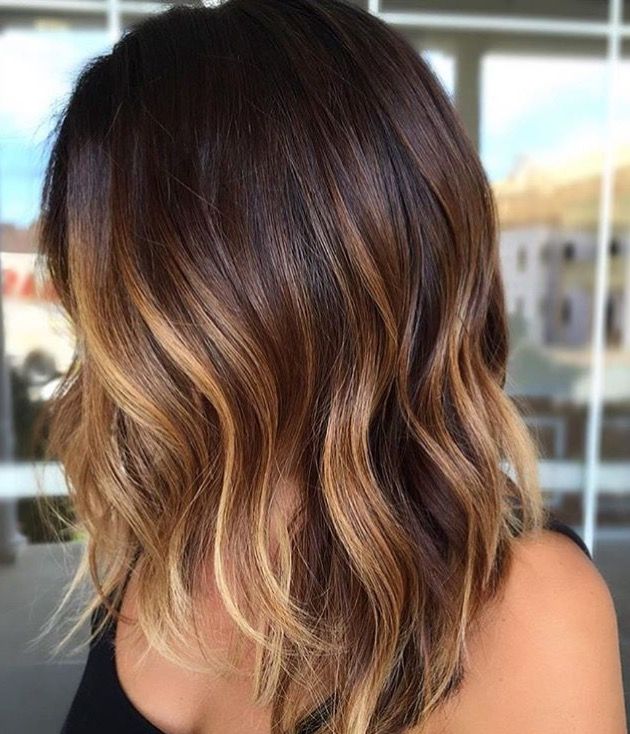 A light brown highlight on dark hair gives off a beautiful gradient effect. This haircut makes your dark locks look authentically kissed by the sun. This is a great choice for those with dark brown and light brown hair. In addition, this haircut is easy to maintain compared to other highlighting techniques.
14. Dark brown hair with Red highlights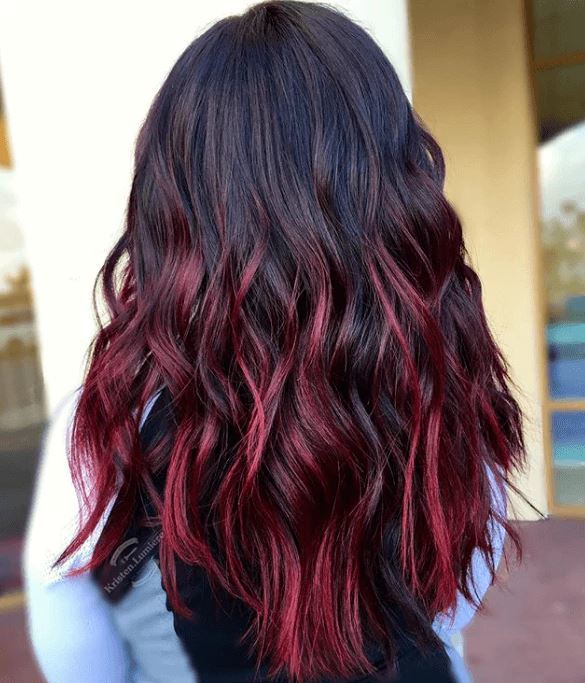 Dark brown hair with red highlights is suitable for naturally dark hair or dark and warm skin tones. Red highlights look fabulous and rocking, which can give you a bold and exciting makeover. Red highlights on brown hair look stunning and balanced.
You can choose darker hues such as burgundy flaming red and cherry. However, You should keep in mind that red highlights are difficult to remove, so you need to think carefully before applying your hair.
15.
Dark brown hair with highlights and lowlight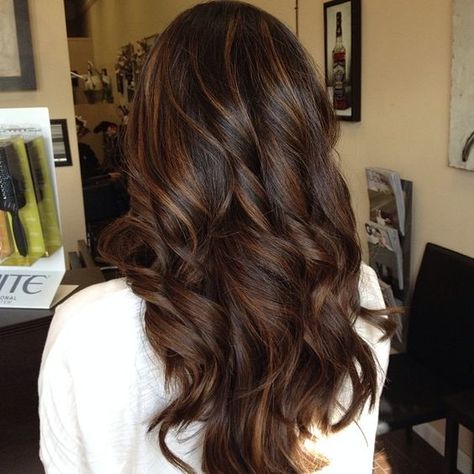 Dark brown hair with highlights and lowlight brings all the sunshine to your hair. This mixture will not only liven up the overall hairstyle but also accentuate your individual strands.
16. Auburn highlights on curls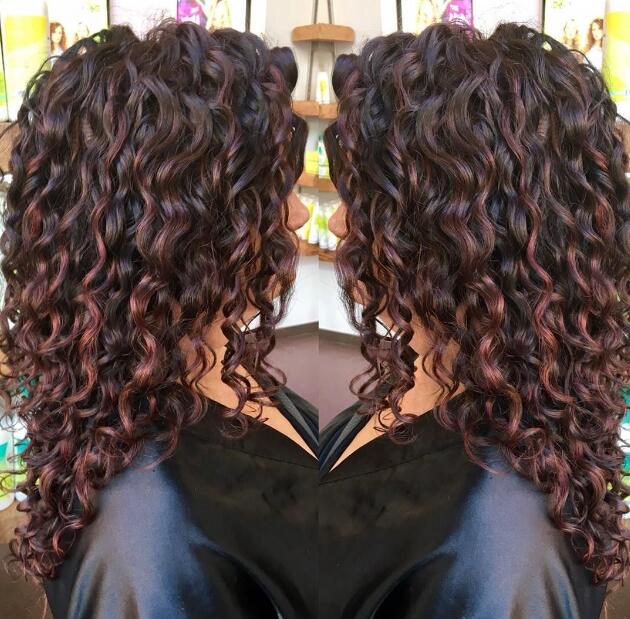 Natural curls have the advantage of accentuating subtle color changes best. Auburn highlights on curls will make your hair look good enough to eat!
17.  Mid-back length dark hair with highlights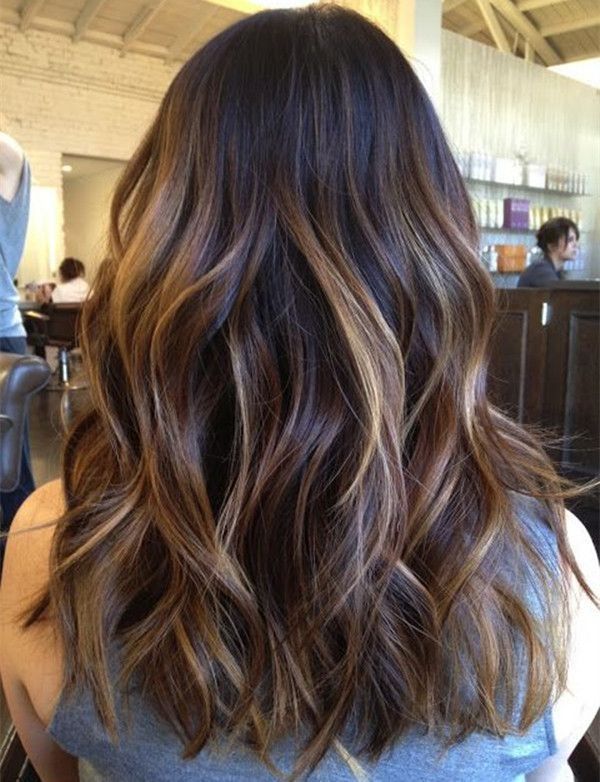 Mid-back-length dark hair with highlights can make your looks spicy or give you the perfect sun-kissed look. Highlights will provide you with an entirely new look. This haircut will create a new texture and dimension to your hair by adding depth to your locks.
18. 
Caramel Highlights on Brown and Dark Brown Hair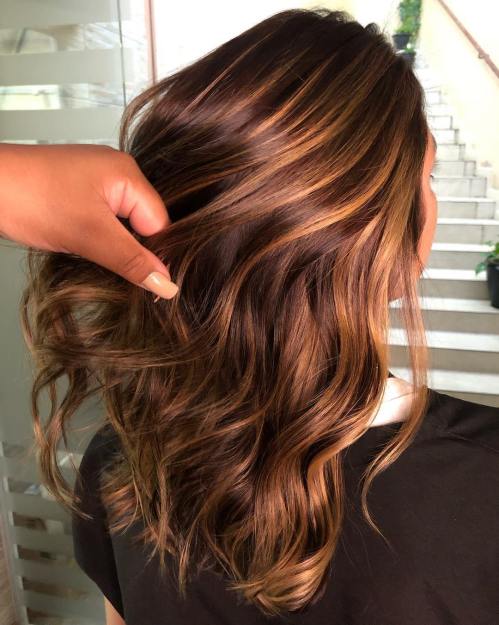 Caramel highlights on brown hair will add definition to the curls and offer a sophisticated and exclusive soft glow. This will lighten your overall color by adding soft warmth to your look. You can also add bold, soft, subtle, or other "special something" to your color.
19.
Lowlights for Brown Hair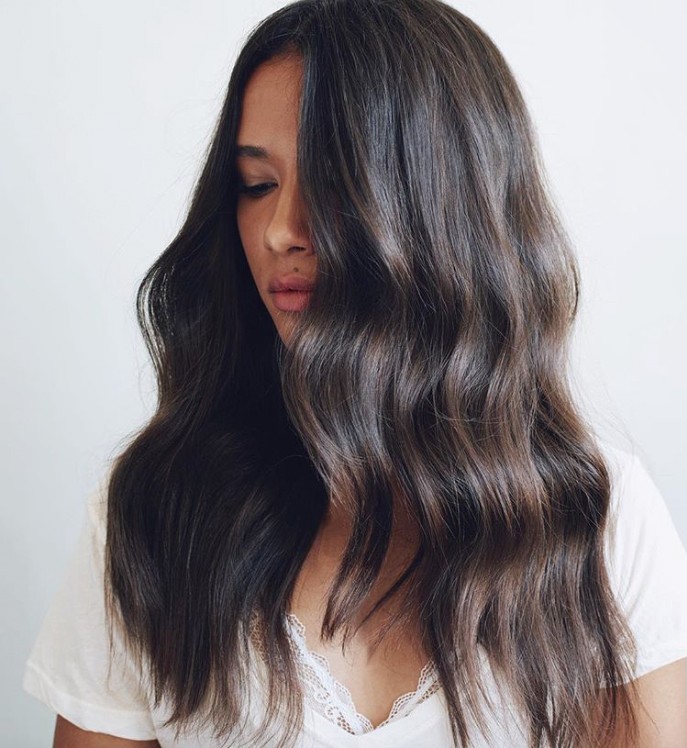 Lowlights are an excellent option for people with blonde or light brown hair. But if your hair is very black, then lowlights would not work.
Depending on your skin tone, you can choose warmer or cooler shades of brown lowlights.
20. Copper highlights on a chocolate base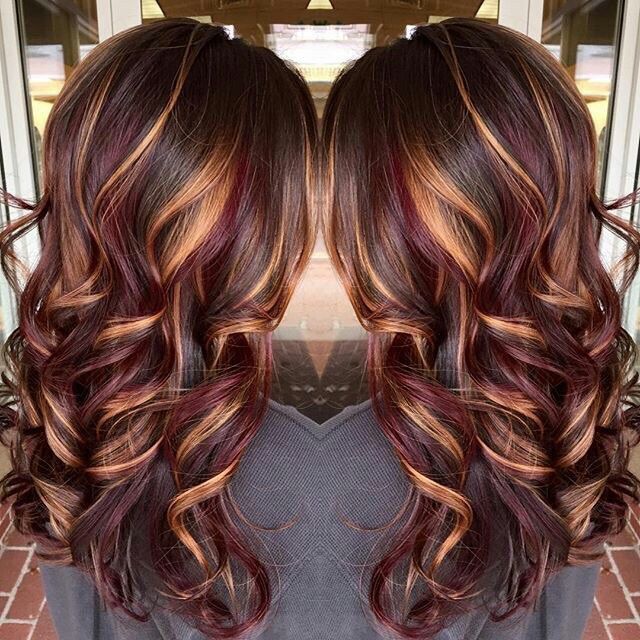 This rich reddish-orange tone is a luxurious-looking hair color. Copper highlights will give your hair a gorgeous brightening effect while looking natural. These highlights with a dark brown base are perfect for fall hairstyle.
21.
Dark Brown Hair with Honey Highlights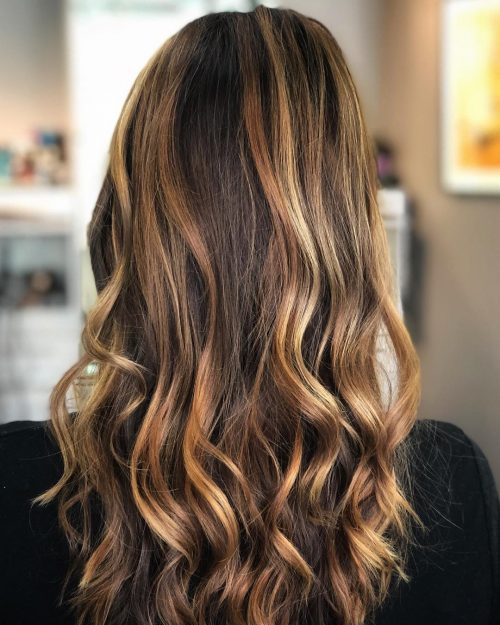 Dark Brown Hair with Honey Highlights is a wonderful idea to add more style and fun to your locks. The Honey Highlights make the facial skin look fairer. This is a great choice for hair highlights for light brown hair.
22.
Chocolate Brown Hair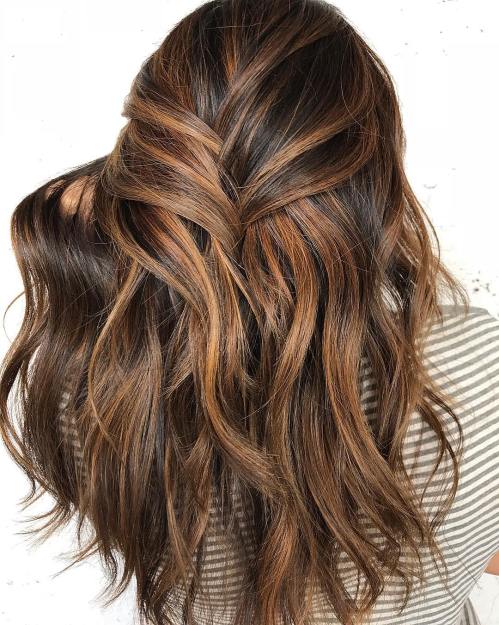 Chocolate Brown Hair Color is one of the most preferred hair colors for women of all ages and skin tones. It is classic and endlessly flattering for women. The color can come from rich cocoa to creamy milk chocolate to make it look fuller, shinier, and richer.
23.
Balayage Brunette Caramel Highlights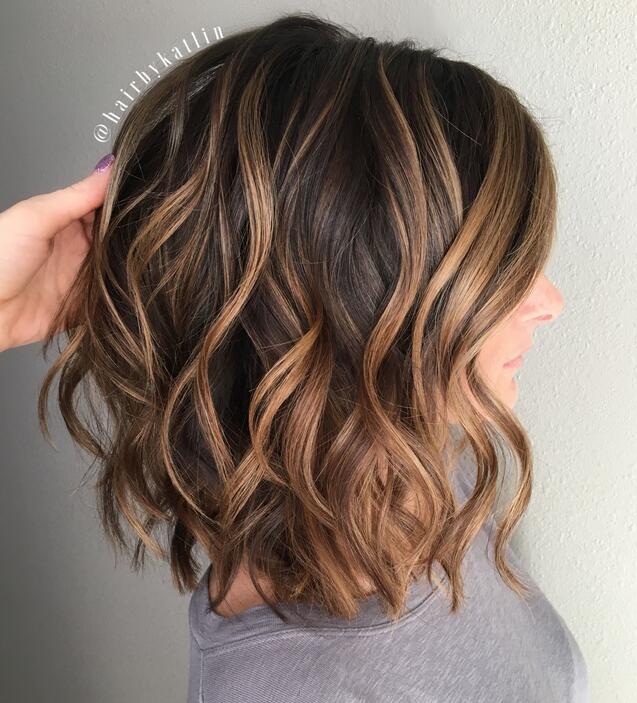 Balayage Brunette Caramel Highlights is a gorgeous hair coloring technique. This can create a multi-dimensional appearance that helps you achieve an effortless sun-kissed look. Style your strands with waves can give you a smooth transition of colors and making the texture more defined.
24. Cinnamon highlights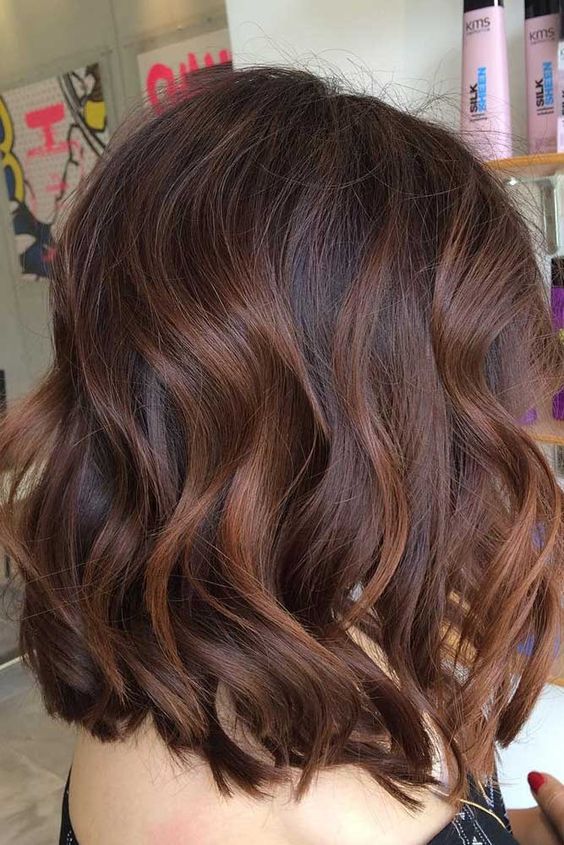 Cinnamon hair color is a warm, reddish-brown undertone that provides warmth to your style. Cinnamon brown hair colors can help to give more texture and volume to any hairstyle.
25. Dark brown hair with shiny highlights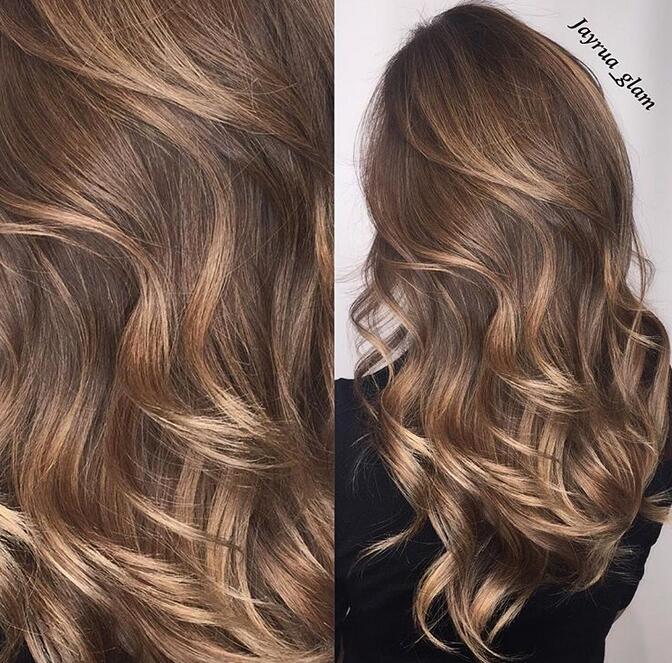 In the image above, the highlight accents improve the curls and create an illusion that the lady's hair is even shinier than how shiny it actually is.
26. Dark brown hair with light brown highlights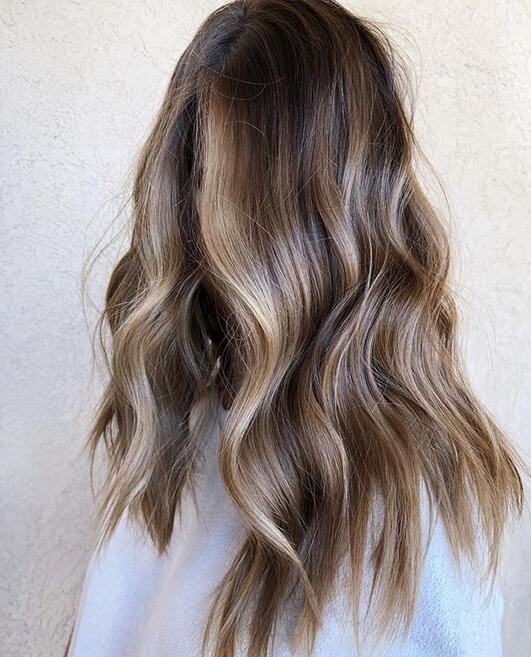 This dark brown hair coupled with blonde highlights is exactly what you will get if you decide to grow out your balayage lob.
27. Caramel Balayage Hairstyle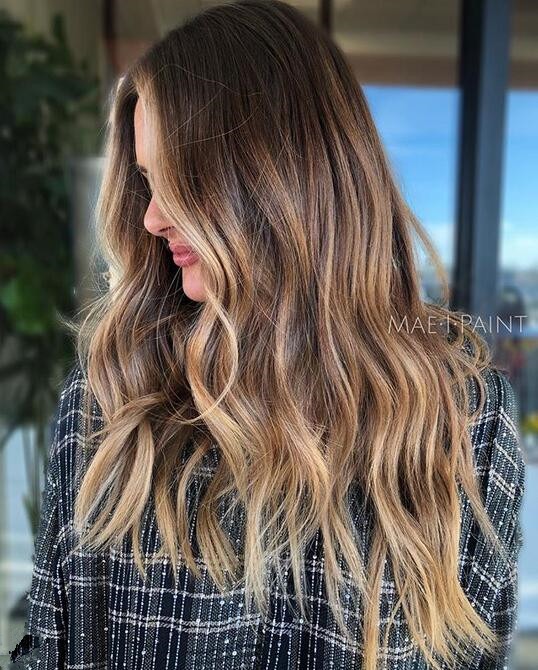 This hairstyle is what you need if you intend to emphasize the sleekness of your long manes with warm balayage. The highlights will also better elongate your tresses' look.
28. Neutral and cool balayage highlights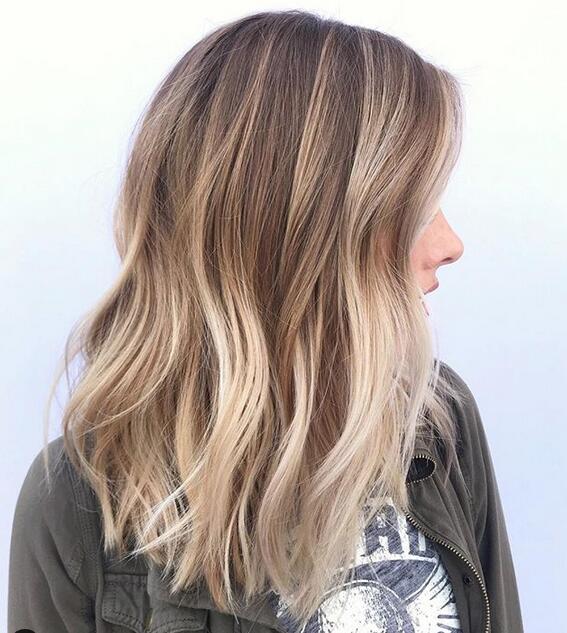 The balayage style is known for its ability to deliver the cool factor. When you decide to style it on you, you ought to experiment and play around with it to ensure that the end product is unique just to you.
29. Illuminating Lowlights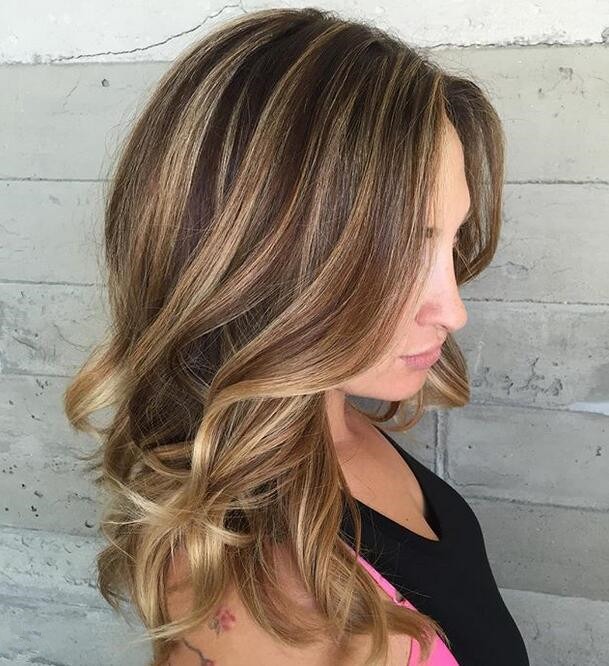 Are you a big fan of curling your hair locks but are scouring the internet trying to find something a bit different? Then these highlights and lowlights could be exactly what you are looking for.
30. The Brown Ombre Hairstyle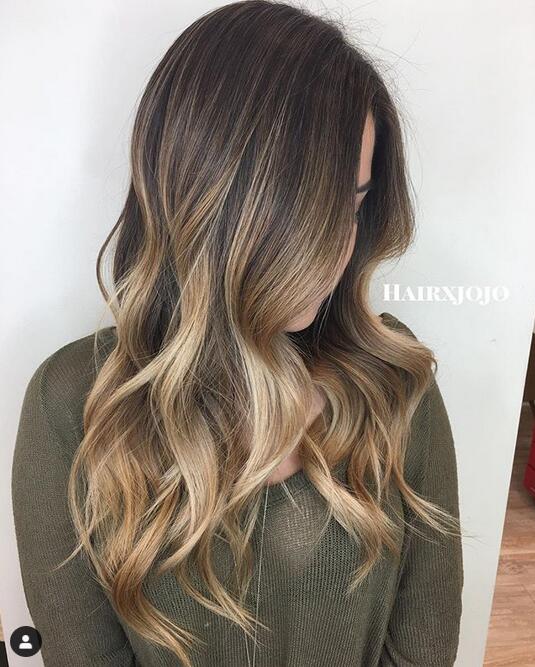 This dark brown hair coupled with the highlights has been awarded a brand new life thanks to the ombre hair shade.
31. A choppy cut with caramel highlights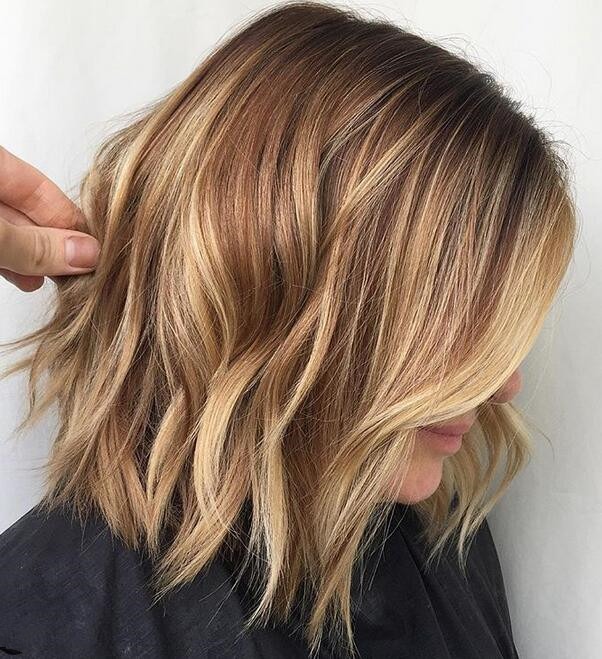 This choppy hairstyle is a great idea for those who boast fine hair but at the same time do not want to deal with a whole lot of maintenance efforts.
32. Dark Brown Hair with Bronze Highlights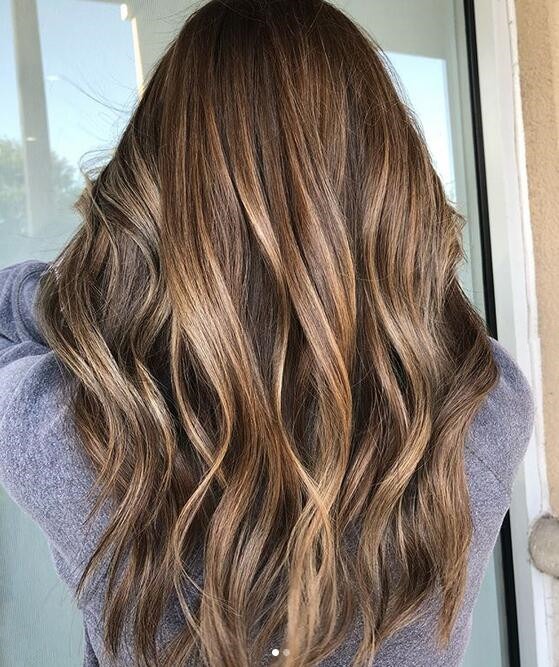 If you have decided that you will transform from blonde hair color to brunette hair color, then the balayage hairstyle above is one of the best ways to hold onto some of your lighter hues to create the highlights.
33. Short dark brown hair with blonde highlights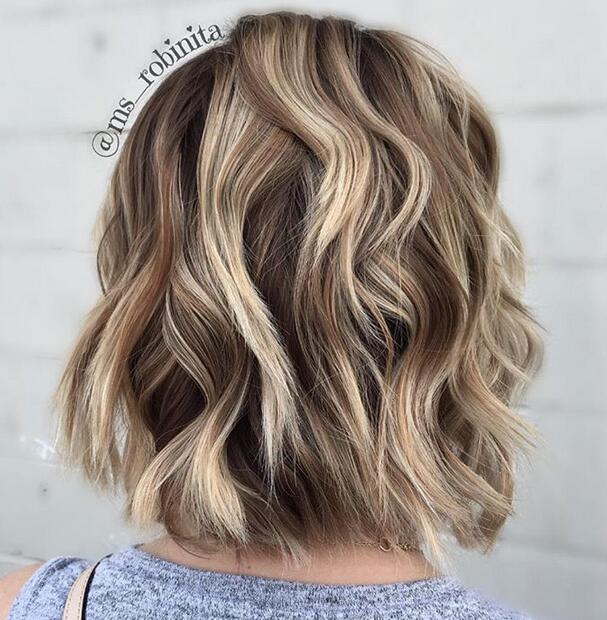 If you are scouring the internet trying to find something different to style on your short hair without spending a fortune, then I think you should really opt for lowlights or highlights like the ones above.
34. Dark Brown hair with ash blonde highlights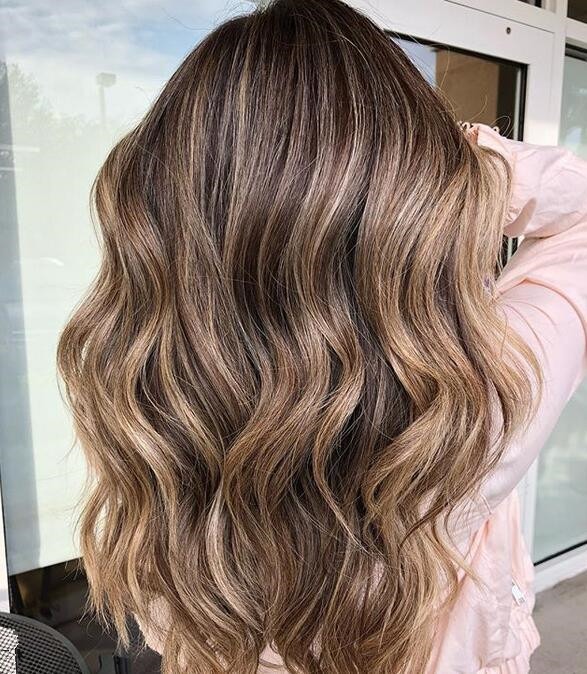 Do you feel like you are in the mood of trying out a cooler tone? Then I firmly believe that these Ashy highlights are the way you ought to go. They will give your hair strands a softer color while at the same time not getting rid of their natural feel.
35. Cool-toned highlight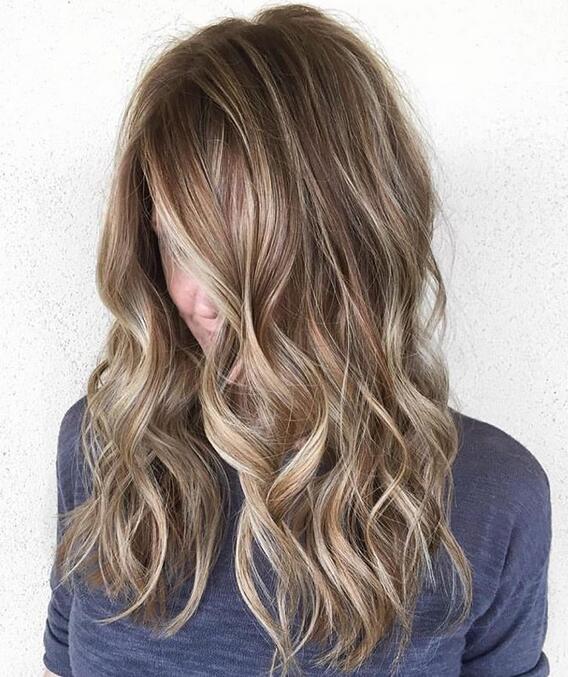 Lowlights and highlights twisting together in loose curls? Doesn't that sound like something you would absolutely like to try out? If you need to tell what the end product would look like, then look at the image above.
36. Dimensional Medium Waves with highlights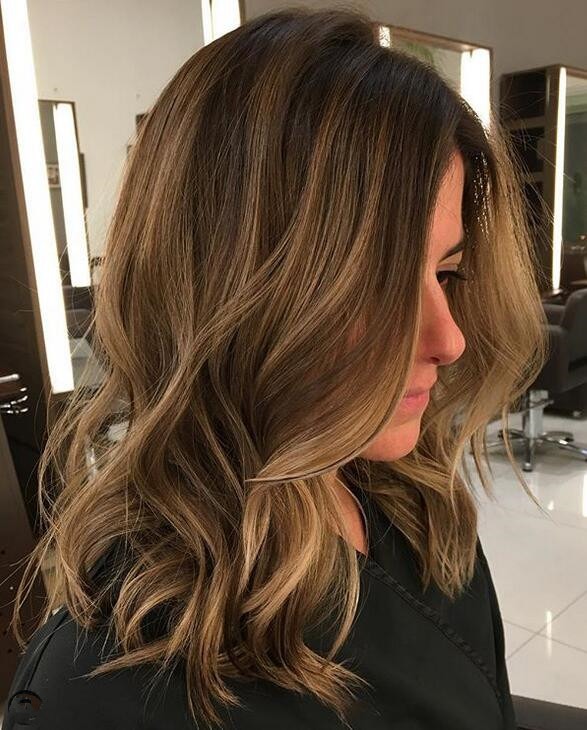 The only problem with these dimensional medium waves highlights that they are slightly harder to style, but I promise you that the result will be totally worth it.
37. Natural-looking lowlights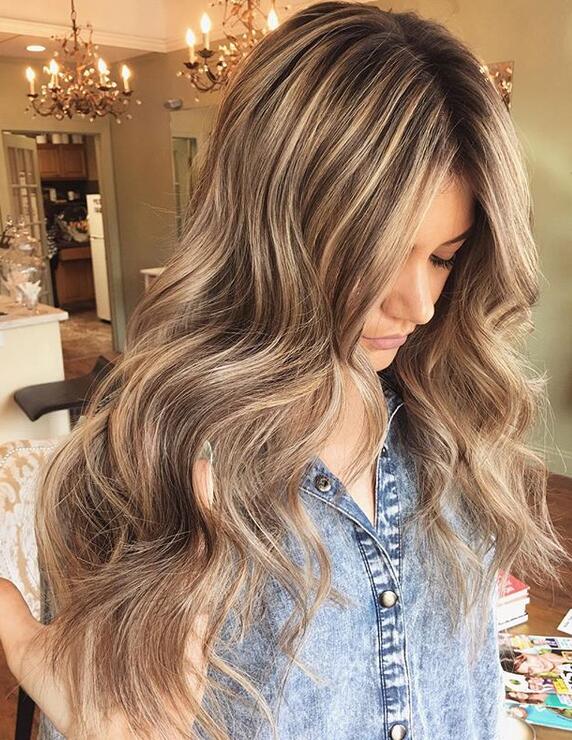 I love this hairstyle most because there are lots of highlights, and you won't even know where the highlights begin and where the base color ends. That makes the hairstyle even more natural.
38. Ashy Blonde Highlights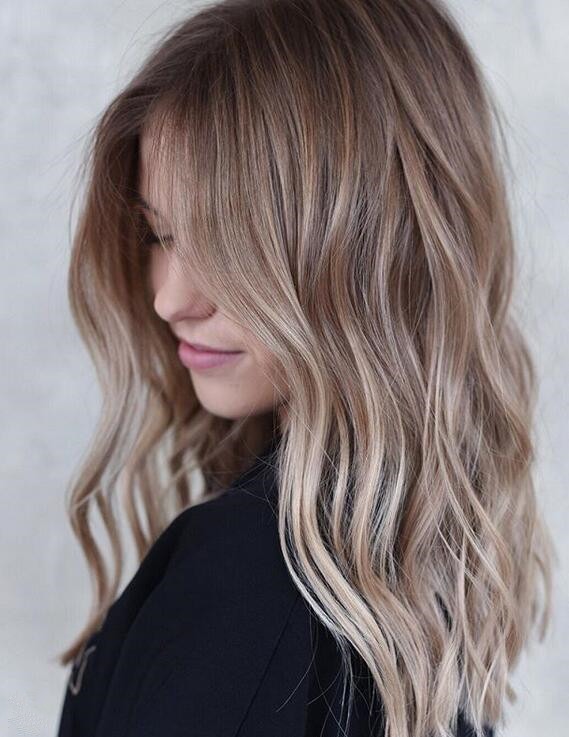 Highlights on this dark brown hair boast muted ones, and they range between golden blondes and ashy browns.
39. Angled Highlights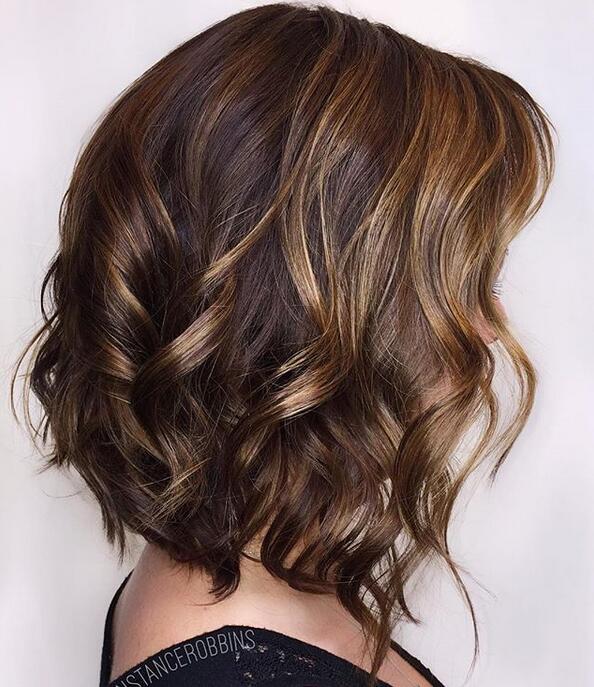 Here is your chance to liven up your dark brown hair using a pop of honey-like blonde highlights that have been strategically placed in different locations.
40. Beautiful caramel blonde waves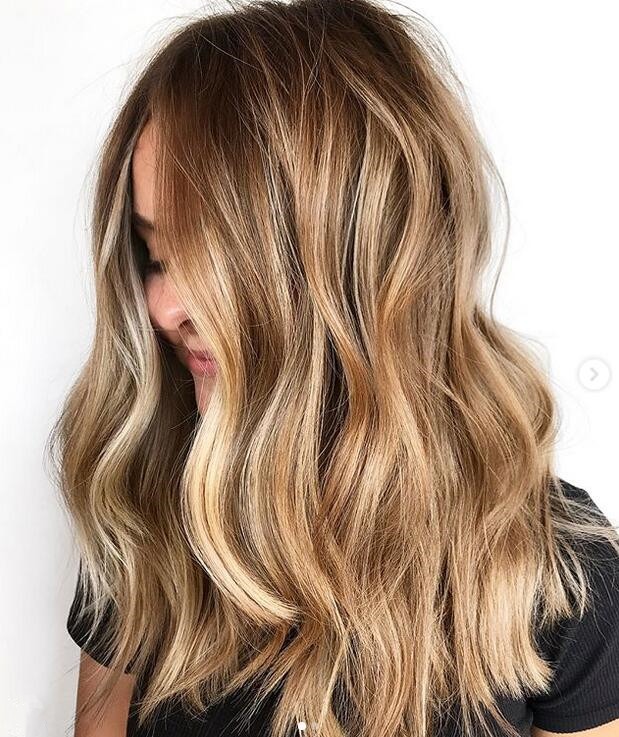 With this haircut, your long blonde wave will look juicier and richer with the deep caramel highlights.
41. The understated balayage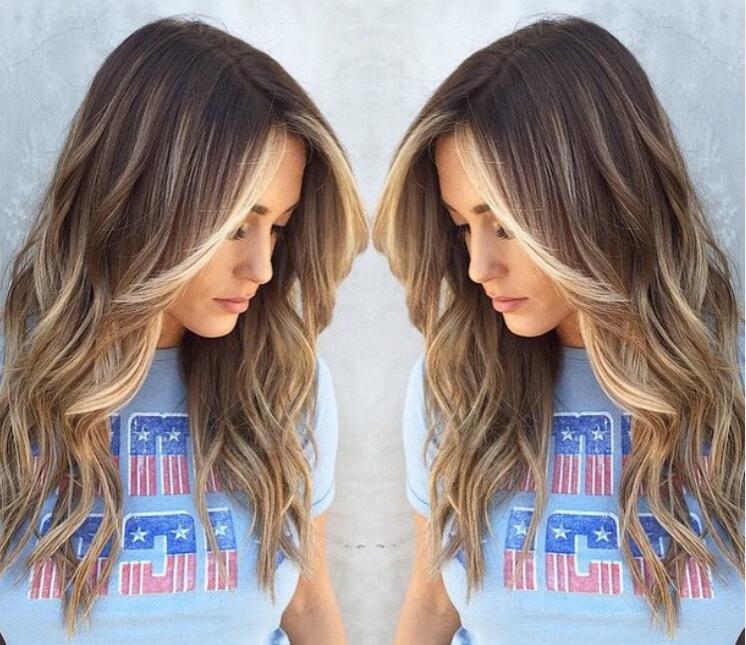 This hairstyle allows you to use your dark brown hair by adding some highlights to attain the cool retro vibe.
42. Feminine blonde balayage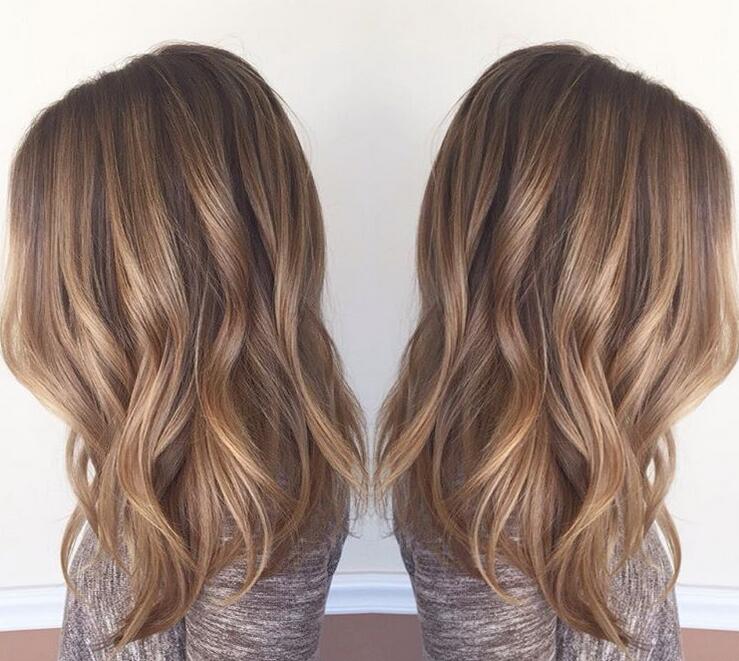 When people think of balayage, the first thing that comes into their mind is something trendy. However, this golden haircut has proved that subtlety and minimalist can be combined to deliver the most striking hairstyle.
43. Caramel and chocolate blonde balayage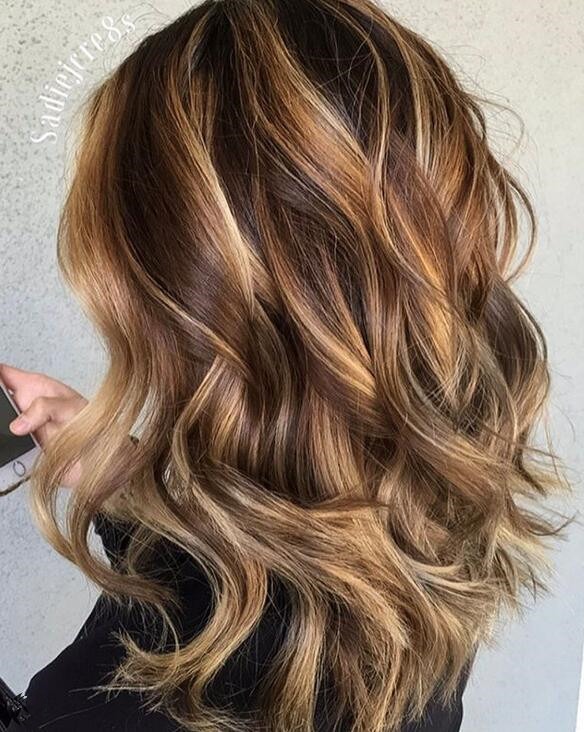 The lady's luscious waves of dark brown hair cascade toward the back and drop toward the shoulders with this haircut.
44. Dramatic lowlights and highlights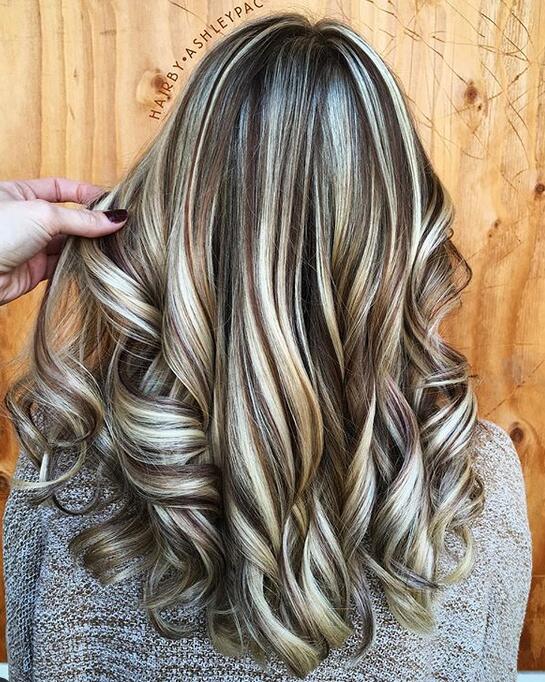 Feel free to ditch your homegrown dark brown hair shade to attain something even more dramatic by combining a deep dark brown shade and a very bright blonde color.
45. Hazel brown base on dark brown hair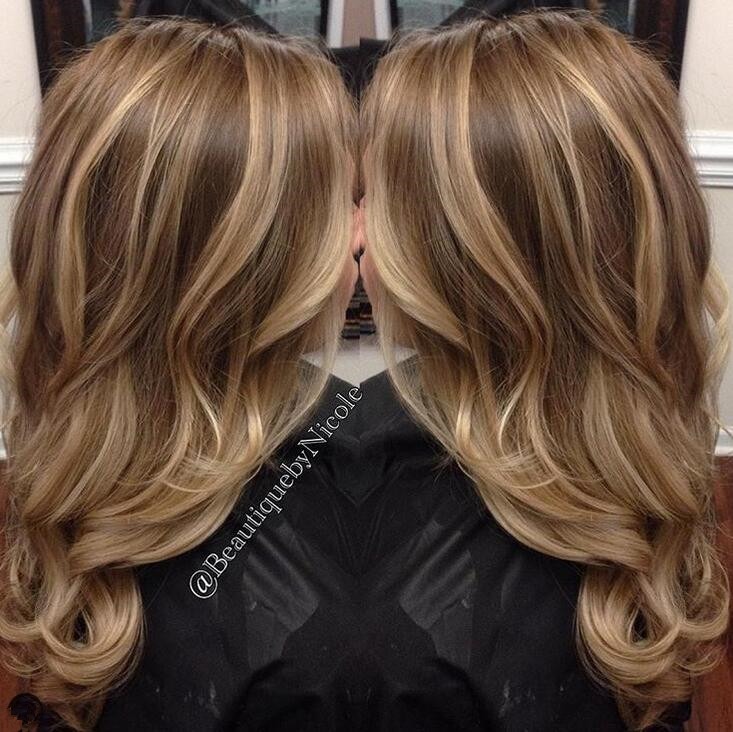 This dark brown hair with caramel highlights will leave you doing a double-take. That said, ensure that your hair is at least shoulder length before deciding to try out the hairstyle.
46. Blonde balayage and shiny bronze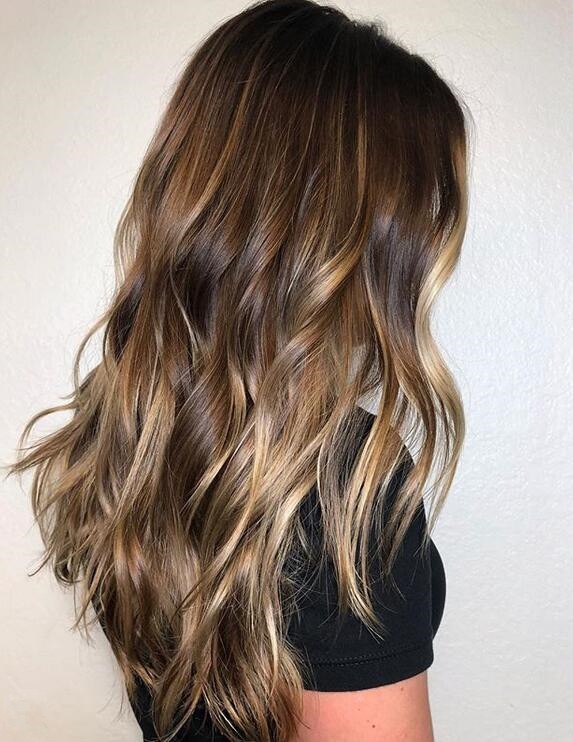 Regardless of whether you've made your dye job low contrast or not, dark brown hair with the lowlights above always brings out the highlights and delivers the required depth.
47. Honey Light Brown Locks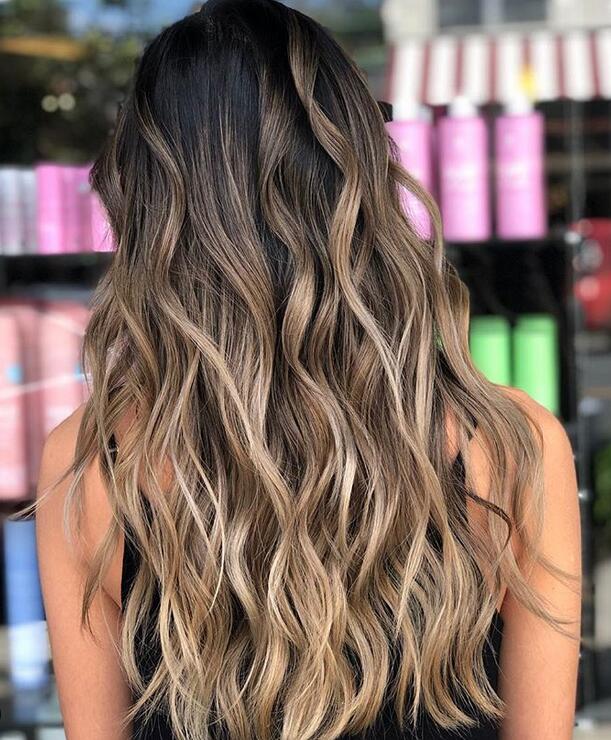 Natural and warm, this hairstyle is one of the most famous options for styling highlights on dark brown hair. While styling it, ensure that you begin with your base color and then create a flattering, even splash of shade enhancements.
48. Dark brown bob coupled with a blonde balayage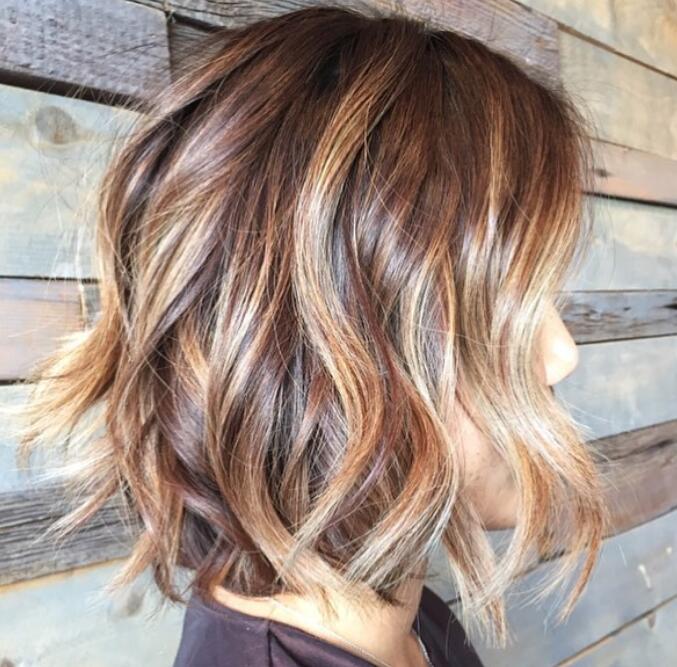 If you are a photoholic and want to look great on all your Instagram images, this is a hairstyle guaranteed to look great in all your images. It is also the same reason the balayage bob is trending.
49. Caramel Blonde Blend with Ash Brown Highlights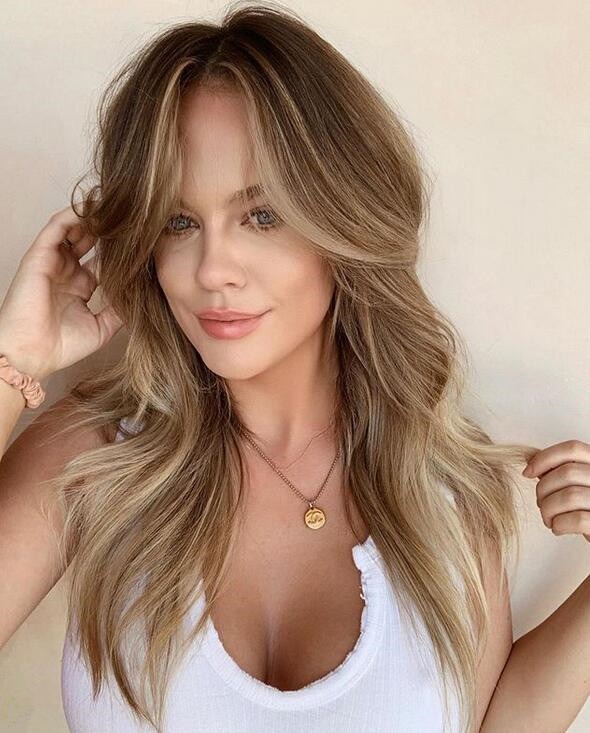 Toasty and nice, these honey-hued highlights are nicely warming up this medium bob. The random and distinct colors will make the texture really stand out.
50. Messy bob with highlights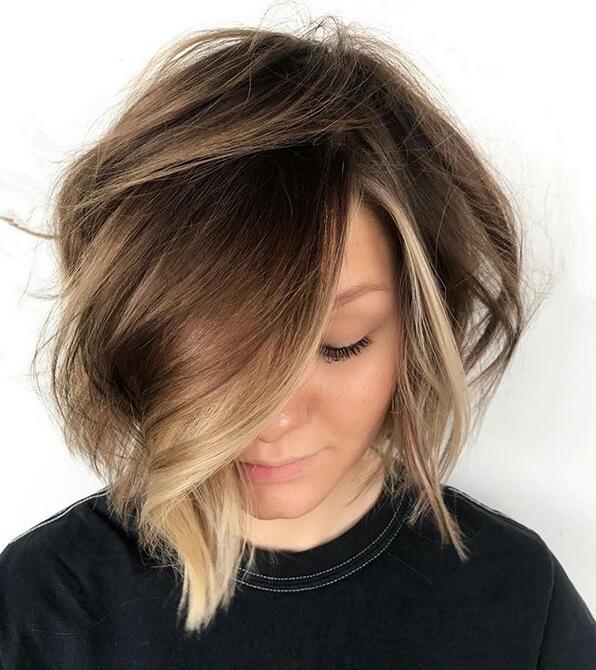 Even a short bob will look cute if you decide to style balayage on your dark brown hair.