The color purple really has something to it. It stands out in the crowd and gives you all the confidence and valor in the world. In addition, the best thing about the purple hair ombre is the abundance of pretty shades it comes with. You can switch from the lightest to the darkest from all the options available. Eventually, the results will always be utterly gorgeous and outstandingly beautiful.
Since we are aware of how confounding such a variety can be, we will have many options for you to choose from. Here are 50 of the most magnificent looks and shades of purple ombre hair color for you to choose from while you're at the salon.
Top 50 Purple Ombre Hair Ideas For Women
1. Classic Ombre Purple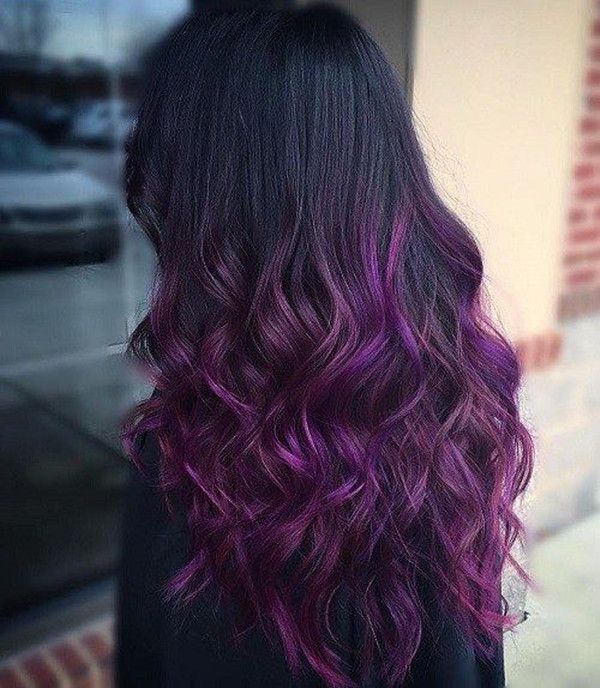 If you wish to carry a simple ombre look, you don't have to go overboard. Just keep your natural hair color as the base color and create this elegant look using a subtle purple color as an ombre. It's a super feasible way to get stylish!
2. Ash Purple hair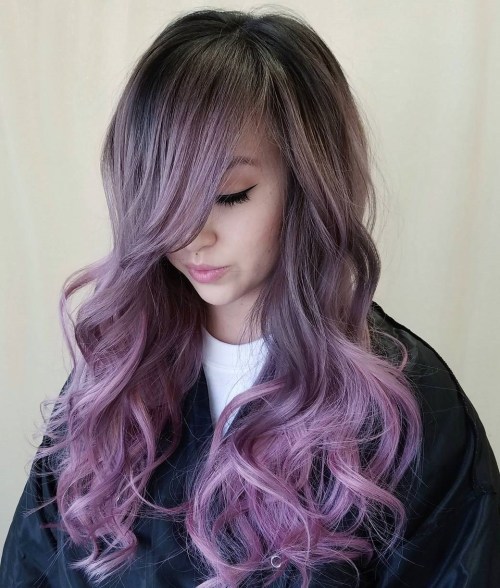 This doll-like hair color will make you feel heavenly. After all, who doesn't love a nice ash purple ombre, right?
3. Brown and Purple Ombre
If you're someone who has brown hair, please don't believe it when people say that brown cannot go with poppy colors. Slay 'em with this flattering brown mane with hints of a purple ombre look.
4. Lilac Ombre Hair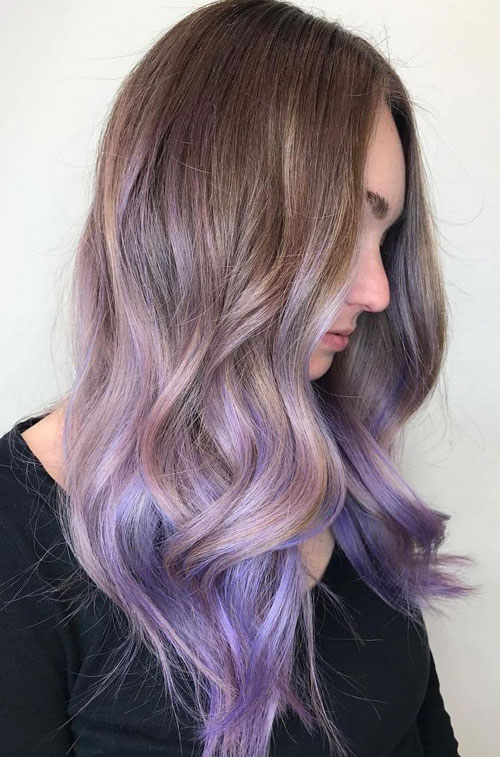 Oh, don't you love lilac skies? Imagine having that effect on your hair. Absolutely magical! This look is a must-try in a lifetime, regardless of your hair length or type.
5. Subtle Purple Highlights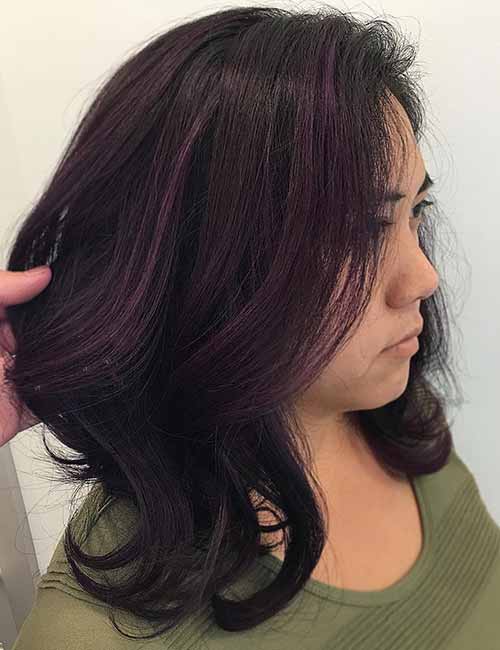 For a rather subtle yet chic look, go for some really effortless light purple or purple highlights. It is a great option if you're someone who doesn't wish to go overboard.
6. Lavender Purple Locks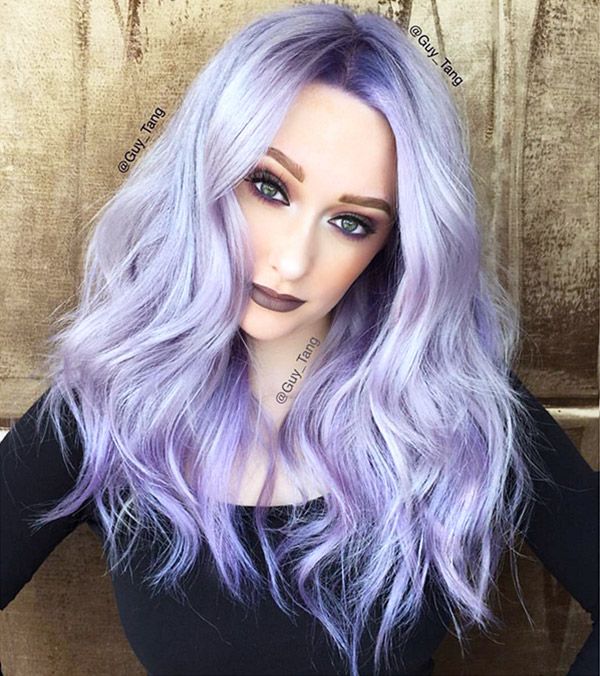 The lavender shade is indubitably one of the most soothing and modestly gorgeous colors. Get your hair done with this beautiful shade and let out the angel in you.
7. Gallantly Purple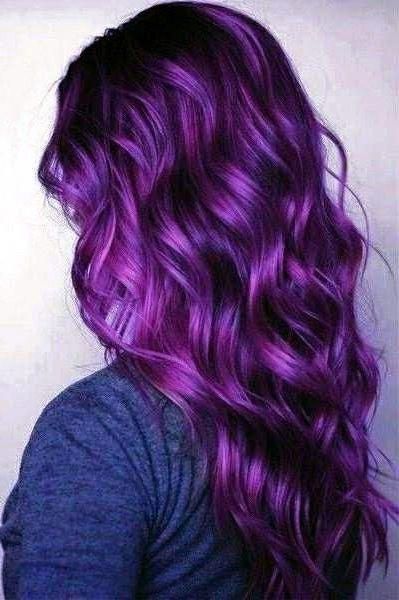 Oh, just how bold this one is. Get your mane colored in a poppy purple shade and make it hard for people not to turn around for another look.
8. Pastel hints of Blue and Purple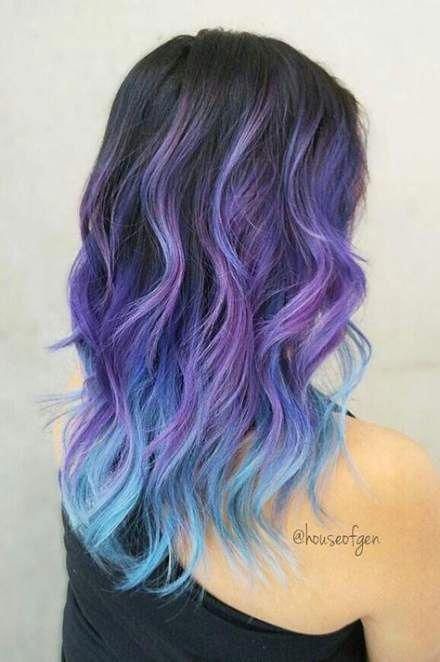 This look has such vibrancy to it. With the combination of blues and purples, you really do give your mane that dazzling vivid look; it's almost unreal.
9. Purple Lob
Spice up your simple long bob with some nice dark purple ombre shades for a more elegant and extraordinary look.
10. Galaxy Purple Ombre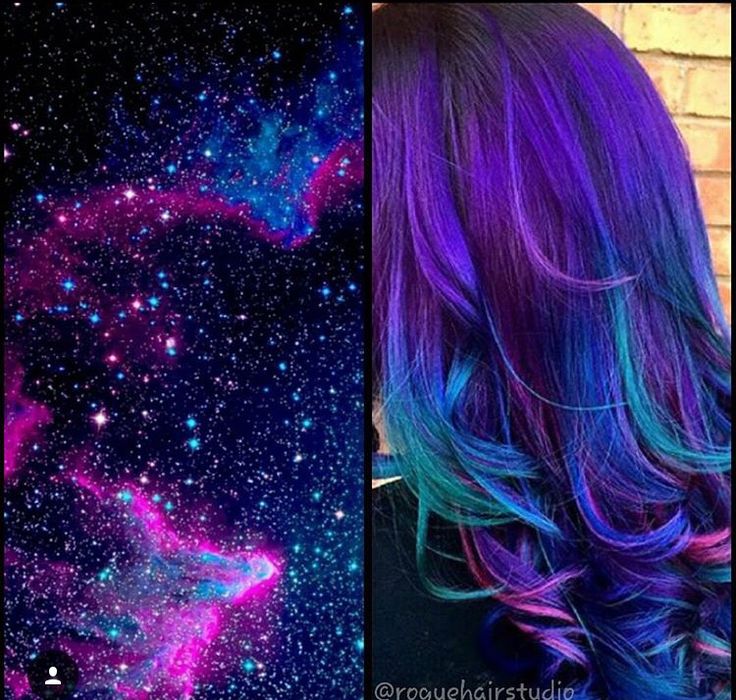 Your hair is like the canvas, and you are the artist. Express yourself fearlessly with this galaxy-like purple ombre hair look. Let the world know that you are a unique part of the universe and were created to be your bold self.
11. Lavender Lob with Bangs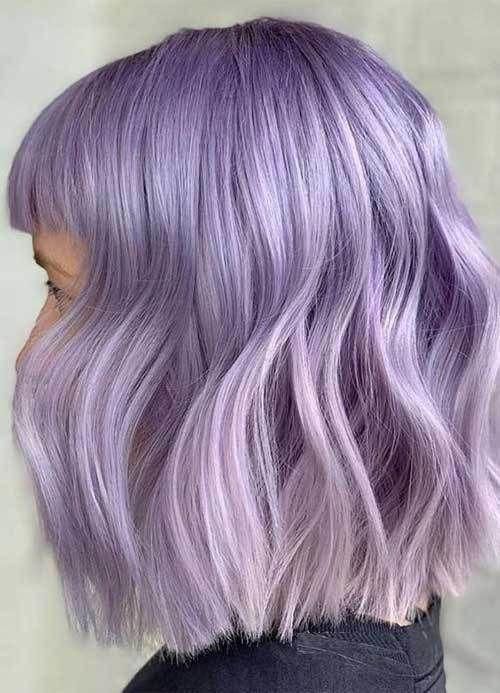 Another variant of the fairy-like lavender shade with a cute lob and some fluffy bangs. This is a really effortless and easy-to-style look for someone who likes to keep it chic but doesn't like putting in too much effort.
12. Purple Pixie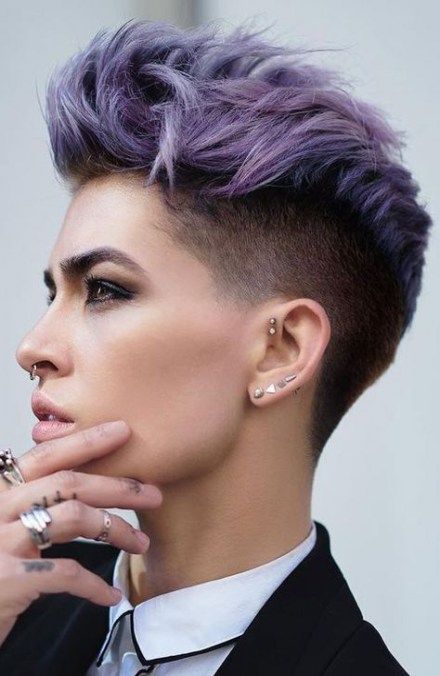 Just how bold can this one get? Pixies and ombre are made for each other. This is the perfect combination for someone with a really gallant personality, swear to God.
13. Silver Purple Ombre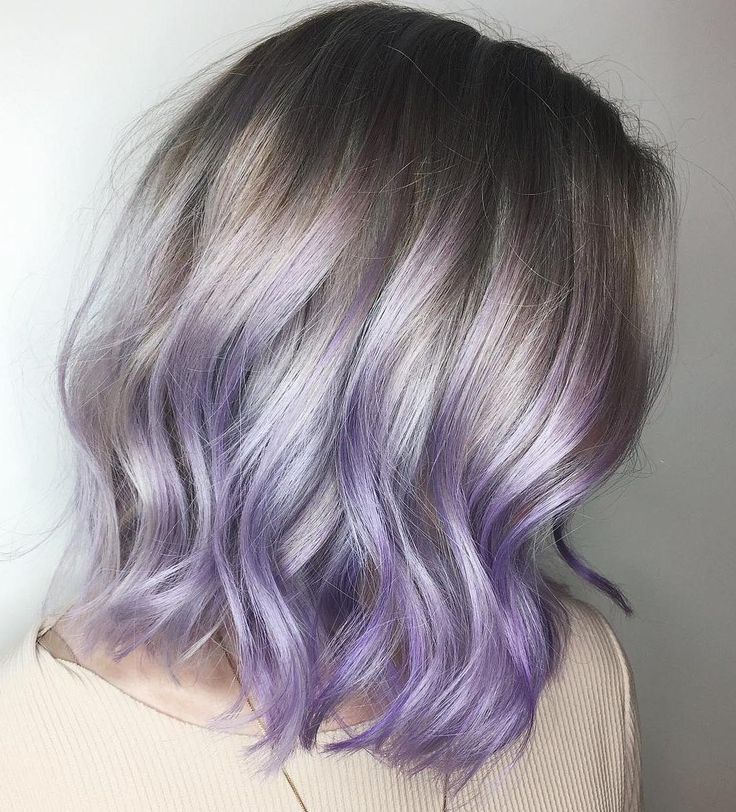 What a magical blend of an astonishing silver and a delicate blonde. A truly angelic look that'll leave all those heads turning won't it?
14. Violet Locks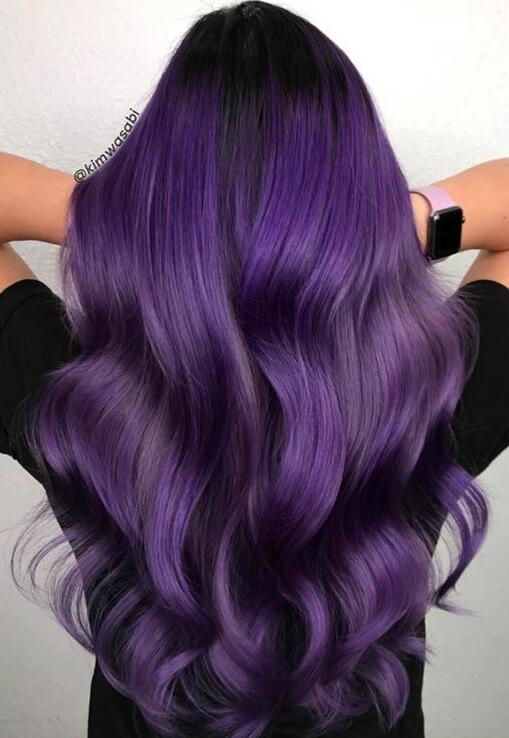 Get yourself some alluring violet locks and show those gorgeous locks off and own it, girl! You will never regret your decision.
15. Purple Burgundy Curls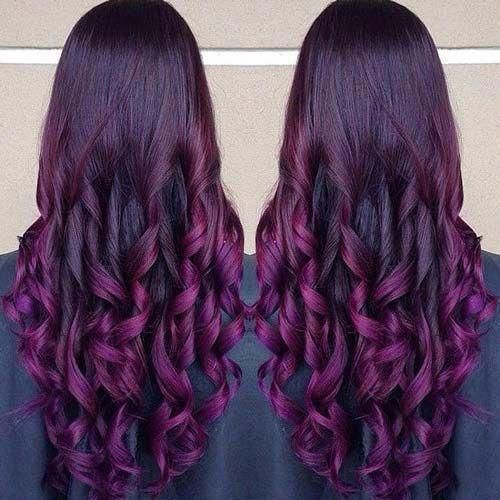 If you are blessed with voluminous and long locks, this look is a must-try! Get your hair dyed and make the curling iron your best friend.
16. Purple and Green Ombre Hair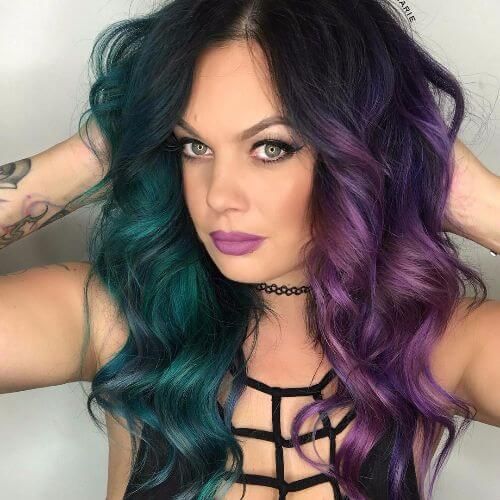 This is another bold and unique variant of a simple purple ombre look. Pair it up with some teal green color to kill the boredom. Life's all about experiments.
17. Purple on Platinum Blonde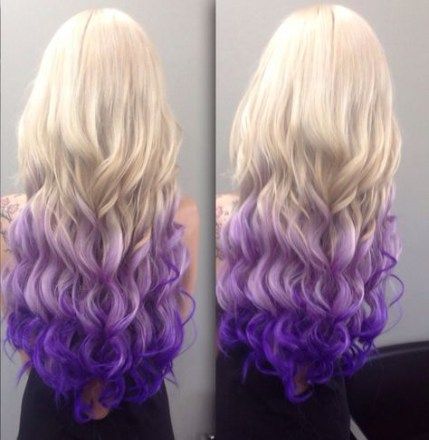 For our girlies with platinum blonde hair out there, we have this alternative look. Just get a subtle fading bottom-to-top purple ombre done with some gorgeous curls, and you're good to go!
18. Rainbow Undertones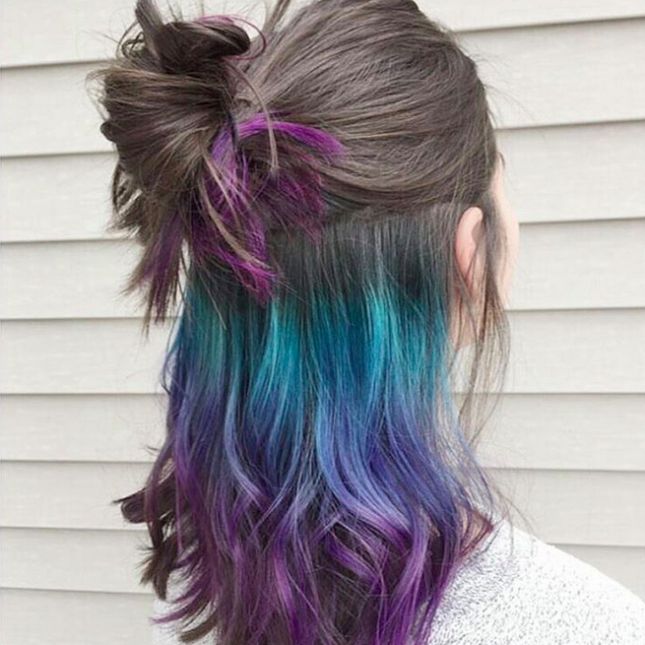 This is one of the most adorable looks to opt for in summers. Some alluring and light undertones of the pastel shades of the colors purple, pink, and blue. Just how magnificent!
19. Dark Roots-Purple Tips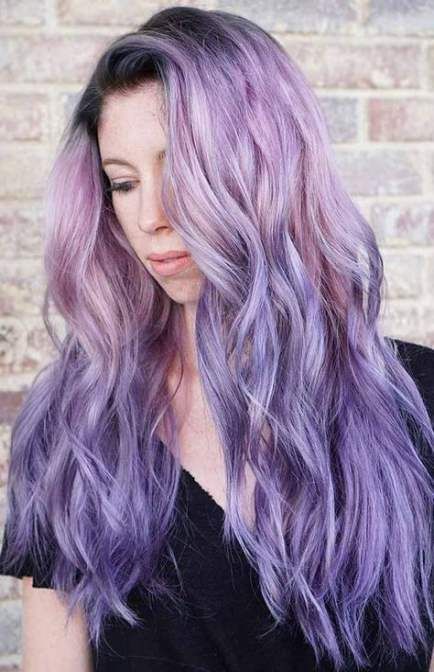 If you wish to stick to the basics, this look is an excellent option to go for. You can keep it simple by sticking to your naturally dark roots and getting an ombre purple done from the top to the tips.
20. Lavender Braids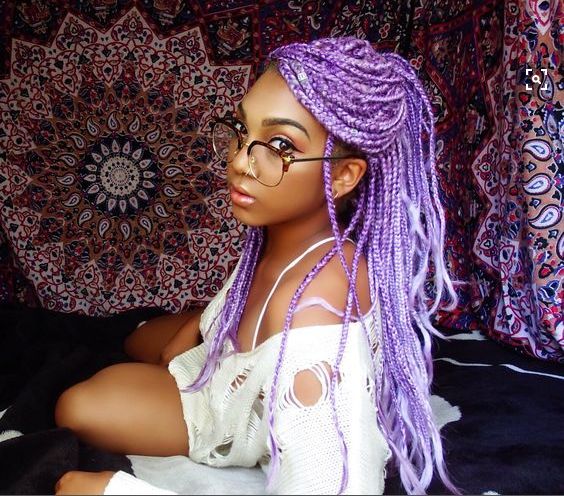 Girls who go for protective braids can also spruce up the look with an elegant lavender ombre done. Effortlessly easy to carry, and you won't even have to style it; it's so eye-catching just like that!
21. Purple Bangs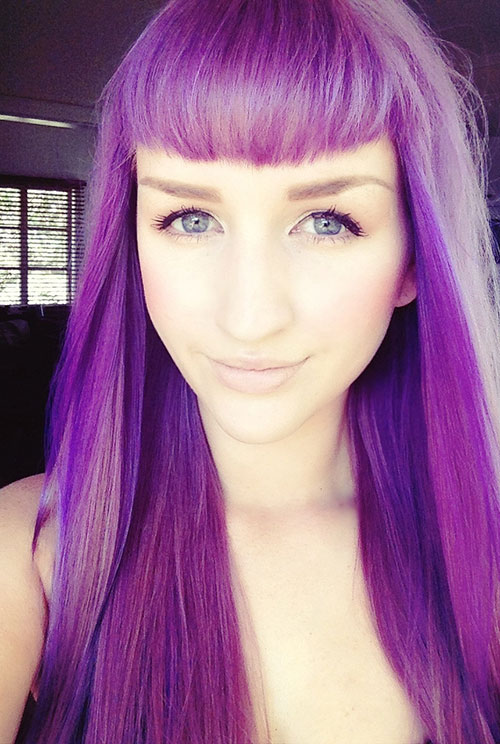 Who doesn't love some adorable feathery bangs, right? Pair this look up with bold purple color, and you're down with a look already. This will give you youthful and cheery vibes all along.
22. Magnificent Magenta
For a more charming look that is also sophisticated, you must preferably go for some magenta magic. This one is especially suitable for hair of any length.
23. Orchid Short Bob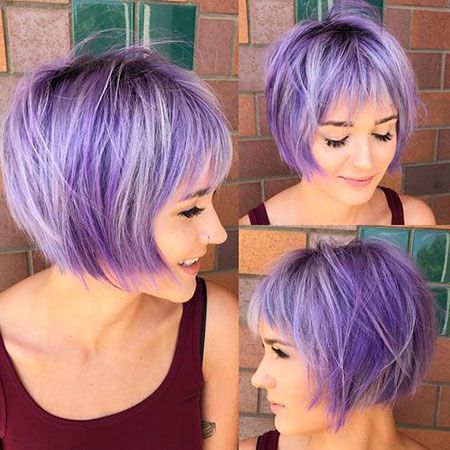 If you have naturally icy blonde hair color, you can go for a cute short bob with some orchid ombre hair color. This look will come out heavenly and is a straightforward one to style and carry.
24. Electric Purple Ombre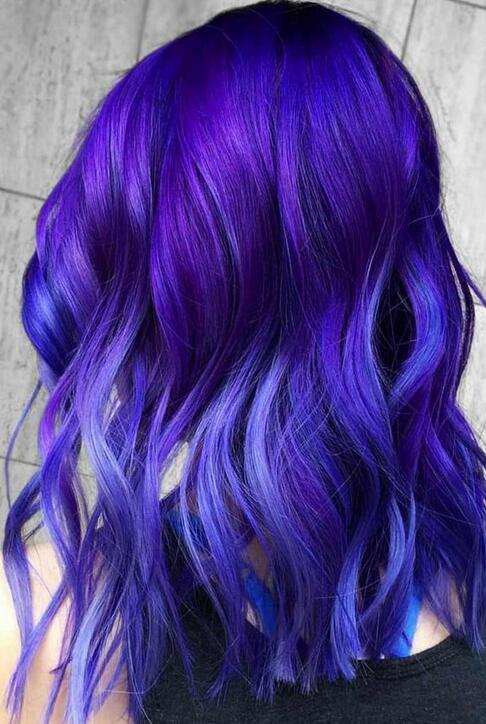 For someone who's all about that jazzy dramatic style, an electric shade is a must-try. Not only is this utterly bold, but also very eye-catching. So don't think a lot and go crazy with all sorts of poppy shades because YOLO!
25. Purple Mulberry Curls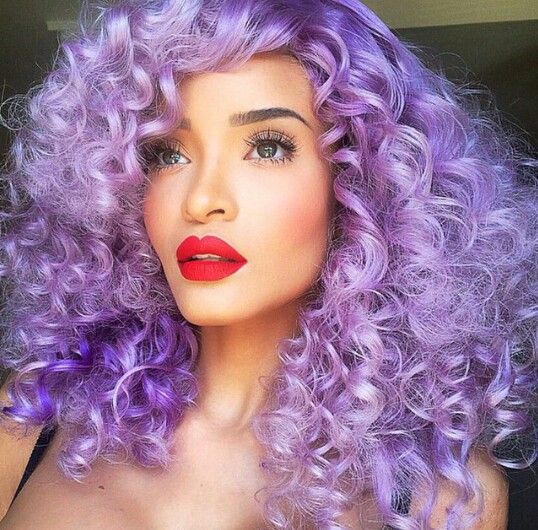 Just how pretty and sophisticated this look is. What a graceful way to express yourself and change your look entirely, without even going off-limits.
26. Pastel Lilac Bob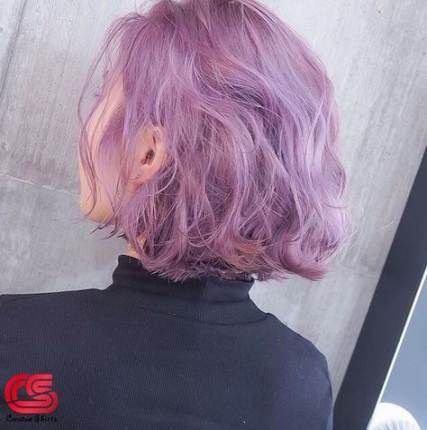 Pastel colors bring out the angel in you, undoubtedly. With a nice short blunt bob, you can go for that messy, pastel-y lilac look for summers.
27. Galaxy Purple Braids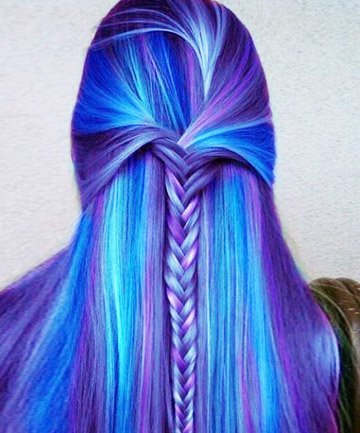 Another gallantly stunning look to go for when you've dreadlocks or long braids; you need to have the courage to get it done and outshine all those around you. Yes!
28. Metallic Purple Angled Bob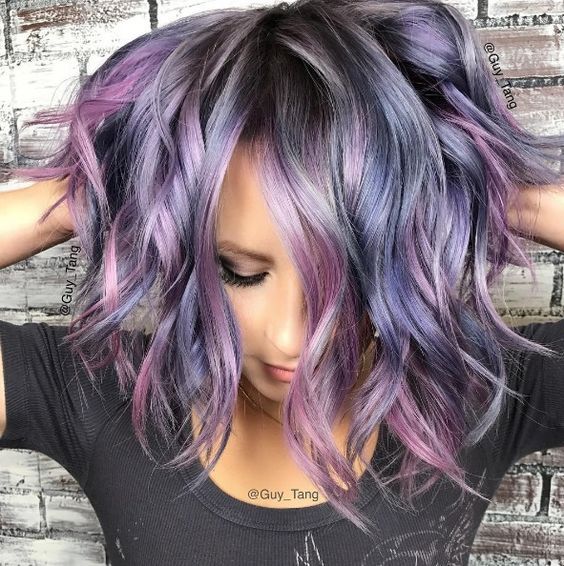 Nothing's bolder than the metallic shade of any given color. If you're all about the metallic shades, you must try them with the purple shade. A nice angled bob would be a cherry on top.
29. Dip-Dyed Wine Ombre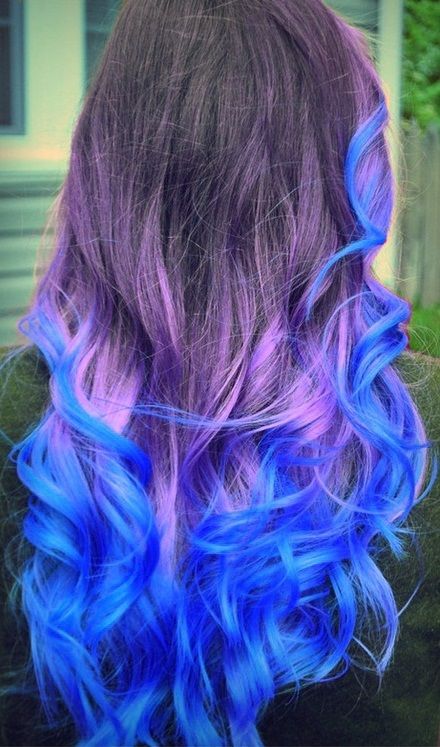 This is the easiest look to attain, and you can either do it yourself or get it done professionally; the results are bound to be astonishing! Changing your look entirely doesn't really take that much effort as just thinking about it. With a variety of such cool looks, you can look whatever you wish to and whenever.
30. Reverse Purple Ombre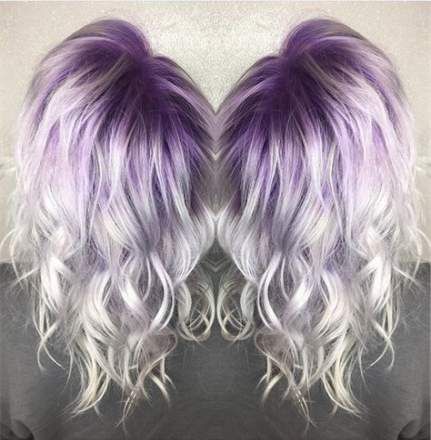 The reverse purple ombre is yet another creative look to try. For this, you'll have to get your roots colored, and the rest of your hair will be just as it is– your natural hair color, be it brunette, blonde or brown.
31. Light Jam Blunt Hair
If you're in the mood for some soft saintly vibes, this look is just what you're looking for, girl. It gives you a soft and youthful look, especially for fall or summer.
32. Purple Three-in-one Balayage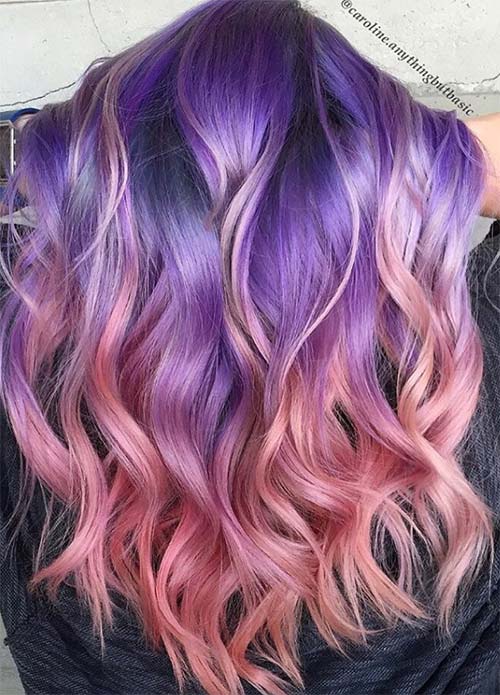 Get ready to do some slaying with your looks with this breathtaking combination of the magnificent pink, amethyst purple, and that stunning silver girl.
33. Iris Undertones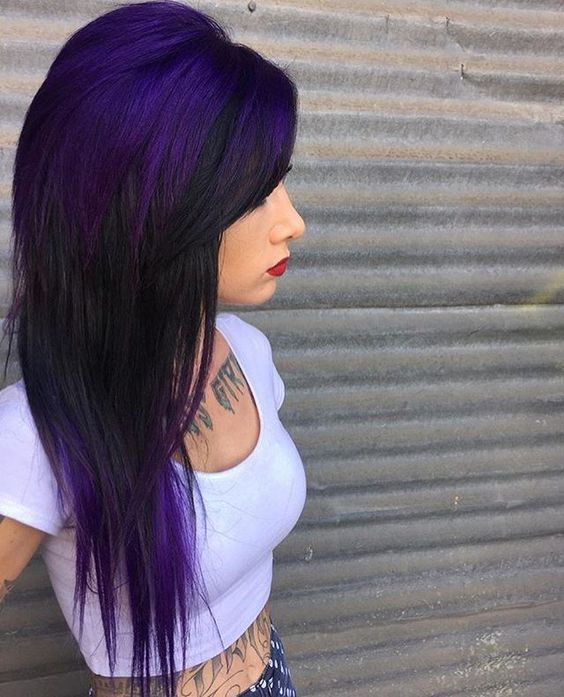 Iris undertones are a very unique and classy look to go for if you've dark hair. Although it doesn't make much of an evident difference, it's still fine for a change.
34. Boysenberry Balayage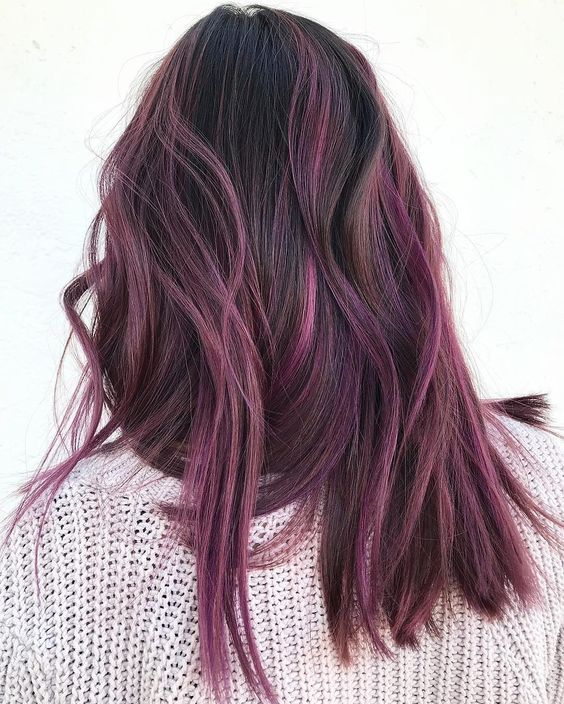 The shade boysenberry is yet another beautiful variant of a simple purple ombre hair color. If you're bored with your basic hair color, getting a balayage done will give you a fresh new look to carry.
35.Funky Color Combo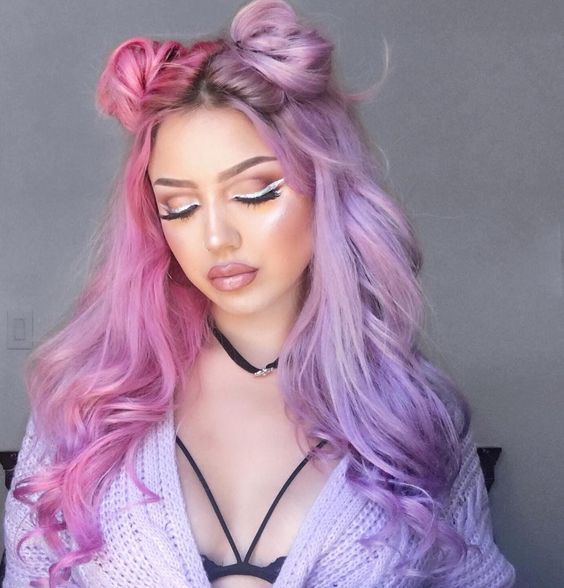 The two-color combination look is super vogue these days, so why not try getting it done? The look not gives you an ever-alluring appearance but brings out your best creative self. After all, your unique personality is worth standing out in the crowd, right?
36. Shades of Purple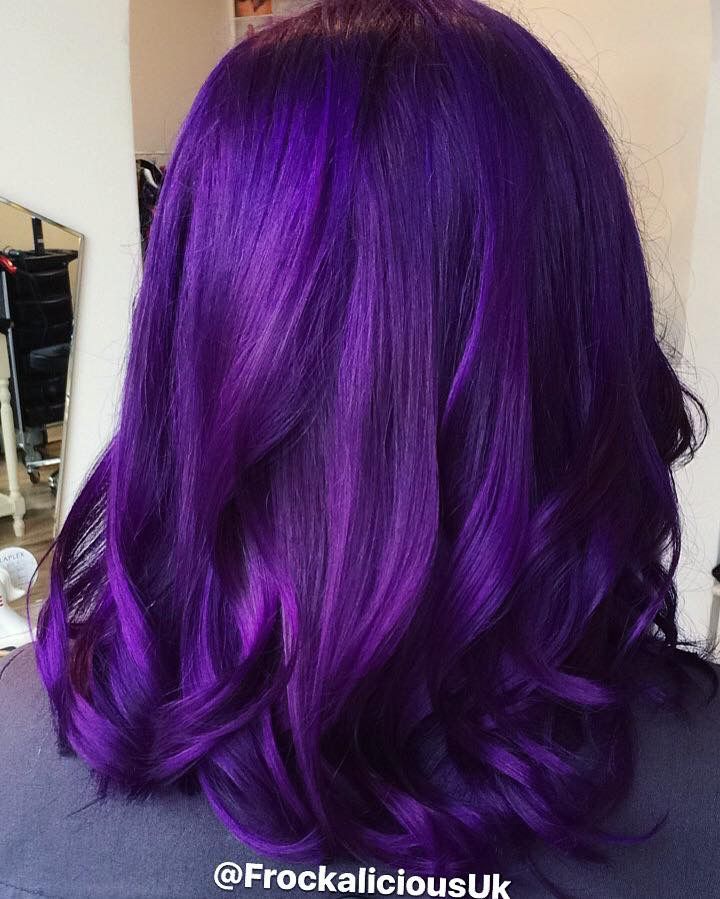 There are never too many options when it comes to experimenting with the color purple. You can always go for this compilation of all the hues of purple, and it's always going to be drool-worthy.
37. Purple Afro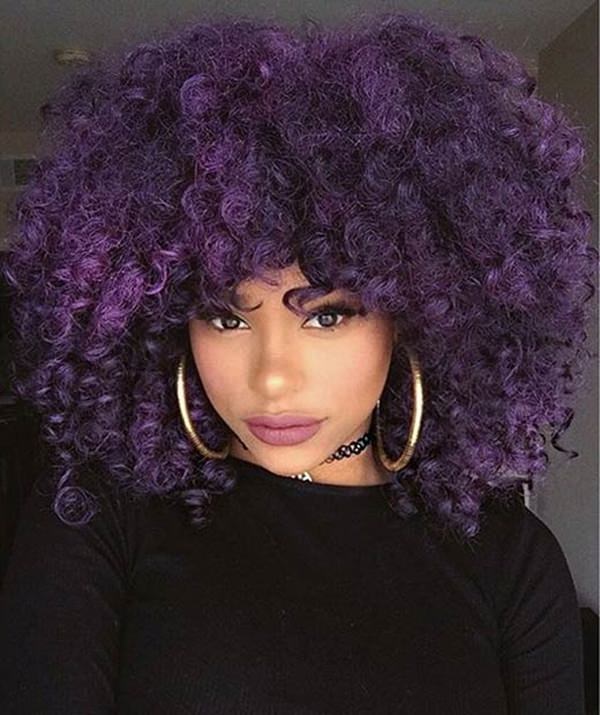 No words for this one. The amount of divine leaves one speechless, and it's not even an over-exaggeration. Afros are one of the most gallant hairstyles, and when paired with some purple? Magical!
38. Chin-Length Lavender Bob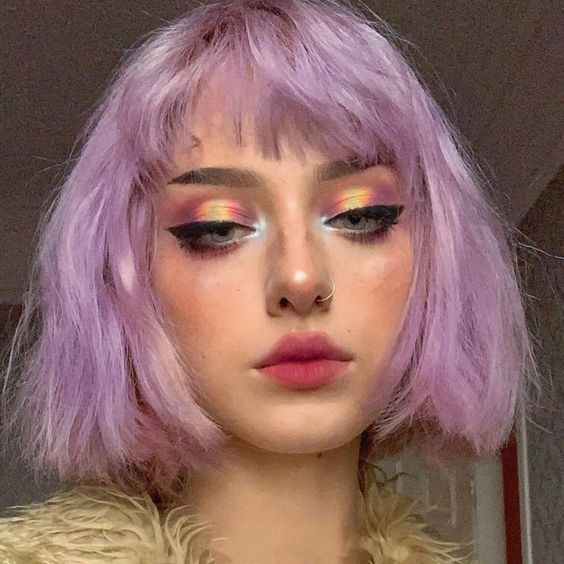 This one for our lovelies who like to keep their manes short. Super easy to carry and doesn't ask for much styling or care.
39. Purple Peek-a-boo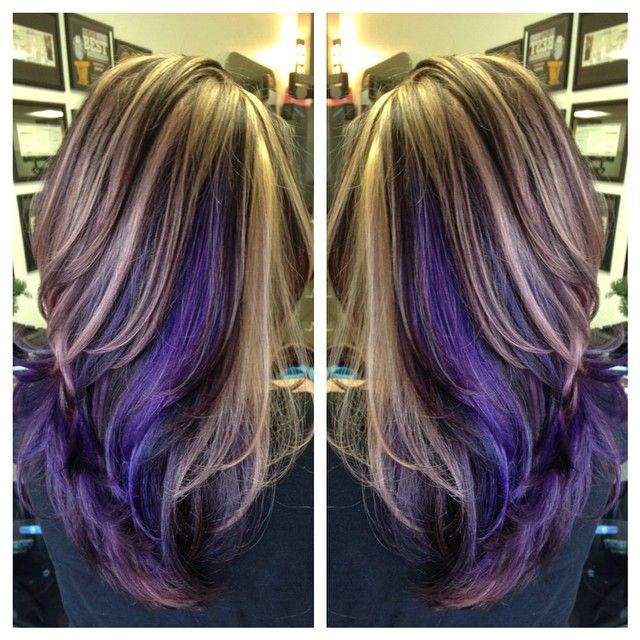 The peek-a-boo style trending more these days; why not be a part of the vogue? This is another alternative if you don't want to go overboard with the whole hair-coloring thing.
40. Iris Purple Mane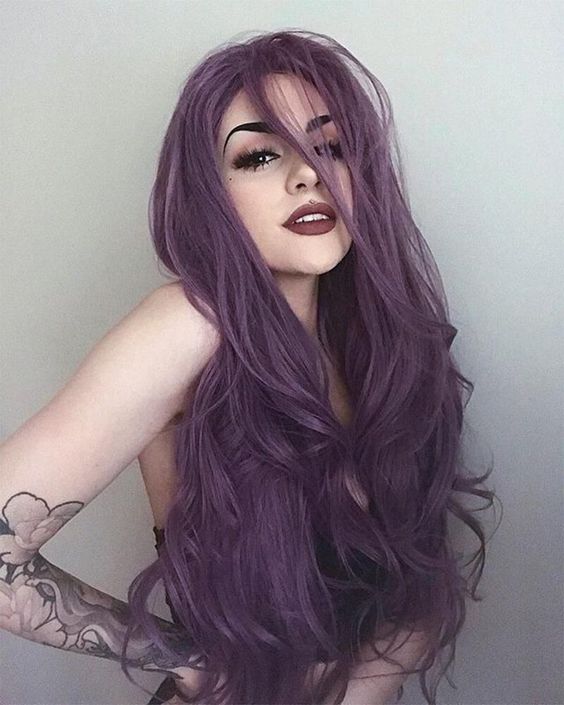 This is such an angelic option to go for. If you're someone who's into the goth culture or in either case, this one's a must-try. Just how bold this gets when paired with a nice dark lipstick.
41. Fuchsia Pink and Violet Highlights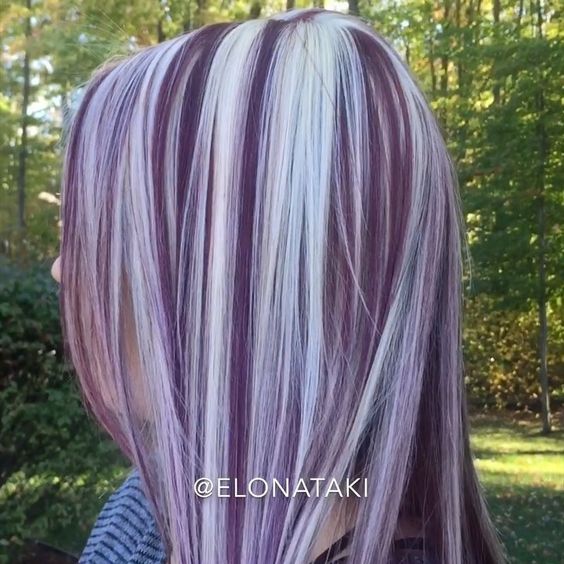 If you're a blonde, this is another amazing look to opt for! Just get some light fuchsia pink and violet highlights or any other combination from root to tips, and you're good to go!
42. Light Purple Highlights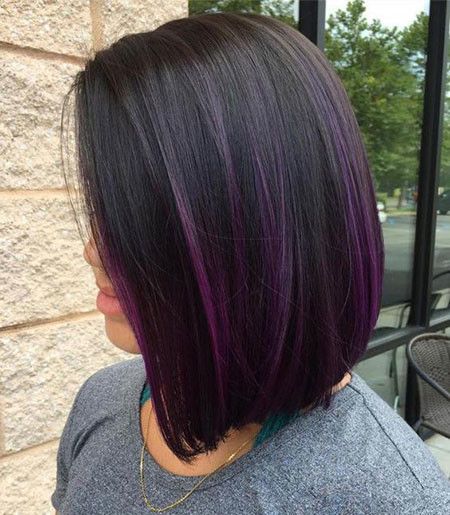 This one's the subtlest looks of all. Some girls like to keep it simple, and this style is one of the lovelies out there. Light highlights with hints of purple hair yet still very chic.
43. Purple Violet Curls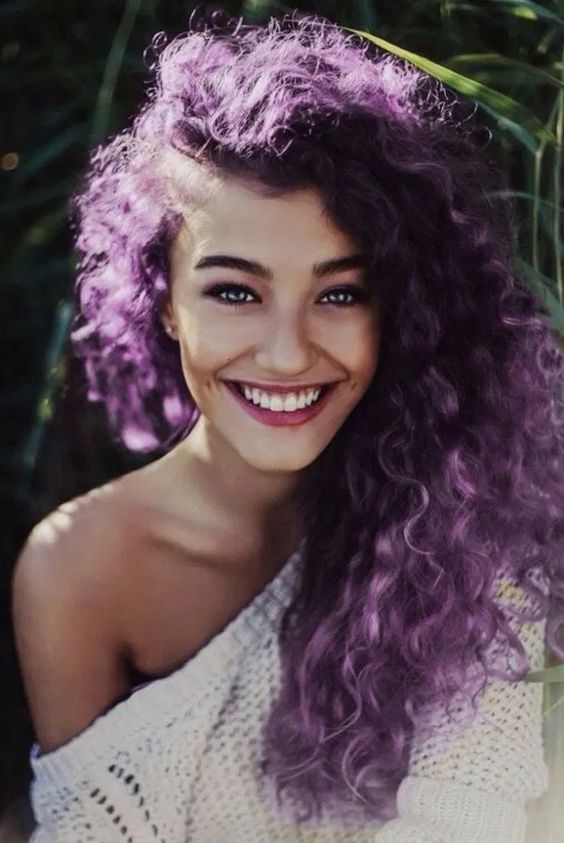 Would you look at those fascinating curls? This is such a divine look, evidently. The color violet brings out such majesty, almost indescribable.
44. Purple Mermaid Hair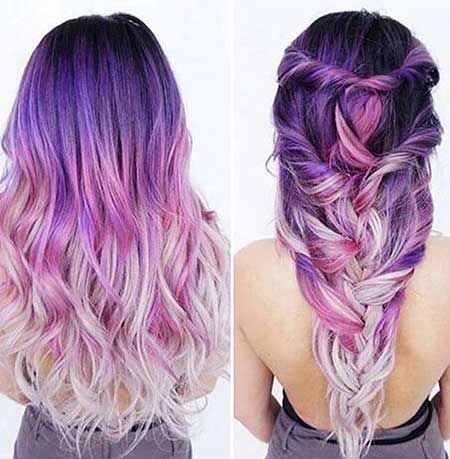 Mermaid's hair has such angelic beauty, and it's almost impossible to put it in words. Bring out the mermaid in you and give your locks a look like never before. Let's get 'em heads turning.
45. Purple Pomp Pixie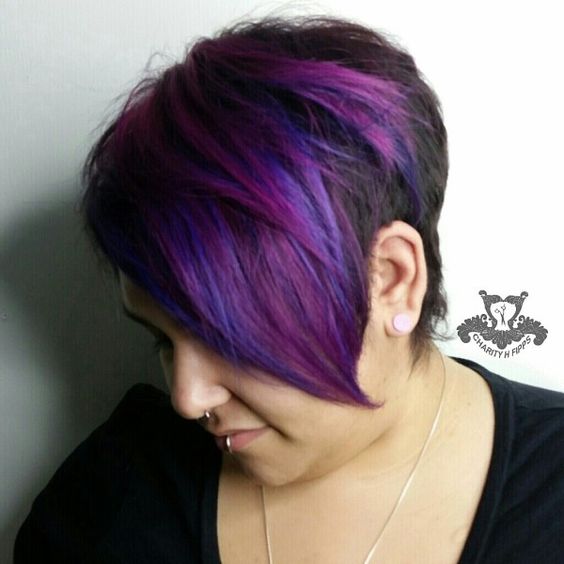 A pomp pixie has the power to emphasize the beauty of your face by getting it out of your face, while the purple color makes you look so much more charming.
46. Electric Galaxy Purple Hair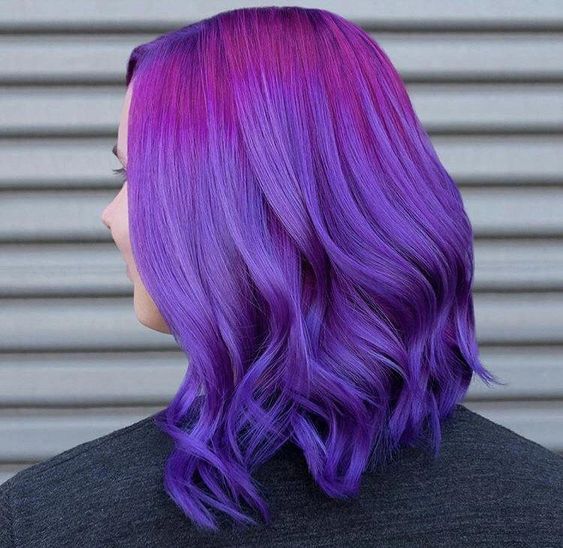 With the power of an ever-enthralling galaxy shade and the boldest of all-electric purple, you'll turn into the baddie-goddess that we were born to be! This is one brave step to take, and there's no going back, but oh so, worth it.
47. Sangria Ombre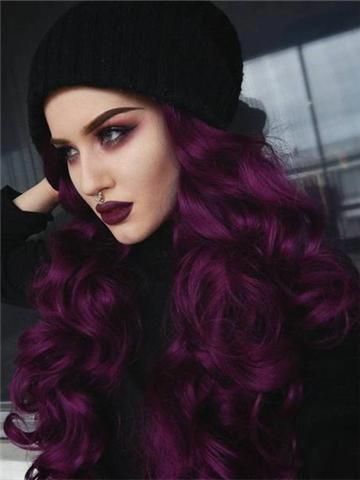 Sangria's color screams boldness and charisma. You don't have to worry about being too loud with the color, and it has an almost natural vibe to it. A must-try, innit?
48. Amethyst Purple Ombre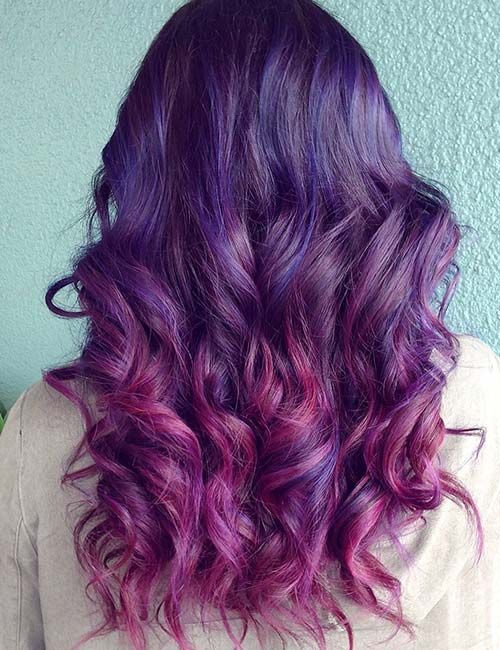 This is one of those looks one gets when they're craving a confidence boost. Who doesn't love an amethyst ombre, right? Take your confidence to the very pinnacle with this look without thinking a lot.
49. Heather Ombre Highlights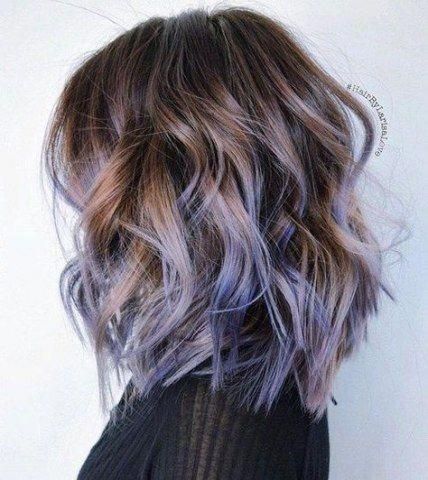 The color heather is just as beautiful as the name. It gives you such a special and classy look, especially with short and wavy hair.
50. Pinkish Lilac Ombre
Are you in the mood to channel your inner mermaid? Go for a divine lilac ombre for your luscious long locks. It's hard not to get tempted for this one.
Which one is your favorite design? Had you thought about sporting purple ombre hair before? Let us know what you think.