Bob haircuts have been a popular hairstyle for decades, as they are both stylish and easy to maintain. With so many variations of the classic bob, there is a look for any woman and any occasion.
Short bob hairstyles are especially versatile, as their shorter length makes them the perfect choice for an everyday look when you don't have time to style your hair or for those special occasions.
From the classic bob to the modern shag, there are endless options for styling your short bob. Whether you're looking for a sleek and sophisticated style or something a bit more edgy and wild, a short bob hairstyle is perfect for you. This article shows you the 50 best short bob hairstyles for women to try out.
How to Style Short Bob Hairstyles?
When styling short bob hairstyles, the most crucial factor to consider is the shape and length of your face. If you have a round face, you should avoid styles that add more width, such as a blunt cut. Instead, opt for more layers and movement to create the illusion of length.
If you have an oval face, you can get away with a blunt cut, which can help make your face look longer and narrower.
Styling short bob hairstyles can be fun and creative to show off your unique sense of fashion. To achieve the perfect look for your short bob, there are a few easy steps that you should follow.
First, use a shampoo and conditioner specifically designed for short hair. This will help keep your hair looking healthy and vibrant. Then, use a wide-toothed comb or brush to detangle and evenly distribute the product throughout your hair.
Once your hair is clean and conditioned, blow-dry it using a round brush. This will help create volume and movement without weighing down your hair. To give your short bob a polished look, use a flat iron or curling iron to curl the ends of your hair. You can also use products like mousse or hairspray to boost your bob's volume and hold.
Finally, accessorize your short bob with clips, headbands, or other decorative pieces. This will help give your look a unique touch. With these simple steps, you can easily style a beautiful, stylish short bob that lasts all day long.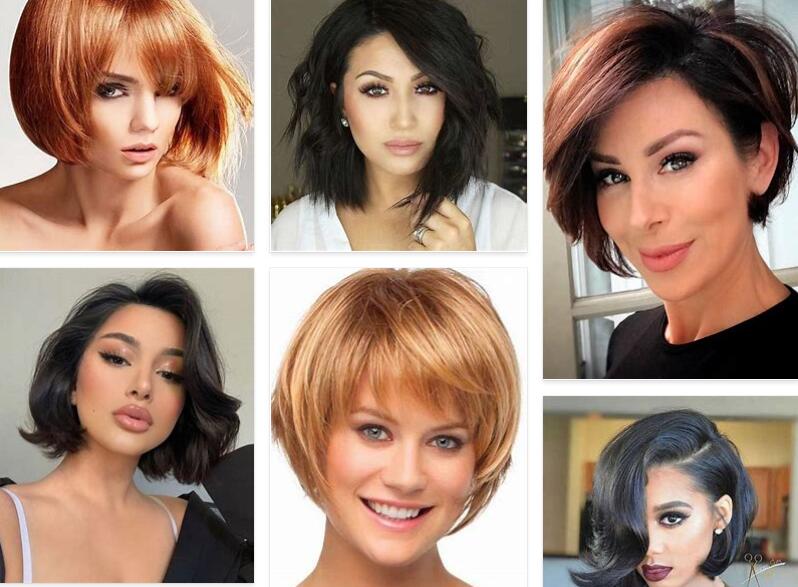 50 Best Short Bob Hairstyles For Women to Try Out
A smooth bob
A lot of layers on your hairstyle do not necessarily make it choppy. And this Smooth and voluminous bob is a great example. Ask your barber or hairstylist to cut the hair in many layers, adding more volume to the thinner hair that would have laid a little flat otherwise.
To blow-dry, an s, leek bob like the one above, use a volumizing shampoo and mousse for those who boast fine hair. Consequently, ensure you use a large paddle hairbrush to get the ends of the hair strands to curl under.
A youthful bob
This stylish and sleek short bob feels timeless and trendy, even by looking at the image above. The shape will perfectly frame your face in a way that brings extra attention to your eyes, thanks to the side-swept bangs.
A slicked, sleek bob for old women
Qualifying as the ultimate cool-girl short bob hairstyle, this sleek wet look can easily get pulled off at any age, regardless of your hair type and face shape.
If your bob is way too short to style in an updo, and you would still like to pull your hair back to keep the focus on your outfit, then I am confident this is the hairstyle you could be looking for.
A short bob hairstyle with subtle layers
Suppose you consider this short bob hairstyle with subtle layers. Even if you boast straight, although I know it appears as if it is all cut to one length, the subtle layering throughout and the slightly shorter length at the back will keep the final look from feeling weighed down and heavy.
A curly bob
Who said a curly bob could not be coupled with bangs? Because they lied. With this hairstyle, have your barber or hairstylist break up the length of your haircut using several short curls around your eyes to frame your face like the lady in the image above.
A voluminous bob
Whether you boast natural curls or don't, you can easily attain these defined tendrils, thanks to the availability of curling wands. Before using the product, ensure you have built the volume using a fresh blowout.
A blunt bob
Not all short bob hairstyles need to have bangs or layers. A blunt and straightforward cut like the one above is a perfect way to place all the focus on your shiny strands and the mesmerizing hair color.
A cool shag hairstyle
This is, without a doubt, the most excellent bob style I have ever seen. The choppy layers, coupled with the shaggy bob, deliver a rocker vibe, making the hairstyle perfect for those who think the classic bob is a little bit too preppy.
A blunt bob with blunt bangs
A blunt bob coupled with identical blunt bangs is an excessively bold look that proves that a short crop is anything but boring. The length of the classic bob also tends to be two to three inches below your chin. That said, this is not written in stone. Work with your barber or hairstylist to find the perfect length that suits your facial features best.
A natural, curly bob hairstyle
A look like the one in the image above is all about motivating you to embrace your natural hair texture. To attain the look, all you need is a combination of hair oil, curl cream, and the best styling gel to enhance and define the curl pattern.
An A-line bob hairstyle
As you can see in the image above, the lady's cut is a bit shorter in the back than the front, which allows for an angle and great movement that can be seen from the side. So, whether you know it as an A-line bob, an inverted bob, or a graduated bob, this asymmetrical take on the classic bob hairstyle delivers an edgy but youthful vibe.
In addition, to award your hair height and body at the crown, ask your hairstylist to stack layers that are longer on the front side but shorter on the backside.
A bob with bangs
This style proves that a short bob haircut is more versatile than people give it credit. To achieve the exact look, create a piece-y texture using a wax pomade. This will deliver a more live-in look. Another option is to wear it freshly blown out to attain a softer finish. You can choose the one that best fits your mood at the moment.
Mid-length beach waves
If your goal is to leave a little bit of length on your hair, then this mid-length beach waves hairstyle is an excellent option that will match all hair colors and face shapes. To get the naturally wavy bob, spray the best salt spray. Consequently, scrunch your hair as you wait for it to dry.
The slight bend is what you need to bring out the dimensions of your highlighted strands.
The classic bob
This is the mother of all short bob hairstyles. It started it all.
If your goal is to create volume with a finer hair texture that can quickly get weighed down if you have a longer length, then this classic bob is precisely what you are looking for. Remember that maintaining your classic bob shape will require you to trim your hair every six to eight weeks.
And in case you are not the type of person who loves committing too much time and hard-earned money to a hair routine, then I urge you to consider a more texture bob that will grow out nicely.
Part bob, part pixie
This hairstyle is not quite a bob and not quite a pixie cut. You can feel free to call it the hybrid hairstyle. And as you can see, it boasts all the edginess required to qualify as a super short crop with a little more softness.
The hairstyle also delivers a little bit more softness to your hairstyle. Also, remember to scrunch your hair to style it if it has a more natural wave. And in case you boast straighter hair, feel free to use the best styling wand you can find to give your hair strands a cool bend like the one in the image above.
A sleek bob
This rounded and sleek bob with the least amount of layers proves that even the simplest haircuts can be bold and everything but boring. To deliver a shiny, straight, and smooth finish, avail yourself of the ultra-thin sections of your hair when flat ironing them. Your goal should be to straighten each strand evenly.
To complete the look, warm a tiny amount of oil between your palms, then run it through the ends of your hair.
A versatile short lob hairstyle
If you currently boast long hair but are looking to tiptoe into the short hairstyle trend slowly, I urge you to start with a versatile short-lob hairstyle that will hit just below or above your shoulders.
Thanks to its versatility, a bit longer than the conventional bob haircuts, this aptly named lob hairstyle is the best among many individuals. It is long enough to pull back if you feel like it while having a length that allows it to qualify as a short hairstyle. The mid-length is in place to ensure you do not feel tied down to a specific hairstyle.
Better yet, the hair will also look just as great when you let the air dry naturally as it would have if you had chosen to style it.
An asymmetrical bob
Longer on one side and shorter on the other side, the angle of this hairstyle will add interest to its otherwise simple style. And even though I know that it would look equally impressive if worn textured or scrunched, the straight edges emphasize the asymmetry.
Short bob with golden waves
To attain the look above, make your gorgeous gold hair locks stand out using a gorgeous side-parted ob and a hint of a wave.
Super straight lob
Source
This lady's sophisticated but simple style is the perfect hairstyle for that awkward in-between phase of growing your short hair. It is neither long nor is it too fast. The hairstyle can also be easily styled in various ways to give you different looks.
Deep side part
Source
Would you like to flaunt your gorgeous multidimensional brown hair dye bob to the world? Then tuck back your short bob. But not before you smooth it out first.
A short bob above the chin
Ask your barber or hairstylist to take your short bob above your chin length for a fresh, fun look like the one in the image above.
Side-swept crop bob
To attain this look, tousle your hair, then part it to the side. If you want a more sexy look, feel free to put the hair locks on one side behind your ear.
Short bob hairstyle with shimmery blonde layers
Play up your bone structure and eyes for this look by asking your hairstylist for layers that will start around your cheeks and eyebrows.
Shaggy and two-toned hairstyle
If you would like to look as cool as Diane Keaton in the image above, feel free to go for the duo-toned dye job that has been topped off by the shaggy layers starting at your cheekbones.
Swept-back bob hairstyle
This is the best haircut I have come across for people who would like to emphasize the shape of their gorgeous faces. To attain the look, start by pulling back all the front layers and complete the look by pinning them using a hair clip.
Another great advantage of this haircut is that it allows you to show off the astounding pair of earrings you are wearing.
Blonde and asymmetrical bob hairstyle
Why not award yourself a versatile look by availing of an asymmetrical bob like the one in the image above? What I loved most about the hairstyle is the fact it can be worn both straight and sleek while at the same time giving you the freedom to wear it glamorous or curly.
Short bob hairstyle with straight and piece-y bangs
If blunt and thick bangs are not what you are going for, feel free to try out a softer look with sweeping bangs, just like those in the image above.
Silver sophistication bob hairstyle
Just because you are starting to go gray does not mean you must stop having all the fun with your hairstyle. Try a sexy, full bob like Helen Mirren in the image above to attain this look. Just make sure you perfectly blow dry your hair strands.
Sleek and angled short bob hairstyle
Who could ever forget this Victoria Beckham's iconic bob? If the look has enticed you and you want to try it out, ask your hairstylist for an angled cut that will start shorter right by your neck's nape, then progress gradually downward and end at the shoulders.
Short bob hairstyle with thick bangs
Blunt and thick bangs are precisely what you are looking for if your goal is to add sophistication to your short bob. Mimic the lady's striking look by trying out a perfectly straight part and a smooth blowout.
Ginger lop hairstyle
A smooth, straight, slightly long bob like the one in the image above is exactly what you need if your goal is to show off your natural hair color and its full glory.
Tousled waves
For a stunning style like the one in the image, accompany your side-parted short bob hairstyle with diamond earrings and red lips.
Short bob hairstyle with all one length
If you are tired of finding a new hairstyle every couple of months and are looking for a timeless look, you can style, then allow me to introduce the short bob hairstyle with all one length. The blunt bob should also hit directly below your chin.
Voluminous and smooth short bob
If you want full glamour, please try out this voluminous and smooth short bob.
Bottom curl
Try a simple side-parted bob curling toward the bottom to get this cute and classic look.
Highlighted waves
You can play up your hairstyle highlights in this haircut by adding pretty waves into your hair strands like the lady in the image above.
Straight bob with a side part
Get this sleek style by parting your hair to one side and coupling that with your best hair straightening tips.
Brown beachy waves
This is quite similar to the beachy waves I looked at earlier. But these are specifically here for those with brown hair.
Smooth lob with a center part
To attain a polished look that will work great for both nighttime and daytime, pick a smooth bob haircut like the one above
Wavy and blunt bob
Use a blunt cut to take your hairstyle up to your chin for this haircut. Also, remember to add highlights throughout for dimension and movement.
Blunt with bangs
To attain a timeless, fun cut, ask your stylist to award you a blunt neat bob that hits right at your chin.
Uneven, loose waves
This hairstyle's loose waves have been emphasized by the asymmetrical cut that has allowed some hair locks to hit above the chin while others hit below.
Air-dried bob haircut
This one-length bob effortlessly delivers a cool-girl feel. You can even tell that through the image.
Bangs and messy curls
This hairstyle reads more like a short bob thanks to the curls when it has been curled but more like a shoulder-length hairstyle when straightened.
Slicked back bob with volume
Just because you have slicked back your hair does not mean it needs to stick shallowly against your head.
Deep side parted bob
This above-chin bob is the perfect option for growing out a shortcut, and I would like to experiment with new lengths.
Straight and wavy bangs
These cropped waves have been topped off by the straight, long bangs that deliver a refined feel.
A polished and bouncy bob
This classic bob (coupled with its polished, loose curls and side part) can easily qualify from any decade.
Messy chin-length bob
To copy the lady's cute look above, ask your hairstylist to award you a mostly blunt cut with several layers near the face. Do not forget to sweep them to the side.