Want to know the best braided hairstyles for black women or girls?
If there is one thing that a lot of black women are known for, what is it? They are known for their braided hairstyles because they can make braids like no other. When you have braids on, it will be easy to forget all of the other hairstyles that you are supposed to have. You will be more focused on things other than your hair which is a good thing especially if you spend so many hours fixing your hair at times.
There are some awesome braided hairstyles for black women that will leave other women in awe. Some of these can be made by those who are gifted with their hands while others would require the help of professionals. The important thing is that braids will be given special attention because braids deserve to be recognized. There are some braided hairstyles that can look even better because of the overall color of the hair.
Women can also use the following to make braids more interesting:
Clips that come in all shapes and sizes.
Patterns
Shapes
Textures
It should be remembered that while the usual hair of black women are curly, there are a lot of black women who are not pure black anymore. They have been mixed with other nationalities too which means that their hair does not have to be necessarily curly. If you do have the big, thick and black curly hair that black women are known for, be proud and happy. This means that a lot of braided hairstyles can be done to your hair.
According to some studies, braided hairstyles have been around for a long period of time. There are a lot of women who did them and even men because it was considered fashionable. If it was considered fashionable at that time, there is no reason why it would be fashionable now.
Are you already curious to know more about the braided hairstyles for black women? Remember that these hairstyles can be done on adult women and even young girls.
35 Best Braided Hairstyles for Black Women or Girls
1. Heart Shaped Braids and Cornrows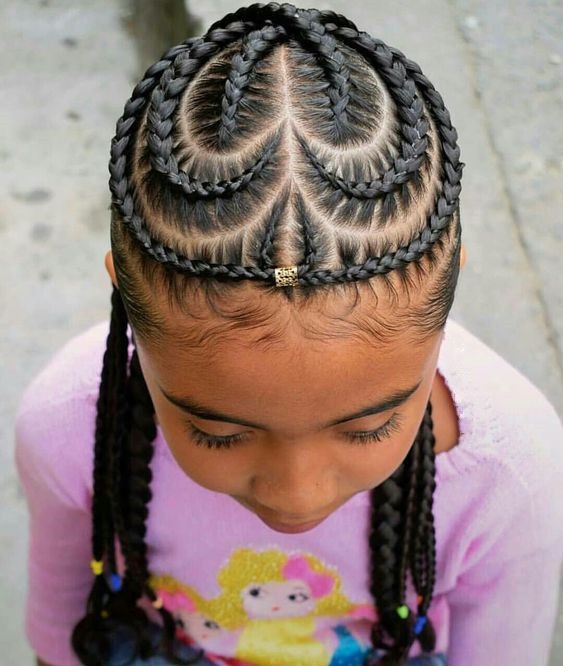 Do you want to create a braided hairstyle that looks like it took a long time to make? Perhaps you also want to create a hairstyle that requires a lot of hair clips and other hair accessories. This will not be a problem if you would do this type of hairstyle. The hair of black girls are still more delicate as compared to the hair of adults so you know that this braid will be pretty enough. Make sure that you will be particular about how you are going to style it because it will look better if it looks organized.
2. Curly Mohawk and Braided Hairstyle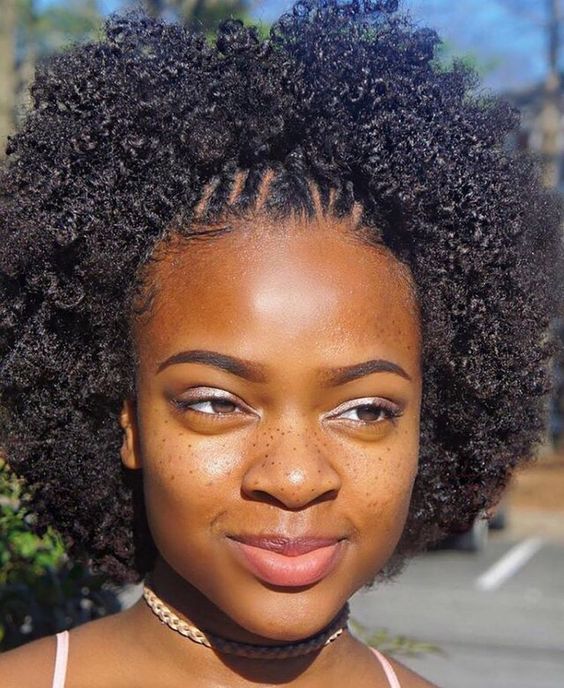 If your girl's hair is naturally curly then this can be a good braided hairstyle to have. You would need to place some cornrows on the side of the hair while you will leave the middle portion without any type of braid so that you can style it in a Mohawk. This will be well liked by girls who would like to have adult hairstyles. At the same time, this is easier to do as compared to other braided hairstyles that you will come across when you check elsewhere.
3.Skinny Braids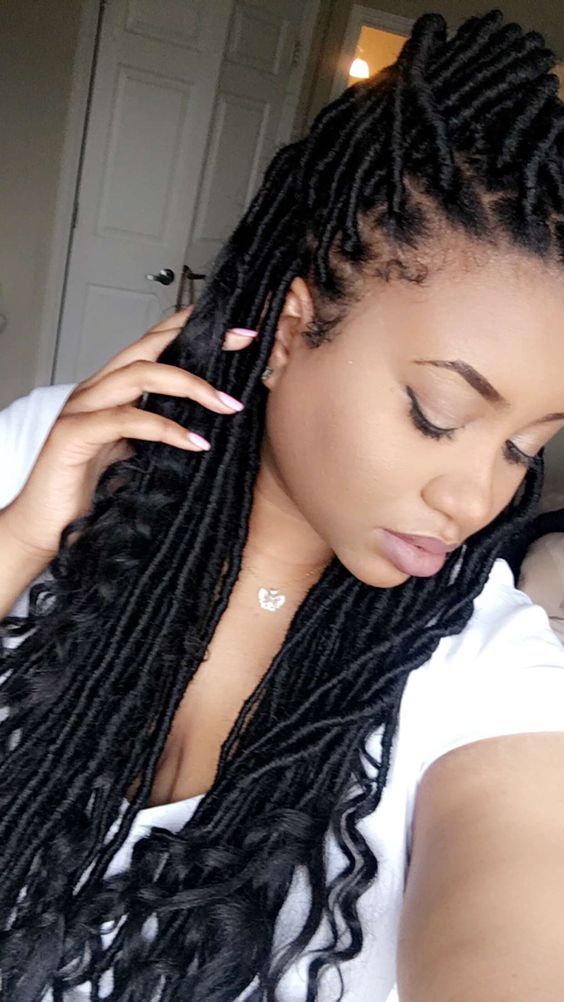 There is a big possibility that your little girl has always wanted to have hair extensions and now that she has it, you would like to style it in an easy way. How do you think will you be able to do this? You can make the extensions plus your little girl's natural hair into skinny braids. This may take a long time to do but it can last for a good, long while. It will be worth it especially if you would be able to do it well. Remember that when it comes to choosing the right hair extensions for your little girl's hair, be particular about the length and the thickness of the hair.
4. Diagonal Braids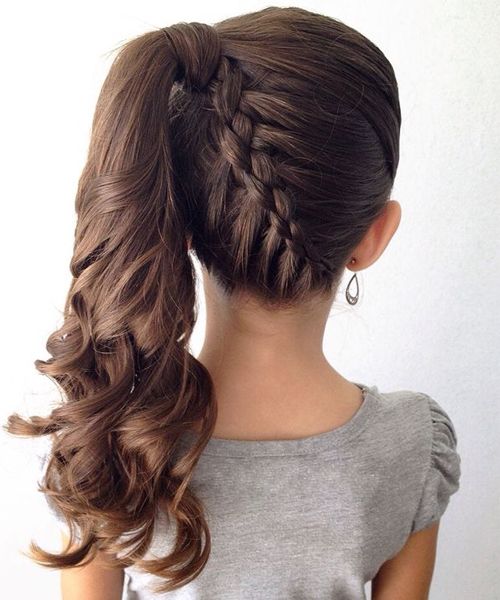 Do you want to create a very stylish hairstyle for your little girl? This is one of the best braided hairstyles that you can do. You need to make some partings on your hair. The edges of the braids also have to be perfect. The alignment should look nice so that the hair of your little girl will be the envy of her classmates. In order to change up the hair and make it even better, you can add some beads on the bottom portion of your hair. You can also add some nice ribbons if you would be interested with how it looks.
5.Box Braids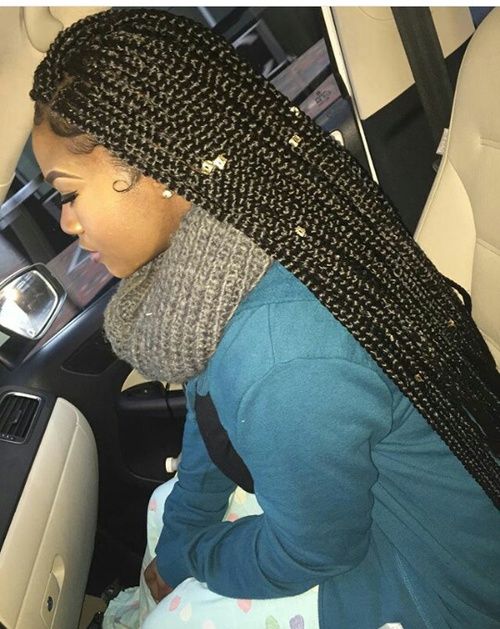 Your little girl would like to have braids that have a lot of texture as compared to the other braids that their classmates have. What will be the perfect solution for this? You can do box braids on your little girl's hair. This is a good option if your little girl wants to wear her hair down. To make the braids look more unique, you can make the box braids thicker than usual. Be careful about the spacing because if they would be uneven, it will not look as stunning as you would hope.
6. Braided Bun
If your little girl wants to wear her hair up but you want to make it look different from usual, you know that having a braided bun that is similar to what ballerinas wear will make your little girl happy. You can make it extra special by paying attention to the partings on the back portion of your hair. This hairstyle is quite easy to maintain as well because the bun can stay put the whole time. This is the perfect hairstyle for your little girl to have if she's going to attend a party.
7. Crown Braid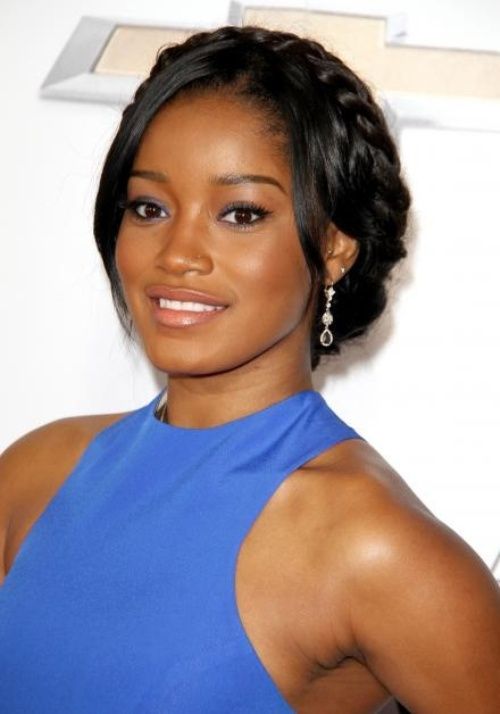 There are some black girls who do not have curly hair that are as thick as other black girls. If the hair of your little girl is like this, having a crown braid can look amazing. This involves creating a crown out of your little girl's hair. In order to pull off this hairstyle, there is a need for your little girl to have long hair. Unlike the usual tight braids that you may do on your little girl's hair, you need to make this hairstyle a bit loose in order to resemble a soft crown.
8. Fishtail Cornrow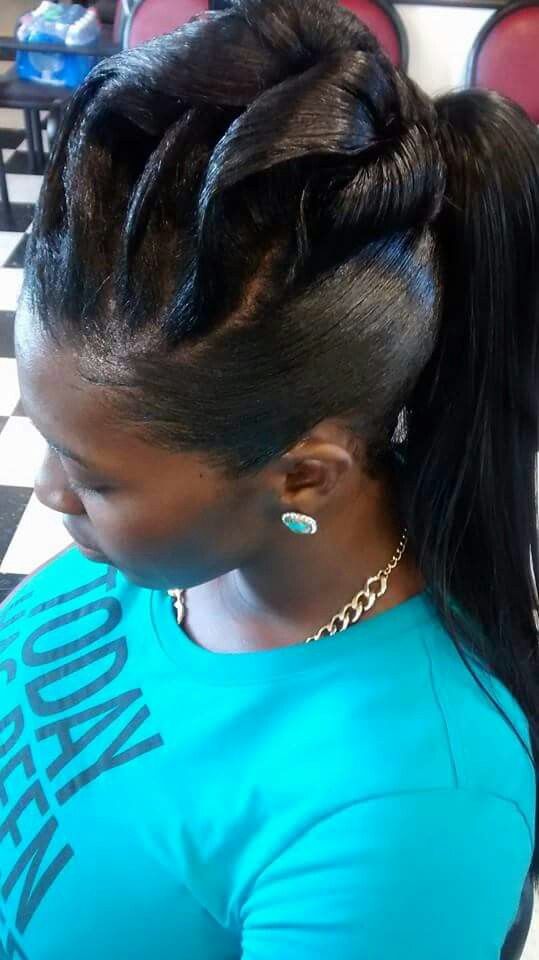 Cornrows are already common and a lot of little girls will go through life experiencing this type of braid but if you want to make it even more special, you can do a fishtail braid instead of the usual braid. Since this is a hairstyle that your little girl can wear, you can separate the hair into two portions. The end portions of the girl's hair can end in puffs in order to look cute.
9. Puff Hawk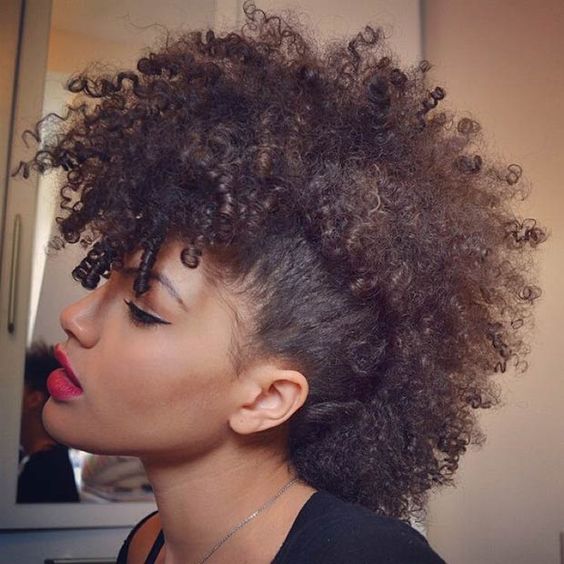 Do you want your little girl to look cute all the time? You will not have a hard time doing this on your little girl's hair. You simply need to part the hair into three portions. You can secure the hair with the use of a bobby pin. There will be cornrows on the bottom portion of the hair. On the front portion, there can be two small braids on each side of the head. They have to be really thin in order to look great with the rest of the hairstyle.
10. Off Centered Side Braid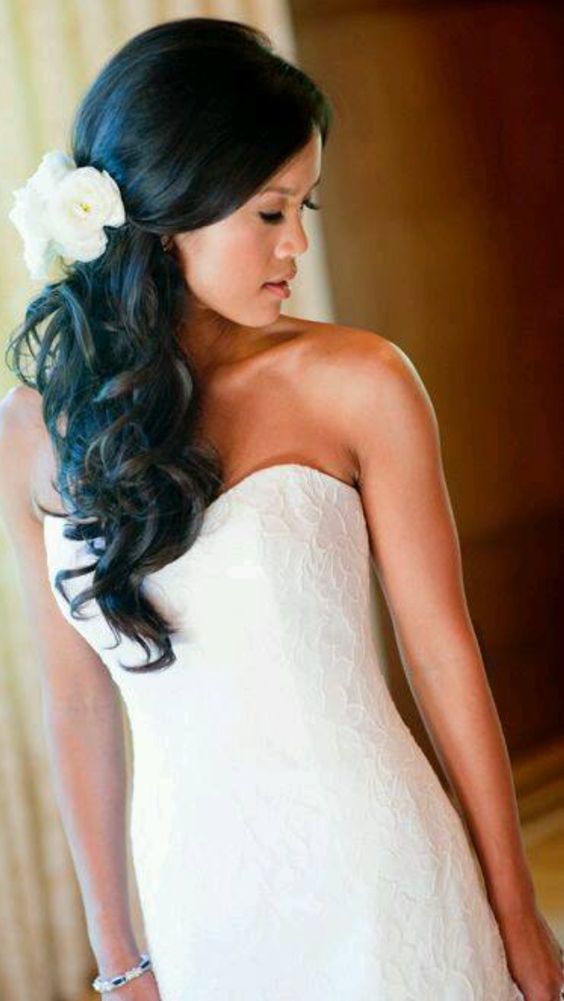 While black girls are known to have highly intricate braids, you can always change it up by making your little girl's hair stand out. Instead of the highly complicated brains, you can create a simple side braid. To make this amazing looking, deliberately place it off center. You need to sweep the hair all on one side. You can also remove a few strands of hair from some portions of the hair to make the whole look softer than usual.
11. Jumbo French Braid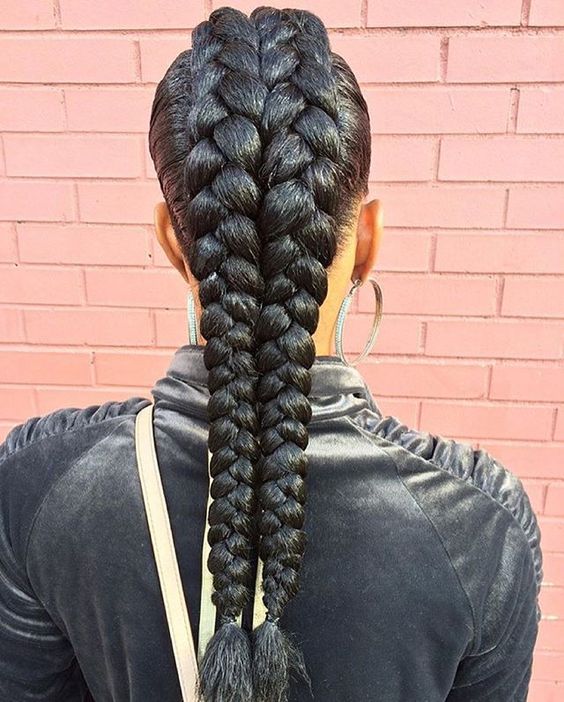 It does not mean that just because your little girl is still small, she cannot have a hairstyle that is usually worn by adults. You know that a french braid usually looks sassy but you can improve on it and make it better by making it big. You know that your little girl will look adorable and will be easily noticed. You may never know, after some time, her other classmates may start wearing jumbo braids as well.
12. Small Braids with Beads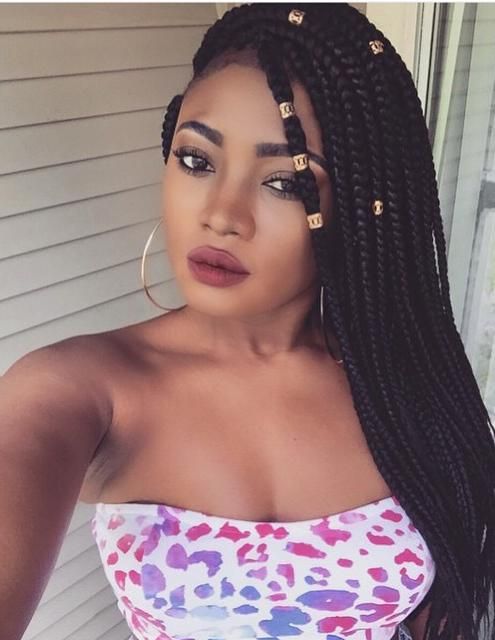 You know that your little girl will love to have a braided hairstyle that will make her look different from the others. If you know how to make small and thin braids, you will have no problem with making these braids. In order to make the braids more special, add some beads to secure the ends of each braid. Your little girl will have no hesitation with moving her hair from side to side as the beads all hit each other. The beads will also be effective in weighing down the braids to make them appear thinner.
13. Pigtails with Thin Braids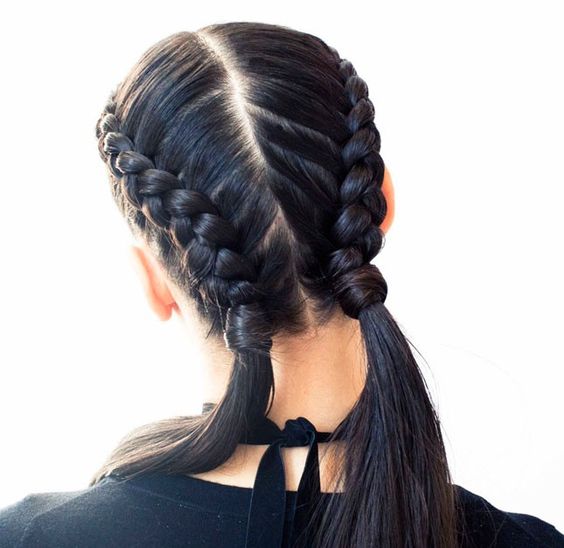 The main reason why the braids that are worn by little girls are different from adults is because little girls can still pull off cute looks. If you want to do a simple hairstyle for your little girl that will be perfect when she goes to school, this is the one that you should do. Simply part her hair into two portions. Secure them with elastics but make sure that you will position the elastics low on the head. Improve the look of the hair by adding some thin braids on both pigtails. It will change things a lot.
14. French Braid for Kids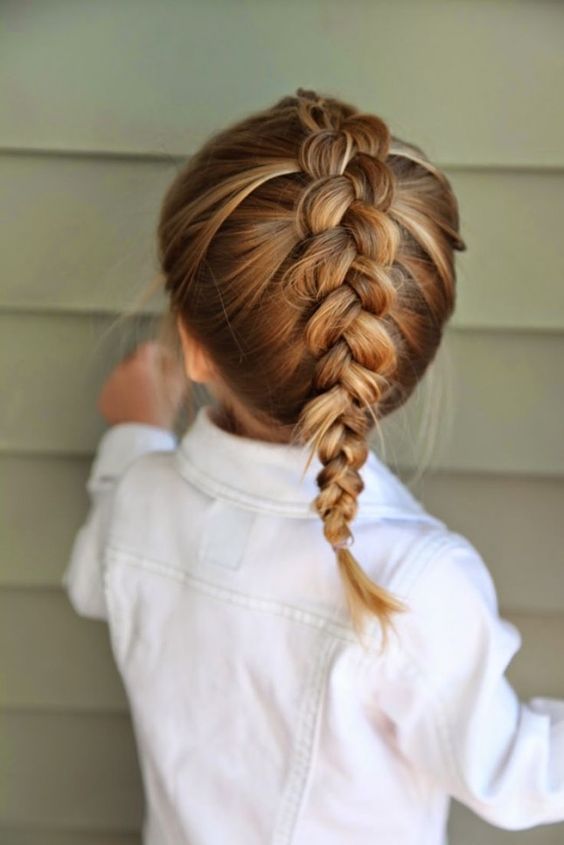 One of the misconceptions that people may have regarding the french braid is that they are only for adults but this is not true at all. French braids can also be worn by kids especially if your little girl is always active in sports and in doing other physical activities. The best thing about this hairstyle is it is easy to maintain so you need not worry about how it will look at the end of the day.
15. Chunky and Twisted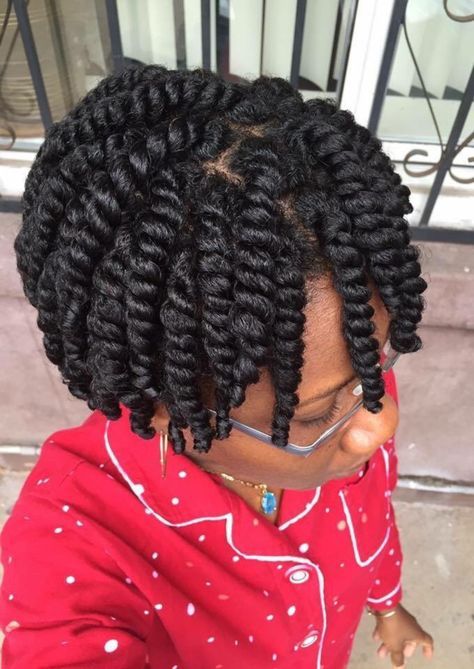 This is one braided hairstyle that is easy to do. First, you need to part the girl's hair into two portions. Secure with elastics or ponytails first. Afterwards, you can already start braiding the hair. Make the braid as thick as possible so that it will be easier to twist the hair so that they can be placed on each side of the head.
16.Triangle Parted Box Braids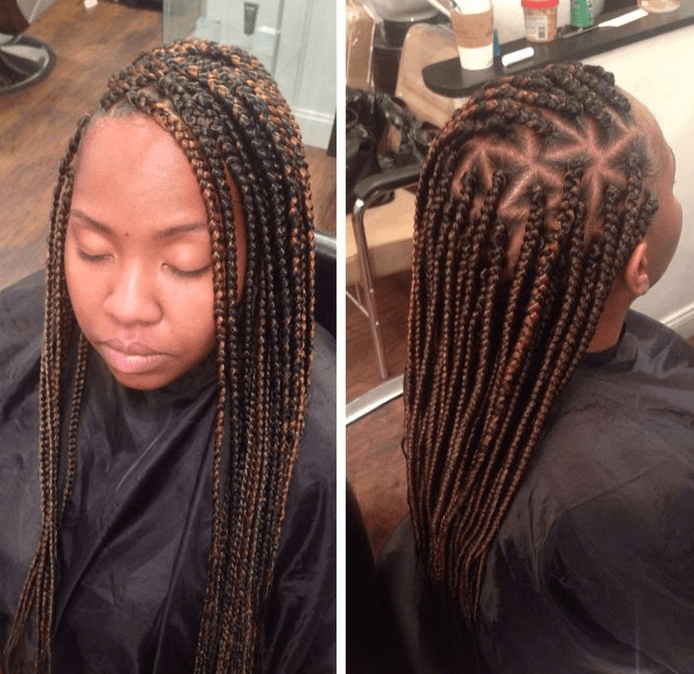 It was mentioned earlier that a lot of black women love mixing and matching some shapes and patterns. In this case, the shape used is triangle. To make this type of braid, the shape must be seen in various parts of the hair along with the braid. While there are shapes that will appear on the scalp, the braids will appear thin to make them easier to manage. If you would like to make this hairstyle more modern, you can experiment with bigger braids too. The bigger the braids, the more versatile this is going to be.
17.Long and Single Braids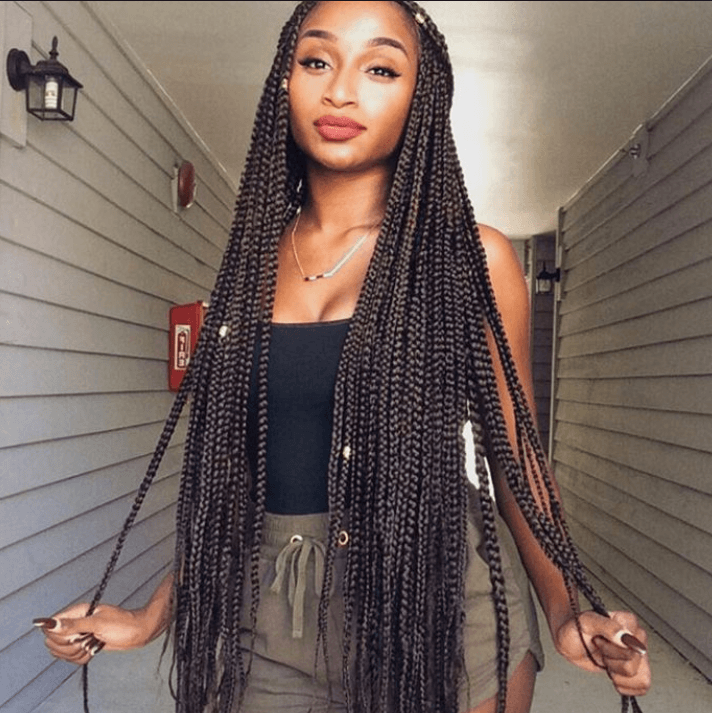 Let us say that you want to stick with an old classic which means that you are going to have long and single braids. These are known to be sweet and have been worn by a lot of black women for decades. If you stop the tradition now, it will make you feel different. You can have this hairstyle even for a little while but a lot of people who choose to have this type of hairstyle usually take a long time before they decide to change it up.
18.Buns with Braids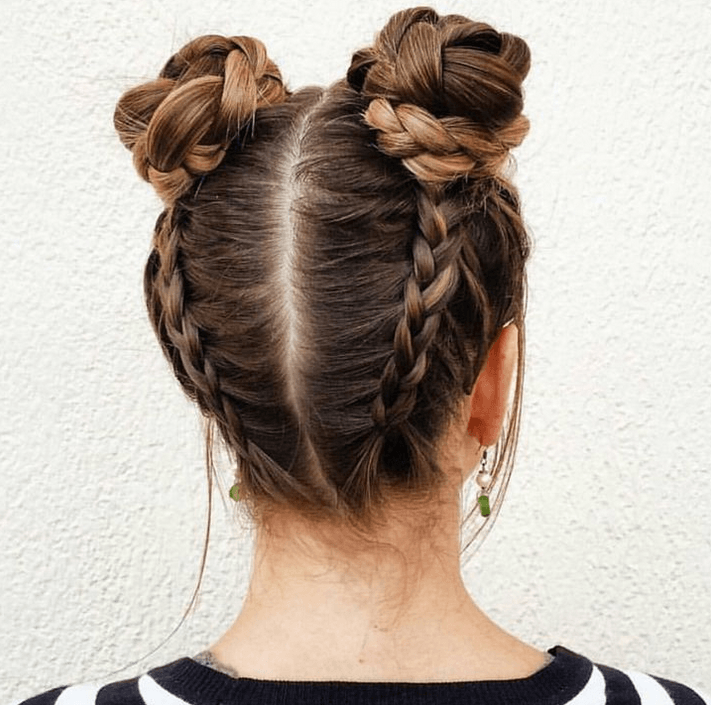 Who says that black women on the go cannot wear braids. It does not matter whether you are going to attend a special meeting with your boss. The most important thing is that you are going to have braids with the bun on your hair. Gone are the days when women with buns on their hair are thought to be boring and old-looking. Buns can be cool provided that they are styled right.
19.Long Braids in Varying Sizes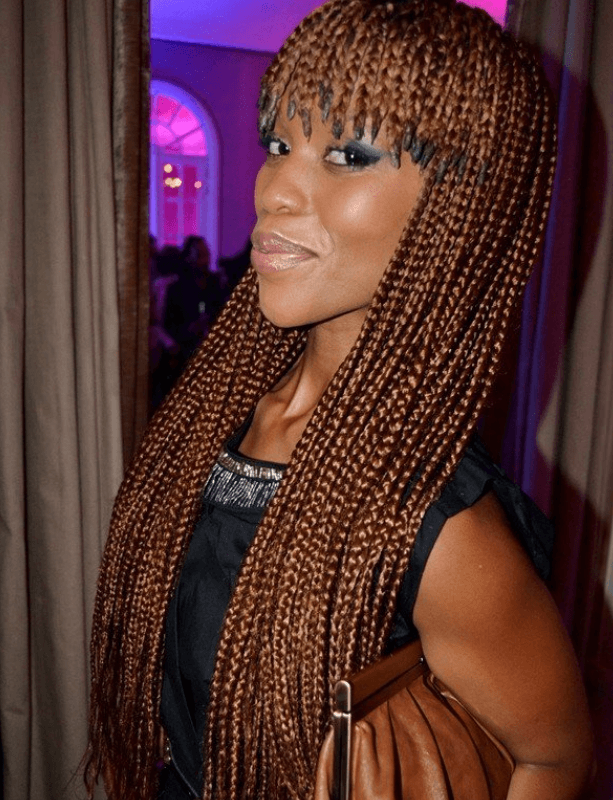 Who says that you only need to have one standard size for the braids that you are going to have on your hair? The important thing here is that you are going to look amazing. The braids should be close to your scalp which means that the braids on the crown of your head will not move. About 3 braids will be bigger than the rest but the braids should be done in an intricate manner so that the braider's talent will show.
20.Feed in Braids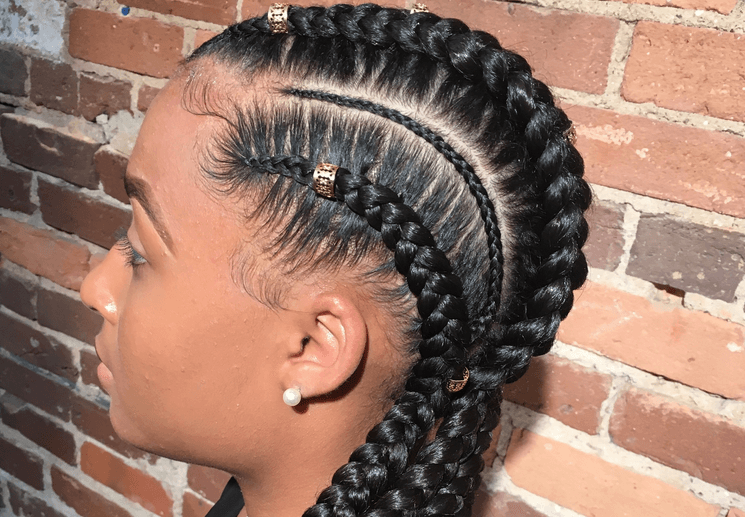 Do you want to have braids that look more natural than the standard braids? This type of hairstyle makes use of cornrows that should be done correctly. The hairline will have a narrow and flat point that will be the basis for the rest of the hairstyle. Some black women say that their scalps do not hurt too much when this is the type of hairstyle done to their hair.
21.Ponytail and Braid For Black Women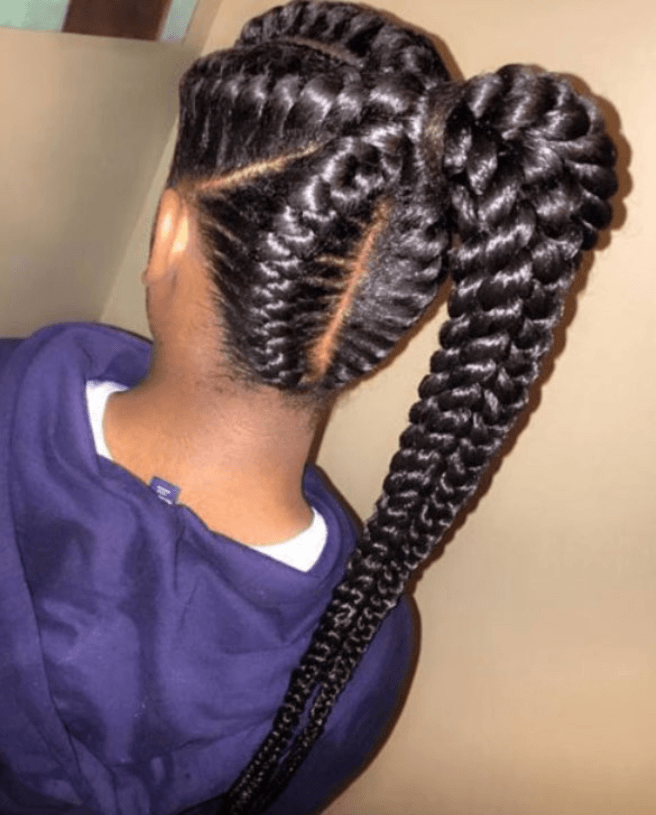 This is somewhat similar to the braided bun, this time the braided ponytail should be given attention. There are some women who may avoid this hairstyle because they believe that this is too heavy. This will strongly depend on the texture and the thickness of your hair. The thicker your hair is, the heavier this hairstyle is going to be. To minimize the uneasiness you may experience, use cornrow braids in making this hairstyle.
22.Center – Parted Fishtail Braid
This is a type of braided hairstyle that anyone can actually have as long as you have the right hair thickness and texture for it. You are going to create something that looks classic and at the same time, it will be easier to do as compared to the other hairstyles on this list. There are even some women who can do this hairstyle on their own. Remember that the way that you will part the center portion of your hair is important.
 23.Wavy Seated Up Braids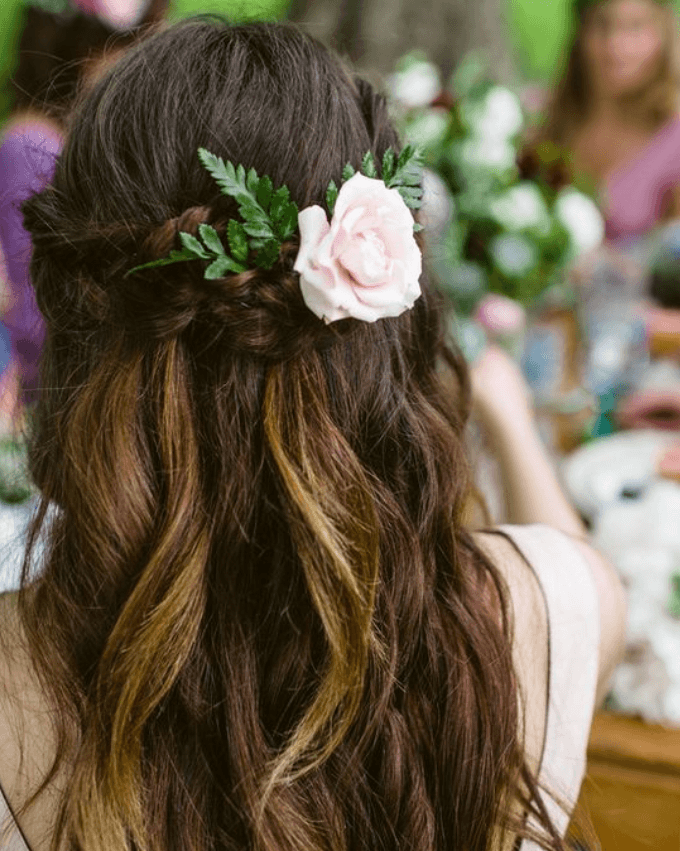 There are some braids that will be so close to your scalp that you can barely feel that you have braids on unless you try to reach your hair. This time, you can have braids that will be evident on the crown of your head. Expect that the braids will seem to look like they are sitting up in neat rows. People who learn how to do braids for the first time may try this type of hairstyle in order to learn more. This is easier to do compared to how it looks.
24.Jumbo Coiled Braids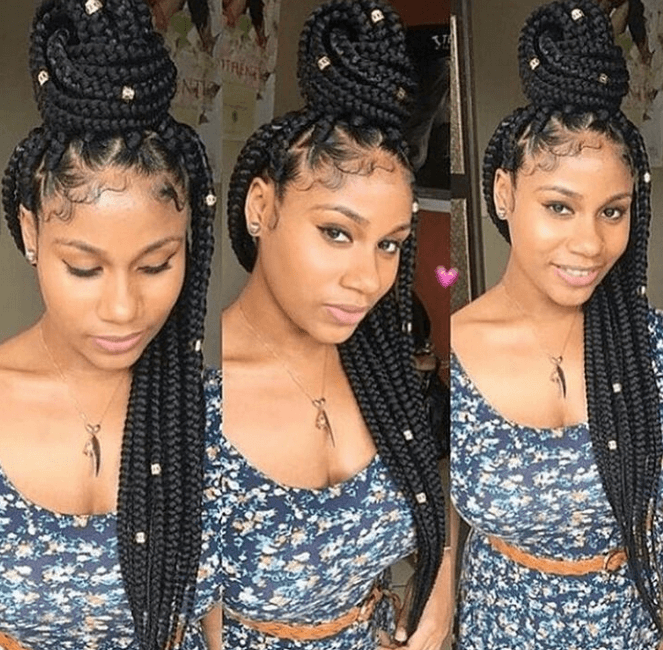 Do you have long hair? Do you have thick hair? Is your hair curly? If you answer yes to all of these questions then you will have no problem with the use of jumbo coiled braids. This is a different way of having an updo although if it is too heavy, you may only have it for a few hours before you put your hair down back again. The coiled hair looks beautiful when they are coiled properly. They almost look like the chevron print that a lot of people like to have in their bracelets.
25.Braided Updo with Curls
If you still have short hair but you would like to have an updo hairstyle, this will not be a problem. You can simply have the braided updo hairstyle with curls and you know for sure that you will get the effect that you want. The back portion of the hair will be braided and the partitions will be evident. Then the top portion will have the glorious curls that will surely improve the way that you look.
26.Black Braids with Long Twists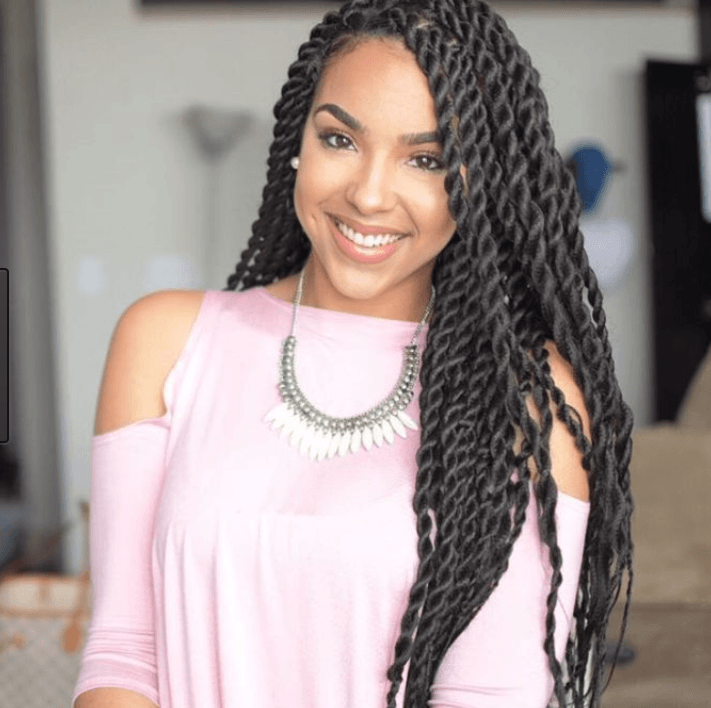 If you would like to feel like you are a singer in a music video, this is the type of hairstyle that you should have. The moment that you saw Janet Jackson sporting this hairstyle, you wanted to get it too and when you find the right person who can do it, then push through with it. For sure, it will be worth it. In order to rock this look, make sure that you will put a lot of emphasis on your eyes.
27.Mohawk Braids For Black Girl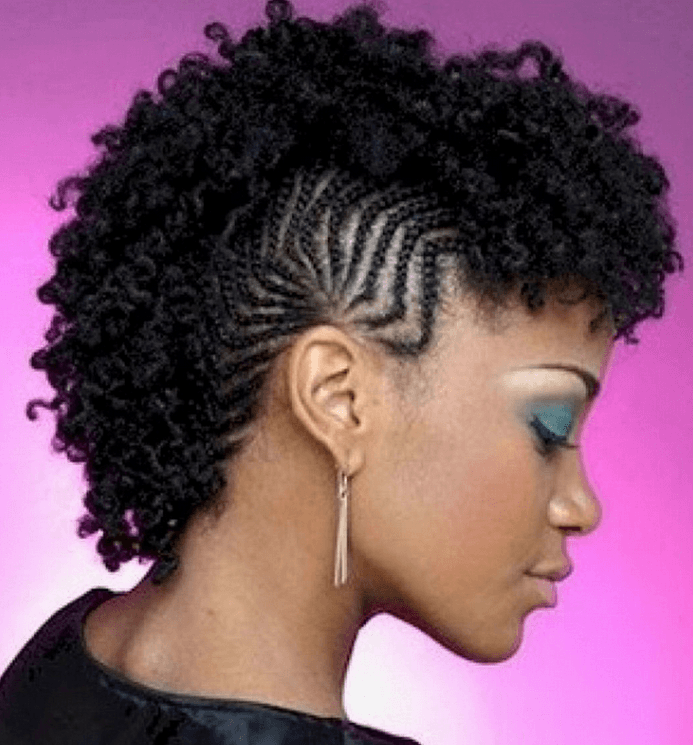 Have you ever considered getting a mohawk just to look edgy but you want to keep your hair braided at the same time? This will not be a problem. Simply choose to have mohawk braids. From the name itself, you can already guess that the middle portion of the crown of your head will be thicker than the hair on the sides. No need to shave off the sides of your head just to have this cool mohawk hairstyle.
28.Double and Twisted Braided Updo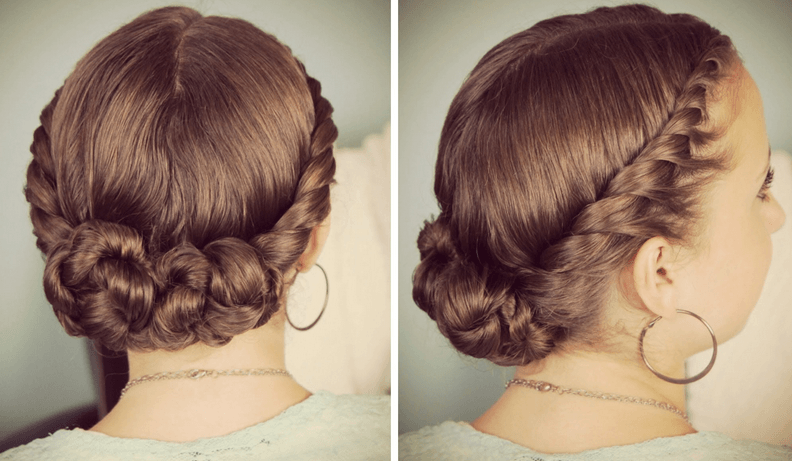 Having thick, twisted braids are not commonly seen on people's heads but you can surely place it on yours and look exceptional. The best thing about this hairstyle is that it works best when you are going to an important event. It is pretty easy to do too so you can do it on your own. You can complete this hairstyle in less than 10 minutes and just remove the double braid once you are done with the event. It is a simple way to style your hair without much effort.
29.Two Toned Twisted Braids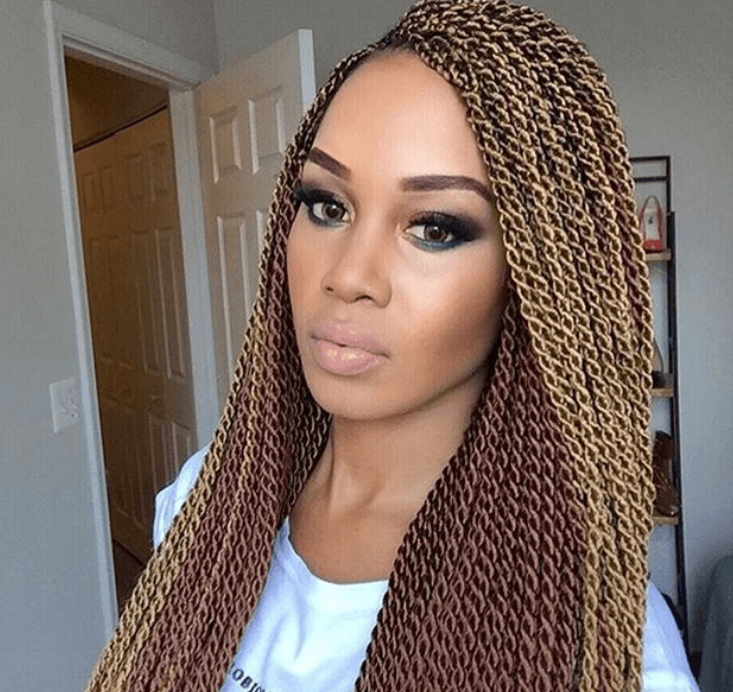 A lot of black women are fond of the twisted braids because they do look amazing on the hair. If you have been wearing this style for a long time and you would like to make some subtle changes, make your hair two-toned. You can choose to add some caramel highlights on some portions of your hair. It will make your hair loo better than ever.
30.Braided Hair with Side Bangs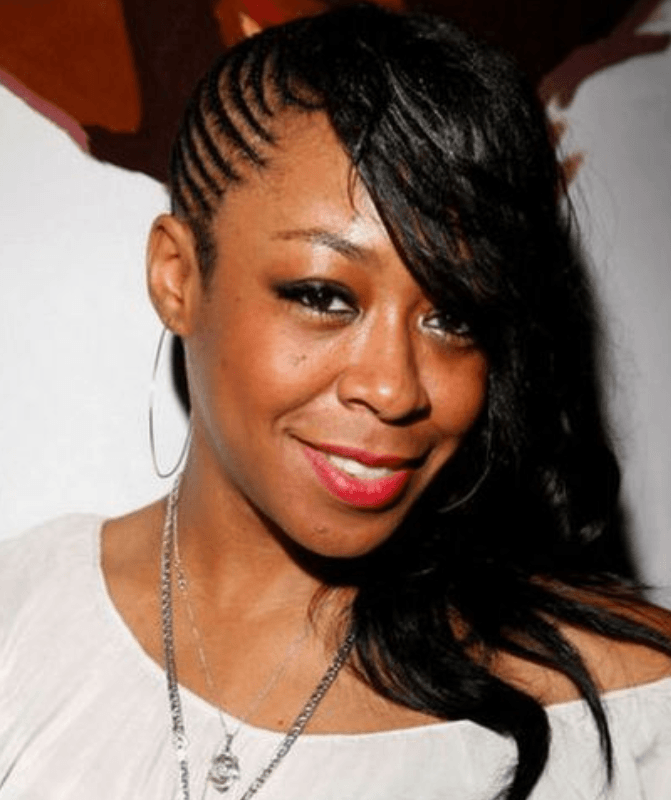 This the best hairstyle for the black women who does not have thick and curly hair anymore. If you do not naturally have thick, black hair then you can still have braids on. The best thing that you can do is to have a braid that comes across your whole head but keep your bands braid-free. The side bangs will improve the overall appearance of your hair. You will surely look sleek.
31.Mixed Braids Updo Hairstyle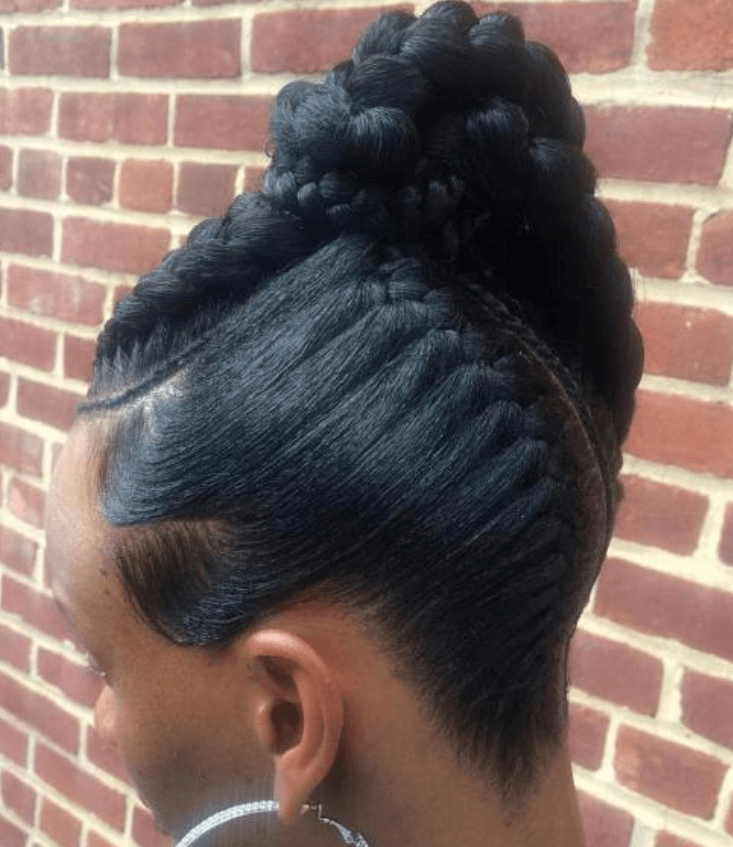 Let us say that you get bored with just one braided hairstyle. It will not matter as long as you know various types of braids. The braids can come in various sizes in order to improve the appearance even more and make sure that you will let your hair be styled upwards. You can look perfect for the event that you are going to attend.
32.5- Braid Updo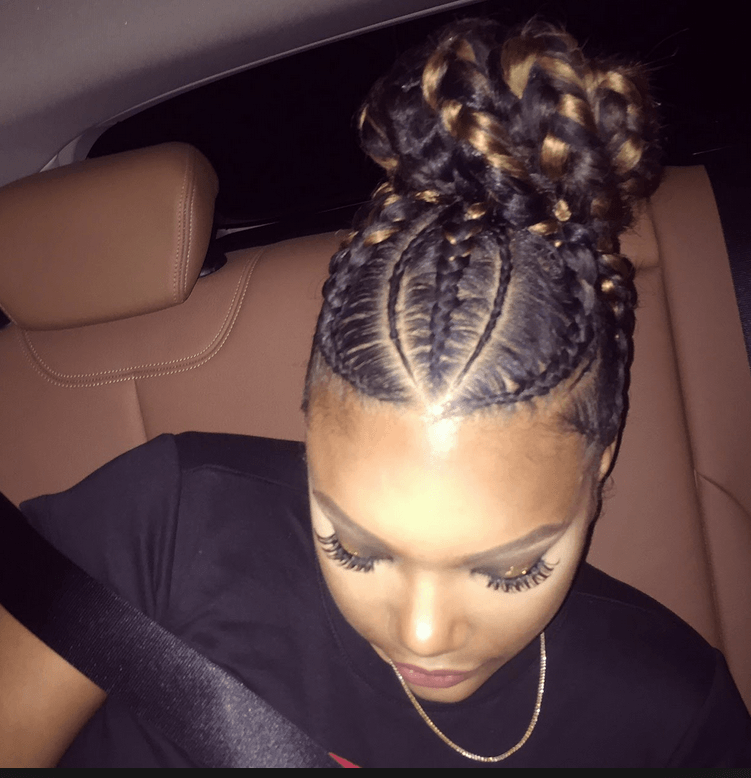 The reason why this hairstyle has gotten its name is because there are 5 big braids that are located all around the head. These big braids all meet up at the upper portion of the hair wherein they will be coiled in order to form an updo that is somewhat similar to a bun. This is surely classy and you will have no trouble appreciating this hairstyle on your hair.
33.Curved Braids For Black Women

Do you want something different from all of the braided hairstyles that you used to have? This may be the one that you are searching for. You can create designs with the use of your braided hair and the curves will be evident when looking at your hair from the top view. This means that you do not need o shave or cut your hair just to get your desired hair shape and curves.
34.Dutch Braid Crown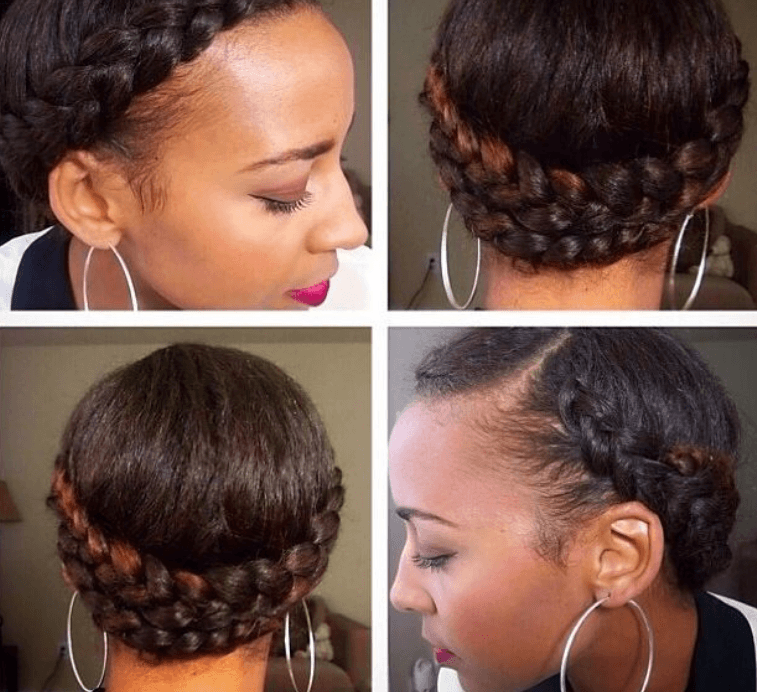 Do you want to feel like a princess? If yes, then this may be the type of braid that you are searching for. This is perfect for women who have long and thick hair. If you want to achieve this look but you feel like you do not have enough hair, you can use extensions. You will not be disappointed with how you look after. This is the perfect hairstyle to have when you want to go out at night without having to spend hours straightening your hair.
35.Jumbo French Braid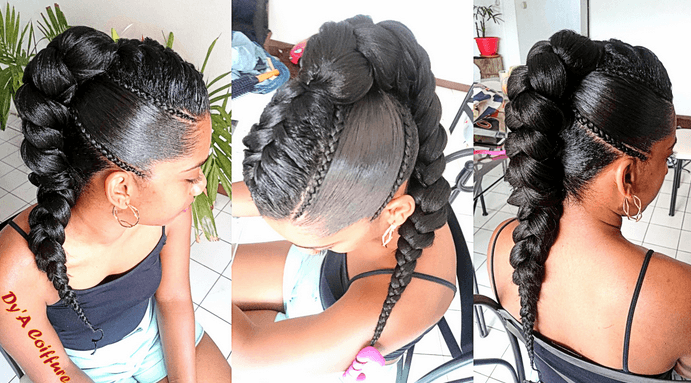 There are s lot of women who just love the french braid and you can have it on your hair too in a revamped manner by having it jumbo sized. You know that you are going to look sassy with it. Wear this when you are on a night out with your friends. People are bound to notice you from the rest of the crowd.
Based on the things that are mentioned above, there are a lot of hairstyles that can be perfect for your little girl. Which among the braided hairstyles for black girls are you going to try first on your child?