Cornrow or Cornrow Braids are so famous among people for their simple yet elegant outlook. It is the traditional hairstyle of ancient Africans. Over the years, it has undergone many transformations in style. People these days make changes to the classic hairstyle and wear it with elegance. The ancient traditional hairstyles become a trend these days.
There is no exception of gender to this hairstyle. Both men and women wear beautiful cornrow braids. But in some regions, men do not wear braids. If you are looking for a simple way to grow your hair, then you are in the right place. You get to wear cornrow braids close to the scalp. By braiding your hair, you let it grow stronger. Tight braiding can also be the reason for hair damage or loss.
How to Wear Cornrow Braids?
Here are the top tips to help you out.
Preparation of your Hair:
For any braiding style, it is necessary first to prepare your hair. You will have to bring your hair to the right texture, for the hairdresser to braid easily. Wash your hair with shampoo and apply your normal conditioner. While your hair is still moist, start detangling the knots if any. It is easy to detangle your hair when it is damp. Apply moisturizer or oil to make your hair smooth and easy to braid.
If you are someone who does braiding regularly, then we would suggest you apply natural oils or butter to moisturize the hair first. You can select the oil based on the texture of your hair. You can choose coconut oil, jojoba oil, aloe butter or shea butter for moisturizing. Then blow-dry your hair, to straighten up the curls made from regular braiding. It is necessary for easy braiding.
This step is equally important as you can braid cornrows only after partitioning the hair. Partition the hair using the end of a rat-tail comb from the middle of your forehead to the neck. After partitioning the middle, divide the side sections into two or three rows. Secure the sections using bobby pins or hair clips. Make equal sections for all the cornrows to look the same size.
Choose a cornrow braid style:
Choose a unique cornrow braid hairstyle first, before you begin the first stitching. It can either be regular and straight cornrow or stylish side-swept cornrows. Choose it before you start braiding your hair. We will see how to braid a regular cornrow here. You can try different cornrows and share your experiences in the comments. We have also included the 30 best cornrow braid hairstyles, which you can try and let us know about your favourite one in detail.
Start stitching your hair:
Begin with your first stitch on the first section from the middle of your forehead. Just like a normal braid, divide the first row into three sections, left, right and centre. Use both of your hands to braid this row. Hold the left section in one hand; and the right and centre sections in the other hand.
Start by moving the left section to the centre, replacing the centre plait. Then move the opposite section to the centre, and continue the process. Include a section of hair from either side of the row while stitching. Continue it until you reach the nape of the neck.
Continue with other rows and finish off the braid in a regular way till the tip. Then secure the braids with a hairband. Instead of regular braids, use a French braid to finish off the hairstyle. You can choose one of the many cornrow styles available for you to sport that trendy look.
Care and Maintenance:
Cornrows, as beautiful as it looks, are also easy to style and maintain. If taken proper care of, these hair braids will last for 4-6 weeks. This hairstyle specifically corrects hair damage and promotes hair growth.
Choosing the Hairdresser:
Choosing the best hairdresser in terms of experience is important. If they create the tightest braids, it will result in hair damage and loss. Yes, you will have to create tight braids for the cornrows to stay in place. But if those braids create pain for you, then it might pull the hair out from the roots.
Washing:
Wash your hair with non-sulphate shampoo and conditioner. Use natural oils like grape seed oil, jojoba oil or coconut oil for moisturizing the hair. Using warm water to wash the hair will prevent frizziness. It is better if you use your hand to remove tangles if any in the braids. Spray a mixture of water and shampoo on the scalp to remove dirt. Massage the braids softly to prevent breakage.
Conditioning:
Apply conditioner after drying the hair completely. Use it regularly to avoid the smell and dirt of your hair. Dilute the hair-conditioner before using it in the scalp and the braids. If you do not dilute the conditioner, then it might clog the scalp as white particles. Then it would make your hair look dirty.  
Moisturizing:
Apply those moisturizers that come in spray sheens, instead of oil-based moisturizers. It will prevent dandruff and dryness. You can use natural oil instead of moisturizers to give the desired effect.
Wear Caps:
Use Satin pillows and satin covers while retiring to bed. Cotton pillows will remove the moisture from your hair, leaving it with split ends and dryness. Wear caps covering your braids while you go to bed. It will prevent your braids from tangling and breakage.
Now, as you can see, cornrow braids are easy to wear, and simple to maintain. You can choose one of the versatile cornrow braids, to style yourself with a stylish outlook. Scroll down to see our favourite hand-picked cornrow braids.
30 Best Cornrow Braided Hairstyles:
Simple Mini Cornrow Braids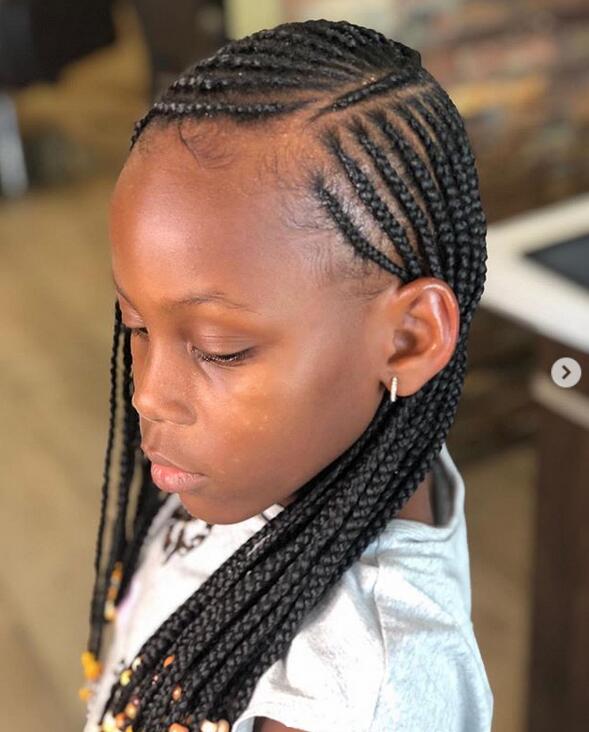 The Simple mini cornrow braids are cute to sport, as you get to change your styling every day. You can either secure the braids into a ponytail or a half-bun. It gives you an elegant look, and you can wear it every day to the office. Why would you wear the same boring ponytails and simple buns, when you can style differently with mini cornrow braids.
Mohawk Cornrow Braids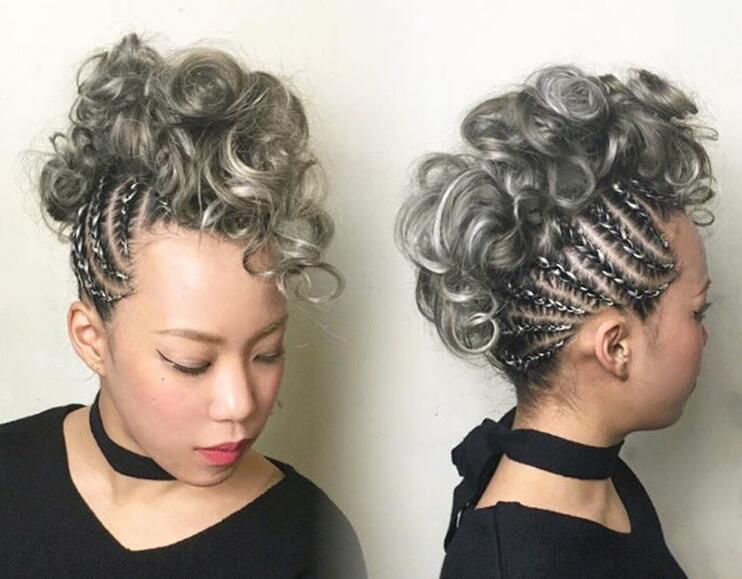 One of the coolest ways to sport cornrow braids is styling it with Mohawk. Mohawk gives you a cool and stylish look. Along with cornrow braids, it gives you a stunning look. You wouldn't want to miss those admiring glances at you at the party, do you?
Mini Cornrows with Ponytail and Curly Ends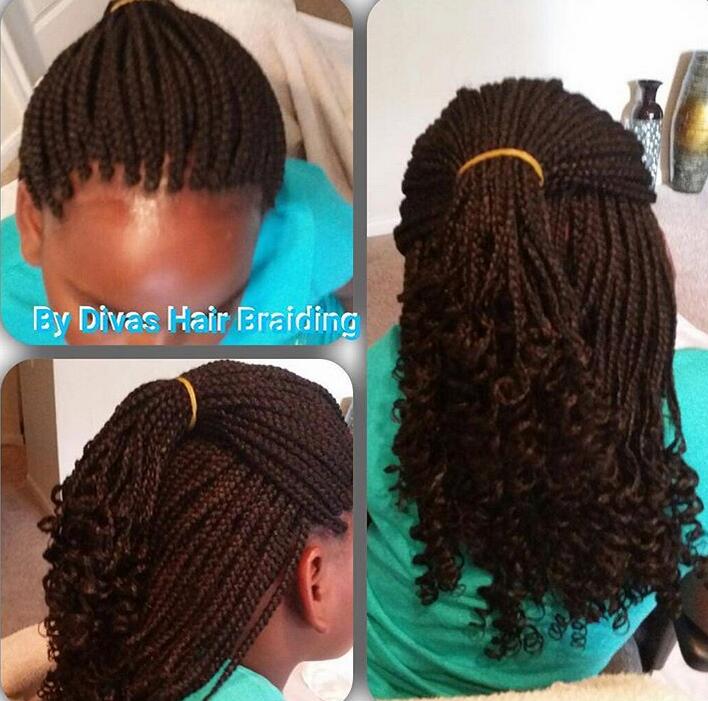 This hairstyle is one of our favourites on this list. You can braid mini cornrows to half the length of your hair, and sport with curly ends. A half ponytail gives a fashionable and stylish look.
Cornrow Bun Braided Hairstyle
Aren't you bored with wearing regular buns for weddings and parties? These cornrow buns are elegant and beautiful. Braid your hair in cornrow fashion till the end of the hair, and wear it into a bun. This hairstyle highlights your beautiful neckline.
Large Cornrow Braids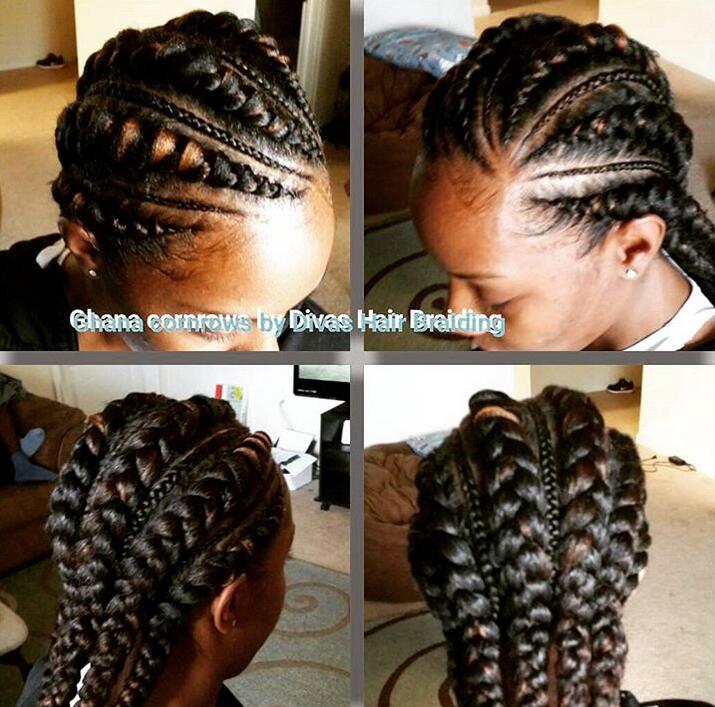 These large cornrow braids are for you if you wish to boost your dense hair in a new style. This hairstyle will promote hair growth. It will also prevent the breakage of hair. It is easy to wear and maintain.
Spiral bun Cornrow Braids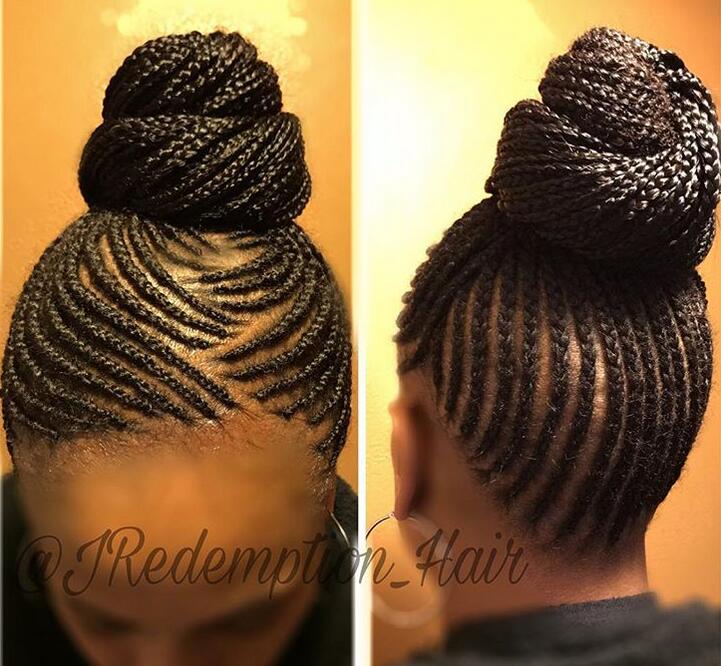 The Spiral Cornrow Braids is a unique hairstyle that gives you a beautiful pattern. Partition the hair side-ways and start braiding in a spiral fashion. Secure the braids in a bun to make them more presentable.
Mini Bun with Two Cornrow Braids in the Front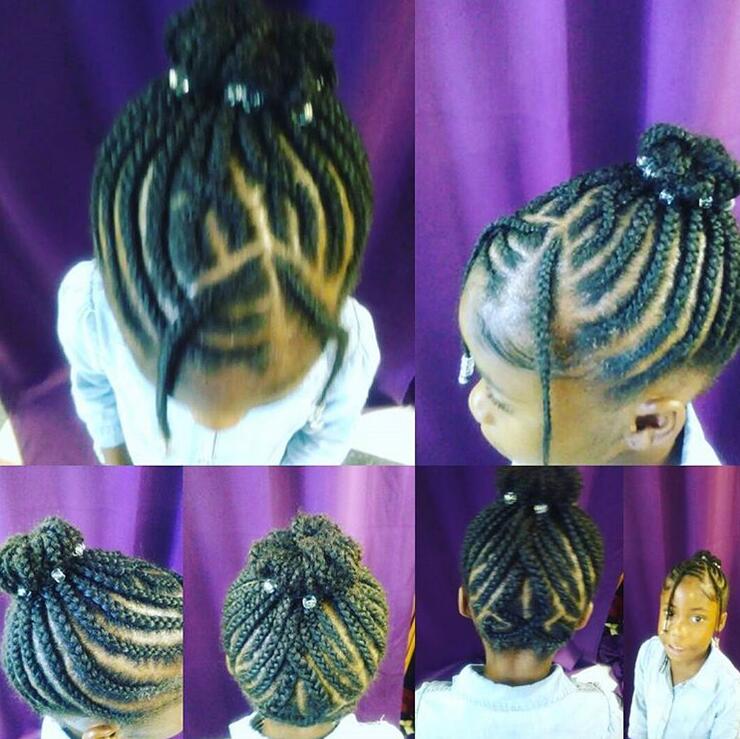 This cute hairstyle expresses the girlish character inside you. A cute mini bun on the top of the head with two mini cornrow braids on the front enhances your beauty. If you are bored with your regular bangs, you can try this hairstyle to feel unique and beautiful.
Cornrow Bun at the Centre and Cornrow Braids in the Sides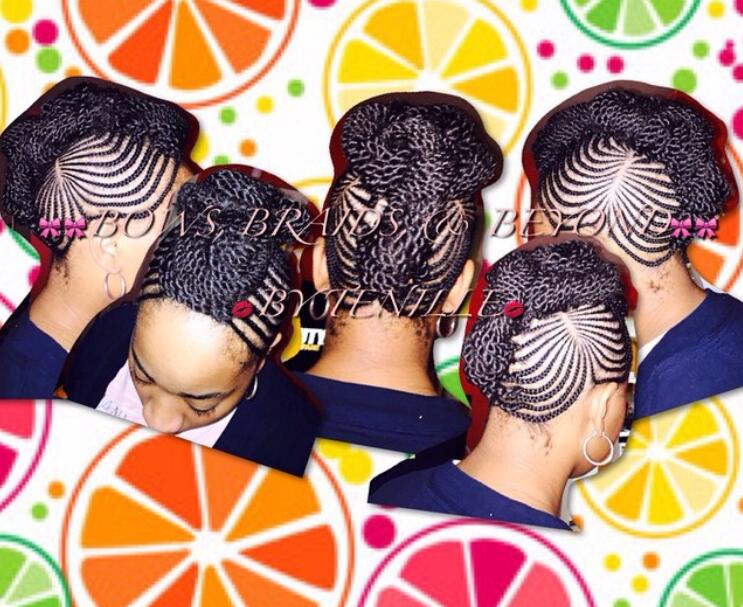 We do not have to tell you the speciality of this hairstyle. As you can see from the picture, this unique hairstyle has cornrowed fashioned braids tied into a bun in the middle portion. You can sport this hairstyle by braiding the hair in cornrow fashion from the sides to the centre of the head.
Goddess Cornrow Braids with Two-Tone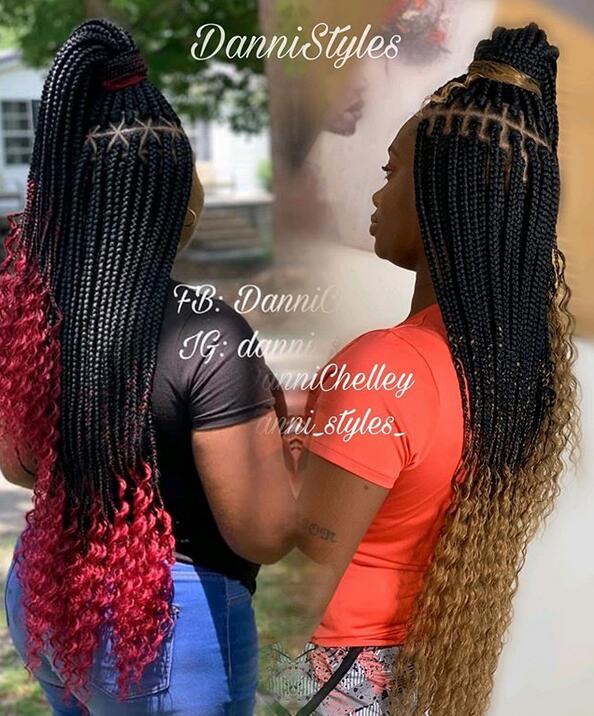 This hairstyle is aptly called the Goddess cornrow braid hairstyle and is one of our favourites. There is no doubt about the stunning looks that this hairstyle brings in you. You get to braid your hair in mini cornrow fashion and secure it up in half ponytail. You leave the end of your hair in free curls with blond or vibrant red highlights.
Cornrow Braids for Short Hair
Nobody said that these cornrow braids are for long hair. If you have short hair, you can also rock these outlooks. This style is perfect for you if you want to sport this style as an everyday look. You can avoid those regular boring hairstyles and also look professional at the same time.
Circular Cornrow Braids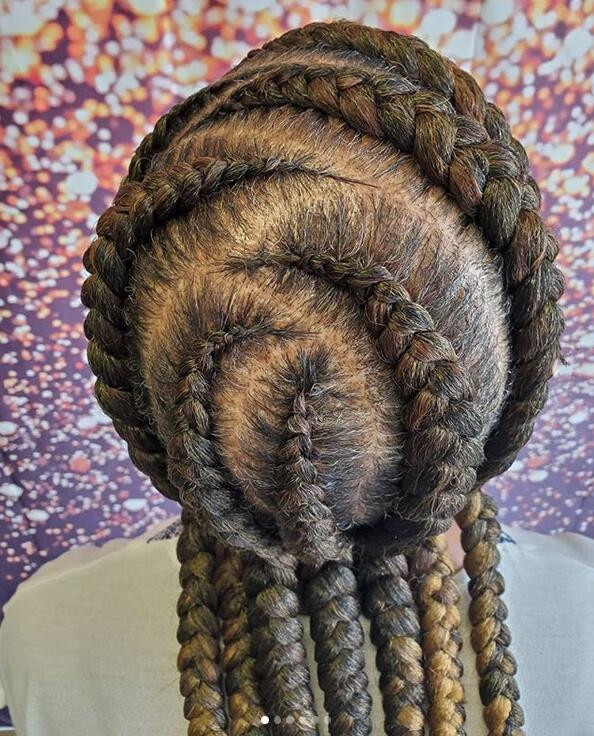 If you can experiment with different ways to sport this common braid, then you shouldn't wait to exhibit your unique personality. If you are an outgoing person and wish to boost it with your unique bride, then this style is for you. As you can see the circular cornrows on top of the head ends with normal braids from the nape of the neck.
Patterned Cornrow Braids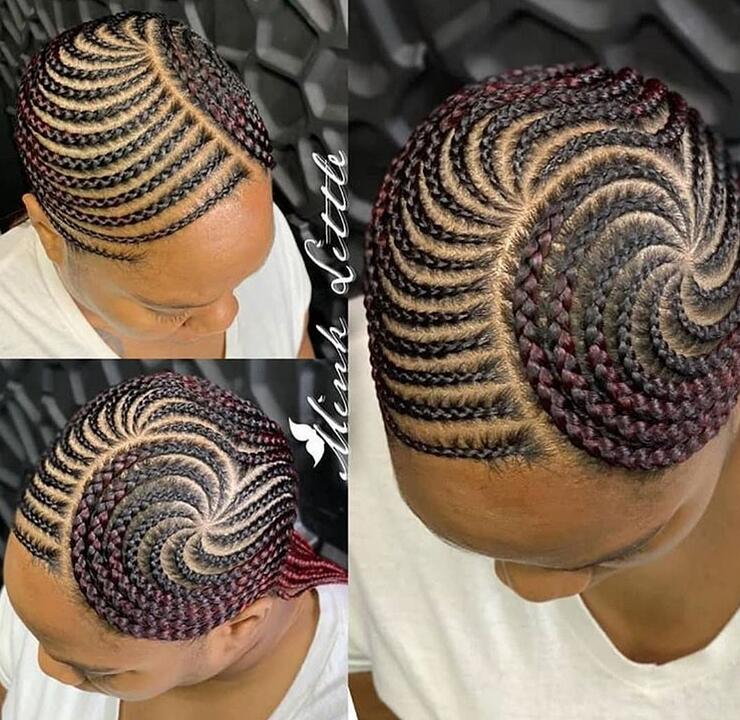 If you wish to sport a hairstyle like a woman in the picture, you must have non-layered hair. Only then, you can achieve those patterned cornrows on the skull of your head. You can choose to either sport free hair or braids towards the bottom of the hair with highlights.
Two-Tone Mini Cornrow Braids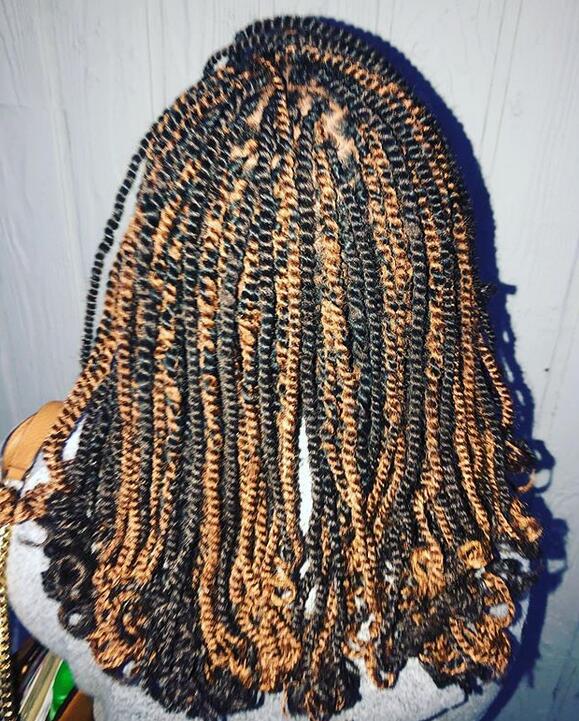 If you are looking for a beautiful option to give a stylish outlook for your dyed hair, then scroll down to see the picture. This hairstyle is perfect for those who are already sporting two-tones. Instead of the regular free hair solution, braid your hair to highlight the hairstyle.
Coiled Cornrows with Curly Ends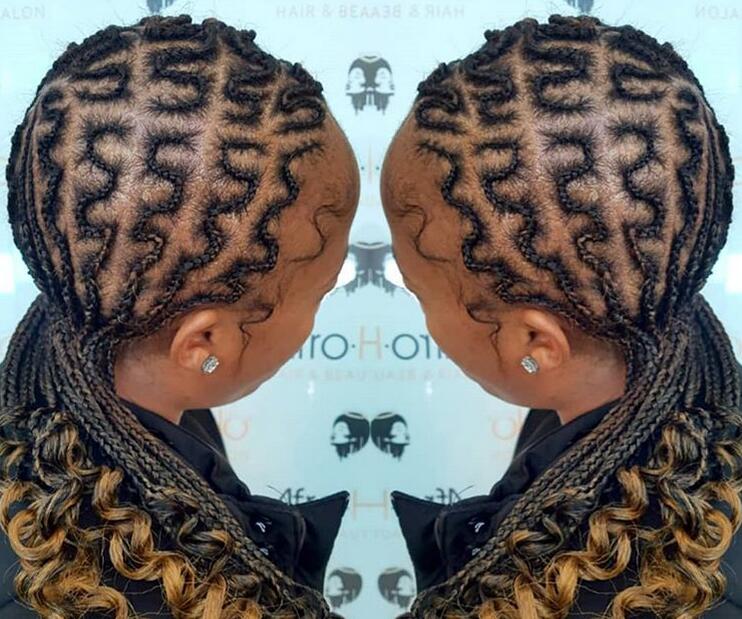 If you think that you have seen all of the unique cornrow hairstyles, then you are mistaken. Here comes one of the most unique hairstyles on this list. To achieve those coiled cornrows on top of the head, you will have to brush cut your hair in that region.
Double Cornrow Braids with Highlights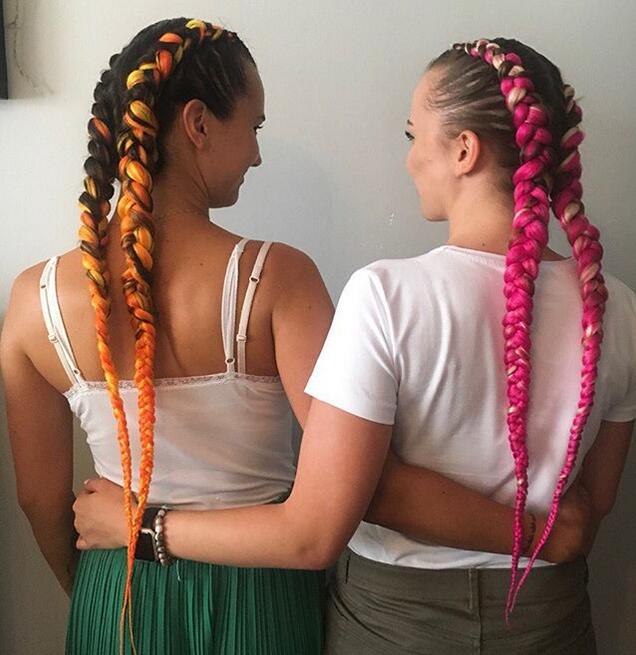 If there is something more beautiful than the cornrow braids, then it must be the double cornrow braids. You can add highlights of vibrant purple or pink to make the braids more evident.
Centre-partitioned Cornrows with Bangs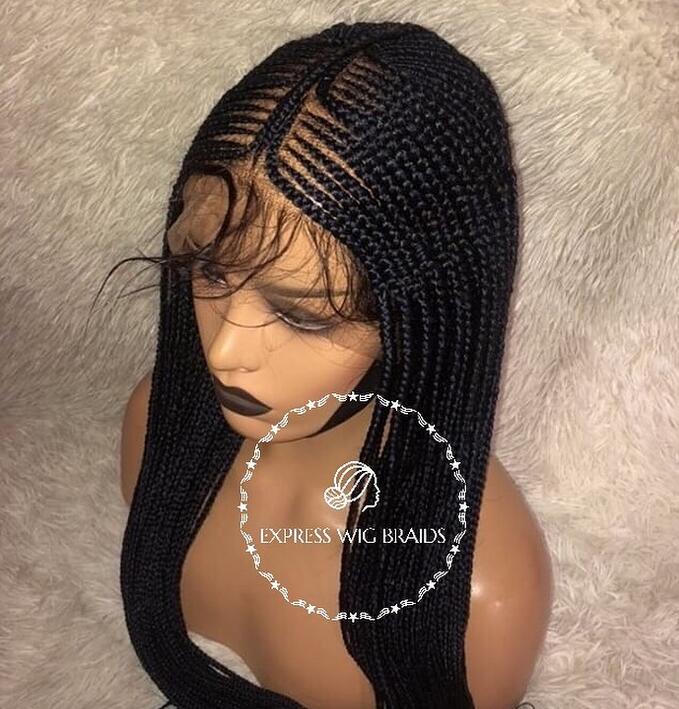 This hairstyle is simple to wear; you just have to make sure that you have partitioned the hair perfectly. This hairstyle with centre-partition is suitable for an everyday look.
Cornrow Braids with Metal Beads
A beautiful effort to highlight the braids gives you a stunning look. Using your preferred colour and metal beads to highlight the medium-sized cornrow braids will fetch you admirations from your colleagues.
Double-bun Cornrow Braids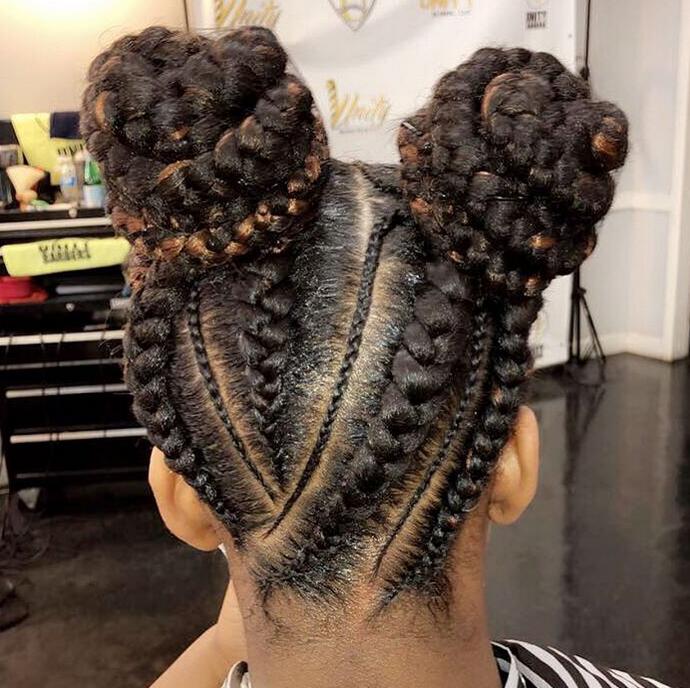 Two cute little cornrows braided bun on either side of the head is a perfect alternative to your regular braids of your little girl. You can add highlights to the braids in the bun.
Side-swept Short Hair Cornrow Braids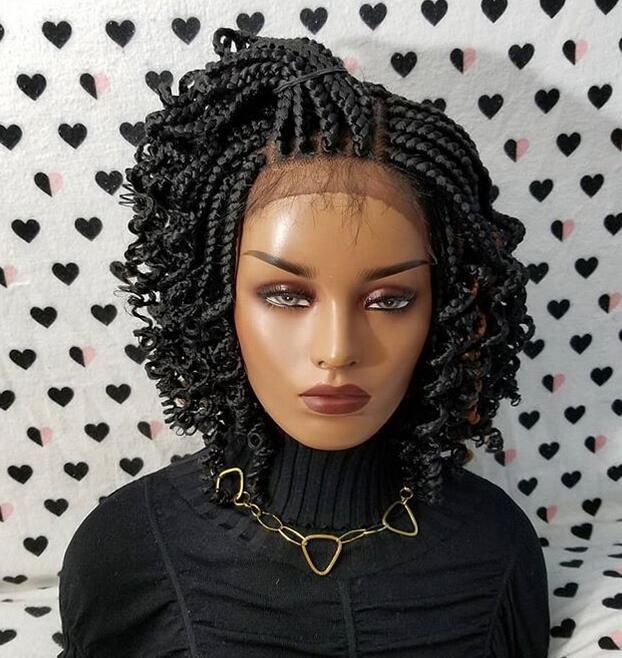 This hairstyle gives a professional yet unique outlook to you if you are seeking a change in your everyday outlook. The hairstyle is simple to wear but needs proper maintenance.
Jumbo Cornrow Braid Top Bun
If you are wondering about the kind of hairstyle, that you should adopt for your dense thick hair, we have a solution for you. This hairstyle not only boasts your thick hair, but also highlights your beautiful neckline, and facial features.
Patterned Mohawk Cornrow Braids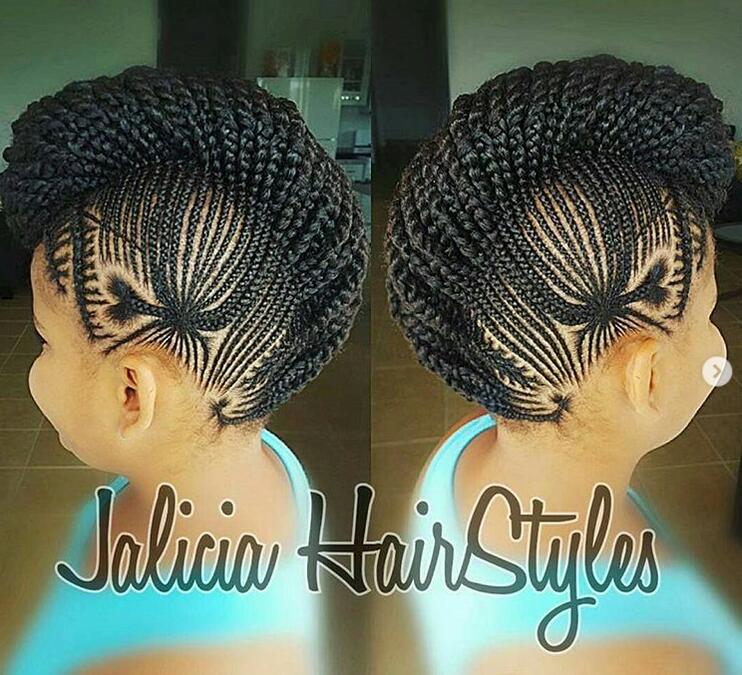 The cornrow braids at the centre spiralled to form Mohawk gives the stunning look for those who wear it. You can also make designs on the cornrow braids that you wear on the sides.
Side Cornrow Braids with Crystal Balls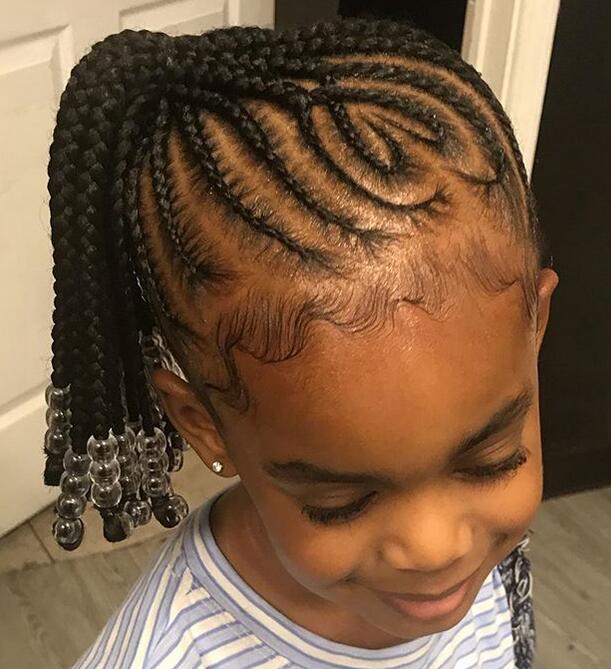 The side cornrow braids with crystal balls make the beautiful pair for a stunning look.
Cornrow Braids with Free Straight Hair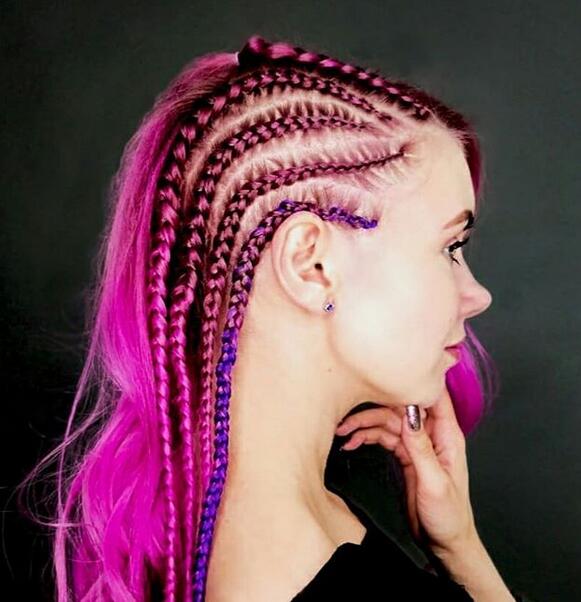 Try wearing cornrow braids till the centre of the head and end it with straight or wavy hair. You can also try some vibrant highlights.
Diagonal Cornrow Braids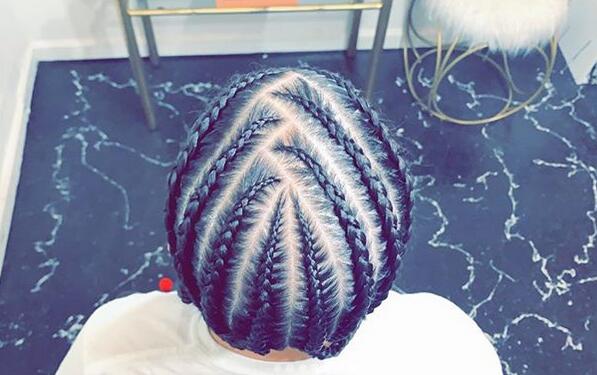 This beautiful hairstyle with diagonal cornrow braids on the top of the head needs a brush cut or trimming of the hair in that region.
Diagonal Twist Cornrow Braids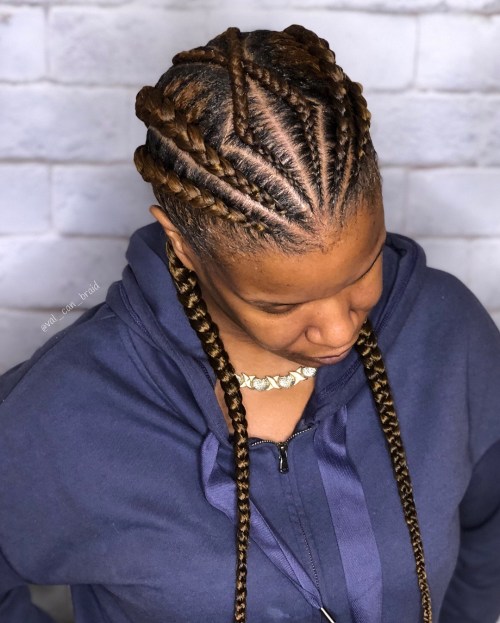 The diagonal twisted cornrow braids generate a unique pattern, which in turns adds beauty to your hairstyle.
Long Cornrow Braids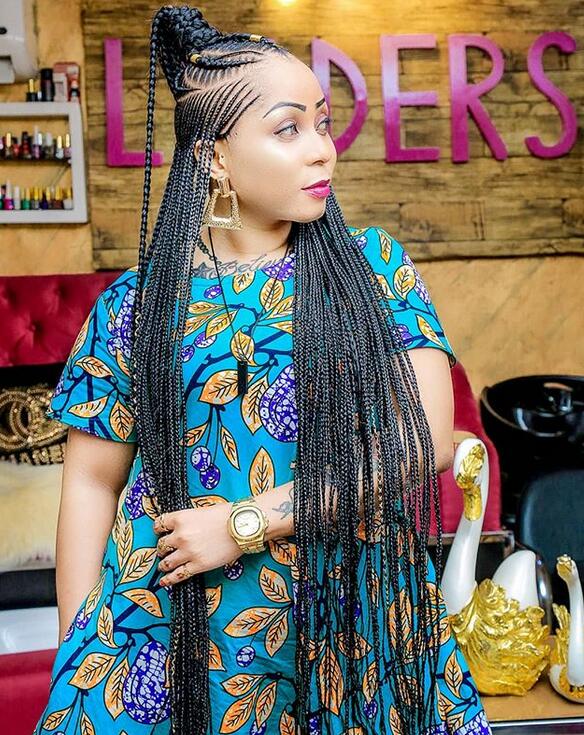 Everyone has the same question on their minds when it comes to cornrow braid hairstyles. 'How long should my hair length be to create this hairstyle?" is the question that rises every time? But we can assure you that long braids are sexier and prettier than the other braid styles on the list.
Cornrow Braids with Accessories
To lift up your fashion spirit, try adding accessories to the cornrow braids. You can add accessories like hairbands, metal beads, crystal balls or ribbons.
Fancy Cornrow Braids
Wearing mini braids in a wavy fashion provides you with a sexy and beautiful look. You can choose a blonde or brown colour to highlight the braids.
Jumbo Spiral Cornrow Braids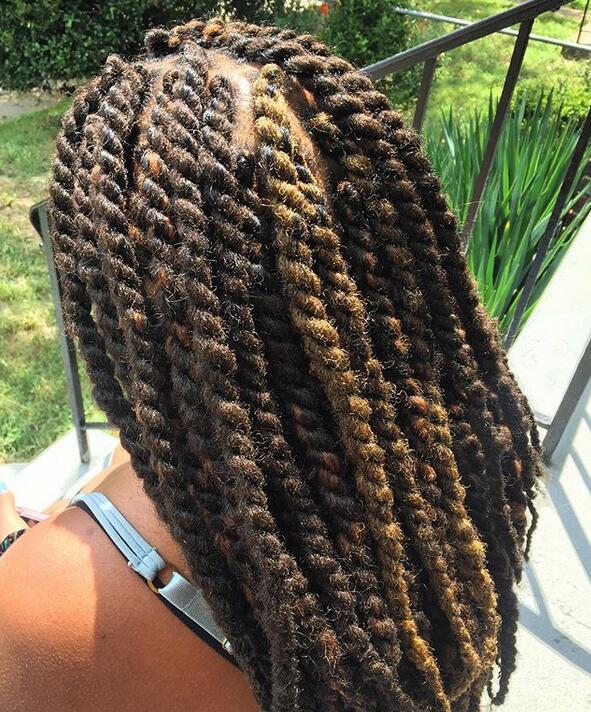 These jumbo spiral cornrow braids let you boast your dense hair. By adding accessories and highlights, you get to express your high spirits through this hairstyle.
Design Shaped Cornrow Braids
Though last in this list, this hairstyle is one of our best cornrow braid hairstyles. As you can see from the picture, you will be able to sport the cornrows in the shape of a letter or a design.
Do not waste time anymore. Choose one from these hairstyles, try it and share your experiences in the comment section below.