The faux hawk haircuts are one of the most popular haircut styles for men. This creative and stylish haircut can give you an edgy look but is formal enough for business meetings. Also known as fohawk, Faux Hawk has been adapted for years since the 1970s. Today, this hairstyle has been modified to create new looks that can increase a man's confidence to the next level.
Faux Hawk hairstyles are not only for boys but also for adults. As it is not only edgy, but it also looks like you can rock the dance floor. These haircuts are also professional enough for an office setting, so there is nothing to worry about if you think no one would take your haircut seriously. After all, a faux hawk gives additional points to any outfit you wear.
What is Faux Hawk(Faux hawk VS Mohawk)
The name Faux Hawks means fake hawk. The difference between faux hawk and Mohawk is the styling selections. While both sides of the head are shaven, and only a stripe of hair remains in the middle of the head in Mohawk.
Faux hawk hairstyles create waves and do not need to shave both sides of the head. The hair on both sides is just cut shorter compared to the hair in the middle. The hair is longer on top, making spikes or creating a point.
60 Faux Hawk (Fohawk) Haircuts for Men
Here is a list of faux hawk haircuts that can upgrade your hairstyle.
1. Swirl Effect Fohawk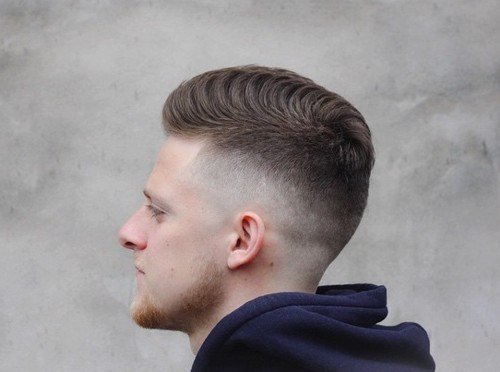 This style makes both sides of your head fade as those areas' hair is cut short. The middle section of the hair has a swirling effect. Swirl Effect Fohawk is excellent for the office setting and for going out. It also suits different colors of hair. This haircut will look great on you if your hair is straight.
2. High and Faded Fohawk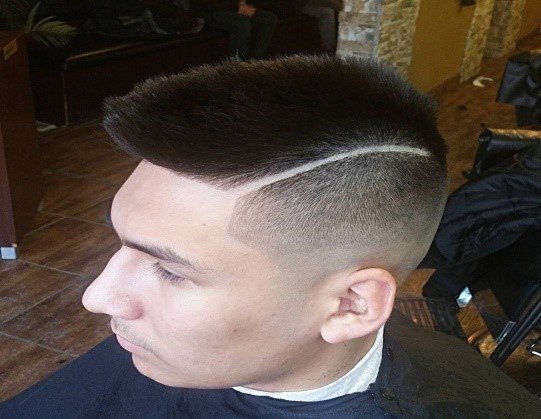 The hair on the crown is longer but also gives a humble impression. The sides have short hair like a clean-cut, and the visible line highlights the groovy effect on top. People cannot resist checking out this hairstyle as it looks manly and stylish.
3. Layered Cut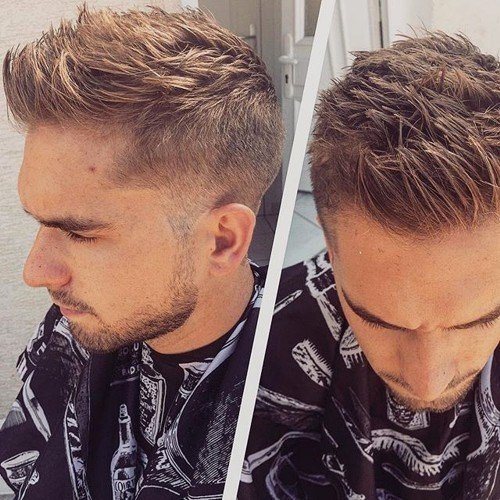 Another stylish faux hawk haircut for men is the layered version. You will be amazed after the barber finalizes your hair. This style provides depth on the top and middle as it humbly fades at the sides. It also brings heavy but also decent impact. This haircut will look great on men with thick and straight hair.
4. Curly Fohawk Style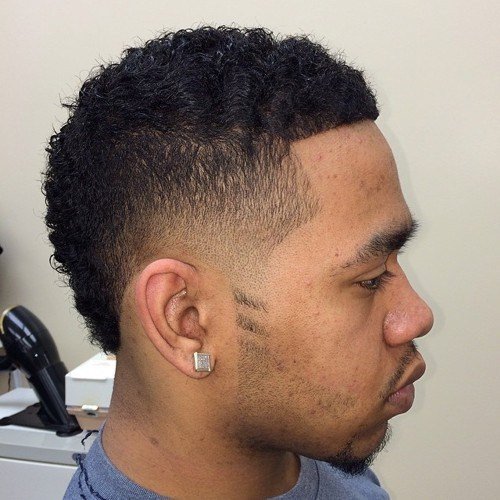 Curly faux hawk haircut is also one of the best versions, especially for men with curly hair. The sides are cut short with a faded effect, while the middle and top are longer. Natural curly hair will form natural curls on top, which makes the style look attractive and formal at the same time. You can also apply different textures to your hair.
5. Sweep Effect Fohawk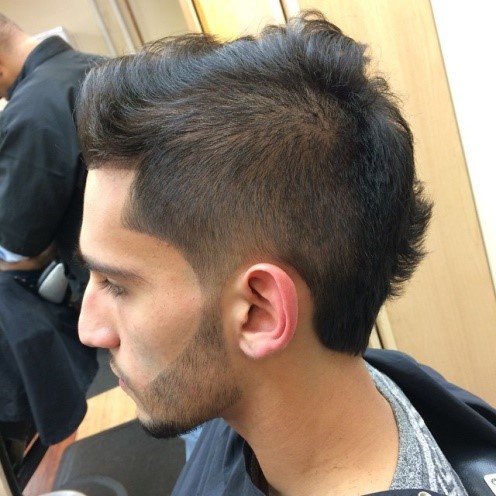 As the name suggests, the sweeping effect gives short sweep styles on top and at the back. This creative style would be perfect for men who want to look wild and proper.
6. Spiked Fohawk Haircut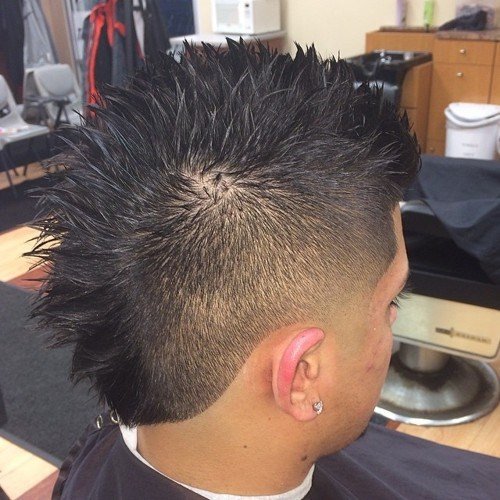 One of the best faux hawk haircuts for men is the spike version. This style will give you a stunning look. It is best for going to parties and wedding events. This style is also great for going on tours or outside as many people appreciate the fantastic look.
7. Dark Effect Fohawk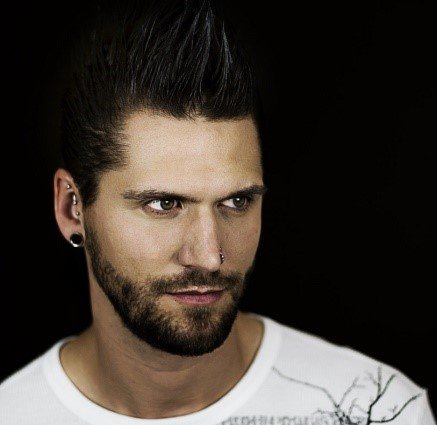 This haircut unleashes your masculinity by moving the hair away from your face. It is also like a spiked effect, but this style ensures no strands on your forehead. Simply comb the sides back to lessen the layer on top. Tilt the top a little to the back to leave a spike.
8. Extreme Spikes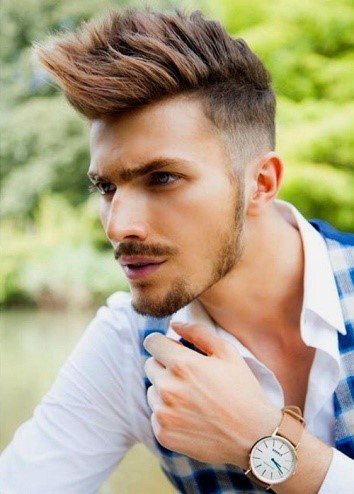 This version of a faux hawk haircut would look great for men with oval-shaped faces. The sides are short while the center is brushed upwards, making a long spiky effect. Different colors of hair will also look amazing with the extreme spikes version. It also looks formal enough for attending weddings.
9. Full Sides Fohawk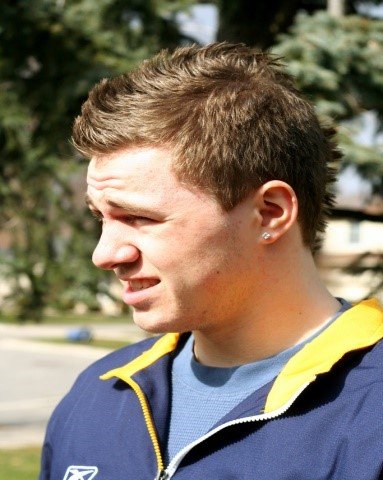 Most of the versions of faux hawk haircuts are faded on the sides. However, this version has full sides, and there is no need to make them even shorter to gain more attention on the crown. The top has enough curl effects to make it groovy outdoors and for an office setting.
10. Long Faux Hawk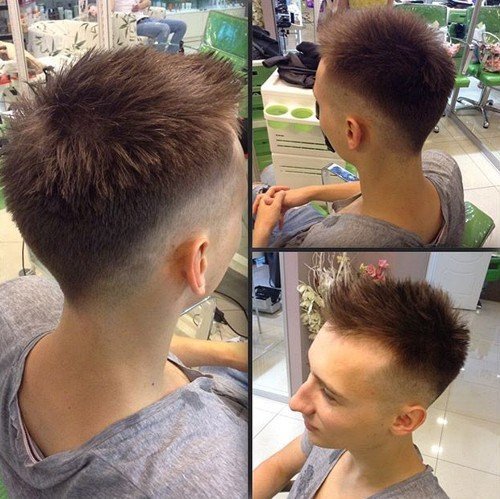 Another faded faux hawk haircut is the long faux hawk version. The sides are short and faded, while the hair on top is long. The length can also depend on how long you want it to be. It gives both an edgy and soft look. It also emphasizes the top so you can make a spike effect.
11. Crocodile Fohawk Style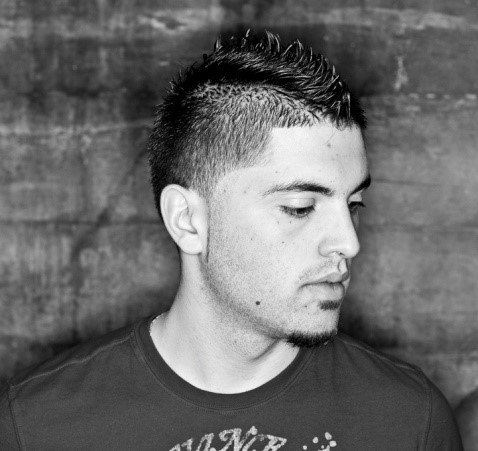 This style allows the hair to relax with oil to make a shiny appearance. The sides are also faded while giving more attention to the crown. The top appears to be like a crocodile's spine. No one could ever resist looking at this cute hairstyle.
12. High Top Fohawk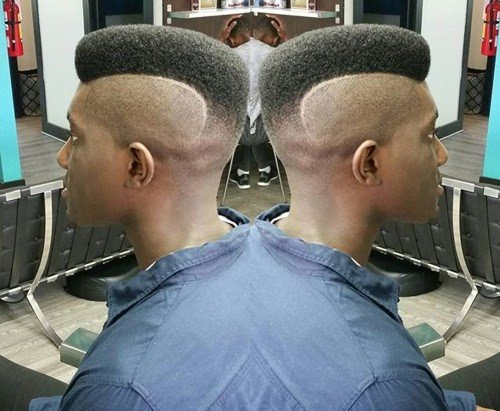 The high-top version gives more emphasis on the crown of the head. Both sides are shaved, and it highlights the middle part. It looks great for naturally curly hair and men with straight hair. You can always tell the barber to cut the sides on your desired length if you want to shave it.
13. Girth Fohawk Style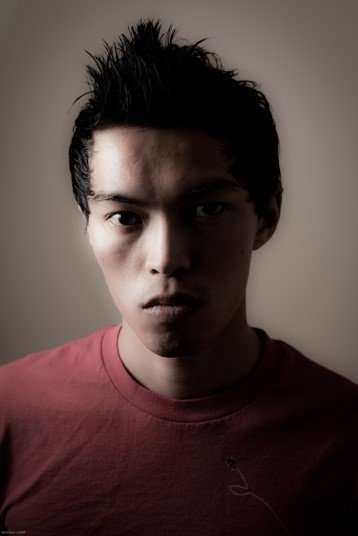 This style adds more width and depth to your looks. Instead of shaving the sides, they are combed to the front, so it looks like they are embracing your head. The hair in the middle forms a spiky effect, just Mohawk, but this one is completely different and even more stylish.
14. Professional Faux Hawk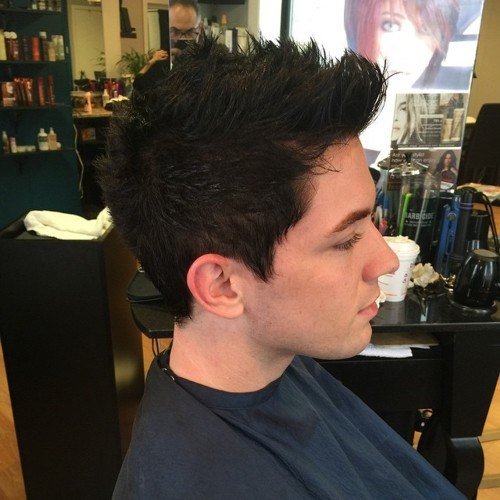 This style is designed mainly for an office setting and other formal events, but you can always have this effect anywhere you go, such as outdoors, movies or parties. It also gives you a professional feeling which can also boost your confidence. If you are into professional-looking styles, you might love this version.
15. Kids Faux Haux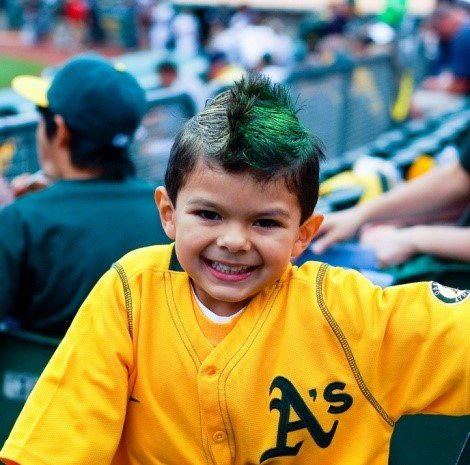 Faux Hawk haircuts are not only for the big guys, but cute little boys can also enjoy them! They can also choose their version of the faux hawk. This style gives an adorable look as both sides are combed downward while the top is combed upwards to form a strip of spikes.
16. Small Faux Hawk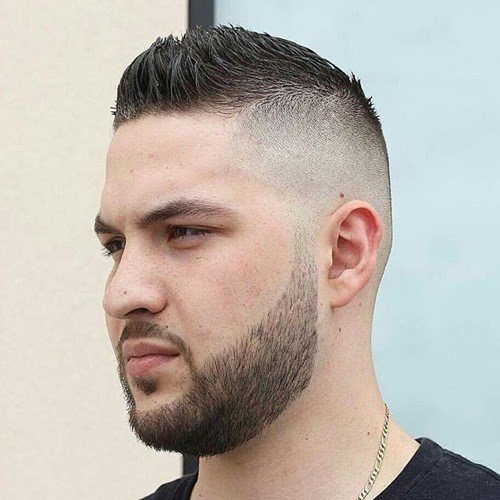 If you want to experience a tiny version of a faux hawk, you might like this one. Both sides of the head are shaved, which gives a fading effect. The crown area is cut short, so you can only make tiny spikes. This haircut allows people to pay more attention to your face than your hairstyle. It also gives you a clean appearance.
17. Military Look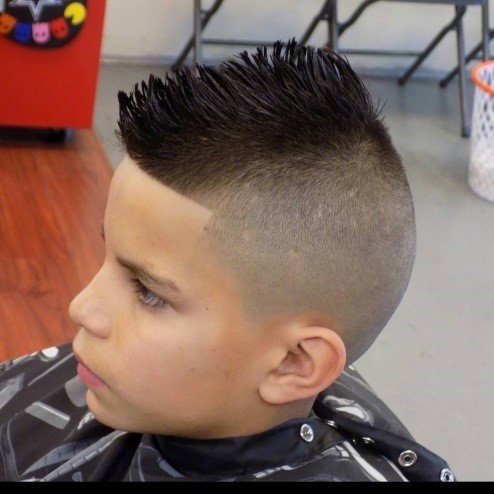 Another great style not only for men but also for small boys is the military look faux hawk. Both sides and the back are completely shaved while leaving enough hair on top that has a touch of a military look. The hair on top is brought together to make a spiky effect, but there is a visible line between them.
18. Volcano Effect Faux Hawk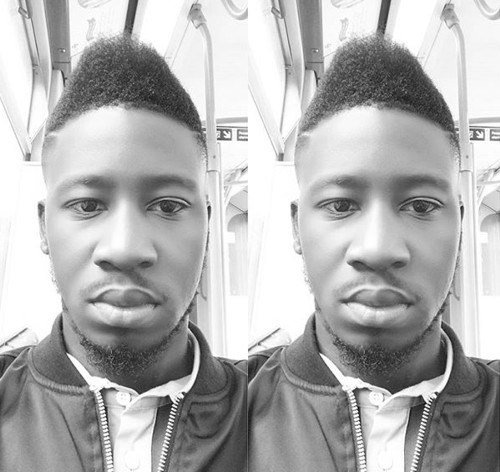 This faux hawk haircut is one of the best styles for men with naturally curly hair. The sides are shaved completely with visible lines that separate the sides from the top. The hair on top is shaped like a volcano but formal enough to look clean. This style is great for going to parties and other events.
19. Messy Top Faux Hawk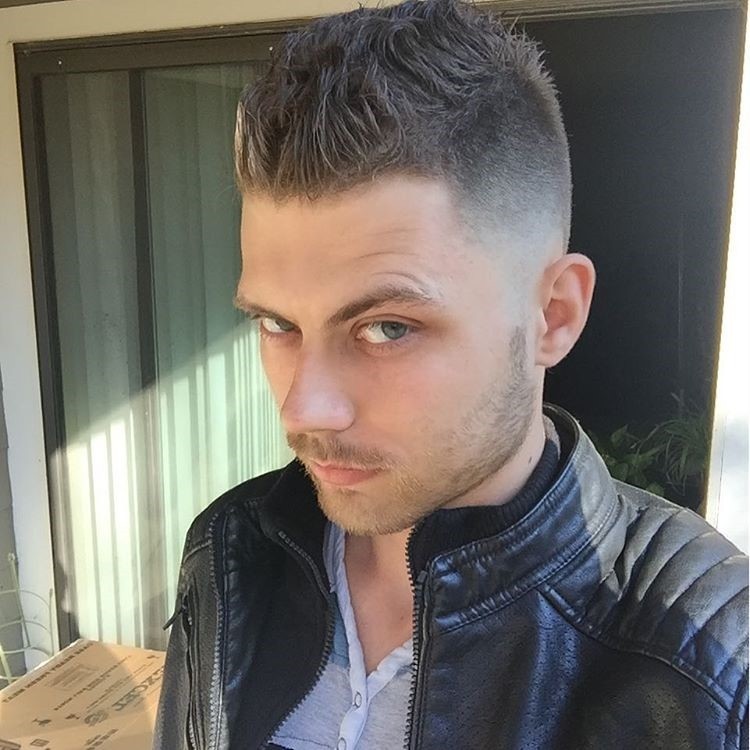 Your bangs are always useful to make a faux hawk design. The messy top style has a light effect on both sides, while the crown has thick hair. The bangs are then formed into a messy style, but the sides are clean enough to look at both rock style and professional style.
20. Ponytail Style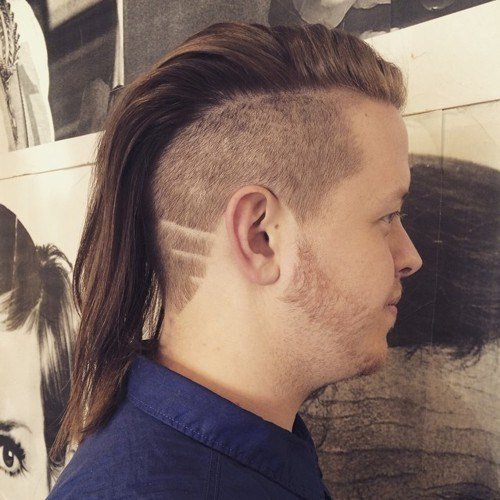 For another head-turner faux hawk haircut, ponytail style creates a unique look. The sides are cut very short, while the middle hair is longer than usual. It produces a ponytail style that looks pretty amazing and catches all eyes. People with straight and silky hair can enjoy this haircut.
21. Thick Faux Hawk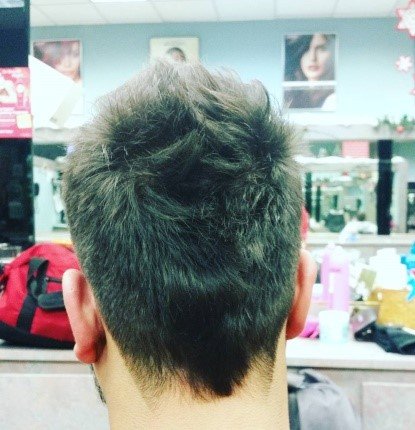 This faux hawk version gives more depth. The sides are cut short but not too short like other faux hawk styles. The waves are formed naturally. It also gives additional thickness to the hair. Most men have this hairstyle as you can easily modify the waves according to your preferences. This style will be great for people with straight hair.
22. Tapered Style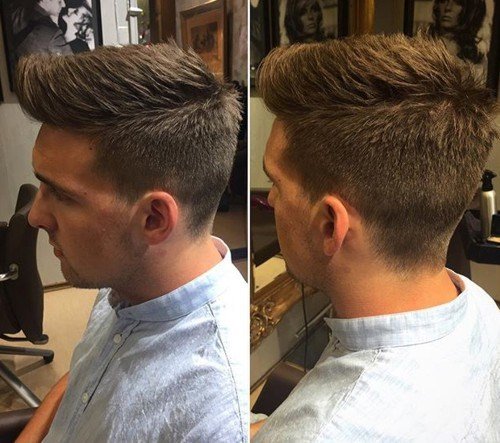 One of the most awesome faux hawk haircuts is the tapered style. This hairstyle does not only make you stylish, but it also gives an elegant and smart look. This style is perfect for any setting, whether to business meetings or parties. Tapered style is a clean-cut with a wave on top that can highlight you even if you are in a crowded area.
23. Rat Tail Faux Hawk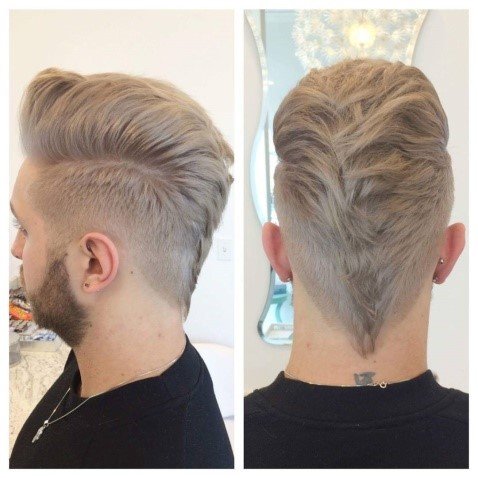 Besides a ponytail, you can also select a rat tail faux hawk haircut that gives an attractive yet formal appearance. This version started in the 1980s and is still popular even today. The design looks like a rat's tail, but the sides are shaved beautifully while the middle is combed backward.
24. Flipped Faux Hawk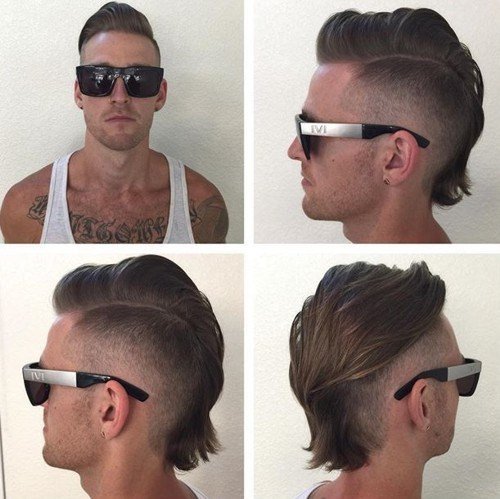 Another faux hawk haircut that turns every head is the flipped version. If you have straight and silky hair, flipped hairstyle might look great on you. The style looks like a wave going to one side. Both sides are faded, while the middle creates one big wave that can grab everyone's attention.
25. Spiky Top
This haircut creates an elegant appearance on both sides of the head. Only the hair on the crown is long, while both sides are shaved completely. The hair on the crown forms spikes which bring out a strong personality.
26. Cap Faux Hawk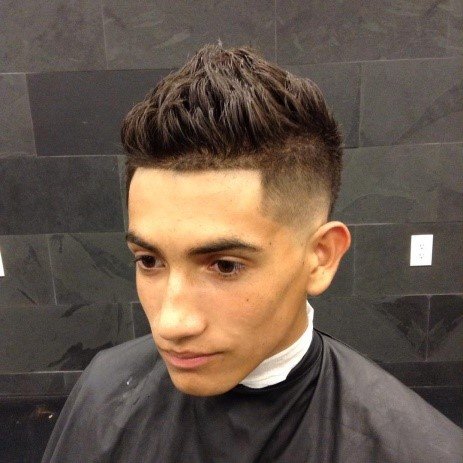 This style gives a cap-like appearance. While the sides are shaved neatly, the hair above is brought together to create a pointed tip. It also has a round base like a cap worn by ancient prophets. This style looks formal, which is suitable not only for the office setting but also for the outdoors.
27. Rock Style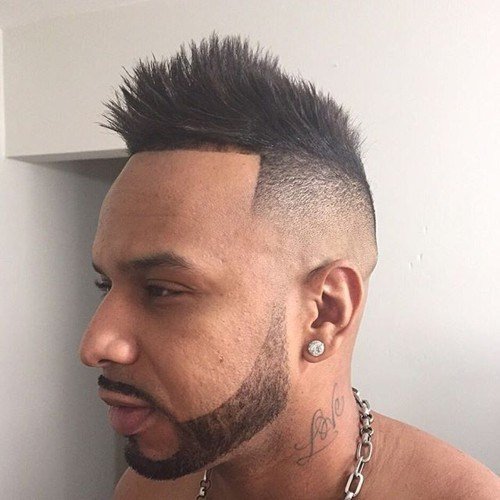 If you want to have a rocker look but formal enough for going to work, you might consider this rock version of a faux hawk. It has faded sides with spikes on the crown.
28. Professional Faux Hawk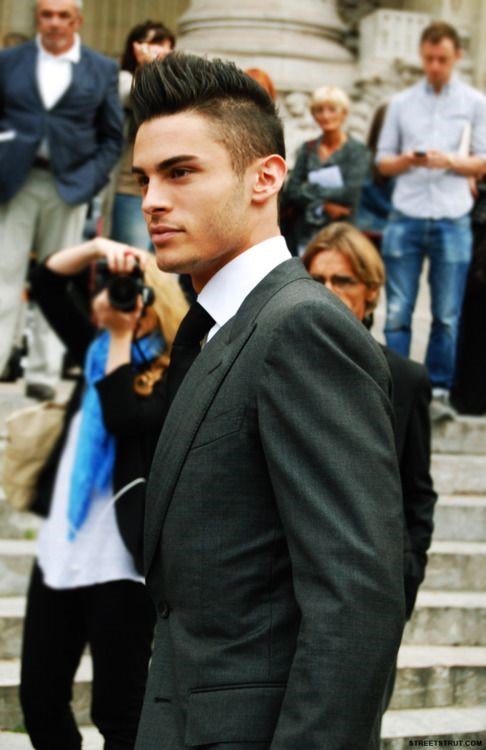 Suppose there is a hair code in your work, then it is always best to follow the rules. This professional faux hawk hair cut allows you to have a fohawk hairstyle while having an elegant or professional style. It is perfect for attending business meetings and leaves a good impression.
29. Square Forehead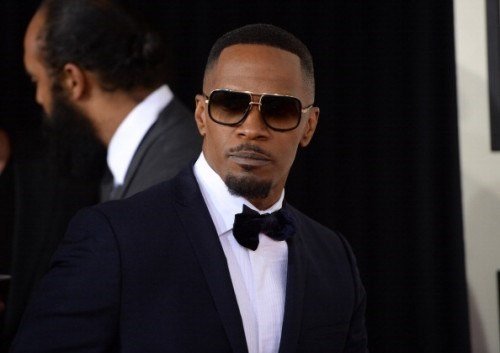 Another faux hawk haircut that most men know is the square forehead haircut. This style is suitable for informal settings. It makes you look decent and clean with the square shape on the forehead.
30. Medium Shaggy Faux Hawk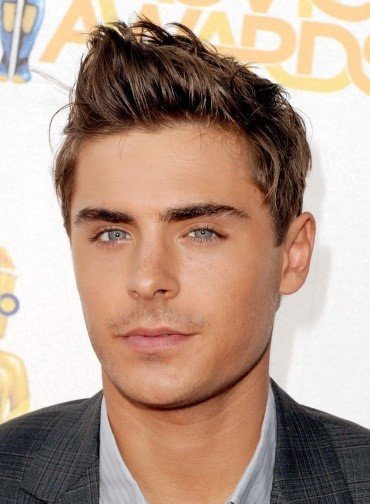 You can leave the top part shaggy as there is no need to make the top part perfect with a comb. This style is also common to many actors as the sides are downwards while the top is spiky but a little messy. This style creates an edgy and professional look.
31. Faux Hawk Haircut for Older Men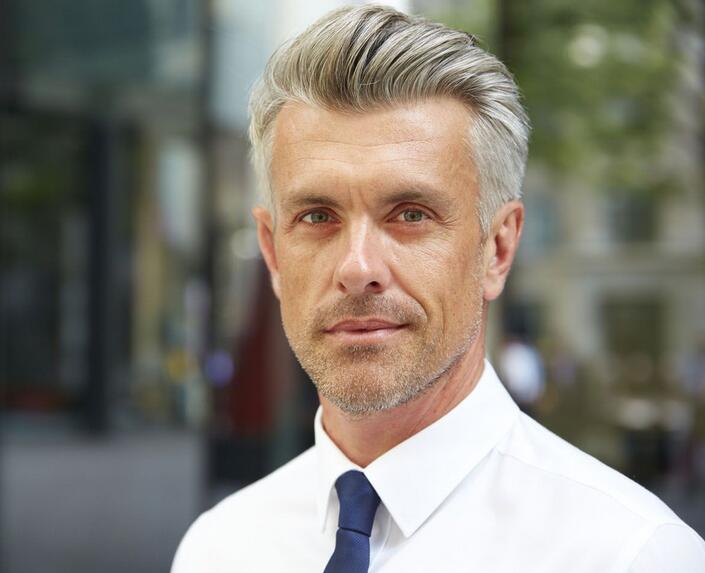 Let us start this enumeration by drawing attention to the fact that men of all ages can sport the faux hawk haircut, and rest assured, they will look great. This is regardless of whether you are above 60 or 80. Faux Hawk is the perfect opportunity for you to add a youthful touch to your greying locks and turn heads in the streets once again.
32. The exaggerated Faux Hawk plus a jutting chin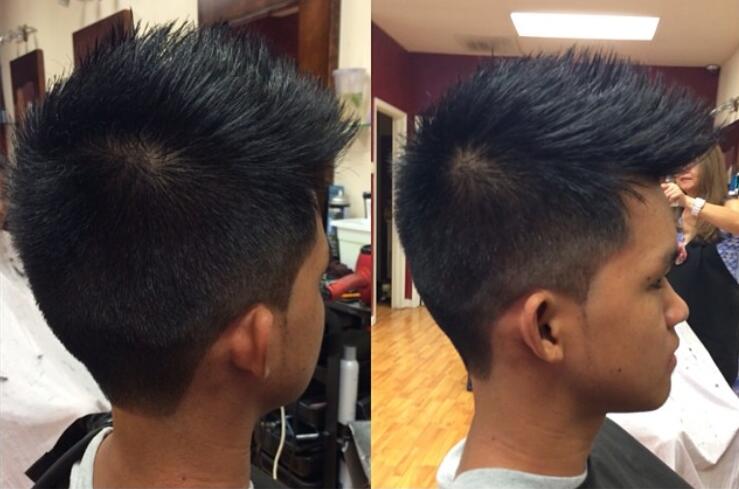 This exaggerated Faux Hawk haircut is a perfect idea for the creative and confident guys who like to display their trendy fashion credentials. As you can see, the top side is lightly highlighted with a subtle copper shade to accentuate the forward movement.
33. Eggy Shaved and V-shaped Faux Hawk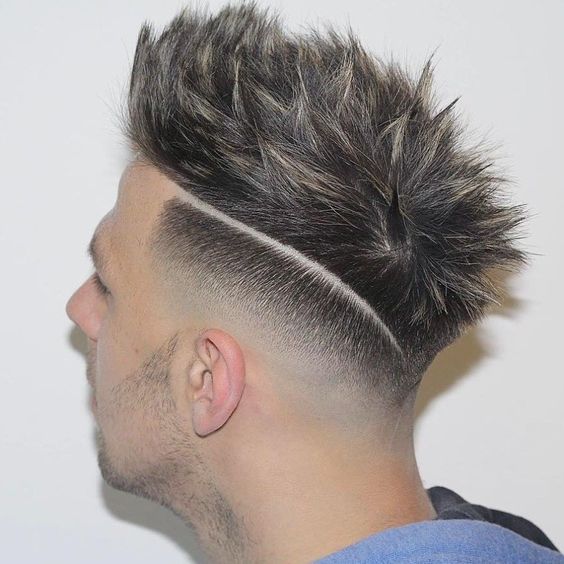 This haircut is a great modern shape boasting short layers radiating from the front side to the backside and creating the V shape while at it. The shaved side will deliver an edgy look and ensure the whole look delivers a textured feeling.
34. The Contemporary Crew Cut Faux Hawk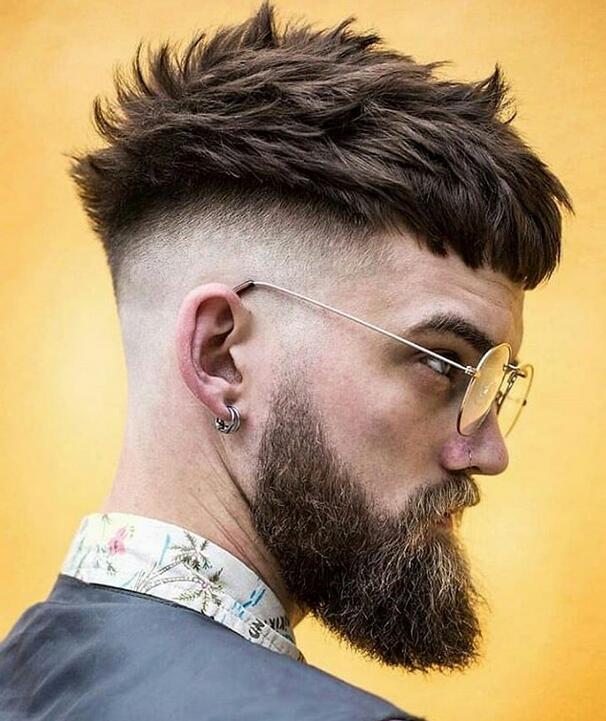 This version of the Faux Hawk is a more modern take on the classic United States crew cut haircut, closely shaved sides and backside. There is also a nice geometric line at the temples, and the cheeks appear clean-shaven.
35. Urban Hipster Faux Hawk for Redheads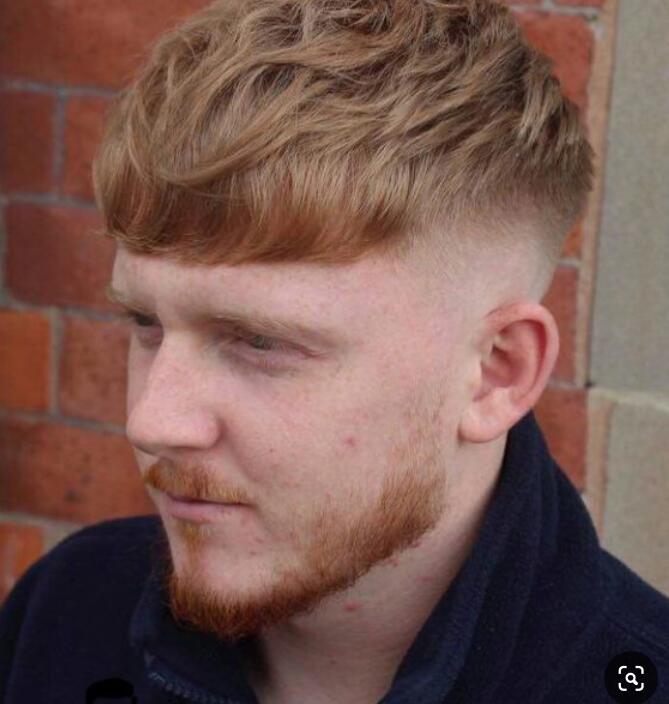 Where are my Redhead readers at? I have you covered on this enumeration as well. This haircut is for those of you who would like to try out an attractive, tousled, and textured top with a forward movement Faux Hawk.
36. The Short Faux Hawk with a clipped beard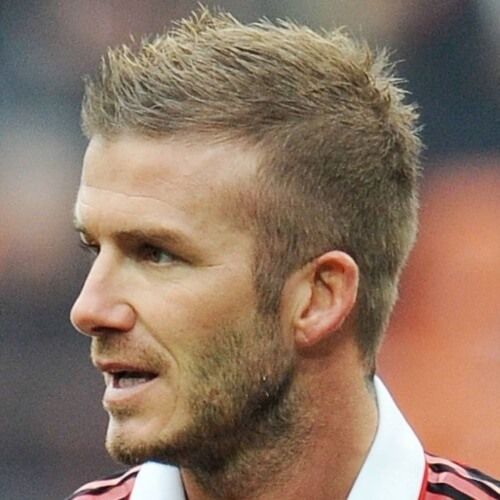 Here comes the first Faux Hawk we will look at from David Beckham for the outdoor and sporty gentlemen. This short Faux Hawk with a clipped beard is a famous option in the hairstyles industry, thanks to its ease of styling and maintenance.
37. The Triangular Faux Hawk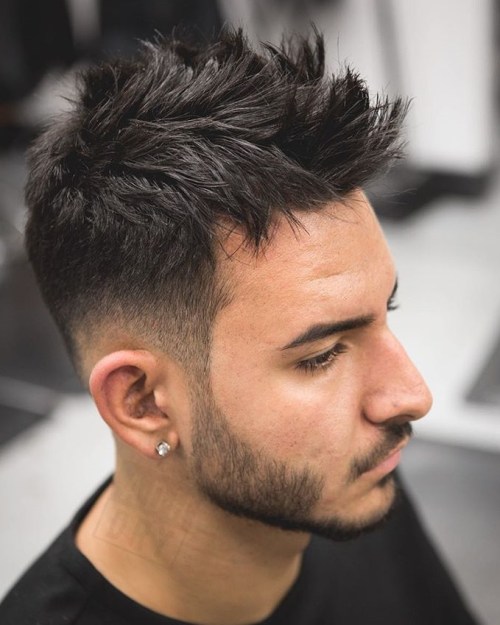 The triangular shape this Faux Hawk takes is a refined version of original punk hairstyles. The thick hair is cut to create a tapered effect at the end.
38. Curly Faux Hawk with a short strand at the middle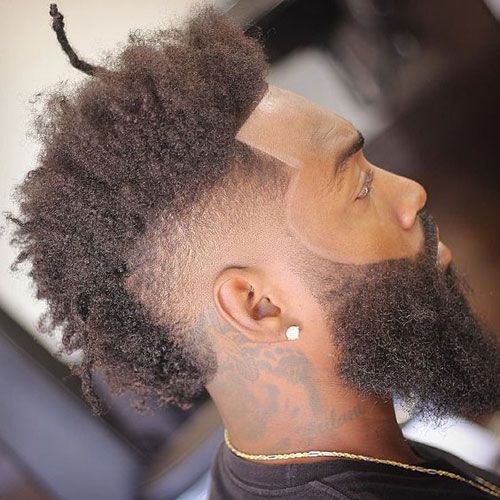 The curly Faux Hawk is an easy-to-style and versatile hairstyle for curly hair; if you are a black gentleman, take it a step further and include the vertical strand you can see in the middle. It will, without a doubt, boost your boldness.
39. Dramatic Faux Hawk with a full beard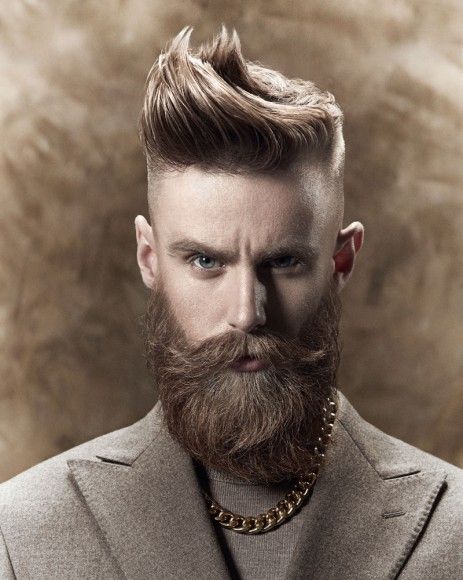 The dramatic wave Faux Hawk coupled with the full beard in the image above is a perfect statement hairstyle since you can rest assured it will draw attention wherever you visit.
40. Messy Classic Faux Hawk with a full beard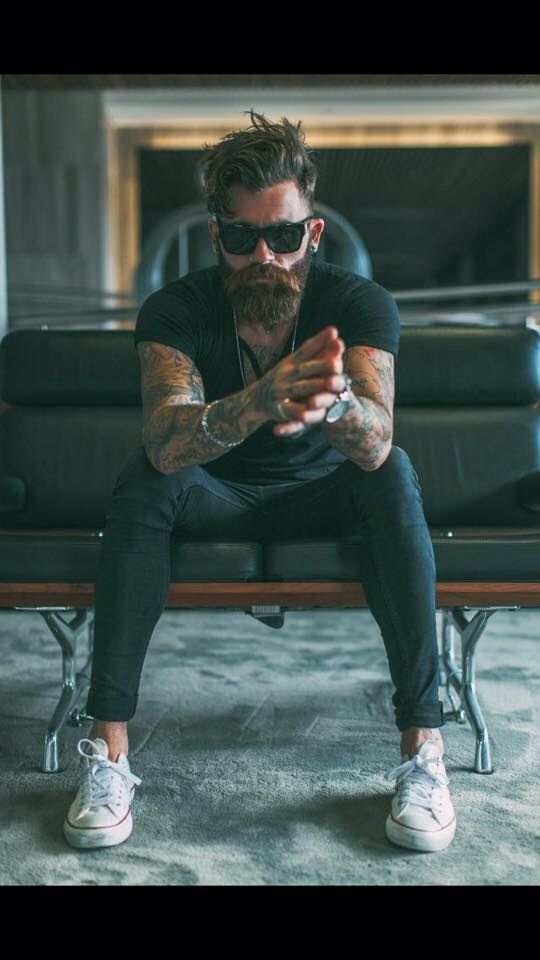 This is almost the same as the one we just looked at; the only difference is that with the Messy Classic Faux Hawk, the top hair is just messy and left to do whatever it wishes. You won't need to apply any gel to it.
41. Classic Faux Hawk with two cuts design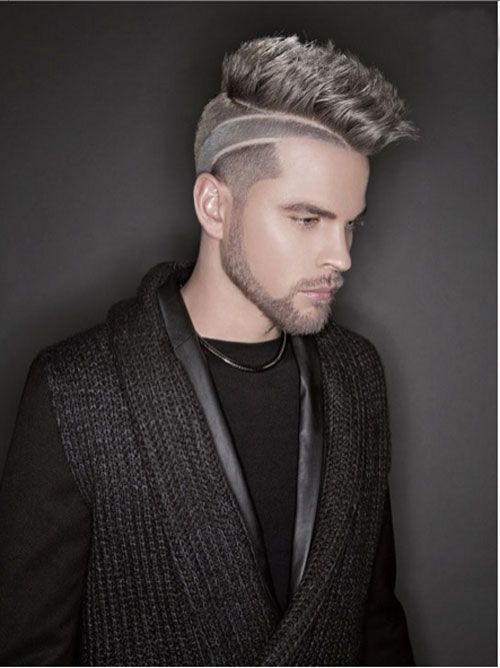 This list would be incomplete if I did not include this haircut in the enumeration. This is a nice spin on the classic faux hawk haircut since it also comes with fade and a pattern styled with two lines.
42. Extremely Voluminous Fohawk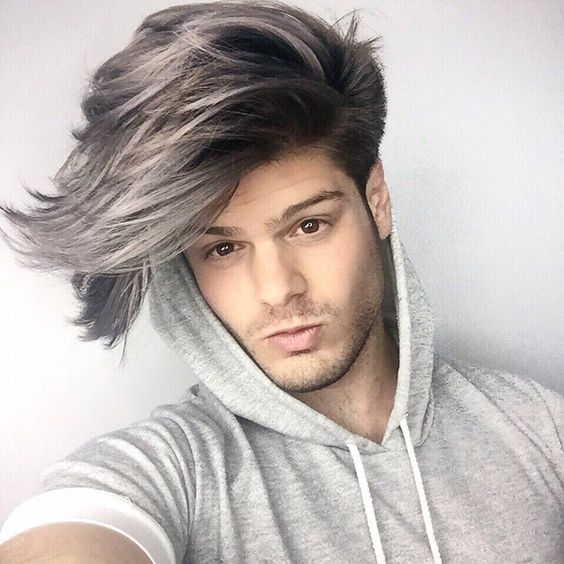 For the biggest wow factor wherever you go, choose this voluminous faux hawk haircut, and if you wish, you can even dye the ends of your hair locks. It is perfect if you have long hair.
43. Undercut Faux Hawk with White hair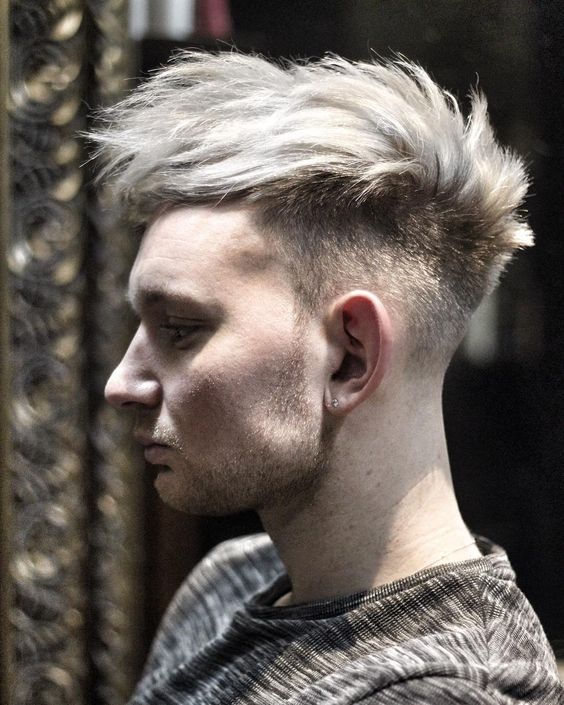 This is exactly like the Voluminous hairstyle we just looked at, but the hair is way shorter with this one. The sides are also more closely shaved.
44. Slicked back pomp Faux Hawk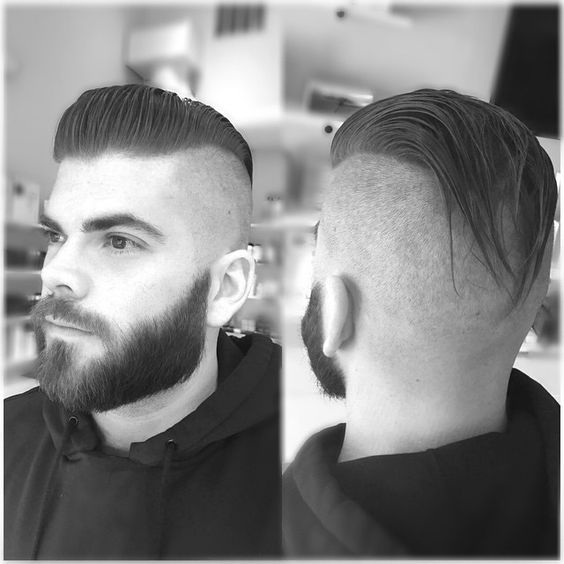 This is for men who would like their hair to appear short but at the same time maintain a little bit of the length on the top side.
45. The Front Curl Fohawk
The Original Gangster of the famous curled cue faux hawk is the front curl Faux Hawk, depicted in the image above. Inspired by the well-known greaser style from the 1950s, the front curl also boasts an exclusive rock and roll feel.
Feel free to mess your front curl faux hawk a little bit at the front ends to boast a more modern adaptation.
46. Faux Hawk with a Hard Part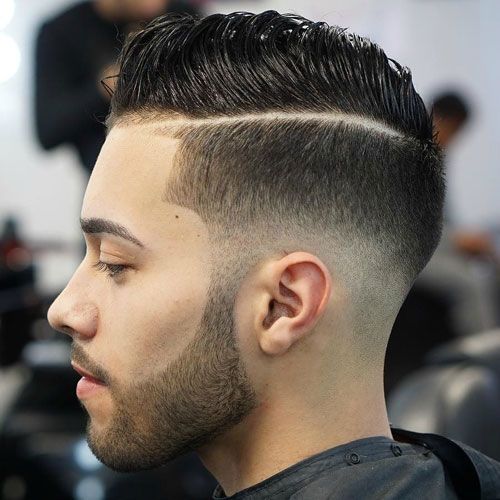 If you feel that your overall haircut has been missing a dash of personality to represent you as much as you would like it to, I advise you to add a hard part. As opposed to a regular part, a hard part is simply a shaven section that is in place to boost definition.
I believe doing so will complete any faux hawk haircut for men very splendidly.
47. Eccentric Fohawk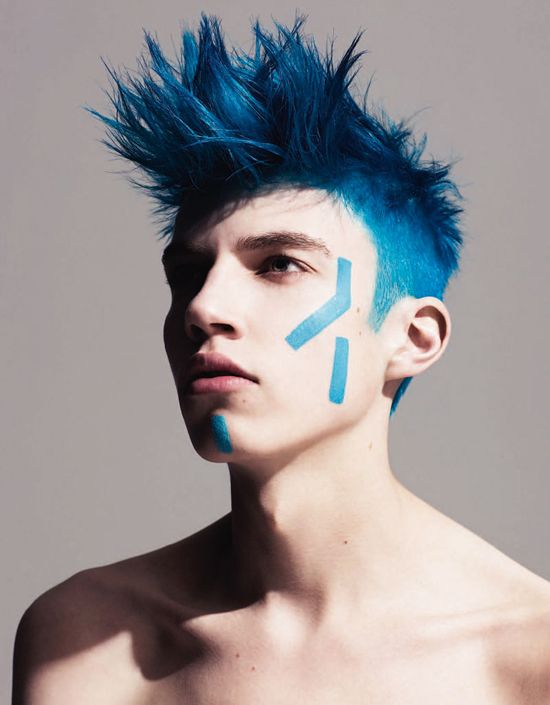 Why not have a little fun with your Faux Hawk haircut by adding a pop color for the eccentric Faux Hawk? This is perfect for any Faux Hawk, and it also allows you to pick the color you think is most bold and will fit your personality type.
48. The Braided Fohawk with a mustache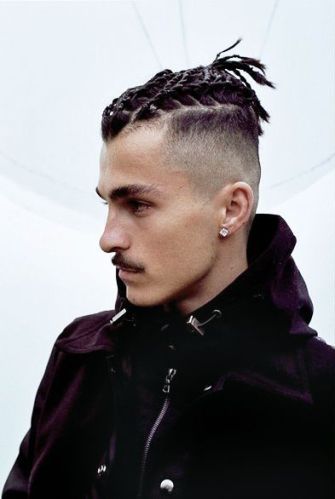 This braided Faux Hawk topped off with a mustache is a fun twist to the typical faux hawk and does a great job of adding character to your hairstyle. Feel free to implement a high number of braids to this hairstyle as you wish.
Executing this versatile haircut well will look fantastic for a casual day-wear. Even if you want to sport it for going out at night, you can rest assured it will not let you down.
49. The Curly Cue Fohawk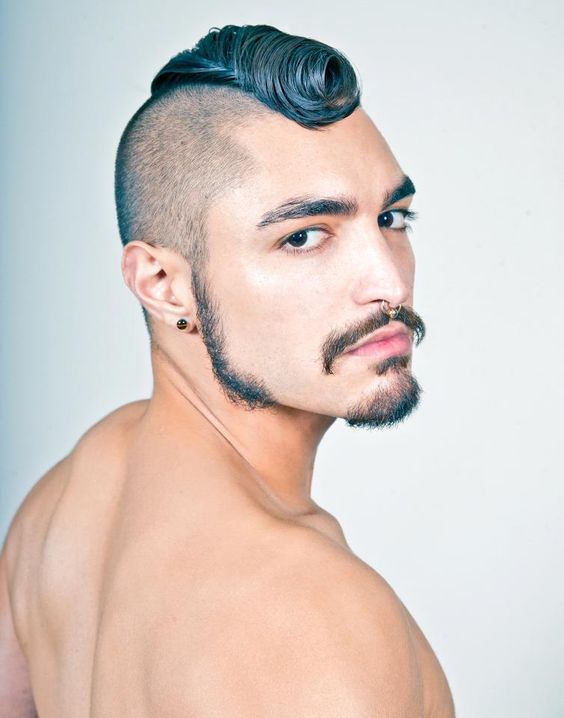 As you can see, this faux haircut also leans a bit toward a Mohawk. However, the curly-cue faux is all a matter of how you can style your hair. Boasting a visible curl, this faux hawk is also striking and dramatic.
50. The side-swept tousled Fohawk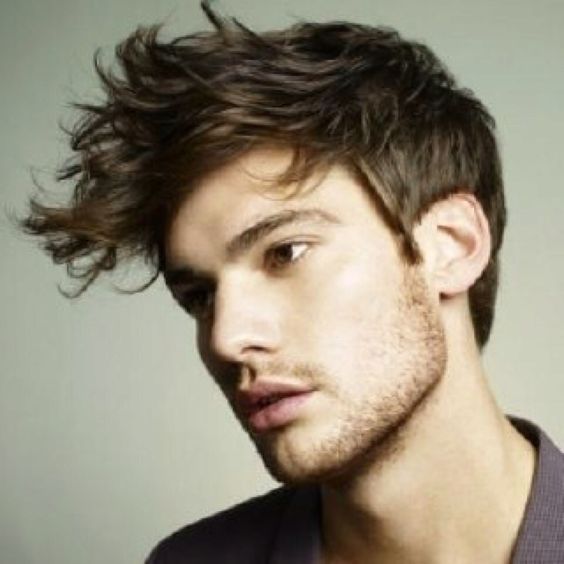 This side-swept touseled Faux Hawk is quite distinct from the messy side-swept Faux Hawk we have seen many individuals sporting over the last couple of years. Unlike the side-swept Faux Hawk, this haircut does not require any gel, and it is more of a bedhead version of the haircut.
To attain this look, just cut the sides of your hair but let the midsection hair go the direction it wants. I think this is just what all of us need for casual occasions.
51. Muted Fohawk with earings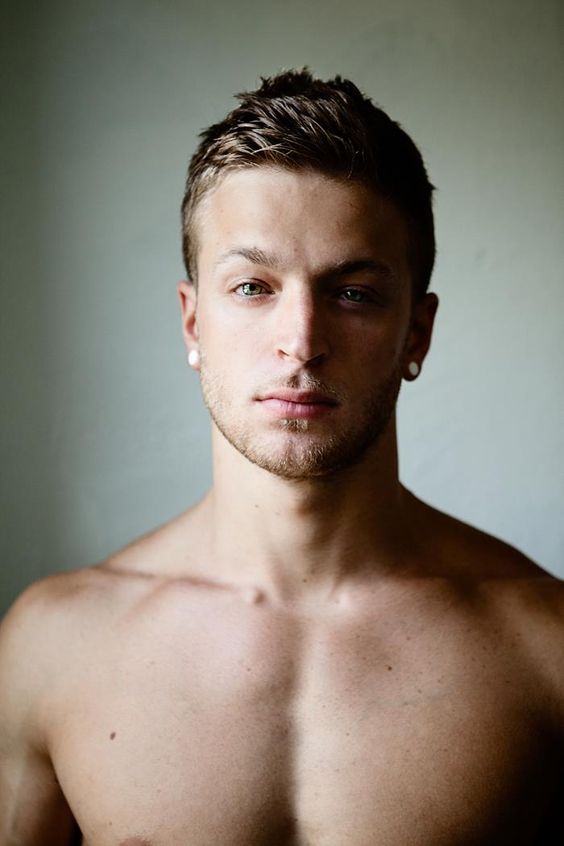 The muted Faux Hawk coupled with earrings is a fantastic haircut for those who would like an all-day wear haircut that can match any setting, be it an informal or a formal one. It also boasts closely cut sides and the Faux Hawk at the center that you will need to gell over to one side so it can lay quite flatly.
52. The Ringlet Fohawk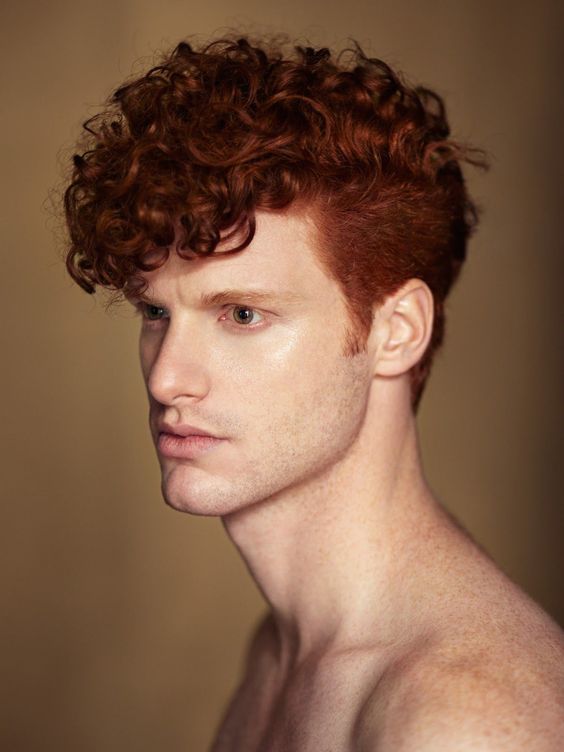 This ringlet Faux Hawk is distinct from the curly faux hawk since the curls are defined ringlets hanging loose without you having to use any product whatsoever. This is one of the most beautiful ways to wear such difficult-to-style curls.
53. The David Beckham Fohawk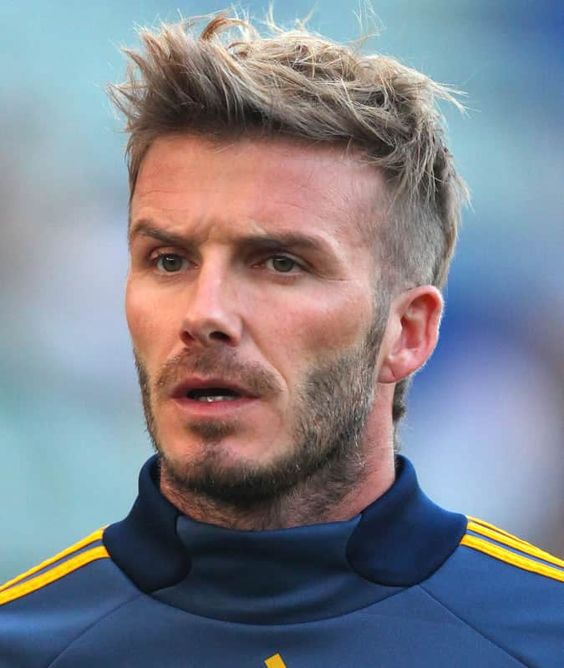 Who better to imitate than the legend himself, Mr. David Beckham. Faux Hawk Beckham sports in the image above is an easy to maintain, short Faux Hawk that would look great for any sort of an active man.
Whether you like sports or just like spending time outdoors fishing, hiking, or scuba diving, then this is the haircut that would be perfect for you.
The other great advantage of this haircut is that it takes very little time to style, which practically leaves you with more time to engage in your love activities. In addition, it is also relatively short enough to keep you cool while you are exercising.
54. Too Messy Pomp Fohawk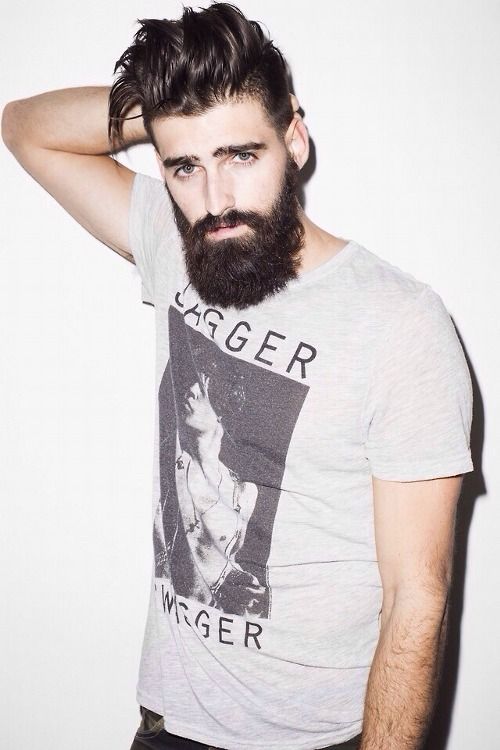 The highly messy pomp Faux Hawk is a perfect way for men with any head shape to bring out a little bit of casual flair to any occasion they decide to engage in. to attain this haircut, you will start by styling a pompadour-like haircut like the dapper cut above and that way, you can put your tousled spin on the classic style.
Better yet, attaining this look will require minimal effort. And maintaining it at the same time is a piece of cake.
55. The Polished Fohawk plus a neck tattoo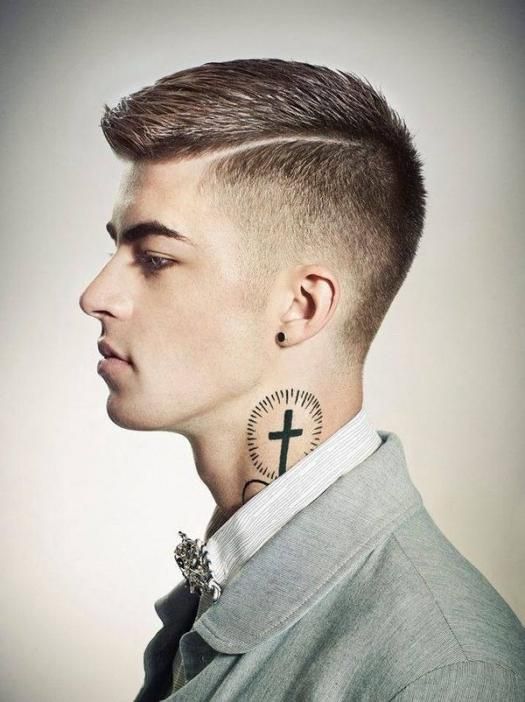 For gentlemen who boast visible neck tattoos and would like a classy, sophisticated way to wear their short hair, then look no further than this polished faux hawk haircut that will leave awe on everyone's face wherever you go.
To attain a simple look when you have a neck tattoo, all you need to do is have a more significant section of hair on the top side that is thick on the front side and start to thin as it goes back to the backside of your head.
Complete the look with a contrasting fade that will leave you looking exceptional, just like the gentleman in the image above.
56. The Shark Fin Fohawk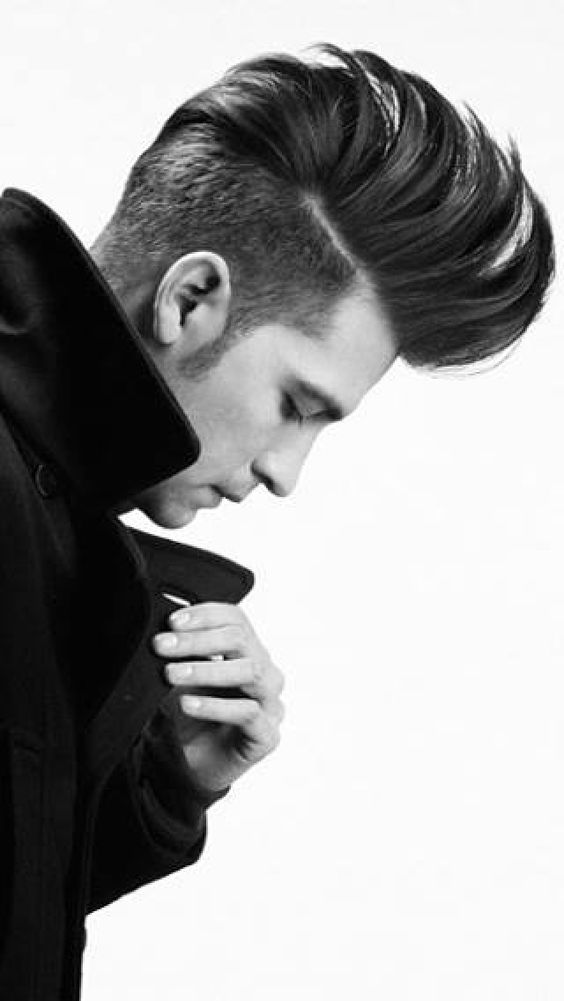 The shark fin Faux Hawk attains its name from the classic pieces you can see in the image above, making it look like a shark fin in the sea. To attain this look, all you need is to have tousled locks facing upward and backward, then gelled into place.
This dramatic haircut will also look great if you party hard and fan the nightlife. In addition to that, the haircut would also look great during the day as you attend other sorts of informal occasions such as weddings.
57. The Wild Side Faux Hawk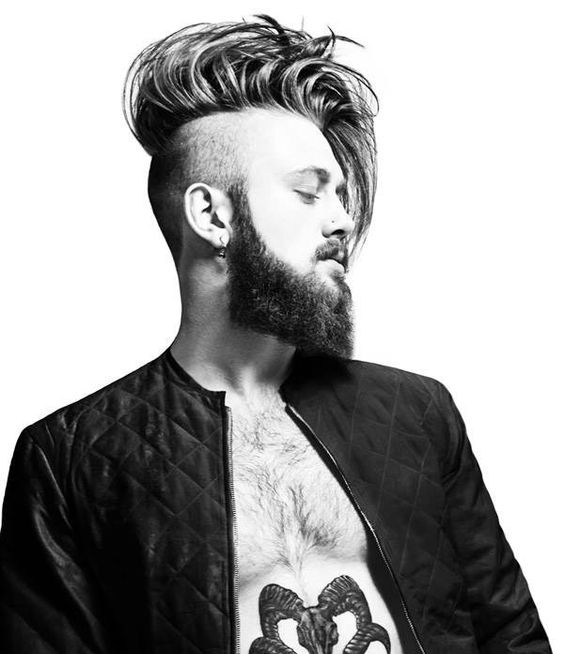 Have you always wanted to take a walk on the wild side of life with your haircut? Then this is your perfect opportunity. Why not try out the wild side Faux Hawk. This haircut boasts closely shaved sides and very long hair on the top side.
Typically, you need to push the hair locks to one side, but you can just let it lay flat down if you wish. I have come across individuals who had done that and looked great. I just personally prefer to let it lay on the side.
If you are looking for an alternative hairstyle and are not yet decided, the Wild Side Faux Hawk is also a great place to start. You never know; you may just get hooked.
58. Long Loose Blonde Curls Faux Hawk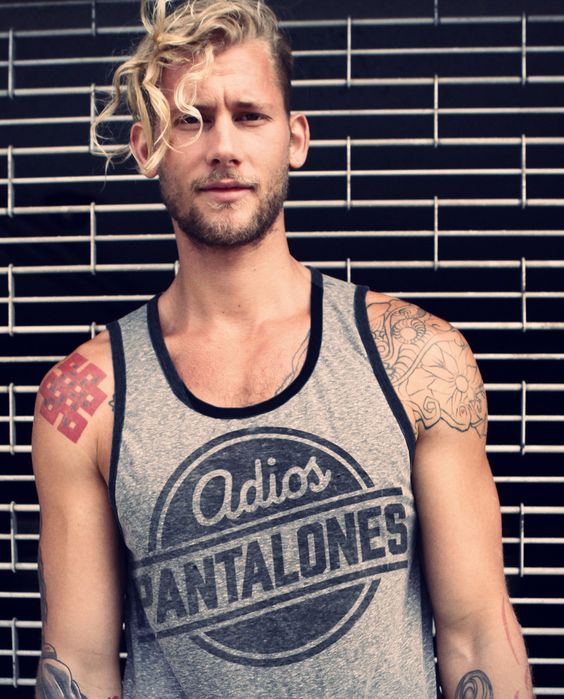 If you boast blonde, loosely curly, and medium-length hair, this Faux Hawk hairstyle will fit you perfectly. It does not even matter what hair type you have or the shape of your head. This haircut has a top side that lets you dangle with no product applied to it, allowing the loose curls to run free.
I recommend this haircut to outdoors people looking for a more casual look to boost their personality and masculinity.
59. The whitish Faux Hawk with a beard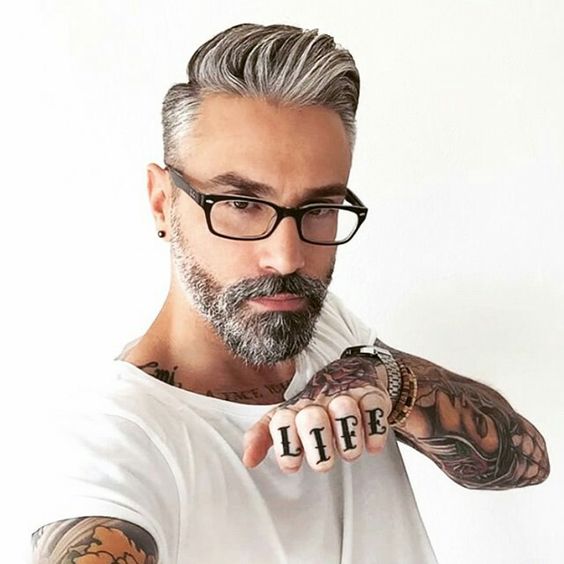 With the whitish Faux Hawk haircut for slightly older men, the hair on the side ought to be backswept instead of getting trimmed down, as we have seen on multiple haircuts we looked at today. In addition to that, you will achieve the Faux Hawk look by sweeping the hair to the backside and then gelling it slightly around the sides, which leaves the top side to do as it pleases.
If you wish, you can gell it as well.
60. The Piecey Faux Hawk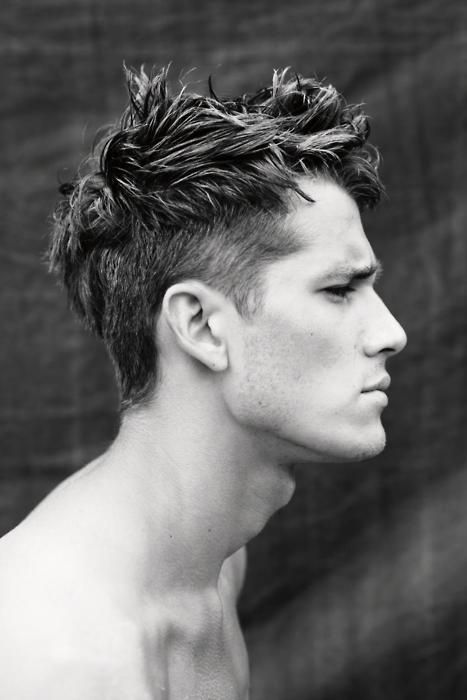 This hairstyle brings your look to life piece by piece, thanks to the heavy gell applied and the layered. This hairstyle will work exceptionally well for those who tend to attend casual events and those who want to dress up any ensemble.