You may think that emo hairstyles are mainly for girls with a lot of angst, and they would like to release that through how they look, but what if girls want to express themselves? Should it be automatic that girls with emo hairstyles are different from the rest?
You first have to ask yourself what emo is. Emo is a genre of music wherein the singers try to look different from the rest of the available singers. Emo hairstyles usually have many bangs that tend to frame and cover up the face a bit. Over the past years, the type of emo hairstyles people wear has changed tremendously.
One thing to be remembered about emo hair is that it does not necessarily have to be straight like some think. Emo hair can also be wavy. What matters is how people would wear their emo hairstyle. If you are currently searching for an emo hairstyle that you think will look great on you, perhaps you can check out some of these available hairstyles.
15 Cute and Groovy Emo Hairstyles for Girls
Side Parted Hairstyles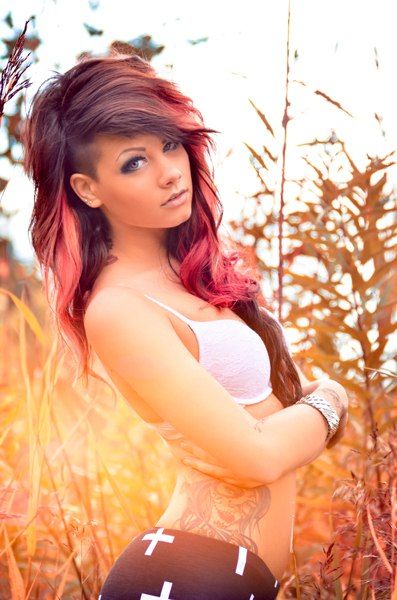 This hairstyle can be worn by girls who do not even consider themselves emo, but because it is worn mighty straight with very sharp, side-swept bangs, it can be regarded as one of the emo hairstyles for girls. Of course, this hairstyle can also look sweet immediately by adding a bit of headband or other colorful hair accessories.
Blonde with Pink Highlights


From instagram.com
You may be thinking, how can a hair color like blonde look emo? Usually, you can achieve this look if you try out a platinum blonde look. You may want to personalize it by having the hair color you want, but if you want something that never fails to look fabulous, you know that you can never go wrong with having pink highlights. You may add the highlights from the crown of your hair up to the ends.
Wavy

It has been said that many people have always assumed that having emo hair requires their hair to be pin straight but this time, having wavy emo hair is possible. This can add a lot of texture to the hair, perfect with an emo-looking hairstyle.
The best way to do this is to color your hair a color you know others will never carry well. The longer layers should be on the sides of your head, while some portions may be shorter. This will work better for people with longer hairstyles.
Braids with Side Swept Bangs
Gone are when braids can be associated only with people who are always lovely dainty, and ready for summer. That emo can now enjoy regular braids on each side of the head. This will look perfect for girls who have a unique and bright-colored hairstyle. Just imagine if you have purple hair, and you will braid it well. It can look great with the rest of your clothes.
Colorful Emo Hairstyles for Girls

Do you find your current hairstyle boring? You know that you can always do better if you would have a colorful hairdo available. One nice color that you can try out is the color blue.
Katy Perry has done it before, and it can be done by girls who would like to have an emo hairstyle repeatedly. Pair the bright color with a deep part on the side of the hair, a lot of layers, and a bit of fullness to get the perfect emo-looking hair.
Half Colored Hairstyle

You would like to achieve some things but cannot do so because you lack the willpower to continue. Having a half and half-colored hairstyle can be excellent for you.
You may choose colors that you think will complement your skin tone. You may also choose to have pink and purple or blue and green hair. Make sure you get part precisely in half to work well for you.
Medium and Choppy Emo Hairstyle
If you want to have hair that is not too long but will still show your personality, you may choose to have a medium hairstyle that you can style depending on what you think will work best. You can choose to have a wavy or curly hairstyle if you chop it up properly. There are usually some longer layers near the back portion of the hair, while the shorter layers will be in front.
Hair Buns

When was the last time you placed two hair buns on your hair, similar to what other characters used to have? If you have not done that in a long time, perhaps this is one emo hairstyle you may want to try. Of course, this can look perfect if you would have colored hair to boot. Try out something colorful and bright such as pink or neon green.
Dipped

Do you want to have a unique-looking hairstyle that will make people wonder if you are emo or not? This is one such hairstyle that a lot of people can appreciate. This can also work well for any hairstyle and hair length. If you are wondering how this is done, it is pretty simple; you need to ensure that you will have different colored ends from the overall color of your hair.
Rainbow

The colors of the rainbow are not only available in the sky. Right now, you can see rainbow hair anywhere. Just imagine what your hair would look like if you had it. This staple can be perfect for both girls and boys, although it is evident that girls tend to wear it more. This can be perfect for any hair length, although most women would choose to have big curly hairstyles along with the colors of the rainbow.
Pixie Haircut with a Twist
Do you want a hairstyle that looks different from all the rest? You know you will not be disappointed when choosing this type of hairstyle. To make the pixie cut look more emo, you may put some angled layers on the side of the hair—Color the hair portion underneath a much darker color than the hair color you have at present. Good hair colors will help accentuate the hairstyle.
Front Bangs

Even though it is not accurate that all hairstyles with bangs can be considered emo, many girls are truly emotional and would like to ensure that they will have a great-looking hairstyle that looks amazing.
There is a chance that you would have a different preference than others who may have the same hairstyle. You may choose to have front bangs cut bluntly, or you may decide to have side-swept bangs. Ensure you secure it with a bobby pin to complete your emo look.
Hot Pink Hair

Even though pink seems to be an extremely girly color, this can also be considered emo, especially with the right hairstyle. The hairstyle can be a simple emo haircut, but all the hair will be pink. It can even become even more enjoyable with the right hair accessories. Floral headbands will always look nice with the rest of the hair.
Formal

Some people might think that there is no such thing as a hairstyle worn to formal events, but perhaps things have changed drastically right now. Many emo girls love going to formal events with their emo hairstyles, and they do not look bad, especially with their frocks.
Colored Shoulder Length Bob

Having a bob hairstyle may seem boring, but you know that you can always change it by making sure you have many colors on your hair. You do not necessarily have to follow the colors of the rainbow. Instead, you may choose to have pastel colors on your hair. Just imagine how great it would look. You know that your bob hairstyle will not be boring anymore.
Different types of emo hair are labeled, and you can choose one that will be perfect for your personality and conferences. It does not matter what color you desire if you are happy with what you need. Whether you would like your hairstyle to be overwhelming or not will be up to you.