Most black women think that short hair makes them masculine. However, that is not true. Black women usually have hair with a unique texture. That is why long styles won't go well with it. A short hairstyle has lots of advantages. This hairstyle will give you a youthful look, and it is also easy to style. You can choose from bob style to the extra – mini buzz.
However, there are many beautiful short hairstyles for black women out there. How to choose the best short haircut for you?
You should consider the shape of your face first. Short hairstyles can highlight the shape of the face. It also showcases your facial features, especially the eyes. Therefore, if you can boast beautiful skin and an oval face, you will become a goddess with any short hairstyle.
But if you have something to hide, you shouldn't adopt this hairstyle. Round faces will appreciate hairstyles with volume on top with thin sides. The best way for those with oblong or long faces is a volume on the sides and long bangs. We have collected 60 trendy short hairstyles for classy black women in this article.
60 Trendy Short Hairstyles for Black Women
1. Layered Pixie Haircut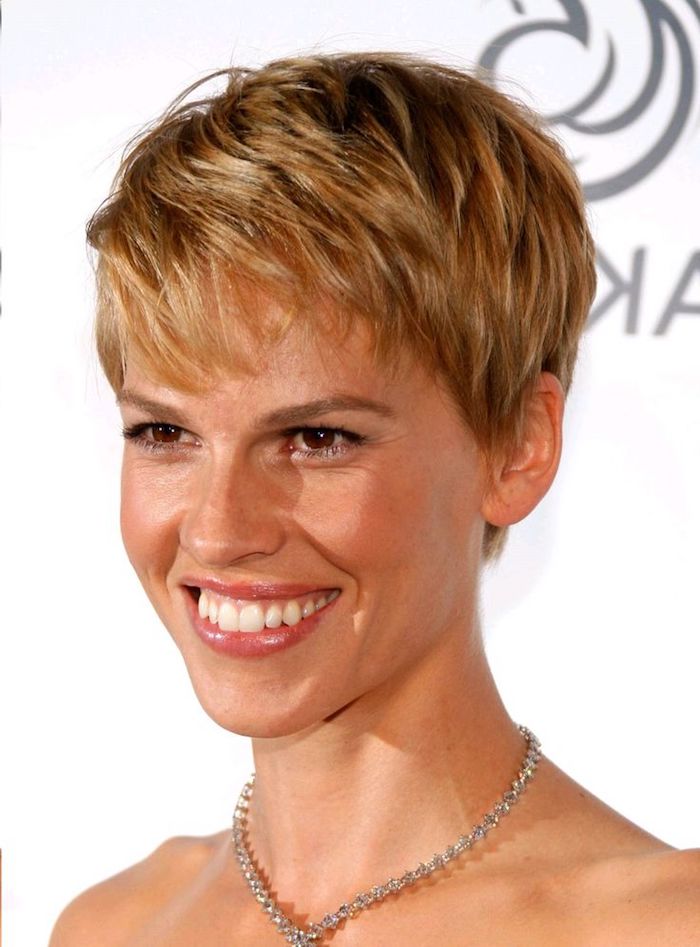 The layers and the bright colors work like a charm. It highlights your hairstyle, which can change your appearance. When the style is your only concern, this is your hairstyle. In addition, it is also a quick haircut to maintain.
2. Short Pixie Cut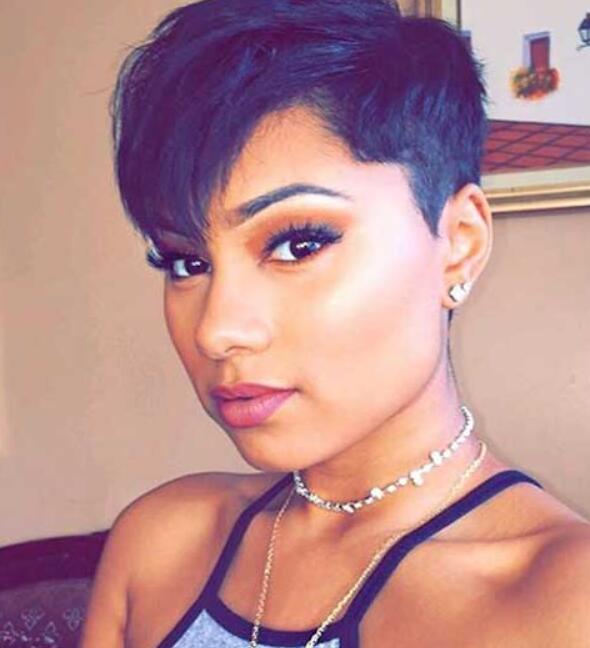 Short Pixie Cut is so easy for you to take care of. So you don't have to spend long minutes in front of the mirror before leaving for work. Simple brushing is enough for you.
3. Short blonde hairstyle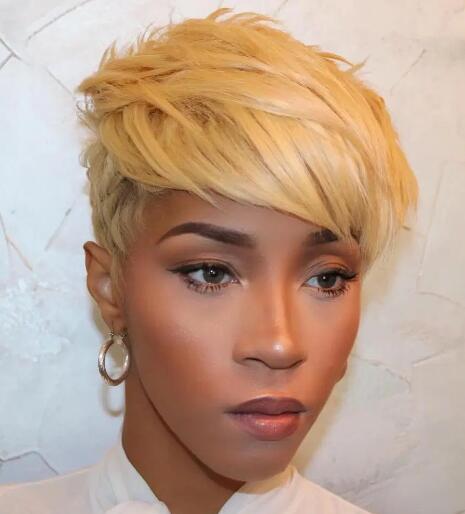 The result will look glamorous when you put a shortcut and a customized blonde color together. Some women refuse to change to another after experiencing the confidence boost this particular hairstyle gives. It is so trendy and gives a youthful appearance that we all love.
4. Black hair with highlight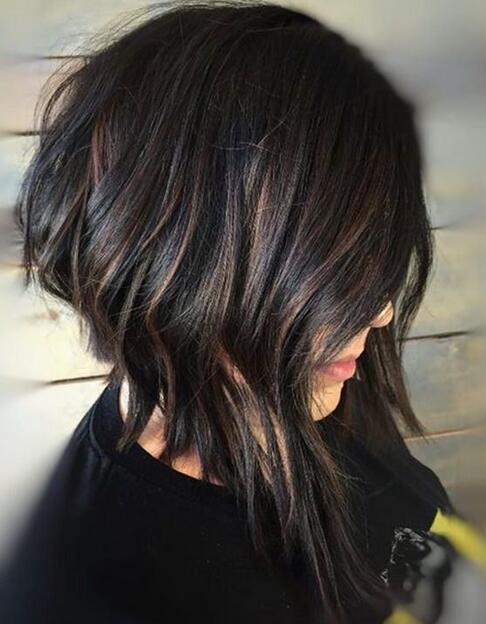 This haircut gives an impressive sigh when the color is on the black base of the hair. This haircut is one of the latest hairstyles carried by black female celebrities. It gives that cheerful and fun look that we like once in a while. From my personal experience, it is worth a try.
5. Shot black with finger waves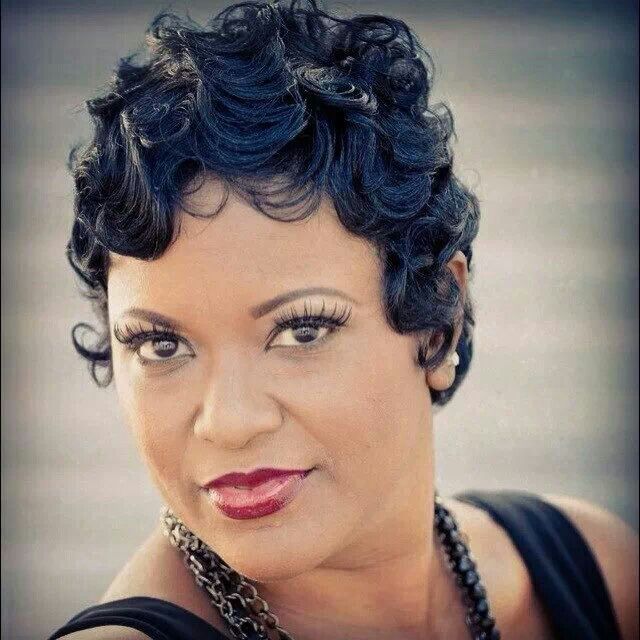 This is one of my favorite hairstyles. It is simple and stylish. The main thing is to cut the back of the hair very short and get a curly hairstyle. This haircut will amaze you with the attention it brings.
6. Razor cut hairstyle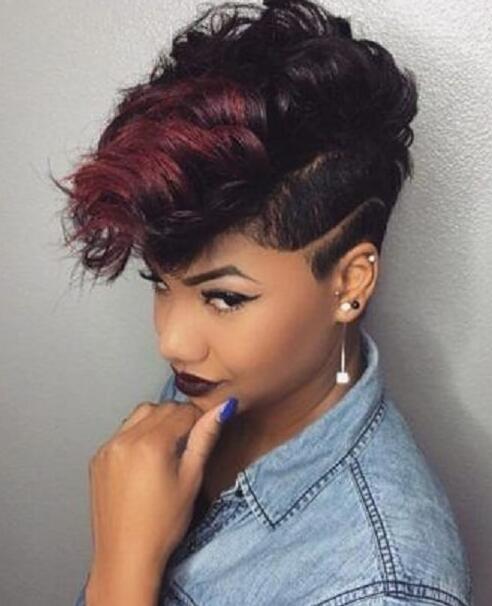 One thing that makes this hairstyle impressive is the contrast between the skin and the hair. The hair strand is well defined, which produces an elegant look with glamorous flair. It is easy to get hooked by this hairstyle. It is perfect for older ladies and younger ones too.
7. Red mohawk for ladies

One thing ladies love about this hairstyle is that it gives them confidence in a man–dominated world. A look at a lady with a hairstyle like this will have you thinking she is not afraid of anything or anyone else.
This hairstyle makes a real statement of intent. It gives that bossy look that some ladies love to show. It is like you are telling the world, hey, I am in charge of my life with this hairstyle.
8. Buzzed side pixie Bob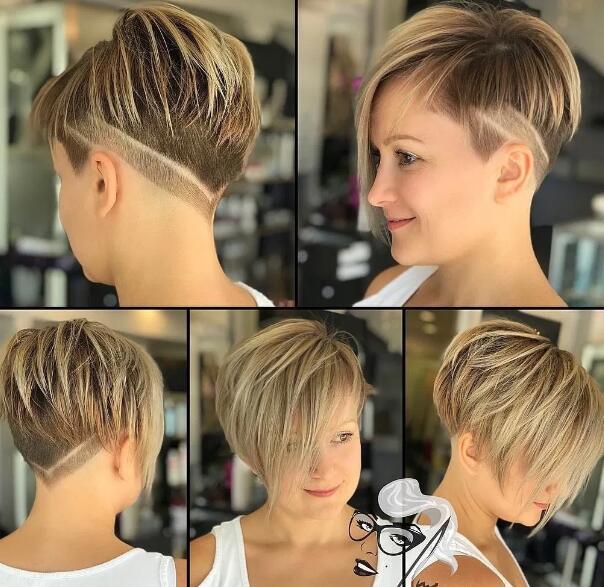 This hairstyle is what you need when you wish to frame your face. You need to keep a side of the face covered with the bangs and cut the other side extra short. For women with a round face, this is what you need.
9. Pin curls
To avoid colors and hairstyles that make you look older than you are, you need to spice up your haircut. The best way to do this is through bright magenta and style the hair with sassy pin curls. These will make your hair look fantastic. The truth is this style is full of glamour.
10. Messy curly black pixie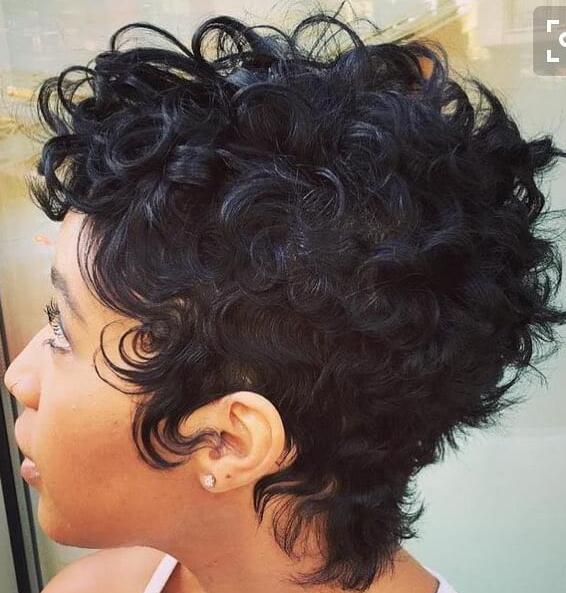 This trendy hairstyle lets you show off your curls. It is a great way to make a statement among your friends and colleagues in the office. The texture of the hair is also preserved through this style. Hence, you don't have to be afraid of changing hair texture because of this hairstyle.
11. Perfect curls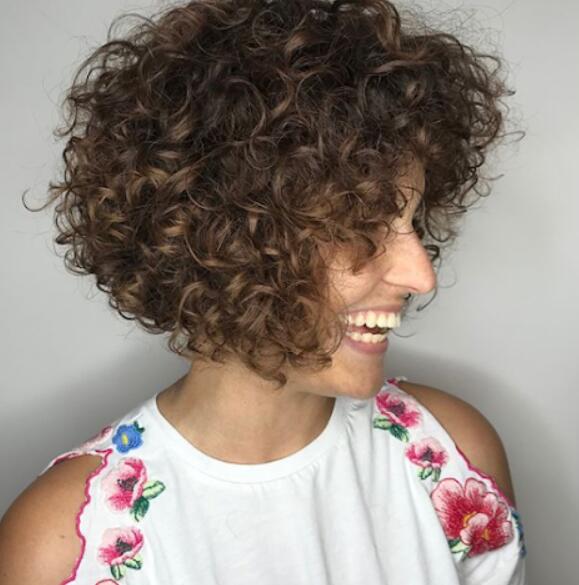 You will need some hair wax for this hairstyle to ensure that the shape is maintained. The sophisticated hairstyle will make you dye the hair and define them with a curling iron. The good thing about this hairstyle is that it doesn't need you to arrange it often. Once done, you may not need to tamper with the hair for a long time. Perfect for those who are always running a tight schedule.
12. Texture cut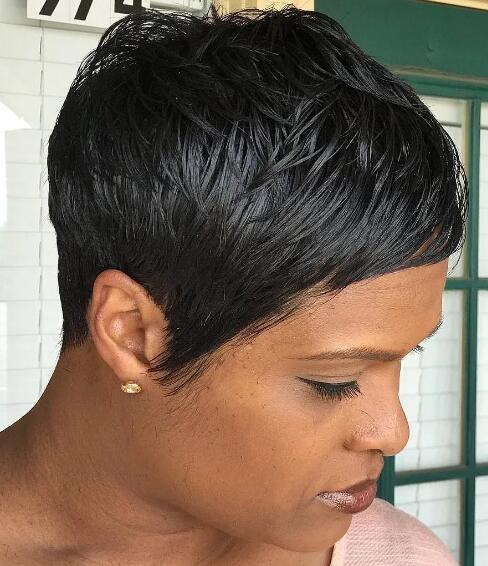 This is another of my favorite. One thing about this hairstyle is that it shows that short bangs are very comparable with pixie haircuts. It is perfect for women with a round face too. It is suitable for black women irrespective of their ages.
13. Highlighted fauxhawk for black hair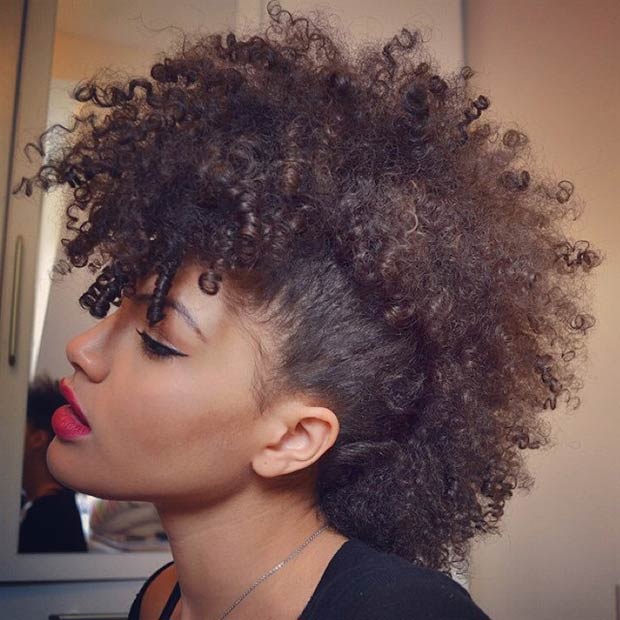 This is a simple yet attractive hairstyle. It allows you to play with the shape, texture, and color of the hair. It gives you a youthful look—a simple hairstyle, perfect for every occasion.
14. Blonde bombshell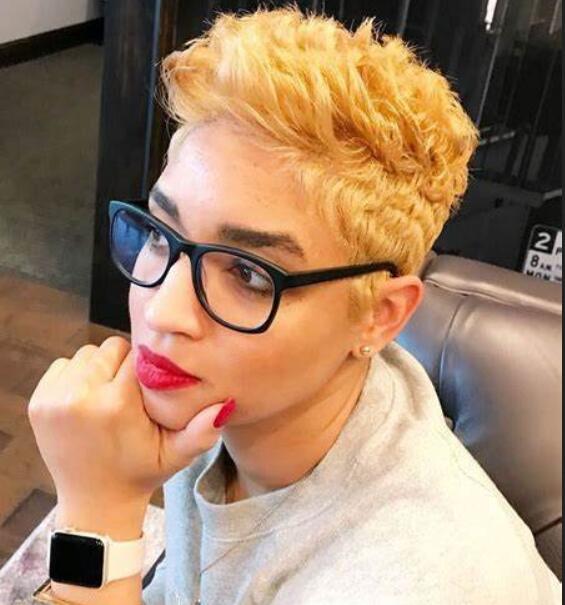 For lovers of blonde styles, this is perfect for you. It is a style you will fall in love with instantly. Some of my customers have declined the chance to alter their hairstyle since I introduced this one to them. It is simple, classy, and stylish. What every woman, not just blacks, will want to be recognized for.
15. Short weave hairstyle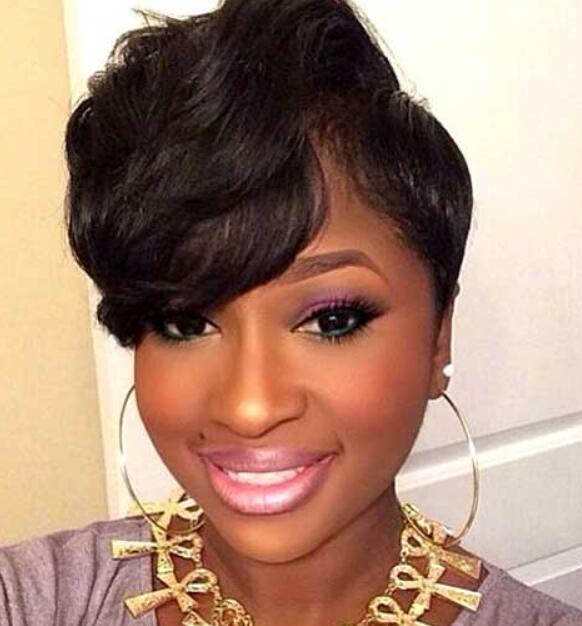 The addition of a beautiful front highlights the style perfectly with the fantastic weave. Fix them with hairspray, and you have a perfect look to last you the entire day. A simple, elegant, and beautiful hairstyle for all face shapes. You can never go wrong with this hairstyle. It gives you a flawless look.
16. Layered pixie cut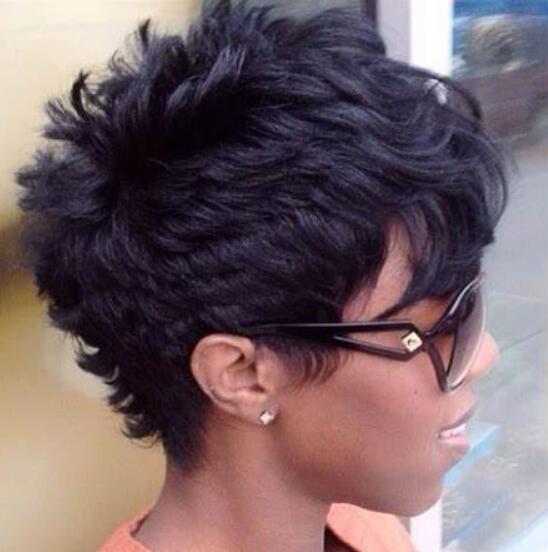 A look at these highlights, breathe because you will find them live–taking. The blend of the bright upper part of the hair with a darker base is perfect. You can't go wrong with this hairstyle. It is fantastic and perfect for all face types. It is suitable for older and younger ladies as well.
17. Short easy curls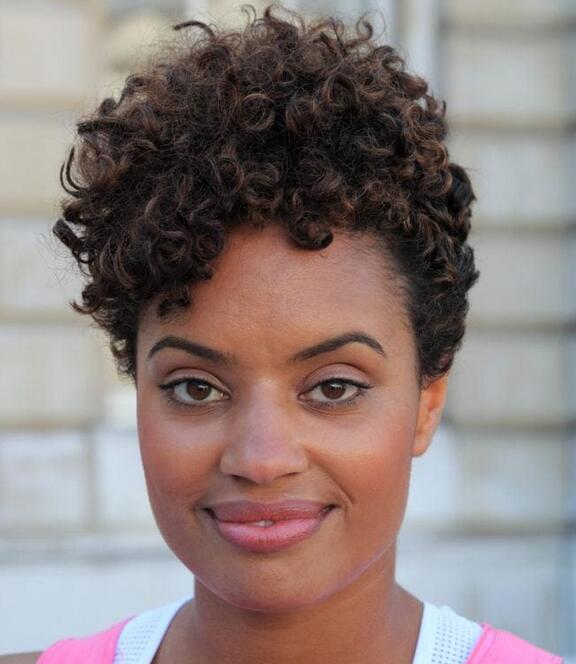 The best thing about having short hair is that it gives you options. You have a choice to straighten or curl it. Whatever option you take will provide you with a resounding result that will leave you looking stunning. However, this style is among the best options to take when curling. Beautiful and simple.
18. Black textured bangs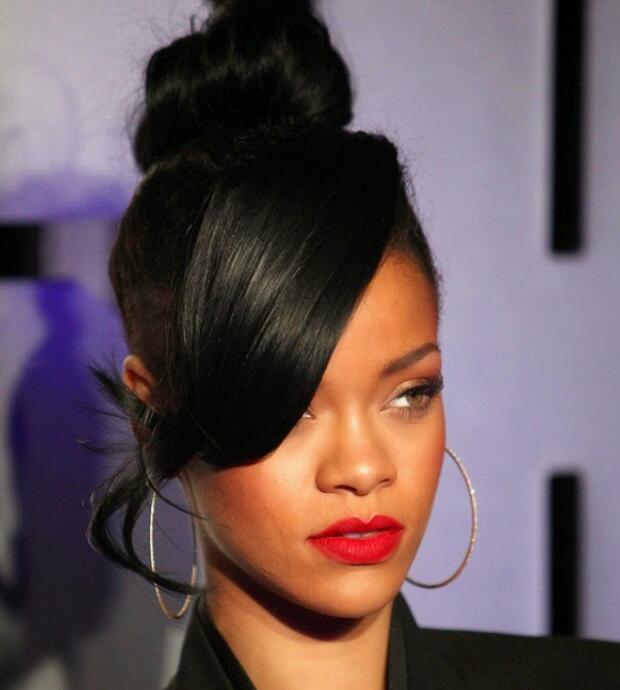 For those who are always short of time and can't afford to spend time on their hair, this is your hairstyle. All you need to do is straighten with iron and condition the hair. It won't stop shining. Giving you a perfect look all day long.
19. Dark-blonde hairstyle
This is a marvelous way to put a short haircut tether with breathtaking color. It is one of the oldest short hairstyles for women, and it never gets old. Also perfect for women with round faces.
20. Platinum hair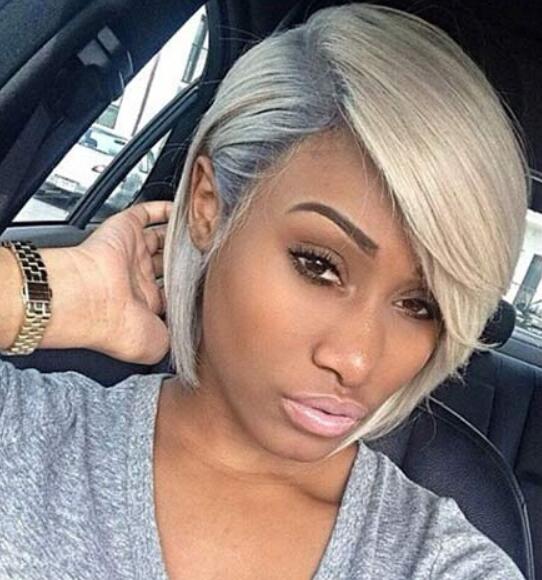 Most black ladies love this hairstyle because it gives them the confidence to take on the world. It also sends a message that they are bossy and winners.
21. Purple shades
When you want to get attention from male or female admirers, this is one of those hairstyles. Heads will turn literally when you carry this hairstyle. The dark purple fathers are breathtaking. It will give you one of the best looks in town. You will be the envy of an event you step into.
22. Short haircut with design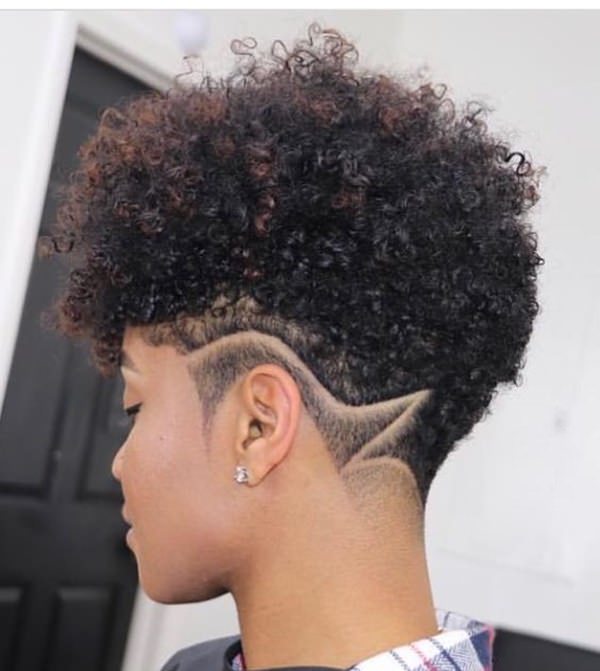 If you want a beautiful hairstyle with a fantastic back view, this is the hairstyle for you. All you need to do is visit a local barbershop and get a trendy design. Perfect for the young generation of black Women.
23. A mohawk Haircut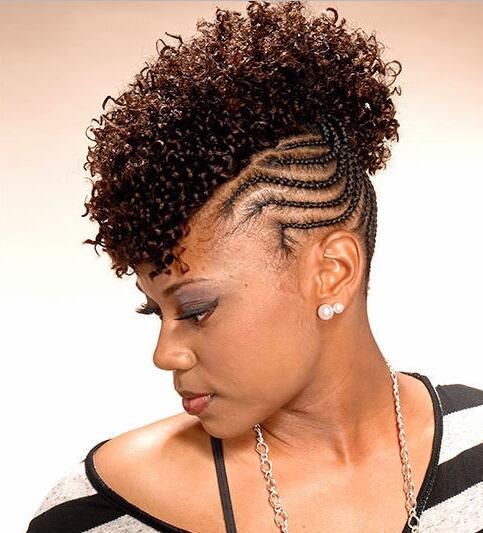 If you don't want the normal boring haircuts, you should take a bold step and try something different. This beautiful mohawk is a bold step when it comes to hairstyles. However, it is worth it.
24. Extremely short haircut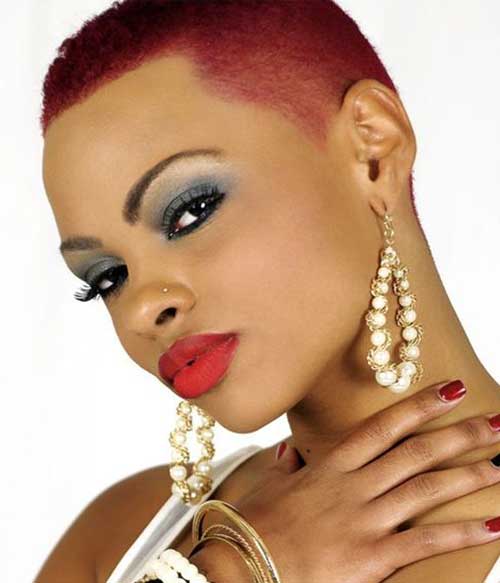 A look at this hairstyle will attract you to it immediately. For those women who want to feel sassy, this one is for you. You need to visit your local barber and let him shave the hair at the back. The top shouldn't be touched at all.
25. Short hair with bangs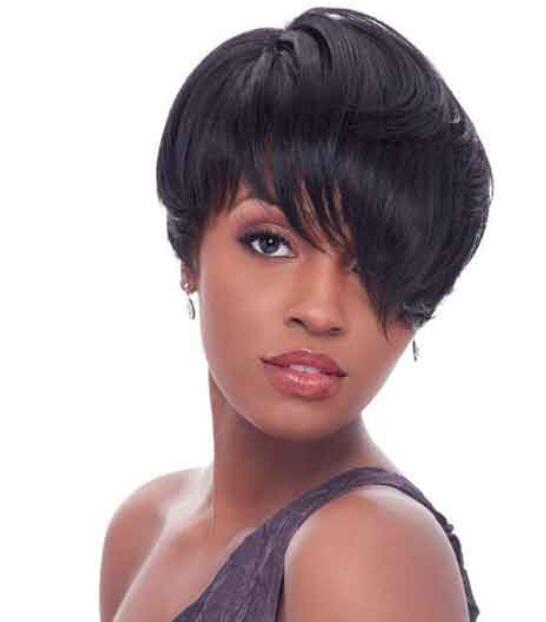 When you want to display your beauty without drawing so much attention, this is your hairstyle. It allows you to show your forehead with short bangs. Drawing attention to your unique facial features. Allowing me to feel like a queen all day long.
26. Pastel pink balayage bob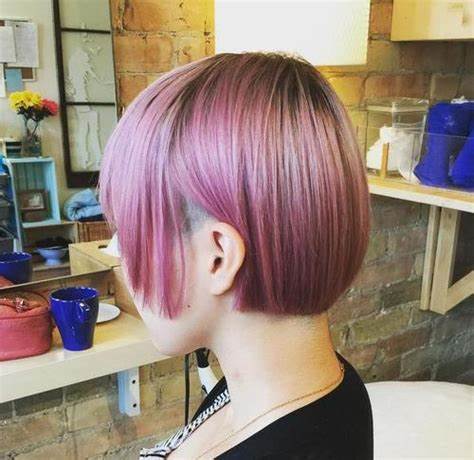 When using a pink dye, the short bob goes perfectly with the balayage. All you need to do is make sure that the pink is warm and light. The hairstyle is perfect for all face types.
27. African American short blonde hair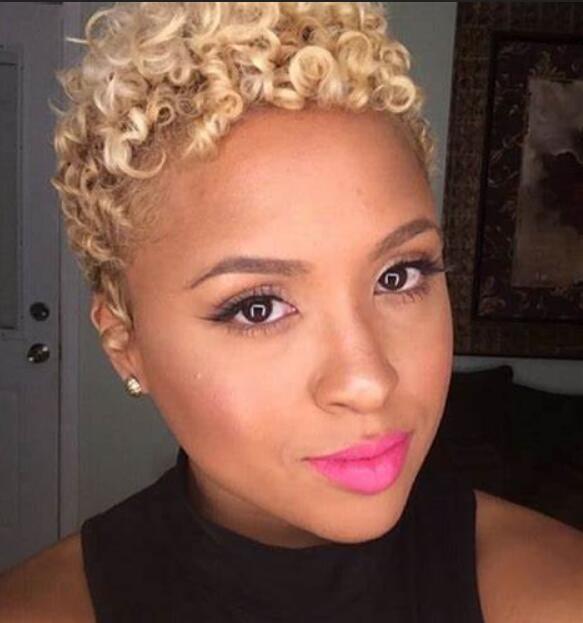 This hairstyle leaves you breathless, and you will applaud this combination when you look at it. We are talking about the combination between platinum hue and piece -y pixie haircut. The hairstyle is gorgeous to look at.
28. Very short hairstyle
Short hair doesn't look better than this. This hairstyle should be at the top of their list for black women because it gives you an effervescent glow. No matter the shape of the face, this hairstyle will be perfect for you.
29. Perfect pixie hair with bangs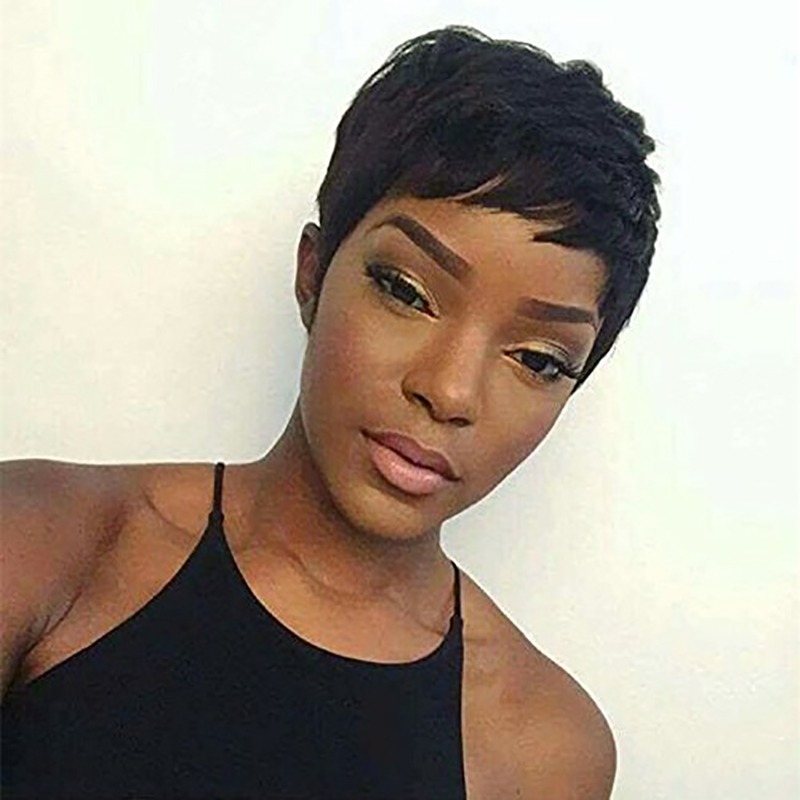 If you want to style your fine hair, this is probably the best way to do it. Also, short bangs are trending right now. It enhances women's facial features, and it is perfect for women with a round face.
30. Shiny black hairstyle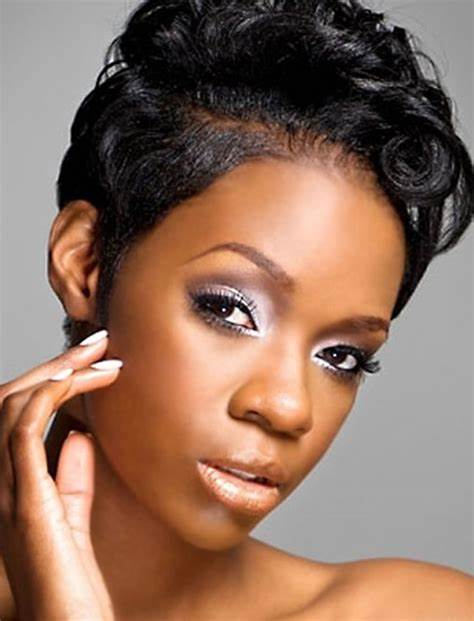 The combination of texture and shine blends perfectly to give you a gorgeous look. This hairstyle makes aa a bold statement of confidence and class. You should try it for the summer.
31. Black Women's gray short hair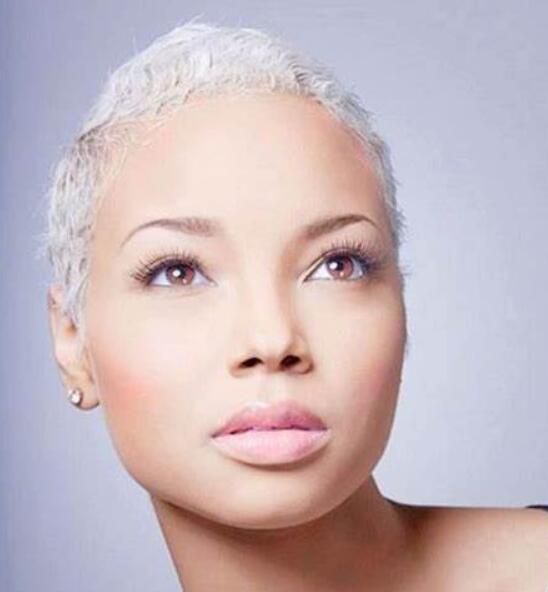 You can also call this hair the ice queen. However, it is difficult to achieve a gray hair color. However, it looks so perfect after it is done. It is so beautiful to look at when you see a woman wearing this hair look.
32. Easy waves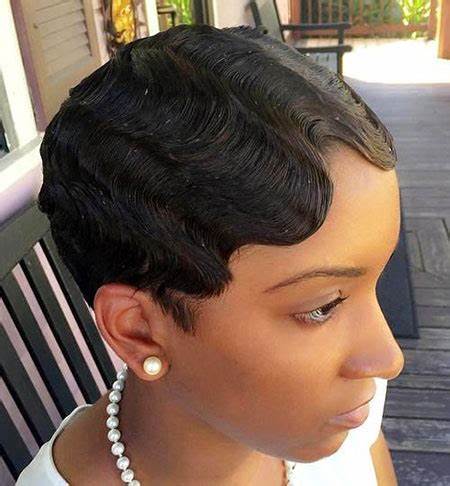 Use a weave to add new lengths and colors to your hairstyle. To increase the length, you can use waves to give your hair a light tone. You will have a pretty, elegant, and attention-grabbing look. Moreover, the easy weave is becoming trendy among ladies.
33. Natural Curls with Taper Fade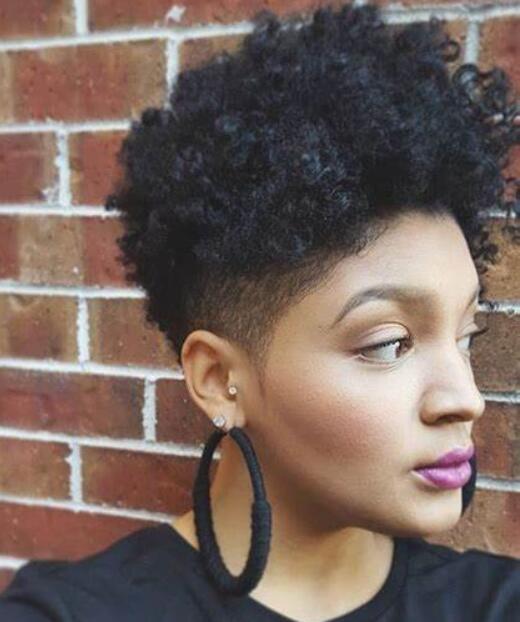 Here is another haircut that looks perfect on black women as long as you have naturally curly hair. It will save you time because you don't have to style your hair in the morning.
34. Short straight hair with bangs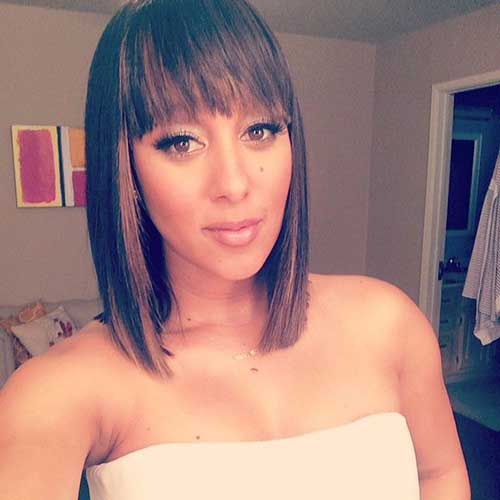 This is the quickest way to look and feel French. A choppy cropped bob, red lips, and blunt micro bangs are the way to go.
35. Shaggy hairstyle for short curly hair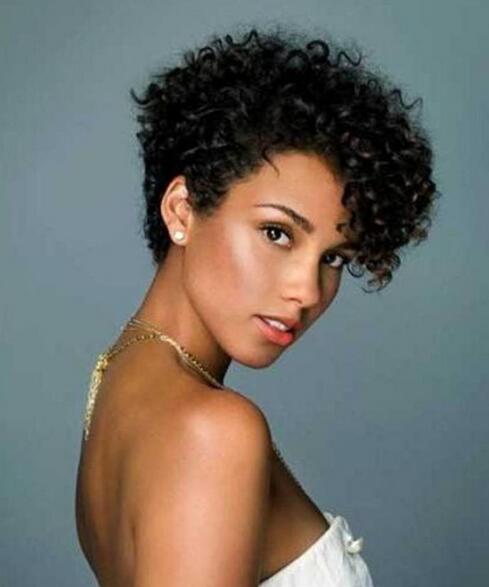 Another great style allows you to volumize the top of your hair while complementing your long neck. Hence, the hairstyle is perfect for women with long necks. Giving you that classy look we all desire.
36. Curly hair with a nape undercut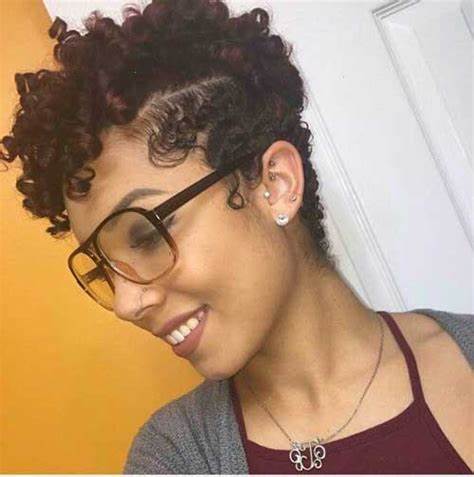 Here is a modern and exciting way to wear your short curly hair as a woman. It is a hairstyle that makes great statements and is excellent for warm days.
37. Dark blue highlight
Keeping the root of the hair black and adding a dark blue color to the ends gives you many options. It will also provide you with texture and dimensions. Excellent for any facial shape.
38. Blonde highlight in bangs
The current trend shows us that hair ends dyed blonde are compulsory. Though it is a major change, it is an effective one. You can't go wrong with this hairstyle. From experience, women find this style easy to carry, saving the boss ladies time.
39. Edgy chop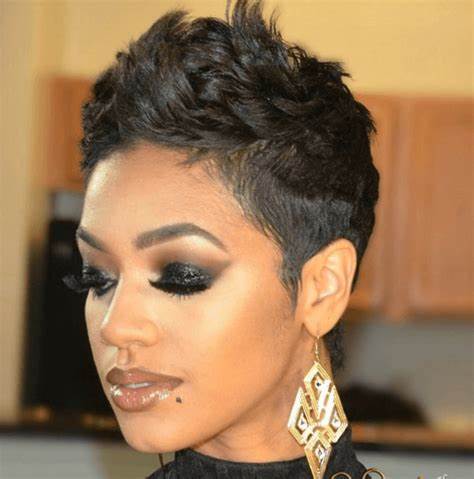 The best words to describe this hairstyle are sexy, cool, and attractive. You will fall in love instantly with this hairstyle. It is a sweet hairstyle to carry any time of the year.
40. Short black bob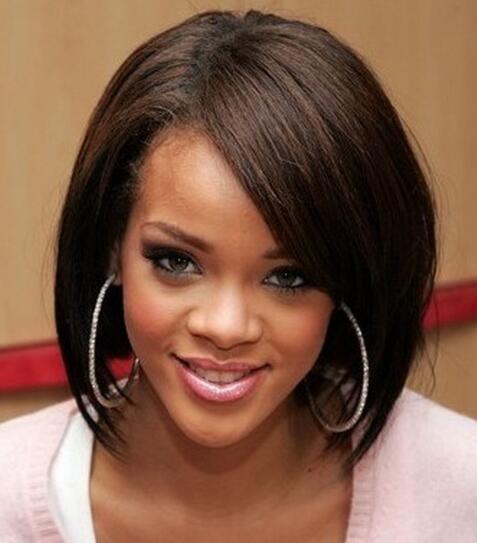 With precise layers and cut hair, it is a pleasure to see. It is perfect for a black woman, and you can't go wrong with this hairstyle.
41. Short natural haircut
Retain your bangs long, and try the color ombre. The best part is the hairstyle doesn't need styling in the mornings with this haircut. This is why most women are in love with this hairstyle.
42. Blonde ombre haircut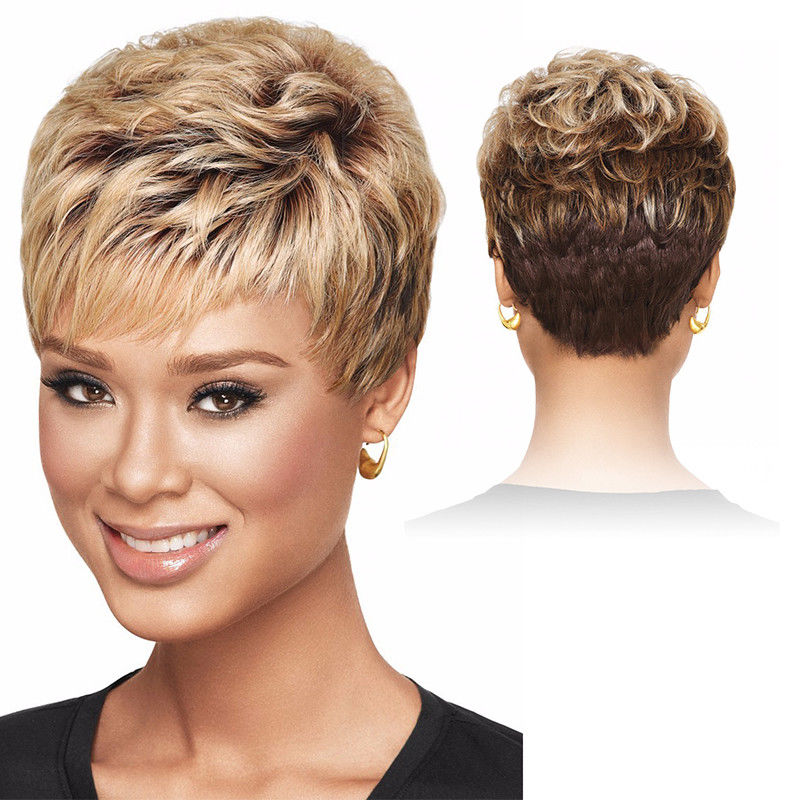 Using a balayage can bring a significant change no matter the length of your hair. Try this blonde ombre haircut to give your hair a more classy look. You won't regret your choice.
43. Sexy waves and undercut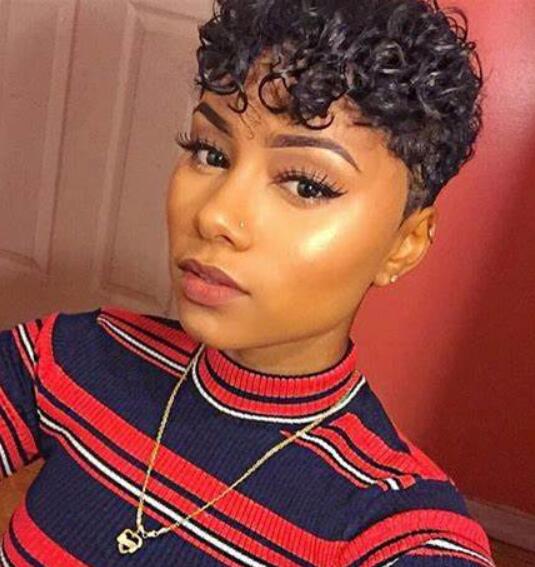 Having an undercut with a long wavy top provides an unforgettable experience. This hairstyle is fantastic; the undercut gives you a youthful look.
44. Short black hairstyle with a shaved line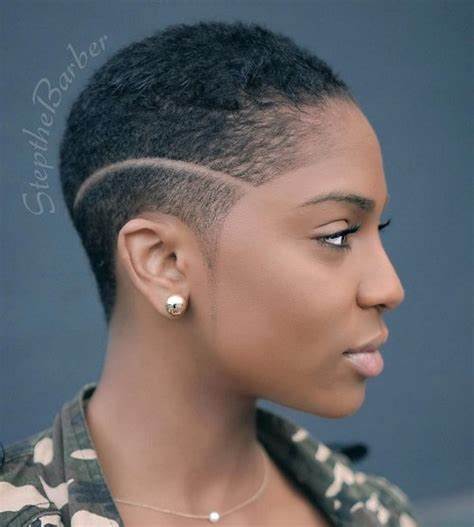 You won't be afraid to cut your hair short if you look as hot as in the picture below. This hairstyle will have heads – turning when you walk on the street.
45. Stylish short black pixie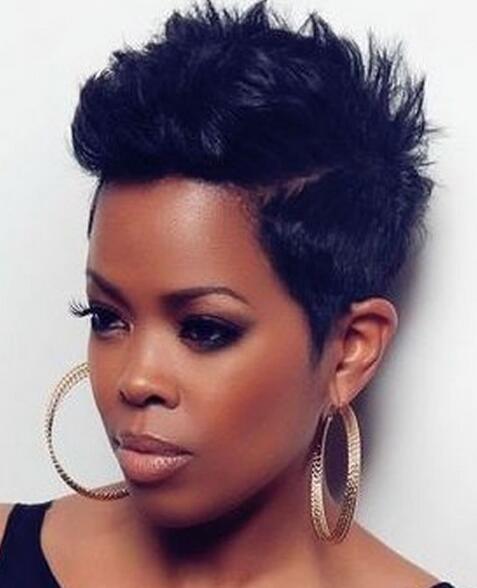 A short layered haircut will boost the volume. In addition, it is so easy to style it in the morning. One advantage of this hairstyle is that it gives you a youthful look.
46. Tapered black cut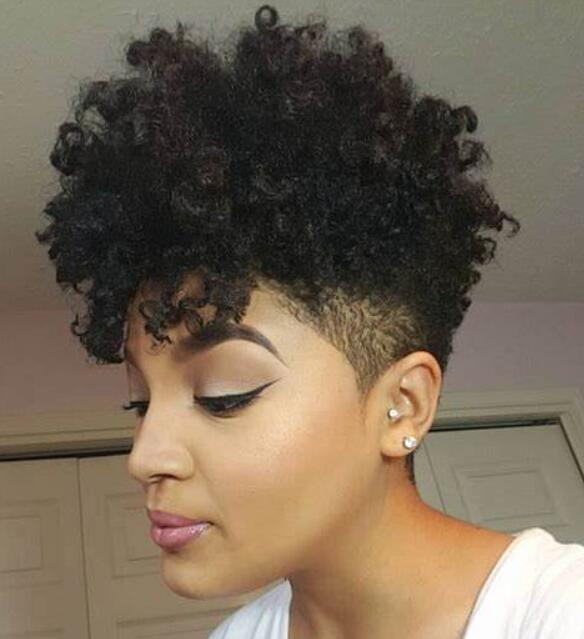 After carrying this hairstyle, you will never want to ask your stylist for long hair again. The hairstyle is fantastic. It is also easy to style the hair in the mornings. You can't go wrong with this hairstyle.
47. Natural curly haircut
You can define the fauxhawk with a shaved line and keep your curls natural. If you go for the pixie cut, you won't remember those long minutes you spend in front of the mirror. It will be worth it.
48. Mod pixie cut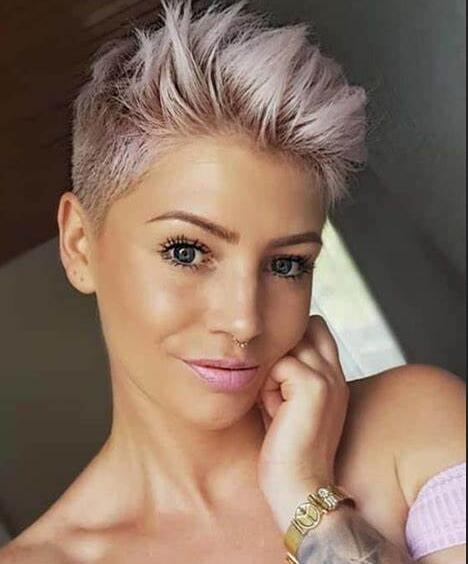 This twiggy–inspired hairstyle is a modern interpretation that gives you a pretty look, especially chocolate skin. The mod pixie cut gives you a youthful look. You won't regret your decision if you go for this hairstyle.
49. Grey Mohawk with Curls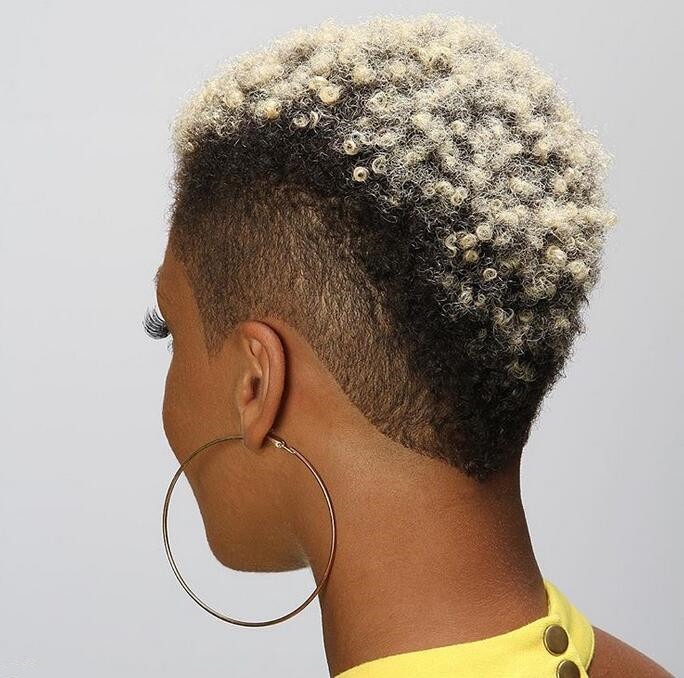 Short haircuts for African Americans can never get better than this. Go ahead and try out the Mohawk you have desired since you were young.
Feel free to splash a grey color dye on the top side and somewhat curl your hair to make it look even better. I assure you that will be the fashion icon in your neighborhood.
50. Edgy Curls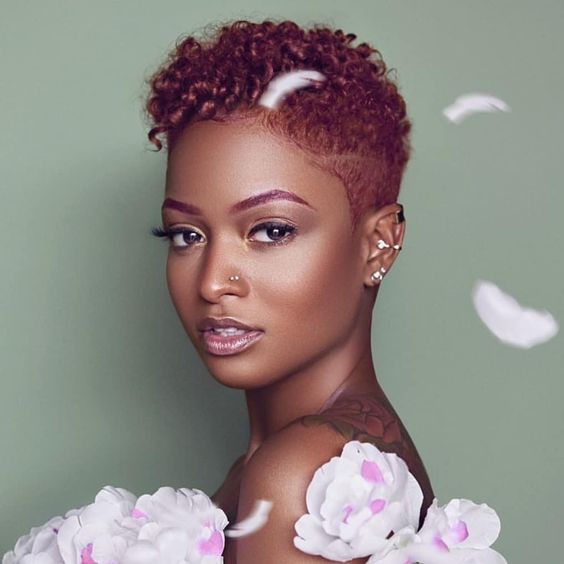 This edgy haircut boasts red curls on the top side alongside a tapered cut and a shaved design on the sides. The designs on the sides can be whatever you want them to be.
51. Short Pink Hair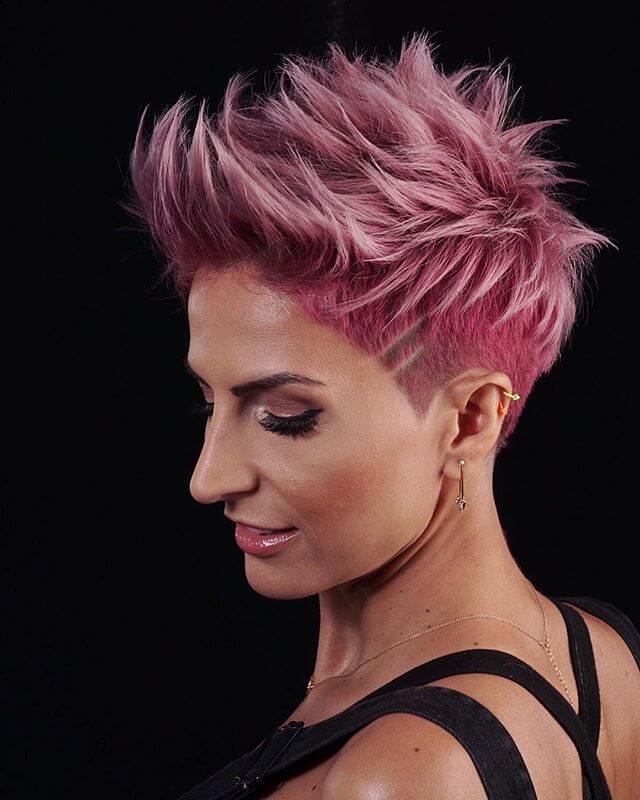 If you are looking for a change of color and do not mind sporting a bold color such as pink, then maybe shifting to the haircut you see on the image above is the perfect movie for you.
52. Blue Tapered Hair
If pink and all other colors I have reviewed on the preceding numbers are not your favorites, but you would still like to sport something undeniably bold, I urge you to go for purples or this color blue.
53. Curly Double Ponytails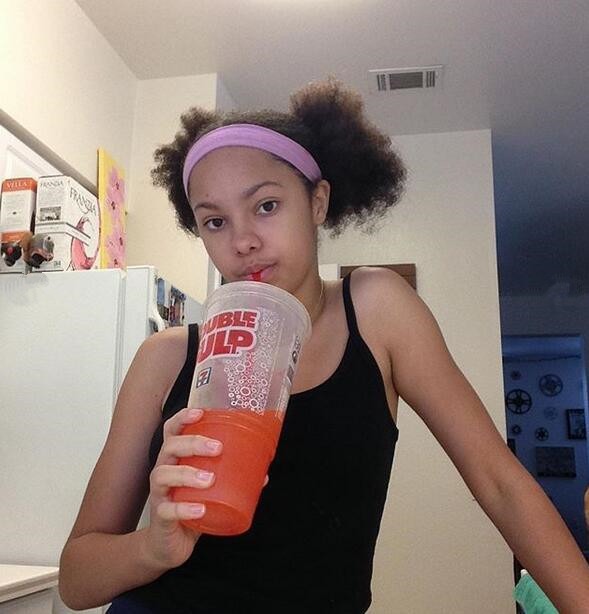 What do you think about the haircut above? Doesn't it look just fantastic? To sport this haircut, you need to pull up your hair, divide it into two different parts, and create curly ponytails or simply small burns.
54. Red Tapered Curls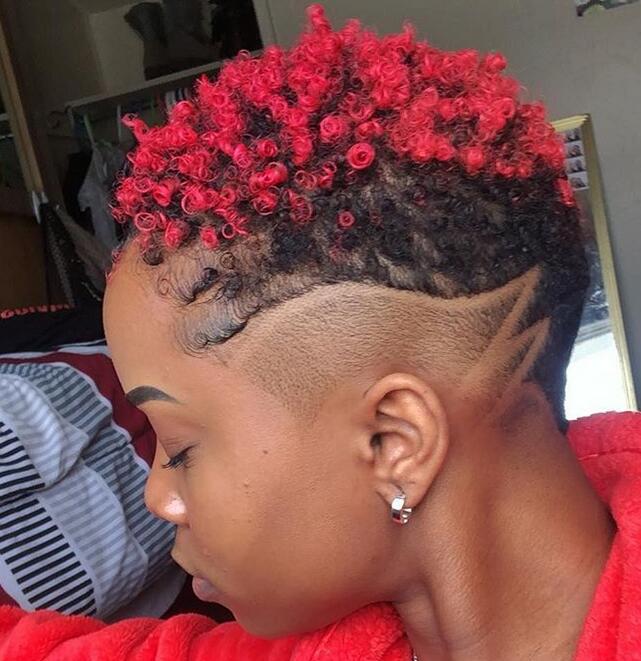 The list of colors you can match up with your short haircuts is quite endless. This is for those who would like to sport a red color. But as you can see, this haircut goes a step further. And to sport it, you will need to have hair that is a bit long like the lady in the picture.
55. Soft Waves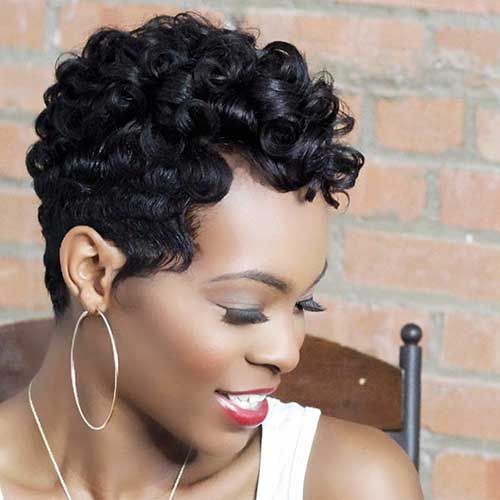 When it comes to sporting a short haircut with finger waves, the list is quite endless. This is another vintage soft finger wave pixie that will shout Hollywood glam the moment you sport it.
56. Shaved Blonde Cut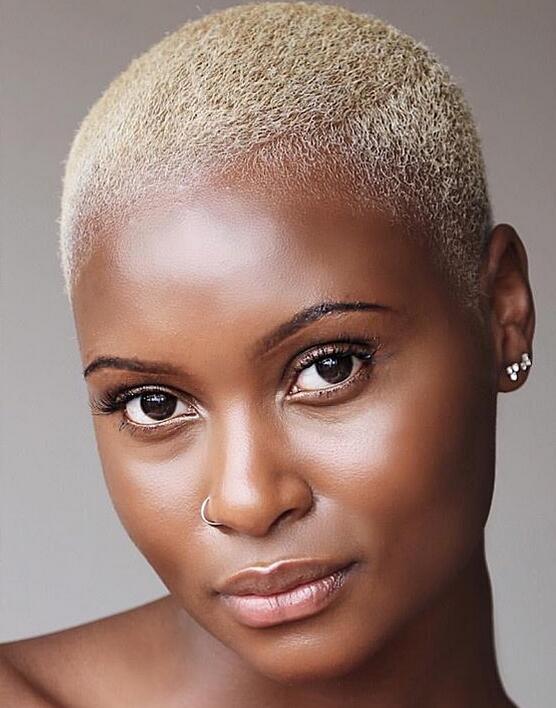 If your hair on the top side is short, and you want to chop it off, this buzz cut would be a great choice. It is sufficiently stylish and edgy. Better yet, you can look better than ever with the right color.
57. Burgundy Pixie Mohawk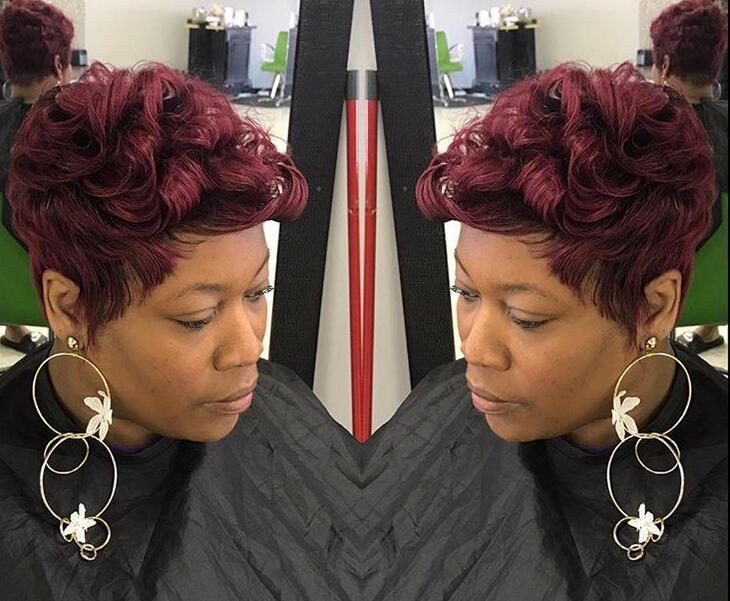 The burgundy hair color is among the trending and hottest hair colors in the realm of haircuts right now. So I urge you to spice up your haircut with a bold color that will leave you looking like the lovely lady above.
58. Flattering Layers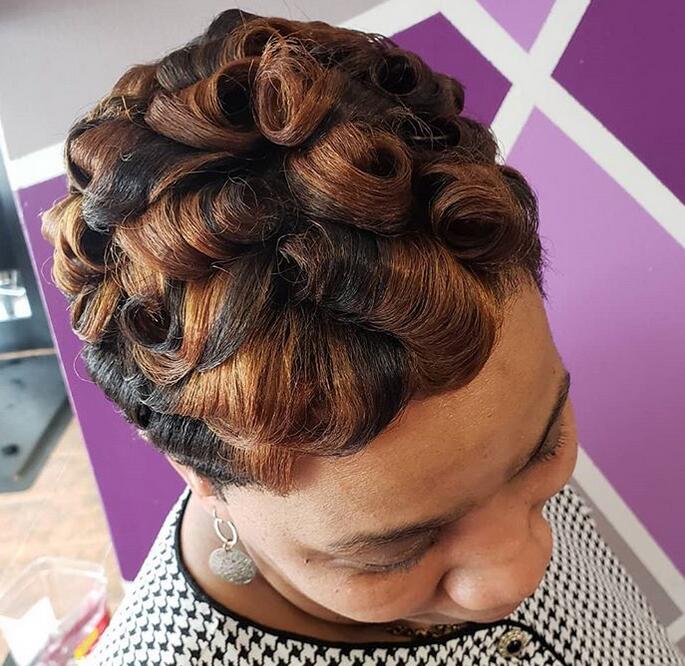 Are you scouring the internet to find a perfect amalgamation of a bob cut and a pixie cut? Then this short haircut will work just fine if you boast the right amount of layers to create a natural volume. Ensure you keep your hair parted to the sides to permit the bangs to help frame your face.
For an extra dash of perfection, simply try adding a bold and shocking color. I think ocean blue and cherry red are perfect colors for that situation.
59. Asymmetrical A-line Bob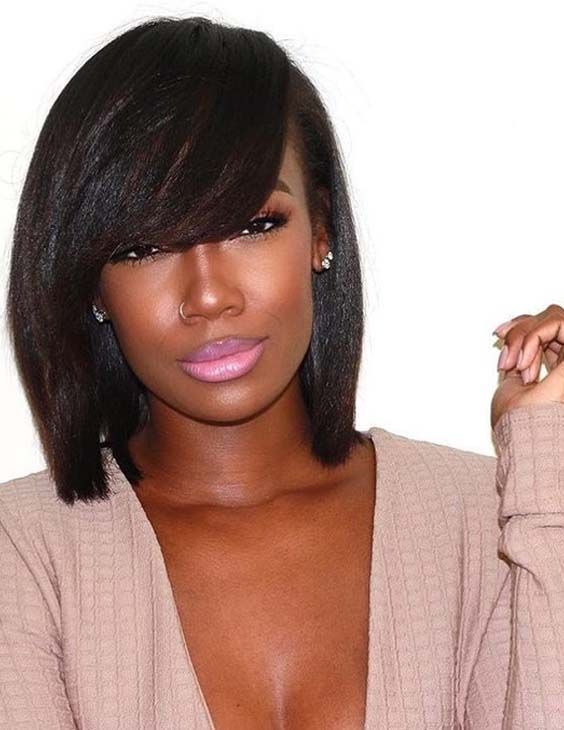 The stacked layers you can see at the back of this bob allow you to boast a sophisticated look accompanied by many volumes. It also helps you to emphasize the A-line silhouette. You can play up hair longer on one side of your head with a deeper side part. This will make the bob haircut as dramatic as it can get.
60. Flat Twist Out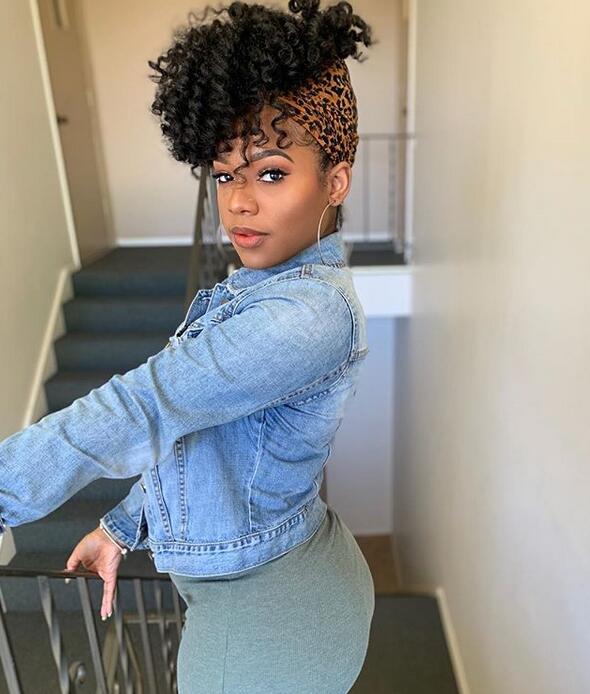 Would you like to add extra texture to your short and natural curls? Then I urge you to try out this flat twist. Treat your natural short hair using a moisturizing cream every time before you begin your twisting procedure. Then divide the hair into some long rectangular sections. Subsequently, start a two-strand twist on one end of your head and gradually add hair from the section.
To finish the setting procedure, leave your twists overnight and then when morning comes, gently unravel them and reveal the mesmeric style you created. But note, if you think the process is too complicated, feel free to visit a salon so they can do it for you.
Final Words
Even though all of my picks are great options, you should choose carefully based on your hair length and head shape. Most of these haircuts will not need consistent maintenance. Just ensure you choose carefully based on the time you have to spend on your haircut.