A black woman's haircut is her highest glory. She can either choose to style it straight and sleek or curly and soft. Regardless of the way she chooses to go, she can rest assured that she'll keep heads turning wherever she goe3s.  The best thing about short haircuts is the fact they are easy to style and maintain compared to long hairdos.
So, if you are particularly attracted to the short and edgy styles that black women have made famous over the last couple of years, then you have come to the right place. This also applies if it is your first time trying out such a cut. Relax, and rest assured any of these will leave awe on everyone's face wherever you go.
Funky and edgy cuts, as well as colors, have also been on trend at the moment. So I ensured this enumeration also boasts some of those cuts so you can have a wide array of options to pick from.
You will find short haircuts including spiked cuts, bright colors, shaved hair, pompadours, and so much more.
Let us skip to the main section of the post and look at the best short hairstyles for black women that you can sport in 2020 and beyond.
50 Beautiful Short Hairstyles for Black Women
Curly Taper Cut
If you like your natural hair but you would rather wear it as a well-structured hairdo, then I advise you to try out something soft but geometric such as the Curly Taper Cut pictured above. Your hair that is longer on top and shorter on the sides will also help you create an illusion of a slimmer and longer face, which is particularly flattering especially if you have a round face.
If you wish, feel free to add honey blonde highlights throughout the top side of your haircut. This will, in turn, add extra visual detail, which will further help you draw the eye upward.
Short Tapered Haircut For Short Hair
Lovely, straightforward, and hypotonic are the best words that can perfectly describe this natural short hairstyle for black women. All you need to do is find yourself a really great barber who can nicely get the work done without any mistakes.
To maintain this hard to beat look, ensure you moisturize your hair on a daily basis as this will give the hairstyle a more lustrous look that will undoubtedly leave any person you come across wishing they had a similar cut.
Simple Soft Black Haircut
As the name suggests, this is the perfect haircut for those who hate spending hours maintaining their hair. It is quite simple as you can see in the image. If you show the image to your barber, I am confident they will know how to sport it in a way that it looks way out of this world on you.
Fade with a bit Longer Curls on Top
Just from looking at the image, you can instantly tell that this hairstyle will breathe elegance regardless of your head shape. The curls you can see at the top side of your head can be quickly achieved by either styling the hair or setting your hair in nice Knot Outs.
Either way, you can rest assured the results will leave everyone around your mesmerized by your cut.
The only downside is the fact this haircut requires lots of attention in order to keep looking great. For example, you will need to ensure you moisturize your hair on a daily basis and as often as you can so you can perfectly maintain the curls. In addition to that, in case your thin hair does not boast a natural curl pattern, you will need to execute the stray sets at least once a week in order to maintain the curls.
One Side Nicely Shaved Off Haircut
You may opt to shave off one side of your short hair and sport the look above. This is easier to maintain because you will just leave the rest of your hair hanging freely. That said, this is a really ideal haircut for any black lady who wants a casual look that can also qualify as a professional look.
Simple Nappy Afro
The quote "simplicity breeds perfection" has been perfectly demonstrated by this natural hair do. Just have your hair stylist trim off your hair and leave it equally levels on all sides in order to attain this simple, yet perfect look.
Mohawk Styled into Cornrows
A couple of years ago, the American black community was flooded with a hairstyle known as the Ghanaian Cornrow Craze, and here it is. What I love most about this hairstyle is the fact it's flattering, unique, and undoubtedly bold enough for any lady who would like to make a fashion statement.
Nice Mohawk with a Design on the Sides
You will not need to shave off all your hair on the sides in order to enjoy this amazing short natural hairstyle for black women. With this specific haircut, I urge you to go for a cute Mohawk but leave the hair at the center of your head untouched. To top it off, have your barber place a pattern of your liking to the sides. It doesn't need to be both sides.
Short Haircut with a Front Cut Design
In order to sport this haircut, you need to keep your head hair fairly short as you can see in the picture. While receiving the cut, you can also ask the barber to place a cut or small design of your linking at the front of your hairline just like shown on the image above.
Maroon Haircut with Side Partings
This list keeps just getting more interesting. If you would like to add color to your hair bust and also ensure the color gives out a subtle hint, then this is the perfect haircut for you. It is cute, sexy and intriguing at the same time.
Cute Spiky Afro
If you've been following most female black youtubers, then you must have realized that most of them are sporting the look above. Just look at how effortlessly that haircut makes one look extremely cute.
Jazzy Blue Mohawk
This is for the daring black women out there. Do you love to be wild, spontaneous, and crazy at the same time? Then sport this Jazzy Blue Mohawk that will show off the bold character inside you.
Short Curly Afro
At times, you will realize that all you need to do is appreciate the short hair you have in all its authenticity. You can quickly accomplish that by adorning this hard to beat haircut that has been a favorite among black women for ages.
Bold Grey Haircut For Old Individuals
I haven't forgotten about the senior ladies in my reader's list. This one is especially dedicated to making you feel like you're a teenager again. Simply flaunt your head filled with grey hair with this amazing and natural haircut that will require minimum to no attention at all to maintain.
Grey Fade Afro
Here is a second one for the old ladies out there. As you may know, old age is usually accompanied by wisdom, and what better way to showcase your wisdom to the world than with this wonderful haircut that will leave you peers looking envious than you have ever seen them before.
Blonde Short Afro Hairstyle
Take a look at how that blond color shines on the lady's hair in the picture above. It definitely makes you feel like trying out the haircut, right?
Grey Mohawk with Curls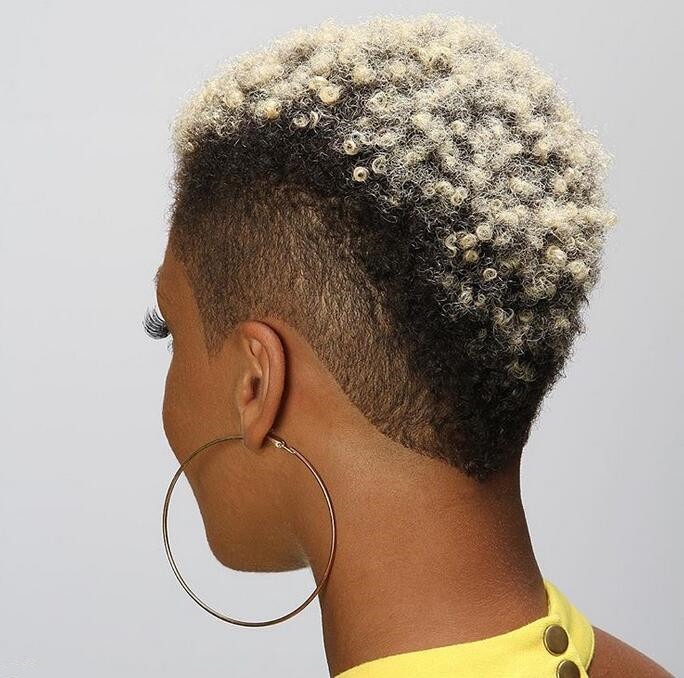 Short haircuts for African Americans can never get better than this. Go ahead and try out the Mohawk you have always desired since you were young.
To make it look even better, feel free to splash a grey color dye on the top side and somewhat curl your hair. I assure you-you will be the fashion icon in your neighborhood.
Brownish Back Tapered Haircut
If you do not want to leave a lot of hair on your head, then I guess this is the best haircut for you. You could also pick a small hint of color and a side cut to improve the general bob look. Haircuts cannot get more African than this.
Blonde Fade Haircut for Short Natural Hair
Adding color to your short haircut is always a smart thing to do when it comes to styling natural hair. Use this inspiration and make your new hairstyle stand out through adding a nice splash of any color as seen on the image.
Pick the color that you think will blend better with your complexion as well as head shape.
A Mohawk with a Funky Cut
I am one of those individuals who would love to be bold and inspire others in the process. That is why I instantly fell in love with this half Mohawk design accompanied by a funky cut. You will not need to be too skilled when getting this cut yourself.
It will also allow you to better showcase to the world that you can perfectly rock a funky cut and Mohawk even when you have short hair.
Fade Haircut with a Sidecut
Where are my nappy haired ladies at? This one is specifically dedicated to you all. Stand out right away with this straightforward yet sexy haircut that comes with a hard to miss sidecut. This hairstyle is also assured to turn heads wherever you go.
Simple Short Haircut With a Wavy Cut Design
If the look we just reviewed does not better suit your complexion or head shape, then I advise you to try out this simple short haircut. Another great thing about this cut is the fact you will not need to spend a fortune on hair products in order to maintain it.
Just ensure you pick the design of the undercut that best describes and matches your personality.
Long Slide Part Pixie
Boasting a beautiful long side part pixie style like the one above will have you looking chic anywhere you go. Whether it is a night out or a day at the office, this hairstyle will be perfect.
White Shaved Fade Cut
Did you just decide to try out the big chop? Or maybe did you finally decide to wear your hair super short? If you answered yes to any of the questions, then take a bold color and style like this white platinum shade and look better than you have ever looked.
Tiny Frohawk
Frohawk is one of the most versatile haircuts you will ever come across in the hair styling industry. You can either decide to wear it long or short. But ensure the sides of your head are way shorter and are fading towards the back of your head.
Cute Curly TWA
At times, the simplest haircut designs out there are also the most fashionable to sport. And the best example of such is this defined curly TWA. It is also easy to sport.
Purple Fade
Are you one of those individuals who love the purple color? This haircut boasts the top purple curls alongside a high fade cut at the back. Looks good, right?
Sleek Pixie
If your hair is short, then there is no better haircut for you than this sleek pixie. It will look more super stylish, particularly If you sleek it with oil or hair gel.
The Short Sleek Cut
If you love boasting a sleek, soft look without losing your professional touch, then this short sleek cut with a nice deep wet part will look super stylish and cute on you. Not forgetting how much it will enhance our features.
Edgy Curls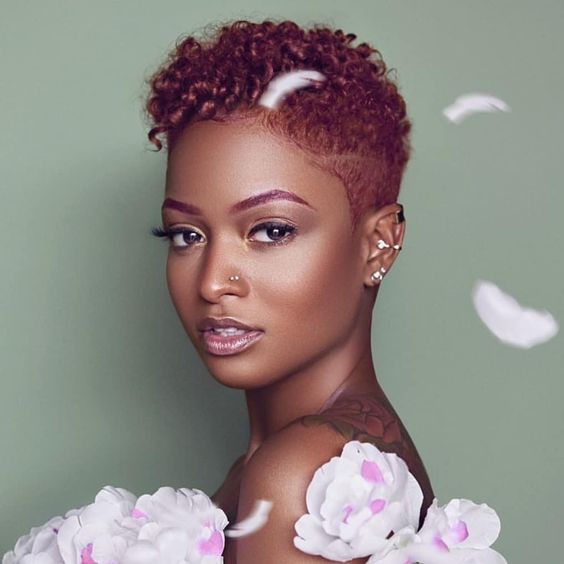 This edgy haircut boasts red curls on the top side alongside a tapered cut as well as a shaved design on the sides. The designs on the sides can be whatever you want them to be.
Short Pink Hair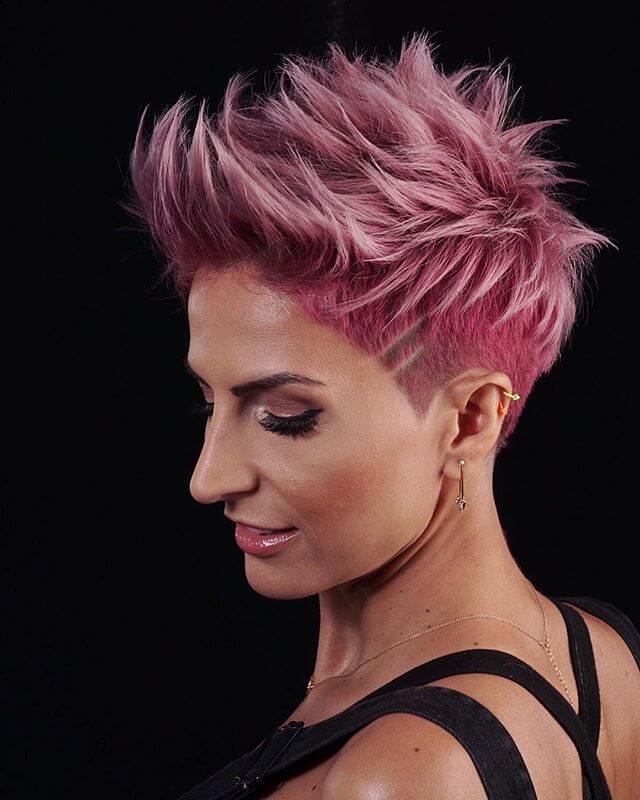 In case you are looking for a change of color and do not mind sporting a bold color such as pink, then maybe shifting to the haircut you see on the image above is the perfect move for you.
Natural Blonde Curls
When I first set my eyes on this bouncy style, it instantly screamed CHIC to me. I love the defined blonde curls on the top side as well as the makeup of the lady in the picture. They all match seamlessly.
Blue Tapered Hair
If pink and all other colors I have reviewed on the preceding numbers are not your favorites but you would still like to sport something that is undeniably bold, then I urge you to go for purples or this color blue.
Hair Designs
What hair designs do you love? This haircut is for those who love to get creative with their haircuts. If you love having curls accompanies by a beautiful sidecut, then go for it. Even feel free to add a heart-shaped tapered cut designed on the side of your head.
Curly Double Ponytails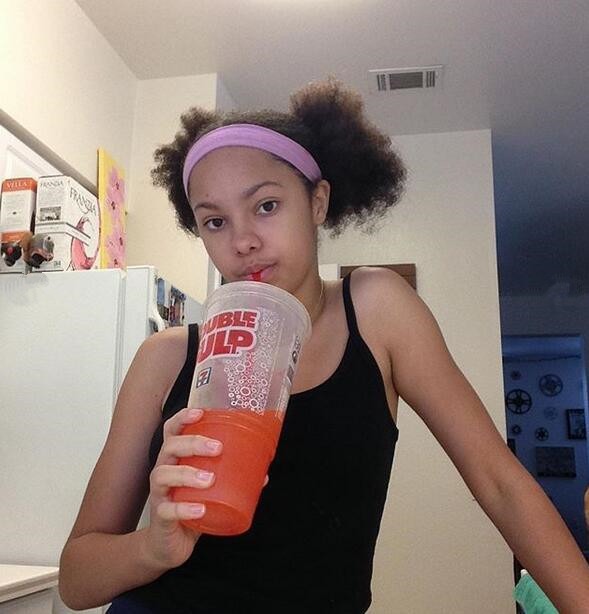 What do you think about the haircut above? Doesn't it look just cool? To sport this haircut, all you need to do is pull up your hair and then divide it into two different parts and then create curly ponytails or simply small burns.
Red Tapered Curls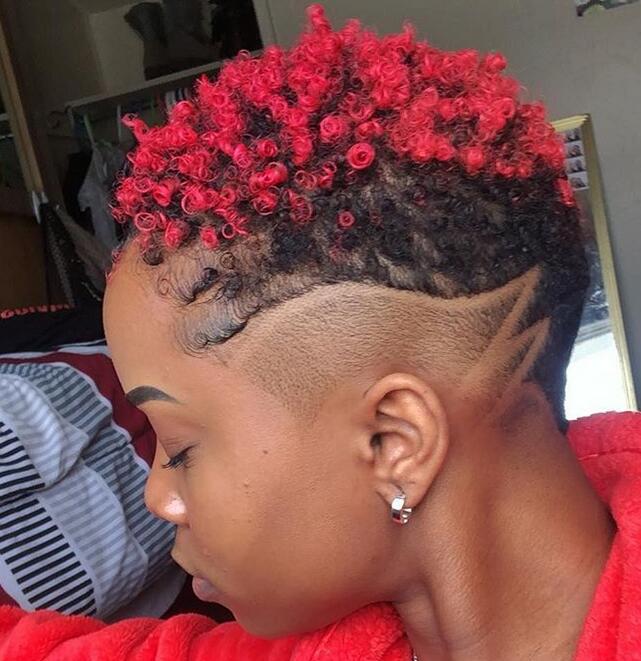 It seems that the list of colors you can match up with your short haircuts is quite endless. This is for those who would like to sport a red color. But as you can see, this haircut goes a step further. And to sport it, you will need to have hair that is a bit long like the lady in the picture.
Short Weave Hairstyle

Short weave hairstyles are sweet, that provide a wide variety of beauty options for women with afro-textured locks. This haircut are perfect for black women who want to try out a bold color but don't want to deal with wigs.
Red Haircut with a Back Design
If you love to sport a super short cut, why don't you go bold with a pop of red color as well as a design on the back of your head? You can also complete this look with some matching makeup and matching nails.
Mohawk Finger Waves
I instantly fell in love with this glamorous curly Mohawk the moment I set my eyes on it. Complement it with side finger waves and a touch of blonde at the front part.
Soft Waves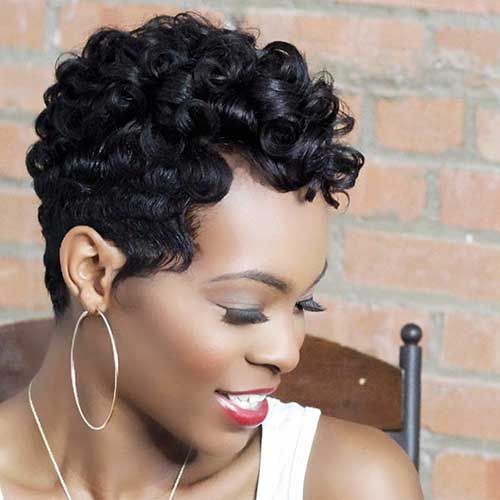 When it comes to sporting a short haircut with finger waves, the list is quite endless. This is another vintage soft finger wave pixie that will shout Hollywood glam the moment you sport it.
Shaved Blonde Cut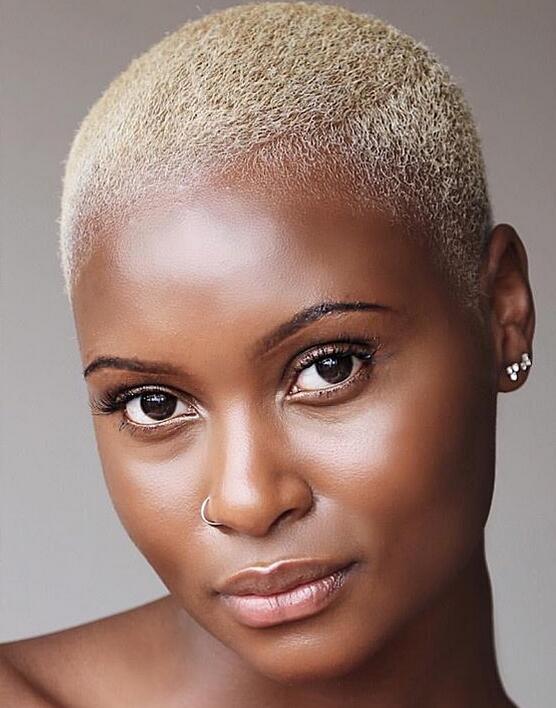 In case your hair on the top side is extremely short and you want to simply chop it off, then this buzz cut would be a great choice. It is sufficiently stylish and edgy. Better yet, with the right color, you can look better than ever.
Curly Cut
Here comes another super cute copper red size curly cut that will look great on any head shape and skin complexion. If you would like to attain this wet look, I advise you not to forget to moisturize your hair from time to time and then use your finger to style the curls.
Burgundy Pixie Mohawk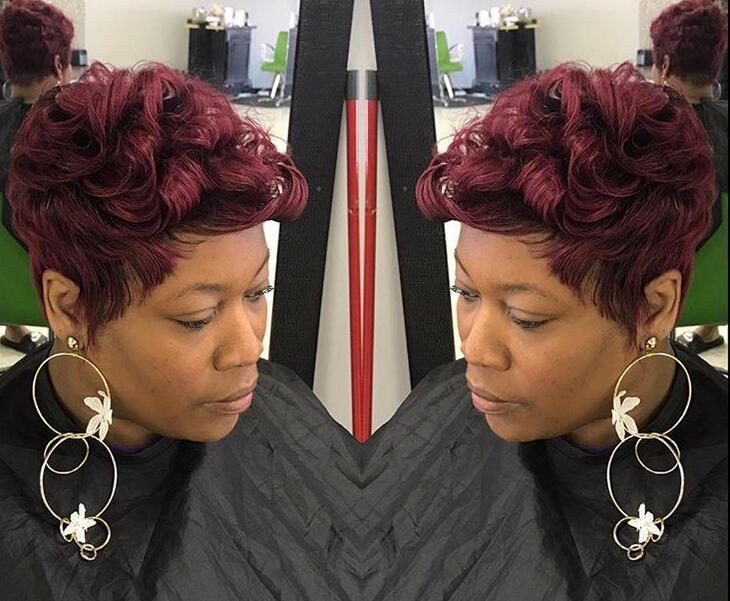 The burgundy hair color is among the most trending and hottest hair colors in the realm of haircuts right now. So I urge you to spice up your hair cut with a bold color that will leave you looking like the nice lady above.
Pixie Waved and Shaved Sides
Transform your pixie game and take it to a whole new level by adding some flawless waves and then designing the shaved sides of your head.
Spiky Haircut
Do you want to give your short hair a whole new great look? Then this Spiky Pixie Cut is both sufficiently stylish and flirty to meet your needs.
An Apple Cut
This gorgeous apple cut will look amazing on black ladies who have round faces. Feel free to jazz up your look with the makeup of your favorite color.
Middle Part Bob
Simply part your hair locks down through the middle and then curl the sides using a curling wand in order to attain this professional yet beautiful look.
Also note, the looser the curls you decide to have, the more bounce your face's frame will appear. In addition, this is another look that will transition well between our nightlife over the weekend and the professional life we lead on a day to day basis.
Furthermore, you can easily style up the haircut (either up or down) depending on your accessories and wardrobe.
Flattering Layers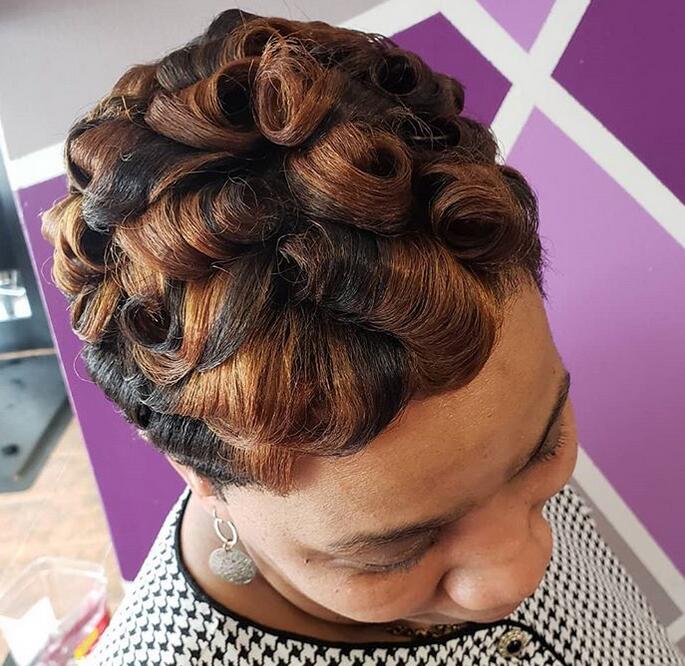 Are you scouring the internet to find a perfect amalgamation of a bob cut and a pixie cut? Then this short haircut will work just fine if you boast the right amount of layers to create a natural volume. Ensure you keep your hair parted to the sides in order to permit the bangs to help frame your face.
For an extra dash of perfection, simply try adding a bold and shocking color. I think ocean blue and cherry red are perfect colors for that situation.
Asymmetrical A-line Bob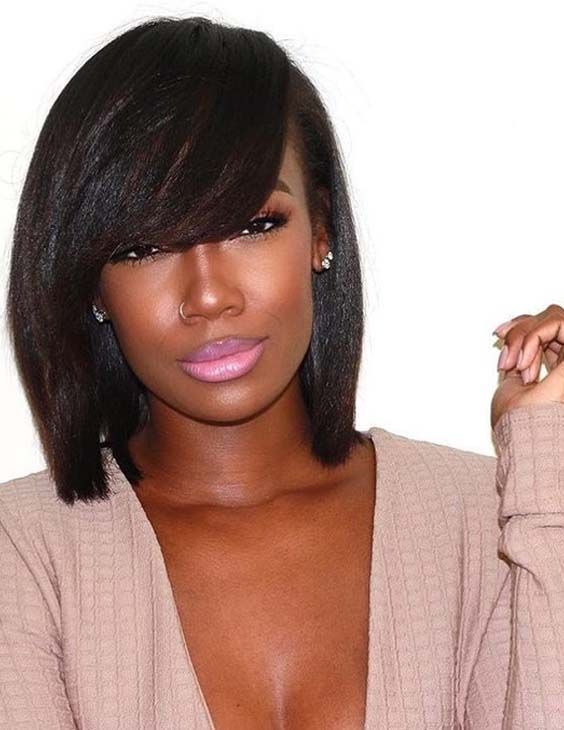 The stacked layers you can see at the back of this bob allows you to boast a sophisticated look accompanied by lots of volume. It also helps you to emphasize the A-line silhouette. You can play up hair that is longer on one side of your head with a deeper side part. This will make the bob haircut as dramatic as it can get.
Flat Twist Out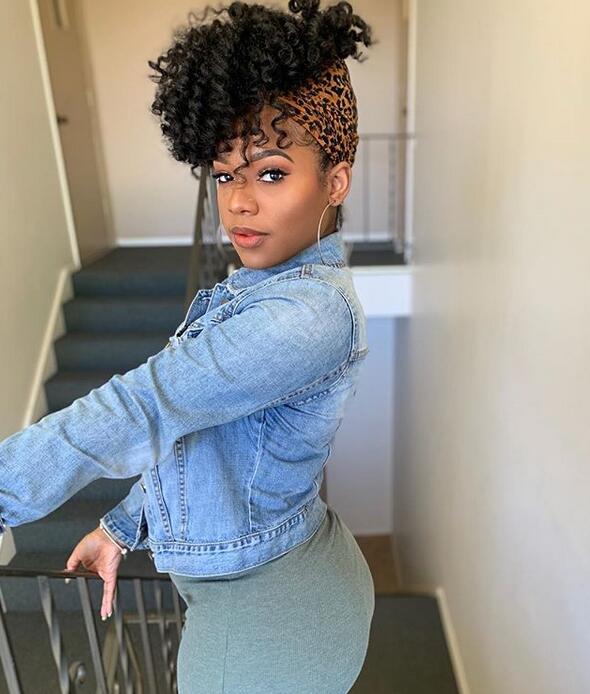 Would you like to put some extra texture to your short and natural curls, then I urge you to try out this flat twist. Treat your natural short hair using a moisturizing cream every time before you begin your twisting procedure and then divide the hair into some long rectangular sections. Subsequently, begin a two strand twist on one end of your head and gradually add hair from the section while you work your way down slowly.
To finish the setting procedure, leave your twists overnight and then when morning comes, gently unravel them and reveal the mesmeric style that you created. But note, if you think the process is too complicated, feel free to visit a saloonist so they can do it for you.
Final Words

Even though all of my picks are great options, you ought to choose carefully based on your hair length as well as head shape. Make sure your head can pull off the hairdo you pick before heading to your saloonist for your edgy haircut.
Most of these haircuts will not need consistent maintenance, but some of them may. Just ensure you choose carefully based on the time you have every day to spend on your haircut. If you decide to go with the big chop, you will most likely need to visit your salon every five to seven weeks for a nice trim.