Short hairstyles for fine hair have become increasingly popular in recent years. Fine hair can be difficult to style and maintain, but with the right haircut and styling techniques, you can create a beautiful and chic look that flatters your features. In addition, Short hairstyles are a great option for those with fine hair, as they can add volume and texture to thin strands. They also require less maintenance and can be styled quickly and easily, making them ideal for busy individuals. Whether you're looking for a pixie cut, bob, or a layered style, there are plenty of options. This article will discuss the 50 best short hairstyles for fine hair.
50 Best Short Hairstyles for Fine Hair of Women
Without further delay, let us look into 50 different hairstyles for short finer hair.
1. Short Messy Hairstyle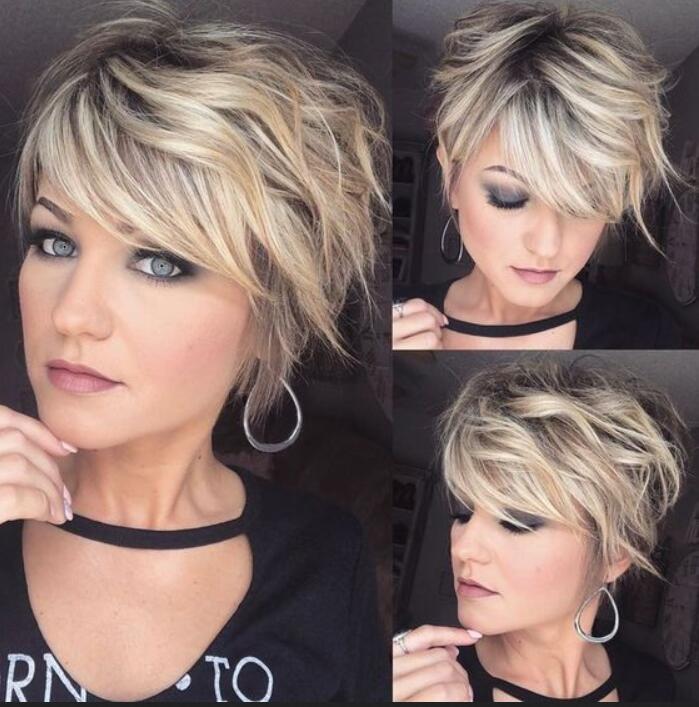 Choose any hairstyle for your short fine hair. Styling it messily afterward can fetch you admiral looks from many. The messy hairstyle gives you a sexy or gorgeous touch to your looks, depending on your hairstyle.
2. Light Brown Curly Bob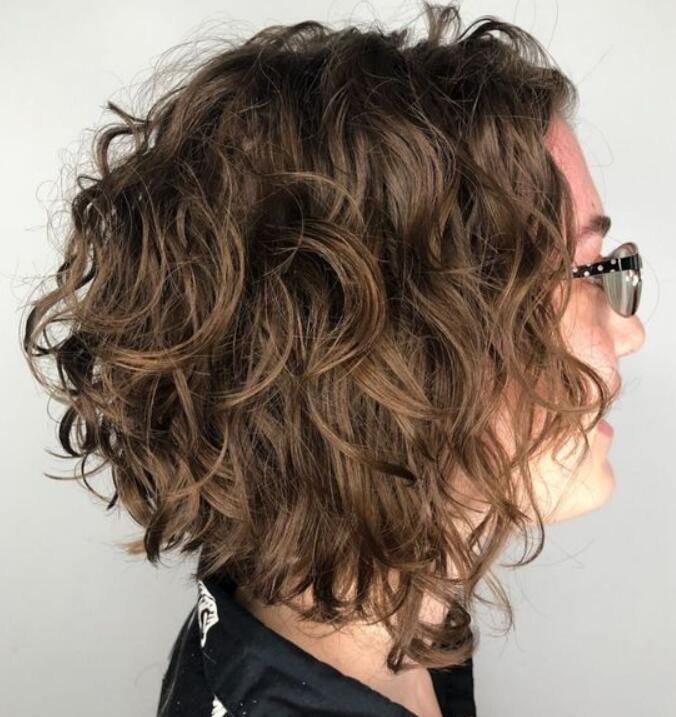 This hairstyle has wavy ends to the usual bob hairstyle. It extends to your shoulder length giving length and volume to your hair. This variant of the bob hairstyle lets you style your hair messily with loose waves. You can choose to color or highlight streaks with your favorite color.
3. Nape undercut for short hair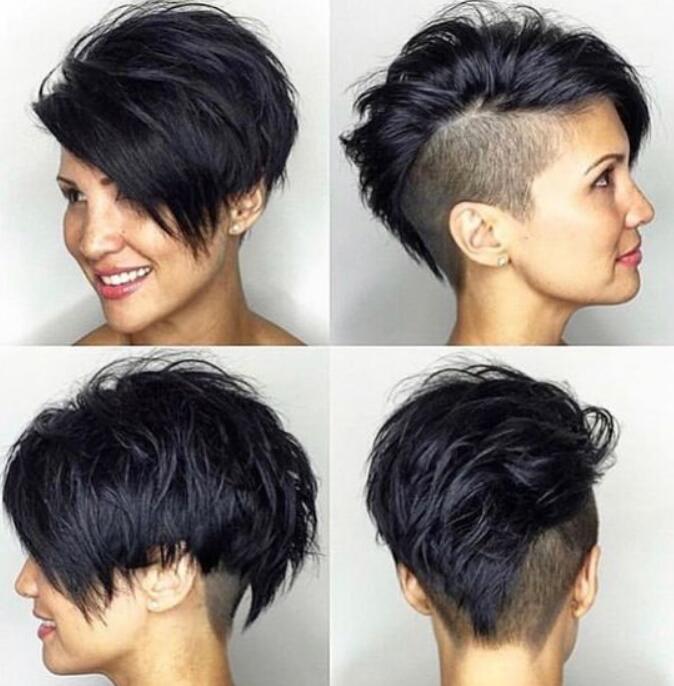 The nape undercut allows you to shave the sides and back of your hair, creating a voluminous hairstyle at the top of the head. Dark and natural black hair enhances the attractiveness of this gorgeous look. With blonde or different colored highlights, you can only make the result better looking.
4. Short Blunt Bob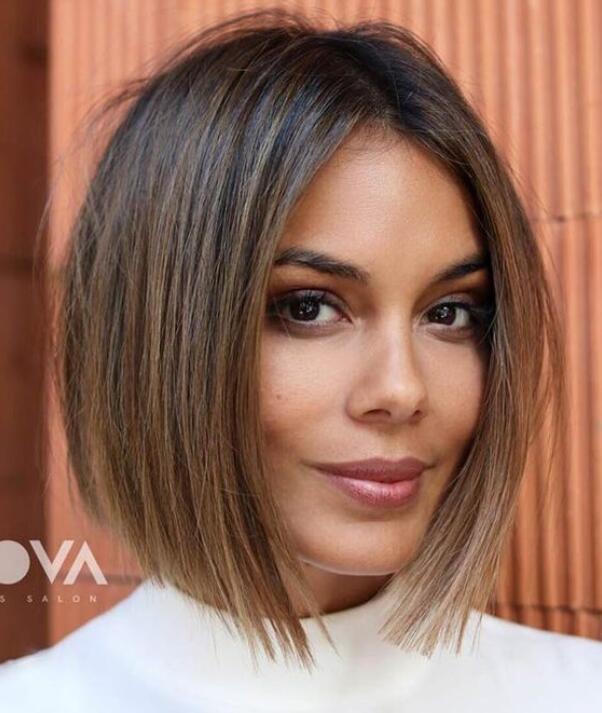 These short blunt bob hairstyles are a perfect choice for expressing the glamorous personality in you. You can add highlights to this style with the color of your choice. Blonde hair is our suggestion to rock this hairstyle.
5. Bob with side bangs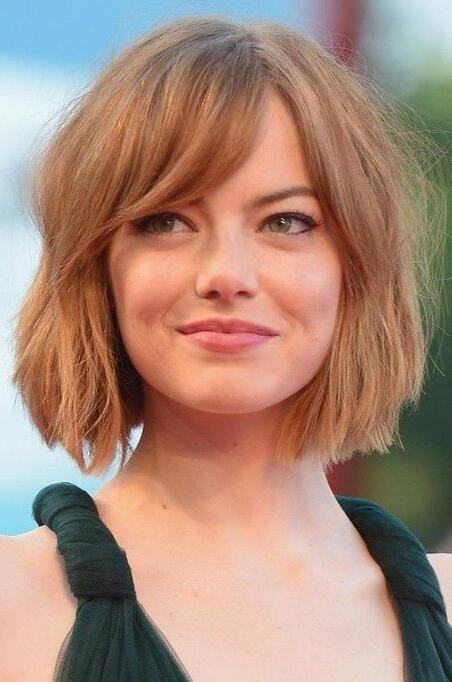 When you can sport your classic bob style with a variant, what are you waiting for? The bob with side bangs gives a playful side to your personality. This flirtatious outlook lets you hide the facial features with front or side bangs.
6. Voluminous with short hair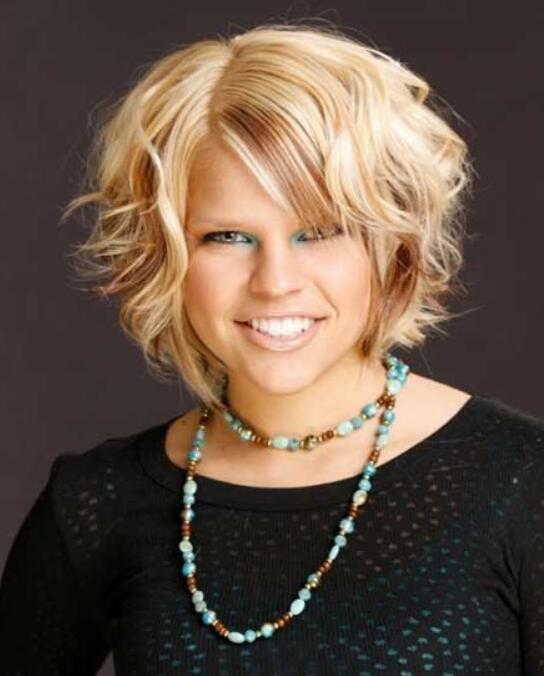 This hairstyle not only lets you boost the volume of your hair but also allows you to hide the extra pound of flesh in your face. By choosing side or front bangs, you can hide the cheek or jawline of the face. To enhance the attractive outlook, you can add highlights to the hair.
7. Jawline-length Bob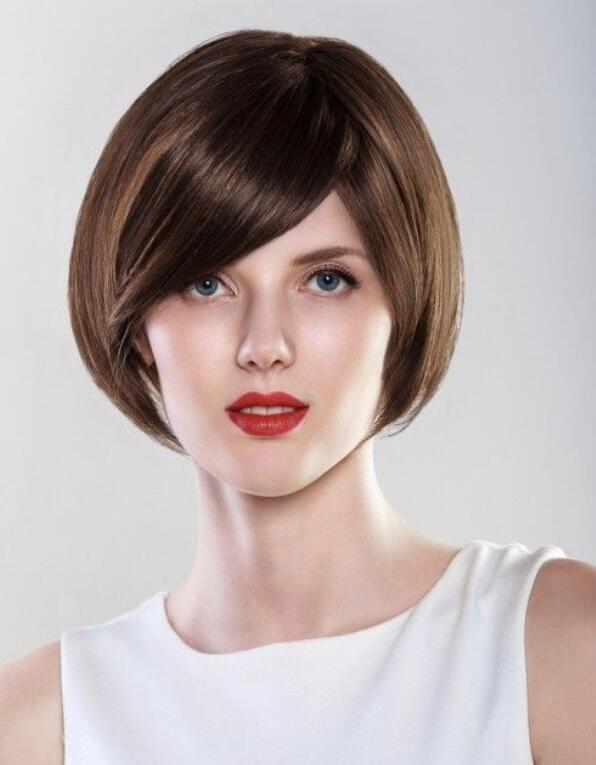 The jawline length bob lets you style the bob to the jawline of your face. You can either set your hair with setting cream for an elegant look or do messy styling. It is easy for you to maintain this hairstyle.
8. Spiky Bob Haircuts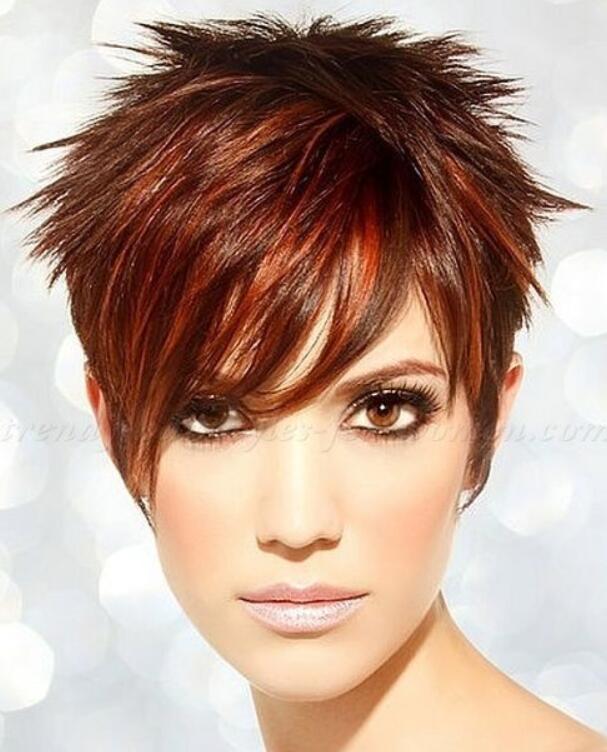 The spiky bob haircut is another volume-boosting option for fine locks; it lets your face look smaller and cuter. In addition, it enables you to create bangs in the front, thereby hiding the larger forehead.
9. Short hairstyle with half-curls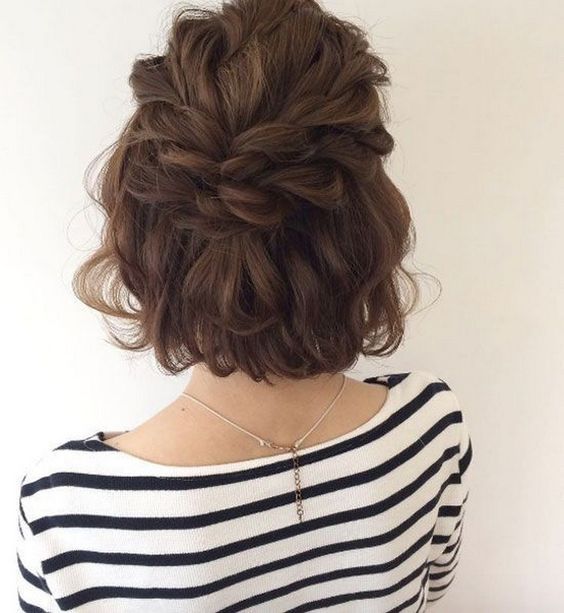 These hairstyles are a unique blend of straight and curly hair. This beautiful outlook lets you do curls or loose waves at the end of your hair. With curls, you can minimize the shoulder-length hair to the nape of your neck.
10. Long Blond Pixie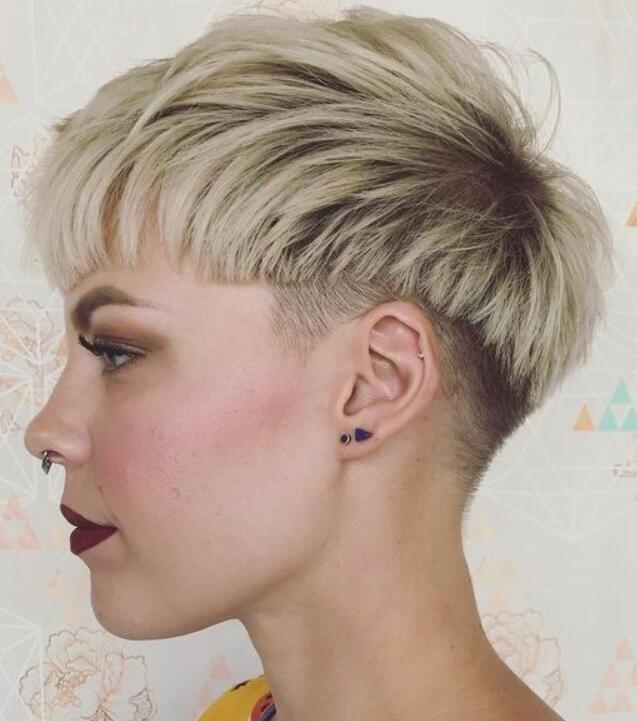 To create this hairstyle, you can brush trim the sides and back of your hair to the nape of your neck. The sharp ends of the hair add beauty to your vibrant personality. Blonde hair color gives a lovely touch to this haircut.
11. A-line Bob hairstyle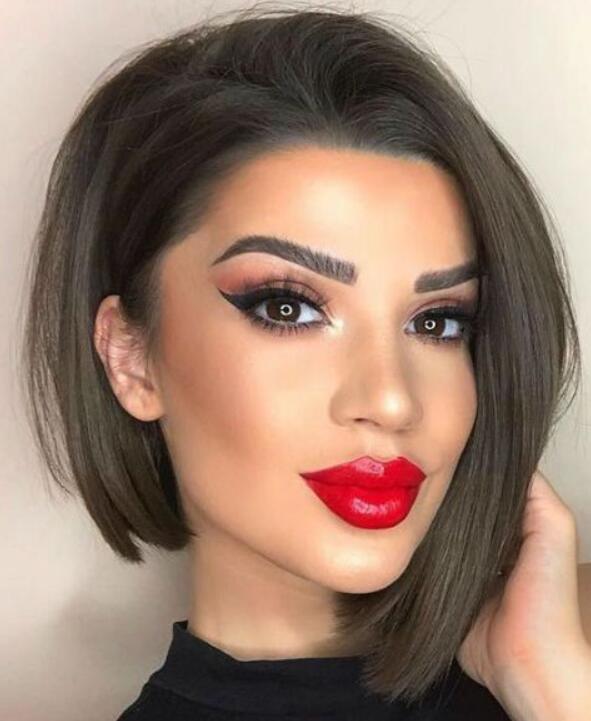 If you have naturally fine hair, this Bob hairstyle is good for you. This stylish outlook gives a bright outlook to your personality. You can add an amber or vibrant blue color to highlight the sharper ends of the haircut.
12. Pixie Haircut with Bangs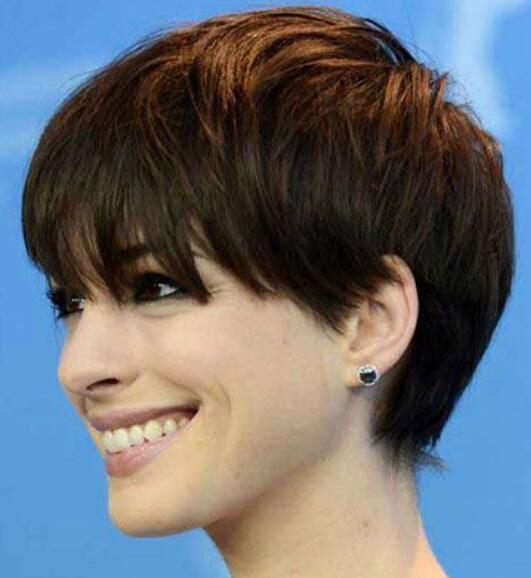 These cute pixie haircuts add beauty to your bold personality. With this haircut, you can dare to try this shorter hairstyle with bangs on the side or front of the head.
13. Stacked Pixie haircut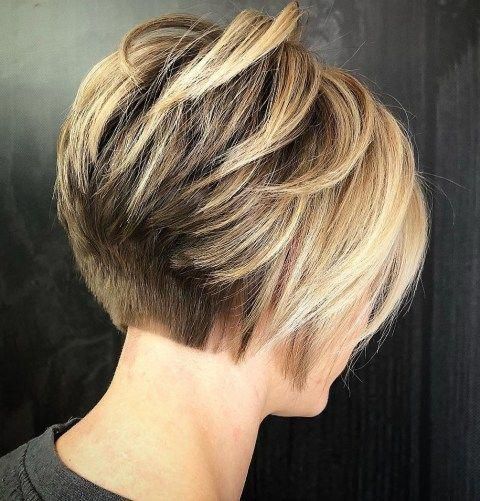 This hairstyle lets you boast your bob hairstyle in layers giving it a bushy hairdo. You can add blonde or any favorite color to highlight the hairstyle.
14. Balayage Bob haircut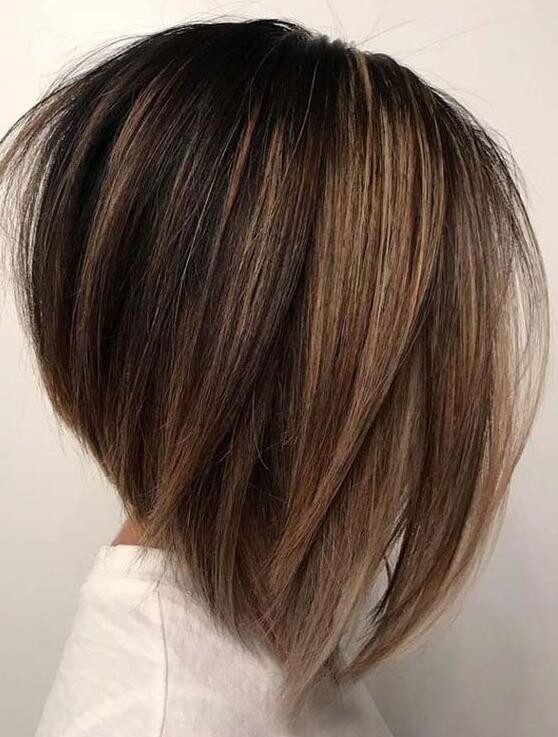 Blonde or Silver hair color adds elegance to this voluminous haircut. You can choose to create loose waves at the end or set the hair smoothly with setting cream. Try this hairstyle to express your daring personality.
15. Long-layered Pixie Haircut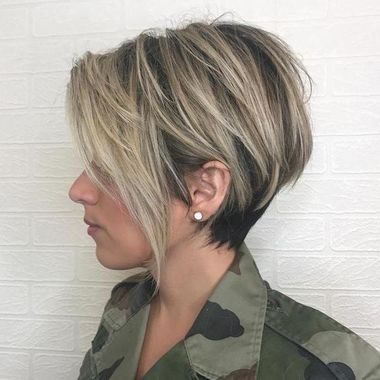 This pixie haircut with blonde or any favorite tone of your choice adds elegance to your personality. You can sport it to a party or wear it to your work every day.
16. Wavy Bob Haircut
If you have fine, naturally wavy hair, this Wavy bob is your best choice. The waves and tousled curls are perfect for adding volume. In addition, the smooth-shining loose curls at the end create a glamorous outlook on your personality. You can either choose silver or loose golden waves to make the styling better.
17. Loose Curls for Short Hair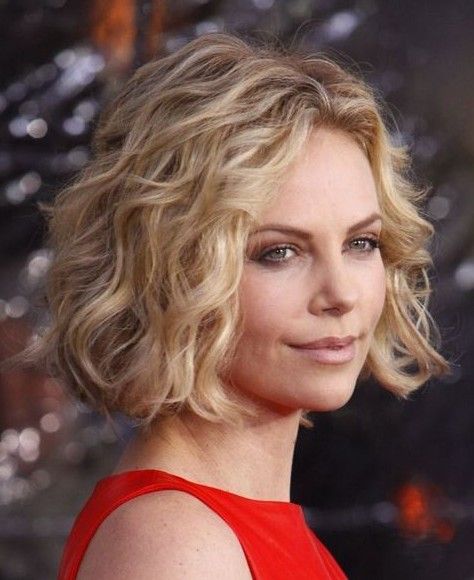 This hairstyle creates loose waves from the top to the end of the hair. It creates a beautiful outlook by turning your hair into a wavy, shiny texture.
18. Casual Short Haircut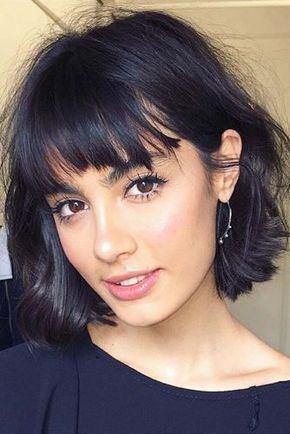 These casual short haircuts are one of our favorites on the list, as you can wear them to work every day. These haircuts let you boast about your elegant personality. You can choose to have bangs in front or side of the head.
19. Short Ombre Hair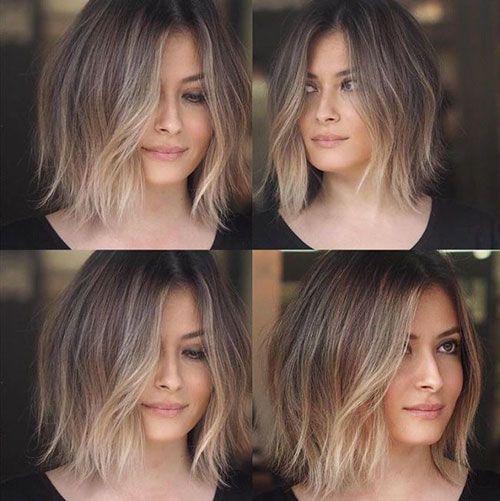 Try this hairstyle to create stunning short hair with fine texture. The two-tone hair gives a unique outlook to your hairstyle. You can choose blonde, blue, or red to highlight the ends of the bob.
20. Choppy Bob haircut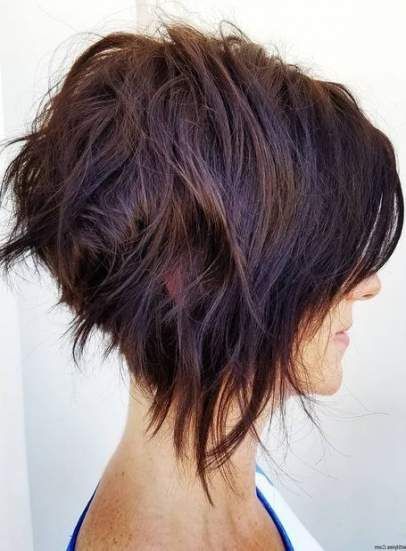 The choppy bob haircut creates bushy hair at the back of your head. With streaks of red or blonde highlights, the bob looks even more beautiful. You can style it messily after the haircut to enhance the stylish appearance.
21. Overgrown Pixie haircuts
The overgrown pixie haircuts with side partitions let you boast the classic hairstyle from the '90s. While it follows the classic version of the traditional pixie haircut, the long strands of side bangs add a modern touch to this hairstyle.
22. Short haircut with short bangs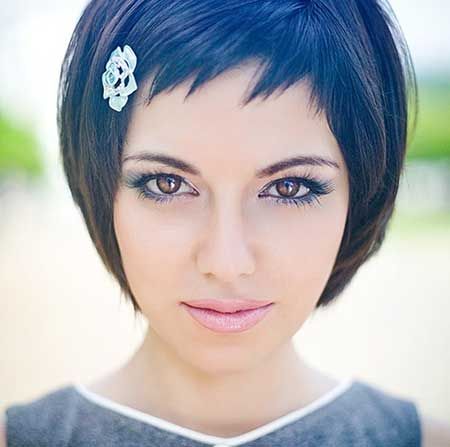 This hairstyle is one of the best hairstyles for fine hair. This haircut requires less maintenance and no styling efforts after a haircut. You can brush your hair with a comb to have a neat hairstyle.
23. Feathered Bobs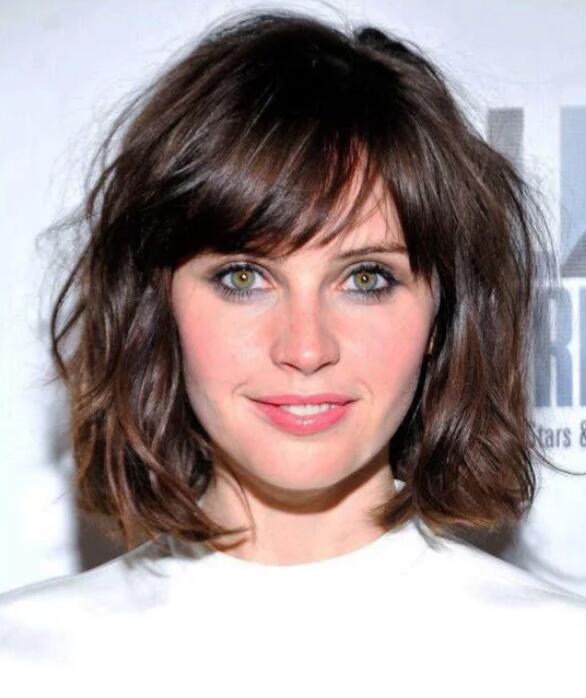 A wrong hairstyle can make your hair look thinner. You can try this magical hairstyle to make your hair look thick and voluminous to avoid these problems.
24. Layered Short Pixie haircuts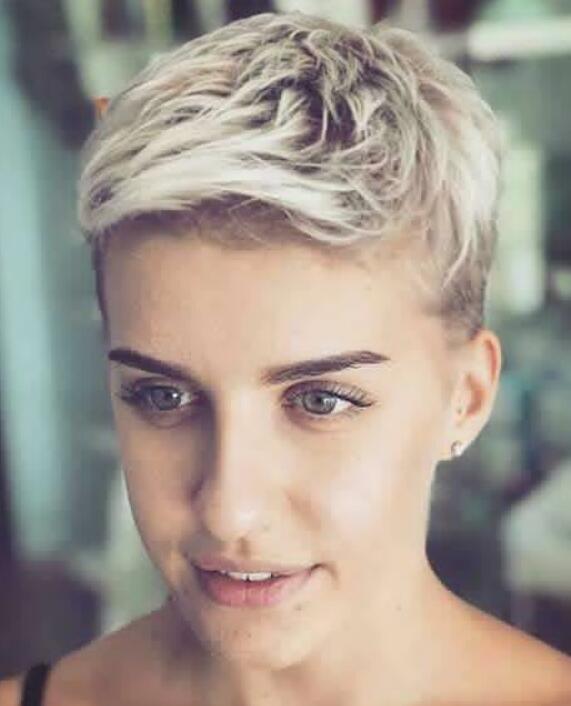 These haircuts are getting trendy because of their comfort and convenience. The maintenance is also less due to the shorter bangs in the sides or front of the face.
25. Medium-length Bobs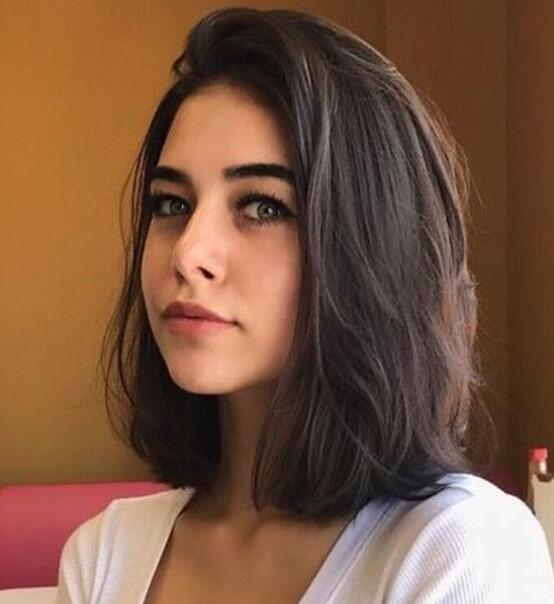 If you are against the idea of short yet voluminous hair, you can choose to add lengths to your bob. This hairstyle lets you boast your thin but medium-length hair to your shoulders. It is even more beautiful with colorful highlights.
26. Short length bobs with Mix color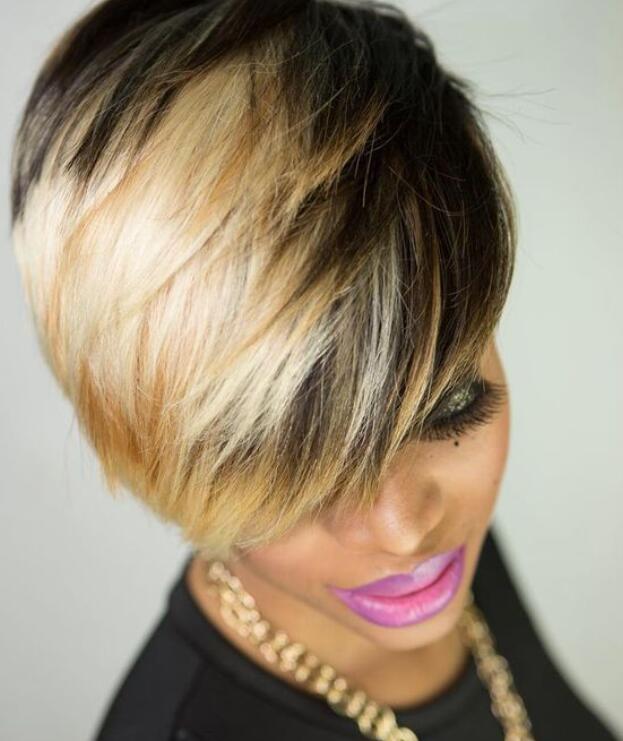 Adding one or more tones to the layers can create a voluminous effect on your hairstyle. You can choose either a short bob or a layered pixie as a base to create this effect.
27. Pixie with brushed bangs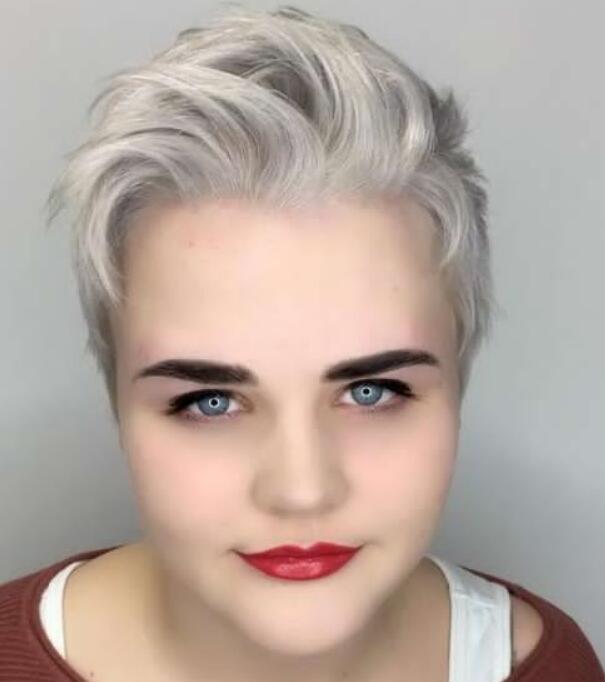 It is normal pixie hair at the foundation with brushed bangs after styling. The brushed bangs with different tones to highlight create a stunning effect on your outlook.
28. Short and straight Bob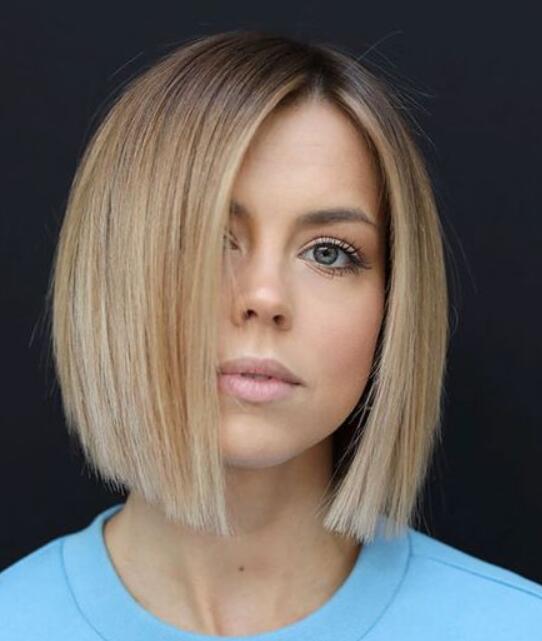 This short and straight bob is more beautiful with the two-tone hairstyle. It hides your facial features with bangs. The straight bangs give a more formal outlook to your hairstyle. You can use honey blonde to highlight the features.
29. Bob Haircut for round faces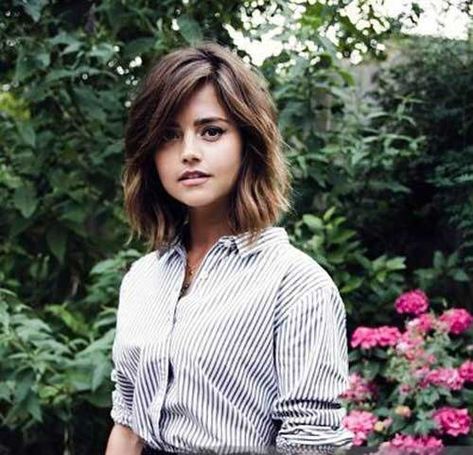 Choosing a perfect bob haircut becomes trickier for women with round faces. It isn't easy to find a suitable hairstyle for the shape of your face. But we have made it easy for you. You can choose this short haircut and style it messily or neatly, depending on your choice.
30. The Headband hairstyle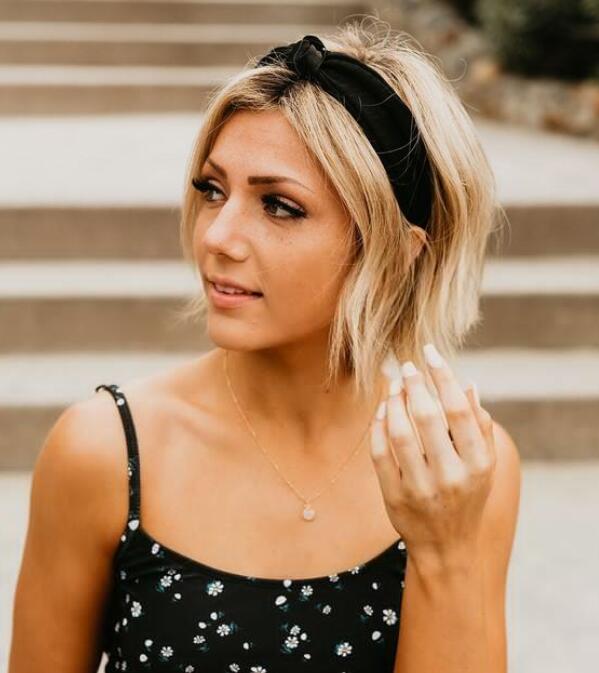 Selecting accessories to decorate your hairstyle is as important as choosing a perfect haircut. You can choose to accessorize your haircut with a simple knot headband or extensive jewelry.
31. Tapered Short Haircut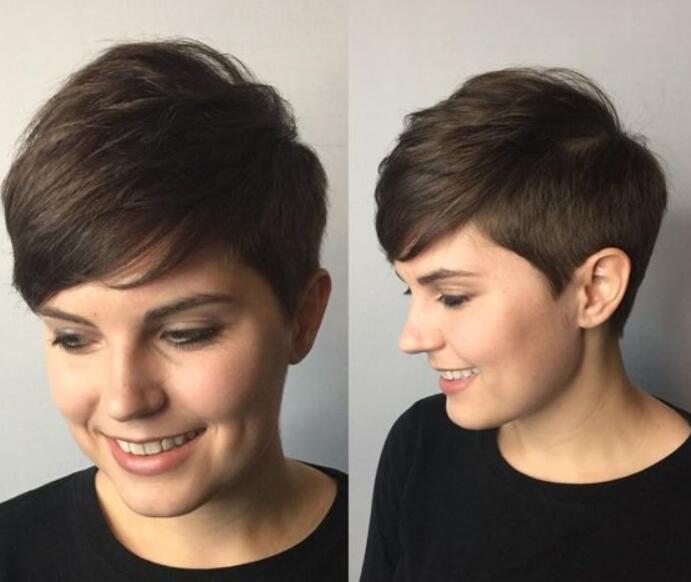 The tapered-short haircut for women adds a glamorous outlook to their vibrant personalities. Depending on your hair texture and facial features, you can do various fun experiments in styling this hairstyle. A side-swept bang or brush-trimmed back and sides of the head are more prominently preferred hairstyles among women.
32. Inverted Short Haircuts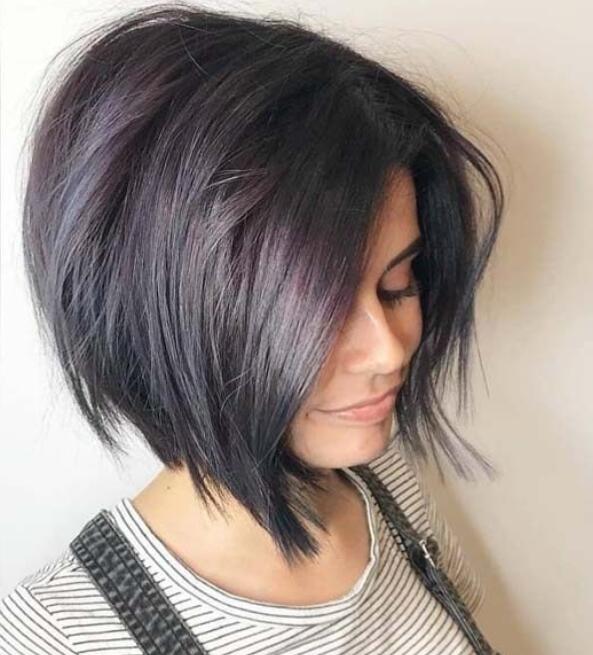 By carefully trimming the sides and front of the hair in an inverted fashion. You can add blonde or honeycomb color to highlight the features.
33. Bowl cut hairstyle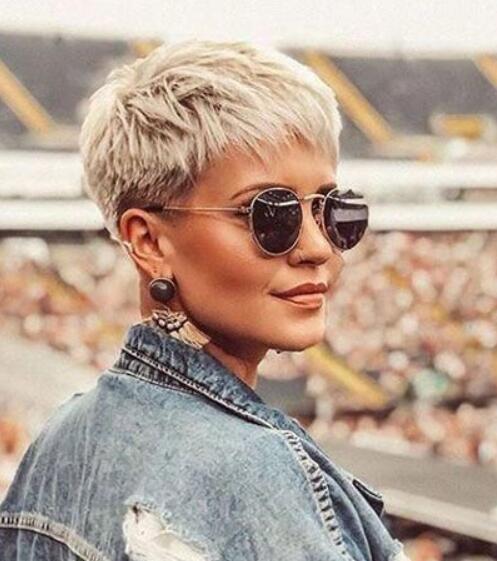 These bowl-cut hairstyles give a hipster look to your personality. You can add suitable accessories like sunglasses or earrings to match the look.
34. Bridal short hairstyle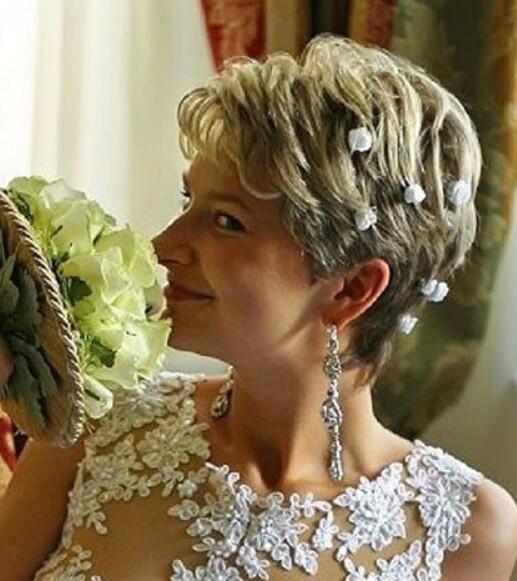 It is getting more common to have simple yet effective short bridal hairstyles at weddings. You can accessorize with beads or headbands to create a stunning look. A simple braid highlighting the bangs will also create beauty for this hairstyle.
35. Short undercut hairstyle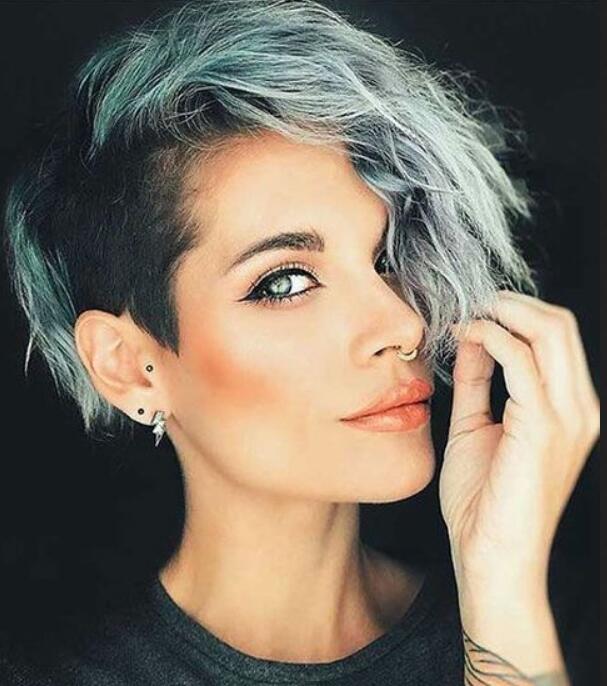 A smart way to wear a shorter hairstyle is a short undercut bob. This deep undercut gives a voluminous hair effect to your hair length.
36. Shorter haircut with colored tips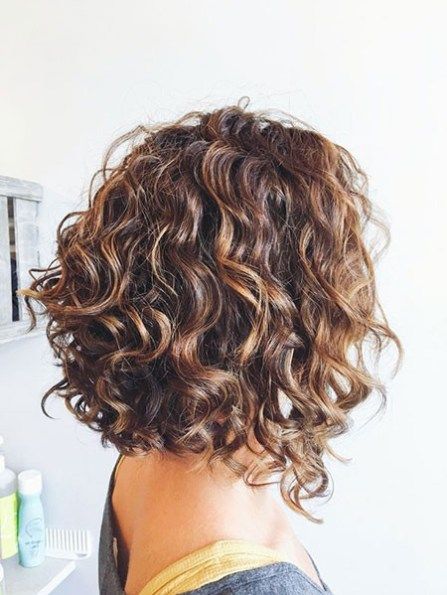 You can choose a lengthy bob or a short pixie as a foundation to create this beautiful styling. Add any highlights of your choice to color the tips of the loose curls to create that stunning effect.
37. Tomboy Haircut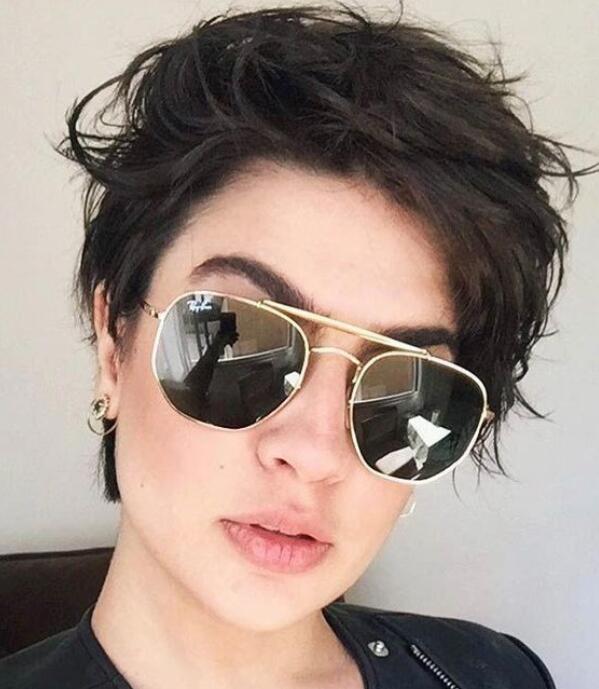 The tomboy haircut is for those who love to sport a daring personality. You can brush-cut the sides or shave the back to make it more prominent.
38. Pastel Short hairstyle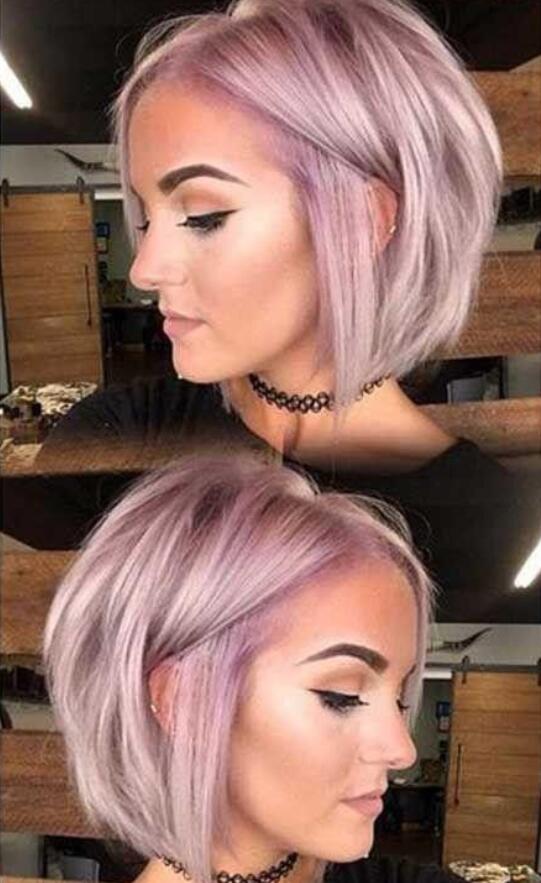 These cute hairstyles are more beautiful with shorter hair. Any pastel colors combined with the fine texture of your hair give stunning looks to your personality.
39. Mohawk Shorter hairstyle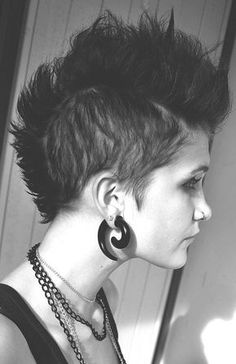 The Mohawk hairstyle gives an edginess to your hairstyle, creating stylish outlooks for your personality. The vibrant tones of your hair can let you boast your daring alternative of the bob hairstyle.
40. Side-shaved Short haircuts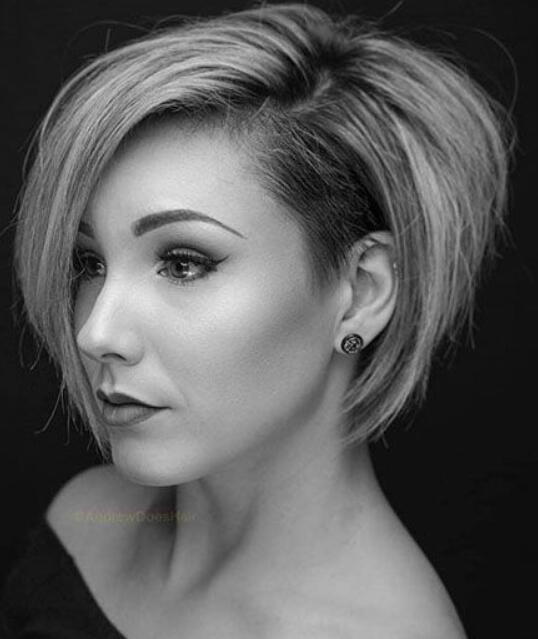 A beautiful alternative to side-swept bangs or front bangs is side-shaved short haircuts. You can brush-trim or shave the sides to create long-length stranded bangs on one side of the head. You can avoid or use minimum accessories to create an elegant outlook.
41. Pixie with Nape Undercut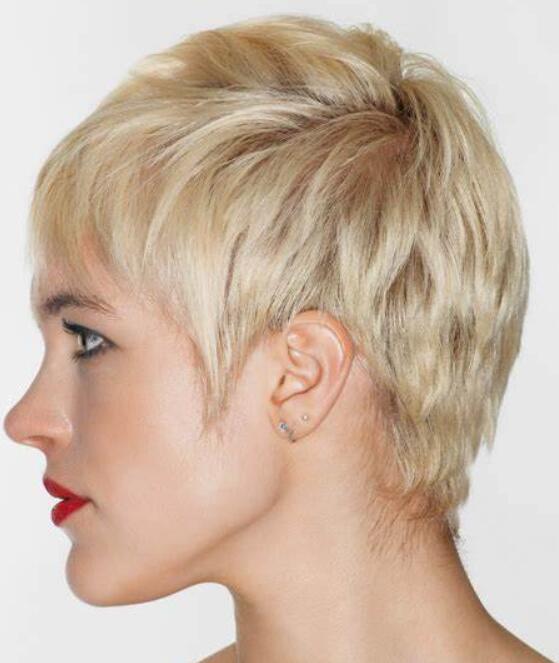 This Pixie with Nape Undercut suit is for women with fine dark hair. You can also add blonde highlights to make it look fuller.
42. Pixie Cut with Short Bangs

This short pixie cut with short bangs can save your styling time. It is a little messy, subtle, and easy to style.
43. Short Wedge Haircut

A short Wedge Haircut is relatively easy to style. In addition, this haircut is not too formal and not too messy.
44. Short Blunt with Blonde Bob

This short blunt with a blonde bob haircut is modern, elegant, and flattering.
45. Shaggy Bob

This shaggy bob haircut can make you stand out. This haircut is very suited for women with fine curly hair.
46. Short Temple Undercut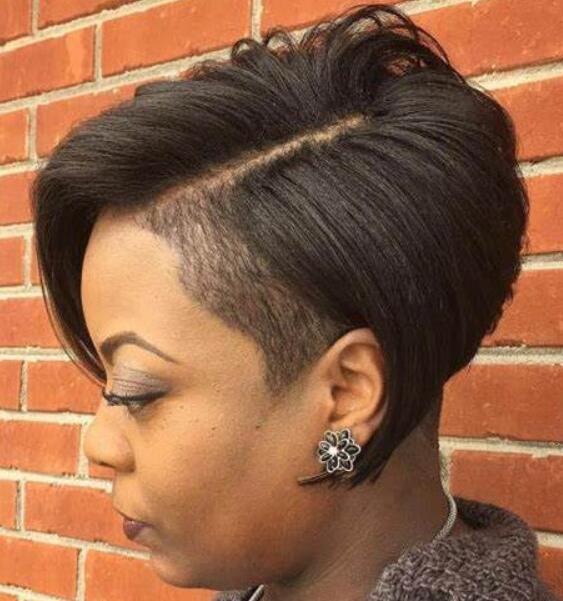 This short temple undercut suits women with fine, sleek, and straight hair.
47. Long Pixie Cut

A long pixie cut is a very sophisticated haircut that can make you look taller. The razored layers make your hair look softer.
48. Loose Beach Waves

This loose beach wave haircut works well for naturally curly fine hair. It can create fullness and be super easy to style!
49. Messy Textured Pixie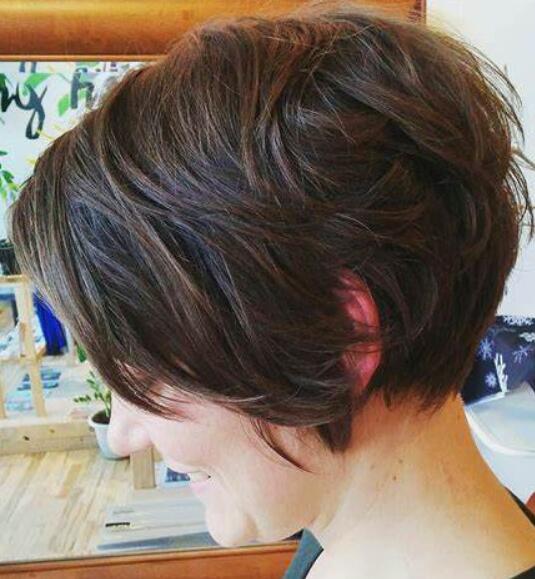 A messy textured pixie cut is a classic style that never fails to add volume. It looks natural and requires less time to style.
50. Super Short Pixie

Short Pixie Haircuts are a popular hairstyle for women with fine hair. It can be tapered to fit all kinds of face shapes and give you an impressive style.
FAQs
1. Will a short hairstyle make my fine hair look even thinner?
Not necessarily. The right short hairstyle can give the illusion of thicker hair. By opting for layers and texture, you can add volume and movement to your fine hair, making it appear fuller and more voluminous.
2. How do I style short fine hair to add volume?
To add volume to short fine hair, use a volumizing shampoo and conditioner. When styling, blow-dry your hair upside down to lift the roots and create more volume. You can also use a round brush while blow-drying to add extra lift. Additionally, consider using volumizing products, such as mousse or root-lifting sprays, to give your hair a boost.
3. Are there any specific haircuts to avoid for fine hair?
While there are no hard and fast rules, certain haircuts may not be as flattering for fine hair. Avoid heavy, one-length cuts that can weigh down your hair and make it appear flat. Instead, opt for layered cuts that add movement and texture. It's always best to consult a professional stylist who can recommend a haircut that suits your specific hair type and face shape.
4. How often do I need to trim my short fine hair?
Trimming your hair regularly is important for maintaining its health and shape, regardless of hair type. For short fine hair, it's recommended to get a trim every 4-6 weeks to keep the style looking fresh and prevent split ends.
5. What products should I use to style my short fine hair?
When styling short fine hair, choose lightweight and volumizing products. Look for mousse, volumizing sprays, or dry texturizing sprays to add lift and texture. Avoid heavy products that can weigh down your hair and make it appear flat.
6. Can I create updos or hairstyles for special occasions with short fine hair?
Yes, even with short fine hair, you can create elegant updos and special occasion hairstyles. You can use accessories like bobby pins, clips, and headbands to add detail and flair to your hairstyle. Consider consulting with a hairstylist who specializes in updos for short hair to explore different styling options.
7. Can I add extensions to my short fine hair to make it look fuller?
Yes, extensions can be a great option to add temporary length and volume to short fine hair. There are various types of extensions available, such as clip-ins or tape-ins, which can be applied without causing damage to your natural hair. Consult with a professional stylist who can recommend the best extensions for your hair and help you achieve the desired look.
8. How can I add texture to my short fine hair?
Adding texture to short fine hair is key to creating a voluminous and dynamic look. You can use texturizing sprays or sea salt sprays to enhance natural texture and create a tousled effect. Additionally, consider using a curling iron or hot rollers to create loose waves or curls, adding dimension to your hair.
9. Are there any specific techniques for styling short fine hair?
Yes, there are a few styling techniques that can work well for short fine hair. Backcombing or teasing the roots can provide instant lift and volume. Using a round brush while blow-drying can add body and shape. You can also try different parting styles or sweeping your hair to the side to create the illusion of more volume.
10. How do I choose the right short hairstyle for my face shape?
When choosing a short hairstyle for fine hair, consider your face shape for a flattering look. For example, if you have a round face, opting for a longer bob or layered cut can help elongate your face. If you have a heart-shaped face, a pixie cut or a bob with side-swept bangs can balance your features. Consulting with a professional stylist can provide personalized recommendations based on your face shape.