If you are looking for a stylish and sleek appearance, the disconnected undercut may be the right hairstyle for you. This haircut is one of the trendiest hairstyles today. It is striking to look at and create an appealing visual statement at the cutting edge of contemporary fashion. Many celebrities enjoy having disconnected undercut hairstyles, such as David Beckham and Brad Pitt.
What is a
disconnected undercut?
The disconnected undercut is distinct from the standard undercut in the crown's long hair. It does not gradually fade into the closer cut hair on the back and sides. Instead, there is a visible separation or "disconnect" between the two. In a conventional undercut, the cut of the crown and the sides is gradually and subtly blended. However, the separation between the two is boldly emphasized in the disconnected undercut.
This article will list the 60 best-disconnected undercuts for men.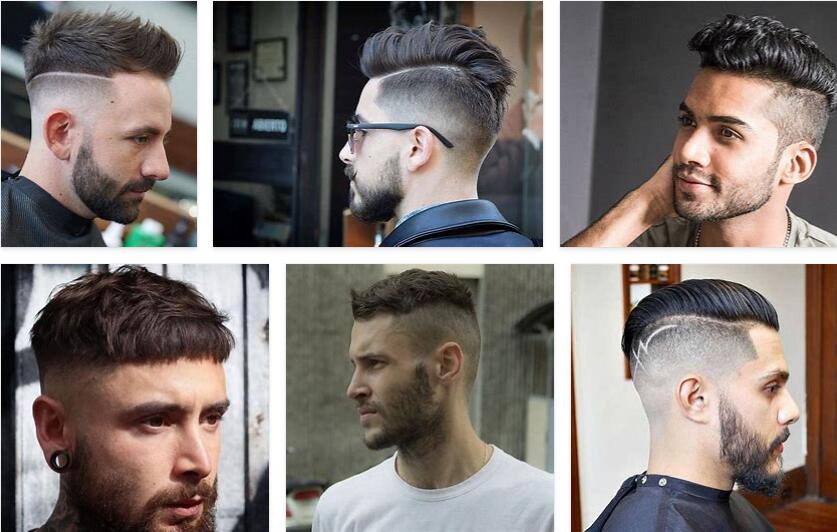 60 Best Disconnected Undercut For Men
1. Textured Waves
Undercut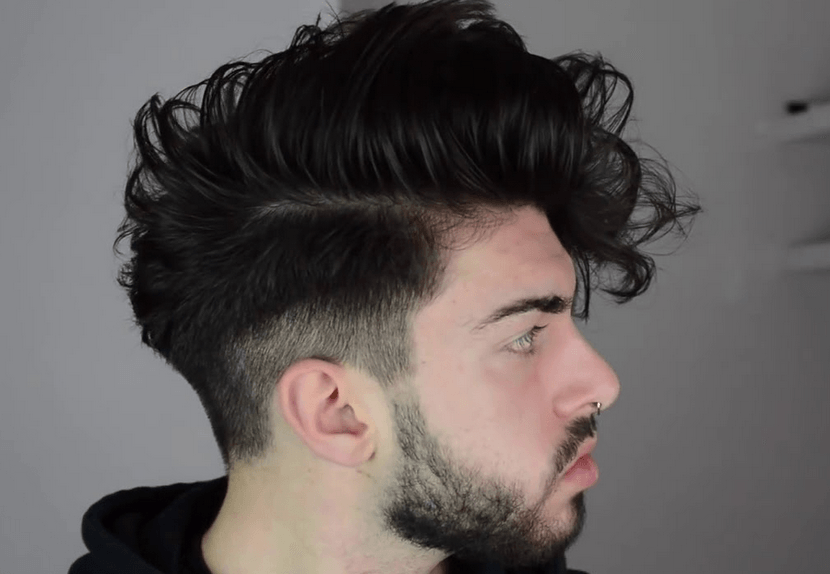 This textured wave disconnected undercut is ideal for men with naturally wavy hair. There is no need to apply hair products to let your natural waves create a style for you. Use your fingers to arrange the top, and you're ready. You won't have to worry about the sides and back as you can keep them shaved clean or cut short.
2. Slicked Back Disconnected Undercut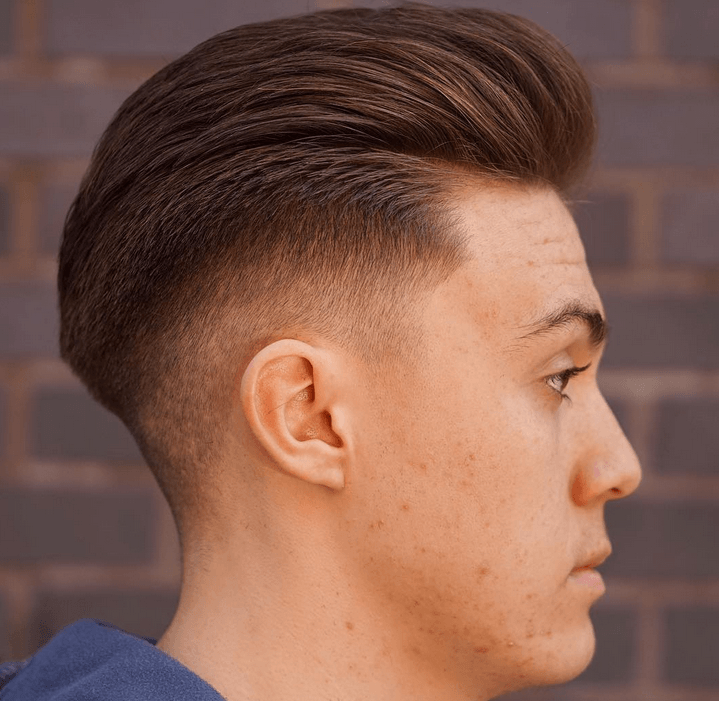 One of the best-disconnected undercut hairstyles is the Slicked Back Undercut if you want a clean and elegant look. Apply some high-quality gel or mousse on top and comb your hair backward for a smooth appearance. You can also grow some facial hair with a round face shape.
3. Quiff Style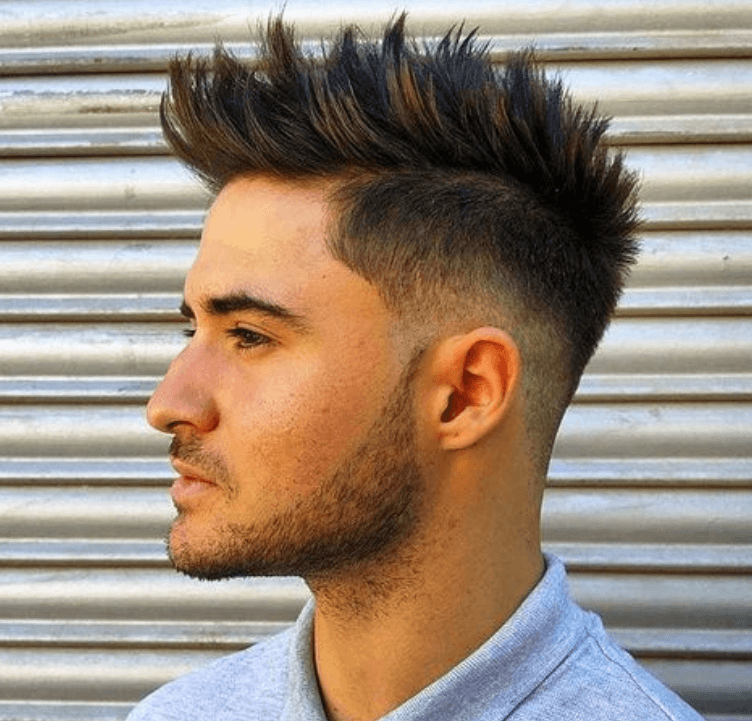 The Quiff Style disconnected undercut has exciting elements that can turn heads around you. Keep the top hair long enough so you can create a high volume. Style your hair upwards using a comb or your fingers. You will need to apply a small gel to keep the textured wave in place.
4. Long Curls with Disconnected Undercut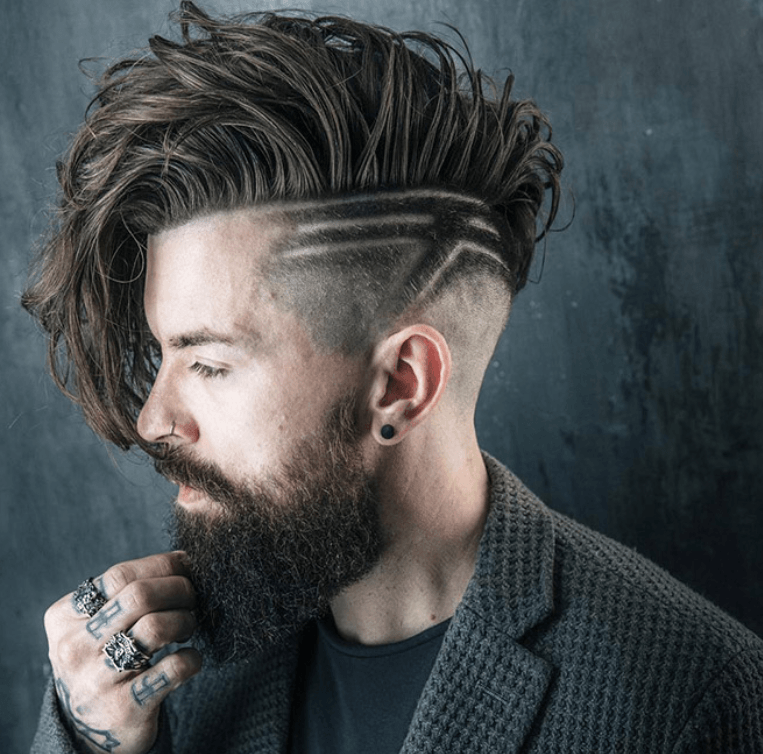 This long, disconnected, undercut hairstyle for men with natural curls stands out with its bangs falling naturally on one side. A razor line is also visible, which catches your eyes as you stand in the crowd. This hairstyle also looks great with a short beard as it gives your face a beautiful and stylish frame.
5. Fringe Disconnected Undercut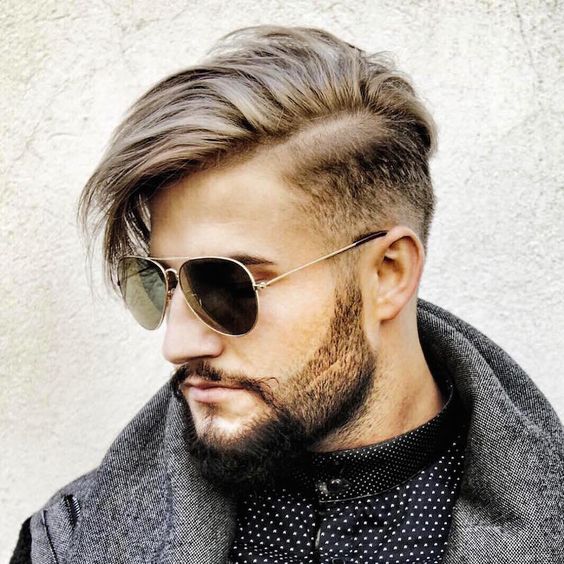 Another great disconnected undercut hairstyle you can try to keep your bangs is the Fringe Undercut. In this hairstyle, both sides and the back have faded effects, while the top is long enough so you can comb it forward. This allows you to style your bangs as a perfect frame for your face.
6. Bowl Cut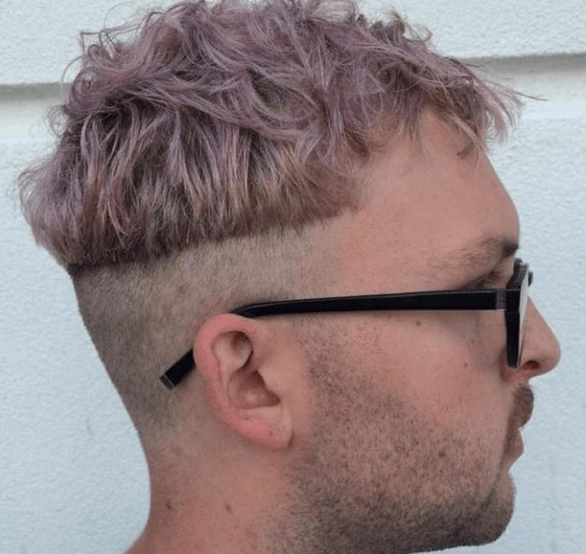 If you are looking for an excellent version of the disconnected haircut, you might want to try the Bowl Undercut. This short hairstyle is becoming a trend as it is perfect for men who wish to reflect their creativity with their hair. Maintaining this hairstyle is also easy, and there is no need to use many hair gel or foam.
7. High Pompadour with Disconnected Undercut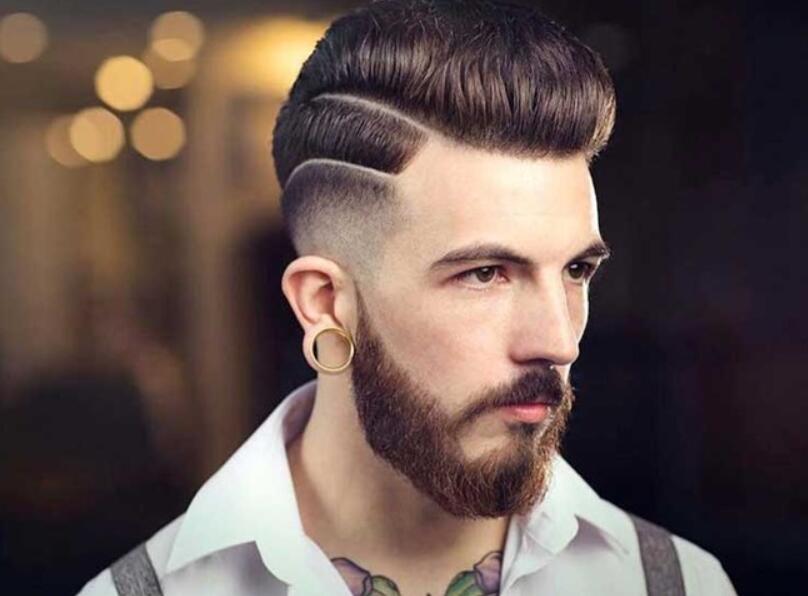 The High Pompadour undercut is one of the best-disconnected undercut hairstyles. It requires a significant amount of hair on top to create a friendly, huge wave for a fresh and clean appearance. Razor lines on both sides are also visible to separate the sides from the hair on top. Apply your favorite hair product to maintain the style throughout the day.
8. Long Side Flipped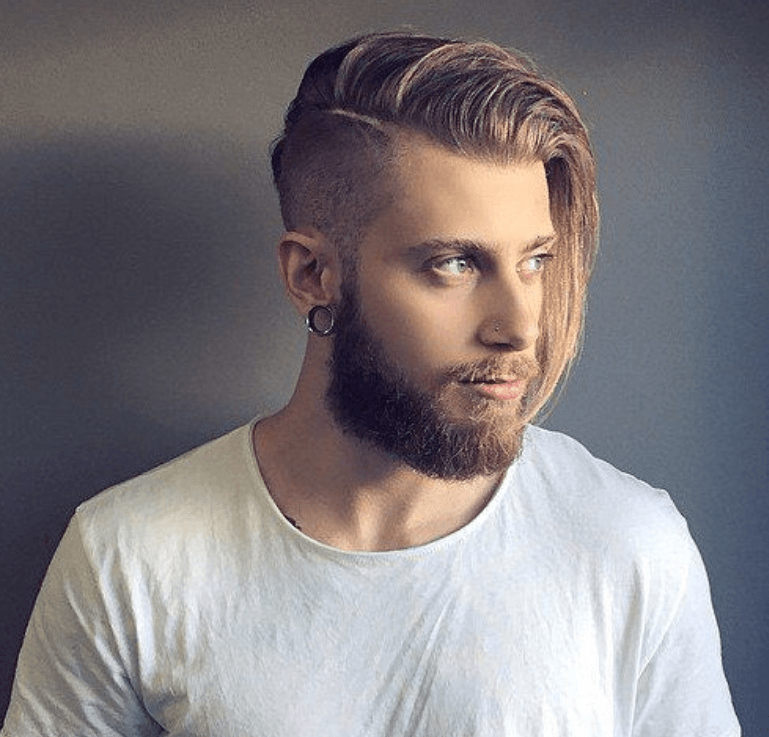 If you are looking for a trendy but straightforward disconnected undercut hairstyle, you would love the Long Side Flipped Undercut. This style highlights longer hair on top combed creatively to one side. The back and both sides are trimmed short for a fresh feeling. This hairstyle is excellent for men with straight hair that is not too thick.
9. Brushed Up with Designs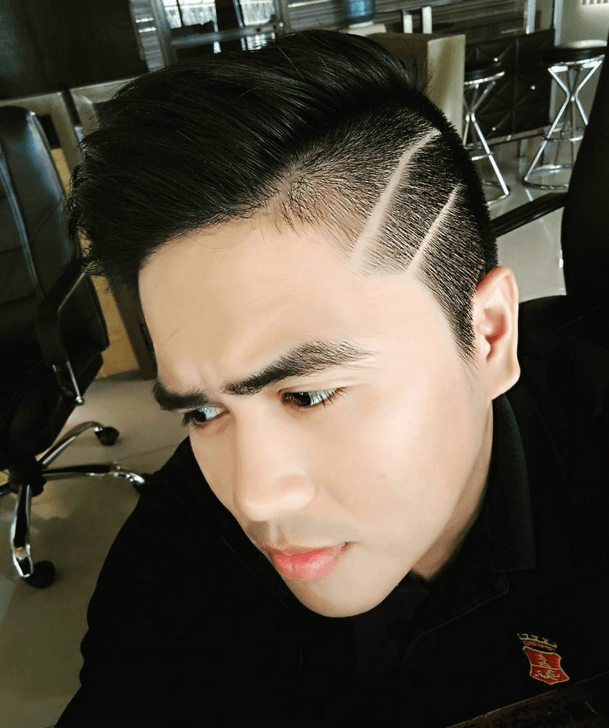 Here is another disconnected undercut hairstyle that might give you some inspiration for your next haircut. To achieve this hairstyle, you will need to grow your hair on top longer to brush it up and create falls to one side. The other side has a manly design that draws attention to your hairstyle. This undercut looks great with or without facial hair.
10. Mid Height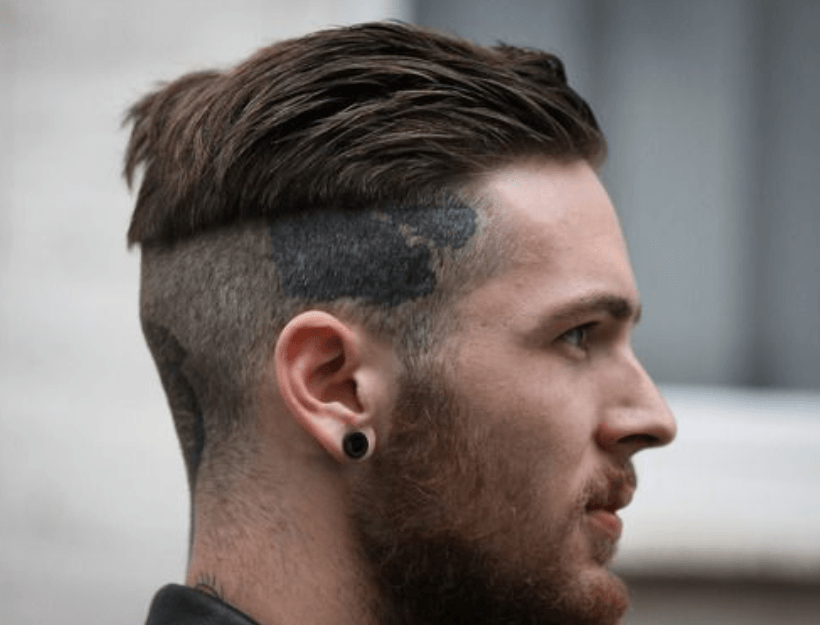 If you do not want to cut your hair too short, you can always opt for Mid Height Disconnected Undercut. This hairstyle also does not require a significant amount of hair. This style is ideal for men who like the undercut appearance and want something that will stand out from familiar undercut styles.
11. Side Swept Disconnected Undercut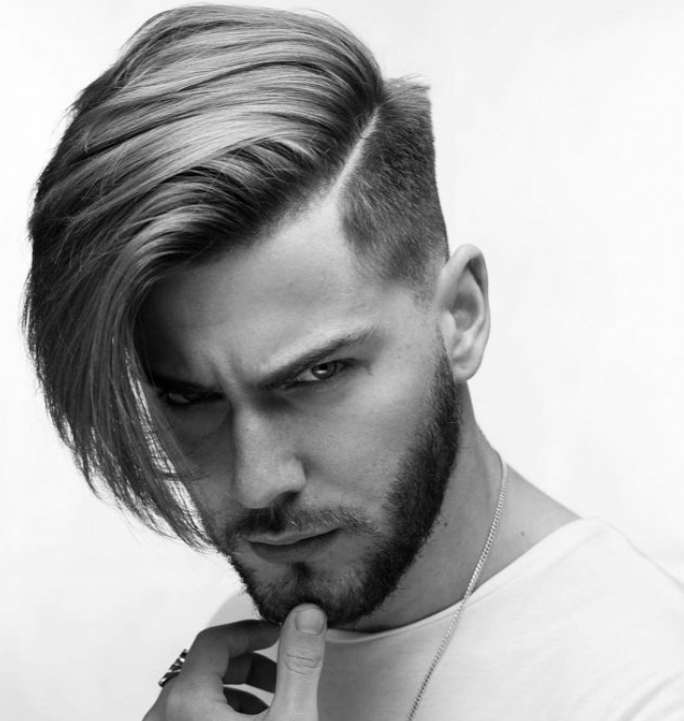 Another stylish disconnected undercut is the Side Swept Hair. This features long hair on top that falls on one side of your head. It is combined with a slicked hairstyle as the center hair is combed backward. The sides and back are trimmed close to the skin. You can also grow a thick beard to complement your hairstyle.
12. Caesar Haircut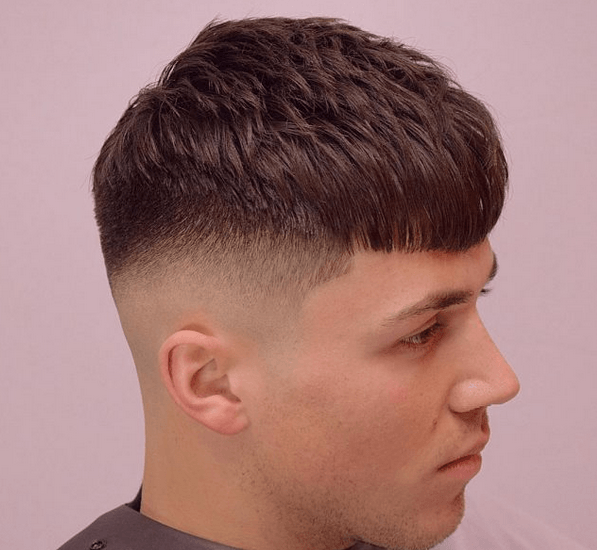 Caesar Style disconnected undercut is also one of the great styles you might want to try. This hairstyle shows that even the classic haircut of Julius Caesar can evolve for the 21st century. It has an ultra-long fringe hanging over the eyebrows and has an undercut around the sides and back. This hairstyle is excellent with or without short facial hair.
13. Long Combed Over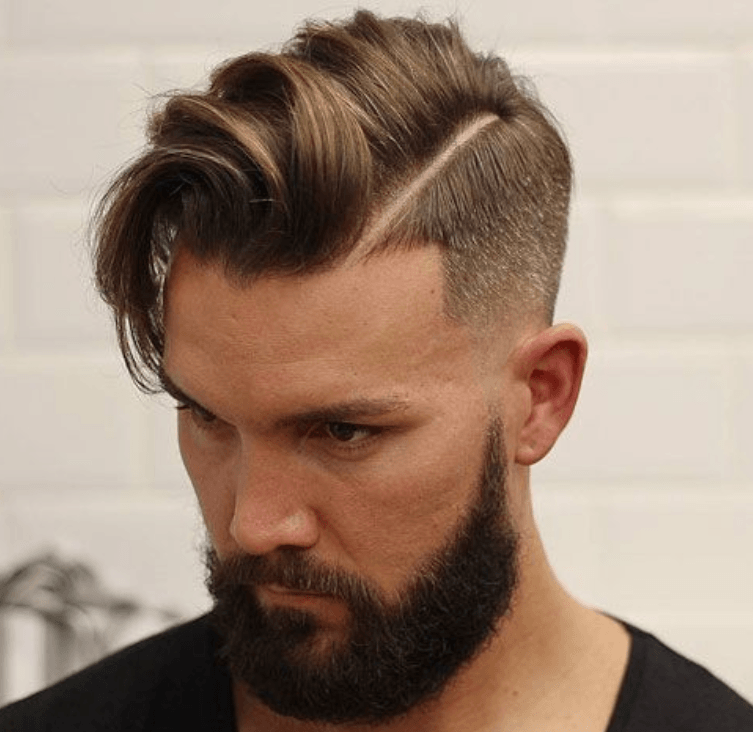 Another great hairstyle for men with naturally wavy hair is the Long Combed Over. All sides are trimmed short, and the top is combed or brushed backward. There is no need to use a lot of gel or mousse to style, as you can let your natural waves do the trick. You can also couple this hairstyle with some facial hair for a more masculine look.
14. Soft Disconnected Undercut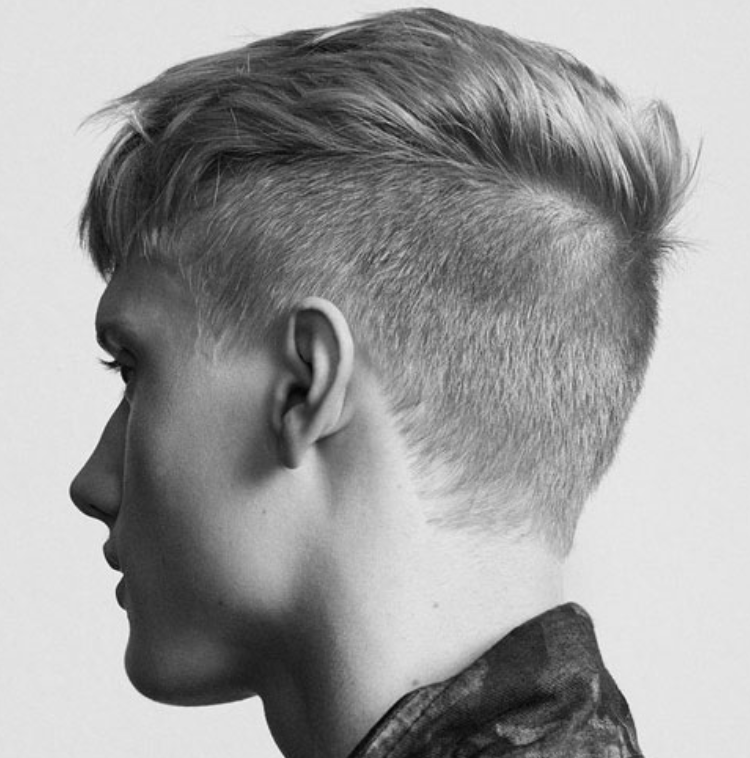 This hairstyle comes across as very natural and soft-looking. It has a perfect placement at the top of the head, and the hair grows toward the front. This hairstyle is excellent for men interested in the undercut trend but does not want to appear as they have just come from a fashion editorial. If you have thick, straight hair, try this one out!
15. Faux Hawk with Disconnected Undercut
What makes disconnected undercut great is combining it with other hairstyles available. For example, this undercut is coupled with a faux hawk. Both sides and the back are trimmed short, while the top is a couple of inches long. To achieve this hairstyle, simply use gel or mousse to create spikes and keep them in place.
16. Low Undercut with Curls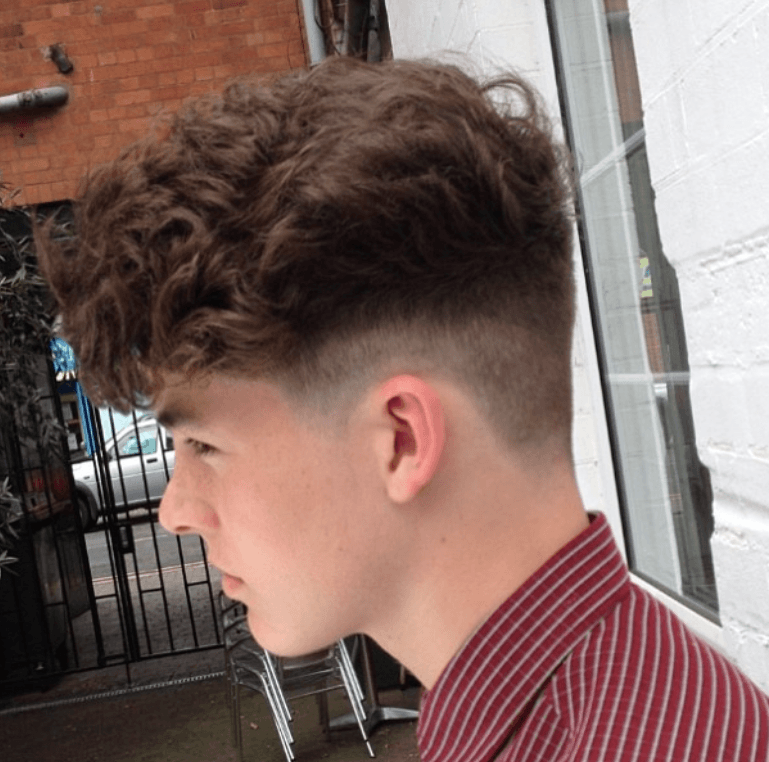 Do you want to achieve curly hair while having a disconnected undercut hairstyle at the same time? You might want to try this haircut. A long cascade of curls falls on one side of the face in this hairstyle, eye-catching enough to steal the show. A low disconnected undercut matches well with the curls.
17. Man Bun
One of the popular hairstyles this year is the Man Bun. You can combine it with a disconnected haircut and have that hairstyle that most girls would love to see! In this style, both sides and the back are trimmed short with faded effects, while the top is long enough so you can tie your hair. This gives you a fresh and excellent appearance.
18. Long Pushed Back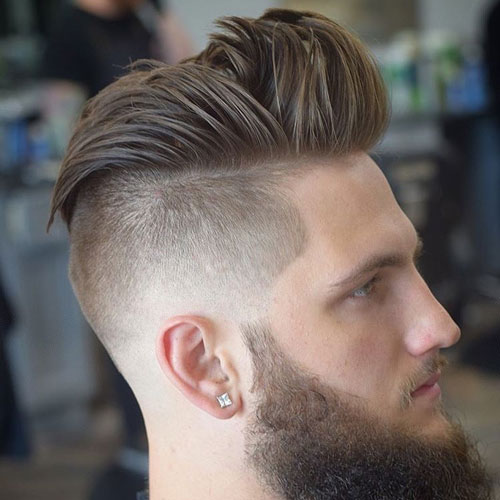 You can try the Long Pushed Back if you dislike the comb-over hairstyle popular among most disconnected undercuts. While slicked hairstyle depends on lots of gel or mousse to keep the style in place, this particular hairstyle does not require liberal use of hair products. You can quickly fix your hair with your hands without needing a mirror.
19. Wavy Comb Over with Disconnected Undercut
The Wavy Comb Over is another excellent hairstyle that can increase your handsome points. To achieve this style, simply have both sides and back trimmed with fading effects. Keep the top hair long enough so you can comb it backward. Consider growing some facial hair for a nice facial frame.
20. Super Quiff
If quiff is your style, you might want to try the Super Quiff disconnected undercut. Simply allow your hair on top to grow longer while keeping all sides shaved clean. With the help of a high-quality gel, style your hair to the front going to one side. This hairstyle allows you to get the most out of your thick hair!
21. Shape Up Undercut
If you are looking for something unique, here is another excellent disconnected undercut hairstyle that you might want to add to your to-try list! In this hairstyle, you will see numerous hair divisions fixed with some styling gel. All sides and back are trimmed very short for a fresh look.
22. High Disconnected Cut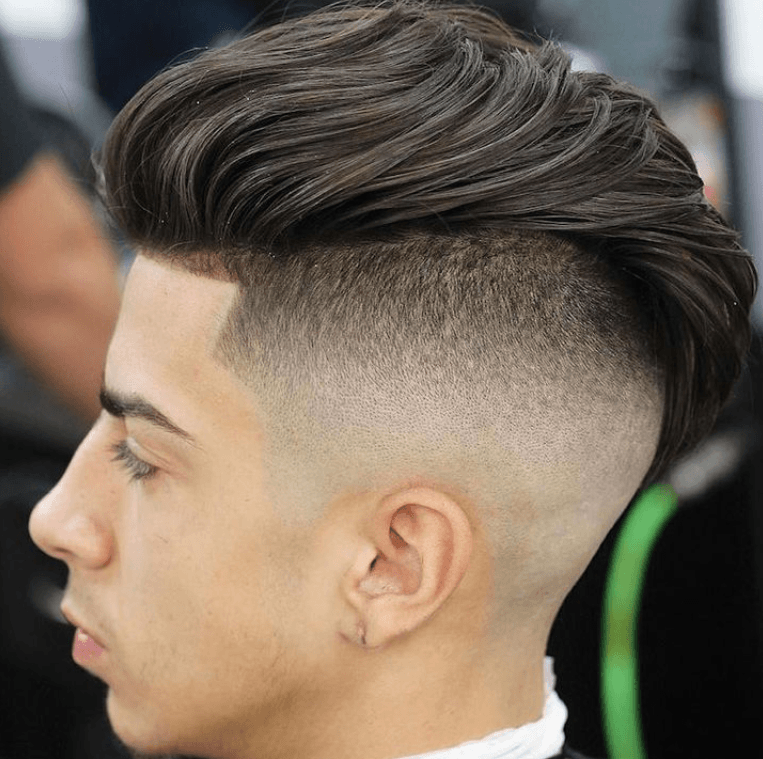 This flipped-back style starts high up on the head. It gives a dramatic detail that will surely catch the attention of all people around you. This hairstyle is also easy to style, reducing some of the heavy hair on top. Comb your long hair backward for a seamless look, and add some gel to keep your hair in place.
23. Faux Haux + Natural Curls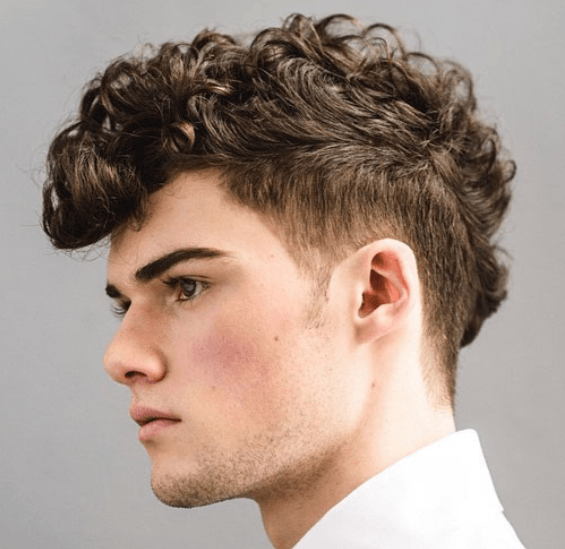 This hairstyle has two visible curve lines on both sides that start from the forehead for men with natural curls. Both sides are trimmed with faded effects, while the top is simply cut short to keep the curly style. This undercut style can also be coupled with facial hair for additional visual effects.
24. Long Hair with Disconnected Undercut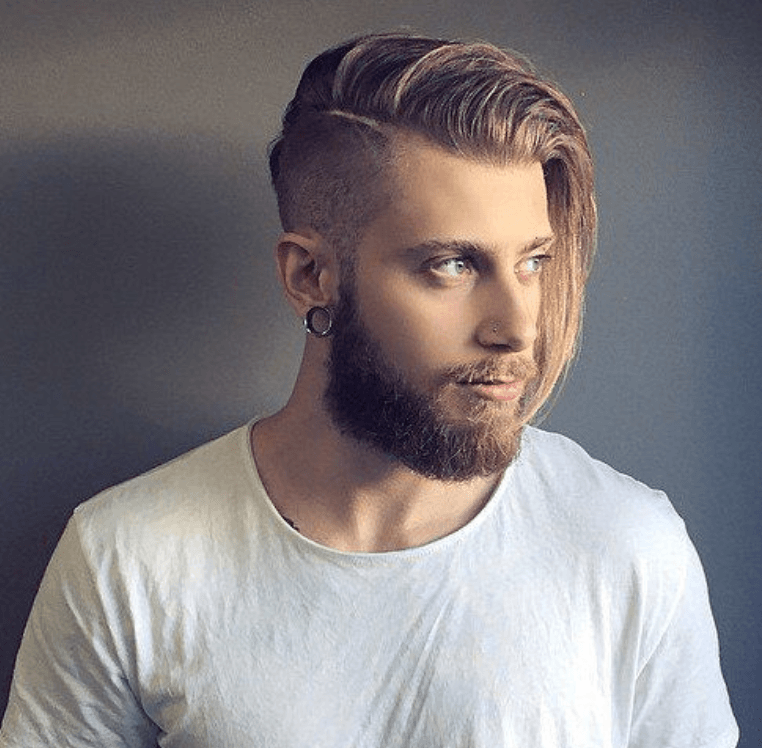 If you want to keep your hair long and have a disconnected undercut, here is a great hairstyle that lets you have both! Both sides are shaved clean in this hairstyle, while the top to the bottom is the left song, so you can let it flow or tie it back.
25. Textured Ginger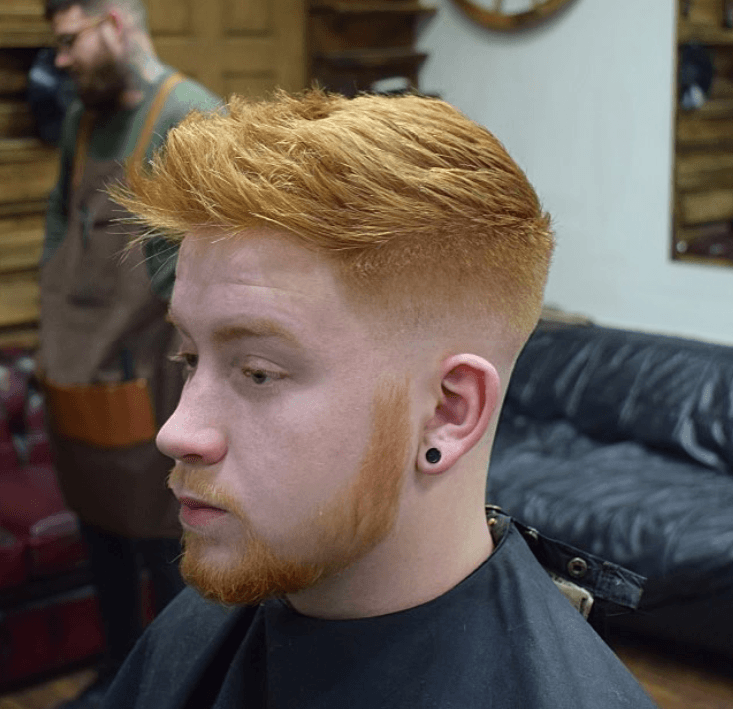 Do you have natural ginger hair? You might as well want to try the Textured Ginger Undercut! In this style, all sides are trimmed short with faded effects. Apply enough hair gel, wax, or mousse to create some texture and spikes on top. You can also couple it with some facial hair to complete the look.
26. Sculpted Quiff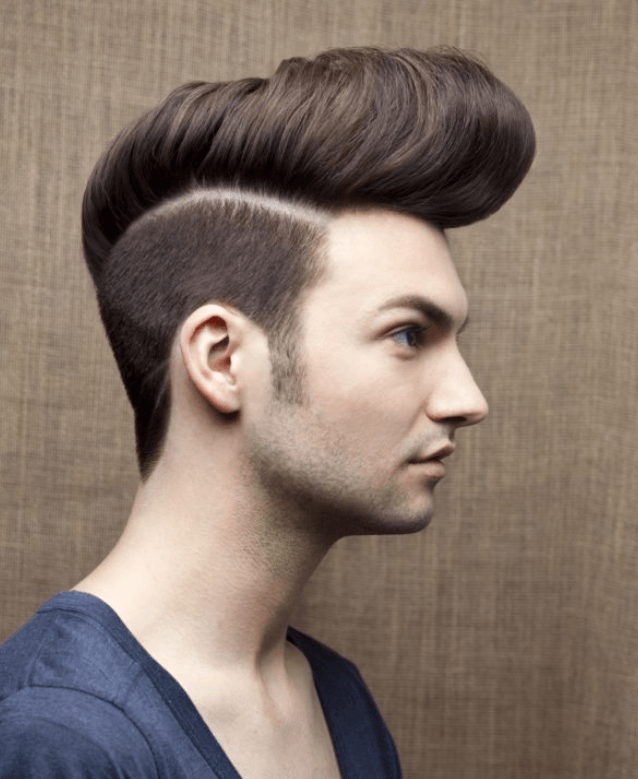 Disconnected undercut hairstyles do not have to look rugged or edgy. You can always couple it with a sculpted quiff. In this style, the sides and back are cut short while leaving a significant amount of hair on top. Brush your hair towards the back while adding volume. Use gel or hairspray to keep your hair in place throughout your day.
27. Basic Disconnected Undercut
If you want a simple haircut with an undercut style, you love to have the Basic Disconnected Undercut. It has a simple cut on top to style your hair without using too many hair products. You can also grow some facial hair for additional handsome points!
28. Vintage Comb Over

This hairstyle lets you keep a strong vintage vibe in your look. Try this side-parted comb-over hairstyle coupled with a disconnected undercut if that is exactly what you are after. The slick styling and fringe make the whole thing classy, fresh, and elegant.
29. Blonde Fohawk with Disconnected Undercut

Another fantastic, disconnected undercut hairstyle for men looking for adventures is the Blonde Fohawk combined with a disconnected undercut. This great style can catch all the attention of people around you. The top hair is styled with a gel or wax while both sides are kept short. A line also divides the shaved part from the area with short hair.
30. Loose Pompadour Disconnected Undercut

Another way to change the appearance of pompadour is by reducing the stronghold of your favorite product. You can make it more loosely coupled with a disconnected undercut to make your styling faster and easier.
31. The Jake Gyllenhaal Undercut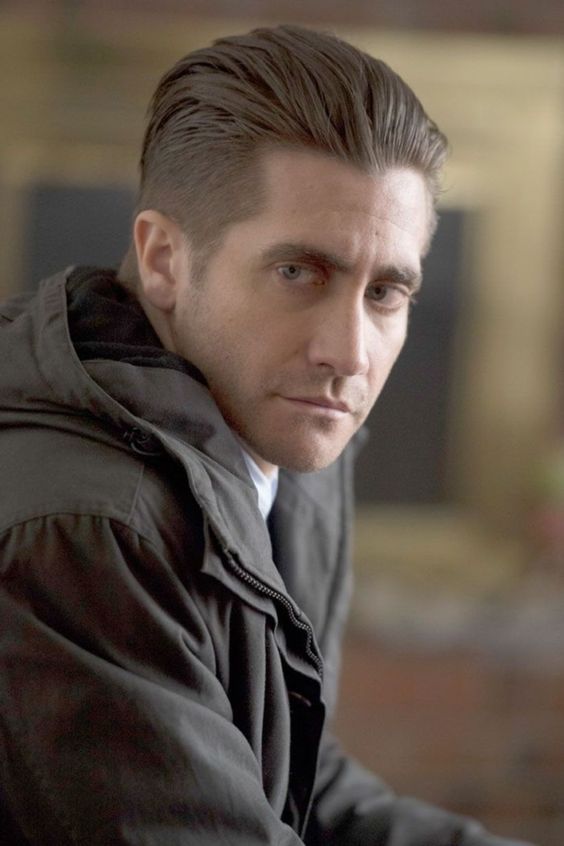 Through this sleek, cool, and faintly connected disconnect, Mr. Jake Gyllenhaal managed to take the undercut haircut and make it his own. Even though it is a technical undercut, it will work amazingly nicely since it fits the triangle head shape of any individual.
32. The Scruff Pompadour with pierced ears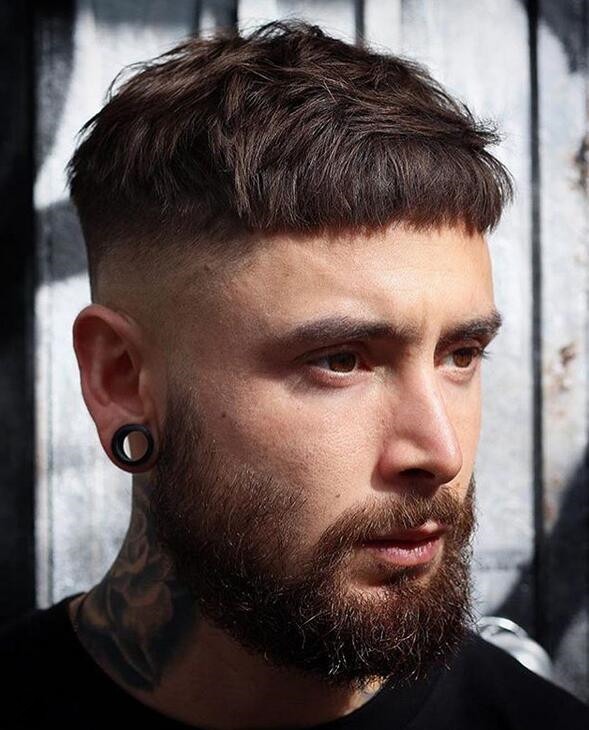 Are you trying to attain a sexy look? Then feel free to go for this sexy cut of a scruff pompadour, as seen in the image above. Start by sporting a cropped front and a messy top. Before trying out this haircut, start by ensuring you first give your hair some heavy texturing.
To top off the look, sport a high skin fade on your sides and ensure you make it blended at the backside of your head.
33. Military Undercut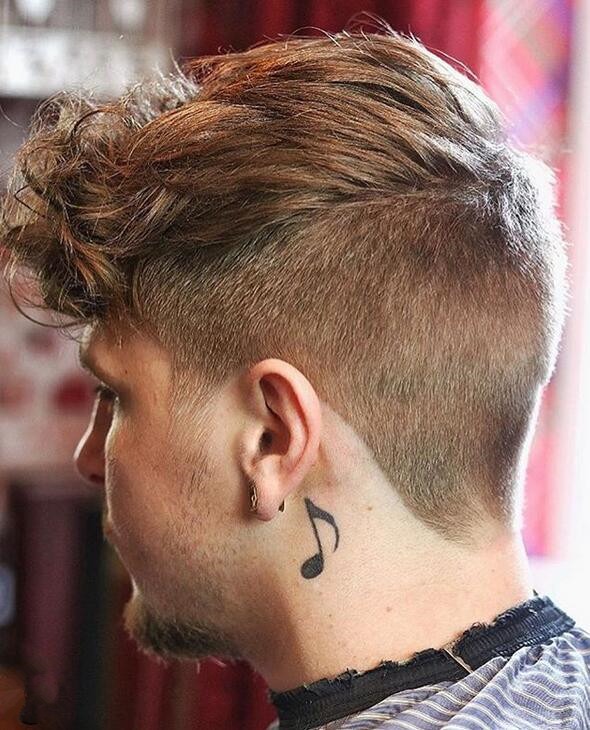 Why not settle for a military buzz and add texture to your long top? With this haircut, let it flow forward and finish it with a permed quaff.
34. Slicked Back Undercut with a Folded Bun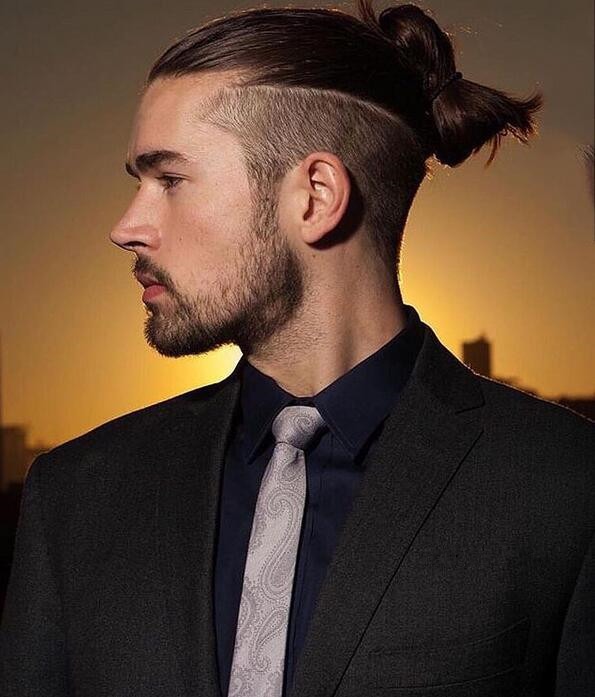 For this haircut, sport a short buzz undercut using your textured hair locks. Isolate the top side by settling for the comb part that will dip toward the backside. Consequently, texture the long top and then award it a slick back.
Secure the locks into a bun that will be positioned at the crown.
35. Straight Front Messy Pomp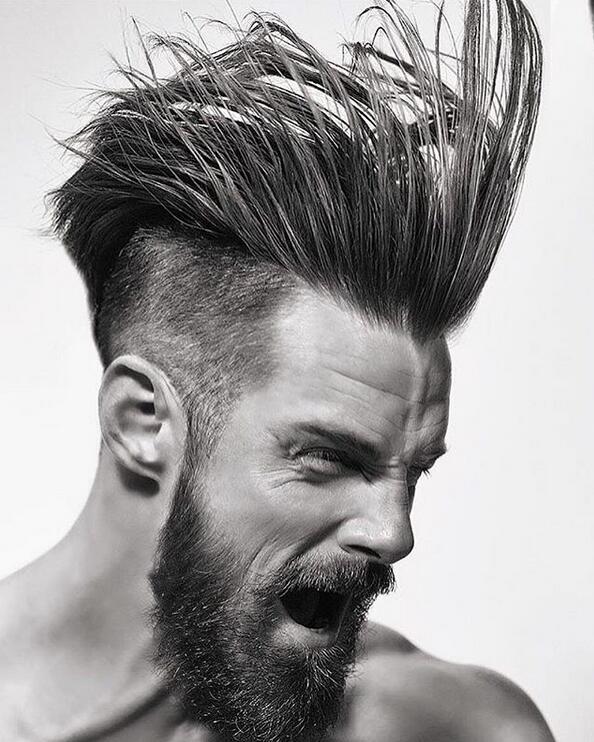 Here is a chance to add more drama to your undercut by sporting a distinct front that will be combed up and textured to create a messy, straight towering look. Texture the top side to complete the hairstyle, then style it into a sexy deconstructed pomp.
36. Messy, wavy, and blonde pompadour
Award your disconnected undercut the classic and cool combo of a wavy pompadour that sports the disheveled but cool look. In addition, finish off the look by wearing a nice sweep-up look on the front.
37. A top braided knot Disconnected Undercut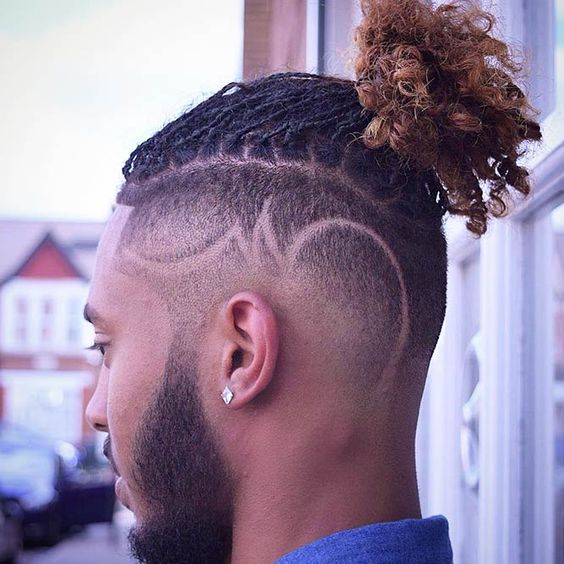 Why not settle for buzzed sides and a backside? Leave the long hair on your head's front side to the crown. Subsequently, style the long hair into slim cornrows and hold them into a nice top knot that you will position at the crown.
38. Top Knot with a full beard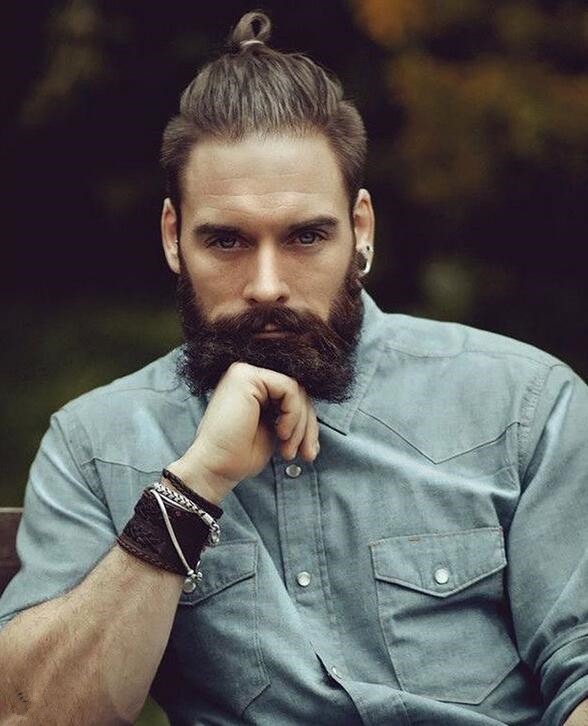 With this top knot haircut, you need to isolate the top side of your hair with a comb and then drop it into your tapered side and back. After that, pull back your long hair at the top and hold it into a nice knot that you will position at the crown.
To complete the look, you must boast a full beard like the gentleman above.
39. The Medium Length Undercut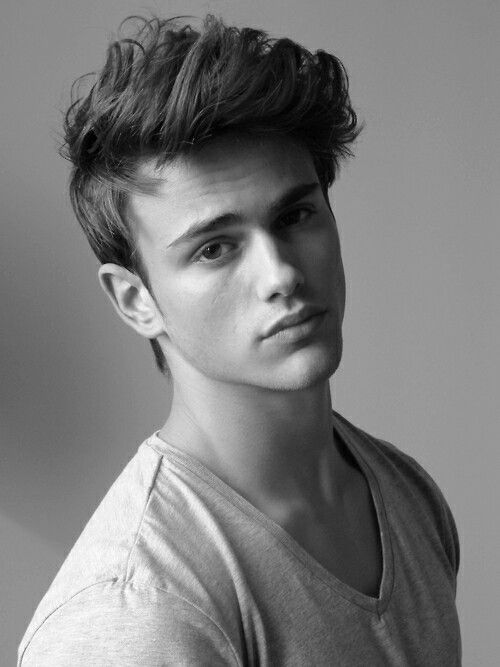 At times, less hair is more, particularly if you contemplate acquiring the "sweet boy next door" look. All you ought to do is sport a casual undercut accompanied by a messy top, and you are good to go.
40. Extremely Long Hair
As you know, there is no defined hair length when designing the disconnected undercut. You can grow your head hair as much as you want without worrying that the outcome will no longer be considered a disconnected haircut.
41. A Disconnected Haircut with a Top Knot
Still, even though this is the era of the disconnected haircut, that does not mean that we should forget about other big hits from the past, such as the man bun or top knot. These haircuts will undoubtedly look astounding if put together skillfully.
Try out the haircut, and let me know how it looks to you.
42. Short dreads with Disconnected Undercut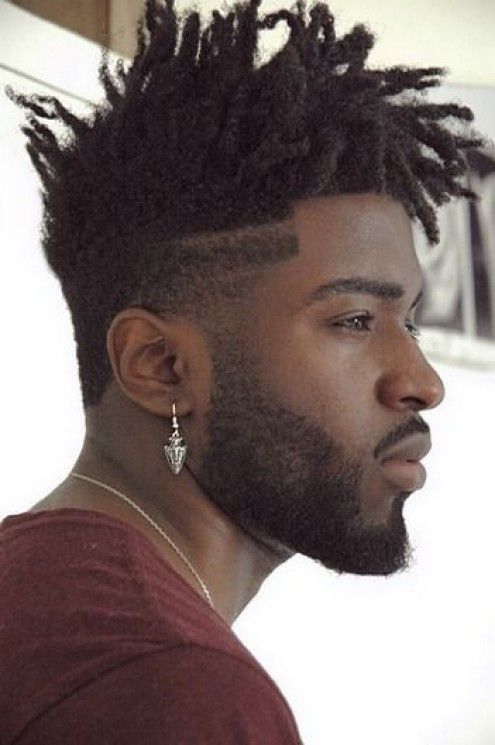 The difference between this disconnected haircut and most disconnected hairstyles with dreads is that the bottom half of your hair does not have to fade. The lower half section should simply be a short haircut that has not been tapered, in simpler words.
You can choose a two, a three, or even a bald haircut. Whatever you do, ensure the sport's haircut remains equal on both sides. If you do it right, this haircut will leave you looking splendid.
43. The Harry Styles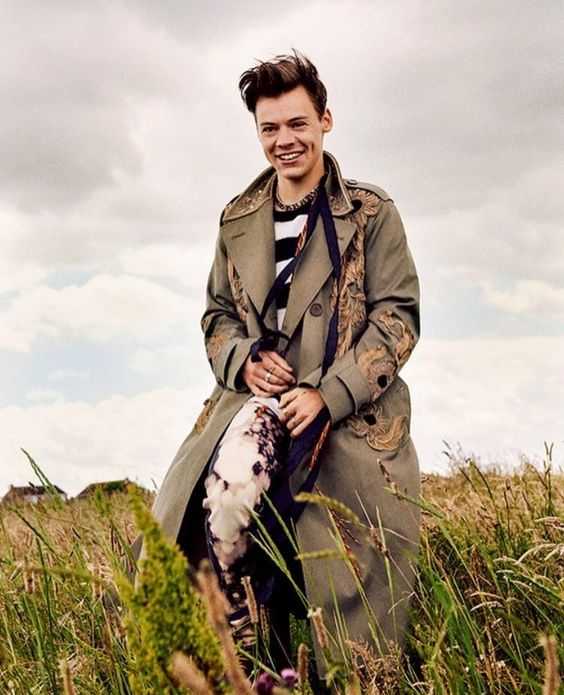 The second celebrity in this enumeration is Harry Styles himself, who looked splendid with this haircut as he was starring in a movie named Dunkirk in 2017. The image above was captured as he was posing for a photo shoot with another man's magazine. As you can see, he was also flawlessly styled and dressed.
44. The Quiff Disconnected Undercut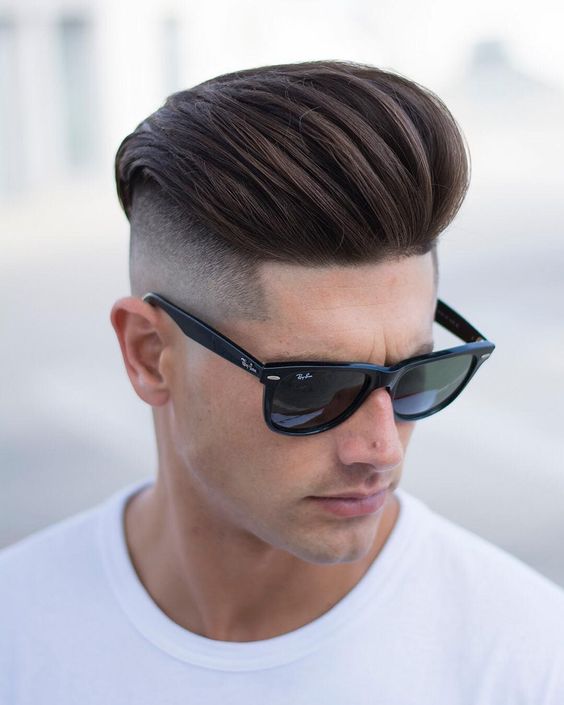 I think this is as cool as it gets. I fell in love with how the gentleman's top side goes over the sides a bit much. Coupled with the Ray-Ban sunglasses just completes the entire look in a way that is guaranteed to turn heads wherever one goes.
45. The Zayn Malik disconnected undercut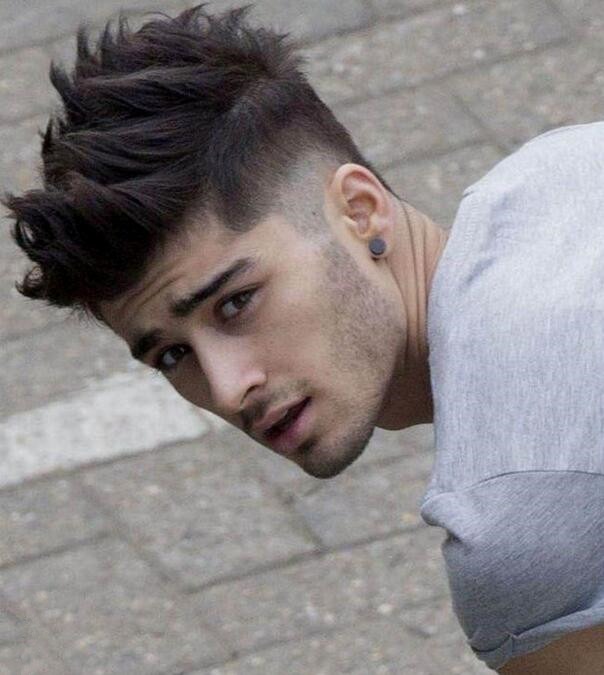 This list would be incomplete if I did not include a disconnected undercut from Zayn Malik. If you were a fan of Zayn Malik or One Direction, you know Zayn Malik has always been a fan of the disconnected undercut because it made him a bit more mature than he was.
The look also undeniably looked great with its incredibly finely carved features.
46. The Curl With a Middle Row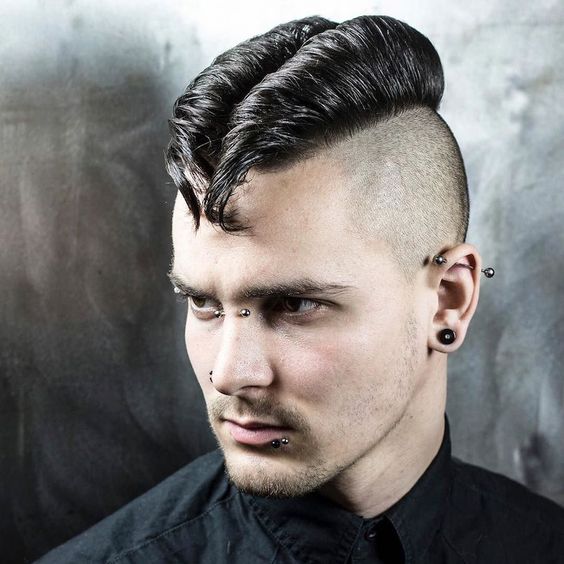 This haircut is coming straight from a movie you have probably seen by the Wachowski brothers. To supplement the look, you can also include piercings.
47. The Hipster Messy Long Undercut
Leave your disconnected undercut to this hipster subculture that can take a haircut and bring out the very best in it. It is also in the accessories when it comes to this specific haircut. Can you notice the breathtaking earrings, lip ring, and sunglasses complete the look?
Use accessories of your liking, and you may just look better than him.
48. The disconnected undercut with blonde highlights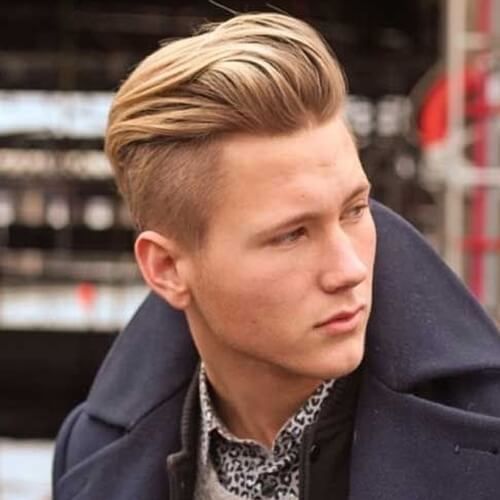 Here are one creative means you can use to update your haircut: simply add blonde highlights to it. That said, once again, I advise you to leave such a haircut to the hands of a skilled professional. Doing it by yourself back at home could ruin your entire look.
49. Elegant Slick Undercut
Here is sufficient proof that the disconnected undercut hairstyle can also be worn anywhere and during every occasion, including but not limited to business and office meetings. It can also be your go-to choice when you are the groom for any special event.
50. The Pineapple Texture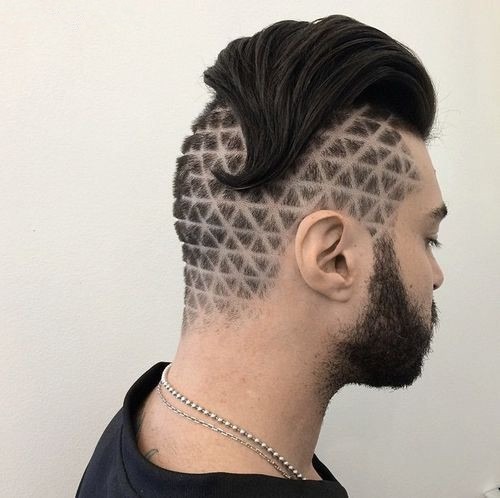 This is when trendsetters decide to get truly creative with their haircuts. This is one way you can transform your disconnected undercut into a pineapple. But this is an overly technical hairstyle to sport, so I advise you to visit a skilled barber who can style it.
When you do, ask them to drag patterns and lines all over your head and then shape the top of your hair like the fruit. If you wish, you could also dye your hair into a color that will give it the complete Pineapple look.
51. The Afro Textured Undercut for Black Guys
As you know, the man bun haircut has also met the most debate and controversy, making it one of the most notorious hairstyles for men over the last decade. However, that did not stop individuals from styling it worldwide. And now we ought to agree it looks fantastic.
52. Disconnected Undercut with a dyed French braid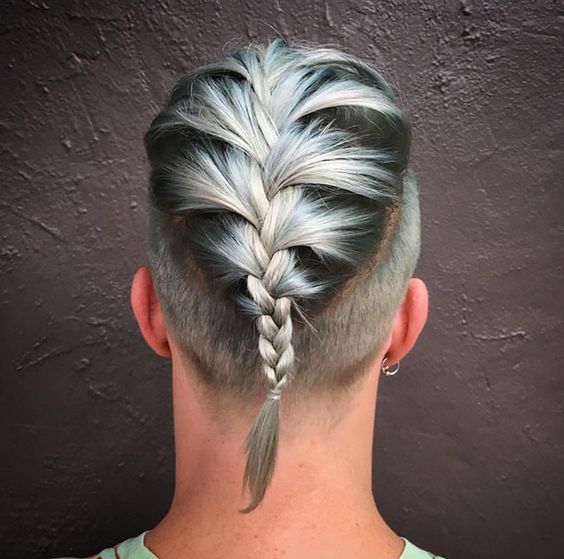 Here is a trend I love and am eager to try. The disconnected undercut with a French braid has been dyed into an excellent metallic platinum color with some teal insertions. This would quickly become anyone's summertime color.
53. The High Top pompadour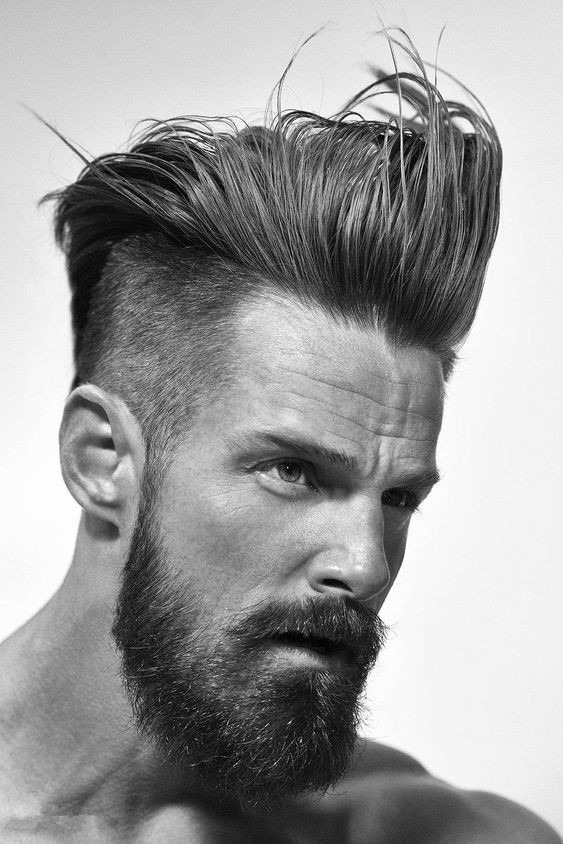 This is one of the best haircuts you can try out if you boast a rectangular, diamond, or square-shaped face. The pompadour twist also awards a wild-looking fringe toward the back of the head, making it form a particularly edgy and acute-looking angle with the backside of your hair.
54. The stormy Waves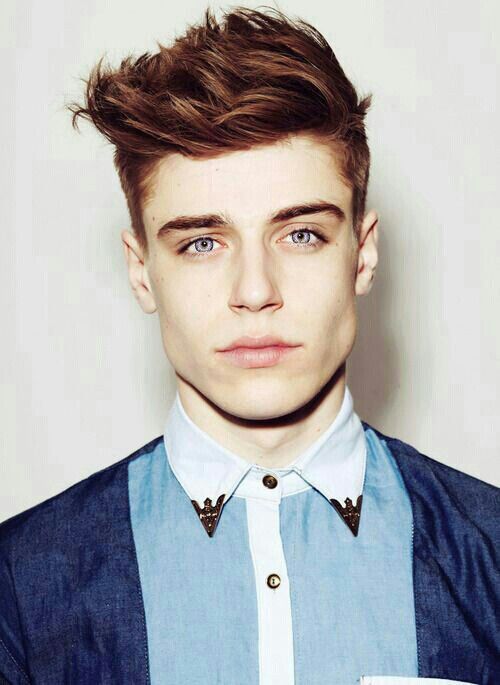 At times, your disconnected undercut styling is all in the details. If you have chestnut hair with red spiked through it and blue eyes like the gentleman in the image above, ensure you also accompany your disconnected undercut with as much blue as possible. This will highlight your haircut as well as your eyes.
55. The side-swept undercut with a short beard
Most of us know that African American hair is challenging to manage and maintain. But with this haircut, all your problems will be solved. That said, as you style this haircut, do not forget to ensure you utilize a lot of moisture to keep the curls in place, particularly on days without humidity.
56. Long and Messy top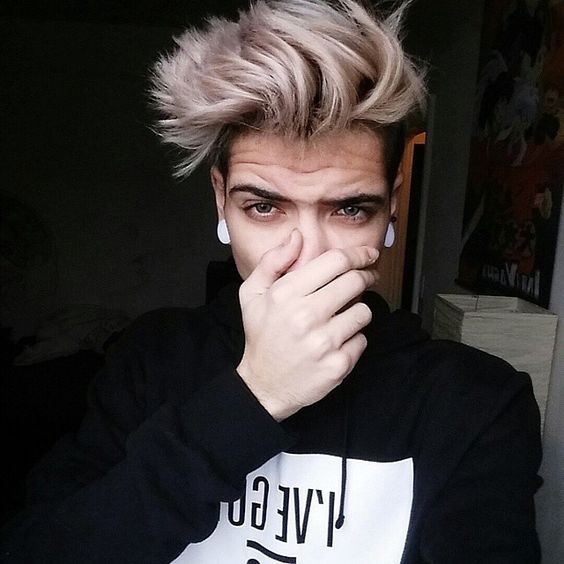 If you boast thick hair, you should not be afraid to show it off and make as much as possible by adopting this haircut and making it your own. To sport this haircut, grow your hair, then dye it in a lovely pastel shade like the pink in the above image.
57. Disconnected undercut with a neck tattoo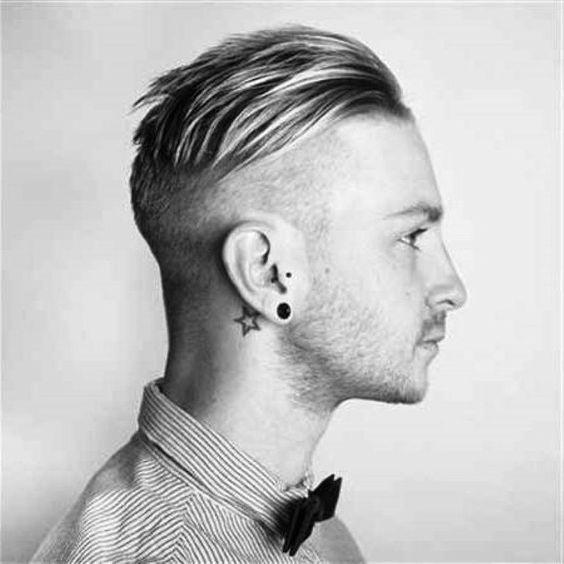 On the other hand, this hairstyle is perfect if you boast thin hair and like to sport a neck tattoo. Ensure you trim or shave as much hair as possible on the sides and the backside.
58. Brush Top
Now let us look at a haircut from the 80s, which comes to you as a dyed brush top. If you decide to dye your hair in a non-conventional color, add a disconnected hairstyle; you will pass it off as a modern hairstyle. And let us not forget you will look amazing as well.
59. The Copper red undercut plus short beard
Copper is the shade that got rid of the push rose gold for the first time after many years. We got to see this haircut manage to shine in all sorts of styles, from different shoes to clothes, hair colors, and other accessories.
60. The 2000s Revival Disconnect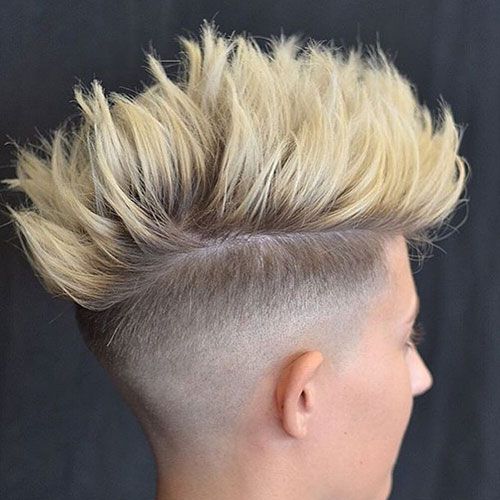 Here comes another rival haircut, but it is from the 2000s. Do you remember during those times when we were all trying to sport those crazy spikes? Then I urge you to fear not because they are back and look better than ever when coupled with the disconnected undercut hairstyle.
How to Get the Disconnected Undercut
If you are planning to go for the disconnected undercut, you'll first of all need to grow out the hair on top of your head. The actual length is at your discretion; it depends on your preferred style.
Then you need to shave the back and sides of your head with a short clipper setting. The actual number is up to you, but anything between zero and four should do the trick. Then it is a matter of shaping or contouring the hair on the top of your head.
You'd better hire a professional hairdresser to create the disconnected undercut for you. You can also do it by yourself if you are feeling ambitious. Be warned, however, that this is a high-maintenance look.
How to Style the Disconnected Undercut
When styling the disconnected undercut, a lot depends on how much contrast you are looking to create. Either way, the hair on top of your head must remain uncut (or minimally cut for neatness).
Instead, it should be combed, brushed back, or swept to give it a lustrous appearance. The most famous iteration of the disconnected undercut features the hair on the very top of the head-shaped into a neat yet voluminous pompadour, with the hair at the sides closely shaved.