Jumbo knotless braids are a larger version of traditional braids that can be installed on any hair length. They are a very versatile hairstyle that can be worn up or down, formal or casual, on any length of hair. In addition, large knotless braids are adaptable, protective, and attractive.
You can choose from various colors and styles to fit any personality. The best part is that they are easy to take out and put back in, making them an excellent option for busy women on the go.
In this article, I've scoured the internet in today's guide and found the 42 best ways to wear jumbo knotless braids. But before we get to the detailed list, here are some things you'll need to know.
How to Style Large Knotless Braids
Following the guide below shouldn't be a hassle if you're one of those talented individuals who can braid their hair. You'll need a vast mirror, braiding hair, and patience. Once all these are ready, follow the step-by-step guide I've highlighted below to style jumbo knotless braids on yourself.
Step one, start by washing and conditioning your hair. Stretch and straighten your hair and ensure it's easy to part before moving to the next step.
The second step is segmenting your hair into large square or triangle parts using a rattail comb. How big you pick these parts apart will depend on the largeness you're going for.
Subsequently, use a hair conditioning jell to sleek the roots of your hair until the sectioned parts look neat. This step will also help tame any flyaways and make for highly neat-looking details.
Next, pick one of the sectioned parts and start braiding like you would normal hair, and after braiding one or two times, take your braiding hair and begin feeding it into the already-weaved natural hair.
Ensure that you feed in medium to small-sized amounts of braiding hair and keep increasing gradually, lest you make the large braids look too bulky or create a knot-like appearance. The whole point of picking a knotless braid is to avoid the anchor knot.
Lastly, keep applying the conditioning jell as you move along the length of the large knotless braids to minimize flyaways. And when you're done with one braid, repeat the same method all over your head until you're done.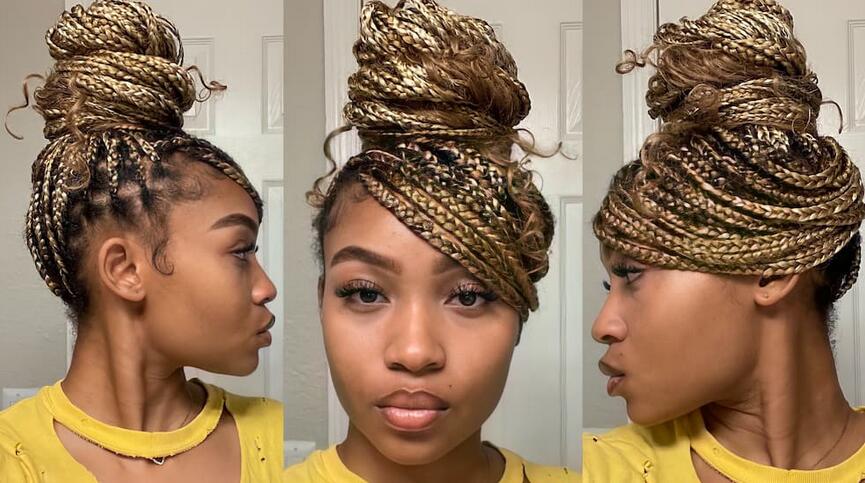 42 Best Large Knotless Braids For Women
Here, we'll go through some of the best ways you can style this fantastic haircut.
Medium Length Box Braids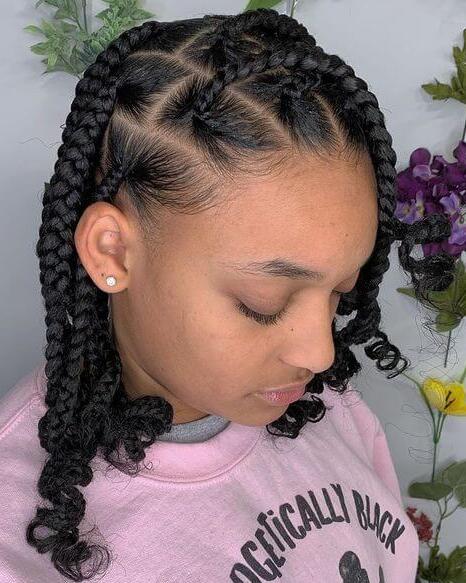 Remember when your aunt or mum would have medium-length braids with curled ends? Well, it's your turn to look stunning with this versatile hairstyle.
Wavy Ends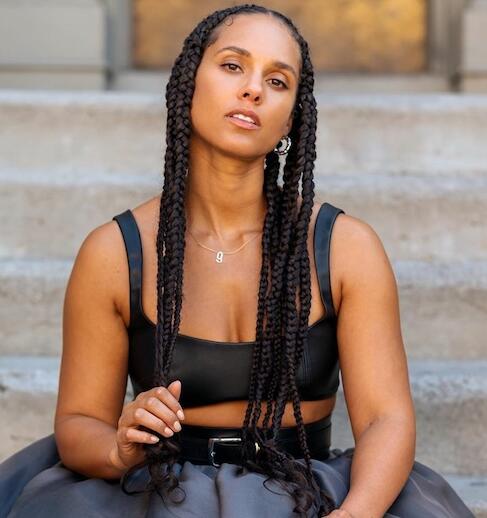 Probably one of the most trending extensive knotless braid hairstyles over the last few years has been those with wavy ends, and the image above proves why they work so well.
Waist-Length Box Braids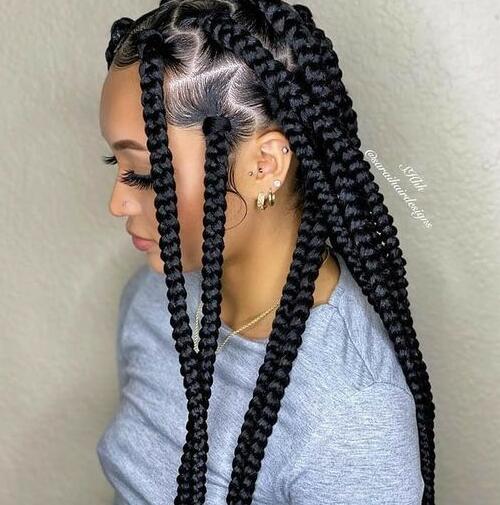 To replicate this look, all you ought to do is part your hair in the squares and make a few thick-no-knot braids using hair extensions of your preferred color. Again, feel free to top off the look with wavy ends.
Jumbo

Knotless Braids Updo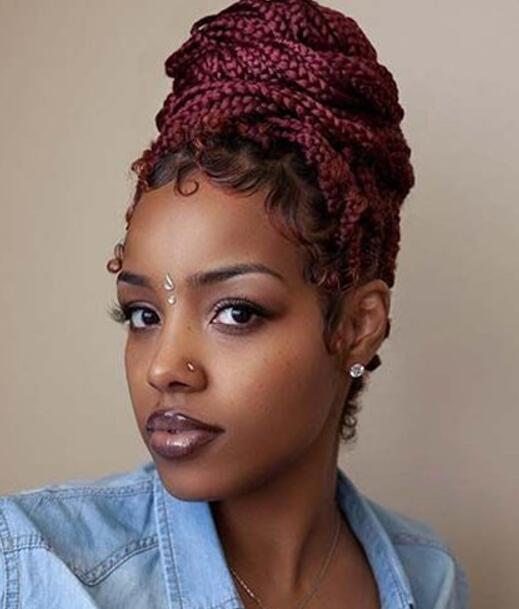 Since jumbo knotless braids don't add tension to your scalp, they're the perfect option for an updo. The only downside here is your braids will need to be a certain length to create the style.
Face Framing Knotless Braids With Jewelry
With these jumbo knotless braids, you'll need to position them in a manner that flatters your face shape. Do it the right way (as shown above), and it'll accentuate your best features, including your eyes and lips.
Chocolate Brown Knotless Braids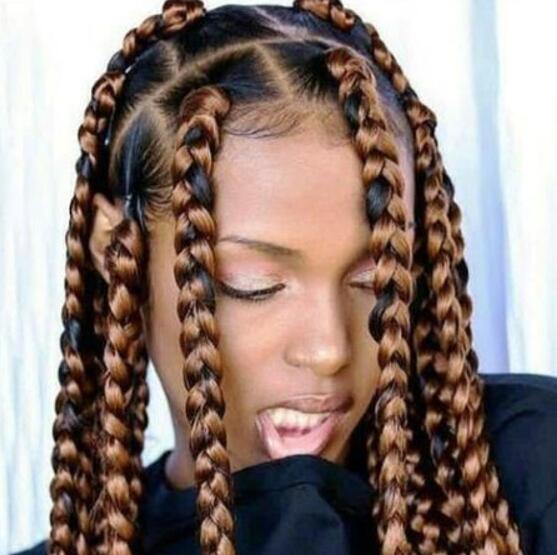 As this young lady proves, knotless braids with chocolate brown highlights do not need extra styling or accessories to make a statement. Go with the casual, playful vibe, and still rest assured you'll steal the show wherever you go.
Short, Large Knotless Braids With Blonde Highlights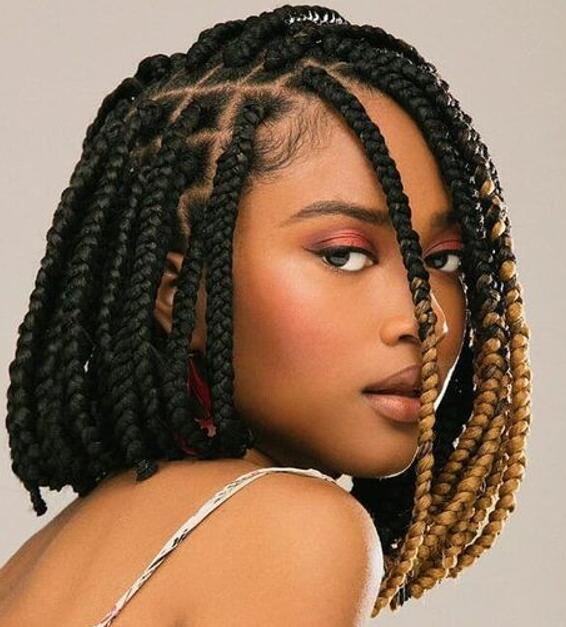 We've already established that large, knotless braids can be worn at any length and still deliver a chic, pretty vibe. If you'd like to stand out even further, consider highlighting the ends of your short braids.
Jaw-Dropping Knotless Braids
Jaw-dropping knotless braids with curls are the ultimate solution for the working class.
Knotless Braids Color Mixture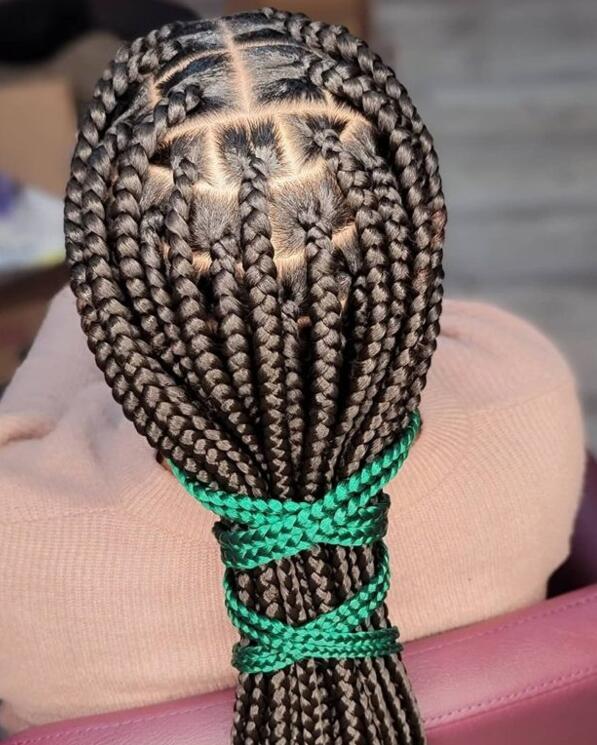 Give your jumbo knotless braids a stunning view by creatively incorporating braids of other colors. The extra shades you pick are up to you.
Goddess Square Braids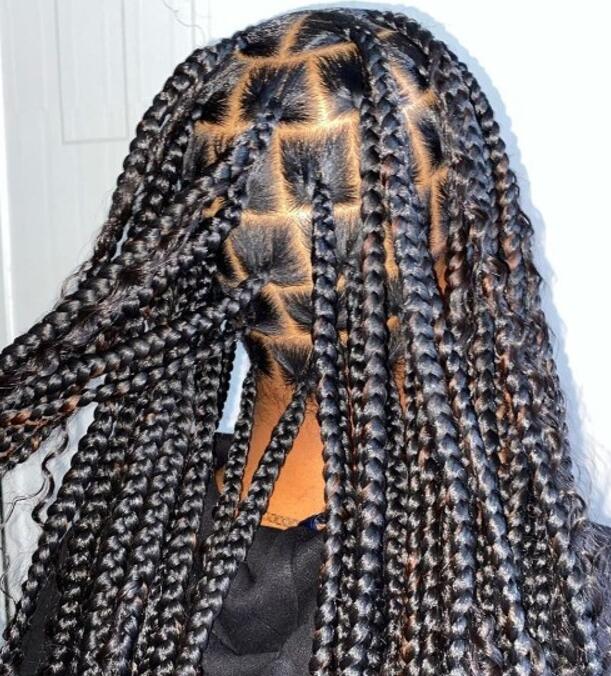 It's pretty impossible not to fall in love with yourself or feel like a goddess with these large square knotless braids.
Waist-Length Knotless Braids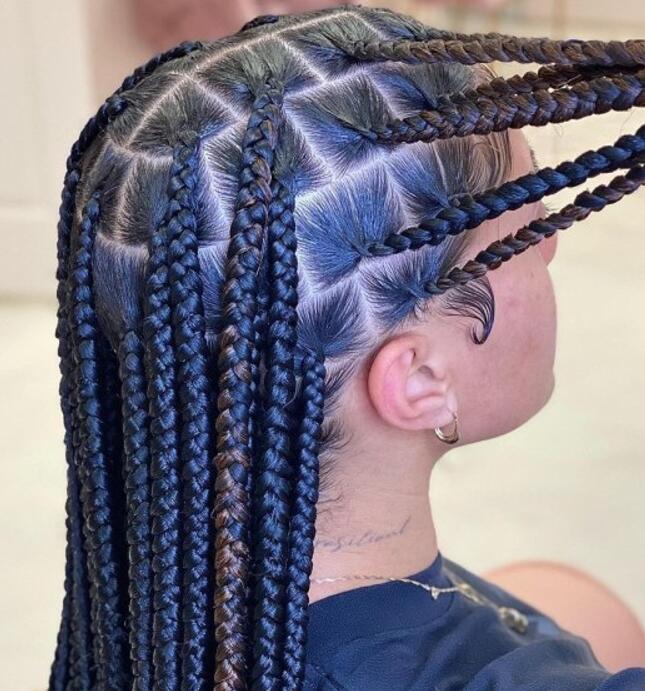 Thanks to their wonderful aesthetic, these waist-length braids can never go wrong.
Neat, Huge, Square Knotless Braids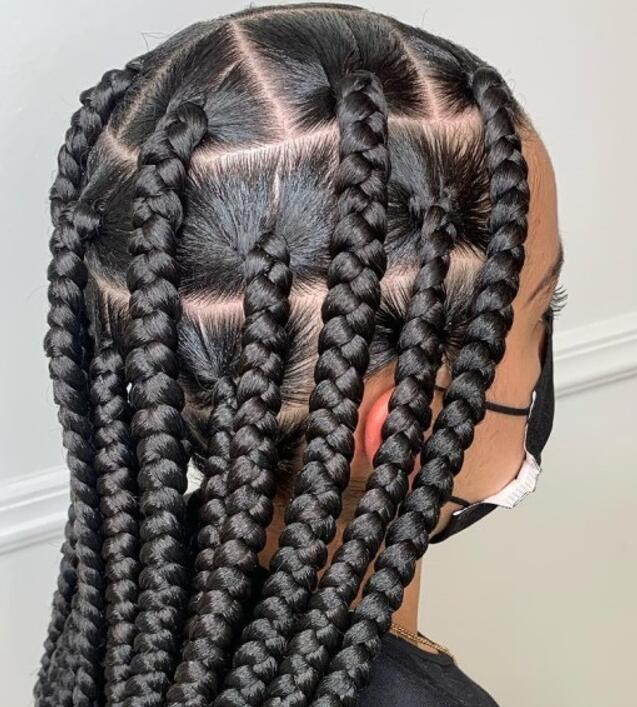 This neat, clear braided style could be the new, charming way to showcase your next hairstyle.
Jumbo Knotless Braids With Baby Hair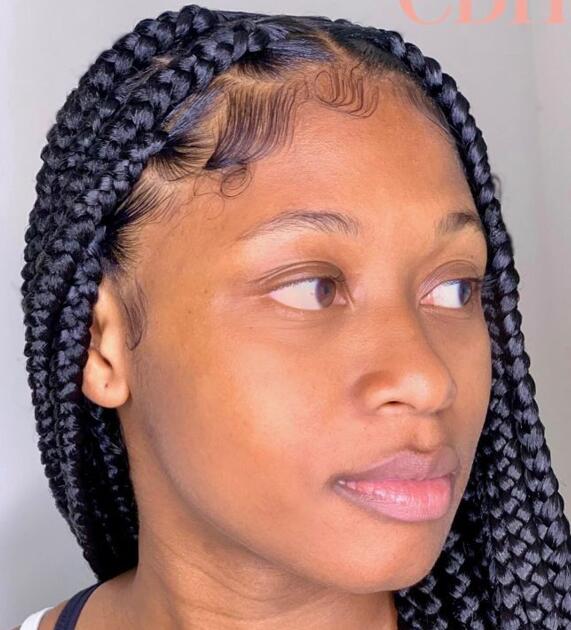 Another style that is getting increasingly popular is large jumbo knotless braids coupled with baby hair. Doesn't the result look magnificent?
Formal Knotless Braids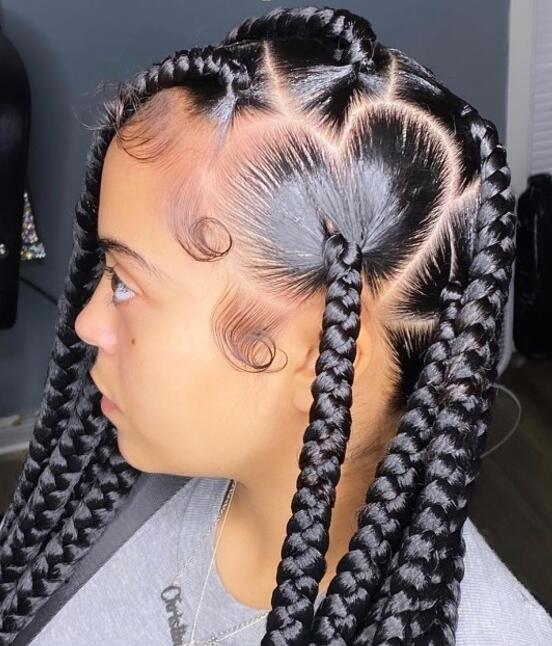 When you need to make a splash at formal events, large heart-shaped knotless braids like these will come in handy.
Large Diamond Plaits
Here is yet another beautiful jumbo knotless braids option with diamond parting. It's a perfect idea if you love long, unique braids.
Curly Knotless Braids With Cuffs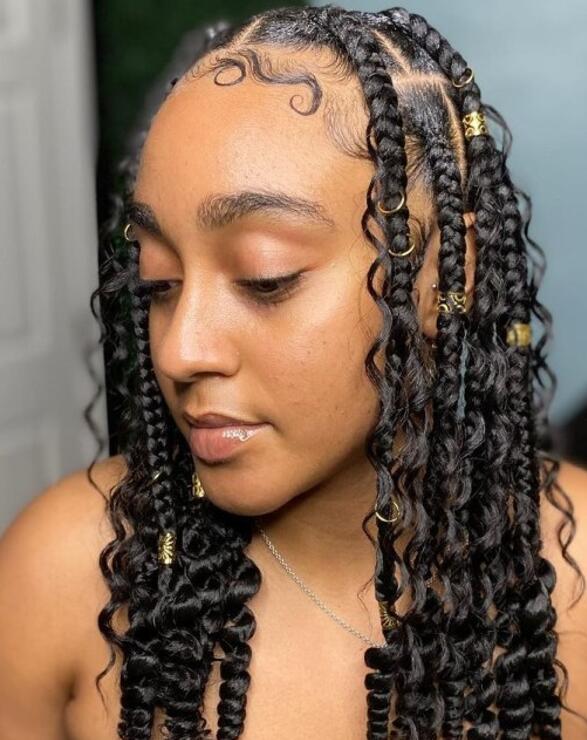 Go for these shorter knotless braids if you don't mind a 'lob' look that will flatter any face shape. Since the jumbo knotless braids are short, the overall hairstyle is likelier to be more charming and comfortable than most other braided hairstyles.
Large Knotless Braids in a Ponytail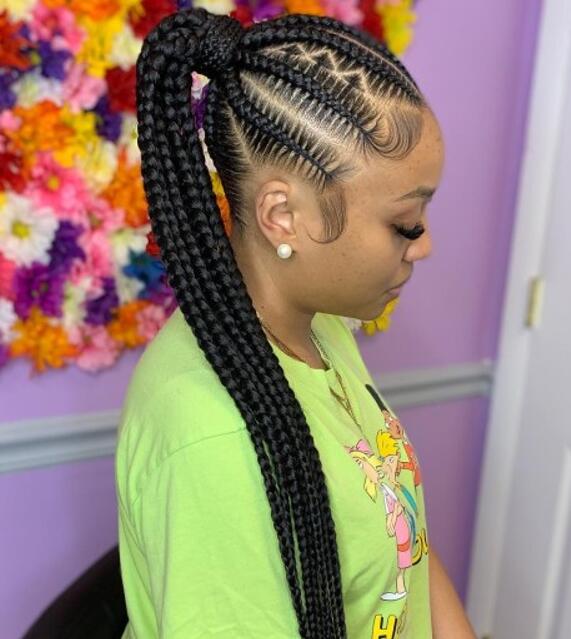 This hairstyle hasn't been overwhelmed with unnecessary details; the primary focus is on the lush high ponytail. Feel free to spice it up with the zigzag pattern between the braids.
Large, Light Brown Knotless Braids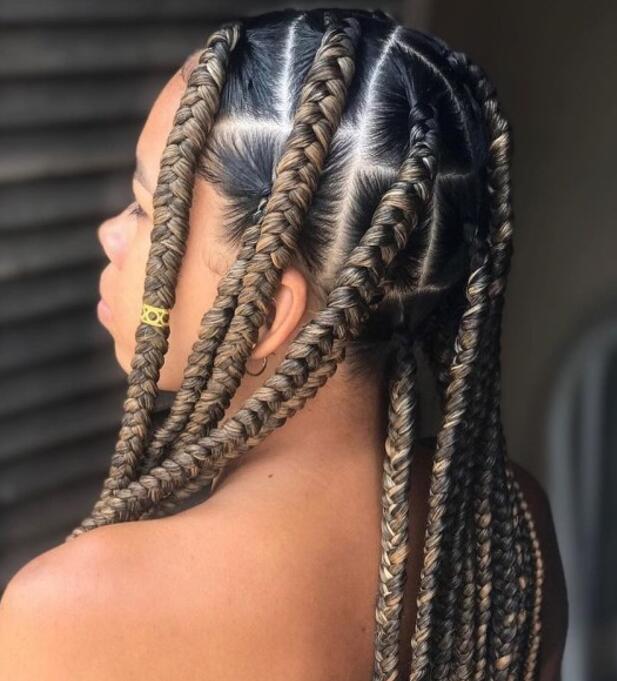 Braids with light brown highlights give your braided hair a youthful look we all crave.
Cascading Spirals On Knotless braids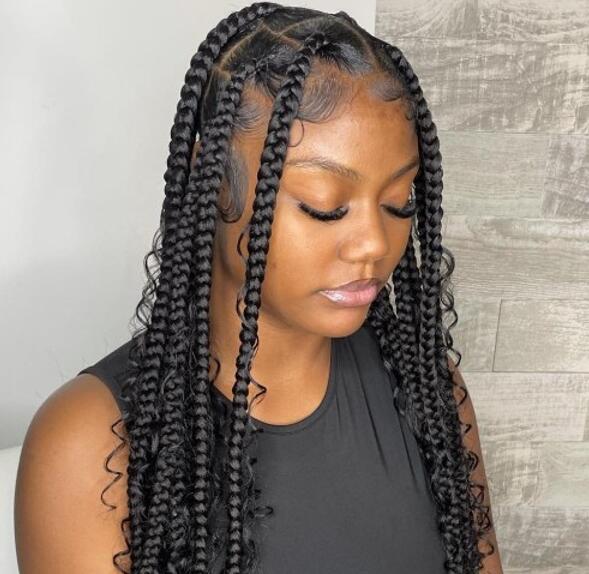 Large braids coupled with cascading spirals are for daring girls only, as they're assured to make a statement independently.
Heart-Parted Knotless Braids with Curly Strands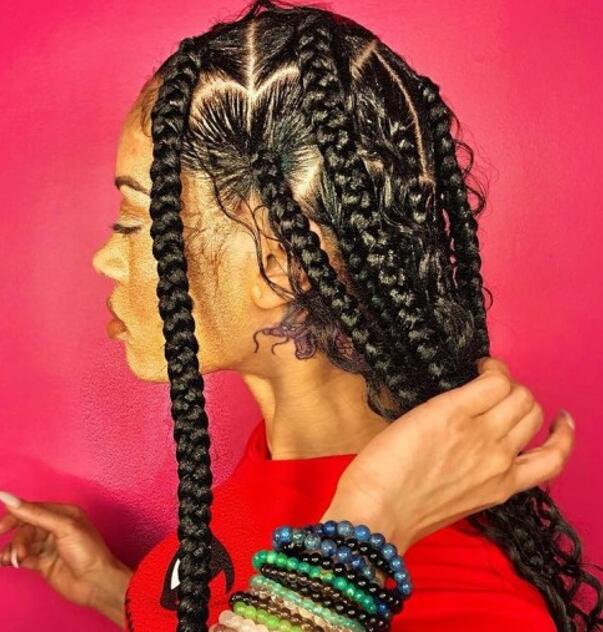 These heart-shaped braids will take a little longer to pull off, but you can rest assured the result will be worth it. The general hairstyle is fashionable, unique, and appealing, particularly for the hopeless romantics.
Sleek Edges On Braids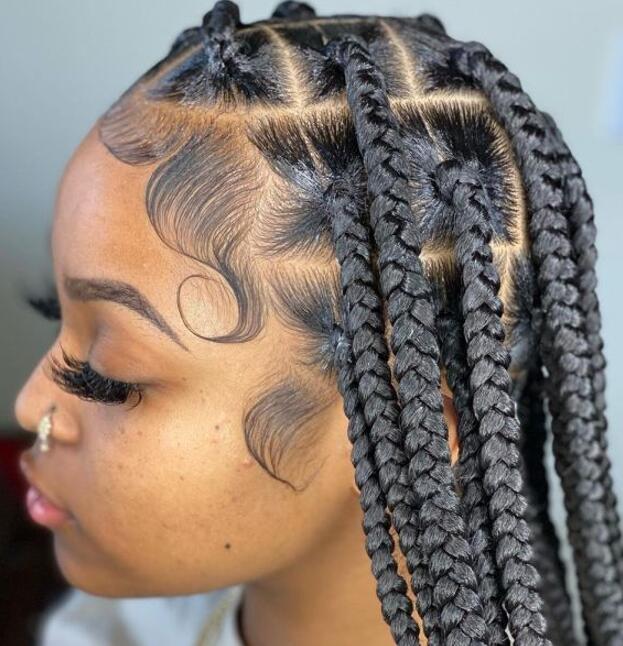 Accentuate your large knotless braids with sleek baby hairs for a show-stopping hairstyle.
Center-Parted Knotless Braids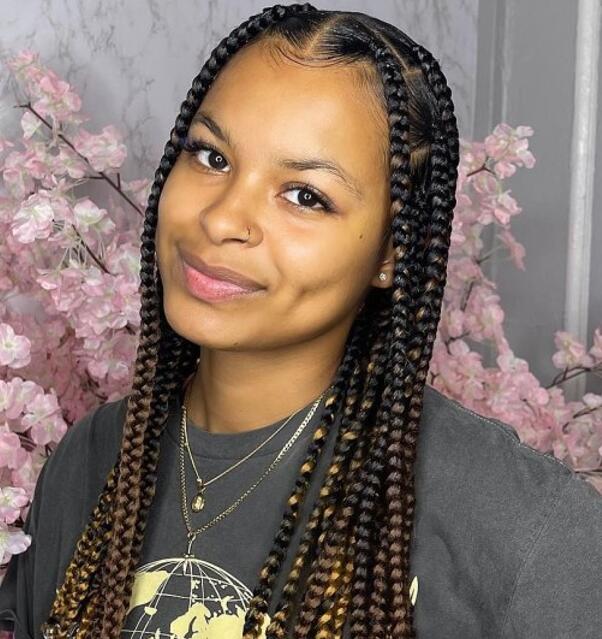 This cute hairstyle with face-framing braids is simple in the upper parts and spiced up with crystal beads and bright highlights on the bottom.
Neat and Clean Knotless Braids
If you don't have hours to make your hair, letting your neat and clean braids loose is also an excellent option. When you want them out of the way during the day, throw and stuff them into a bun.
Large Knotless Braids With Curled Strands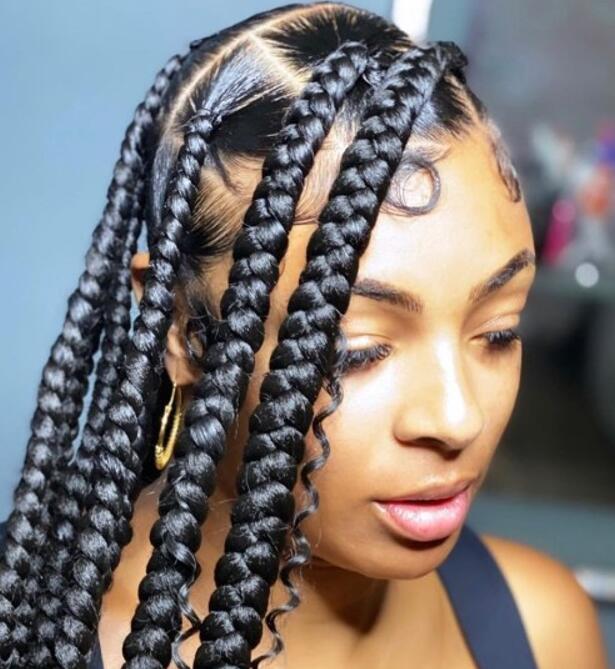 Maintain a lovely and impressive look with this braided hairstyle. The thick, knotless braids perfectly contrast with the thin curls sticking out of the strands.
Mid Back Knotless Braids
These super cute braids require no time to style and can be fashioned in many ways to keep you feeling and looking like a princess.
Jumbo Triangle Knotless braids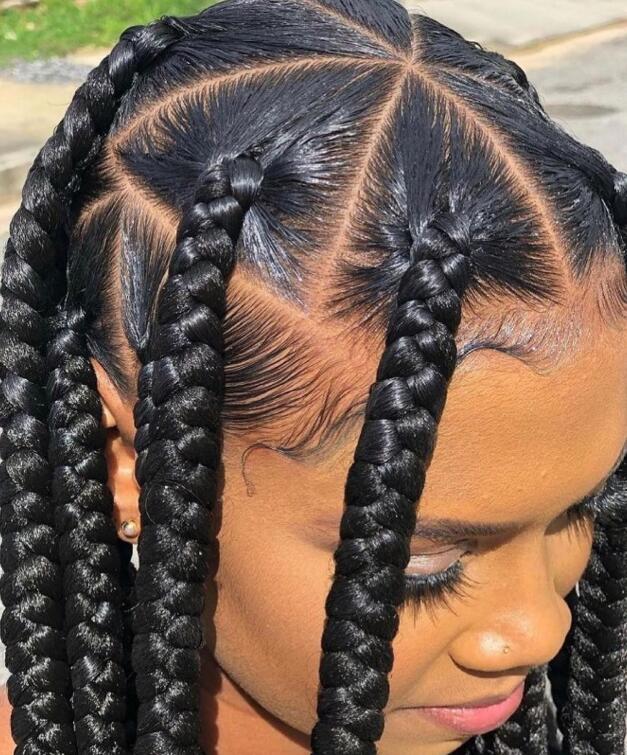 This stunning look results from ditching traditional square-parted and jumbo triangle braids instead.
Heart and Triangle Knotless Braids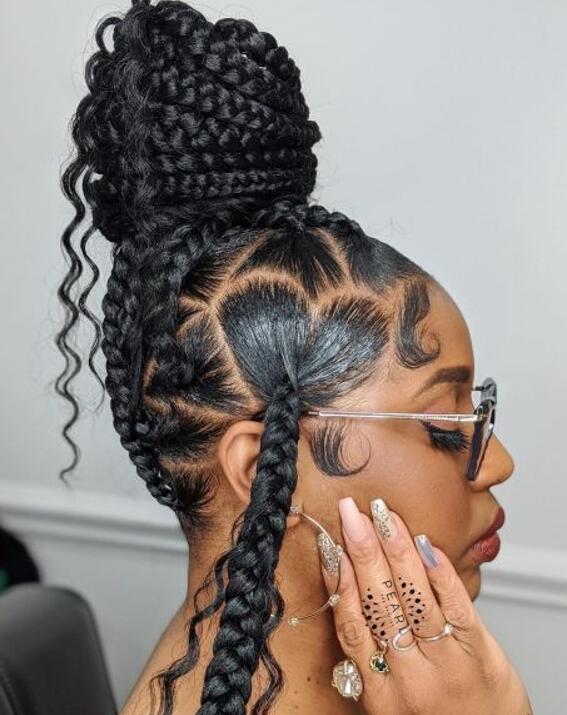 These buns on heart and triangle knotless braids are perfect for days when you have a lot to get done but don't want your hair getting in the way.
Pink Beads On Knotless Braids
While this is a considerable knotless braids hairstyle variation, it boasts a less thick base than most of its counterparts. Pair it with pink beads to make the flat bottom more fascinating.
Neutral Beads On Knotless Braids
These classic haircuts are the easiest to make, and you also get to spend less time at the salon. What do you think about the neutral beads at the ends?
Short Knotless Braids In Burgundy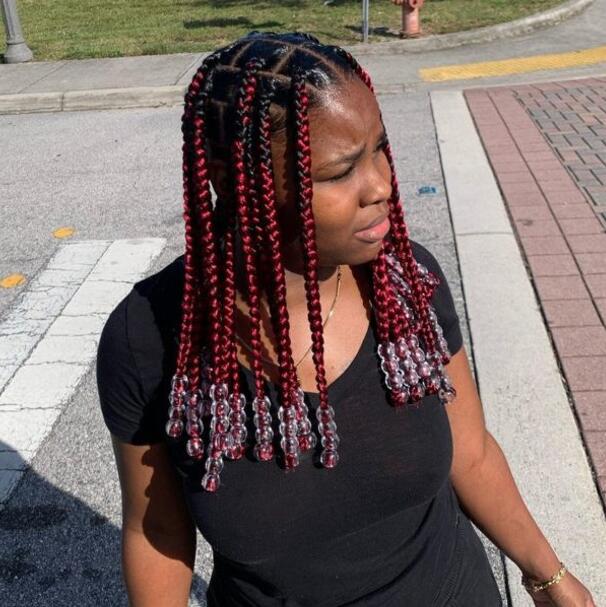 Like blonde colors, Burgundy is an attractive color for the right hairstyle. It'll also prevent your braids from looking a mess too fast.
Beads On Square Pattern Braids
Beads are yet another way to rock your gorgeous square knotless braids.
Seed Beads On Bob Jumbo Braids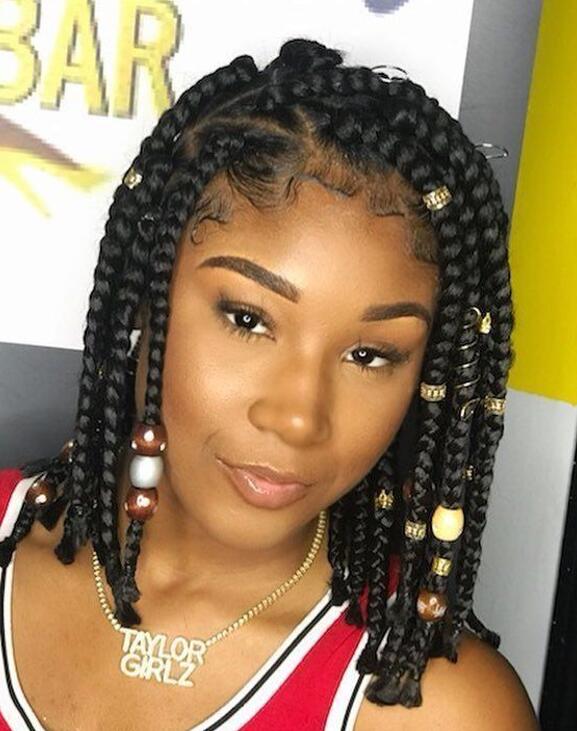 This large, knotless braids hairstyle has been combined with a mixture of beads to deliver an all-interesting do that'll be a hit wherever you go.
Extra Long Knotless Braids With Color
Long knotless braids stand out by themselves, so you won't need to go for colored synthetic hair. Instead, consider infusing just a little bit of blond hair on the side.
Beeline Honey Braids
Getting brown extensions is an excellent choice if you have dyed hair. This option also works with glass beads amazingly.
Brushed Edges With Large, Knotless Braids
Another attractive way to rock jumbo knotless braids is to have them with a brush cut at the front. This braiding technique will also protect your edge from any breakages.
Glass Crackle Beads On Cute Knotless Braids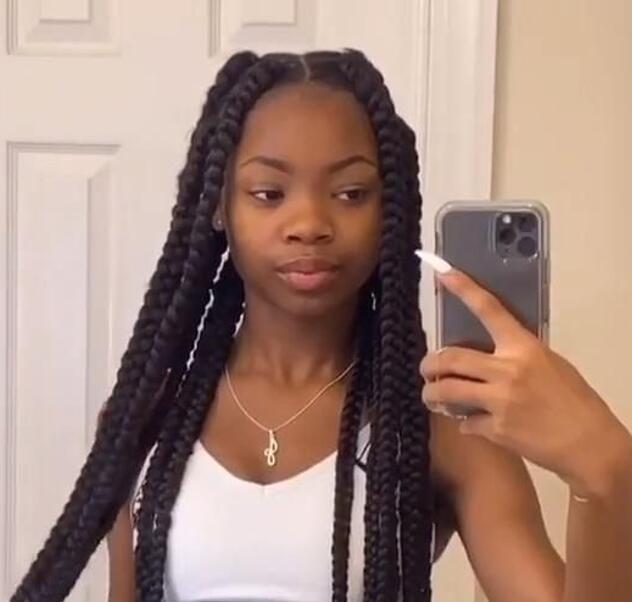 While you won't be able to roll this hairstyle into a bun, you do not have to worry because it works perfectly like this in both formal and casual settings.
White Beads On Braids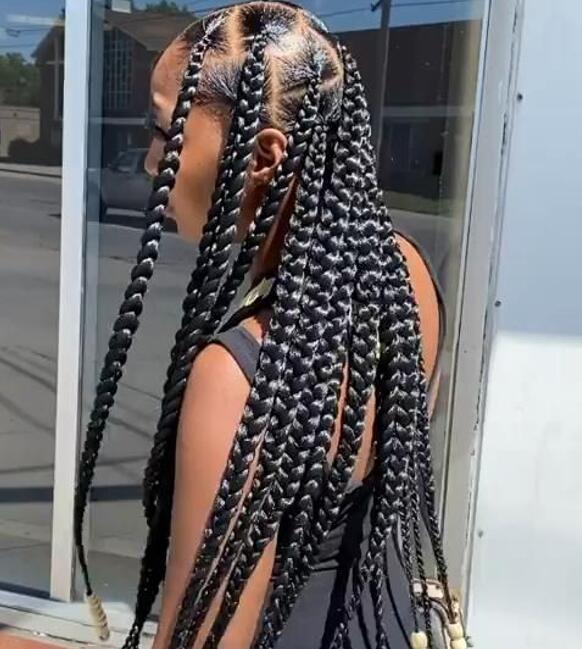 Here is another less dramatic hairstyle you can add to your "favorite waist-length knotless braids" list.
Wooden Braids On Brown Knotless Braids
Ever thought of adorning all the ends of your large knotless braids with wooden beads of different shapes and sizes?
Knotless Braids In A Bun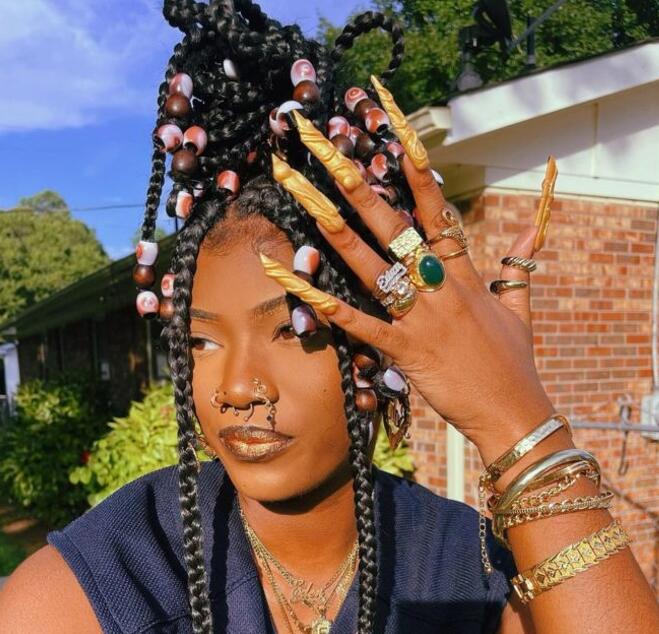 Are you scouring the internet for the best jumbo knotless braids hairstyle fit for all hair textures and face shapes? This bun variety could be what you're looking for.
Lightweight Knotless
These lightweight knotless braids are similar to loose knotless braids. The only difference is that they have thinner tips and frame the face better.
Waist-Length Burgundy Braids
Burgundy has been causing a buzz in the realm of waist-length knotless braids, and for a good reason. The only thing that could make this hairstyle fancier is wooden beads at the ends.
Loose Knotless Braids
Loose knotless braids like these are perfect if you're trying to save your hair from breakage. Feel free to add accessories of your choice for a classier appearance.
FAQs
Difference Between Knotless Braids and Box Braids
Knotless braids are a variation of box braids, hence why the two hairstyles look so similar. As their name suggests, however, knotless braids are, well, knotless, which implies that the style doesn't have a pronounced knot at the braid root as you'd usually find with box braids.
The role of these knots in box braids is to add the necessary length and volume to the natural hair. With knotless braids, however, one more significant piece of hair extension is divided into many smaller parts and then woven into the braids further down the shaft instead of the root. This makes for a sleeker look and averts the pain and added tension usually associated with box braids.
How Long Do

Jumbo

Knotless Braids Last
Jumbo Knotless Braids will usually last between 6 and 8 weeks. The exact period in between will depend on how well you take care of your large braids. Hair texture will also largely determine how long your braids last. They will last shorter if you have thick or long hair. The best advice is to ensure that you take good care of your jumbo braids.
Valuable Tips for Large Knotless Braids
Here are several maintenance tips you should bear in mind to keep your hair-do looking seamless for as long as possible.
Protect Your Braids At Night
We could go through a whole spiel on why it's essential to protect your hair at night, but that would need a separate article. In short, whenever your hairstyle isn't covered at night, you lose your shine and moisture and are also prone to frizzes.
So, to avoid dryness through friction on your jumbo knotless braids while asleep, we recommend wrapping up your hair in a satin or silk headscarf (even a bonnet if that's all you have.) For added protection, use a silk pillowcase as well.
Re-do The Braids Along Your Hairline As Well As Your Edges
If you have the time and patience, consider re-doing your baby's hair at least once every three weeks using coconut oil and a lovely wash. Both of these will keep the area sufficiently moisturized. In addition to sprucing up your edges, consider retouching the jumbo knotless braids along your hairline.
This will keep your hair-do looking fresh by creating the illusion that you've re-done the whole look.
Avoid Wearing A Tight Hairstyle
The best part about knotless braids is how versatile they tend to be. One second you're wearing them down, and the next, you've decided to wrap them into a ponytail.
That said, stay vigilant to ensure you do not overdo it. You want to be strategic about how often you wear these fun hairstyles and even have a note of styles you shouldn't style the first or two weeks of rocking your jumbo knotless braids.
If your braids are always in tight styles like Dutch braids, buns, high ponytails, etc., they're more at risk of weakening, breakage, and frizz along the edges and roots.
Don't let this disclaimer scare you from trying these styles altogether. Reduce wearing them twice weekly to avoid tearing and pulling; you're good to go.
Wash Your

Jumbo

Knotless Braids Frequently
A central myth is that you should not wash your hair when you have jumbo knotless braids. Nothing could be further from the truth. You must clean your braids and scalp frequently to avoid irritation, dryness, and product buildup.
We recommend using a micellar water cleanser or clarifying shampoo to get right to the scalp when removing impurities. You can dilute shampoo with water in a spray bottle to delicately massage your scalp.
After conditioning and cleansing, grab microfiber towels and softly squeeze out excess water.
Don't Wear Your Current Braids For Too Long
Yes, jumbo knotless braids are a style you can wear for extended durations, but that doesn't mean you should overdo it. As a general rule, do not wear yours beyond eight weeks. Why? Well, just like you with work, your hair needs a break too.
The longer you keep your braids in, the more likely your hair will be prone to tangles, knots, and breakage, even when you style your next large knotless hairstyle. Take breaks of at least a week or so before re-doing the same hairstyle.