In the professional and modern world, you will want to look sophisticated and clean without being boring or outdated. A great hairstyle can help a man look polished, stylish, and confident. The right hairstyle can also help you stand out in a crowd and give you an edge over your competition.
However, finding a stylish hairstyle suitable for an office setting and stylish enough can be difficult. If you are unsure what hairstyle to wear for your job, check out these fantastic professional hairstyles for men. From classic cuts to modern trends, there is something for everyone.
Whether you prefer a traditional look or something a bit edgier, these professional hairstyles can help look your best. Regardless of whether you are an employee or a boss, they will make you look clean, confident, and neat in your company. In addition, they are usually low-maintenance.
50 Best Professional Hairstyles for Men
Men have many professional hairstyles, such as comb over, crew cut, ıvy league, quiff, slicked back, buzz Cut, and disconnected undercut.
1. Buzz Cut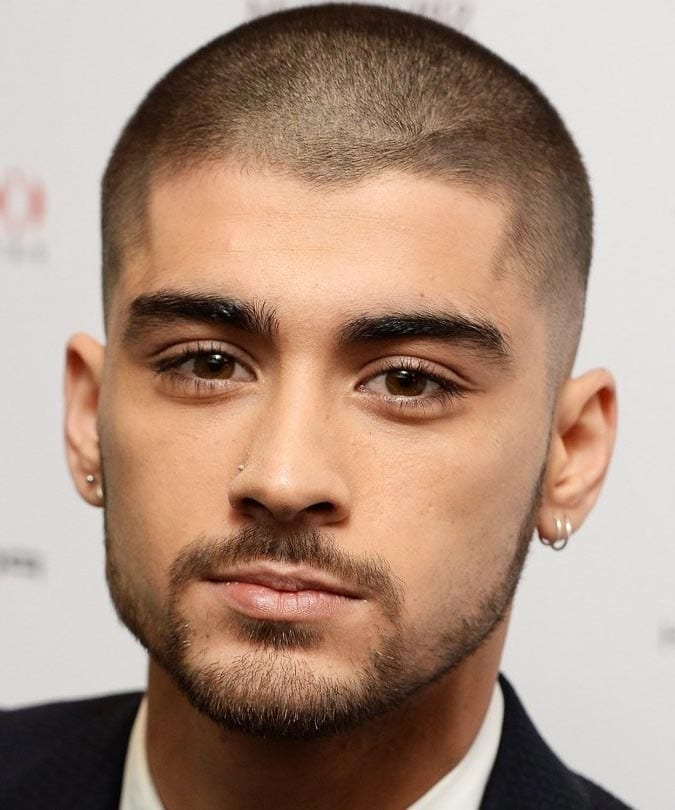 A buzz cut is a professional hairstyle at its simplest. This low-maintenance hairdo always looks fuss-free and sharp, giving you more than enough time to complete your morning routine. It also prevents strands from getting in the way as you focus on your tasks. This hairstyle will require you to trim regularly to maintain its neat and short appearance.
2. Sleek Hairstyle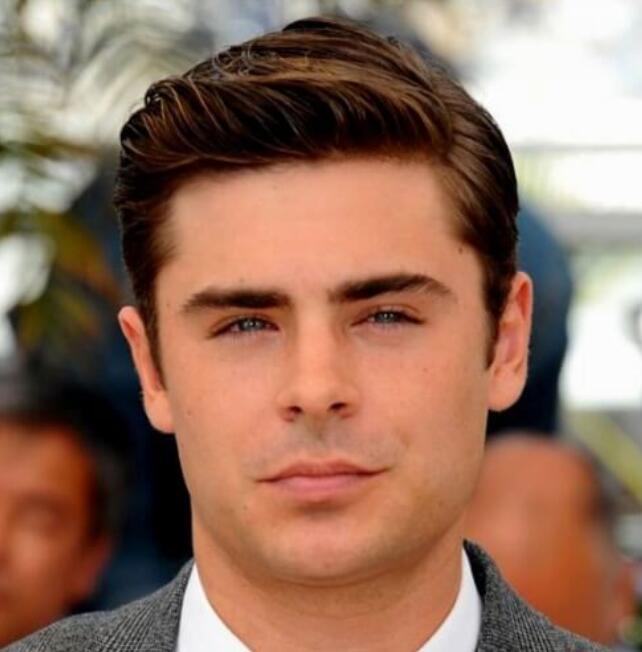 Professional hairstyles do not have to be flat. You can always go for a sleek style with extra height. In this hairstyle, we see brushed locks that have been blow-dried for additional lift. Apply some hair gel or pomade for a sleek and intact look. It also involves a side parting that emphasizes the style of the crown of the head.
3. Short Curls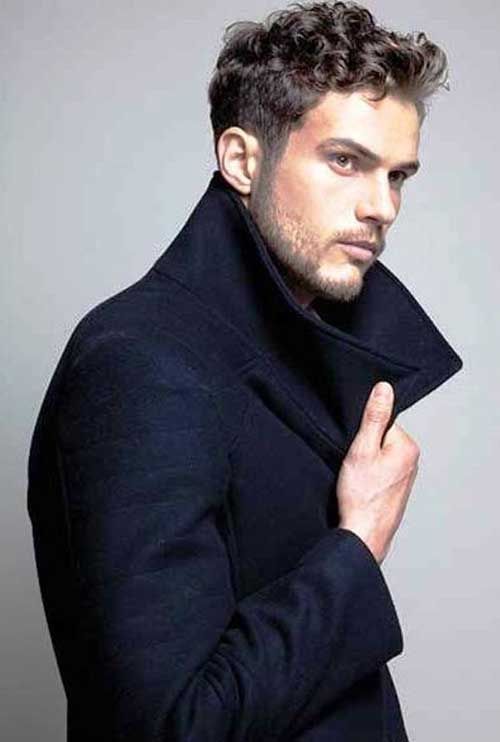 Another stylish look for men with office jobs is Short Curls. The best way to keep those curls elegant is to keep them short. This hairstyle is ideal for men with naturally curly hair, as there will be no need to tame your natural curls every morning. It can also be coupled with short stubbles for a manly facial frame.
4. Man Bun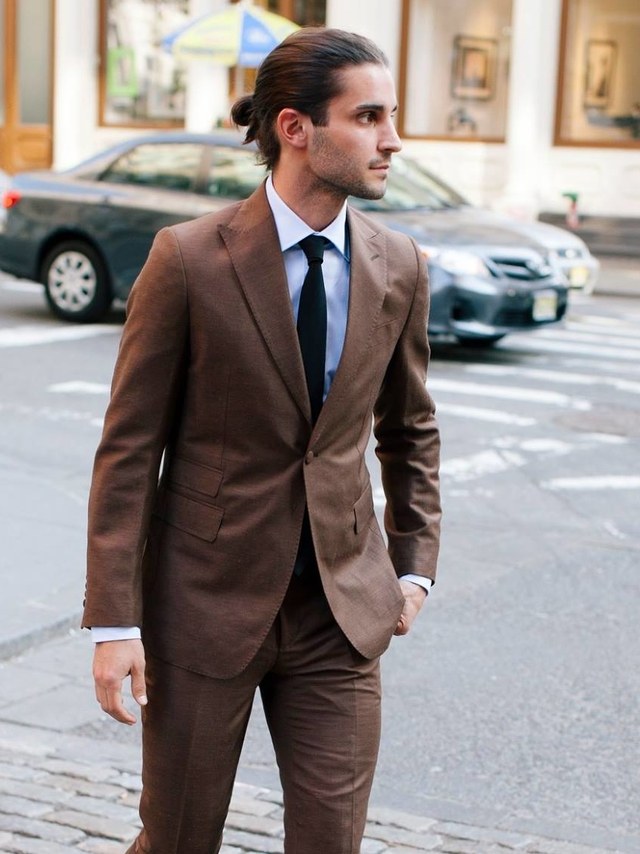 Long tresses can be difficult, especially when they cover your eyes or touch your face while working. One of the best professional hairstyles for men with long hair is the Man Bun. This can be done by pulling your hair to the back and tying it with a band. This hairstyle also looks bright and is always ready to work.
5. Mid-Fade Undercut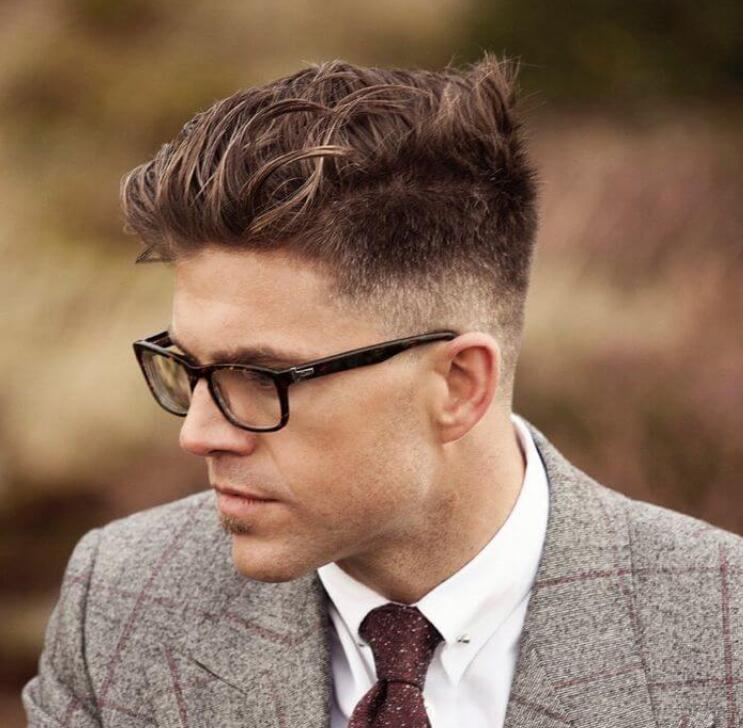 A mid-fade undercut can strike a balance between a professional and fashionable hairstyle. It is among the best professional hairstyles for men in 2019, thanks to its military roots and cleanly faded sides. The top also looks polished, proper, and sharp, which can be done by blow-drying your hair while applying good-quality pomade or gel.
6. High Front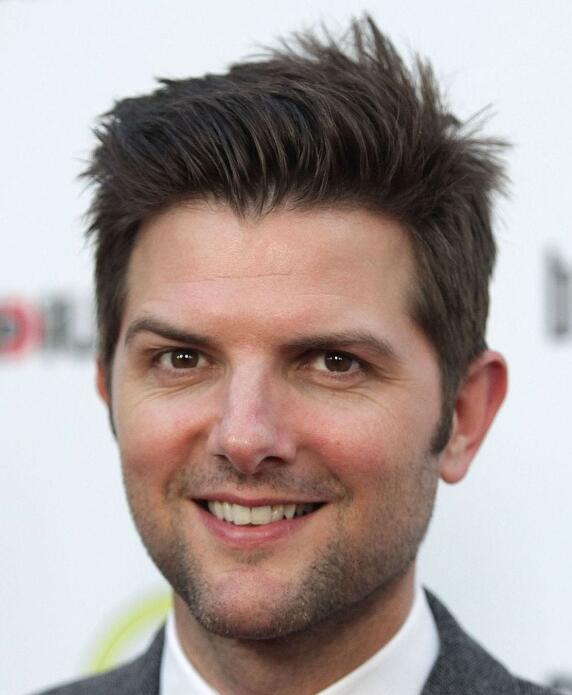 Here is another cool hairstyle you might want to try for a professional appearance. This involves a high front and short sides and back. The hair on the crown has been blow-dried and combed up from the forehead using a styling gel or wax, resulting in a bold hairstyle that is always ready for all tasks.
7. Side Parted Quiff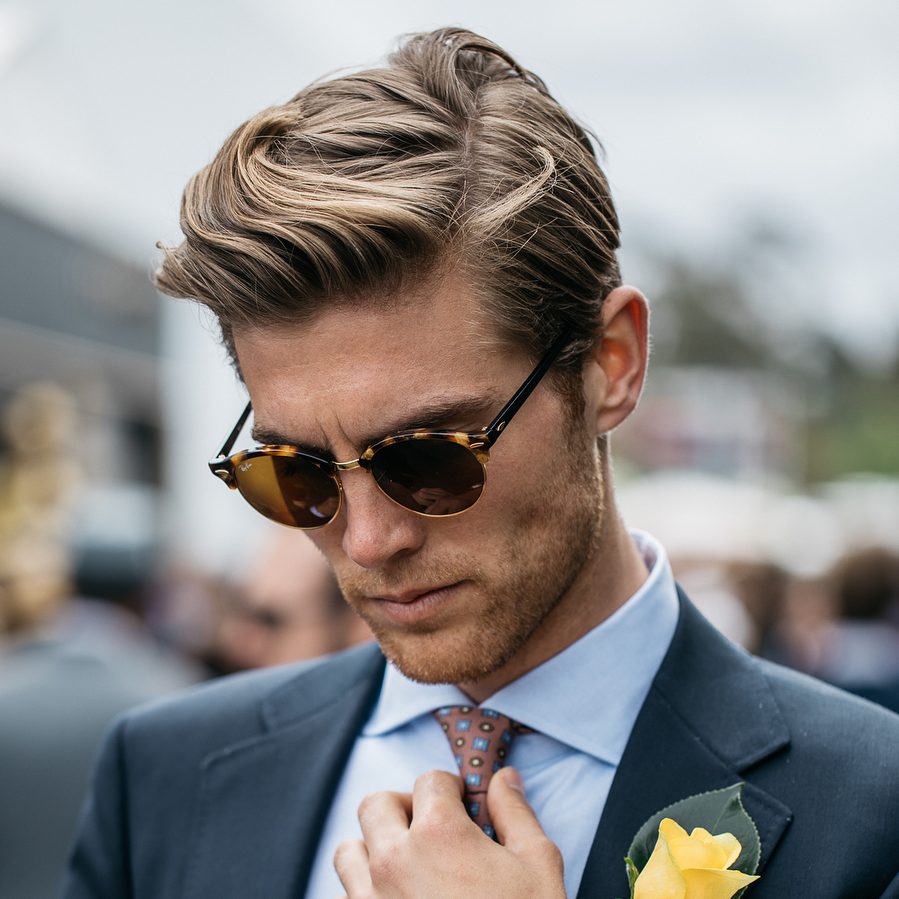 This hairstyle looks like a side-parted pompadour and is an incredible hairdo for business people. Pompadours and quiff are similar, but you can always create them in different methods. In this hairstyle, the quiff is done by brushing the tresses forward. Comb your front hair up and back to complete the style. You can also grow some facial hair to enhance your look.
8. Angular Style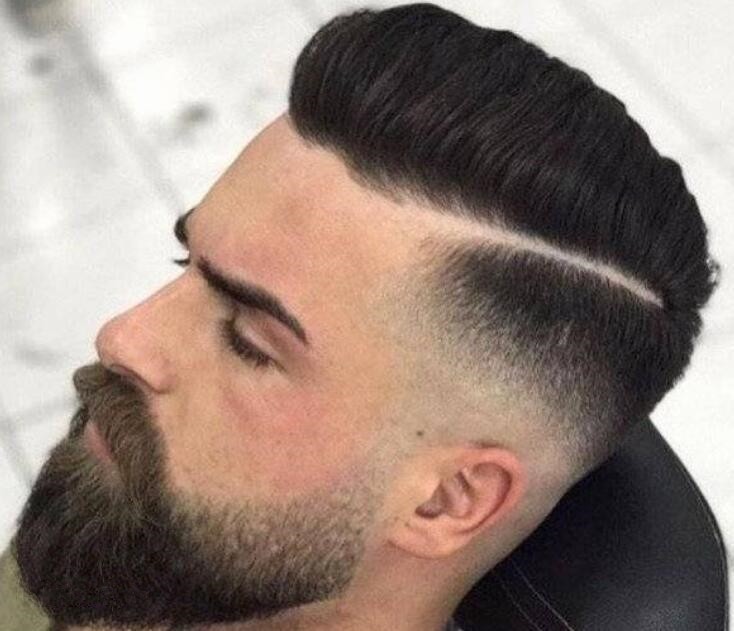 Another excellent way to style your hair and beard is by creating straight lines to have a perfect balance. In this hairstyle, the hair on top has been left long while both sides and the back have a high undercut. This haircut, along with a tremendous off-center parting, will surely grab the attention of most people around you.
9. Midnight Black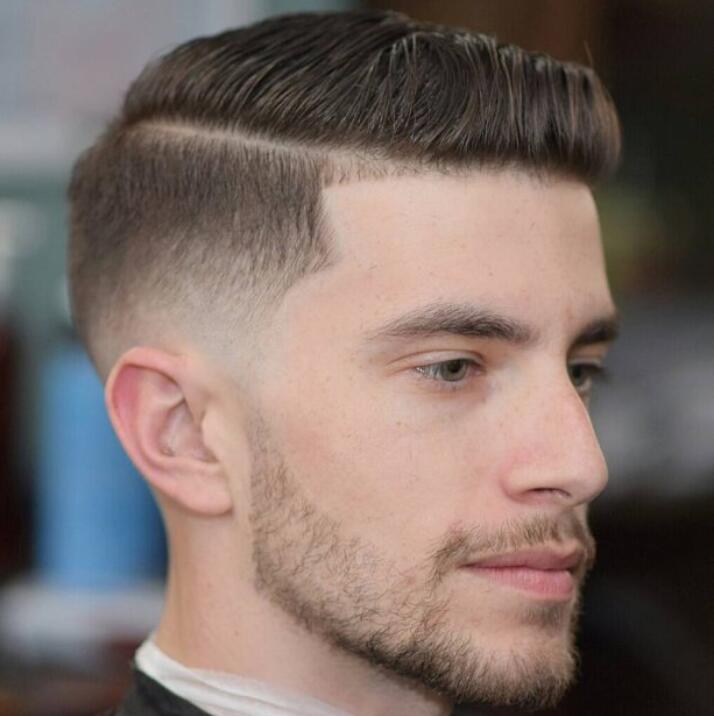 This professional style has been given a clean side parting accentuating the hair on top and side. You can achieve this hairstyle by applying a generous amount of hair gel or pomade. From the side parting, comb your hair to the opposite side for a sharp appearance. This hairstyle is ideal for men working in corporate companies.
10. Crew Cut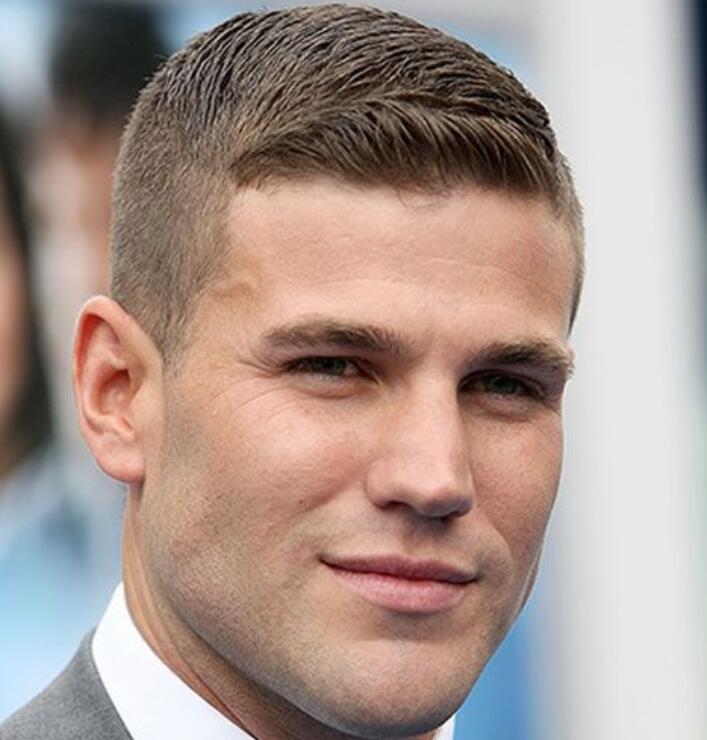 The classic crew cut allows you to demonstrate that both you and your work should be taken seriously. In addition to its sharp style, its cropped length is also understated and simple, which lets other aspects take the spotlight, such as what you are wearing or saying. This business-appropriate hairstyle is one of men's simplest and sharpest professional hairstyles.
11. Tousled Hair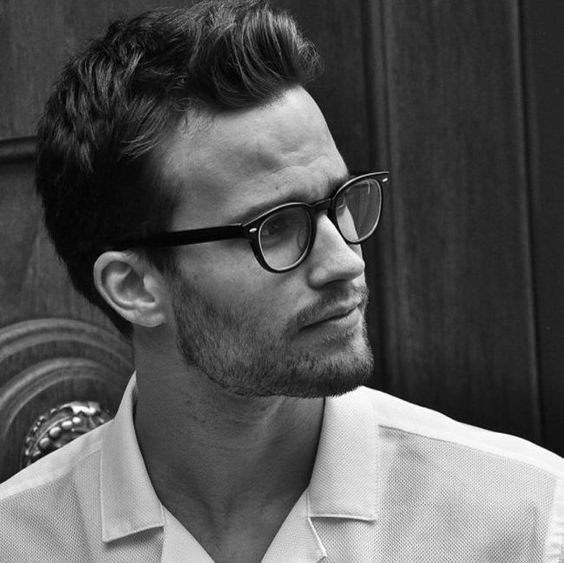 Here is another excellent hairstyle that can make you presentable in your work area. This look can be achieved by having both sides and the back shorter than the hair on top. Add some texture to the top hair by applying a high-quality styling product. It is also perfect for men who are wearing eyeglasses. You can also grow some stubbles and mustaches to finish the style.
12. Professional Comb Over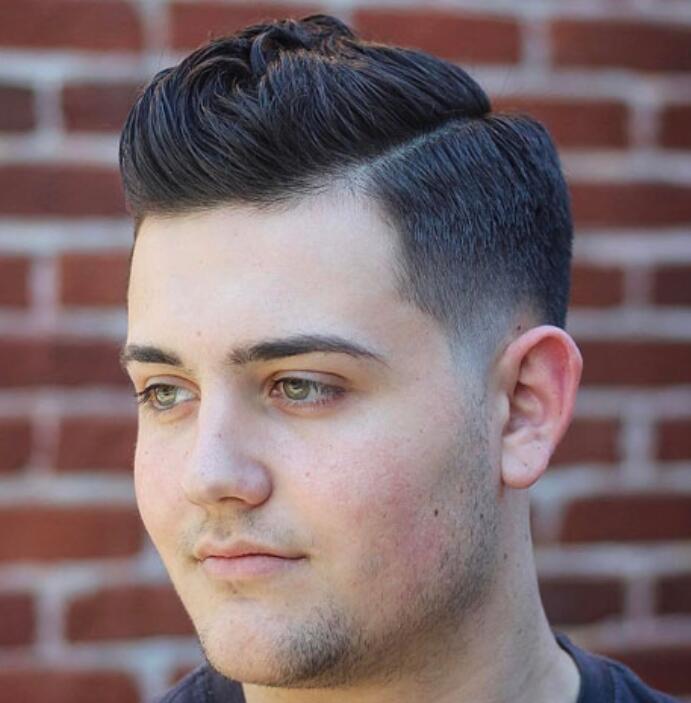 Comb-over hairstyles have been around for years, and these hairdos are also perfect for office settings and formal events. This particular hairstyle is both fashionable and professional. It adds volume to your hair and creates more texture to the top with your favorite styling product. If you are a fan of comb-overs, here is a great hairstyle to try!
13. Ultra Slick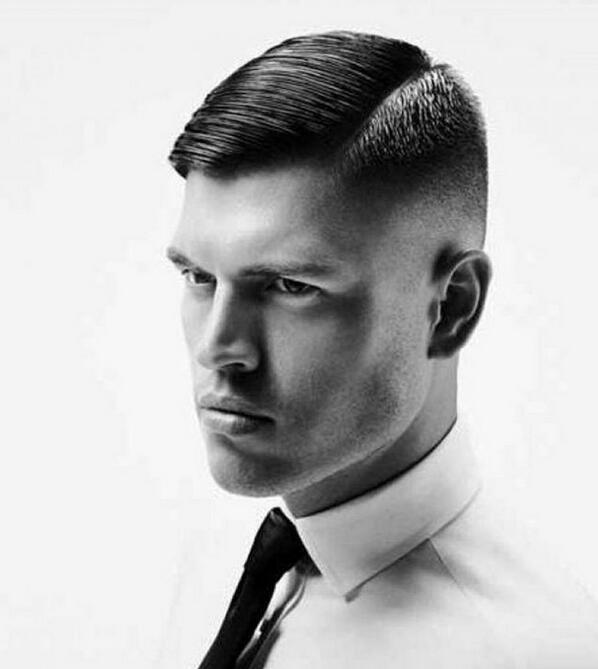 Another professional hairstyle that might inspire you to arrange your hair is this ultra-slick with a side parting. This hairstyle involves an undercut that has been improved with a straight side part. The locks on the other side are combed straight for a clean and sleek appearance.
14. Textured Pomp
You can make your pompadour more modern and professional by combing your hair up and backward before using your fingers. Add some pomade to create imperfect pomp, and you're good to go! This style is easy to do and will give you enough time to finish your morning tasks.
15. Ashy Platinum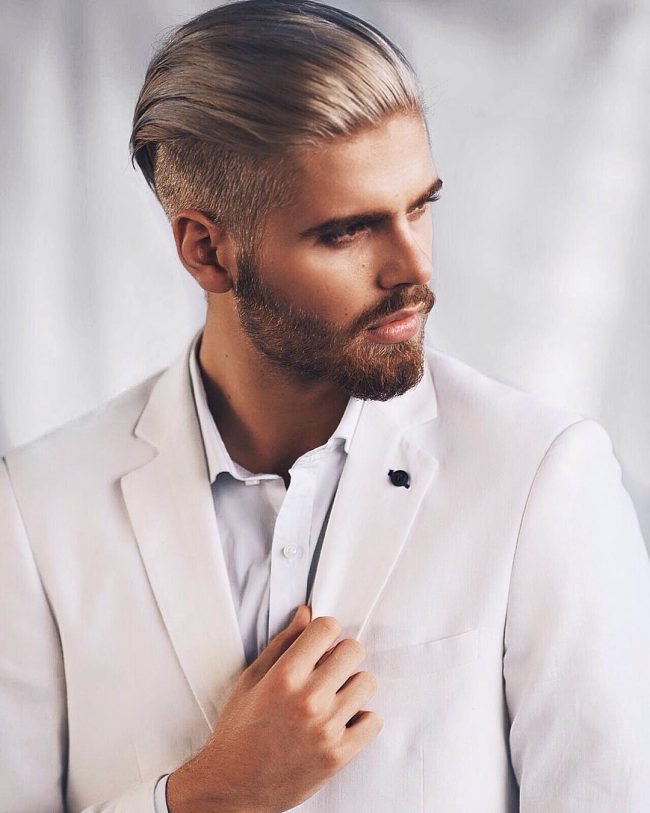 The ashy platinum is one of the best professional hairstyles for men that may be suitable for your complexion and corporate attire. In this hairstyle, all sides have been razor cut to achieve the same length as the beard. The top is slicked back, which adds additional brightness to your appearance.
16. Faded Undercut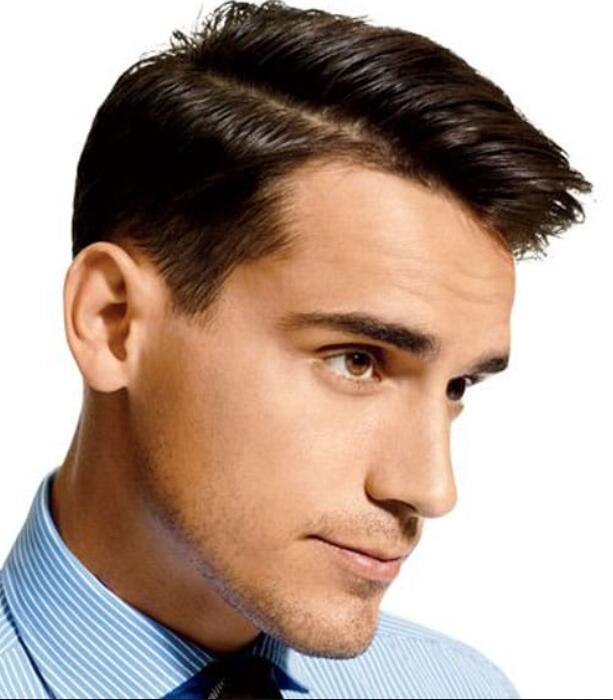 The faded undercut is one of the incredible hairstyles for modern professional men. In addition to its neat, short hair, this hairstyle is fashionable and can be worn when attending formal events. Whether you want to wear it slicked back or combed to one side, faded undercut hairstyles are great for all face shapes.
17. Chairman Hairstyle
Here is another fantastic professional hairstyle for men that will prove to everyone that you should be taken seriously. This understated business hairstyle makes your hair look natural and soft. It also involves some teased sections for additional height and volume. Like other hairstyles, the chairman style suits all face shapes and hair.
18. Pushed Back Waves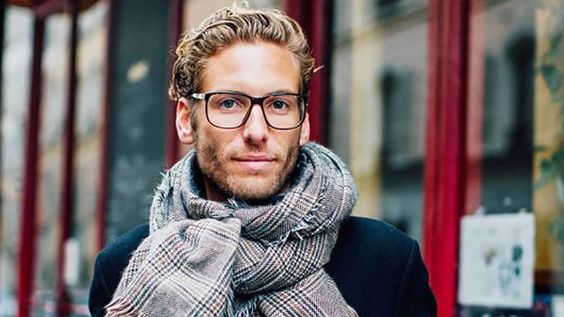 Men with wavy hair can embrace their natural texture by allowing their short strands to grow so they can create a pushed-back hairstyle. You can also keep those curls in place with the help of your favorite pomade or gel for a clean appearance. Growing short facial hair is also an excellent way to improve your style.
19. Thick Dark Waves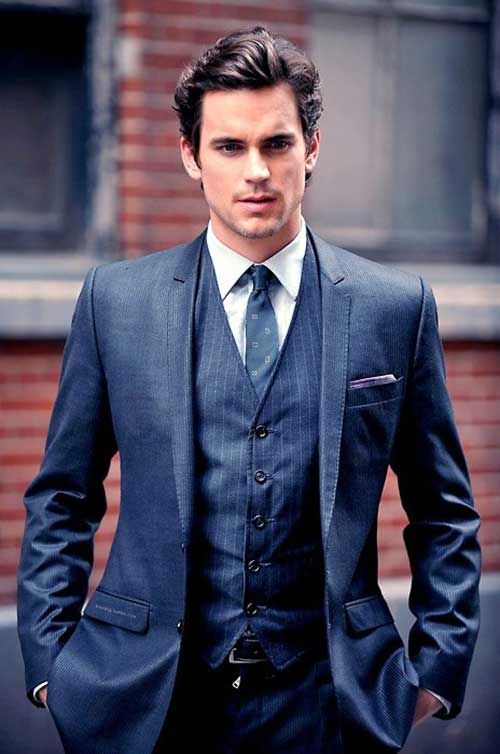 If you have thick hair, here is a fantastic hairstyle that you might want to try. This hairstyle provides extra height by styling your dark and wavy tresses on top. It also involves a slight parting at the side and a rounded fringe for additional volume. This hairstyle is perfect for an office setting and for attending formal events and special occasions.
20. Classic Taper Professional Hairstyle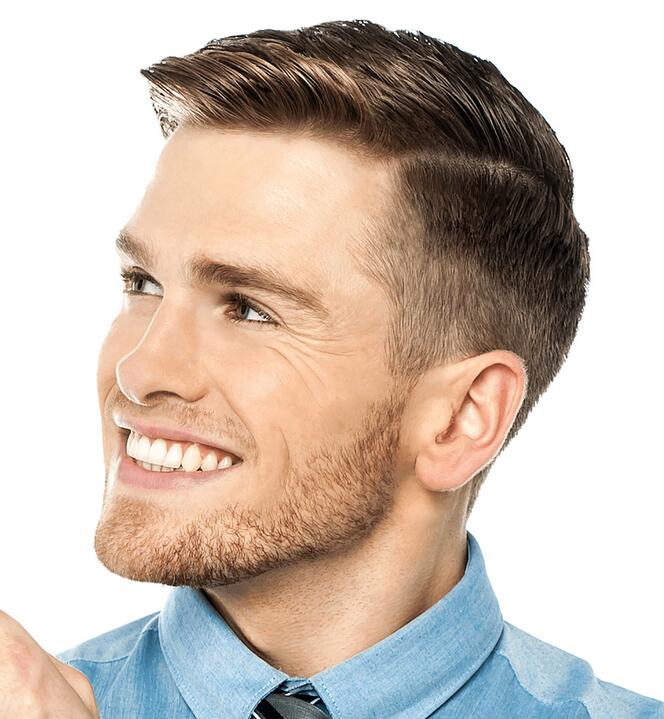 If you are looking for a hairstyle that will help you be taken seriously at your workplace, you might consider having a tapered haircut. Some short hairstyles with the same length may appear unsophisticated and dull, but you will never go wrong with a sharp cut. This hairstyle, for example, looks polished and mature.
21.
Brad Pitt

Smoothed Back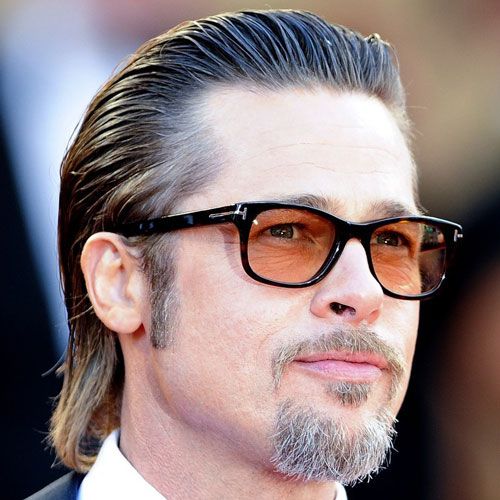 Smoothed back style is low maintenance. This clean hairstyle gives you much time to complete other tasks without worrying about your hair. It is also an ideal choice for formal events and evening engagements. You can also couple it with a medium-length beard for a smart-looking facial frame.
22. Short Waves with Side Part
One of the great ways to create a professional look is by pairing short waves with a specific side part. The locks on top of the crown add a modern appearance. This can be easily achieved if you have naturally wavy hair. Apply a small amount of your favorite styling gel to keep your locks in place. You may also wear this hairstyle with short facial hair to complete the look.
23. Lifted Fringe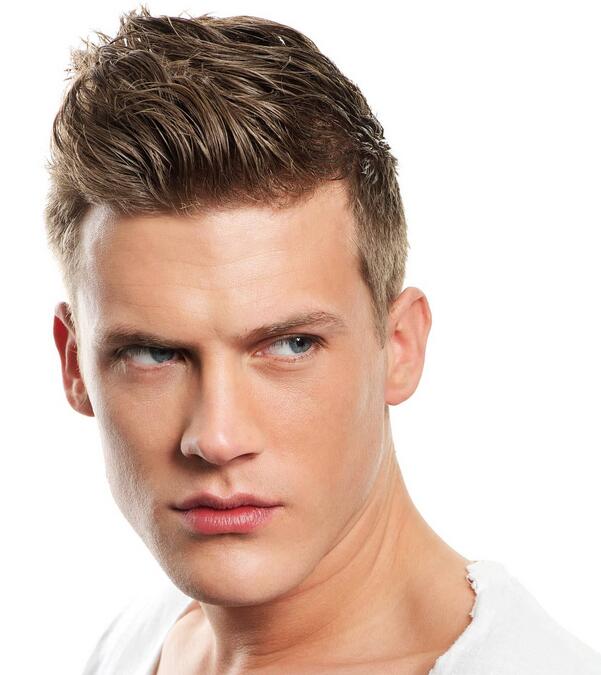 Here is one of the easiest professional hairstyles for men to try for your next working day. Both sides have been clipped and combed down in this hairstyle for a clean look. The top has a lifted fringe styled with a small amount of gel or wax. This hairstyle is an excellent choice for an office setting and attending events and special occasions.
24. Disconnected Undercut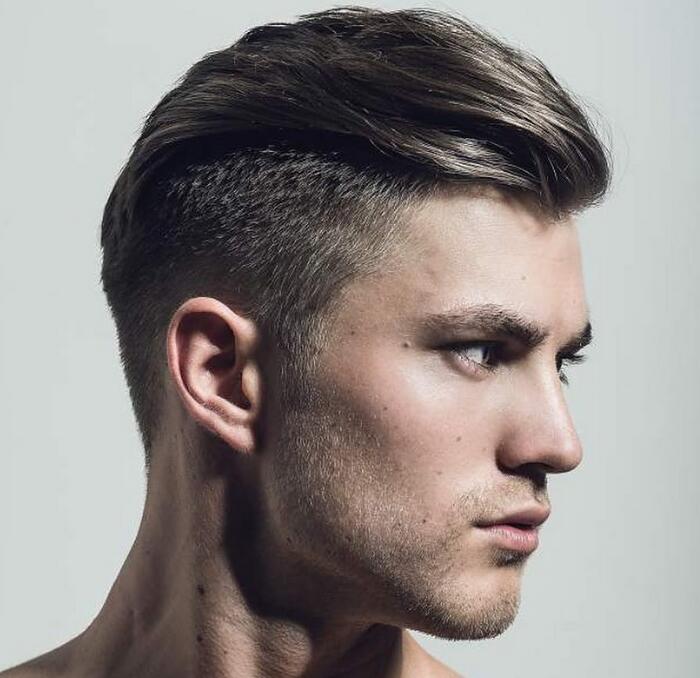 A disconnected undercut is an excellent choice if your office is not restrictive to uniforms and hairstyles. You can achieve this look by having the sides and back shaved short but not entirely to the skin. Keep the top long enough so you can comb your locks back. Apply a small amount of pomade or gel to keep your style in place.
25. 50's hairstyle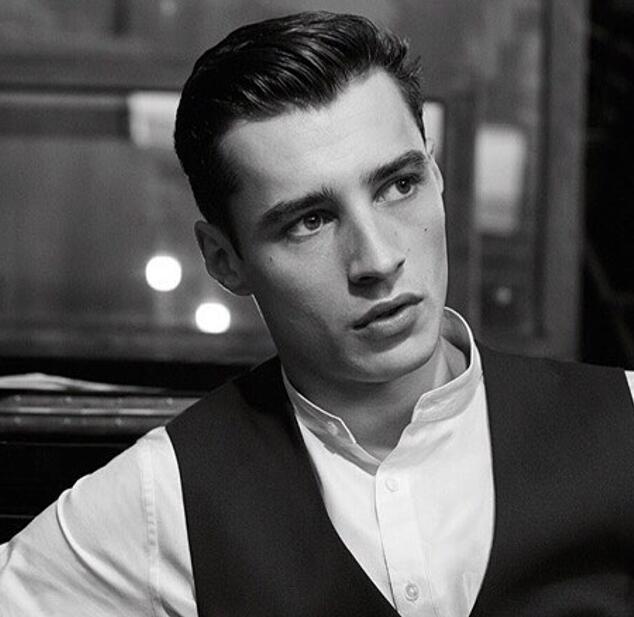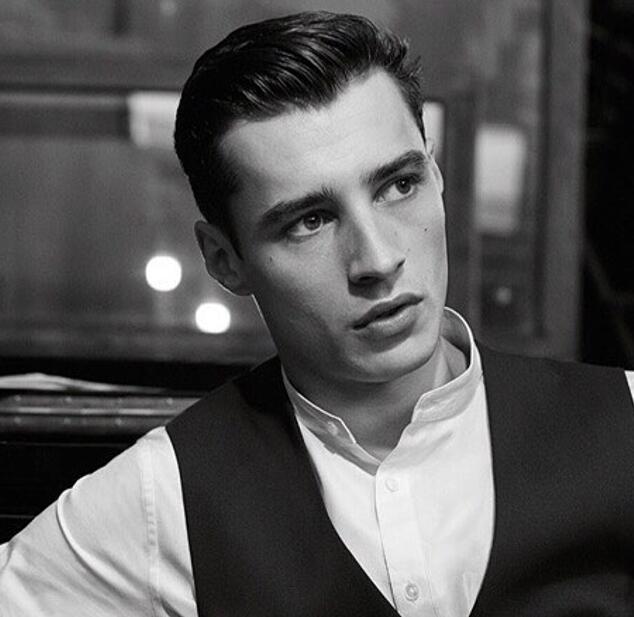 When it comes to hairstyles, you can always try something new and old styles. This hairstyle, for example, is gently gelled back for a 50's look. Rather than having a slicked-back type, both sides are trimmed short for a neat and a touch of modern appearance. This kind of hairdo will never go out of style.
26. Low Fade and Pompadour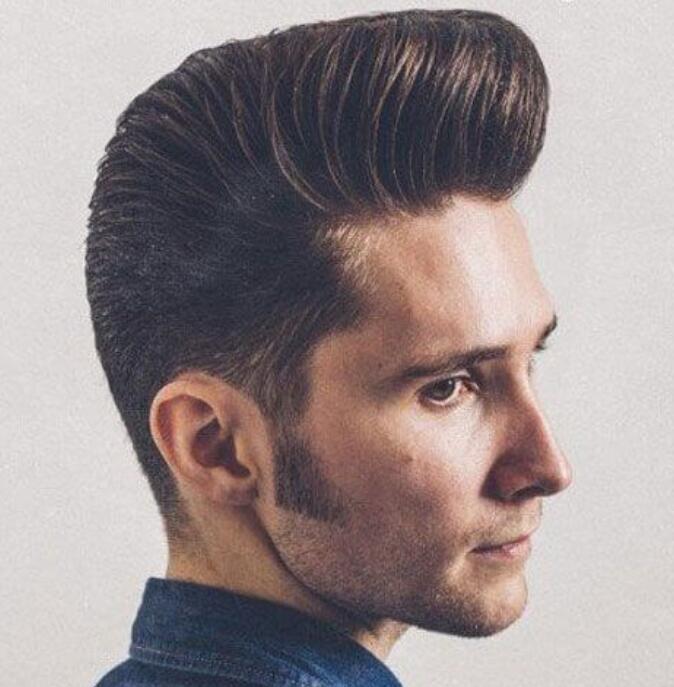 If you are the type of man who wants to stand out among the crowd, looking for an office-appropriate hairdo can be difficult. You can try this pompadour with a low fade on both sides and back. This allows you to please your workplace while keeping your sense of style. It is also a lovely hairstyle for attending formal gatherings and evening engagements.
27. Tamed Shiny Curls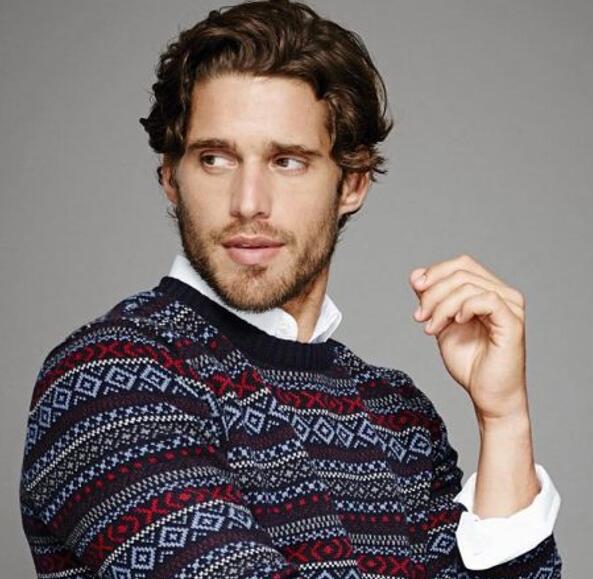 Another incredible hairstyle that brings out sharpness and intelligence is the tamed shiny curls and short facial hair. Those long strands have been blow-dried in this hairstyle to make them neat, natural, and smart-looking. On the other hand, its wavy top gives a gentle or approachable appearance.
28. Medium Length Waves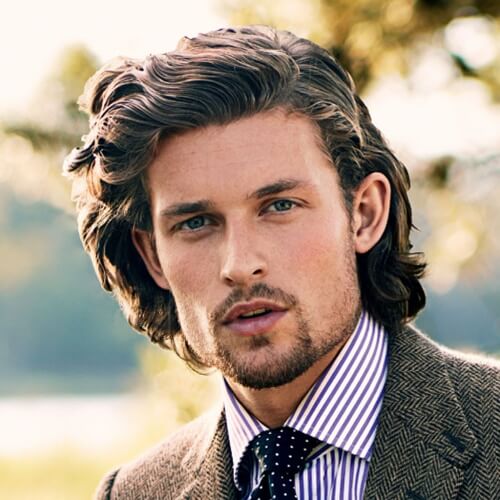 Not all companies require short hair. If you want to keep your hair long or let your locks grow a little, you may consider having this mid-length professional cut. This hairstyle looks elegant on men with soft and naturally wavy tresses. You can also partner it with a short beard. This hairstyle is also an excellent option not only for the office setting but also for casual wear.
29. Ashy Hairstyle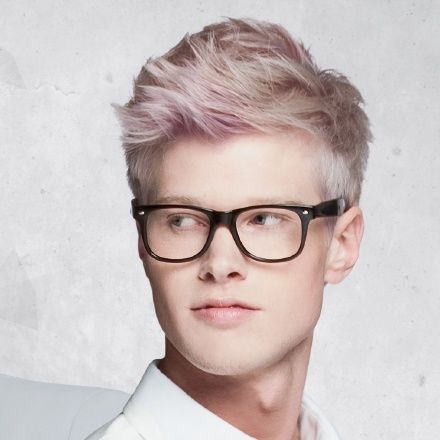 If you want to keep your hair short, here is one of the best professional hairstyles for men that you can try. It looks not just elegant but also attractive and stylish. This hairstyle also saves you a lot of time from your morning routine as it does not require you to comb and apply hair products. It also gives your outfit or speech more attention.
30. Curly Hairstyle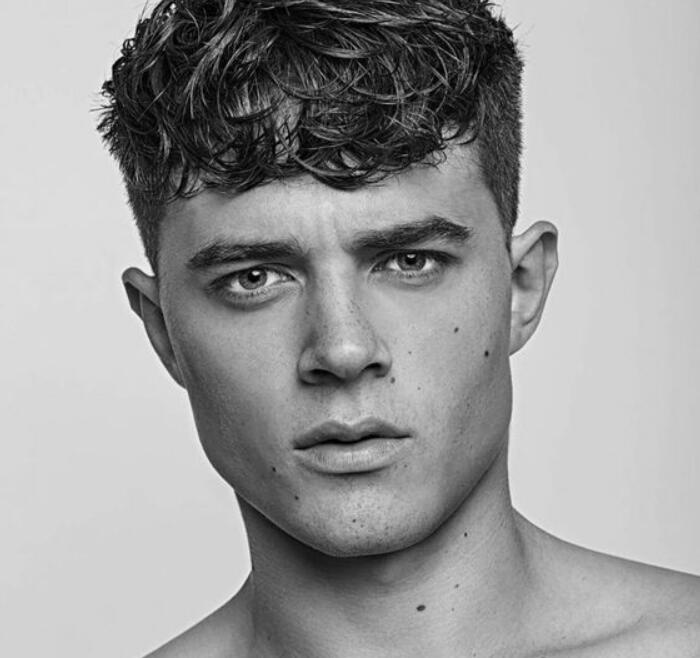 One of the best professional hairstyles for men, this curly hairstyle involves shorter dark hair on both sides and a highly structured wave over the forehead. This style can be achieved by applying your favorite styling product while blow-drying your hair. You can also couple it with short facial hair to complete the style.
31. Short Quiff Professional Hairstyle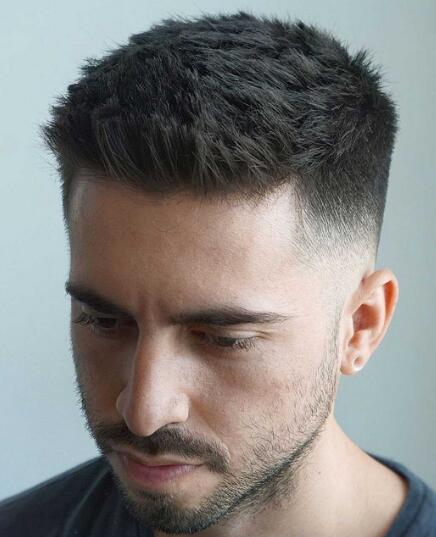 32. Professional Pompadour Hairstyle
33. Ivy League Hairstyle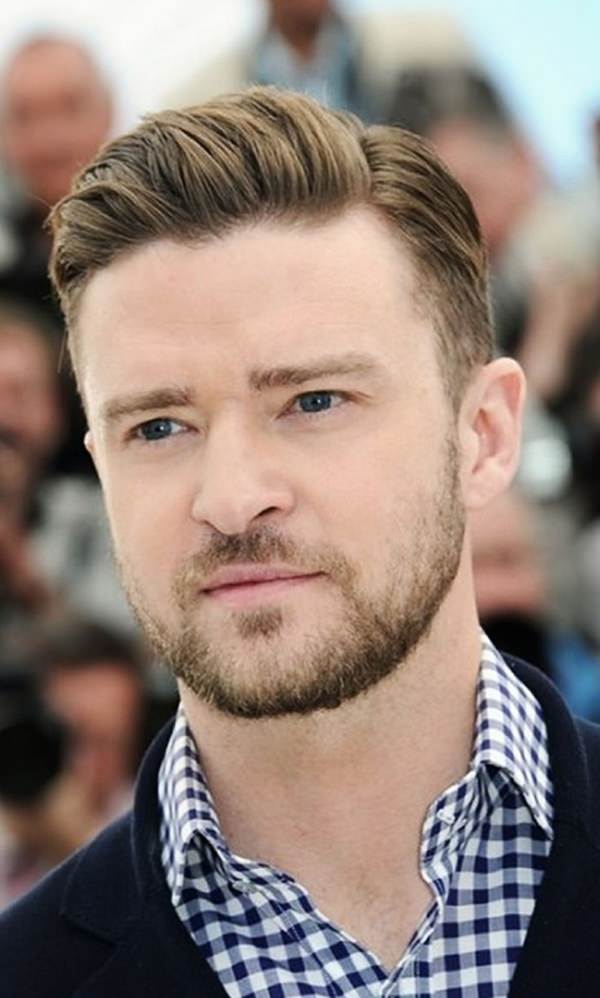 34. Slicked Back Professional Hairstyle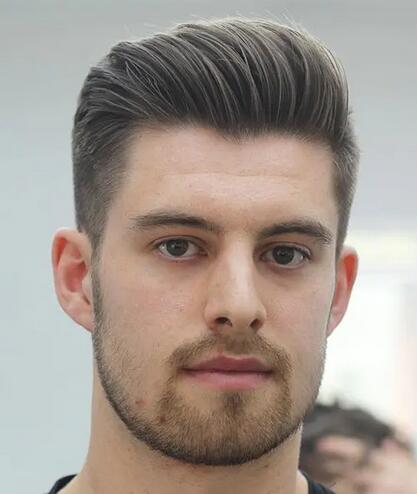 35. Afro Professional Hairstyle
36. Spiky Professional Hairstyle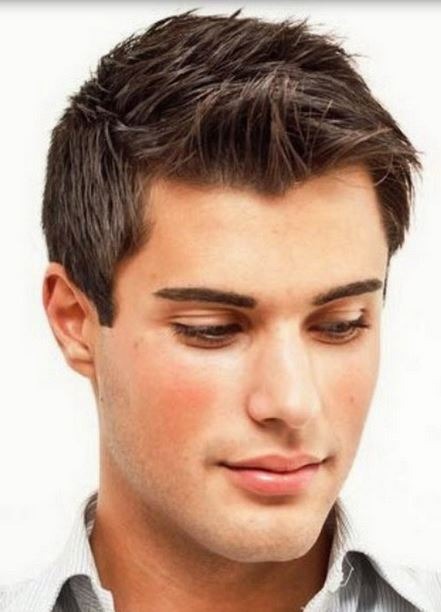 37. Natural Professional Hairstyle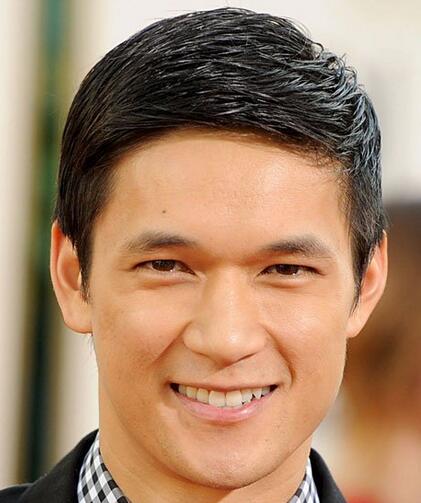 38. Wavy Professional Hairstyle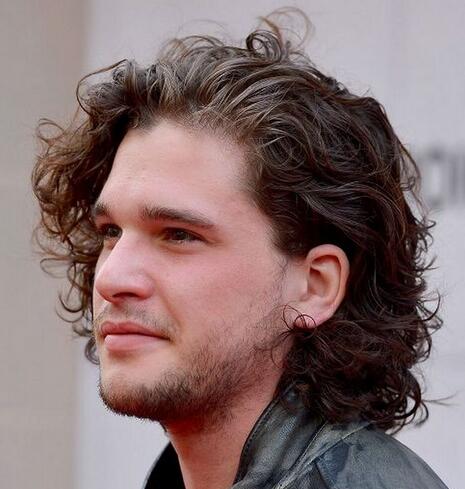 39. Butch Cut Haircut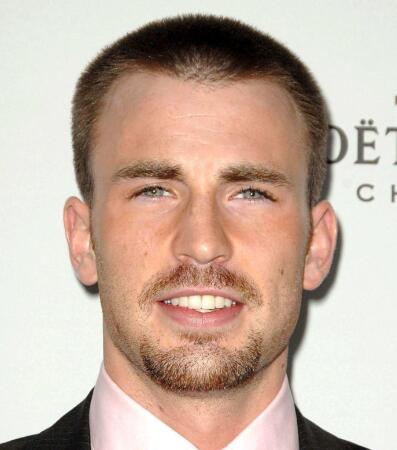 40. Medium Professional Hairstyle
41. Short Professional Hairstyle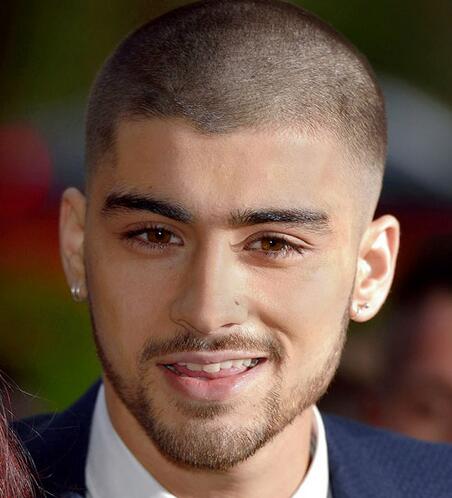 42. Long Professional Hairstyle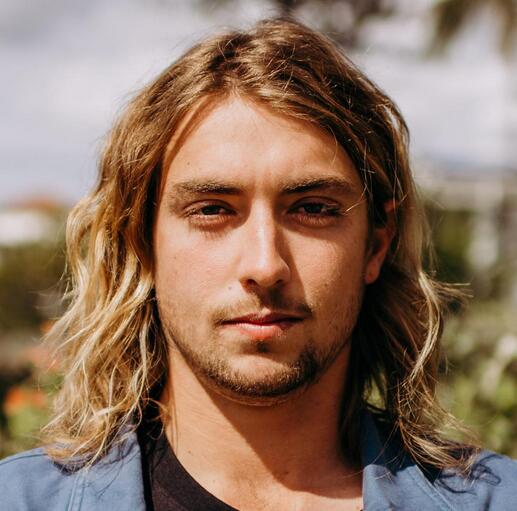 43. Medium Curly Hair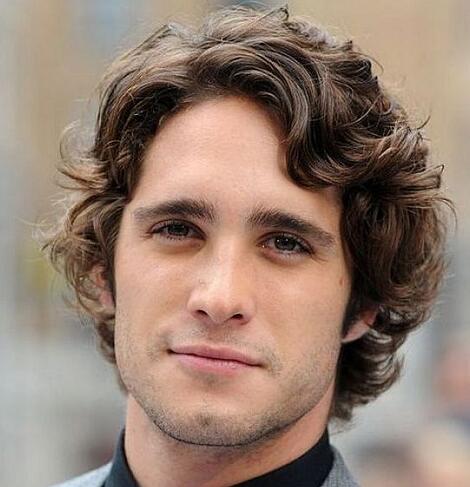 44. High Volume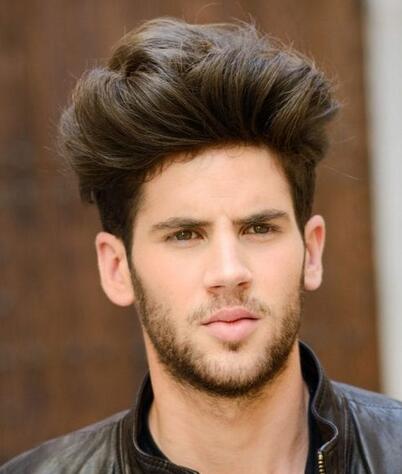 45. Professional Beard Hairstyle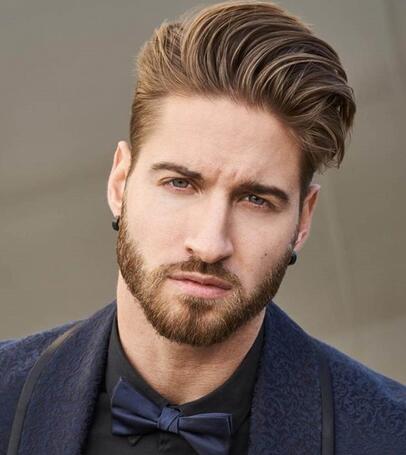 46. Professional Business Hairstyles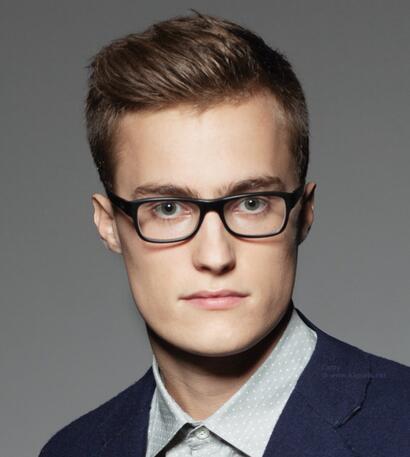 47. Crop Top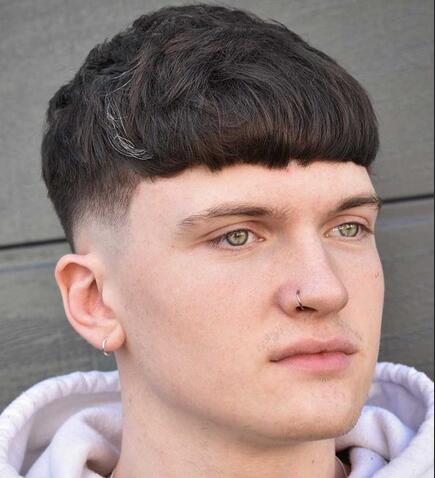 48. Mid Taper Professional with a Line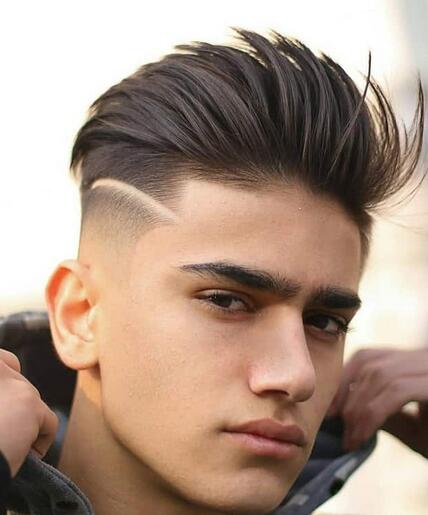 49.
Short Sides with Brushed Back Hair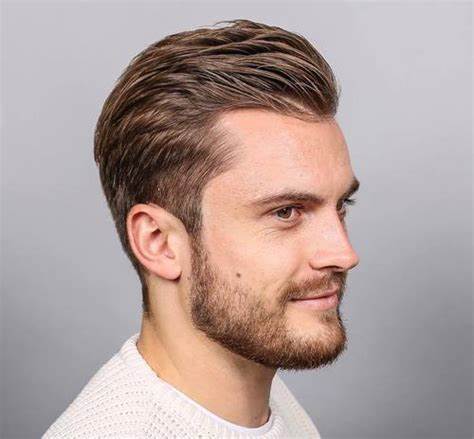 50. Professional Hairstyle for Messy Hair