Braids haircut is also known as plaits which can be combined with a low, mid, or high fade undercut shaved sides or taper fade. There are many braided haistyles such as French braids, straight cornrows, braided dreadlocks, and box braids. You can also add a cool design to create a unique look.
Braids haircut is stylish and low-maintenance that suits short, shoulder-length, and long hair. Once it is braided, it can last for several weeks with proper maintenance. Braids' haircut works for black men, white men, and Asian men.
In addition, braided hairstyles are the best choice when you wish to grow your hair strongly. But, if you are already facing hair loss in front of your head, then braiding hair is not advisable for you. Most of the braids involve tight twists of the front hair. This technique might result in hair damage and loss, worsening your hair fall condition.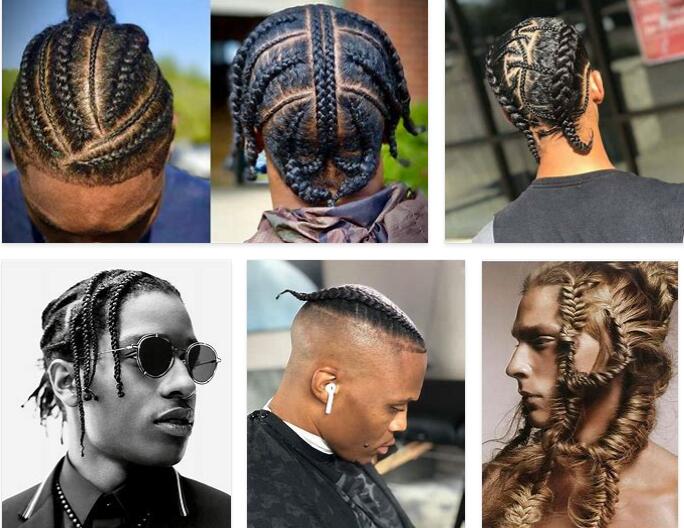 Preparation of Hair:
Before you start to braid your hair into any cooler version, it is necessary to prepare your hair for this process. If your hair is manageable already, then you can start with braiding the hair.
But if you are someone with frizzy or silky hair, you need to apply moisturizer or hair spray first. You will have to set the hair to start braiding it. The preparation is so important for the braiding to be perfect and maintained well.
How to Braid the Hair for Men?
There are simple steps to create those perfect stunning braids to create a killing look for any occasion.
Preparation: The primary step of braiding any hair is to prepare it by applying moisturizer to the scalp and the tip of the hair. Moisturizing the hair will prevent hair damage or loss due to tight twists in the braiding process.
Detangle: The next process is to detangle the knots, if any, by combing the hair perfectly. The knots will cause a burden while braiding.
Partitioning: Create sections by portioning the hair as per your preference. If you have removed the knots and tangles in the previous step, this would be easy for you.
Create parts/clips: Section the hair into different parts or clips, and stick them with bobby pins or hair clips. Remember that these sections are going to be twisted into braids.
Choosing hairstyle: You don't have to do the same French braids or a simple bun with your gorgeous long hair anymore. So, please choose any of our favorites from the below list, and get ready for a stunning outlook.
46 Best Braided Hairstyles for Men
Middle and Side Braids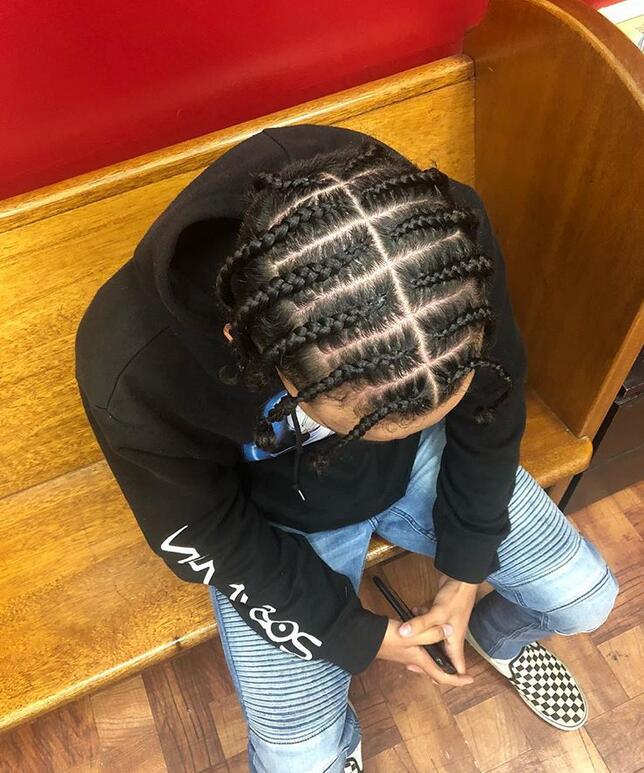 The middle and side braids are a unique way of expressing your vibrant personality. This hairstyle involves the center partitioning of the hair. The hair is then braided towards the side of the head to give a unique outlook.
Viking Braided Hairstyle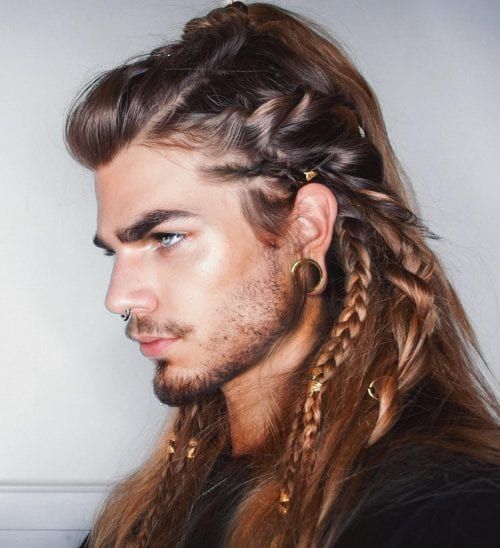 This historic hairstyle gives you a beautiful vintage outlook. This hairstyle with beautiful braids on the top of the head and a free-flowing hair extension gives you a manly look. You can choose to highlight the extensions with the color of your choice.
Cornrow braided hairstyle with two braids in the front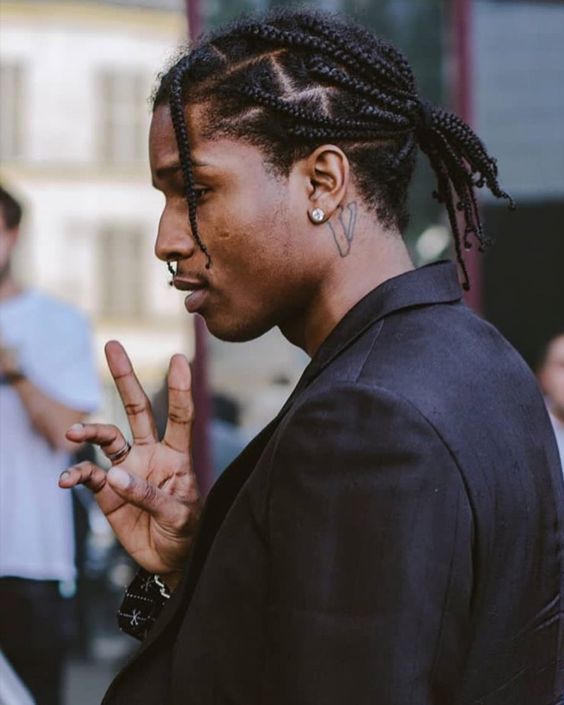 The Cornrow braids are the most common braided hairstyle when it comes to braiding hair for men. But, this hairstyle has a cute little addition of two micro braids in the front. Why not try this unique hairstyle if cornrow braids are your favorite?
Orange braided hairstyle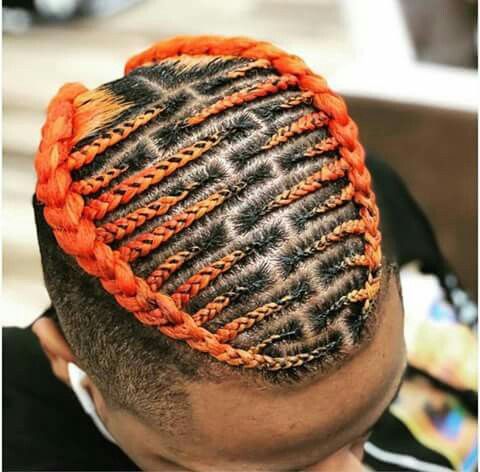 Who would want to miss this fun and exciting opportunity to experiment with braiding the hair with vibrant hair color? You wouldn't need long hair for this experiment. This beautiful touch of orange color makes you the center of attraction at any party.
Braids with Highlights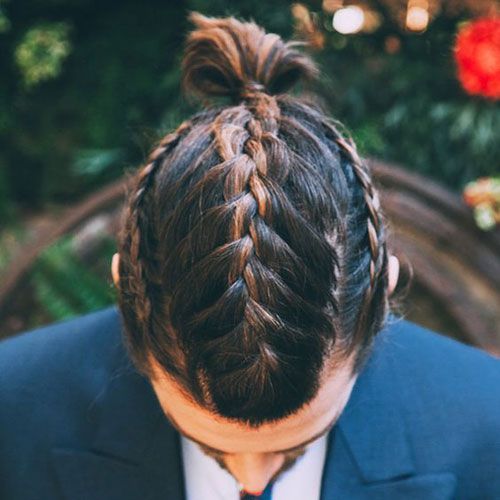 These hairstyles carry elegance by highlighting the twist of the braids with your preferred hair color. If you are someone with long hair, then you do not want to miss trying this hairstyle. Blonde or burgundy can be the better choice for the highlights.
Wiz Khalifa Dreadlocks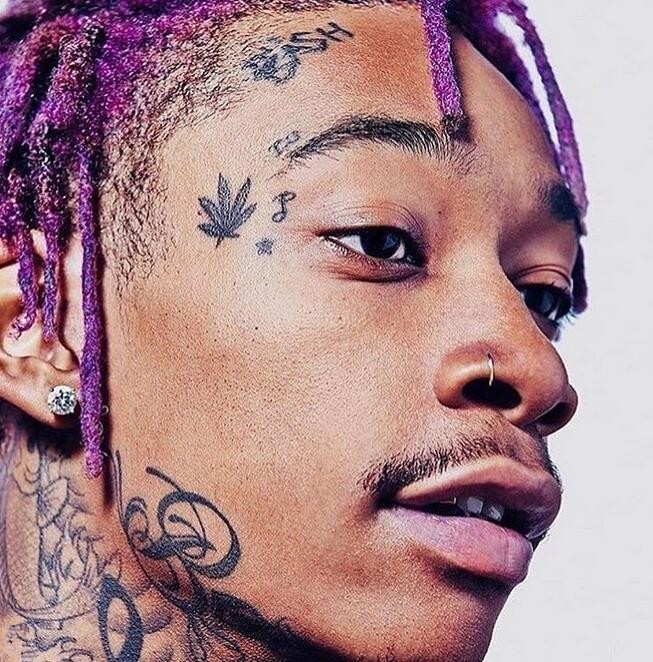 This hairstyle gets its name from the rapper Wiz Khalifa as he inspired it. If you are a huge fan of dreadlocks, why not try his cheerful representation of his favorite hairstyle, just like the rapper?
Hipster Braided Hairstyle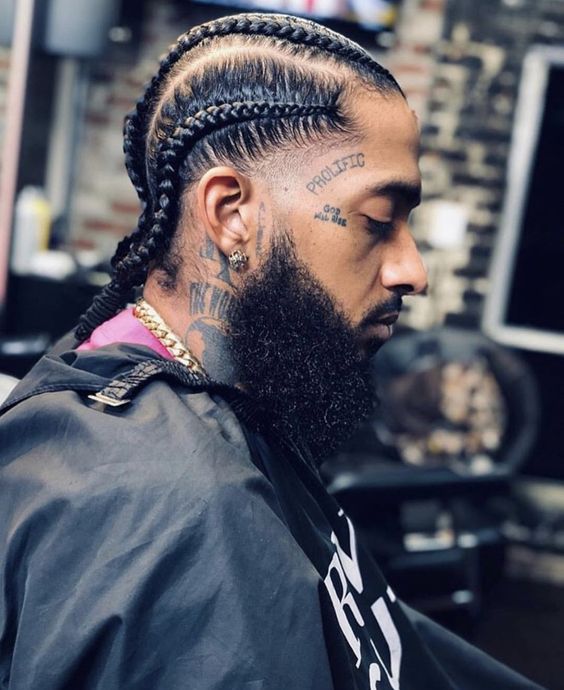 If you have long hair, mustache, and braid, you should definitely try this hairstyle. This hairstyle with a rough finish in the ends matches the long beard to give you a rough and tough look.
Soft Braids hairstyle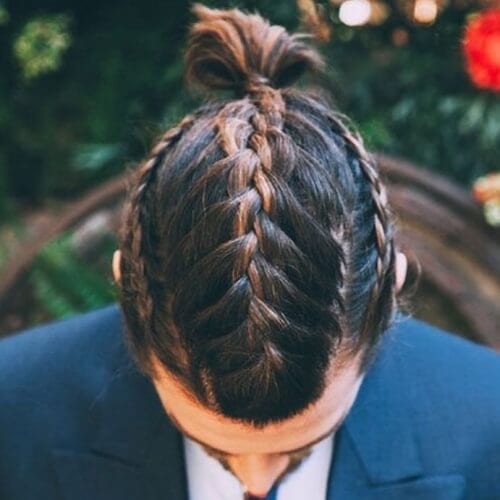 Those with silky or soft hair will know the difficulties of setting the braids on the place. Even with so much effort and techniques, the impression of perfect braids wouldn't last long. However, this hairstyle is for you if you are facing this struggle. Try these soft braids that end up in a loose bun.
Dutch Braided Hairstyle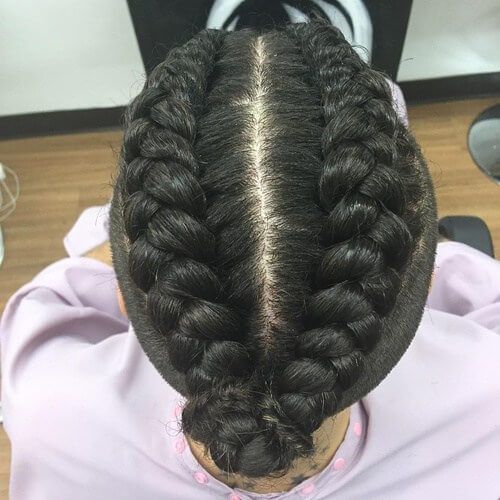 The Dutch braids are the best if you wish to boast about the thickness of your hair on the top of your head. It is also called Ghana braiding by the African community. Try this hairstyle and share your amazing experience.
Braids with intricate designs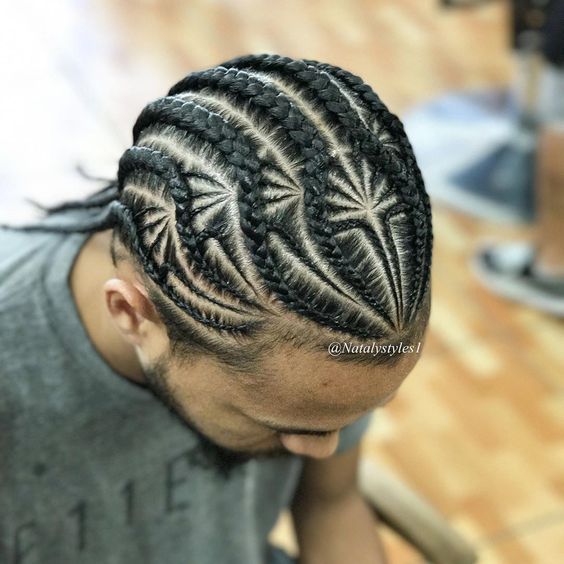 Isn't it cool to highlight a unique pattern while braiding your hair from the top of your head, just as shown in the picture? Try it to experience the coolest hairstyle.
Braided bun with dreadlocks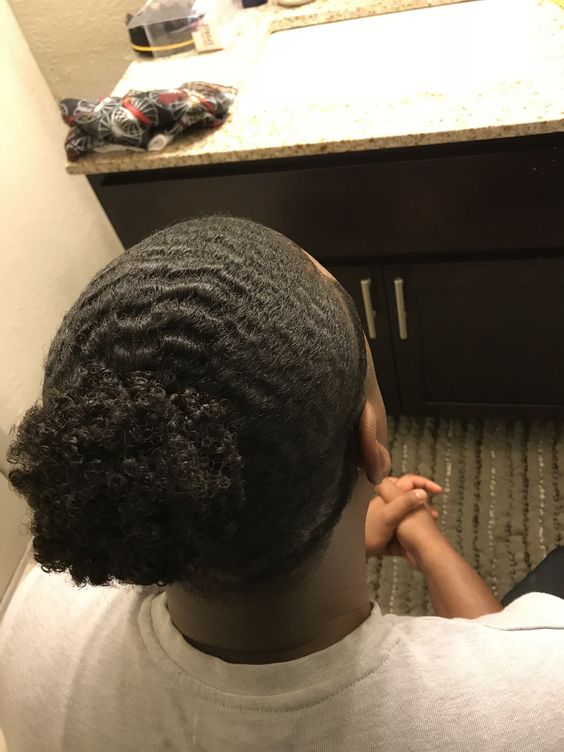 This cute little hairstyle ends with a ponytail of dreadlocks. These minute dreadlocks add elegance to your outlook. Check out one of our favorite braided hairstyles, and leave us a comment after trying it.
Box braided hairstyle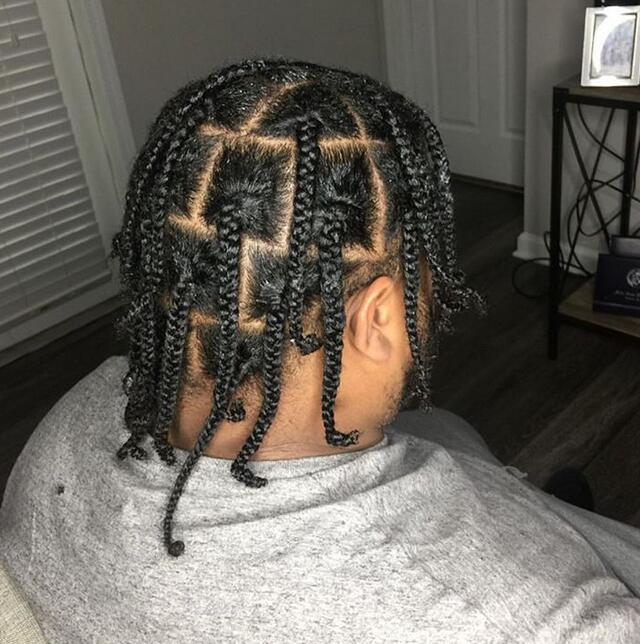 The box braids allow you to try a braided hairstyle if you do not have Afro-textured hair. You will need medium or high-length hair to try this hairstyle.
Snoop Dogg Braids for men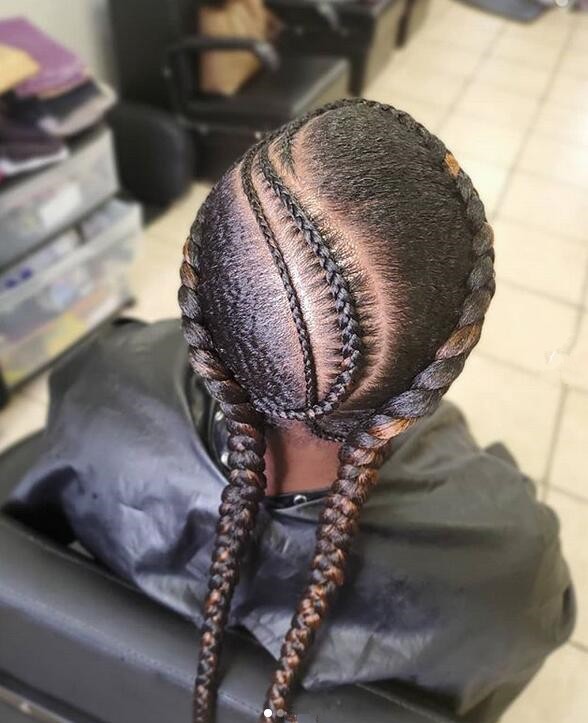 One of the perfect braided hairstyles in this list is Snoop Dogg braids. Inspired by the hip-hop celebrity Snoop Dogg, this hairstyle gives a beautiful outlook with two braids on either side of the shoulder.
Reverse braided hairstyle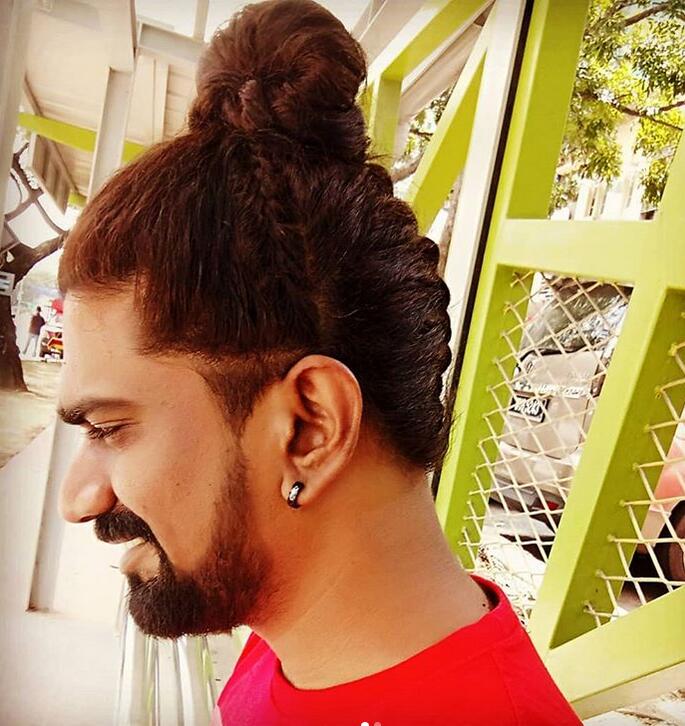 The reverse braided hairstyle gives you a unique experience of creating twists from back to the front of the head. These reverse braids will require a brush cut at the front of the head.
Braided hairstyle with Wavy Patterns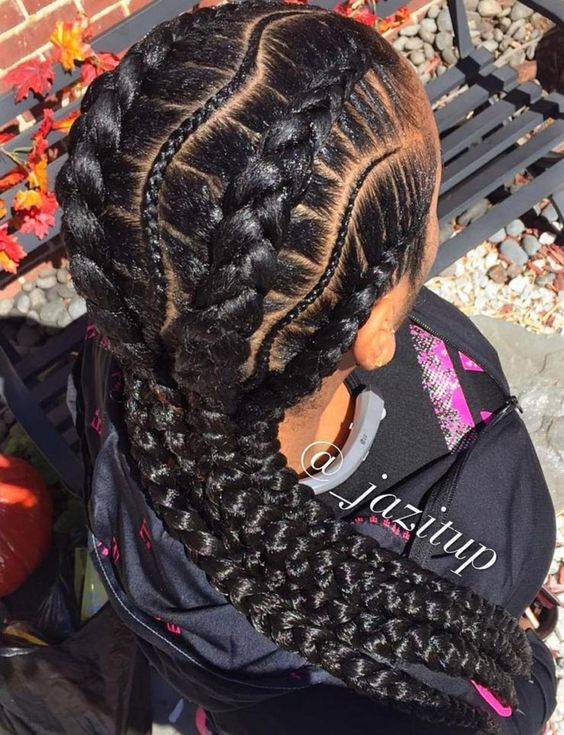 This braided hairstyle with wavy patterns allows you to have a unique design. You can have a patterned partition with cornrow braids or dreadlocks to create the wavy pattern.
Dreadlock braided hairstyle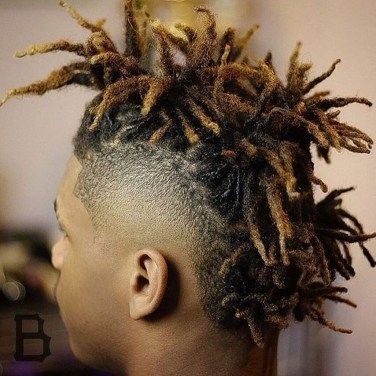 The dreadlocks are the cutest way of expressing your personality. These dreadlocks can be highlighted with any tone that you prefer. The side of the head is shaven to highlight the dreadlocks on the top of your head.
Long dreads braided hairstyle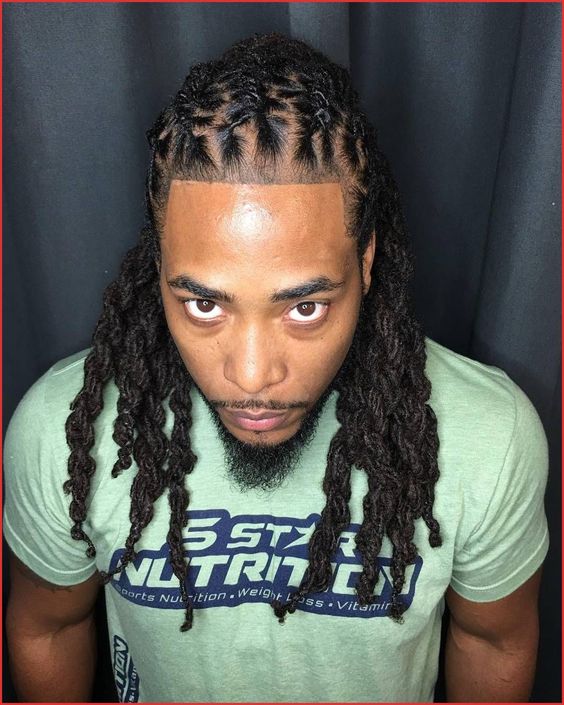 As already said, dreadlocks are the cutest version of braided hairstyle. This hairstyle is unique because of dreads in a long ponytail.
Back Crown braided hairstyle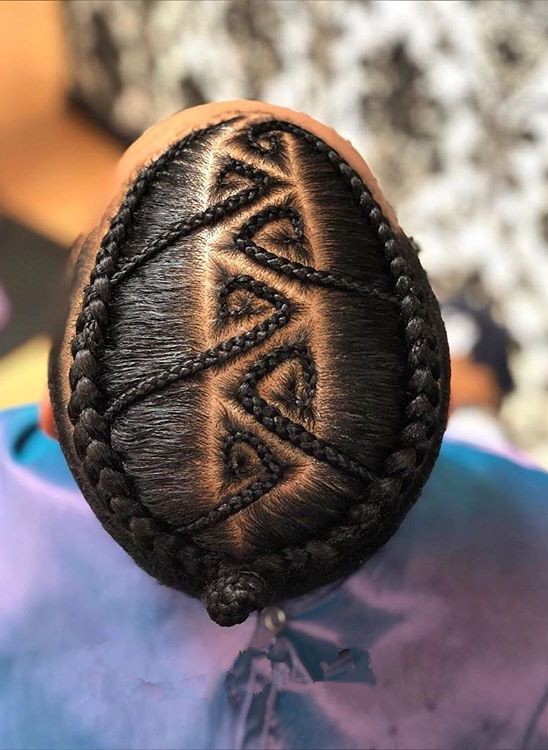 The braids are twisted from the sides of the head to the back to create a crown-like structure. Though it is better to have a black crown, a dual-tone can also highlight the braids.
Braided hairstyle with bangs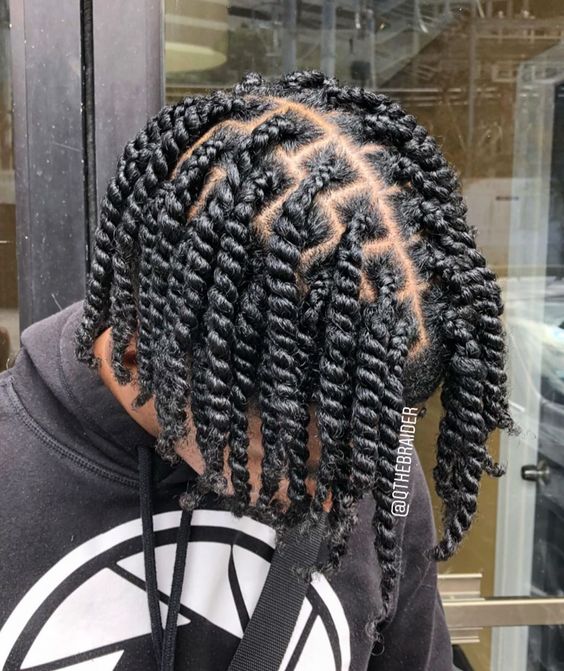 To try this hairstyle, you will need non-layered hair with lengthy hair in front of the head. You will need a professional to braid several twists along with the temple for faux bangs to appear in front.
Fishbone braided hairstyle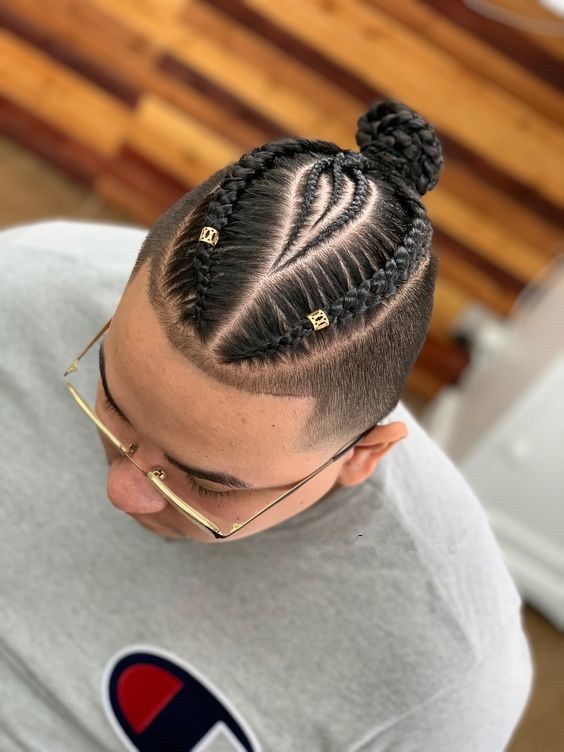 The fishbone braids are not just one of our favorites but also preferred by most men. You will need long hair to sport this hairstyle. The center partitioning gives the perfect symmetry and a fishbone design.
Braids with metallic beads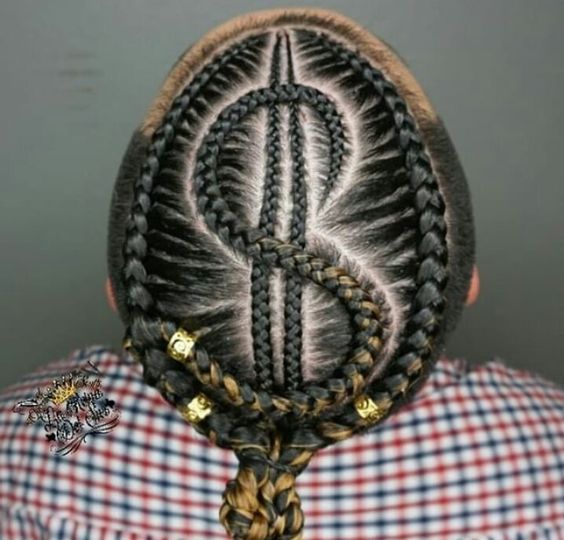 The braids with metallic beads are the usual yet beautiful way of highlighting the braided hairstyle. The metallic beads add beauty to your stylish looks.
Braided hairstyle with long fishtail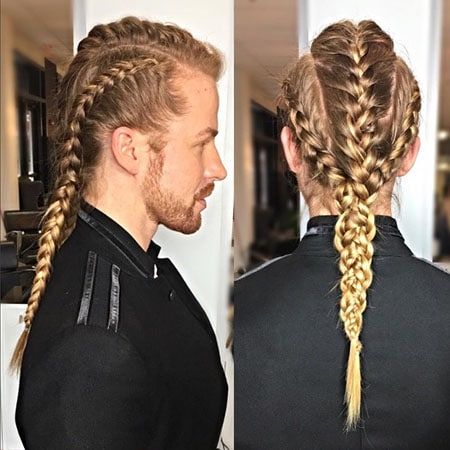 The fishtail hairstyle can replace the most common dreadlock ponytails. This hairstyle is a temporary braid, requires minimal effort and low maintenance. The fishtail hairstyle gives you stylish looks. You can choose the number of fishtails that you want to sport in this hairstyle.
Two little braids with undercut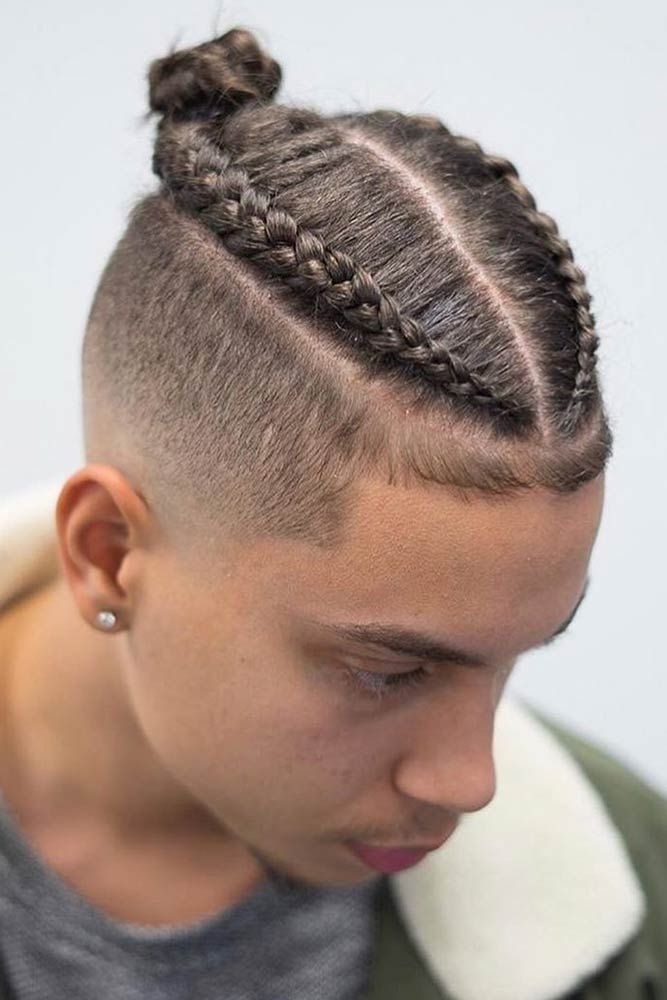 If you are looking for something minimal, then this hairstyle is the perfect choice for you. It gives you the satisfaction of trying something new. Also, the undercut and the side shaving give you a more stylish look.
Twisted braids with a small ponytail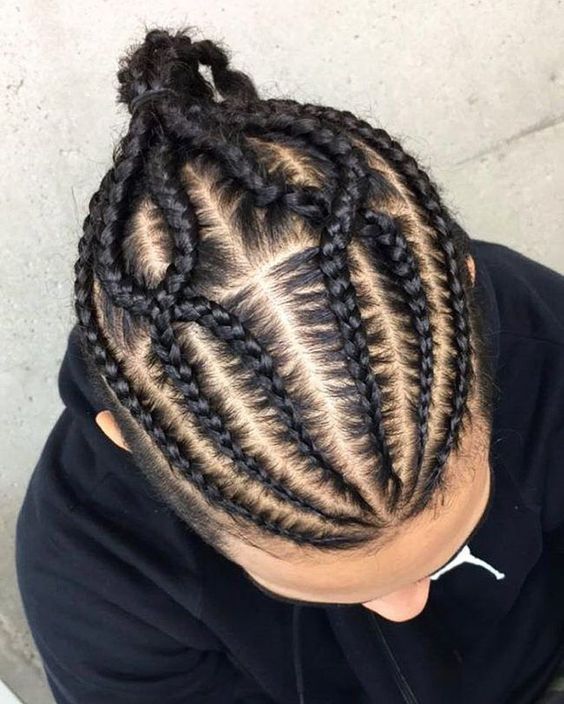 As the name suggests, the braids on the top of the head are twisted to produce a stylish pattern. You can choose the number of braids and twists according to your preference. More commonly, two twists give you a sleek and elegant appearance. You can wear the twisted braids as a ponytail or a cute bun.
Braided Locs for Men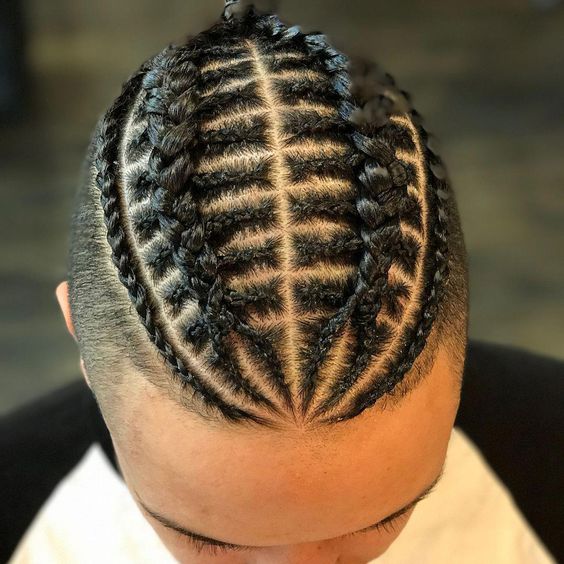 These braided locks are so convenient and comfortable that it offers you a wide range of options to sport stylish and contemporary looks. The box braids with an undercut give you a sleek outlook, as you can see from the picture.
Ombre braided hairstyle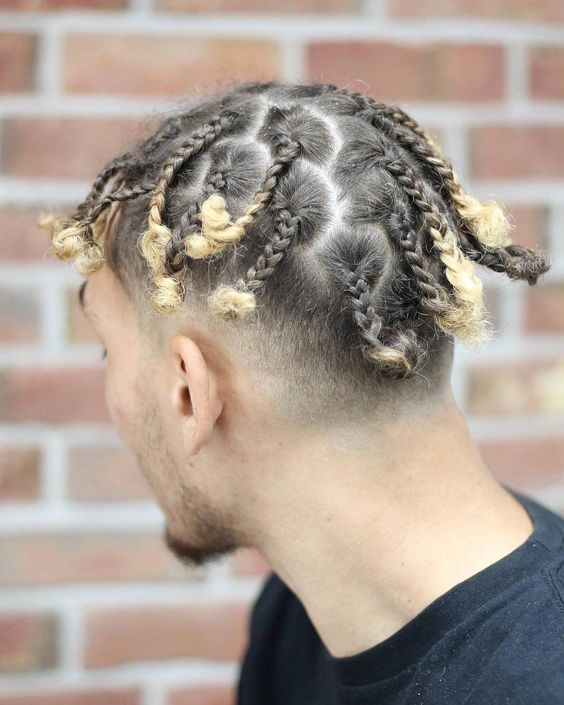 If you have long hair, you have the advantage of highlighting different parts of the hair with various tones. You can choose vibrant colors like purple or orange to get a fashionable outlook. You can also prefer to highlight with mild colors subtly.
Braided hairstyle with short hair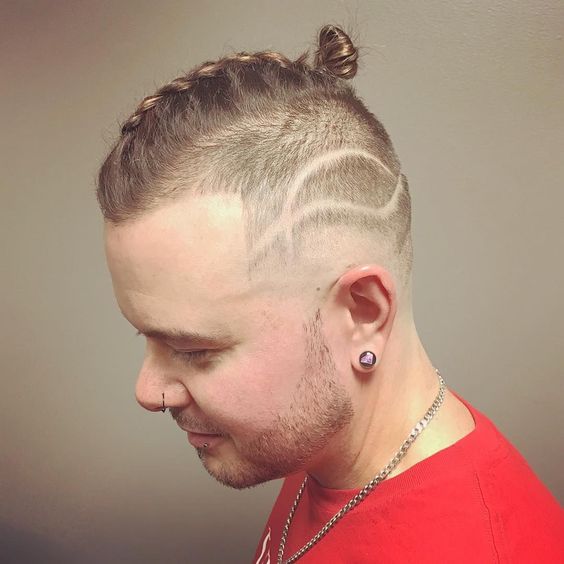 Those with short hair should definitely try one of our coolest braided hairstyles. This hairstyle will require brush-cut or shaven sides to highlight the braid at the top of your head.
Braided hairstyle with Side Bun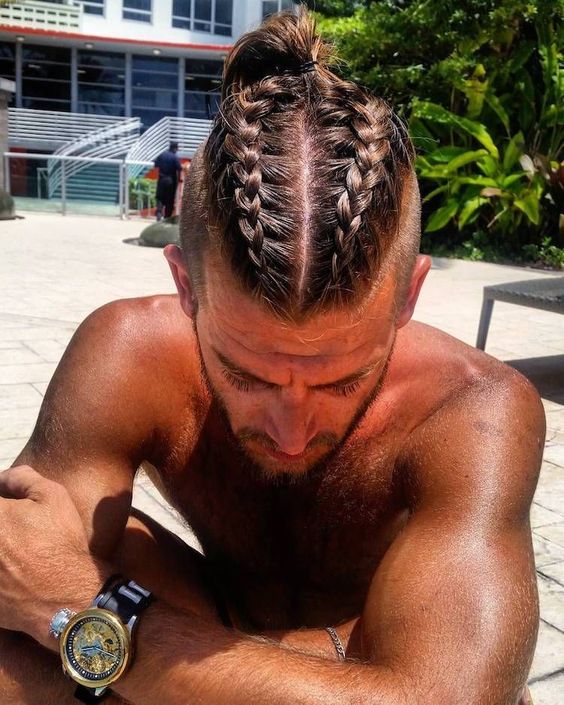 This hairstyle lets you wear a messy bun in your preferred position instead of always wearing it at the center. The messy bun gives a rough look to your image.
Braided Style for Short Hair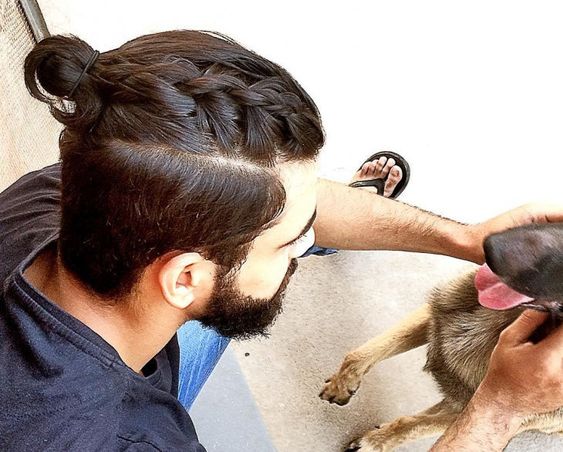 If you have short hair, this is the perfect way to style your hair, as it is simple and effective. The hairstyle suits perfectly any texture of hair.
Side Cornrows with a simple ponytail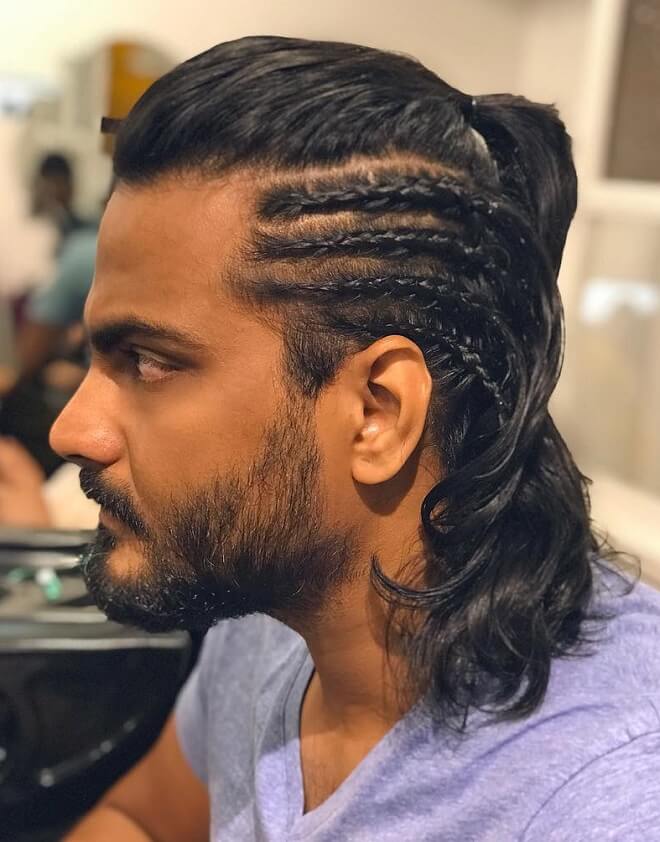 For those who love to sport their beautiful long hair, we suggest you try this hairstyle. It involves cornrow fashioned braids on one side of the head. You can clip the hair into a beautiful ponytail.
Dreadlock ponytail with beads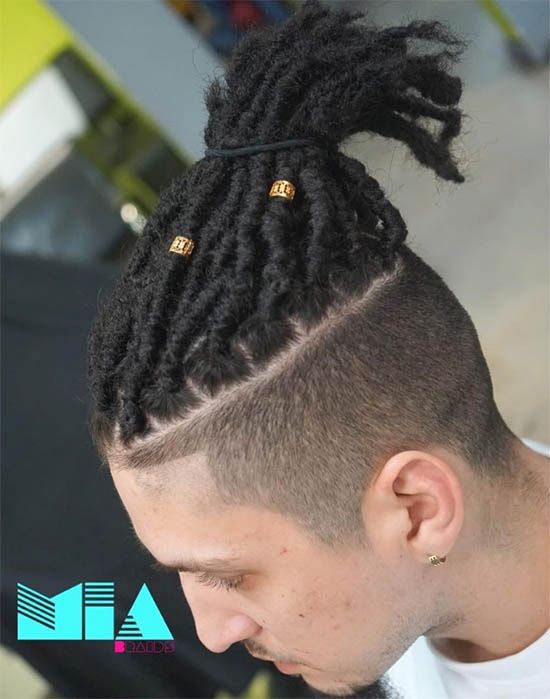 This beautiful hairstyle will definitely fetch you admiral glances from your friends and family. The sides and the back of the head are completely shaven to create a clean look.
Braided Twist for Long Hair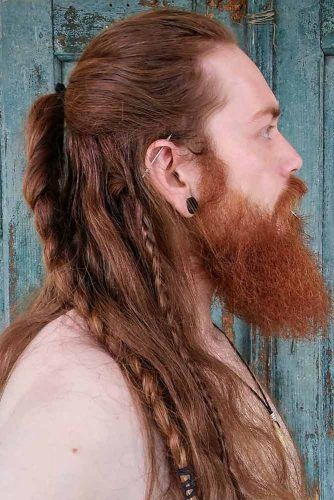 If you are looking for a perfect hairstyle for long hair, attempt this one and share your views with us. This hairstyle lets you boast your perfectly long hair. You can also try a different color for your hair.
Cornrow Braids with Dreadlocks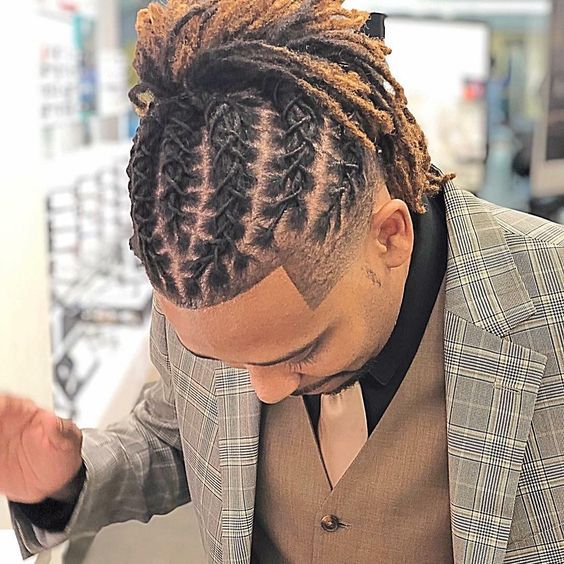 This unique hairstyle is a combination of two different yet amazing hairstyles: cornrow and dreadlocks. You can wear cornrow braids on the sides and top of the head; with a cute dreadlock ponytail.
Triple Braids with Bun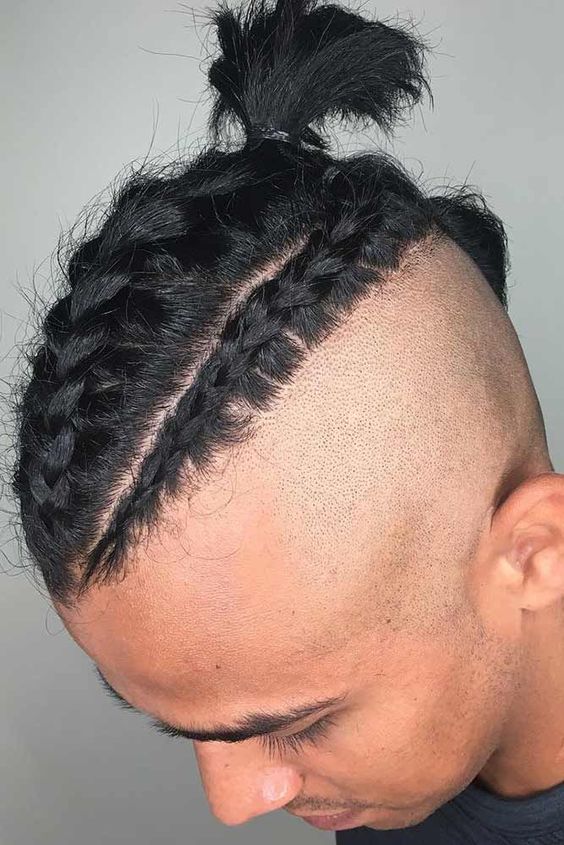 The triple braid with a bun is a cute addition that you will want to try. The sides can be either cleanly shaven or trimmed to highlight the braids.
Ponytail with cornrow braids at the back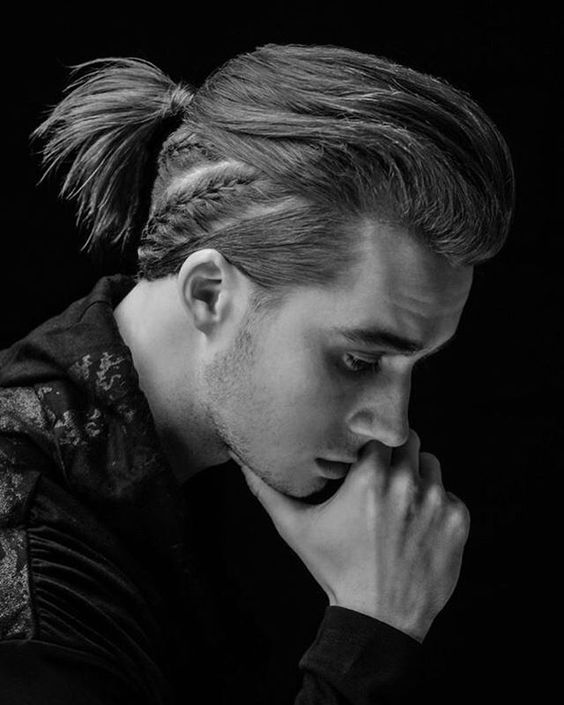 These braids have a unique way of representing your personality by smoothly adding the hair into a ponytail. You can wear the braids under your ponytail.
Protective Hairband with side braids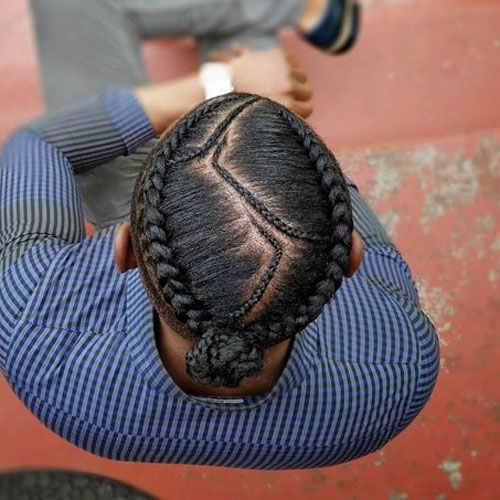 The protective hairband with side braids protects your natural hair by preventing it from hair damage and loss.
Two-tone dreadlocked braids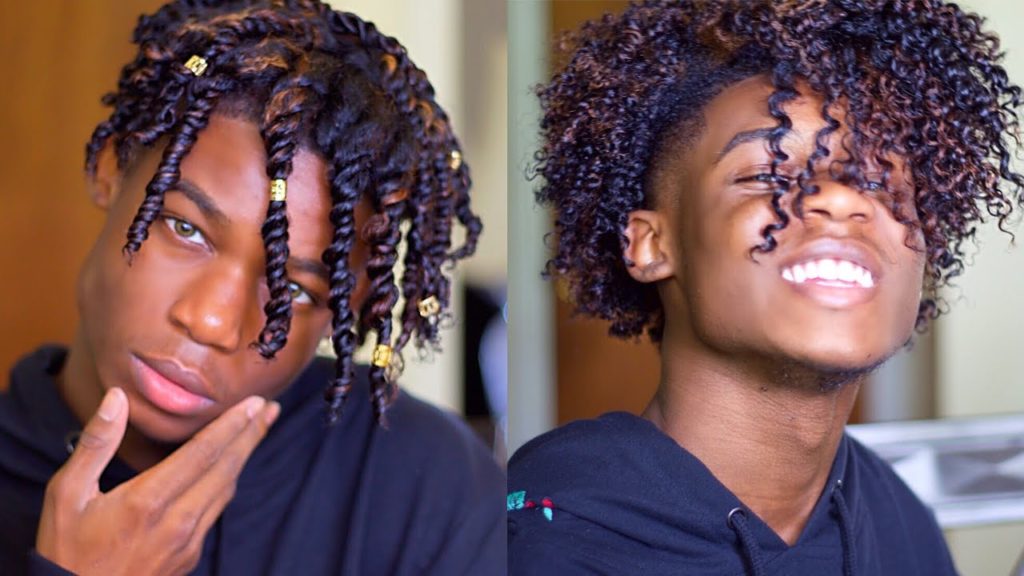 The mini dreadlocks on the entire head give you the cutest way of expressing your style. You can choose a color to highlight different parts of the dreadlock.
Simple Dutch Braids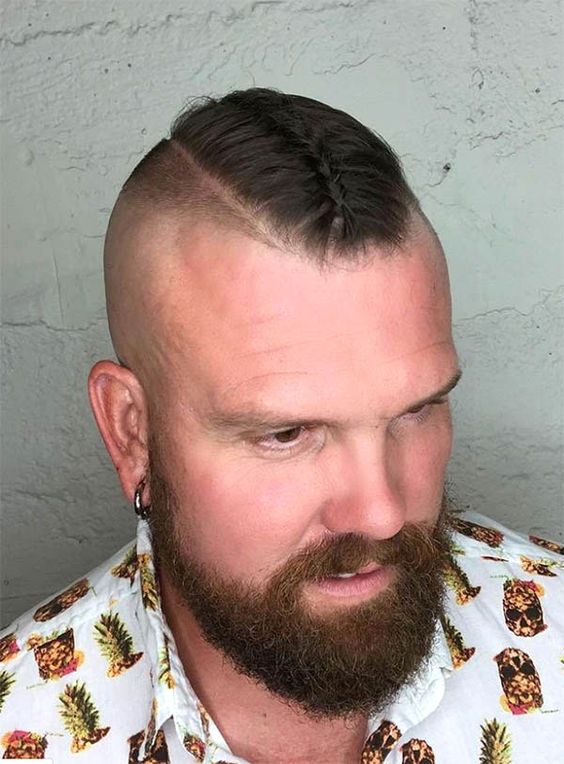 You can choose to wear these simple Dutch braids for your work every day. This gives comfort and convenience to style and maintain it with minimal effort.
Braided hairstyle with Jumbo Bun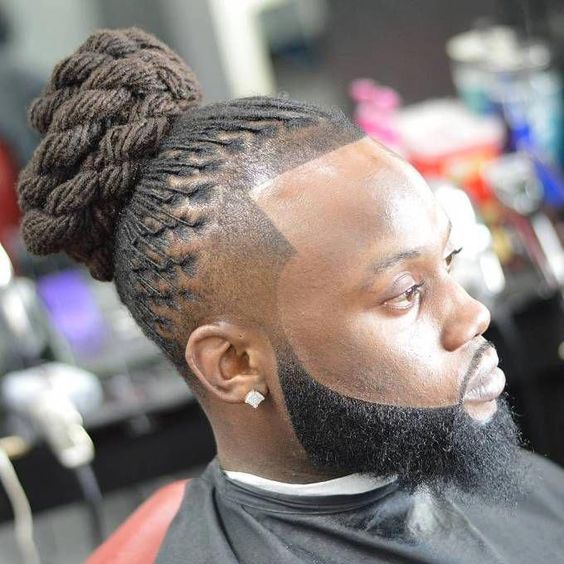 Jumbo Bun is the best way to boost the thickness and length of your hair. If done properly and maintained well, it gives you the perfect manly look for weeks.
Dreadlocks with Curly Ends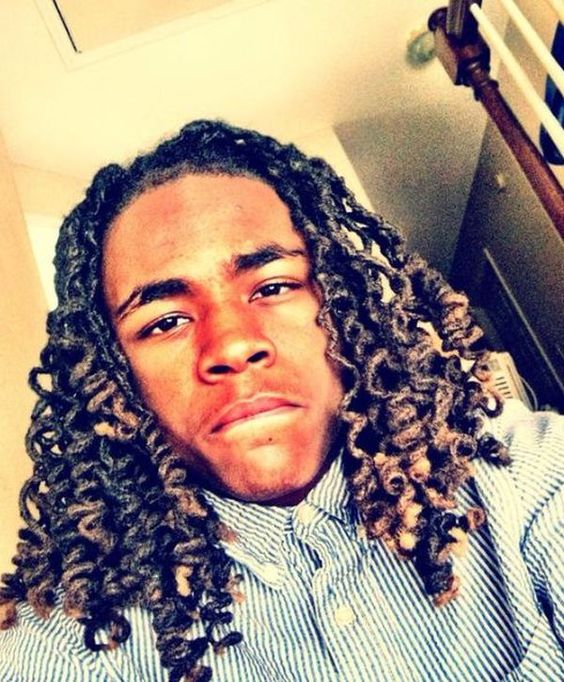 The mini dreadlocks with curly ends are a must-try in this list. You can add metal beads in the curls to highlight the style.
Long Braided Hairstyle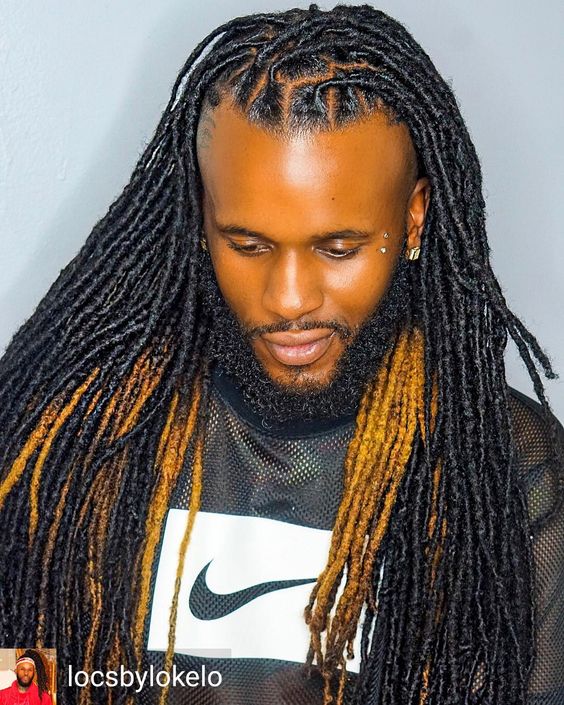 You can choose to wear mini-braids throughout the hair. A well-groomed beard goes well with this style.
Half-dreadlock Half-cornrow fashioned braids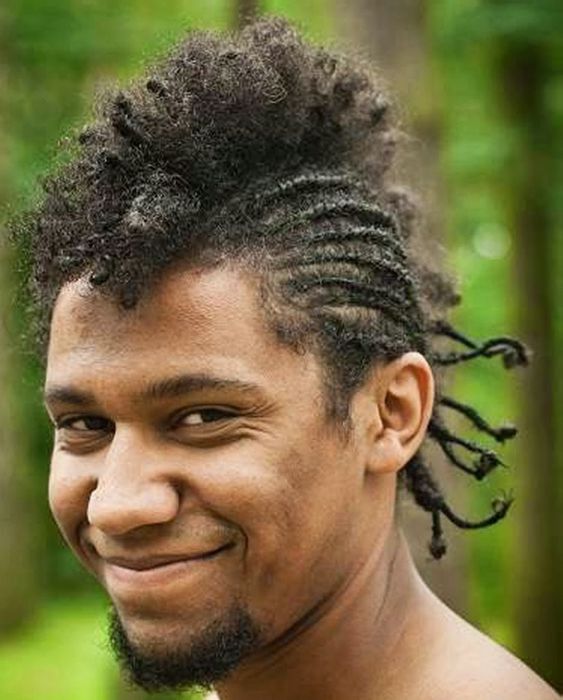 The half-dreadlock half-cornrow fashioned braids provide a stylish quotient to your image. As you can see from the picture, you will have to brush cut one side of your head to achieve the desired result.
Dreadlocks with Undercut designs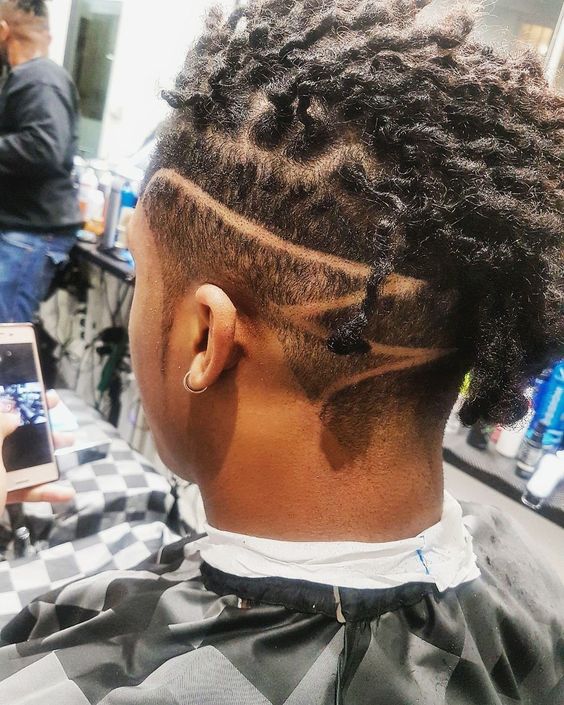 You can choose to wear this hairstyle if you wish to create a design on the sides or back of your head.
Mini braids with Short Hair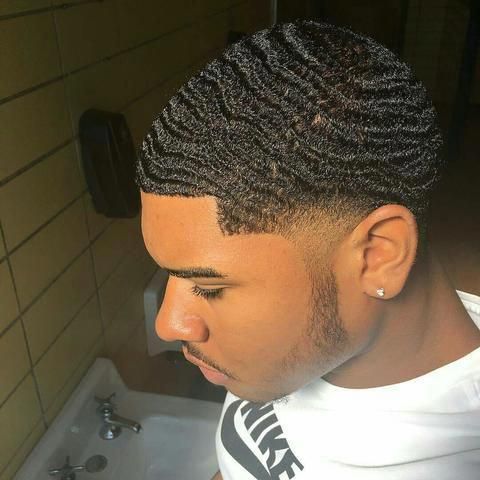 This layered mini braids throughout your shirt hair give a complete sense of satisfaction of wearing comfortable and convenient braids.
Patterned Mini Braids with shaved sides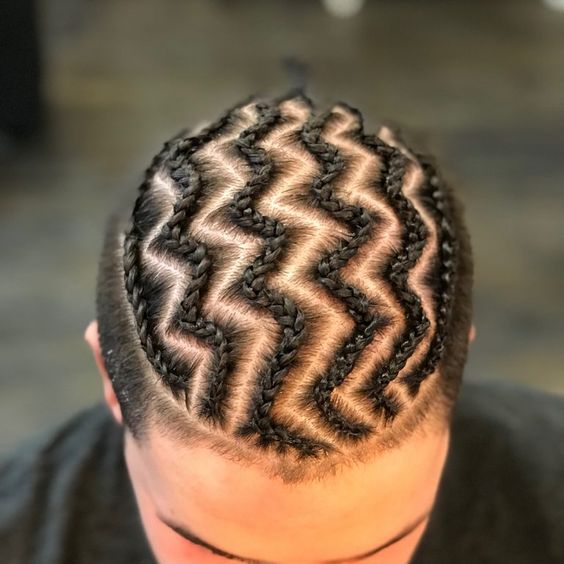 The layered mini braids let you choose a pattern for wearing on top of the head. The sides of the head should be cleanly shaven to highlight the pattern.
Centre Partitioned Dreadlocks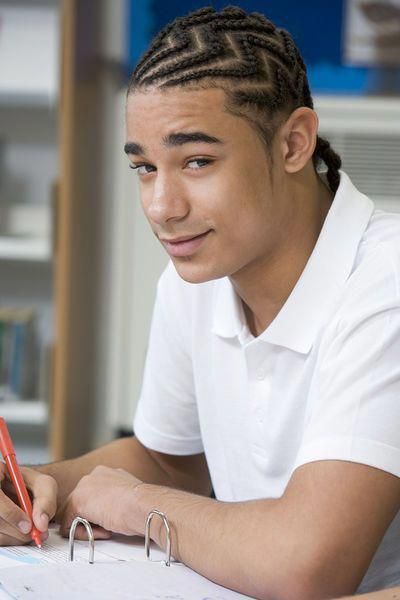 The mini dreadlocks with center partitioning are one of the beautiful hairstyles in this list that you should not miss trying.
Which of these braided hairstyles do you like the most? Let us know in the comments below.