If you're looking to elevate your style with a fresh and trendy haircut, an Afro taper fade might be just what you need. This versatile hairstyle combines the classic Afro look with a modern twist, creating a balanced and stylish appearance that suits various hair types and face shapes. This article explores 30 incredible Afro taper fade haircuts that will turn heads and make a bold statement. From sharp fades to creative designs, we've got you covered with the latest trends in men's grooming.
30 Amazing Afro Taper Fade Haircut For Men
1. Afro Geometric HairCut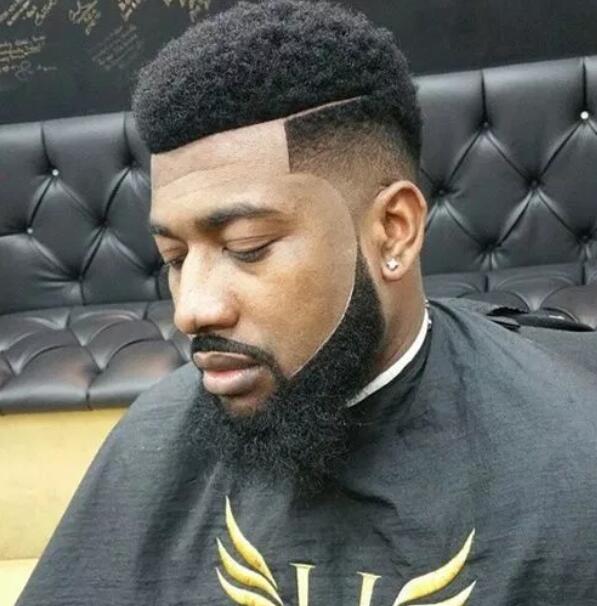 You can bring out the creativity in you with this hairstyle. It utilizes accurate lines and geometric shapes for a fantastic result. This style will never go out of fashion with its freedom of expression and urban pulse to attract many eyes around you. Couples it with a long, short, or medium-length beard.
2. Afro Textured Fade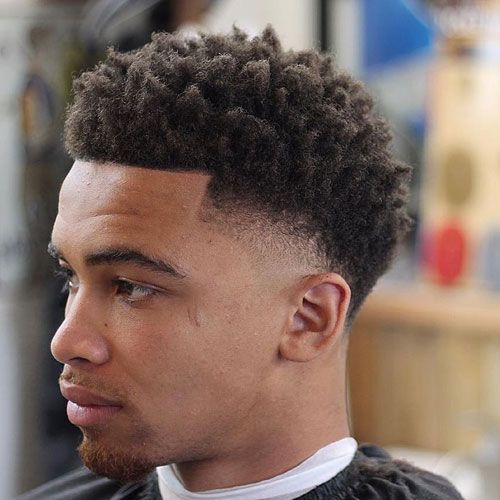 For men who love their natural hair texture, the Afro textured fade is a fantastic choice. This haircut celebrates your curls and kinks while maintaining a clean and polished look. The gradual fade adds depth and dimension to your hair, giving you a stylish and confident appearance.
3. Afro Curly Top Fade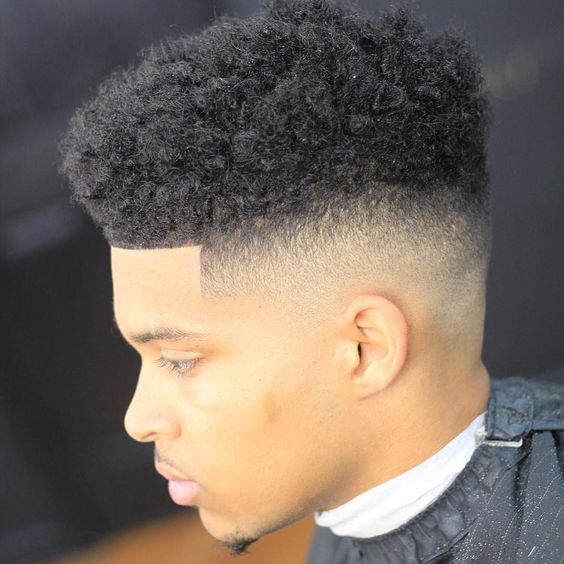 If you are unsure whether to go for a high-top fade or a low-top fade, you can opt for a haircut that features the gradation of your natural textures. It gradually shifts from natural curls to the skin and blurs the area around the temple and nape. This hairstyle can also be coupled with a beard for a nice facial frame.
4. Afro Burst Fade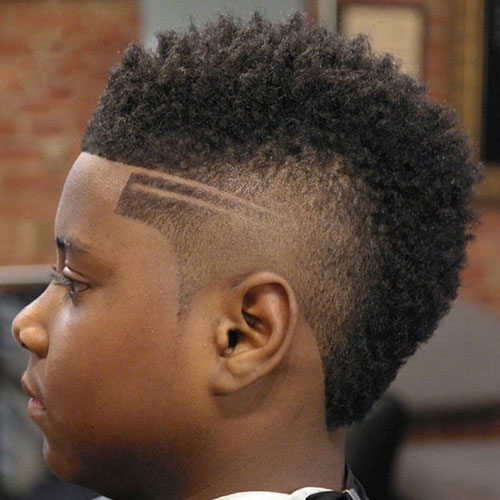 The Afro burst fade is all about radiating confidence and energy. This haircut features a burst of volume at the crown, gradually fading down to a close shave on the sides and back. It's a bold choice that demands attention and showcases your bold personality.
5. Afro Smooth and Wavy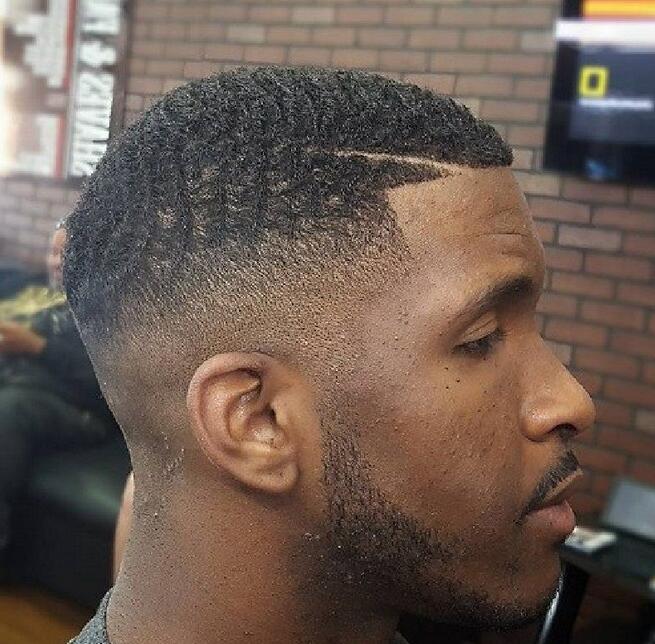 If you are looking for a unique fade, you might want to have this diagonal fade that extends the hairline line. This style is also developed with 360 waves. Both sides and the back are trimmed very short, while the top has enough length to show natural curls. You can always request a longer line design or check other excellent lines that your barber can do for you.
6. Afro Sharp Fade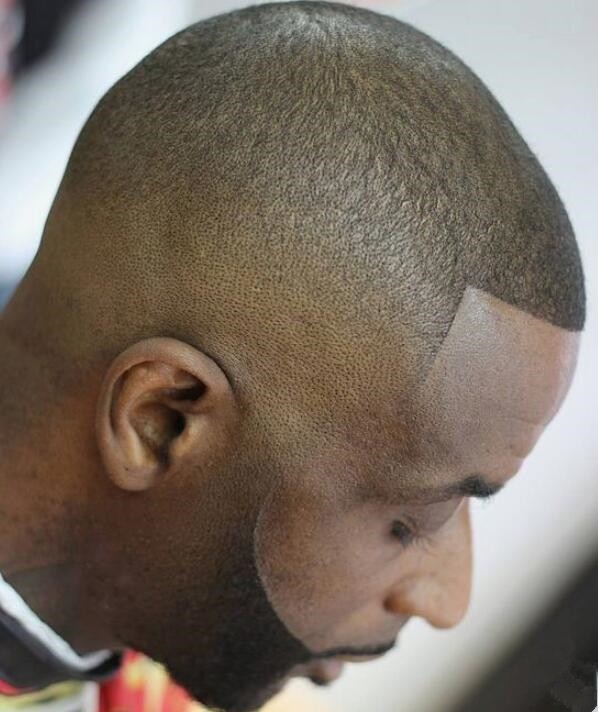 If you're a fan of clean lines and precision, the Afro sharp fade is your go-to option. This haircut features a razor-sharp fade that accentuates the contrast between the top and the sides. It's a look that showcases your attention to detail and dedication to grooming.
7. Afro Low Fade with Shaved Side Part
This low fade is one of the best examples of hairstyles that give an illusion to viewers. It gradually fades into invisibility as it appears in the area around the ears. It also highlights a long line starting from the side of the forehead. This style is a great option for men who want a faded kind and need many conveniences.
8. Afro Clean Taper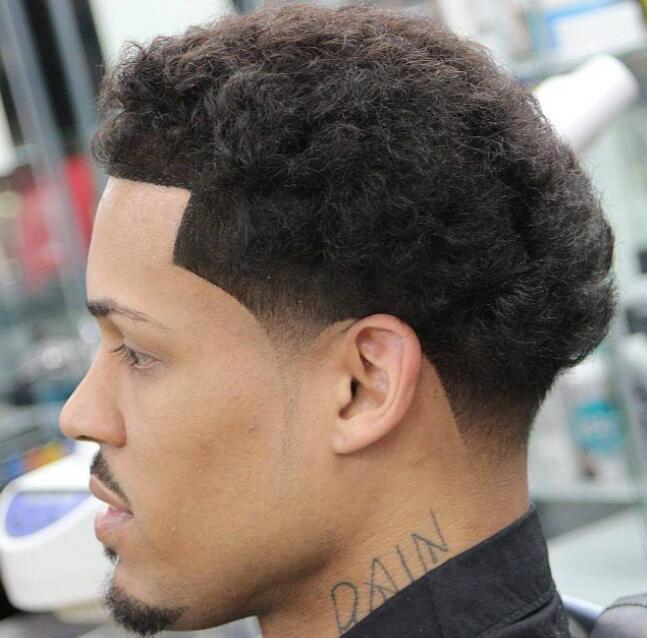 If you have thick and curly hair, there is no need to shave too much of it to have a stylish and elegant look. You can ask your barber or stylist to create detailed lines on your forehead and around your ears for a classy appearance. You can also grow subtly to match your hairstyle.
9. Afro Cut Low Fade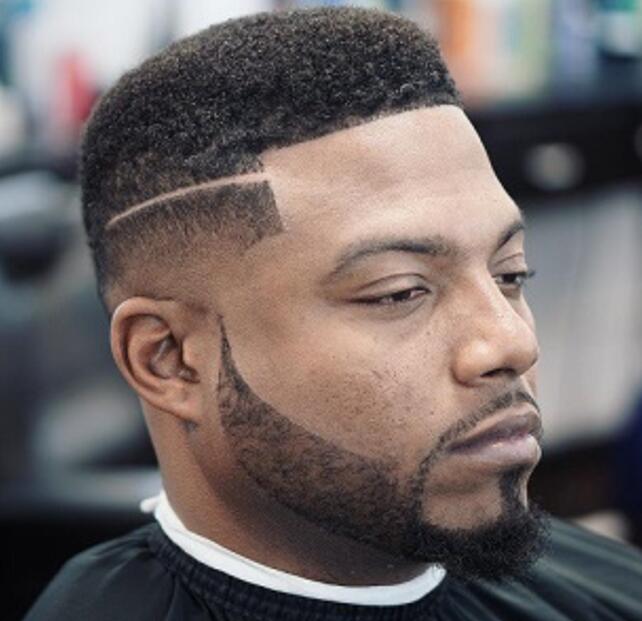 Low fades are an excellent option for black men as it gives a clean look on all sides when cropped close to the skin. The taper starts near the eyebrow, and the carve lines provide additional visual effects that can surely turn heads. This hairstyle is also a great combination of a carved beard for a sharp frame.
10. Afro Full Fade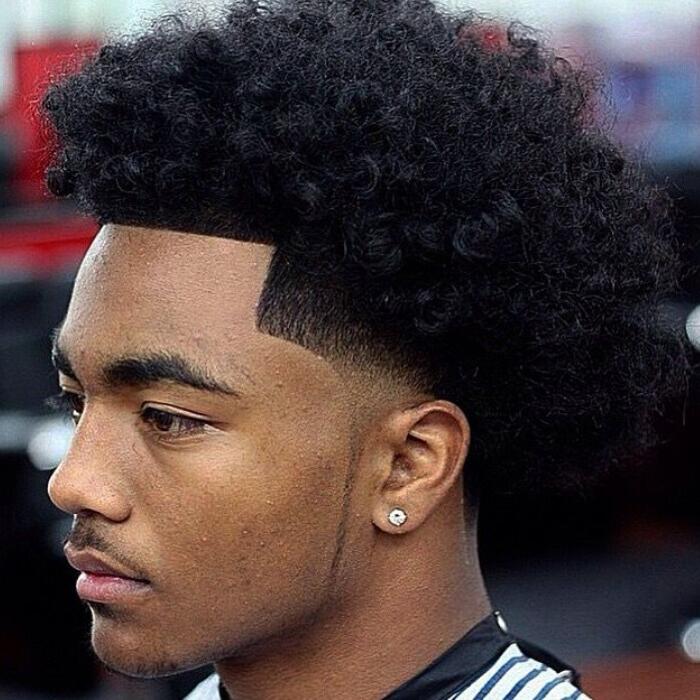 If you're all about making a statement, the Afro full fade is the way to go. This bold haircut features a high fade that extends from the sides to the back, leaving the top voluminous and eye-catching. It's a daring choice that showcases your confidence and style.
11. Afro Side Fade with Faux Hawk
What makes an afro taper fade haircut great is that you can always combine it with other hairstyles to match your personality and tastes. For example, this fade has a Mohawk style. Both sides of the head are shaved, while the center has enough length for a stylish appearance. You can also couple it with a sculptured beard for an elegant look.
12. Afro Blurry Fade with Design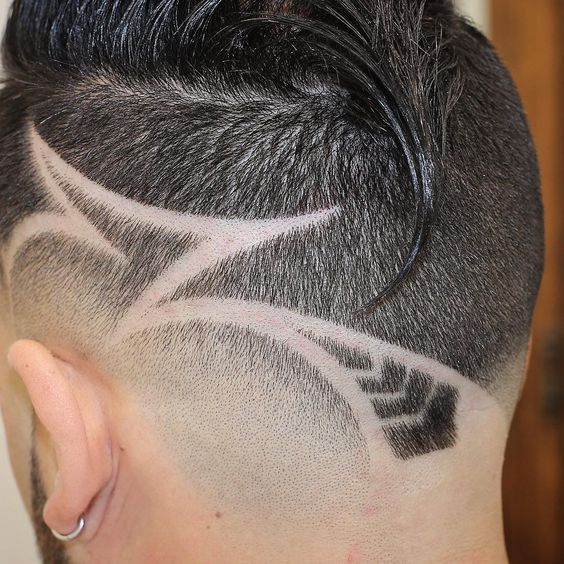 Blurry fading may be simple, but you can always add more spices to your hairstyle by creating lines, shapes, and dramatic art. This one looks unique as it contains a theatrical cut that takes this style to the next level. The razor-cut curve lines are also marvelous. In addition, the simple tie on top of the head gives more points to creativity.
13. Short Afro Hide Fade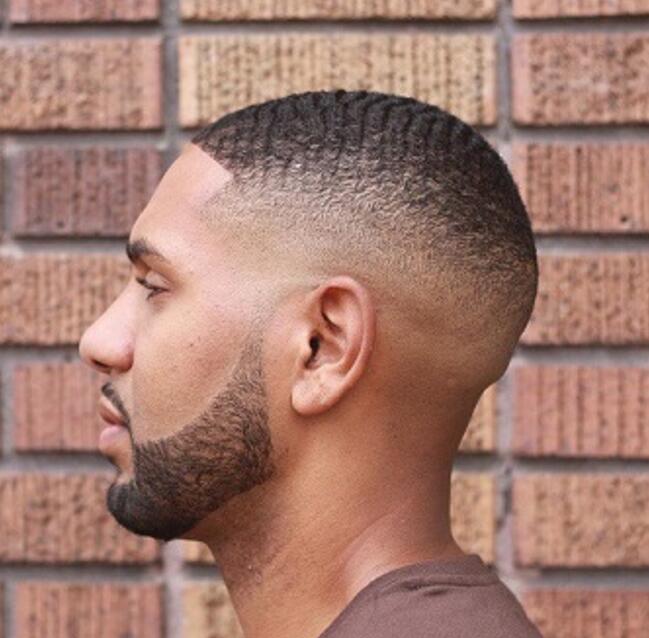 Here is another stylish afro taper fade haircut that you might want to try if you are looking for ways to tame your curly locks. Both sides and the back are shaved while enough hair is on top to create gorgeous small waves. With this haircut, there is no need to style your hair every morning. You will also have low maintenance while keeping your look stylish and clean.
14. Afro Dreadlocked High Fade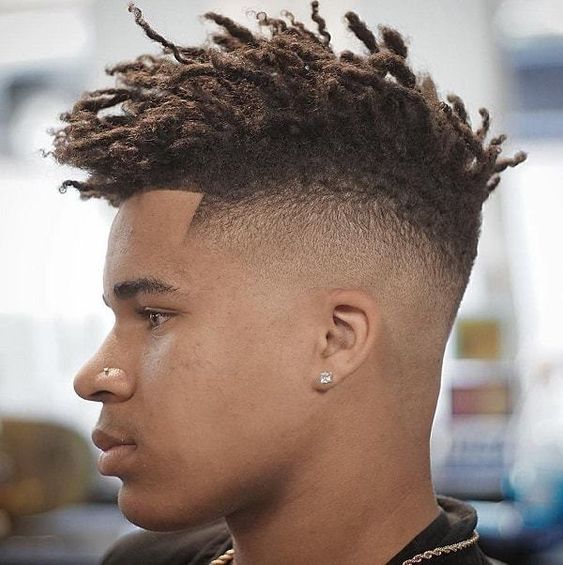 For men with dreadlocks, the Afro dreadlocked high fade is a fantastic way to embrace your roots while adding a modern twist. This haircut features a high fade accentuating your dreadlocks, creating a captivating and distinctive look.
15. Afro Twisted Locks
Another excellent afro taper fade haircut that you might want to try is the Twisted Locks. In this hairstyle, your natural twisted hair on the crown will be given emphasis. You can also add color to one side to improve its style. Its high fade and curved line also make this hairstyle classy.
16. Afro Disconnected Side Part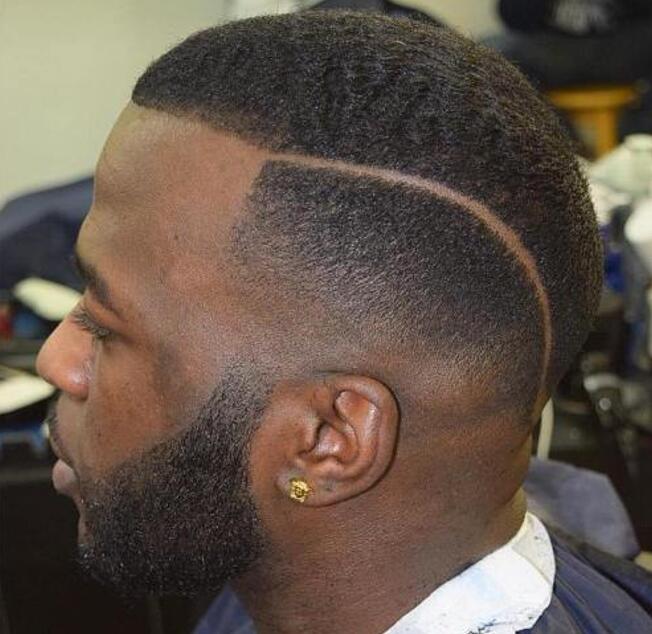 This haircut features shaved parts and shaved designs. The texture of your hair, and significantly trimmed shorts, lends themselves to different artistic techniques. While the most common ones are curved lines, you can always ask your barber to create something unique, wild, and crazy.
17. Afro Bleached Style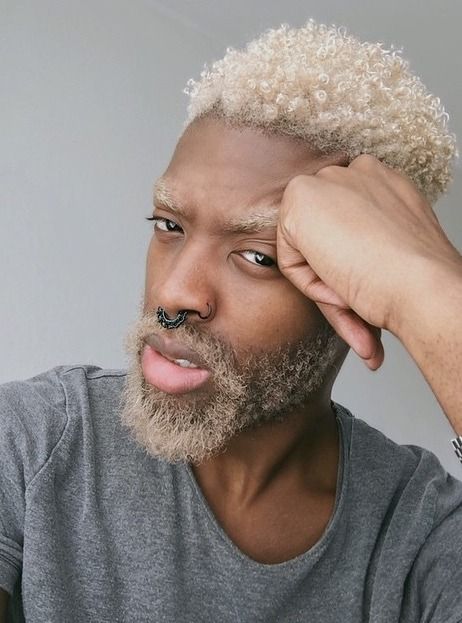 The bleached color in this hairstyle will grab the attention of people around you. Like most afro taper fade haircuts, there is no need to use holding gel or wax. This style has classic tapering sides, and these short locks display cute natural curls. The combination of all these features makes this hairstyle look incredible.
18. Natural Afro Fauxhawk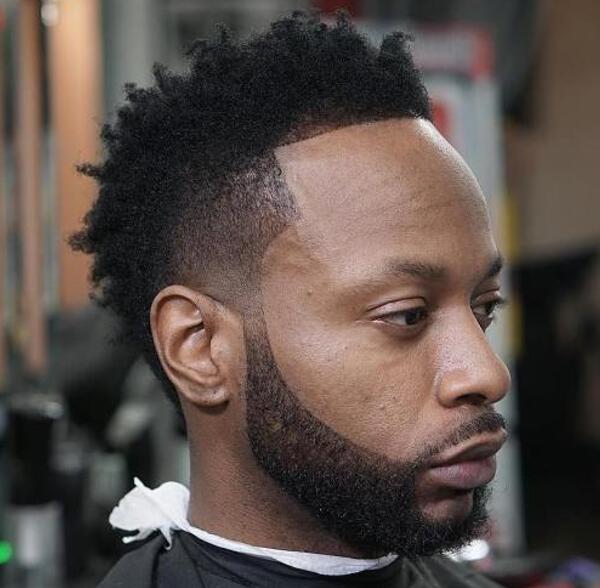 Fade haircuts look more awesome when coupled with beards as they blend perfectly. To achieve this hairstyle, ask your barber to fade at the temples and connect to your facial hair. This style will give you a cool and stylish facial frame that can catch the attention of some people around you. Make sure that you also keep it sharp all the time!
19. Afro Spiky Top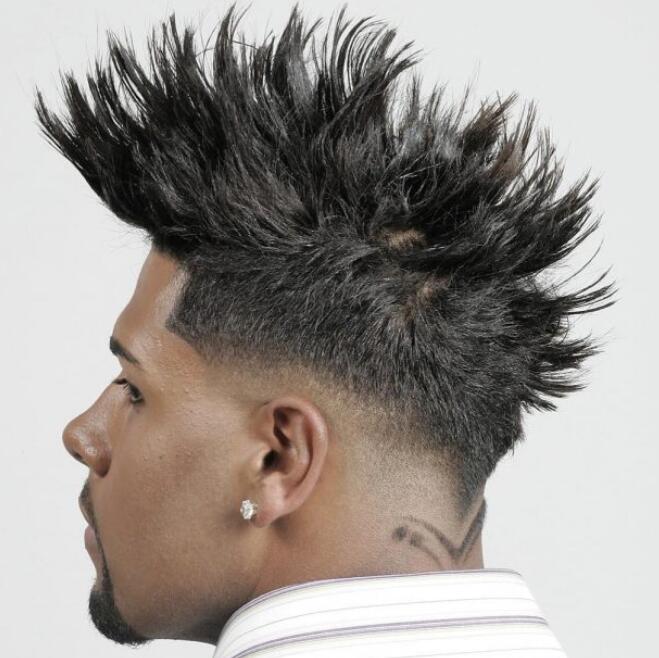 This hairstyle will give you more idea of what you can try if you choose to keep some extra length. Because your strands have a natural texture, creating spikes on top will be marvelous. You can also add some designs on the sides or back. For instance, this particular hairstyle has a V-shape at the back, which goes well with the spikes.
20. Afro High and Tight Fade
For men looking for a hairstyle that does not require too much maintenance, this one may be the right option. It is a flattering and simple choice with its high and tight fade. A thin beard also enhances bone structure, boosting masculinity and confidence.
21. Afro Sleek and Geometric Waves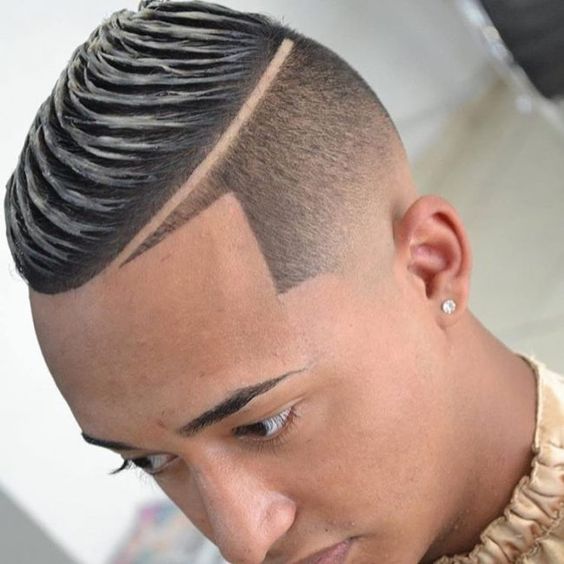 When tapering fade haircuts, only the sky is the limit! In this hairstyle, the sleek waves on the crown give an eye-catching appearance. They can also make any man look superb and classy. The hard part and geometric cuts improve this style by providing more details to the faded ones.
22. Short Afro Mohawk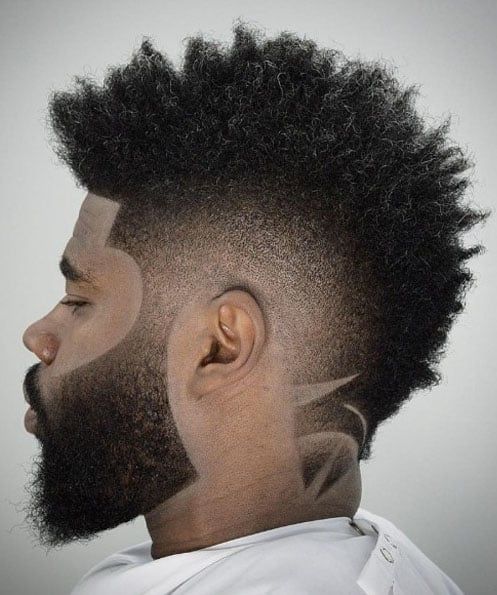 Having a temple fade allows you to get even more creative. You can extend your hair in the middle so it can rest down to your nape. This will give you a fantastic mohawk hairstyle. You can quickly achieve this look if you have a short-to-medium in length. Growing a beard also enhances the appearance of this Short Mohawk.
23. Afro Dreads with Razor Line
Here is another excellent example of making a refined look using your dreads. There is no need to shave them to achieve a brand new hairstyle. This haircut involves tapering both sides and the back. A wavy razor line is created around the dreads to separate the dreads from the faded part of the hair.
24. Afro Retro High Top Fader Fade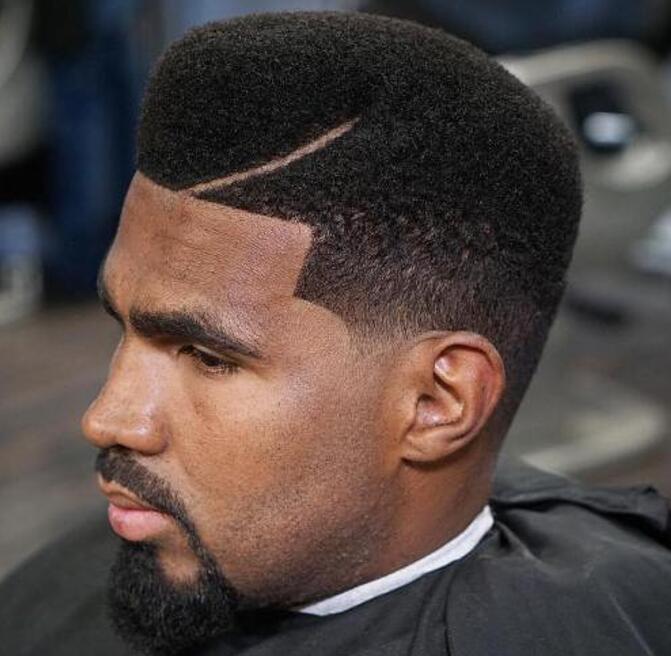 You can achieve a sophisticated style by copying this haircut. Ask your stylist to smooth out the whole shape of your haircut. Have a low fade and create a diagonal line starting from one side of the forehead. This design gives a fantastic element to your hairstyle. You can also grow some facial hair to complete the style.
25. Afro Inventive Crown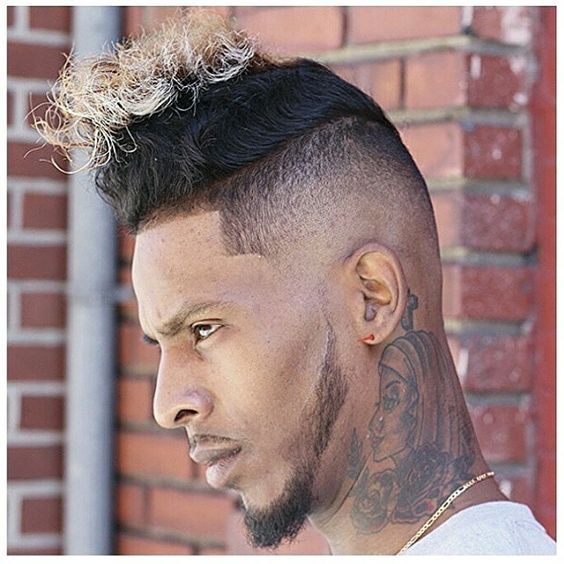 All people you will encounter will want to have another glimpse at your hairstyle due to its creative design. Do not worry, as it is effortless to pull off. All you need to do is to allow your wavy hair to grow long so you can comb it up and dye the ends blonde. Complete the hairstyle with a high fade.
26. Afro Two-Tone Mohawk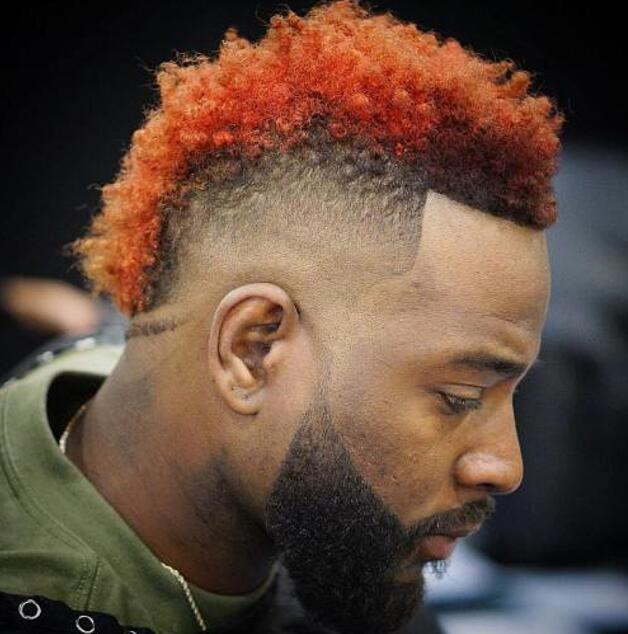 Warm colors like red, gold, and orange look great against dark skin. You can also choose any color of your choice. Although you cannot combine wild hair colors with just any style, having a Mohawk fade is a great choice to stand out! You can also couple it with some facial hair to enhance the appearance of your two-tone mohawk.
27. Afro Straight High Top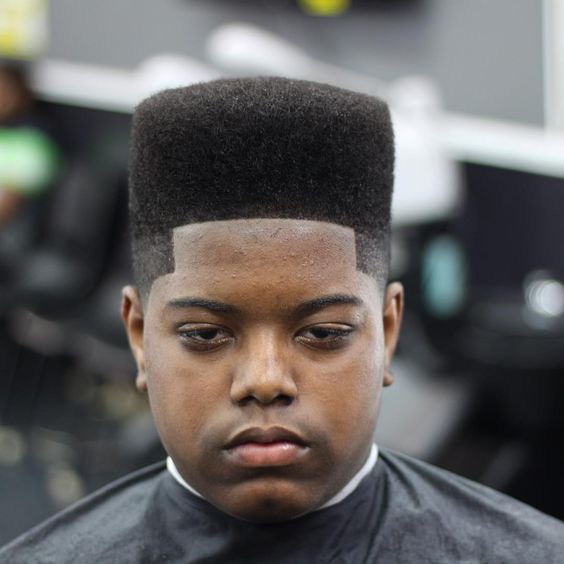 This straight, high-top afro taper fade haircut is a fantastic hairstyle you might want to try if you want something exclusive. You can tell that the stylist or barber took a lot of time to ensure it was in perfect shape. In addition to its high top, it also has sharp lines at the front and fades on the sides, enhancing the appearance.
28. Afro Kinky Top
This kinky top hairstyle may inspire you to grow your hair longer to achieve this look. Those natural curls will give you additional volume, texture, and height. All you need to do is to moisturize and twist your locks frequently. This hairstyle also features razor-cut lines on both sides of the head.
29. Afro Blue Low Top
Another cool hairstyle you can easily pull off is this Low Top design. It has a magical blue color that can grab more attention to your hair, and its incredible tapering design on the sides makes it appear spectacular. This hairstyle is ideal for men who do not want to wear the exaggerated style of a high and flat top.
30. Afro Curly with Unique Designs
Afro taper fade haircuts often incorporate unique artistic elements like lines, characters, and other shapes. There is no limit to what your stylist can do regarding hair designs. This style stands out because the hair at the bottom has been shaved clean to make thick slashes visible.
Frequently Asked Questions
1. How do I choose the right Afro taper fade haircut for me?
Choosing the right Afro taper fade haircut depends on your personal style and preferences. Consider factors like the length of the fade, the texture of your hair, and how bold you want your overall look to be.
2. Are Afro taper fade haircuts suitable for all hair types?
Yes, Afro taper fade haircuts can be tailored to suit different hair types, from curly to coiled and everything in between. A skilled barber will be able to adapt the cut to your hair's natural texture.
3. How often do I need to maintain my Afro taper fade haircut?
The frequency of maintenance depends on how fast your hair grows and how well you want to maintain the shape of the fade. On average, visiting your barber every 2-4 weeks is recommended.
4. Can I style my Afro taper fade haircut differently for various occasions?
Absolutely! Afro taper fade haircuts are versatile and can be styled differently based on the occasion. You can opt for a more casual, tousled look or a sleek, groomed appearance.
5. What products should I use to style my Afro taper fade haircut?
The products you use will depend on your hair's texture and the style you want to achieve. Pomades, waxes, and creams can help you achieve different looks, whether it's a textured finish or a polished appearance.
6. How can I maintain the health of my Afro-textured hair?
To maintain the health of your Afro-textured hair, make sure to moisturize regularly, use sulfate-free shampoos, and avoid excessive heat styling. Deep conditioning treatments can also help keep your hair nourished.